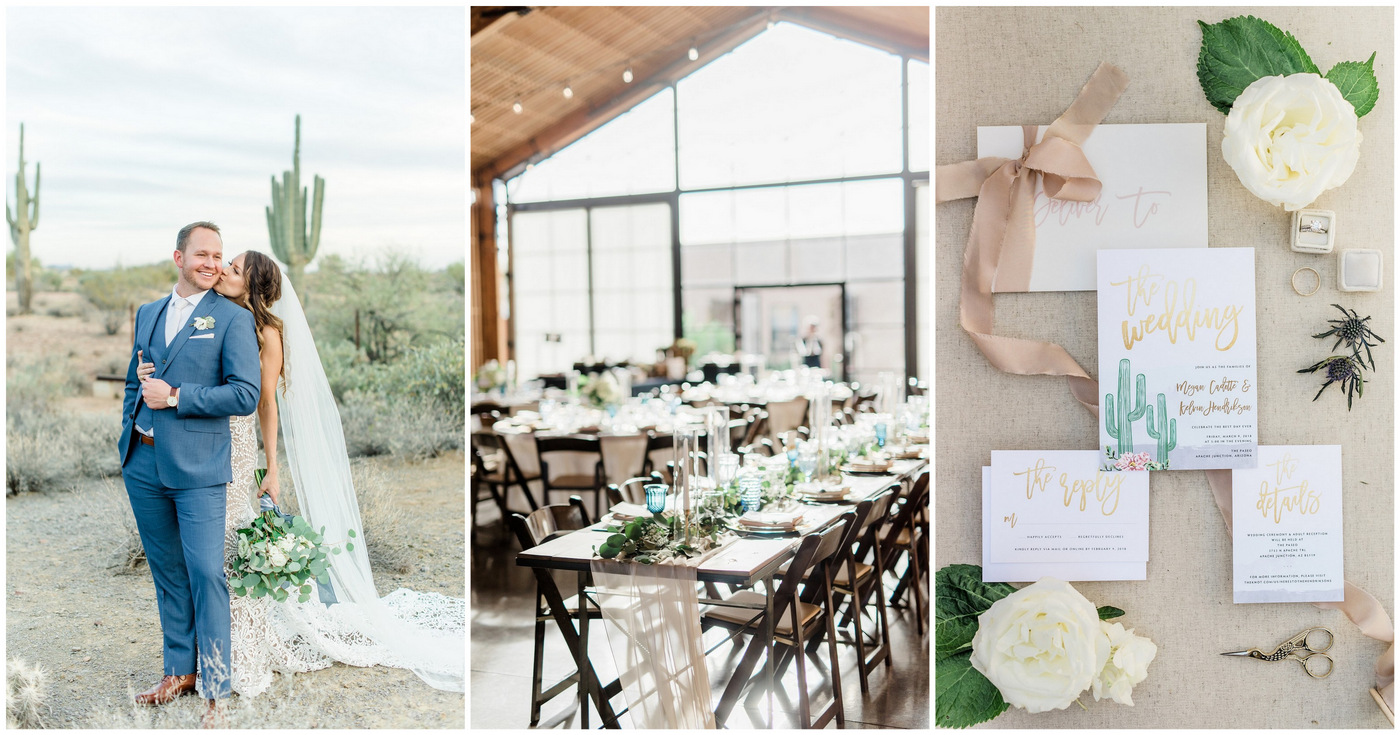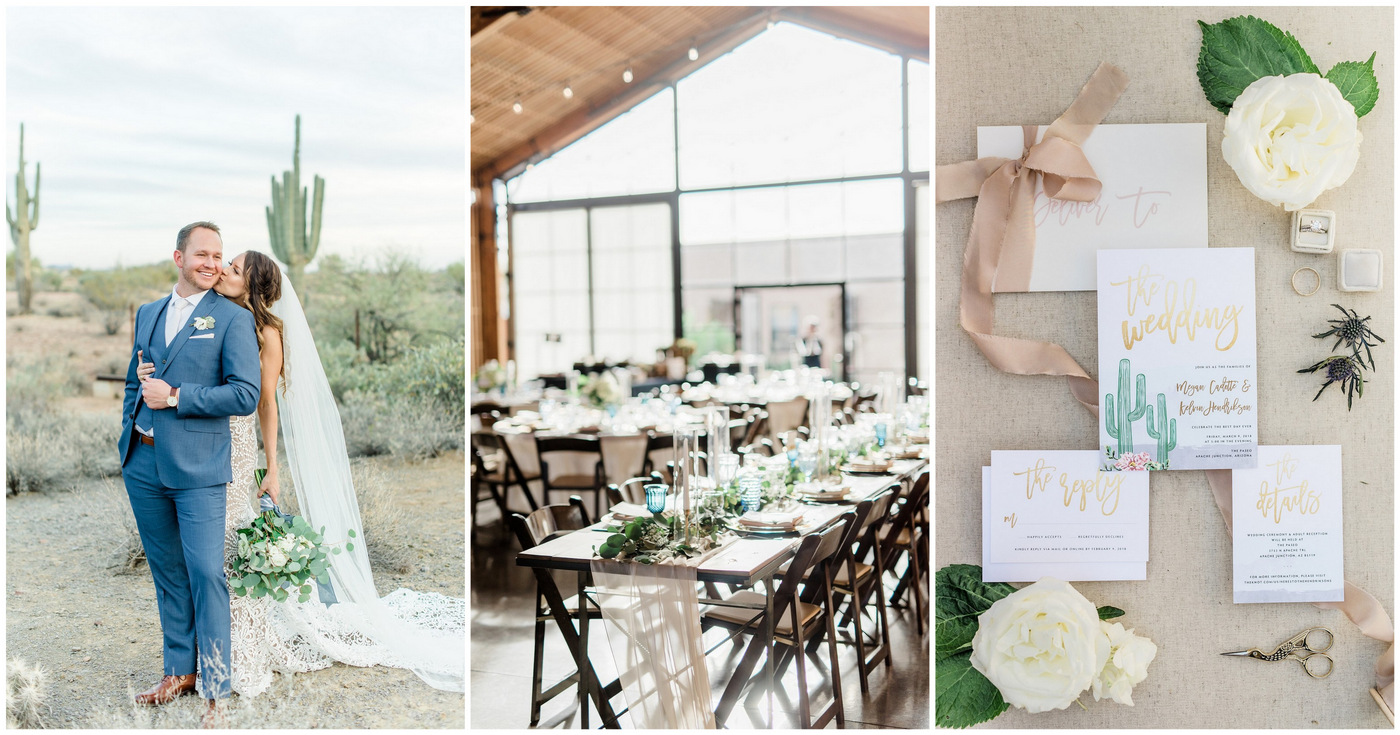 Megan and Kelvin are both from the Midwest. Because they met in Arizona, they wanted to highlight its beauty at the wedding.  "We chose the Paseo because of the stunning backdrop, the desert scenery, and the casual yet romantic feel. The barn-like pavilion, along with the outdoor lawn area really spoke to our Midwest roots."
The famous Arizona sunset on the rust-colored Superstition Mountains was sure to be a show stopper not easily witnessed before their many out of town guests. The couple worked with event Designer J Barry Designs and the event planners at Shine Events to create a celebration in ivory, gold and mint, with blue accents.  Trisha Shelley Photography joined the couple and their loved ones to capture these beautiful images of their Arizona wedding.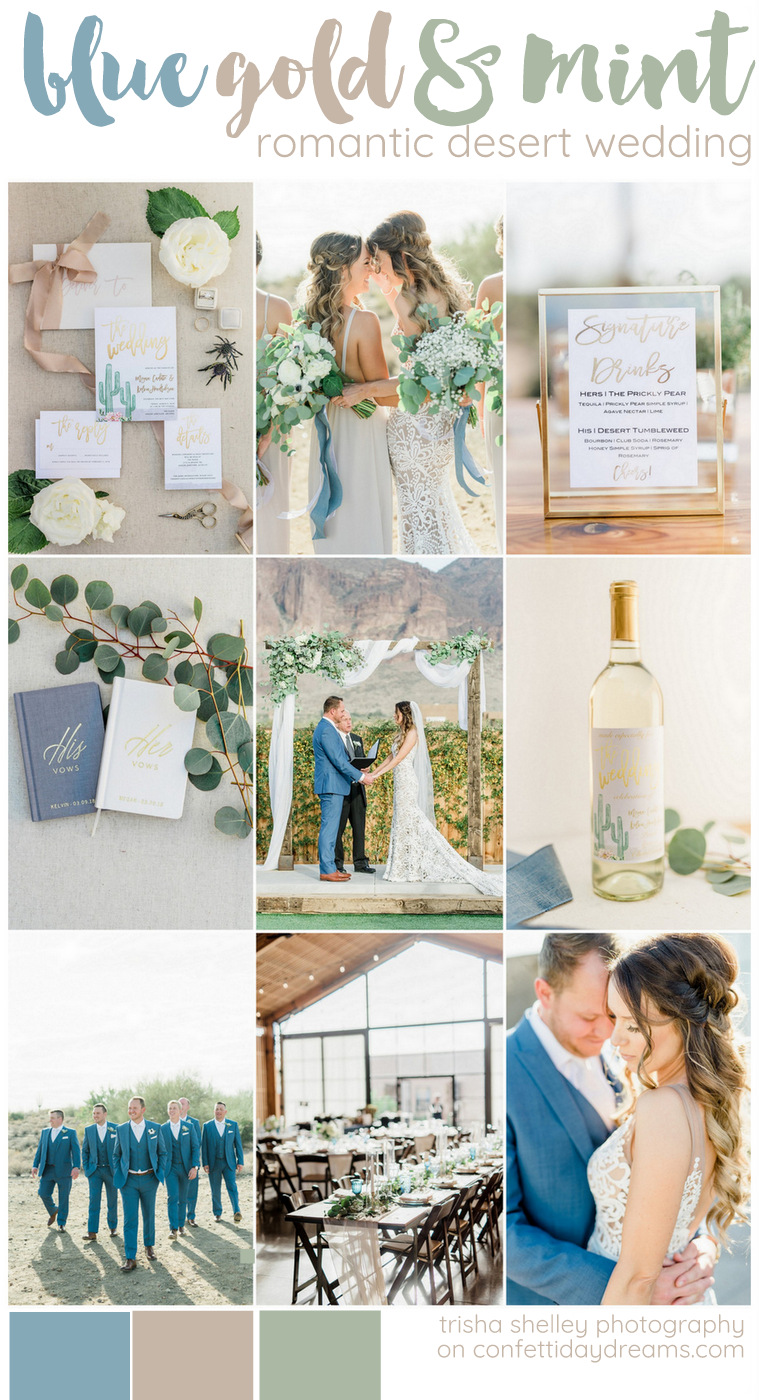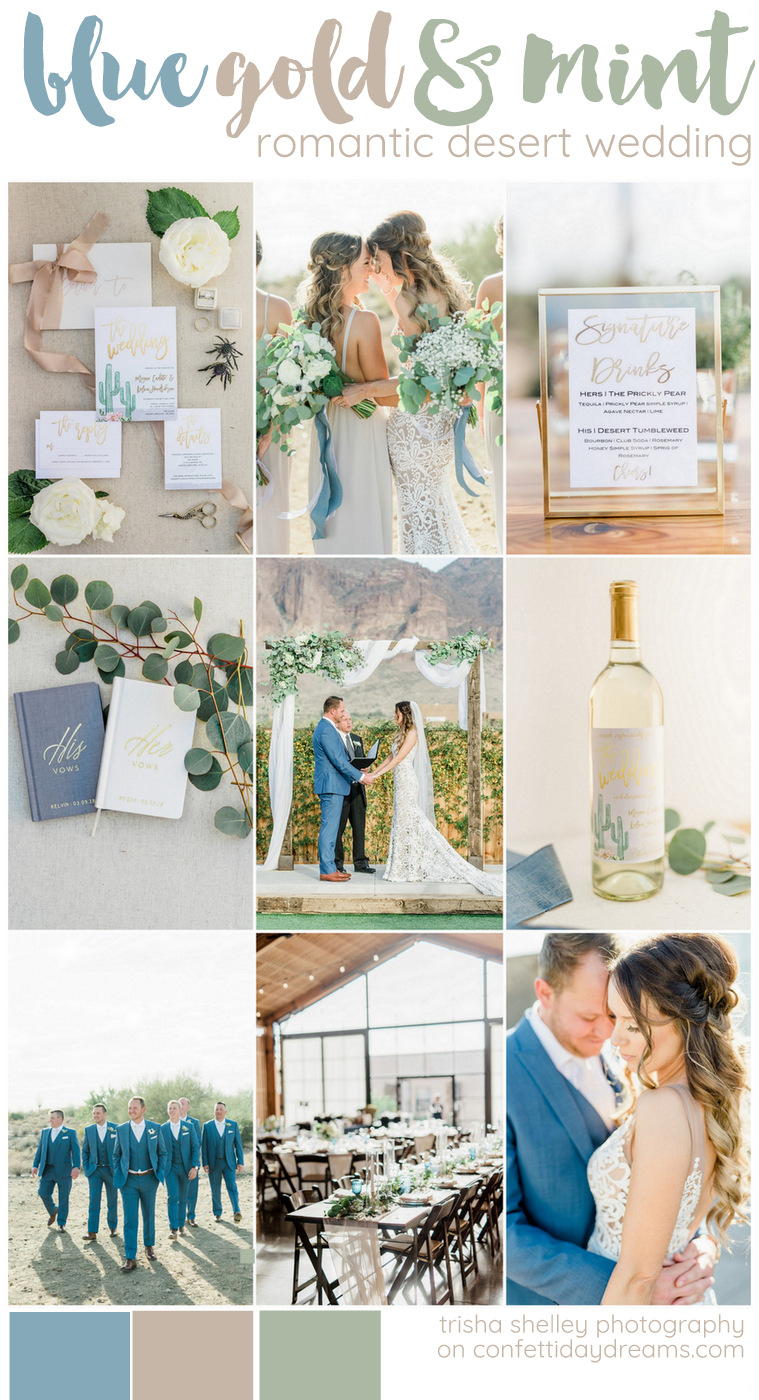 Love Story: Kelvin and I met in sunny Arizona in 2010 after both moving from our Midwest hometowns for jobs and adventure. Kelvin swept me off of my feet after offering to buy me a cocktail at our favorite watering hole. As fate would have it that same night I lost my cell phone. This left what seemed to be no option for further communication between us.
However that didn't stop Kelvin. Smitten and determined he sent me "smoke signals", better known as Facebook messages, and arranged to take me on our first date to an Arizona Cardinals football game. Now after a few job changes, two dogs, countless Big Ten filled Saturdays, the purchase of our first home, and seven years later we planned to finally tie the knot!
The proposal took place on our trip to the Grand Canyon. It only took Kelvin seven years! To make it to the Grand Canyon that is… Kelvin had arranged for a helicopter tour. You may assume that I had to know something was up for Kelvin to plan such an extravagant outing. On the contrary, I had purchased the helicopter tour a year earlier under Kelvin's name at a silent auction benefiting the Arizona Humane Society. Kelvin was less than thrilled with the big-ticket purchase, and after seeing that the voucher was about to expire, he planned the excursion. To top it all off, we made a pit stop at a gas station on the way up…
While in the restroom, Kelvin decided he should stretch out to prepare for his upcoming big moment and in the process split his pants. He ended up having to buy a pair of sweatpants for the convenient store to continue their trip. Following the helicopter ride, we drove into the park to get another look at one of the wonders of the world. As a family took their picture in front of the majestic backdrop, Kelvin dropped to one knee in his gas station sweat pants, tears in his eyes and asked me to marry him.
My favorite part about our engagement was the fact that Kelvin proposed in gas station sweat pants. That is something he would say would happen to him. He has very little patience for life sometimes, which is why I think we work so well together because I have extra patience being an elementary teacher. I think the sweatpants are something that we can look back at and laugh about (I already do!)
Blue, Gold + Mint Desert Wedding in Arizona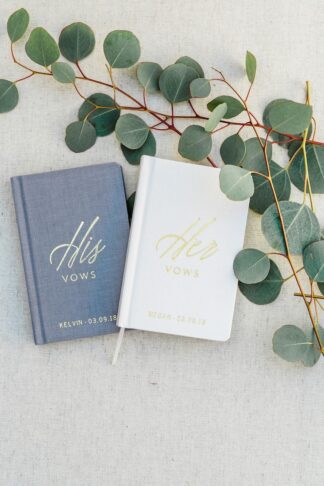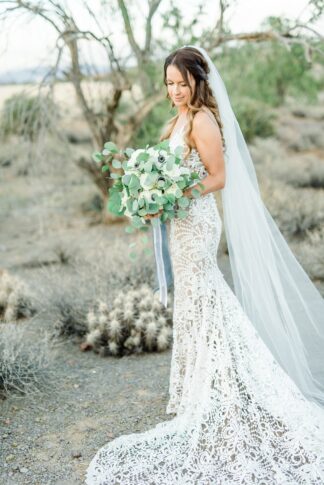 Going with the neutral theme I decided upon an ivory lace dress with a nude underlay designed by Made With Love Bridal. It was figure hugging with a plunging neckline and open back. The train was stunning and not something I knew I wanted until I saw it. I borrowed a cathedral veil from one of my bridesmaids and wore crystal-studded nude heels by Jessica Simpson .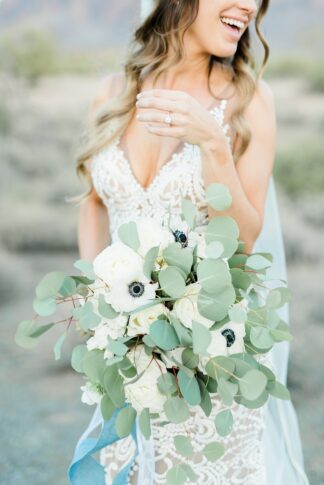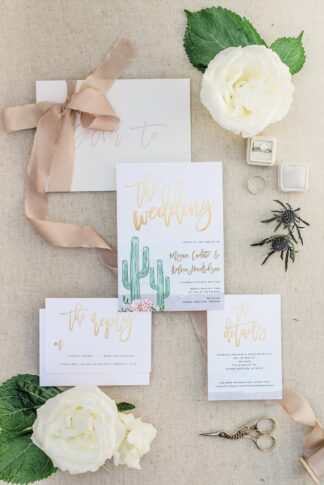 My bouquet included various white flowers and a lot of eucalyptus to create the full messy look I was going for. To tie in the pops of blue that were incorporated throughout the wedding, anemones were also included in my bouquet.
The bridesmaids' bouquets were also big and messy, consisting of eucalyptus and babies breath.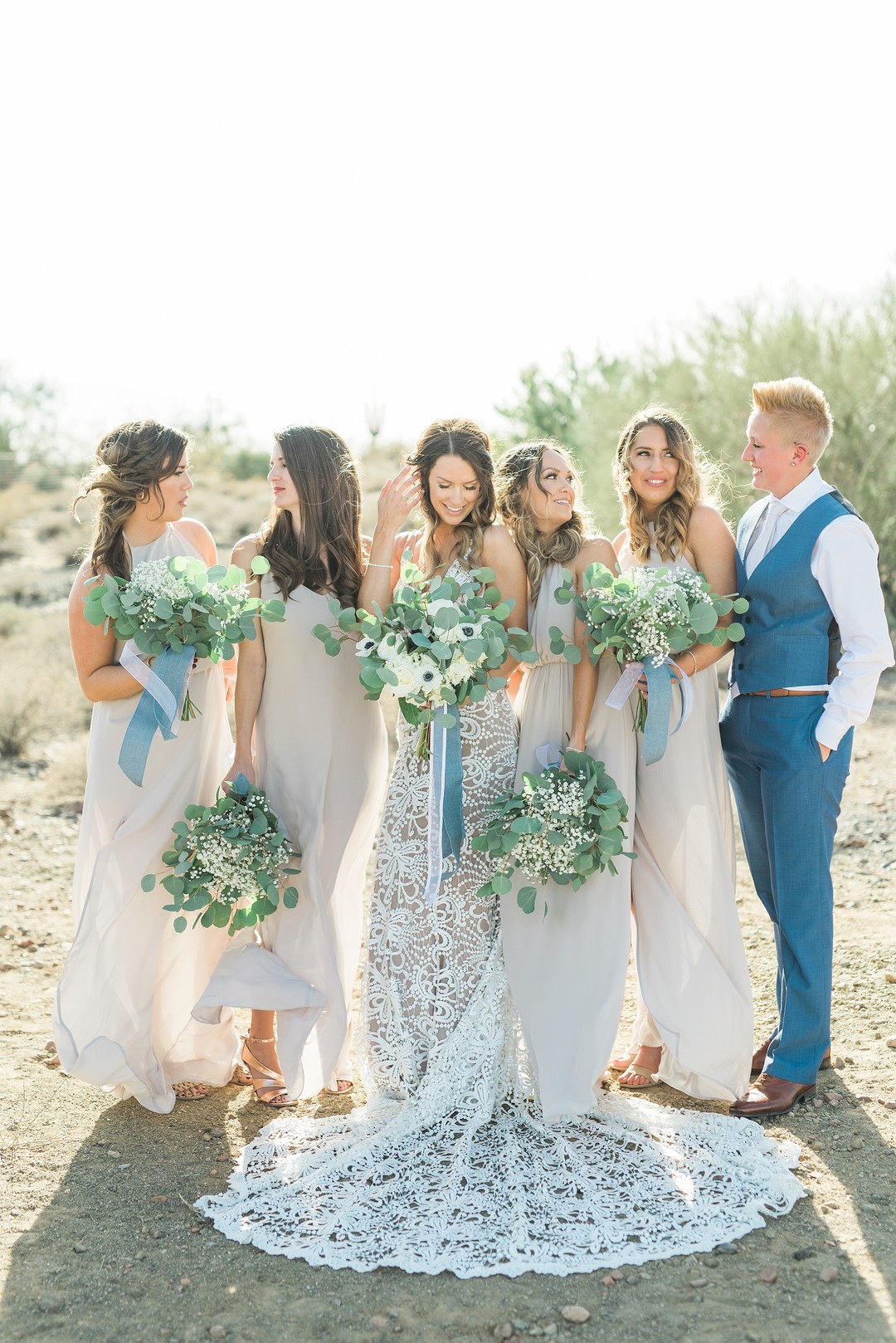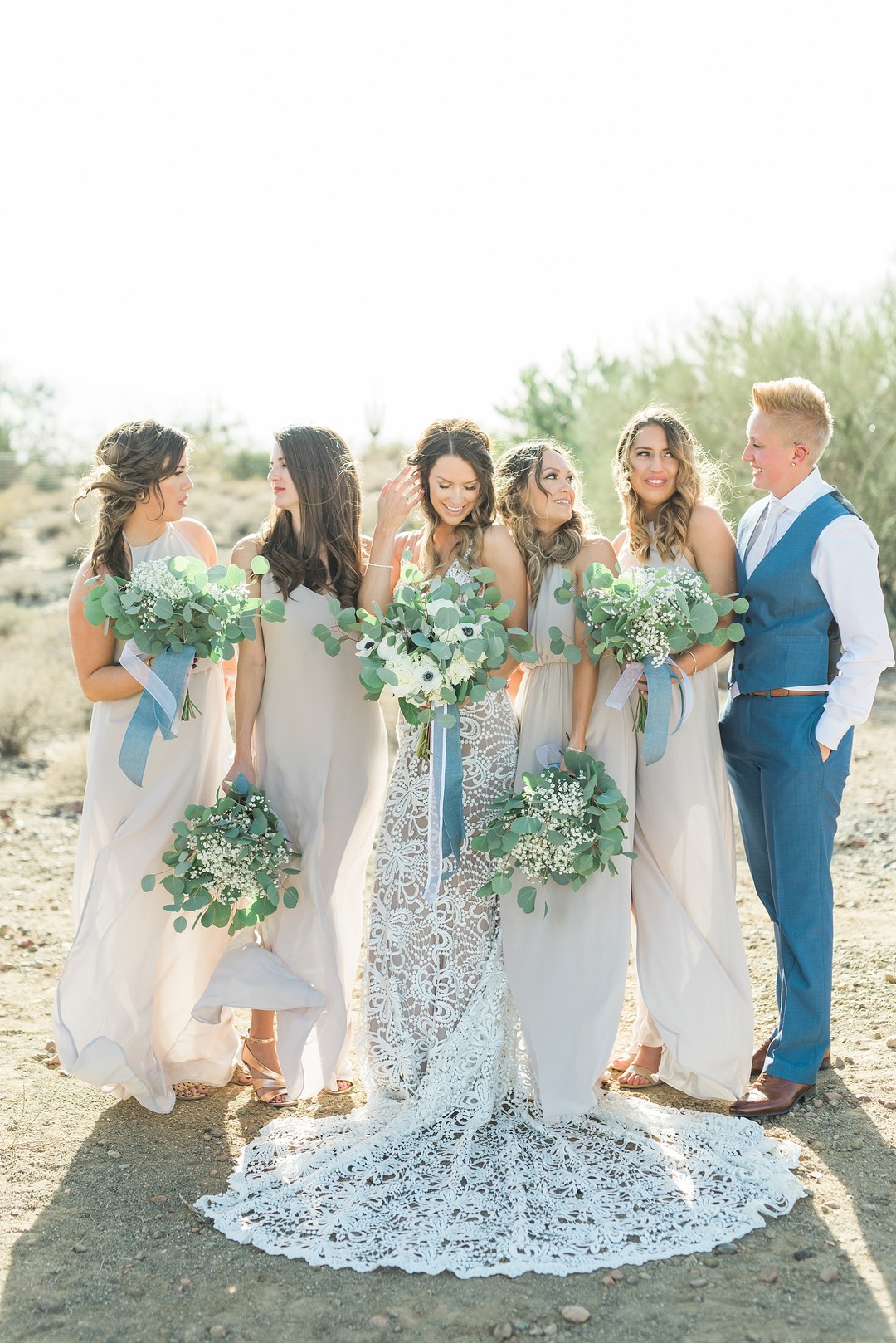 I had picked out Show Me Your Mumu dresses in the color Show Me the Ring for my bridesmaids. I let each girl pick their own style and cut of the dress that they felt was most flattering to their body type. The color of their bridesmaid dresses perfectly complemented the underlay of my dress and the flowy fabric added to the romantic feel and flowy fabrics detail throughout the rest of the wedding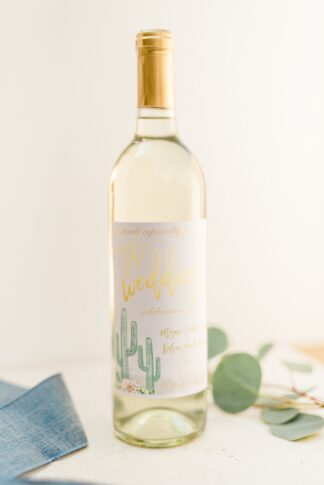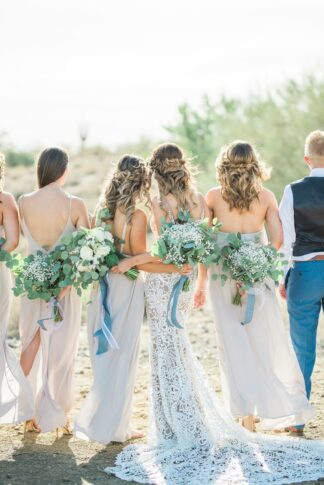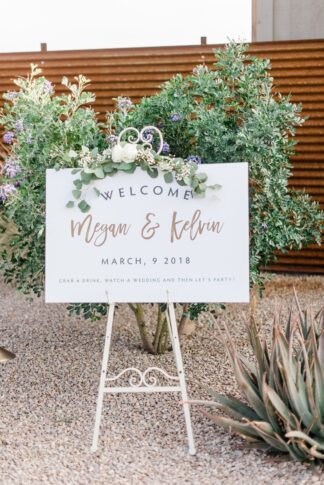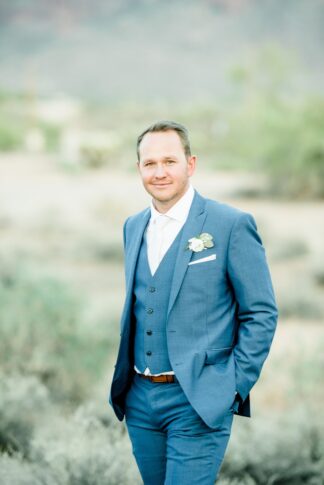 Kelvin decided on a bright blue three-piece suit by Calvin Klein with a nude/cream color tie from The Tie Bar, which complimented the bridesmaid dresses. All of the groomsmen were dressed to match. The blue of the suits ended up being an excellent complement to the blue accents of the wedding.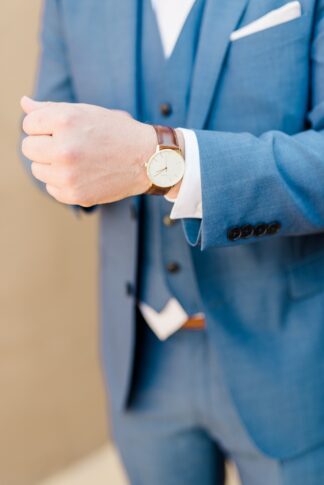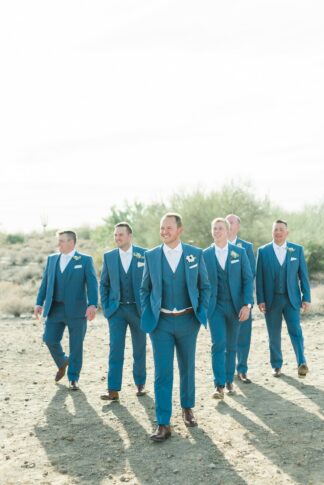 Anyone who knows me knows that I love the saxophone! One of my favorite songs in Jubel by Klingande. I had envisioned the double doors of the pavilion opening up and my father and I beginning our descent down the aisle as soon as the saxophone got real meaty. However, there did not seem to be enough time for everyone to get down the aisle before me and be able to hit that cue. I had an amazing friend however who was able to cut the song for me looping it in a few places to add some time and make my entrance dreams a reality!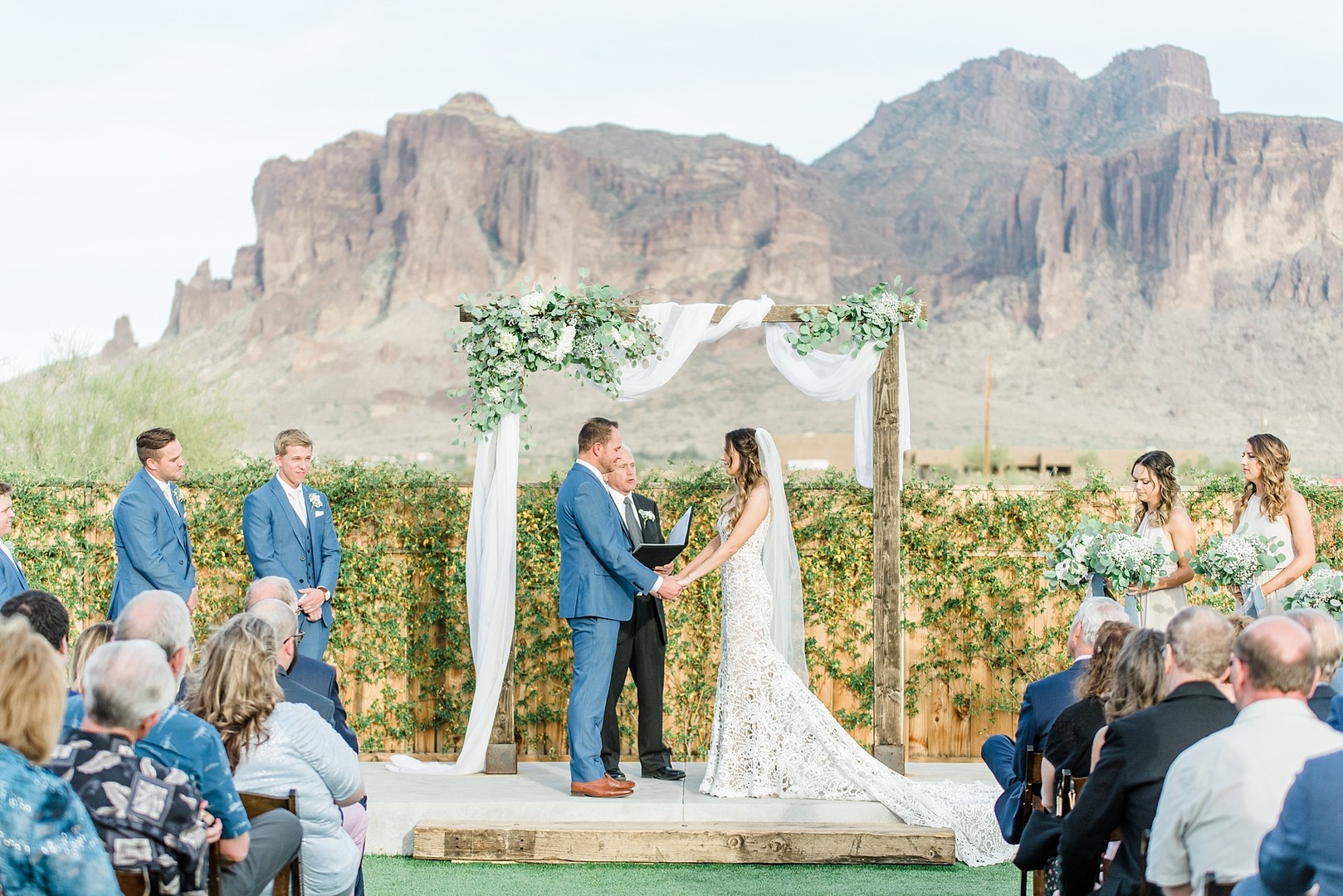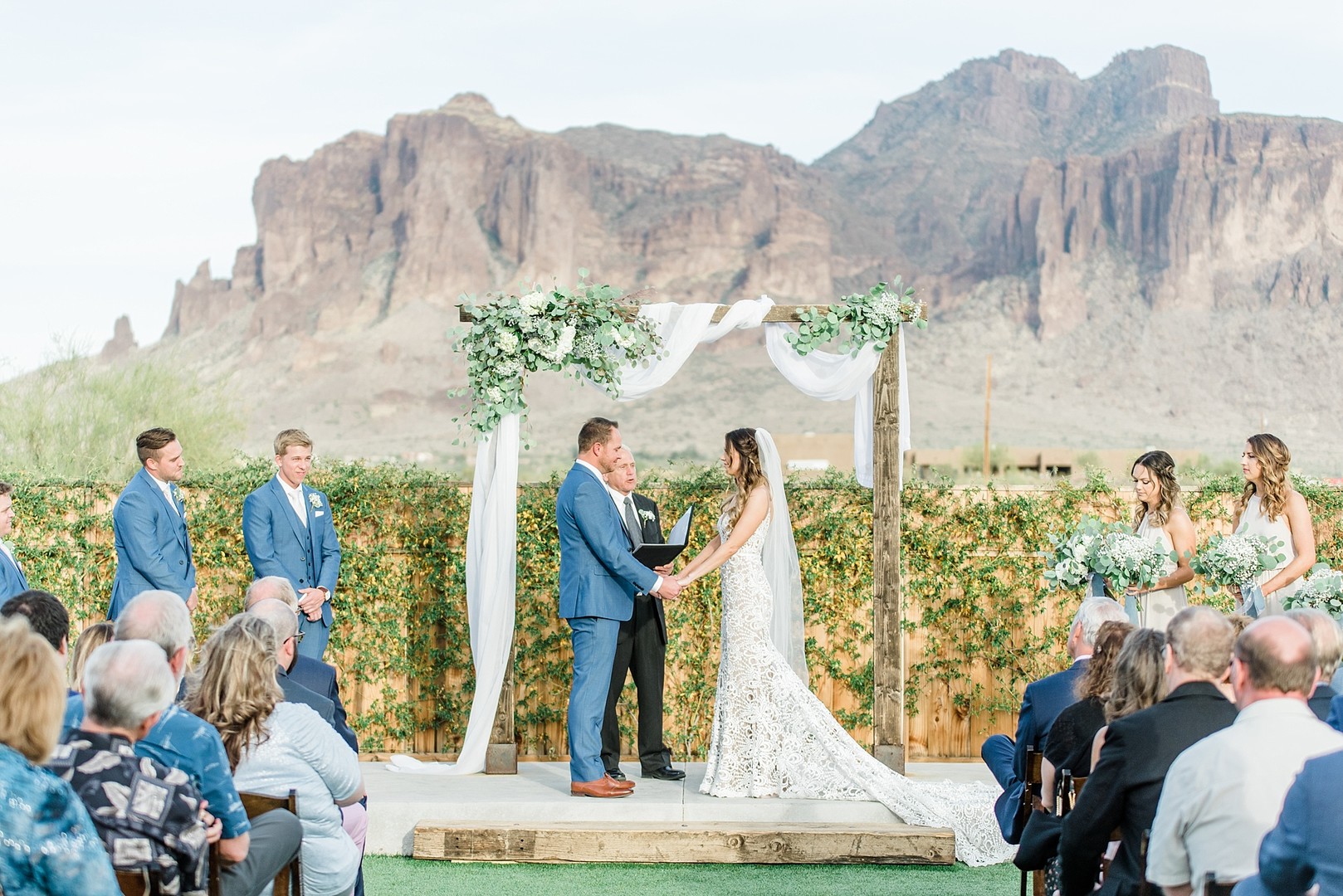 Our ceremony arch was donned with a chiffon fabric and florals that matched those in the bouquets. The florals from the ceremony arch were later brought inside to accent the "You & Me" sign that hung above our sweetheart table.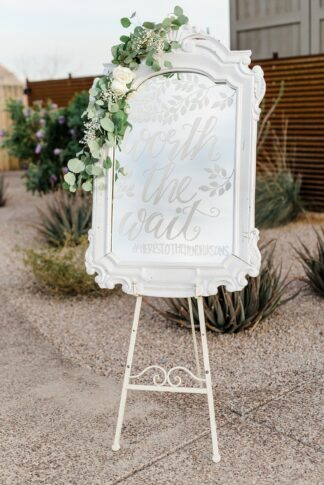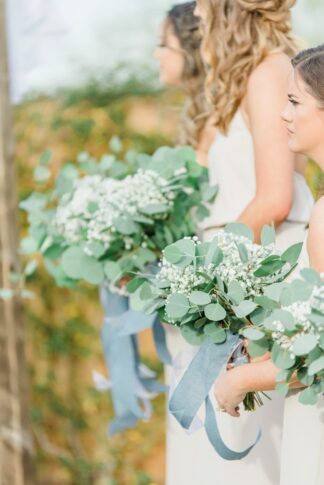 My uncle Ernie was our officiant! Our ceremony was filled with tradition and unconventional aspects which our guests still talk about to this day. The professor in him opened up his sermon to audience participation in which he invited guests to stand and pronounce what they thought love was. We were blown away by the number of participants and their heart filled responses. There wasn't a dry eye in the house.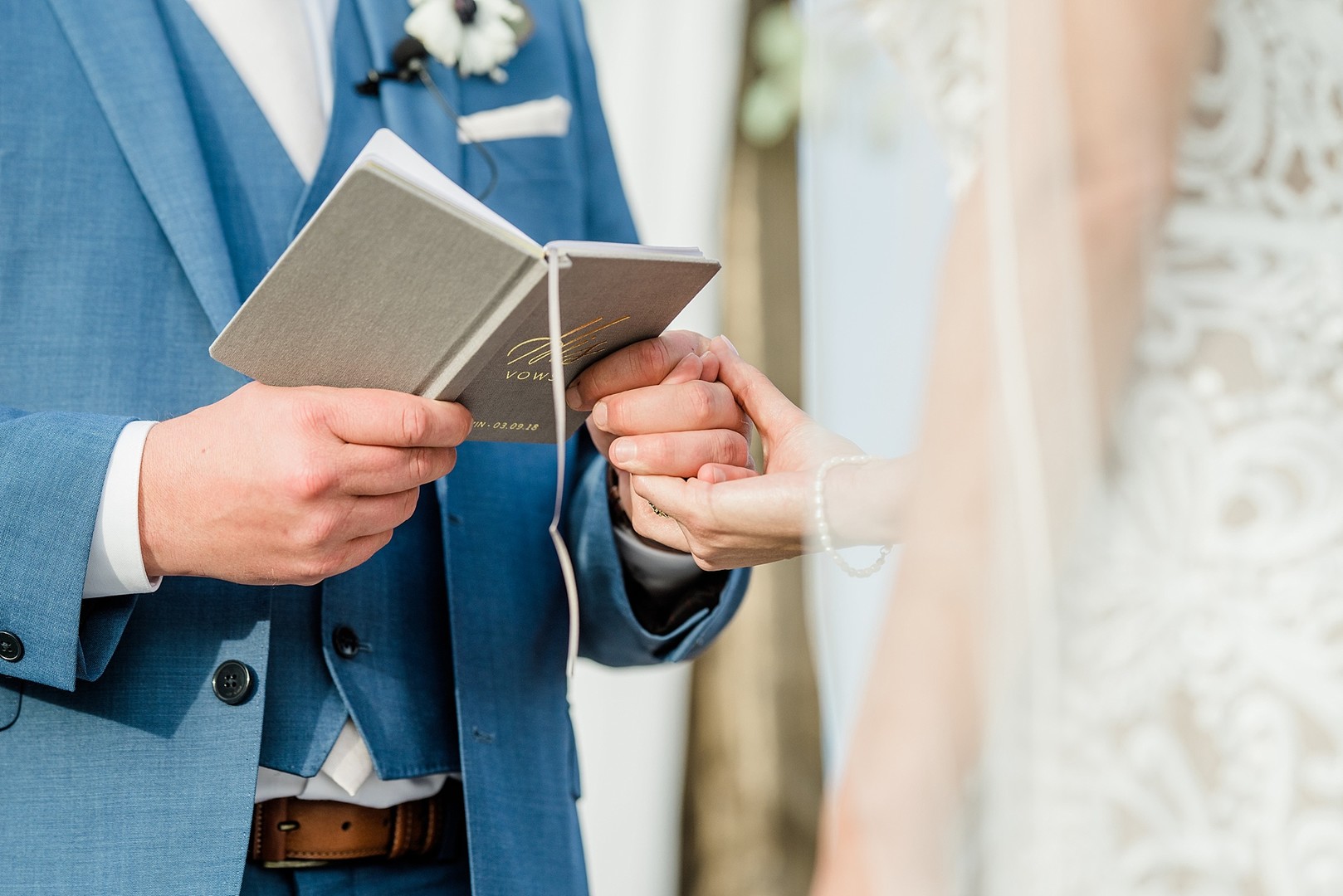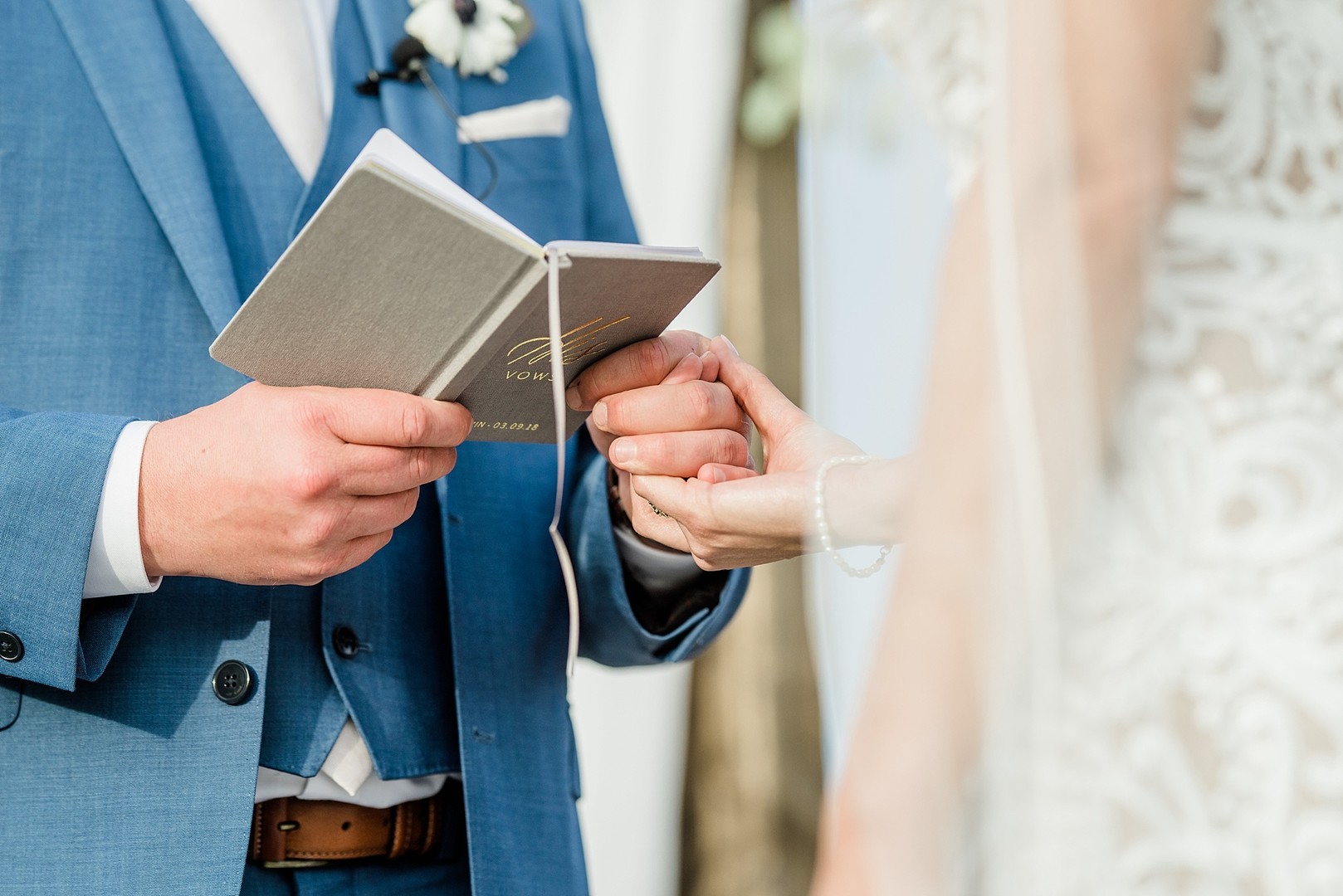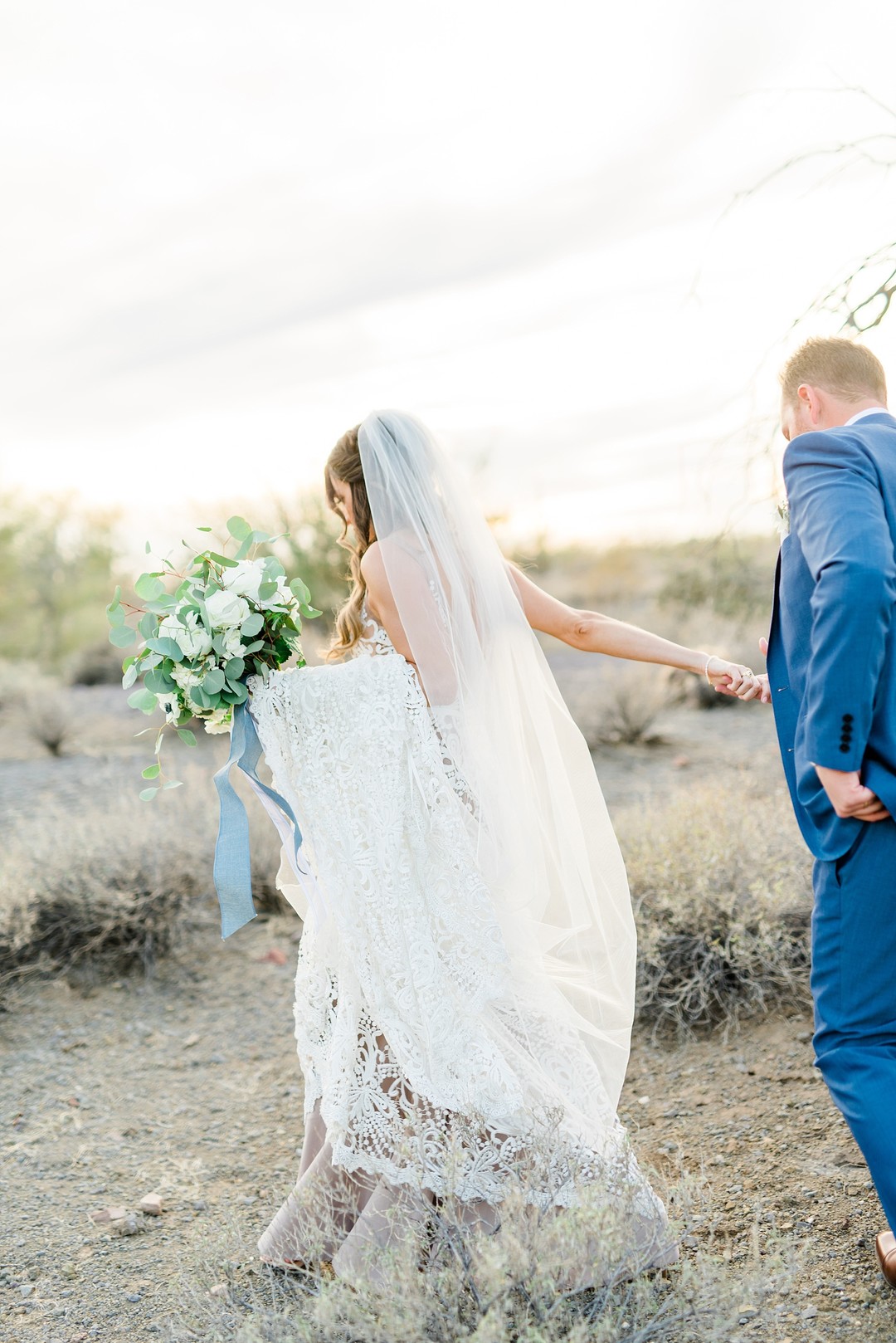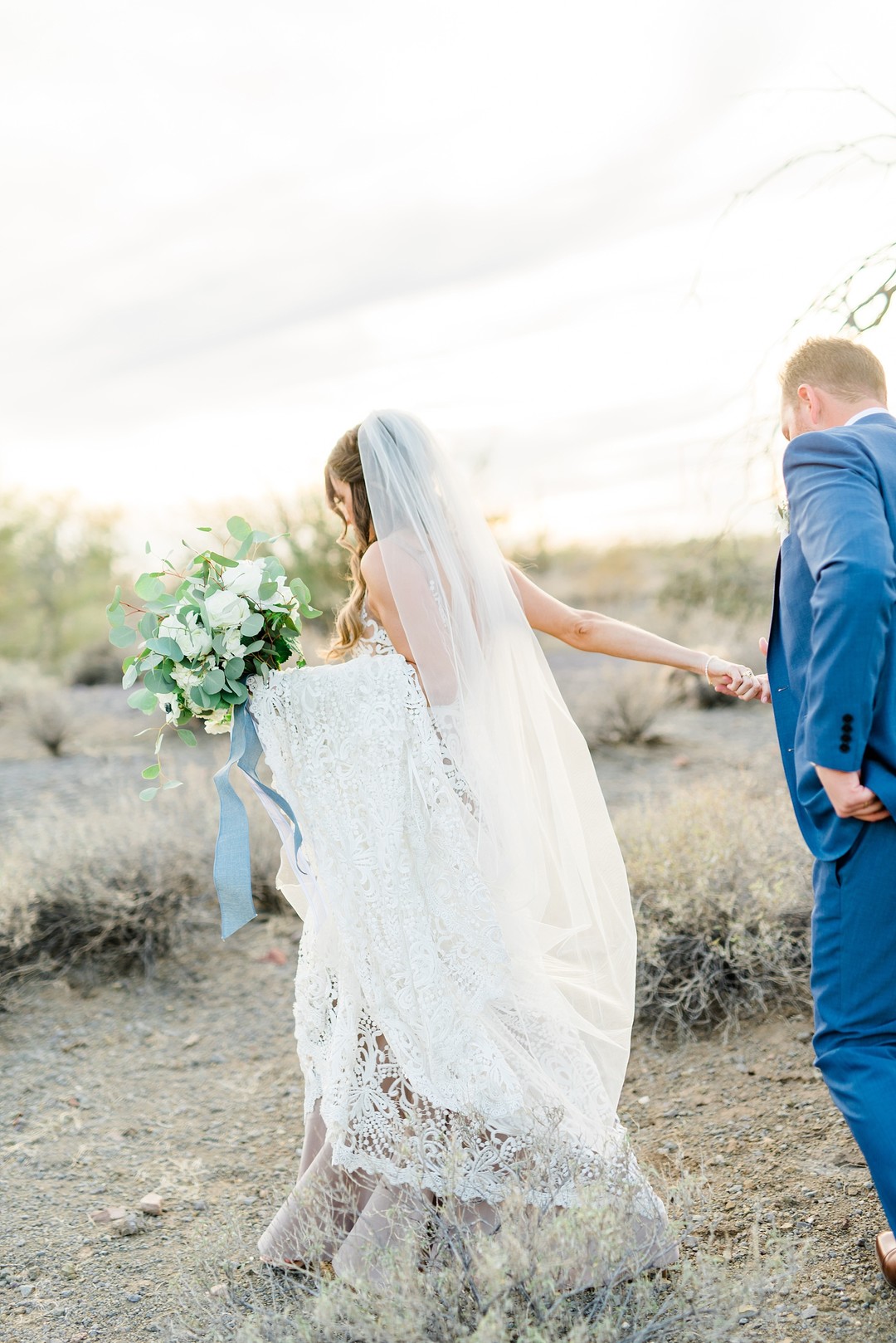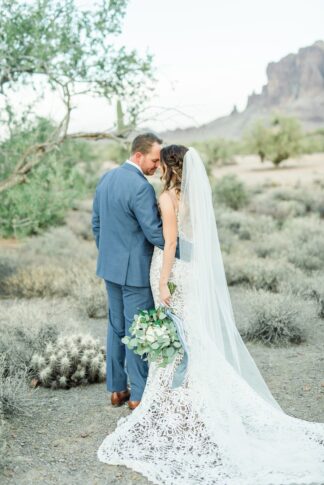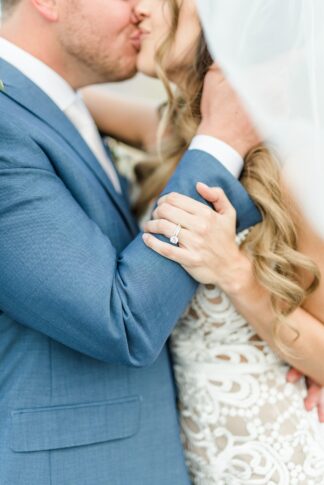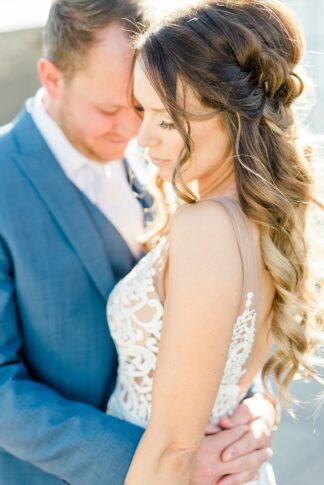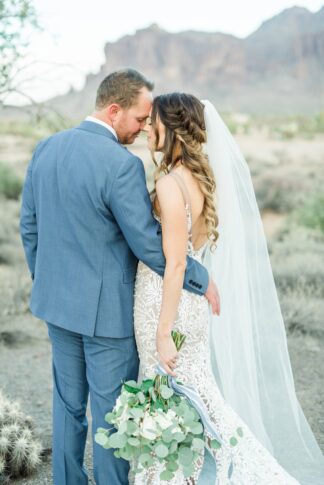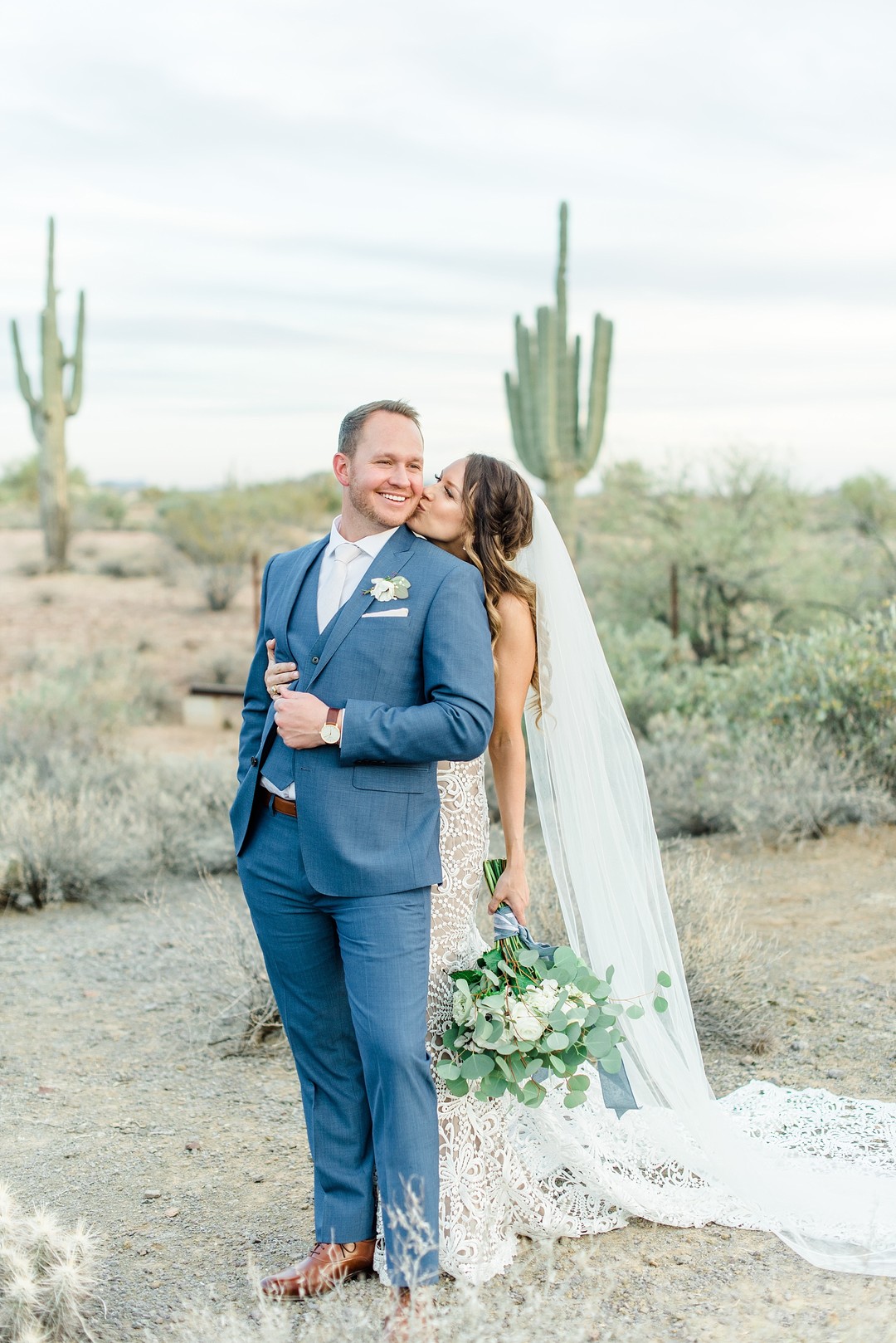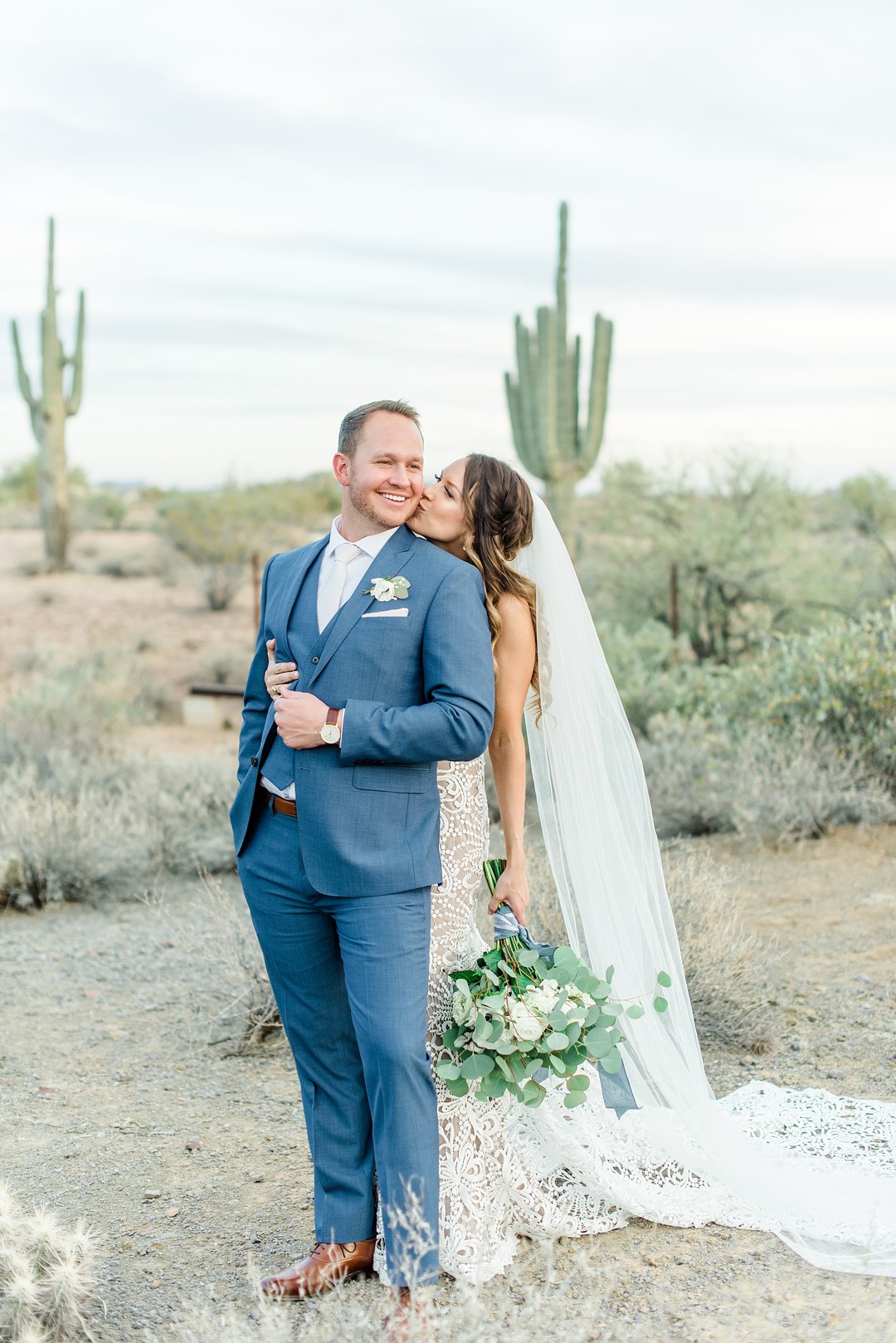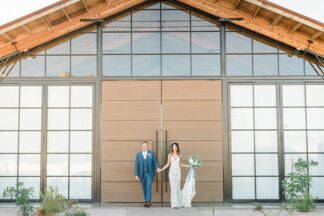 We filled the spaces of our wedding reception venue with a mix of long wooden tables and the classic rounds. The long wooden tables were draped with light, airy, ivory table runners topped with a eucalyptus garland down the length of them. Accenting the garland were gold tapered candleholders of various heights.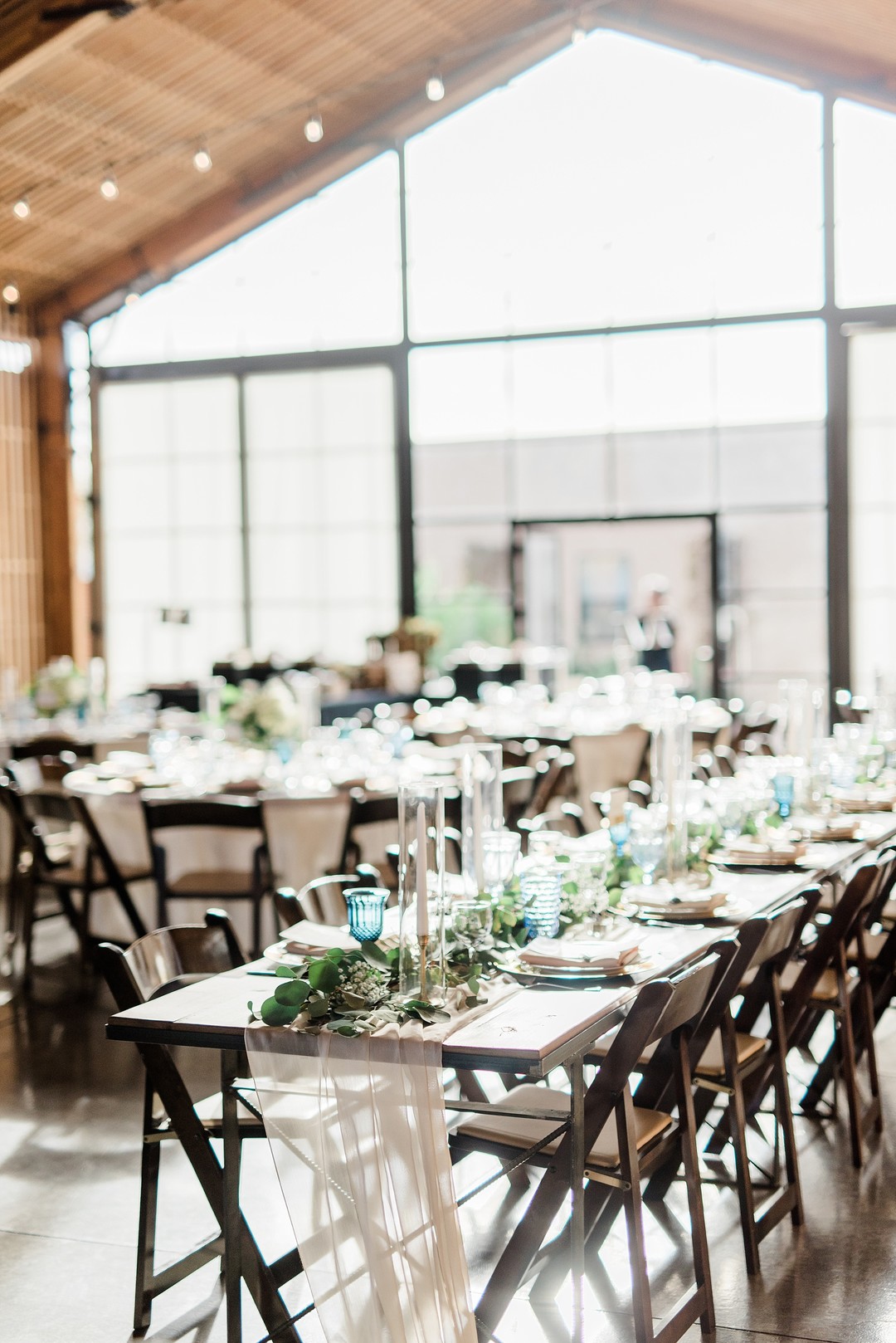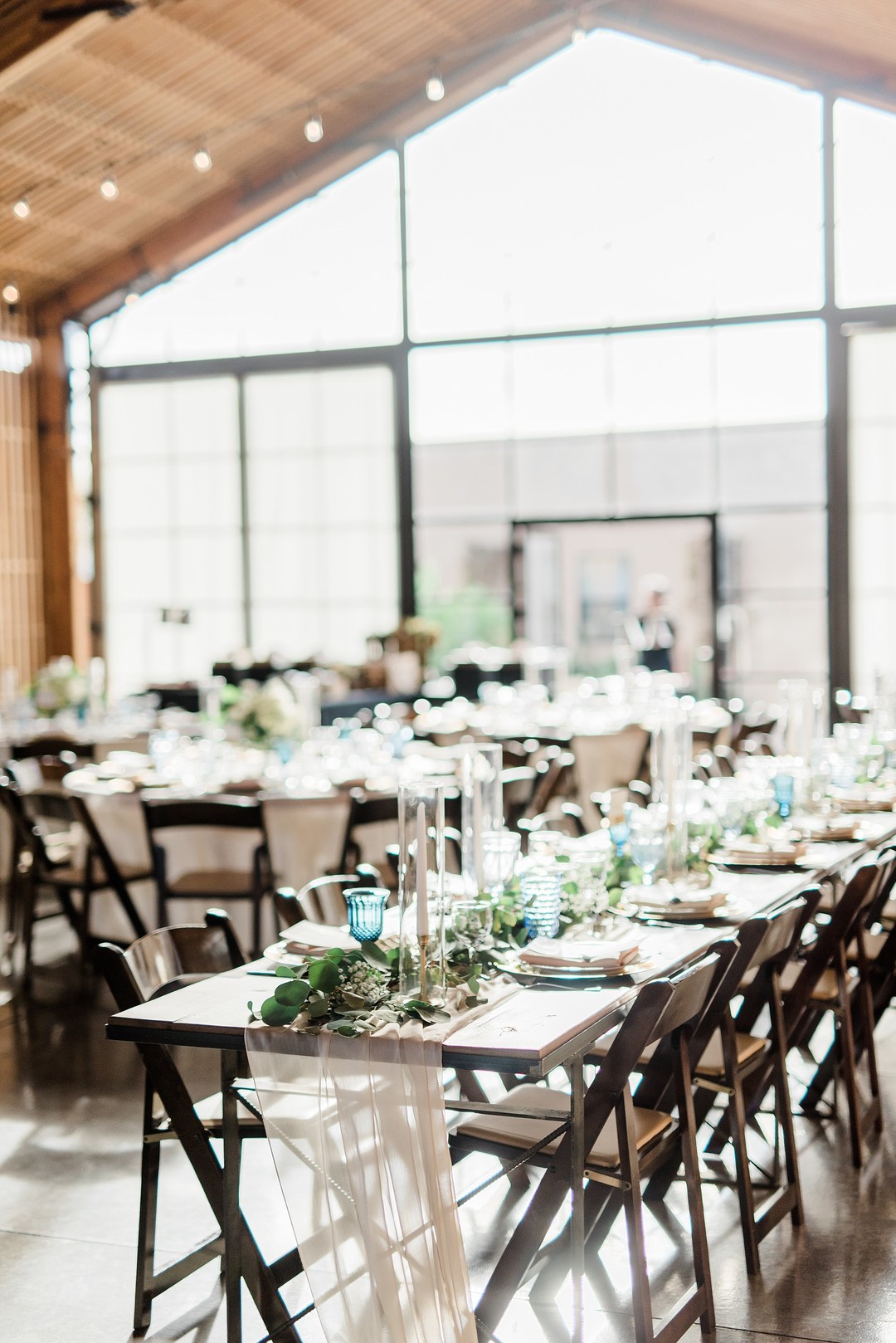 The wooden reception tables were draped in the same flowery fabric as the ceremony arch and had an undone garland of eucalyptus strung along the table runners. The round table centerpieces were built to be mimics of my bridal bouquet. Everything complimented each other and I got the overall looks I was going for without spending a fortune.
The round tables were donned with ivory tablecloths centered with gold mercury compote vases filled with arrangements similar to the bridal bouquet. Around the vases were mercury gold tea light candles to add a soft romantic feel. The places were set atop gold chargers.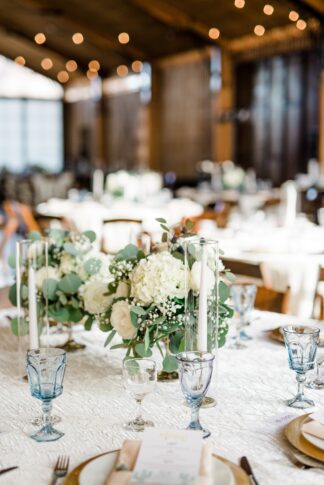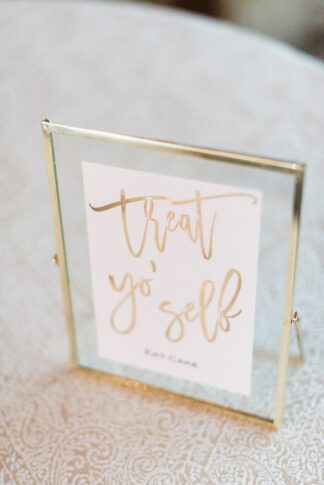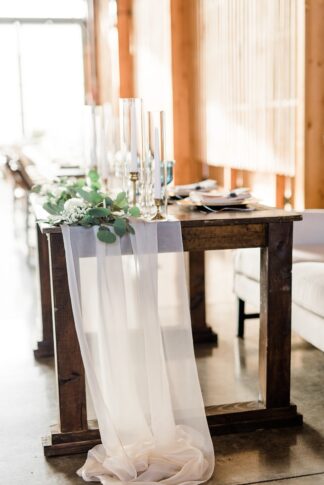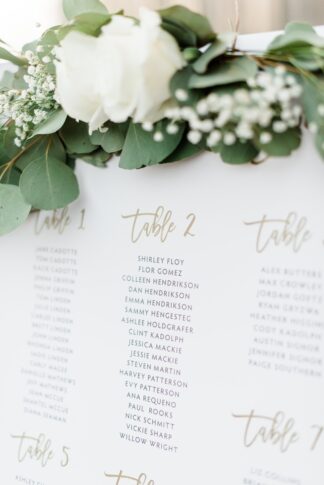 Upon the plates were pocket folded napkins tucked with a hand-designed menu card. Blue glass water goblets and blue thistle placed inside the napkins tied in my accent color in the most subtle yet stunning way.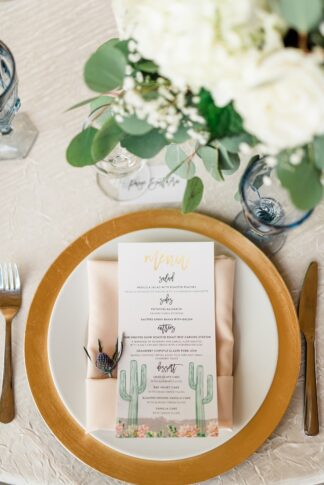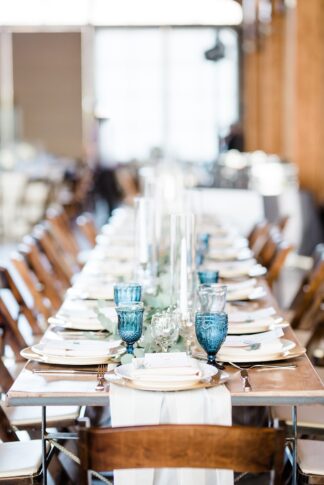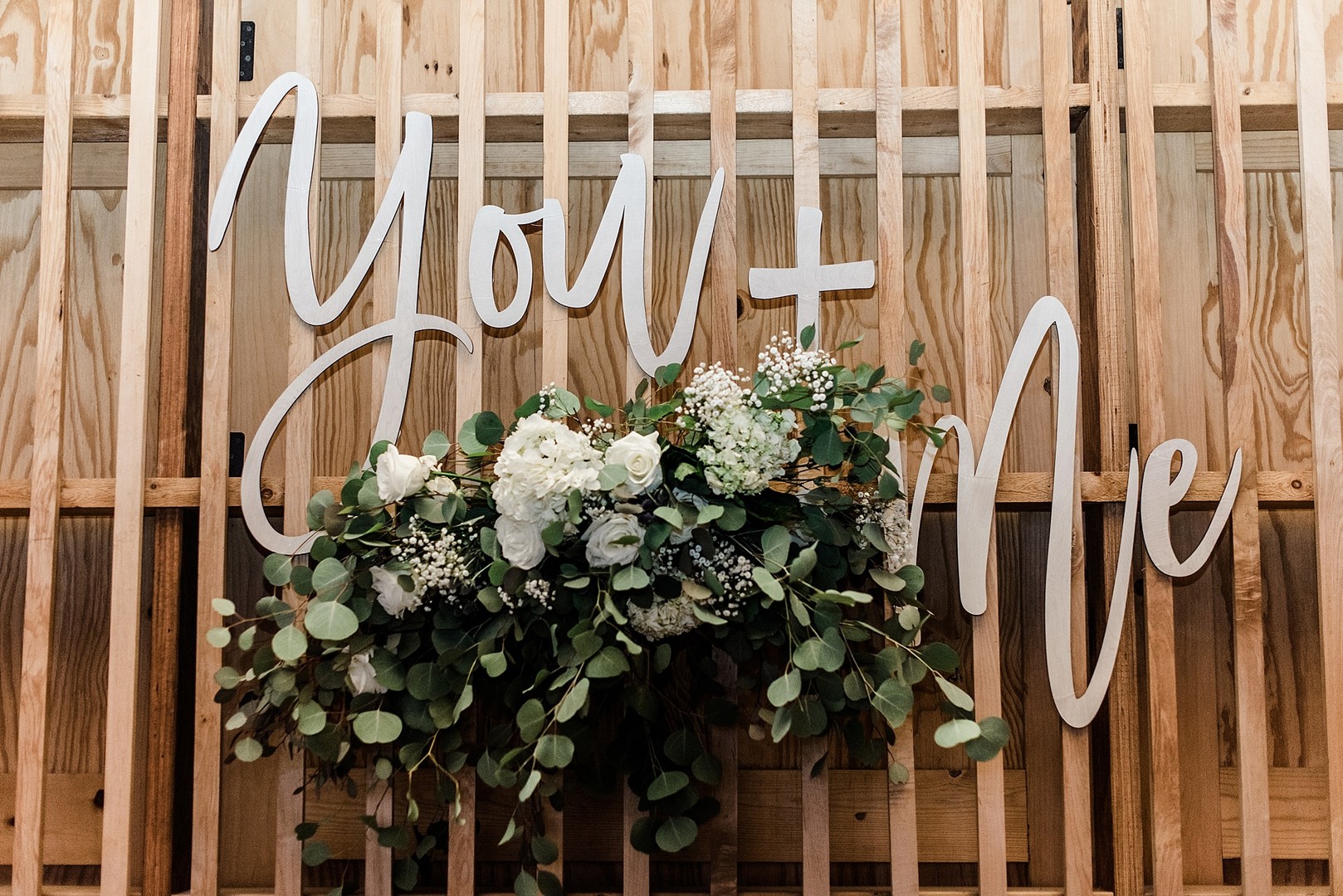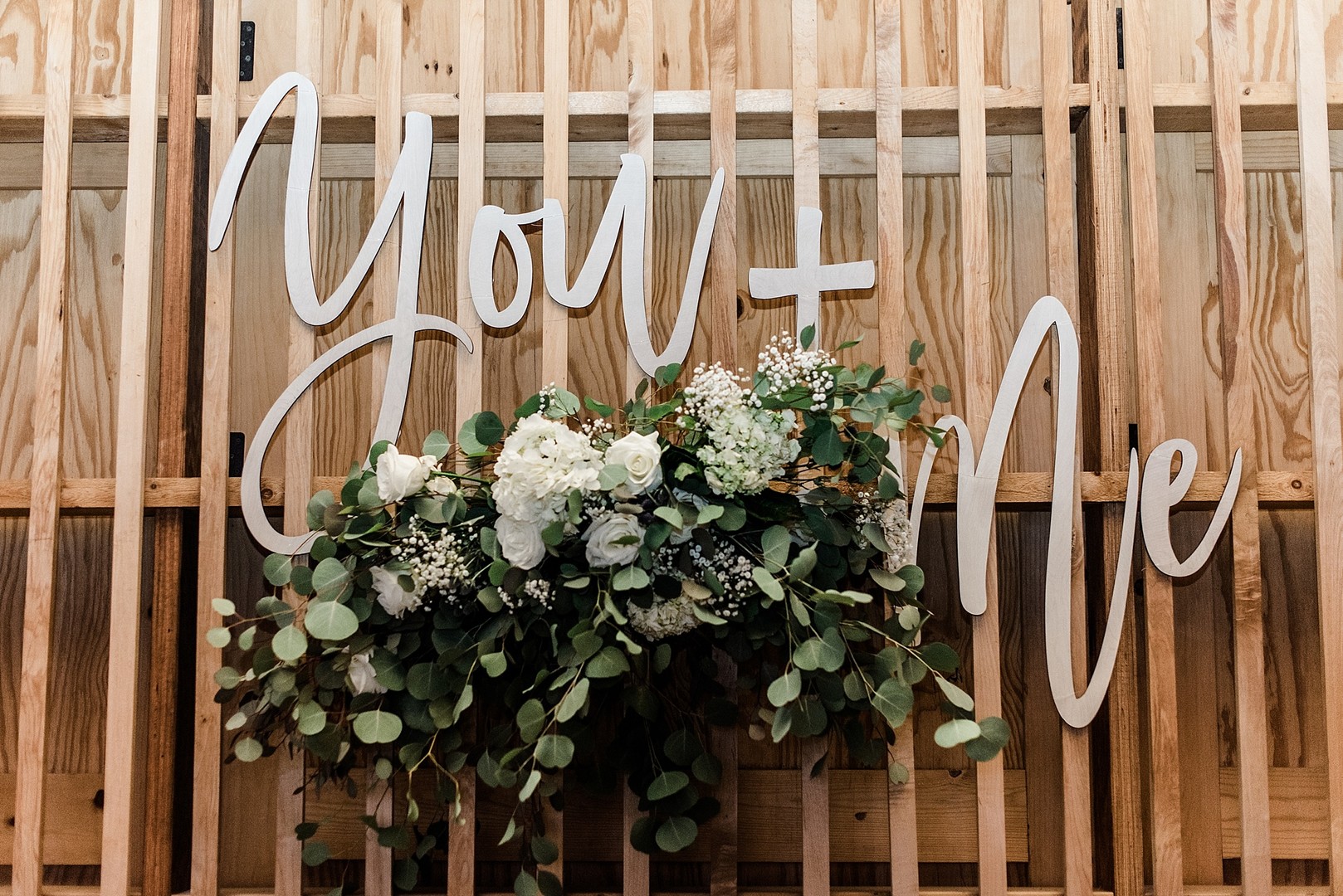 My husband and I sat at a sweetheart table on a tufted loveseat. On the wall behind us was a wooden cut out saying "You & Me" which was created by a close friend. The sign was decorated with our ceremony arch flowers. The space was the perfect little oasis on such a busy day.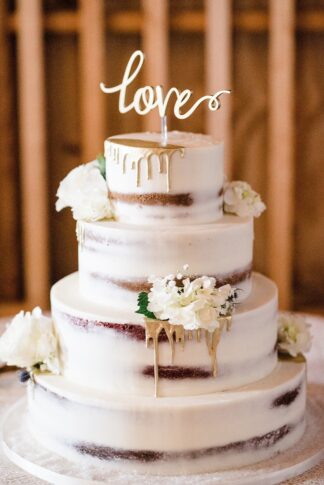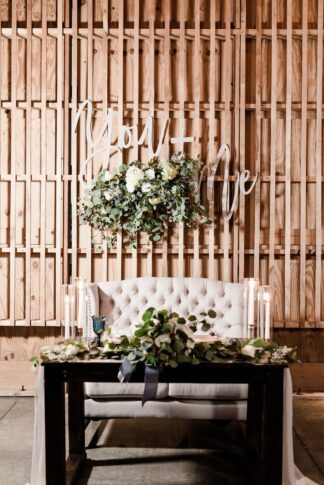 Wedding Vendors: Photographer: Trisha Shelley Photography// Event Designer: J Barry Designs// Event Planner: Shine Events// Event Venue:The Paseo //Dress Store:Bella Lily Bridal// Dress Designer: Made with Love Bridal// Invitation Designer: Alexa Nelson Prints//Makeup Artist: Chanel Molleo Beauty Co.// Hair Stylist: Hairmotty// Linens and Coverings: BBJ Linens// Equipment Rentals:Prim Rentals// Equipment Rentals:The Confetti Studio// Cake Designer: Piece of Cake Desserts Bakery// Caterer:straight to the plate catering//DJ: Downtown Browne Productions//
READ NEXT:
Blush + Mint Arizona Wedding with Circular Floral Arch at Mountain Shadows
Sparkling Autumn Plum, Pink + Gold Arizona Wedding {Jessica Q Photography}