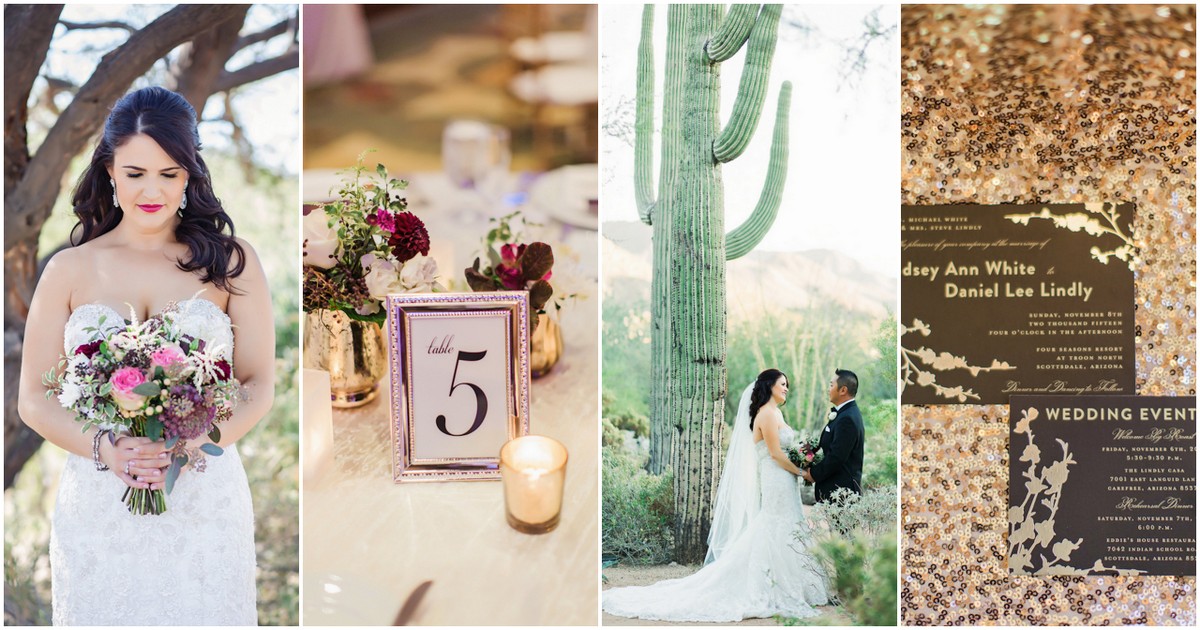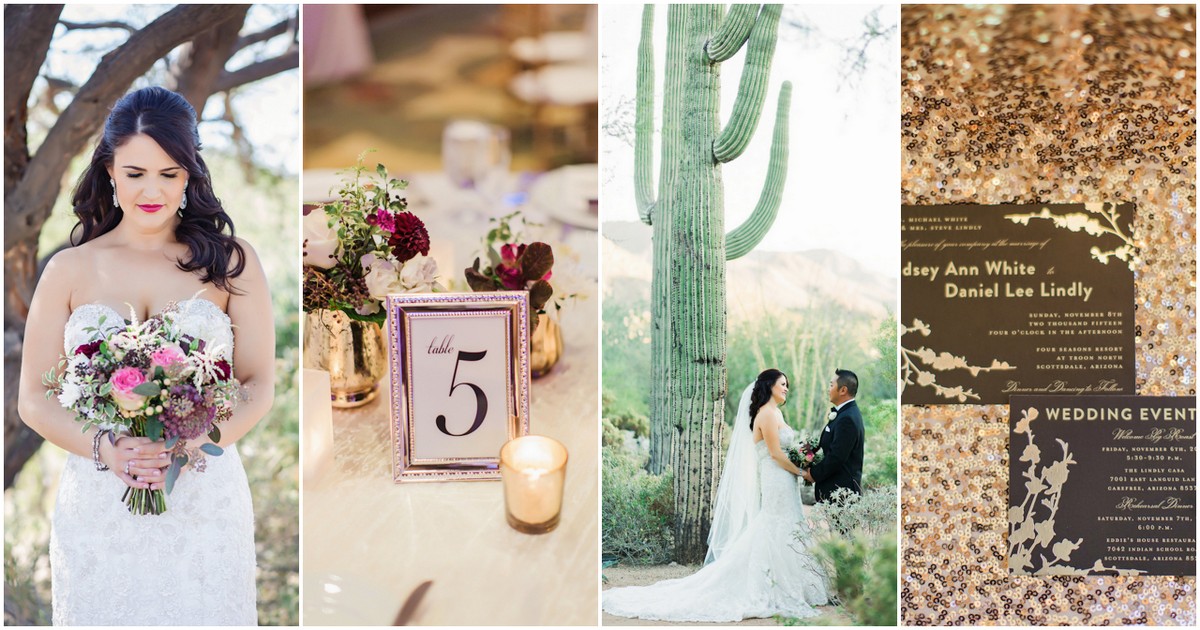 Daniel and Lindsey were married in a weekend long celebration of love in the fall! Their sparkling plum, pink and gold Arizona Wedding  held at The Four Seasons Resort Scottsdale was romantic and elegant with a glamorous flare. Lindsey wanted to be able to look back in 20 years and still view her wedding as classic and timeless – we think she succeeded!
From her elegant wedding gown, to her glittering Badgley Mischka bridesmaid dressed rented from Rent the Runway, to her  bouquet of chocolate dahlias, pale pink and white freesia roses, mini button white poms, alstroemeria, winter berries, and greenery – each detail was perfectly planned.
"We had more than a wedding, we had a weekend long celebration! " shares Lindsey. "We wanted our family and friends to experience the wonderful fall weather that the desert can provide. Big thanks go out to Jessica Q Photography, The Beat Booth and Amanda Victoria Beauty who went above and beyond for our wedding!"
Autumn Plum, Pink + Gold Arizona Wedding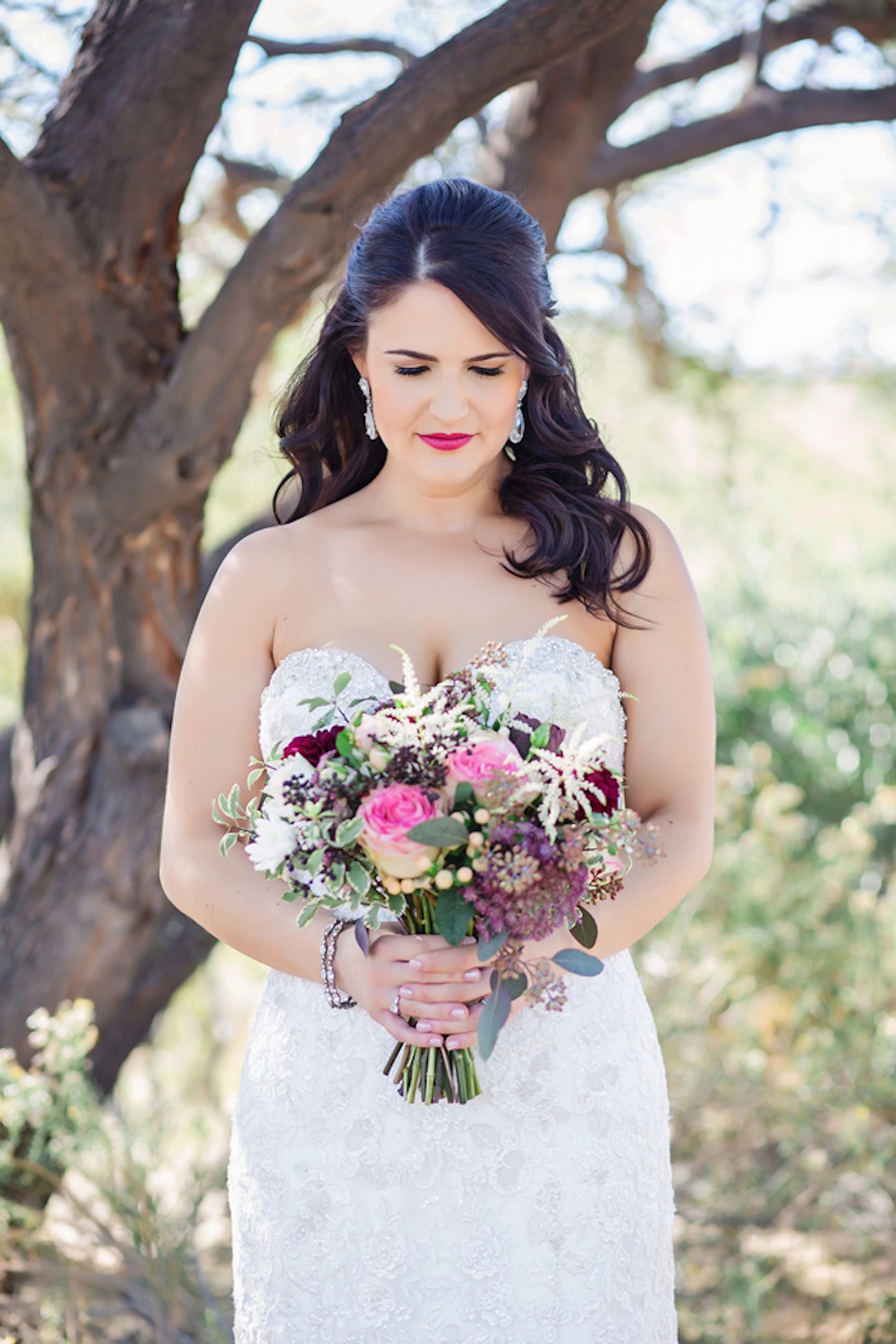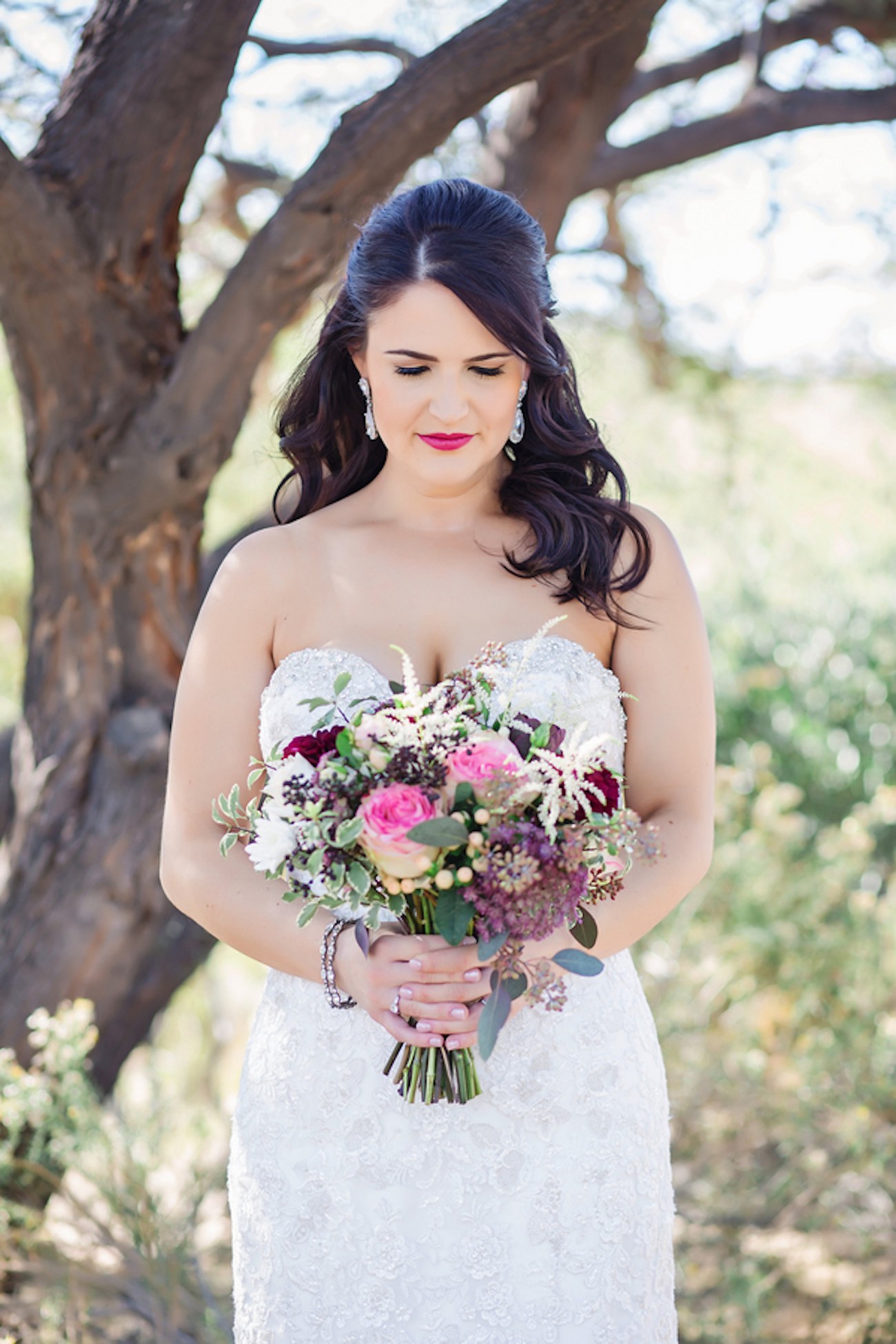 I love a bold lip! I knew that I would need to incorporate my signature lip color, a fuchsia pink, into my make-up color palette. Amanda Victoria Beauty provided me with an amazing lip stain that lasted all night. I wore my hair half up/half down with soft curls to frame my face.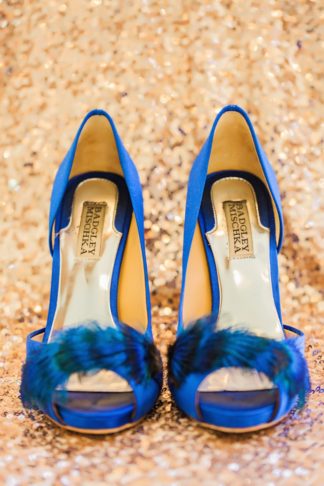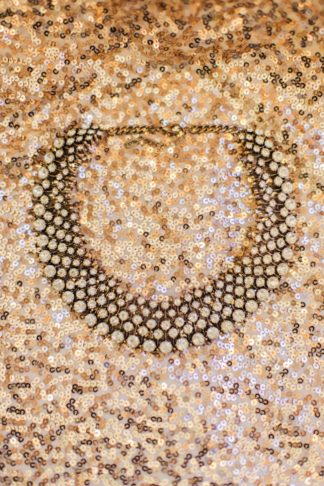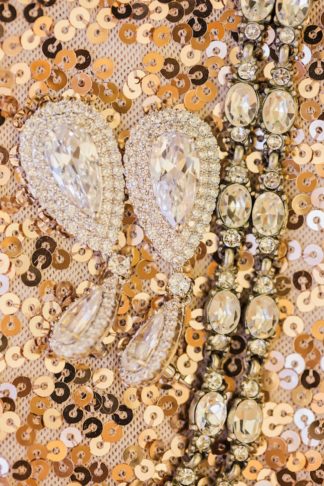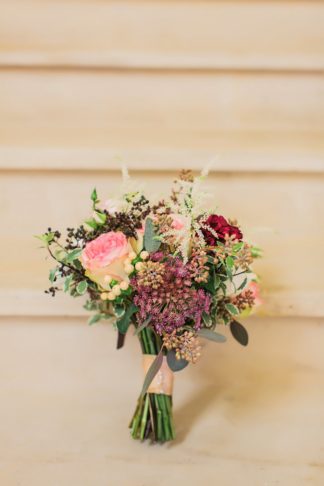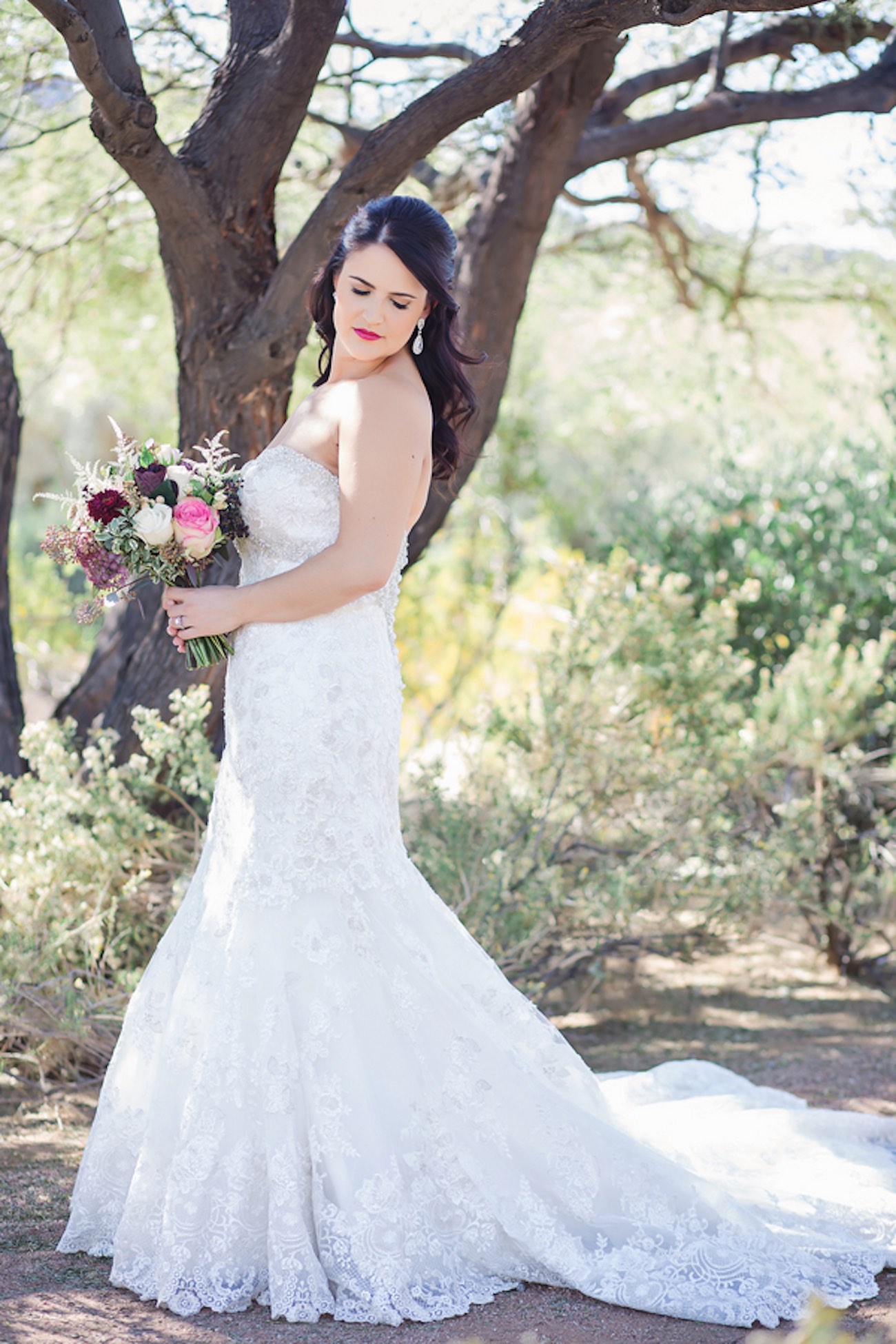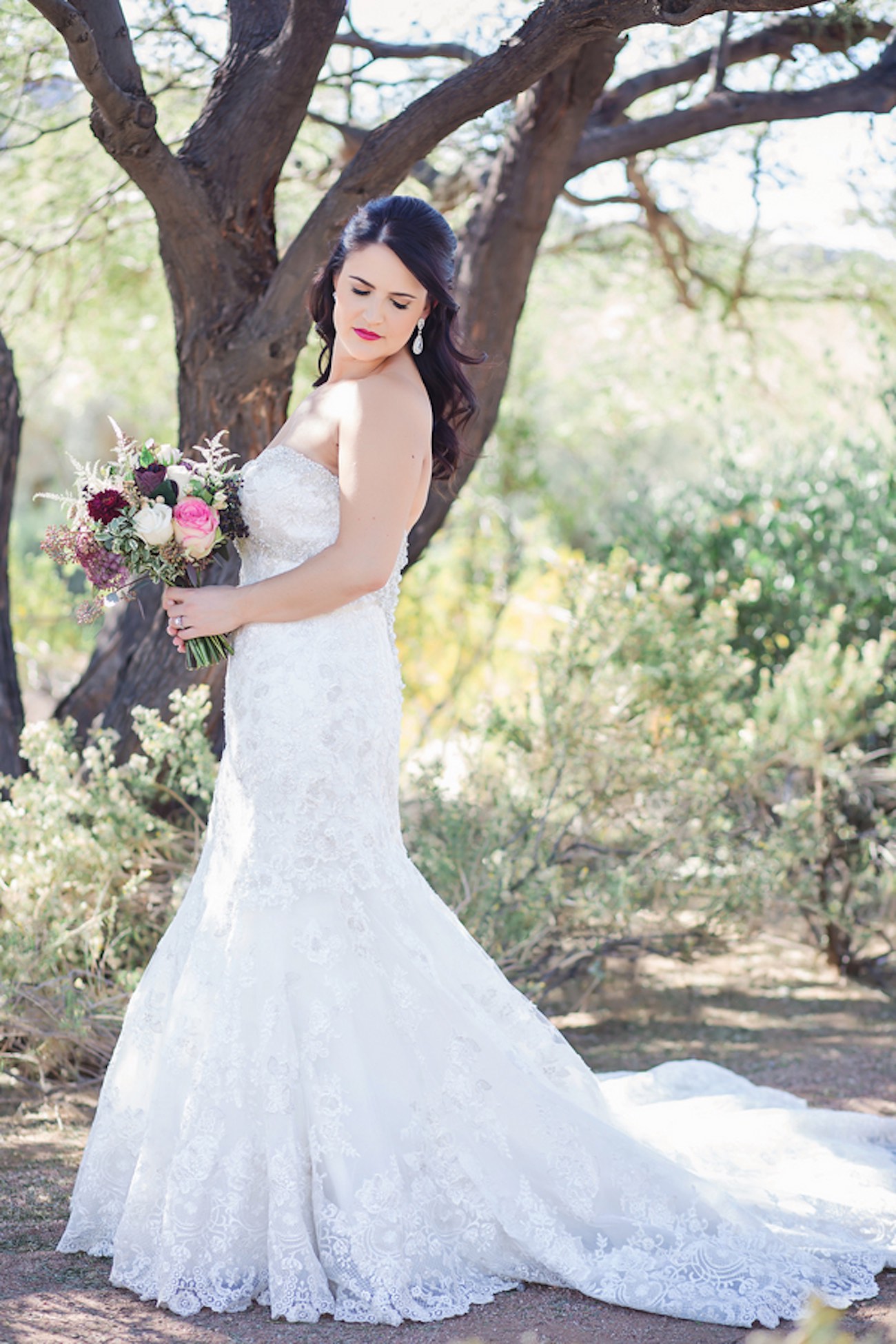 My gown was by Allure Bridal. I wanted a gown that made me look classic and elegant on my special day. I love the mix of lace and Swarovski crystals. The fit and flare style and sweetheart neckline complimented the curves of my figure.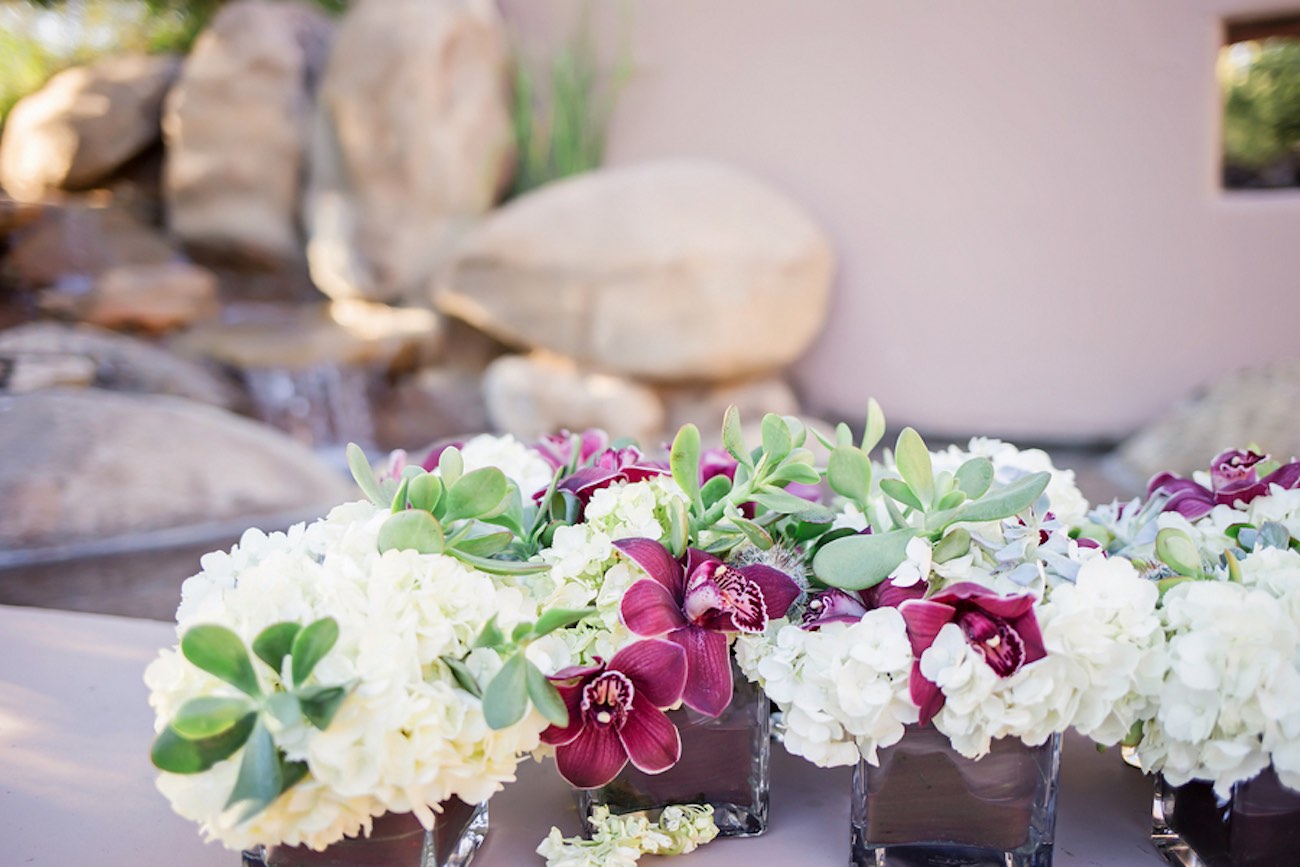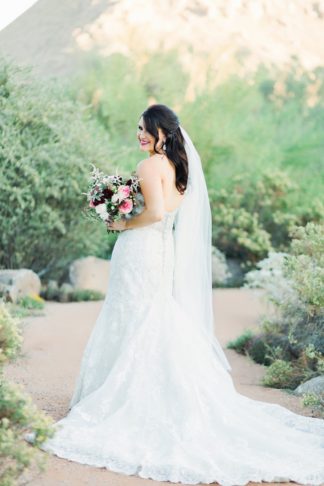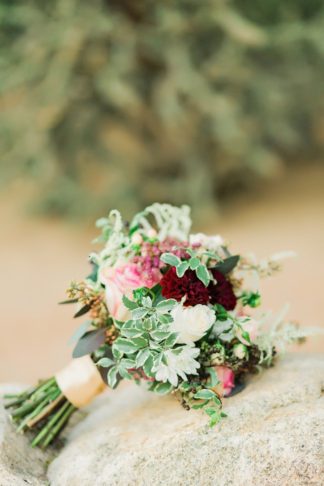 Since it was November in Arizona, I wanted a bouquet of soft colors that made the elegant transition from fall to winter. The bouquets included chocolate dahlias, pale pink and white freesia roses, mini button white poms, alstroemeria, winter berries, and greenery.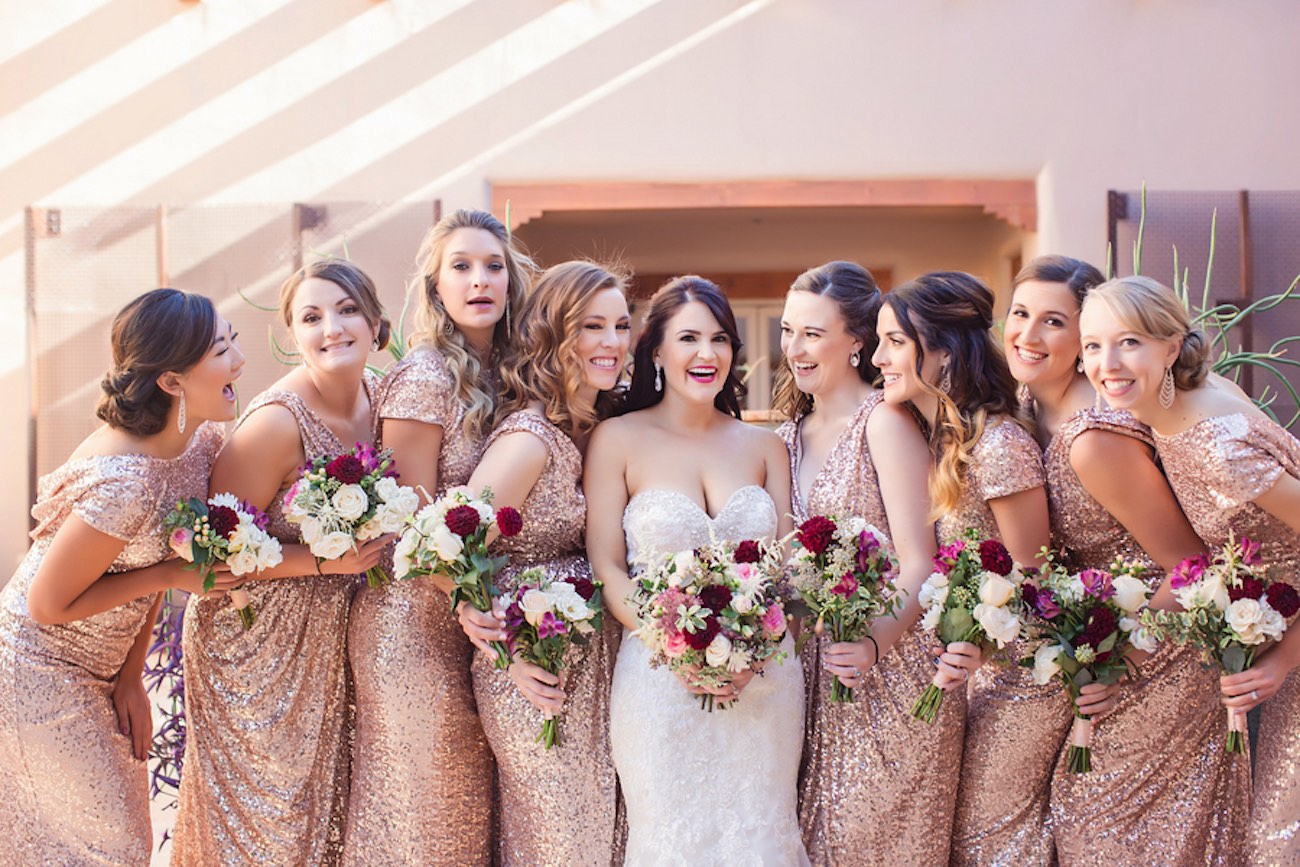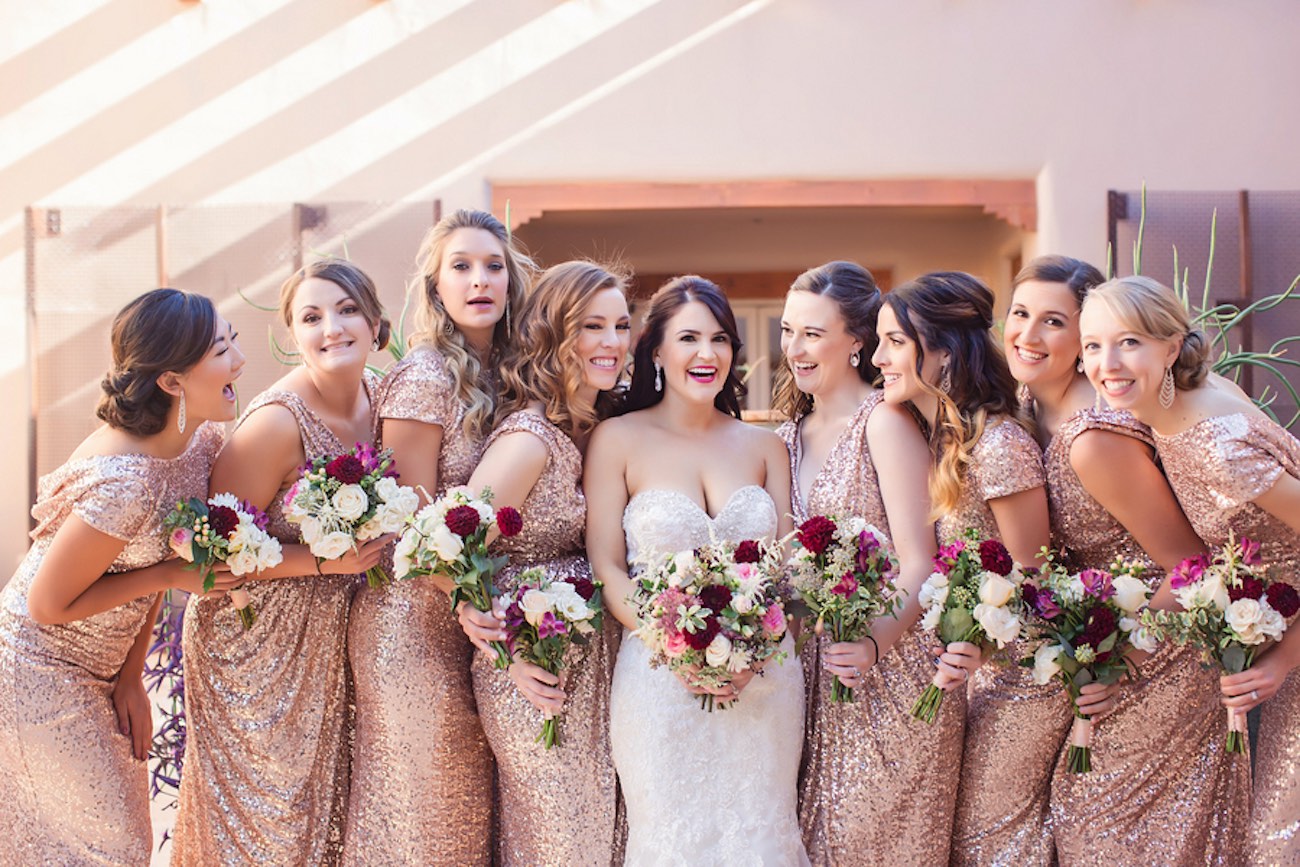 The bridesmaids wore Badgley Mischka gowns from Rent the Runway. Renting was an amazing idea for bridesmaids. It was very affordable and none of them have a dress hanging in their closet that they are never going to wear again. I had two styles since two of my maids were expecting! The rose gold color made them showstoppers.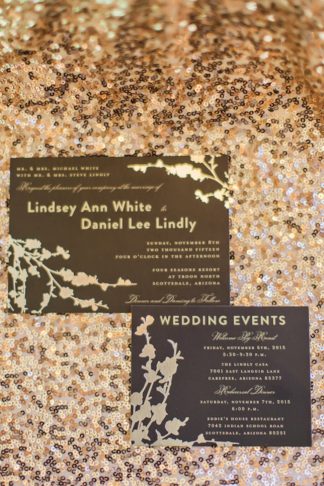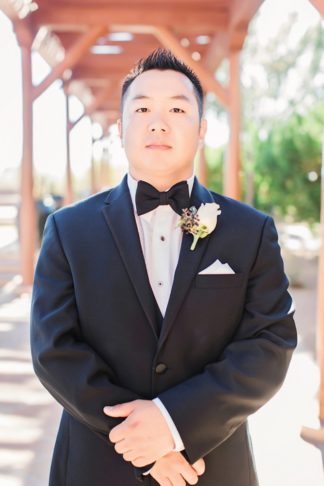 The gentleman wore Vera Wang tuxes rented from the Men's Wearhouse. The groom wore a traditional black and white tuxedo by Vera Wang.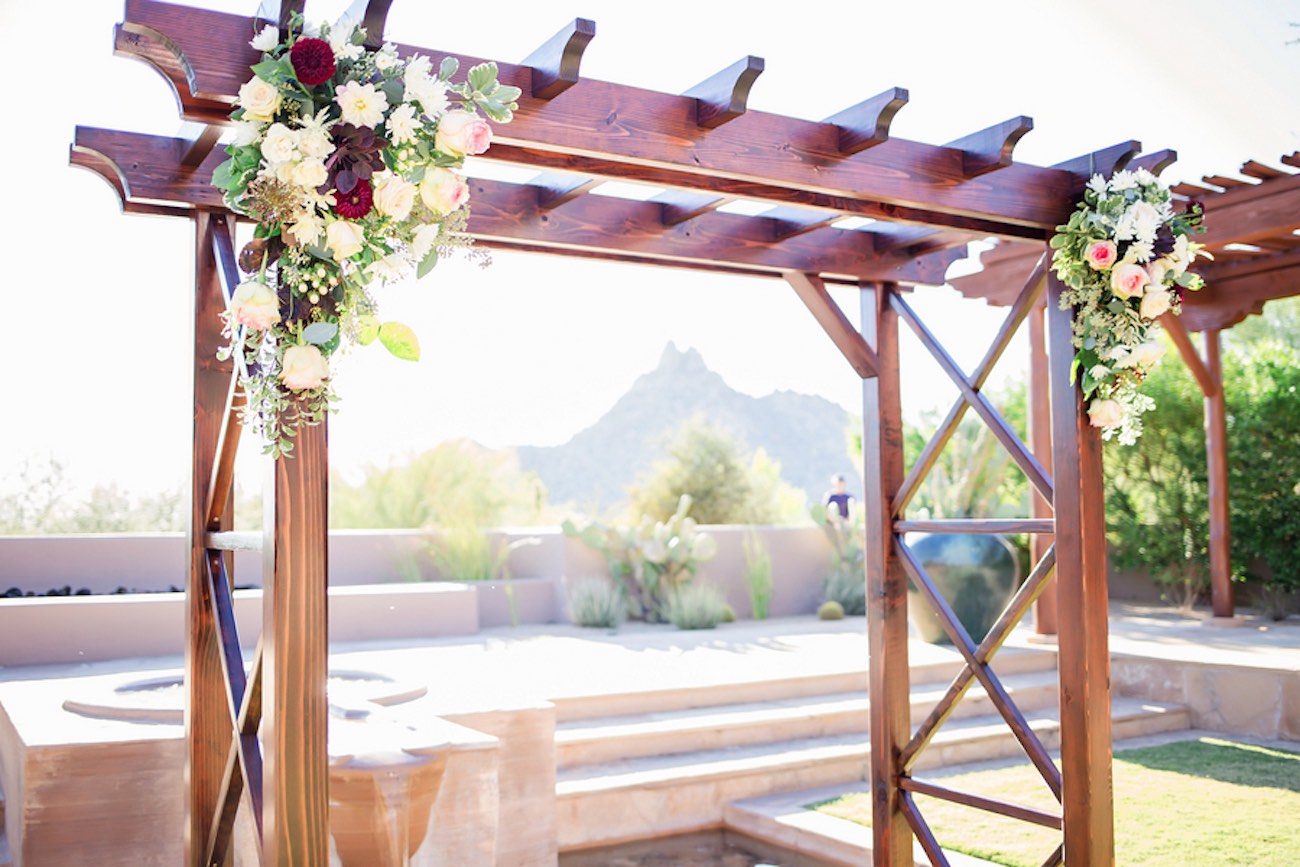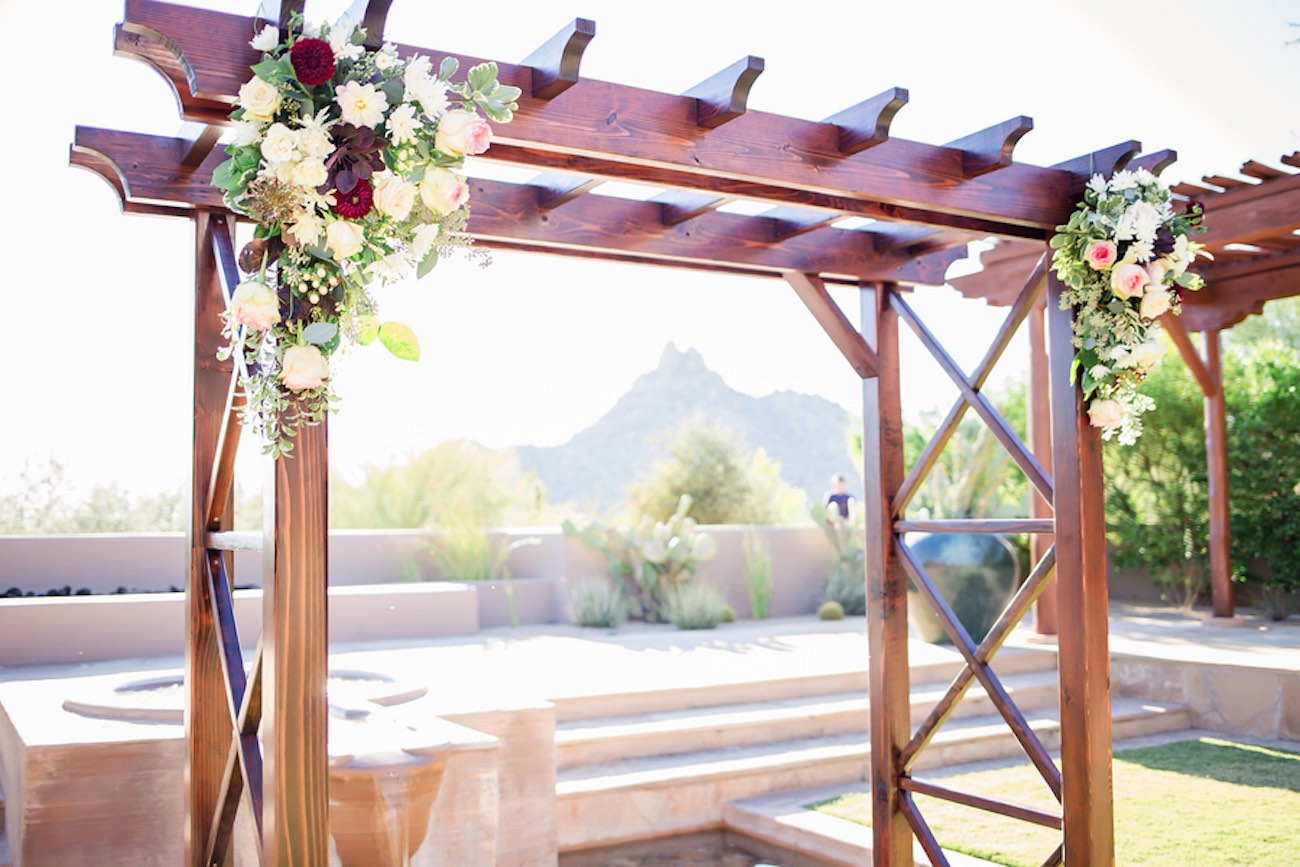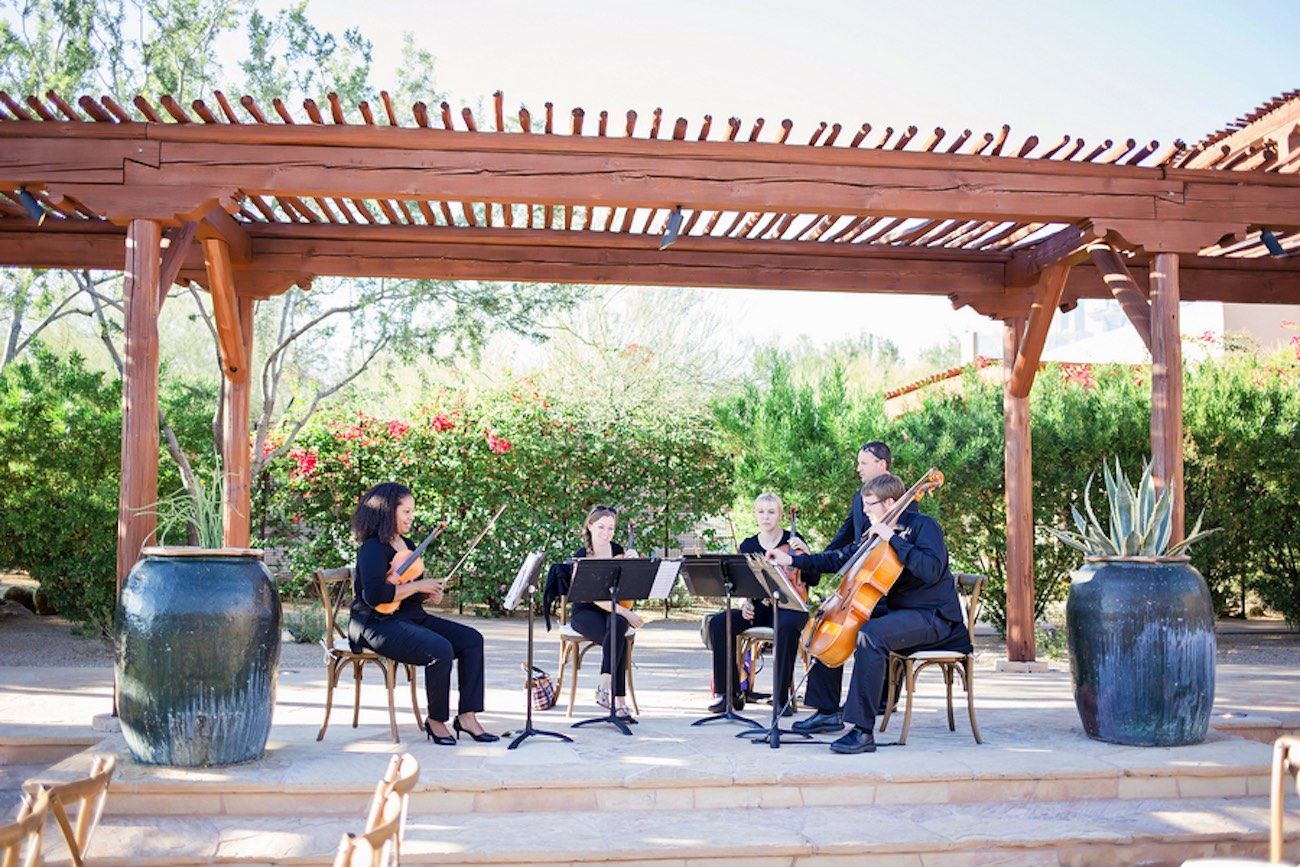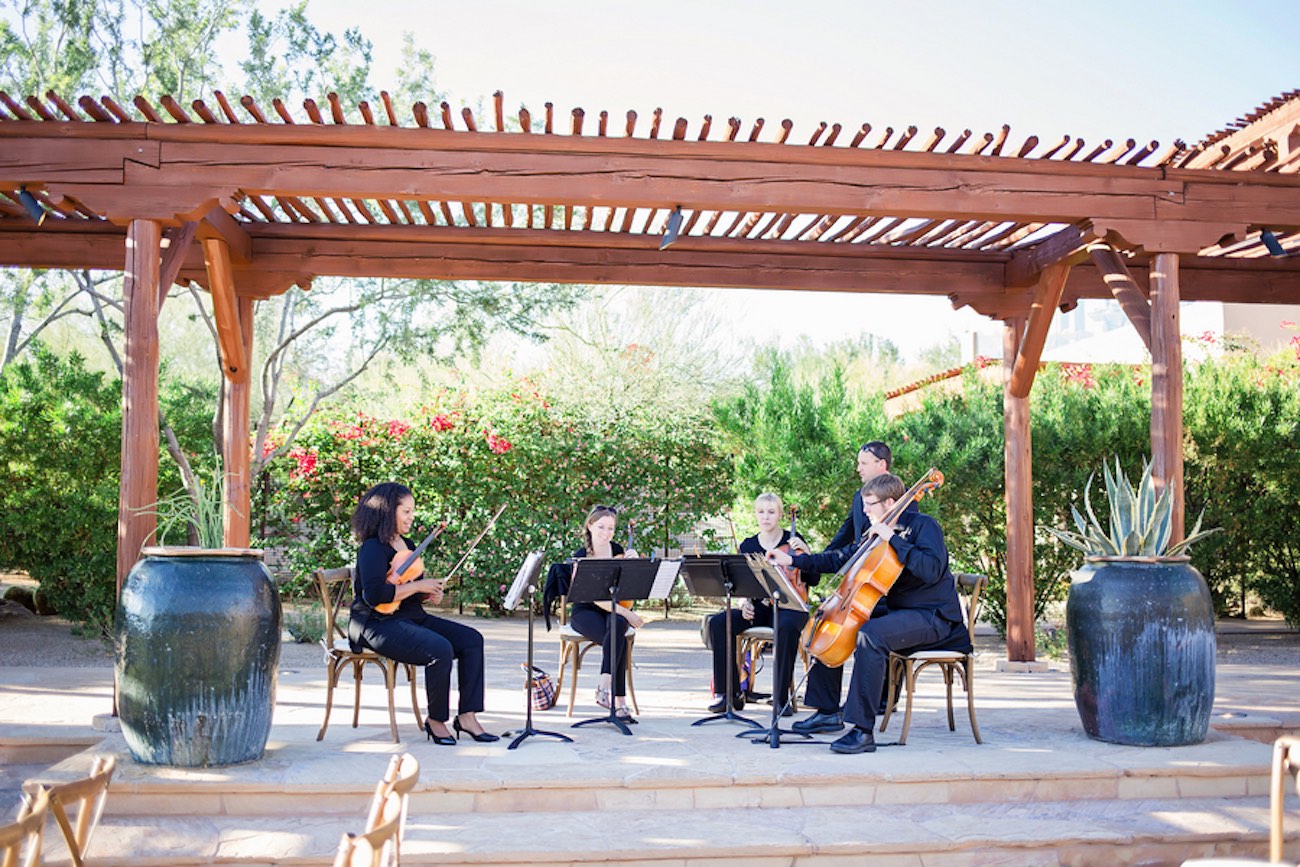 A string quartet provided all of our ceremony music selections. I walked down the aisle to A Thousand Years by Christina Perri. Now, every time I hear the song on the radio, it brings back a happy memory.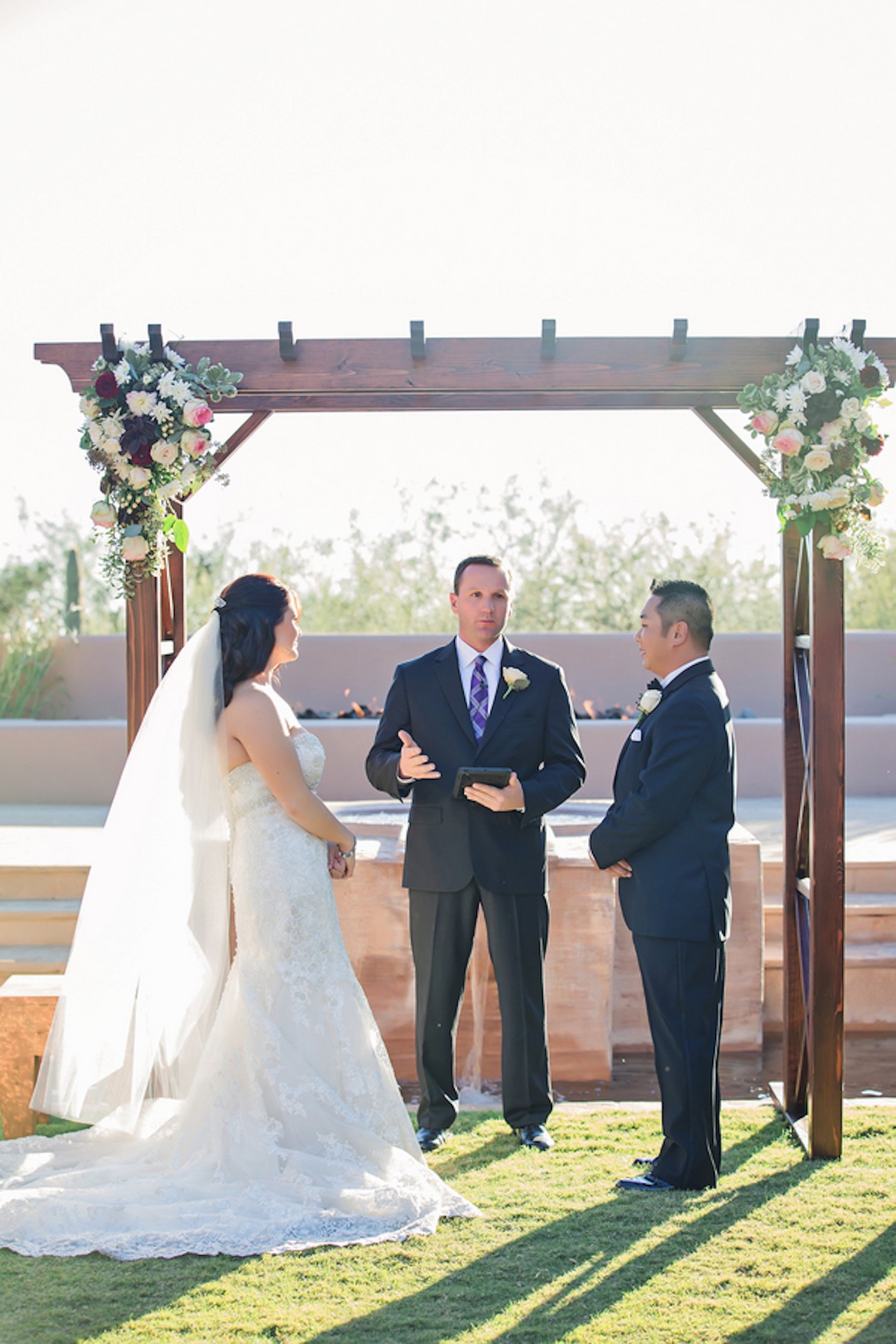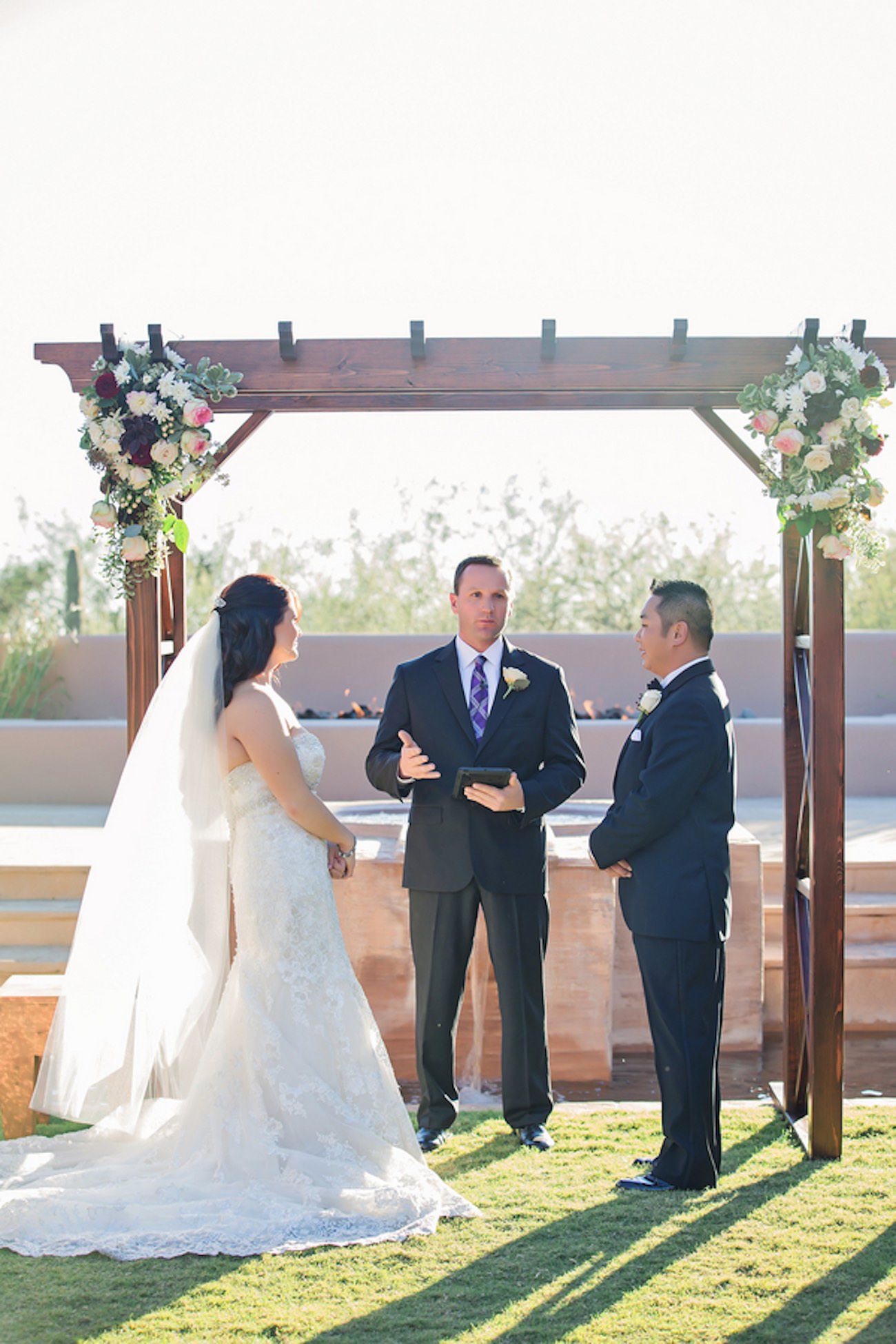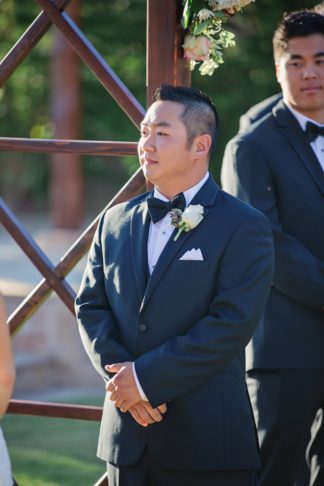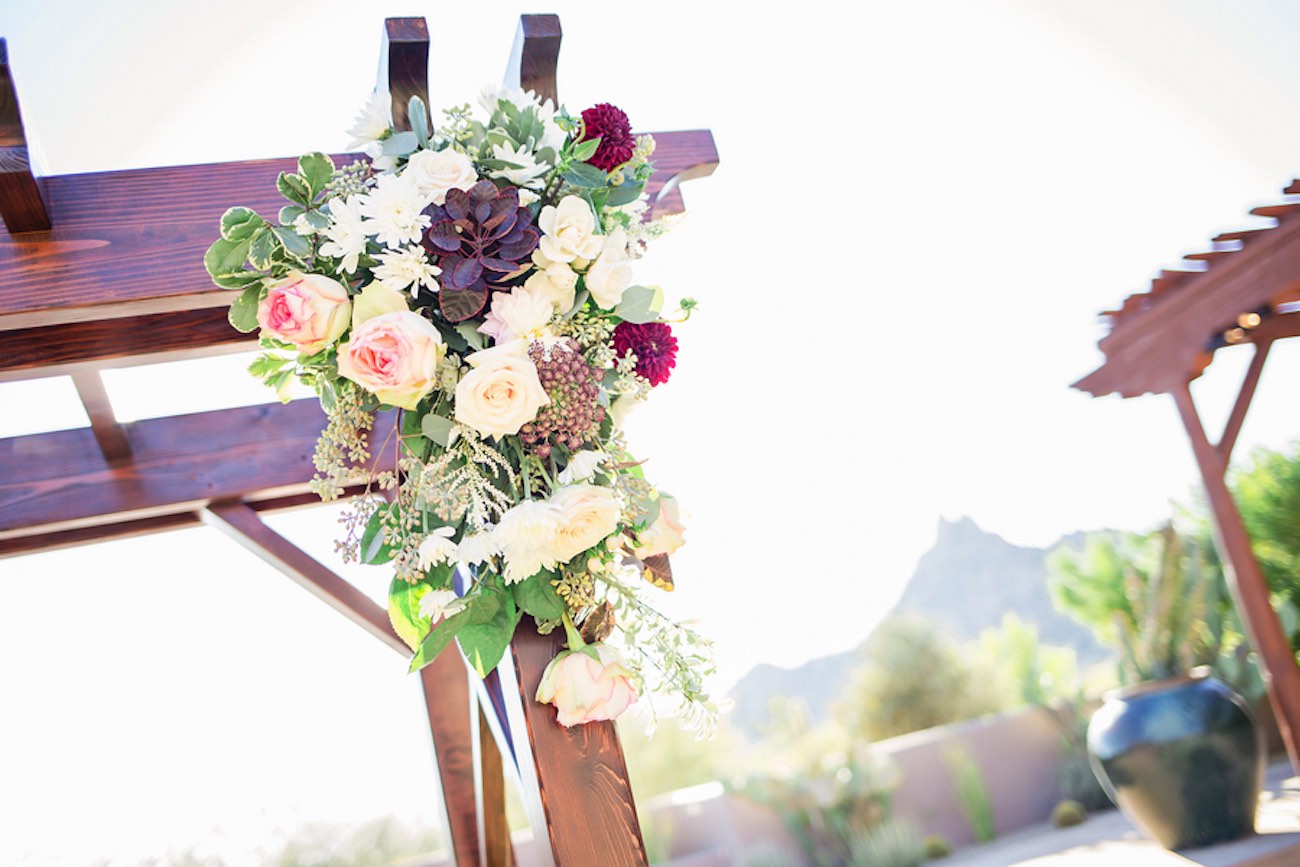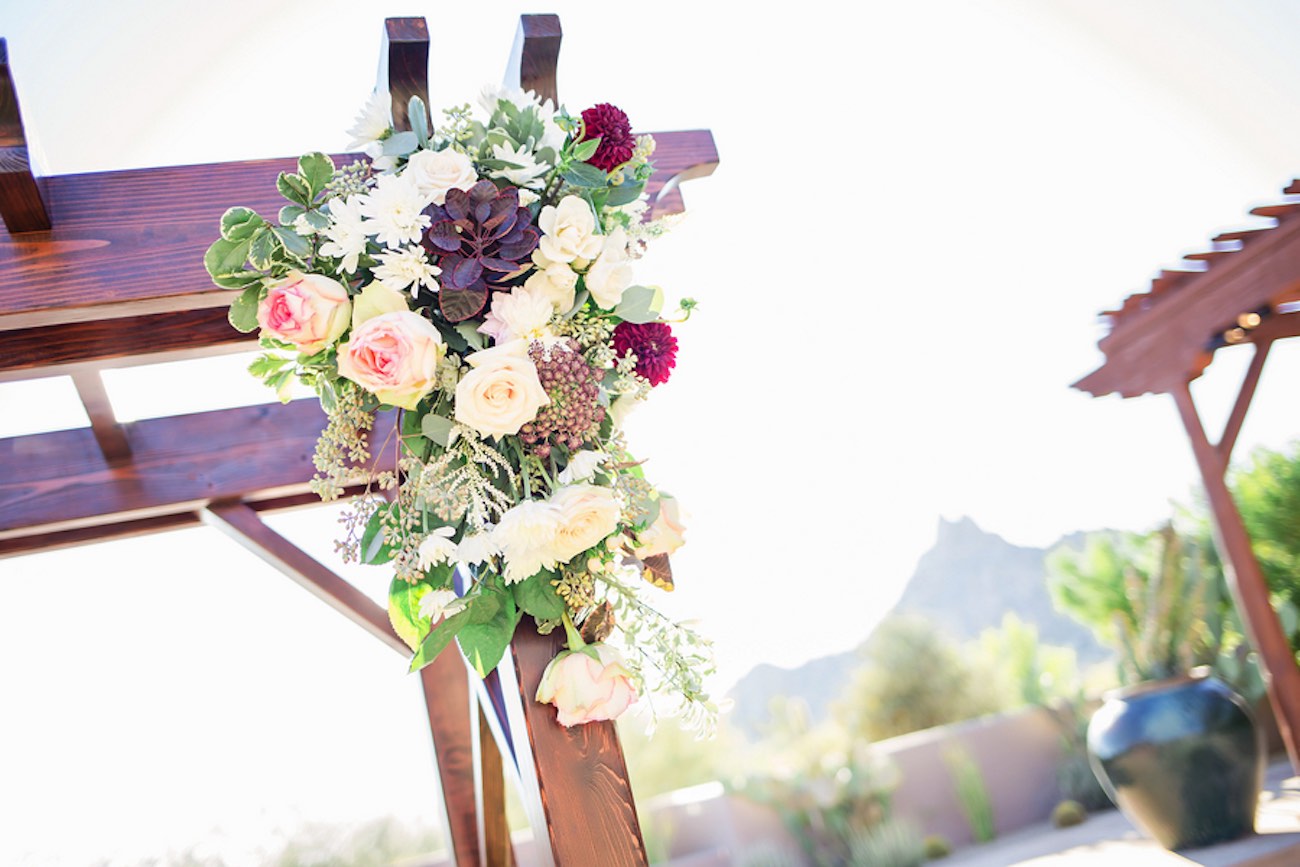 Our ceremony space was very special as it overlooked the beautiful desert landscape. Rose petals lined the aisle. My husband and our officiant (who is a close friend) built the ceremony arch we stood standing under. It has now been relocated to be enjoyed in our backyard at our new home.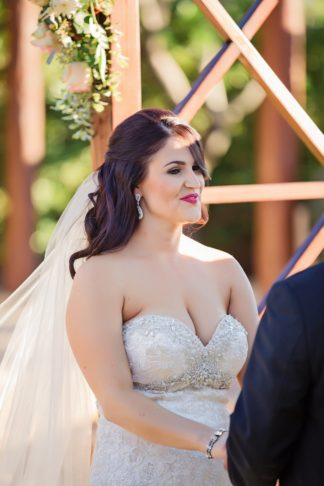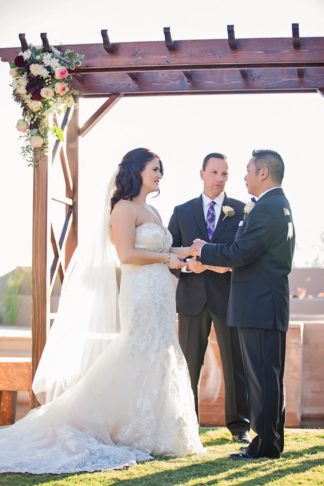 The bride is a huge fan of everything Sex and the City:
"I chose a friend to read the poem that Mr. Big whispers in Carrie's ear at their wedding in the Sex and the City Movie."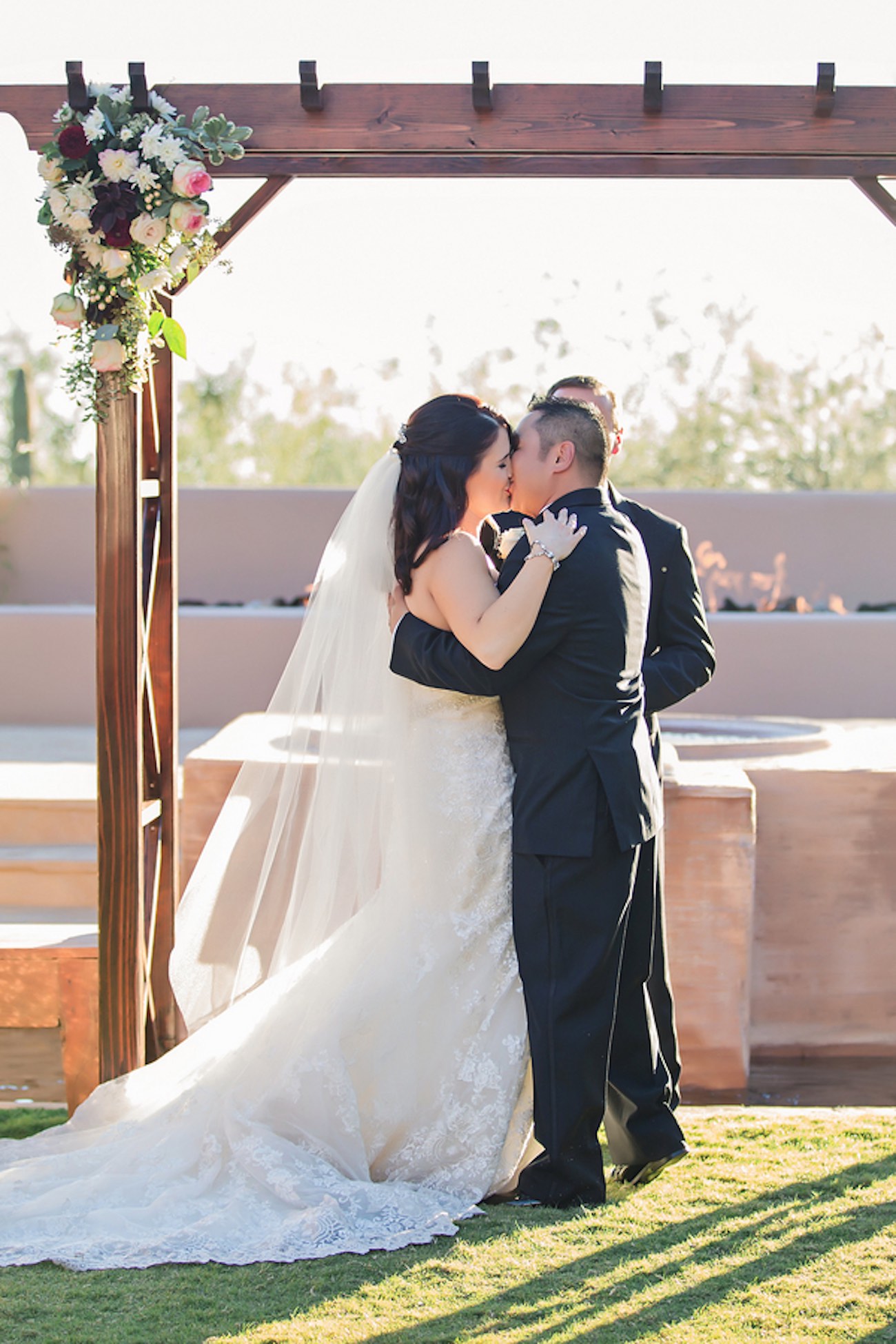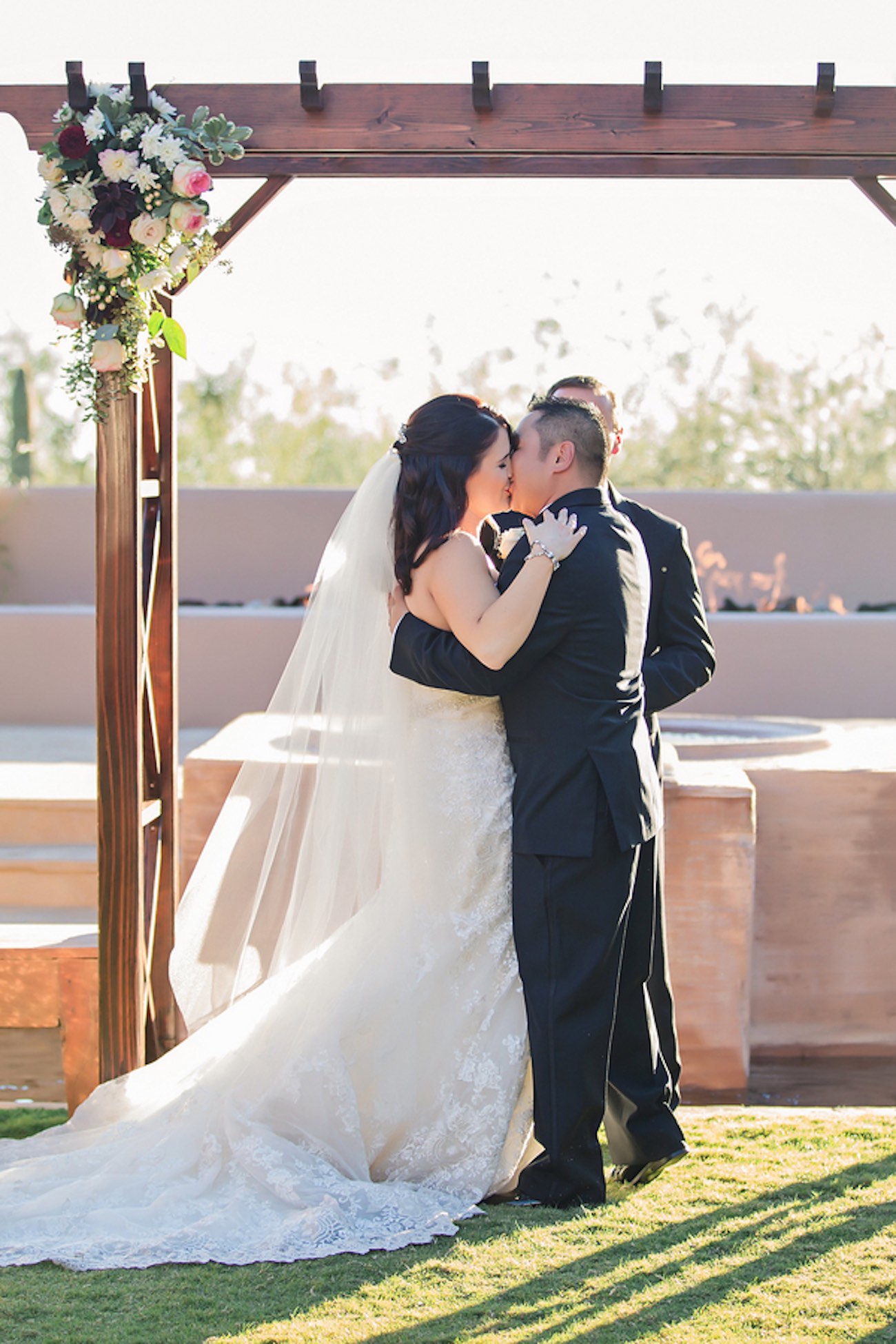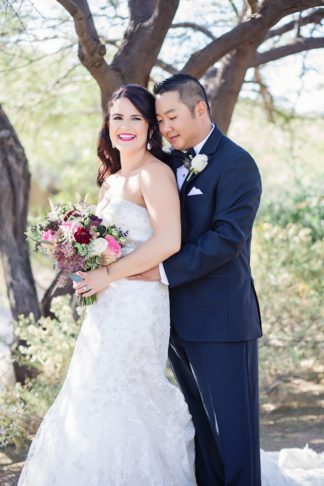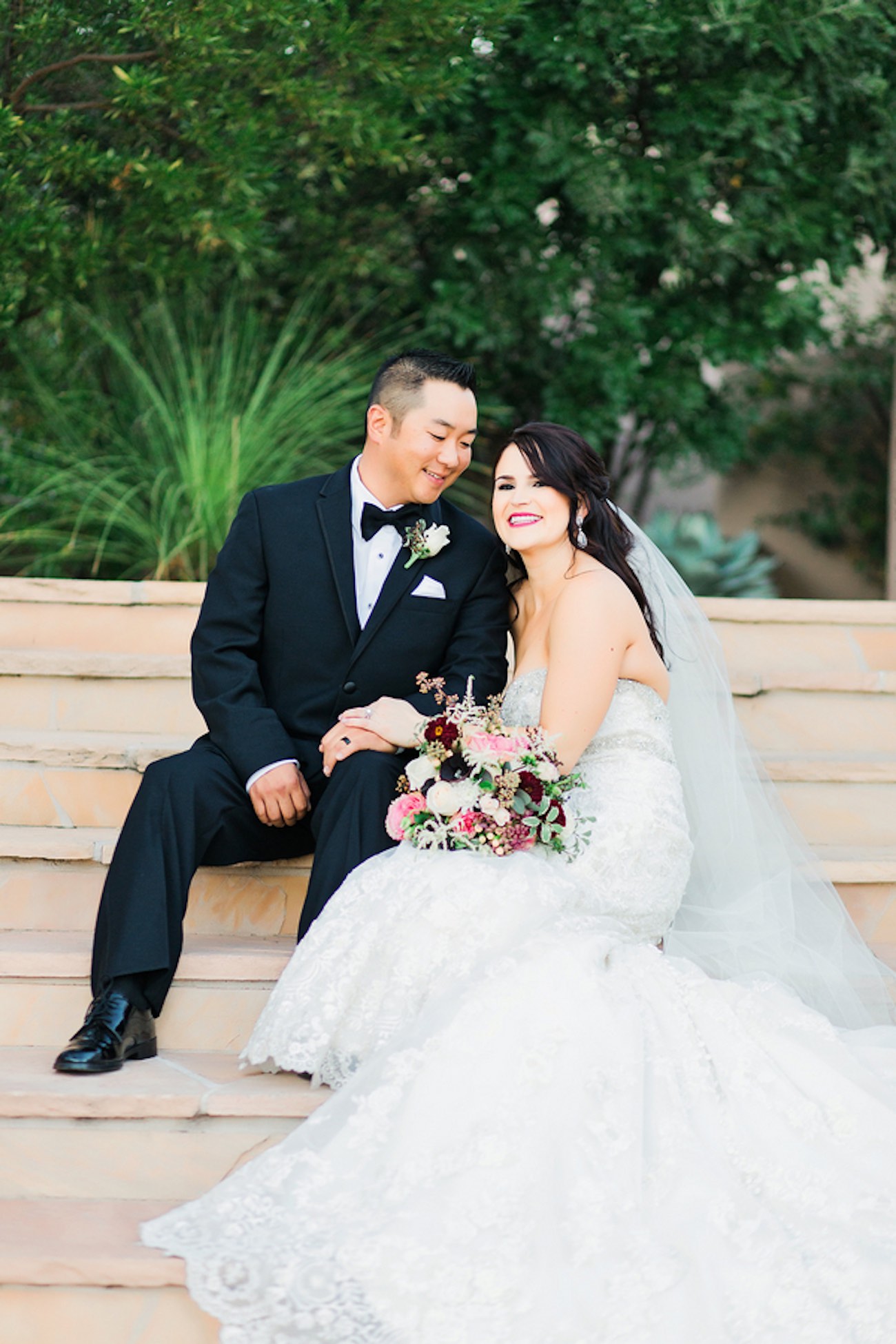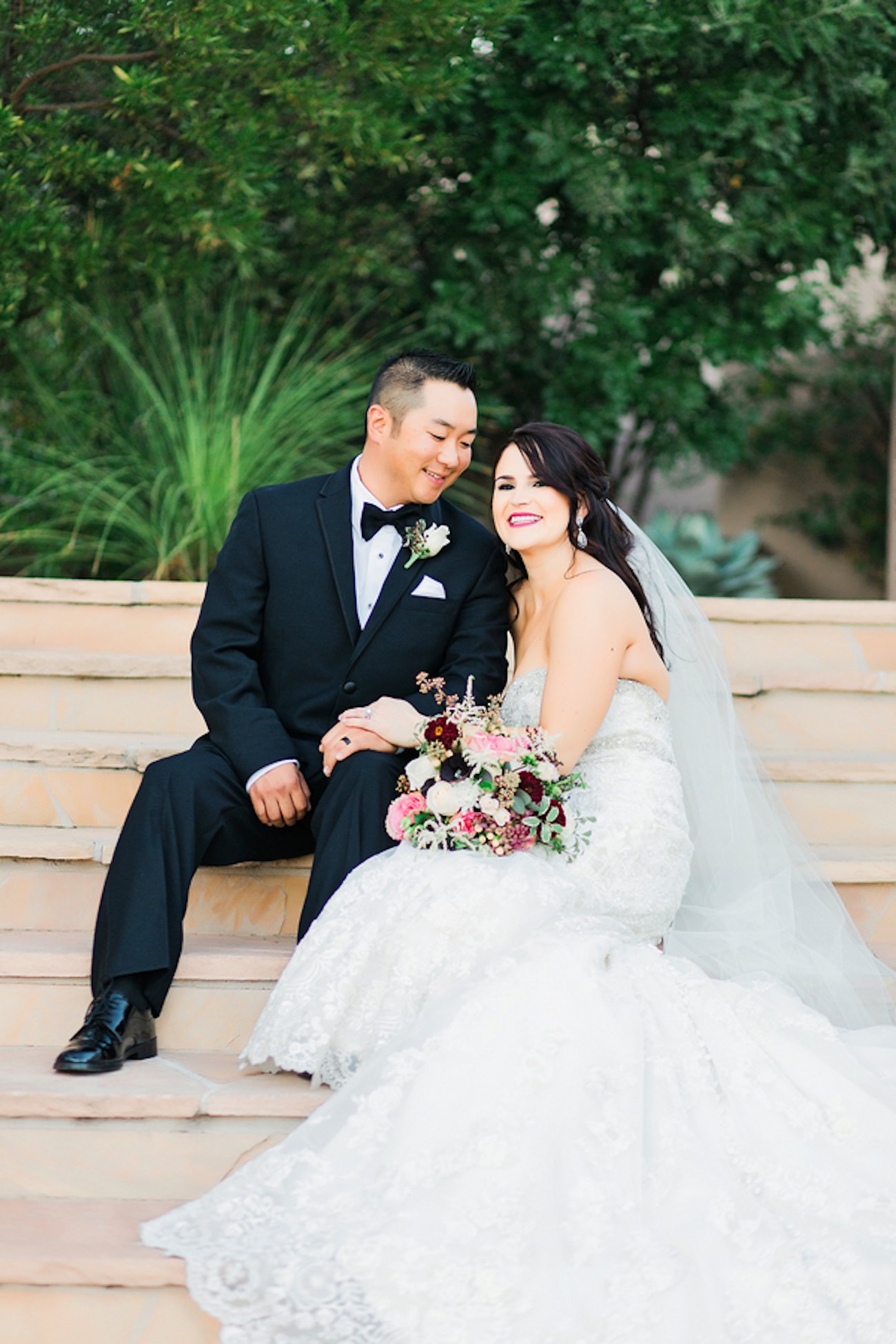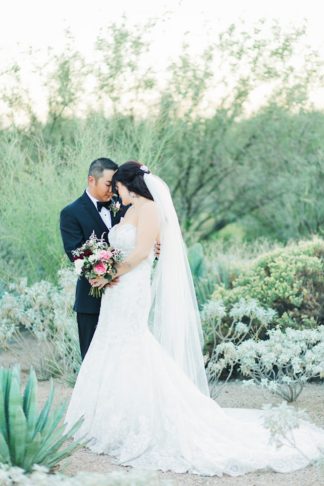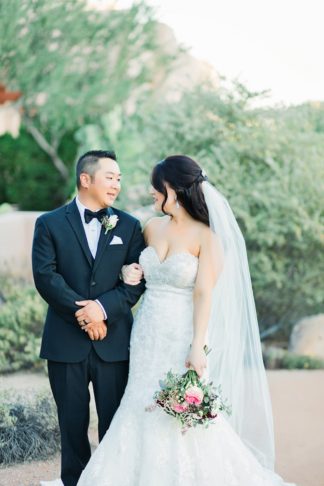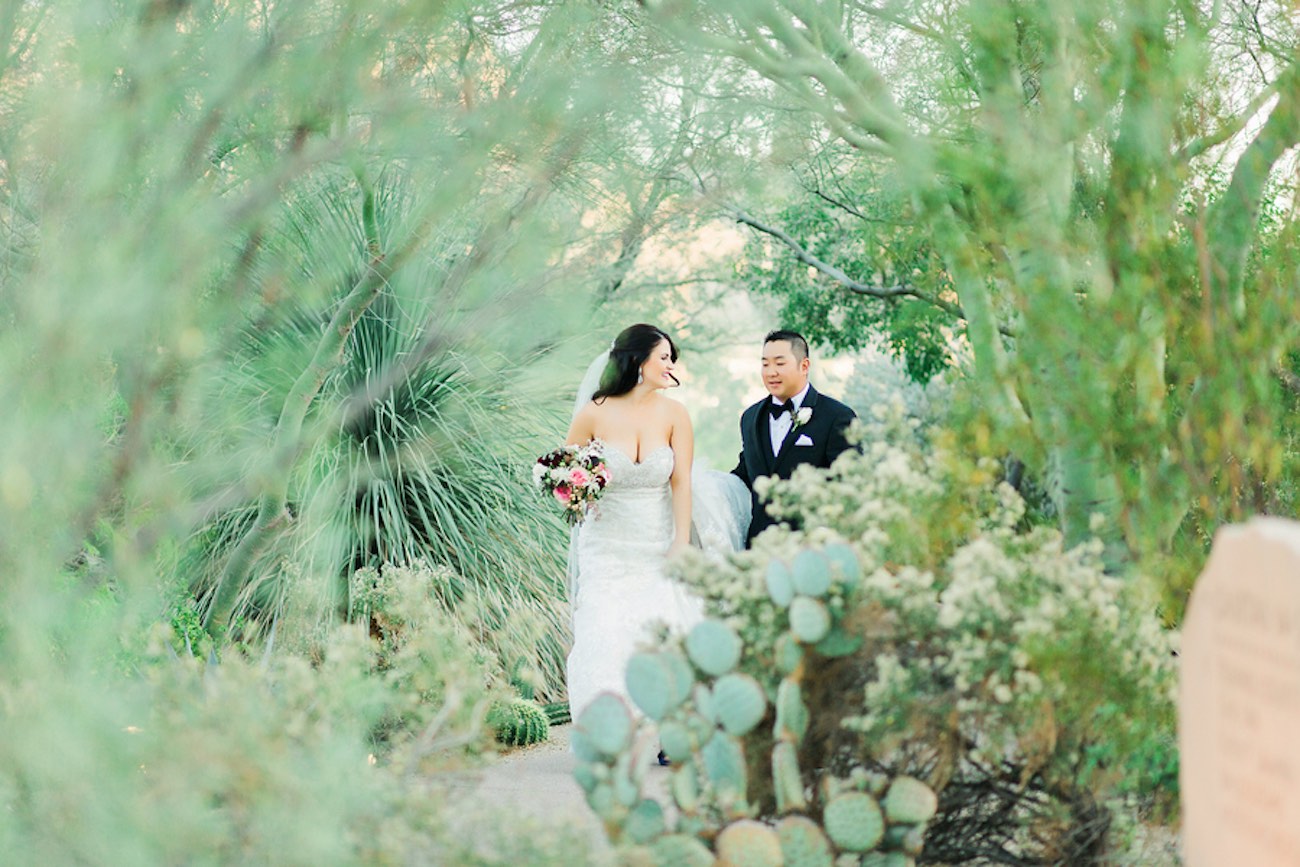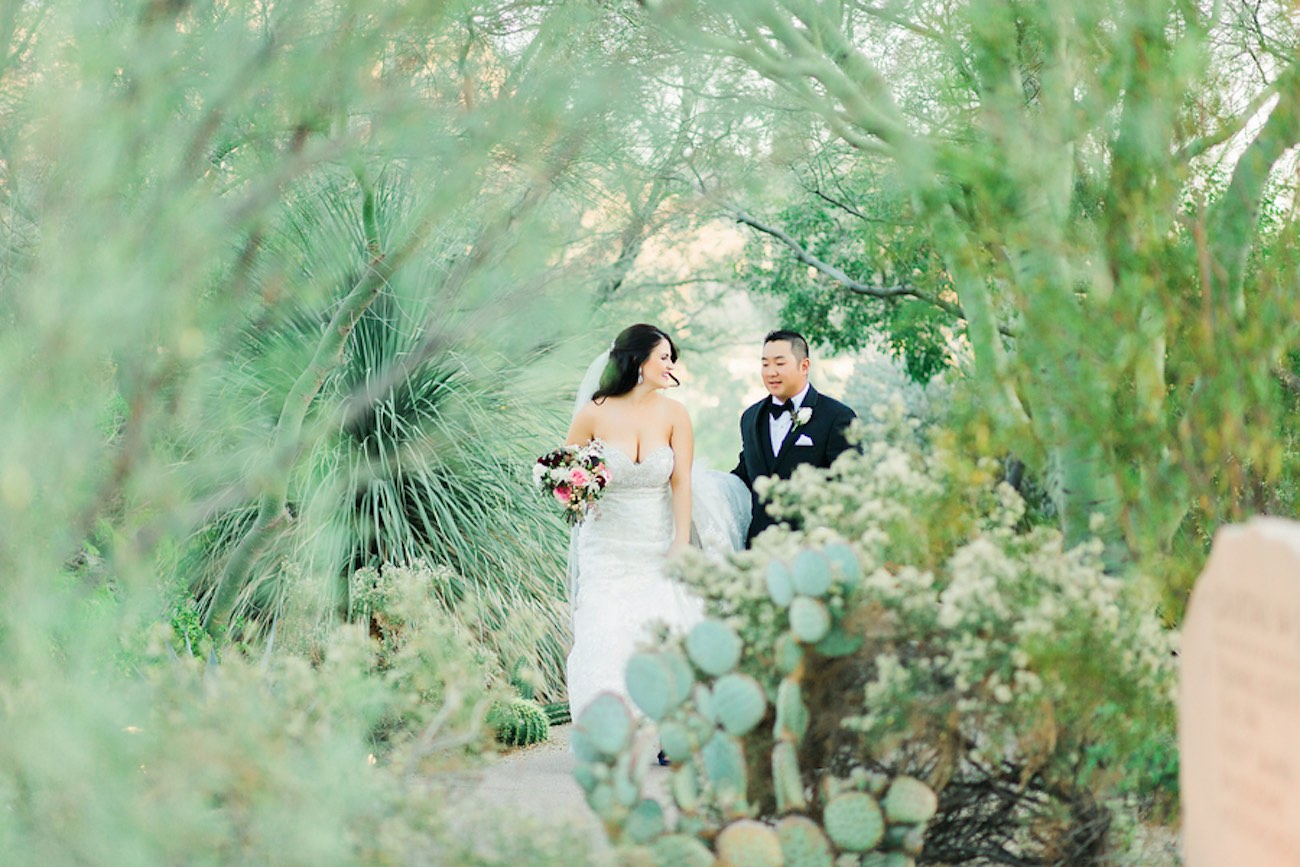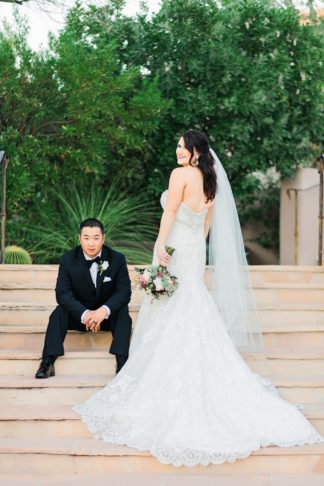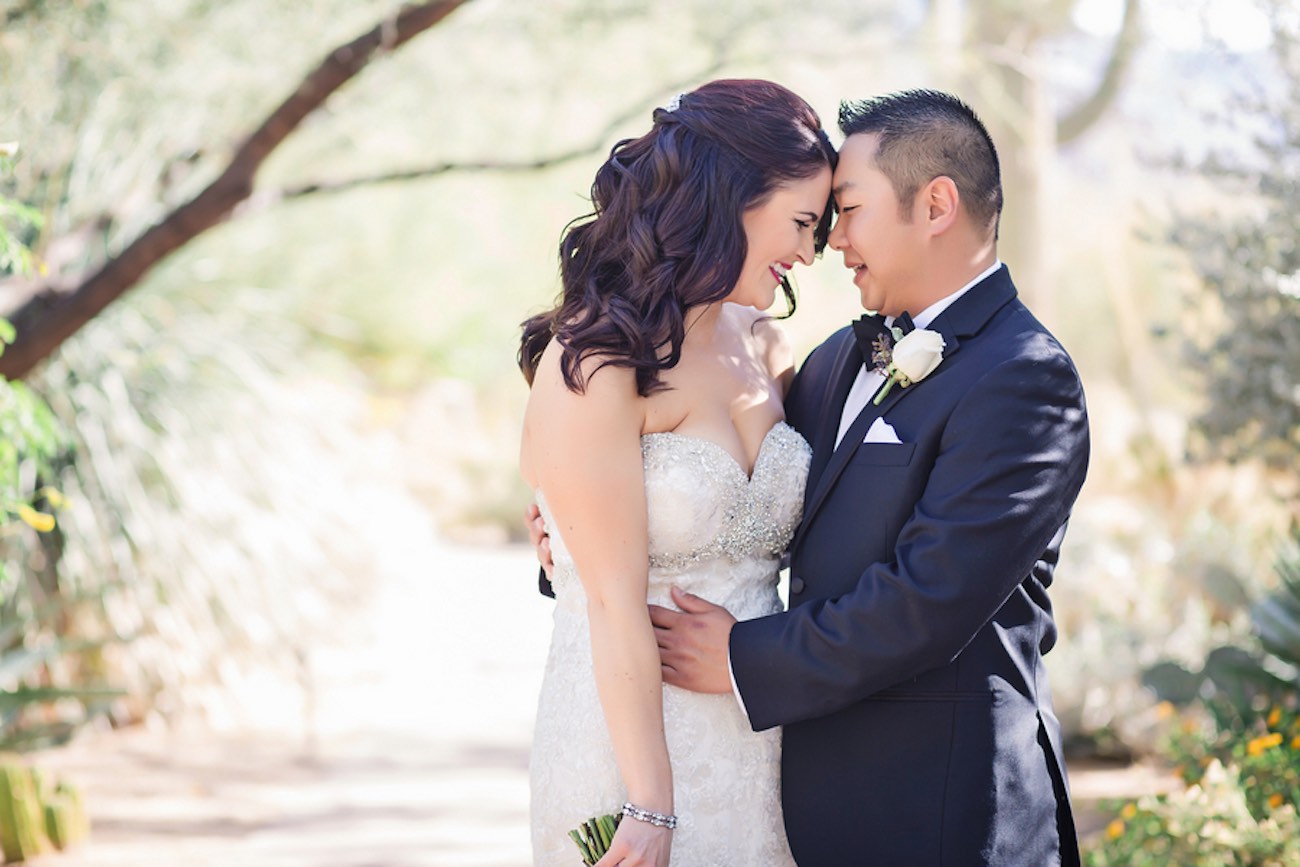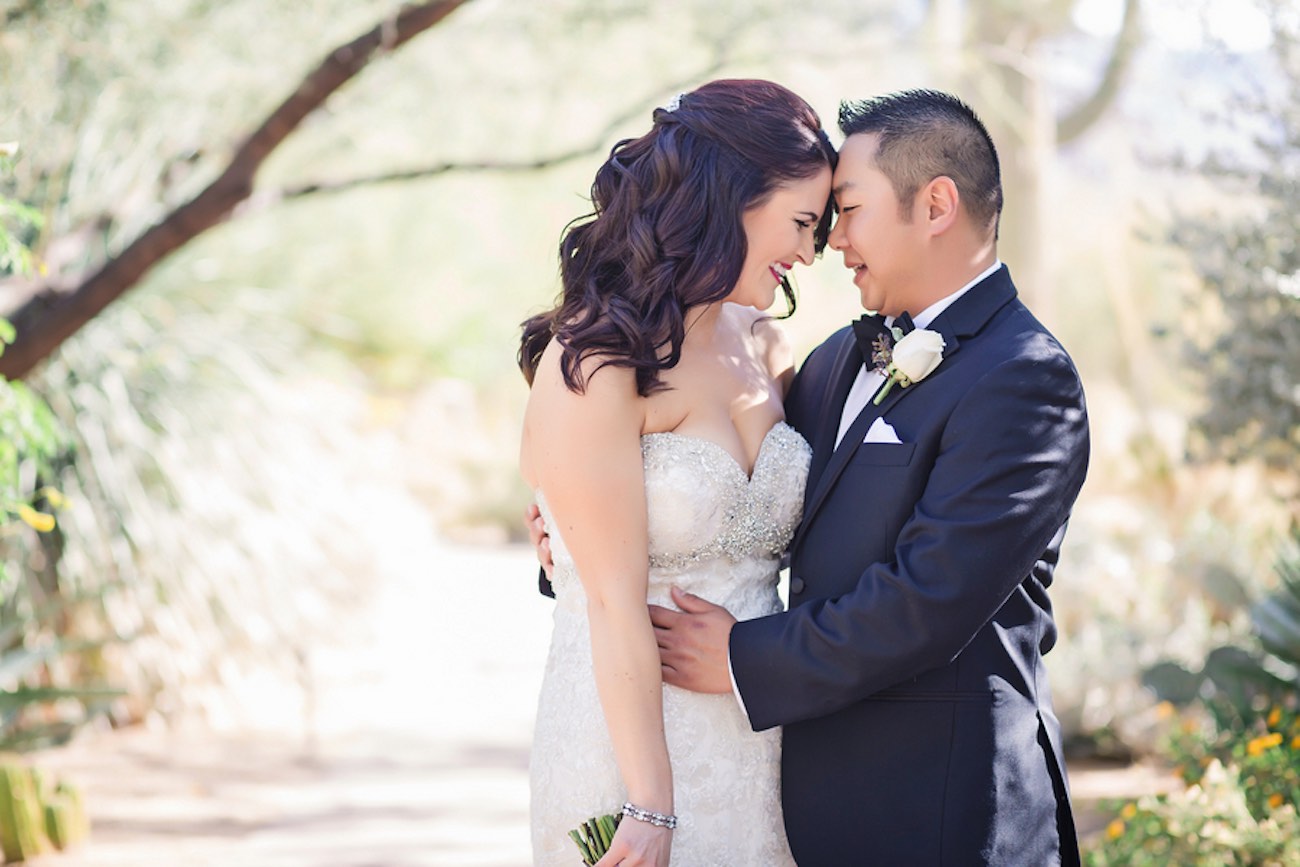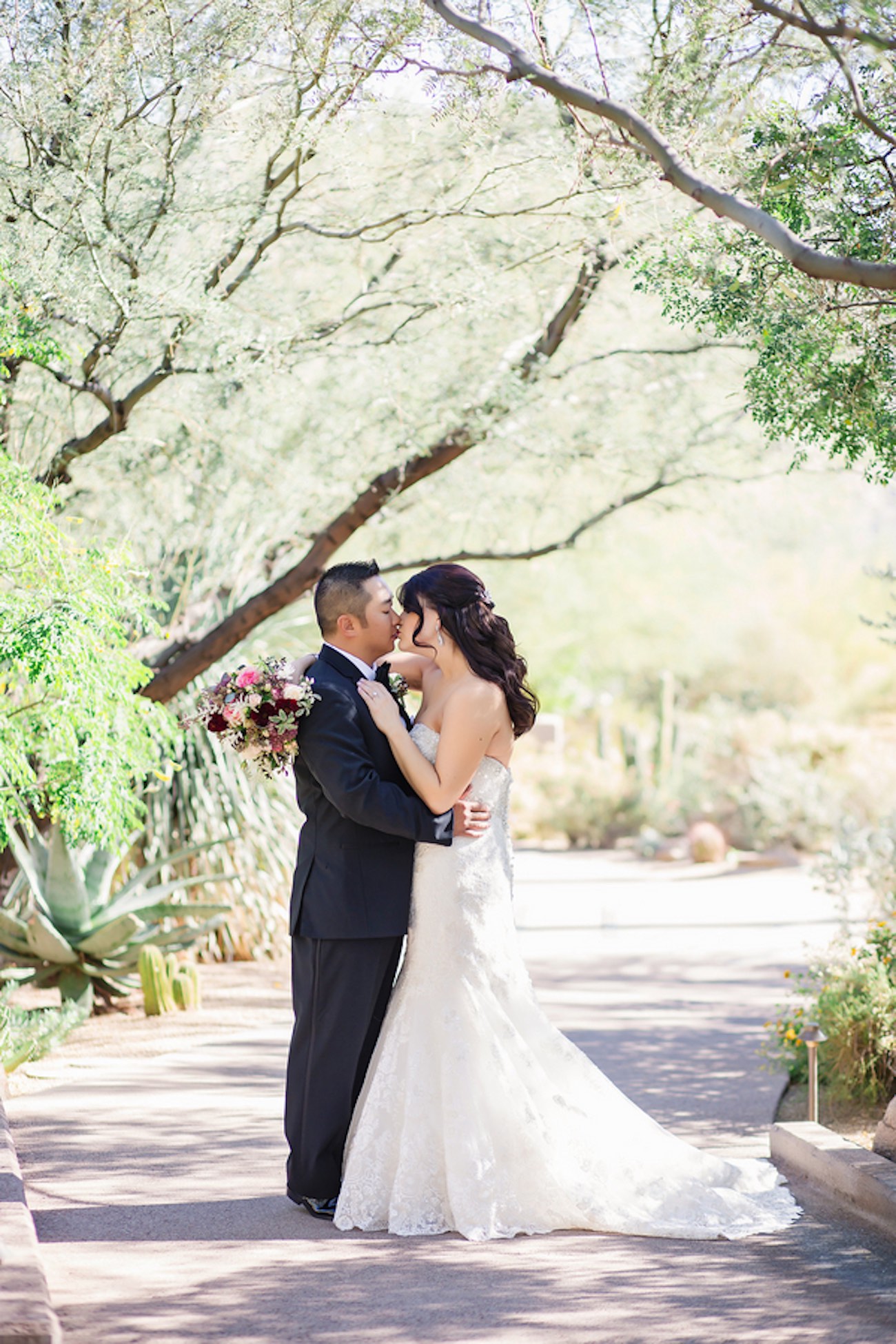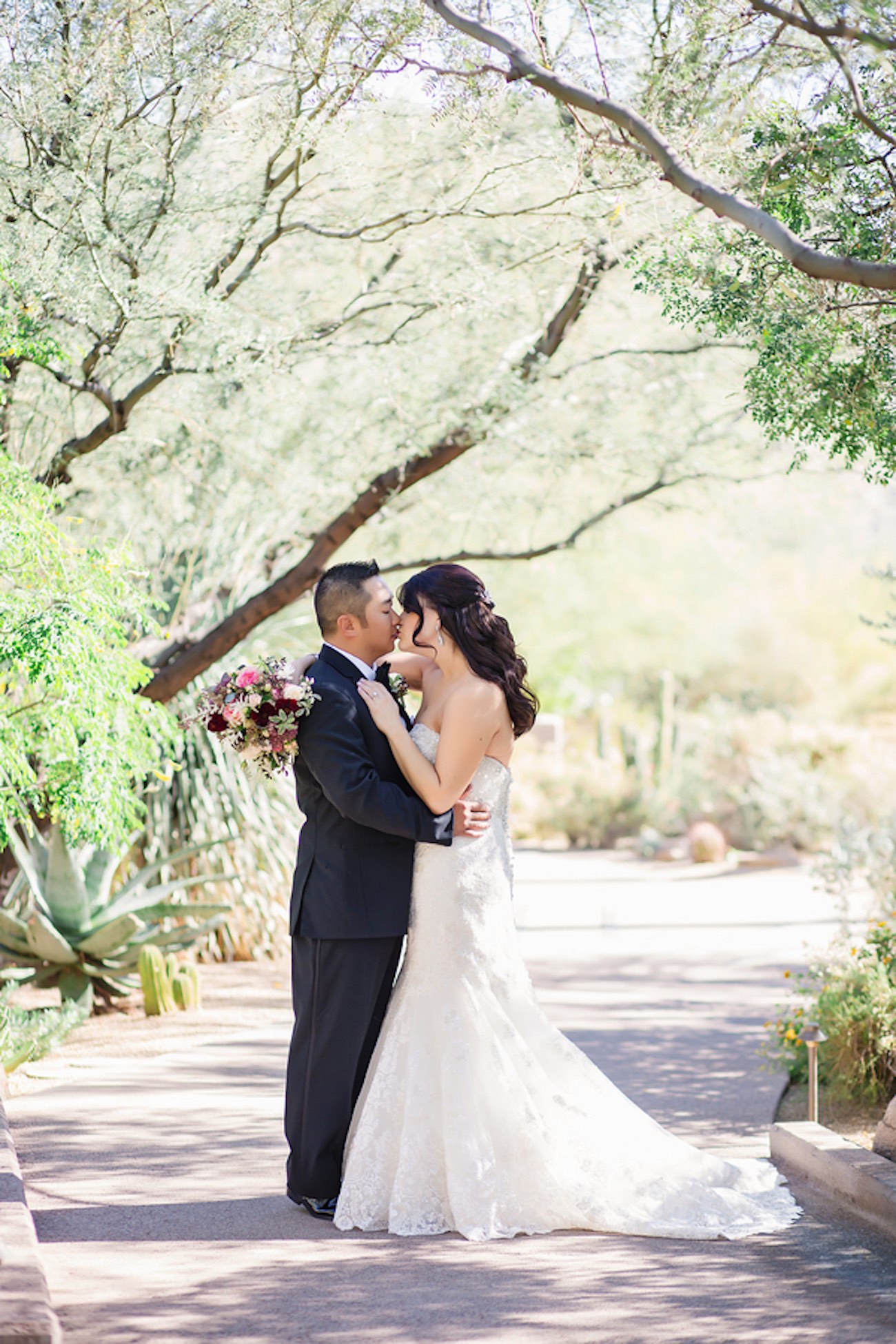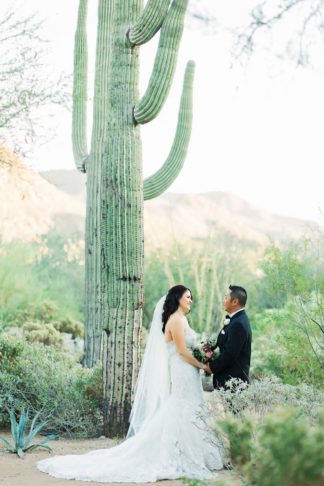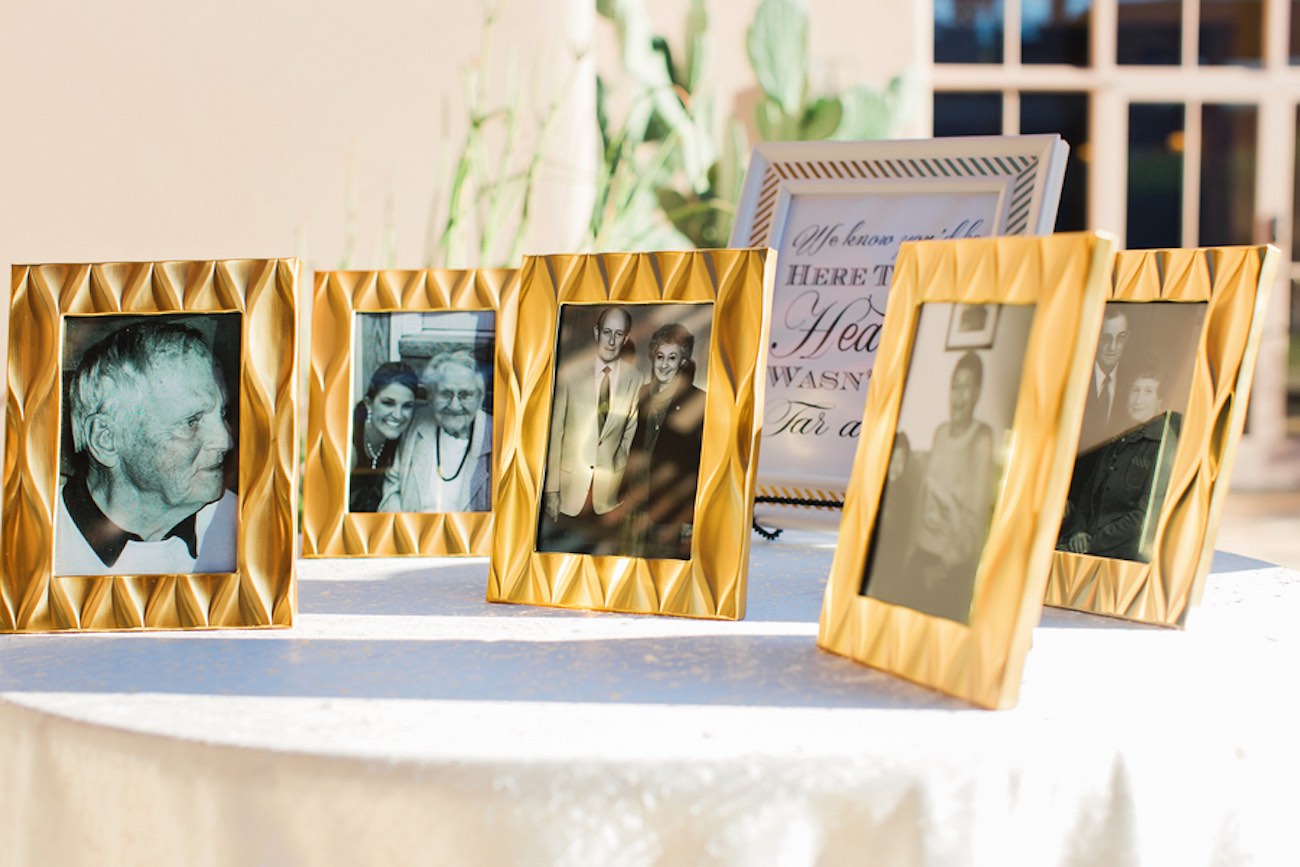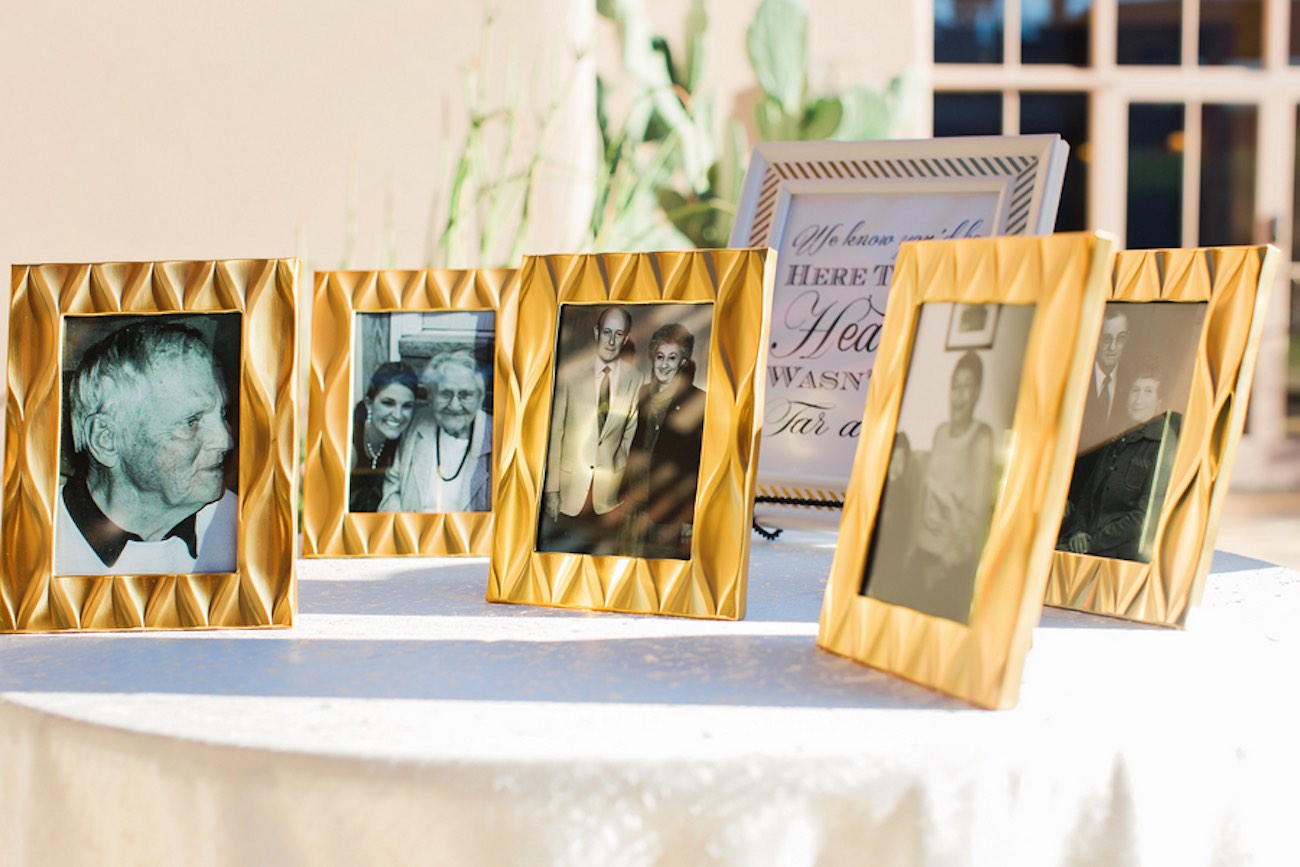 In lieu of a wedding guest book, we had a wedding canvas. The canvas was black with our date in topography pictures. Our guests signed around the edges in metallic pens provided.
Ivory tablecloths with floral centerpieces in vintage gold vases were placed on each table. The couple did not want the bridal party to be separated from their dates so a traditional head table was not used. Three long tables were arranged in a detached U shape for the bride and groom and the bridal party to sit at. The cake table was placed in the middle of the U.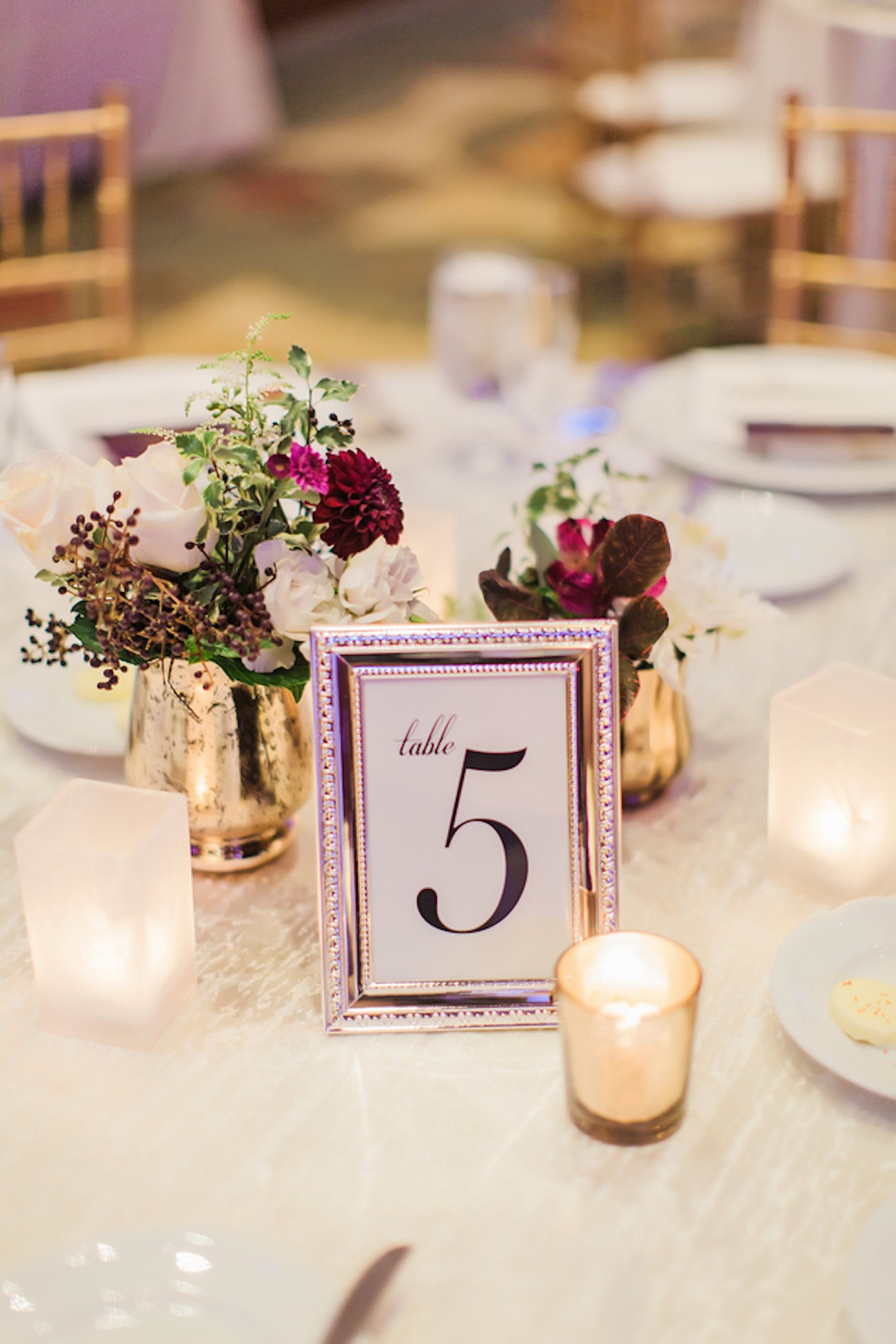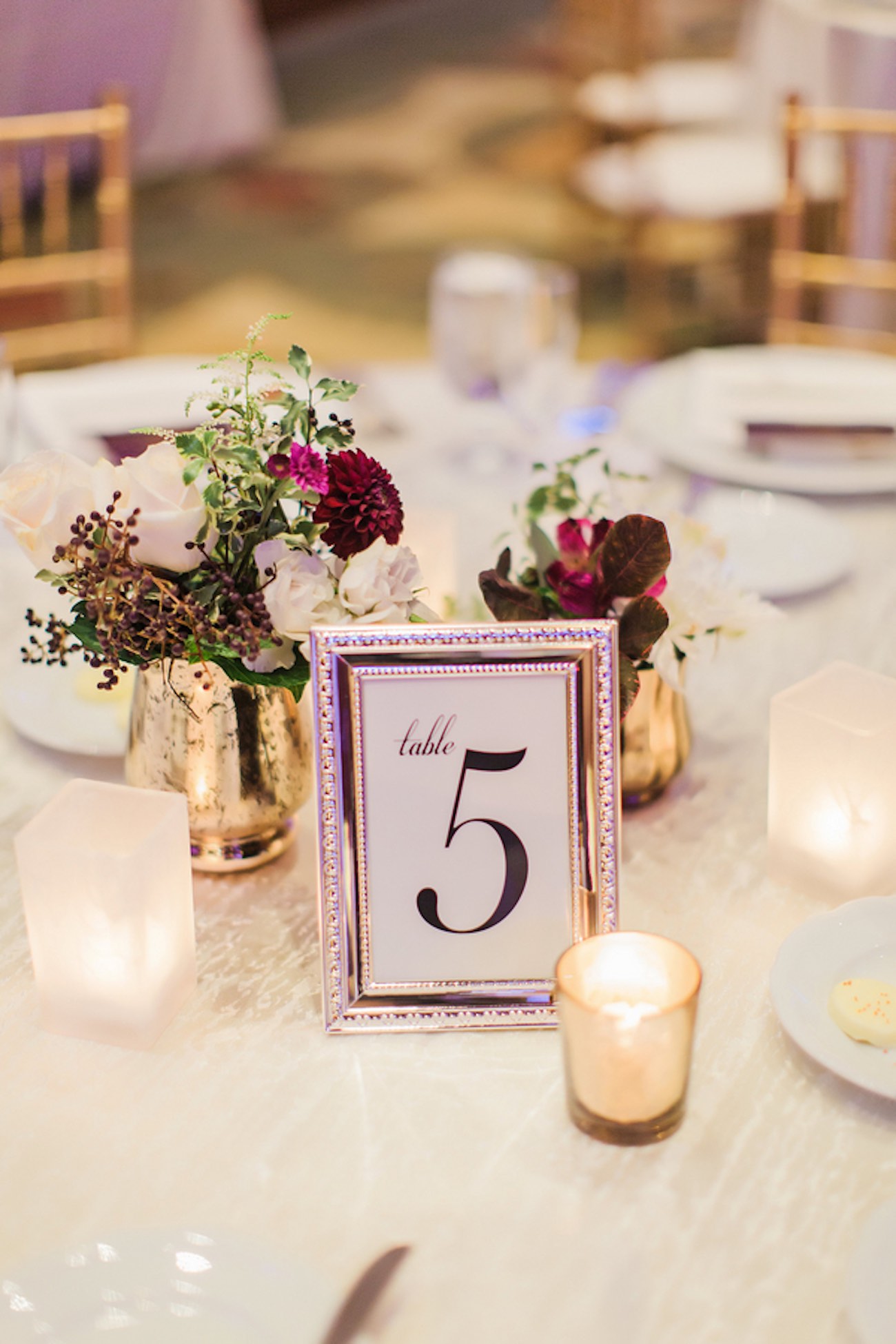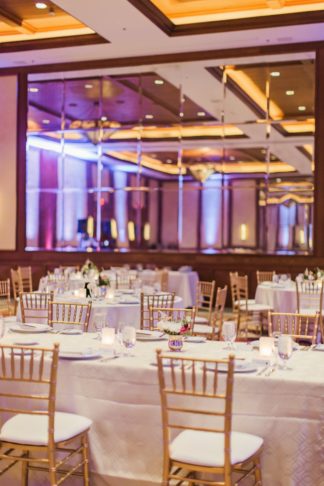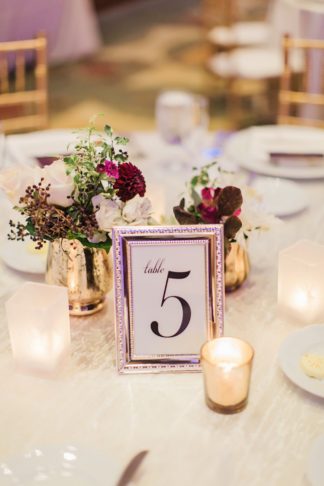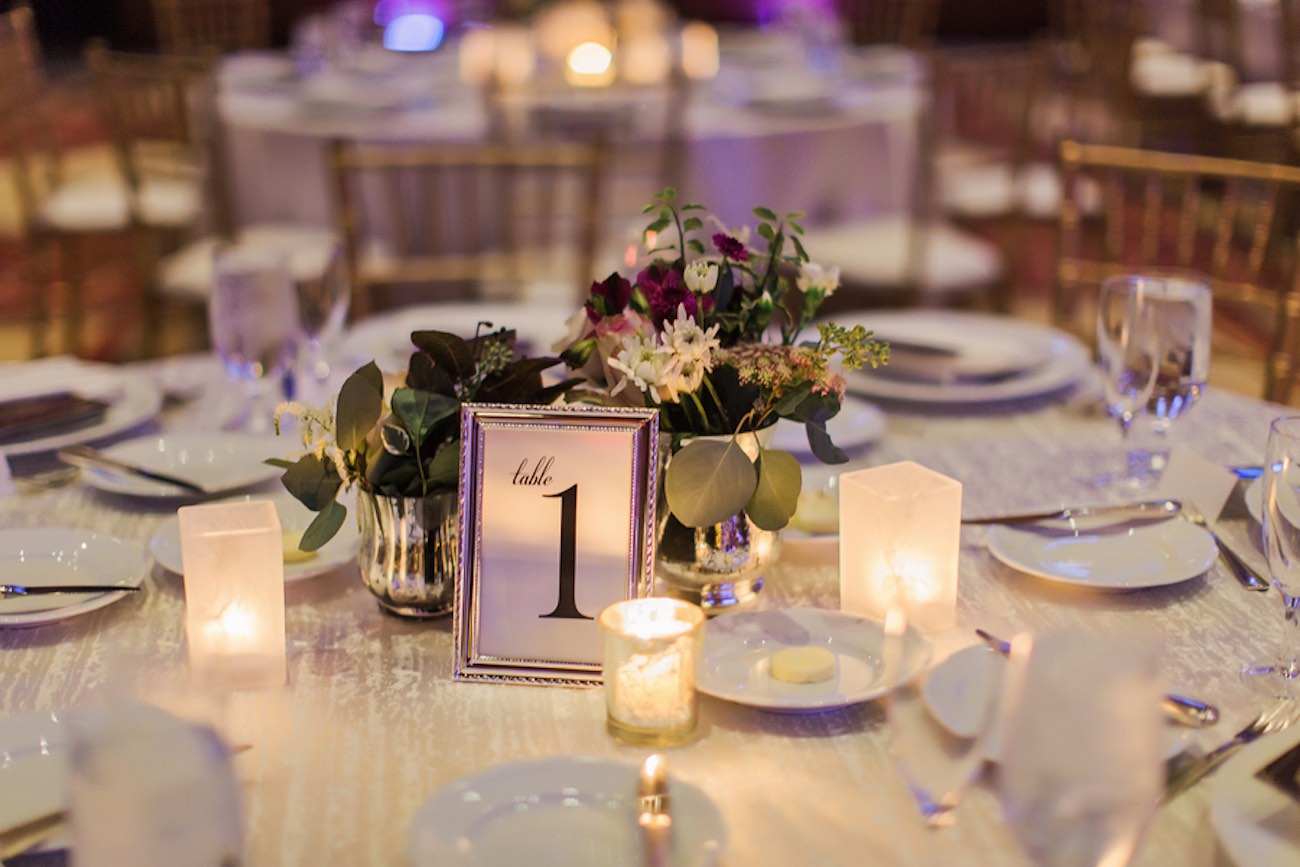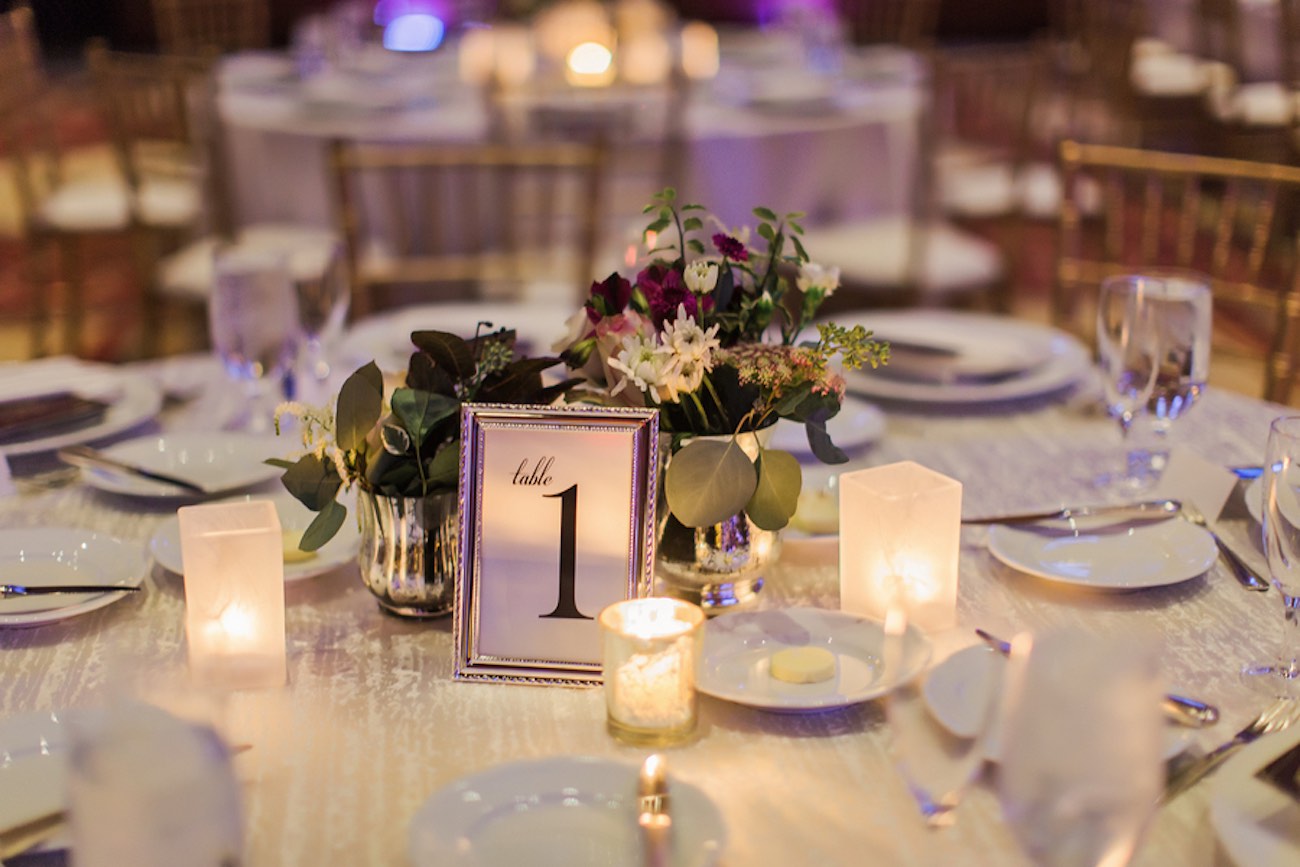 Sparkling Autumn Plum, Pink + Gold Arizona Wedding
Love Story:  The bride and groom fell in love in college at the University of Wyoming. They share a love of the Wyoming Cowboys, wide open spaces, quality time with family and friends, and their lab, Lucy. The groom is a Navigator on a C-130 plane for the United States Air Force. The bride is an Intensive Care Nurse a the Mayo Clinic Hospital in Phoenix, Arizona. After 8 years and multiple deployments together, the pair became engaged!
Reception Playlist:
The couple entered the reception to "Shut up and Dance" by Walk the Moon.
The first dance was to "Thinking Out Loud" by Ed Sheeran. The father/daughter dance was to "How Sweet it is to be Loved by You" by James Taylor.
The mother/son dance was to "Sinners Like Me" by Eric Church.
Since the bride's family is of Greek descent, a traditional Greek dance called Oraia Poy 'Nai I Nifi Mas was led by the bride with all of the guests joining hands and dancing the dance around the ballroom.
Wedding Planning Advice:
Choose your photographer carefully. I was beyond thrilled with my photographer. When I met with her, I related to her. I loved her style. Her website was beyond professional. I knew she would capture my day the way I saw myself because our personalities meshed.
I spent hours on so many little details. For example, I worried about the guests transportation and if there would be enough spaces on the shuttle for everyone, etc. A hundred other little details like this took me forever to make decisions on. I believe that if you have great music, great food, and a generous bar package, your wedding will be a success as those are the main things everyone remembers and talks about later. All those other little things just aren't worth hours and hours of contemplation.
I suggest really identifying elements of the wedding that are extremely important to the couple. Focus on areas that are really important to you, and not because tradition or others are telling you they should be. We chose to not do favors since we believed most of them would just get left at the tables anyway, and we did not regret that decision. We had a smaller floral budget so we could spend more on food and music.
I think the key is finding the balance of things you can't live without and the things that you may not remember once the day is over.
Wedding Service Providers: