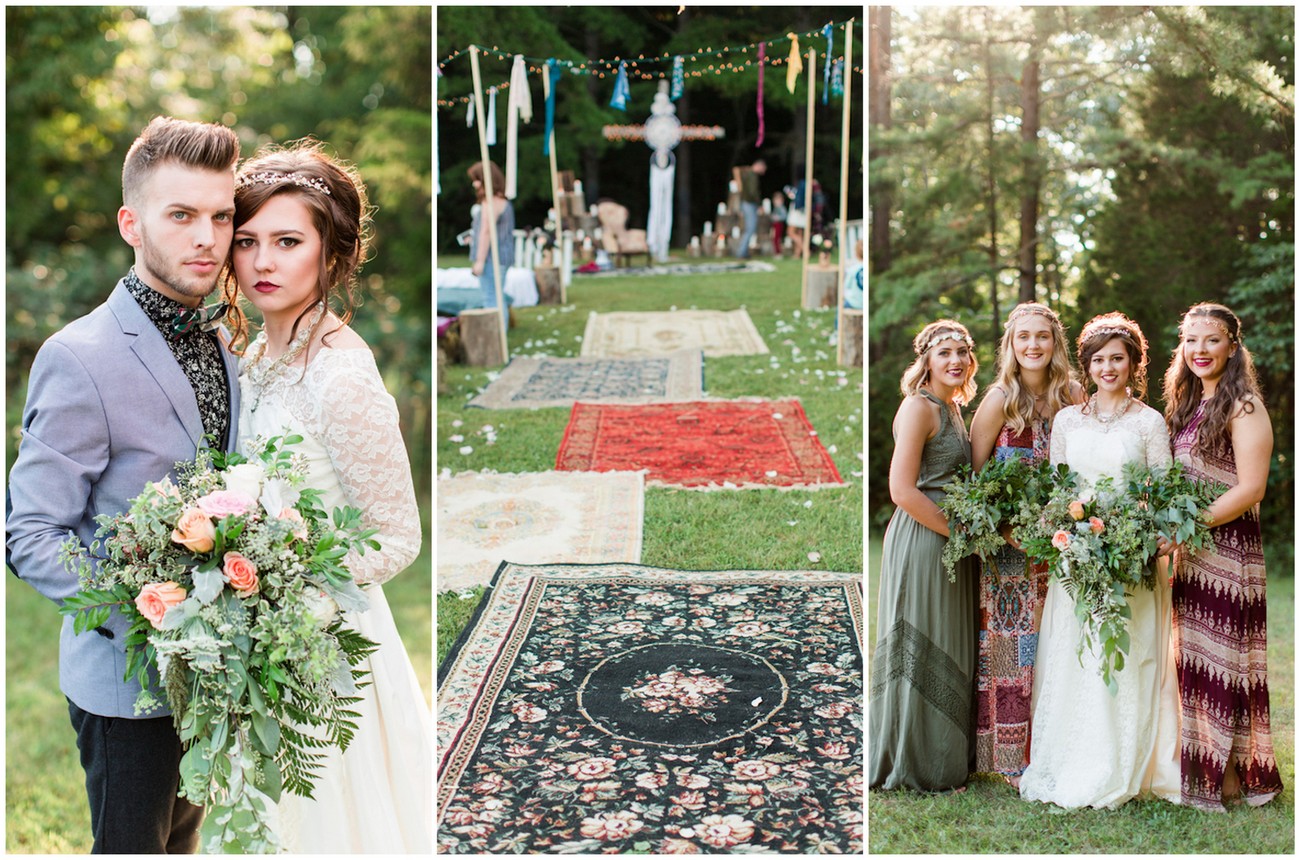 Dillian and Alyssa's bohemian campground wedding at sunset was decorated with doilies, mismatched rugs collected by the couple, handmade dreamcatchers, tapestries, strings of twinkle lights, fabric strips, and candles. "It was the perfect setting for a bohemian evening wedding, as the last light shone through the pine trees," shares Lindsey Paige Photography , who captured these gorgeous images!
"The many essences of patterns used in the decor, as well as the dream catchers floating in the warm breeze, helped set the mood. Alyssa wore a 1950's vintage wedding dress and the groom's attire was nothing less than perfect. Dillian actually admitted to me that his entire outfit was planned around his shoes, which were amazing!"
The couple celebrated their bohemian campground wedding reception by serving tasty eats to their guests which included freshly fried comfort food, potato wedges, and creamy soups: "The dessert table included delectable homemade cupcakes and eclairs while the bride and groom had a small intimate cake."
"We made all of the decorations and most of the materials we used at our bohemian campground wedding were either given to us by friends and family or we bought from thrift stores," says Alyssa. "We used many colors when collecting and planning our decor, but focused mostly on dark maroons, greens and blues."
And let's not get started on their awesome ceremony music choices – check them out below. Seriously, how cool are these two?!?
Bohemian Campground Wedding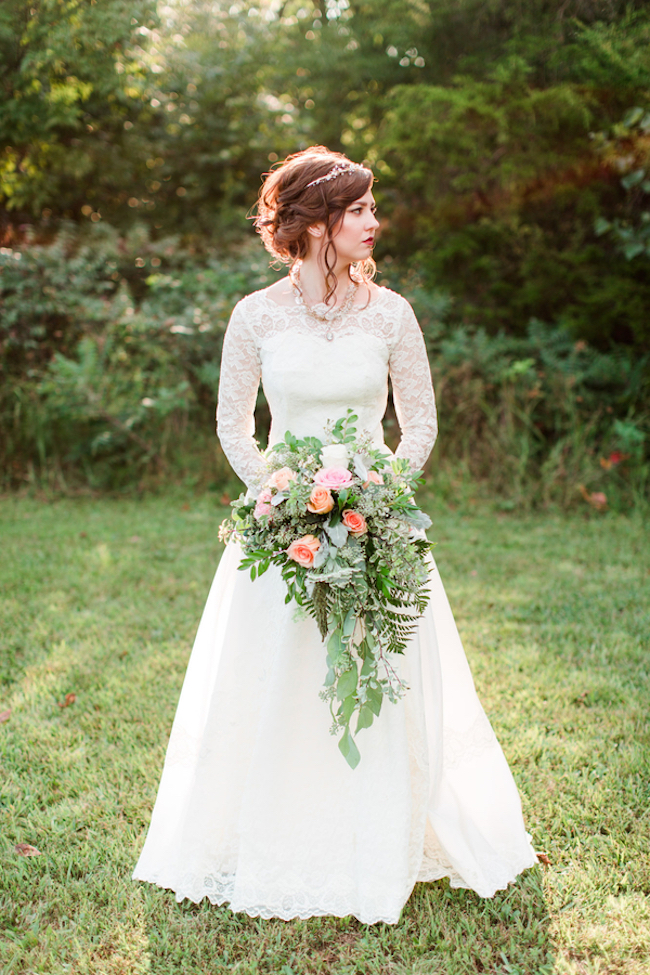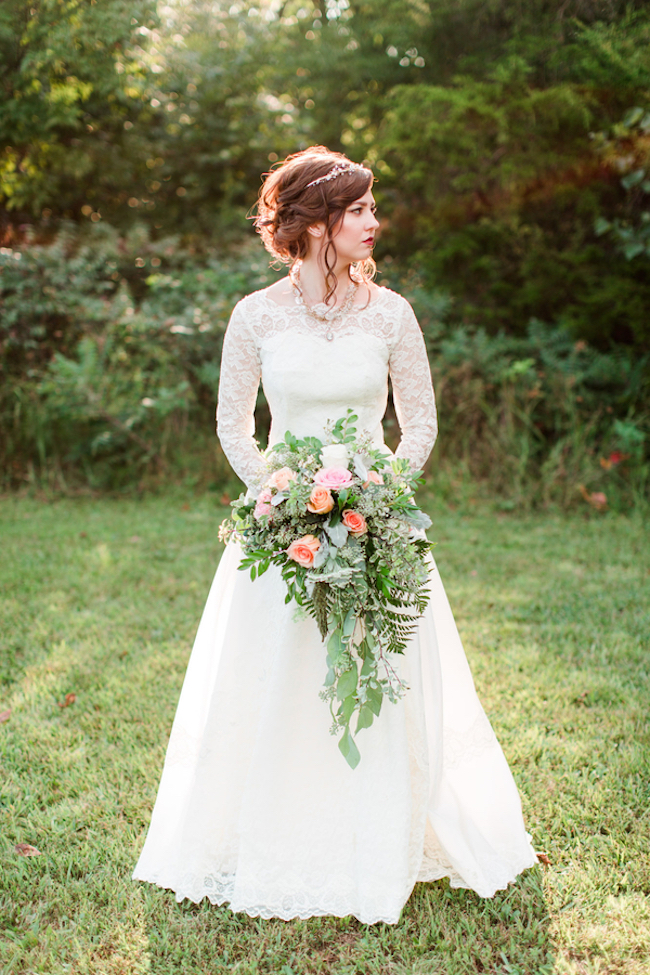 I had only one requirement for my dress – that it was to have long sleeves. I was very inspired by Bella's dress in the movie Breaking Dawn. I went to a boutique in Potosi called Elegant Affair  because I knew they had some vintage dresses. When I got there they actually had a Twilight-inspired dress. Of course I tried it on,  but it wasn't the one. Then she pulled the vintage dresses from the back. I found one that was the perfect fit with the most amazing lace long sleeves from the 1950's  – I just knew it was the one! It was the only store I went to and about the 5th dress I tried on. It felt like it was made just for me. And to make it even better, it was only $25!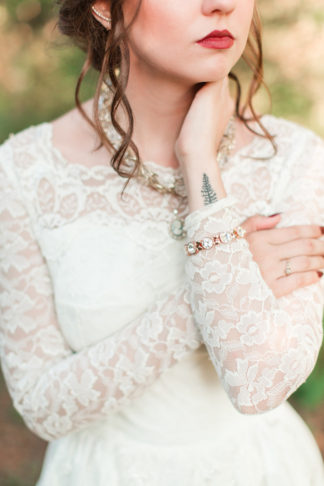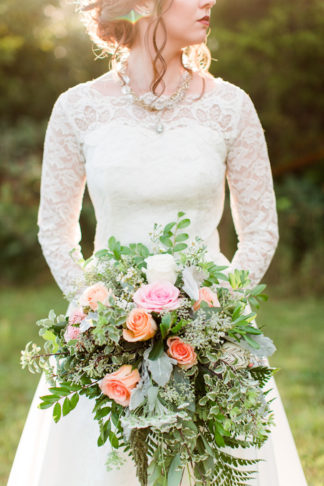 I told my hair stylist I wanted something messy, something 'Twilight meets the 1800s'. She did a great job, it was exactly what I wanted. For my make up I wanted dark and fierce eyes with defined lines, but I didn't want to be too caked with makeup either. I couldn't find anyone to do my makeup so I had to do it myself – which was very scary!
(We think she did an AMAZING JOB! Don't you?)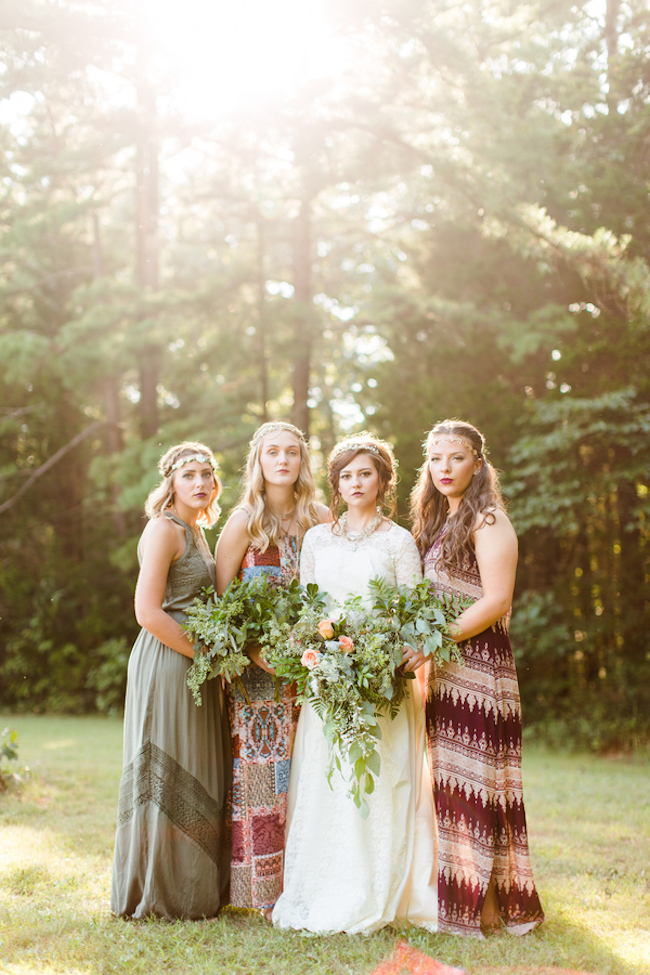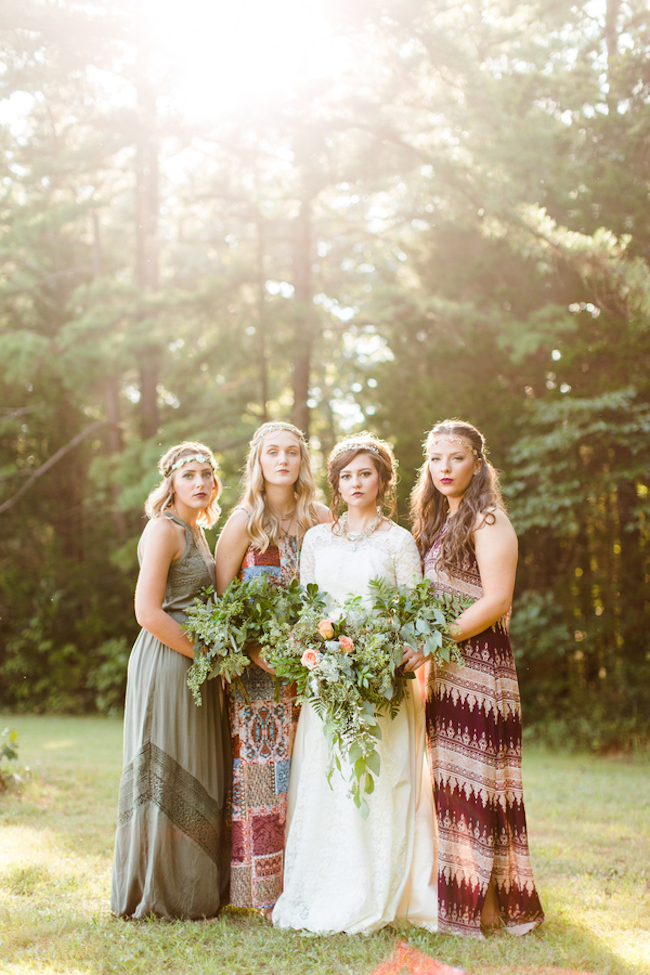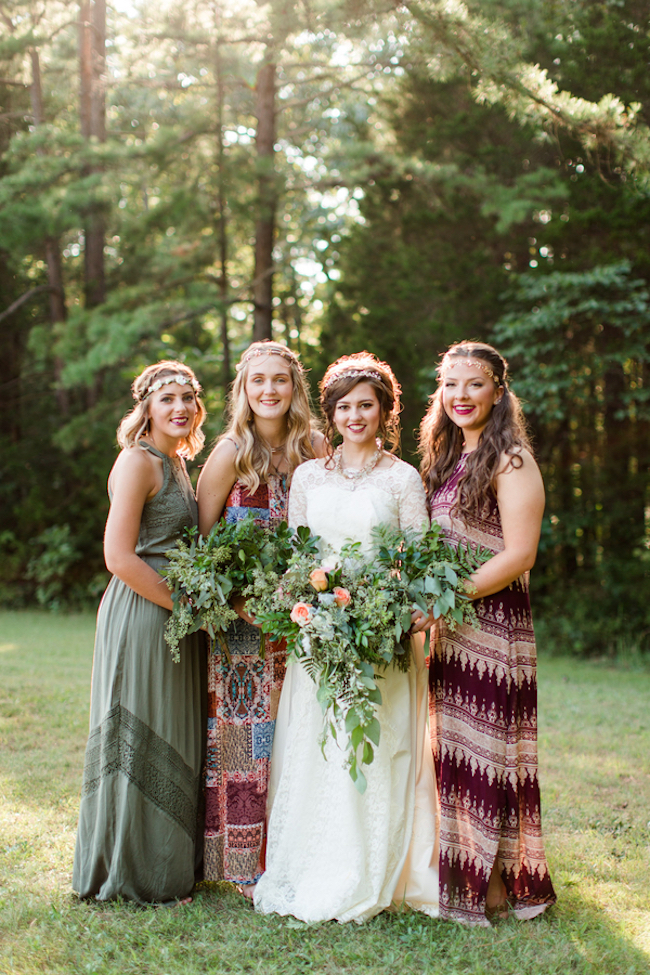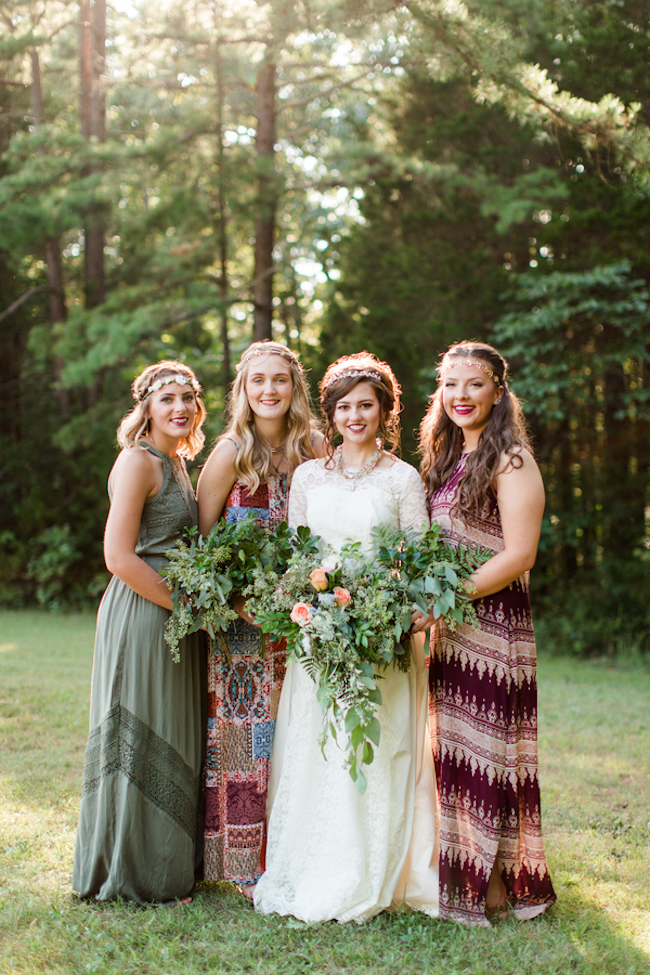 Love Story (From the bride): My friend showed me videos of Dillian singing and at first I didn't believe that my friend actually knew him! My friend kept telling me he wanted to meet me but I didn't believe him! After Dillian and I met I was very cautious because I didn't want to be hurt.  He was feeling the same. At one point we went some time without being in contact and I couldn't stand it. I knew then that there was something undeniable between us and that I couldn't let him out of my life. Ever since then we have been inseperable – each others best friends. When got engaged, Dillian propsed on a cruise to the Bahamas!
(From the groom): I was at a friend's house, napping. I had a dream of the most perfect girl with brown hair and brown eyes. She had a light shining on her and wherever she went the light followed. After I woke up I told my friend about the dream and she showed me a picture of this girl she had photographed. The pictures were what I had seen in my dream and I knew I had to meet this girl! A week later we met in church and it was an instant connection.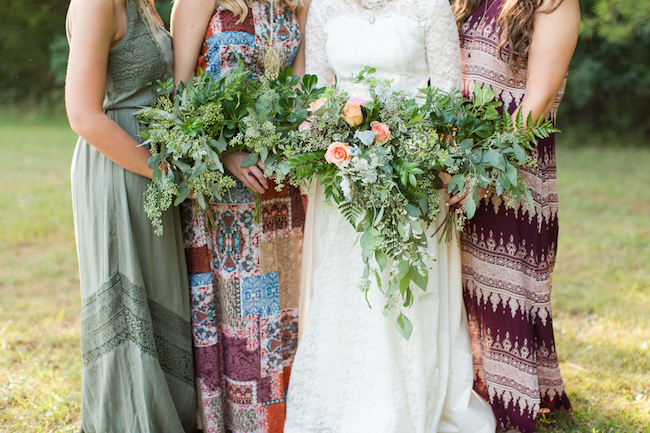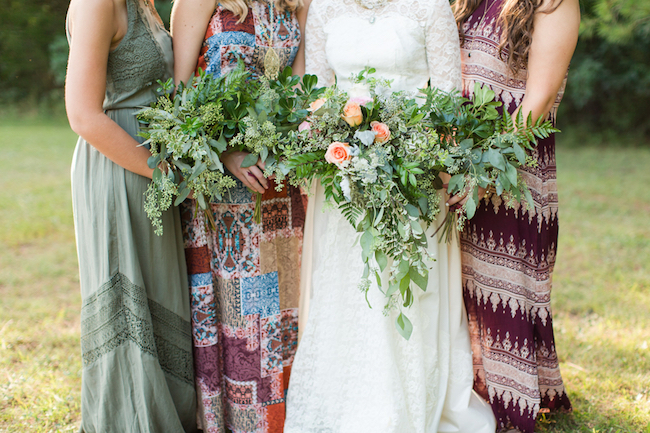 I loved that the bridal party was perfectly mismatched. They all co-ordinated in their own unique ways. I also wanted the bridal party to feel comfortable and to pick out clothes that they would wear outside of the wedding. I love natural looking bouquets, lots of greenery and even weeds, so that was what we chose for the bridesmaids bouquets. My bouquet had long, cascading greenery, ferns and a few roses.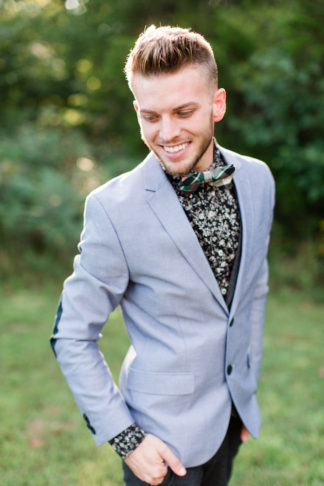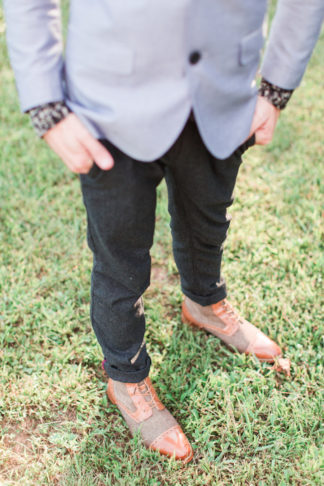 My dashing groom wore a black button-up shirt with cream flowers from American Eagle, with a cream, green and red plaid bowtie. He paired it with a gray vest from Kohls and very subtle blue jacket with elbow pads from H&M . His gray fitted soft dress pants were from Pacsun, finished off with the most awesome brown and gray Giovanni boots, ordered online from Gentlemans Emporium.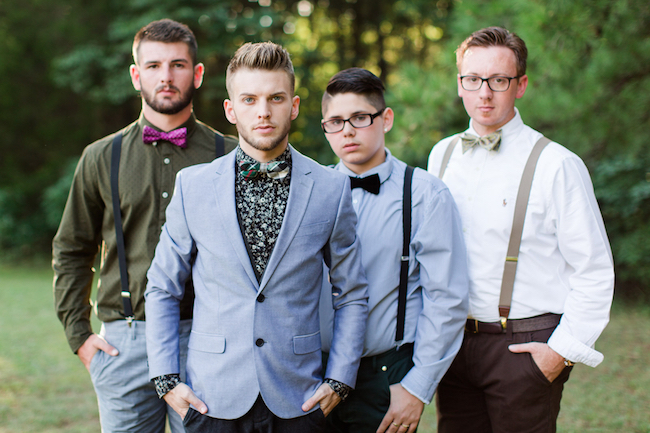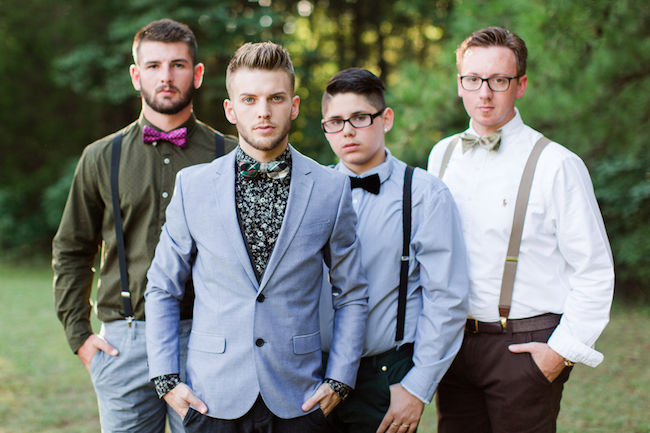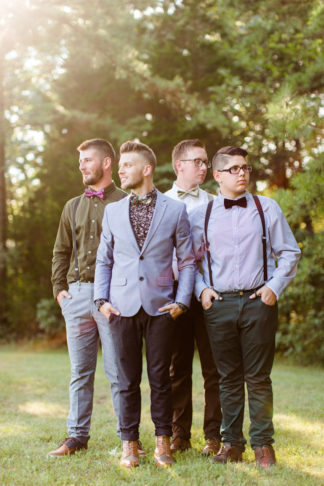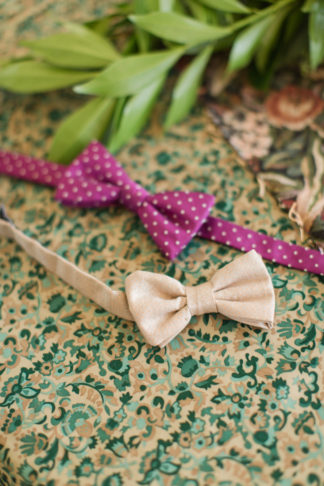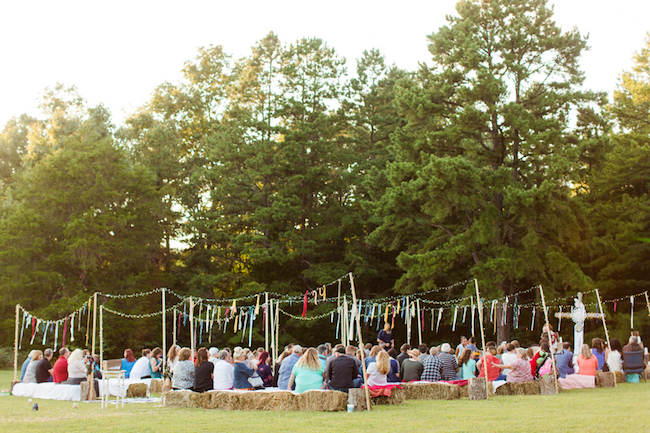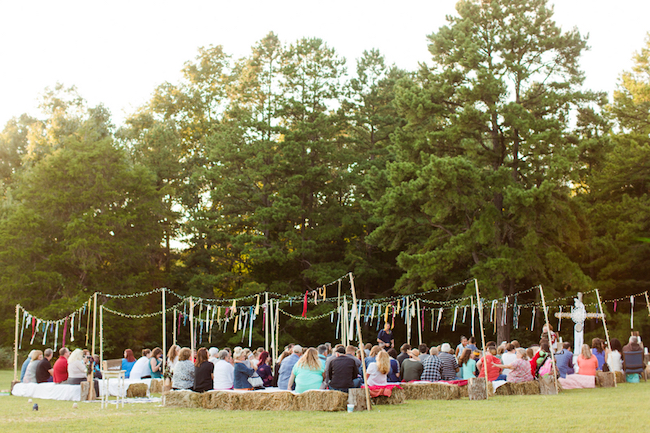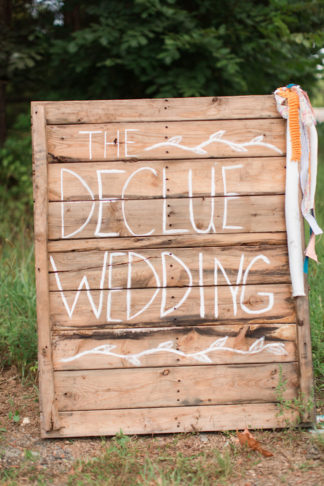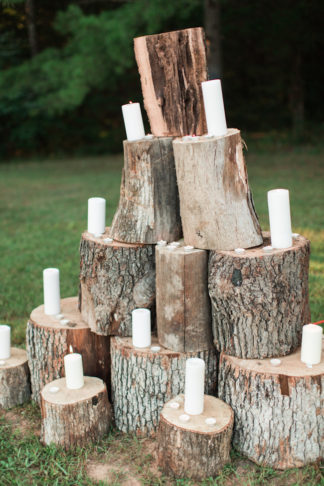 The bohemian campground wedding ceremony included hay bales covered in fabric for seating and rows of twinkle Christmas lights with strips of fabric hung overhead.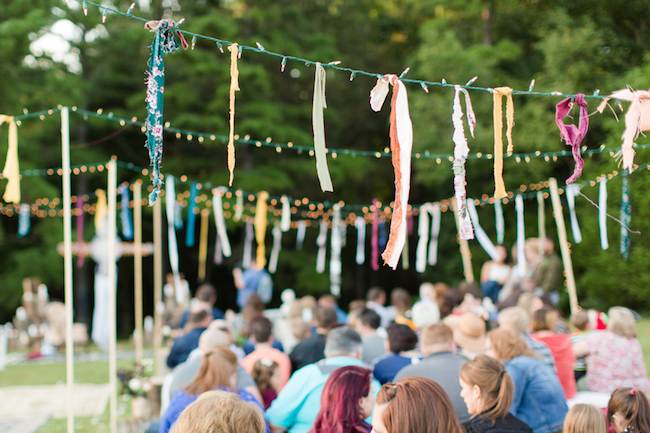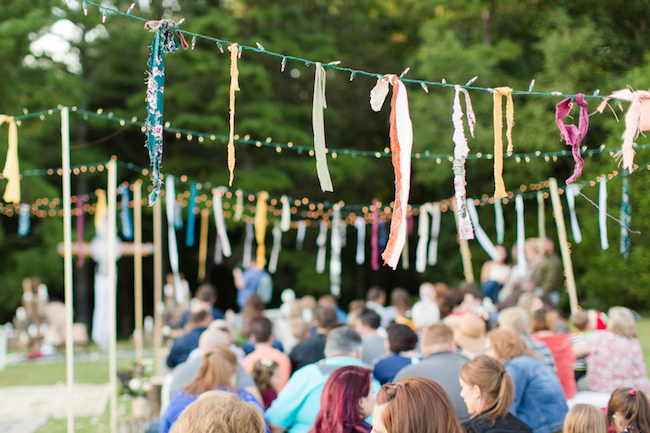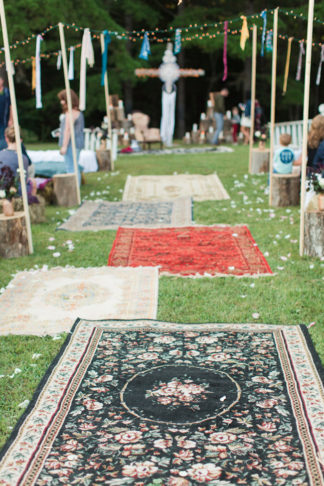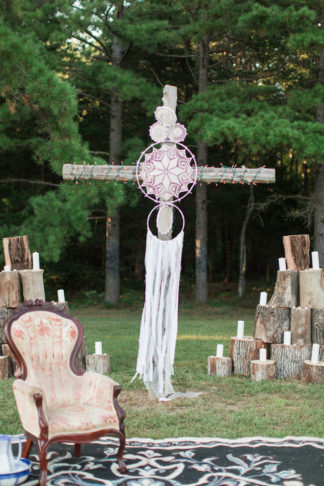 Down the aisle were different rugs that we had acquired over the months. Getting hold of enough of these rugs to fill the length of aisle was probably one of the most stressful parts of our wedding!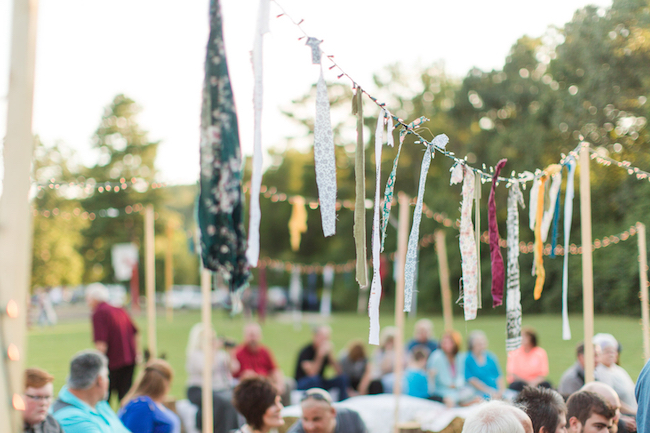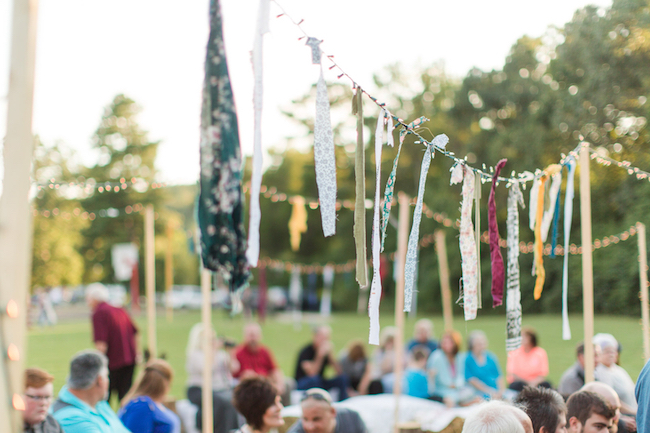 At the front there was a wooden cross which we covered with Christmas lights, and a dreamcatcher which we made out of a wooden ring, white fabric strips and doilies.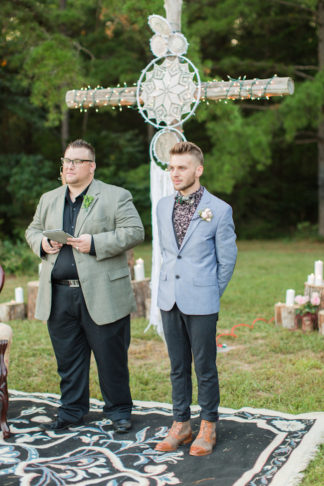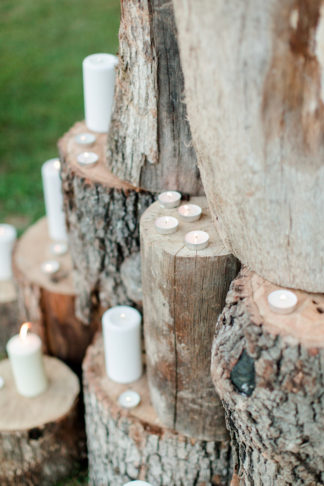 The party walked down to "My Love" by Sia (from Twilight) , I walked down to "Saturn" by Sleeping at Last.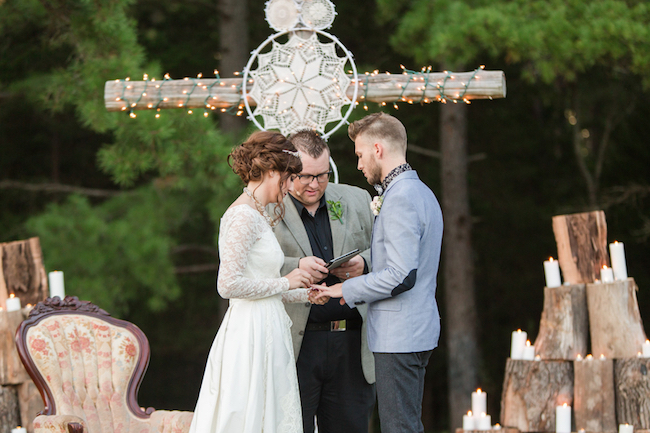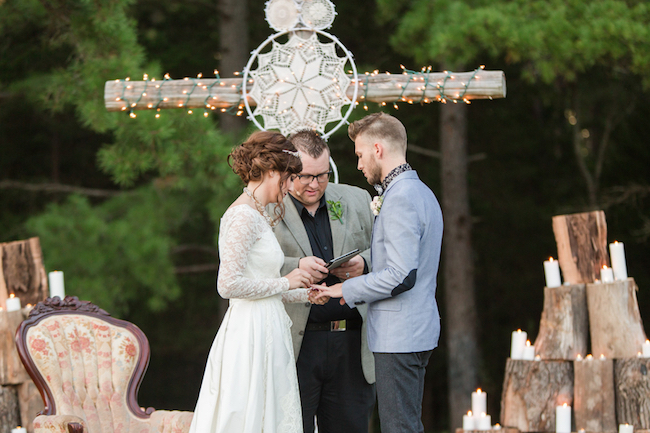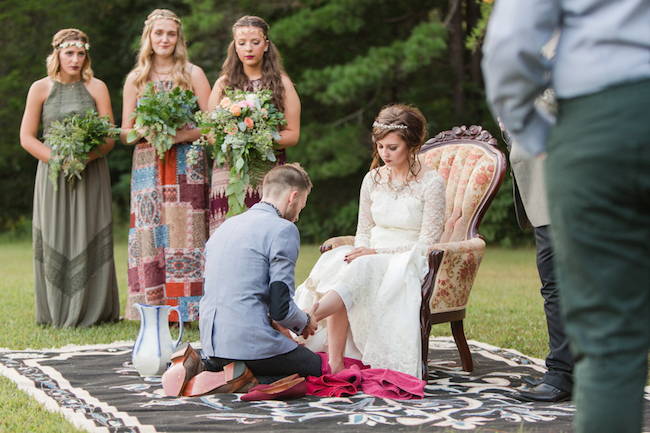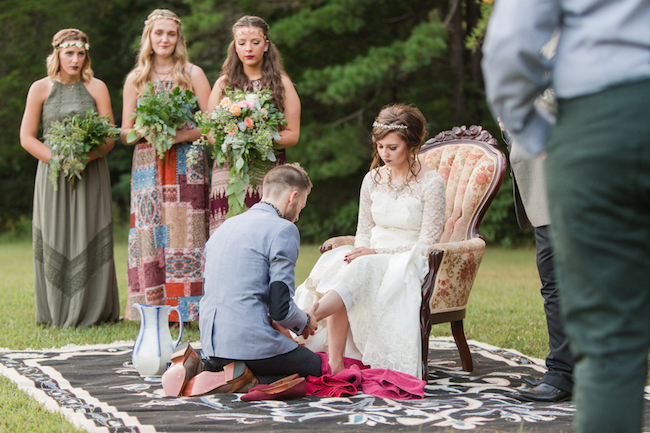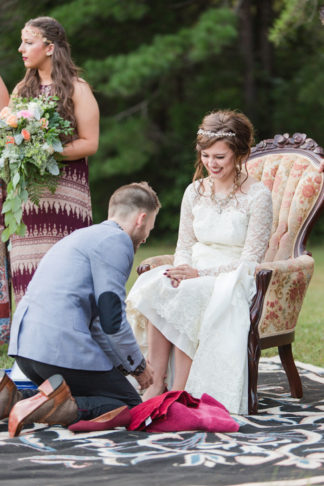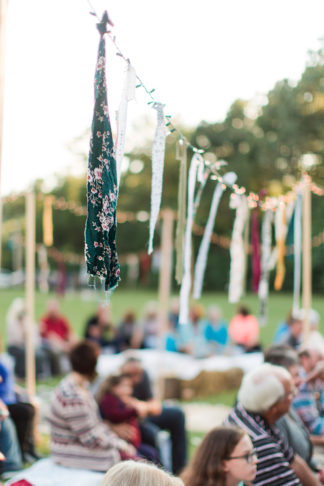 We had a special moment during the ceremony where we took communion and did a feet washing while "Let the Heavens Open" by Kari Jobe was playing. We exited to "Home" by Edward Sharpe & the Magnetic Zeros.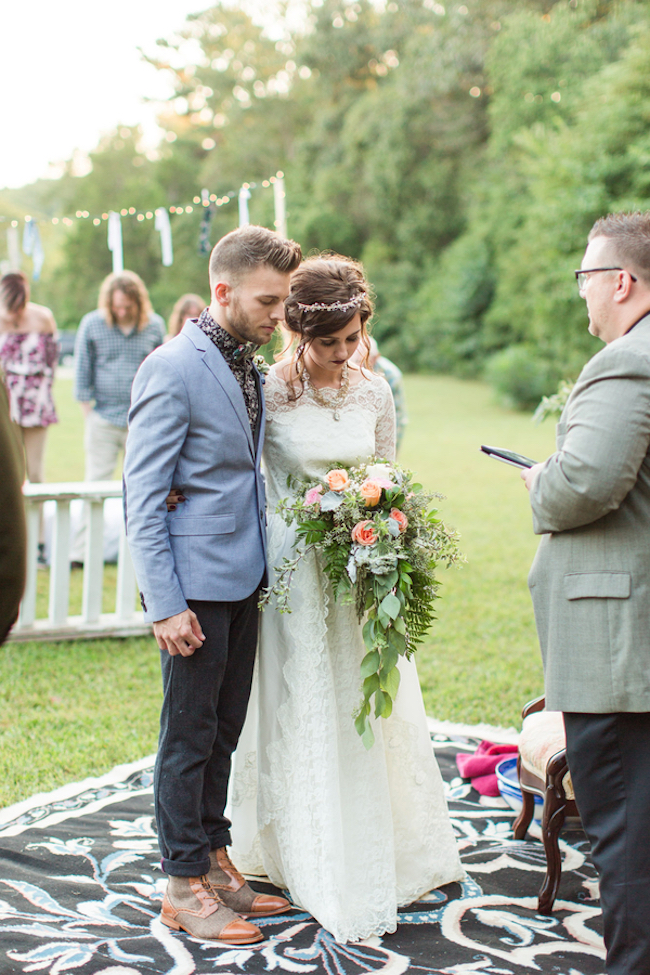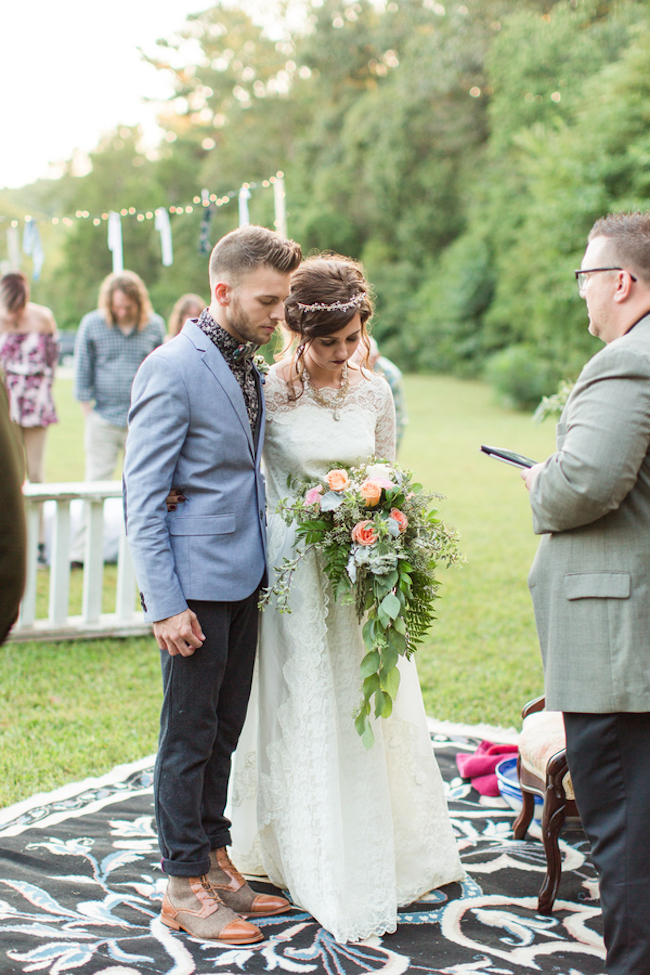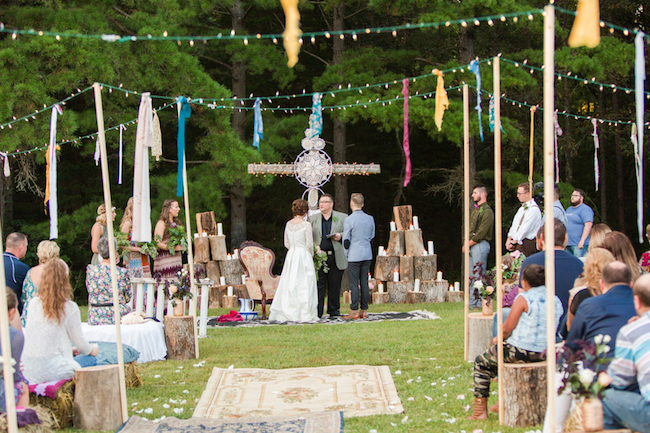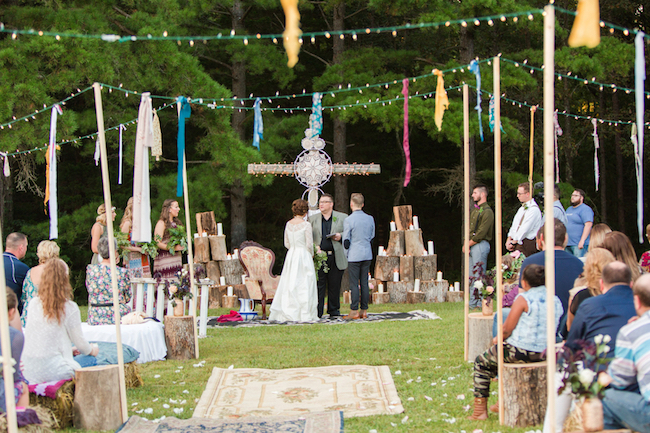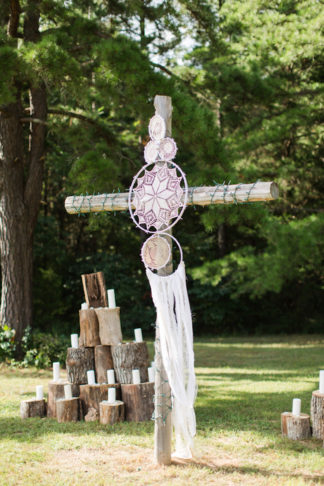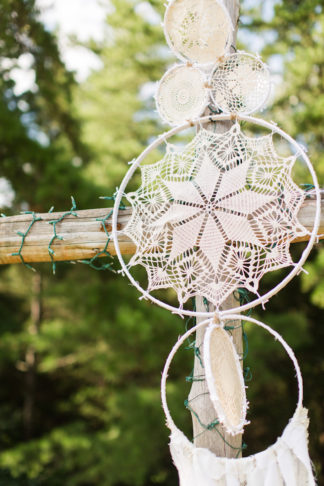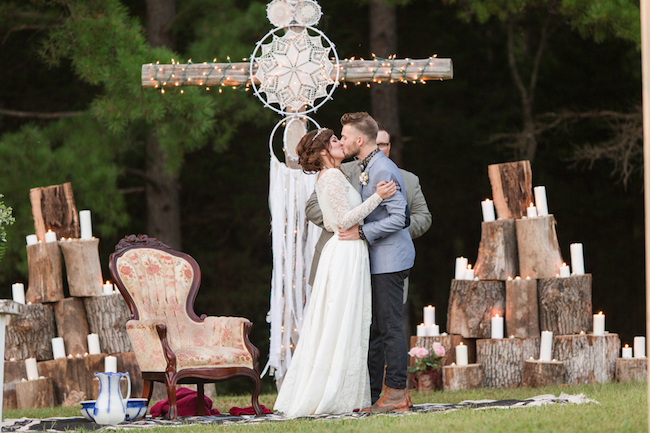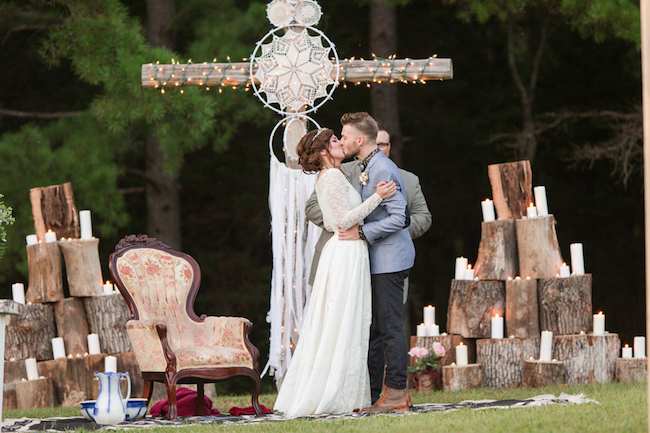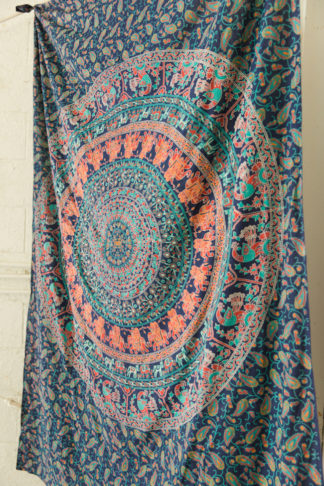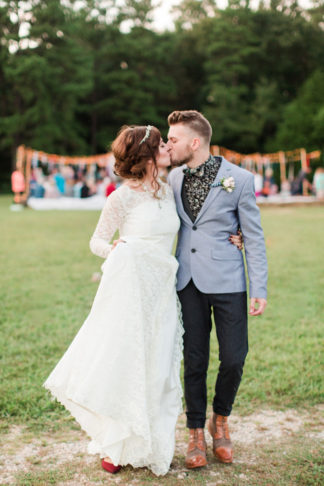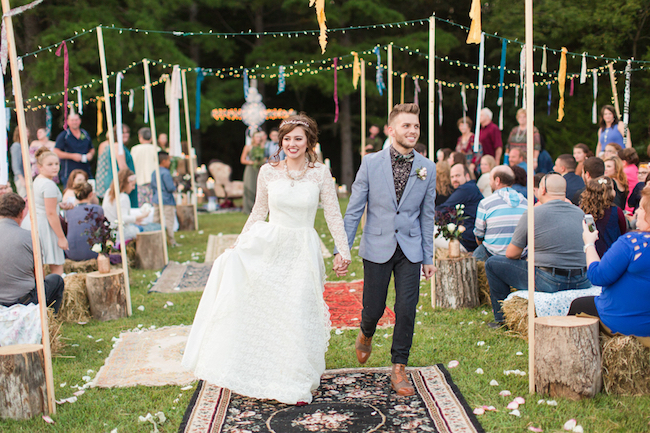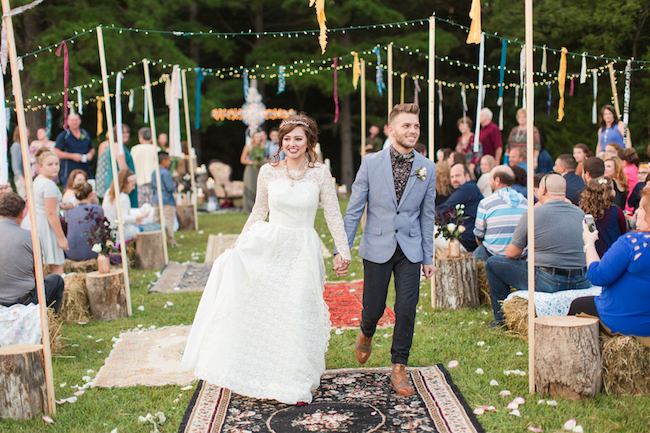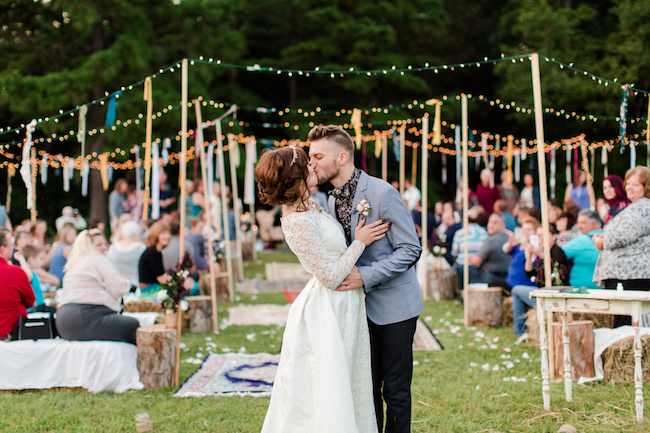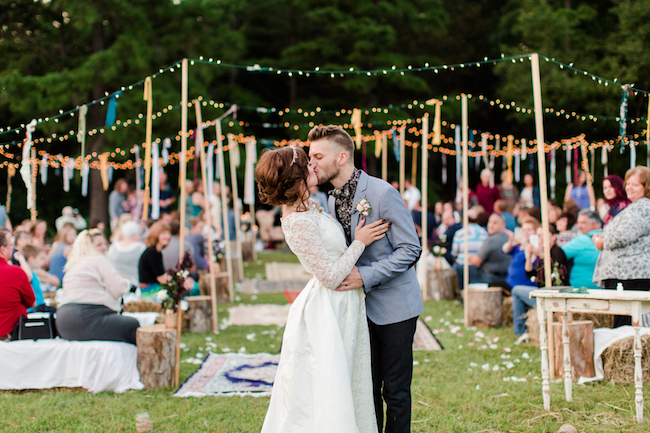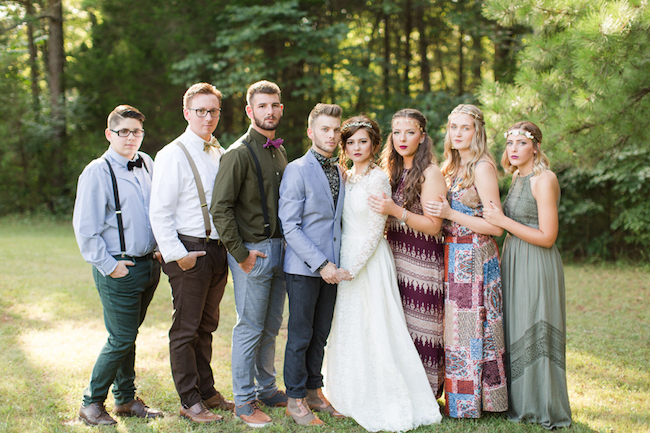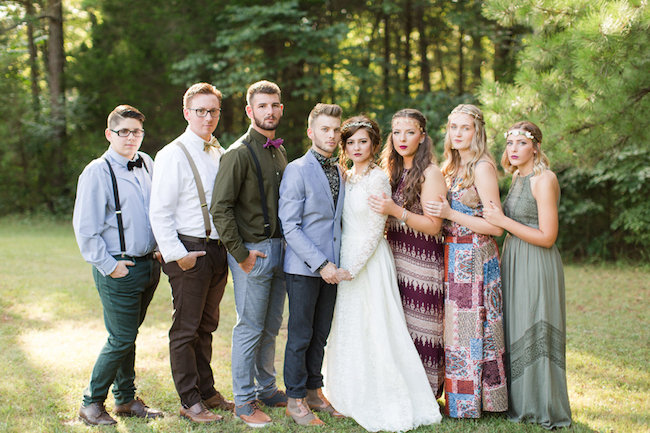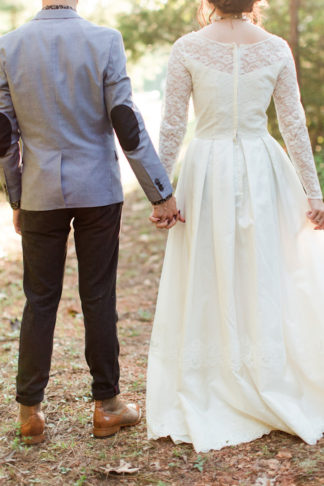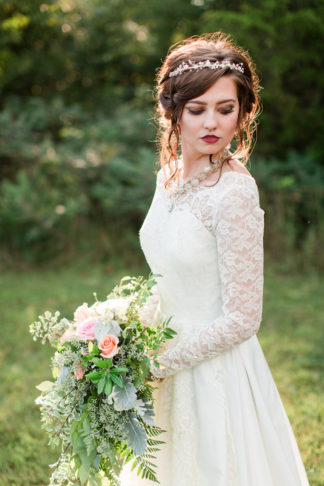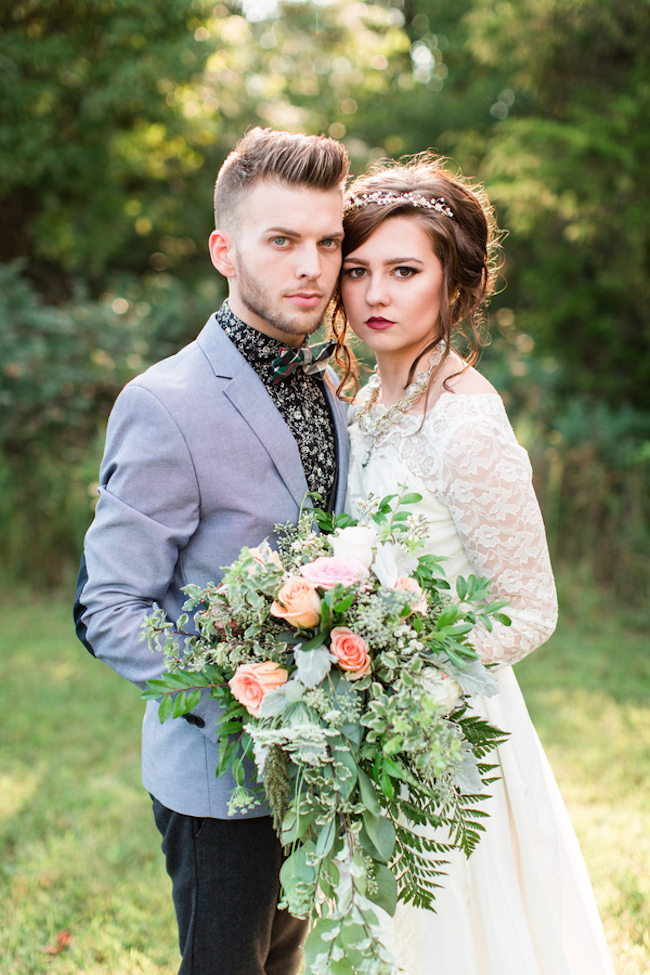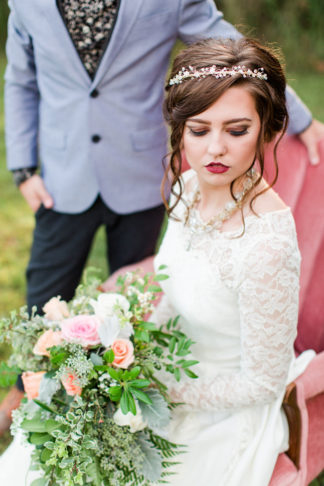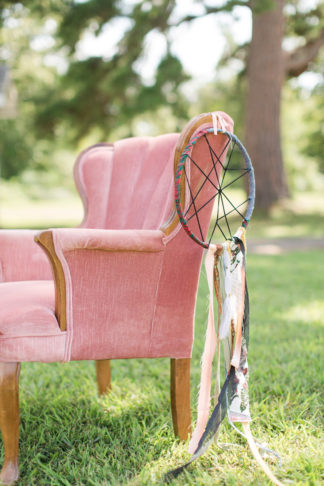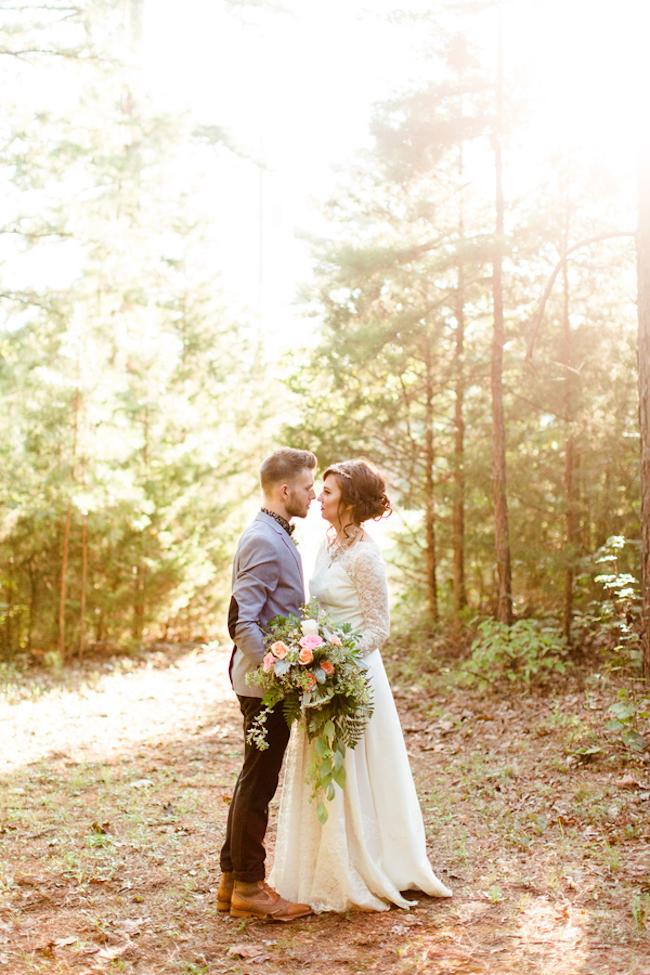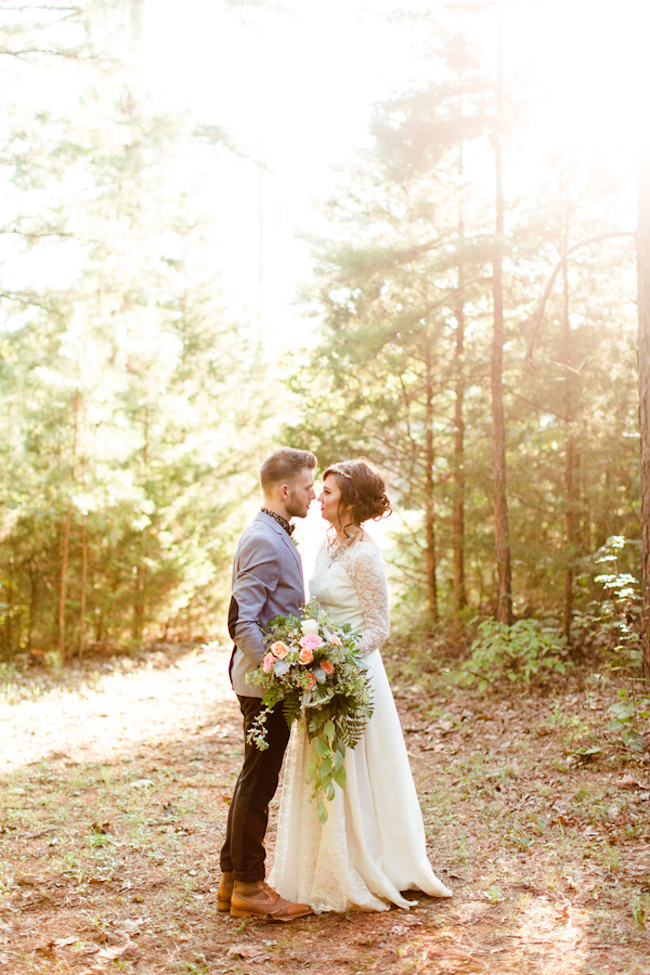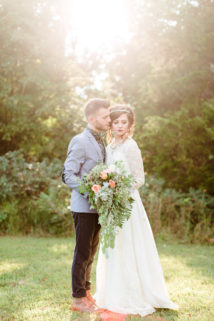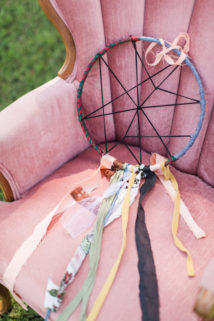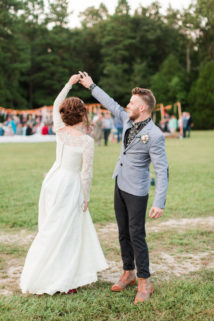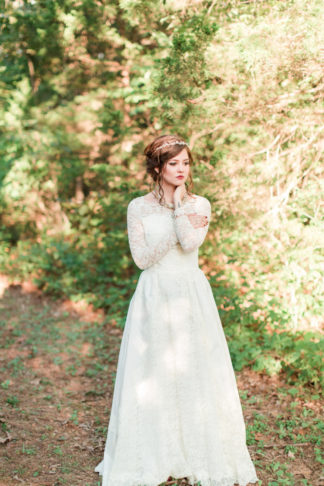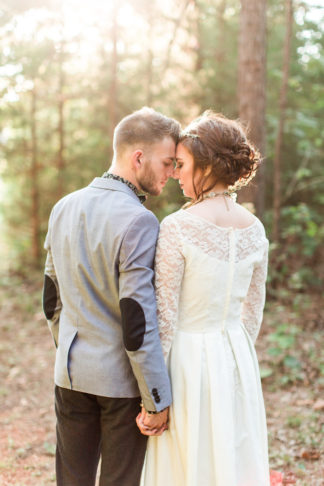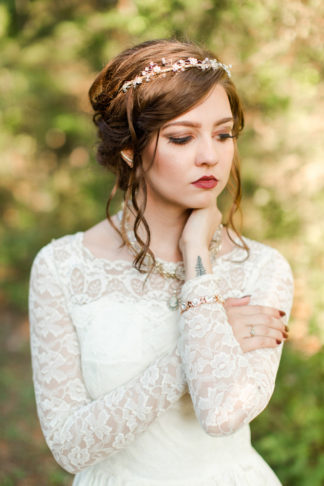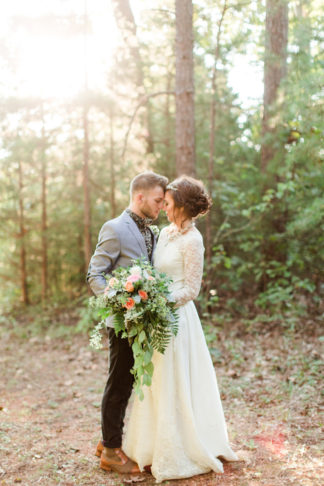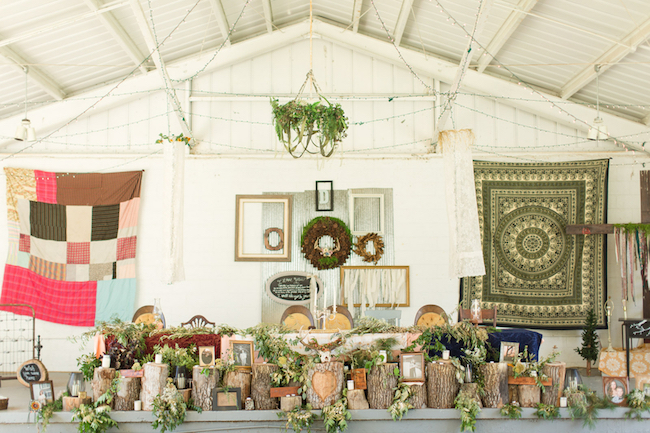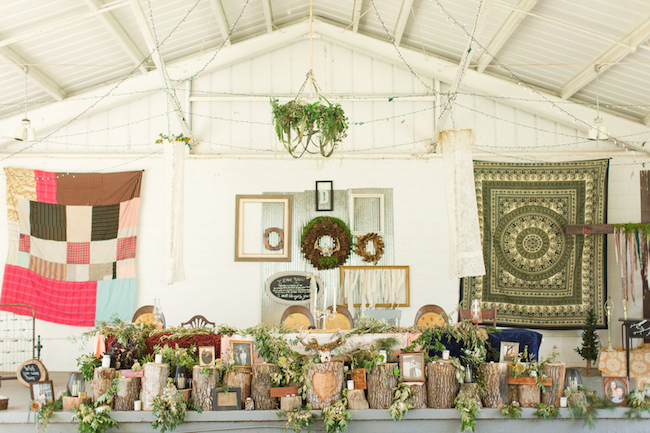 Over each table we hung either a homemade dream catcher or chandelier. In the center of the reception pavilion was a large fabric chandelier – one of my favorites!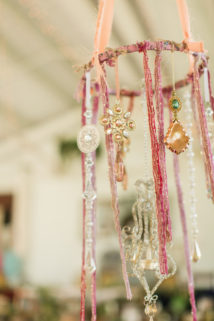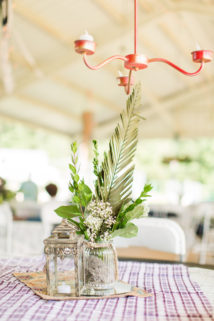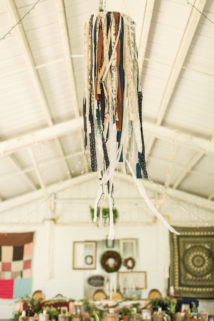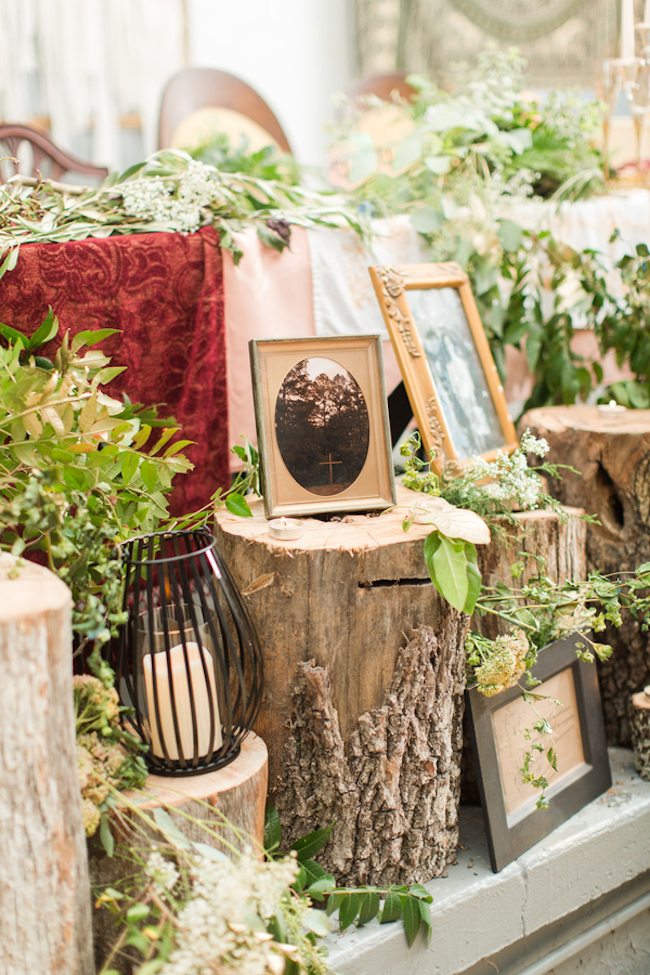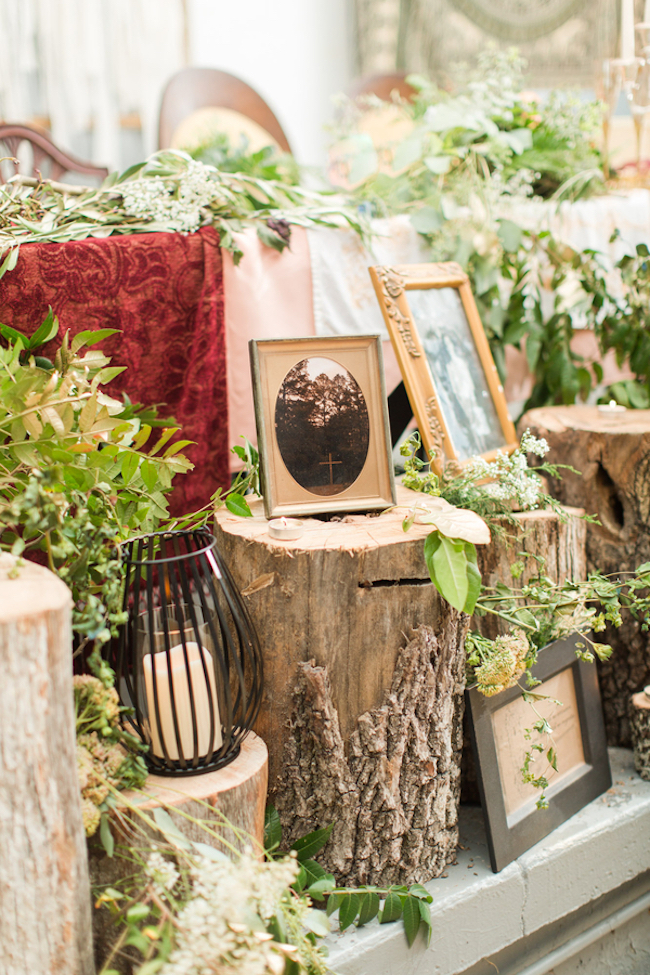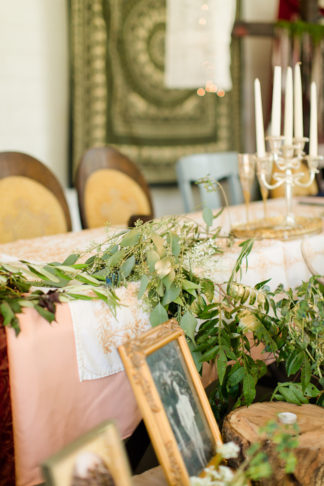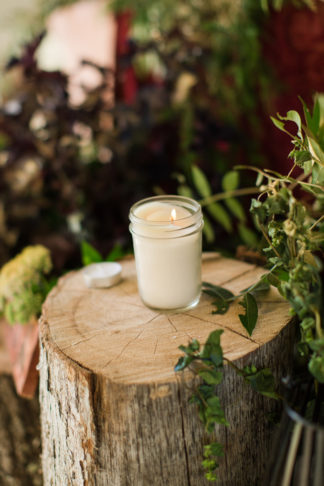 For the reception we decorated the tables with inexpensive black plastic table cloths, layered with lace and different fabrics . We added flat glass centerpieces with a different lanterns from Hobby Lobby on each table, as well as glass jars with greenery in them.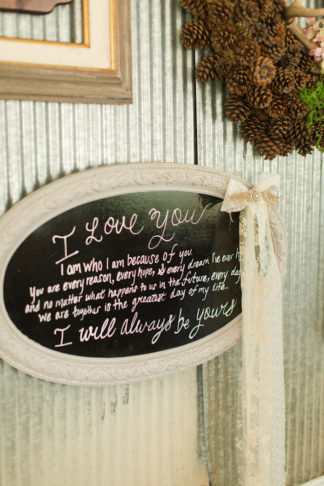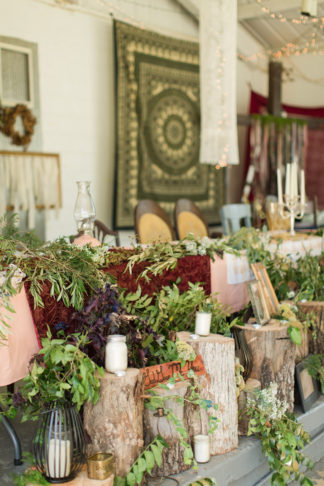 The head table was covered in mismatched tablecloths, then decorated with greenery and candles. In front it were a bunch of cut logs, decoated with pictures of us and greenery. On the wall behind us was a backdrop made of tin from an old house, holding picture frames and wreathes.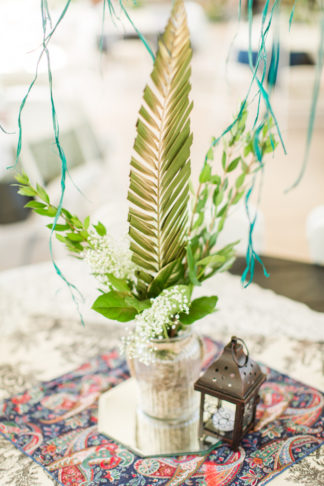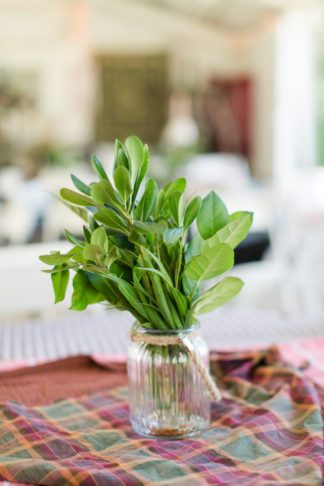 On either side of the table we hung tapestries. There was also a cross to the side of where we were sitting that we hung a wooden pole with fabric strips and moss. At the bottom of the cross was multiple lamps with vintage light bulbs. The whole pavilion was covered in Christmas lights.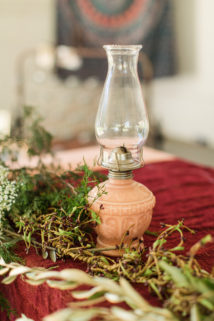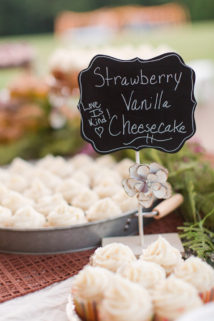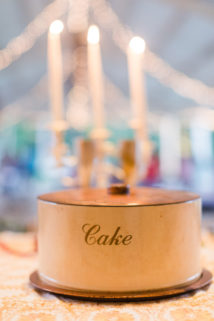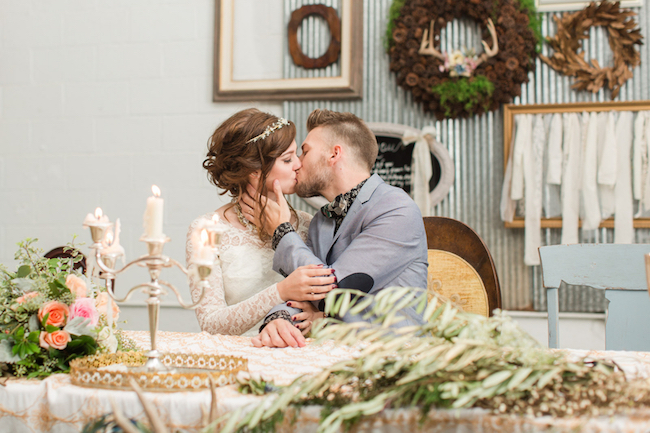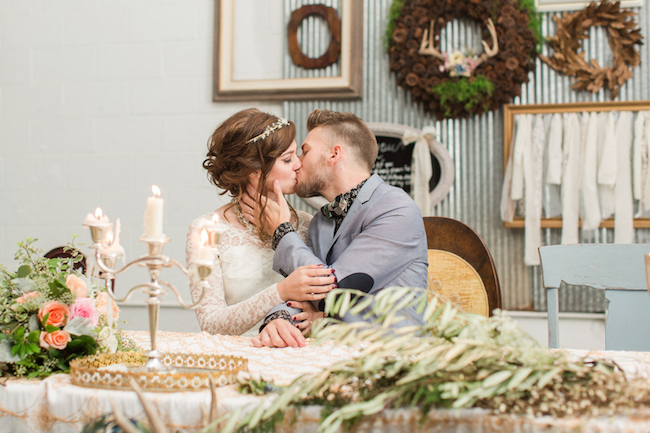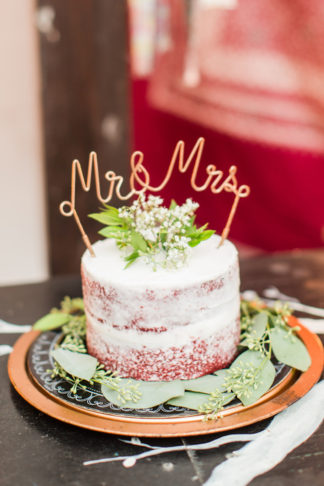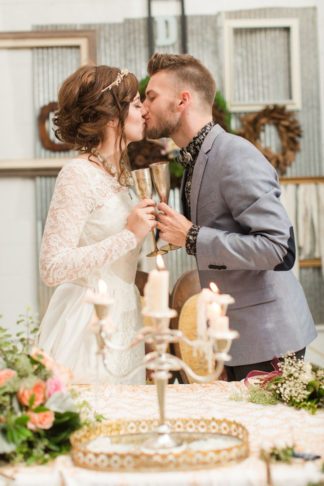 Epic Wedding Playlist:
So this is love by Helene Stanley (First dance)
Dear true love-sleeping at last
Flightless bird Piano version – American mouth
Light – sleeping at last
Spirit cold – tall heights
The one – kodaline
You know me – Steffany frizzell
Constant one – staffany frizzell
Falling in love at a coffee shop – Landon pigg
Wedding Planning Advice:
Goodwill is your friend! Almost everything from our weddings was either given to us or from goodwill.
Click To Tweet
Don't stress over the little things because it will all come together.
And making memories during the process is something you'll never forget. And at the end of the day you will have your wonderful husband and that's all that matters.
Bohemian Campground Wedding:
Photographer Lindsey Paige Photography
Videographer Blue Creek Production
Bridesmaid Dresses Earthbound and altered state
Dress Elegant Affairs Boutique
Brides Hair Xtremes (Amy Francis)
Flowers Sinclair Florist (Chris Jarvis)
Cake M. Haggerman
Decor Alyssa, Dillian, and family and friends
Shoes: H&M – bride, Gentlemans Emporium – Groom
Alternative Bride in Gold + Purple Wedding Dress Rocking Lilac Hair! {Lauren Pretorius Photography}
Dramatic Red and Black Forest Wedding {Jana Marnewick Photography}