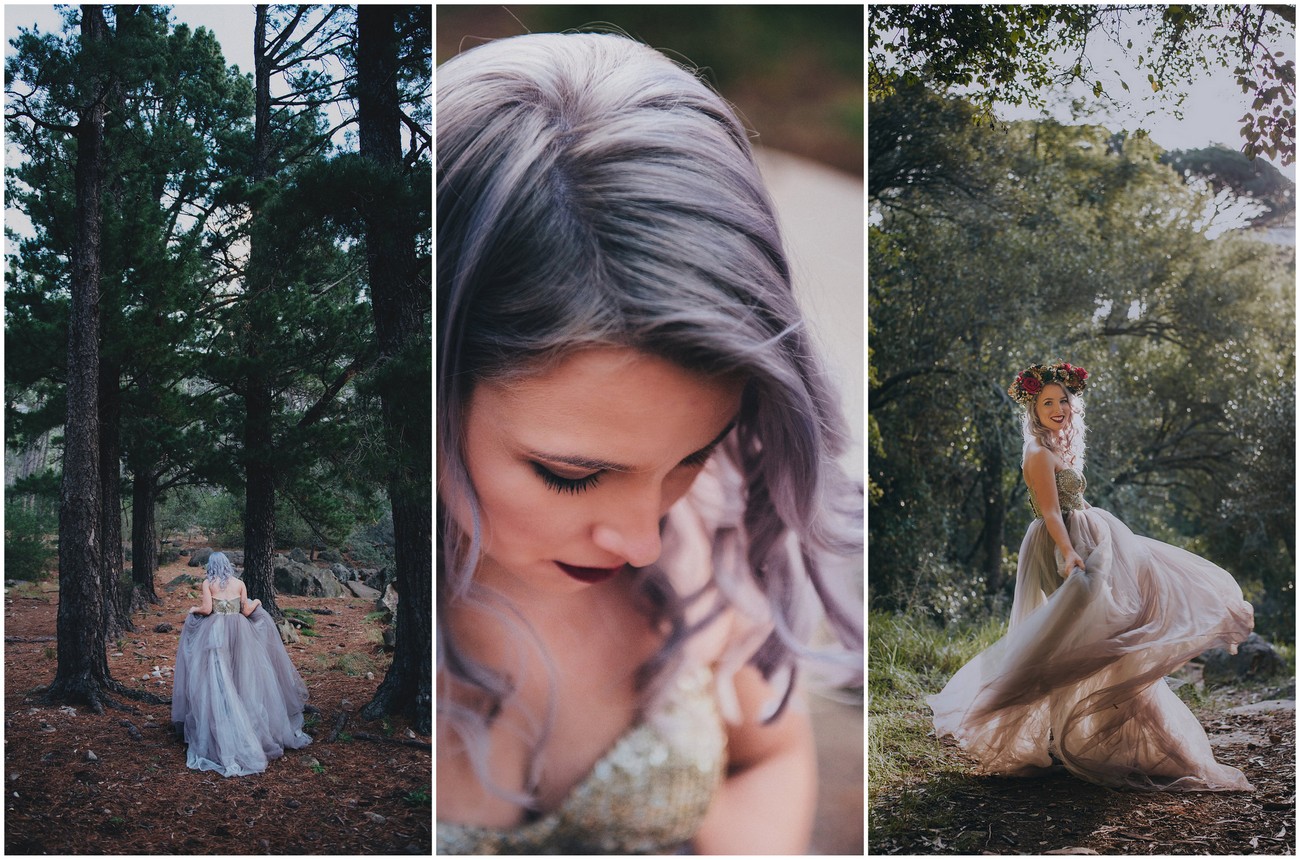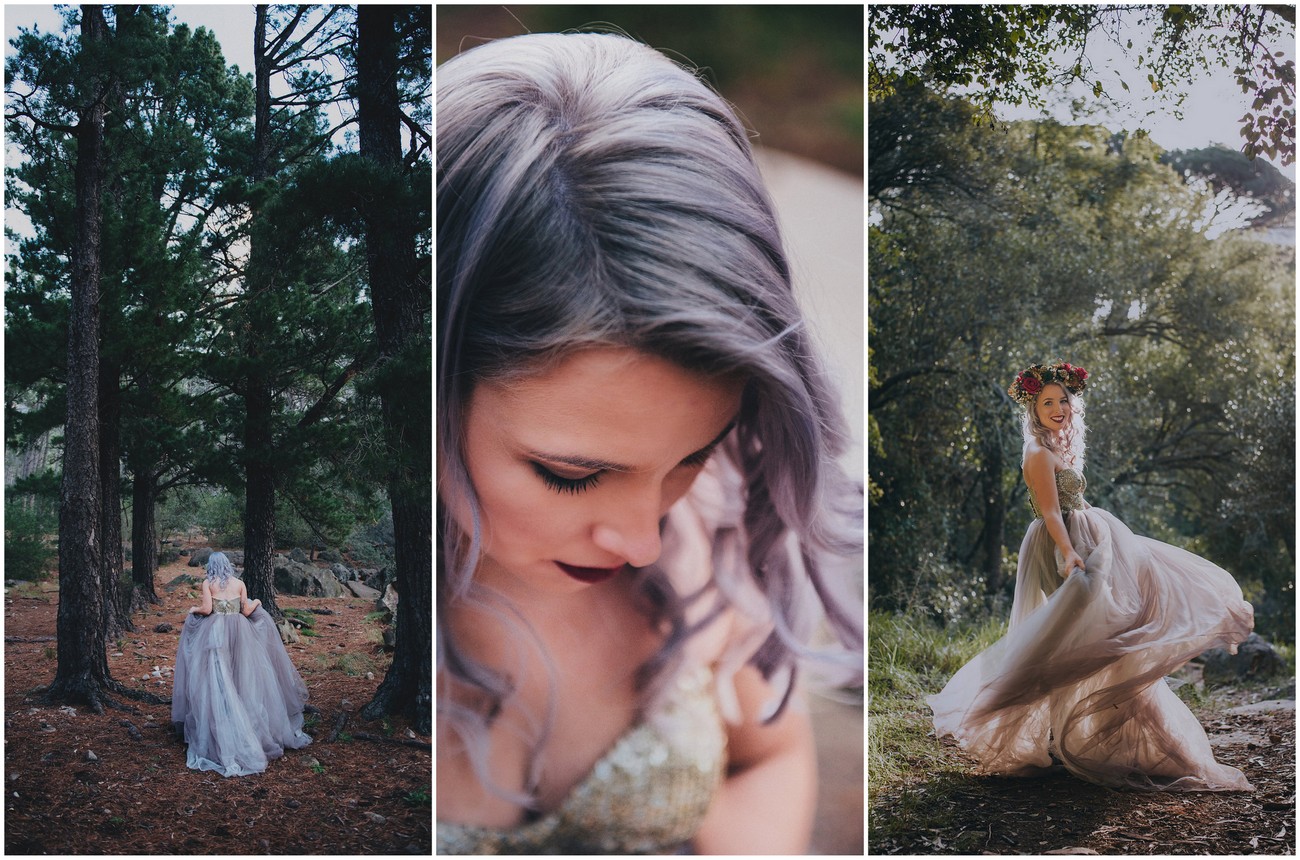 What I would not do to rock a head of kick-ass, lilac hair like today's stunning model bride! Paired with a jaw-droppingly gorgeous alternative wedding dress from Janita Toerien, today's wedding inspiration shoot is all about breaking convention and not being afraid to stay to true to your personal aesthetic.
The beautiful colour of the model bride's lilac grey hair was the foundational inspiration for the shoot. Photographer Lauren Pretorius conceptulized the shoot, to create a look that the alternative/creative bride would enjoy: "I wanted to portray a more colourful look while not losing the dramatic flare and romance that a traditional wedding might have. A wedding shoot can be just as beautiful with bright, beautiful and 'punchy' colours. Breaking away from traditional whites and light colours for brides can be just as beautiful and breathtaking!" 
Ursula Ullrich Make- up styled model Cindy's lilac locks and added a dramatic plum lip for a pop of colour!
Lauren and the team stuck to a moody, yet beautiful colour palette. "We worked mainly with lilac grey, accented by beautifully the rich reds, pinks and golds featured in the bouquet created by Lol's Flowers and Decor. These complimented the gold bodice of Janita Toeriens beautiful dress, which stood out even more surrounded by the dark greens and browns of the forest."
Lauren intentionally chose a forest as the backdrop for the shoot: "I wanted the dark, yet beautiful drama to surround the couple, to strongly contrast and enhance the colourful florals as well as the striking gold and purple gown dress."
Alternative Bride: Gold + Purple Wedding Dress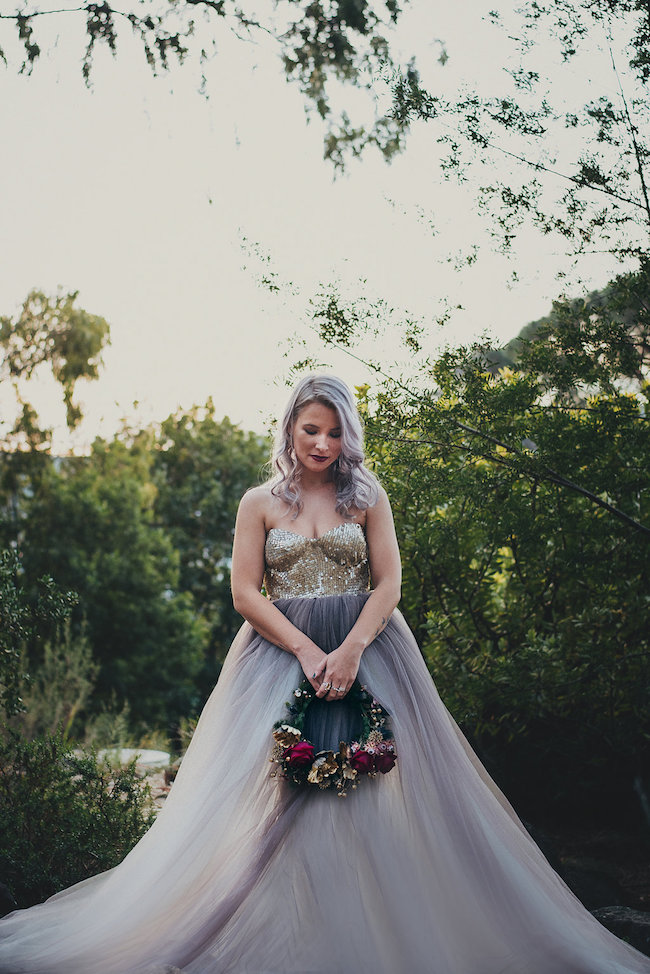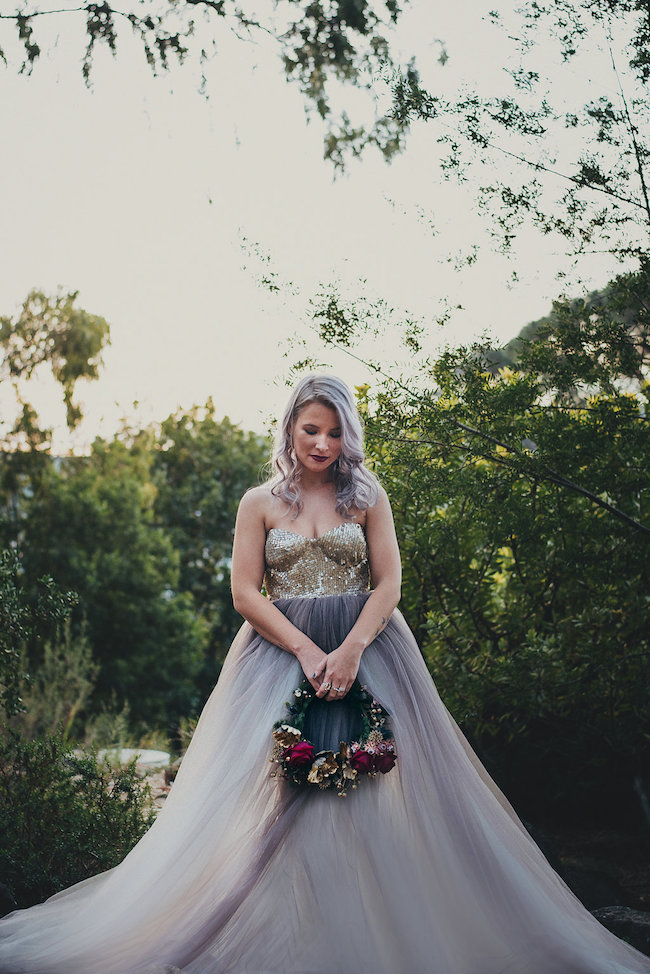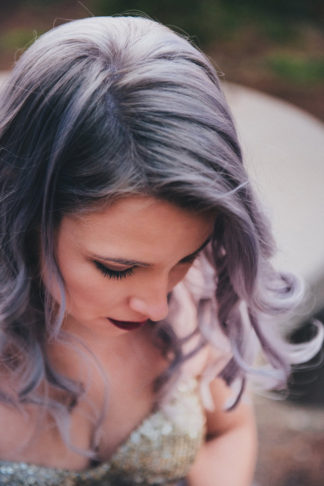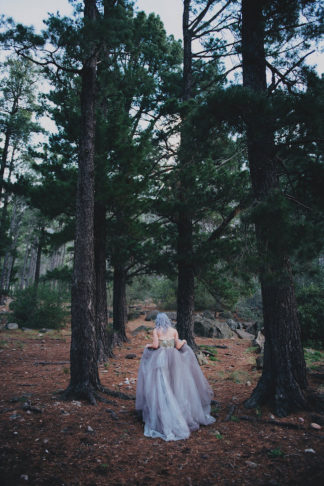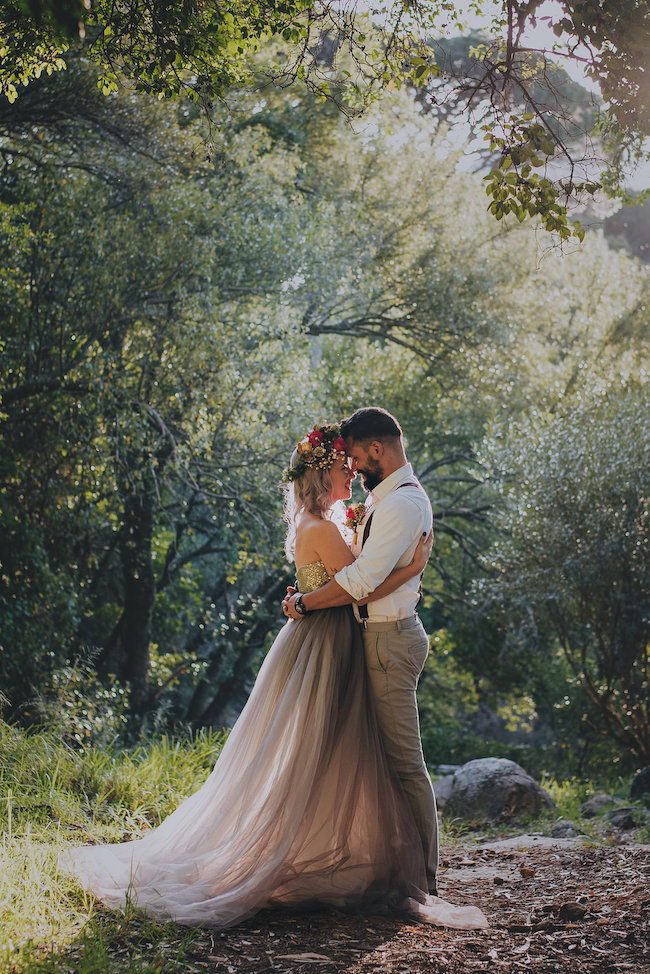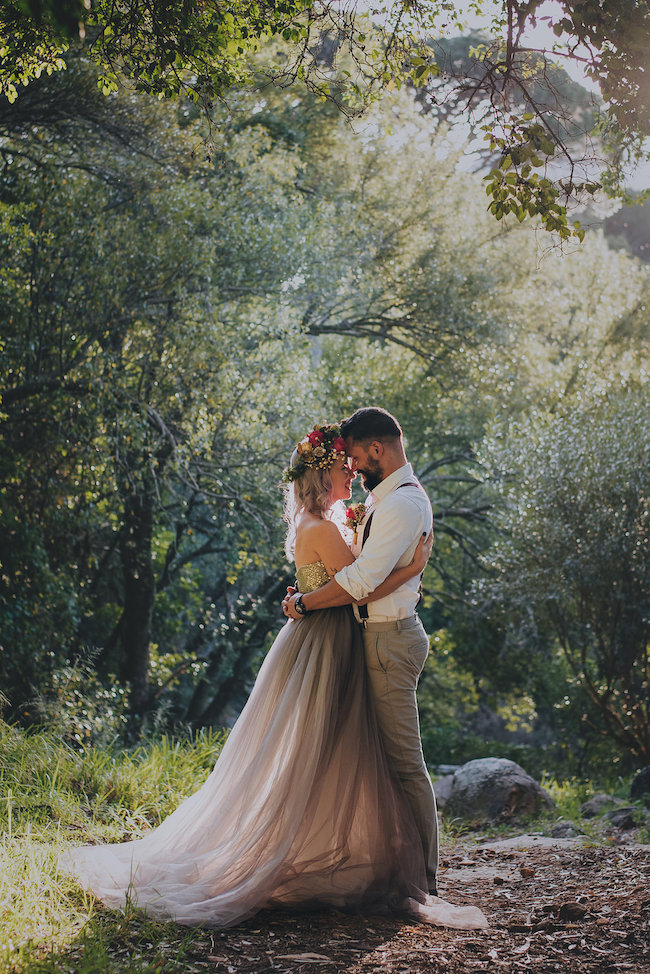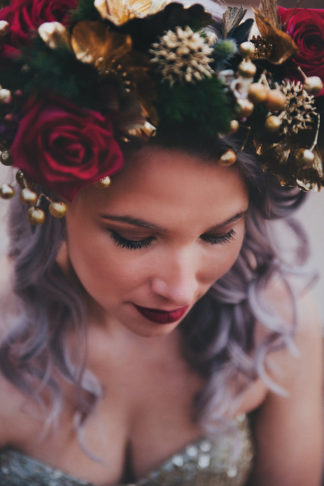 Hair & Make up:
"Cindy, the model, had the most beautiful lilac grey/purple hair. We wanted to keep hair and make-up minimalistic and classic as not to draw attention away from the beautiful floral head piece, and opted for soft curls.
The make-up was simple and striking, emphasising the colour of Cindy's eyes with a dark eye, and bringing out her features with contouring. We added a dash of colour with a beautiful plum lip." – Ursula Ullrich Make- up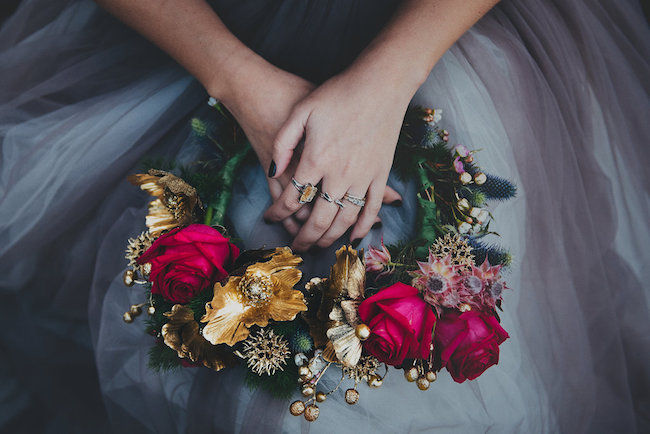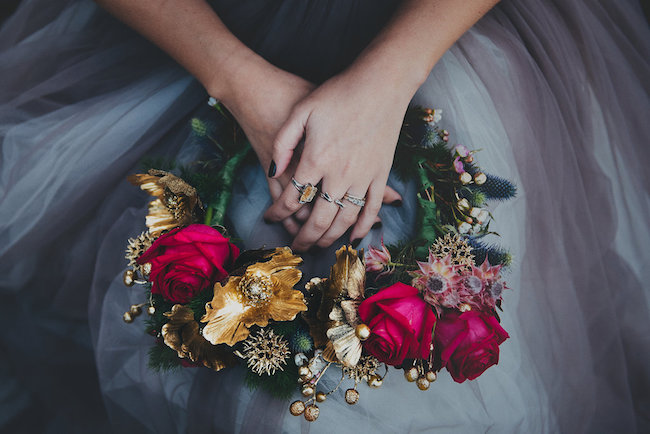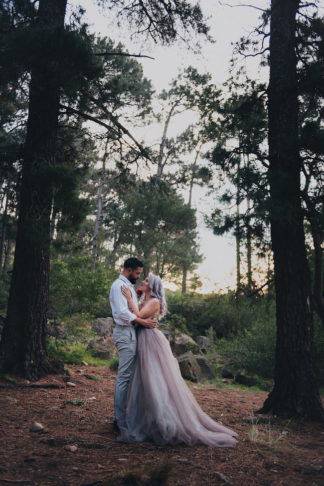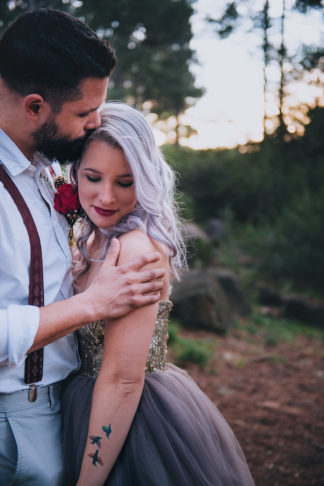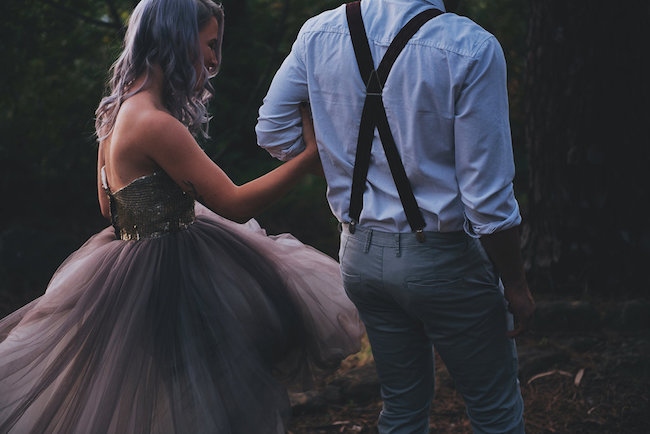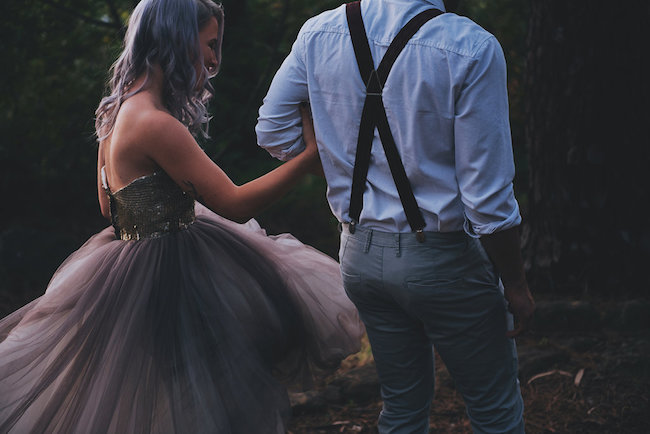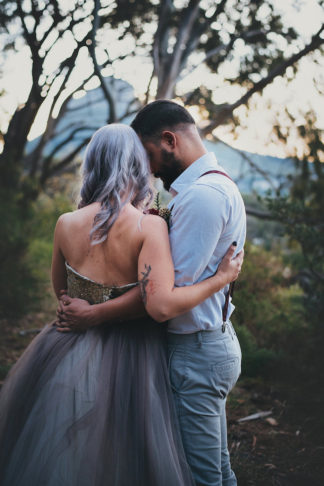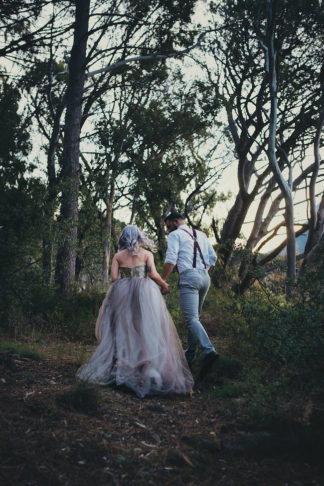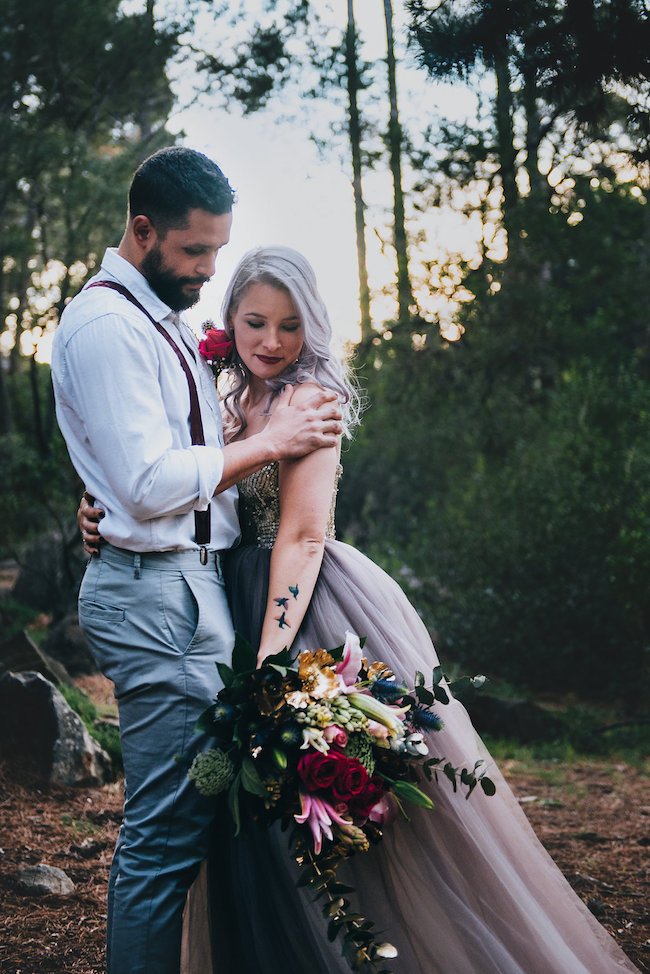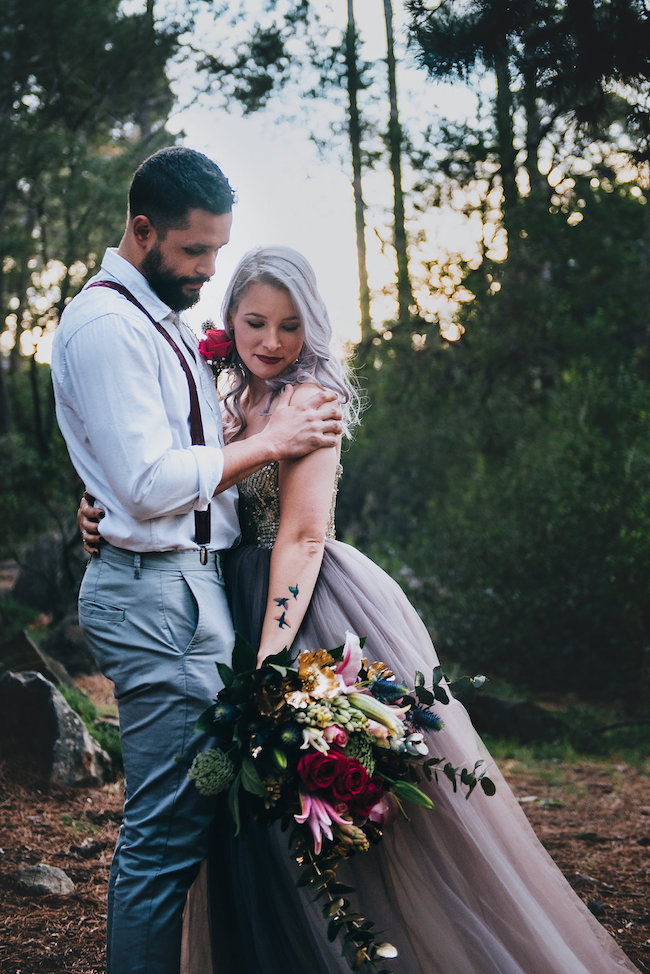 Floral Details:
"My jump off point was the amazing gold and purple gown from Janita Toerien. I have wanted to combine artificial, real flowers and spray painted seed pods in a bouquet for a long time. I also opted for the strong pink rose to enhance the dress tones with a pop of heady colour." – Lol's Flowers and Decor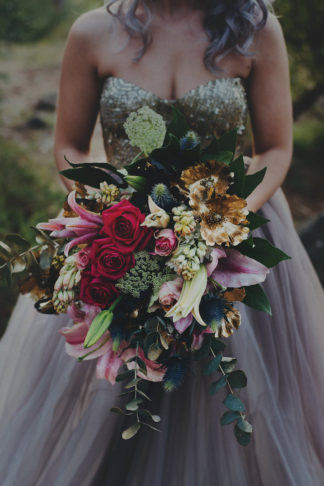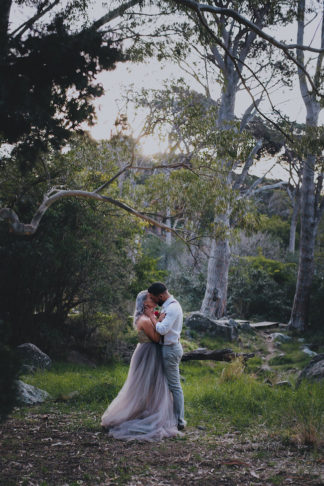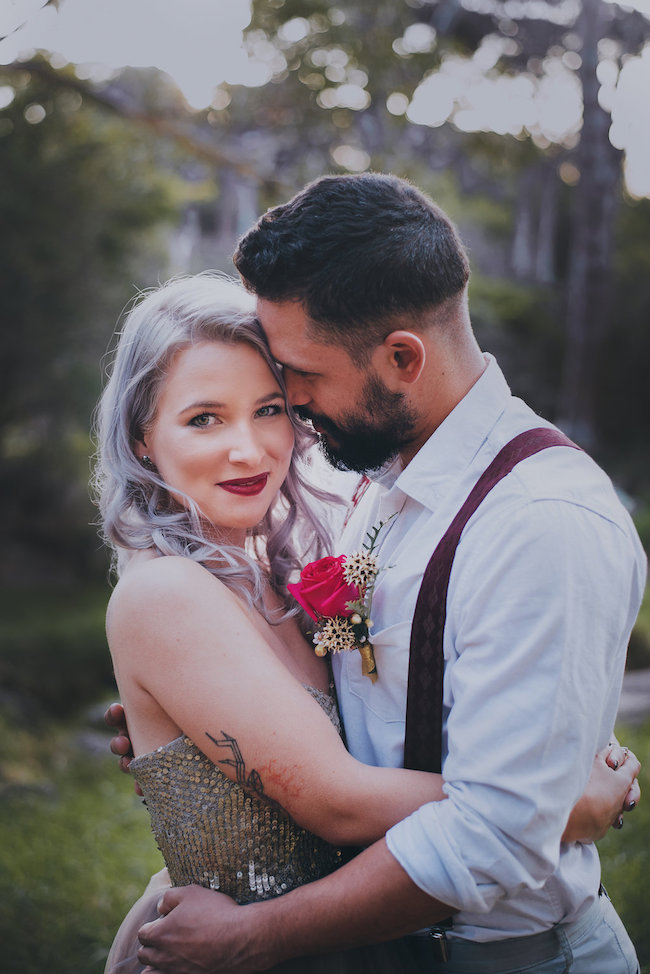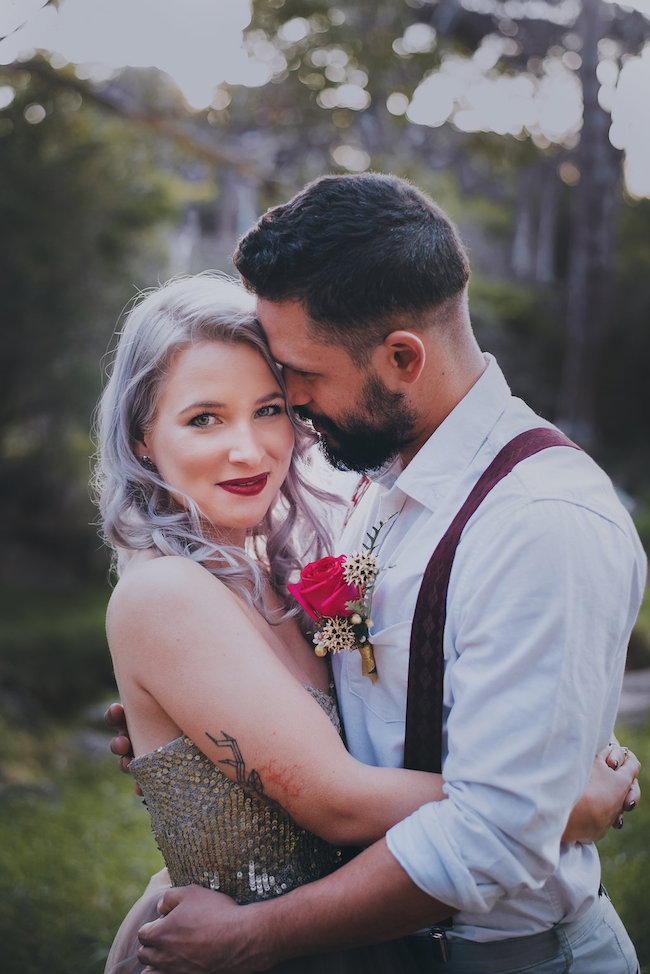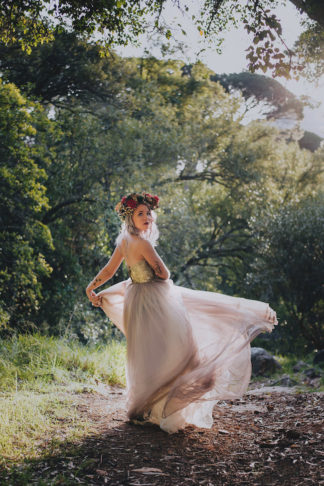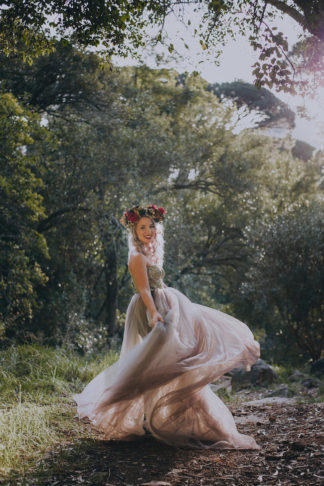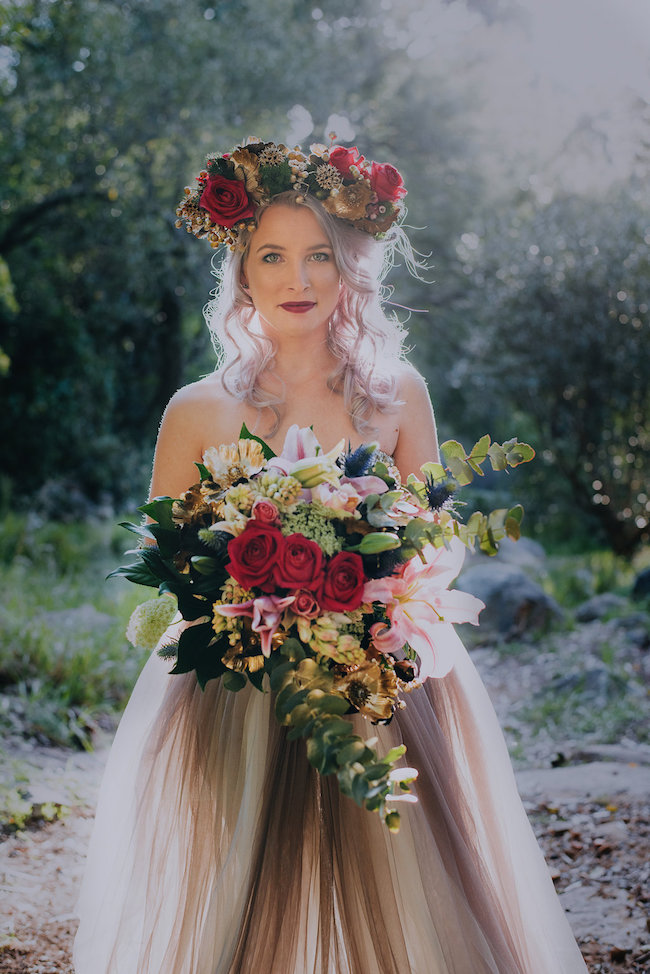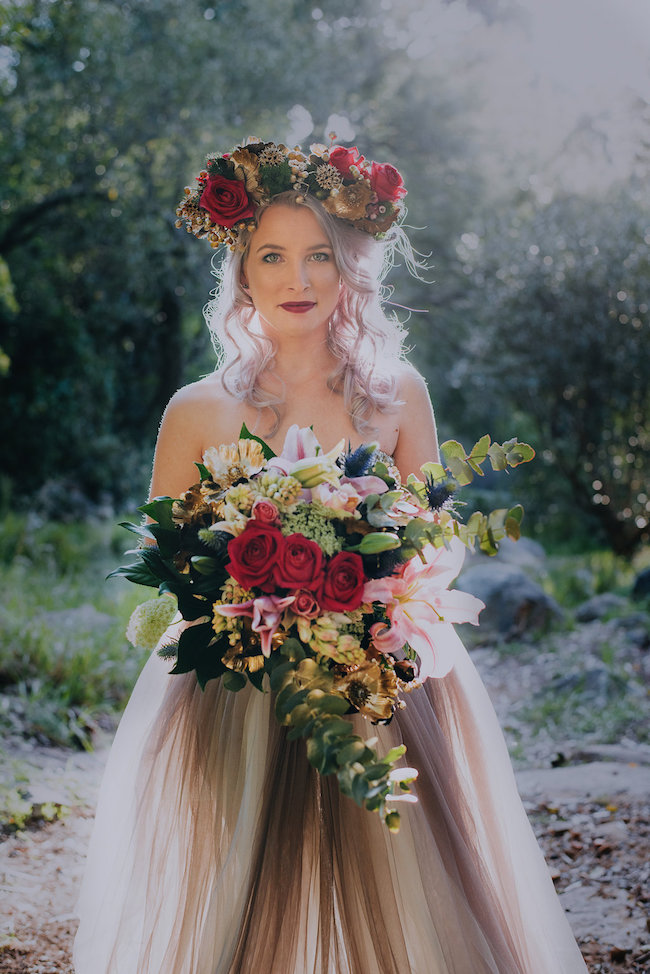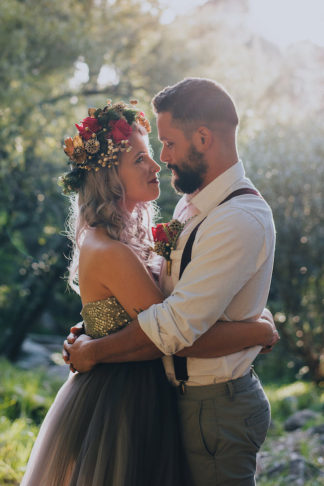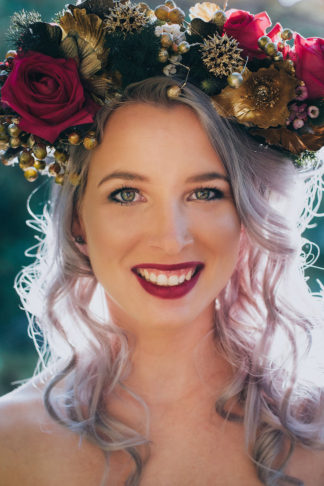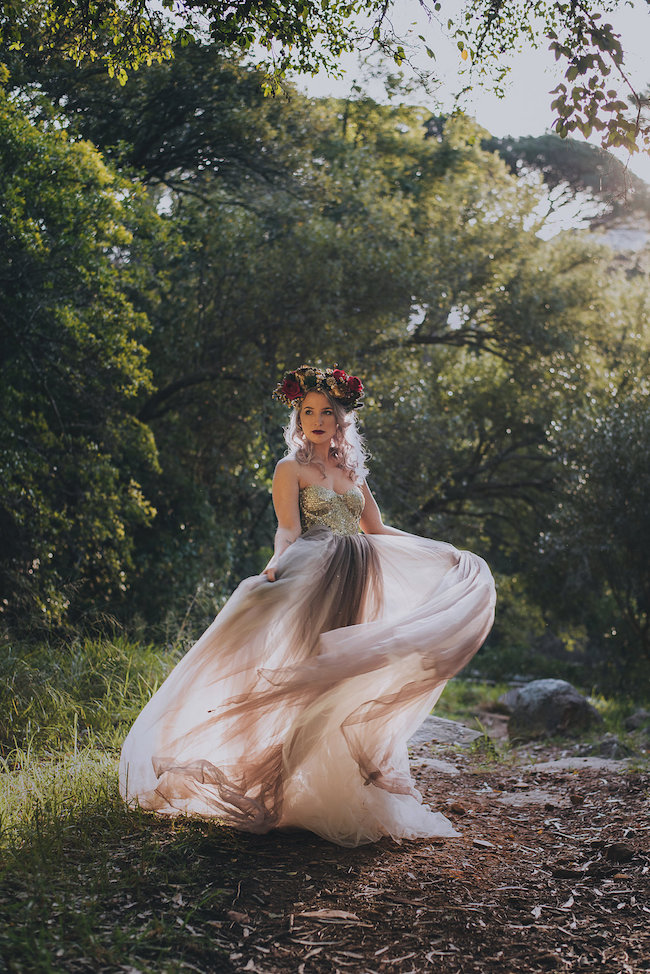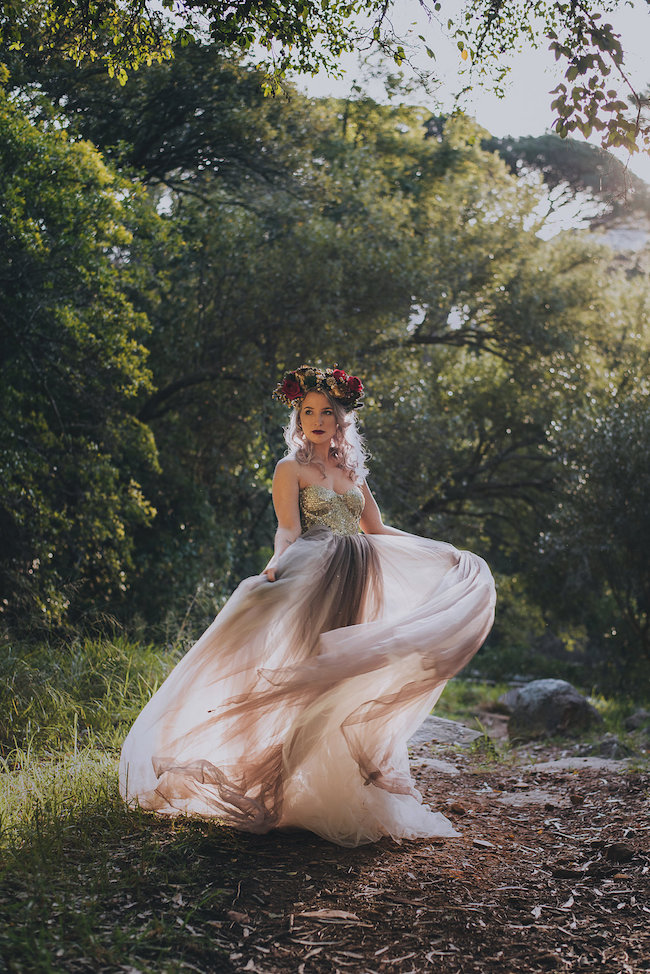 Wedding Service Providers:
Cranberry + Navy Atrium Rooftop Romance {A. Wonderly Photography}
Dramatic Red and Black Forest Wedding {Jana Marnewick Photography}
Rockabilly Wedding Ideas by Celeste Styled Events {Claire Thomson Photography}
Sexy Black Evening Dresses – Galia Lahav Moonstruck 2014 Collection