♥  ♥  ♥ AppelliefieFees   ♥  ♥  ♥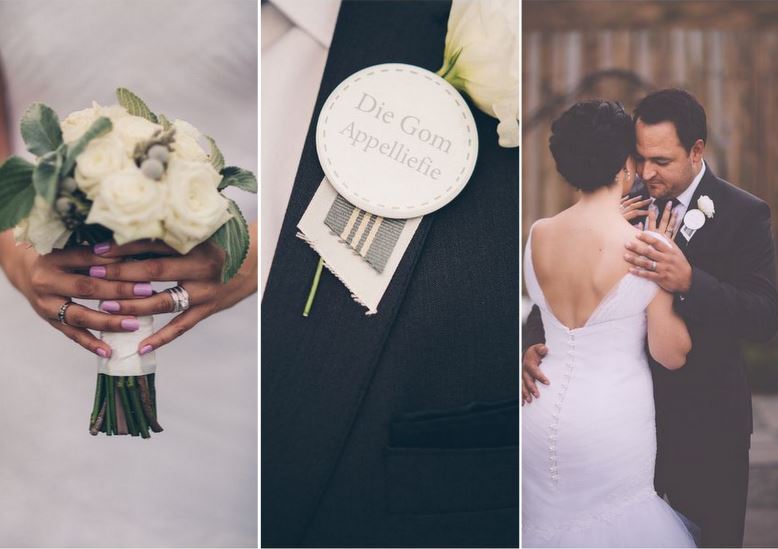 Pretoria locals, Riandi and Gustav, decided to tie the knot in style with a destination wedding in Cape Town held at Brenaissance Wine Estate.  They named their white, grey and purple South African celebration of love the 'AppelliefieFees', a cute play on the groom's surname, Appelgryn, and filled the day with little love apples at every turn. Riandi looked striking in a fit and flare gown which secretly covered a pair of super cute, blinged up tekkies (sneakers) that were specially made by the bride's best friend! And just wait till you see their getaway car… 🙂 The day's events were captured by wedding photographer, Sybrand Cillie.
  ♥  ♥  ♥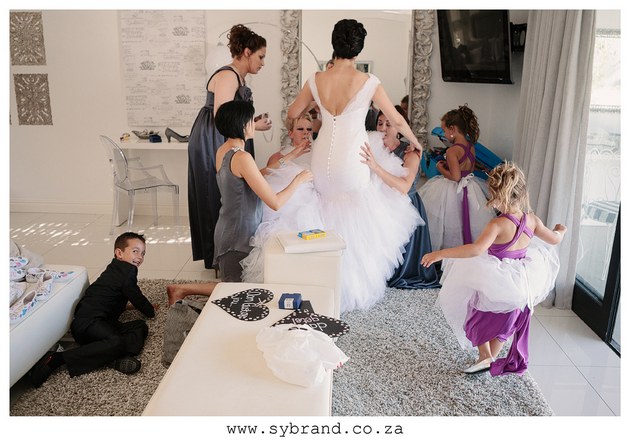 My best friend since primary school (and a bridesmaid) that  styled everyone's hair -the bridesmaids, flower girls, my mother and mine, all on the big day as well as being by my side! She also designed tekkies (sneakers) for all of us – the bride and the bridesmaids!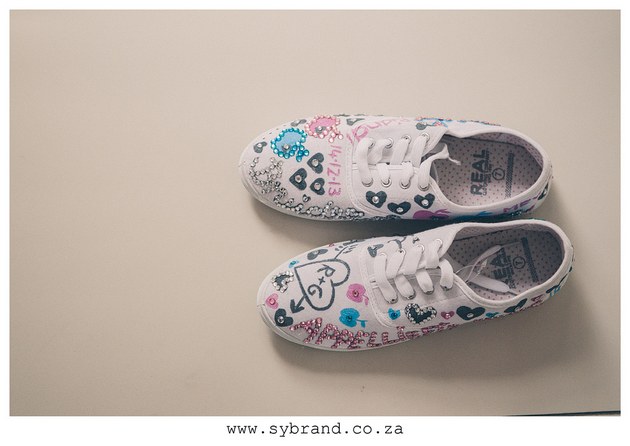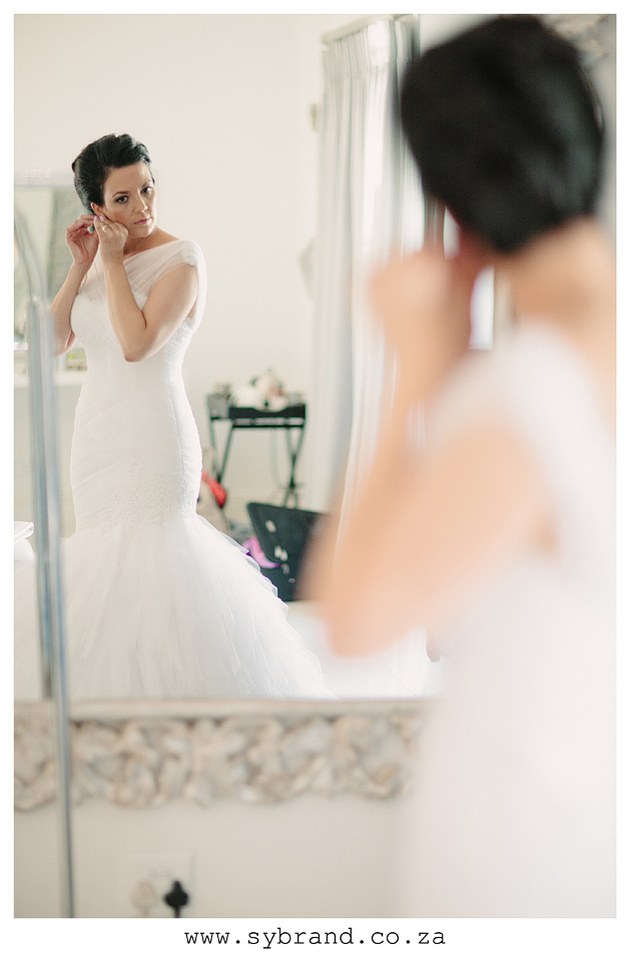 Their Love Story:
My mom always said, "You are going to be friends with your future husband long before you fall in love!" And, wow, was she spot on! Gustav and I met through friends, Pieter and Lizle, and we were friends for four years before we actually started dating.  Things became really serious between us after I returned from a trip in December –  he was the first person to call me and ask how my trip was. After that he kept calling every day and stayed in contact when I travelled to Mozambique. The next month he took me on our first date and it wasn't long until he asked me to officially be his girlfriend……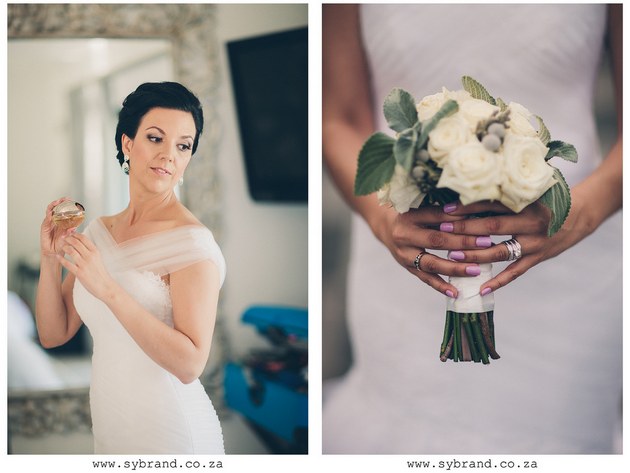 Their Proposal:
Gustav arranged a weekend at Legends Golf estate under the pretence that it was a business trip. Little did I know what was ahead! That Saturday morning, while eating breakfast, he said that he had a spa day planned for planned for us. During breakfast the manager arrived saying that there was a double booking and offered us a complimentary helicopter ride to compensate for having to reschedule our booking for the following day. When inside the helicopter they said that an event on top of the mountain had been cancelled  which meant we were in luck and going to be treated to a complimentary picnic on the mountain. When we landed at the top of the mountain, Gustav went down on one knee and asked me to marry him! It was all perfectly planned he even arranged to have the pilot take photos so we had the memories forever. Of course I said 'yes', and had the whole of the estates golfing fraternity waiting for us back at the club to congratulate us!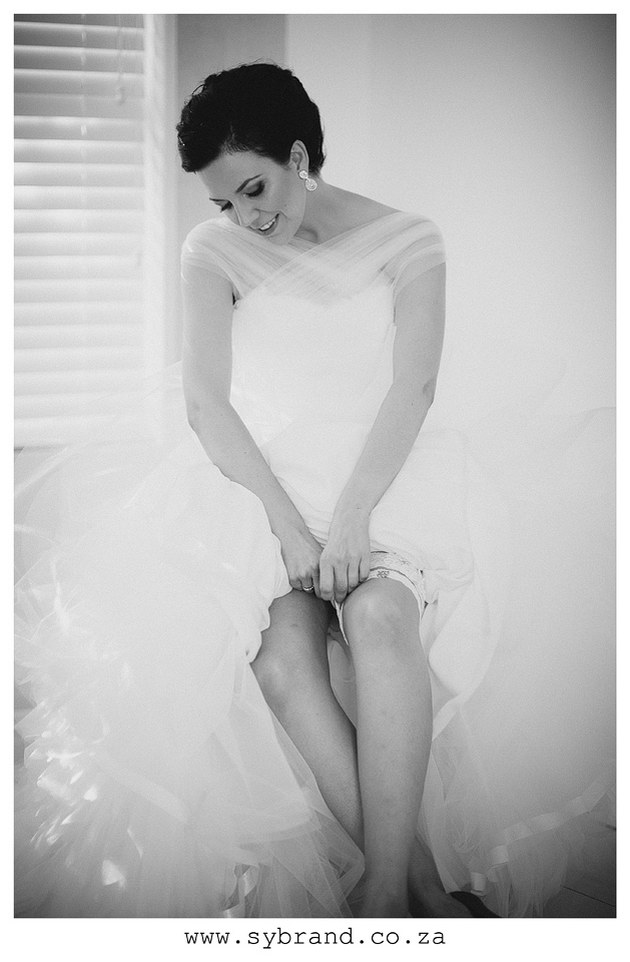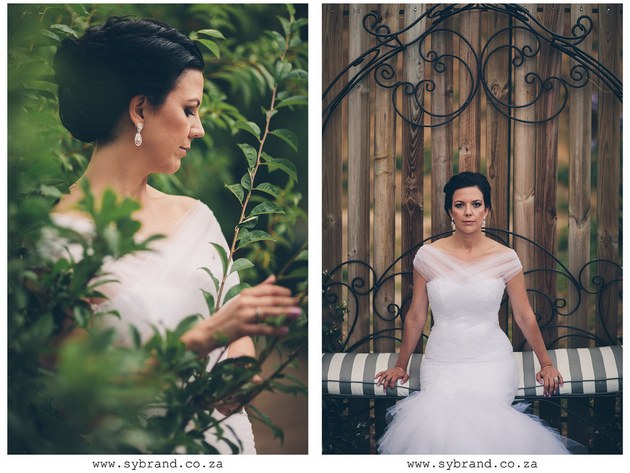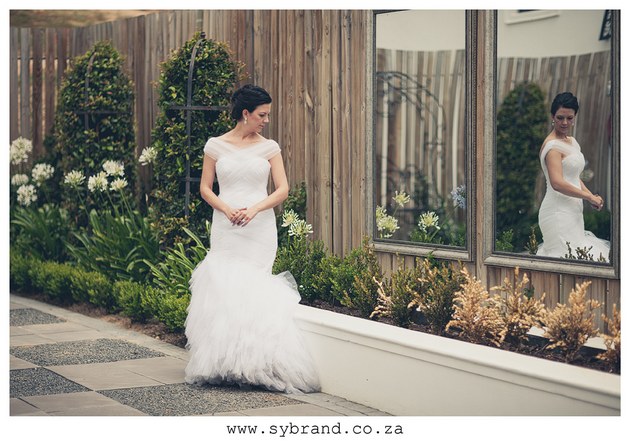 Special Touches:
In keeping with our "AppelliefieFees" theme, we served apple flavoured chocolates, apple'gryn' pies with apple sorbet as part of our desert!
Gifts for the ladies were specially made table runners and serviettes and for the gents a "hangover pack" with a cream soda, Bar-one chocolate and headache tablets for the following mornings hangover.
Because ALL of our guests were from Gauteng we prepared a kiddies area with two babysitters, gift packs and food for all the kids to help their parents enjoy the evening.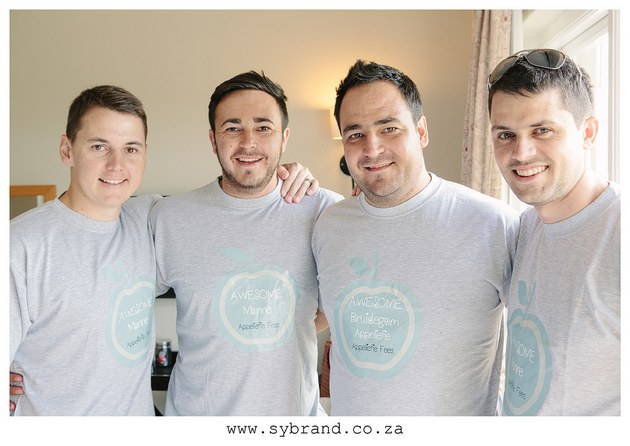 To personalize the day, we designed all the stationary, t-shirts for our entourage and family members with our wedding theme and throughout the wedding we made use of things we loved. We had a Friday get together where everyone got to know each other so all could mingle at the big event on the Saturday.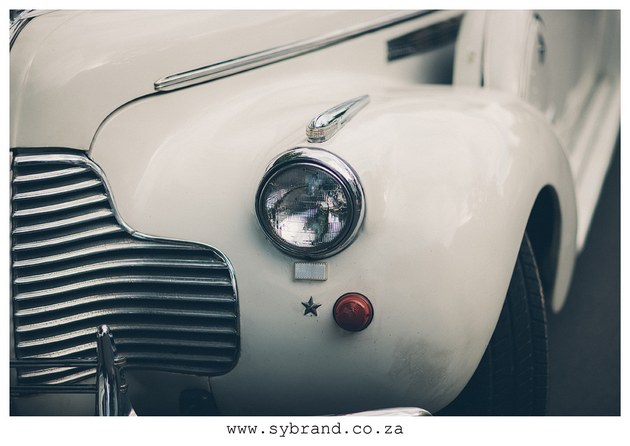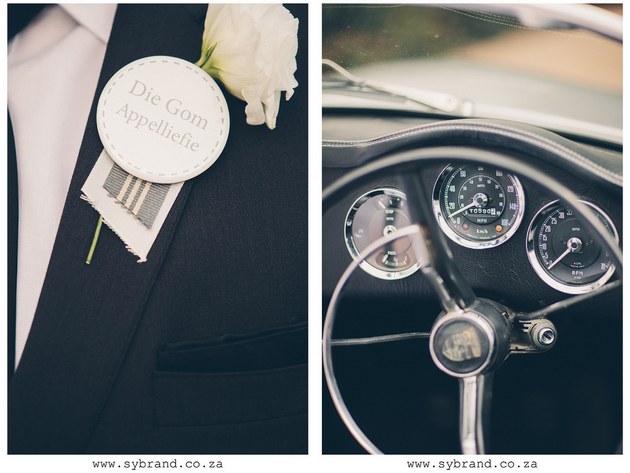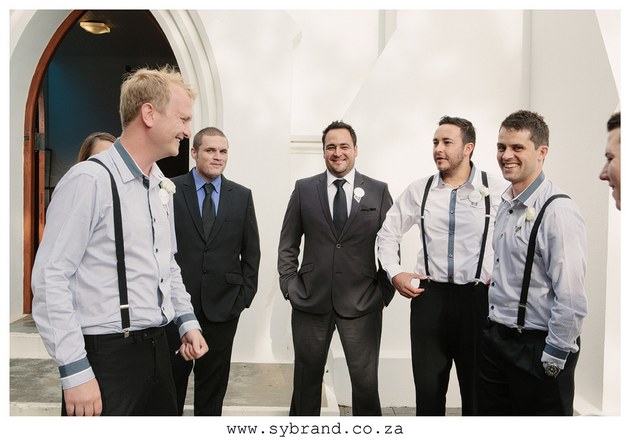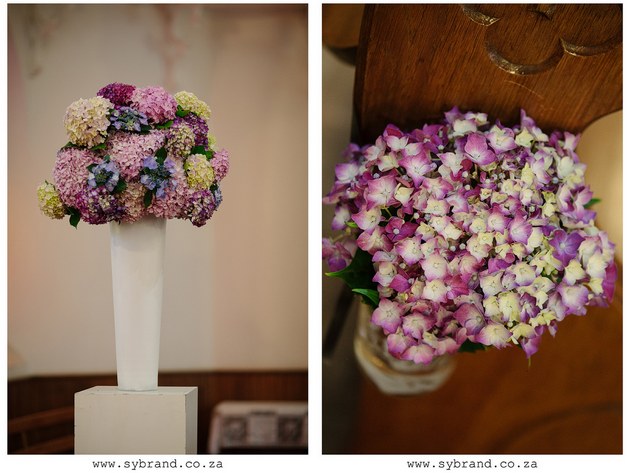 In honour of Gran.
My grandmother's favourite flower was the Hydrangea and my youngest memory of Christmas was freshly picked hydrangeas in a real Christmas tree in our house in the Drakensberg. Since then it has been one of my favourite flowers and we incorporated them into our decor. This was also the inspiration behind our wedding colour scheme.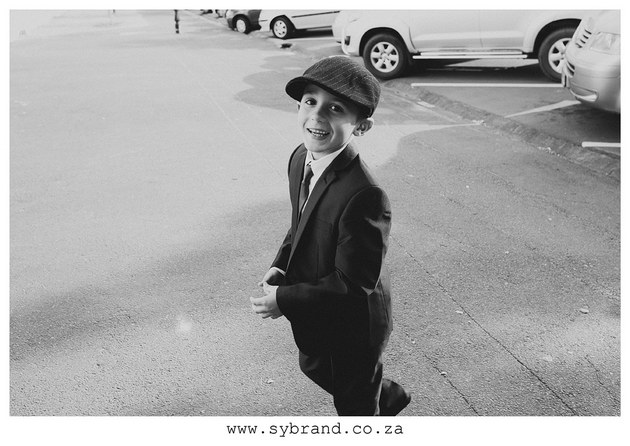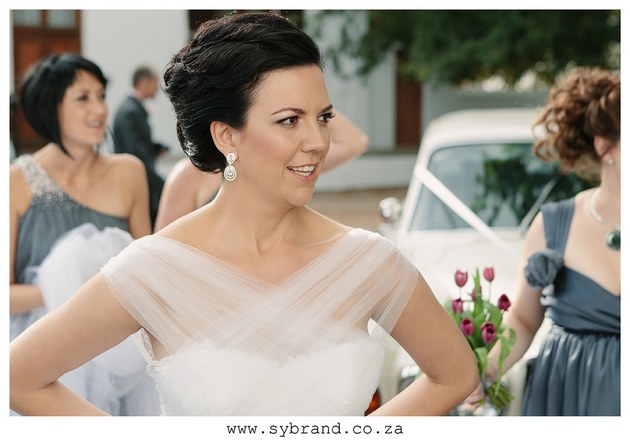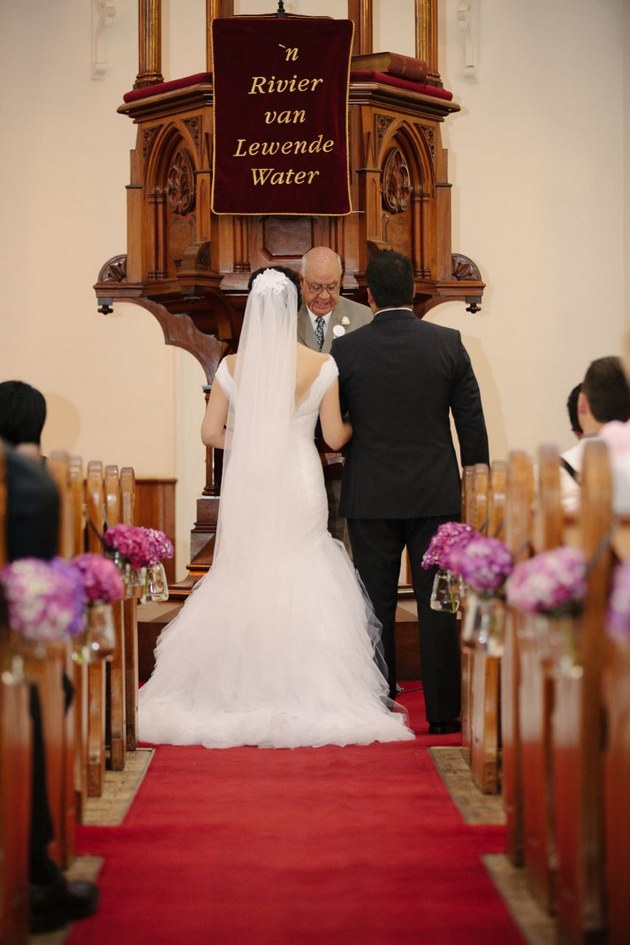 Wedding Ceremony:
We decided to get married in Stellenbosch – the main reason being that my grand father and grandmother got married in the same church 65 years ago – and my mother was christened in this church too, which held a lot of significance for us.  One of the most special aspects of the ceremony was that my DAD is a minister in the Dutch reformed church so he officiated the ceremony and married us!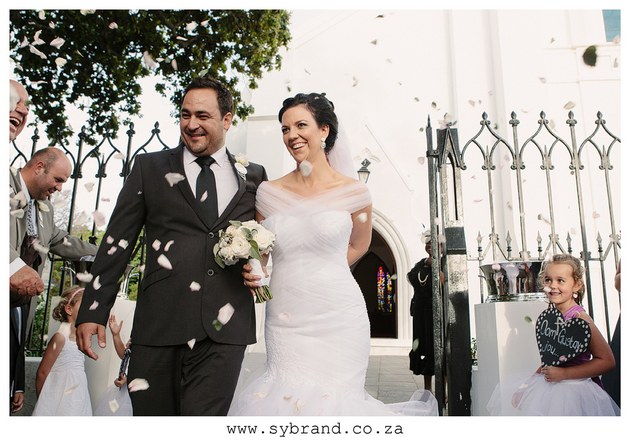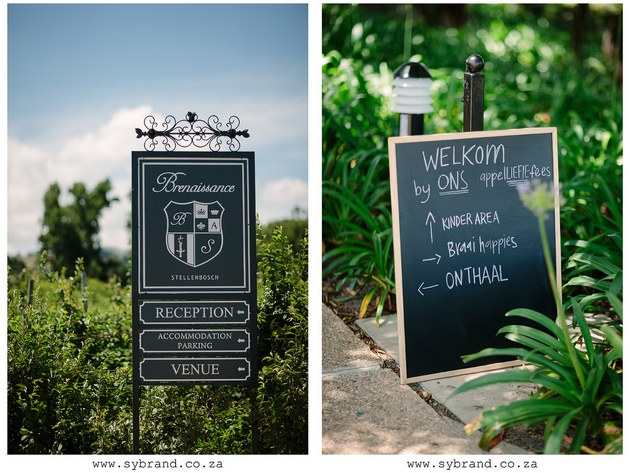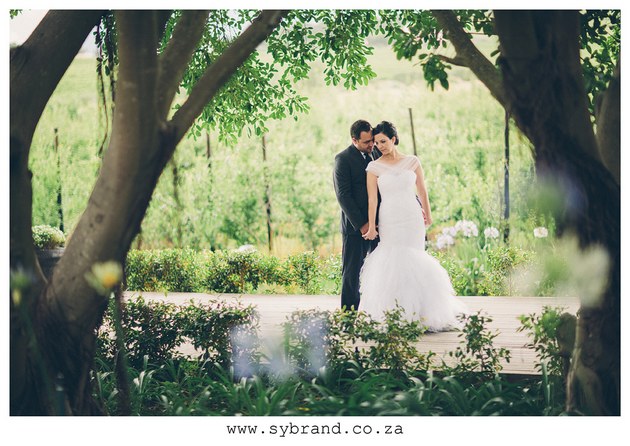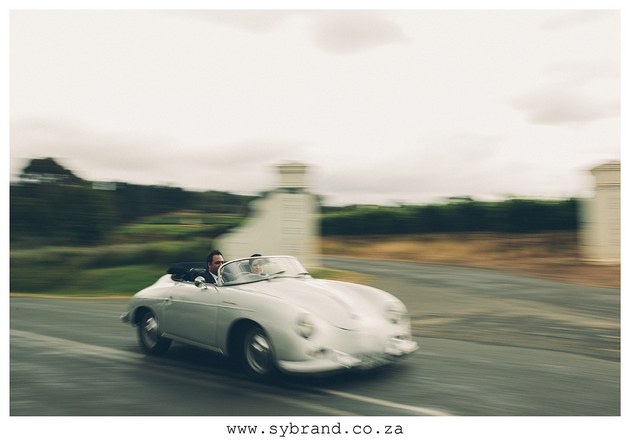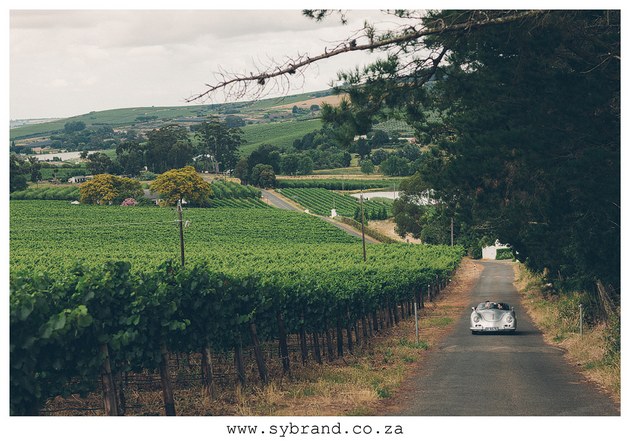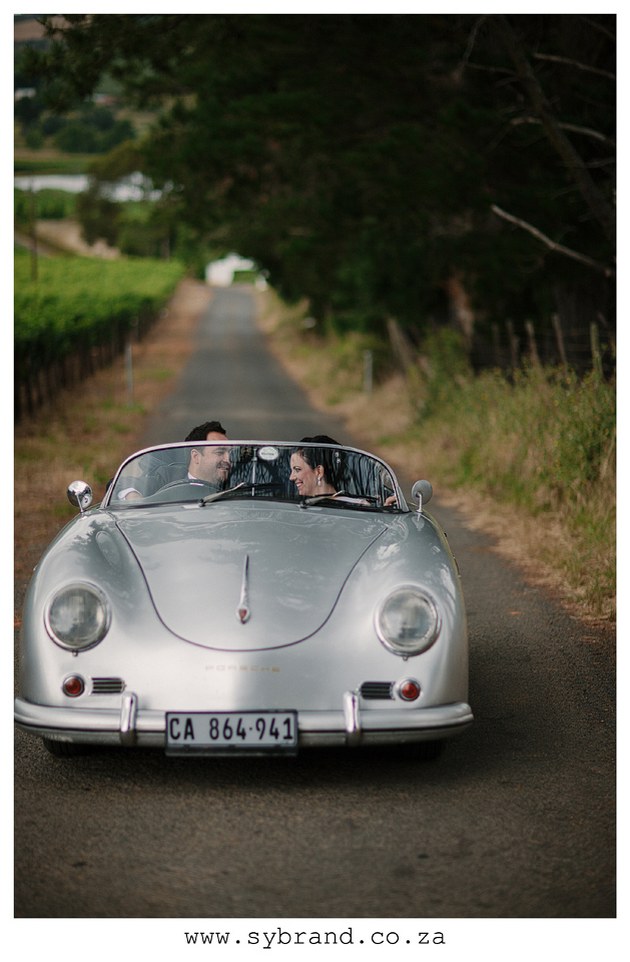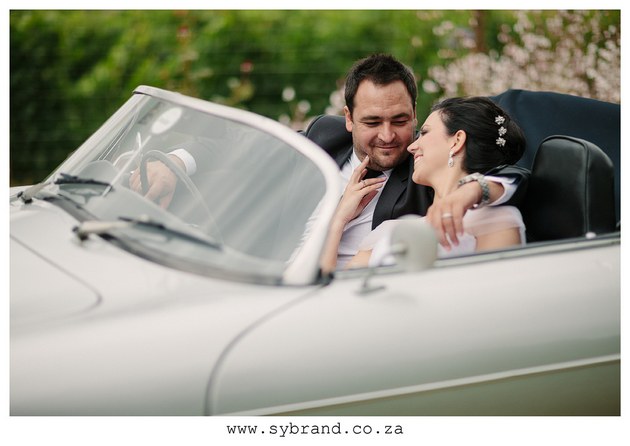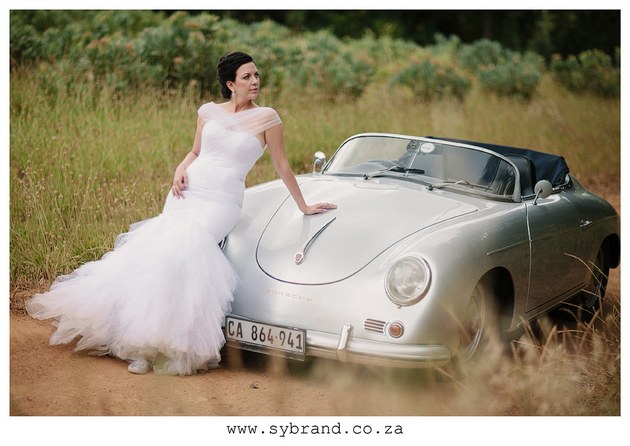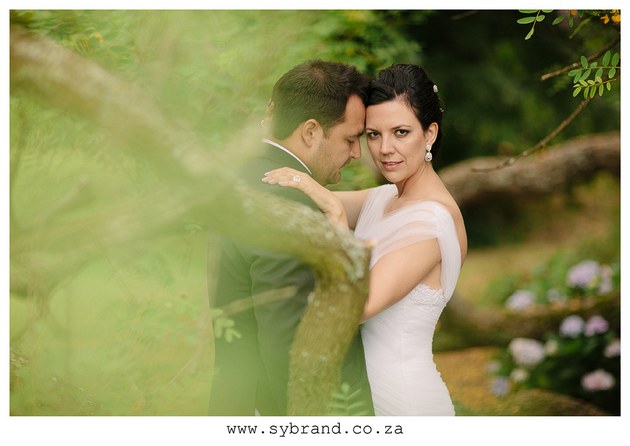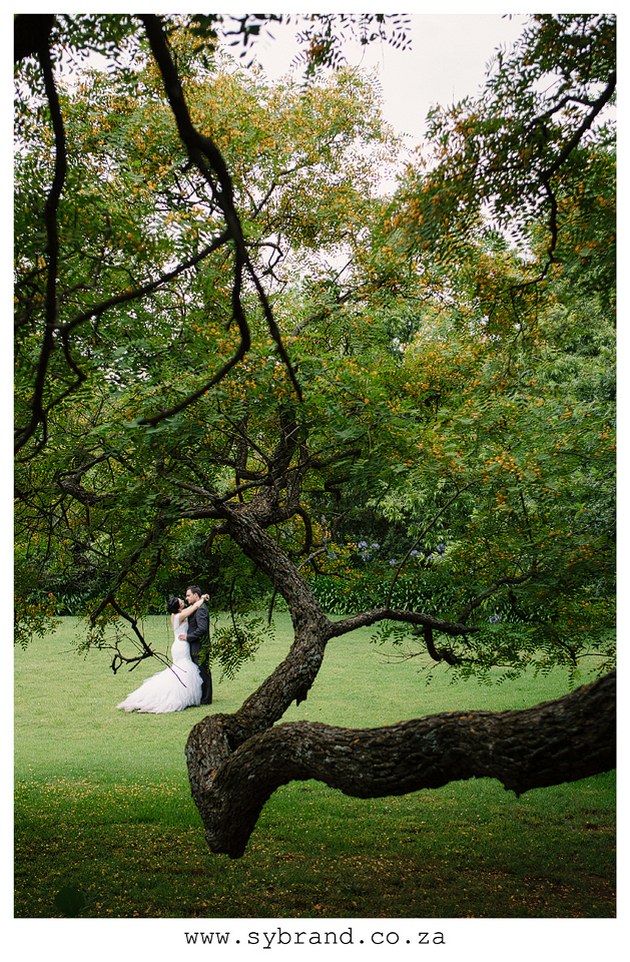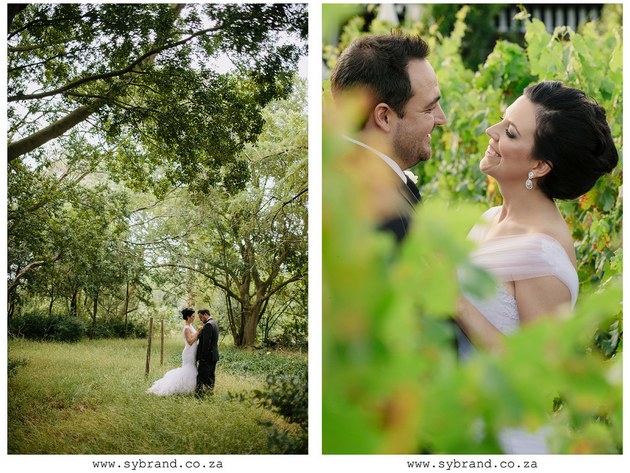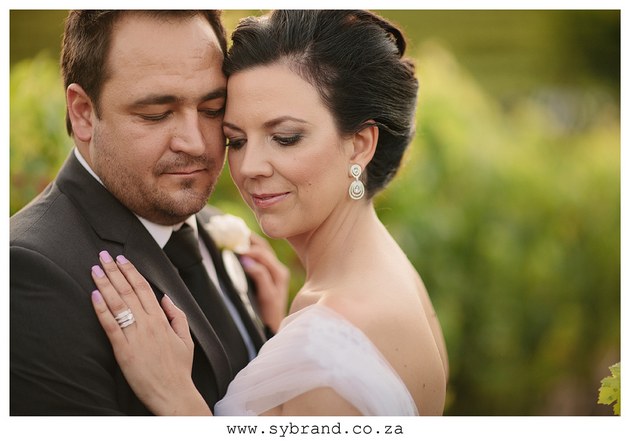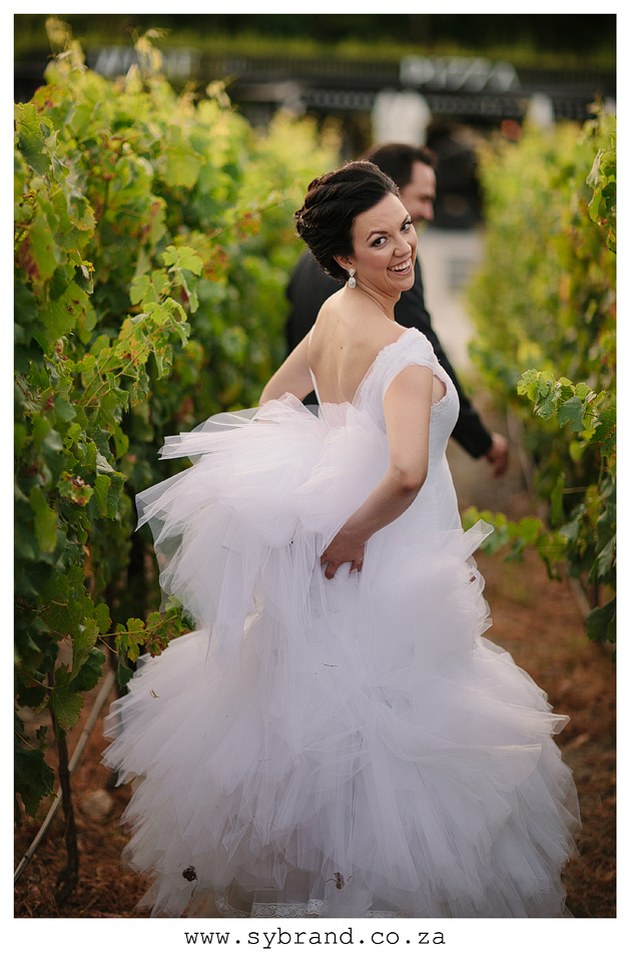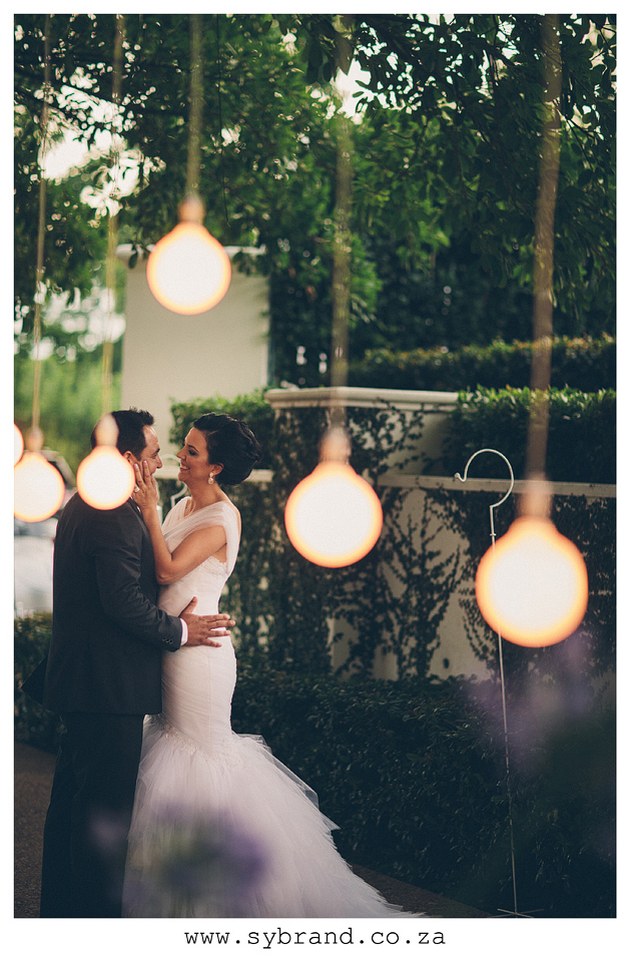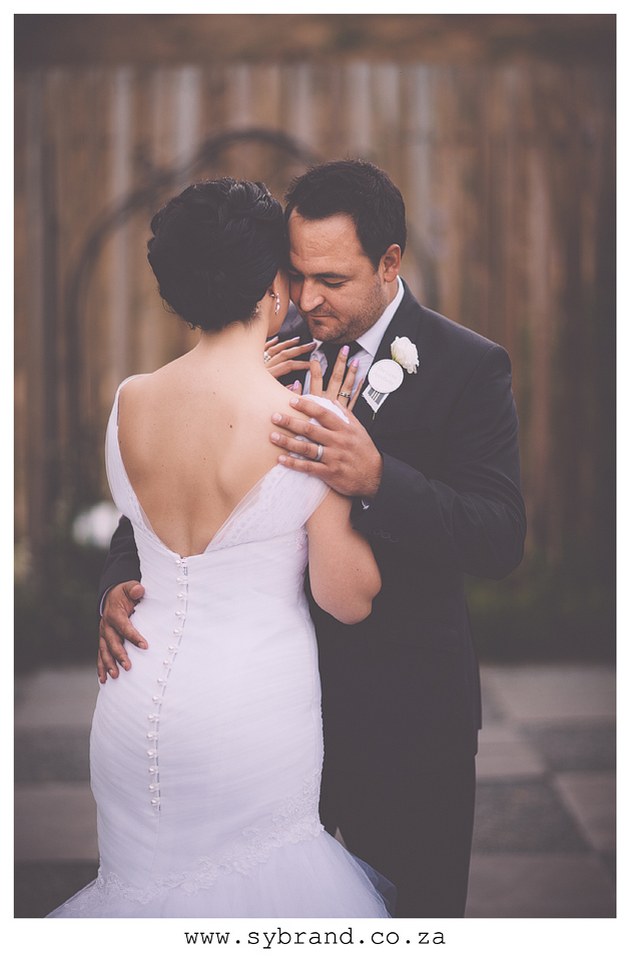 Wedding Flowers:
I love simplistic, romantic flowers that are subtle yet make a statement. That is why we decided on tulips, hydrangeas and other soft flowers. Each was placed in its own vase with a ribbon and lots and lots of candles. The flowers were  intentionally placed at a medium height, as we wanted everyone to be able to see across the table and enjoy each other's company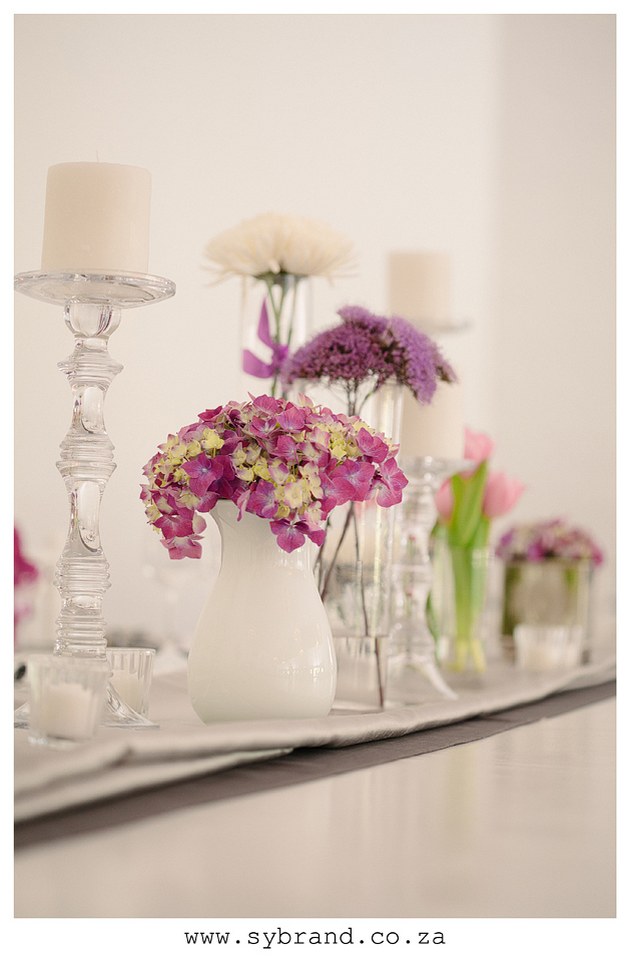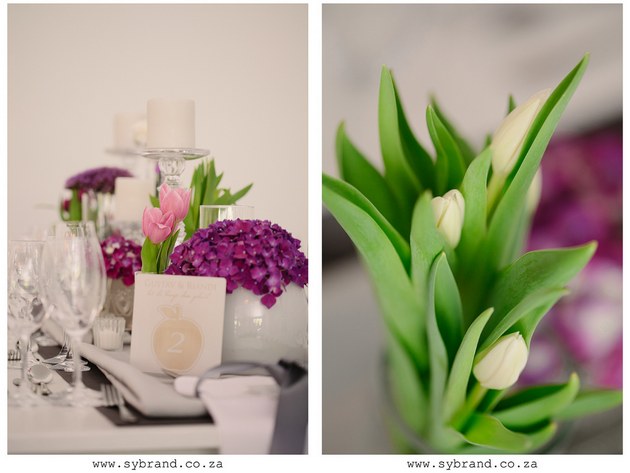 Wedding Decor:
We had a special quote, bible verse and our menu's all cut out wooden letters that was mounted onto the walls of the reception area. For our table numbers we created a cutout with our wedding logo in the form of an apple with the words "Gustav and Riandi tied the Knot!"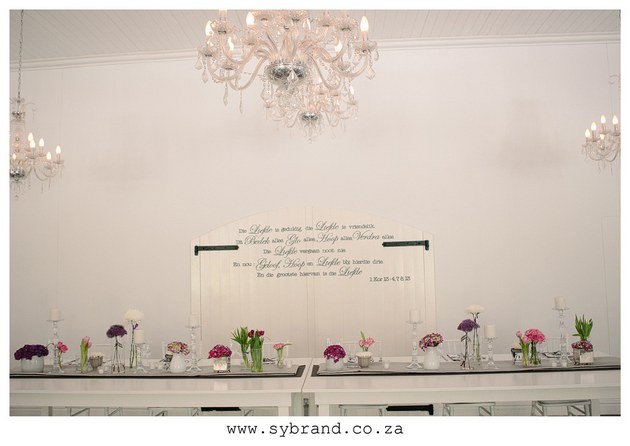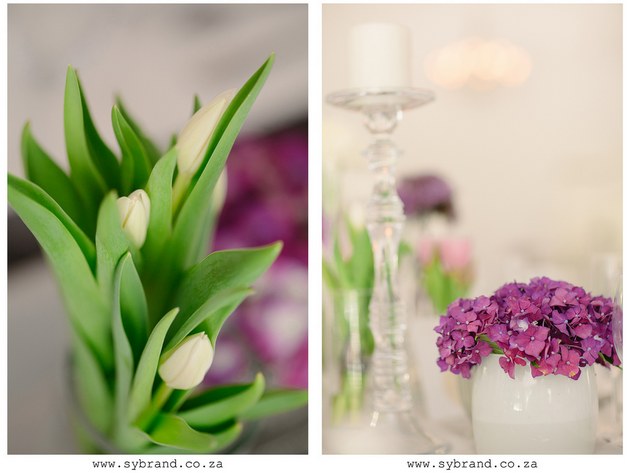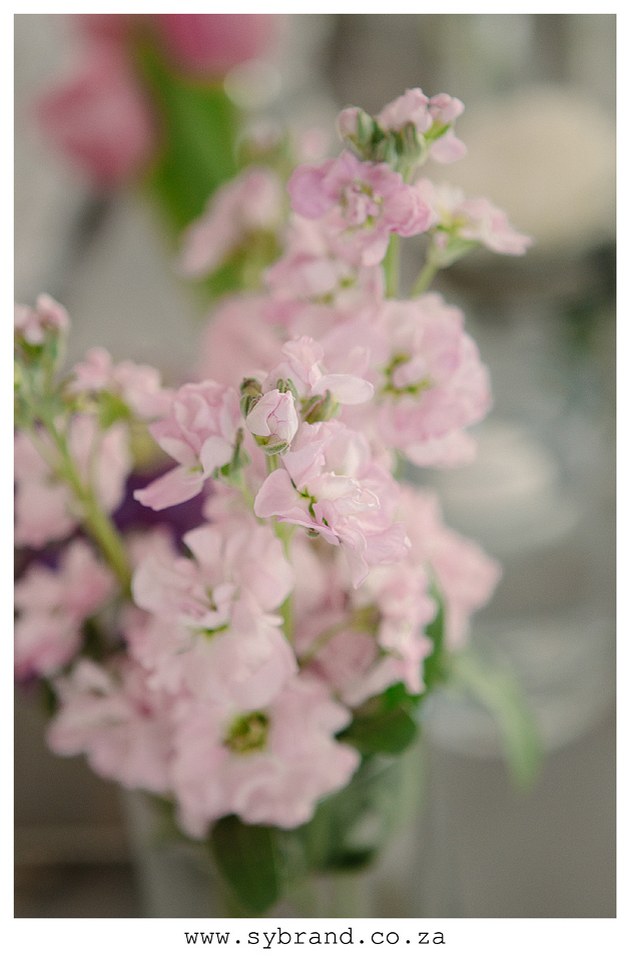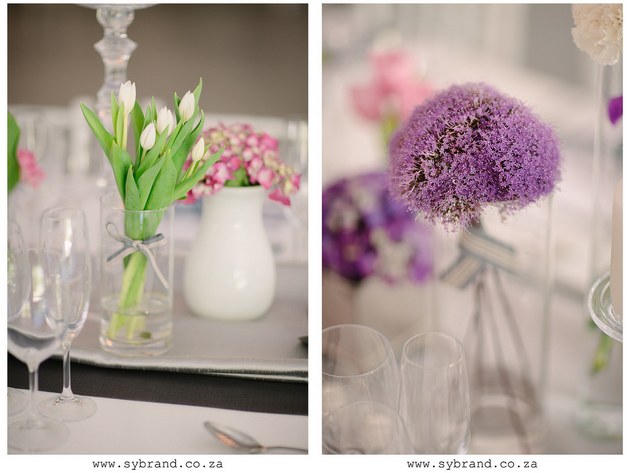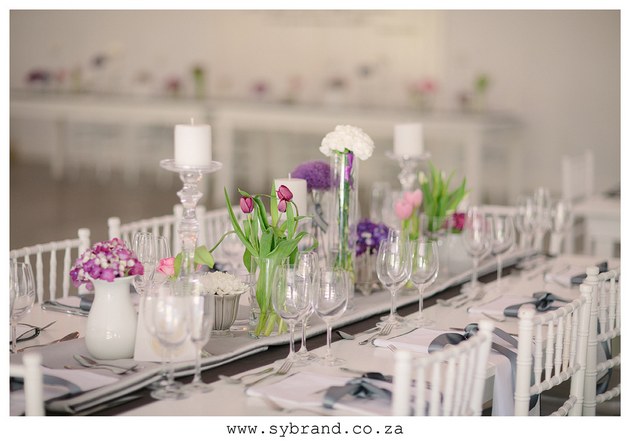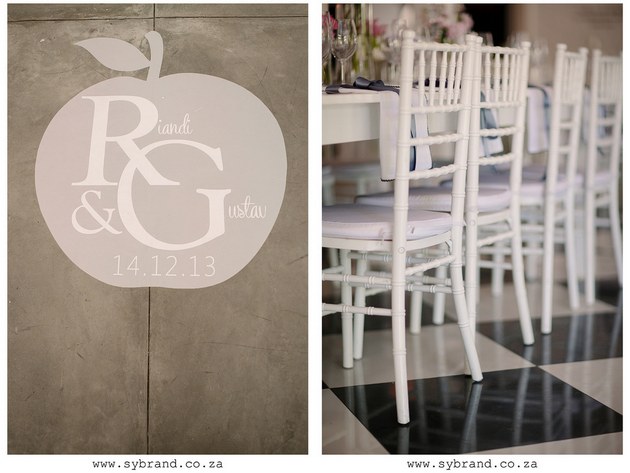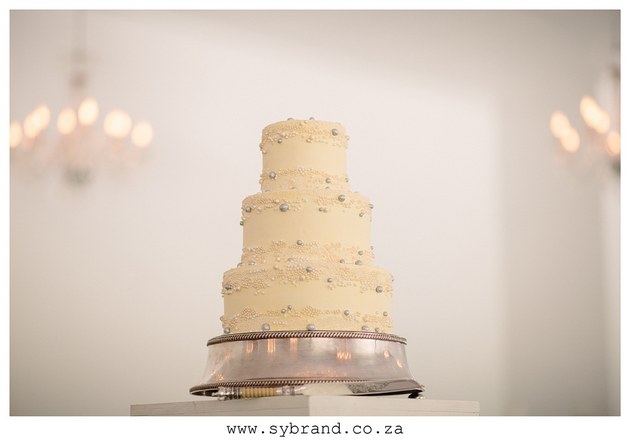 For our dessert table we decided to place a piece of wedding cake in a small box with wooden fork for all the guests to take home and what a hit!! Nothing on this table was left over – all the dessert found a place in a grateful stomach.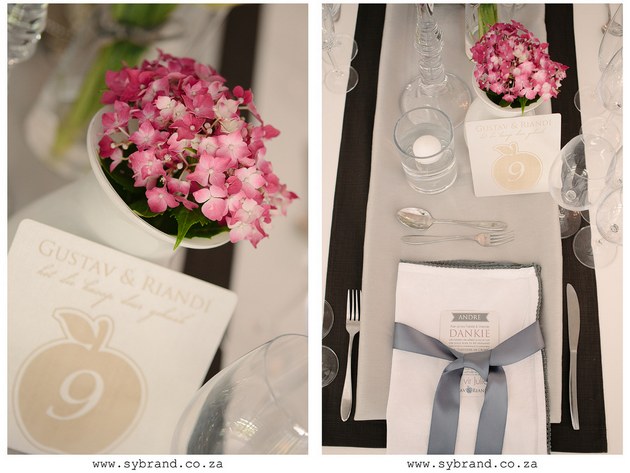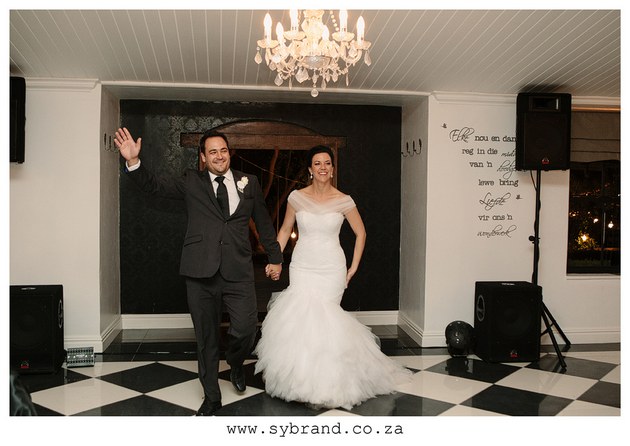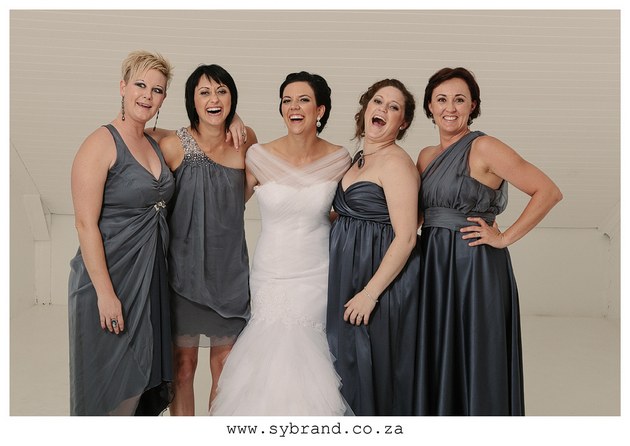 Wedding Playlist:
We had a few special songs – gone gone gone from Philip Phillips, Riana Nel's Dans and Gustav played Edens Superhero song twice on the day for me! He really does want to be my superman! 🙂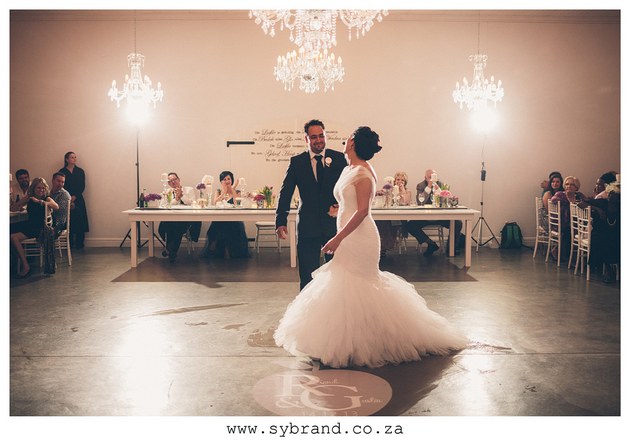 Lighting and Ambience:
We had the most stunning lighting for outside from Goeters – Naked globes which really added to the romantic atmosphere.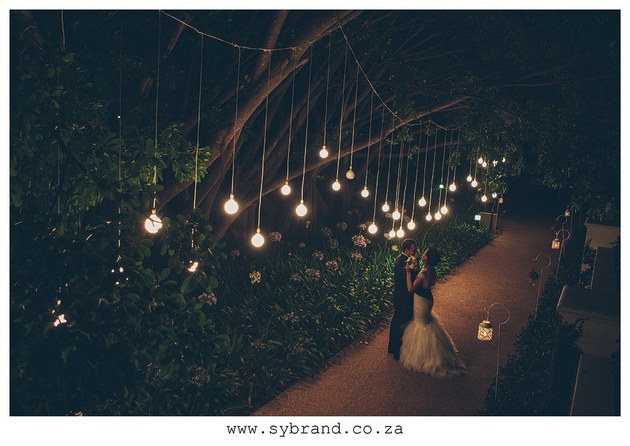 Real Bride Riandi's Advice For Brides-To-Be
Get a co-ordinating company like KRAAK! Kraak was absolutely amazing. Because we are so far from Cape Town and Living in Pretoria, we needed someone from the Cape to organize everything for us. And Maudre did just that! She took an idea and brought it to life! Great advise, help and overseeing of our BIG day.
I used resources such as Pinterest, websites such as the pretty blog, confetti daydreams, wedding magazines and eventually my own personal style – what you like and love and not what is the latest trends!
 ♥  ♥  ♥    CREDITS   ♥  ♥  ♥
Photographer – Sybrand Cillie | Venue – Brenaissance | Catering – Stirfood | Dress – Anel Botha | Brides Hair – Kobie (Koba) from Hair frequency and my best friend since primary school! | Brides Make-up – Joletta Keane | Bouquets & Corsages – Sitting pretty – Annegret
Venue & Chapel Flowers – Sitting Pretty | Pastor/Officiator – My dad – DS At van Niekerk | Cake – Kanya Hunt | DJ / Music – Cape DJ's | Decor – Kraak, Sitting Pretty and Goeters | Favors – Privately done – Friends Mom – Carmen Henzen | Stationery – Oh So Inviting Wedding invitation designs – Jessica Bowman | Wedding Planner – Kraak – Maudre Viljoen | Shoes – Privately done – friend Kobie designed tekkies for us! So my Errol Arendz shoes stayed in their bags and the  shoes for photos | Suits – Your Pal Brooklyn