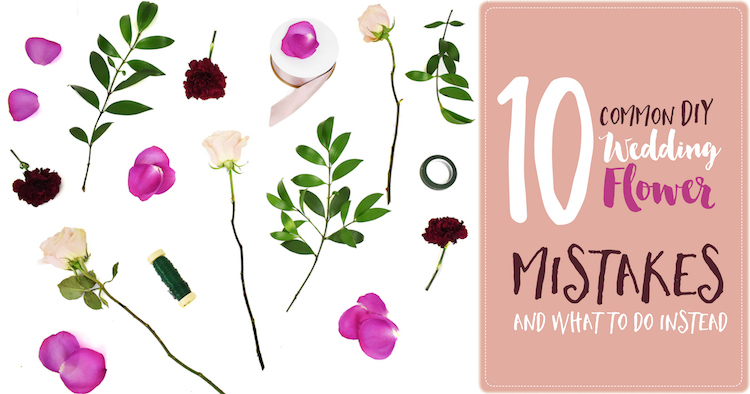 Planning to go DIY for your wedding flowers? Be sure to check out ten of the most common mistakes couple's make with their DIY wedding flowers.We've spoken to DIY wedding flower experts, and sponsor, Blooms by the Box, who gives us the DL on how to slay your wedding florals!
Remember that when it comes to DIY wedding flowers, simpler is always better. Unless you're a skilled floral artist, or have a fair amount of flower arranging experience, it's best to stick to arrangements that are fairly easy to create. (Check out these entry-level DIY wedding flower tutorials, with step-by-step instructions here and here, to get started.)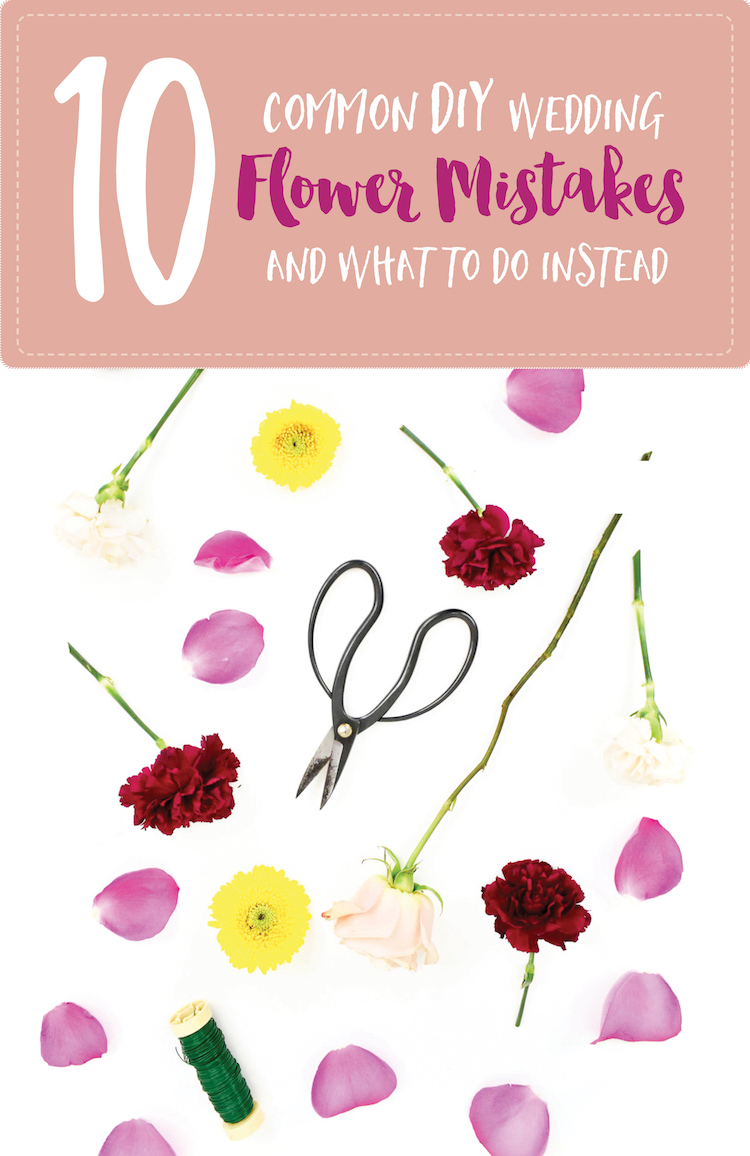 10 Mistakes Couples Make with DIY Wedding Flowers
Not Planning Time For Flowers To Rehydrate.
DIY flowers need to be prepped before you can start arranging them – this includes rehydration for at least 6 hours. Make sure you factor this into your timeline.
Underestimating Time Required for Prep Work.
Before you begin styling your arrangements, you'll need the right tools. You'll need time to cut all of the stems and remove the thorns, as well as buckets filled with fresh water and a cool place to store them. Have a plan in place and supplies read for when you get your flowers.
Not Enlisting Help.
Doing your own flowers can be an overwhelming job. Be sure to have the help of family or friends the day before the wedding to help you put together your arrangements.
Not Having A Practice Run. Before your friends and family get to work en mass, create a trial arrangement to figure out any snags, and the exact placement you prefer. Use your finished arrangement as an example for everyone to follow, then set up an assembly line! 😉
Working With Too Many Colors.
Unless you're going for a multi-colored look or festival style, try sticking with a few flower colors for your arrangement. Less is more, and if you're a first time DIY-er, you'll find it's easier to work with a few colors that blend nicely together, rather than trying to make a bunch of different colors work together.
Choosing Containers That Are Too Large.
When deciding on a container for your centerpieces, keep size in mind. Containers with wider openings will require more flowers, fillers and greenery. Keep the overall height of your arrangements in mind, too. You never want to make a centerpiece that will get in the way of your guest's conversation!
Not Planning For Natural Variation in Color and Shape
Flowers are a natural product and there can be a lot of variation when it comes to size, shape and especially color because of factors like the grower, region and time of year. It's rare that all of the flowers in the same bunch will even be identical in color, so be prepared for some beautiful contrast in shades! Still uneasy? Do your research and look at as many different photos of that flower so that you're somewhat aware of any variations that might exist. Whether it's the bridesmaid dresses, table linens or invitations, trying to match them to your flowers will prove frustrating and futile due to the natural color variation in flowers. Color variation is what makes flowers beautiful and they'll look great even if they're a little lighter or darker than you expected.
Not Having A Plan B.
Flowers are a natural product and you might need to replace a certain bloom if it suddenly becomes unavailable, so have some alternatives in mind.
Saving A Date When Your Favorite Flowers Aren't In Season.
If you have your heart set on certain blooms, make sure you have done your research about any dates to skip. Bear in mind that seasonal availability does affect pricing. Peonies, for example, are one of the most popular wedding flowers, and are grown domestically in the US from May through early July. Outside of that time period, they're imported from around the world and can double in price (or more). Peonies then aren't typically available at all in the US during October and November. Check with your local supplier to find out when the flowers you love will be available in your area.
Having Your Wedding Near A Holiday.
Not only do you run the risk of having to get your flowers delivered too early or too late, depending on the holiday it can also be more expensive. Flower prices tend to go up around Mother's Day and Valentine's Day, and certain colors and varieties become harder to source because they're so in demand. Keep this in mind when planning your DIY wedding blooms.
Now that you know what NOT to do, check out these helpful tips on what you should do to save on your wedding flowers!
Check out our other wedding flower guides for the names of wedding flowers in your color palette and more cute tutorials: