Creative and Gorgeous Wedding Canopies ♥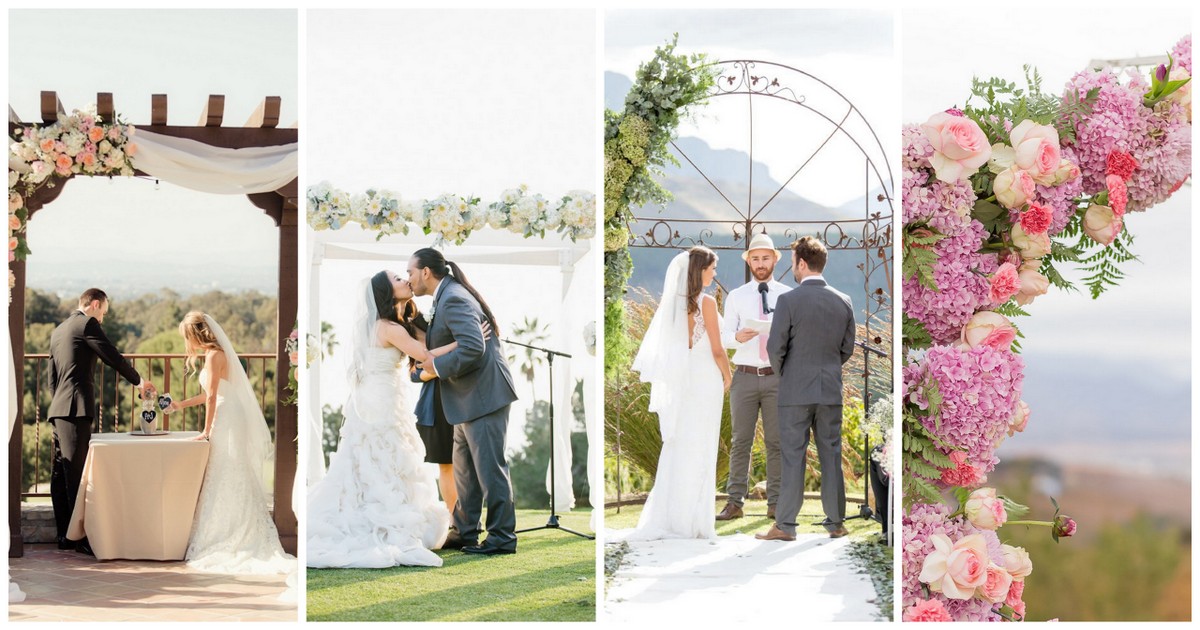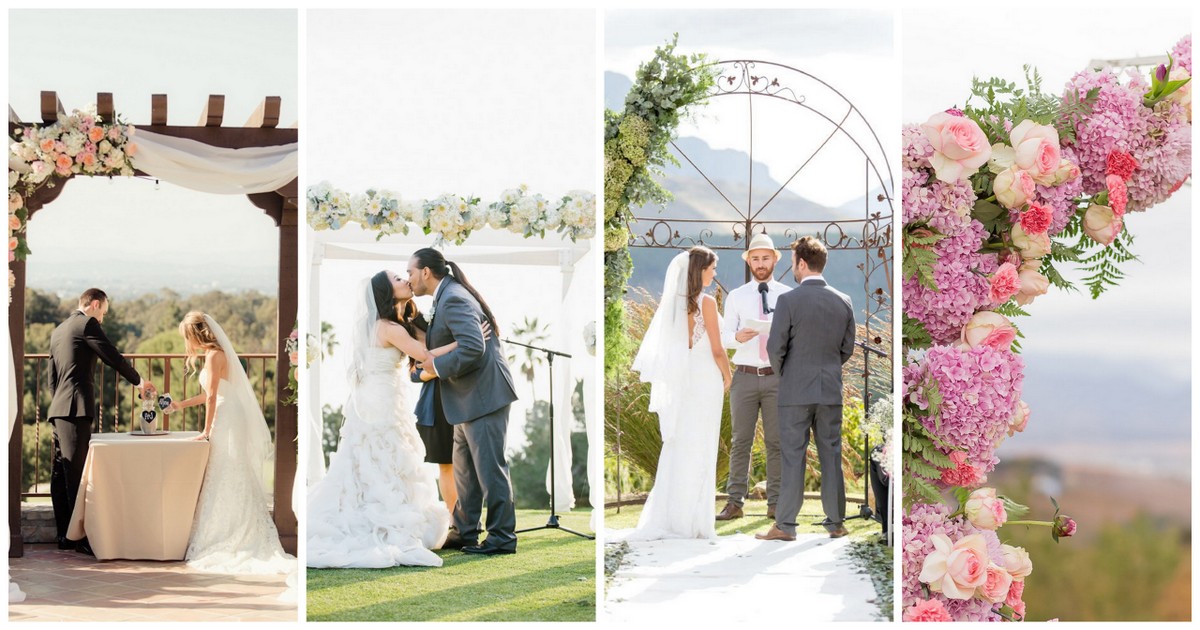 It's a picturesque moment you'll remember forever – exchanging vows, and pledging your eternal love to each other. A gorgeous wedding canopy or beautiful wedding arch makes the magical moment even more memorable. From chic, romantic wedding florals, to handmade bohemian wedding arches of driftwood, to an amazing creation made of lemons in an Italian wedding on the coast of Amalfi, the options the perfect wedding arch are endless.
To whet your appetite and get your creative juices flowing, we've put together 21 of our fave wedding arches from some of the lovely couples that have shared their weddings on Confetti Daydreams.
Outdoor Wedding Arch + Canopy Ideas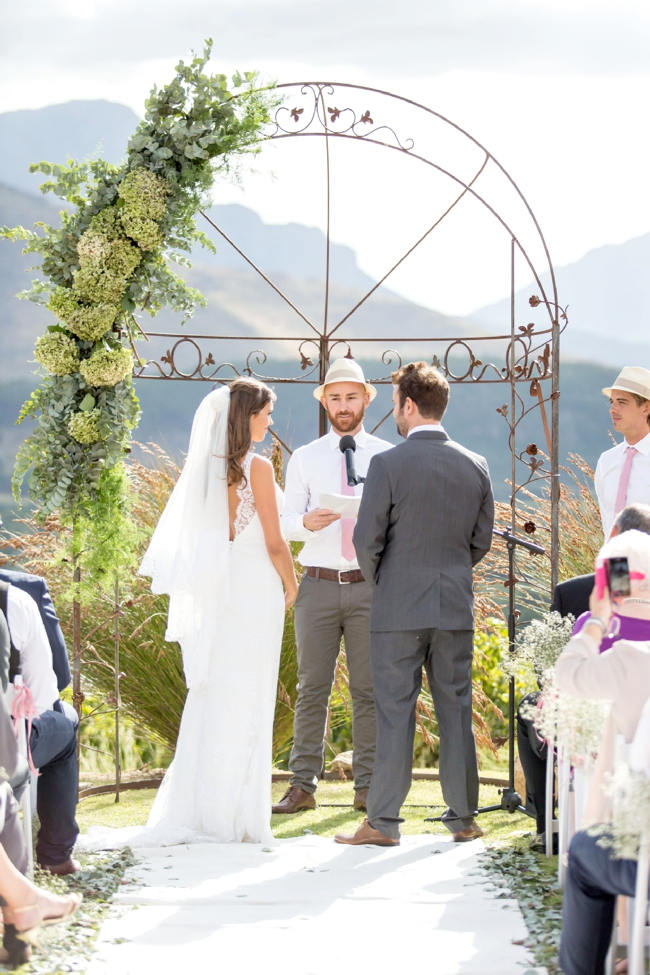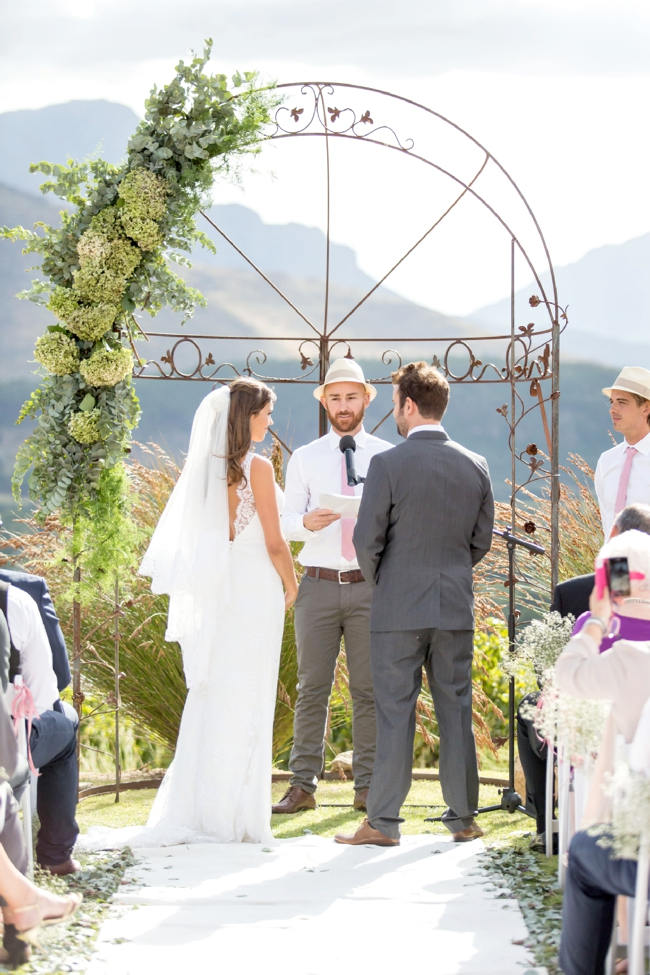 1. A natural, rustic wedding arch with vine detailing accents the picturesque mountain valley vista with asymmetrical greenery and foliage in natural shades including ferns, eucalyptus and green hydrangea. {Floral design: Leipzig // Photography Claire Nicola // See more of this Naturally Elegant Franschhoek wedding.}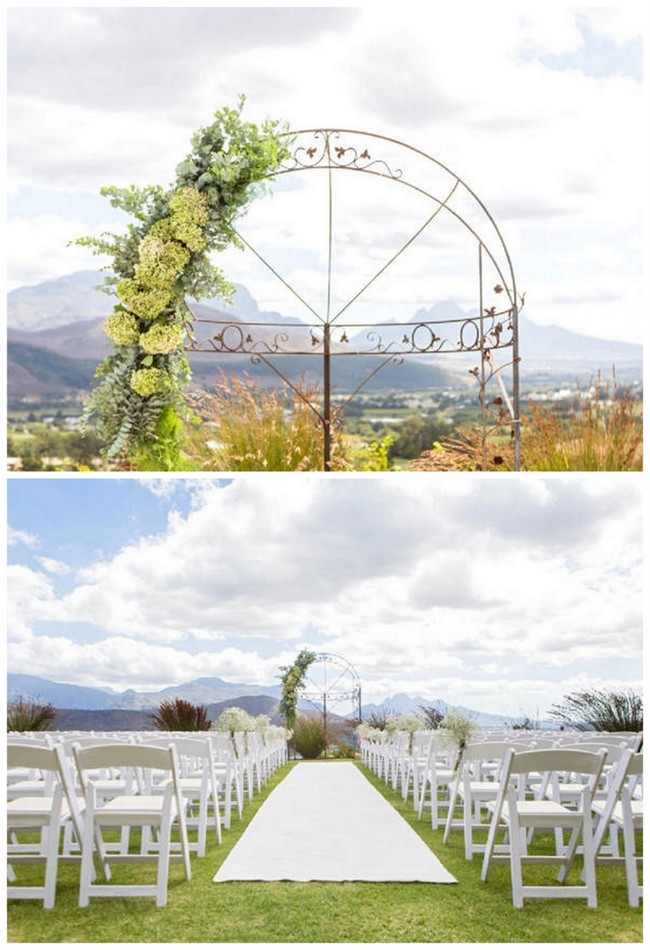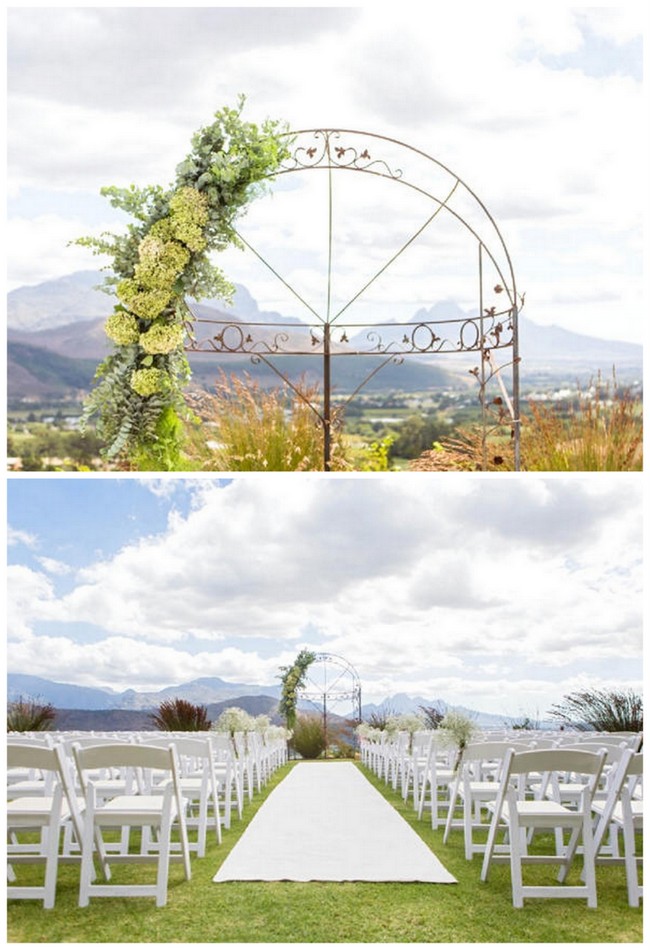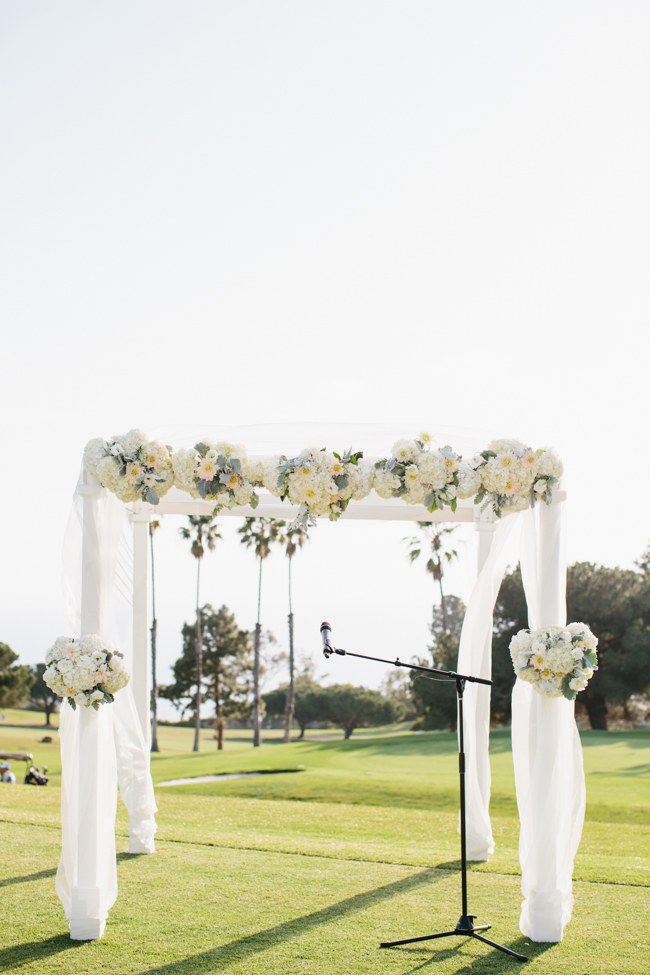 2. (Above) This elegant four-poster wedding canopy is draped in light, flowing fabric and adorned with beautiful bouquets of white blooms including hydrangea, chrysanthemum, and touches of lambs ear. {Floral design: Lilypad Florists  // Photography  Marianne Wilson Photography   // See more of this blush pink and gray California wedding.}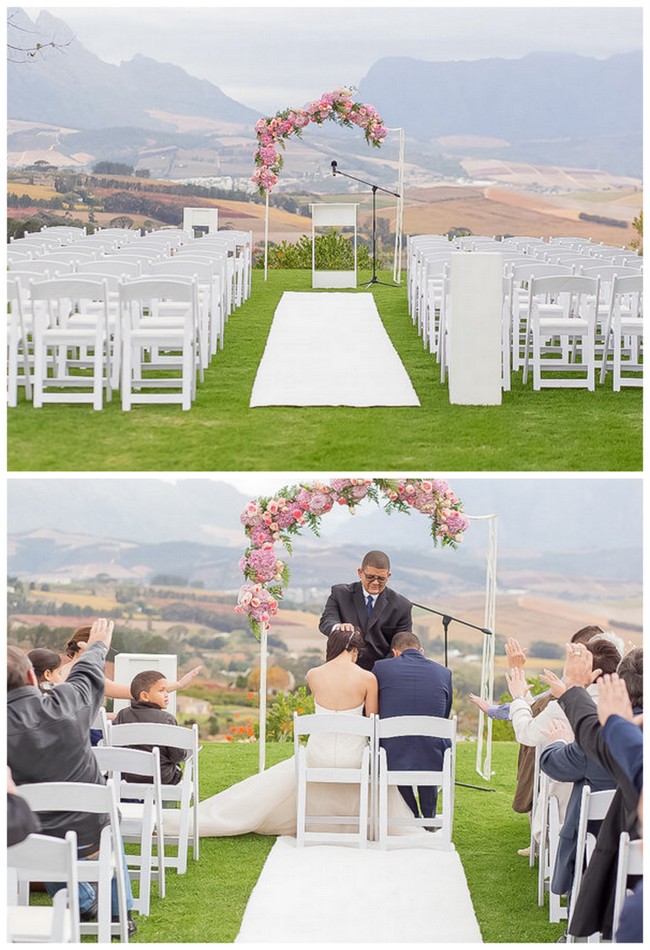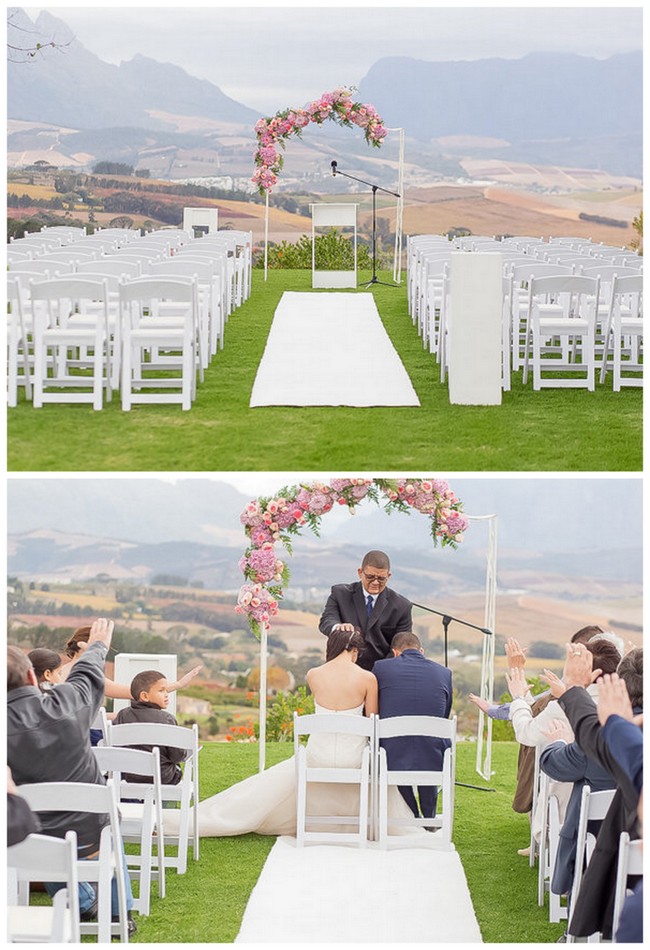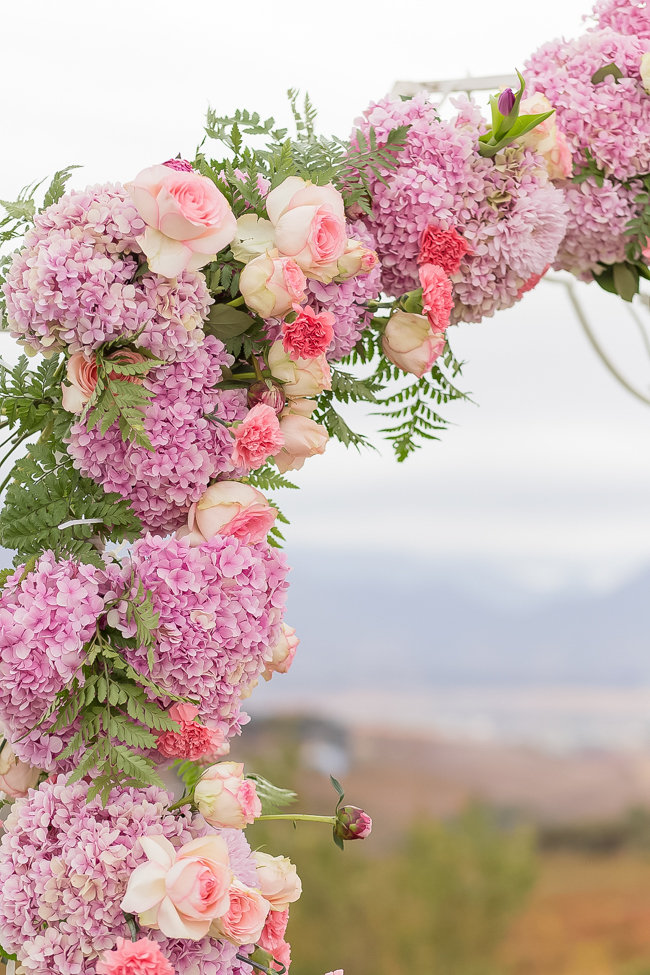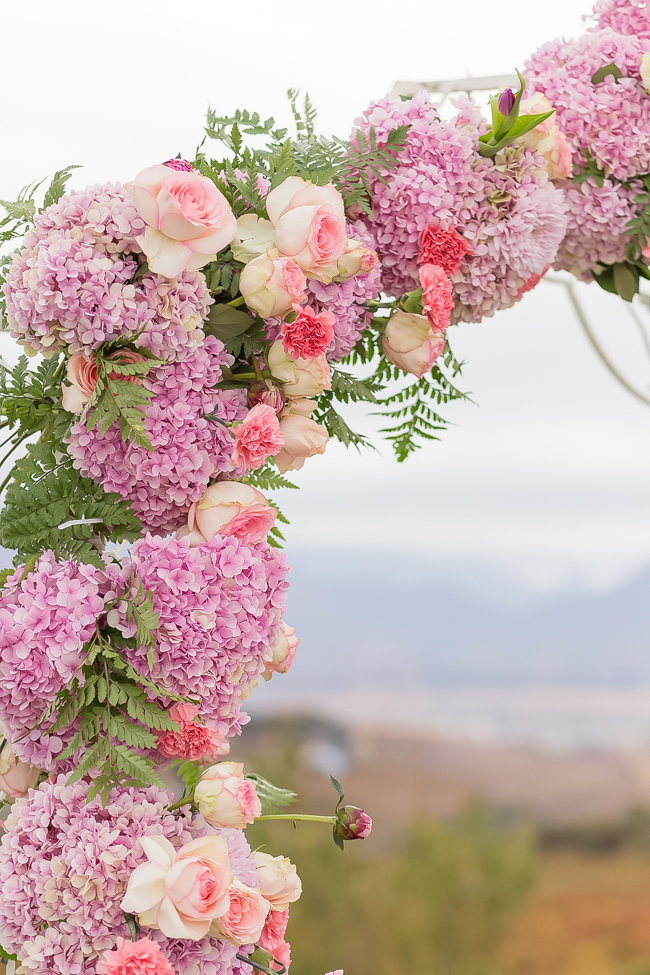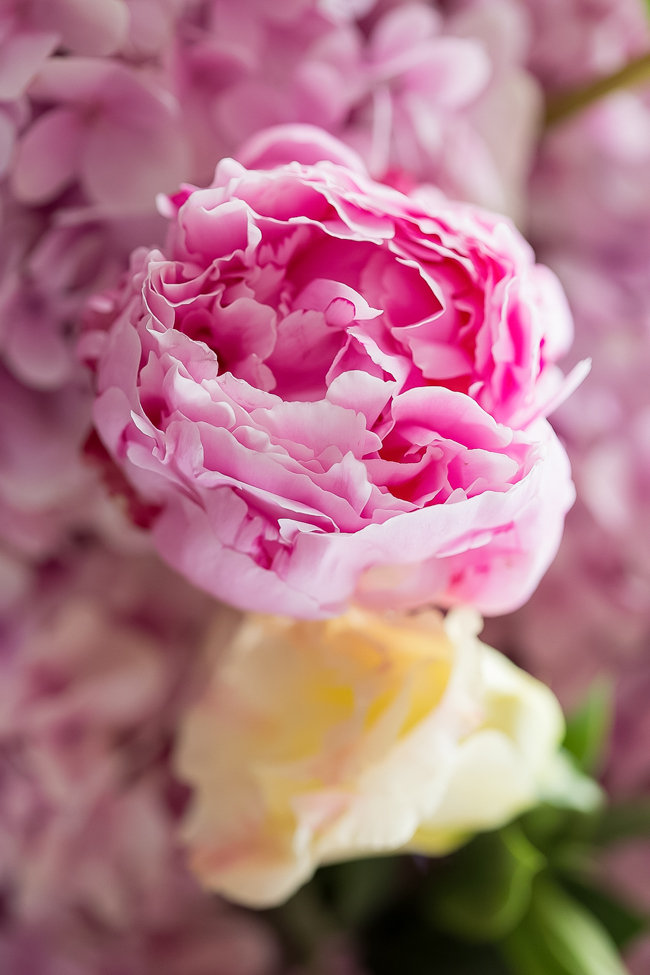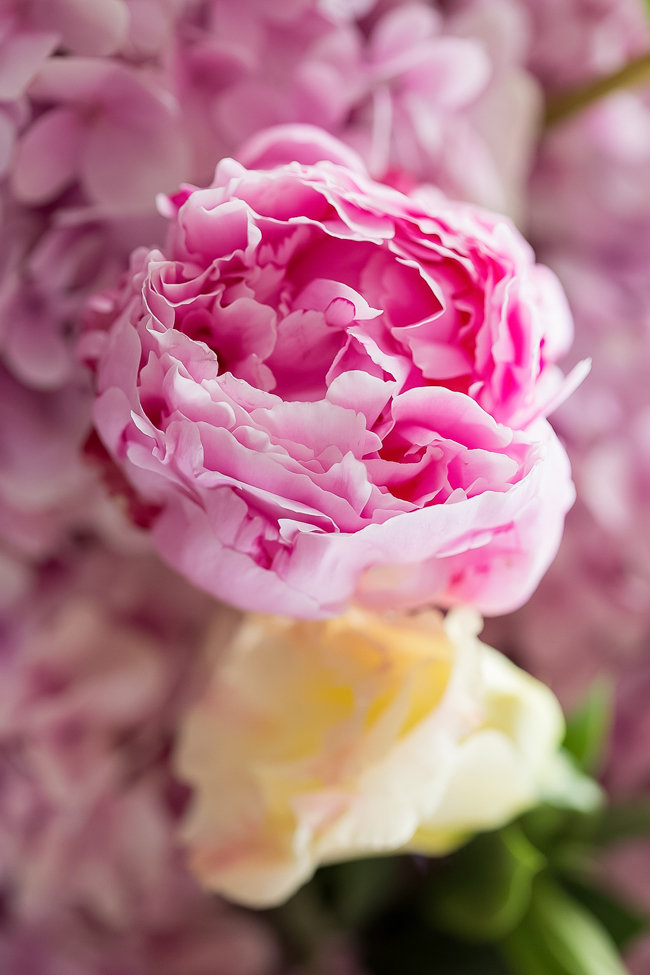 3. (Above) A romantic creation of pink hydrangea, blush pink roses, pink carnations, and ferns steal the show, wrapped around a white wedding arch. {Floral design: Landtscap // Photography Adele Kloppers // See more of this Blush and Navy Landtscap Wedding}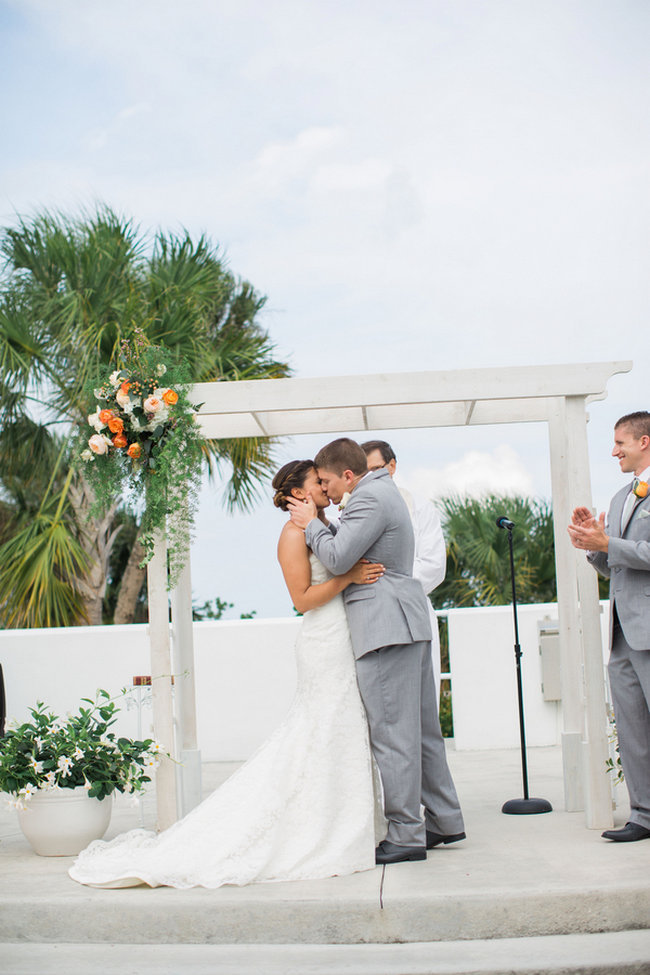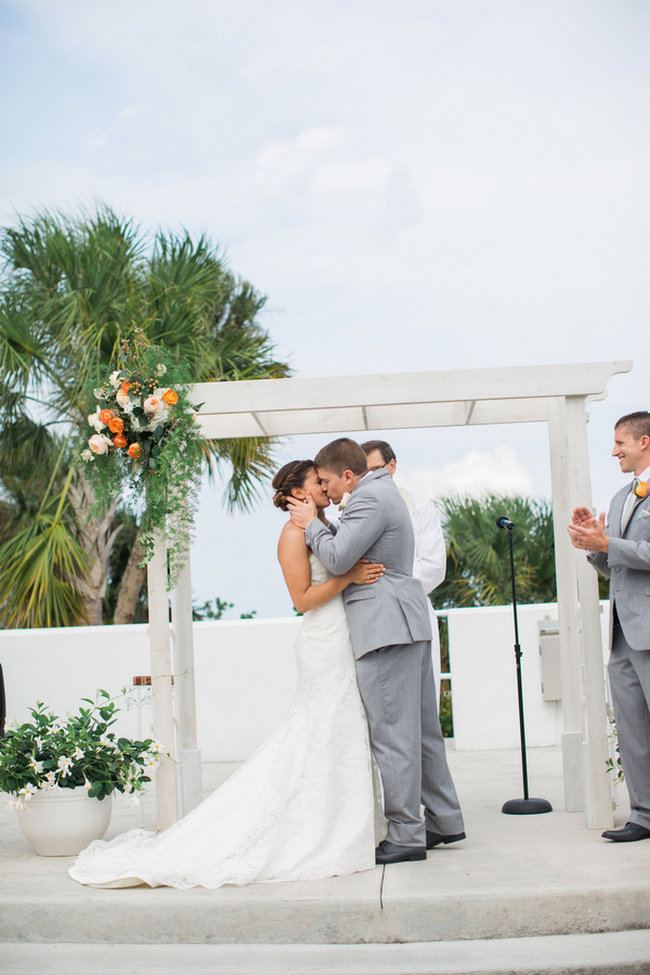 4. (Above) This whitewashed wooden wedding canopy is beautified with coral garden roses, peonies and ranunculus, draped with flowing fern leaves. {Floral design: Creative Florals   // Photography  Jessica Bordner // See more of this vintage spring Florida wedding }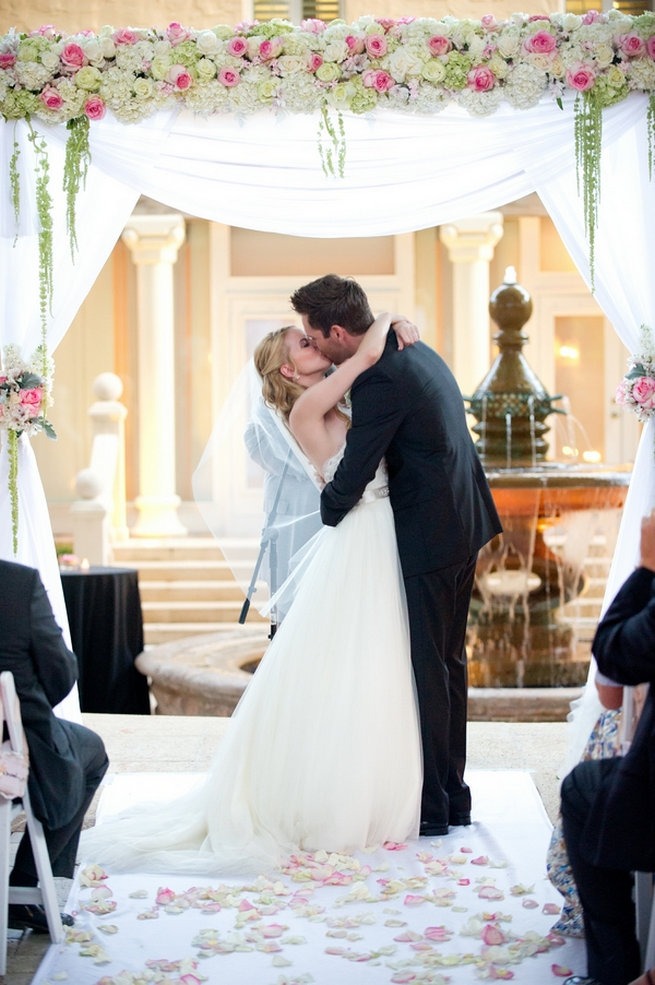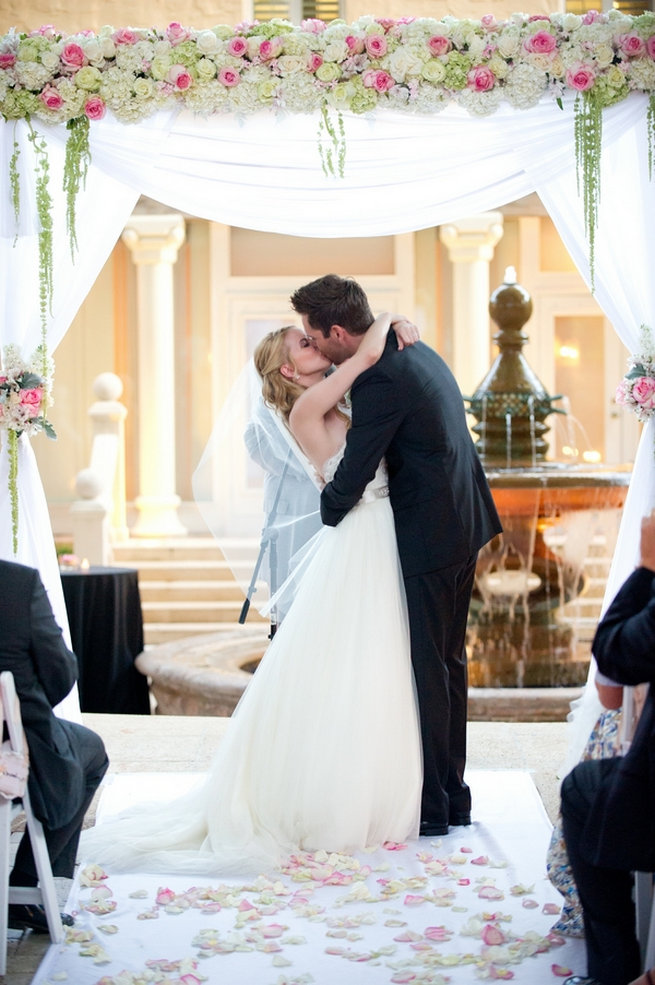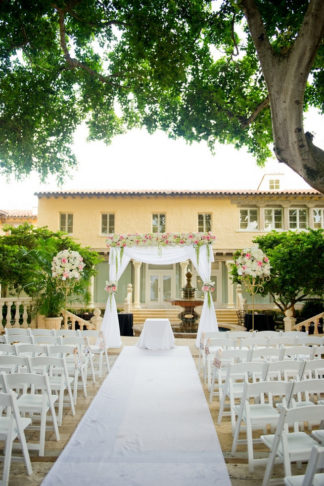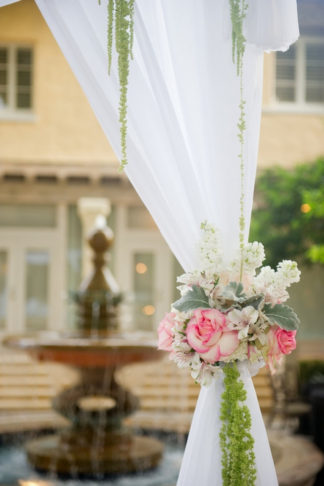 5. (Above) Simply dripping in flowers, this beautiful white wedding canopy is draped with delicate white fabric. Roses, peonies, hydrangea in blush and trailing greenery create a mood of luxe romance. {Floral design: Daniel Events Productions  // Photography Andi Diamond Photography . // See more of this blush and gold glitzy romantic wedding here.}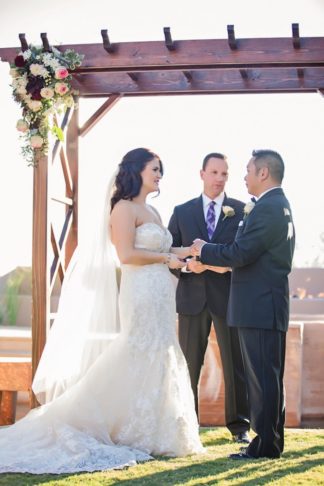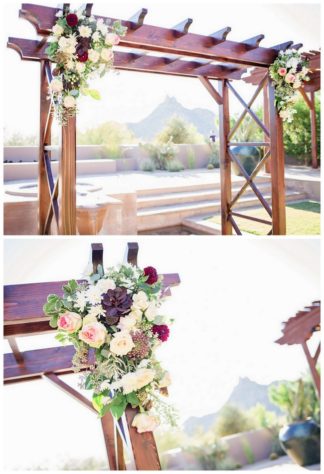 6. (Above) They exchanged vows beneath an elegant, wooden wedding canopy decorated with burgundy and cream flowers. And we absolutely love it! {Floral design: God's Garden Treasures // Photography  Jessica Q Photography // See more of this  sparkling autumn plum and gold Arizona wedding here.}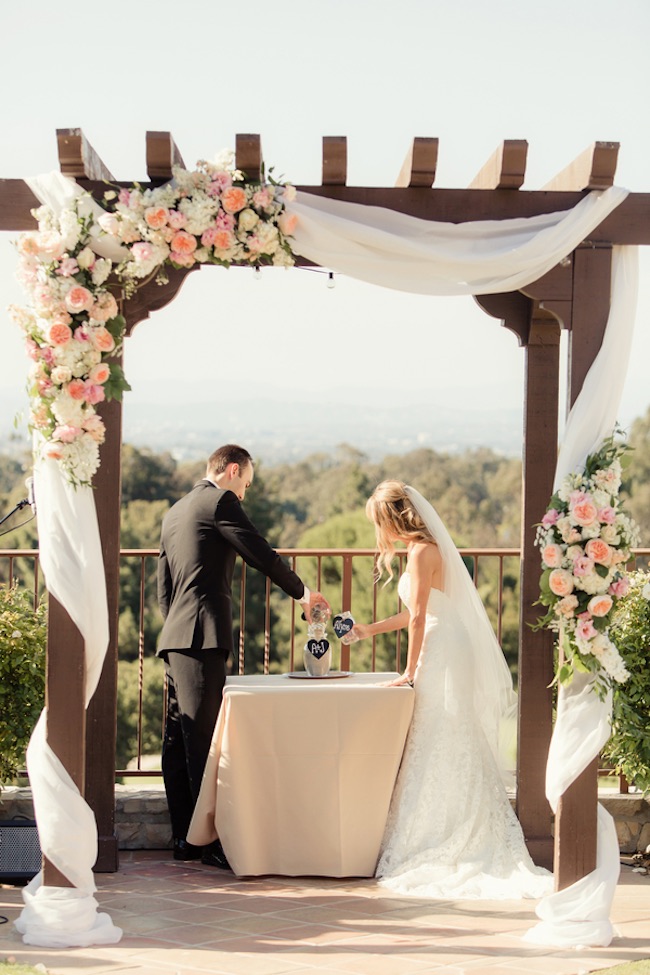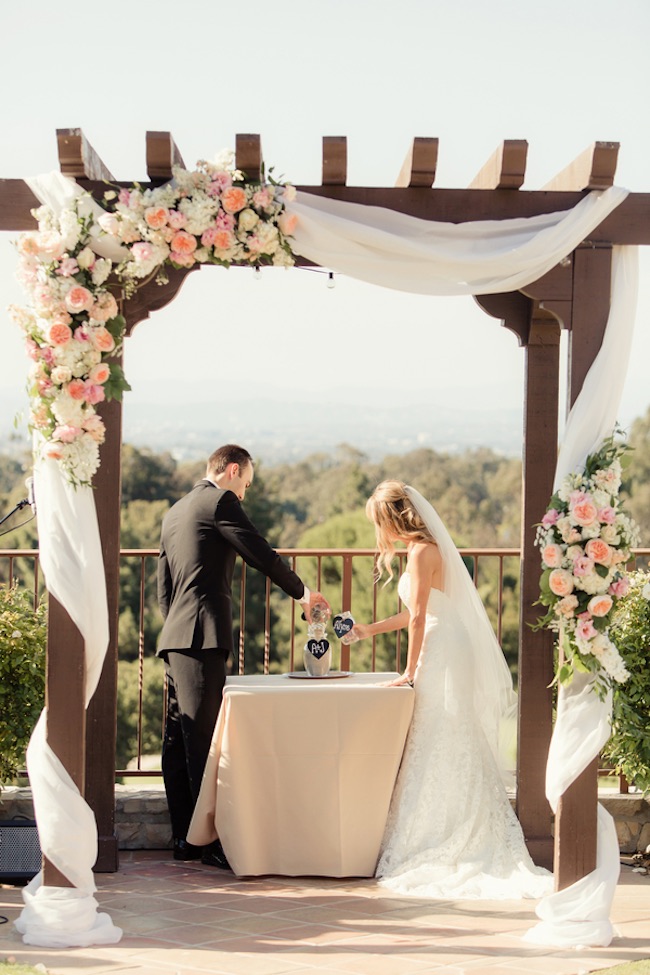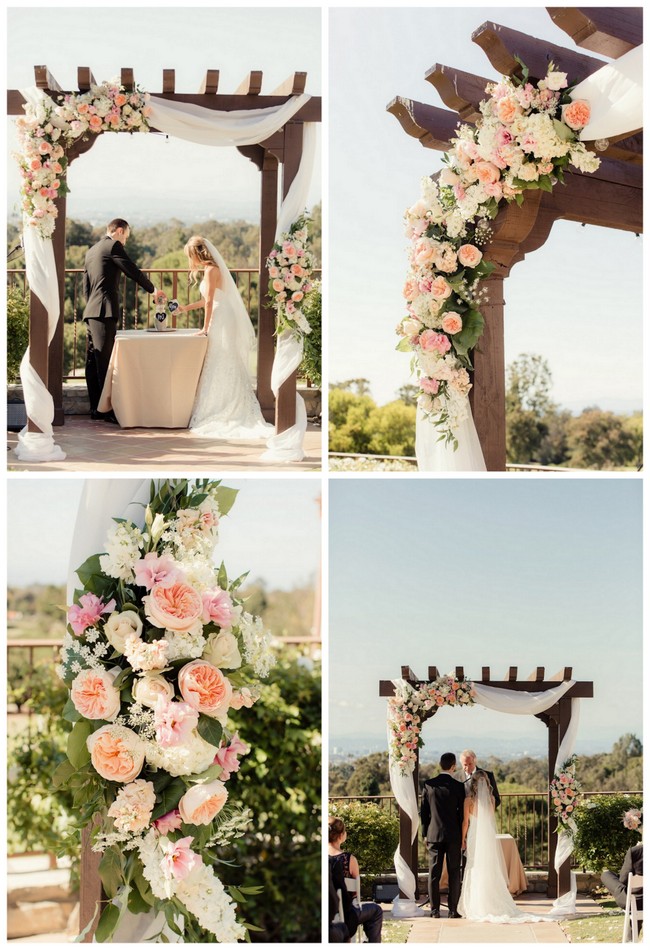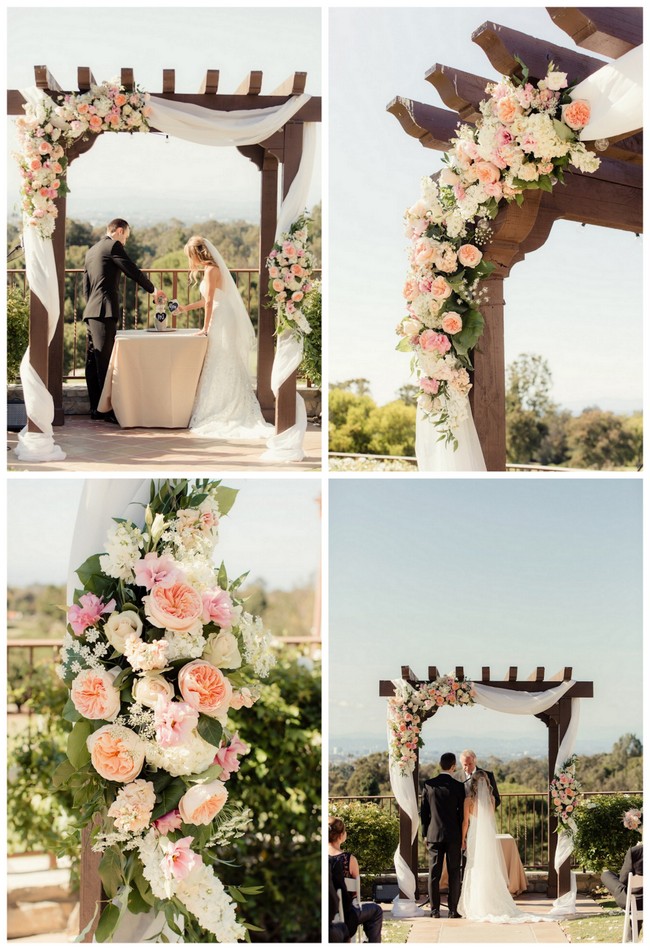 7. (Above) One of our fave weddings ever featured on Confetti Daydreams, this oh-so-dreamy outdoor wedding arch was draped with fabric and flurry of peach pink garden roses, white roses and chic greens. {Floral design: Palos Verdes Florist  // Photography Figlewicz Photography// See more of this peach and pink Palos Verdes wedding.}


8. (Above) A floral chandelier of white and blush orchids was suspended from an ancient tree in the middle a simply beautiful garden setting. Does it get any more amazing?! {Floral design:  Heike Le Cordeur of Fleur le Cordeur // Photography  Lauren Kriedemann // See more of this Franschhoek wedding in white.}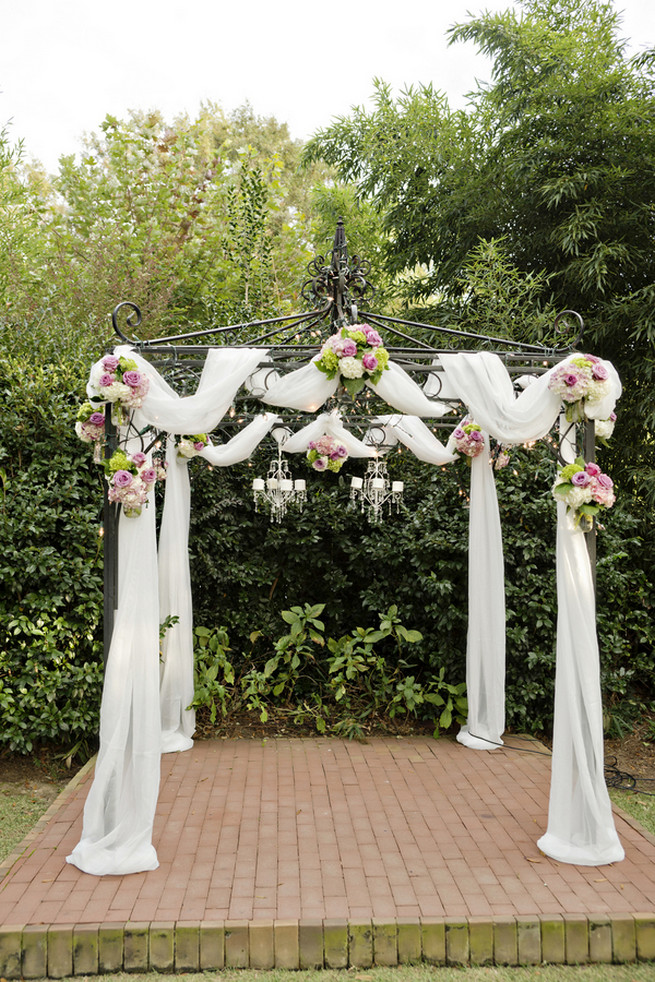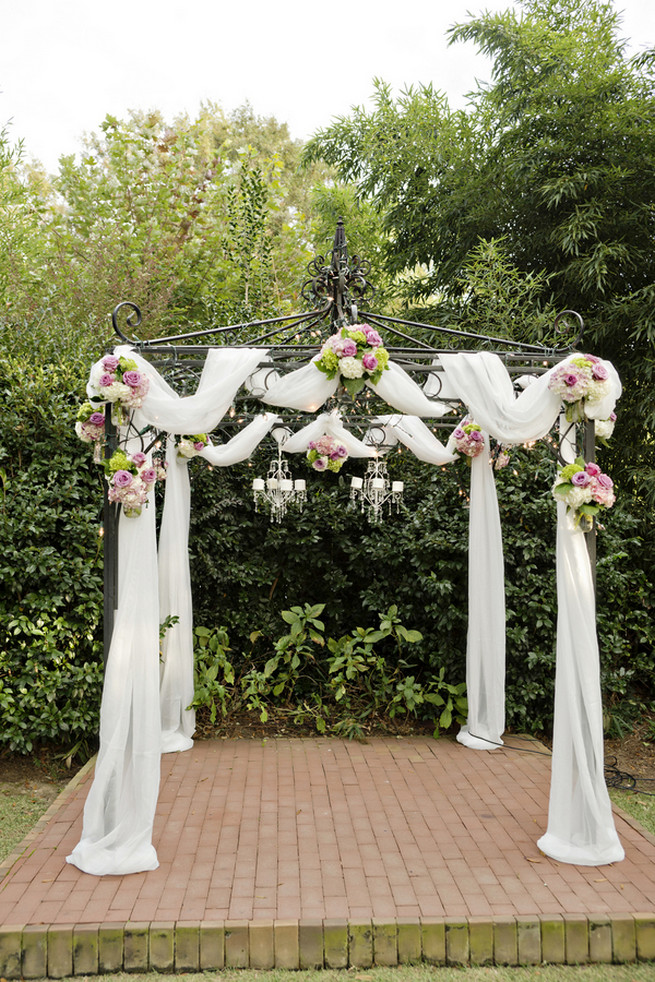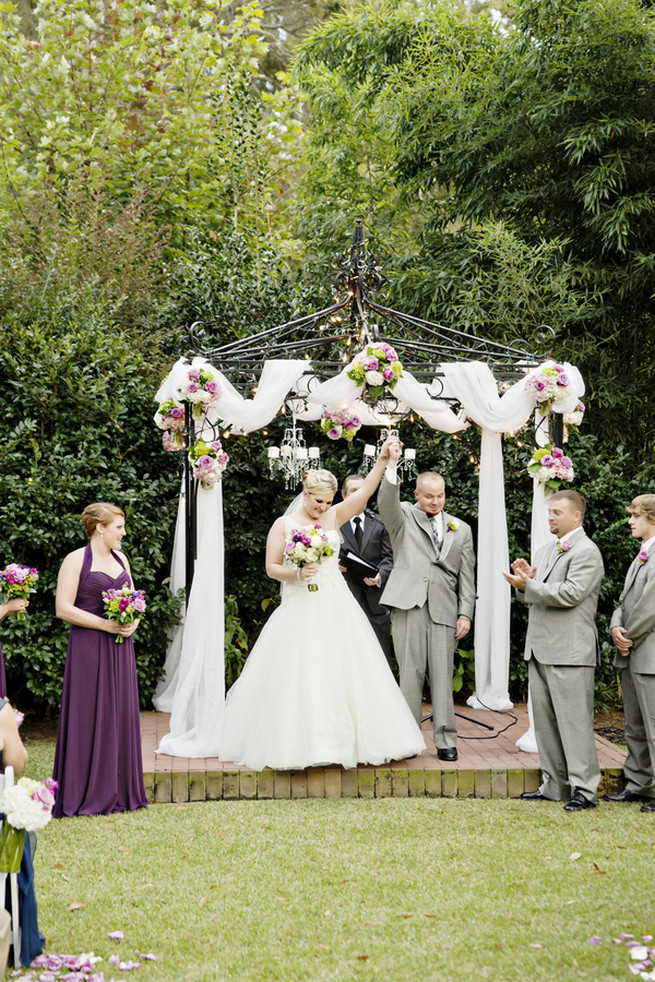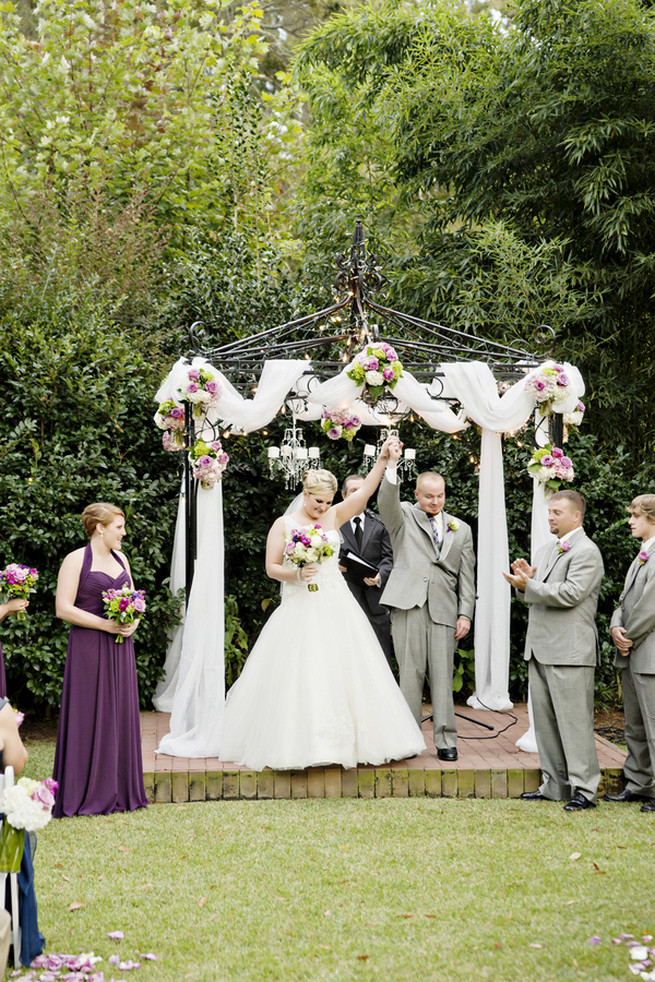 9. (Above) An outdoor wedding canopy wrapped in white fabric with a burst of purple, green and white bouquets, amongst candelabras and crystals made for a pretty perfect scene!  {Floral design:  Thompson House & Gardens // Photography Andie Freeman Photography  // See more of this purple and grey garden wedding.}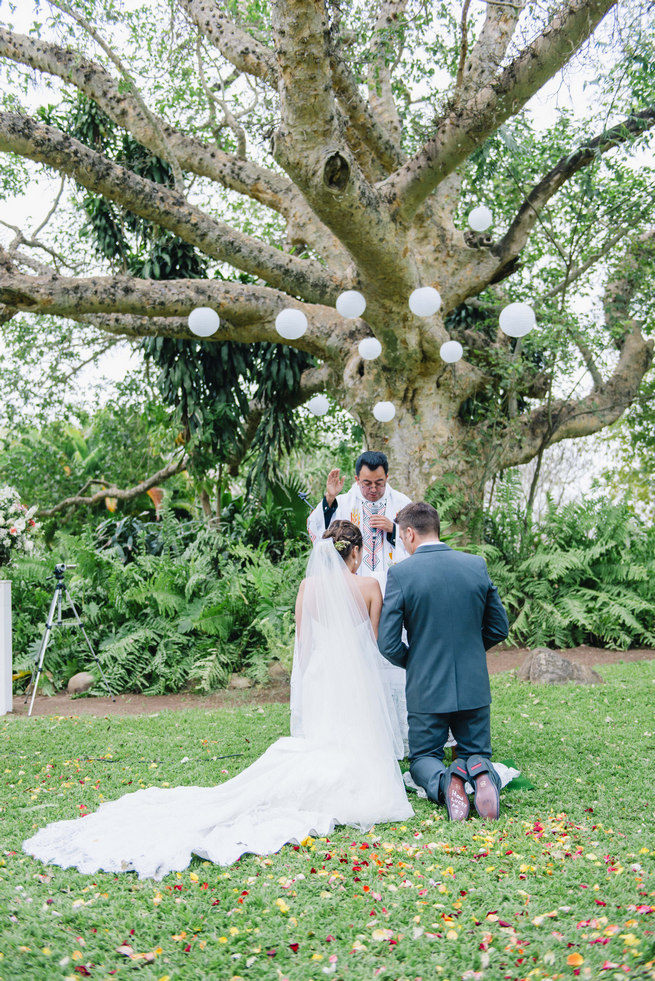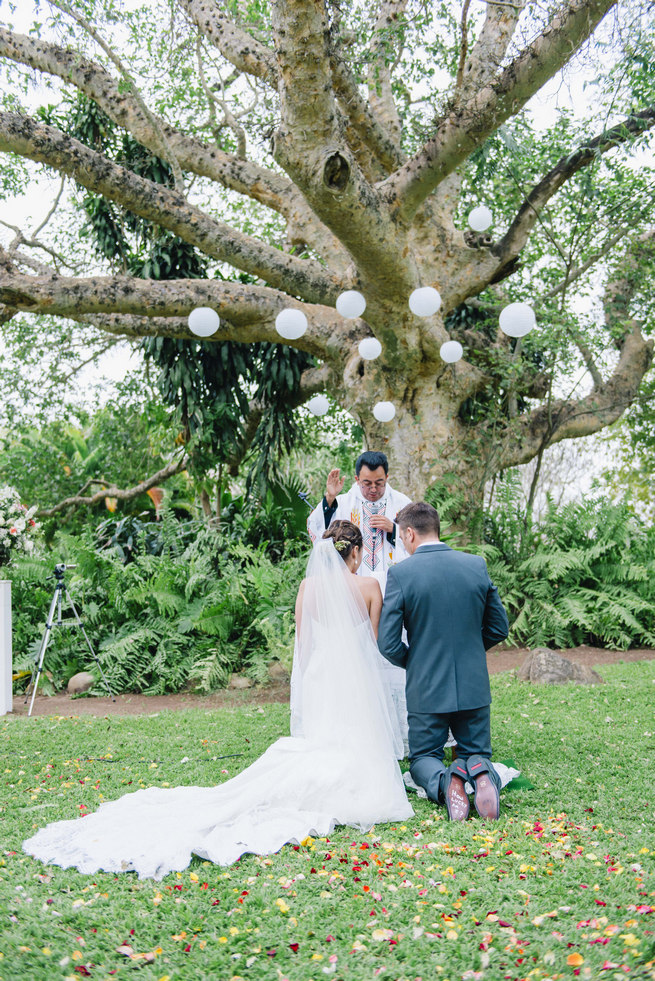 10. (Above) A large, ancient tree is adorned with white lanterns – such a simple, but striking idea to replace a traditional wedding arch {Decor  The Wedding Warehouse, I do inspirations// Photography  Claire Thomson  // See more of this succulent garden wedding.}
Indoor Wedding Canopy Ideas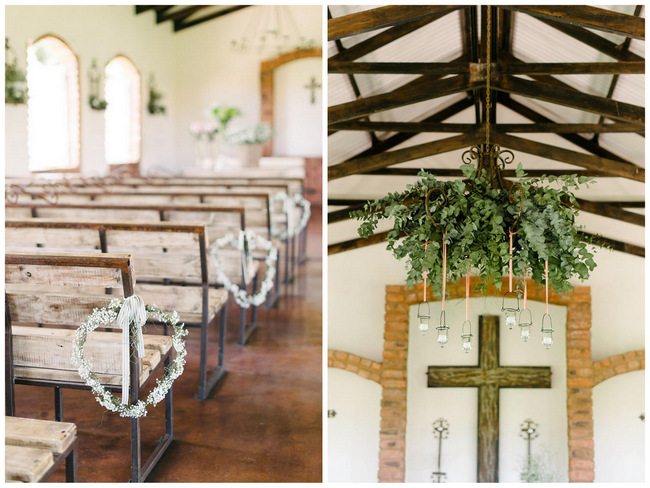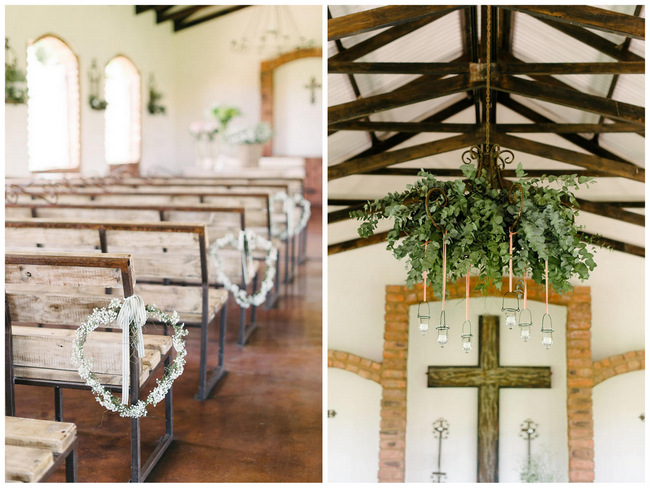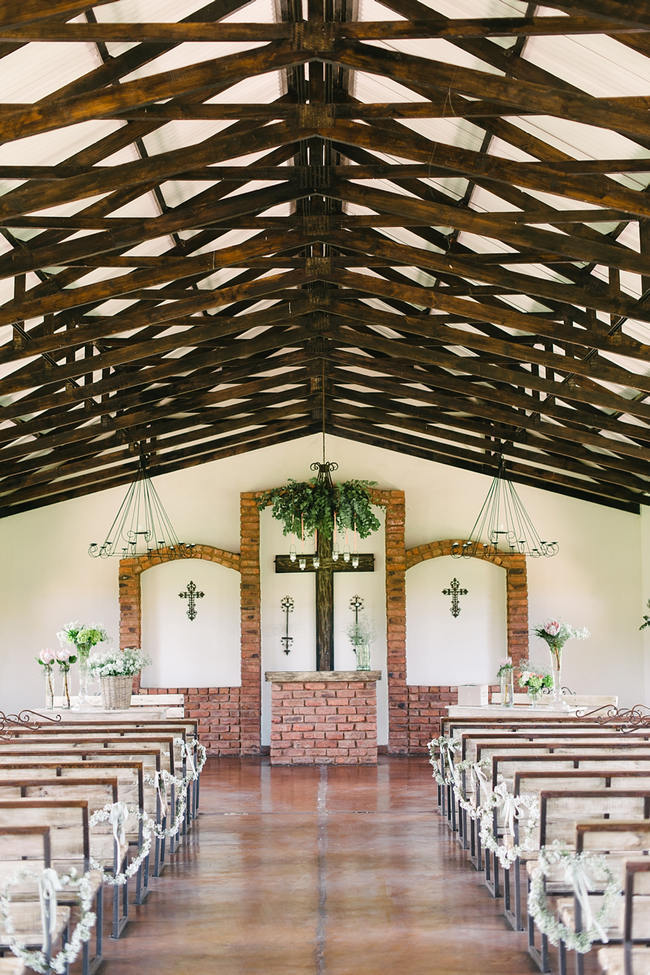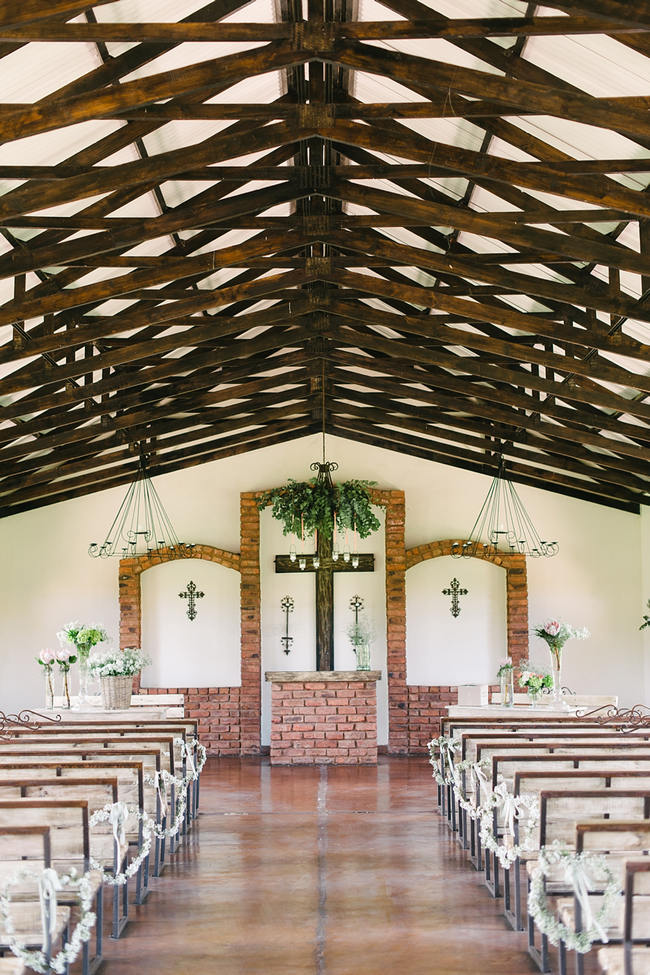 11. (Above) A green eucalyptus chandelier, accompanied by a few floral arrangements of single bloom King Proteas and baby's breath was all that was needed to make this ceremony beautifully rustic! {Floral design:  Polkadots and Petals  // Photography  Louise Vorster Photography. // See more of this mint and coral South African wedding.}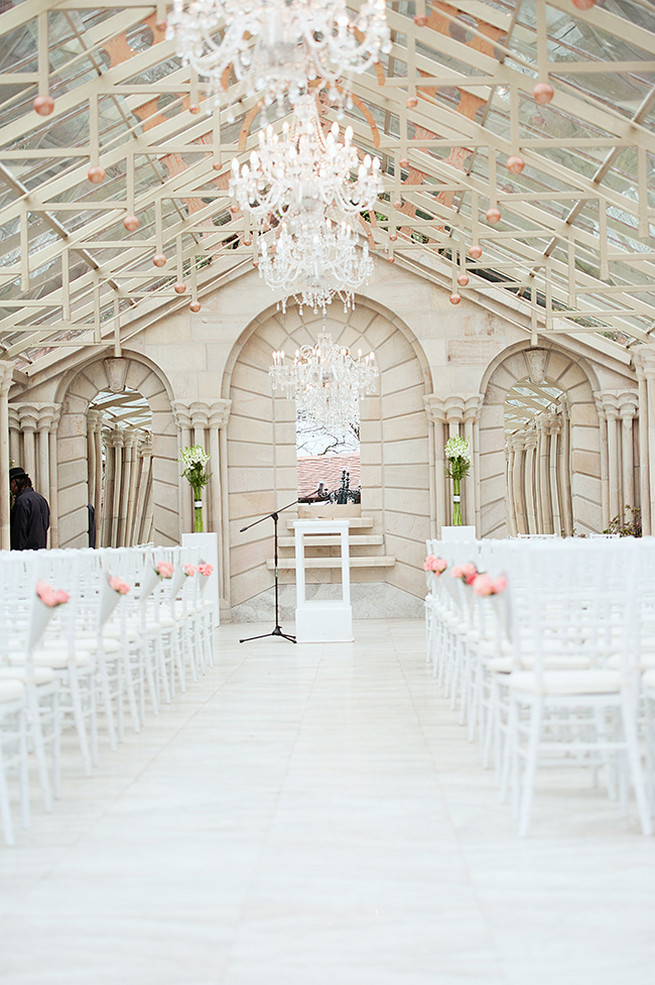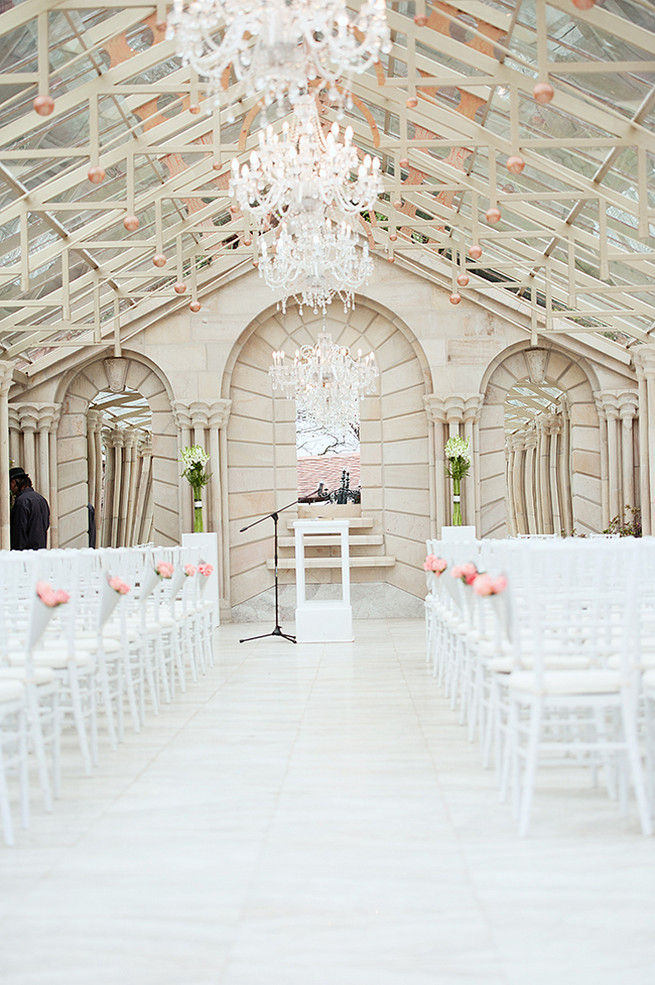 12. (Above) The chandeliers hanging from this absolutely spectacular glass-walled wedding venue created a canopy of light! {Venue:Shepstone Gardens // Photography Christopher Smith // See more of this Johannesburg wedding at Shepstone Gardens.}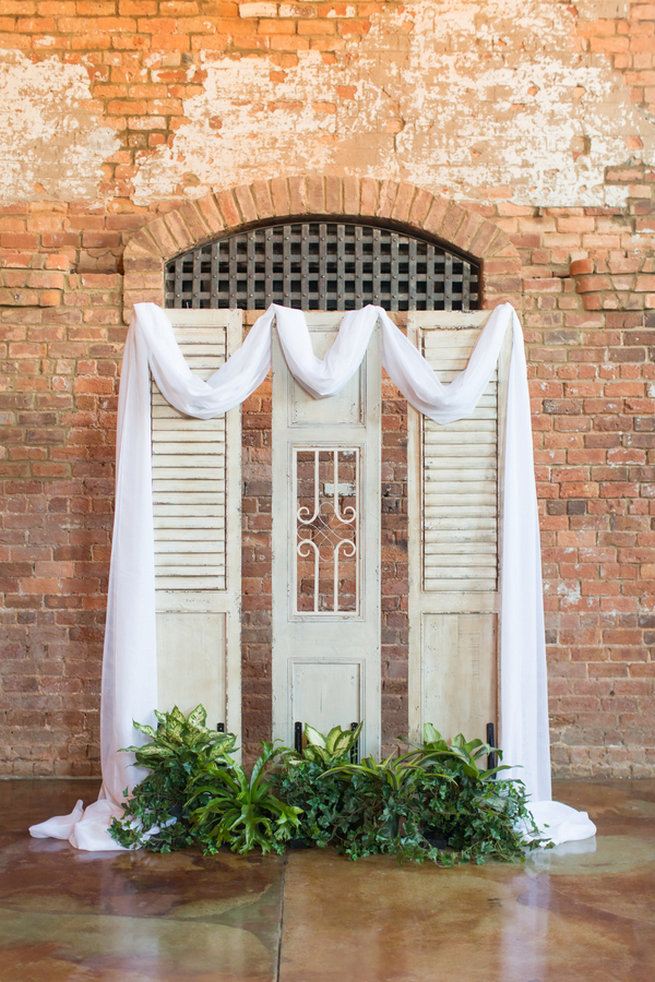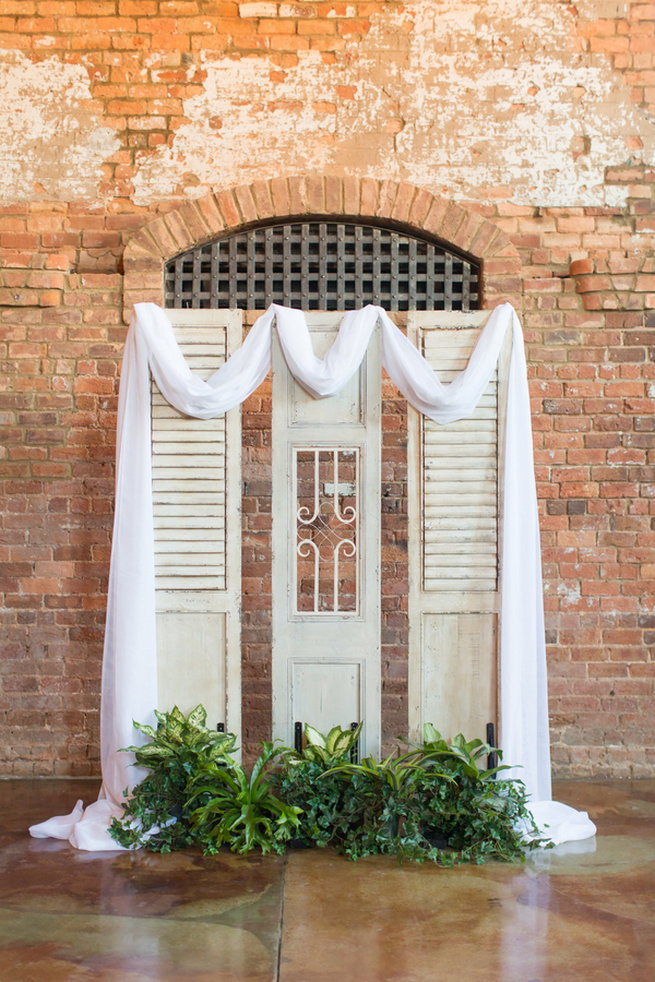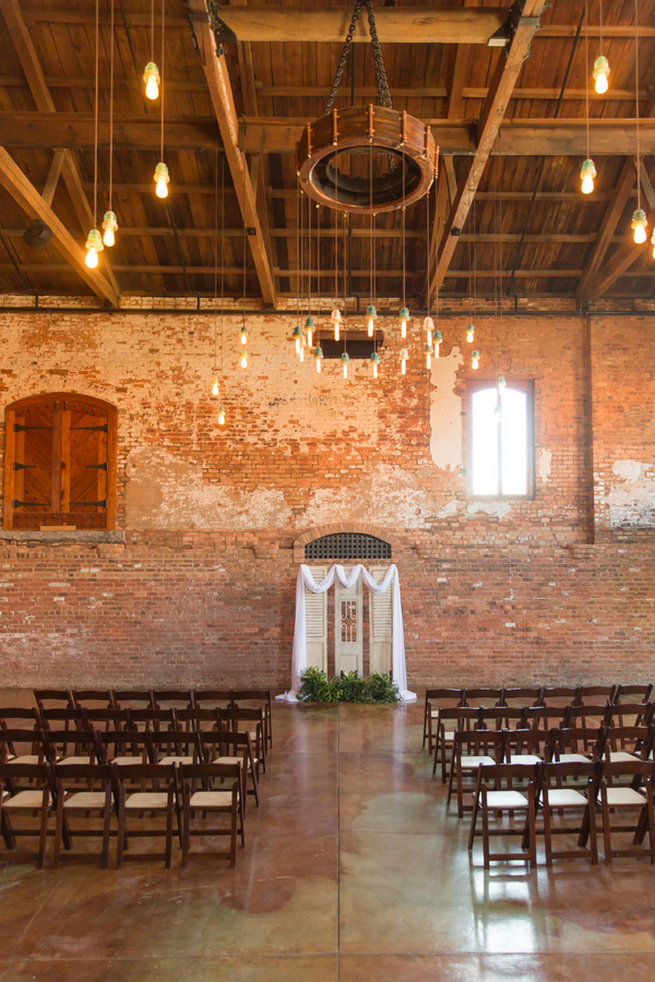 13. (Above) When the venue matched their personalities and love for rustic, warehouse-style spaces, the couple wanted to highlight the gorgeous colors of the wood, brick and marble floors of the venue. They exchanged vows beneath naked lightbulbs, against a backdrop of wooden doors dressed in fabric and greenery.  {Flowers & Decor Twigs // Photography Ryan and Alyssa // See more of this modern, urban wedding at the Old Cigar Warehouse.}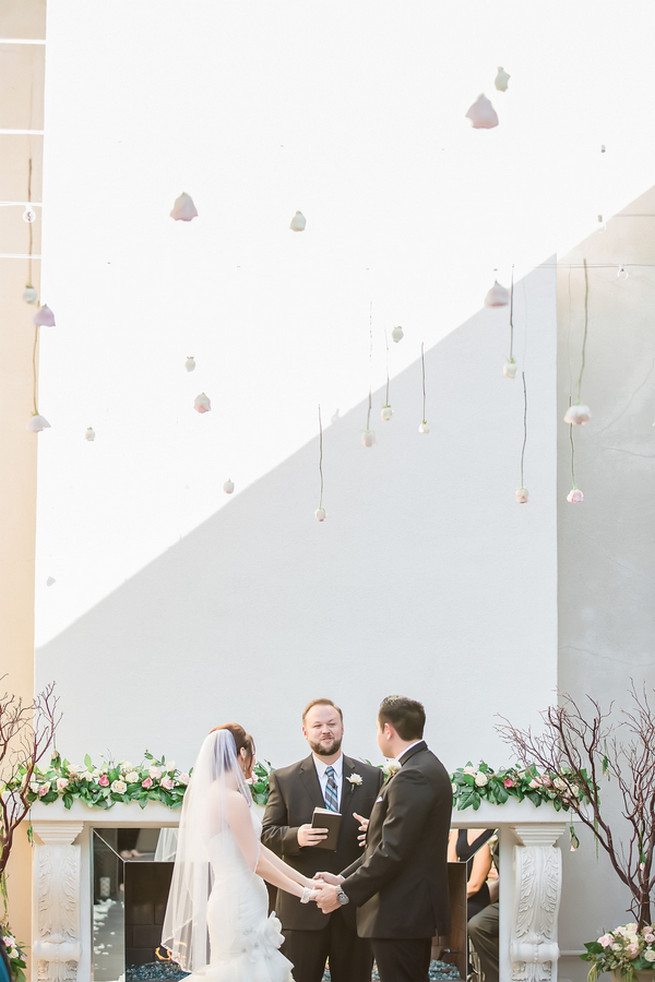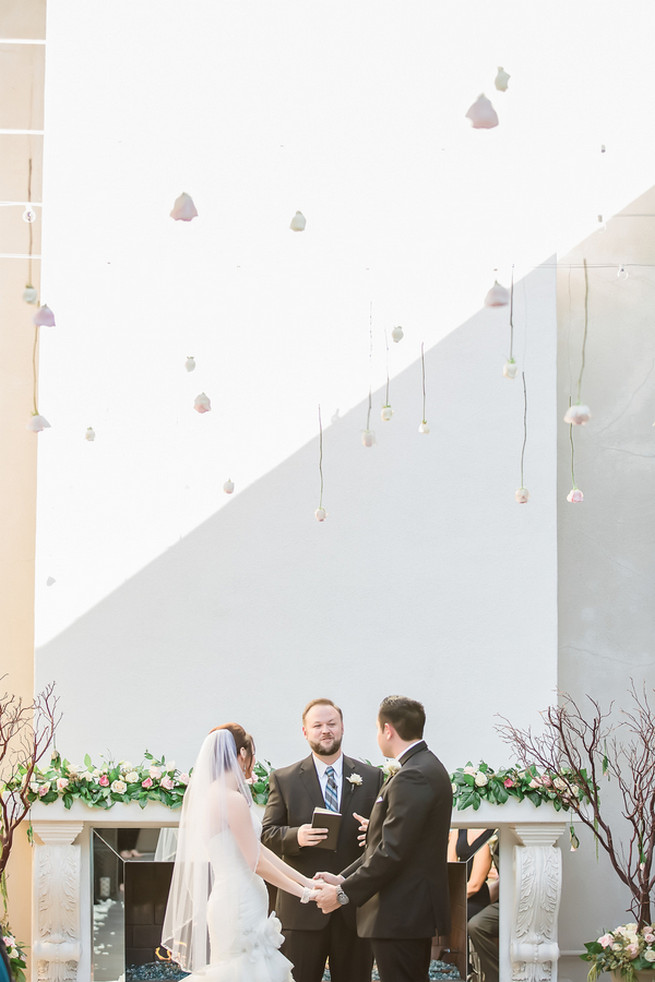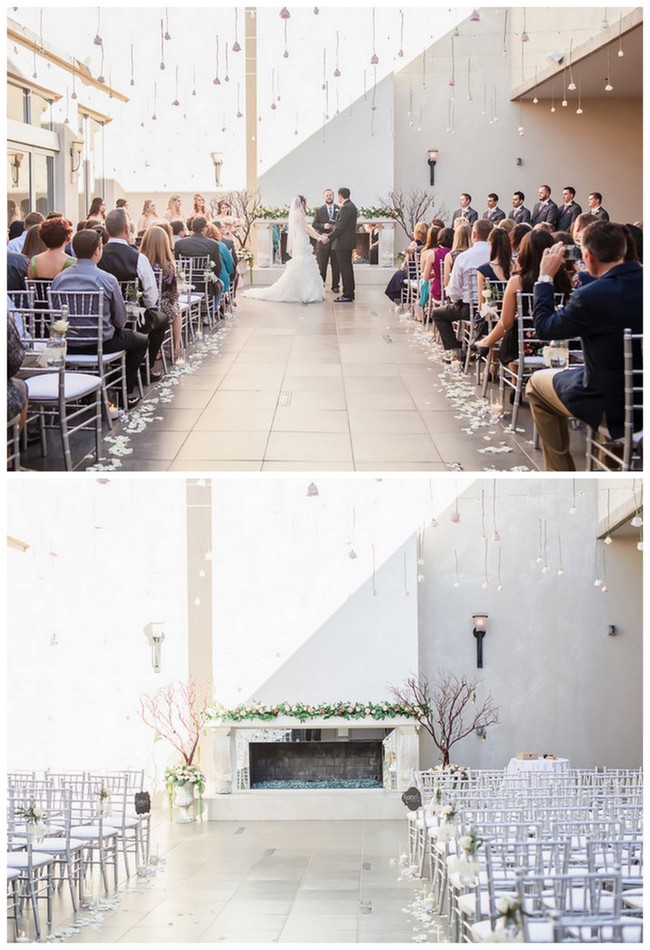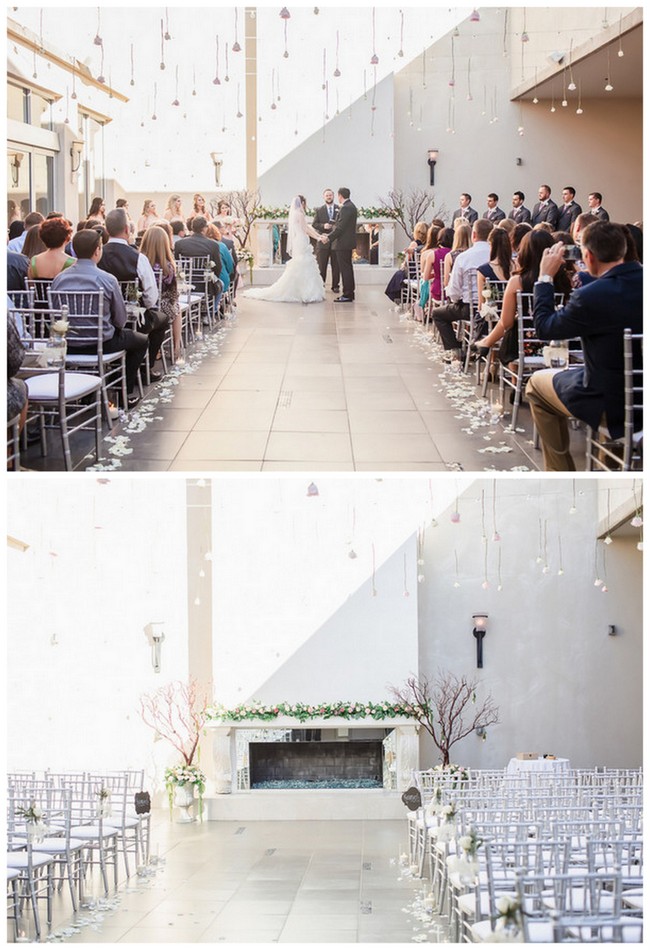 14. (Above) Single, delicate blooms were seemingly suspended from the sky, creating a light but dreamy ceiling of flowers.  {Floral design:  Everybody Loves Flowers   // Photography  Jessica Q Photography // See more of this pink and silver urban wedding.}
Beach Wedding Canopy and Arch Ideas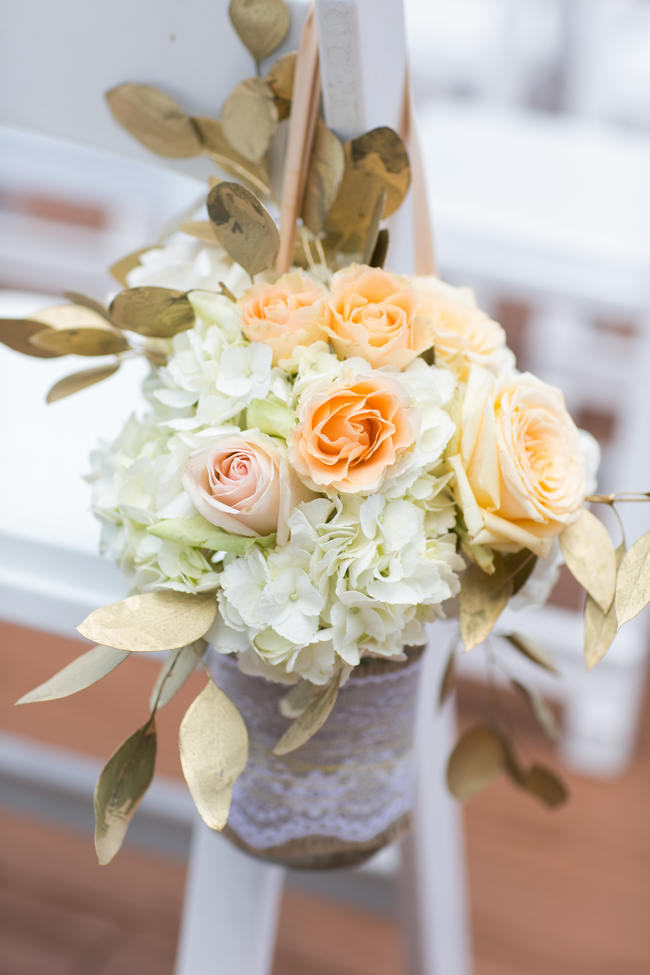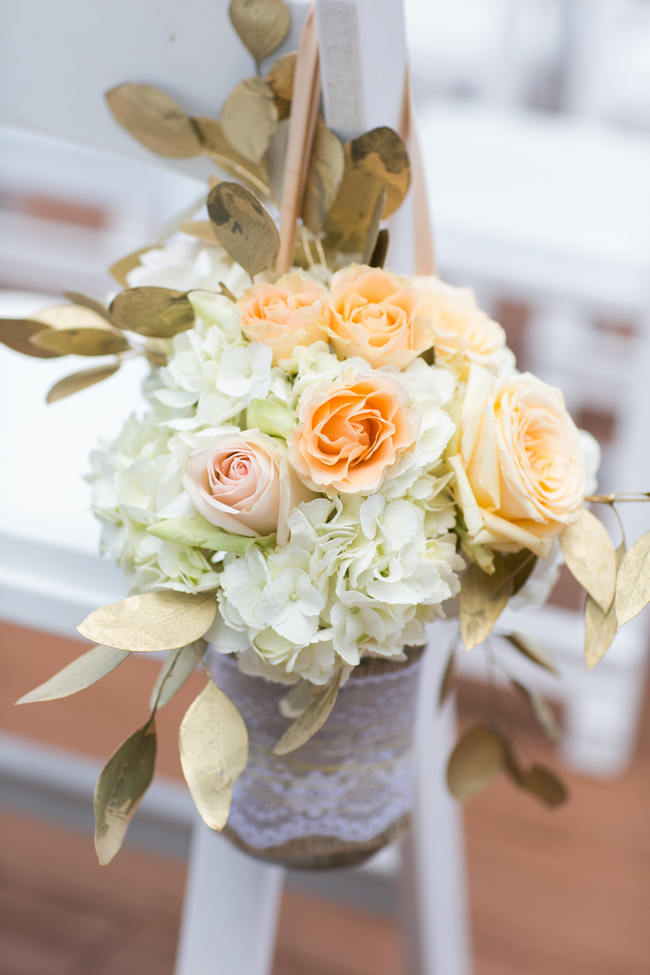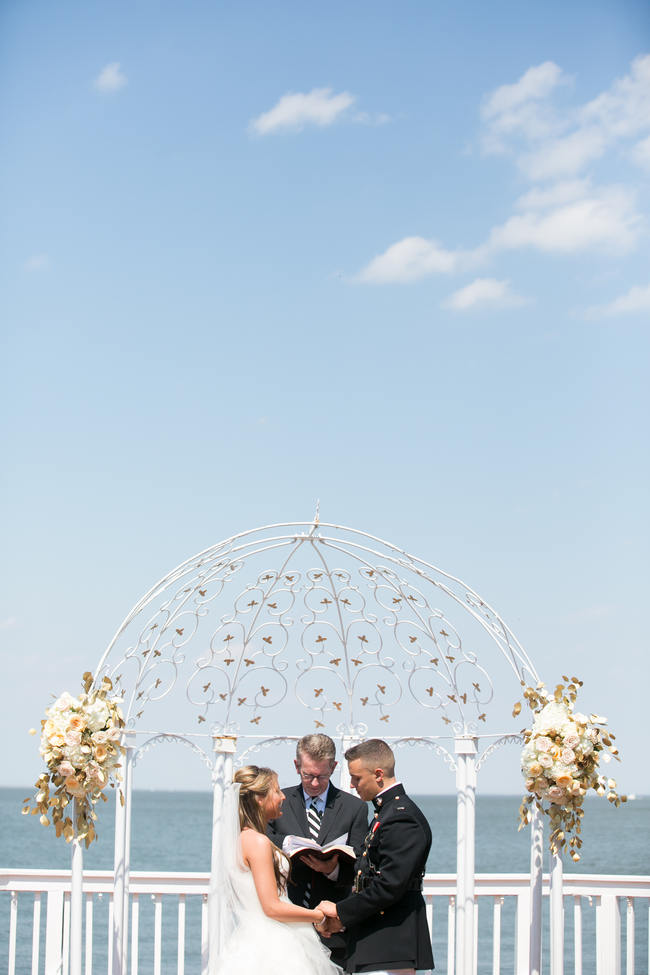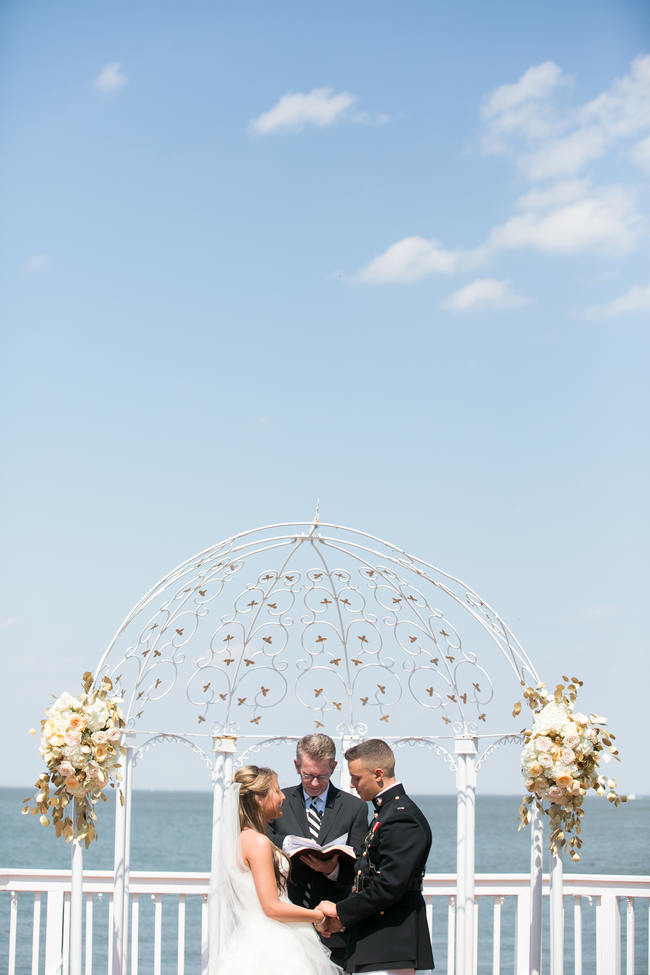 15. (Above) She married her man in uniform in an elegant, rustic celebration at Celebrations at the Bay. Their seaside celebration had them saying "I do" under a white wedding arch decorated in peach, cream, and gold! {Floral design: Intrigue Designs // Photography   Carly Fuller. // See more of this seaside wedding in blush, cream and gold.}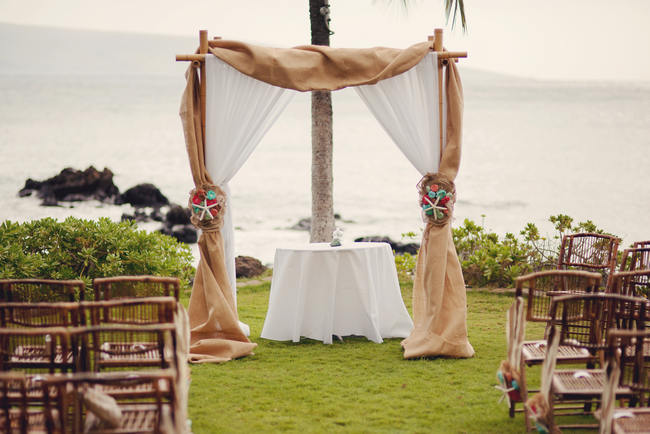 16. (Above) This rustic, burlap wedding arch decorated with coral and mint details created a stunning frame under which they became husband and wife!  {Floral design: Maui Wedding Flowers  //Decor – Nectar Tyson  //Rentals & Decor –  Pacific Isle Rentals // Photography BellaEva Photography // See more of this rustic Maui wedding here. }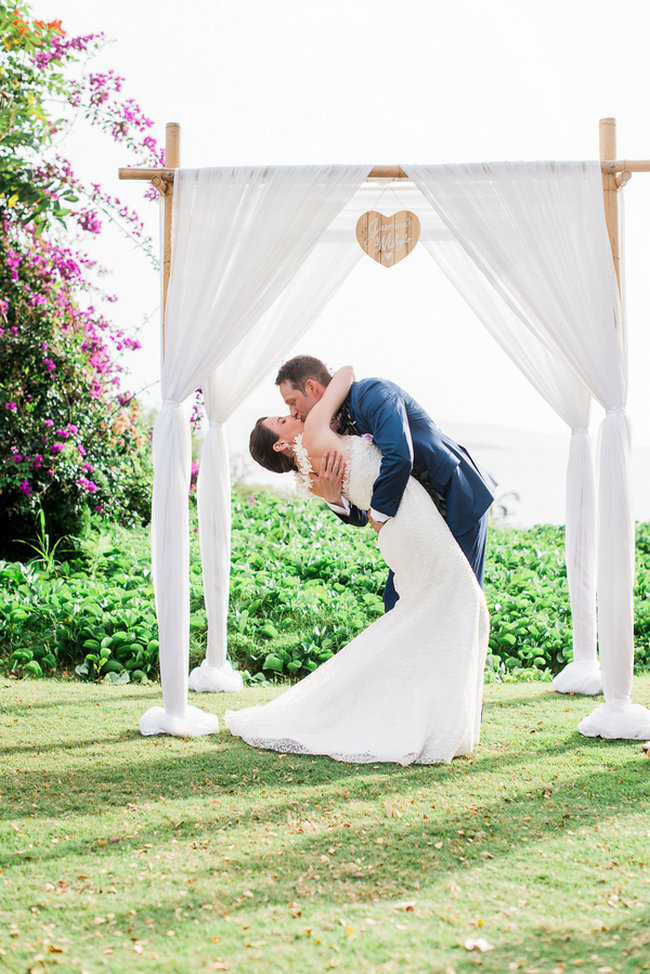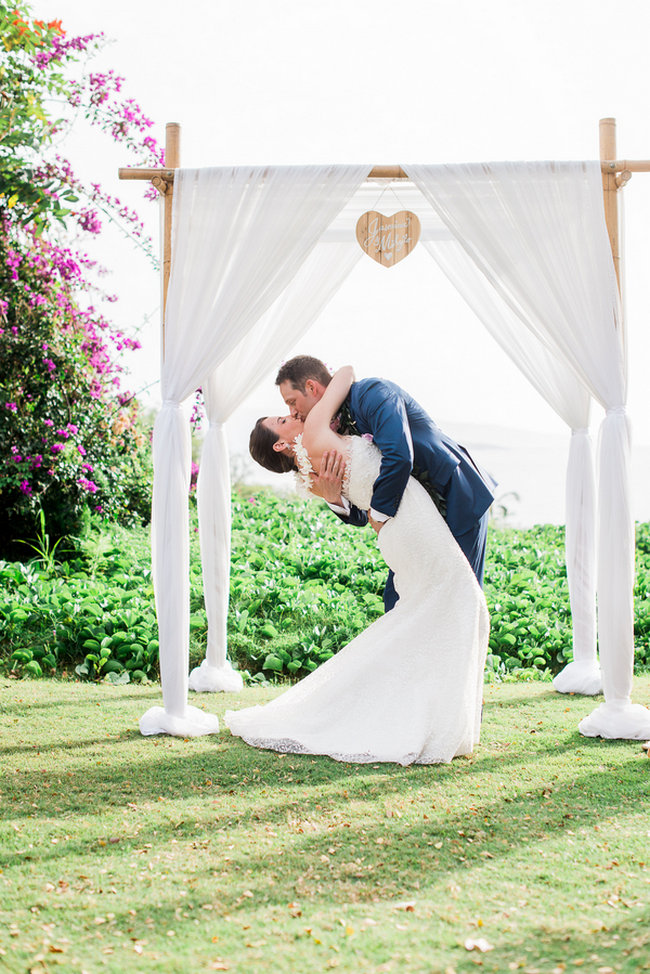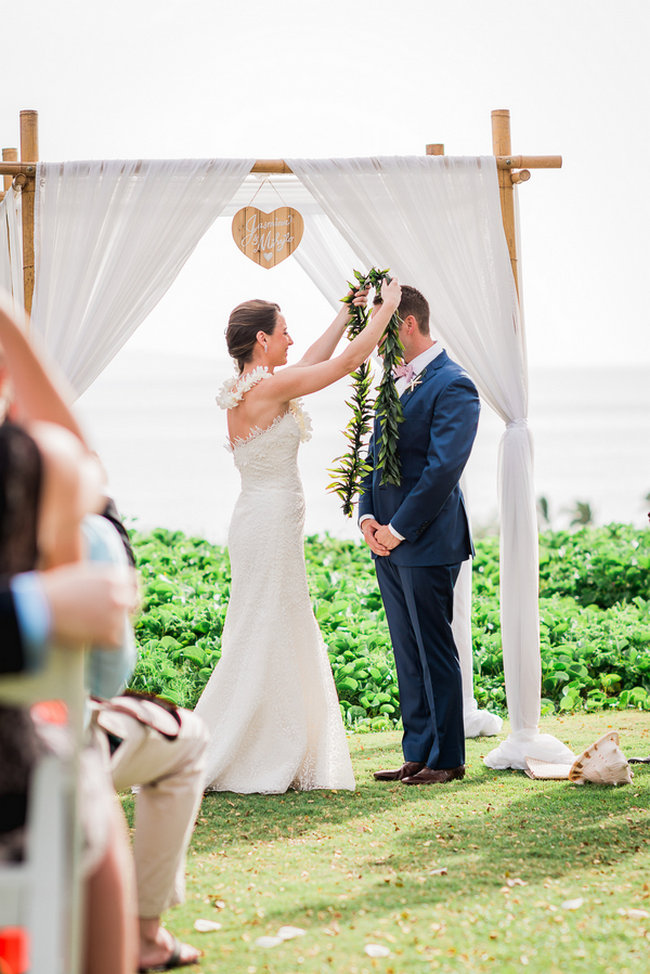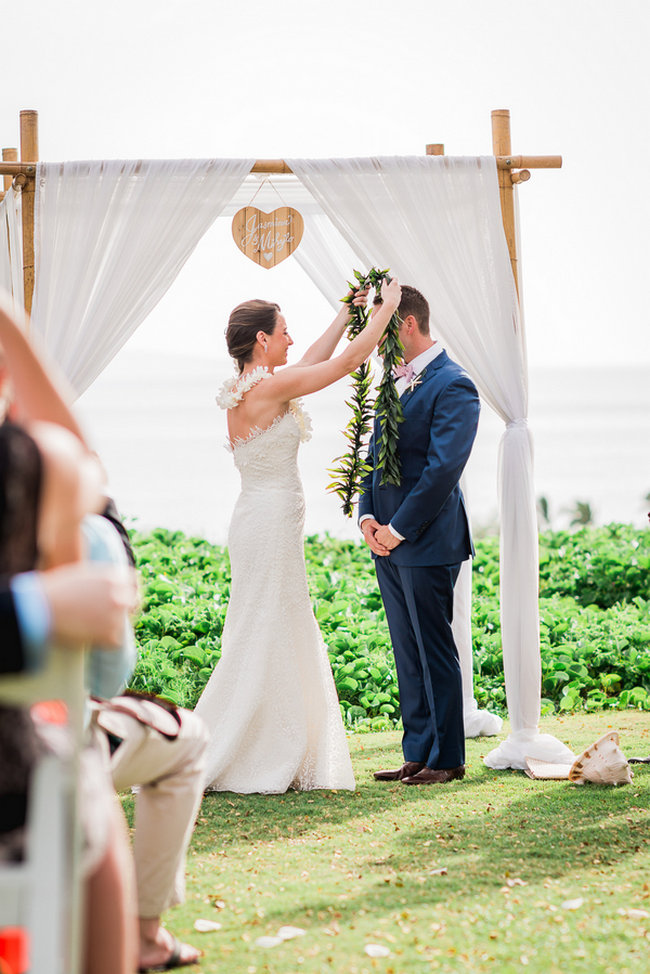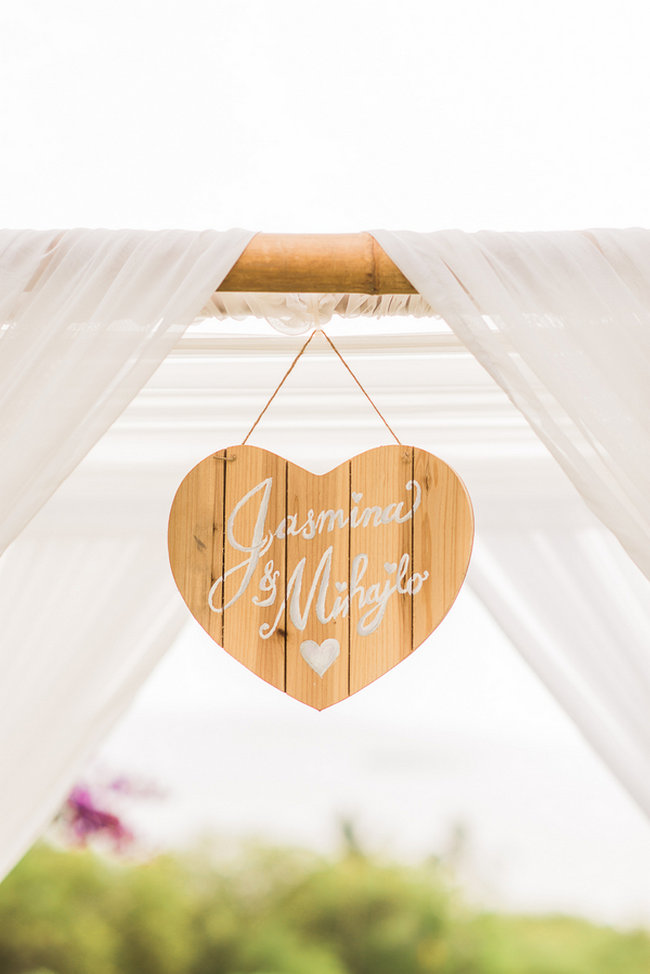 17. (Above) A relaxed but dreamy beach wedding canopy of bamboo, draped with light, flowy fabric and a hand-painted wooden heart displaying the couple's names. How cute! {Wedding Planner  Sarah Cravalho  // Photography  BellaEva Photography  // See more of this destination beach wedding in Maui.}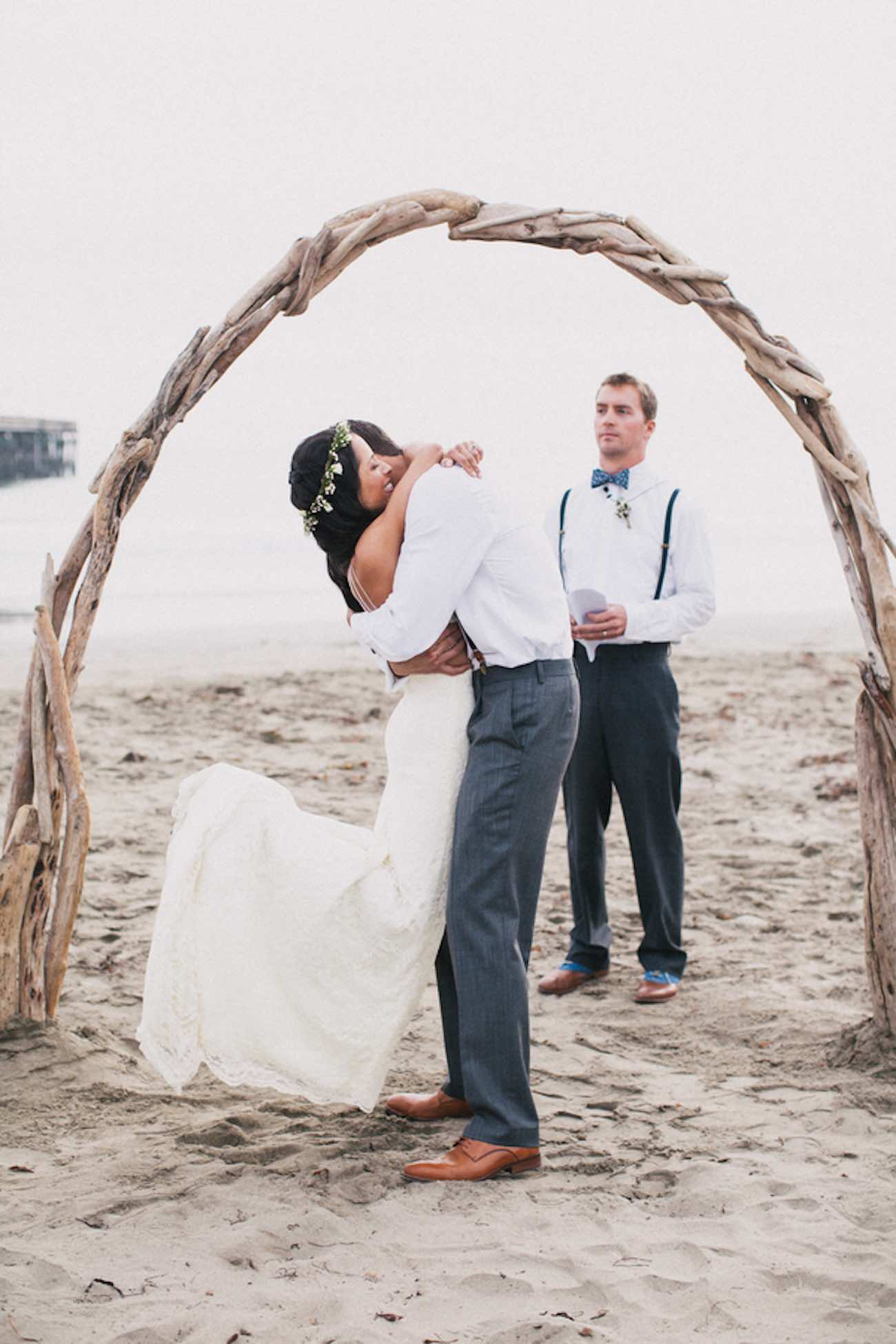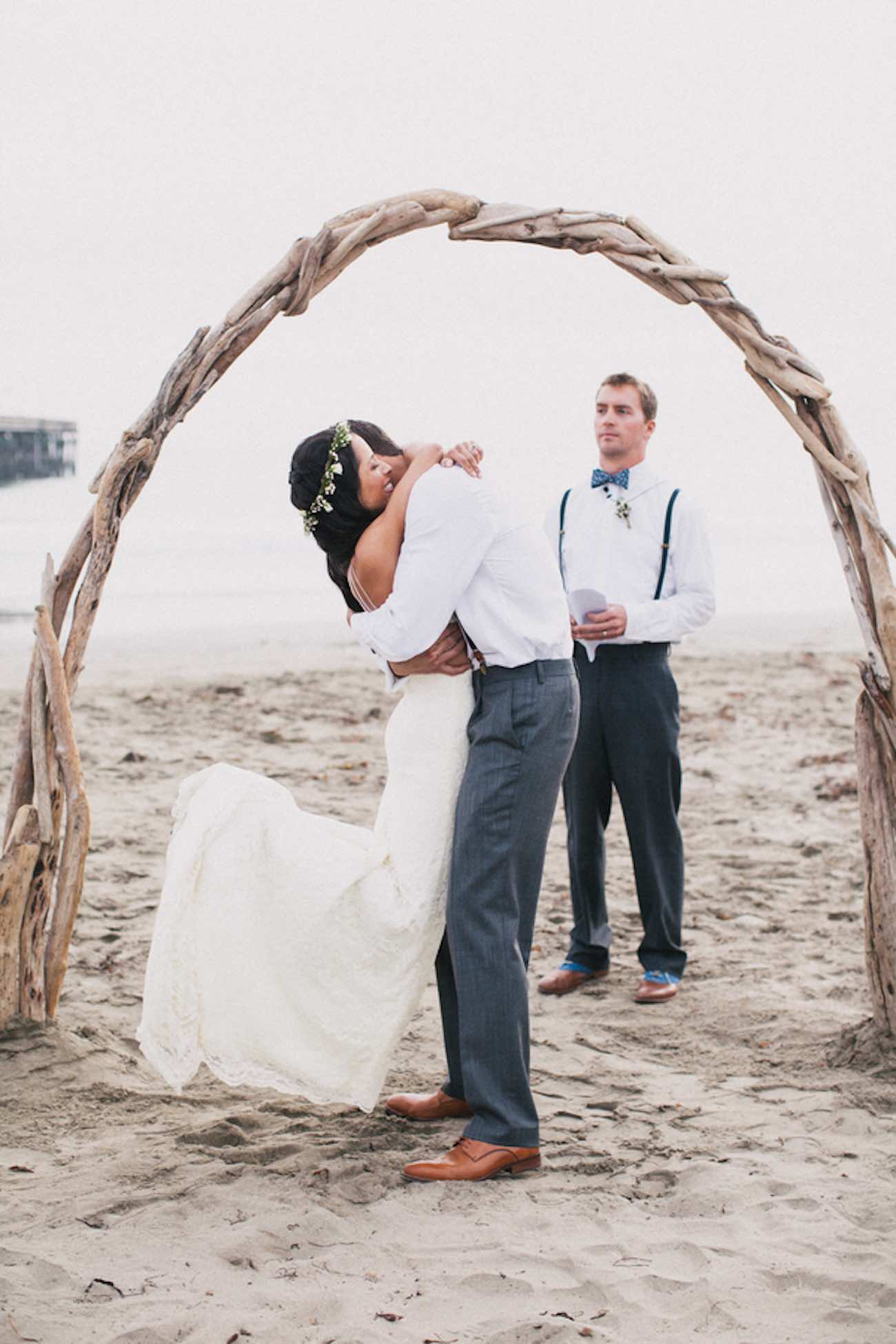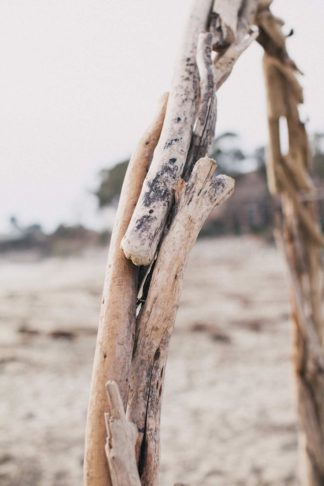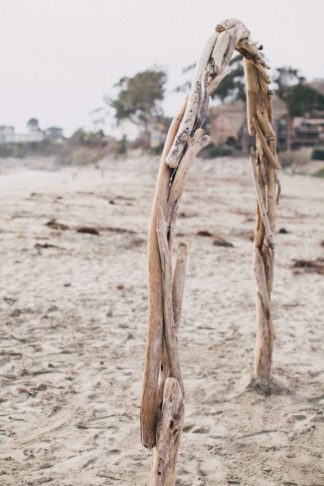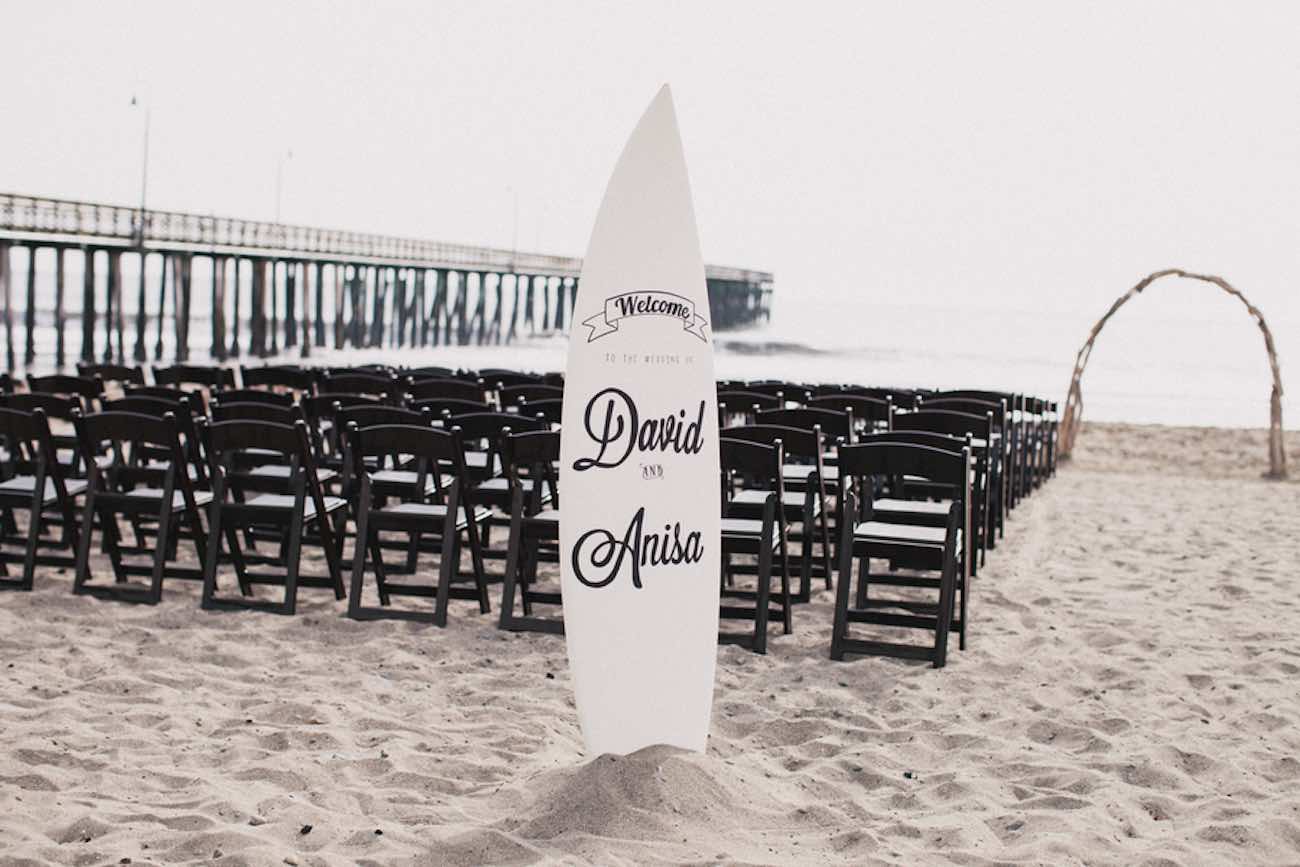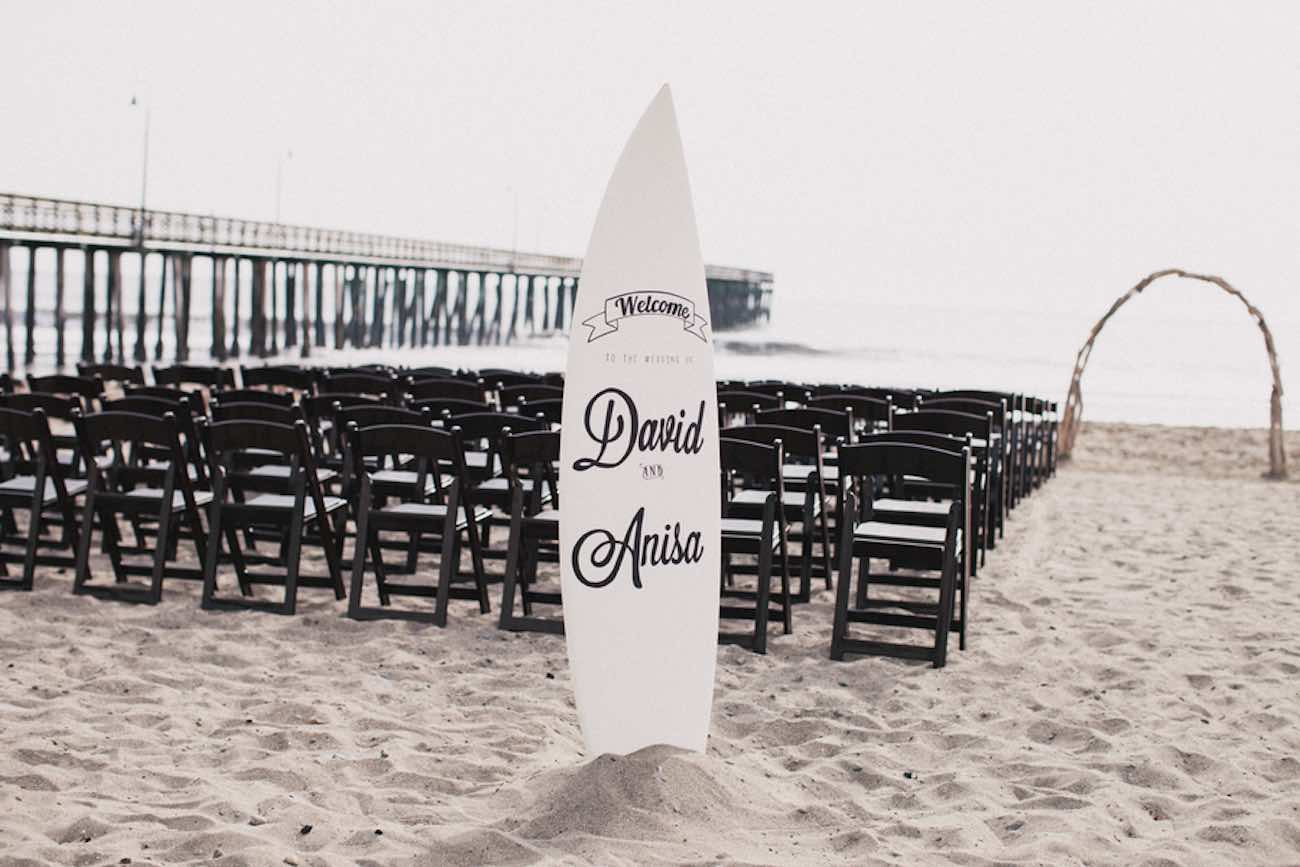 18. (Above) Seriously, this couple has got to be one of the absolute coolest, ever. Their boho surf fiesta wedding was one huge beach party filed with fun details. From the custom surfboard at their ceremony to the handmade beach wedding arch created by the groom from driftwood – we love it all! { Photography Alexandra Wallace  // See more of this bohemian surf fiesta wedding.}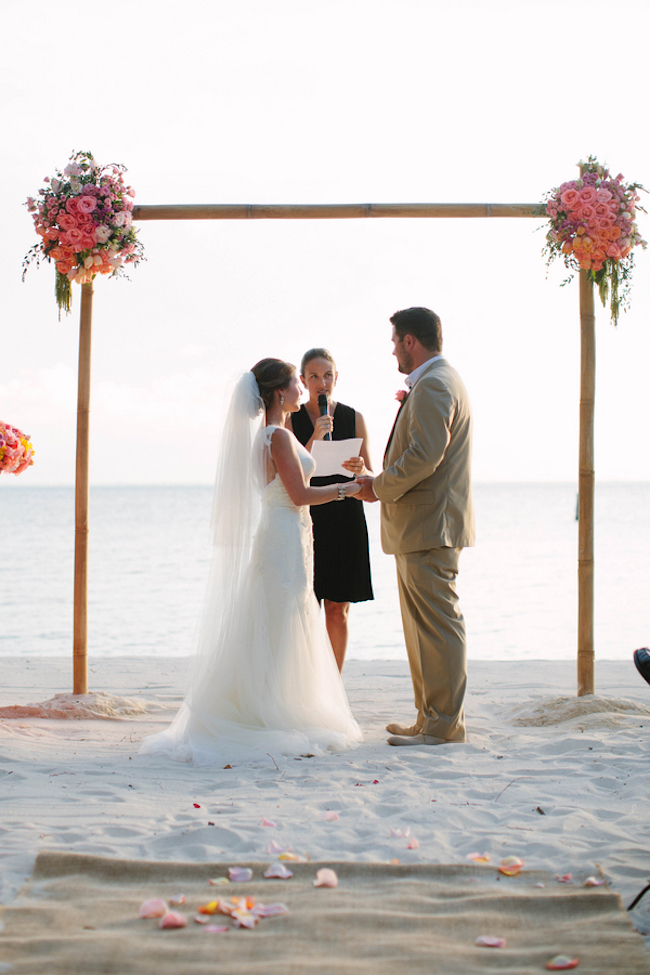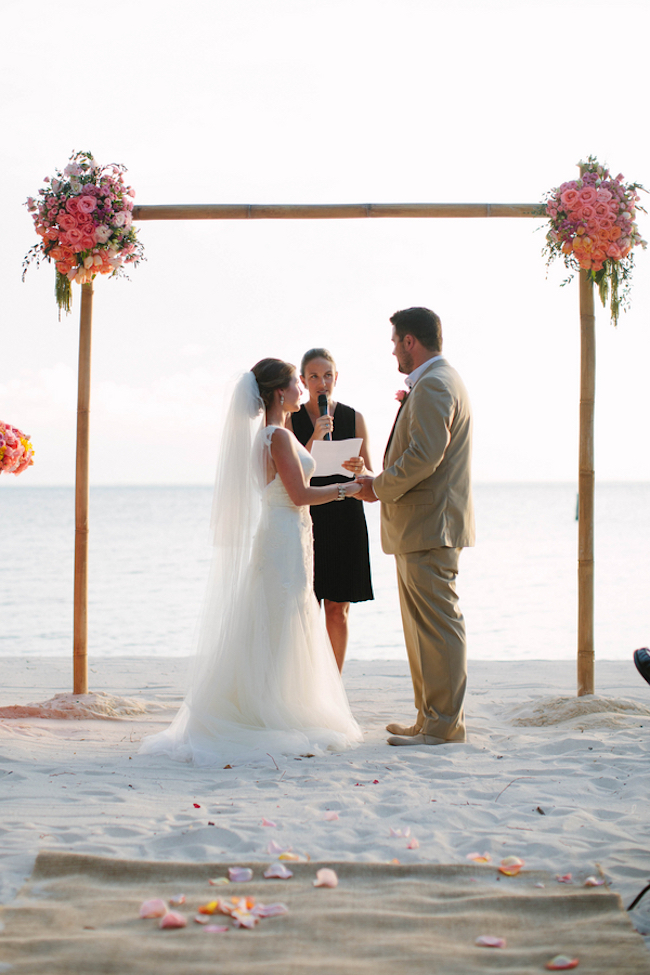 19. (Above) For their destination beach wedding, the color and fun patterns that referenced the island atmosphere. Their simple, wooden wedding arch was beautified with floral arrangements in a palette of coral, pink, yellow, orange and gold. {Floral design: Vanessa Jaimes Floral Design // Photography Jessica Arden Photography, // See more of this colorful isla mujures destination wedding. }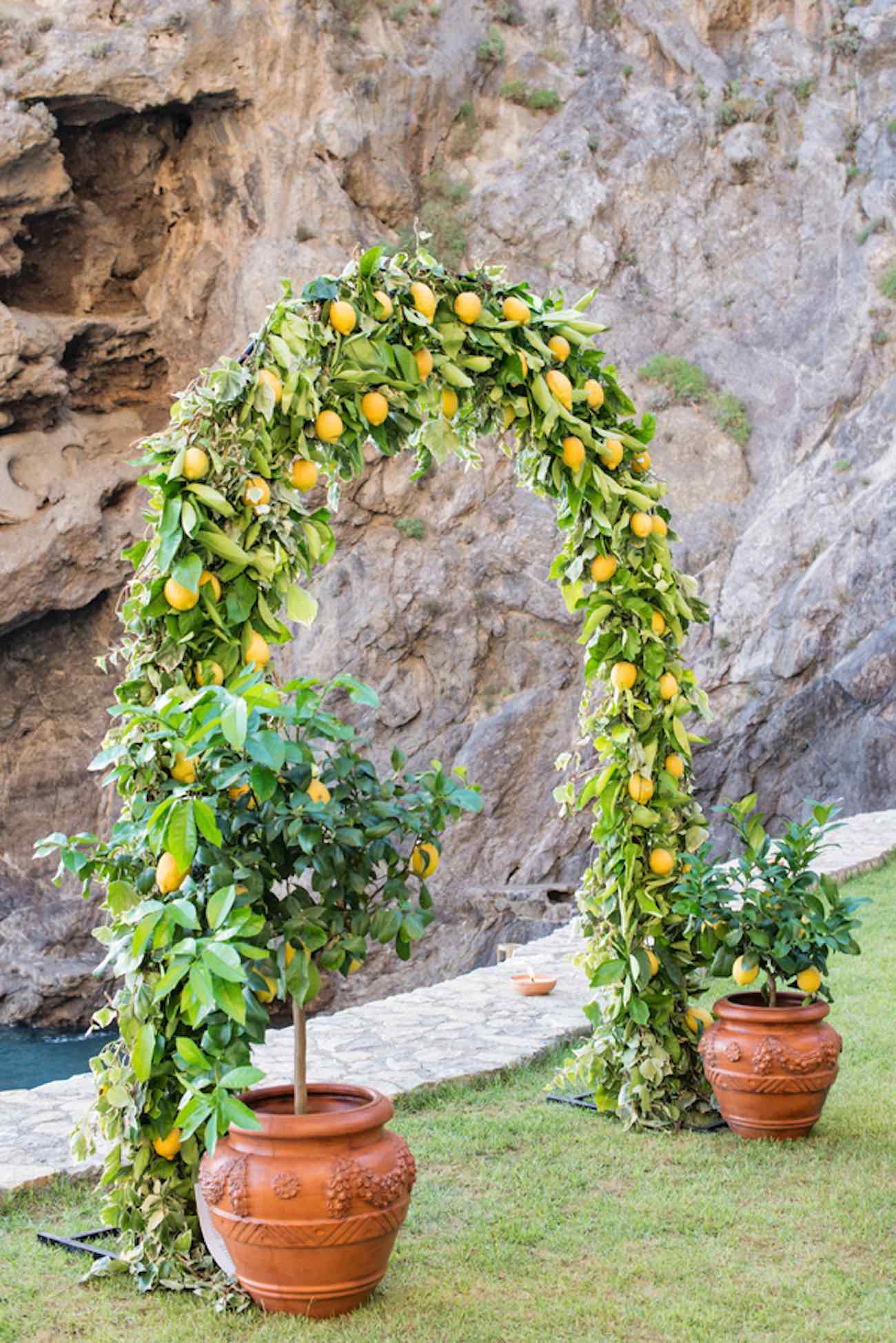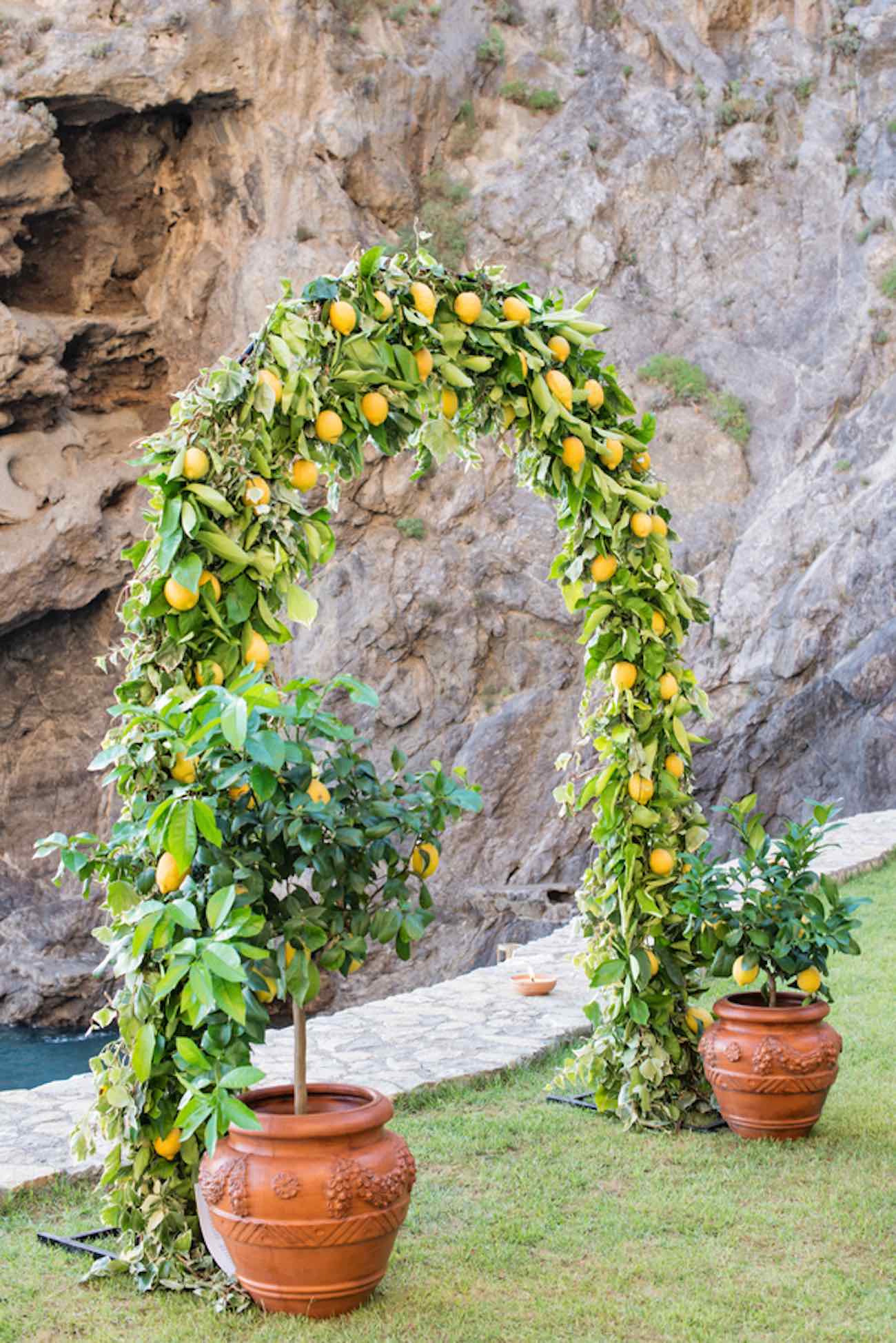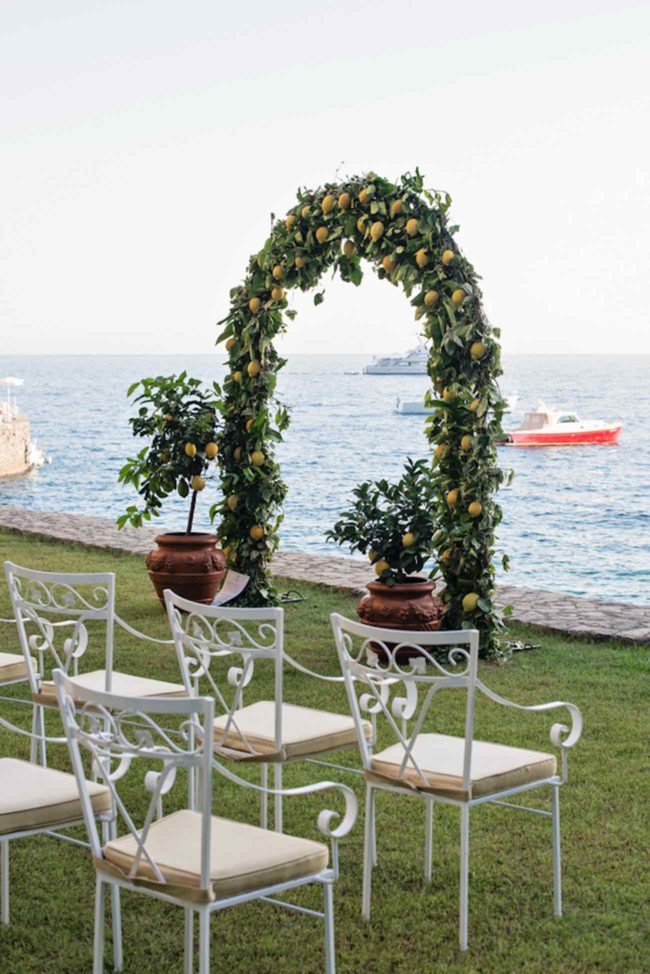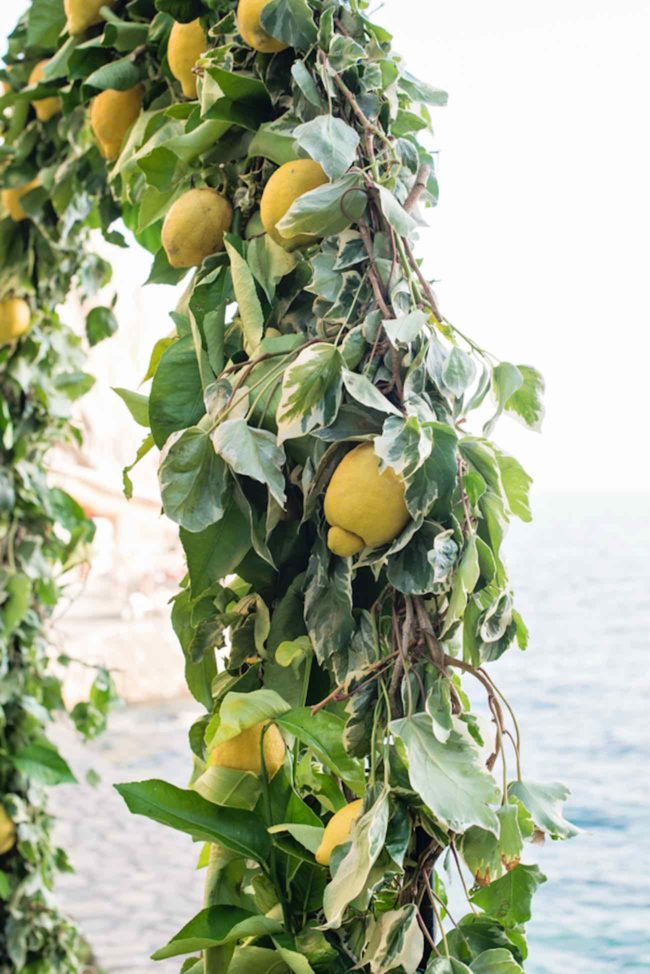 20. (Above) Ahh, the ultimate romance of a destination wedding on the famed Amalfi coast! What could be more fitting than a wedding arch made of lemons, to celebrate the Italian's love of Limoncello? {Floral design: Flora Garden// Photography Rochelle Cheever of A Romantic Journey photography  // See more of this Positano destination beach wedding.}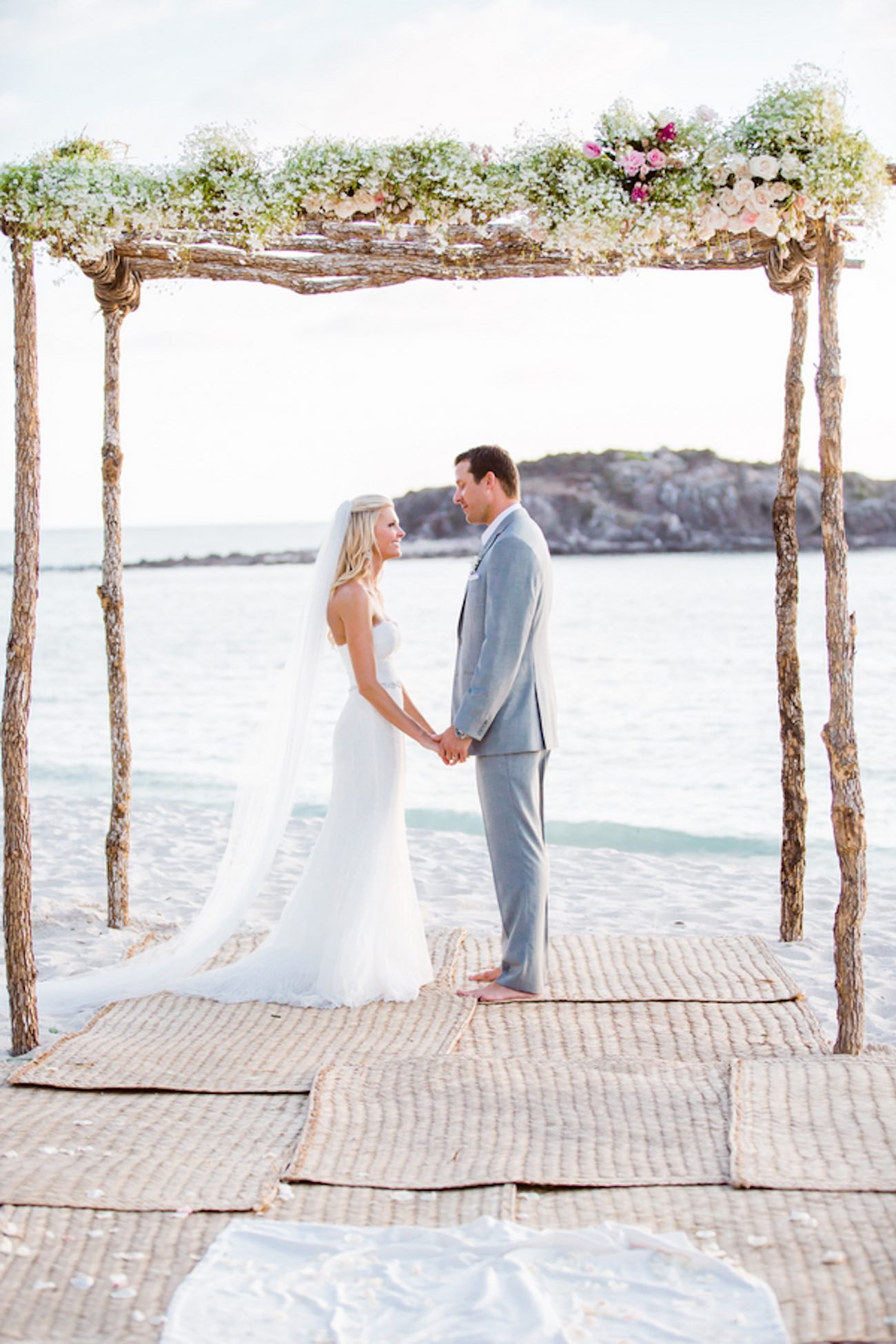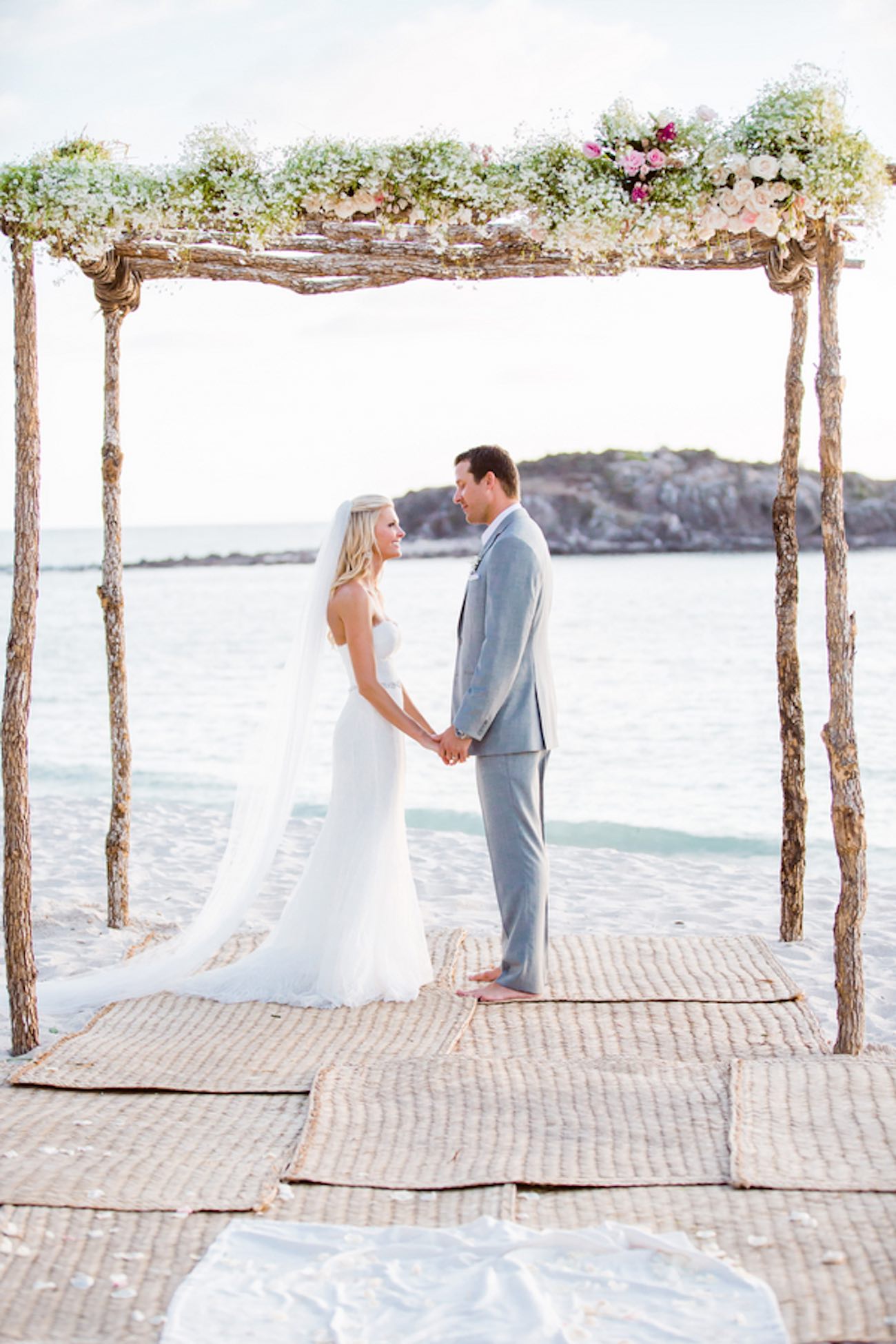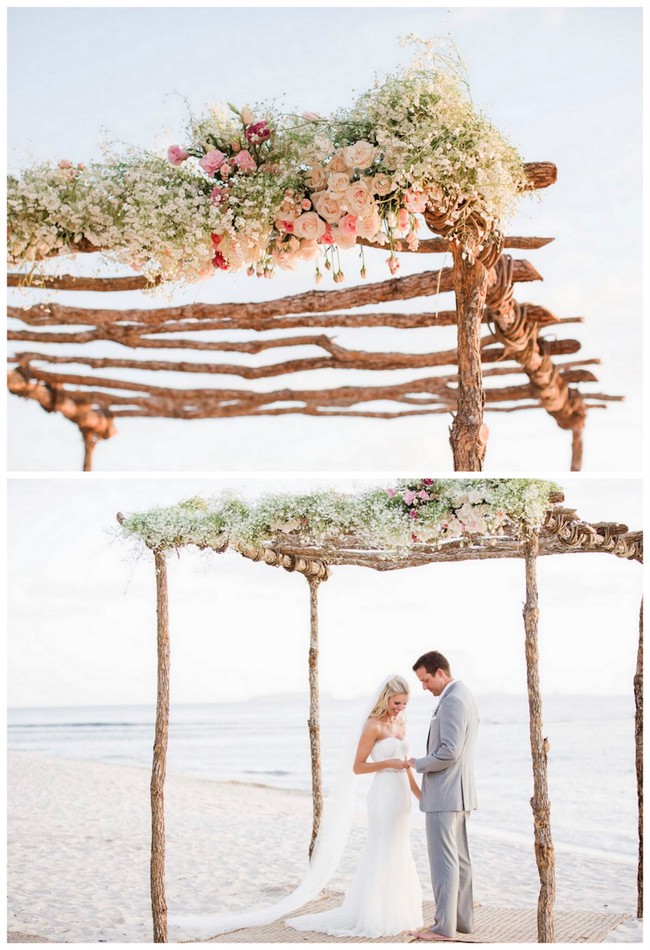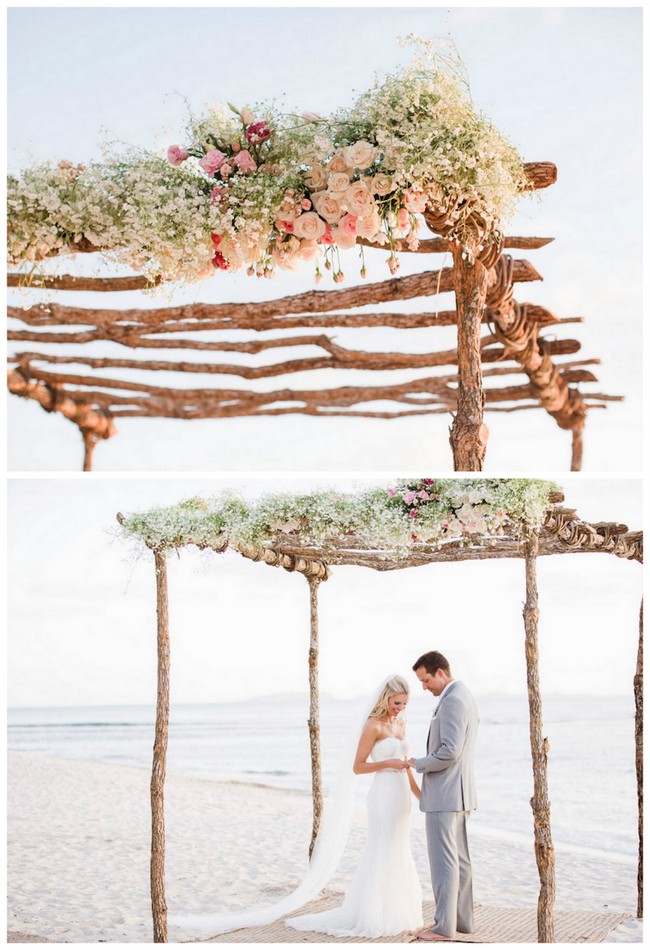 21. (Above) This ridiculously gorgeous couple took their marriage vows at the St. Regis, in Punta Mita, on the beach under a beautiful light pink rose and baby's breath covered arbor from GRO Designs.  {Floral design: GRO Designs // Photography   Caroline Ross Photography  // See more of this dreamy Punta Mita beach wedding in mexico.}