Wedding Stationery Timeline
So you're engaged, HOORAY! Once you've  planned Your Engagement Party, determined your budget, figured out your guest list and booked your venue,  it's time to give some thought to how you're going to let your nearest and dearest know the details of your wedding.
In addition to practical info about your wedding, your wedding stationery also gives your invited guests the first taste of what to expect on your wedding day. Before sending out your wedding stationery there are a few important things to consider to help set the tone. Let's take a look at what you need to know!
1. Save The Dates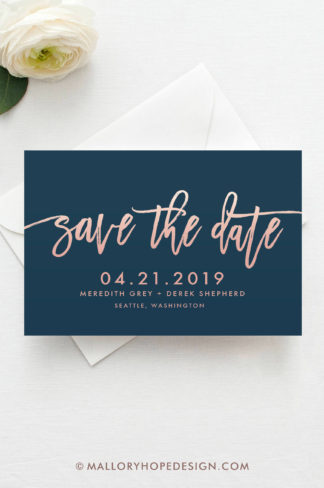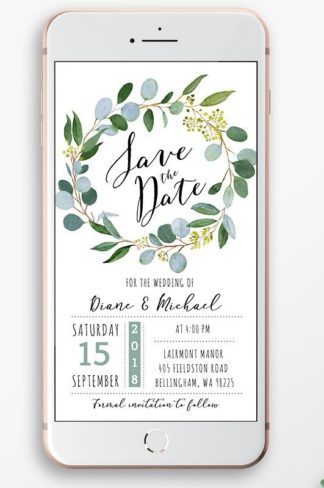 Digital Save the Dates for under $15: Send this pretty digital  Save The Date template (left) to your loved ones via email or, text this digital save the date template (right) via mobile! (If this wedding guide inspires you to purchase one of these items for wedding, in some cases we'll get a small percentage of the sale for sharing it with you. Thank you!)
Sending out a Save-the-Date is a useful way to let your guests know that they are invited to your celebration and should therefore, plan to "save the date".
♥ When to send: Send the Save-the-Dates as soon as possible. At the very least 6-12 months before the wedding date. This is especially important to allow for out-of-town guests to make their travel and accommodation arrangements. The same goes for a destination wedding – you need to let your guest know ASAP.
♥ What to include: The Save-the-Dates need to include the following information as a 'prelude' to the wedding invitation:
Names of the couple
The date and brief details of the location of the wedding reception and ceremony. You do not need to provide the specific venue details here, but the city or town should be included for out of town guests.
Inform your guests that the formal invite with more details is coming next: "Formal invite to follow."
The URL of the wedding website, if one was created. (Although this is normally sent out with the invites, so don't stress about getting a site ready – at this stage it's more important to just let your guests know the date.)
♥ How to send: Traditionally couples would send out printed save the dates, and while this is still an option, we suggest going the digital route here. It's quicker, easier, more affordable and creates less waste. Because guests do not need to RSVP at this stage, you can easily send via email or mobile.
2. Wedding Invitations
This is the number one piece of wedding stationery that is essential for your wedding day!
♥ When to order: For custom created, traditional invites, you should place your order at least 3 to 4 months prior to the wedding date. This gives you enough time to confirm the design, to proof read and print, and have time to have them sent to guests with enough time for them to RSVP.
♥ When to send: Send the wedding invitations anytime 8 – 6 weeks to before the wedding date, depending on whether Save-the-Dates were sent previously. If guests from abroad are invited, three months. (If you're going to manage a B-list, send your A-list invites out three weeks earlier than this.)
♥ What to include on the invite: There are several important bits of information that should be included as part of the wedding invitation suite.
Ceremony details: Location, venue, date and time of wedding ceremony
Reception details: Location, venue, date and time of wedding reception
Partner and children guest details: Include the amount of guests invited or the names of the invited guests and clarify whether children are allowed or include child-related information for eg. special childcare areas, services or meals that will be available during the event.
RSVP details (or an optional RSVP Card) should include the RSVP date and details of the person to contact. The RSVP date should be at least 4 weeks before the wedding date to provide some time to send out additional invites if regrets are received. If printed, the RSVP or response card should have a self-addressed and stamped envelope for guests to use to accept or decline the invitation. When working with digital invites, make sure it's clear how and to whom the RSVP must be sent – via text, email etc. Or use a digital invitation service that manages it all for you.
♥ What to include on the details card or wedding website: 
Directions to the wedding event: A map, GPS co-ordinates AND directions from a central location is useful to guide guests to the wedding ceremony and / or reception venue(s). If possible, include access to a digital map image, as well as gps co-ords, AND as written directions, in case mobile connection is spotty.
Accommodation details: Names and contact details of nearby accommodation options helps guests to arrange convenient accommodation plans. This is usually included on a details card, or on the wedding website.
Request invited guests to specify their dietary preferences or allergies, which is information that the wedding caterer can use to make sure that everyone can eat.
♥ What wedding invitation etiquette to consider: There are a few essential wedding invitation etiquette details to consider when putting your invitation together.
Details about wedding gifts and registry: A non-gifts policy, gift registry or any gift-related details are not appropriate for the wedding invitation. You can put this info on your wedding website or have them communicated by a member of your family / BFFs.
Details about invited partners: Wherever possible, address each invitation to include the correct names and spelling of the invited guests and their partners.
Details about children: 

If the wedding event is an adult-only occasion, then "Adults only", "Adult Only Reception" or "Adult reception to follow" can be included in the wedding invitation or this information can be provided on a separate guest info card.

Details about a wedding dress code:

 

If the wedding event has a dress code, such as Black Tie, semi-formal or themed, then these details can be presented in the lower right-hand side corner of the wedding invitation. You might also include information regarding suitability for heels, and if outdoors in spring to dress warmly on the details card or wedding website.

Details about a wedding website: 

The wedding website address can be provided on the invitation in the same area as the "Directions to the wedding event" and "Accommodation details", if these details aren't provided on a separate piece of stationery.
♥ What theme and style to consider: Bear in mind that the wedding invitations often set the tone for the entire wedding stationery suite, which includes the wedding programs, menus, seating charts, table numbers, name cards, etc. that will be used throughout the wedding day and even afterwards.
Wording: Invitation wording should match the style of the wedding, for example, traditional wording should be used for a formal event, and cuter and cheekier wording can be used for a quirkier event.
Styling: Ensure that the style of the wedding invitations, such as the color, patterning, font etc matches or complements the theme and style of the wedding event.
3. Thank-You Cards
Thank-You cards or notes are sent to guests to thank them for their attendance and/ or for their gift (if one was received). They are also used to thank the bridal party and other important people who have played a role in the hosting of the wedding events. It can be written by hand and can also be purchased separately or personalized to match the wedding stationery suite.
♥ When to order: Order or arrange the Thank-You cards or notes with the wedding invitations.
♥ When to send: Send the Thank-You cards or notes anytime between 1-3 months after the honeymoon. You technically have up to 12 months to send these.
♥ Who to send to: It is best to send Thank-You cards or notes to all guests, whether a gift was received or not.
♥ What to include: The Thank-You cards should be kept short, sweet and with a  personal touch that includes the following:
Personally address the Thank-You cards or notes to each guest.
Thank each guest for their attendance. (Sometimes invited guests can't attend the wedding event, yet still send a wedding gift – be sure to thank them, too.)
Describe the gift or include the name or a comment about the gift.
If the gift is monetary, thank the guest for the "generous or kind gift".
NEXT UP;
How to start your wedding budget breakdown

{Wedding Planning Series Part 1}

How select guests and plan your wedding guest list 

{Wedding Planning Series Part 2}

How to Plan Your Engagement Party 

{Wedding Planning Series Part 3}

What Does a Wedding Planner Do? Do I Need One?

{Wedding Planning Series Part 4}

150 Question Wedding Venue Checklist 

{Wedding Planning Series Part 5}

Selecting a Wedding Officiant 

{Wedding Planning Series Part 6}

How to Choose A Wedding Photographer

{Wedding Planning Series Part 7}
When to order and send

wedding stationery (timeline)

{Wedding Planning Series Part 8}

How to select your bridesmaids

{Wedding Planning Series Part 9}
Wedding planning workbooks + downloads:
Wedding planning insights:
SEE BEAUTIFUL REAL WEDDINGS // SEE GORGEOUS WEDDING GOWNS