Unique Cuff Link Details for the Guys ♥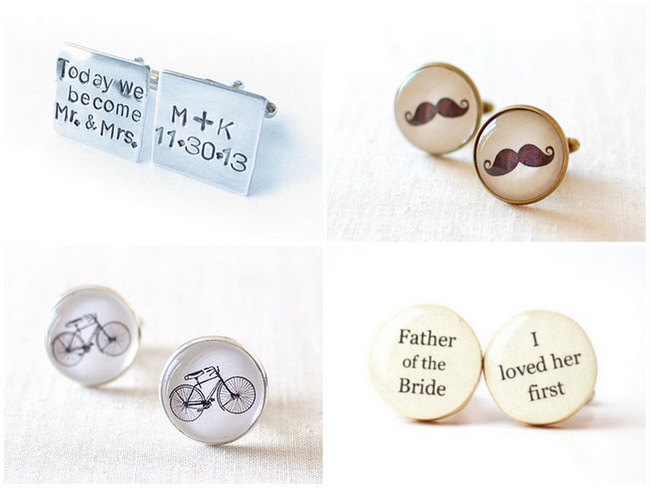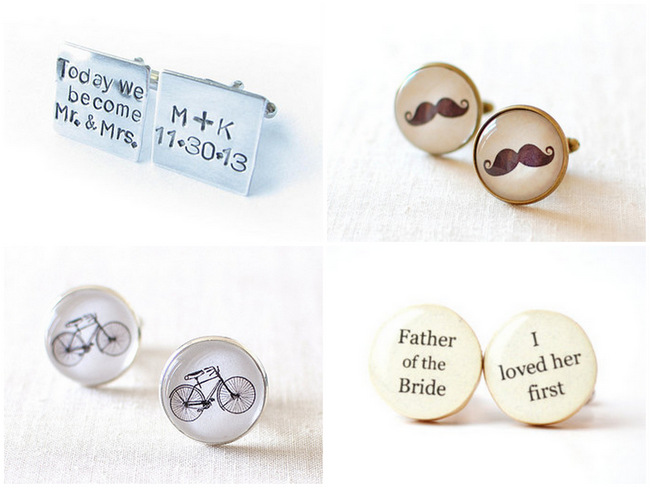 Looking for unique gift ideas for the groom, the groomsmen or dad? Then these 14 super fun, romantic & quirky wedding cuff link ideas are just what the doctor ordered! Whether it's romance and sentiment, sweet silliness or even goofy geekiness that you're after, you're bound to find cuff link inspiration for the all of the men in your life in today's feature. 
♥  If you fall in love with one of these cute vintage wedding cuff links and purchase something for the man in your life, you're helping support our blog. We'll get a small percentage of the sale for sharing them with you, which helps us pay the bills. Thank you! ♥
Cute Vintage Wedding Cuff Links for the Groom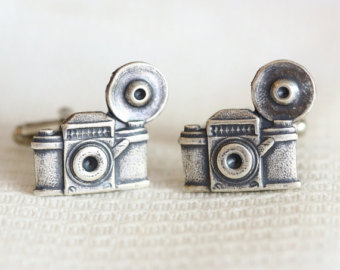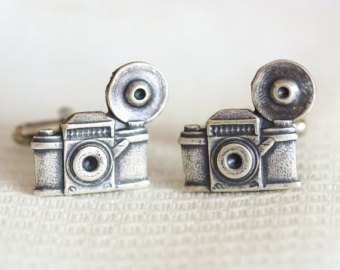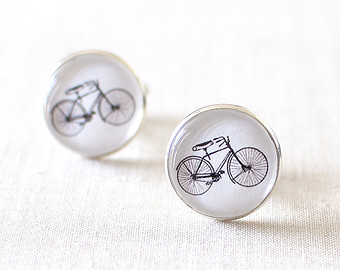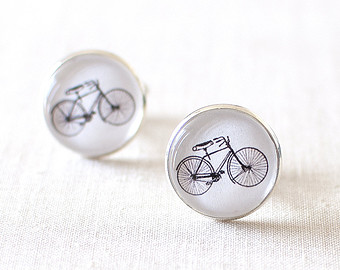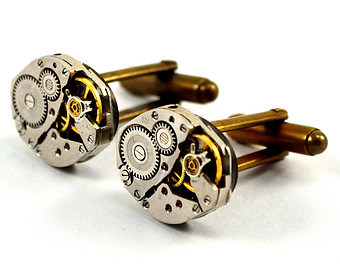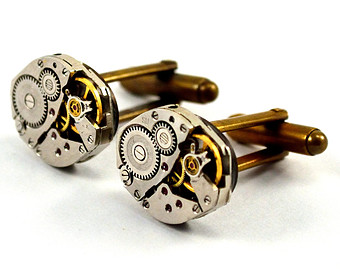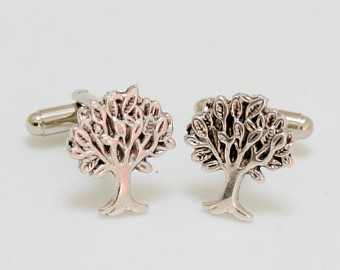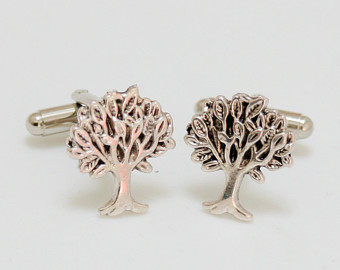 1. (Above: Top Row Left) Vintage Camera Cuff-links from Emma Gem Shop are the perfect pic for a vintage or retro themed wedding. // 2. (Above: Top Row Right) Vintage Bicycle Cufflinks from Juju Treasures are another fun option for a groom with retro style. // 3. (Above: Bottom Row Left) These amazingly detailed Antique Watch Wedding Cuff-links from Chancala are a match made in heaven for the steampunk-inspired celebration. // 4. (Above: Bottom Row Right) Plant the seeds of ever-growing love in your grooms heart when you gift hubby these Victorian-Style Tree Cuff links from Emma Gem Shop.
Romantic Wedding Cuff Links for the Groom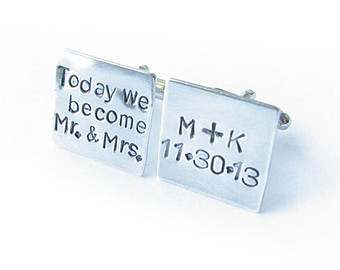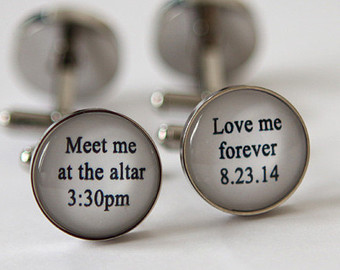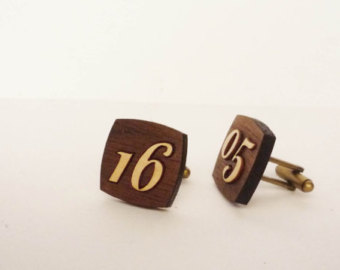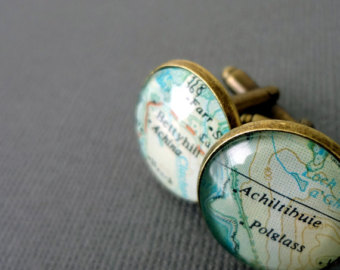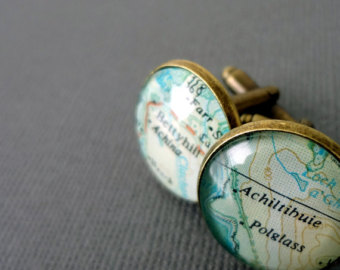 5. (Above: Top Row Left) These sweet Today We Become Mr & Mrs Romantic Wedding cufflinks from A Bella Gift can be customized with your initials and wedding date. // 6 (Above: Top Row Right) This cute personlized reminder for hubby-to-be to Meet At The Altar from Yaya DIY Club also makes a lovely little gift. //7. (Above: Bottom Row Left) Engrave your wedding date on these Laser Cut Maple Veneer Wedding Cuff links from Vector Cloud so that hubby can make sure he never forgets your anniversary date! // 8. (Above: Bottom Row Right) These Love Map Cuff links for the groom from Bookity are made to order and can display the place you first met, the spot he proposed or the location at which you both say "I do"!
Fun Cuff Link Ideas for Groomsmen Gifts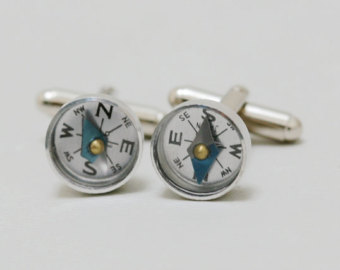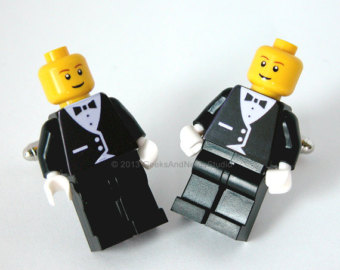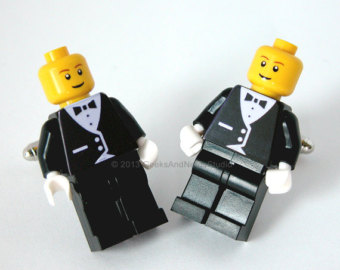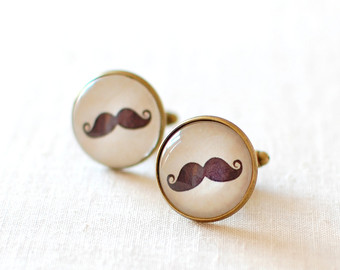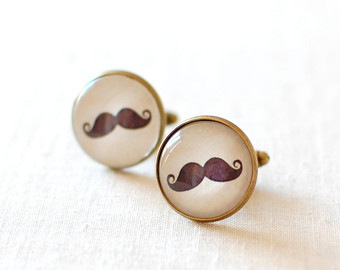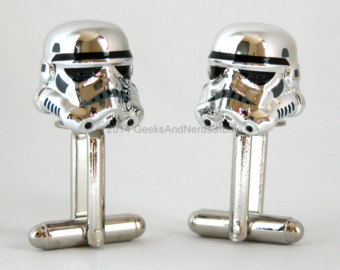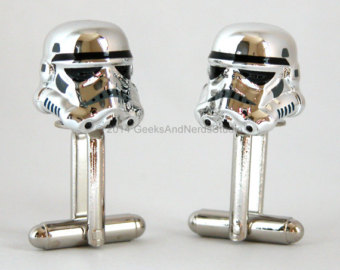 9. (Above: Top Row Left) Emma Gem Shop's Antique Style Compass Cufflinks make a quirky and quaint gifts for the guys. // 10. (Above: Top Row Right) Get your geek on with these totally nerdy Lego Bricks Tuxedo Groomsmen Cuff links from Geeks And Nerds Studio. // 11. For the Groom that Mustache his Groomsmen a question, these retro cool cuff links from Juju Treasures could certainly do the trick // 12. (Above: Bottom Row Right) Also from Geeks and Nerds studio, these rare Star Wars Chrome Stormtrooper Cuff-links will have your geeky guy or groomsmen giddy with glee!
Father of the Bride Wedding Cuff Link Ideas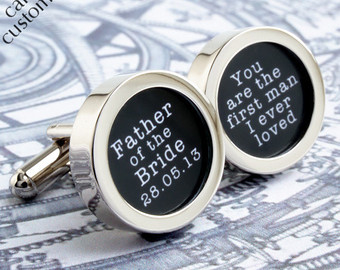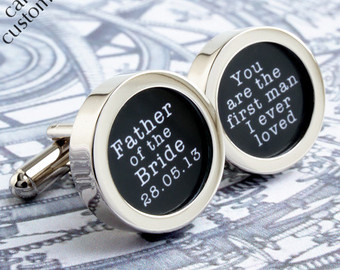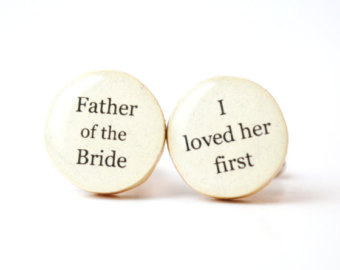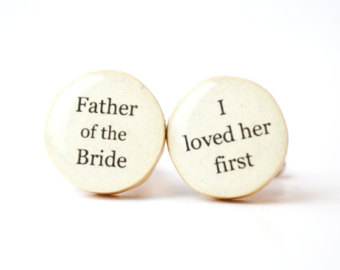 13. (Above Left) Remind dad that You Are The First Man I Ever Loved with these silver and black father-of-the-bride wedding cufflinks from Urban Eye. // 14. (Above Right) It's true, the father of the bride Loved Her First! Honour dad with these precious wooden wedding cufflinks from Starlight Woods which he can wear as he walks you down the aisle. //
PS: If you're looking for a bit of guidance on what it means to be a guy in the wedding party, give our features on traditional groomsmen duties and best man duties a read as a great starting point on what these roles could typically entail. Happy planning!