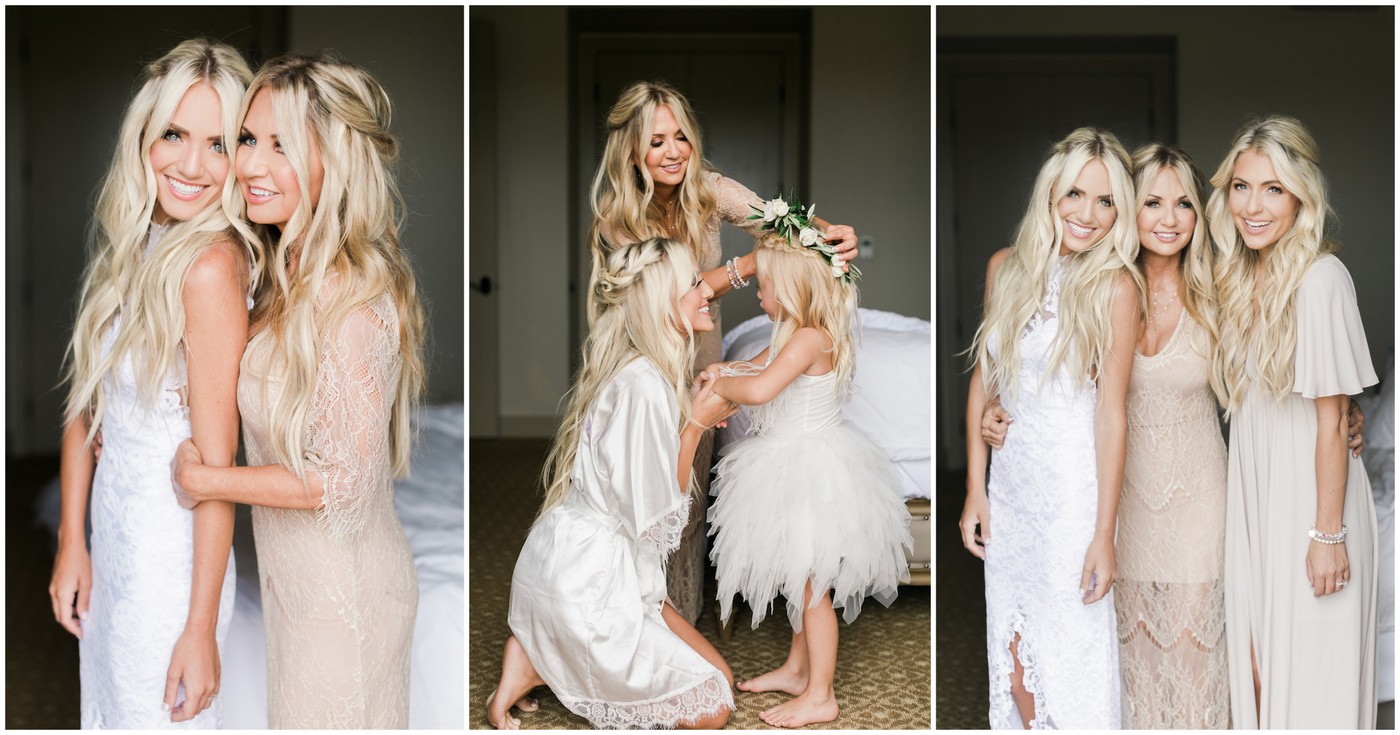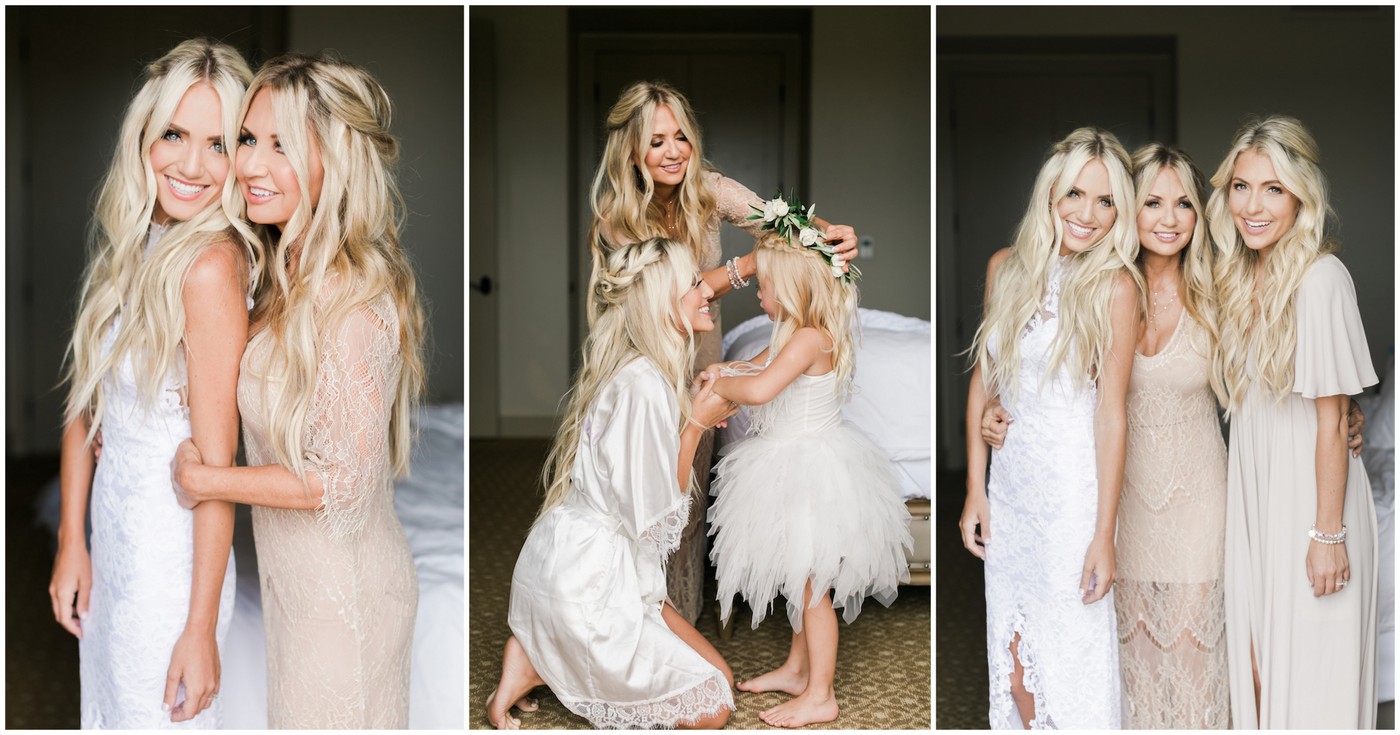 Looking for meaningful ways to include mom in your wedding day? We're on it!
There are lots of thoughtful ways you can honor your mom on your wedding day. From including a special item of clothing, to a honored walk down the aisle, to presenting your bouquet to mom instead of tossing it, we're here to help you find the perfect way to include your own (or your partner's) mom in your wedding celebrations.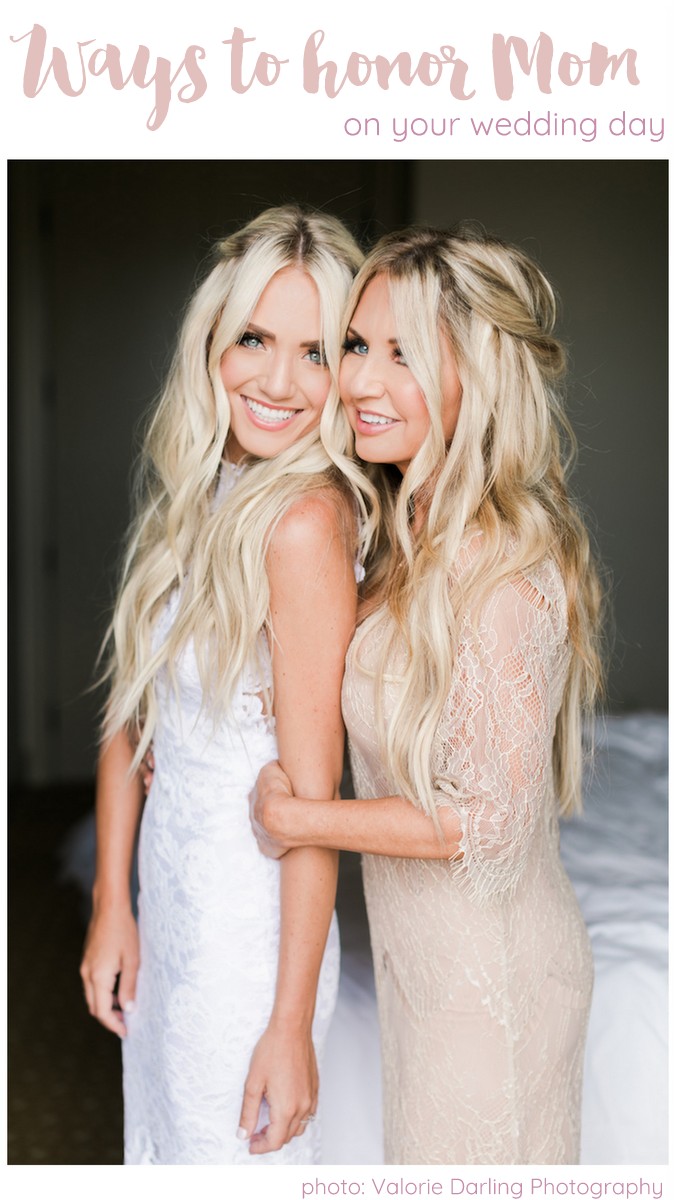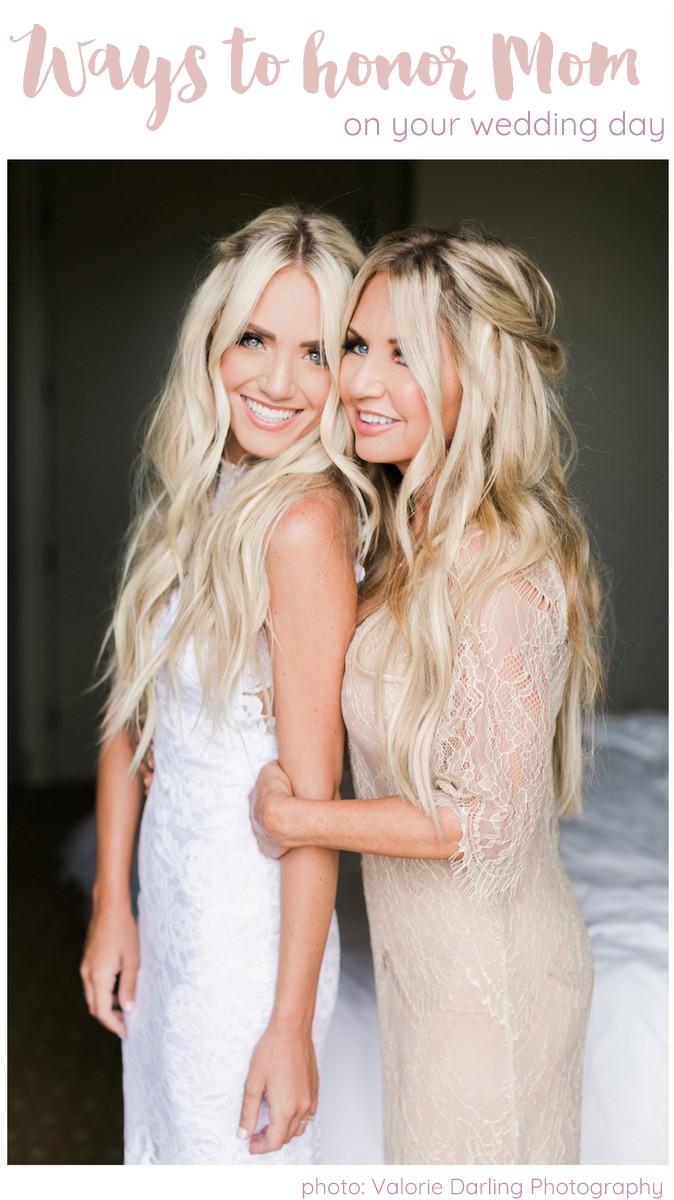 (Images by Valorie Darling Photography.)
Ways to Include Mom in Your Wedding Day
Present your bouquet to mom instead of tossing it to the crowd. "We always love to have our brides present their bouquet to their moms on their wedding day instead of throwing it for the bouquet toss," says Erica Trombetti of Infinite Events.
Wear her veil or earrings as a way to include mom on your wedding day. Whether it's redesigning mom's gown or wearing her veil, there are so many ways to honor her and it doubles as the perfect 'something borrowed', says Valorie Darling of Valorie Darling Photography. "It's those special traditions that make for sentimental, quiet moments in the day that you'll remember forever and turn into beautiful captures as well."
Sew a patch of her wedding gown fabric into the underside of your dress, or incorporate her beloved brooch into your bouquet, suggest the gals at Here comes the guide. "If she's no longer living, wear a locket with her picture inside and keep her close to your heart."
Have mom help you put on your dress, jewelry or veil."Having your mom help you put your dress on or your jewelry is always a sweet mother/daughter photo moment," says Kari Dirksen of Feathered Arrow. Let mom zip or button your gown, adjust your veil or tie your sash and soak in a private moment just the two of you before dad gets his first look, suggest Gina Jokilehto-Schigel of Shi Shi Events. "Your bridesmaids get a lot of glory later in the day," adds Vanessa Vierra of Vanessa Noel Events. "Reserve a moment before you get dressed to let her be the one to zip you into your gown."
For guys, let your mom pin your boutonniere on your suit. This is a special moment the two of you can have before everything starts and makes mom feel special, says Kari Dirksen of Feathered Arrow.
Exchange letters of love. "I love when brides and grooms write their moms heartfelt, handwritten notes and deliver them on the morning of the wedding day," says Tyler Speier of Tyler Speier Events. You can also have her write a letter to you before the wedding suggests Ramona Southard, Co-Owner, Love & Lace Bridal: "You write one to her, too, (kind of the way a lot of bride and grooms do for each other), then spend a bit of time reading them to each other before you get ready." In your letter, tell her how much she means to you and in what ways you look up to her as a wife and how you would like to be like her in your marriage, suggests Ramona. What a beautiful way to include mom on your wedding day!
Go through pictures of her wedding day together on the day. "Another memorable way to include mom in your wedding day is to have her bring pictures from her wedding," continues Ramona Southard. Spend 10-15 minutes prior to getting ready going through those and have her reminisce on that day with you.
Give mom a special gift or piece of jewelry to wear on the wedding day. This not only makes them feel extra special on the day of the wedding, but then gives them a timeless piece they can wear in the future and remember your special day, says Tyler Speier. Of course, it doesn't have to be jewelry. "The gift can be something super small and inexpensive,"says Ramona Southard."It is truly the thought that counts. Moms know how hectic and crazy wedding planning is, and the fact that you took the time to think about her during this process will means SO much to her!"
Treat her to hair and make up. Treat her like the queen that she is by including her in the pre-wedding fun. "Pay for her to get her hair and makeup professionally done," suggests the team at Here Comes The Guide. "And don't forget the free-flowing mimosas!"
Enlist Mom As A Behind-The-Scenes Photographer. When your mother has some "down time", ask her to snap some extra candid shots with a photo-sharing app like Ceremony. "She's going to have a different eye than anyone else (probably knows all of your smiles) and can help you collect even more special moments," says Lesley Smith of Ceremony App.
Choose flower arrangements together, or include mom's fave blooms. Deciding on your wedding flowers can be tough, especially when there are so many beautiful flowers to choose from, says Liza Roeser Atwood, CEO of FiftyFlowers.com. "Your mom can surely help with the decision making. This would be great opportunity to incorporate her favorite flower into your bouquet. It's important to make your mother feel included not only the day of but prior to your wedding too. This means inviting your mom in some floral arranging fun!" It's great opportunity to spend quality time together while creating the perfect floral arrangements for your big day!
Give a special shout to your mom in the ceremony programs. A special message of thanks and gratitude is a lovely way to include mom on your wedding day, suggests Kristy Rice of Momental Designs.
Take a walk down the aisle together! This isn't just a job for dads! "Embrace the girl power and honor your mother by asking her to walk you down the aisle," suggests Here Comes The Guide. "We especially love this idea for strong, single mothers who took on the role of both mom and dad when you were young."
Have a special sign made and adorn it with flowers for mom at reception. Honor your moms with special signage made for the Mother of the Bride and Mother of the Groom, says Kristy Rice. "Draw special attention with beautifully designed signs on their chairs, even adorned with flowers, to make the ladies who raised you feel honored on your wedding day!"
Give her a special place by your side. If you consider your mom to be your best friend, why not give her that special place by your side? "No reason to leave her weeping in the front row when she can take centerstage, hold your bouquet…and, okay, maybe weep a little in front of the crowd," says Here Comes The Guide. "Be sure to ask her in a special way, like gifting her with a beautiful hankie that says, 'To dry your eyes while you stand by my side'."
Make a toast to your mom at the reception. After all she's done to raise you right, she deserves a shout-out!
Share a special dance with your mom. It can be to a song with special meaning from your childhood, one you belt out in the car together, or one that brings on the dance party. "She'll love sharing that moment spent with you; be it sweet, silly, or in full groove,"says Gina Jokilehto-Schigel. Vanessa Vierra agrees, suggesting you pick a special girl power song to dedicate to your mom!
Ask her to speak during your ceremony. You don't want to make your mom work too hard on your wedding day, but an easy way for herto get involved is by asking her to speak during the ceremony, says Here Comes The Guide. "Whether it's a meaningful poem, a scripture, or an excerpt from a book she used to read to you as a kid, it's a heartfelt—and relatively stress-free—way to include her.Make her cry… in a good way! Write your mom a sincere, handwritten note for her to read before the day begins."
How are you planning to include mom on your wedding day? Let us know in the comments at the bottom of this post and check out more of our helpful wedding planning advice below.
More to read: