Flaunt that Vintage Beauty: 1920s to 1950s
With beauty groomed to absolute perfection, this season's vintage-inspired look leans toward the roaring twenties, sweetheart forties and fab fifties inspired by the remake of The Great Gatsby, the success of the TV series, Boardwalk Empire and the like.
Although inspired by the trends of yesteryear, global vintage artists reveal their latest make-up and hair tricks, which any bride can replicate for a modern-day vintage-inspired bridal look. Building upon our 15 Steps to Achieving the Perfect 1920′s /1930′s Vintage Bridal Look feature, refer to more top vintage beauty tips below!
Vintage Bridal Make Up Tips from the 1920s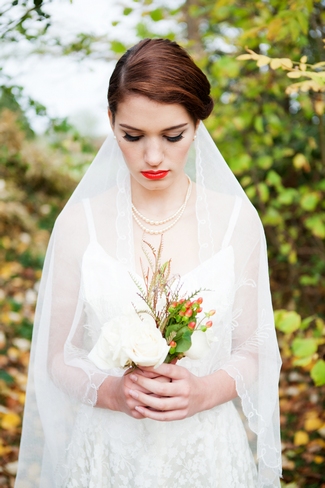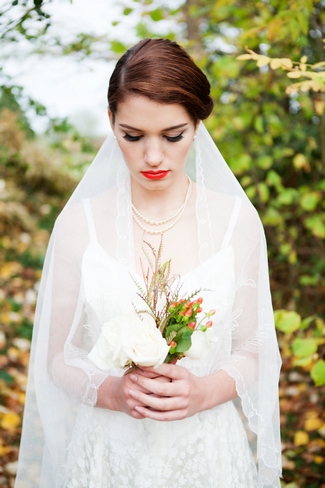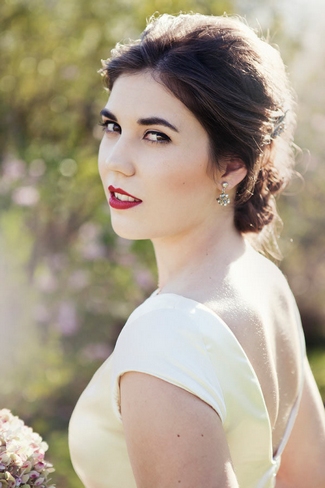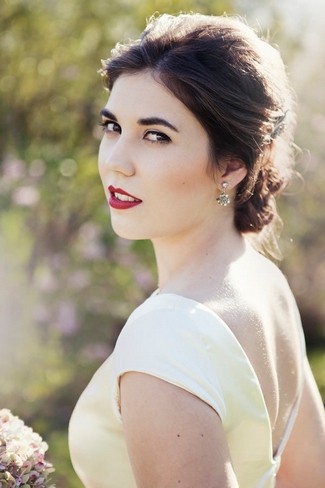 Shot by:
(Above Left) 
Fluttery Lashes & Red Lip Bridal Look by Miss Sanni Mai, Shot by
Lucy Stendall Photography
|
(Above Right)
 1920's-30's Vintage Bridal Look styled by Erane Groenewald, shot by
Moira West
Sheer 'n Sheen
Applying make-up in sheer layers and adding a bit of sheen

can help to instantly achieve a modern take on classic vintage beauty, says

 Sanni Sorma, from Miss Sanni Mai's Makeup in Paris, France. 
Luscious Lashes
Enhance the windows to your soul with a pair of well-chosen fake lashes, which can instantly change your eye shape to achieve the wide-eyed look of the 1920's, advises Sanni from Miss Sanni Mai's Makeup.
Accentuate a kitten eye liner with some clever lash placement for a 1950's flick for the Fifties look, adds Sanni.
Red Hot and Pastel Pale 
Darker, plum or cherry-coloured lipstick and nails combined with strong eyes are a key bridal vintage look this season, says Ariana Marcantonio and Emma Dixon from Miss Dixiebelle Vintage Hair and Beauty Parlour, UK. As seen worn by Kirsten Stewart and part of Kate Moss's new matte lipstick range, 'oxblood' is the colour to be used on lips, agrees Phil Mowat, from Beauty Call, in London, UK. 
Natural and earthy colours can be used as well, adds Nadia Greeff, from Nadia Greeff Make-up Art, in Cape Town, South Africa. Although these dark plums and dramatic eye liner are popular right now, by mid-2013, Sanni predicts that the stronger liner and pastel lips of the 1960's will be brought to the forefront.
Vintage Bridal Hair Tips from the 1920s-50s
Buns and plaits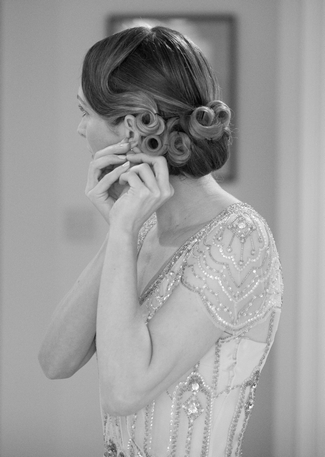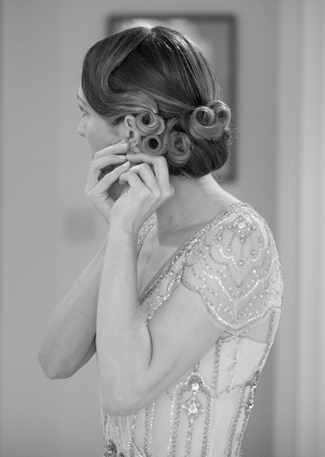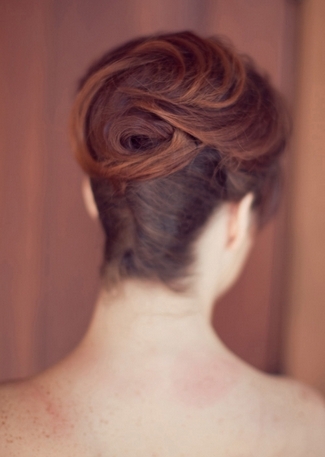 Shot by:
(Above Left)
1930's-inspired Hair Bun by Lipstick and Curls shot by
Vicky Dawe
|
(Above Right)
1950's Vintage French Twist Updo by Hair Comes the Bride by
Ashley Turner Photography
Soft waves framing the face typical of the 1920's and 1930's are in demand this season, according to Amanda Moorhouse, from Lipstick & Curls, UK.
A shapely bun positioned at the back of the hair can be added, says  Amanda from Lipstick & Curls.
A side swept bun or plait are very in at the moment, suggests Nadia from Nadia Greeff Make-up Art.
Victory Rolls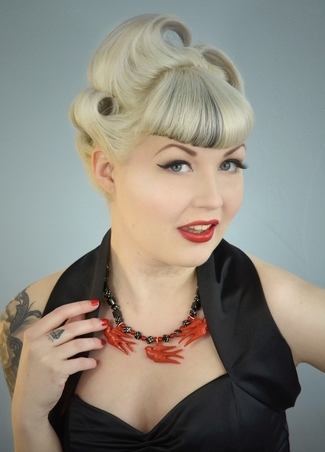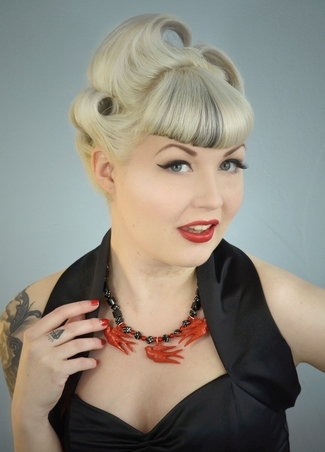 Shot by:
(Above Left)
Big rockabilly Victory Rolls with faux Bettie Bangs styled by 
The Vintage Salon
 shot by
LeKuex Events
Hair rolls and sexy waves known as Victory Rolls during the 1940's and widely adopted by celebrities nowadays ala Veronica Lake and Dita Von Teese, can easily be adopted and given a modern edge for super glamorous wedding day results, shares Natasha Hall, from Pretty Me Vintage, UK.
We also love these Victory Rolls styled by Miss Dixiebelle Vintage Hair and Beauty Parlour
Headpieces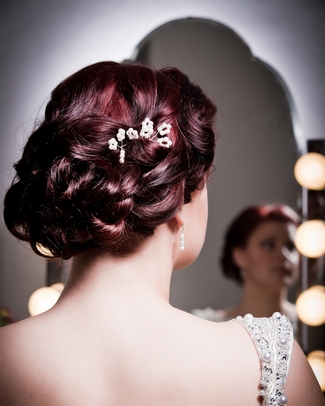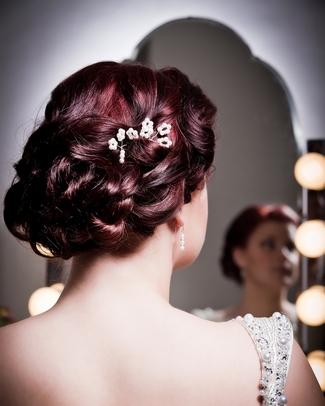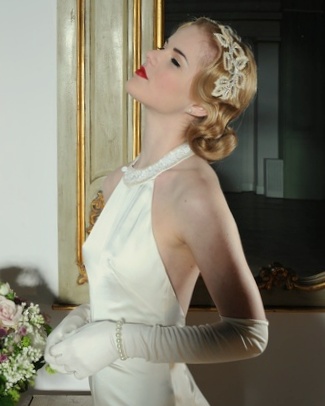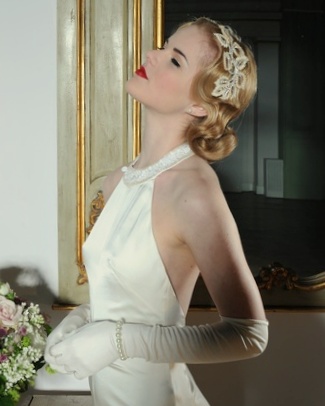 Shot by:
(Above Left)
1920's-30's Rolled up ponytail updo styled by Beauty Call, shot by
David Price Photography
 |
(Above Right)
  Vintage updo with headpiece styled by Pretty Me Vintage for  
Sanyukta Shrestha
Floral and beaded pieces and basically anything that looks like it could have come out of your grandmother's jewellery box, are the most popular for the 1920's and 1930's look – Hair Comes the Bride,  USA
Keep an eye out for Antique jewellery that can be redesigned and fashioned into fantastic hair adornments, which work beautifully with vintage styles – Lipstick & Curls, UK
Opt for a 1940's-style hat with veil or dark-coloured hair flowers to complement the dramatic and vampy-vintage look – Miss Dixiebelle Vintage Hair and Beauty Parlour,  UK
Add a 1920's glittery hair band or a band with a little bow to your hair and voila – vintage! – Pretty Me Vintage, UK
Create a special hair piece for each of your bridesmaids as a gift – Erané Groenewald, South Africa. Click to tweet!
Tropical hair flowers such as Hibiscus' and Lilies are really popular for achieving the vintage look – The Vintage Salon, UK
For more vintage bridal tips, read the full article and enjoy 88 pages of vintage bridal tips in the Confetti Daydreams Vintage Wedding Guide and Bridal Mag!
[ois skin="Directory Pages Guide Promo"]