Tales of the Jazz Age Wedding Dress First Look ♥
The time for the official release of adored Galia Lahav's Tales of the Jazz Age collection is here! The much anticipated collection has been teasing us ever since its preview on the runways of New York's famous Bridal Fashion Week and this ridiculously stunning exclusive editorial by Brittany Berggren. And so our obsession with Galia Lahav continues!
Galia Lahav, who has taken the bridal scene by storm with her signature backless bridal gowns, and has dressed celebrities such as Giuliana Rancic, brings us a collection of new bridal trends steeped in lavish lace and luxurious embellishments. In pursuing her vision, Galia indulges in new elegant and daring designs, recreating the glorious style of this time period. With musical inspirations giving light to the new age of Jazz, Charleston and the speakeasy night scene, the collection is a glimpse of its radiating culture. Through a variety of new patterns, Galia gives you past, present and future as she includes intricate hand beaded fabrics, divine pearls, ivory lace and glistening crystals.
"In the 1920's, women ventured outside of traditional norms and adopted a new eclectic fashion," shares Galia. "This is a unique historical period in which gowns become a visual celebration of political reform. The roaring 1920's portrayed a notion of abundance and liberation from earlier restrictions."
Galia Lahav's Katharina Backless Wedding Dress
An absolute show stopper, the Katharina gown from Galia Lahav's Tales of the Jazz Age 2015 collection is AMAZING! Entirely embroidered in silver glass beads with an art deco geometric pattern, the dress has a front detail of lace paneling and a v-shaped back with graphic ivory lace details. It is a masterpiece of a dress with a train which is fully embroidered at the edges.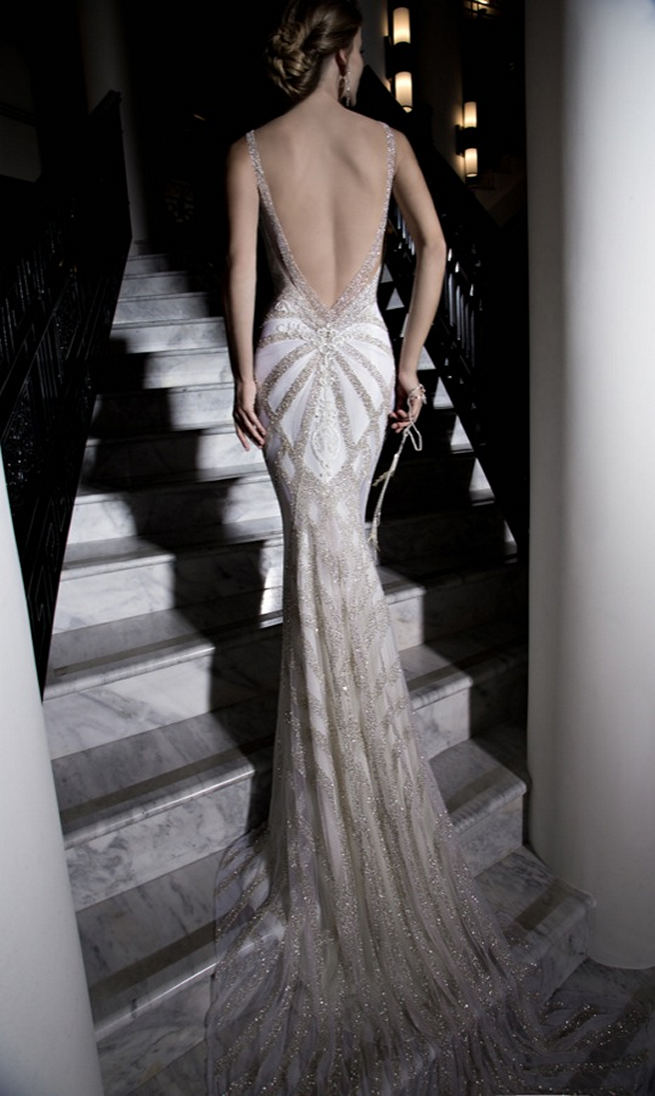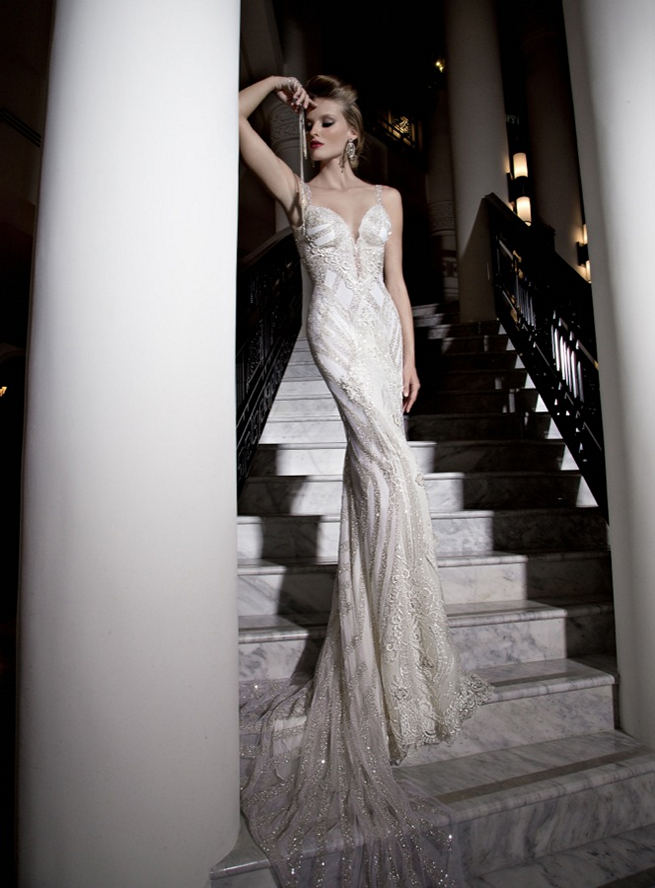 Galia Lahav's Backless Loretta Wedding Dress
Next up is Galia Lahava's new Loretta gown whose extravagant tulle skirt and detachable train simply exude glamor. The dress is coloured in a subtle combination of blush and ivory with a bodice made of crochet ivory and embroidered antique lace. The gown is embellished with pearls and crystals. The seductive back is low and has a sheer illusion tulle for support. Yummy!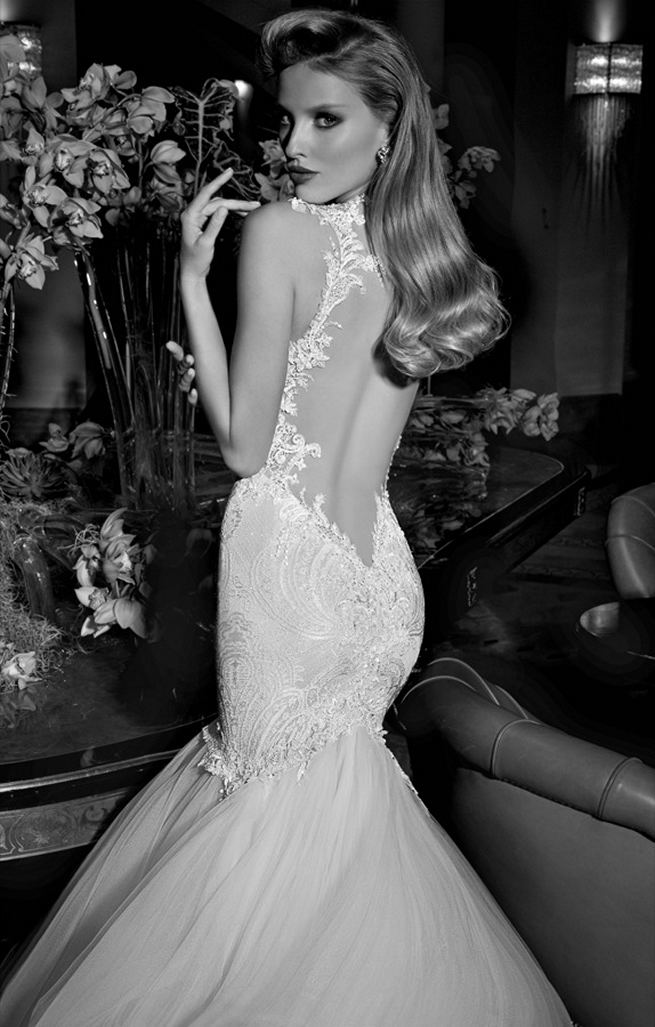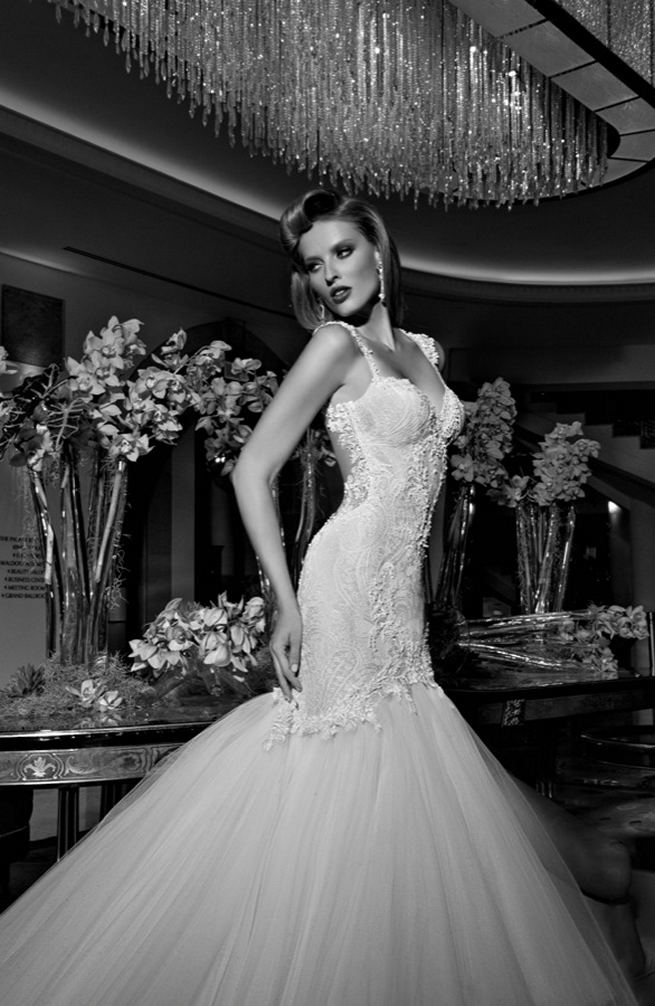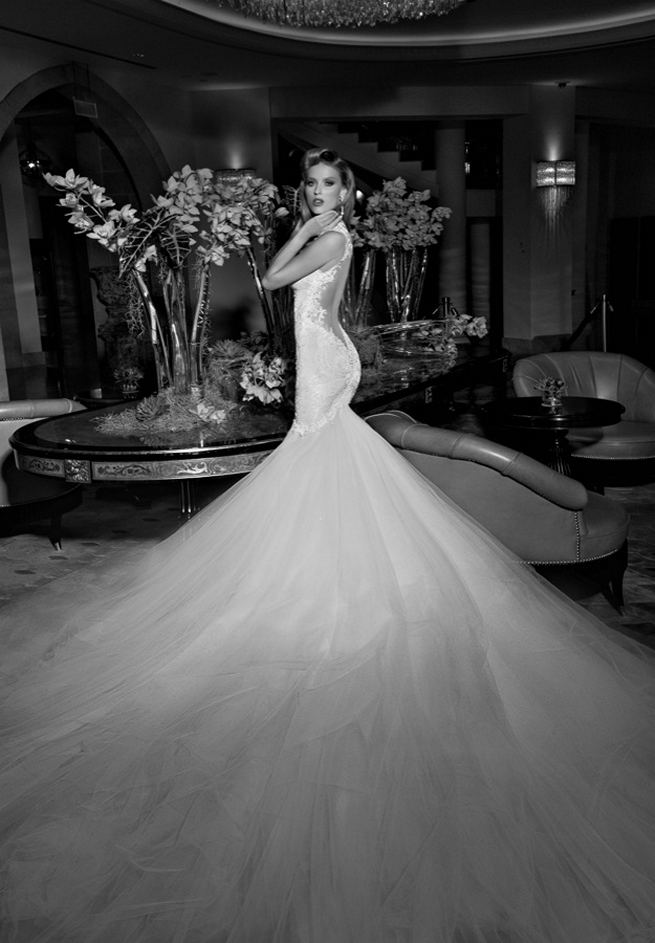 Galia Lahava's 2015 Lana Bridal Gown
The lovely Lana gown from the Tales of the Jazz age collection premier blush colored with striking sheer detailing at the bottom half. The top of the gown is entirely embroidered in ivory crochet with sandstone pearls and sequins. The back of the gown has a very deep low cut and has a nude illusion with an embroidered drape sash. The skirt is a melange of ivory and dusted rose tulle. See more of this gown in this gorgeous styled shoot exclusive to Confetti Daydreams. It's really something else and we love!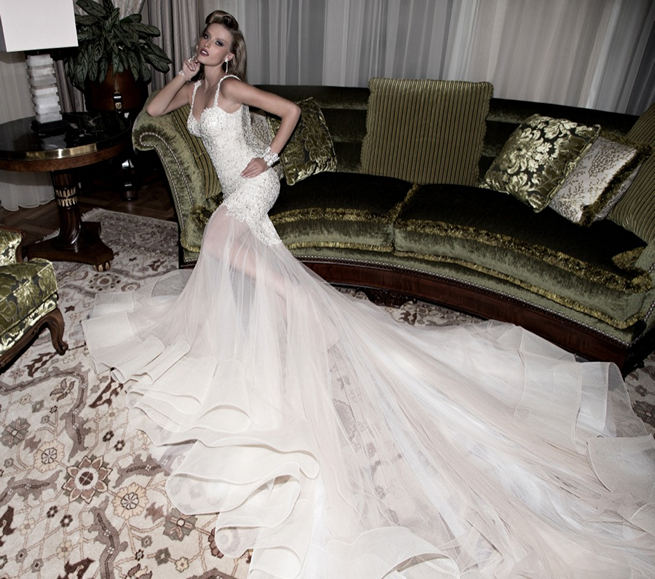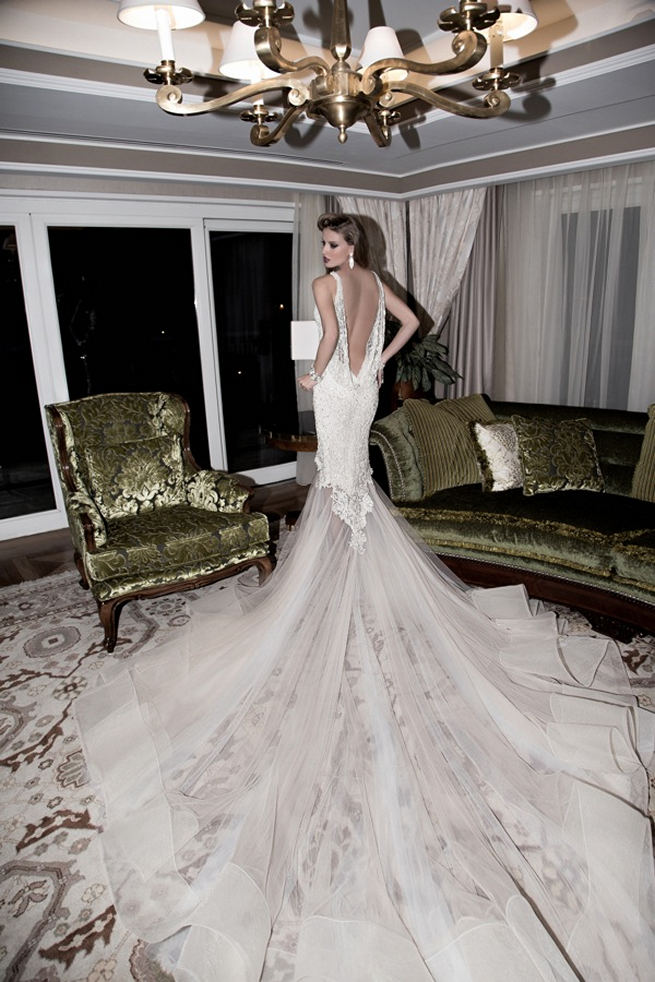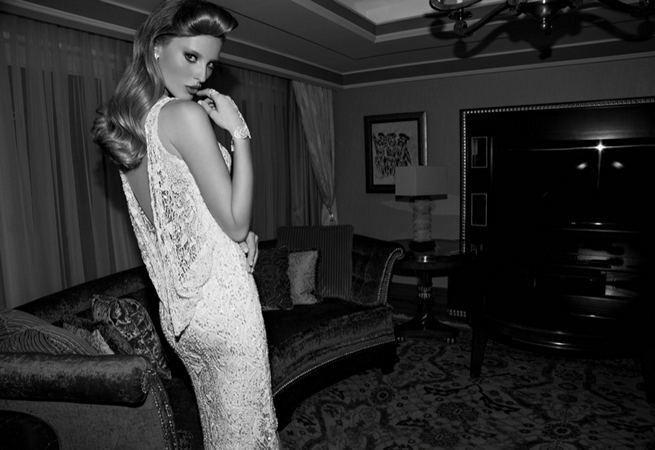 Galia Lahav's Greta Garbo Gown – Tales of the Jazz Age
The Greta Garbo wedding dress is an art deco gown with blush and ivory details, embroidered with organic art deco motifs and sparkly sheer back detail. Along the multi-layered silk tulle train of the gown are large medallions of embroidered gems, eye catching iridescent sequins and gorgeous pearls. The skirt of the gown is finished in a ruffled bi-colored silk tulle.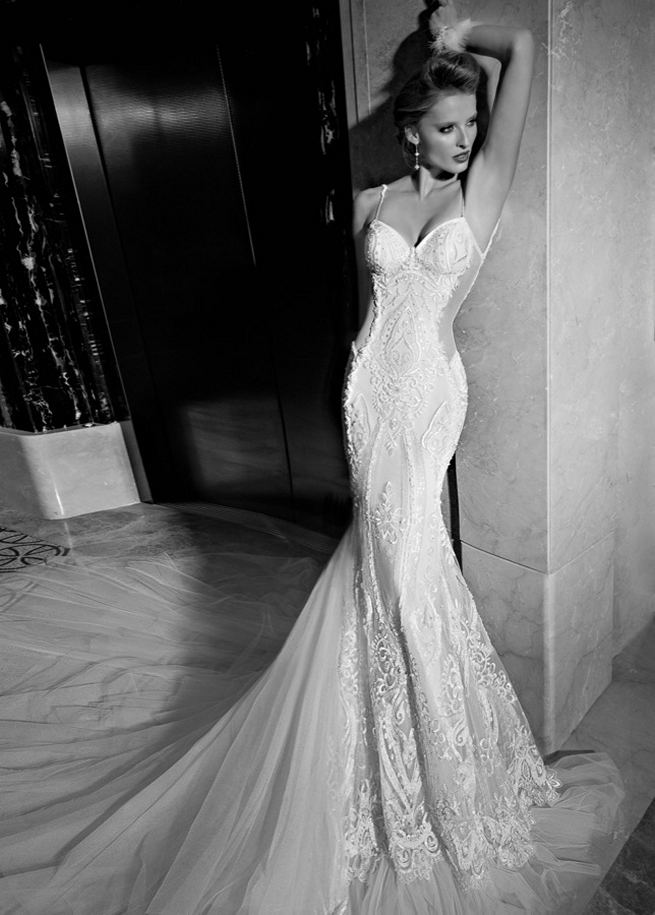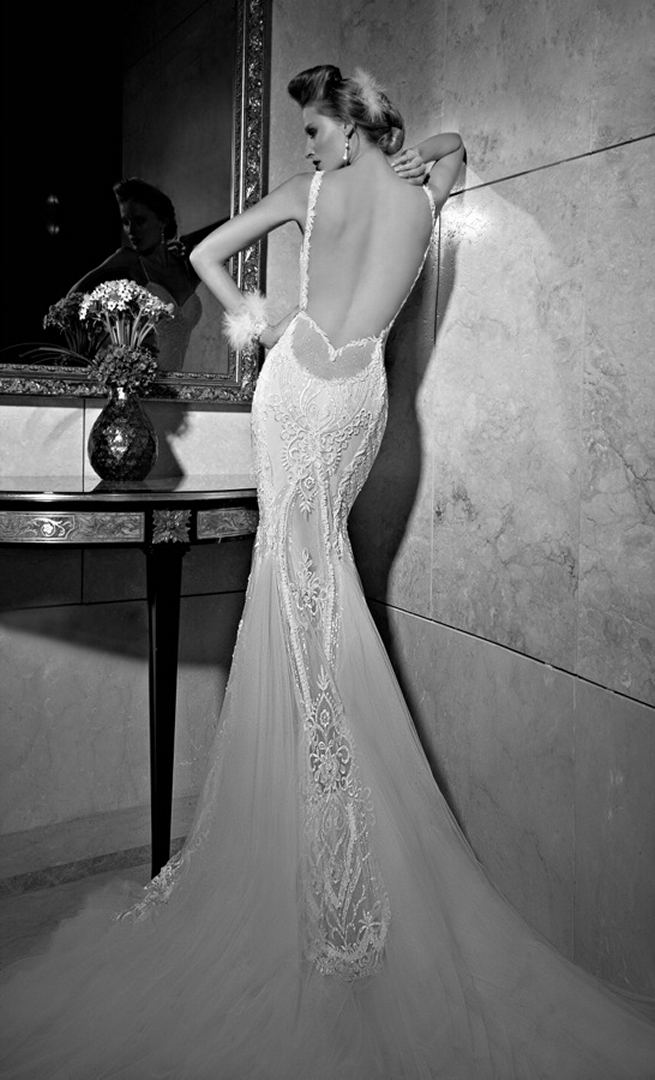 Tales of the Jazz Age: Joyce Wedding Dress
Galia Lahav's Joyce wedding dress from the 2015 Tales of the Jazz Age collection is a strapless and sheer sided art deco dress with a bejeweled top that will take your breath away. The net fabric is fully embroidered with structural art deco motifs while the rest of the gown is finely cut with glistening sides and iridescent irregular faceted stones. The piece comes complete with a exquisite removable bejeweled necklace made of metallic mesh and crystal beaded rhodium strands that is just plain fabulous! See more of this gown in this gorgeous styled shoot exclusive to Confetti Daydreams.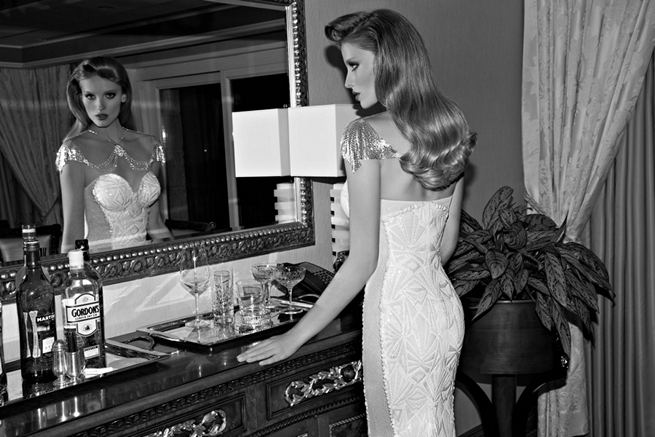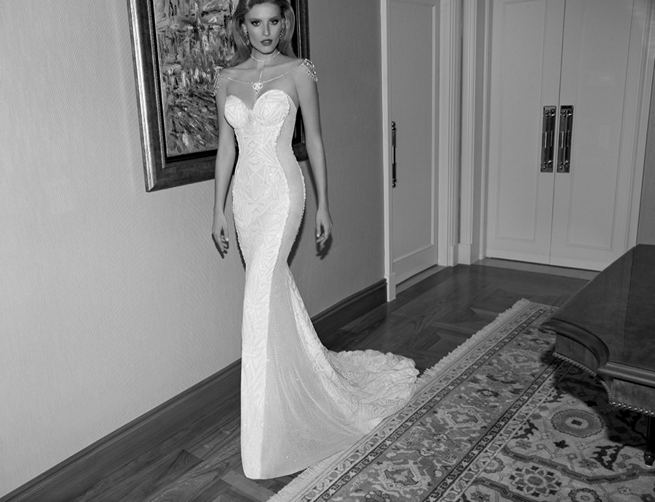 Galia Lahav Madison Bridal Gown
Galia Lahav's Madison wedding dress is a classic mermaid style gown with glamorous embroidered lace and one heck of a dramatic, ruffled train from layers and layers (and did we mention LAYERS) of delicious tulle and vintage lace! The back falls low din signature Galia Lahav style demonstrating a heart shape with accents of lace appliques and crystal multi-faceted gems. The front is a sweetheart shape and a marriage of two embroidered laces. The sides of the gown are layered with a sheer glittering fabric under an embroidered lace.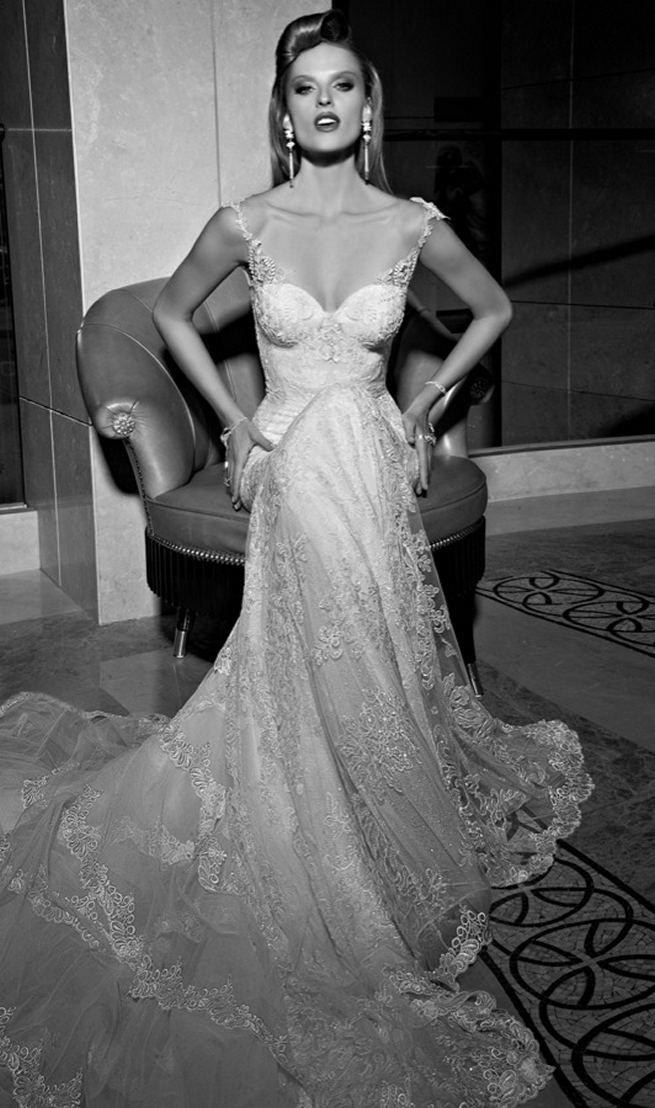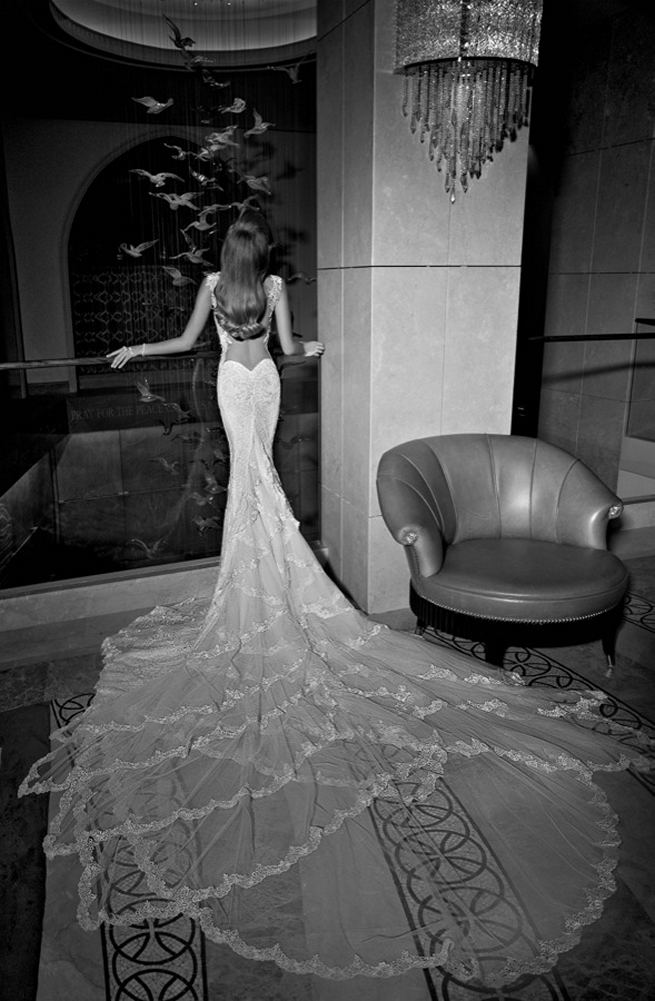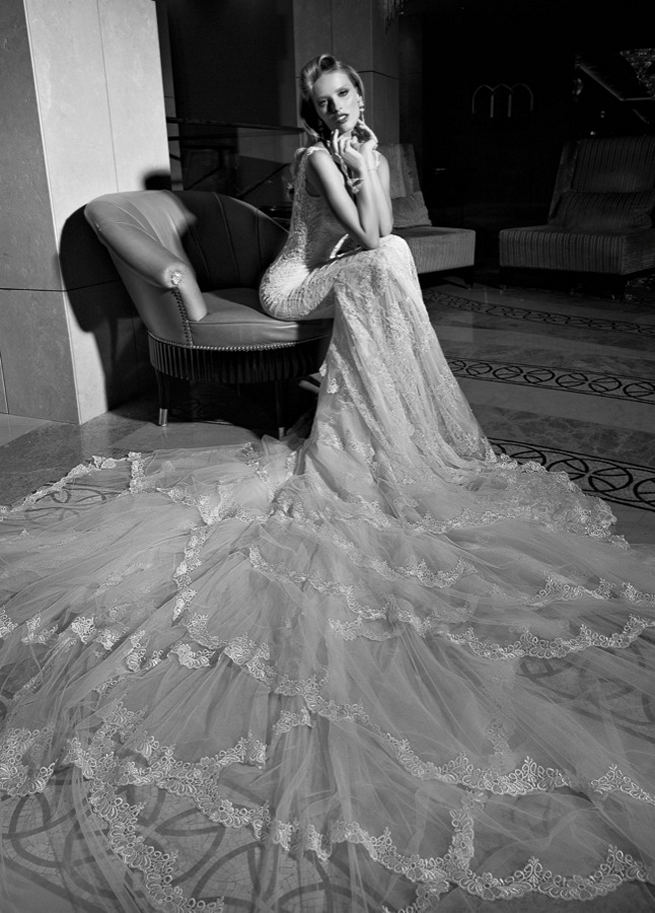 Galia Lahav's Glittering Norma Wedding Dress
Galia Lahav's glittering and oh-so-glam Norma gown is knitted from stretch ivory lace. Rich in lace fabric, the dress is layered over shimmering net and nude lycra. The back of the dress is bare with a glittering sheer plunging detail. The sides are cut-outs of sheer glittering net. The sides, straps, cleavage and back are all accentuated with hand embroidered ivory trims honey pearls.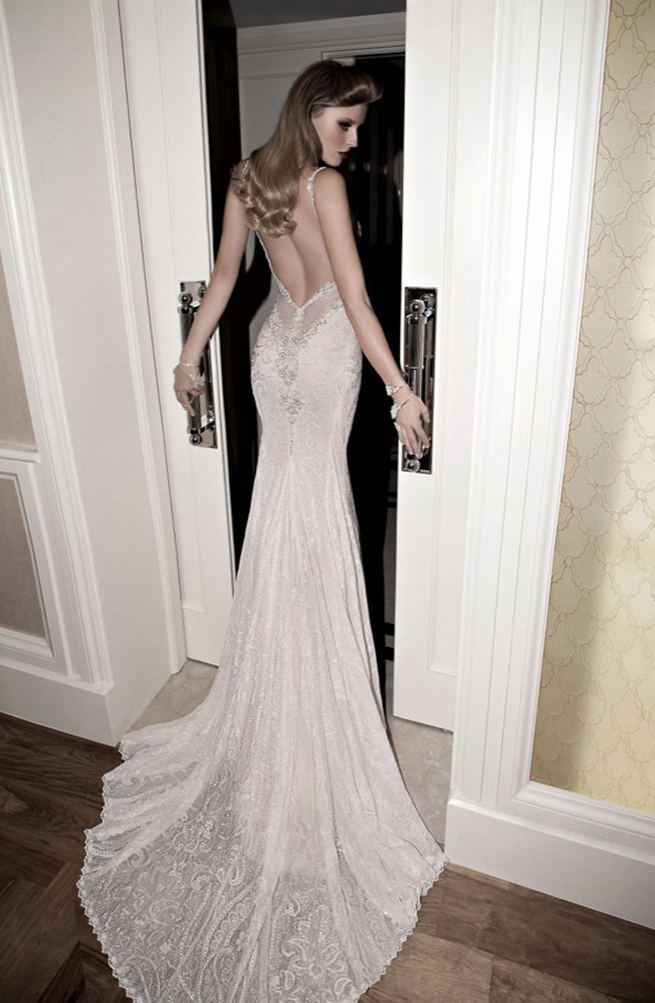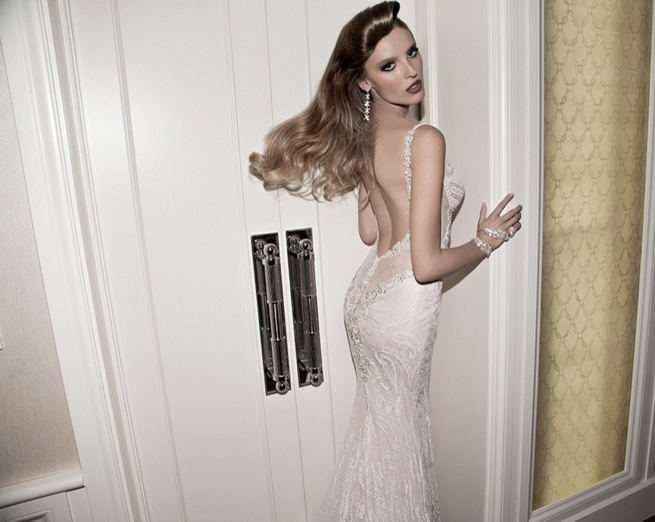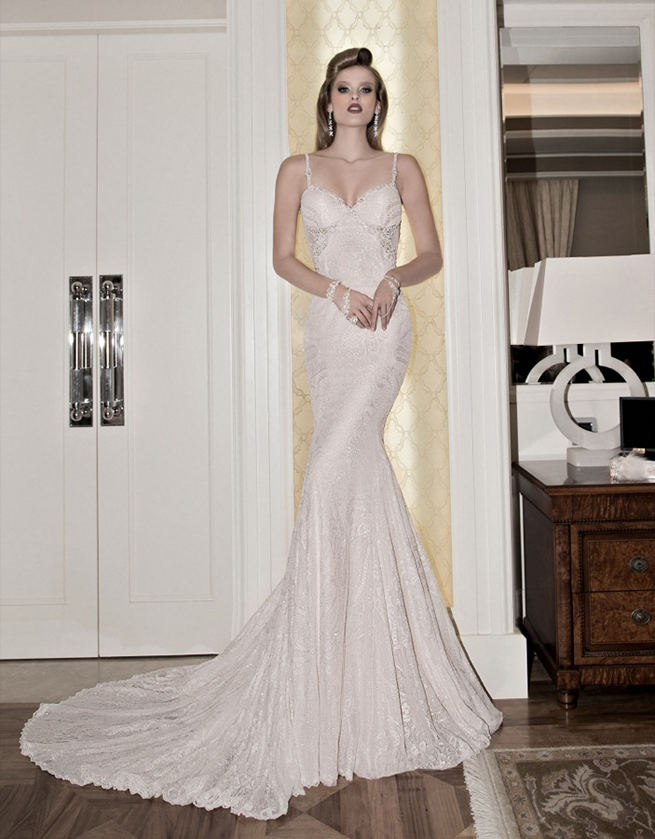 Stockists and Trunk Shows
Okay, now that you're just as desperate as we are to spend your days parading about in Galia Lahav, you'll want to know where to get your hands on these fabulous gowns! For a full list of Galia Lahav stockists across the US, Europe and Asia, take a look here.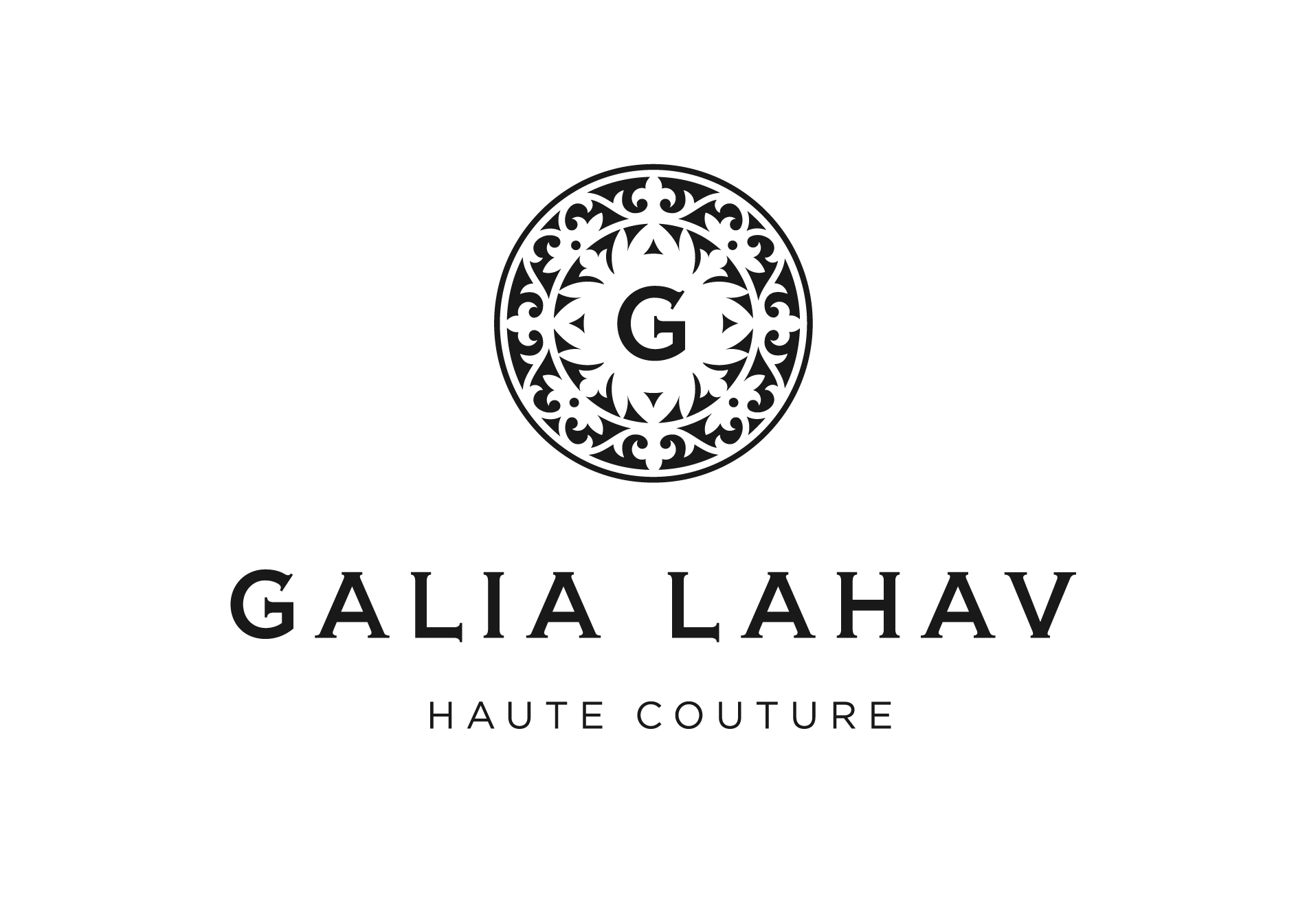 If you'd love to attend a Galia Lahav trunk show in Jan, here's where you should be:
Colorado:
Fri, Jan 2nd – Sun, Jan 4th, at Little White Dress
Northern California:
Fri, Jan 9th – Sun, Jan 11th at Kinsley James Couture Bridal
Switzerland:
Thu, Jan 15th – Sat, Jan 17th at Zoro Sposa
Greece:
Thu, Jan 15th – The, Jan 20th at B Boutique
Beverly Hills
Fri, Jan 23rd – Sun, Jan 25th at Panache Bridal
Sicily, Italy
Fri, Jan 23rd – Sun, Jan 25th at Rebecca La Sposa
Piacenza, Italy
Thu, Jan 29th – Sat, Jan 31st at Rebecca La Sposa
Florida
Thu, Jan 29th – Sat, Jan 31st at Boca Raton

But until then, join us for a little Galia Lahav swoonfest as we take another peek at some of these exclusive fashion editorials showcasing some of our fave Galia gowns featured on Confetti Daydreams.
♥ ♥ ♥ CREDITS ♥ ♥ ♥
Gowns: Galia Lahav // Images Courtesy of designer