Charleston Charm & Southern Love
Megan and Robbie's Southern style destination wedding at the Pavilion at Pepper Plantation was filled with all the signature Southern flair one expects from Charleston, complete with burlap and lace, sweet tea, and of course the Charleston classic, shrimp and grits!  Jeanne Mitchum Photography was there to capture each loving detail.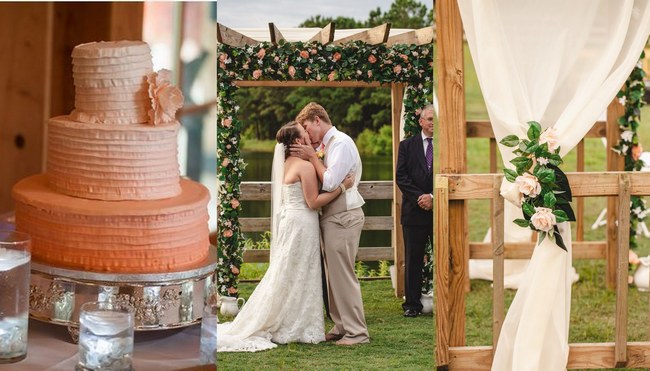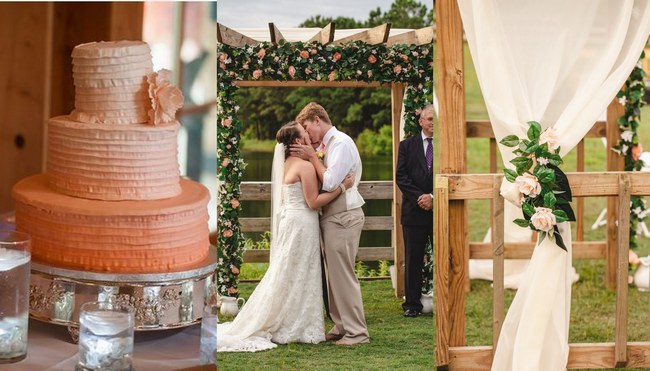 Southern Wedding Bridal Look 
Megan wore an elegant full length lace gown, embellished with delicate beading across the gown's sweetheart neckline. Her hair was swept up and kept away from her face with a graceful side braid, finished off with a sweet floral pin at the back.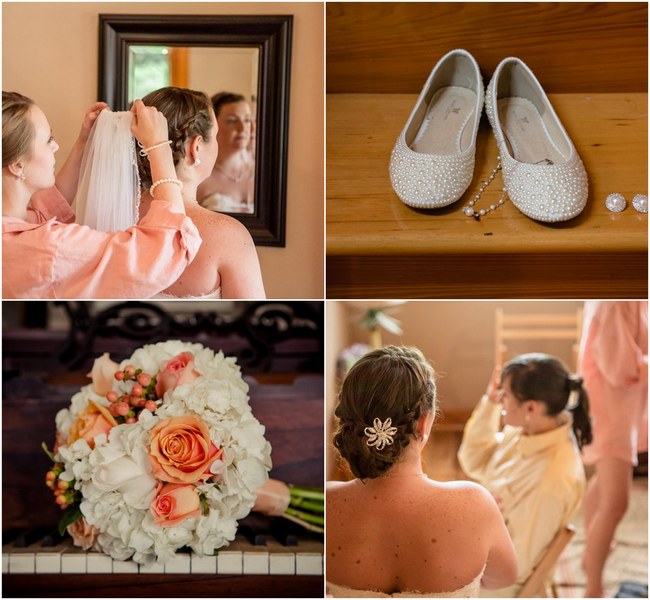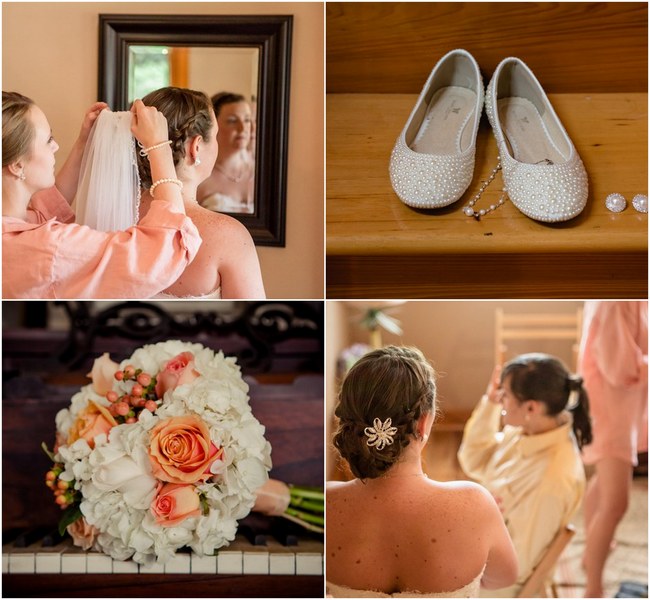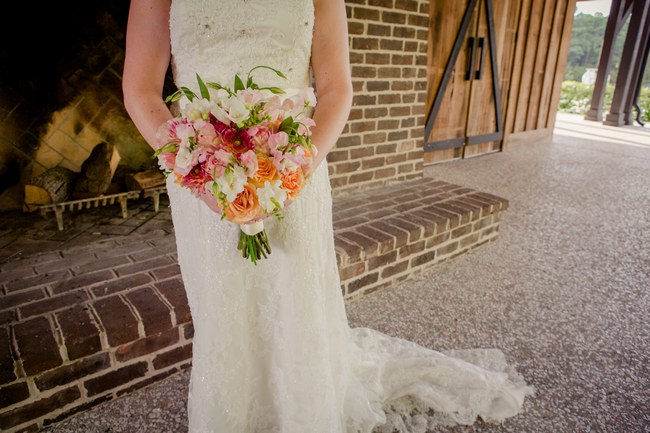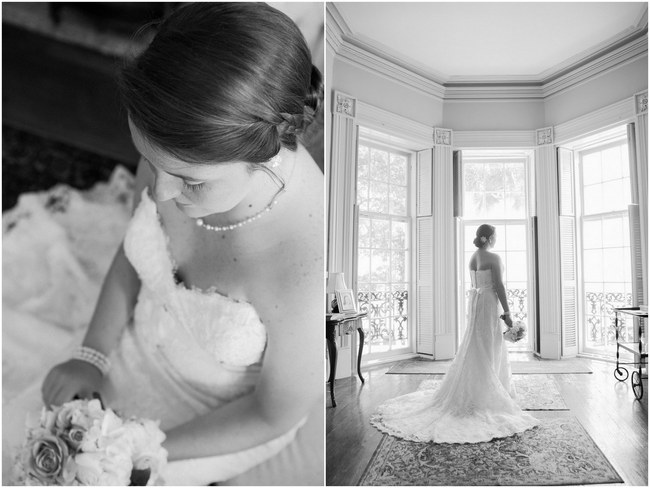 Robbie and Megan's Southern Romance:

Megan shares how the pair met: We met at a scholarship audition at Charleston Southern University in Charleston, South Carolina, in the summer of 2010. Though we didn't hit it off right away, we continually worked to develop a friendship which evolved into a relationship four months later. Both aware from the start that God specifically made us for each other, we waited until our sophomore year of college to get engaged and start planning the wedding for a year and a half down the road, July 20, 2013.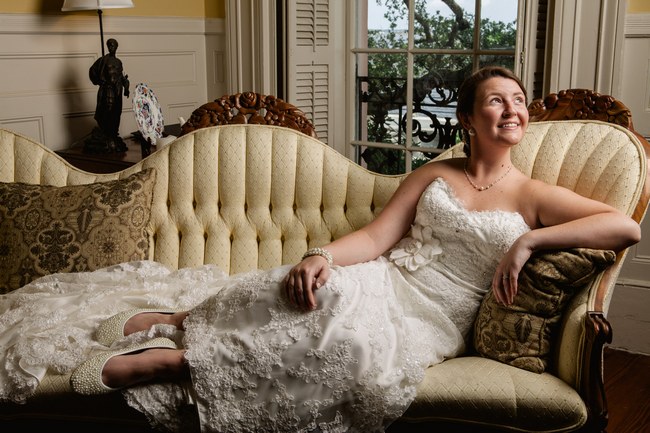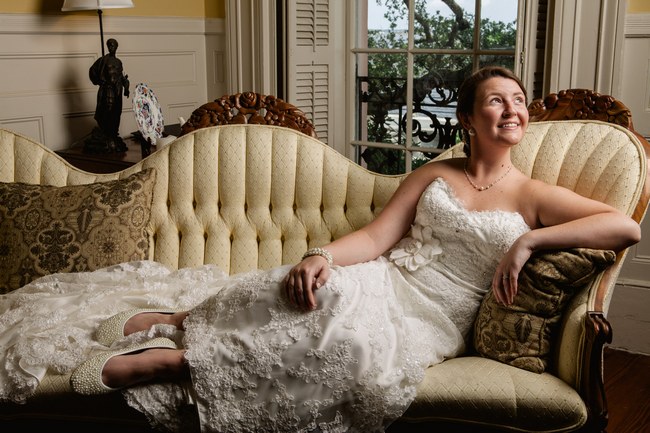 Robbie and Megan's Proposal

Robbie came to Megan's home in Dallas, Georgia, to bring in the New Year with her and her family. One evening they had a date night and, once they got back, Robbie came around to the side of the car to open the door for Megan (something he always does), and asked her to get a cord out of the console. When she opened the console, her engagement ring was sitting in there and Robbie got down on his knee and asked her to spend the rest of her life with him.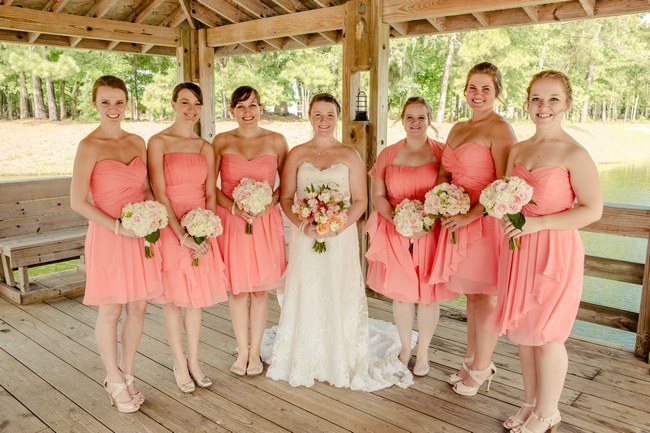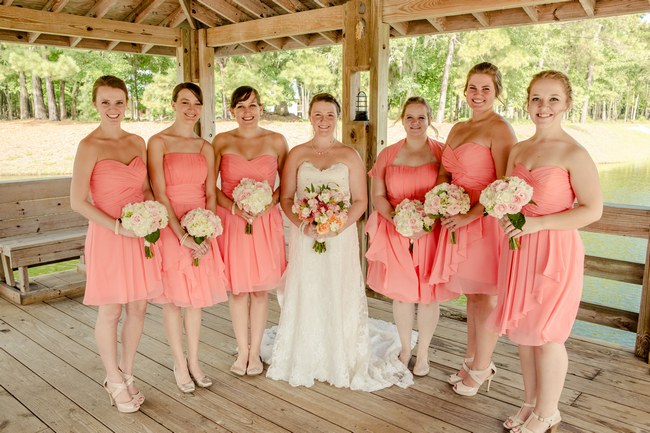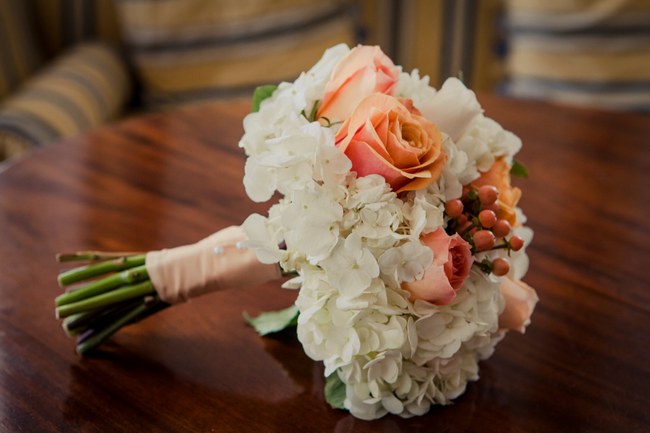 Bridesmaids Look: Megan's bridesmaids carried white and peach bouquets which contained a mix of hydrangeas and peach roses. Their stems were wrapped up with pretty peach fabric and white pins, the perfect complement to their matching knee length peach dresses.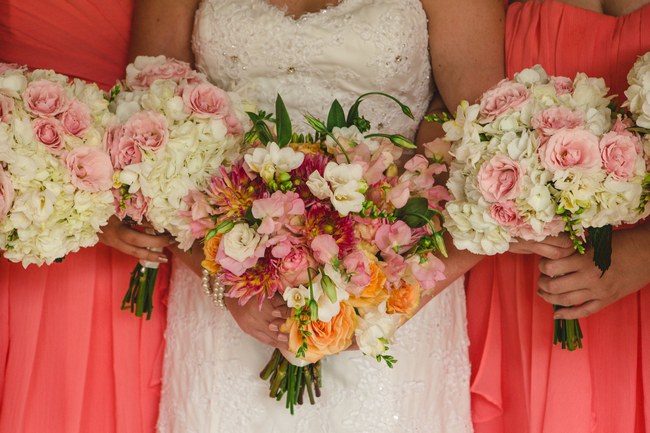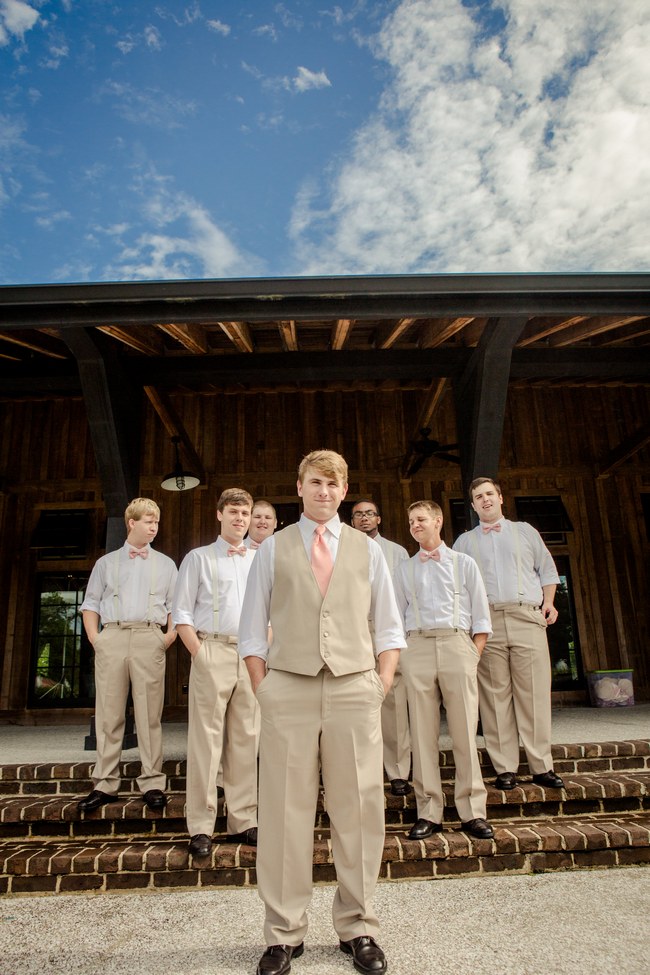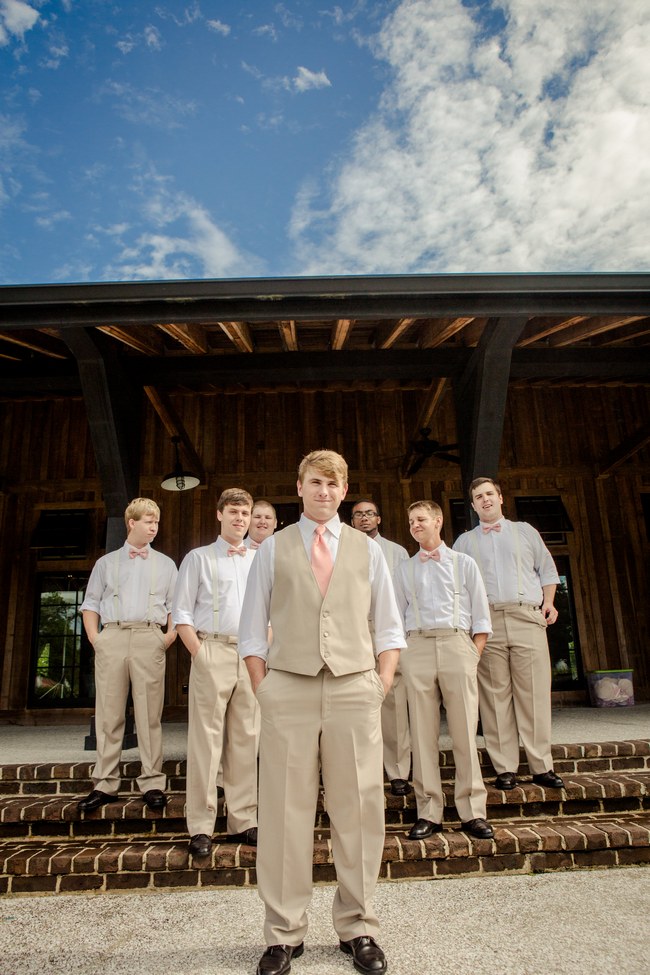 Charleston Wedding Ceremony with Southern Flair
There were so many lovingly crafted DIY details on display at Megan and Robbie's Southern style wedding. An used window frame was positioned at the start of the aisle, holding photographs which showed the bride and groom's relationship over time.
At the ceremony, the two most important things to the pair were the foot washing ceremony and the arbor under which they were married.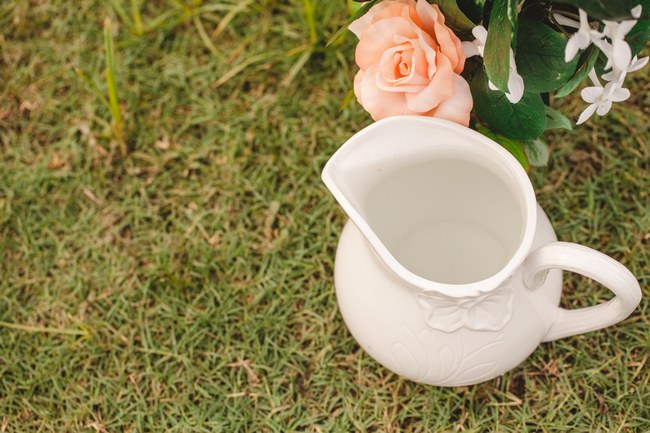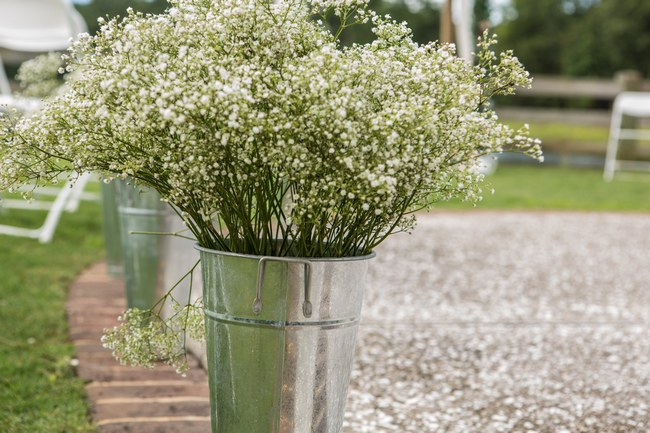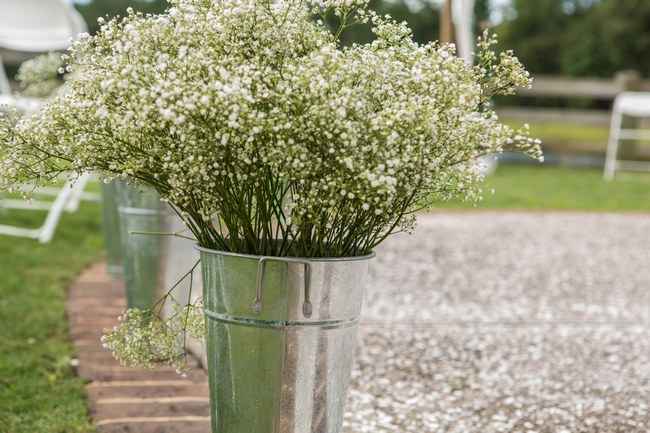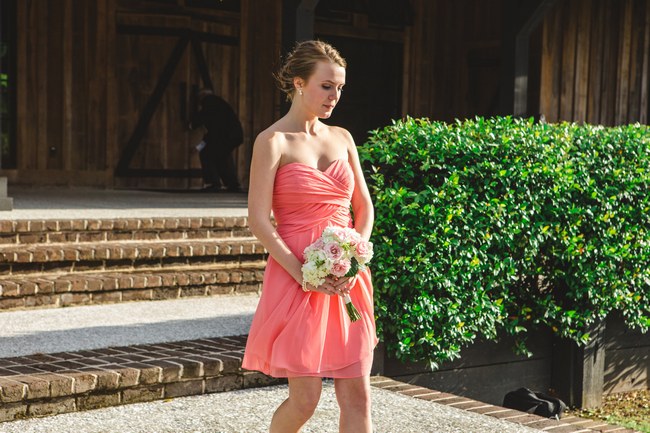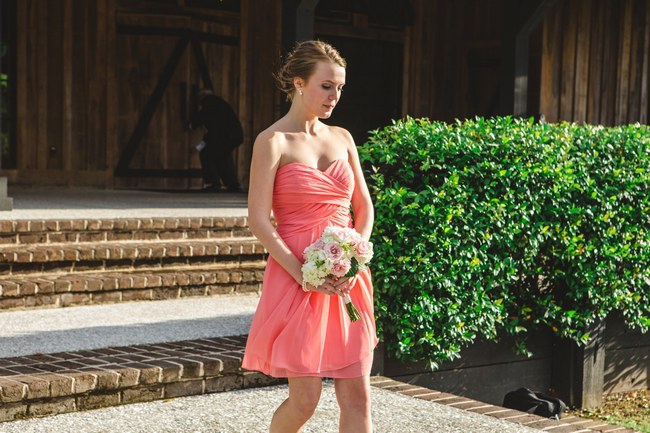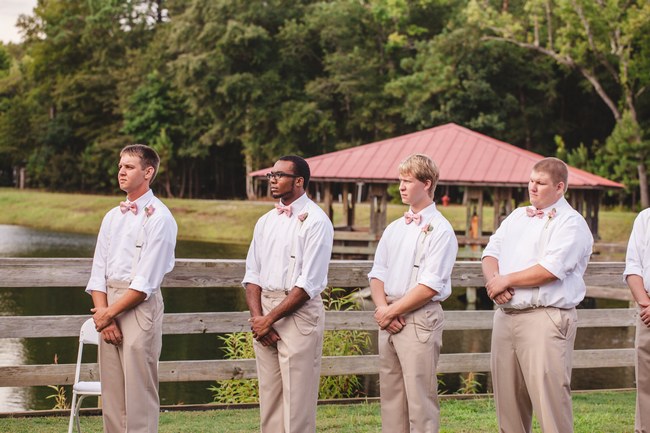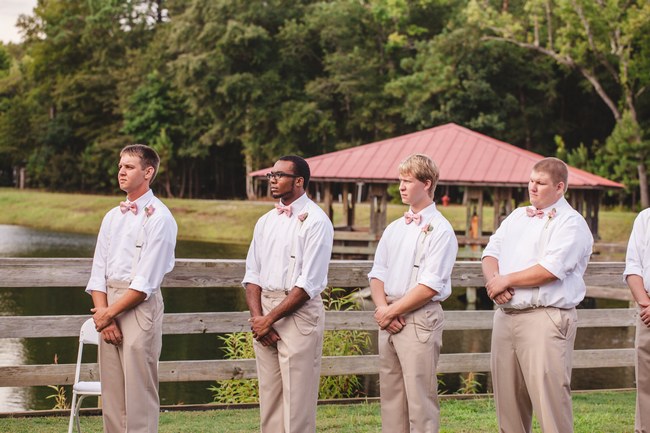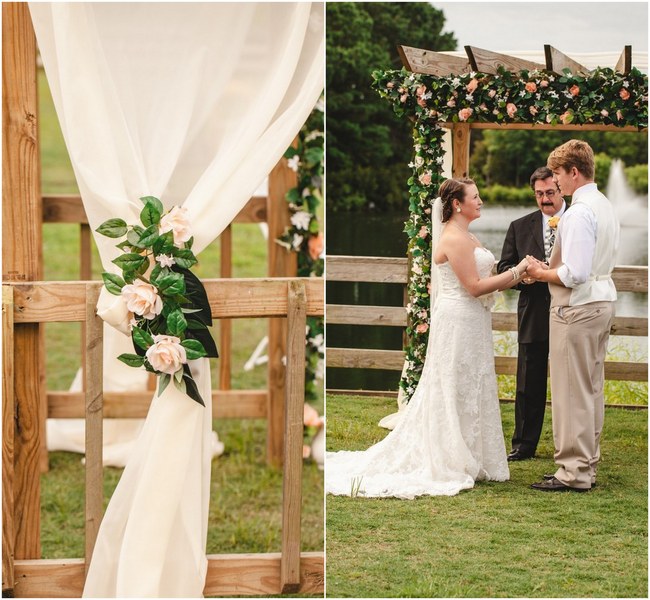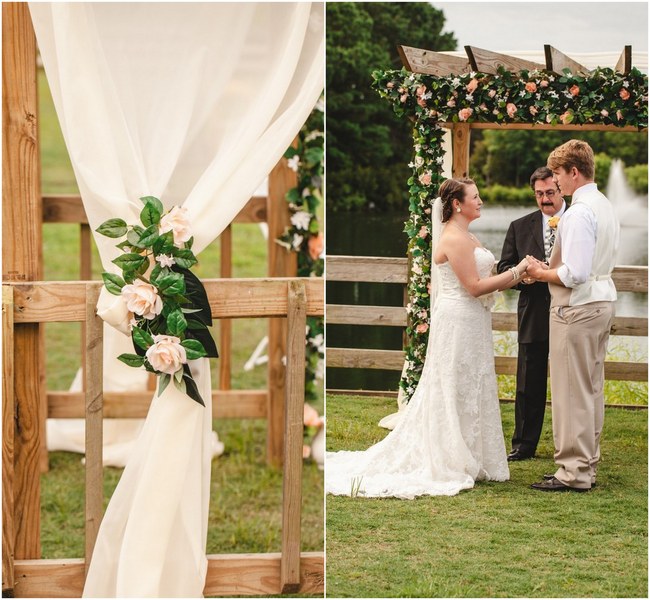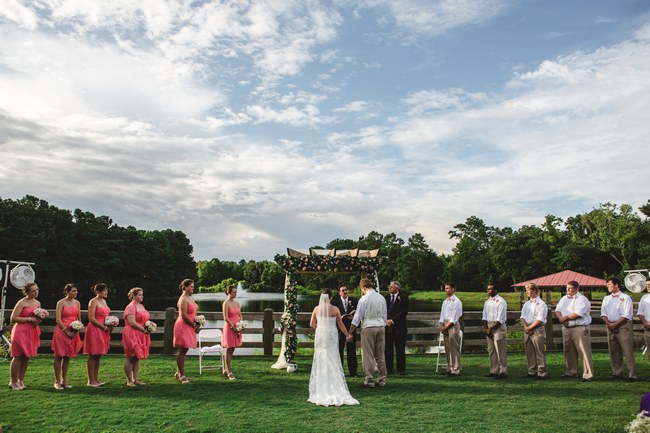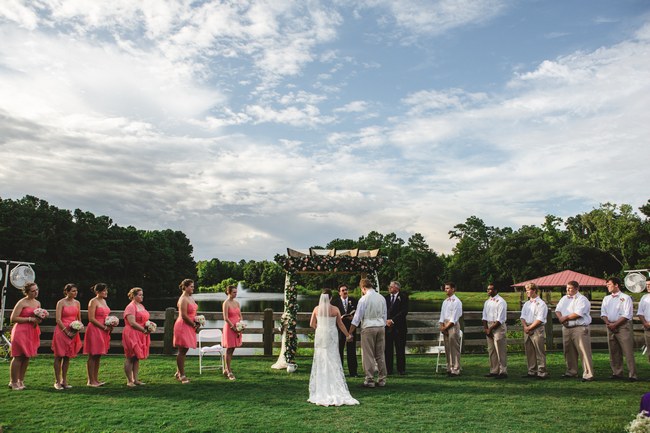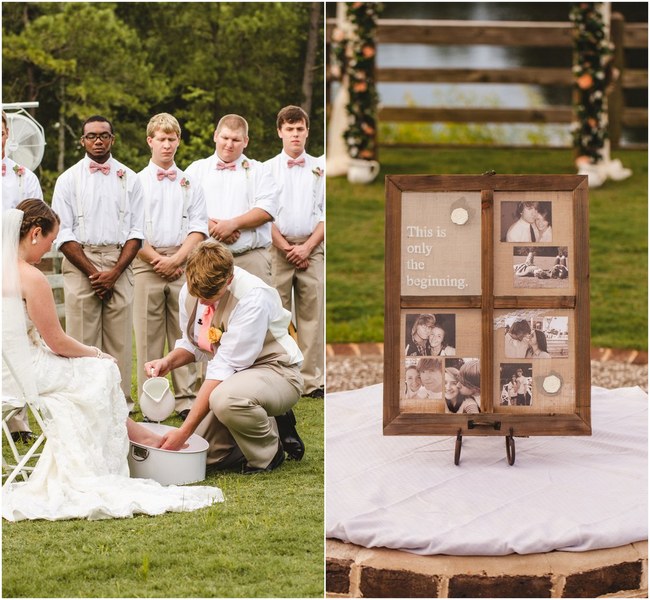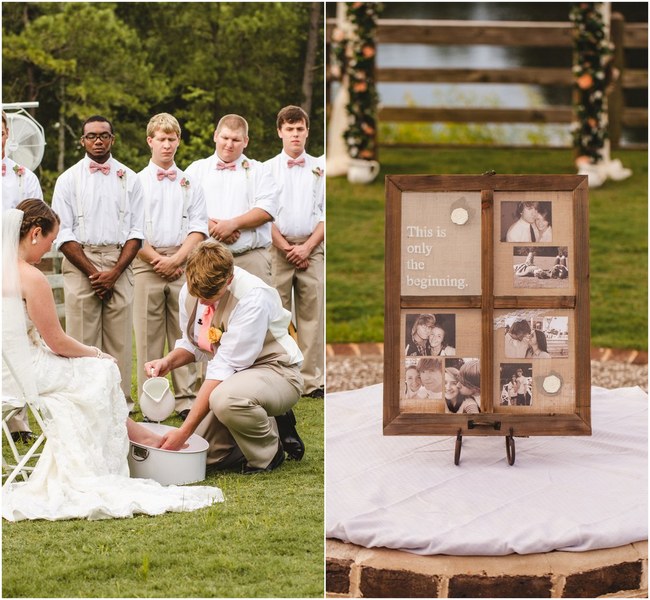 Foot Washing Ceremony: "We wanted to do a foot washing to exemplify our servant-like hearts to each other, but we wanted to surprise our family and friends with that. No one knew about it except for us and pastor. During the foot washing, there were tons of tears and sniffles."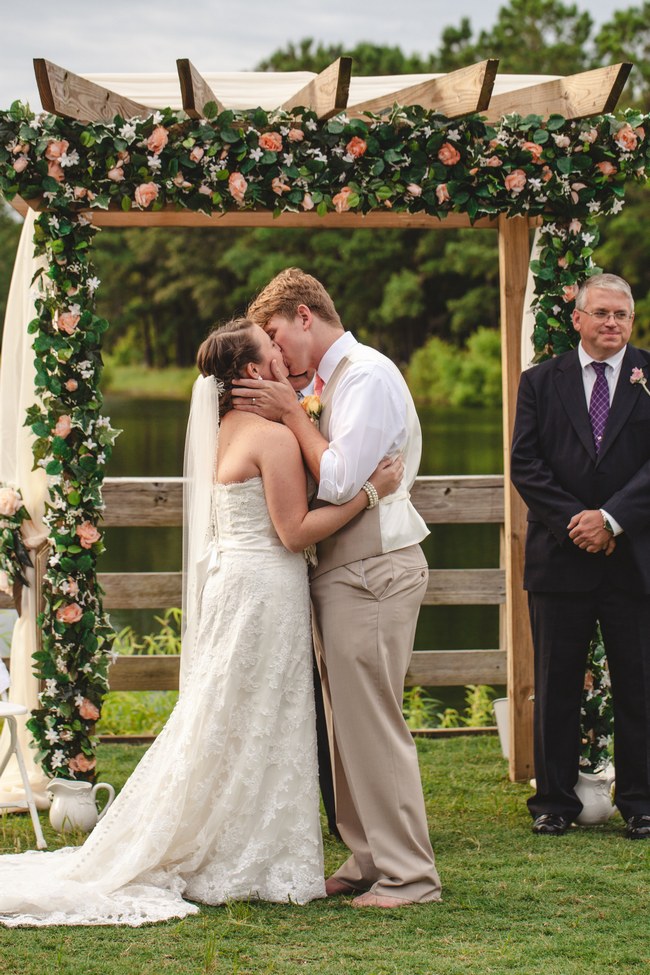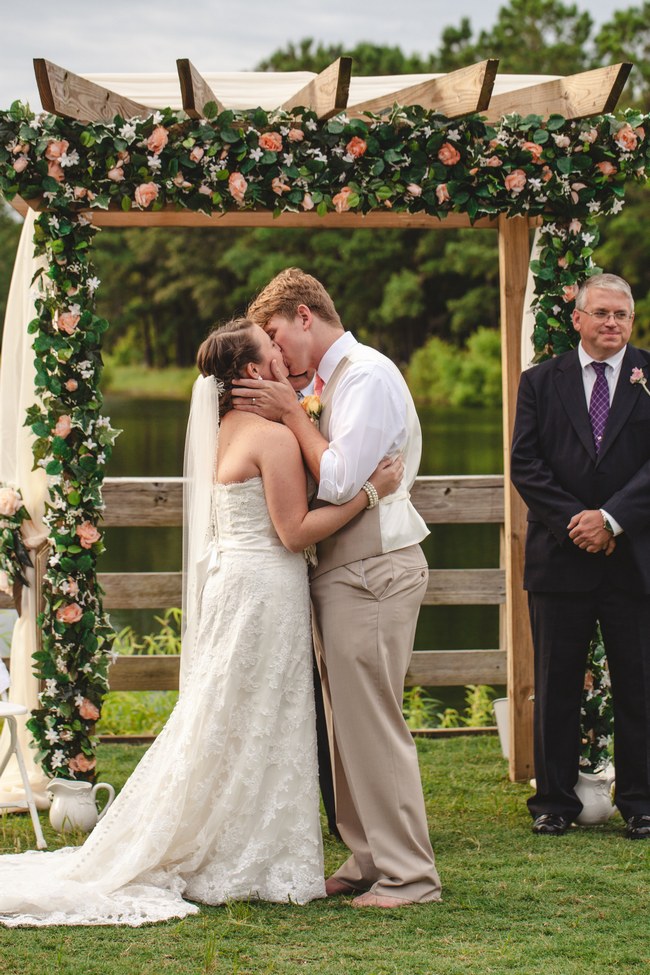 Hand made wedding arbor: The arch was under which the couple exchanged vows was lovingly crafted by the groom's father in celebration of Robbie's grandparents' 50th anniversary vow renewal ceremony. It was adorned with roses, greenery and peach fabric. "The arbor we were married beneath was the same arbor that Robbie's father built for his grandparents' 50th anniversary when they renewed their wedding vows. It meant the world to say our vows under the same arbor as them."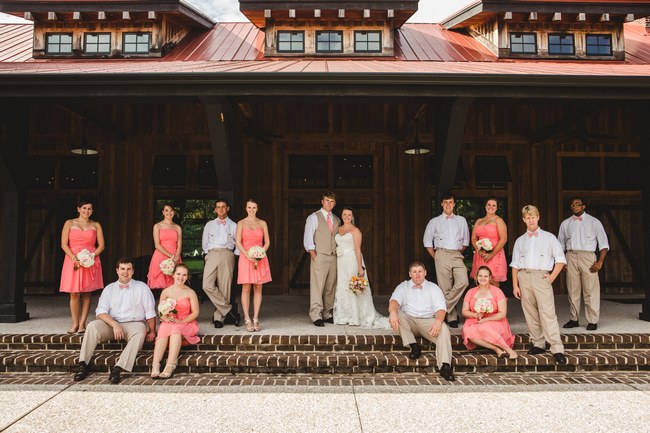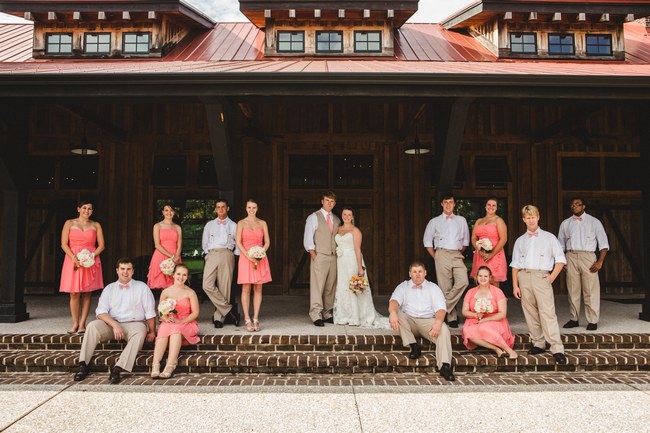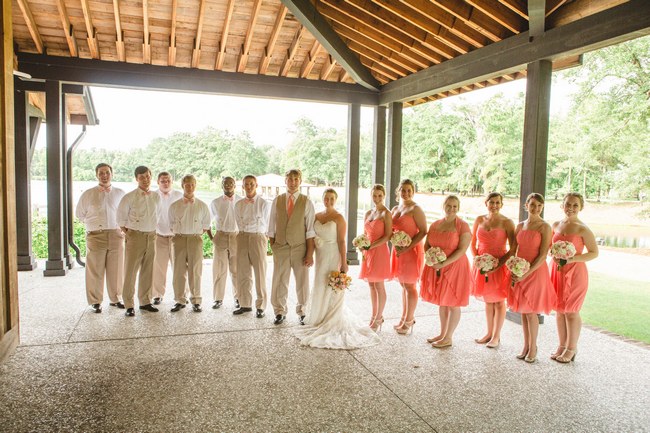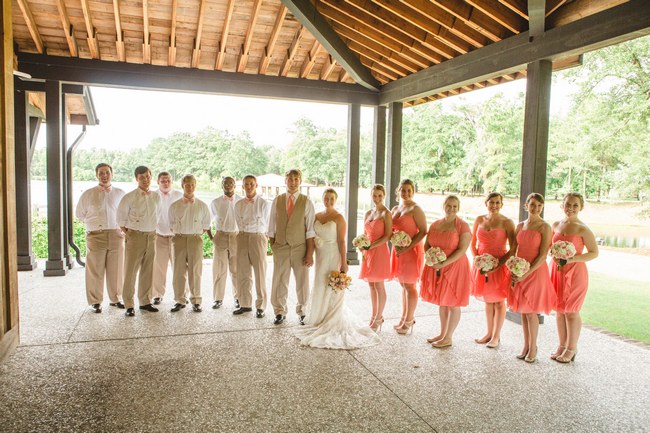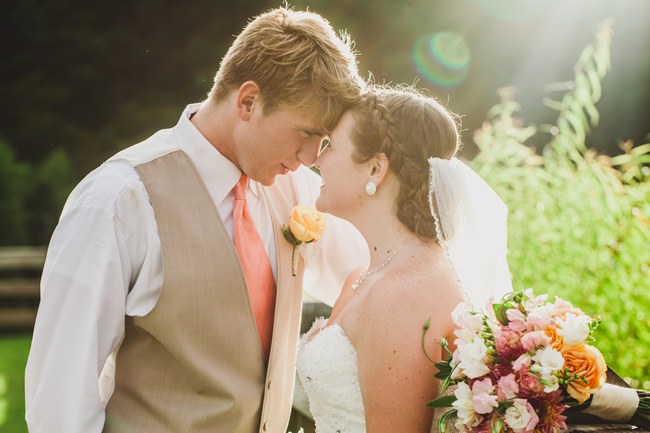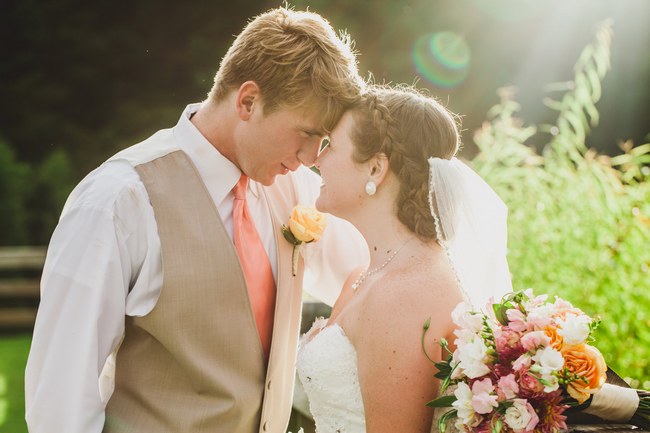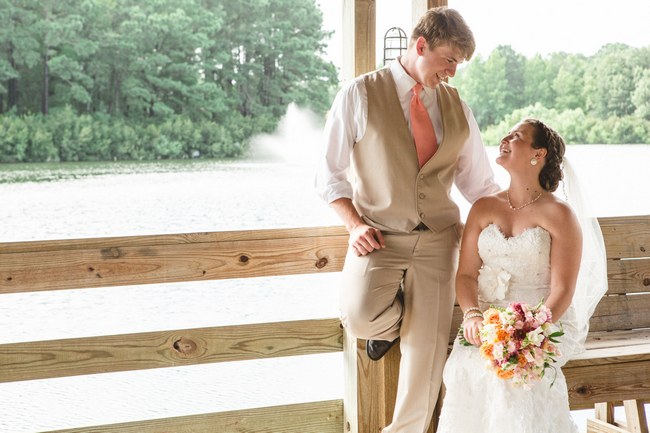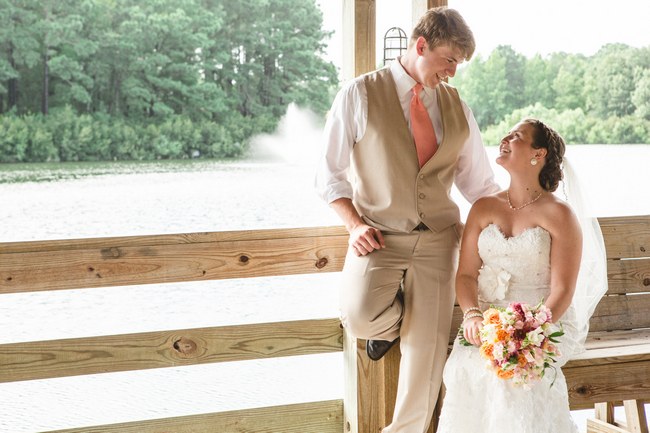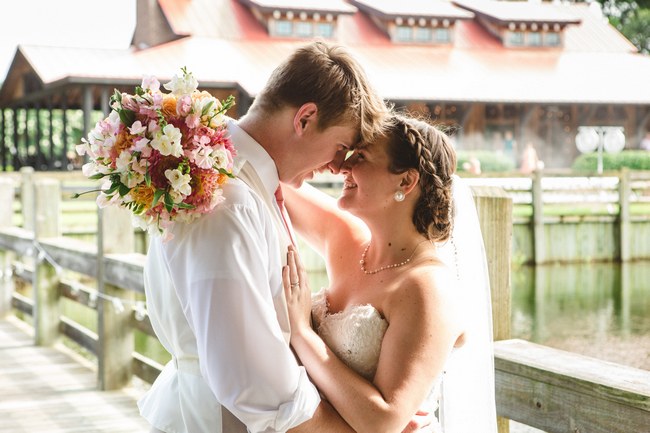 South Carolina Wedding Reception
The couple were feverent DIYers, and their wedding had a tremendous amount of personalization as a result. The wedding decorations were hand made with the help of the bride's mother. Everything from their table decor, sweetie favor jars and the cute card box, from the table centerpieces to the card box, were DIY projects!
Hand painted vases were wrapped in lace and twine, accompanied by vintage wooden frames covered in burlap as table numbers.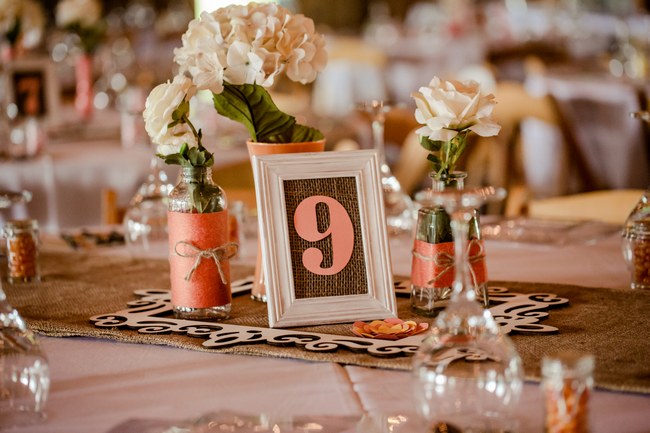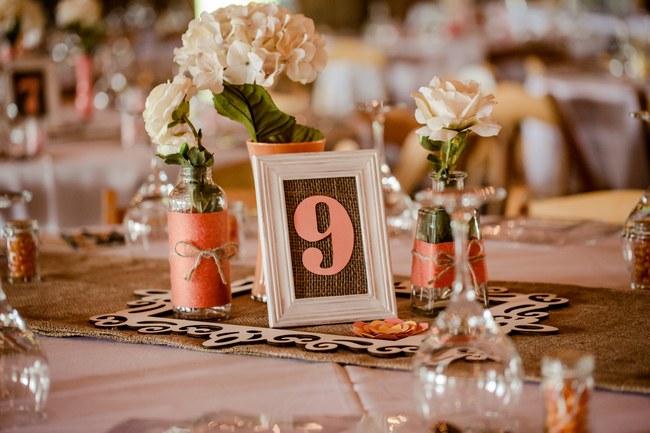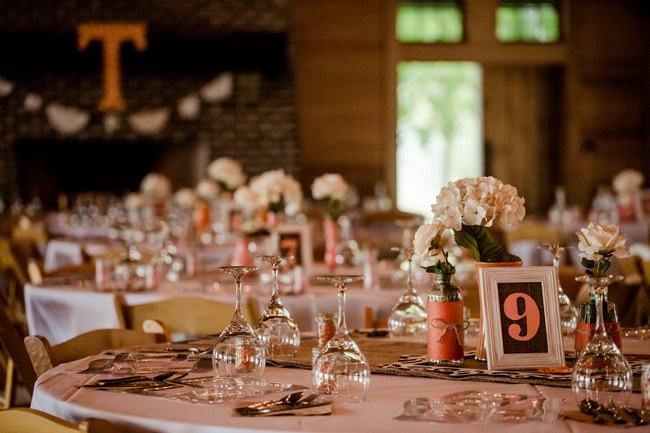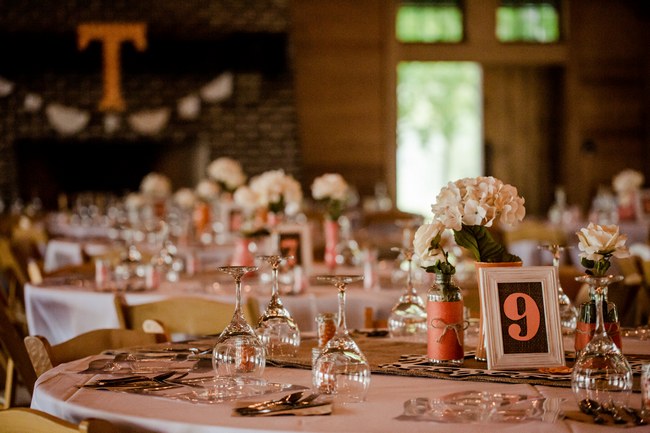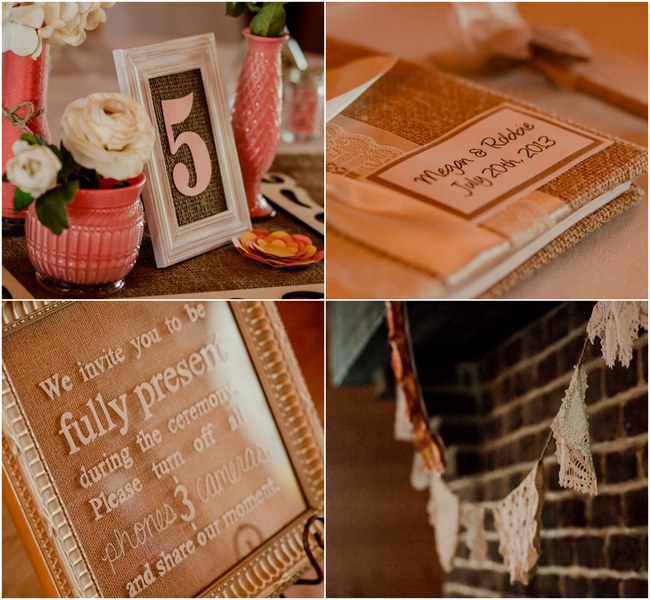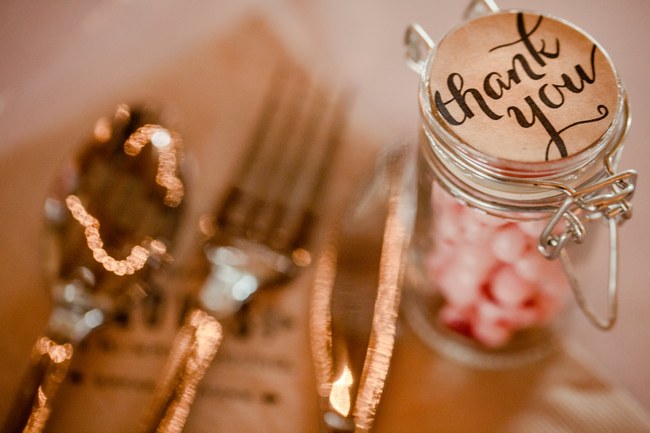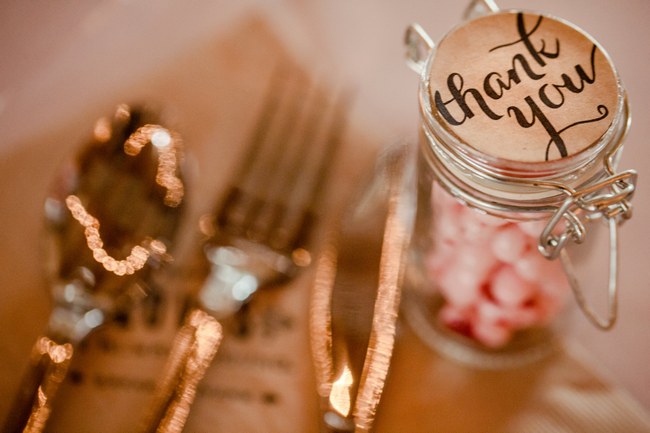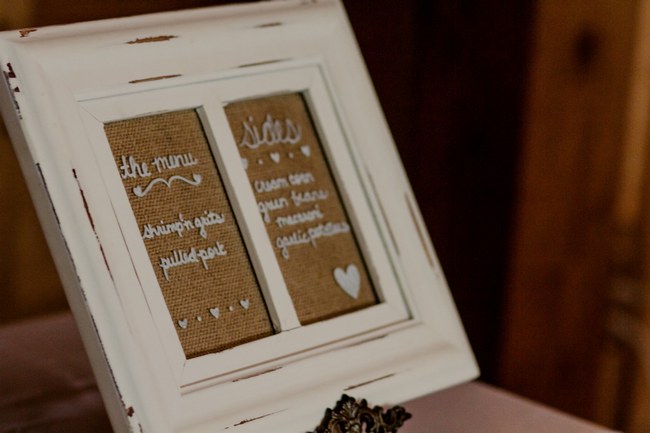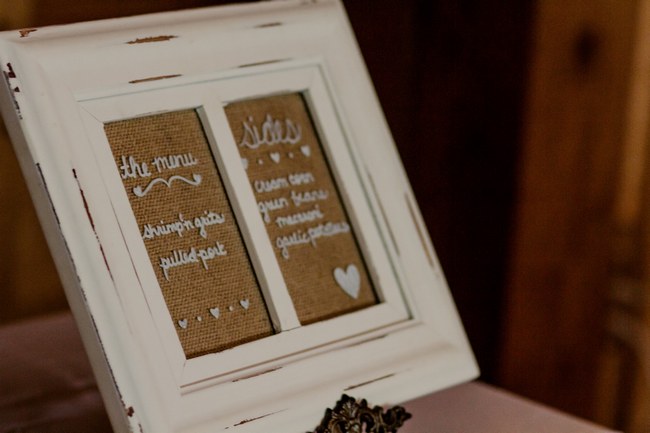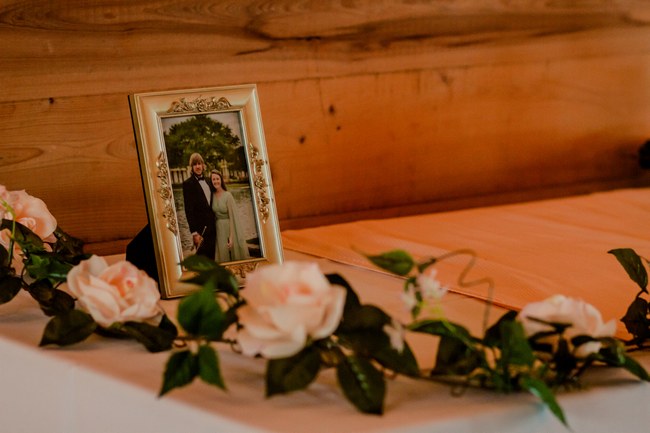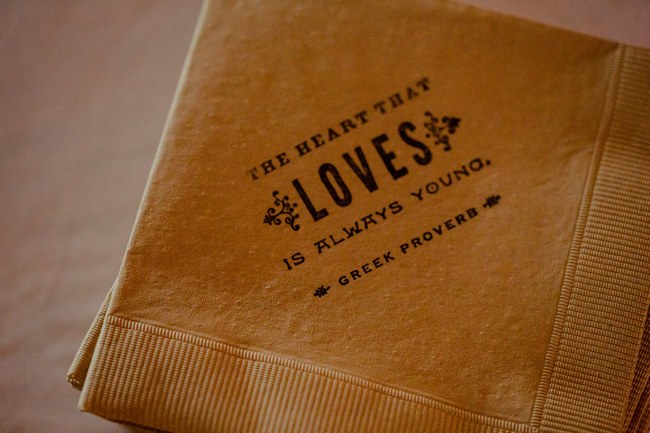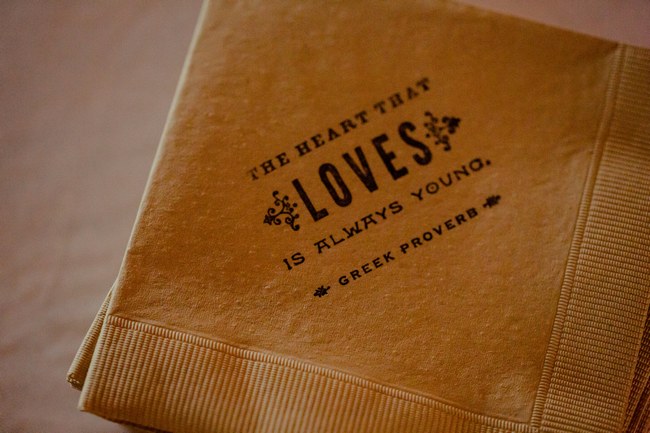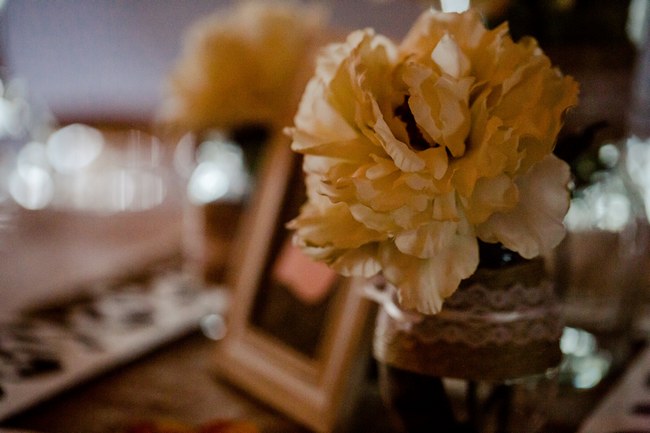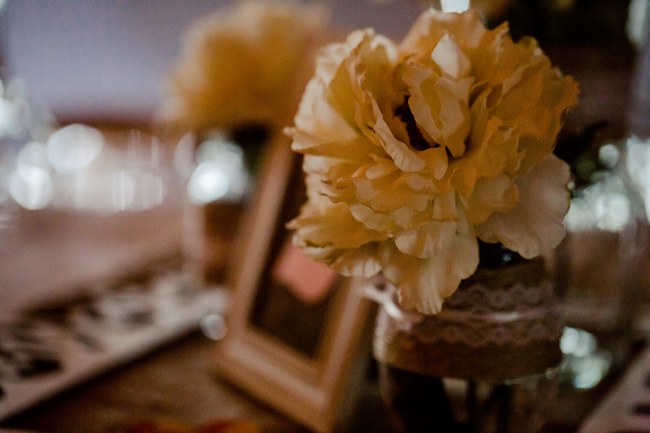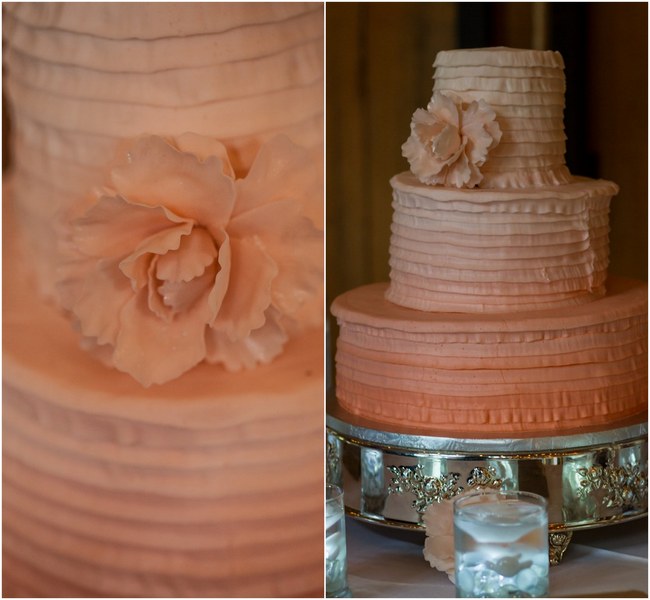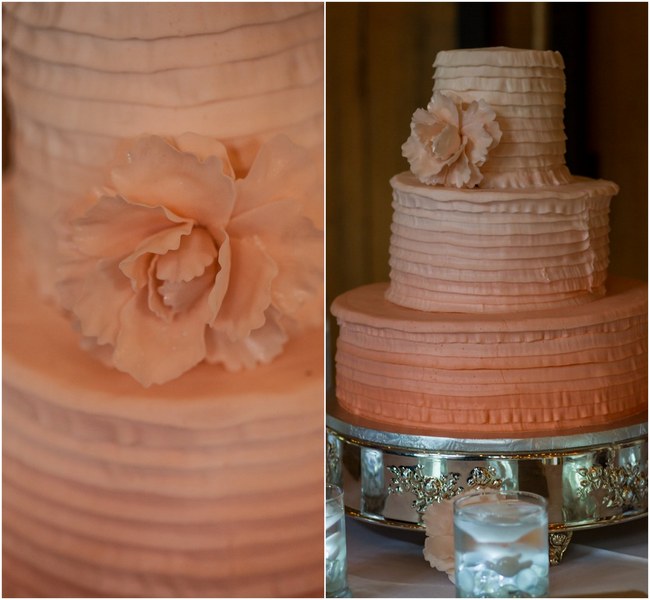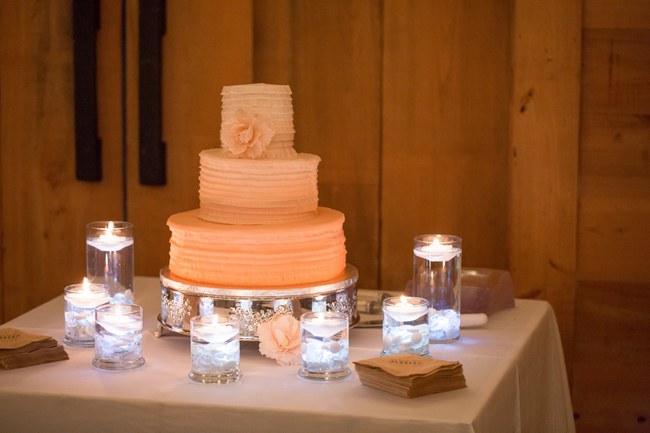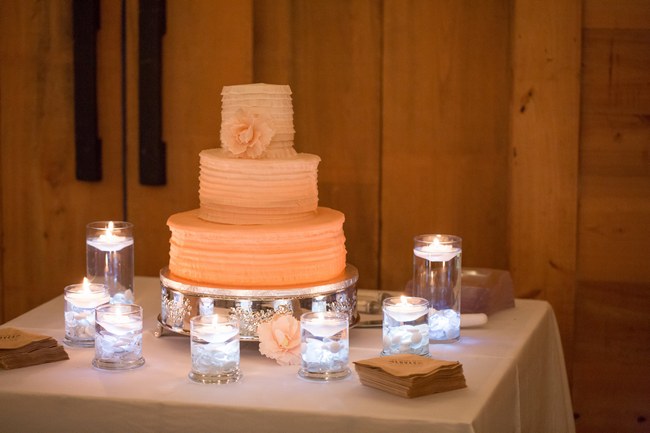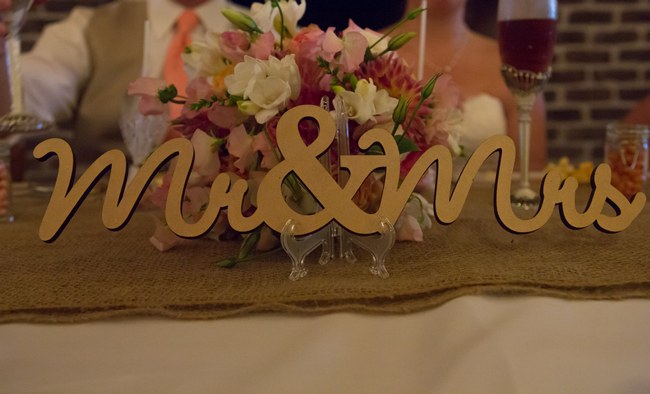 Real Bride Megan's Tips For Brides-To-Be
Pinterest was a lifesaver. As a crafty and artsy person, I spend a lot of time browsing Pinterest in order to find projects for the home, recipes to try out, and gifts to make. Using Pinterest, I was able to hone in on the style that I wanted and even follow tutorials on how to create my projects. However, to keep our wedding from being exactly like the pins, I would always be sure to personalize the projects by throwing in a new twist or adding a personal touch.
Do It Yourself. If you can afford the time, I would definitely recommend doing as much as possible by yourself. DIY projects are fun and inexpensive. But always remembered that, even though DIY projects aren't as costly, they require a lot of time. Be prepared to set aside a few hours here and there to knock out your projects (and don't wait until the last minute!).
Don't be afraid to visit second hand stores. Go on an adventure to a local thrift store to find windows and frames. Venture into Goodwill to buy vases to decorate instead of purchasing them new.
♥  ♥  ♥  VENDOR LIST  ♥  ♥  ♥
Photographer – Jeanne Mitchum Photography | Venue – The Pavilion at Pepper Plantation |  Catering – The Turtle Parfait | Dress – Impressions Bridal, Atlanta | Brides Hair – Charleston I DO | Brides Make-up – Sister of the bride | Bouquets & Corsages – Charleston Florist | Pastor/Officiator – Reverend John Turner, grandfather of the bride | Cake – Amelia Claire's Sweets and Treats | Suits – James Formalwear