Elegant Country Wedding
Stanford Valley
♥  ♥  ♥
Marli and Jay got married! Their South African wedding was a simple country-style occasion hosted on a farm in the Stanford Valley, surrounded by mountains covered in Fynbos. The newlyweds wanted a very laid back and comfortable atmosphere, so they decided on a natural country style with neutral colours inspired by the environment around them. As they were planning their wedding from over 1400km away, it was all hands on deck to bring their DIY wedding ideas to life! Take a look at Linda Fourie's photos of their beautiful wedding day.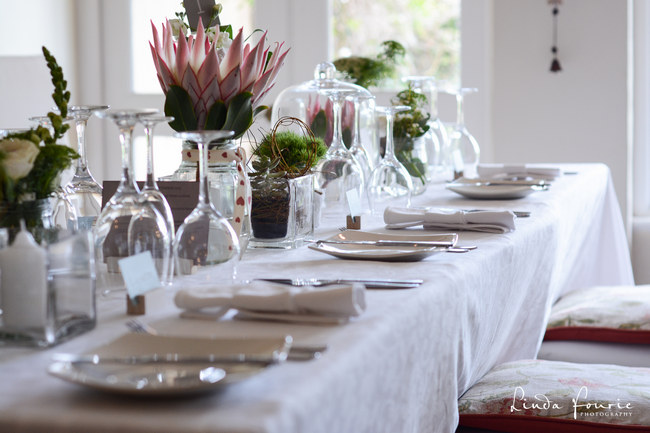 Country Style Wedding Look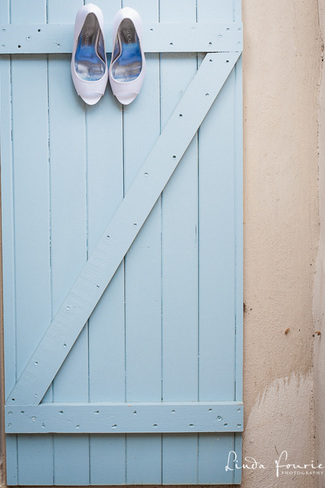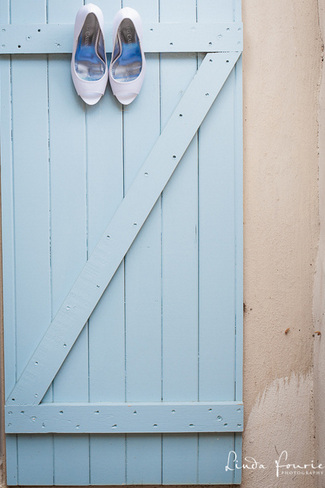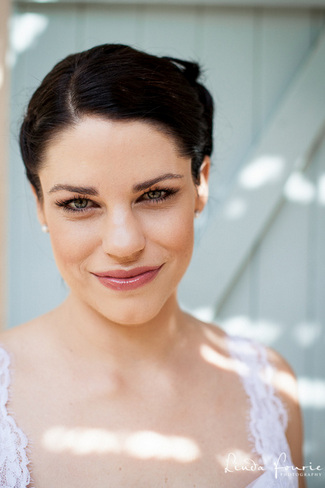 Simple Country Elegant Bridal Style: Marli was a classic bride. She chose a crisp-white lace dress with lace straps and a big flared trail. Jay gave her a pair of pearl and diamond earrings as a wedding gift and she decided to keep it as a surprise to herself and only saw it on the morning of the big day – and they were perfect! Having given both her hair stylist and makeup artist an indication of what she liked and didn't like, she left the rest up to them. "I must say they really exceeded my expectations," says Marli.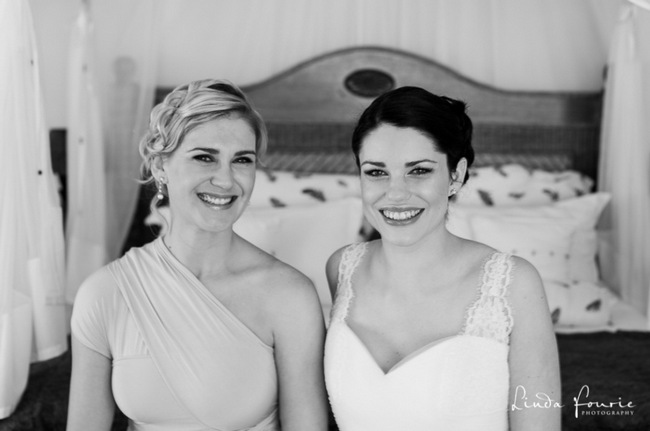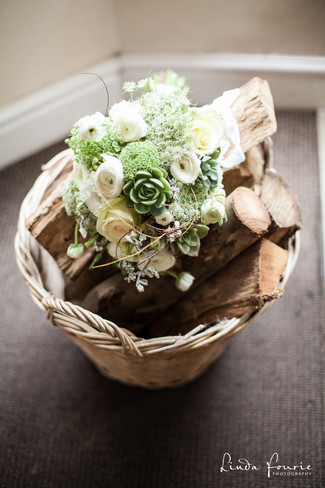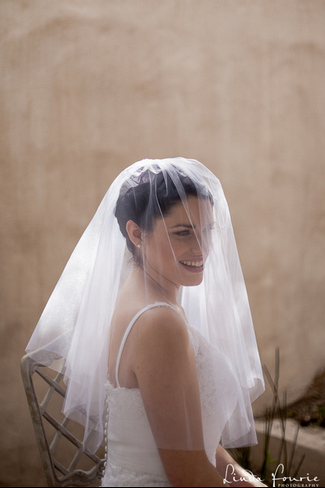 (Above Left) Simple Country Elegant Bouquet: Marli and her bridesmaid carried bouquets of Echeveria, Aramanthus and white Ranunculus.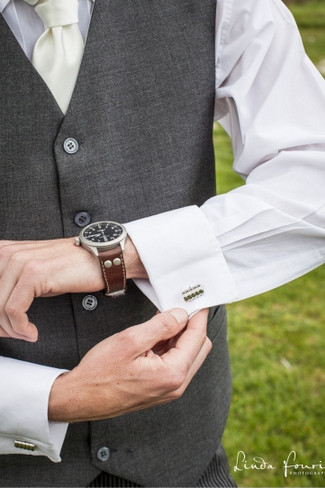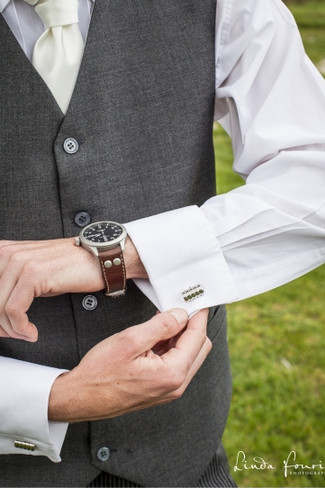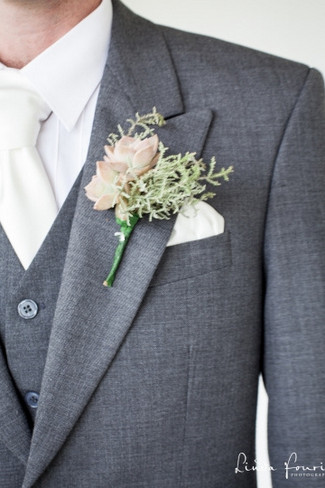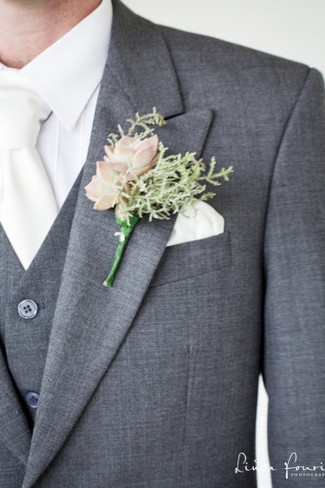 (Above Left) Simple Country Elegant Groom's Style: The groom selected his own suit in line with the colour scheme and he looked so handsome in a grey tail jacket and pinstripe trousers. | (Above Right) Simple Country Elegant Boutonnieres: The men wore boutonnieres with Echeveria as the main feature.
Country Style Wedding Ceremony
The ceremony took place in the quaint St Thomas Anglican church in Stanford town, a small stone building located on the town commons square. Marli's uncle, who is a Dominee, handled the formalities and her brother and sister-in-law (who are both very talented musicians) played their ceremony music, which made the ceremony really lovely and personal.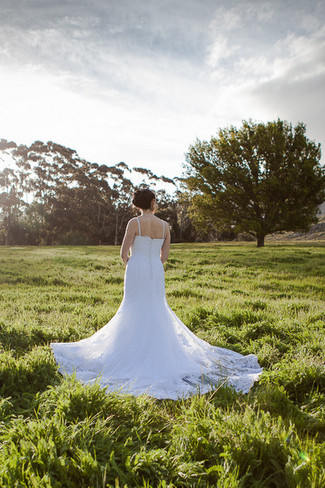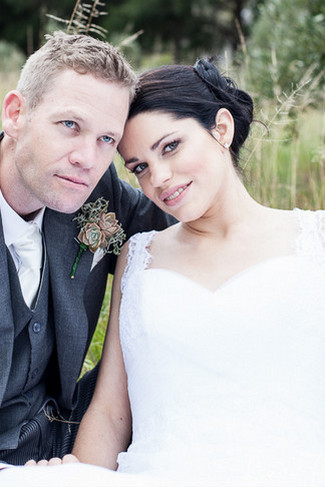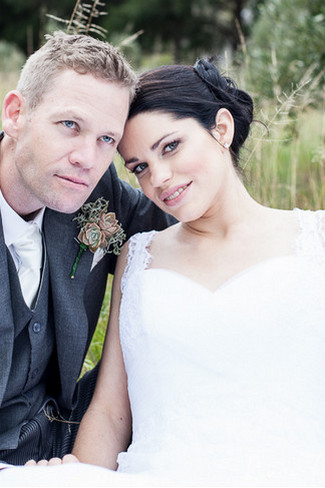 Marli & Jay's Love Story and Proposal
Marli shares their special love story: Jay and I met in 2006 in the coastal town of Hermanus where we were running neighbouring restaurants. We fell in love over our shared passion for good food and fine wine. We had quite a relaxed lifestyle at the coast. Even though we worked hard and long hours, our time off was spent exploring the surrounding towns, lazing on the beach and frequenting the local restaurants and wine farms in the valley. In 2011, we moved to Johannesburg. Jay's cousin who is a jeweller based in Cape Town designed and made my gorgeous engagement ring. Jay struggled to find a company to courier it up to Johannesburg and didn't want to leave the precious cargo in a stranger's hands. His mom ended up bringing it with her when she came to visit us for a weekend. He apparently walked around with the ring in his pocket the entire weekend and I believe it was burning a hole in his side! When we arrived back home on the Sunday night after dropping his mom at the airport, he opened a bottle of wine that I gave him for his 30th birthday 4 years prior. We said we would save it for a special occasion. He got down onto his knees there and then. He said he just couldn't wait anymore 🙂 . I can't remember a single word of what he said, but I know my answer was "Yes!".
Country Style Wedding Reception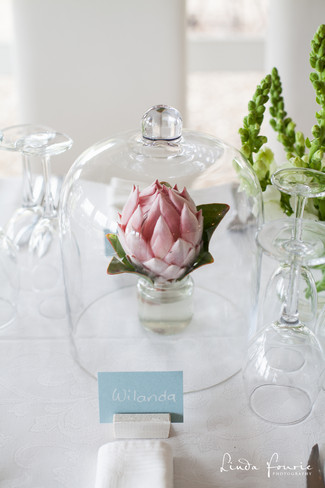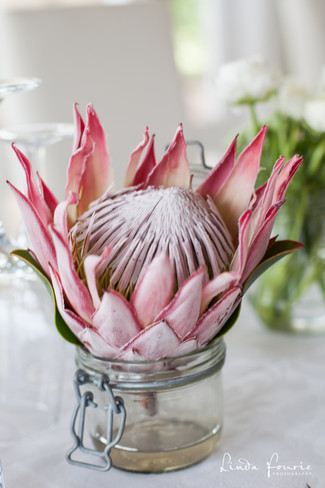 (Above) Stunning Protea flowers were used as showstopping decor elements. This Proteas & Prettiness, Isiphiwo Boutique Hotel Wedding shares another wonderful way of using this South African flower.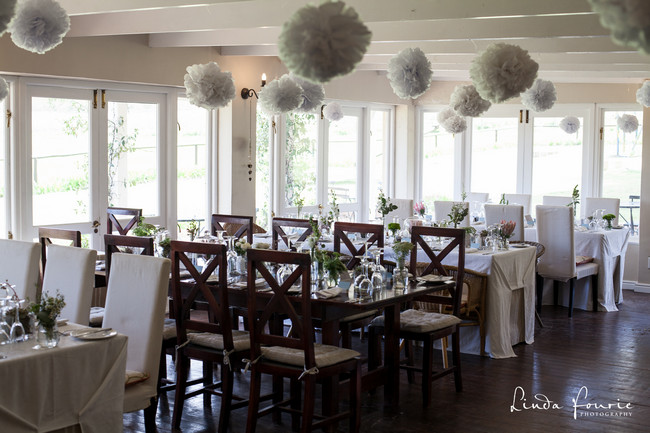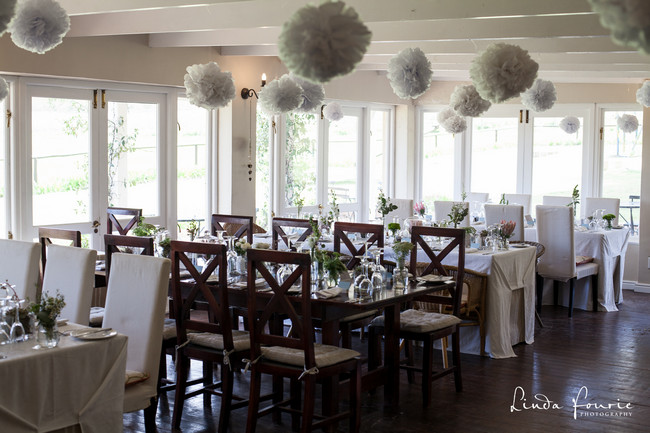 Simple Country Elegant Wedding Décor: They stuck to a white, dove grey and faded ocean blue colour scheme for the decor, linen and stationary.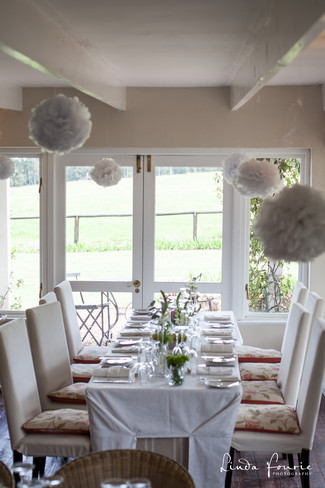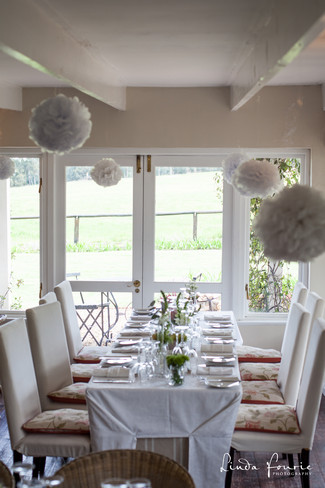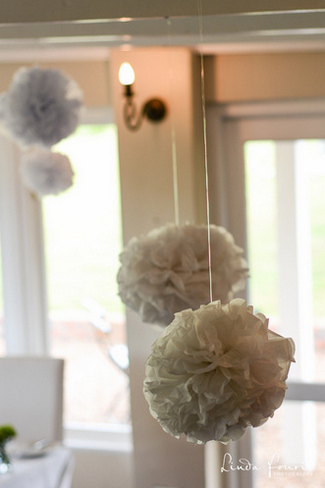 (Above) Simple Country Elegant Hanging Wedding Decor: In terms of specific decor elements, Marli sourced some beautiful white tissue paper pompoms from Ginger Ray. These came flat-packed and they actually had quite a lot of fun fluffing these out in the days leading up to the wedding.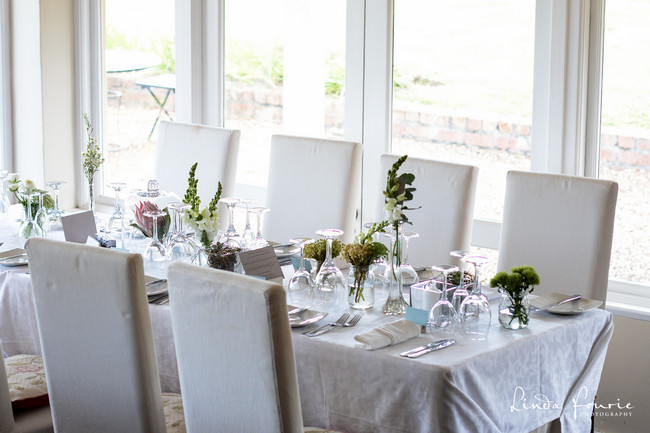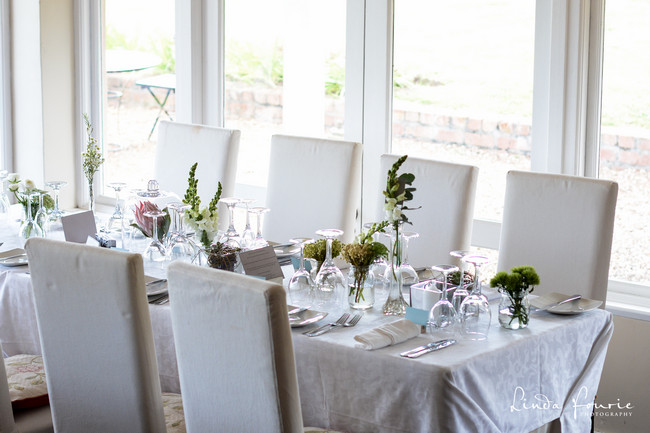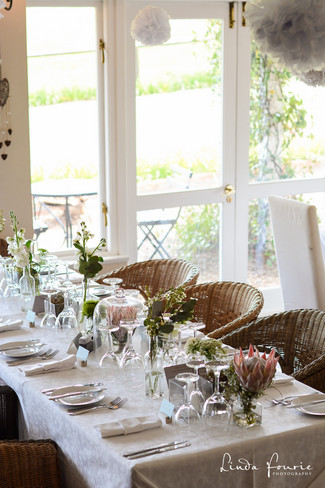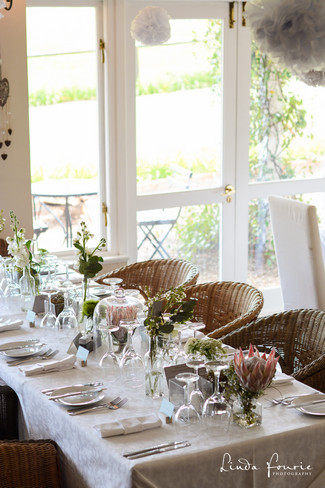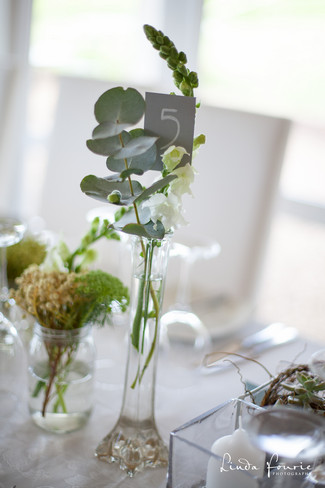 Simple Country Elegant Wedding Flowers: For the flowers and candles, Marli did not want big dramatic centrepieces, but rather something light and fun.  Nurturing a love for South Africa's natural flora, the couple chose to have King Proteas and Echeverias as their main flowers mixed with other neutral coloured plants or flowers. The flowers were displayed in a variety of interesting vases, domes and jars with either single flowers or a very minimalist arrangement to feature therein. The candles were placed in small glass squares to blend in with the elegant table setting.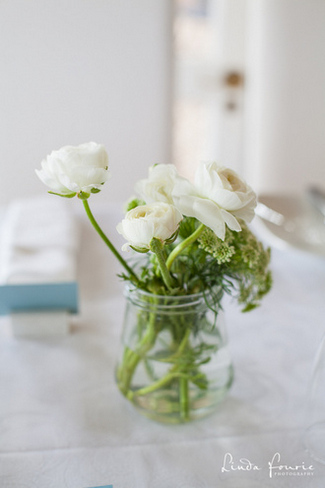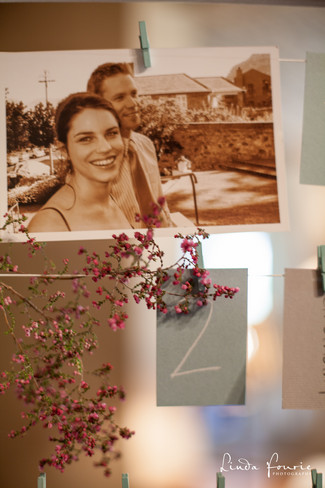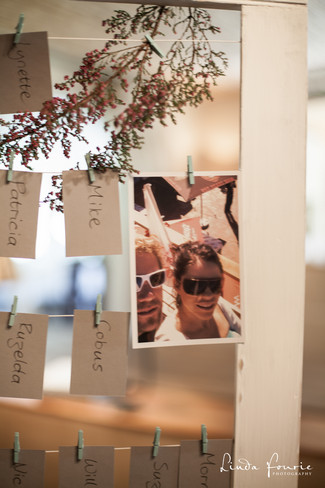 (Above) Simple Country Elegant Wedding Seating Plan: The seating plan was a white frame made from floor skirting with handwritten name tags fastened onto rope with miniature wooden pegs – sourced from the Chinese market in Johannesburg. Marli and Jay selected a few couple photographs and hung these in between the name tags.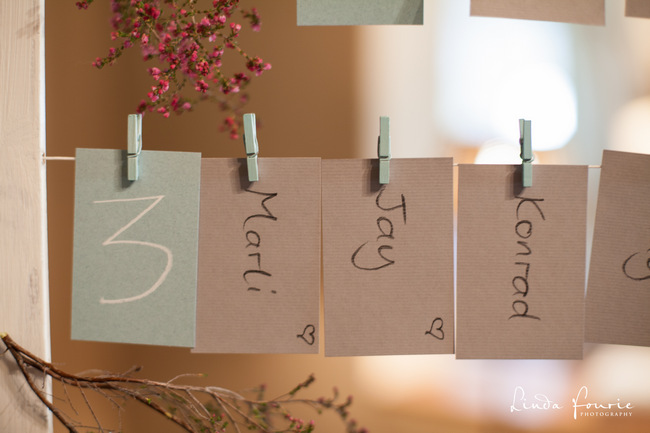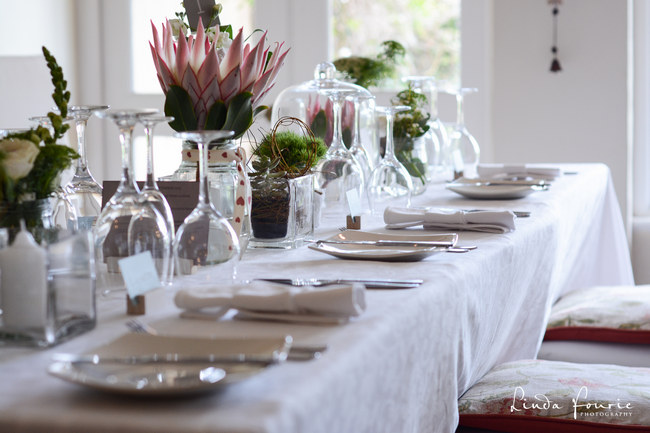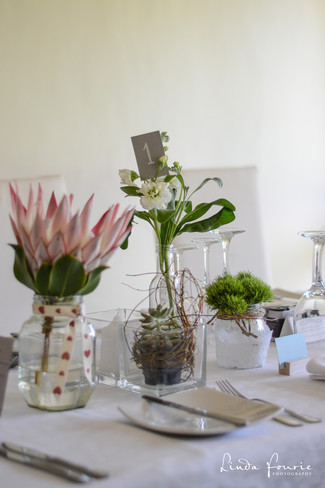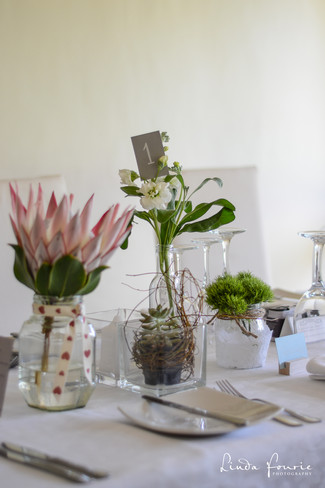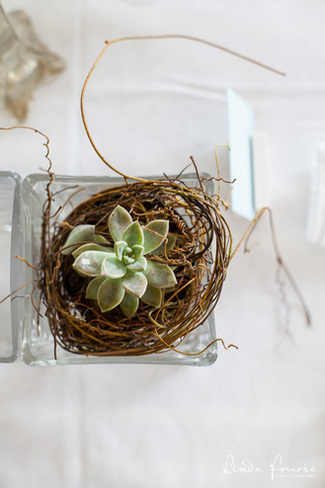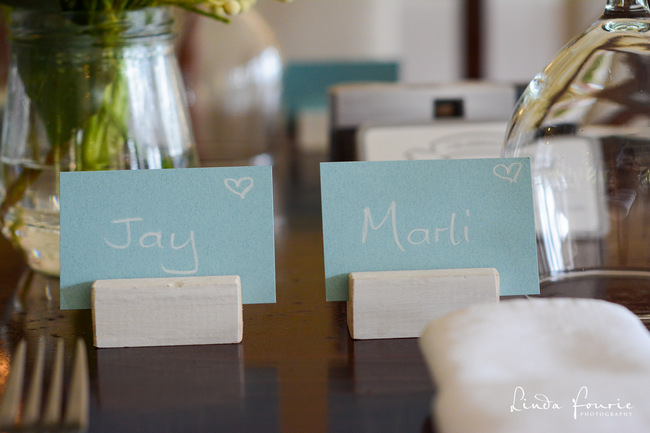 (Above) Simple Country Elegant Wedding Place Cards: Marli had handwritten the place cards on faded ocean coloured cardboard tags using a white chalk pencil. These were placed into white wooden blocks, which her dad had made out of pieces of old floor skirting and had sanded down to give it a more rustic look.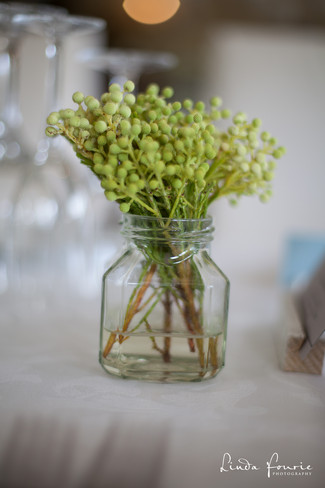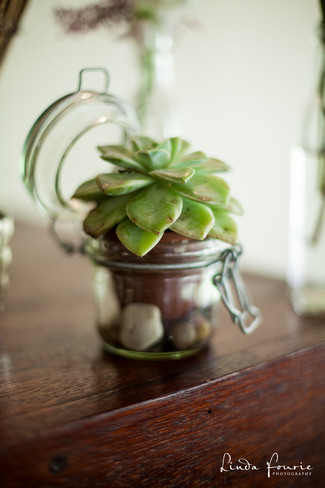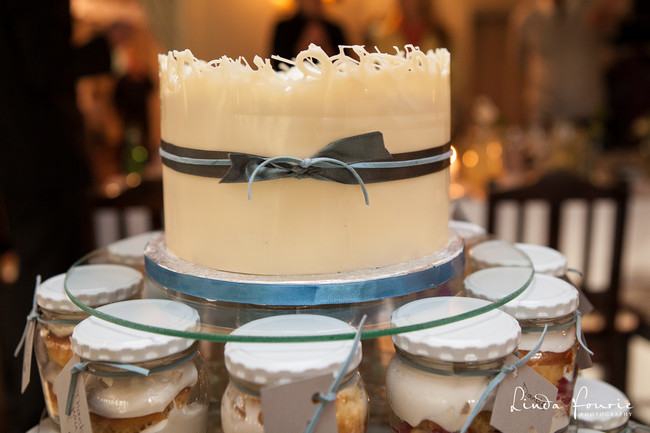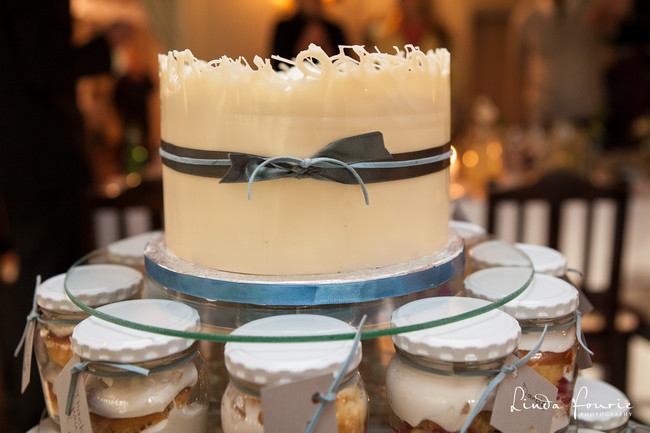 (Above) Wedding Dessert Favours: Marli saw an idea for cake-in-a-jar at a wedding expo in Johannesburg right in the beginning phases of planning her wedding. This a vanilla and nougat wedding cake favour in a jar was a great cost saving idea as it doubled as both a dessert and wedding favour. Marli wrapped each jar with handwritten Thank You cards and ribbon. The couple still had a top-tier cake for the ceremonial cake-cutting purposes and it was so beautifully done.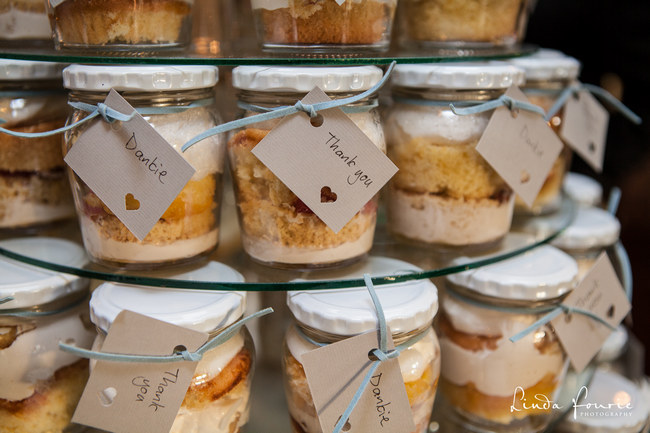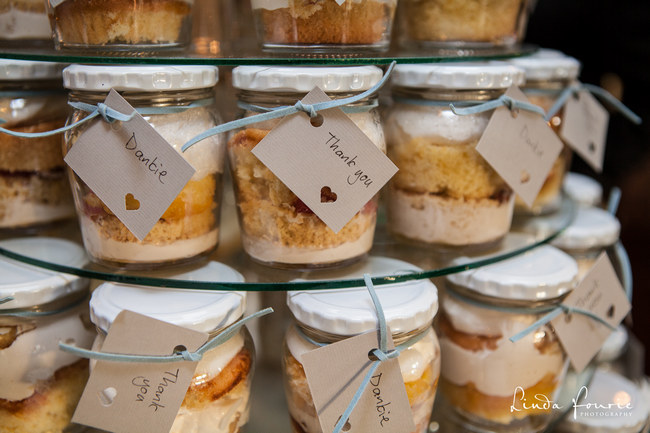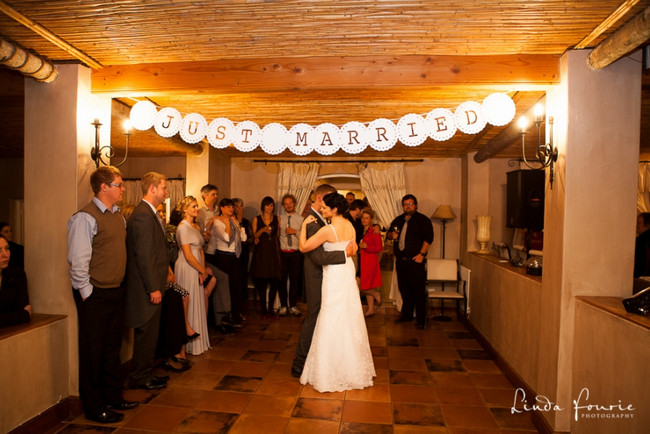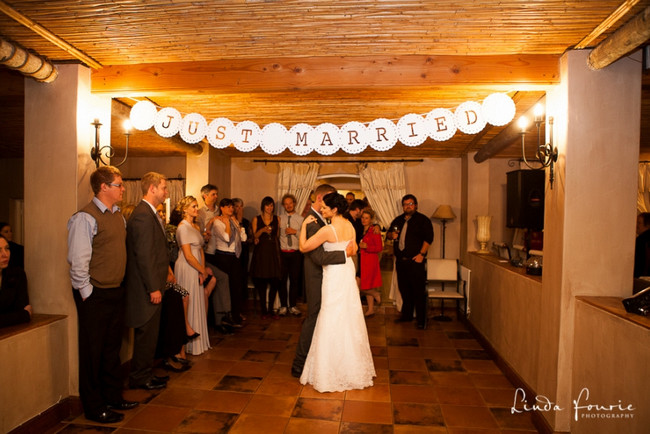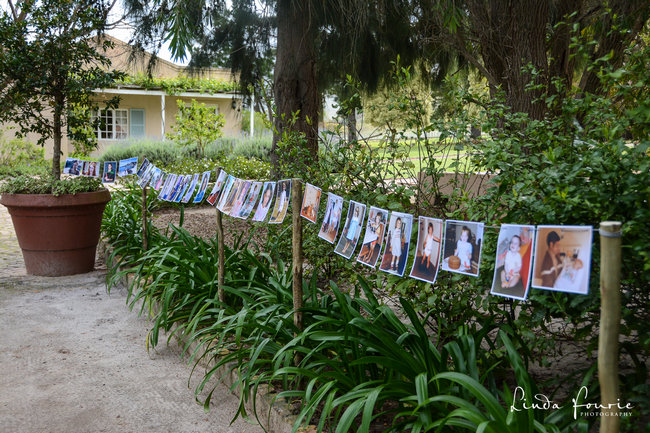 (Above) Simple Country Elegant Photo Bunting: Marli's parents photographed old photos of Jay and Marli as they were growing up – all the way from babies to toddlers, teens and adults – and reprinted them onto evenly sized pages. These were punched and grey ribbon laced through them and the two separate lines of photo bunting were then placed on either side of the tree-lined lane leading to the reception venue entrance. It was another personal touch that their friends and family enjoyed seeing.
Real Bride, Marli's, Tips For Brides-To-Be
Set up your budget before confirming any details and even before venue hunting. I started off early on just getting quotes for various services, so that we could have a more accurate indication of what exactly we should be budgeting for.
Decide on the key elements which you are not willing to compromise on too much. For us these were the venue, food and wine. The decor, wedding car, favours, etc. were not first priority for us, so we made it work within the set budget and I really didn't feel at any stage that I couldn't achieve what I had envisaged.
Shop around! There are some fantastic spots out there for good value for money shopping. I ended up finding some items I had seen at expos or on the Internet, either by chance or through lots and lots of research.
Accept help and advice from family. The fact that my parents and siblings were so involved made the days leading up to the wedding so much more special.
Take it easy. Some things will likely not work out exactly as planned, or look the way you thought it would. In my case, the unforeseen/uncontrollable things actually turned out better! E.g. I wanted to have ribbon runners along the lengths of the tables, but the guys forgot to put them on before the florist started decorating. By the time they realised their "mistake" it was too late and they would have had to dismantle almost everything to put the ribbons on, so they decided to leave it. And I am sure it looked better than it would have. I think it might actually have looked a bit tacky… Also, it was freezing cold, wet, raining non-stop and miserable when we arrived in Cape Town a few days before the wedding. When we picked the wedding date originally, we realised it could likely even snow during that time of the year, so we looked for a venue with outside and inside spaces and a fireplace. And we made peace with it long before the day. So it was perfect despite the weather. I actually thought a while before the wedding day that it would be really nice and cosy if the weather conditions allowed us to light the fireplace in the dining area, and I got my wish!
Surround yourself with suppliers who make you feel at ease. Remember that you will be spending quite a bit of time with your makeup artist, hair stylist and especially the photographer on the morning before the wedding ceremony. I feel that I chose really well and was very relaxed throughout the getting ready process.
When you feel a bit panicked, remember why you are getting married. Jay and I were advised to sneak off together on the Friday before the wedding to spend a half an hour together, just chatting or having a drink, remembering why we are there. This was fantastic advice and I will highly recommend this to any prospective bride and groom.
Take on DIY projects. Not only is it a great cost saver, but it also adds a lovely special personal touch to your wedding day.
Marli and Jay's sweet wedding exuded country elegance beyond words. And Marli made such a naturally beautiful bride bursting with the best advice for brides-to-be! Find more real wedding inspiration with a country style by taking a look at this Farmstyle Country Wedding, Nutcracker Country Retreat.