Wonderfully Woodsy Wedding ♥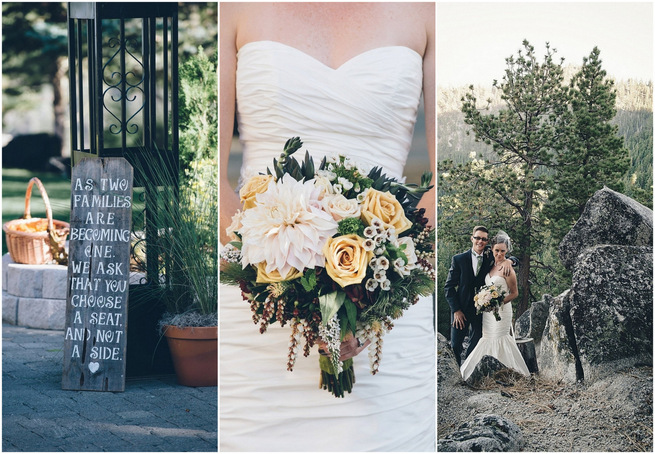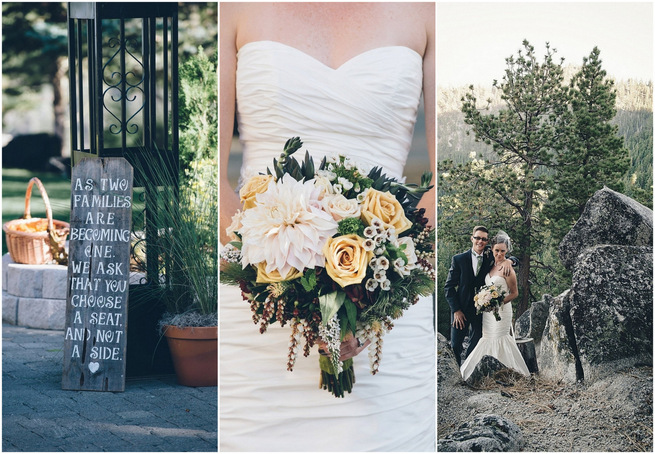 Courtney and Zion met over an Ichthyosaur India Pale Ale at the Great Basin Brewery. The outdoorsey, adventurous, pair exchanged vows in a beautifully down-to-earth, rustic-themed Nevada wedding ceremony at The Ridge Tahoe  filled with unique touches. Courtney's musician father hand picked the brass band and Courtney walked down the aisle to the Imperial Death March played by a string quartet! So fun!
Their reception featured romantic, woodsy succulent and candle filled tables with lots of gorgeous birch and bark detailing,  styled by Lavish Floral in natural shades of greens and brownish reds all beautifully captured by Lauren Lindley Photography.
"We didn't really pick a theme to adhere to, instead we chose the artists (photographer, florist, baker, band) and let them run with it," explains Courtney. "They all knew us or my family and knew what we would like with very minimal guidance. We had to include our baby (the dog) –  she was the ring bearer and she actually pooped as she was walked down the aisle – good thing it was outside! One of my oldest friends from London is a professional singer and he stepped in on a bunch of songs along with my dad who stepped in to play the baritone saxophone. It was so awesome. See photos. We didn't have any of that typical wedding reception stuff, it was just a huge love fest dance party."
Rustic Nevada Wedding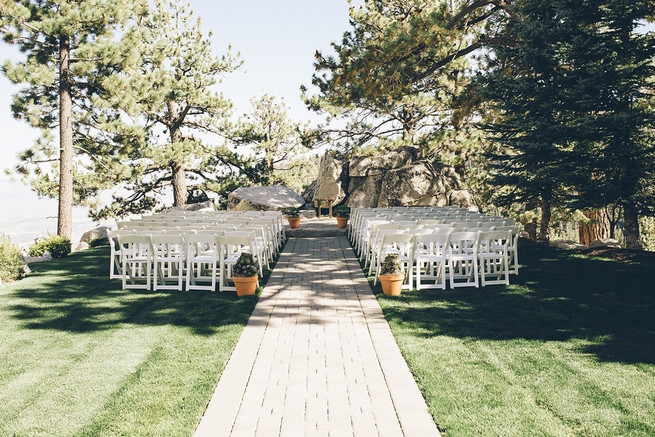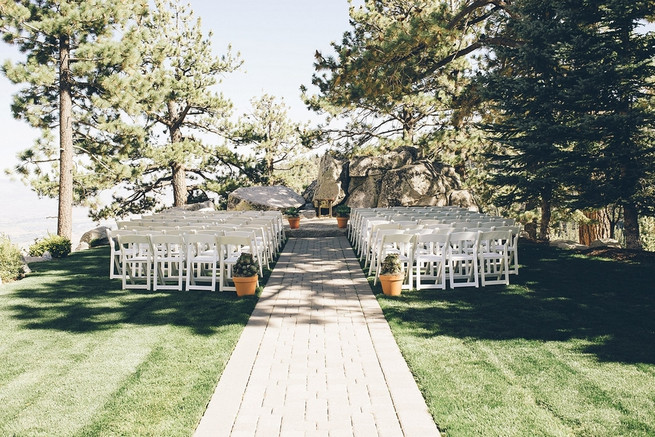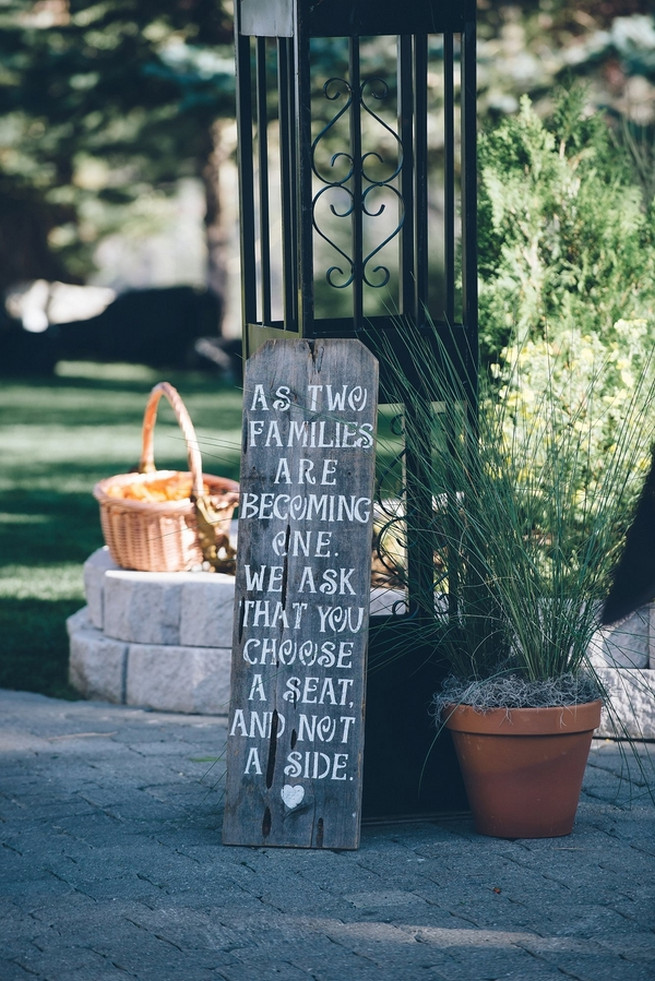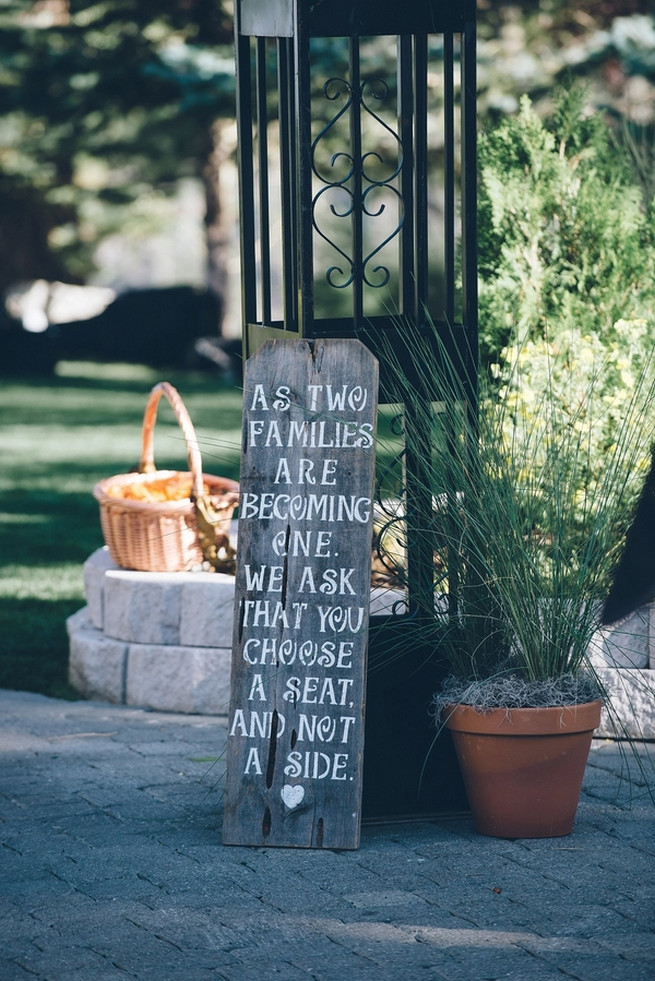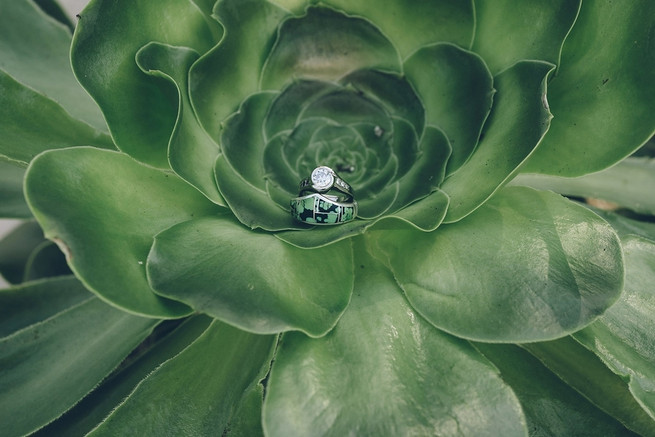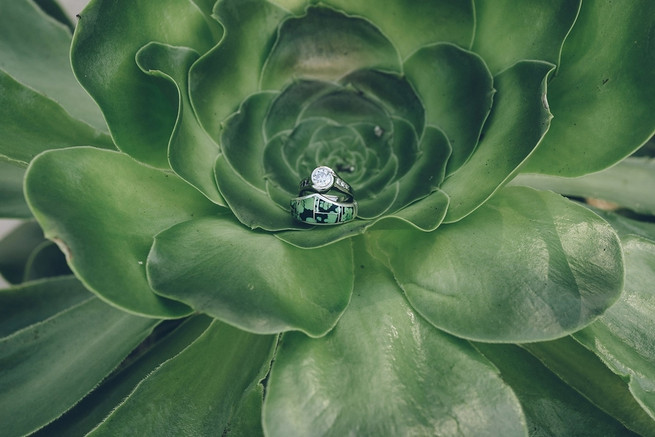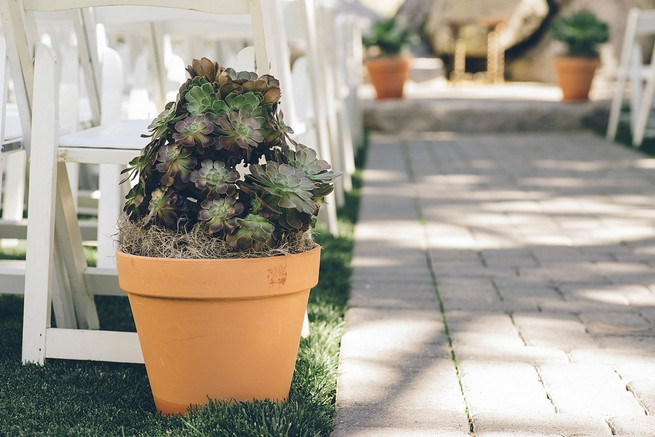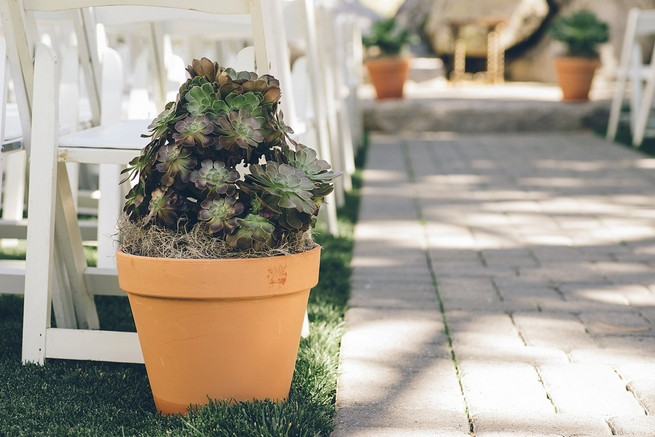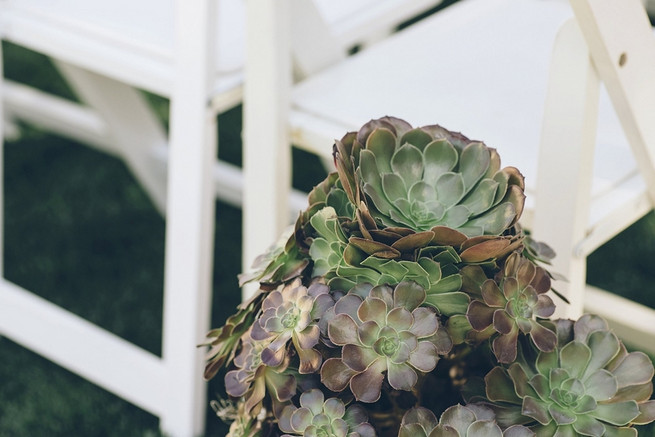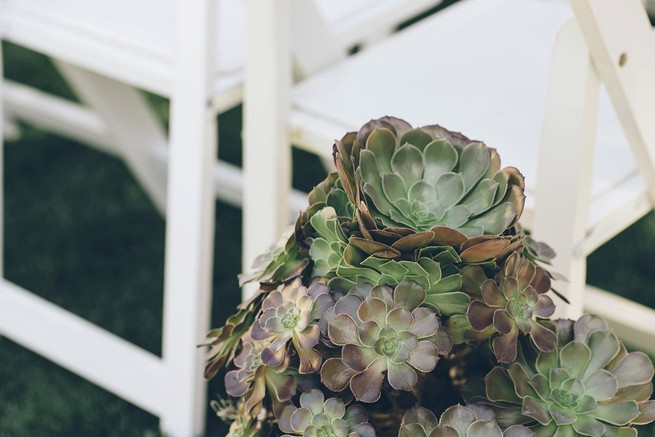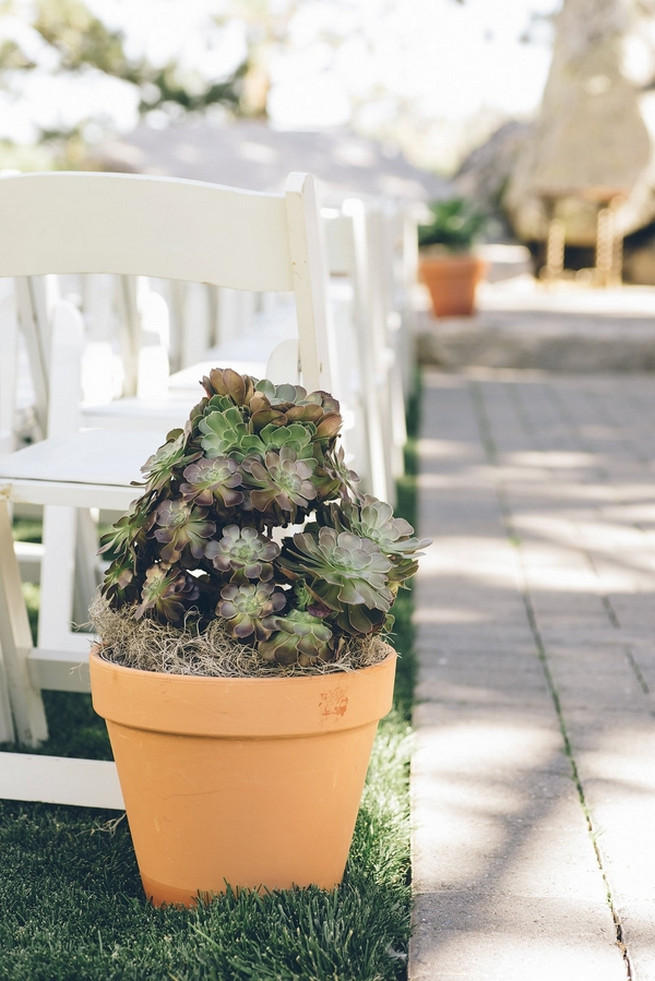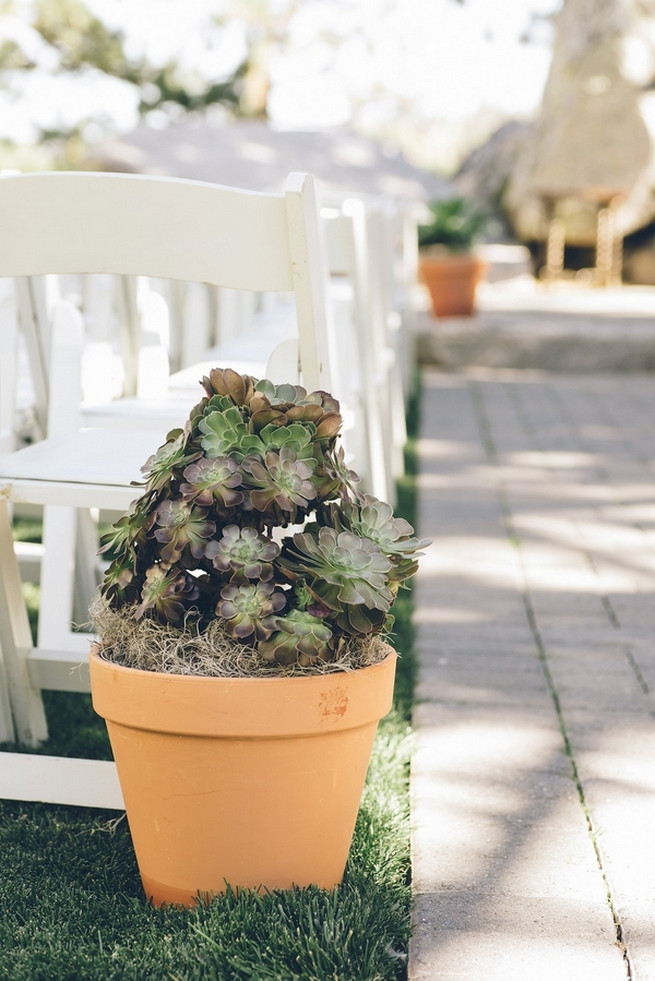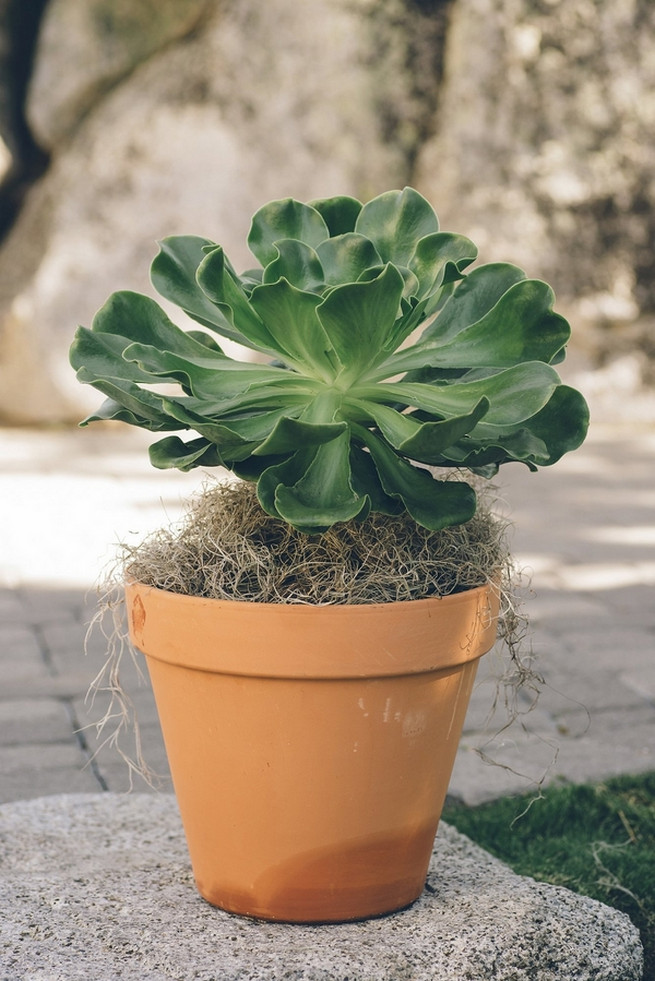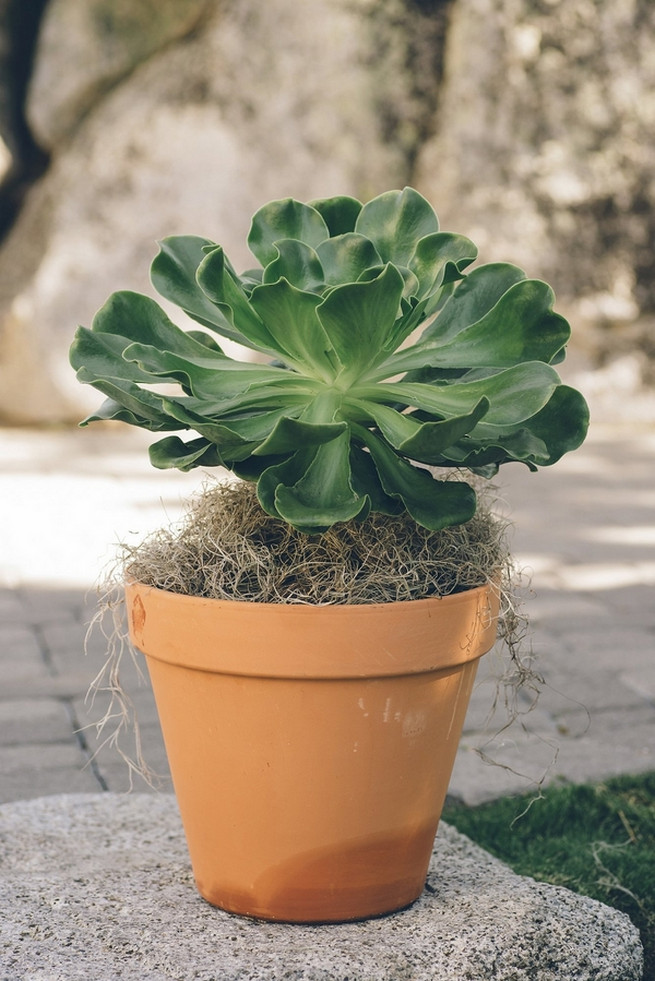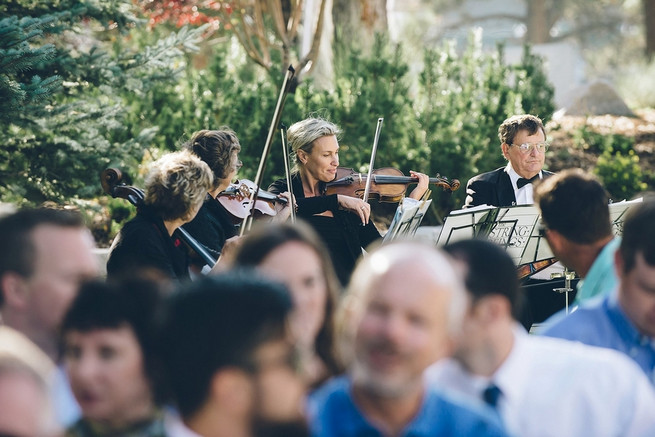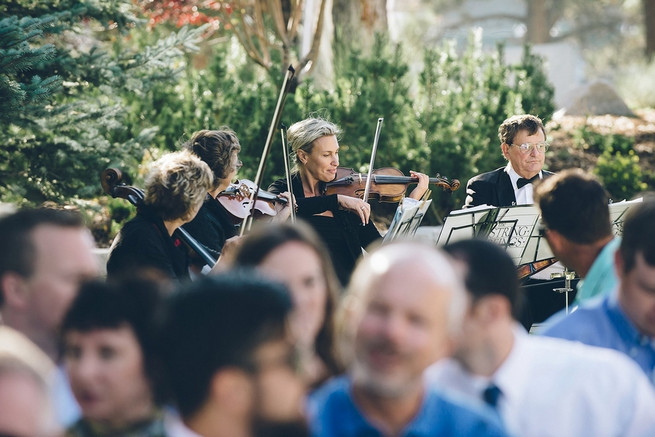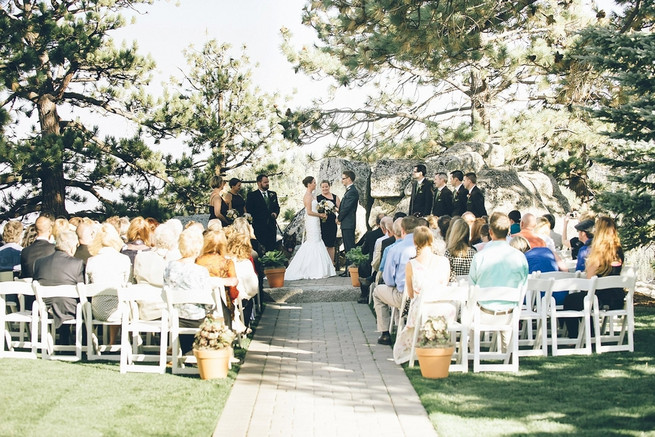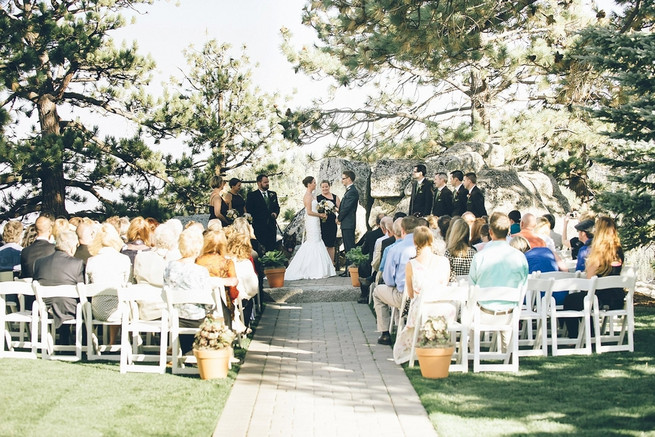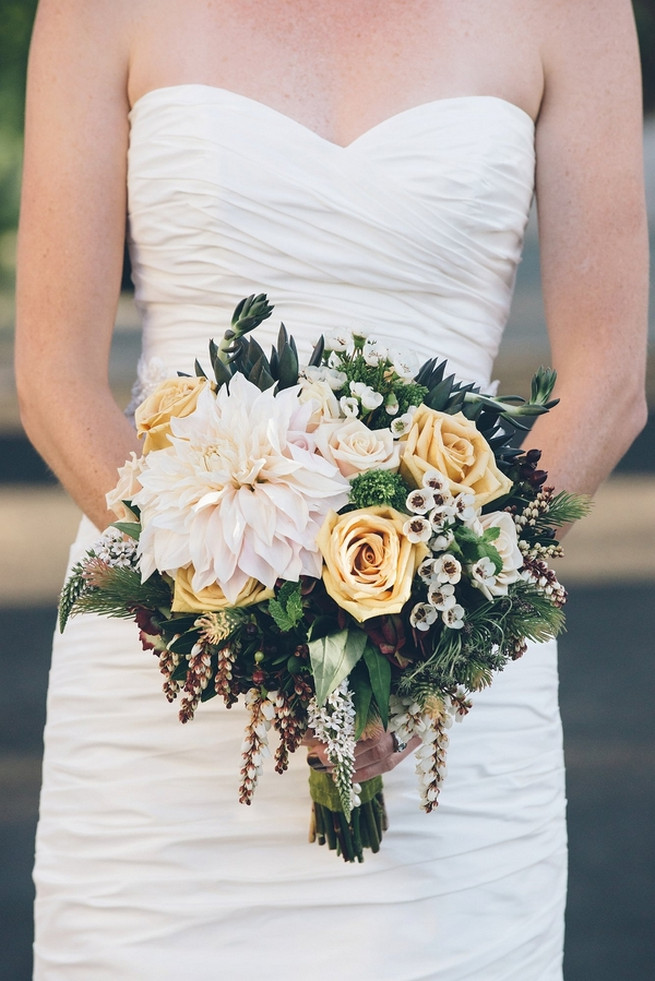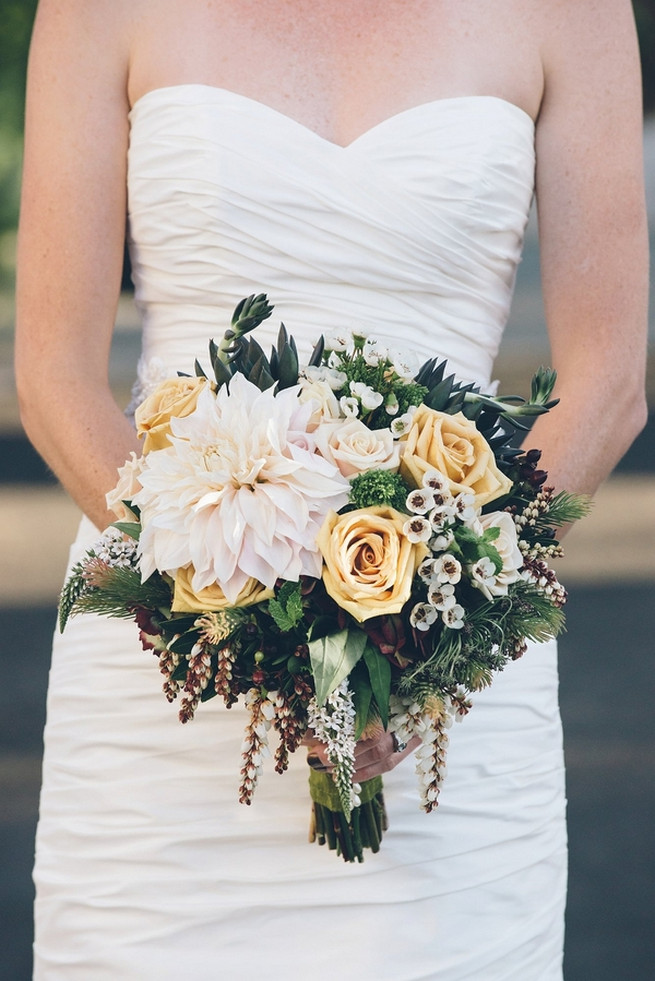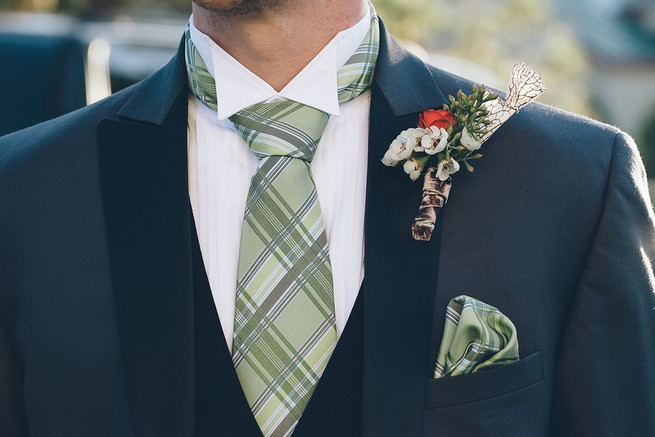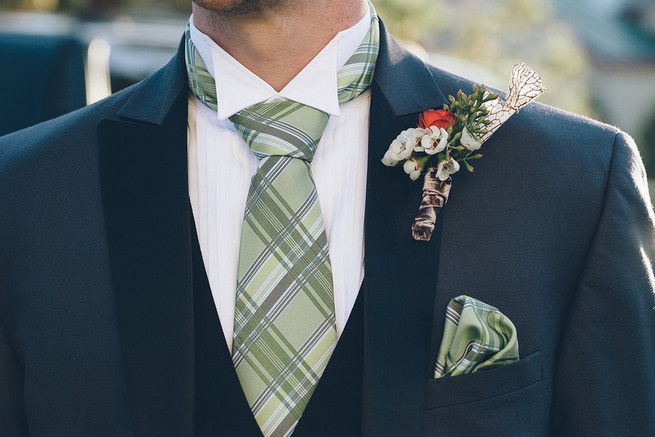 "We did a knot tying ceremony and used some of our old climbing ropes and knots that we use as climbers."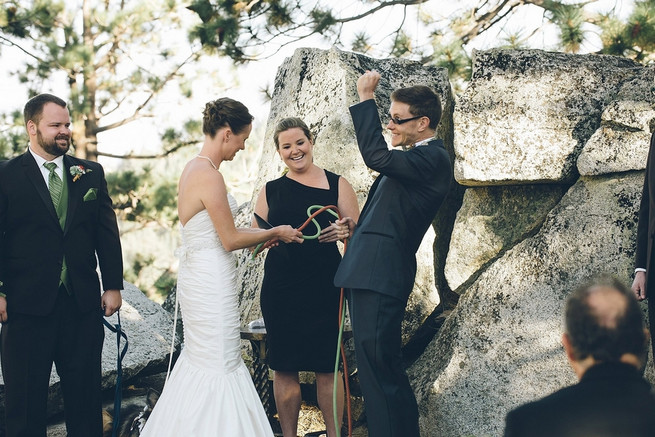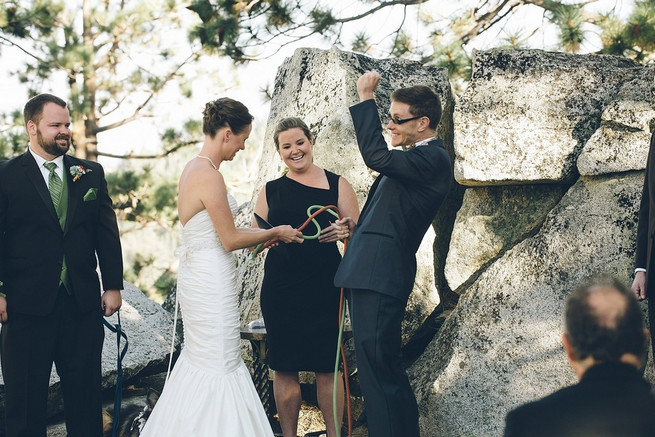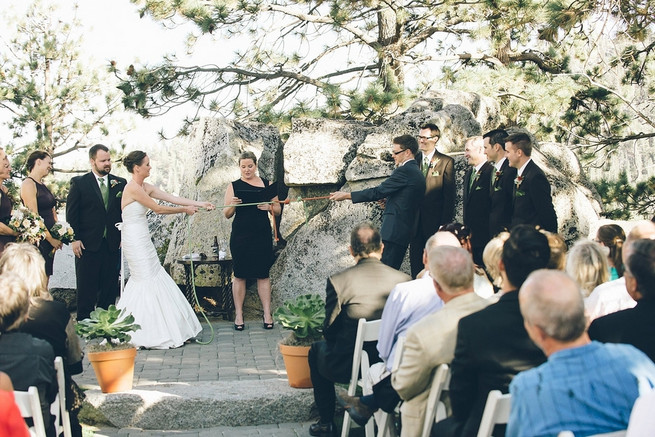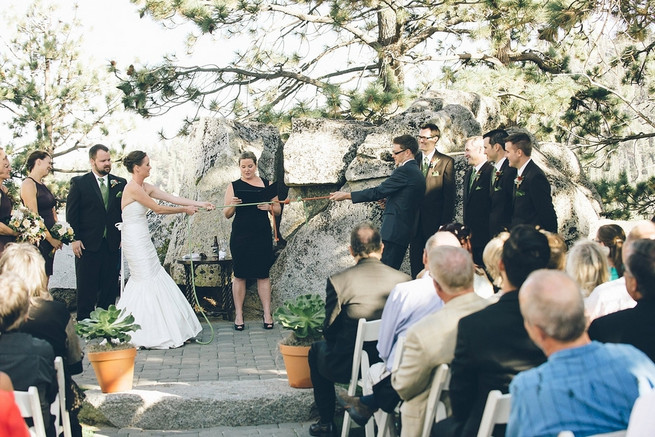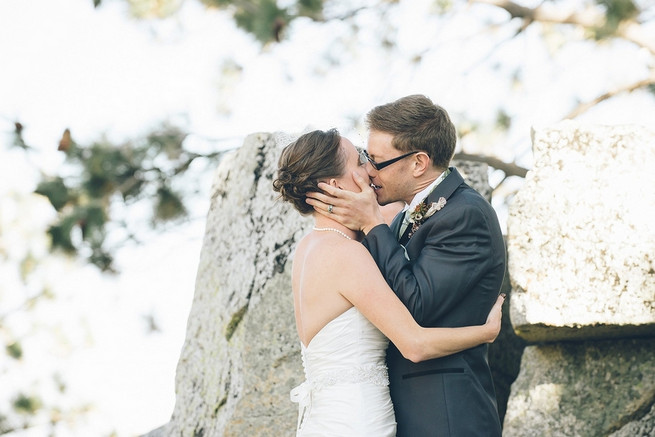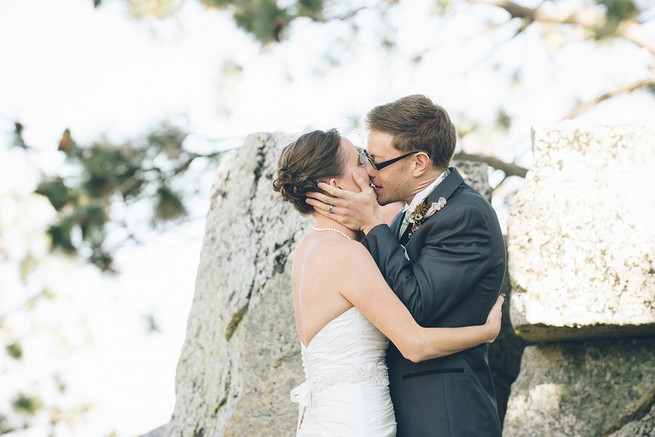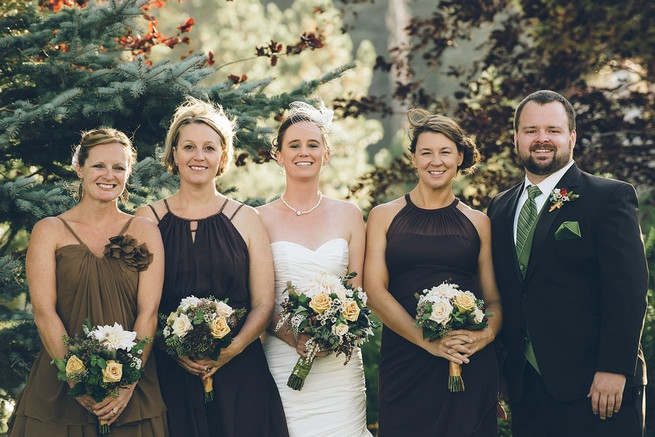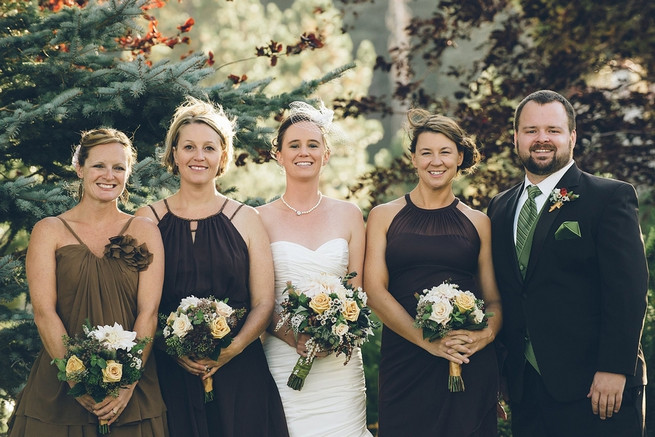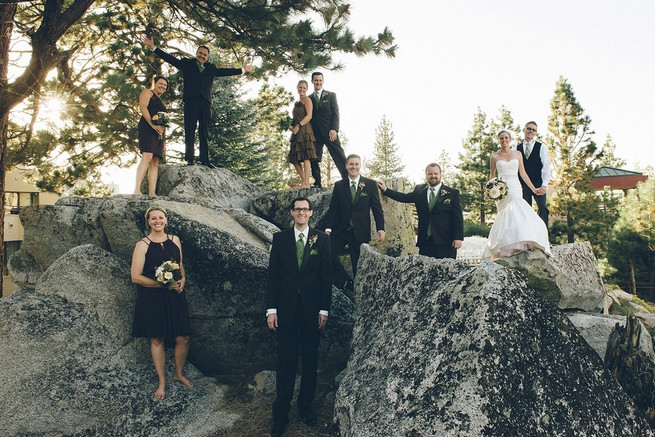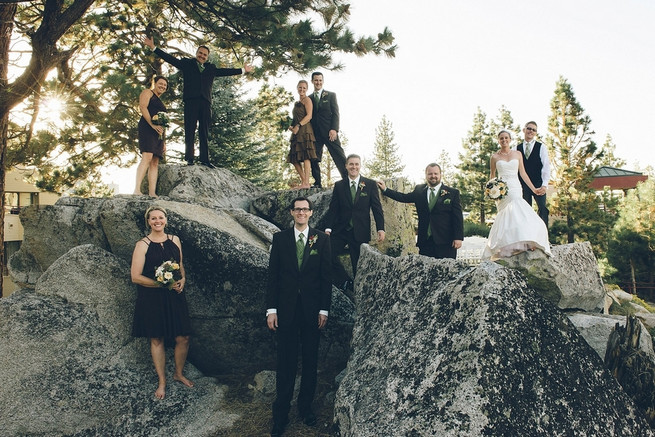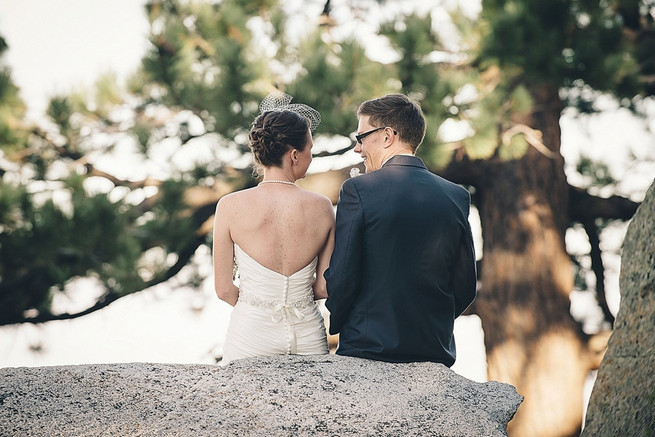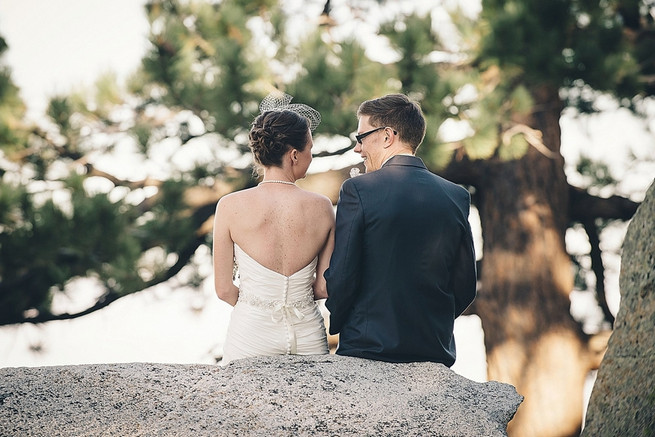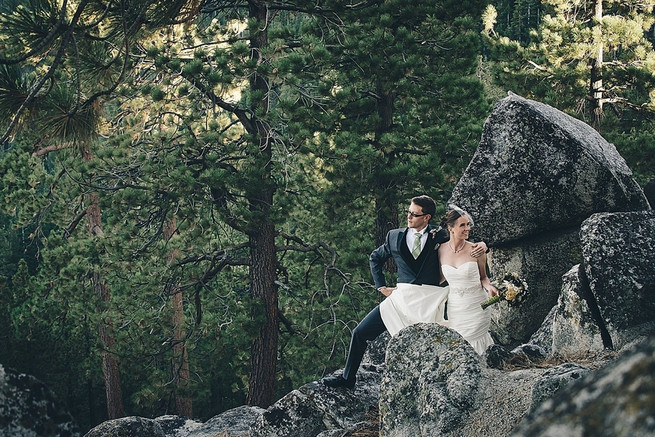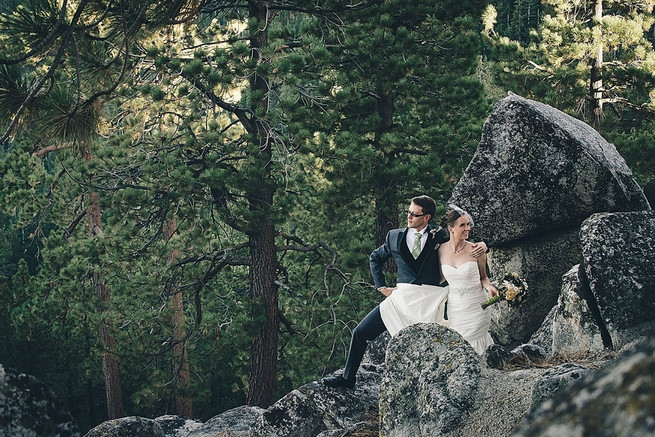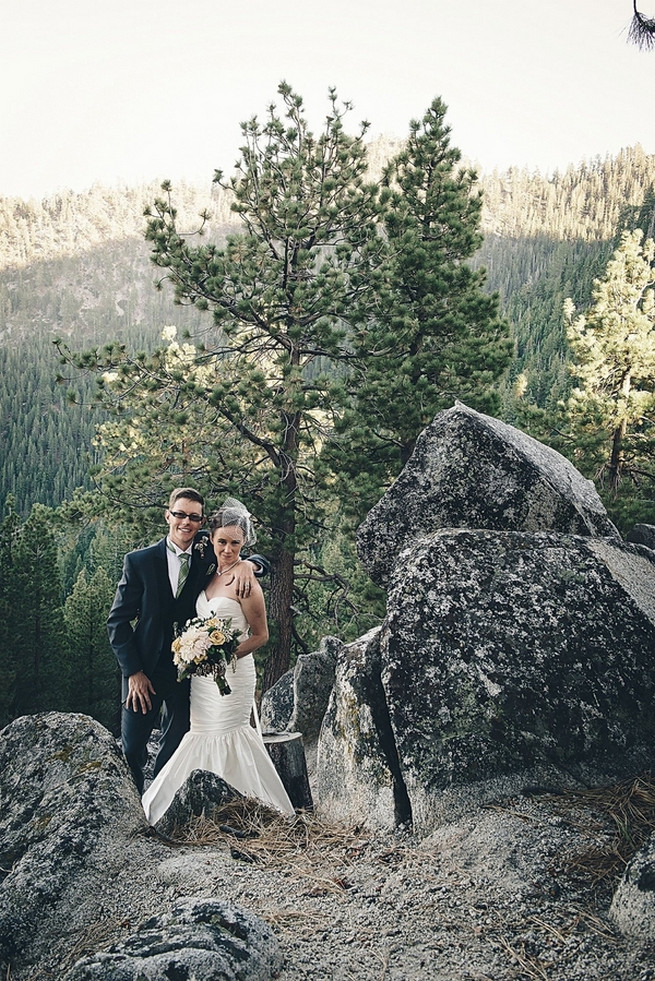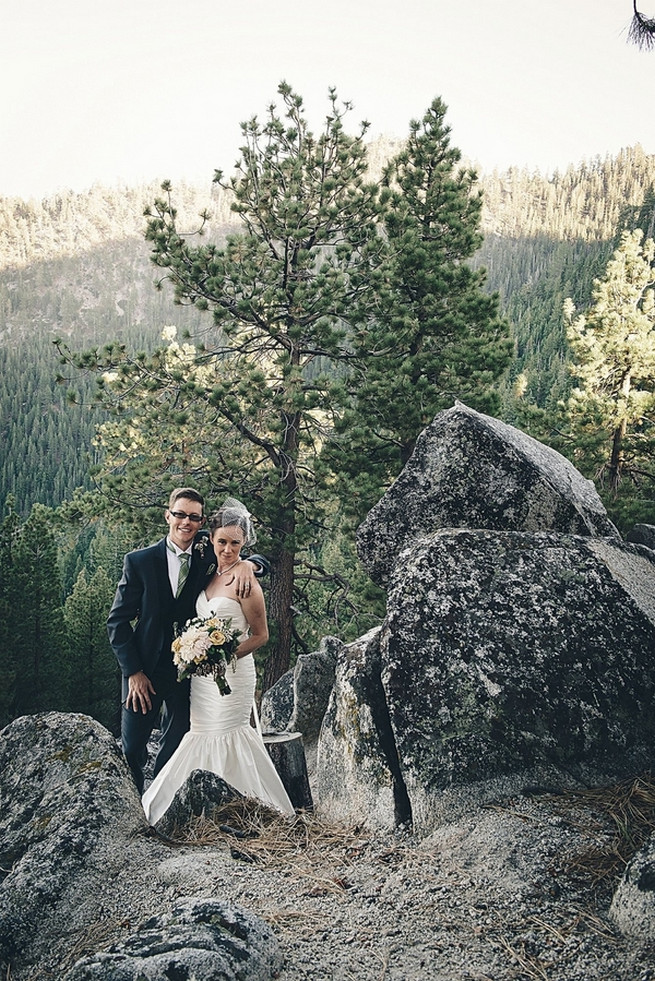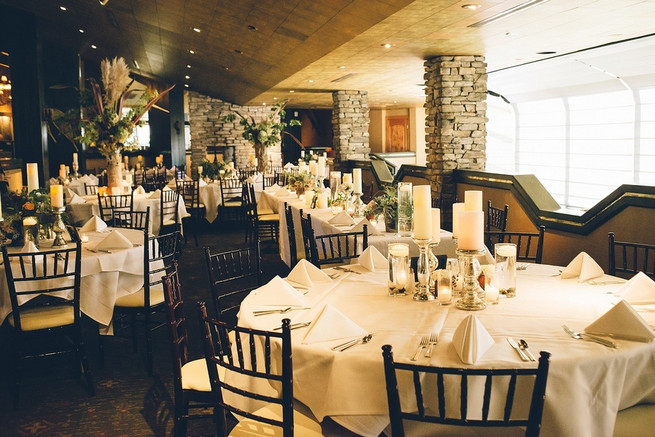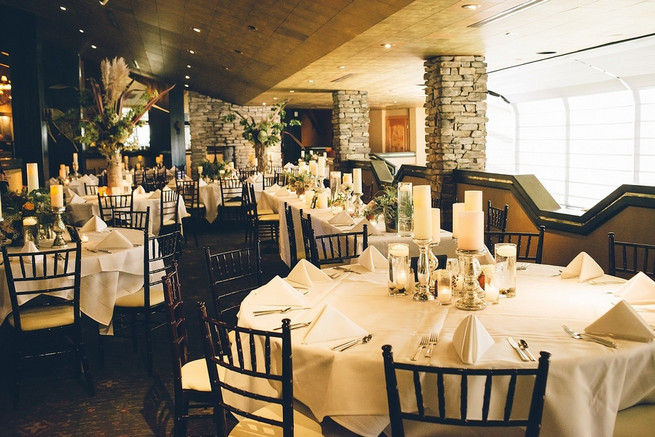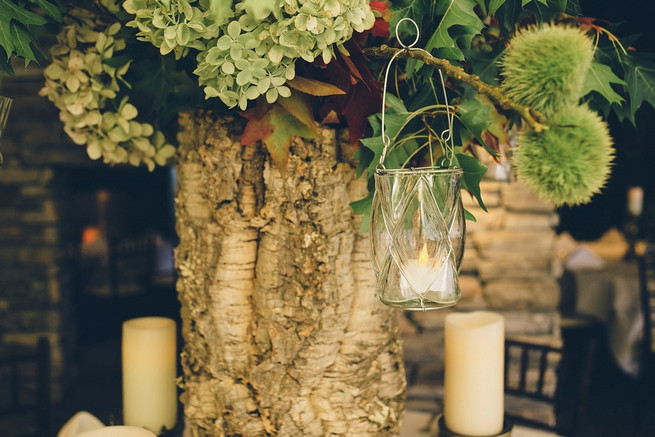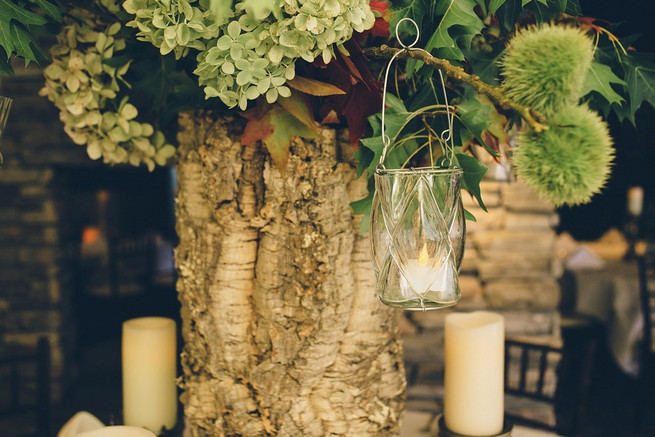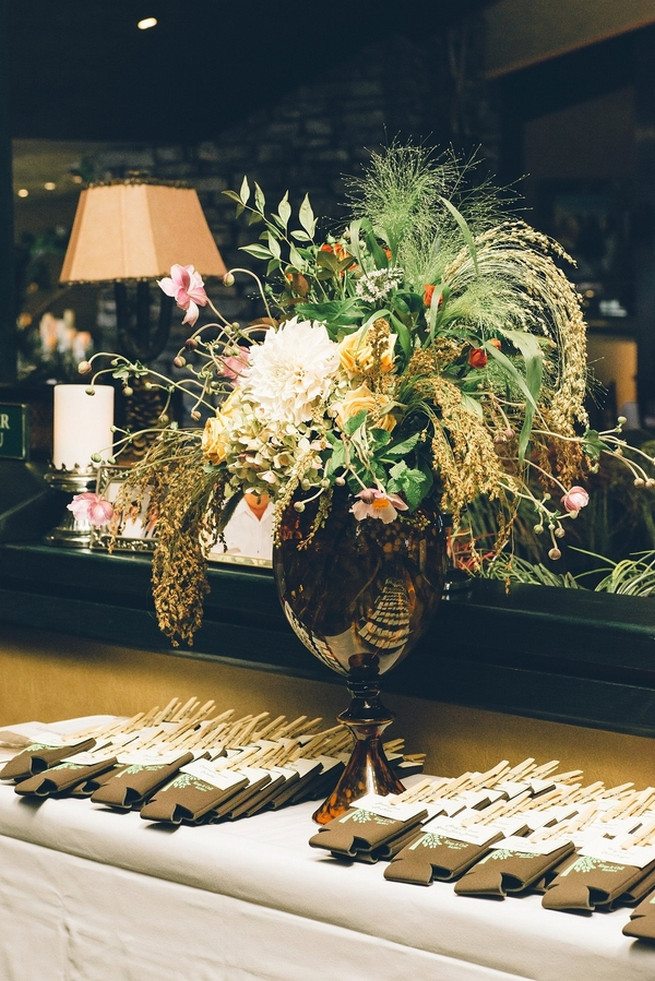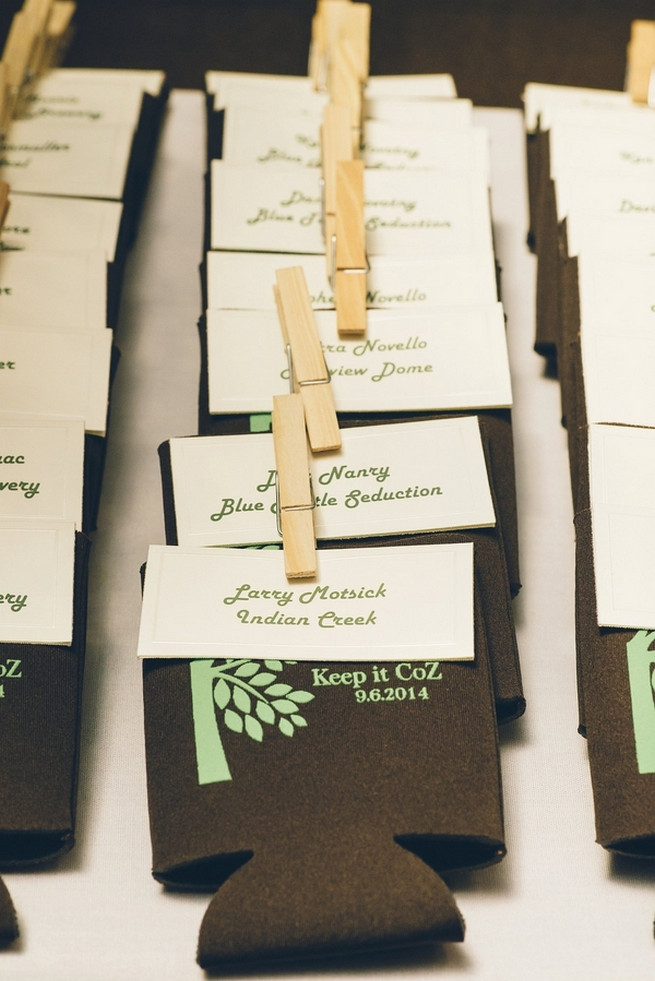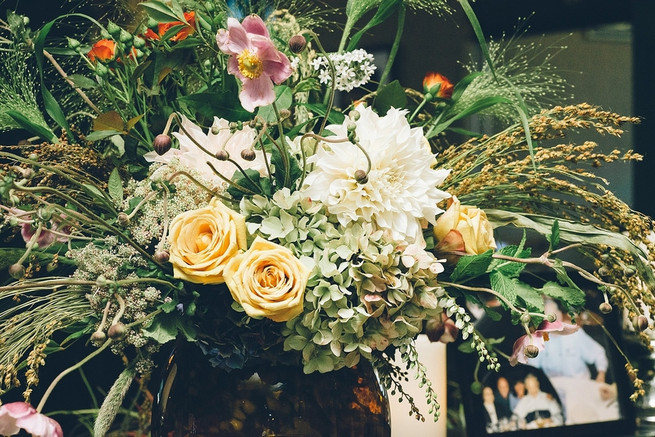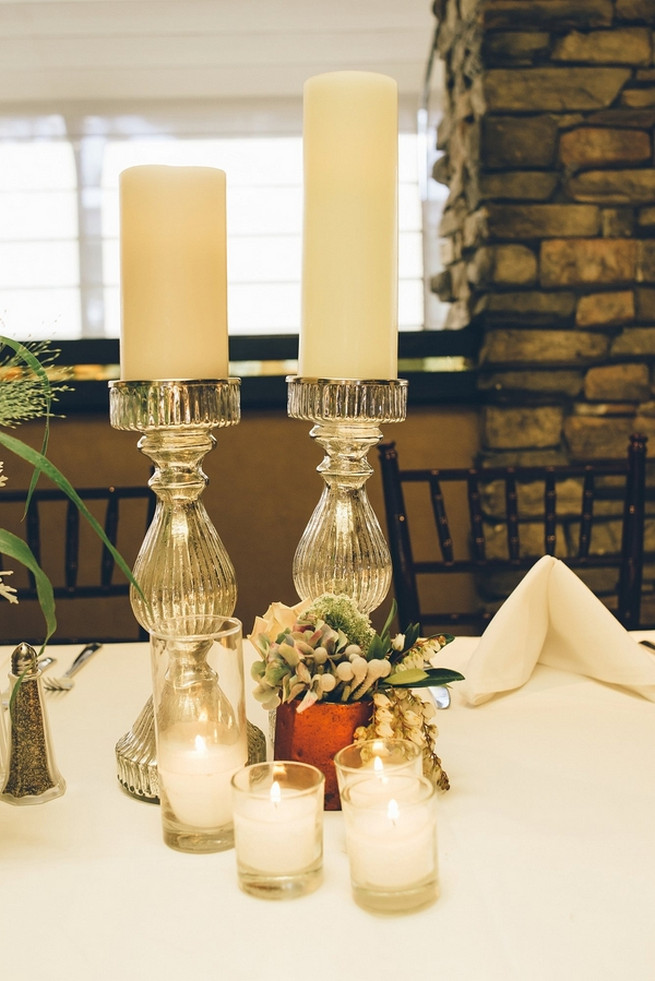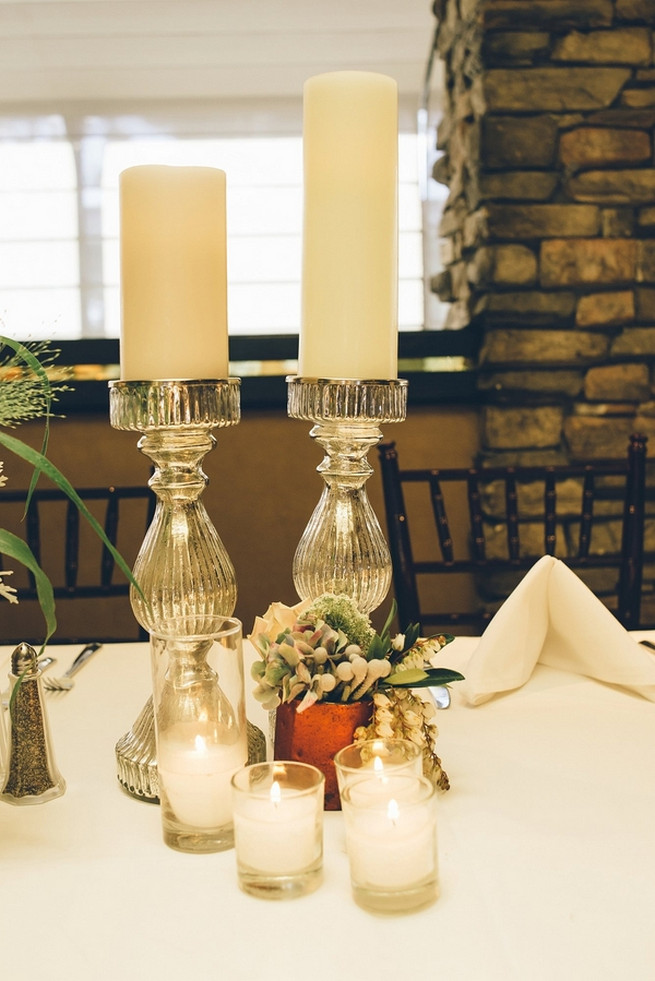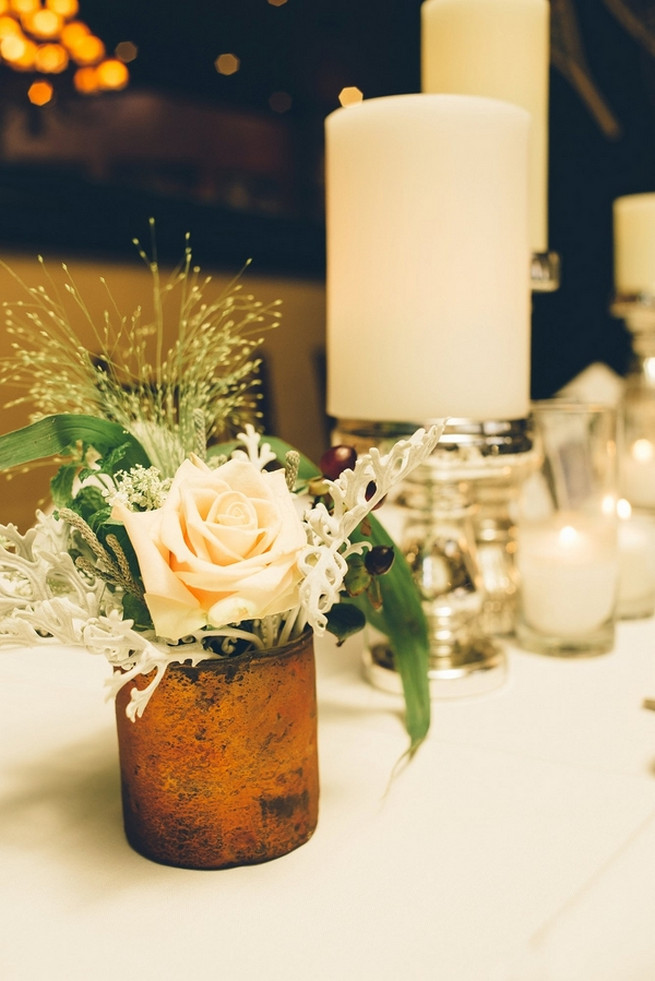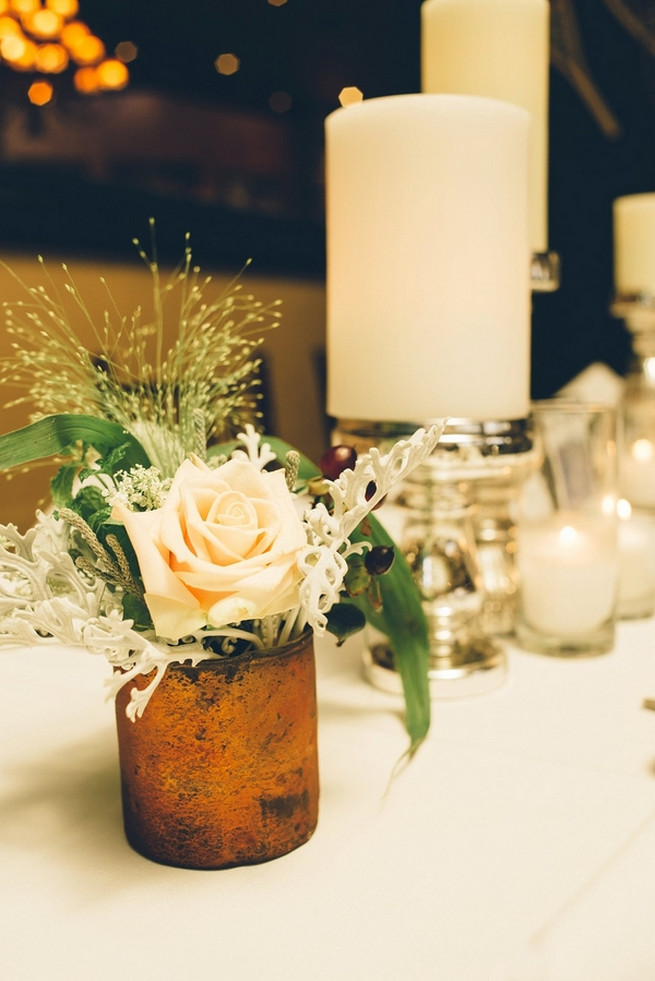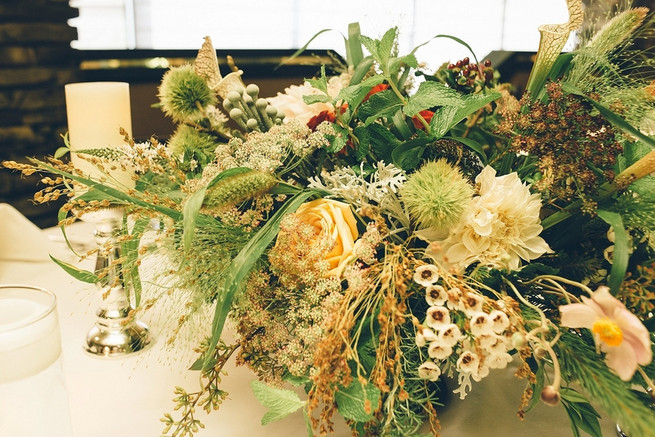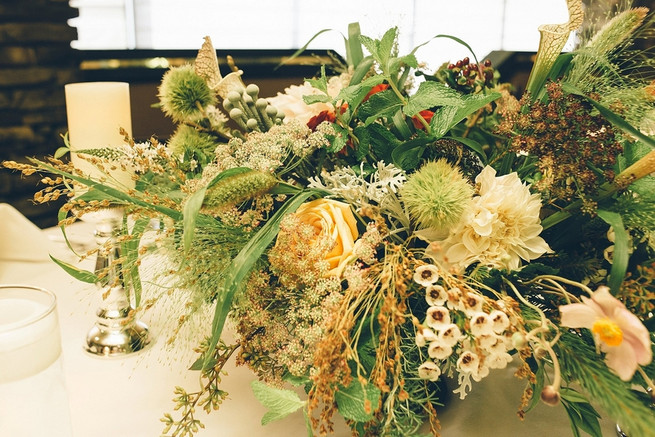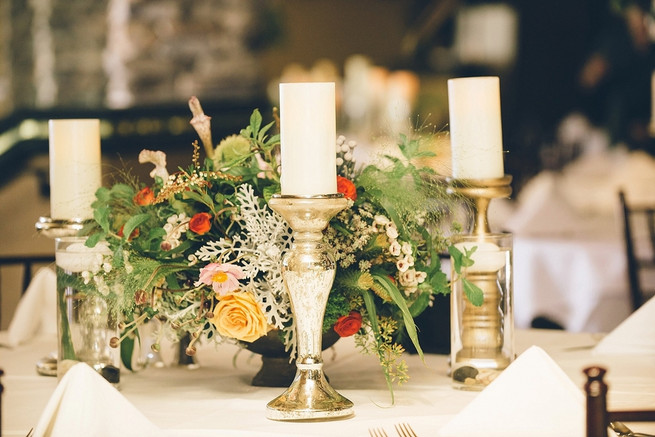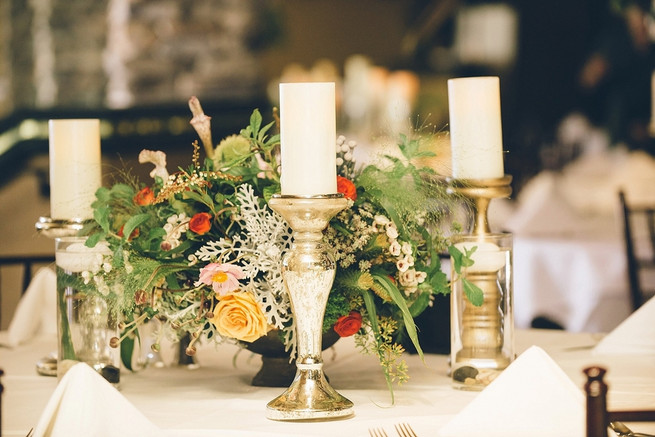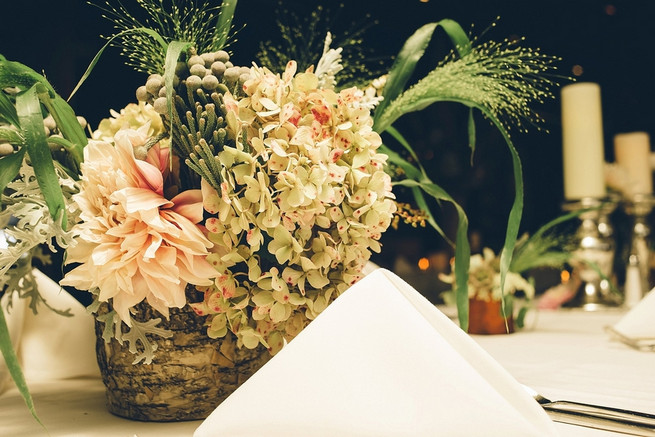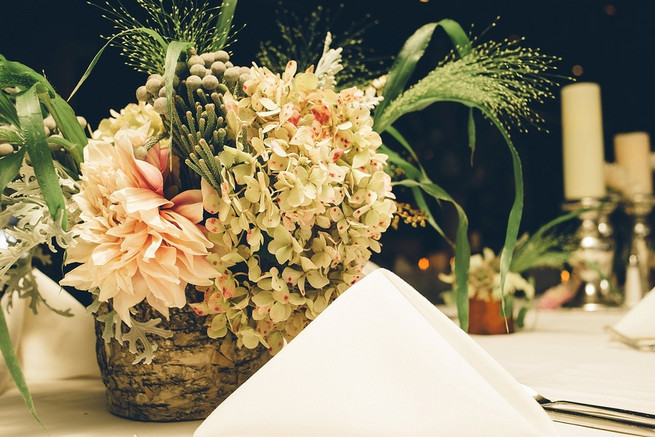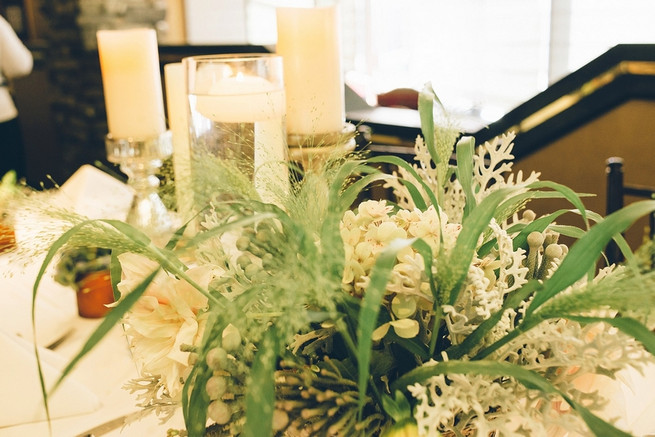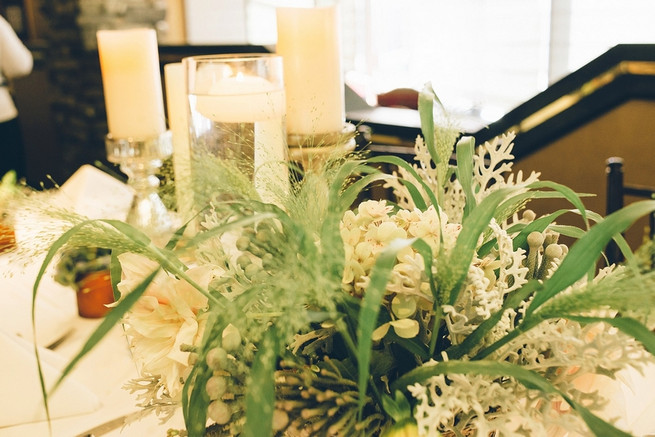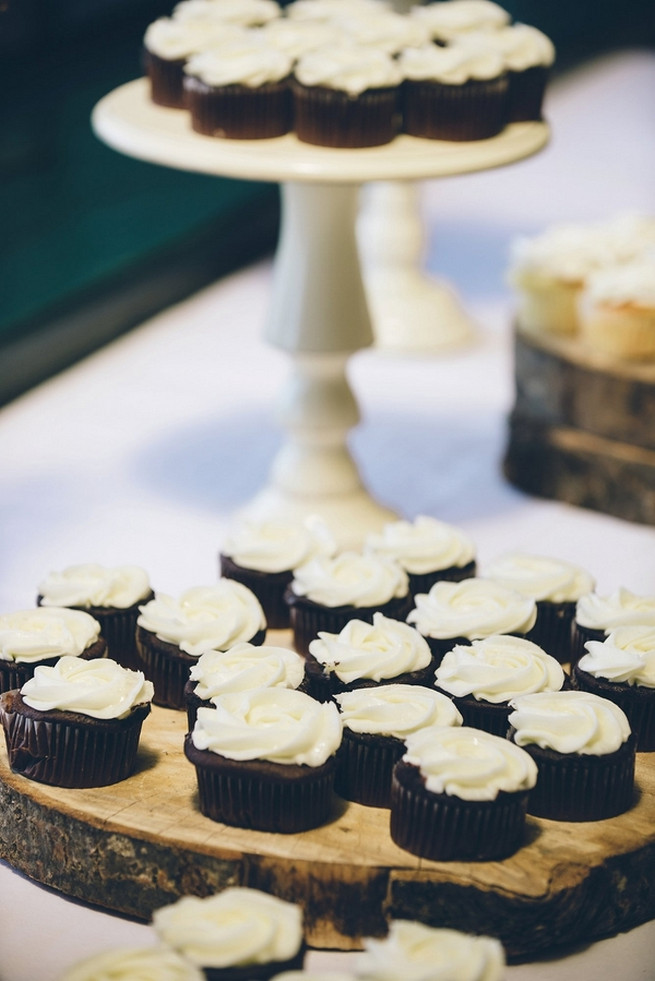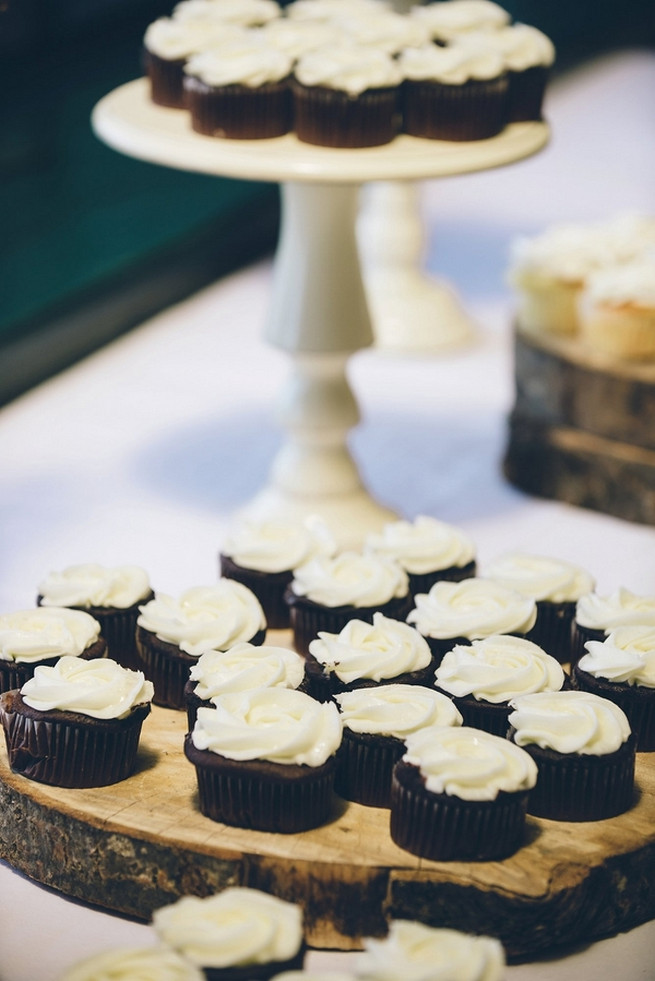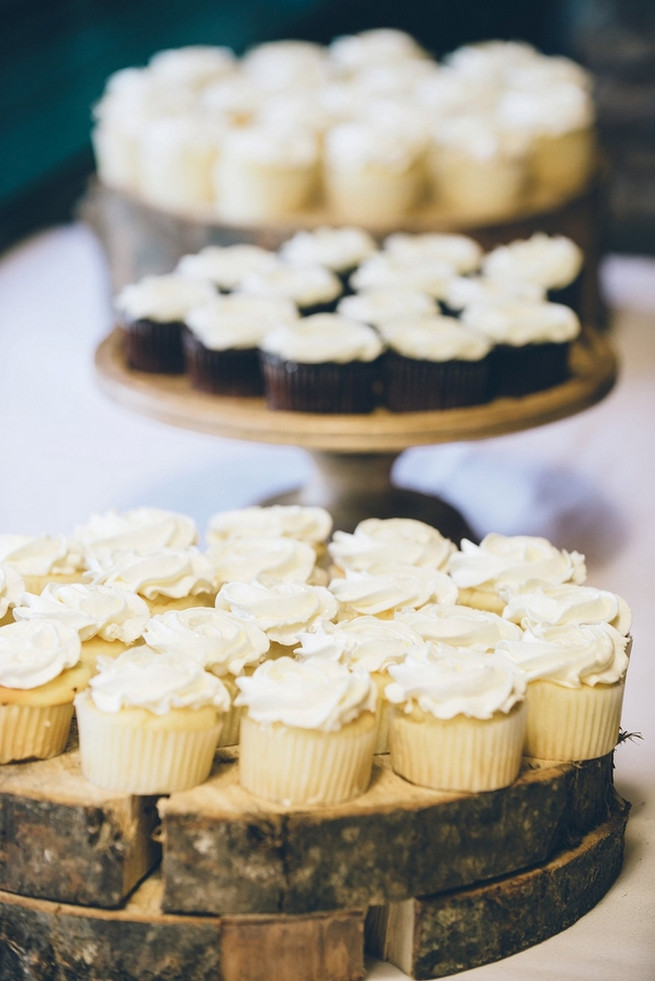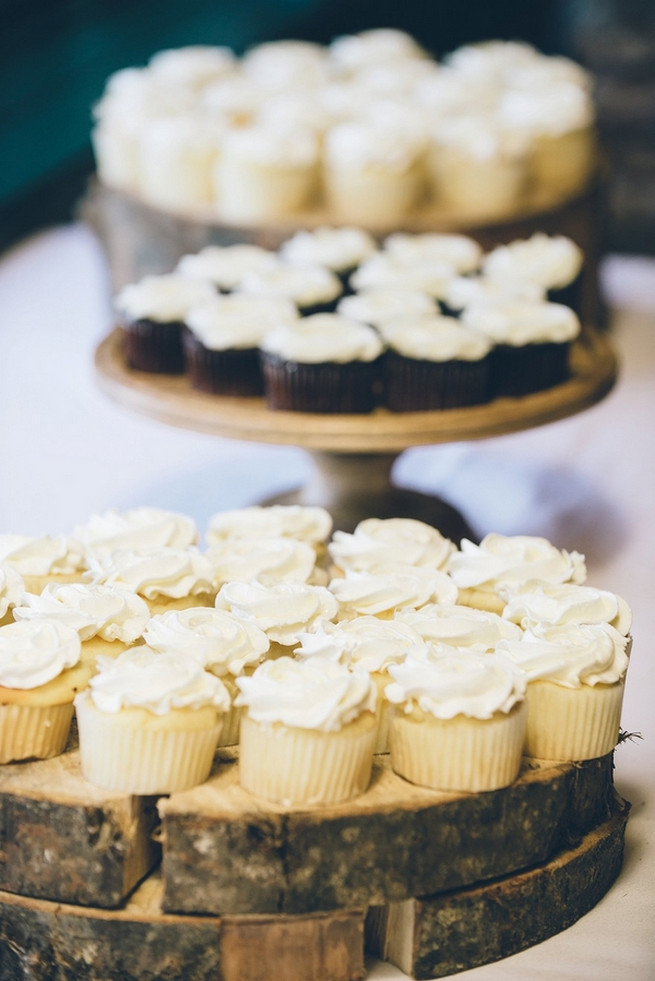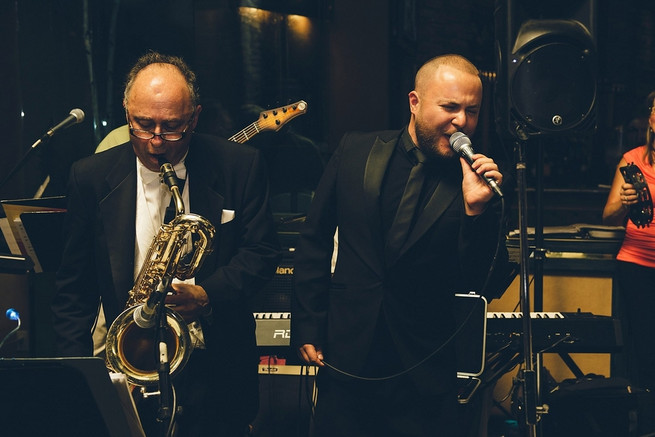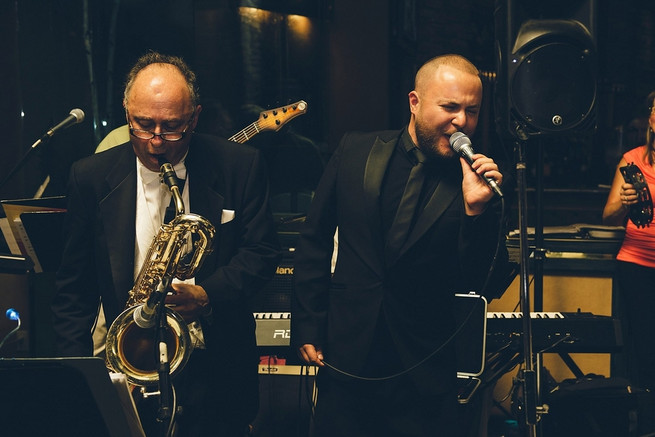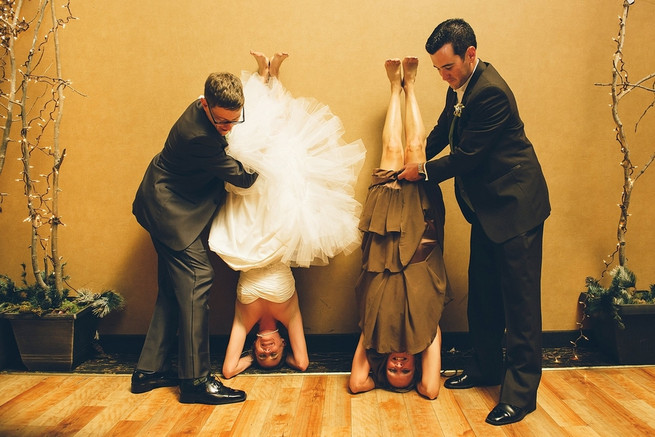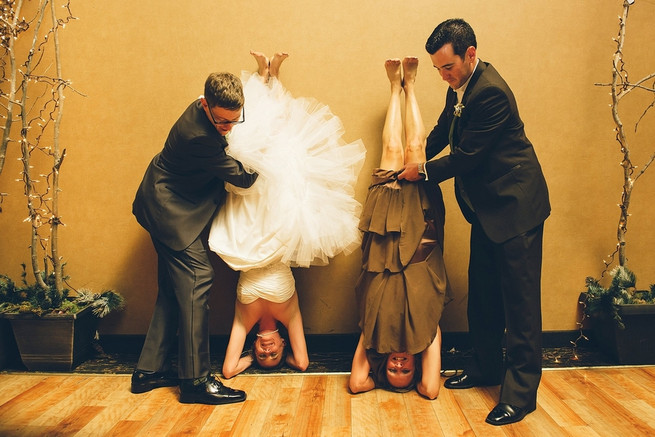 Rustic Nevada Wedding
Love Story: We met at our favorite brewery – Great Basin Brewery in Sparks, NV, I was being a monkey and climbing on the rafters in the restaurant when Zion asked for my number under the guise of going rock climbing together. He did call, and I invited him on a climbing trip with my friends. It was all over from there 🙂
Wedding Dress: I found my Paloma Blanca dress at a little boutique in Reno called Swoon. That is a fabulous place and one of my best wedding experiences. The dress is a simple, but elegant fit and flare  with a sweetheart neck line and a beautiful handmade beaded belt.  My accessories were by Sarah Gabriel.
Wedding Flowers: My florist, a lifelong friend, picked all the flowers out .The flowers were the most amazing I have ever seen!!! I get major goosebumps just thinking about them. I knew Tina of Lavish Floral is a total genius so I just gave her some very general words of guidance and let her do whatever she wanted. It was so awesome and I cried a little every day as the bouquet died in the week after the wedding. She included a huge variety of blooms including St John's Wort, Mint, hydrangea, pixie grass, some succulents, indian paintbrush, some roses, dusty miller, different grasses, birch, hops, rosemary, and many others. So awesome!!
Groom's Attire: My dashing groom wore a tux with a little green plaid pocket thing and matching tie. So nice.
Wedding Ceremony Details: We had one of my best friends perform the ceremony. I walked down the aisle to the Imperial Death March played by a string quartet. We did a knot tying ceremony and used some of our old climbing ropes and knots that we use as climbers. We also did a toast with the signature beer of the brewery where we first met. It was all very non-traditional and not religious. Zion did stomp on the wine glass at the end of the ceremony to honor my mom's jewish side. The ceremony didn't need much decoration, it was outside on the edge of a mountain, so the backdrop was a beautiful valley 1500 feet below and we were surrounded by large old growth pine trees and large granite boulders. Our florist did add some nice potted succulents and rosemary to the ceremony area and there was an arch decorated with hops at the beginning of the isle, just simple and elegant letting the natural beauty surround us.
Wedding Guest Book: The guest book was a coffee table book filled with all old photographs of Tahoe and Tahoe culture in the early 1900's. We just had people pick a page and sign away. For seating we printed out everyone's names and attached them to customized beer cozies with the name of the table. We named tables after places that are special to us and created signs on the tables with a photo and a little description of the place and why it is special to us. Table names included our favorite band, the place where we met, some of our most favorite rock climbing spots, etc.
Wedding Playlist:  Our first dance was Al Green's Love and Happiness which our good friend and singer performed for us.
Advice for brides:
Find people you love and involve them. I think the best and most touching part of the wedding and the whole process was working with my amazing vendors and friends. They all really cared and without them the day would not have been nearly as special.
Make sure to go through the day/event with your husband to be. It is such an awesome day that you both get to experience together. And it is all about you! Don't let anyone tell you otherwise. This is for you and your husband and it should reflect what is important to you both. During the special day, forget about all the little nagging details and just enjoy being in the moment because it is over in a flash.
♥ ♥ ♥ Wedding Vendors: ♥ ♥ ♥
Venue The Ridge Tahoe  // Photographer Lauren Lindley Photography // Dress Swoon // Brides Hair & Make Up: Sarah Santana  // Flowers Tina of Lavish Floral // Cake Cakes By Grace // Music String Beings
Stationery The Little Print Shop  // Suits Tuxes from Sidestreet Boutique
Stand Out Vendors: 
I loved them all and would recommend them in a heartbeat, but the flowers from Lavish Floral were just absolutely incredible!! Oh, the textures…