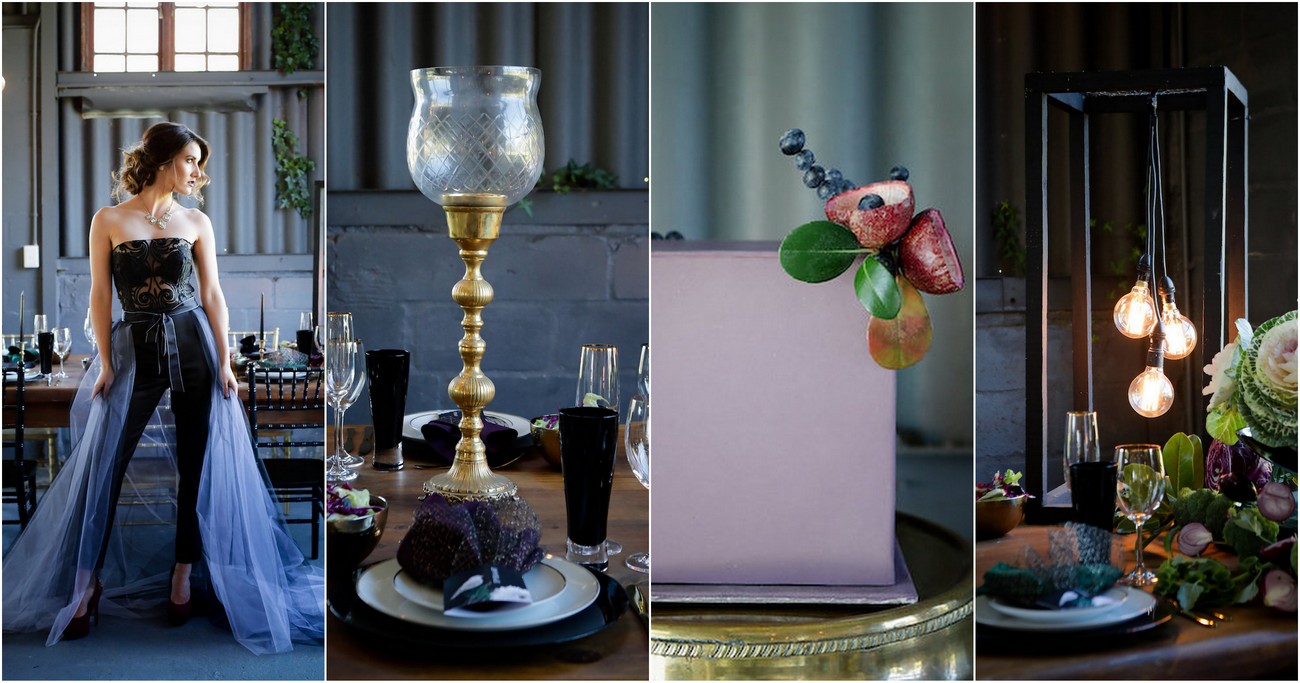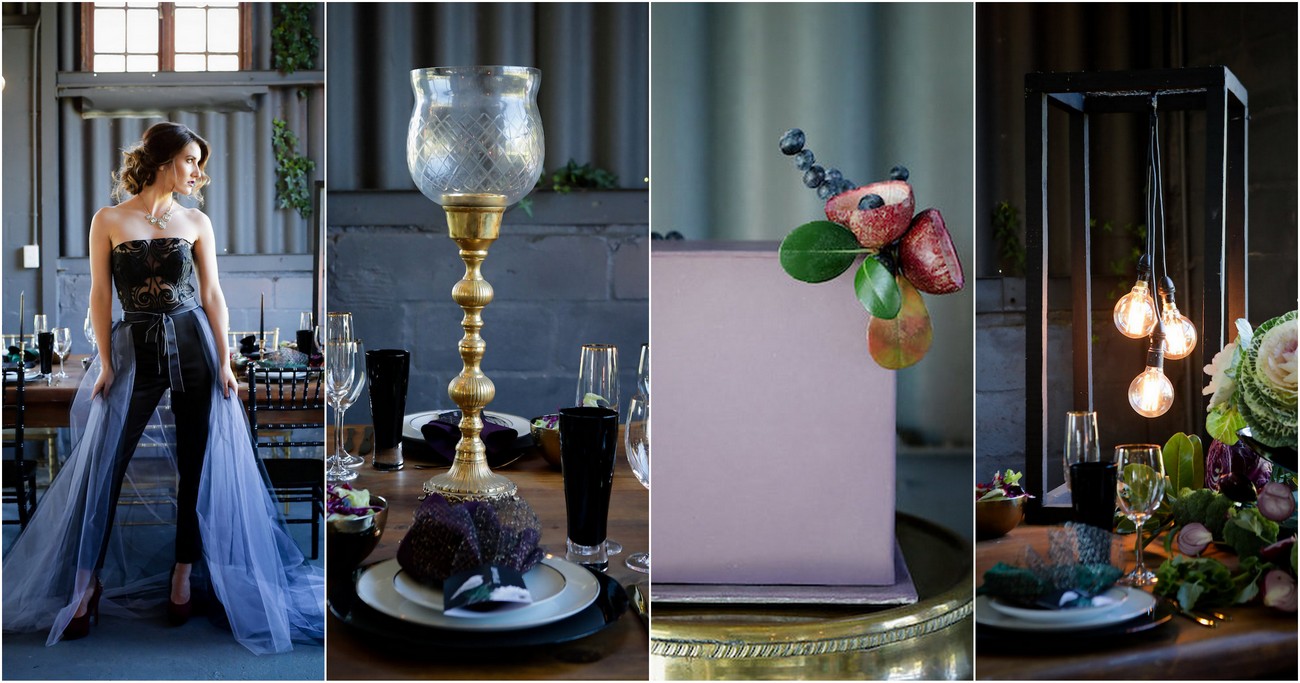 Today's strikingly moody, purple, black and gold wedding ideas are inspired by the unconventional fairy-tale twist brought about by Maleficent. Showcasing a broody and bold mix of purple, black and gold wedding in alternative tones, Mrs V Atelier and Creatives International began by using flowers that were almost all edible. 
Instead of a traditional white gown, the team styled their bride in convertible jumpsuit dress which was romantic and soft, yet still brooding – a multi-purpose item to later be worn as a smart-casual outfit. Focusing on alternative styling options for the unconventional bride, the look was paired with bold plum lips by Cecilia Fourie. Neo Venue Space provided a backdrop of timeless elegance, with greenery that bursts through the walls here and there to remind us that "nature always perseveres".
The floral arrangements were of red onions, cabbage flowers, red cabbages, baby eggplant and broccoli. The team also added dark, miniature arum lilies, peppercorn leaves, Irish bells and white King Proteas. Lighting designs by Baie Goeters placed inside black structures, creating a moody atmosphere. Talk about striking!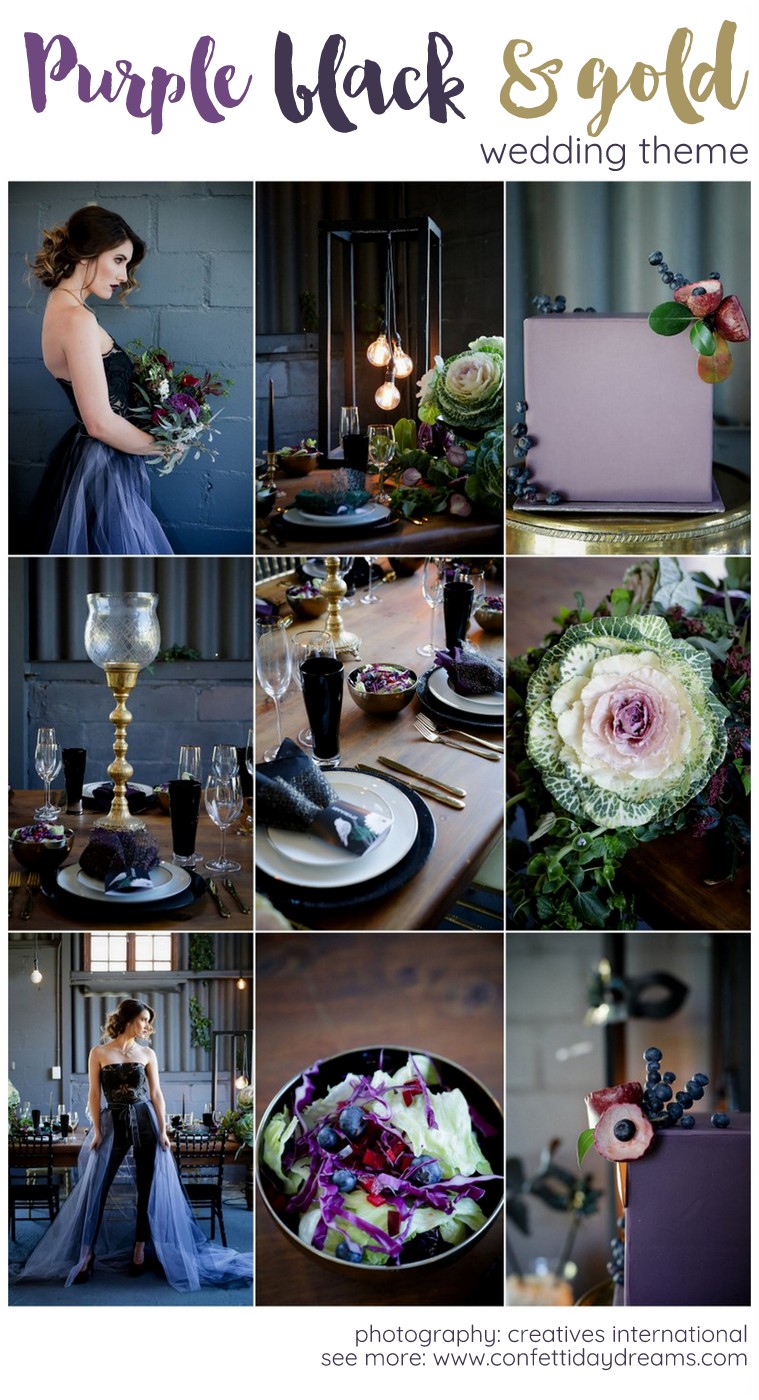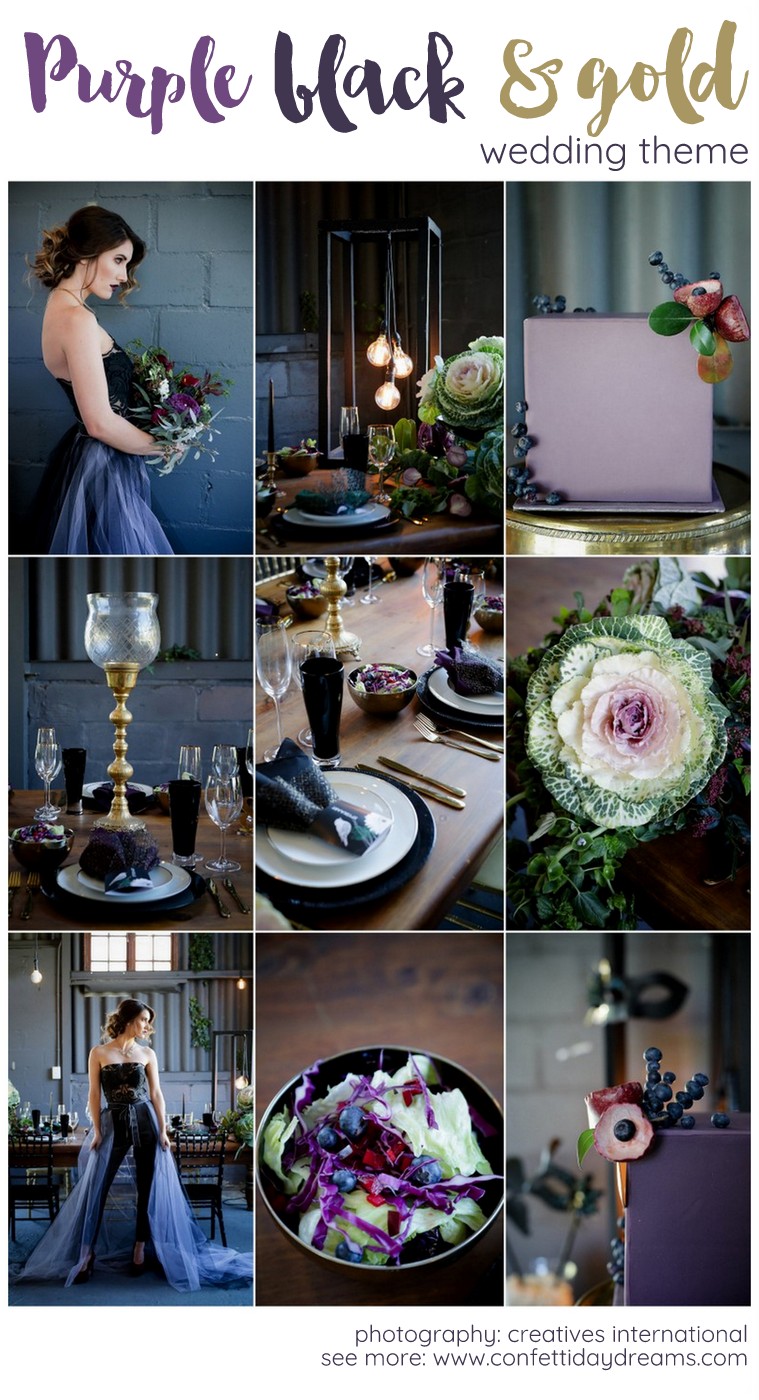 Purple, Black and Gold Wedding Styling Tips:
This theme is all about drama and romance – about reinventing an old fairytale. We asked the team to provide their tips for recreating the look, here's what they said:
Use matching, but miss-matched items: chairs in the same style but different colours, or chairs in different styles but in the same colour brings variety and drama to any theme.
Use coloured napkins and wrap them in textured tulle
Instead of typical floral arrangements, consider including fruits and vegetables – think broccoli, red onions, red cabbage. They are available in all grocery stores!
Instead of using excess linens, work with tables of wood or naturally interesting surfaces. This acts as a brilliant "clean canvas" where you can play with layer decor items of different textures on top.
Considering using a mix of different chairs around your table, such as a mix of  black and gold Tiffany or Chiavari chairs.
Minimize wastage by having dual-purpose for as many items as possible. For instance, we added a little envelope on which the menu was printed – the envelope served as a serviette-ring and menu. The wedding favours were edible. The dress could double-up as a going-away outfit (so many brides don't know what to do with their wedding gowns after the wedding day!)
Purple, Black + Gold Wedding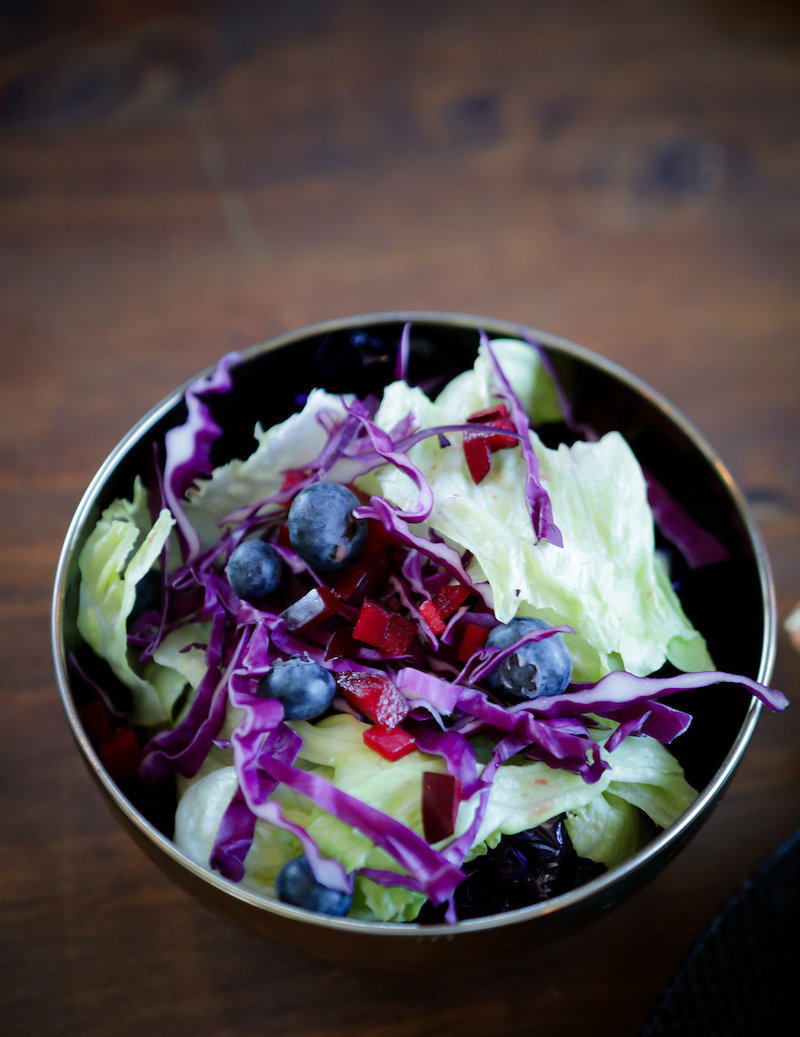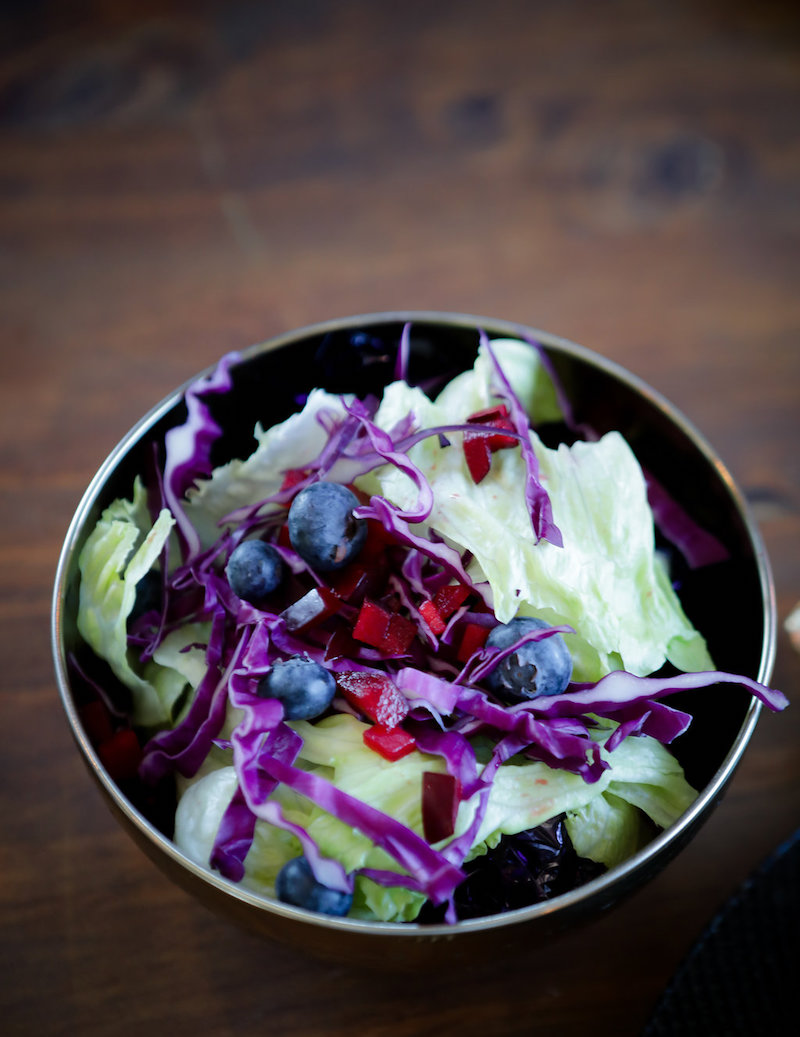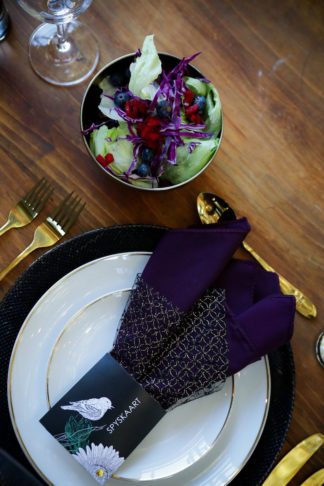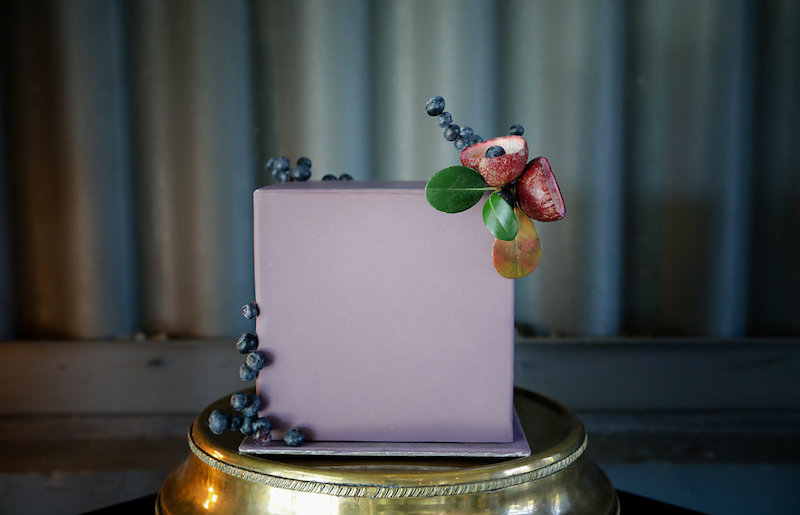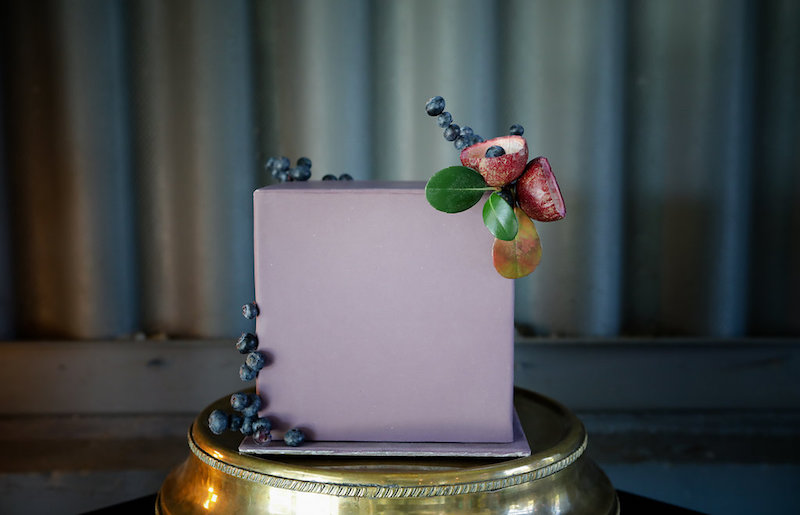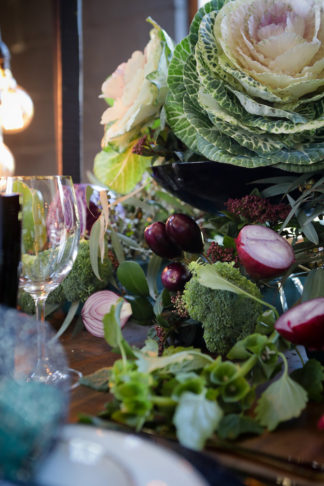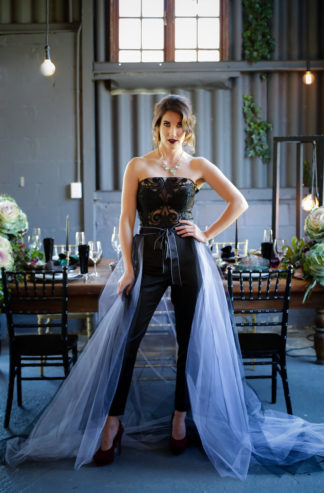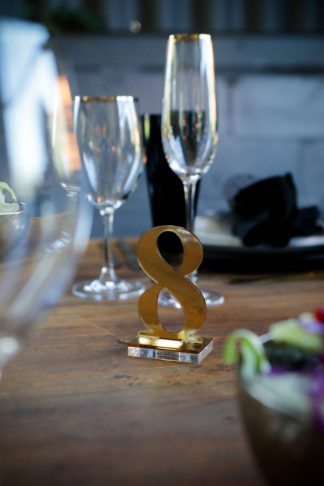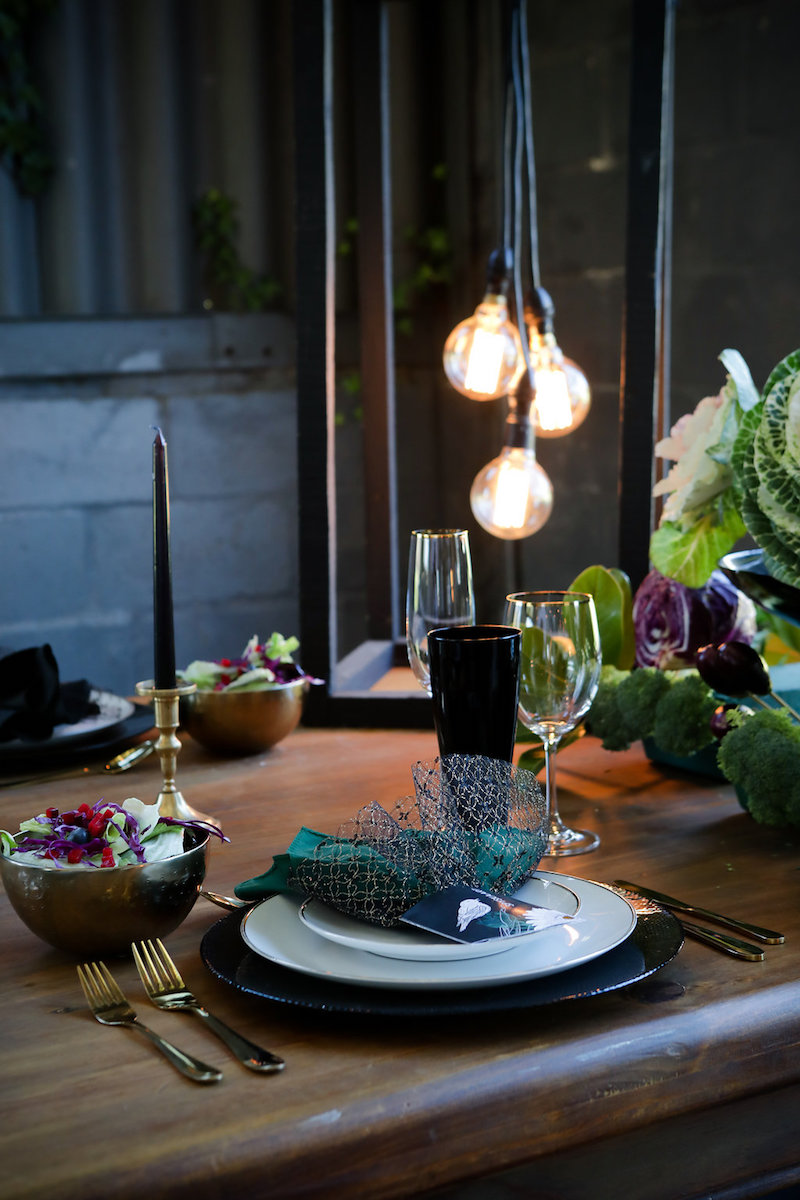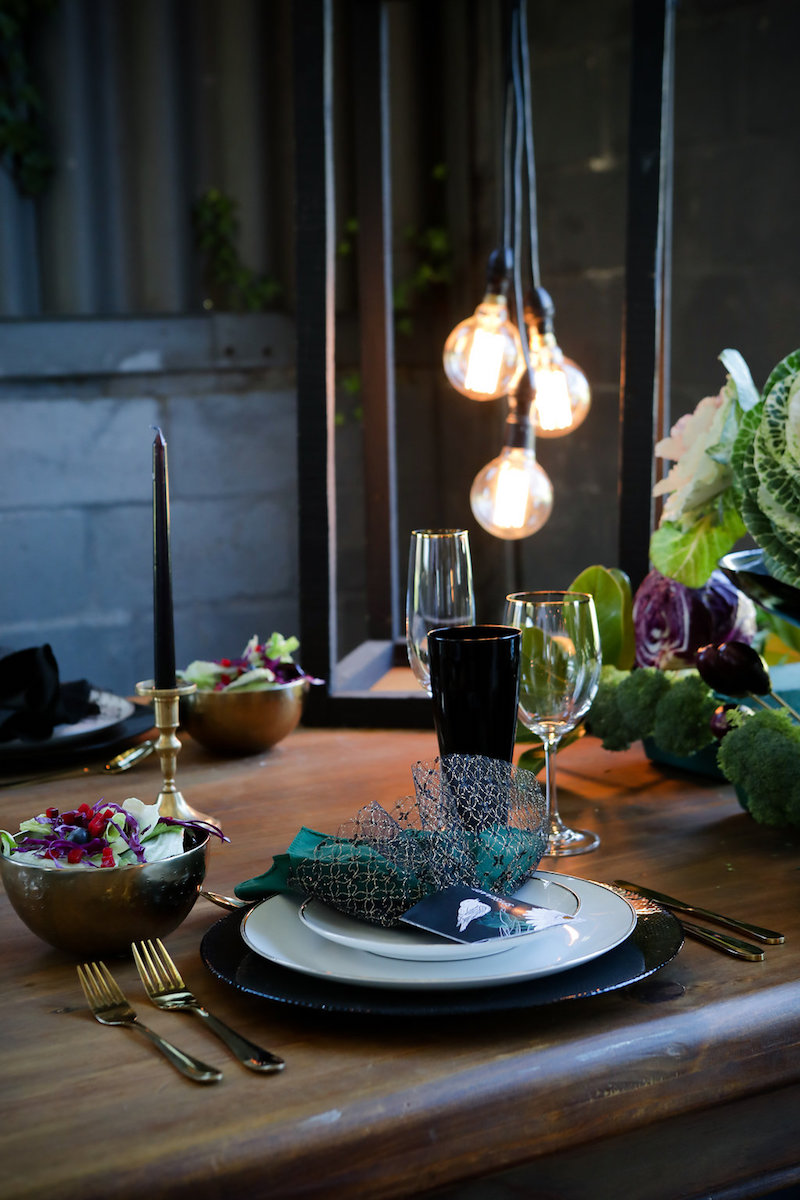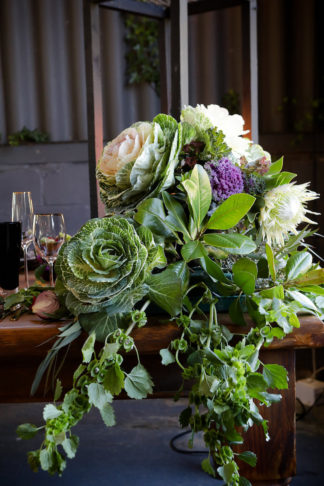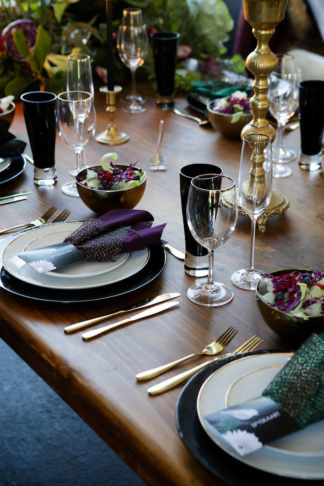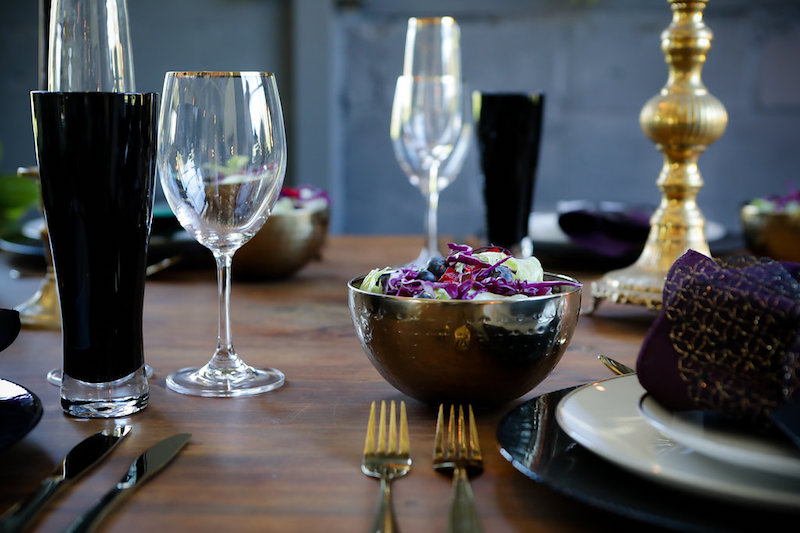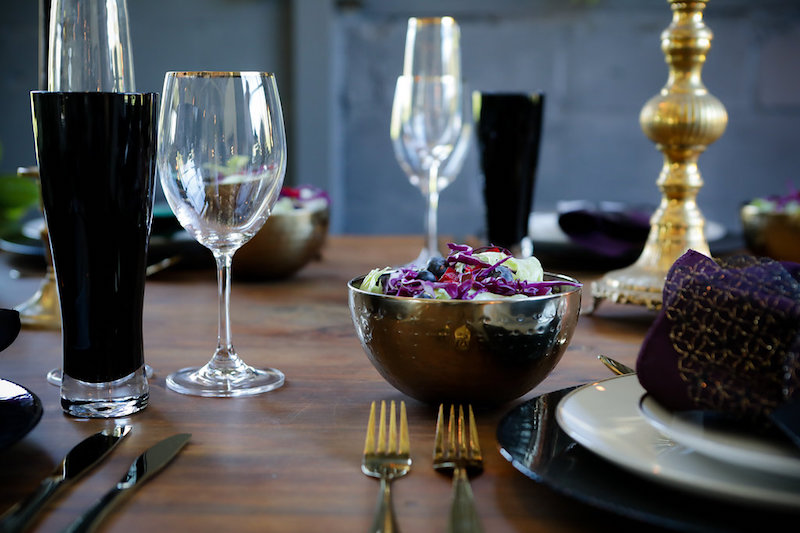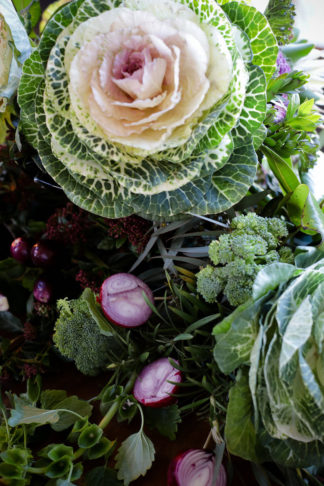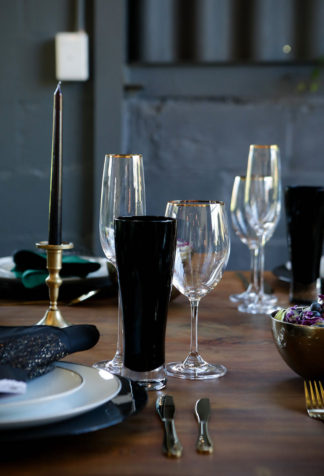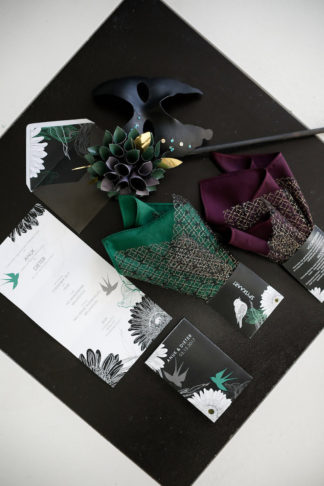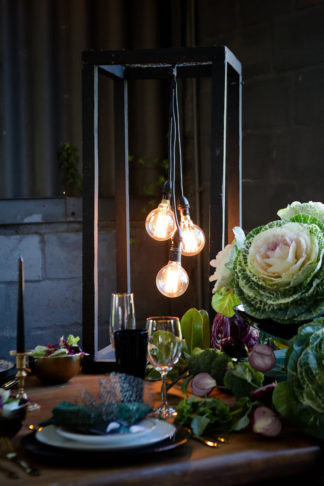 The stationery by  Letterchef @ Mrs V Atelier  featured illustrated birds and flowers in black, white and green.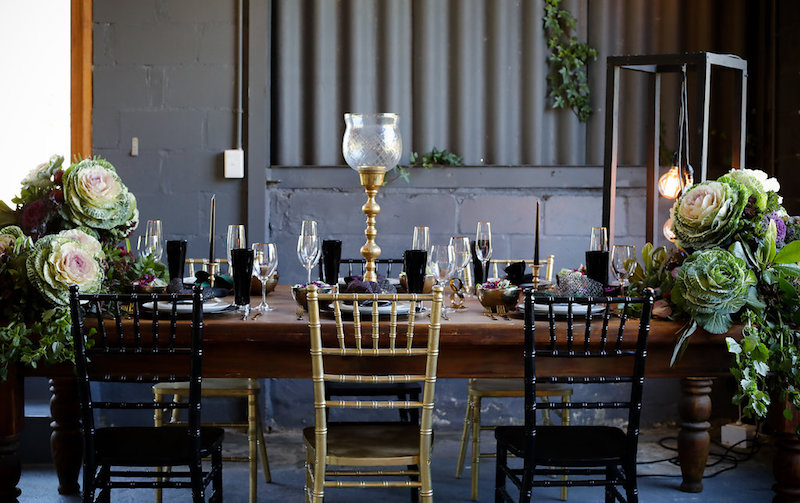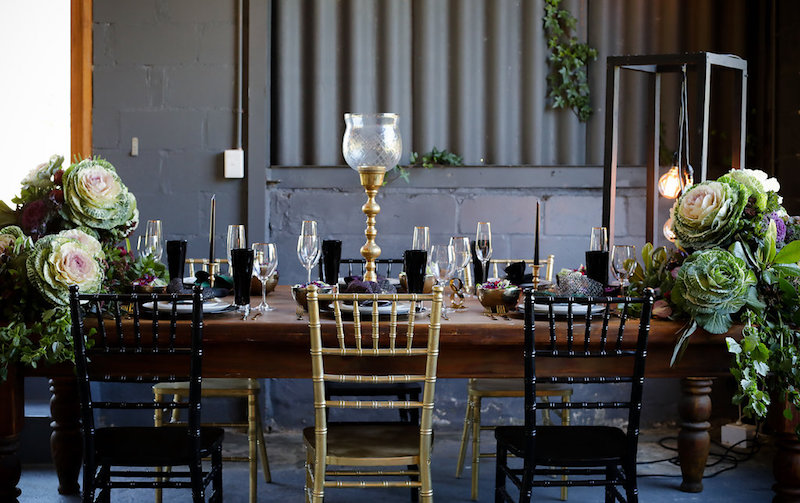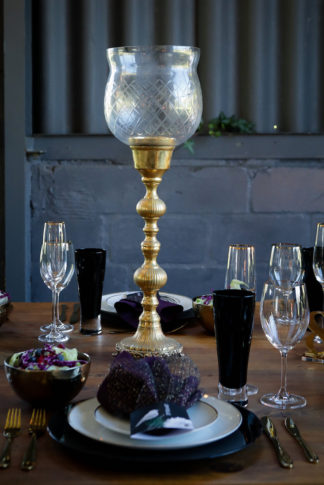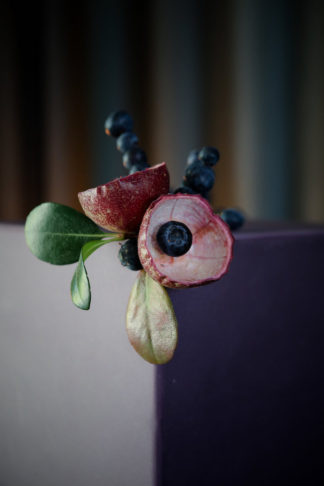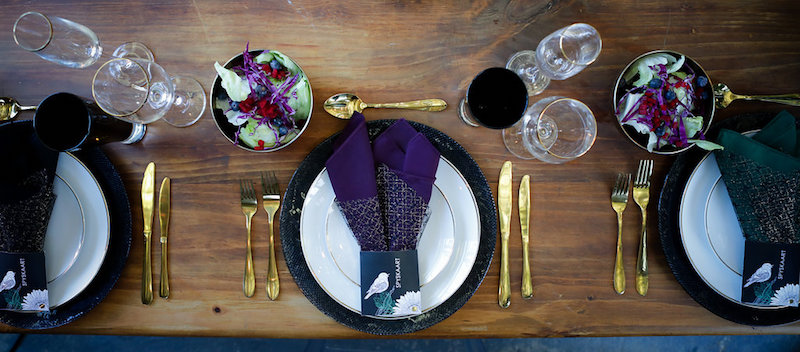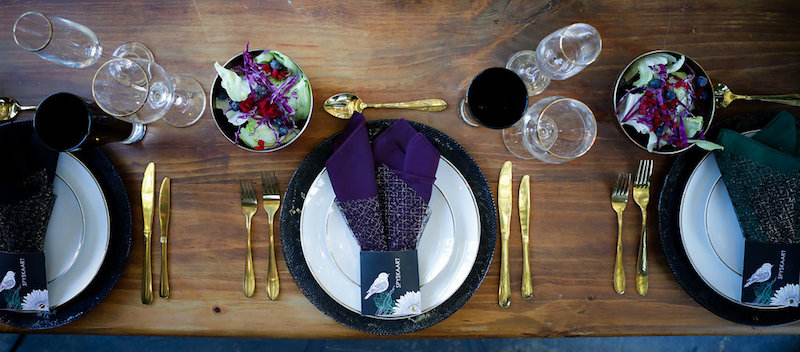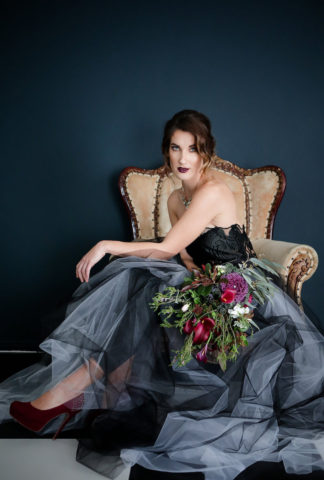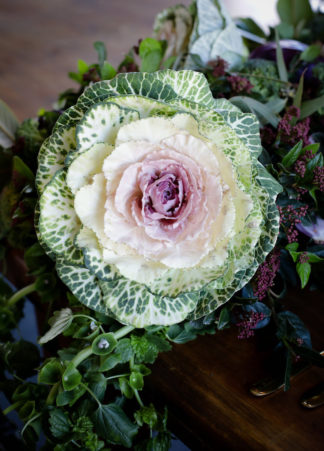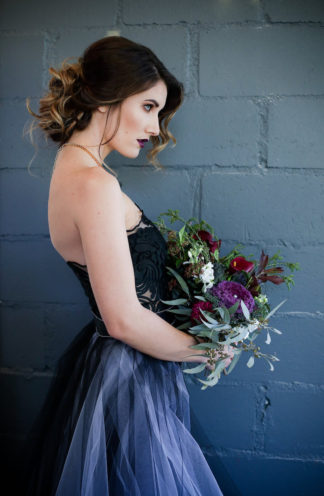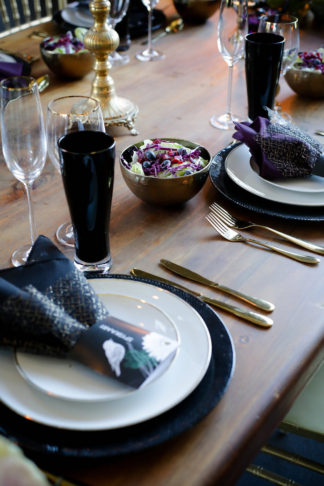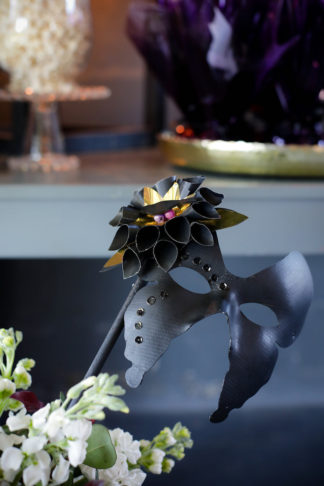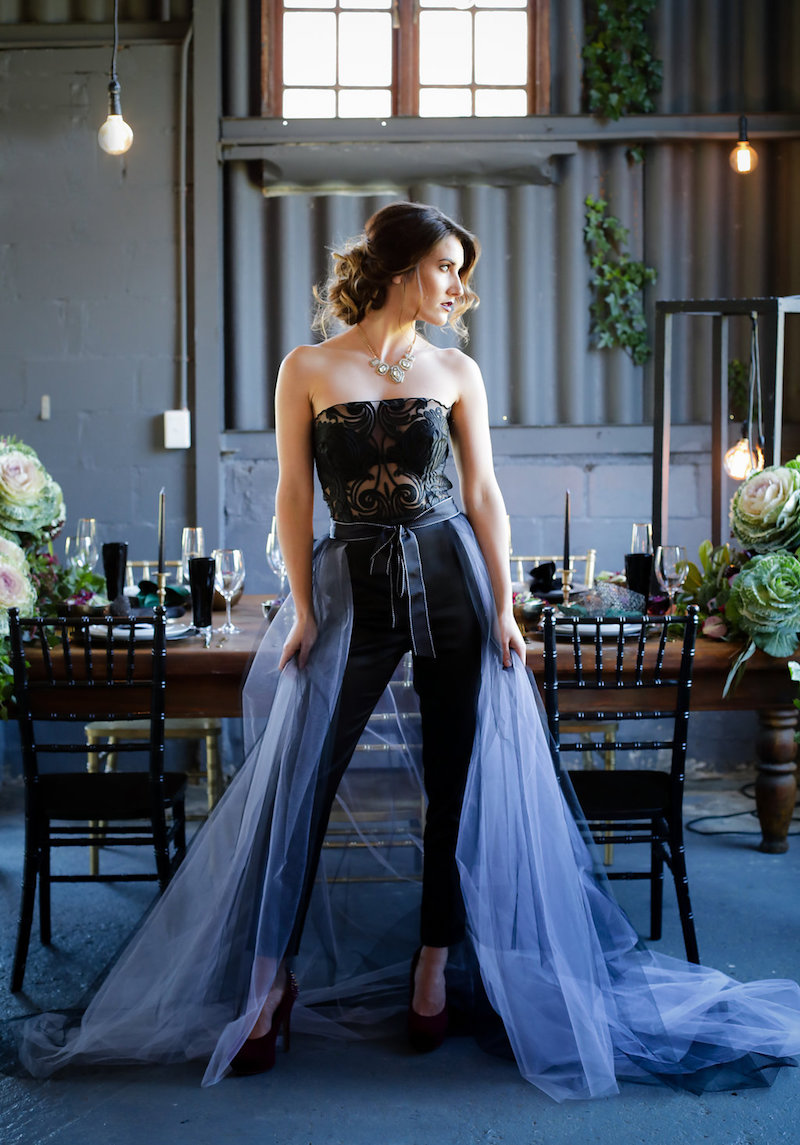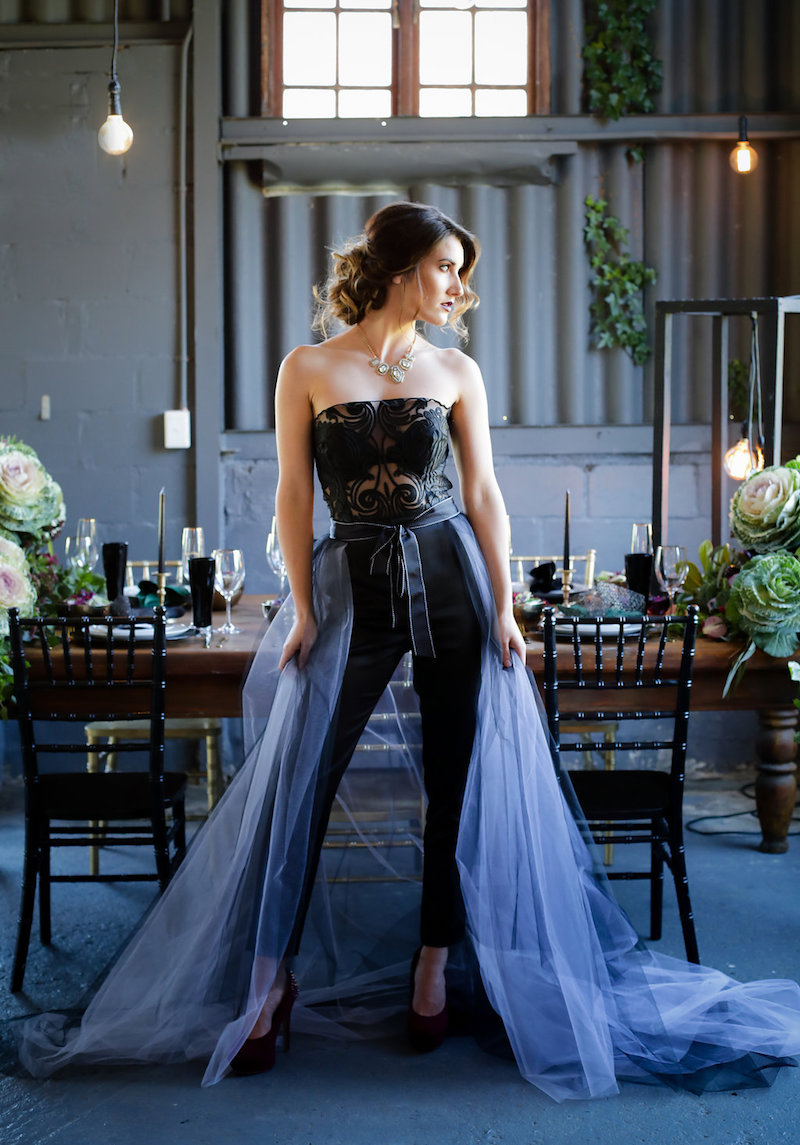 The necklace worn by the model was gold and black, from Honey Fashion Accessories. The square cake was decorated with blueberries and granadilla in minimalist fashion. Rice Krispie Treats, vanilla, liquorice, cupcakes, popcorn and candy were displayed on the cake table.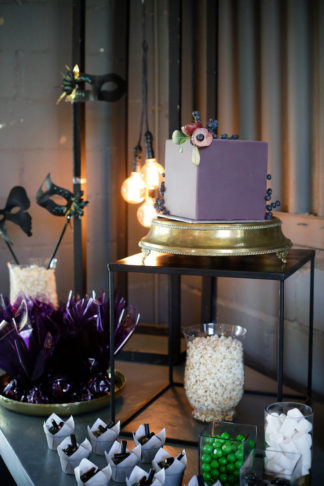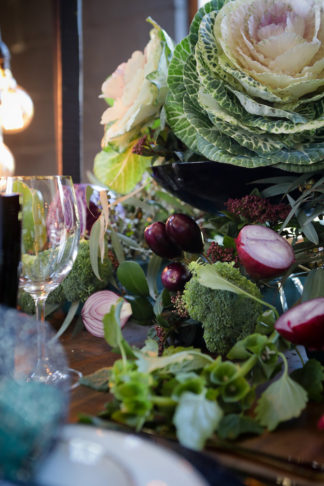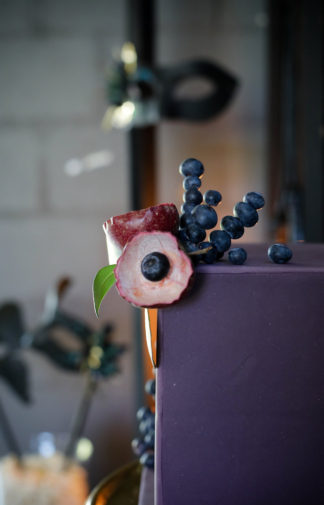 Photographer:  Creatives International // Flowers, Styling, Cake & Jumpsuit/Dress – Mrs V Atelier  //  Cutlery & Glasses: Exclusive Cutlery & Crockery 4U  //  Golden décor items: Functions 4U // Makeup & Hair: Cecilia Fourie // Venue: Neo Venue Space //Furniture & Lighting Design: Baie Goeters //  Stationery: Letterchef @ Mrs V Atelier // Necklace: Honey Fashion Accessories (Marina van Rensburg) // Model: Almari Arangies
MORE WEDDING INSPIRATION:
Alternative Bride in Gold + Purple Wedding Dress Rocking Lilac Hair! {Lauren Pretorius Photography}
Cranberry + Navy Atrium Rooftop Romance {A. Wonderly Photography}
Music Lover's Brewery Wedding Celebration! {Laura Foote Photography}
Eclectic Earth: Geode and Crystal Wedding Ideas {HAPPINEST + Lauren Pretorius}
Dramatic Red and Black Forest Wedding {Jana Marnewick Photography}
Creative Alice in Wonderland Garden Wedding {Kelly Marie Photography}
VIEW ALL WEDDINGS // PLAN YOUR WEDDING