♥  ♥  ♥
Taylor and Preston's wedding was a dreamy, understated, mythologically inspired forest wedding. A celestial bride adorned in a handmade lavender flower crown, paired with a dapper groom in military uniform set the scene for a truly ethereal occasion. "Preston and Taylor are dreamers. Everything they do, whether they are apart or together has a dash of drama, style, and creativity. Nothing, for them, is ever ordinary. It's just the type of people they are," shares photographer Tony Gambino, who captured the couple's bohemian inspired wedding. The pair were married in Santa Fe, New Mexico, at the Sunrise Springs Inn and Spa.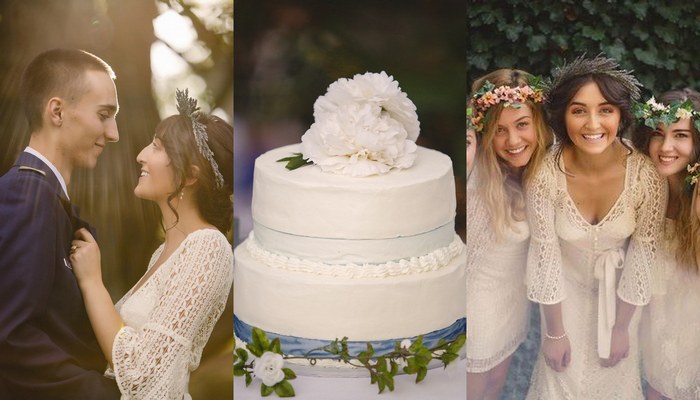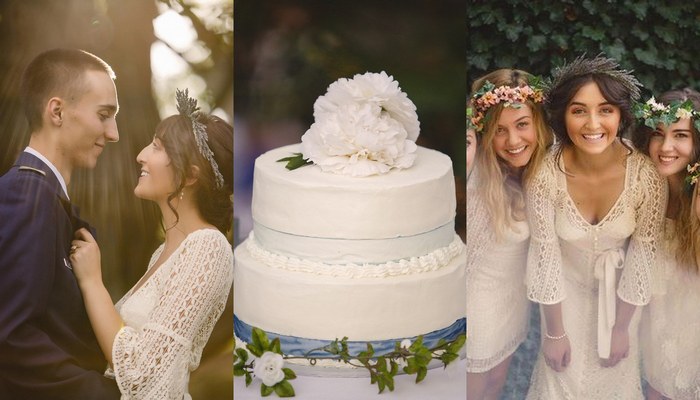 Taylor  planned the wedding in 5 months, so to help retain her sanity during this period she made a list of three things that had to be absolutely perfect. For everything else, it was calmly decided, she'd take a deep breath and get over it if it didn't turn out the way she had planned. That list was: wedding dress, outdoor reception, and photographer.
Relaxed Bohemian Forest Wedding Look
Taylor hand braided her own lavender crown the morning of the ceremony. She opted for natural make up and wore a cream coloured floor length crocheted BHLDN gown. Taylor vividly remembers the day of her wedding: "Getting ready with my girls, singing down the aisle and turning all attendees – including my groom – into a pile of tears!"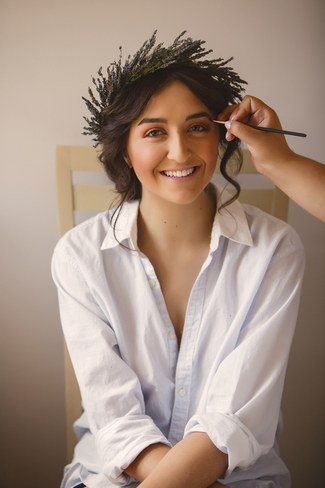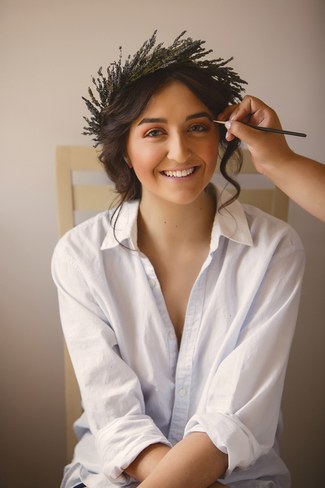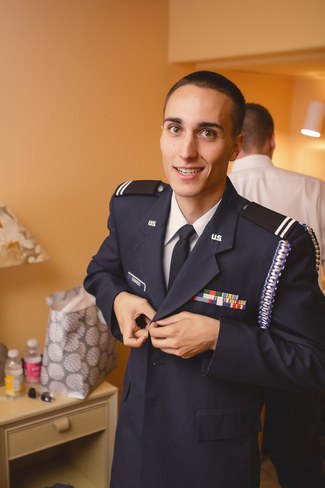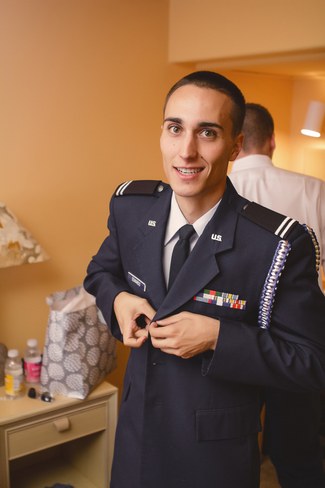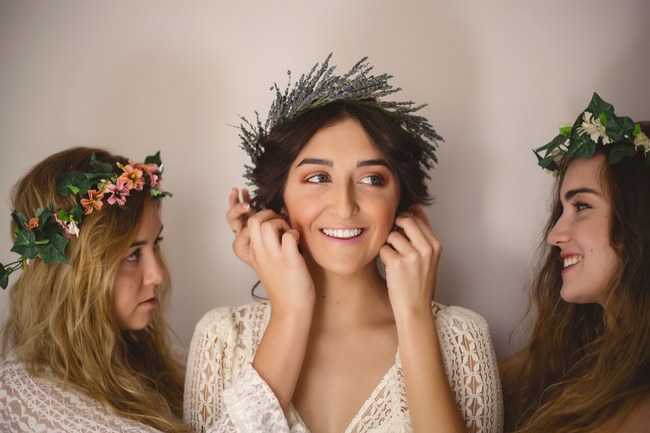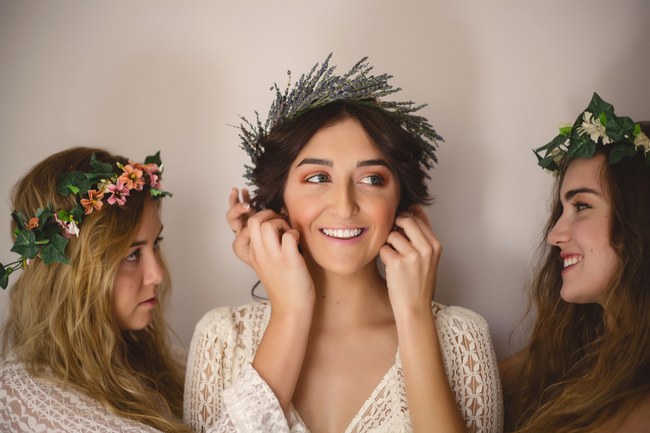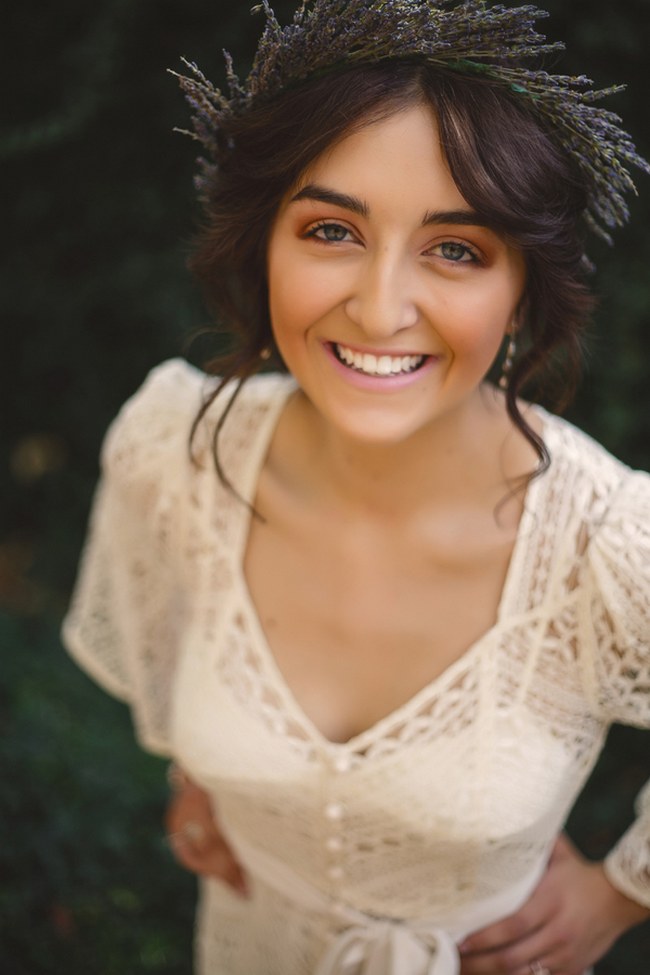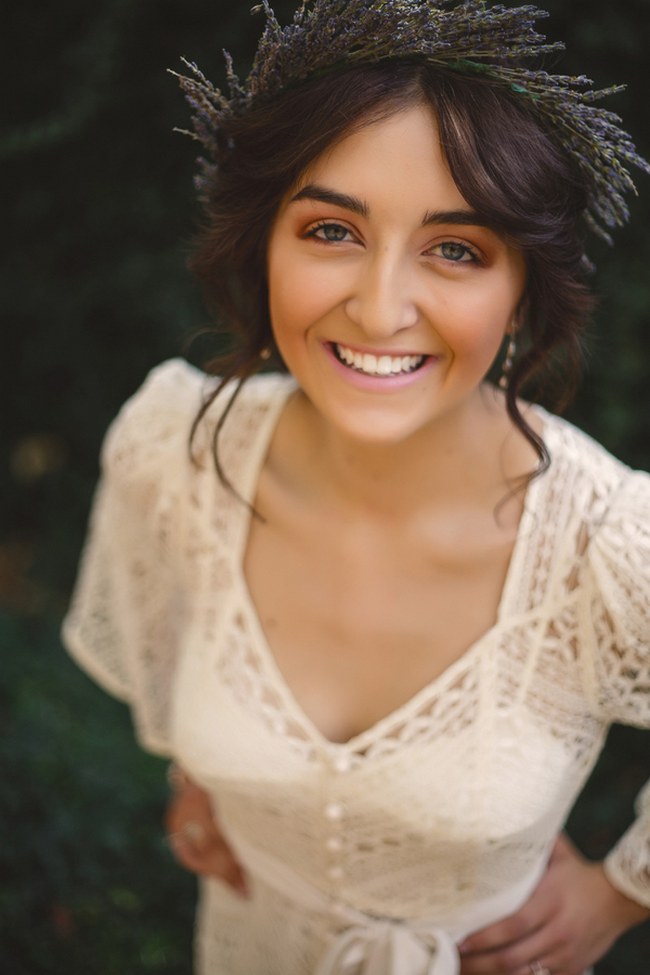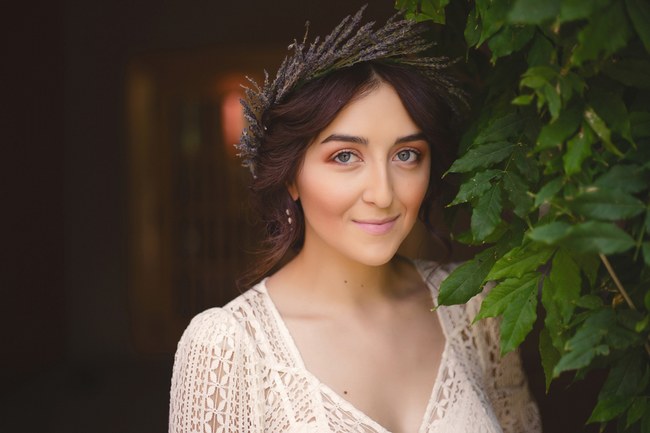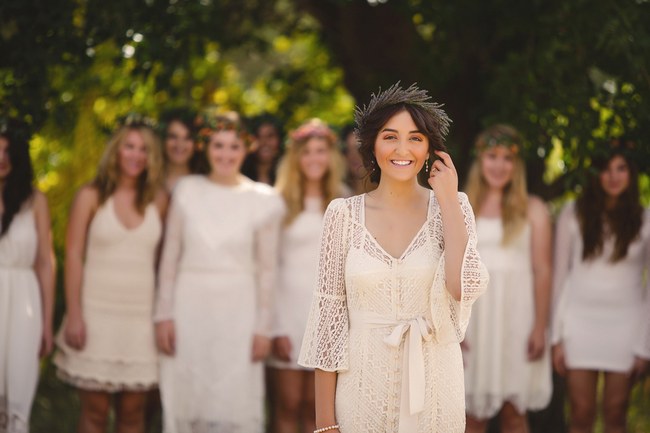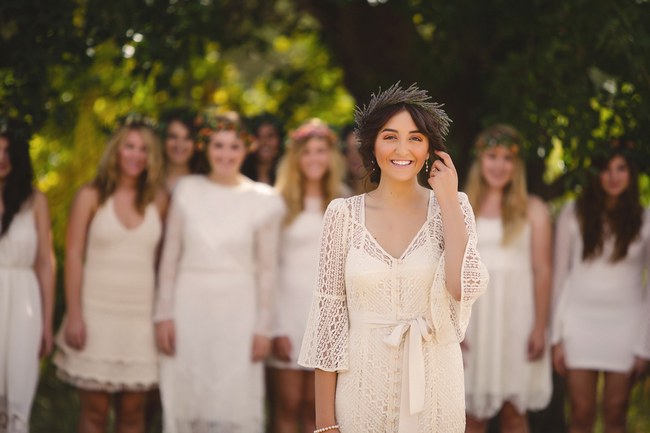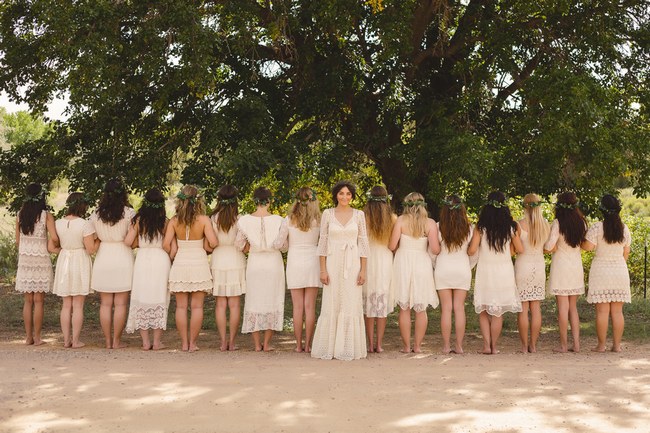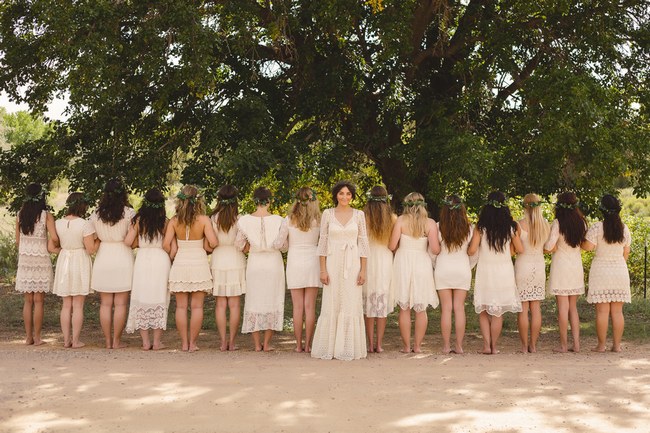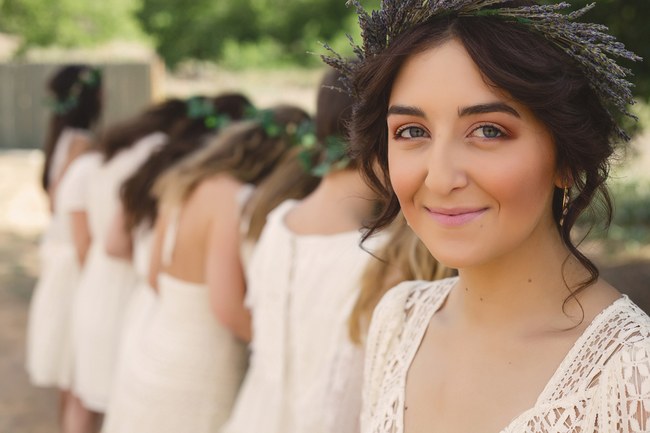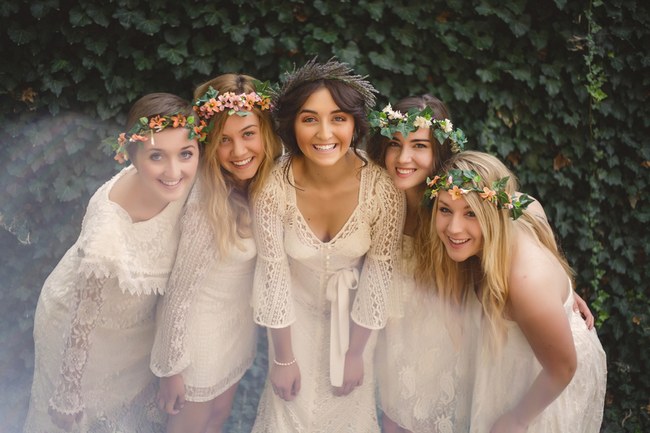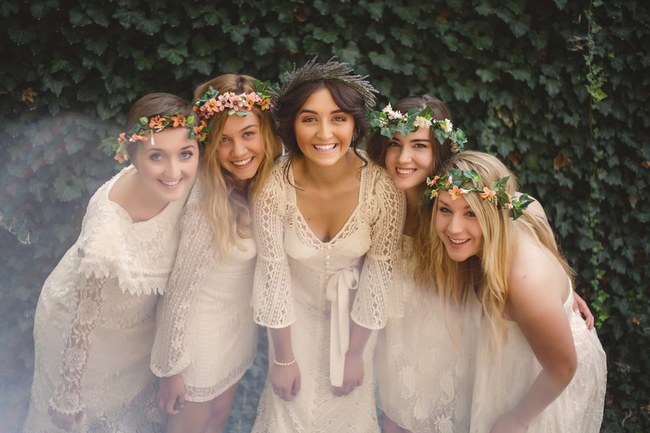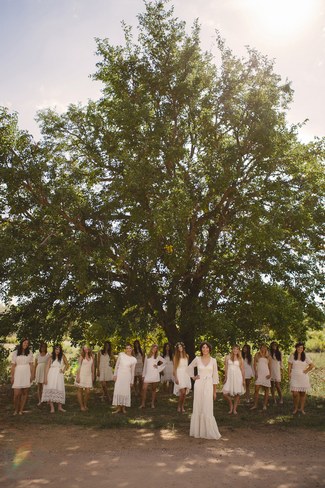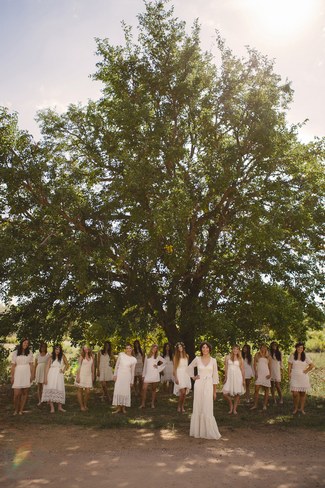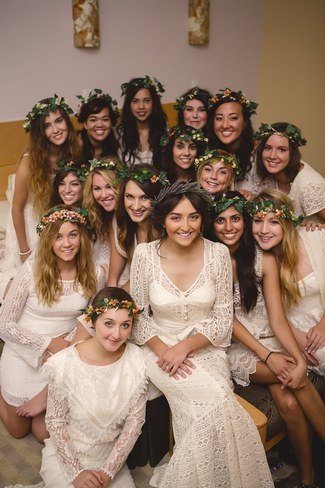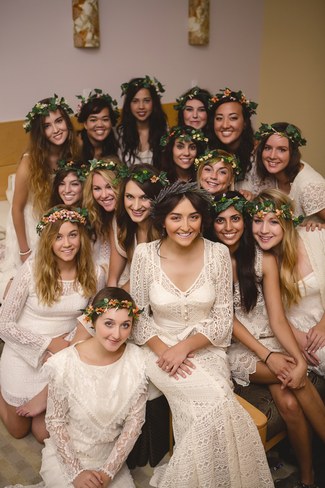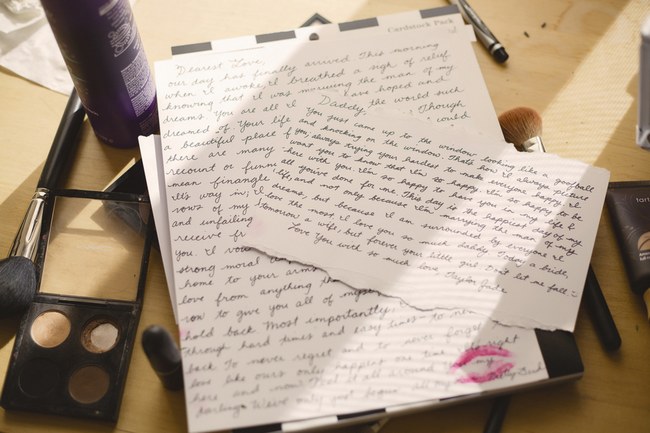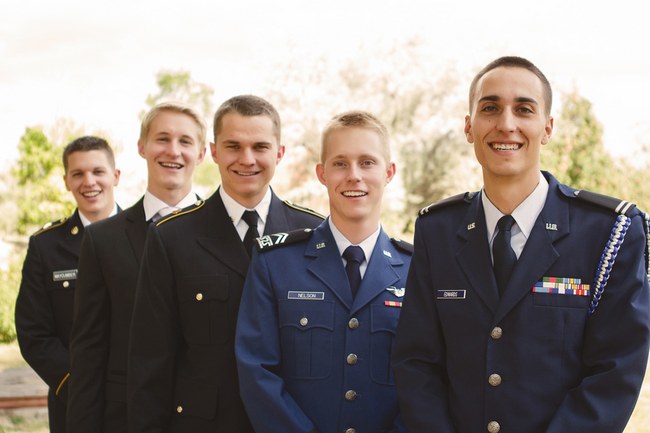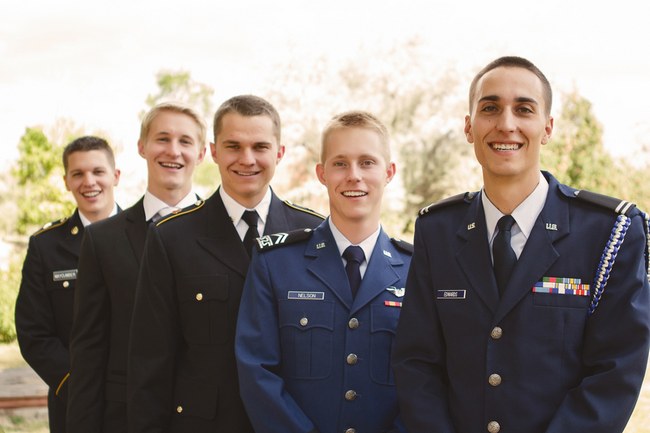 Relaxed Bohemian Forest Wedding Ceremony
Taylor shares her inspiration behind their romantic, but understated, wedding style:
"For our wedding, I wanted something more subtle. During the wedding planning, I was extremely intrigued by (don't laugh) greek mythology, and one particular love story I found extremely interesting was the bond between Aphrodite and Ares. They were not properly suited to be lovers – the goddess of love and the god of war – but their bond was the strongest of all the gods. Though I can assure you there is quite a difference in fidelity from the greek lovers and our relationship (sigh a sigh of relief here), Preston and I identify with the joining of two unlikely people in love. "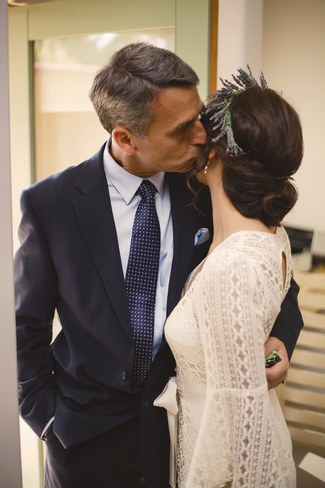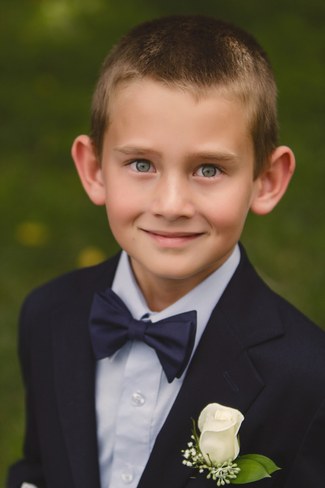 "decided to display this difference in small ways – floral hair pieces for each bridesmaid, simple white dresses on all bridesmaids and the ladies who lined the aisle, natural makeup, and a barefooted bride; The fellas were a stark contrast in their military uniforms."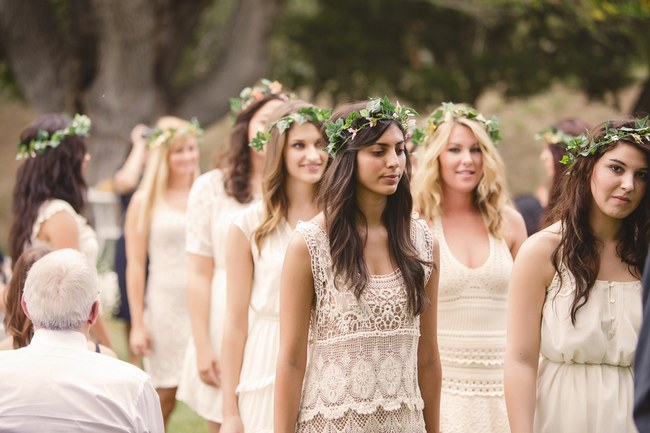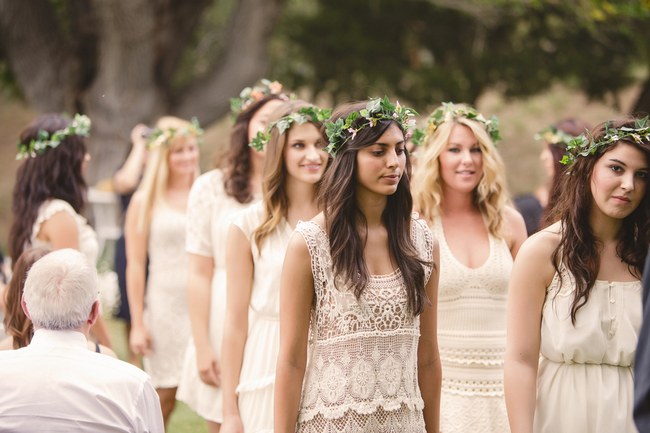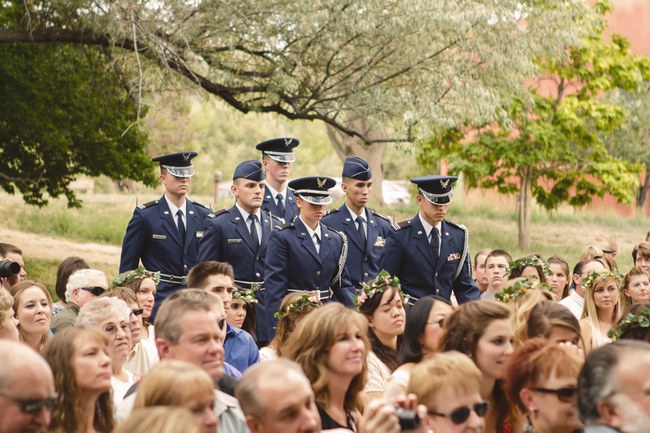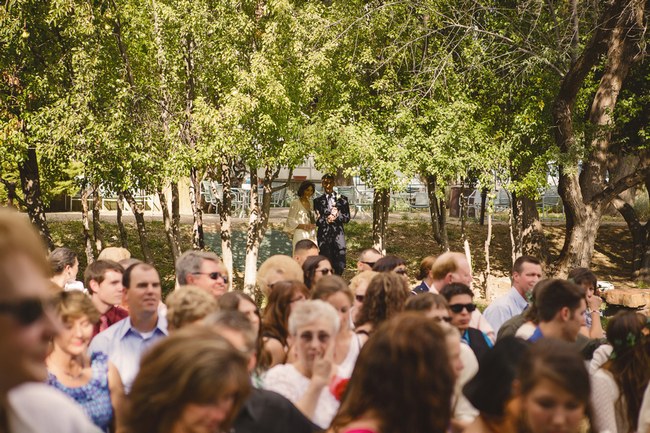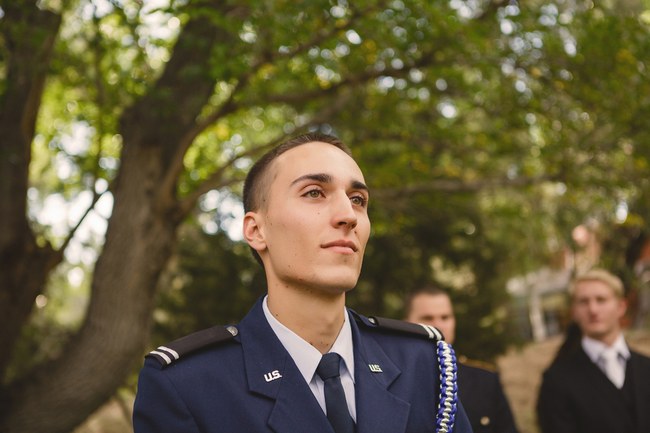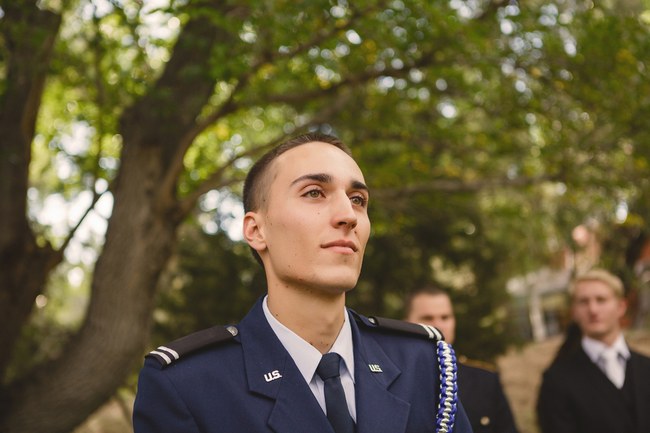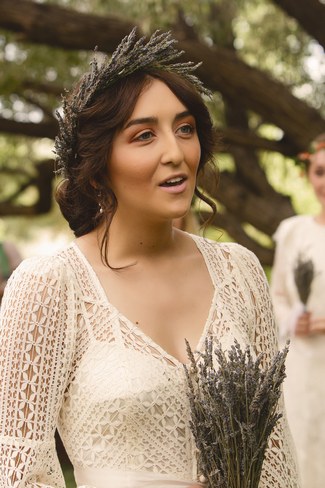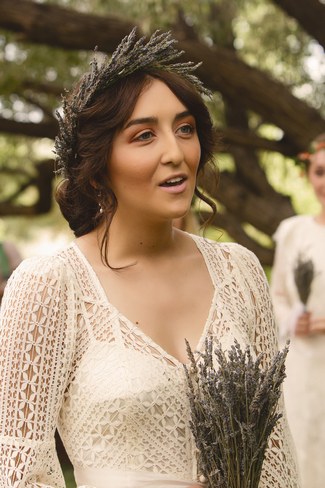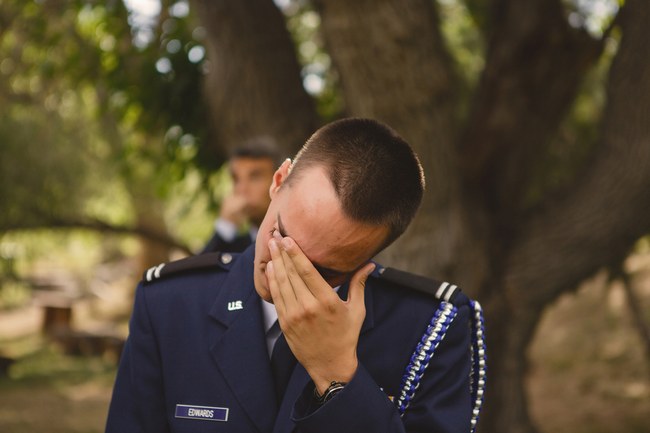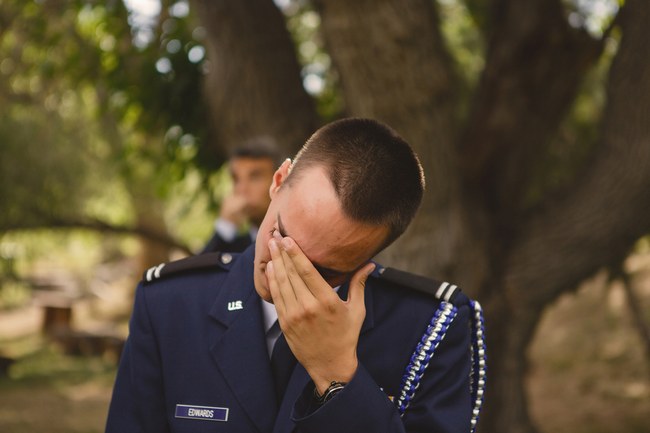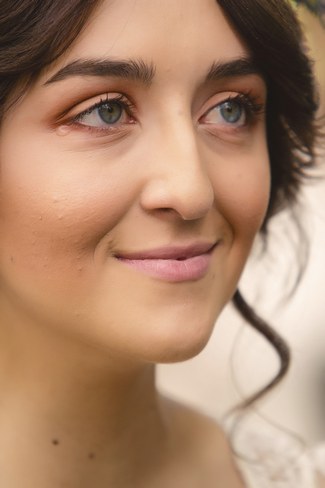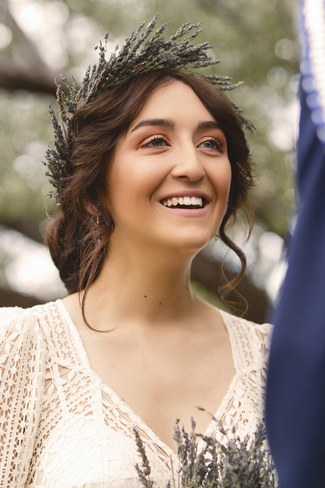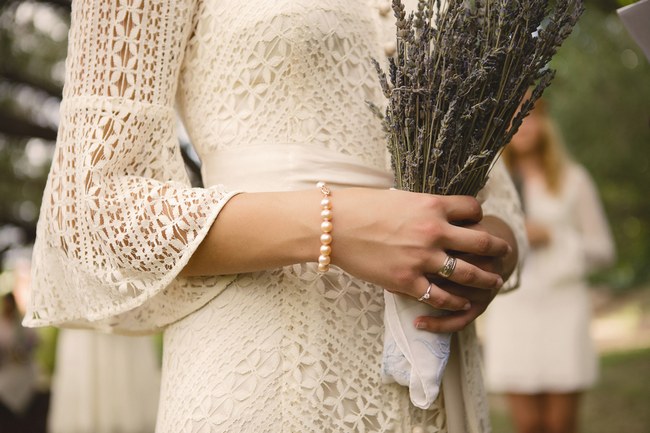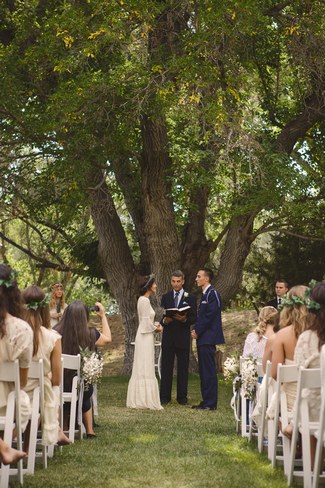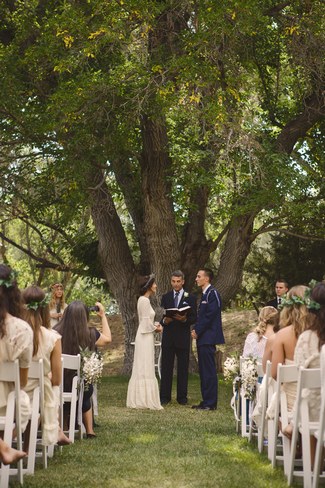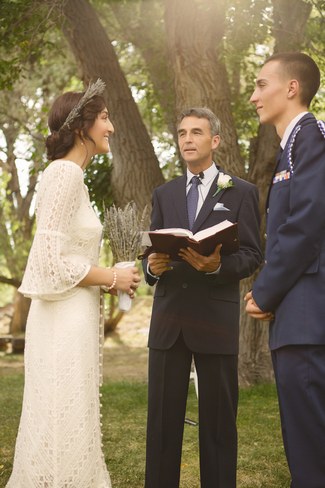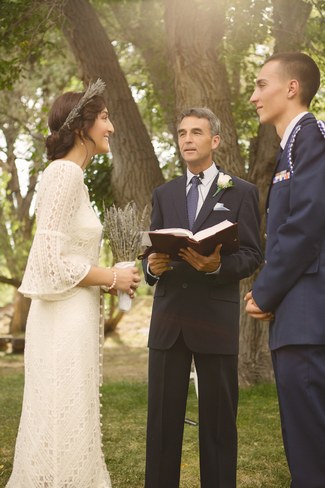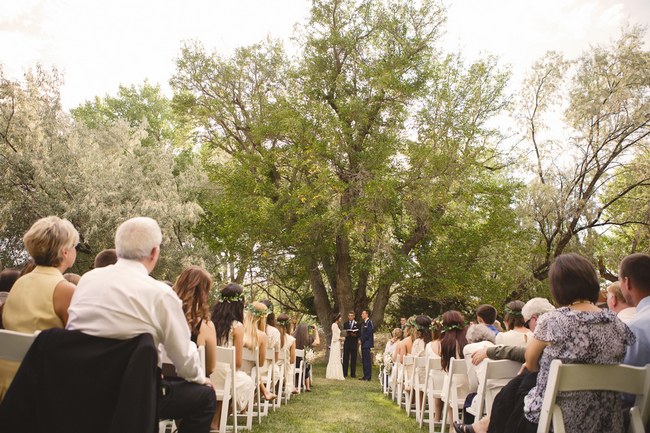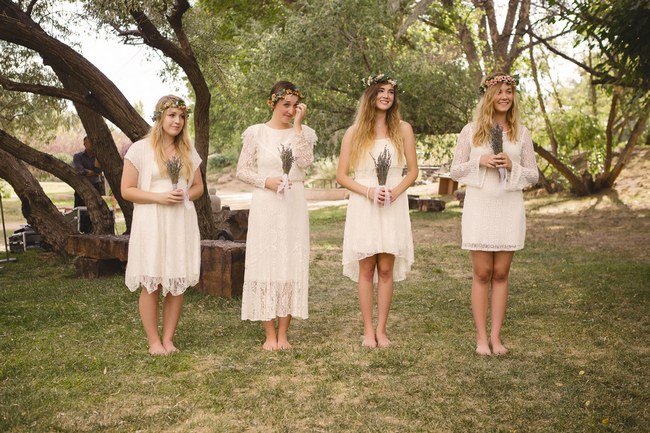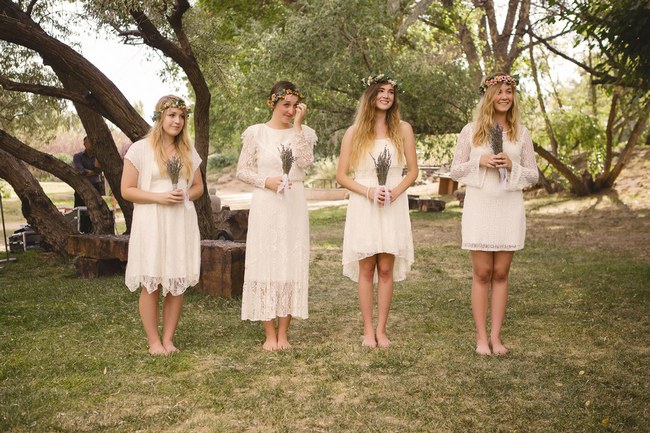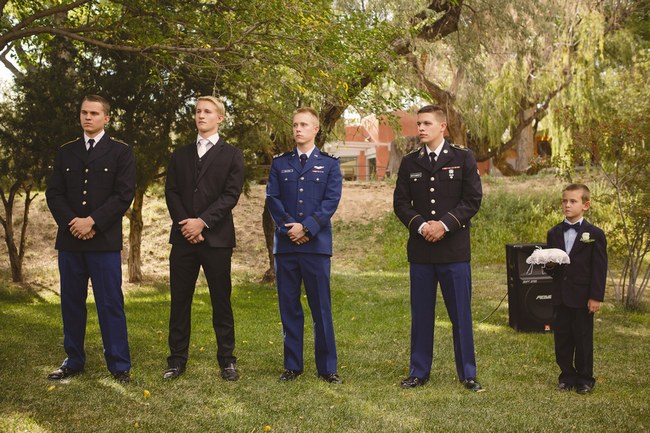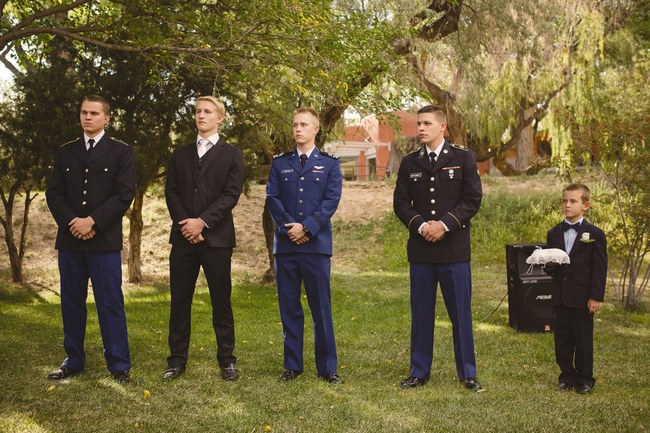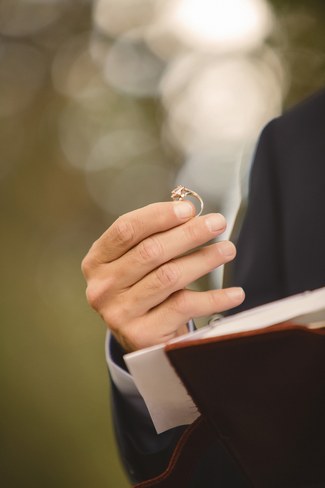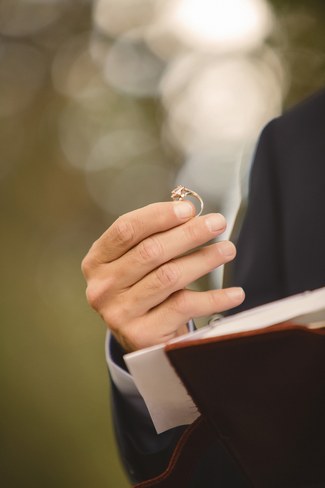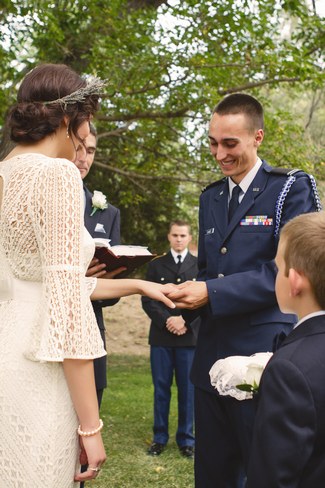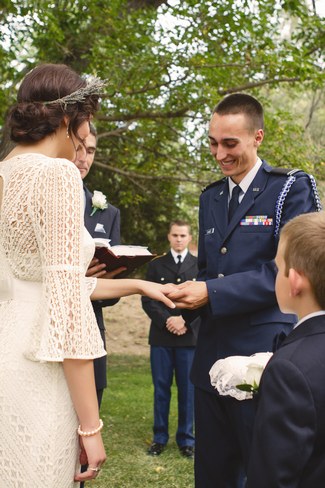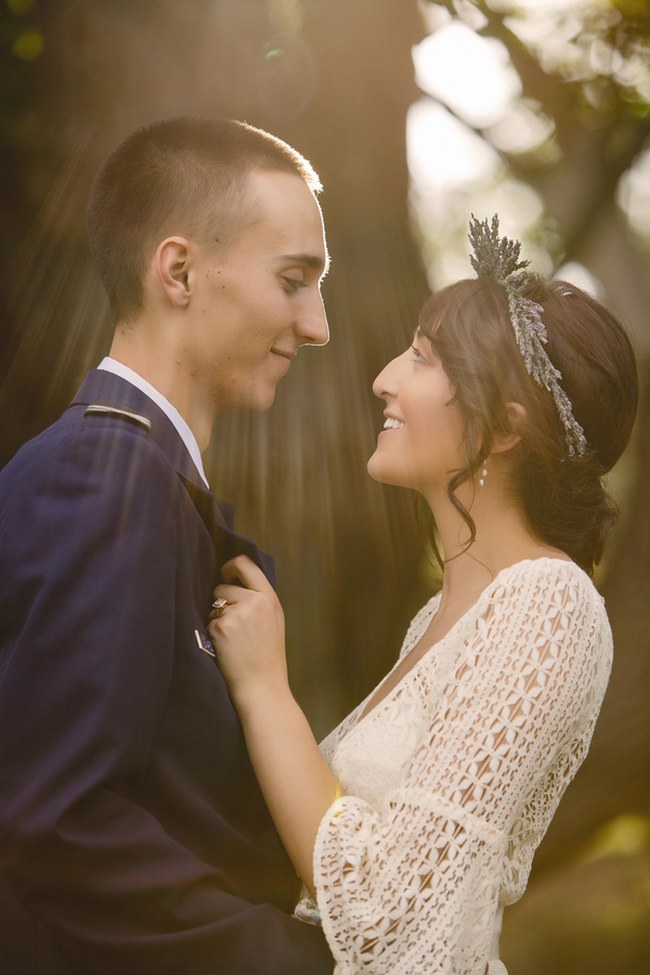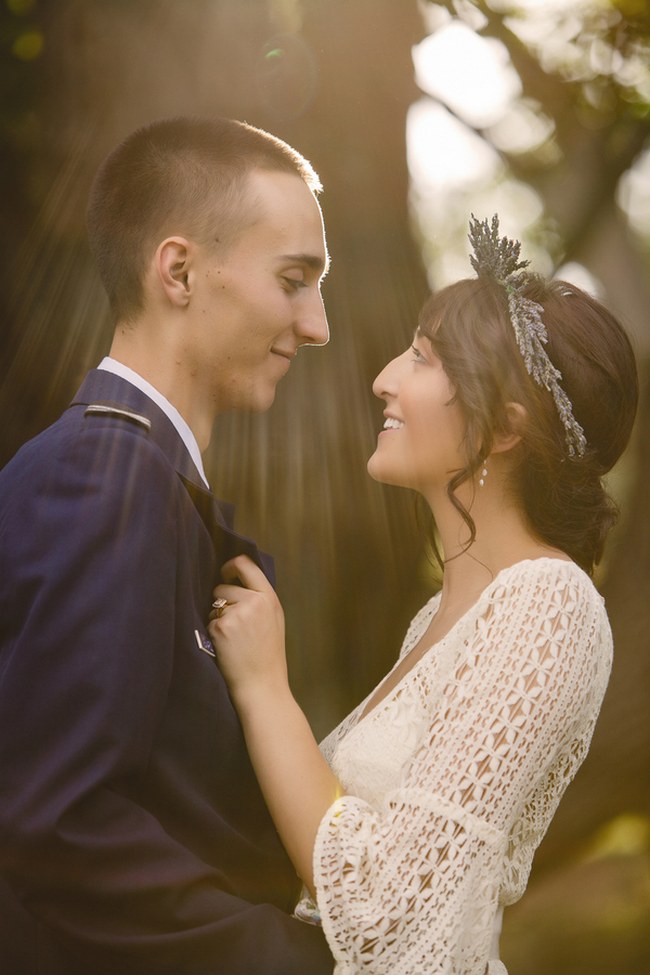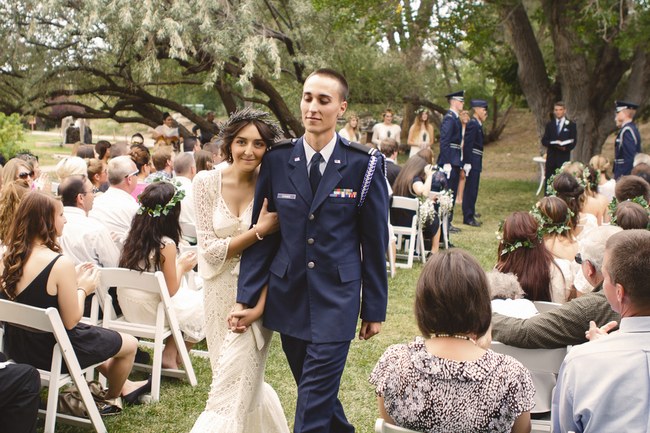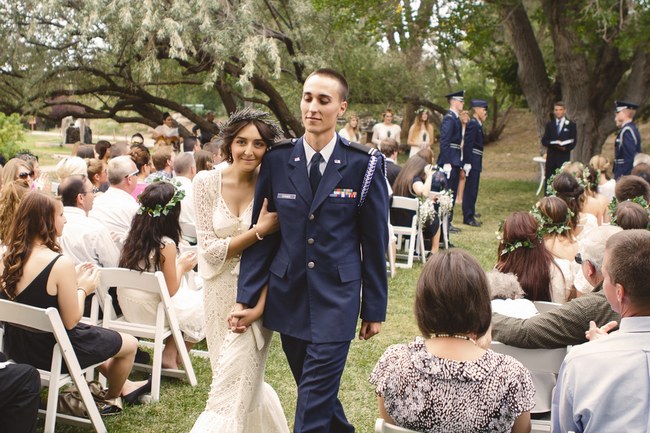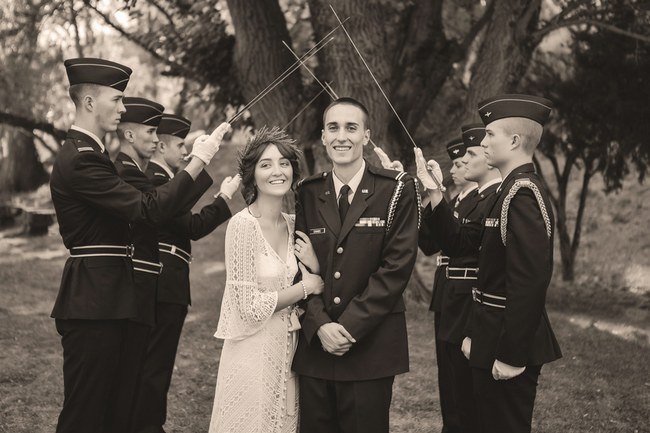 Taylor and Preston's Proposal:
The two were on a small getaway with Preston's family in Taos, New Mexico, where it was an absolute winter wonderland. Taylor awoke one morning to breakfast in bed, but to her dismay, Preston urged her to get dressed quickly- 20 minutes and they'd be out the door! Taylor and Preston had been dating for around 4 years at this point, so Taylor was a little suspicious that a ring might be coming her way, and what could be more romantic that a snow covered backdrop for a proposal?
Once she was dressed, Preston took her for a ride in a horse-drawn sleigh. Taylor could hardly wait, and was looking frenetically for a ring to appear…any moment! The sleigh brought them to a place in the woods where they were served lunch under a tent. Despite her hopes, no ring was presented. The next stop was a hike, snowshoeing up the mountain. Once at the top, they played in the snow and looked out over the city, enjoying the view. Still no ring!
They traveled back to the cabin for dinner with Preston's family, who suggested going to the Taos Gorge to watch the sun set. Taylor, exhausted from the fun, but taxing day she had encountered, was ready to decline the offer, and required a bit of coaxing from Preston to go to the Gorge.
It was a decision she wouldn't soon regret, though, because after strolling to the middle of the bridge, Preston got down on one knee, and asked Taylor to be his bride.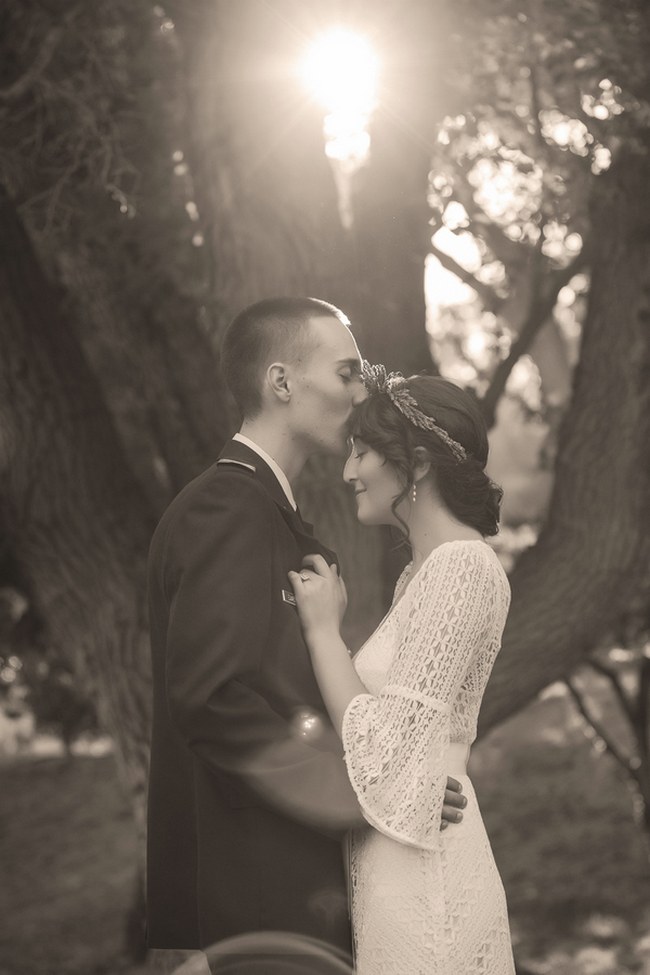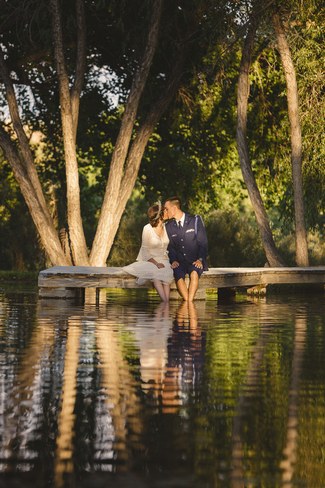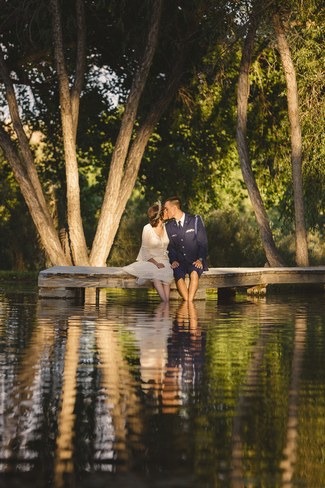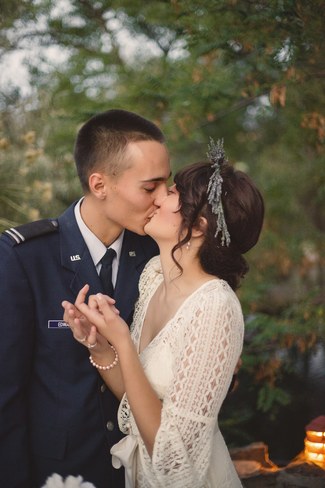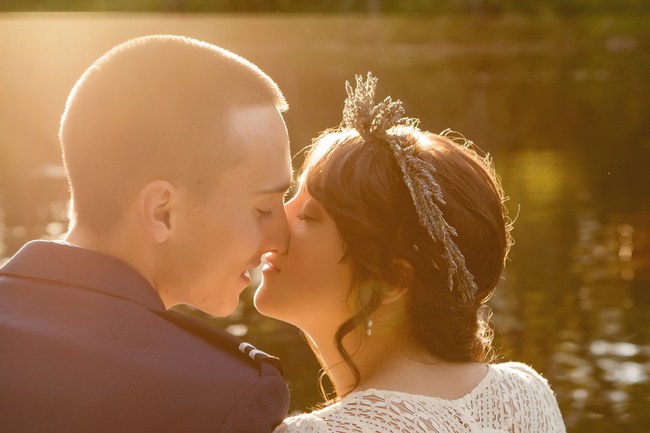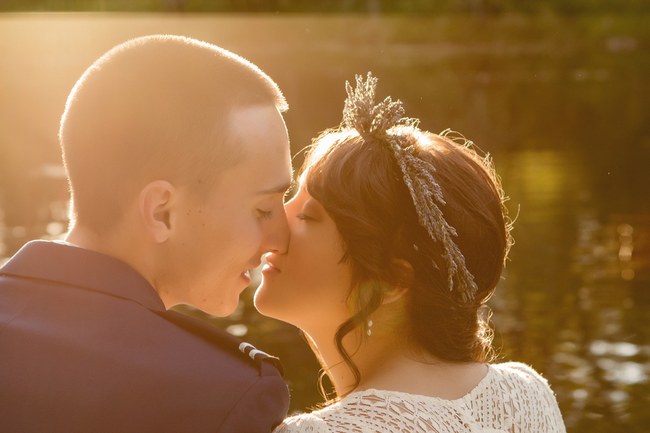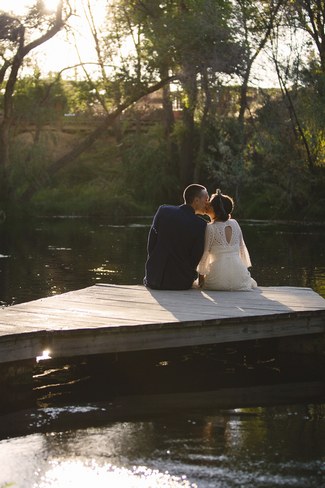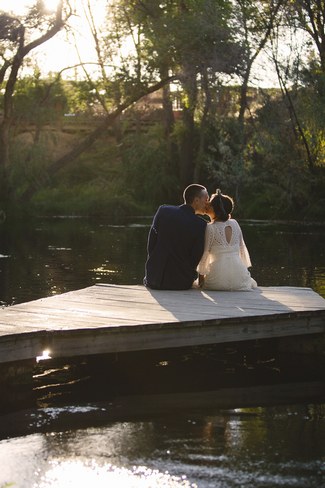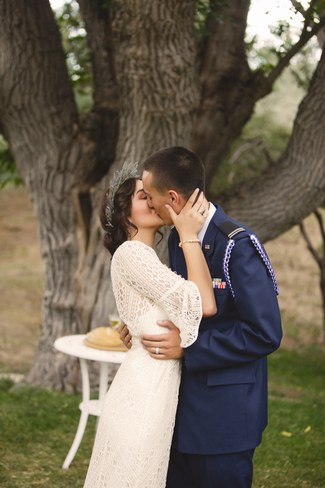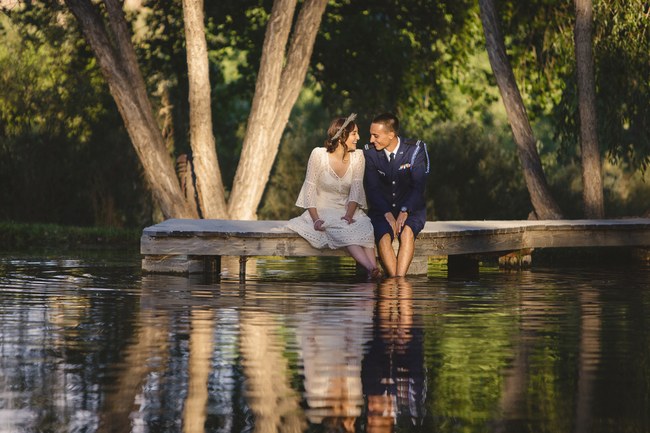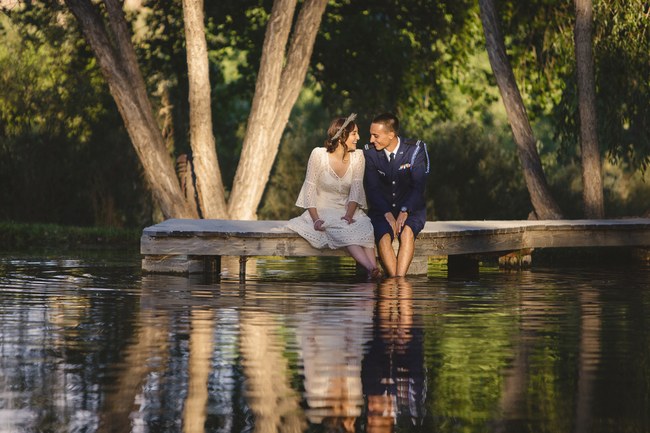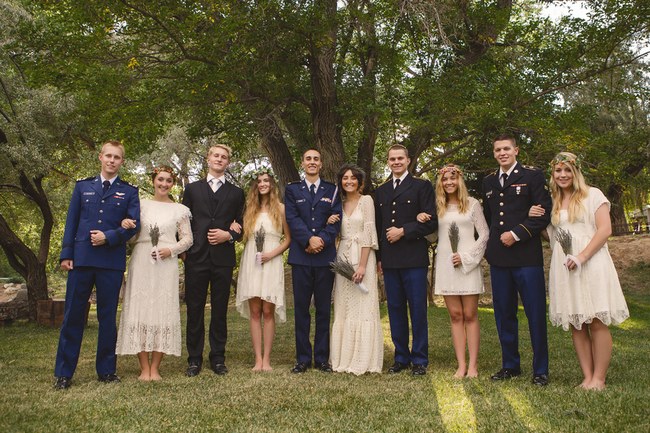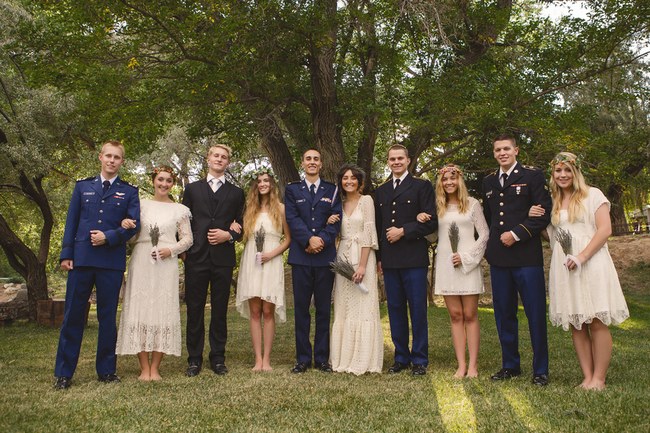 Relaxed Bohemian Forest Wedding Reception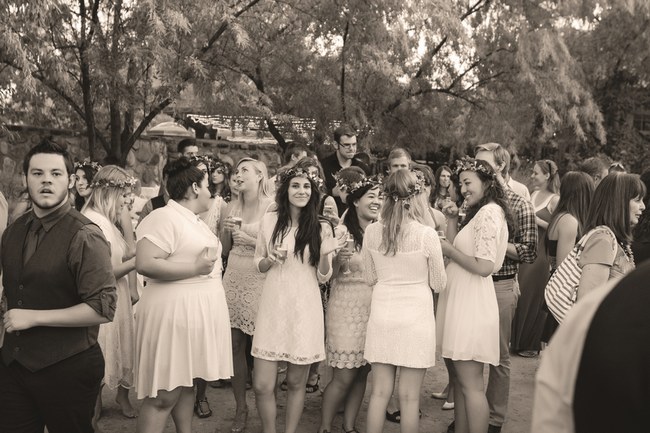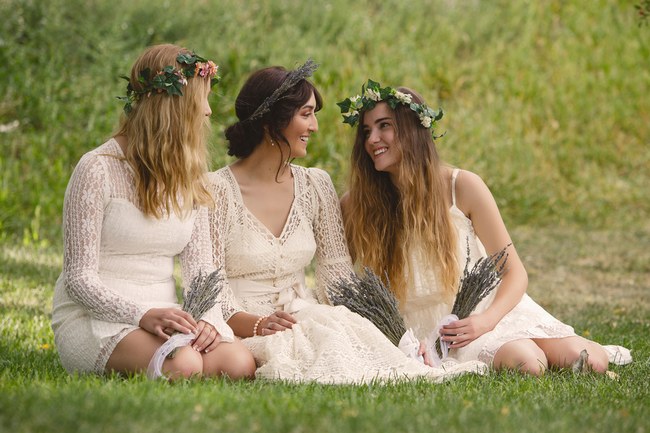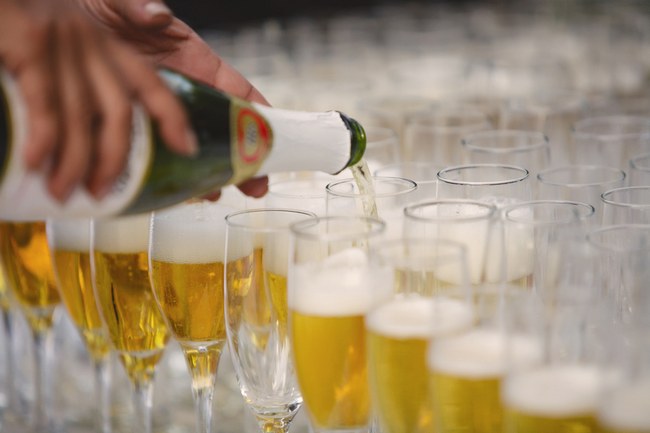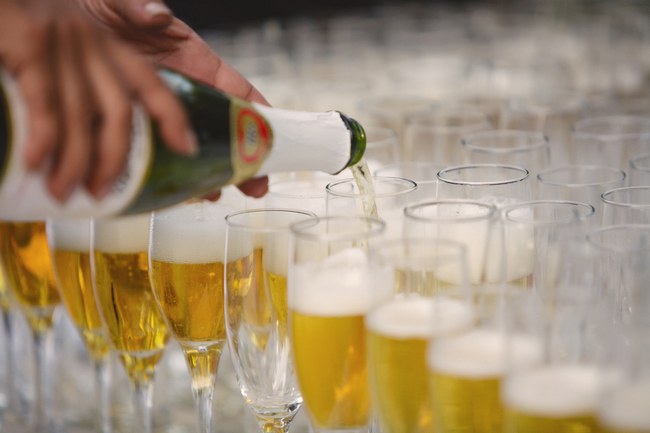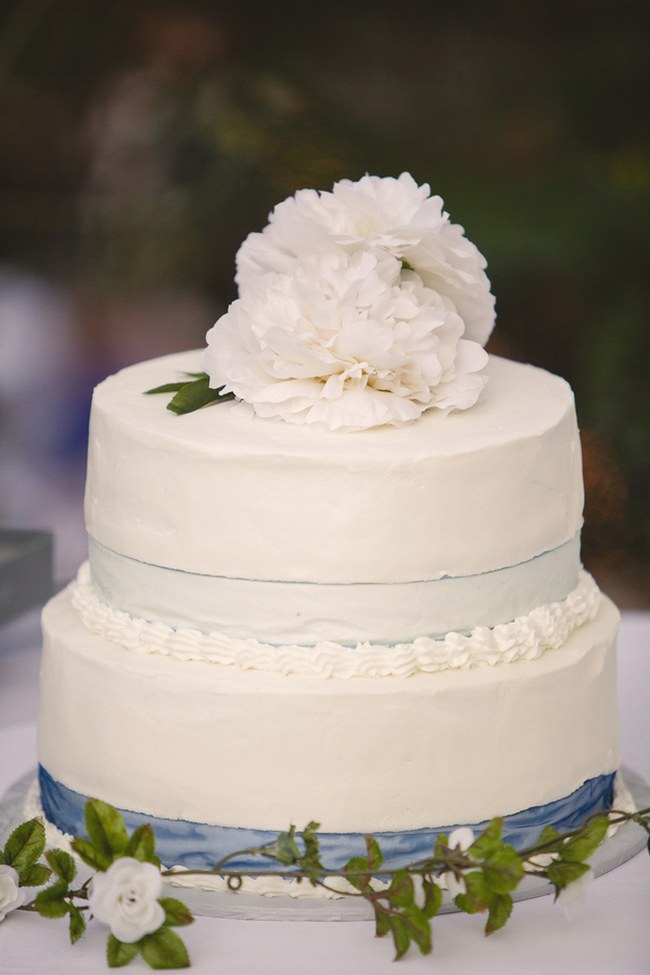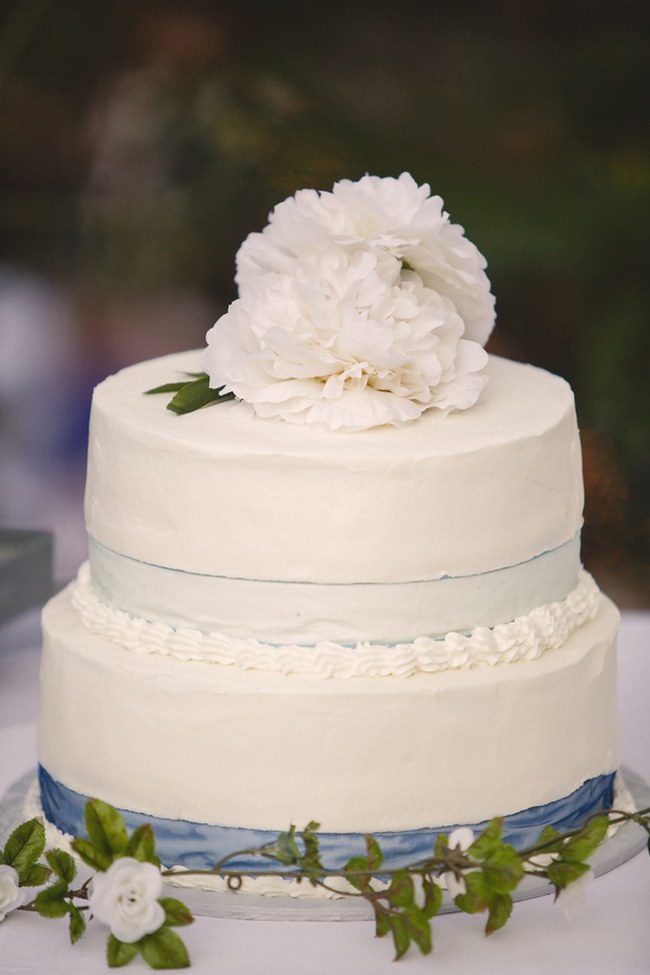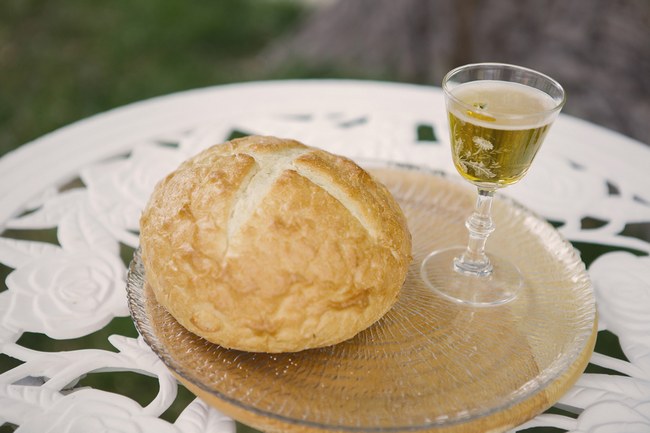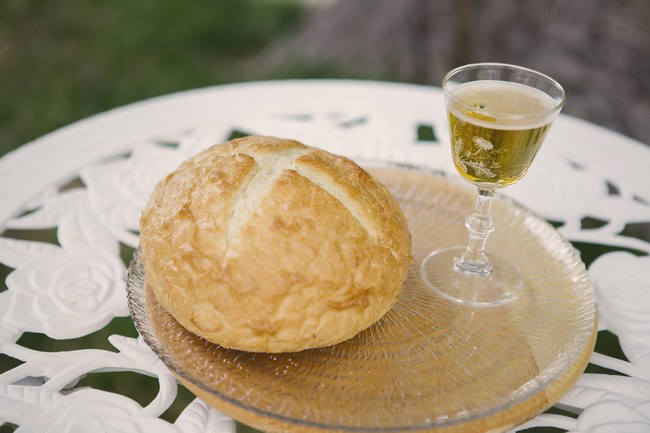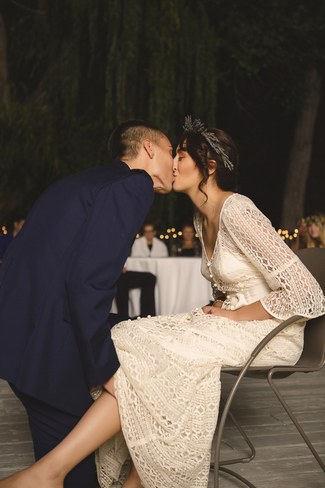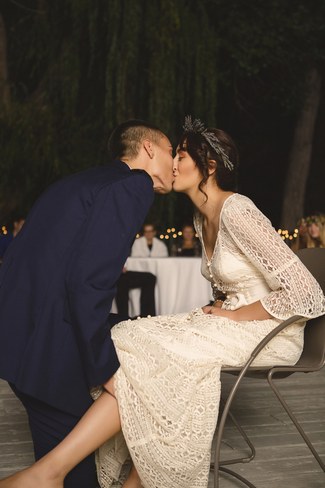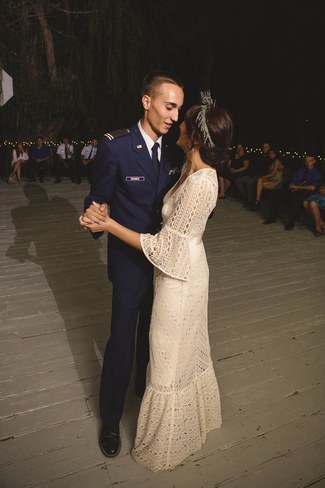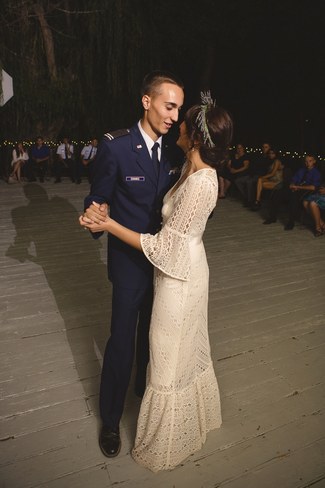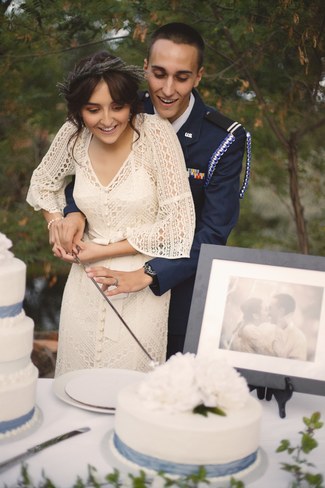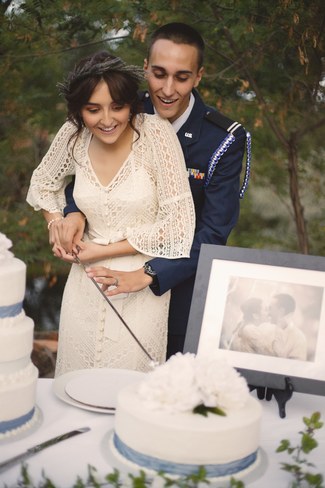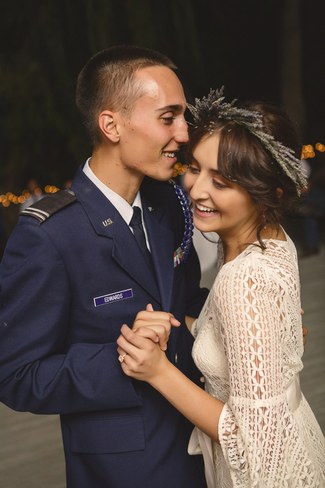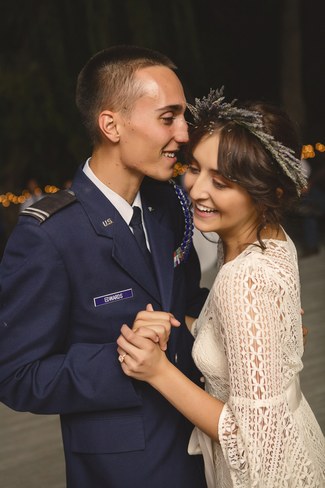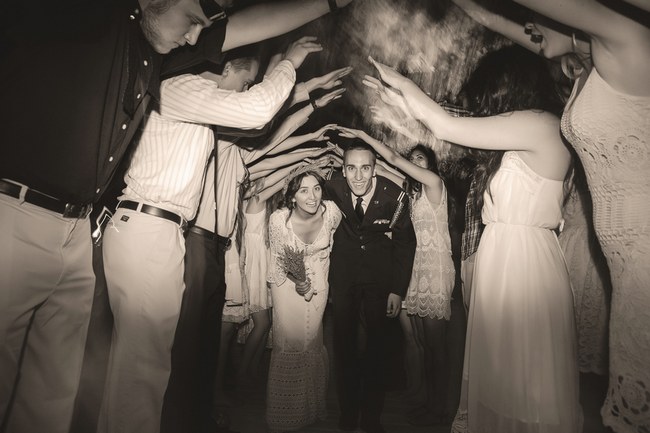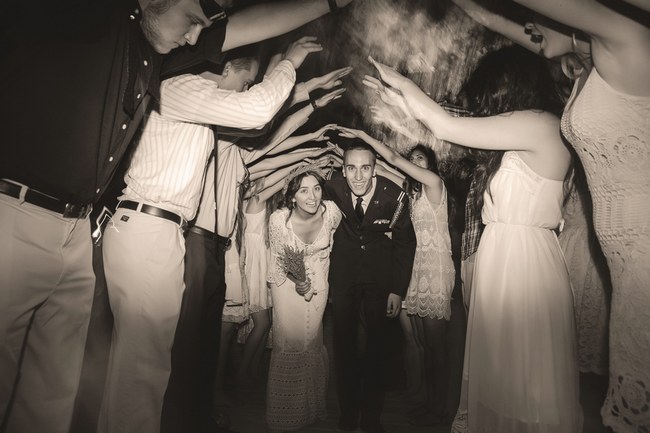 Real Bride Taylor's Tips for Bride's-To-Be:
Selecting the a good photographer was of utmost importance to the couple. "50 years from now when Preston and I are old and wrinkly and are telling our little love story, I want to be able to show the love, the excitement, and the beauty of that day. He was also more than just a photographer – one minute he was giving me a pep talk before the ceremony, and the next minute he was on top of the roof taking pictures of everyone dancing on the deck. He is a true artist and has continued to improve and amaze me. "
Don't stop looking. I picked three things that would be most important. One of these was an outdoor venue, and for the first month of my search, I just could not find a venue that fit. Searching out the perfect place you are picturing can happen, it just takes work and a little imagination.
 Expand your search. If you aren't finding somewhere in your city that clicks, look for venues just outside your city. Chances are, they will be less expensive – bonus points if they are off the beaten path! There was only 1 other person that had been to my venue from my wedding, so our wedding was fresh and unexpected to everyone attending.
It's ok to just be you! We aren't conventional thinkers, and we wanted our wedding to reflect who we are and the love that had brought us to that moment. Whether themes are subtle or very much in your face, they should be a reflection of your love and what makes your relationship unique. Challenge yourself to think outside the pinterest box and find something unique and beautiful for just you two.
We adore a couple that isn't afraid to break the mould and let their personalities shine through. Sometimes that means toning things down and celebrating in an understated, but intimate manner, just like this!
♥  ♥  ♥
Photography: Tony Gambino Photography | Dress: BHLDN, Tracy Reese | Wreath: Lavender from Los Poblanos | Bouquet: Bundled lavender from Los Poblanos | Her Ring: Laurie Sarah | His Ring: Spexton | Hair and Makeup: Jenny Wren | Caterer:  Los Poblanos Inn & Organic Farm