HANDMADE HEADPIECES & BRIDAL VEILS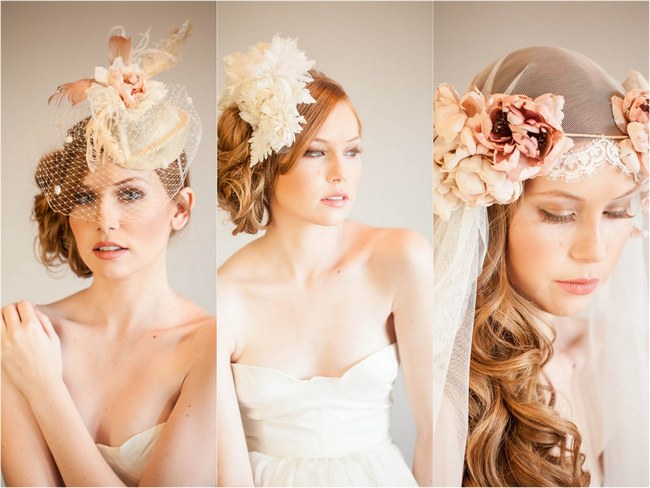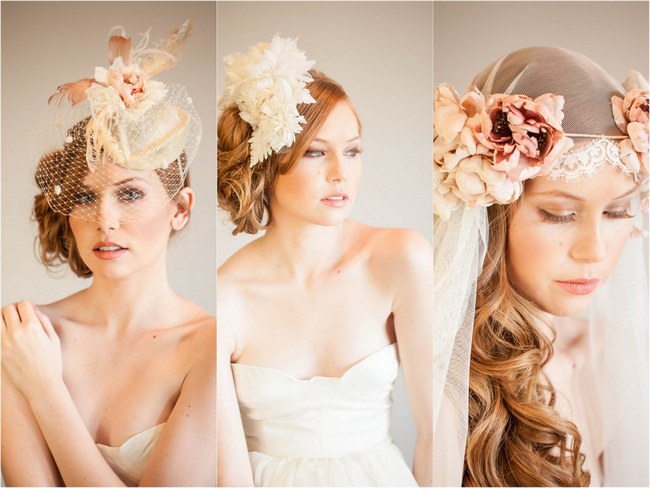 Warning: swoon fest ahead! Today we're thrilled to share with you Mignonne Handmade's breathtaking 2014 bridal headpiece and veil collection. Mignonne Handmade creates simply divine, completely handmade headpieces and accessories which are expertly crafted from natural silks, crystals and solid brass components by owner and designer, Jennifer Wood.   
♥  ♥  ♥
In addition to silk charmeuse, French chantilly and silk organza, the 2014 collection features hand painted silk petals in a watercolor stlye which are then hand pressed them with a millinery iron. Yummy! The collection is available at a selection of stockist in Europe and throughout the US, as well as to brides from across the globe online at mignonnehandmade.com, or via Etsy.
♥ If this feature inspires you to purchase one of these beautiful headpices, we'll get a small percentage of the sale for sharing them with you. Thank you so very much for helping to support our content! ♥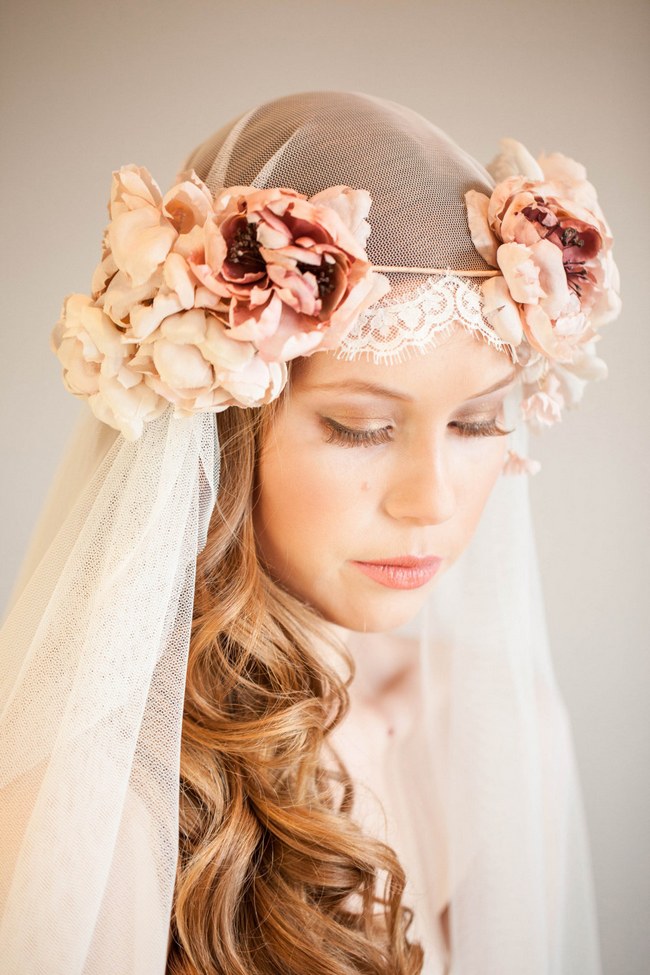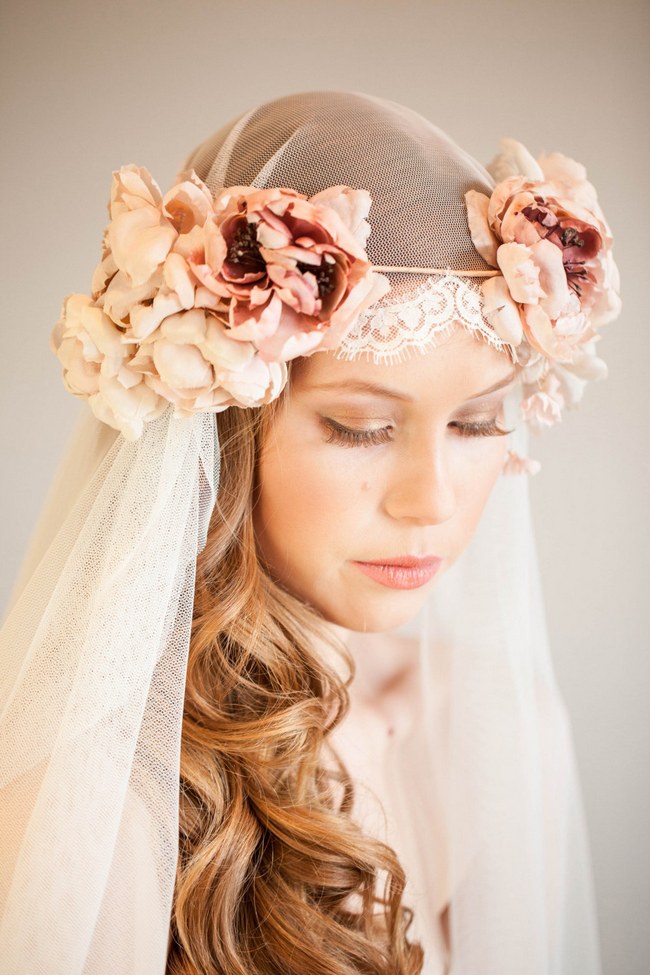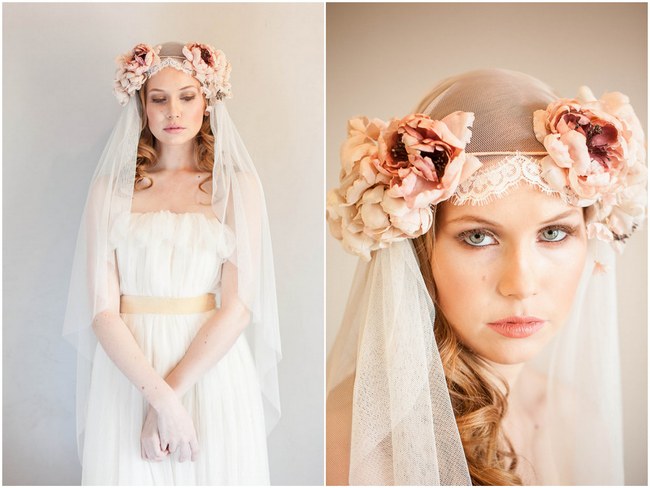 (Above) The ethereal nymphe des bois veil and halo form part of a two piece set with French chantilly and 100% silk that has been dyed, cut, watercolor painted and pressed into deep blush bliss.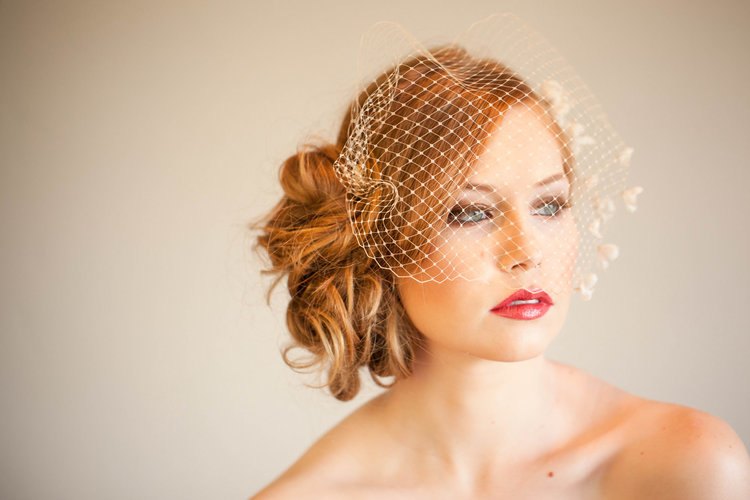 (Above) The Eglantine, blush bandeau style birdcage veil features tiny, delicate silk blossoms which are hand wired.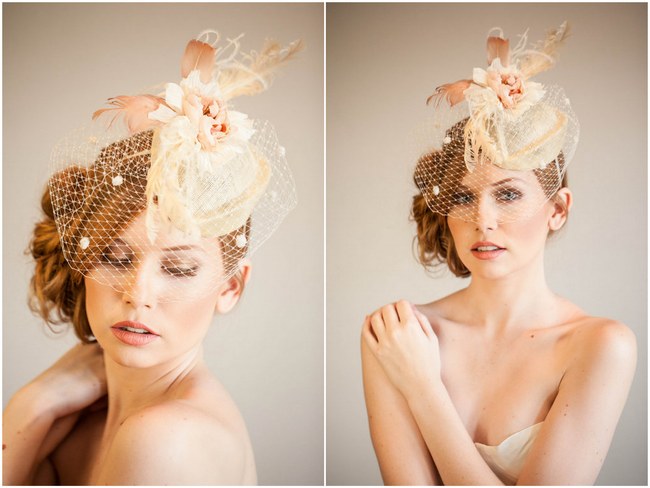 (Above) The gorgeously vintage inspired Le Pavot hat and veil with blush silk ribbon ties are the epitome of elegance!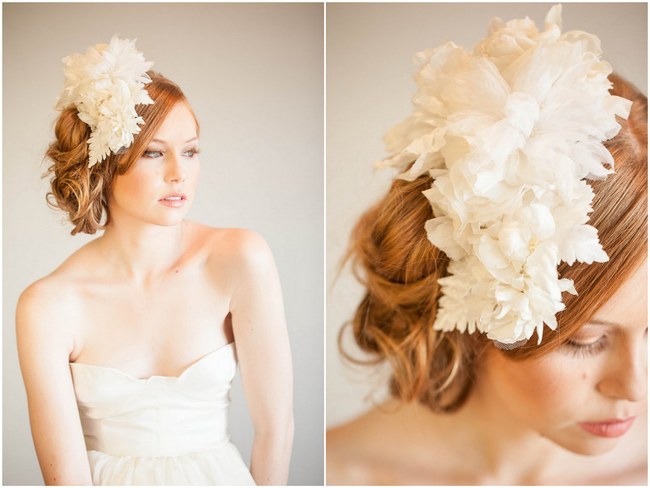 (Above and below) The dramatic and delicious Immortelle headpiece is hand made from silk habotai, silk organza, silk crepe, and silk charmeuse.
 (Below) The Plume d'or headband and golden French birdcage veil set is made from hand shaped brass feathers that have been fastened into a striking arrangement of feathers on one side.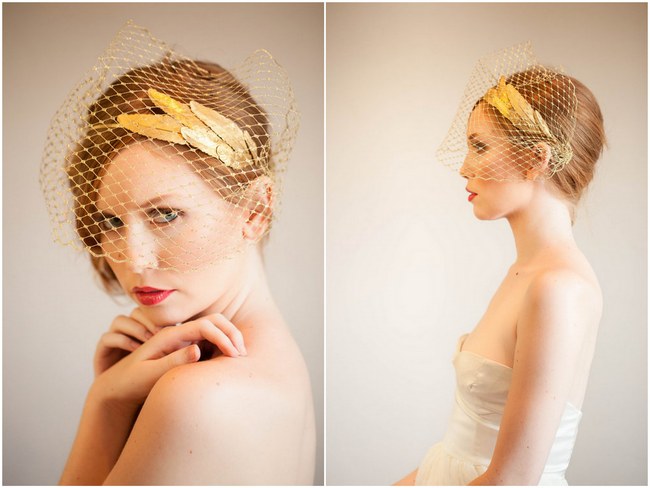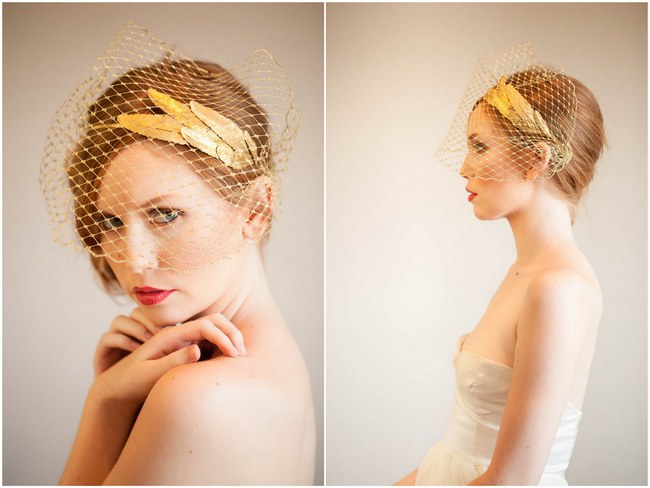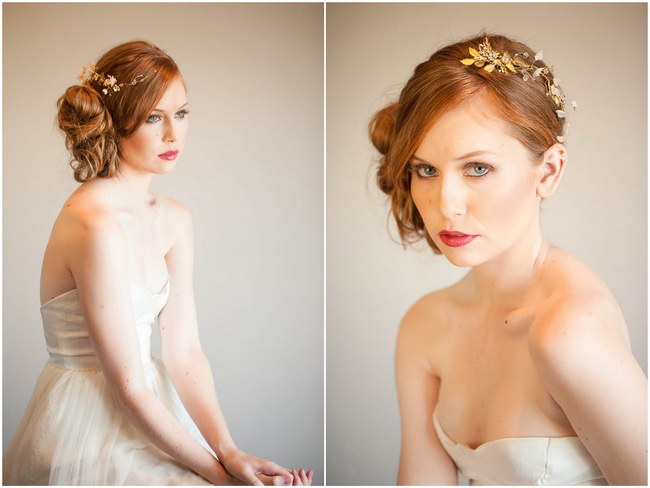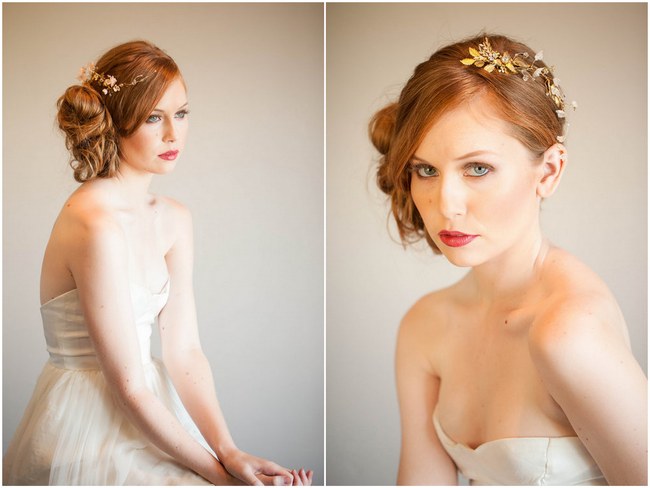 (Above) The lovely handwired and very versatile cerise vine comb is reminiscent of a blossom covered branch, with hand painted flowers and  silk blossoms. (Above) The delicate Muguet comb is hand wrought with dainty beads and small silk blooms..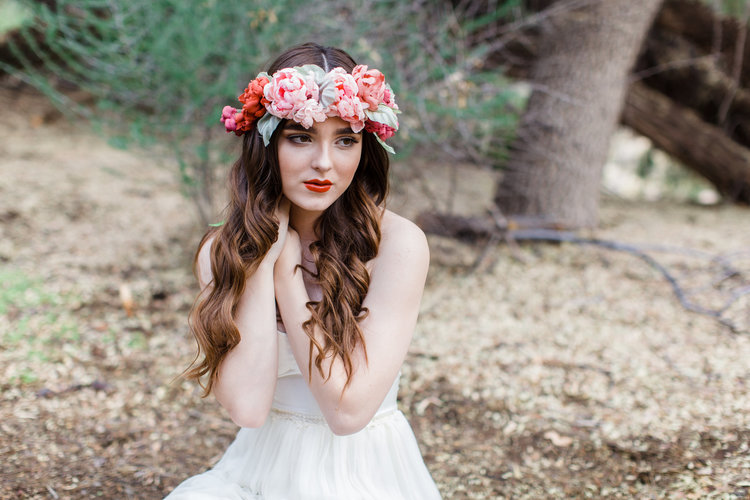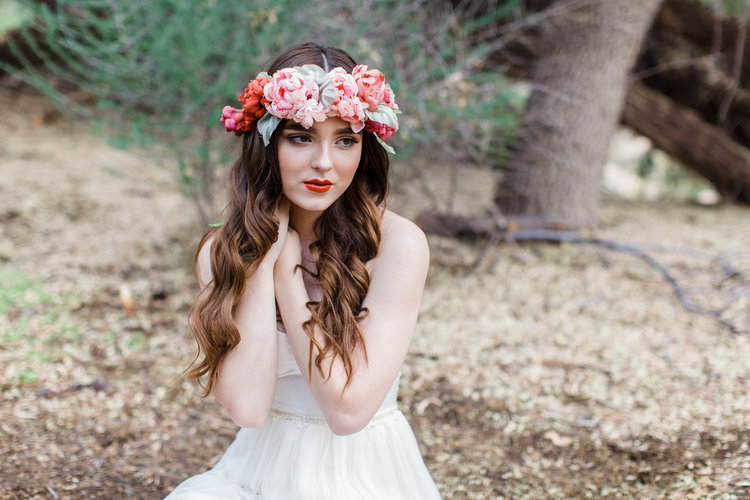 (Above) The dreamy and darling Philomene flower halo is a floral crown abundant with pretty garden rosettes.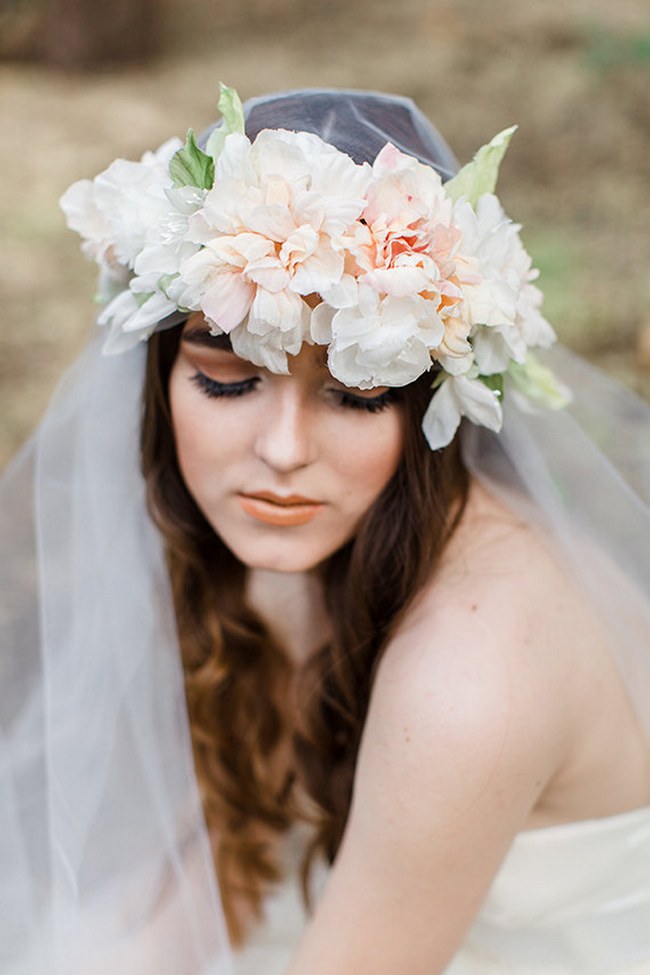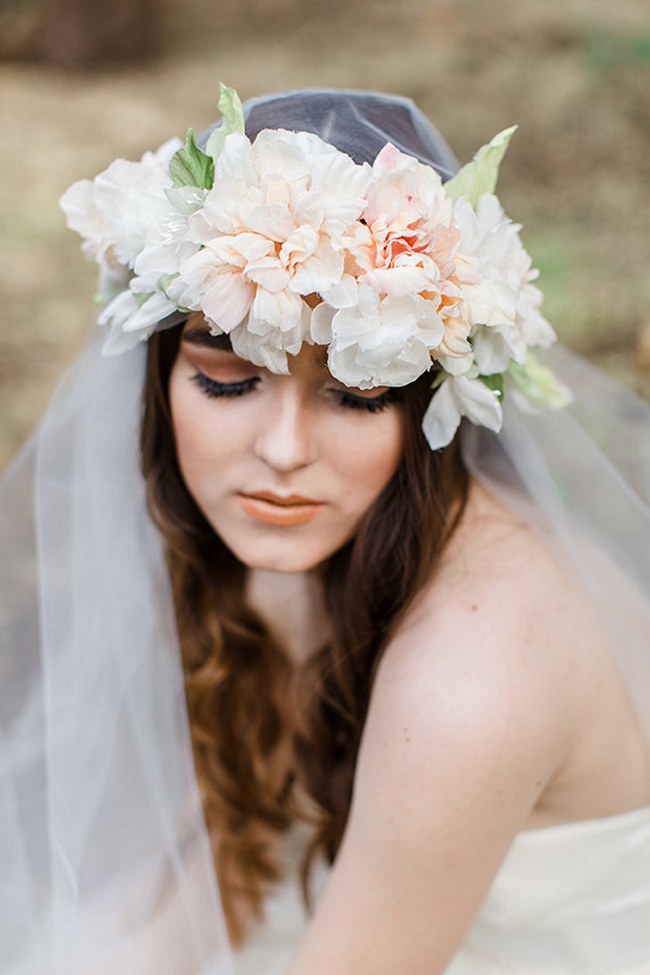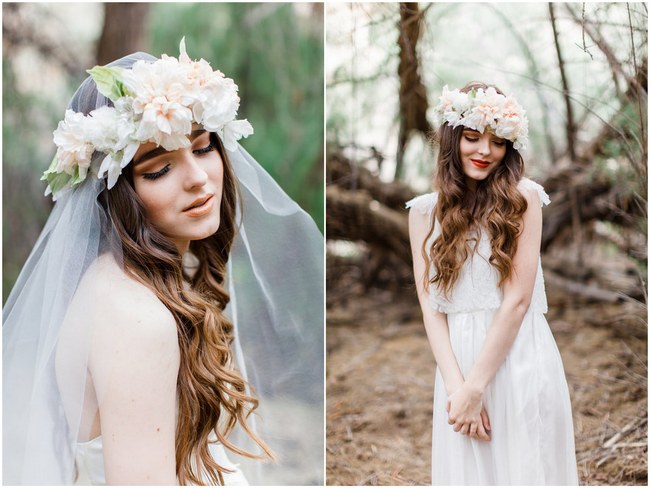 (Above) The alluring Florianne flower crown is crafted using various types of pure silk, and then hand painted in a subtle palette of ivory, white, blush and peach.
Exclusive Interview
Behind The Scenes with Mignonne Handmade
We spent some time chatting with Jennifer Wood, the creative force behind Mignonne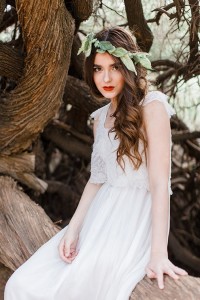 handmade, about her collection. We began by asking her when her love for design began:
I've always been interested in design and fashion for as long as I can remember. I had sketch books filled with designs as a kid. I've also always loved making things. I feel very lucky that I've been able to make a career out of it.
Mignonne Handmade's s Signature Style
Jenn shares how she loves the tactile nature of designing headpieces and bridal accessories:
I prefer natural, unique and relaxed looks, drawing from nature and vintage inspirations. The current collection is very sweet yet most of the pieces make a real statement. As always with my pieces I used natural silks, crystals, solid brass components and everything of course is completely handmade. I employed one of my favorite techniques which is to hand paint the silk petals in a watercolor stlye before hand pressing them with a millinery iron. 
The Creative Process
We asked Jen to give us some insight into her creative process:
The inspiration behind a new collection usually starts with an idea for a design or a color palatte I've been wanting to play with. Sometimes I get right to the design I had in mind and sometimes it takes a few evolutionary turns and is a bit different than what I had in mind when I started.
Mignonne Handmade's Advice for Selecting the Perfect Bridal Accessory
I definitely advise brides to go with something you are 100% comfortable wearing, not only physically comfortable but also make sure the piece makes you feel good and not self concious. You want to be worry free and looking radiant on your big day!
A big thanks goes to Jenn for sharing her latest collection with our readers! Be sure to get your daily dose of all things Mignonne by following Mignonne Handmade on Twitter, Facebook and Pinterest!
Credits
Designs: Mignonne Handmade|  Photography: Ace & Whim | Makeup and hair:  Rosie Reed beauty