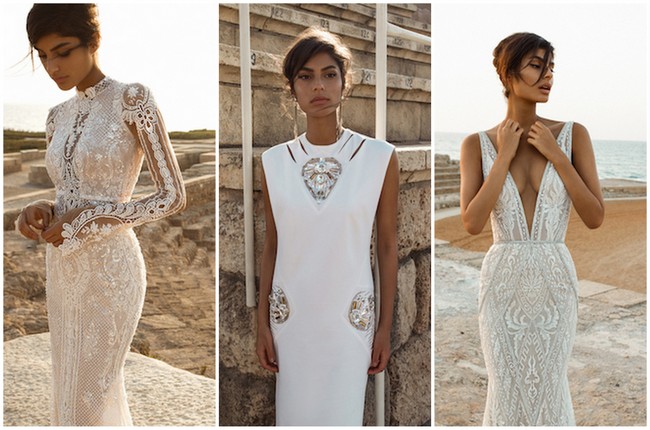 GALA III: Ready to Wear Galia Lahav Wedding Dresses 2017
What's luxe, edgy, ultra-feminine, bohemian and breathtaking? These exquisite Galia Lahav wedding dresses, which 2017 has brought our way! The GALA III collection, which celebrates bourgeois bohemian beauty is the latest from the house of Galia Lahav, our eternal bridal designer crush. Galia Lahav's premium offering of made-to-order bridal gowns, GALA, is a modern line for the young, edgy bride.
The bourgeois bohemian wedding dress collection brings together an eclectic mix of fabrics – sequin embossed net, Italian laces,  luxe aplique work and embossed tulle. A vast selection of silhouettes again emphasize the bohemian nature of the collection. Ball gowns, mermaid silhouettes, column dresses, long sleeves, plunging V-necks,  high necks, cap sleeves, peek-a-boo cleavage, strapless bodices, voluminous skirts, laces combine to create a collection that pleases the senses. 
Sophisticated, subtly off-white fabrics abound in the ready to wear Galia Lahav wedding dresses 2017 offers, giving edgy brides an opportunity to elegantly reinforce their individuality in a nude pallet of champagne, soft powder pink, silver, ivory and sparkly silver.
Eye-catching details such as vintage medallion stripe appliques and sparkly geometric embroidery create statement pieces for the bride with a strong sense of fashion and style.
This inspiration behind the GALA III ready to wear Galia Lahav wedding dress collection is drawn from the works of celebrated Italian filmmaker Federico Fellini: "Fellini knew how to blend fantasy, baroque images and earthiness. The "bohemians" such as us the DREAMERS, were known for pursuing a musical, artistic and literary livelihood… in this context, our collection is suit for adventurers and aspiring brides-to-be."
Galia Lahav Wedding Dresses 2017

(Above) GALA III Style 805: This ready-to-wear Galia Lahav Wedding Dress is one of our faves for the GALA III 2017 collection. The dramatic, backless,, boho-chic column dress is made of diamond sequin embossed net! We love the sheer sleeves, exquisite appliques and sheer waist detail.
GALA III: Wedding Dress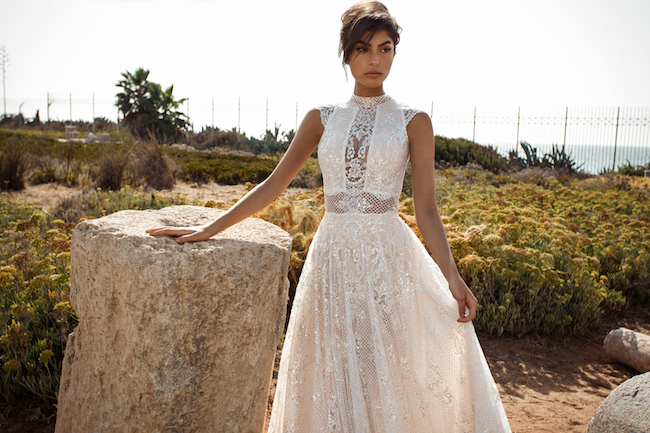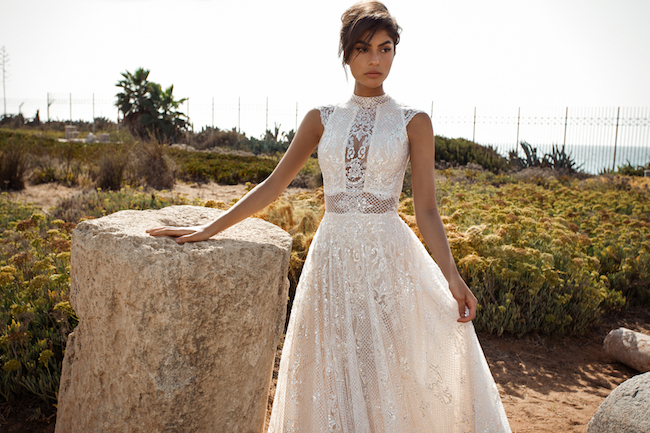 (Above) GALA 803: Working with a mix of silver and nude fabrics, Galia Lahav's GALA III presents a sequin embossed, sheer ballgown with playful, peek-a-boo cleavage, an elegant high neck, and delicate a cap sleeves.
GALA III: Ready to Wear Wedding Dresses 2017

(Above) GALA 802: If you're looking for a romantic mermaid dress, then your best pick of the Galia Lahav Wedding Dresses 2017 has to offer is no doubt going to include this gown. The dramatic, plunging v-neckline is combined with elegant long sleeves, and a eye-catching keyhole back.  Playful cutouts, geometric embroidery and Italian lace create visual interest throughout.
Bourgeois Bohemian Wedding Dress

(Above) GALA 812: This boho-chic loose fitted Galia Lahav 2017 wedding dress in crystal gold and champagne brings together cut-out neckline details, high slits on both sides and eye-catching embroidery.
Galia Lahav Wedding Dresses 2017
(Above) Gala 801: Another romantic, ready to wear Galia Lahav mermaid dress, this gown features a deep plunging v-neckline, long sleeves, a keyhole back and sheer details cutout throughout the gown.
Ready to Wear Galia Lahav Wedding Dresses

(Above) GALA 806: Bohemian strapless chiffon "Juliet" dress with an inside hidden corset, double layered bodice, front slit and long chiffon detachable sleeves.
Bohemian Galia Lahav Wedding Dresses
(Above) GALA 804: A layer of sheer antique crochet fabric in mermaid style creates a dramatic draping along the back and train of this gown in a powder pink silk chiffon.
Galia Lahav Wedding Dresses 2017
(Above) GALA 810: The gentle A-line silhouette with an embroidered front feature and a soft ruffle adorning the shoulders and the back makes this gown a boho beauty!
GALA III by Galia Lahav
This collection is available at a range of hand pick bridal salons and boutiques across the globe. Head here for a complete list of Galia Lahav stockists, and for the latest Galia Lahav wedding dress 2017 trunk show information click here.
---
Collection Credits: Designer GALA by Galia Lahav // Photographer: Eyal Nevo @eyalnevo // Producer Tal Kleinbort @talbuba // Styling: Shay Lee Nissim @shayleenissim // Set dresser: Yael Zerzion @yaelzerzion // HMUA: Naor Apple @naorapple // Video: Assaf Revivo @assafrevivos and @arikandbenz // Headpieces: Tami Bar-Lev @tamibarlev and Kern Wolf @kerenwolf // Jewelry: Keren Wolf @kerenwolf // Model: Shani Zigron @shanizigron // Agency IMG models & Elinor Shahar // Girl Cloths: Tutu De Monde, exclusive for cutiepie.co.il // Man Cloths: Bamoss Square @bamos_square //
---