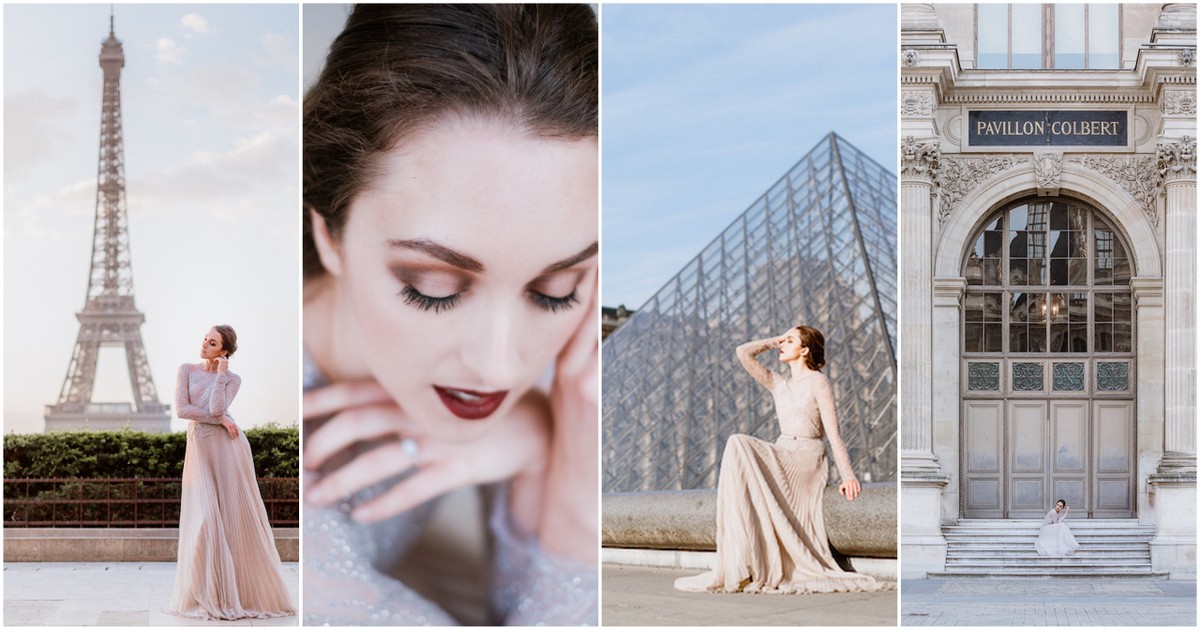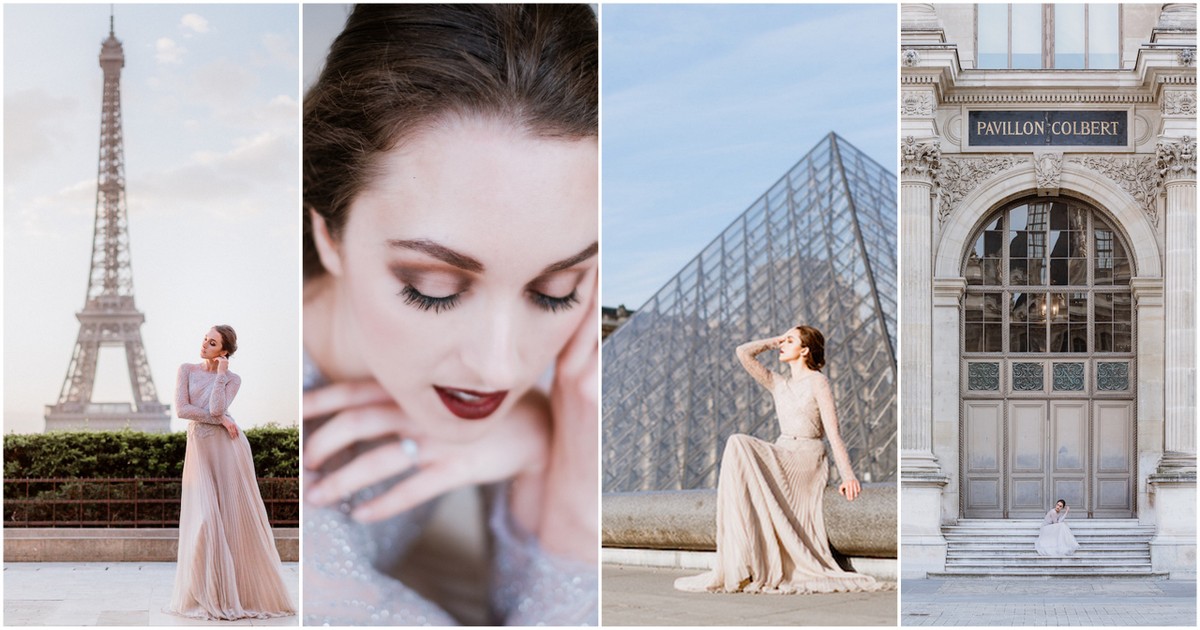 Today's Paris photoshoot and tips for planning a private photo shoot in Paris are the perfect Parisian inspiration for traveling couples. Whether planning a vacation, anniversary photoshoot or elopement, taking time for a quick Paris photography session is a must! The resulting images, when planned correctly, can result in breath-taking photographs filled with memories to cherish always.
A Paris photoshoot taken across several of the most iconic Paris locations, including the Louvre, Palais Royal, and backdrop of the Eiffel tower, requires little else in the way of props or gimmicks. The city of Paris has a beauty and aura of it's own, which makes an hour of romantic photography in Paris even easier to plan. As the saying goes 'Paris is always a good idea' – perhaps a Paris photography session is too!
The city of Paris inspired hair and make-up artist Marnél Toerien to team up with Paris-based photographer Ian Holmes to capture these beautiful portraits of a Parisian morning. The team imported two delicately romantic gowns from the city of Cape Town, designed by Janita Toerien. The undeniable grandeur and romance of Paris inspired Janita to send two glittering dresses in soft, neutral tones with flowing, dreamy fabrics. The hints of blues, red and pinks in the gowns, were ideally set agains the neutral colours of Paris.
Paris Photoshoot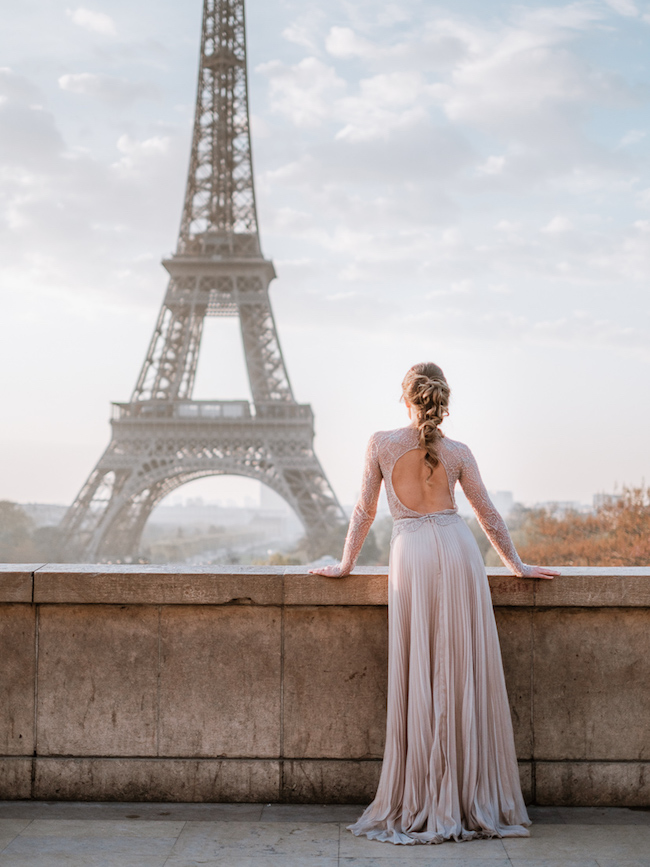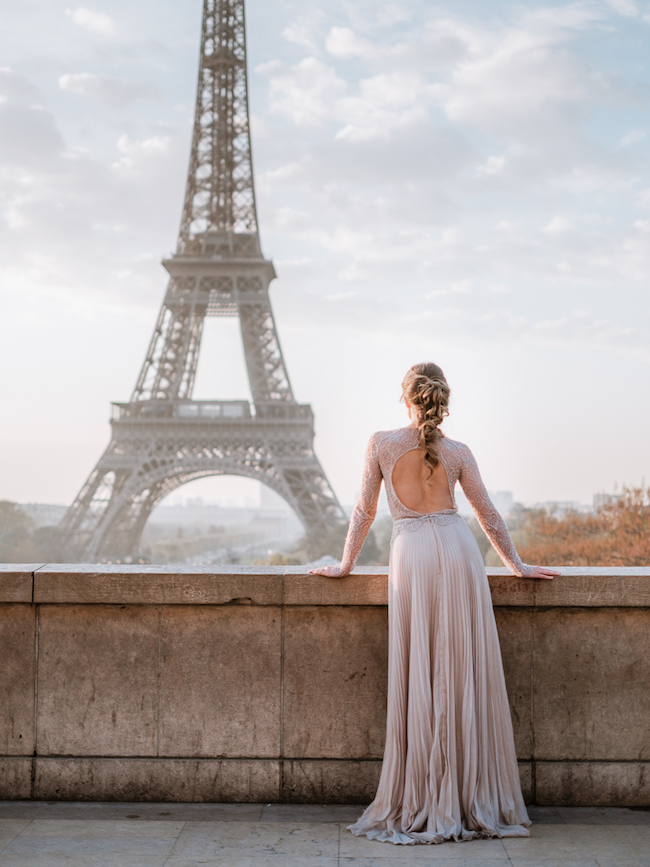 How to Plan Your Paris Photoshoot
If you're looking to be swept away by the splendor of Paris, or simply seeking to be inspired with Paris photo shoot ideas in the outdoors of France, this Paris photoshoot is for you! In addition, Marnel Toerien, who co-ordinated this session of dreamy Paris photography, shares must-read advice on how to plan your own Paris photo shoot.
Select three locations or backdrops to featur in your Paris photographs and convey this wishlist to your photographer. Research the locations properly. Whether you're planning an elopement in France or couple shoot in Paris, ask yourself exactly what you love about the city so that the images are even more meaningful to you. Chose locations you adore!
Plan the most effective route for your chosen Paris photoshoot locations. Yes, this sounds simple but hear me out. Zig-zaging across the city wastes precious time – costing you both in term of the time booked with your photographer, the quality of light, and your own stress levels!
Choose the right Paris photographer – not always the most famous, or cheapest. Choose a Paris photographer (like Ian Holmes) whose photos make you go YES!! Email them, tell them about yourself and what you would like. Remember you've never met one another so the more you communicate the better each party understands the other, leading to better photos.  Don't feel intimidated to reach out to a photographer like this – they're used to it. It's what they do!
Choose an English speaking photographer, or make sure you can speak French! If you're only able to communicate in broken French or little-to-no English, there might be misunderstandings leading up to the photoshoot, or you might find it tough to 'connect' with each other on  the day of the shoot. Of course, the language does not actually have to be English, simply one that you are both fluent in!
Ask your Paris photographer for a makeup contact. Think about it you'll be framing pictures of your faces mostly. You'll want to feel amazing so your inner city goddess comes out to play. Go ahead and treat yourself to some professionally styled hair and make up for your photographs in Paris!
Don't be shy during your photo shoot in Paris, you'll never see those strangers in the crowd again! No one, and I mean no one thinks what you're doing is weird. You're never going to see these people again so if you want to do something awesome for an epic Paris photo, DO IT! You will never, ever regret it.
Choose attire that is timeless and neutral so your Paris photographs won't date. Stick with elegant black, white or neutrals with minimal pops of colour. Red lips are of course always in but modernize the look and opt for darker red rather than screaming-fire-engine red. Don't do a 'french-mani'. No one in France does a french paint and they squirm their noses when you mention it. Opt for a soft neutral nail. Actually, go for soft neutral everything and you've pretty much won.
If it's your first photoshoot and you're nervous, try a local shoot to get comfortable behind the camera. If you like the city-vibe shoot, embrace the streets of Cape Town or whichever urban-city is closest to you and book a local photographer to build your confidence. You'll find beautiful city locations hidden away like coffee and gelato shops which give-off a jet-setter vibe. Local photographers will know ALL the secret spots and the resulting images can help prepare you for your Paris photography session.
Bonus tip: Check out these 18 pieces of must-read advice from expert photographers who share their best photo tips for couples!
Romantic Paris Photography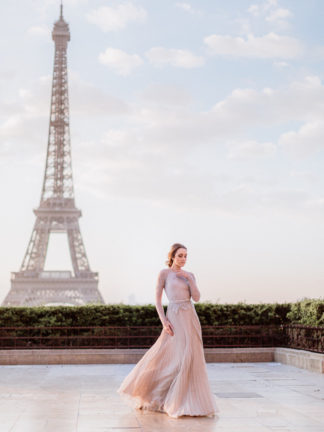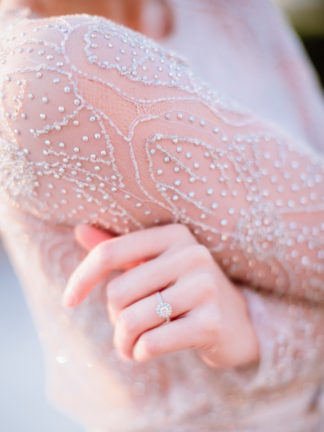 The images shot at the Louvre and Eiffel tower feature the "Antoinette' gown by designer Janita Toerien.  "This piece of beaded lace took my breath away when I found it in New York. I decided that a sunray pleated chiffon skirt with this fabric would be phenomenal and I was not disappointed! My newest, favouritest thing is a raglan sleeve for a super comfortable stretch top and we used it on this dress to create a more streamlined look from the body to the arms." See more designs from Janita Toerien here.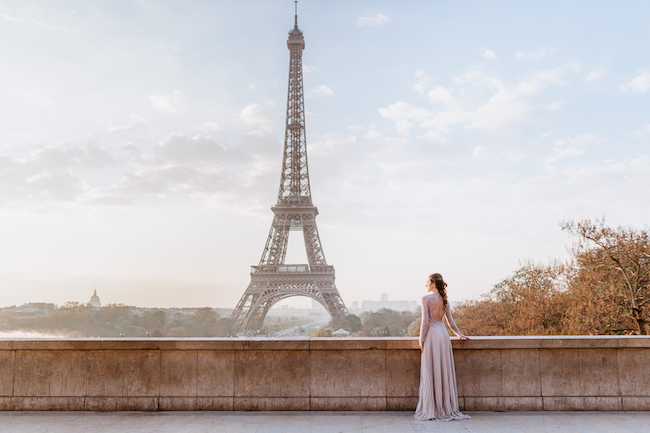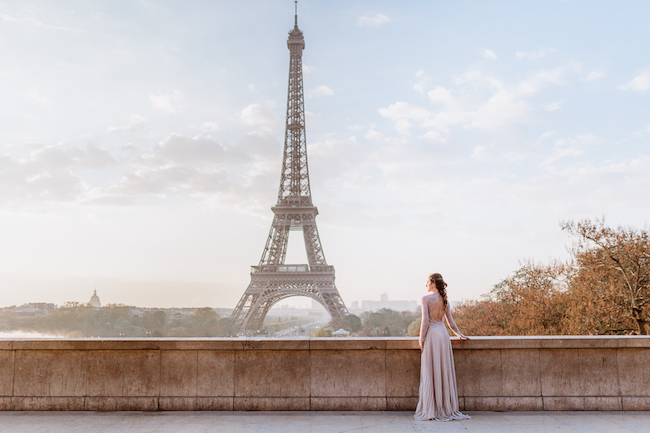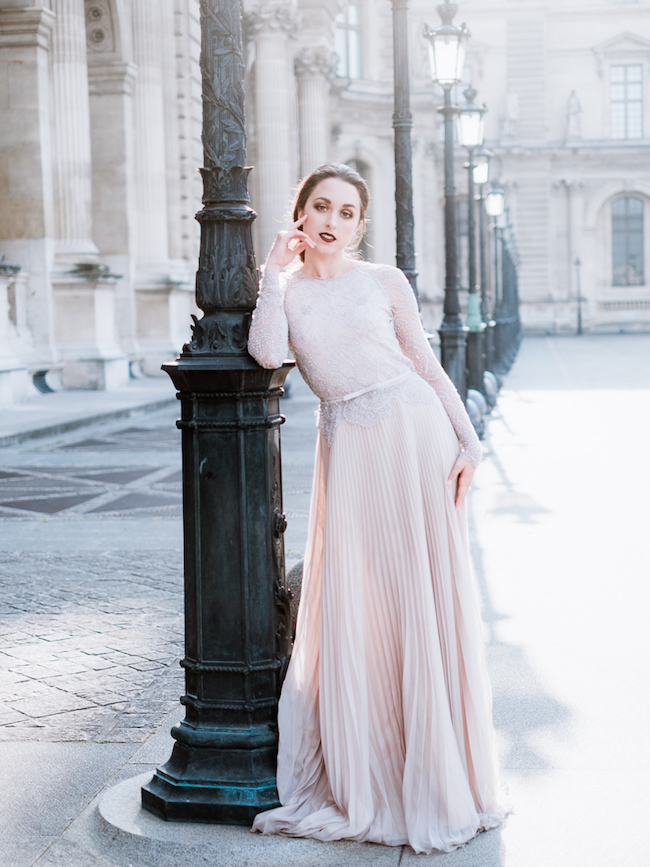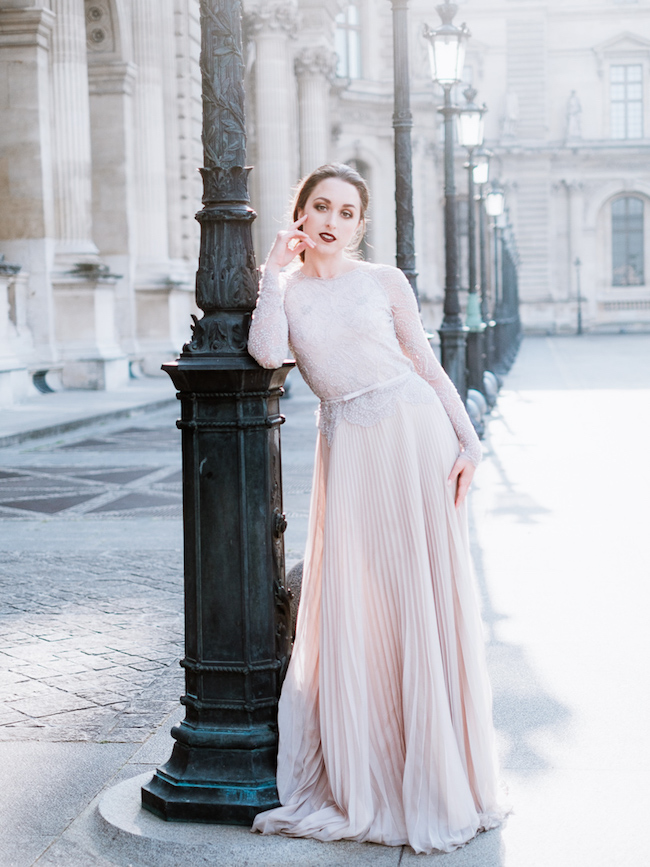 See dreamy destination weddings here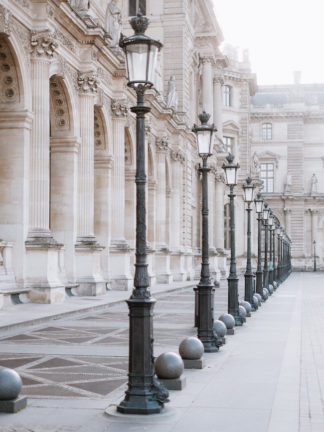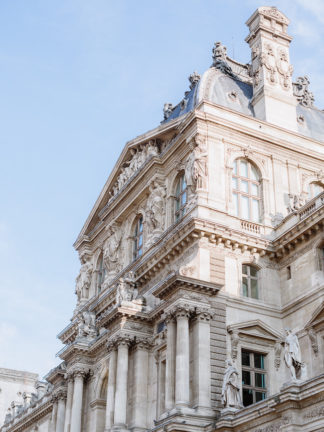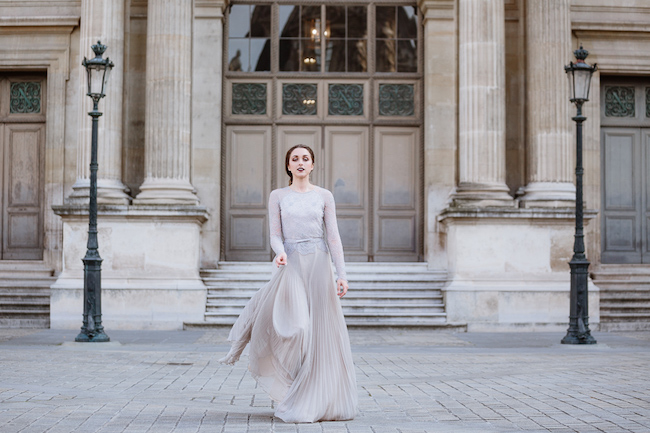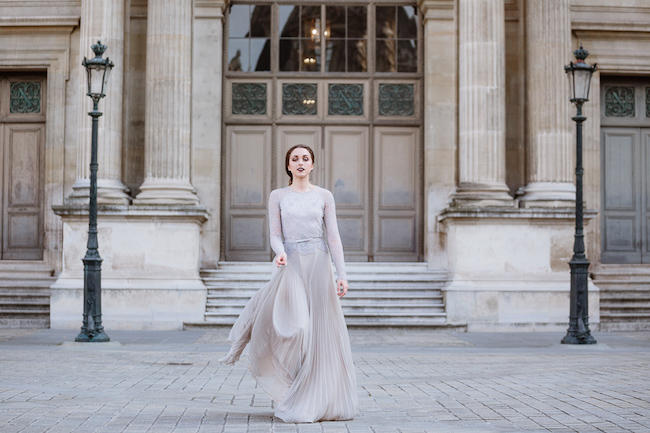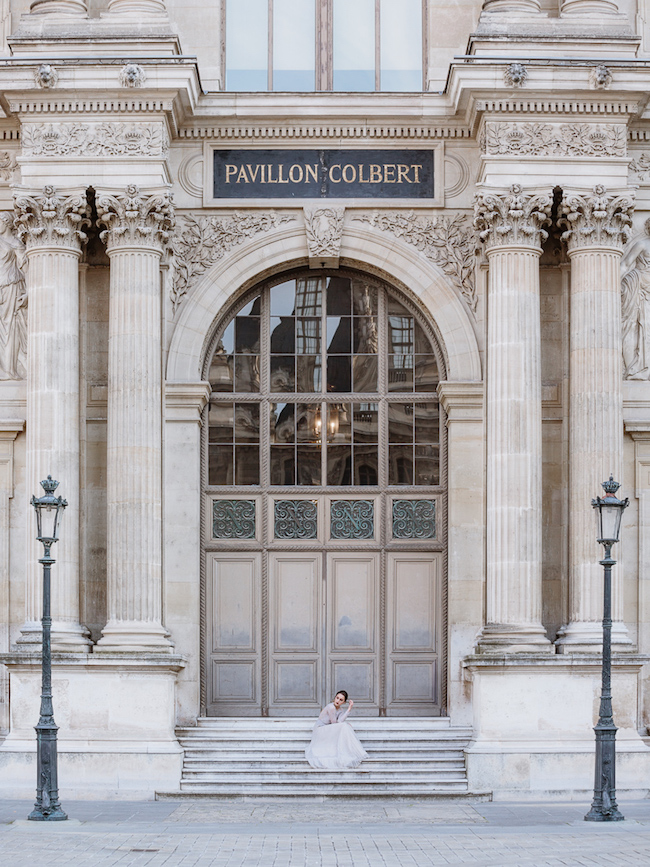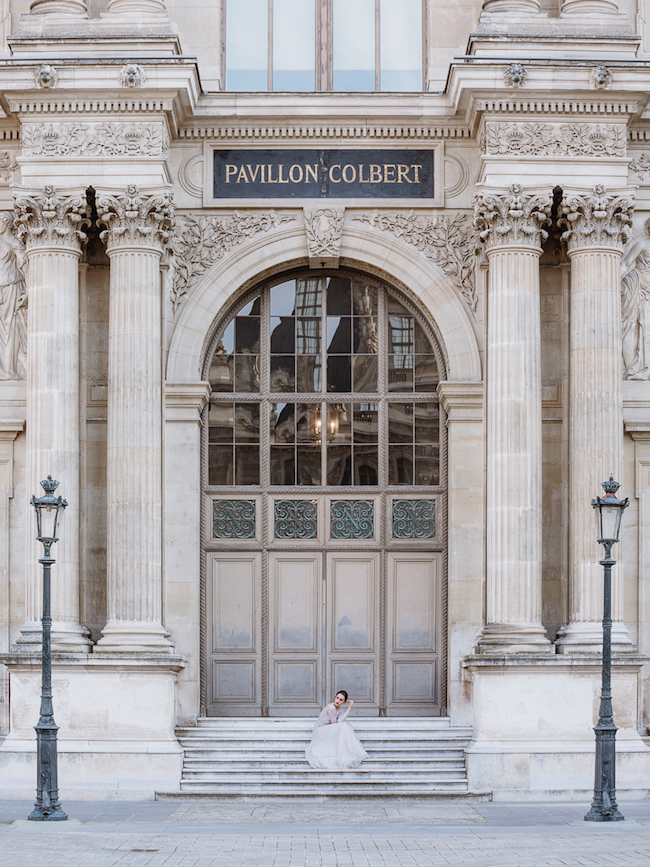 Dreaming of Europe? Check out these Italian elopements!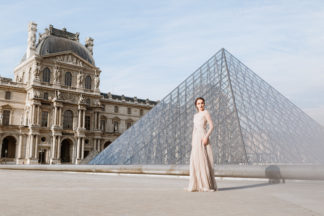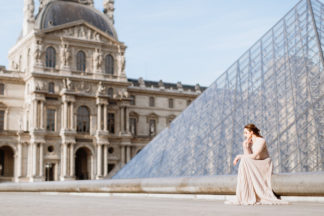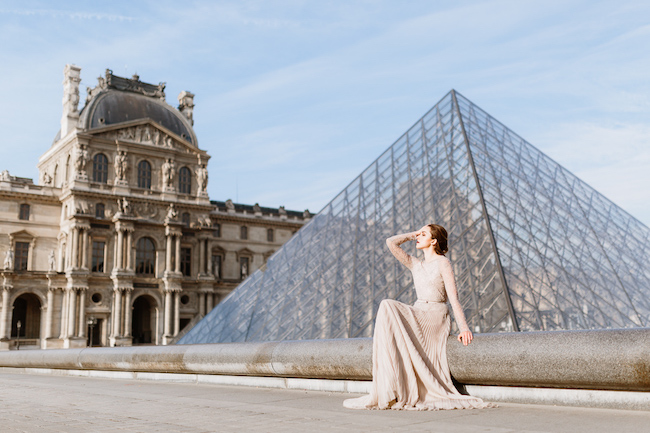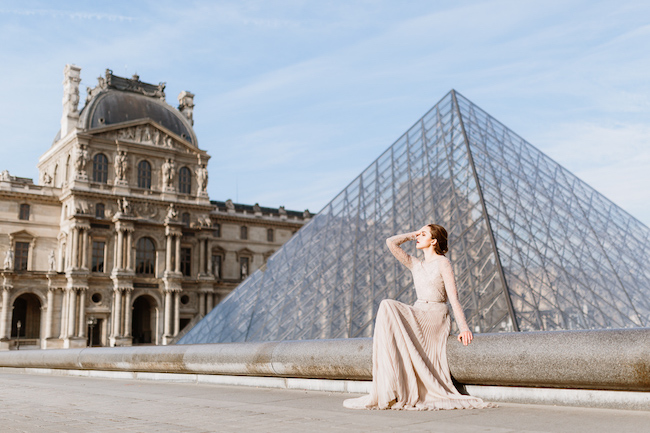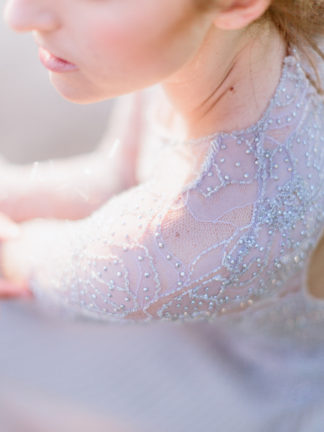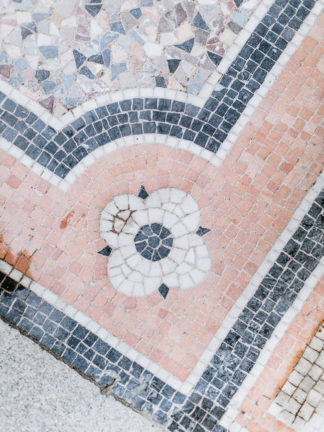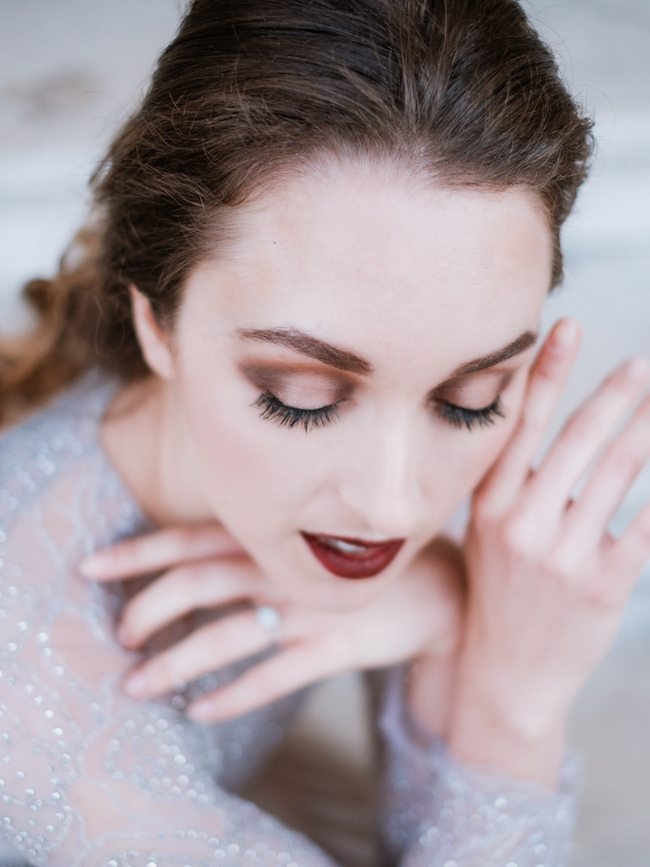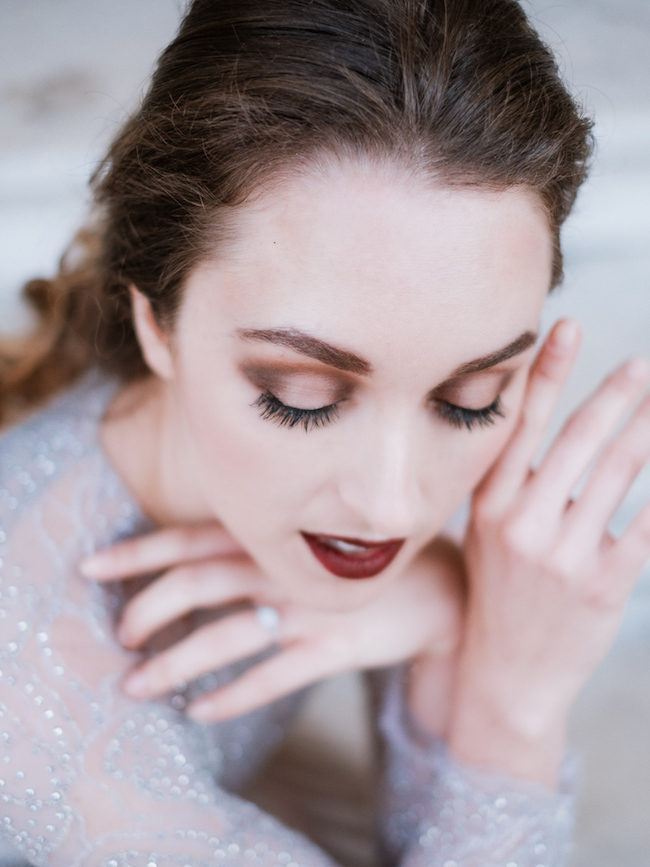 For this Paris photoshoot, Hair and Make-up artist Marnel Toerien began with a sultry yet soft smoky eye and nude lips. Hair was pulled back in soft curls, resulting a romantic yet modern half-up/half-down style. She later paired the smoky eyes with a daring, bold dark red lip. Classic red lips are oh-so Parisian-chic, Marnel points out!  A quick change of lip colour can amp up your look, just make sure it's a good longwear lip product, adds Marnel.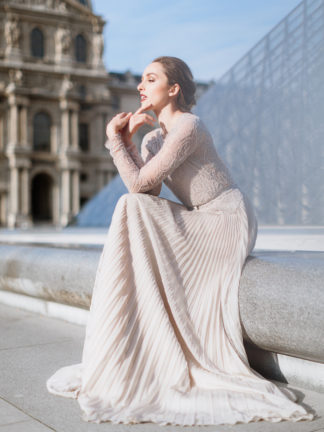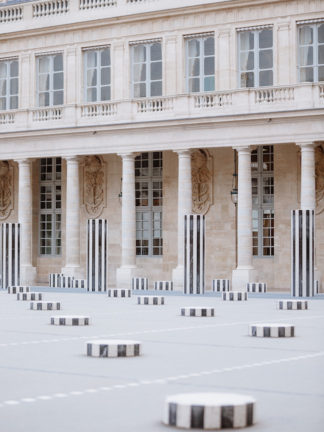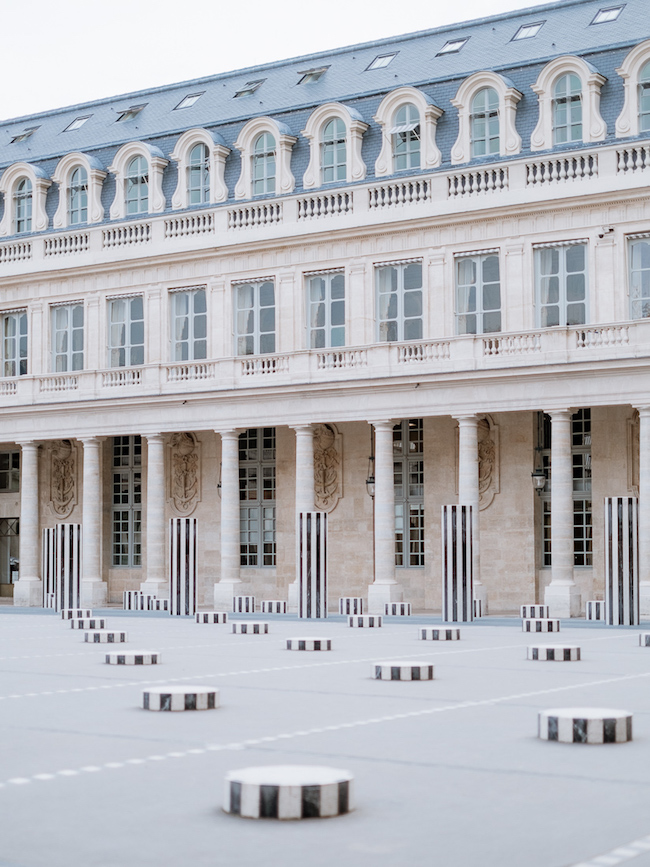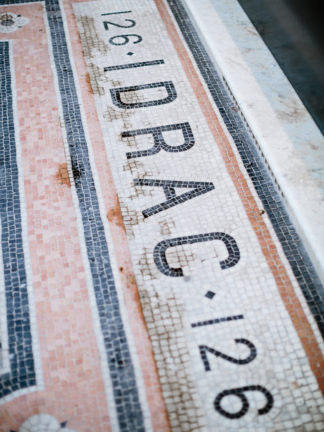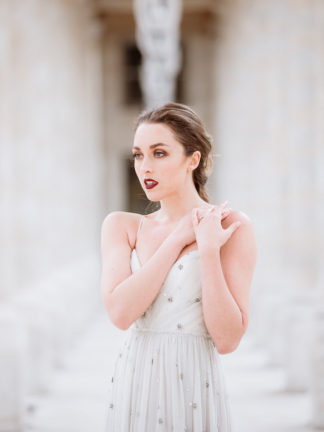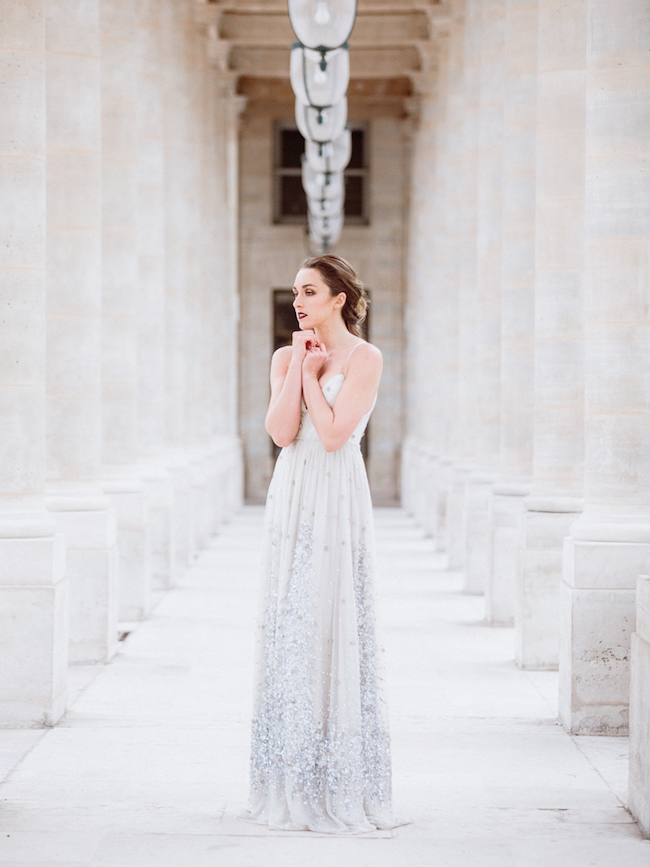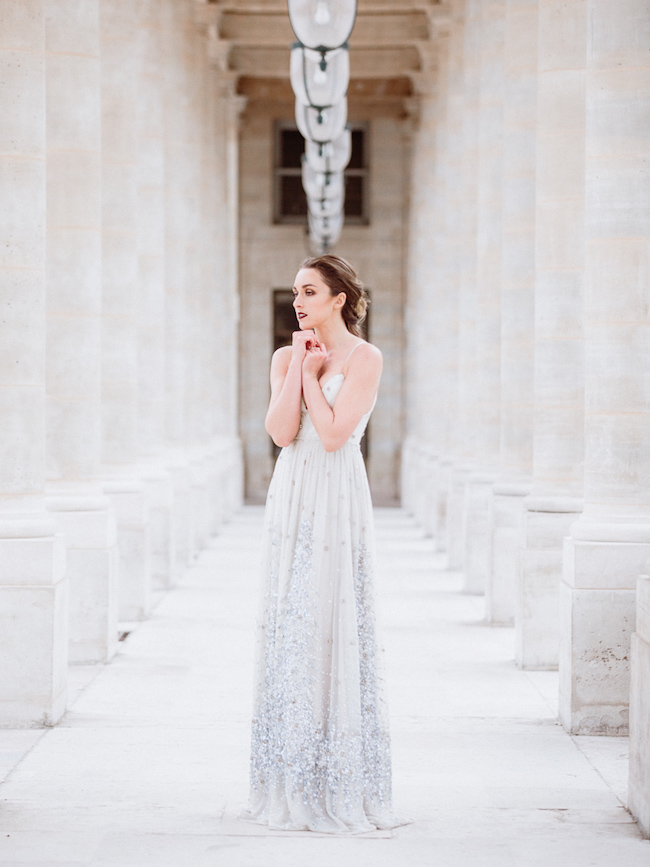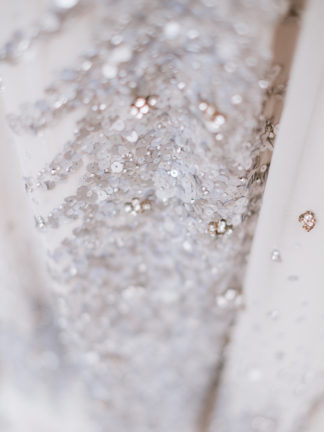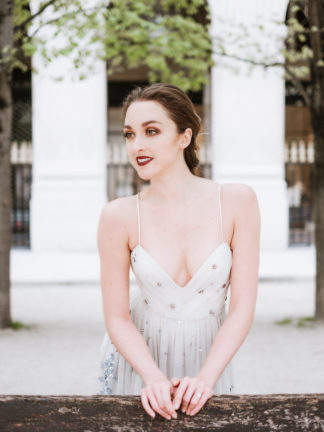 The model, Kayla, who happens to be South African too, started her own business making jewellery. She designed the choker featured in the Paris photoshoot.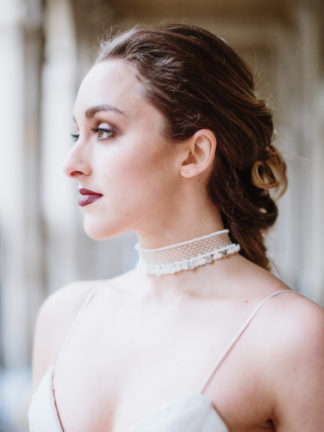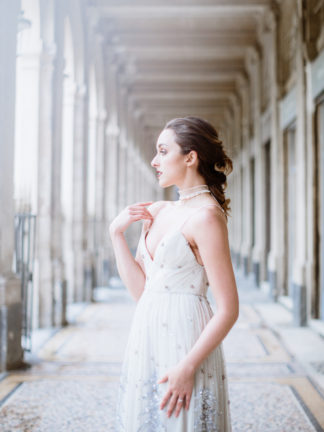 The sequined fabric of the Holly gown shot at Palais Royal is nothing short of phenomenal shares designer Janita Toerien. "The gown keeps the original sequin pattern in tact, honouring the repetition of angular shapes with a V-neckline. We emphasized that again with diagonal pleating in the soft, cluster beaded tulle across the bodice. Holly is meant to be a playful dress, something dressed up and fun!"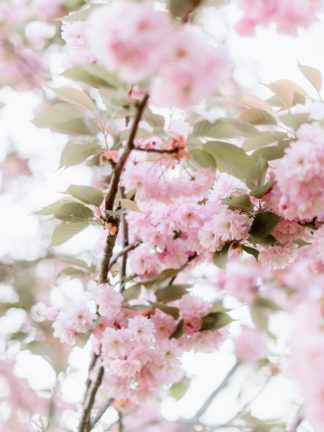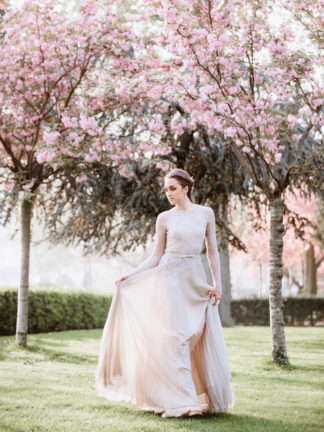 Paris Photographer + Paris Photo Credits: Photographer: English speaking, Paris based photographer, Ian Holmes Photography // Wedding Gowns – Janita Toerien // Hair and Makeup and Co-ordination – Marnél Toerien // Model + Accessory Designer – Kayla Booth
Click here for advice on how to choose a dress for your body type