Peach & Turquoise Delight
Real Wedding
♥ ♥ ♥
We wish that we could have attended this colourful South African wedding celebration that had guests getting up out of their chairs to mingle and dance! Aiming for a fun and relaxed atmosphere, newlyweds Kirsten and Ian created a wedding overflowing with endless special touches and DIY projects.
Combining peach with turquoise, their wedding shows how a bright colour scheme can work just as wonderfully as this pastel Romantic Peach & Pink Vintage MolenVliet Wedding. Be inspired by their big day that photographers, Love Made Visible, captured with a beautiful rawness.
Peach and Turquoise Wedding Look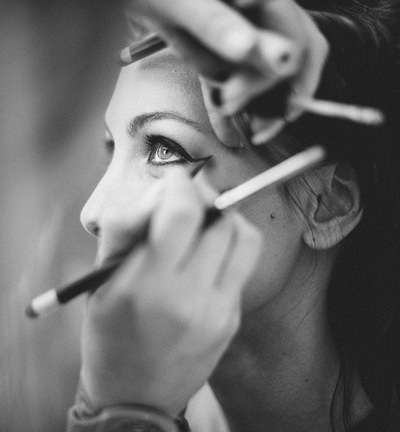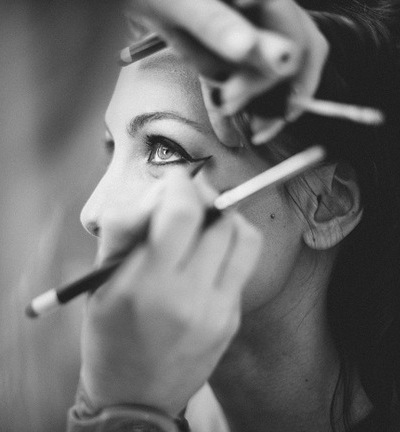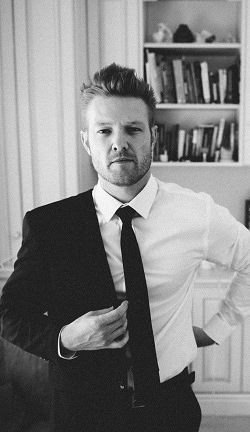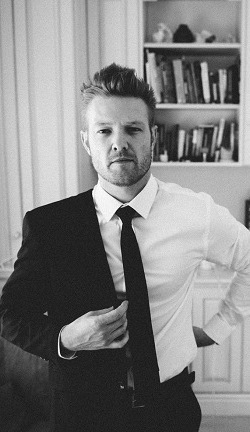 Ian and Kirsten's Love Story
The couple's whirlwind romance began 10 years after attending the same high school just two years apart Although they had mutual friends, the pair were both too nervous to ever strike up a decent conversation, because of the serious crush that they had on each other! Kirsten reveals that the odd 'Happy Birthday' and 'Happy New Year' messages were enough to keep the thought of Ian at the back of her mind. While life's many distractions filled the time between, on the 9th of March 2011, a day after his 27th Birthday, shortly after seeing that her Facebook status had changed, Ian braved a text message asking Kirsten for coffee…One coffee was all it took for her to message her friends to say "I'm totally gonna marry Ian Rossiter".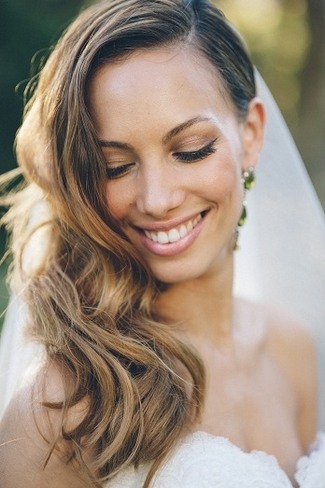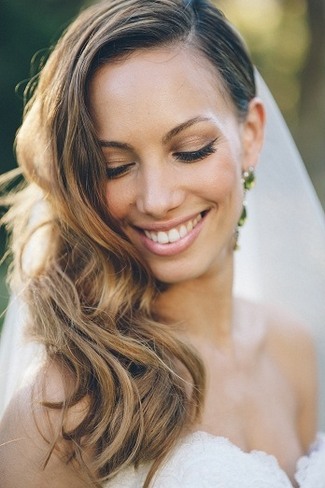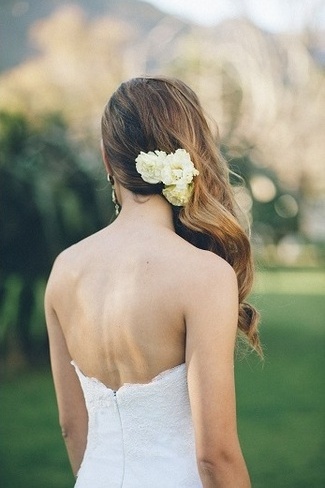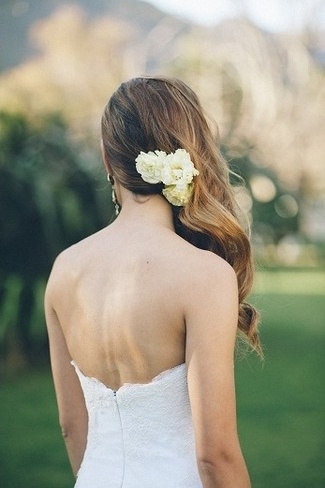 Peach and Turquoise Wedding Ceremony
As she walked down the aisle, a very close friend of Kirsten's sang "The Way You Look Tonight", a song from the movie, My Best Friend's Wedding. The couple personalised their wedding ceremony with a worship band comprised of a few friends and family and three of their favourite worship songs. "We chose unconventional readings or scriptures that were special to us," says Kirsten.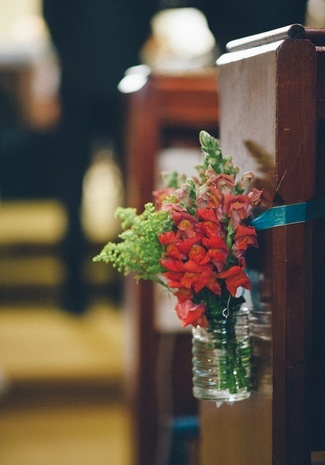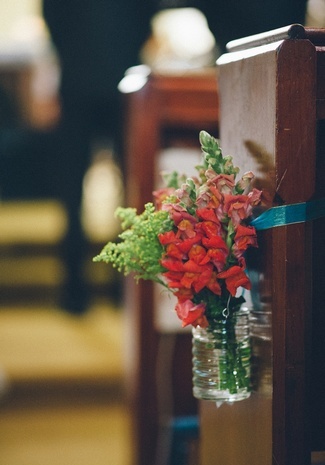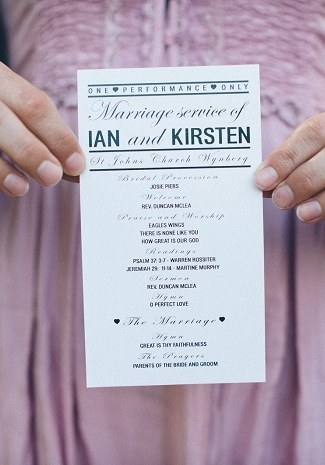 (Above Right) DIY Order of Service: The couple created their own elegant order of service by designing and printing it on paper of their choice.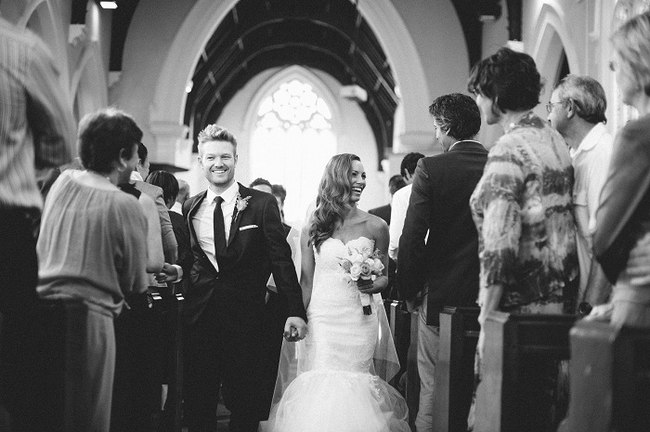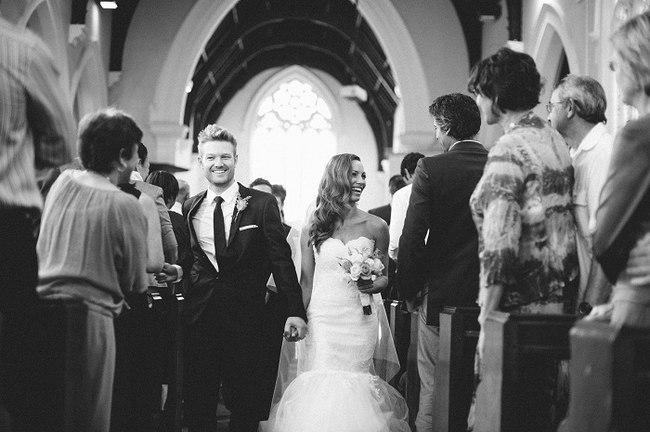 The Tale of their Proposal
10 months after their first coffee date, Ian was already asking Kirsten what kind of ring she had always dreamt of. Little did she know, he already had it! Being the good listener that he is, he designed her ring based on little comments that she had made throughout the months. "And he got it so right!" exclaims Kirsten. A week later in a room filled with the melody of her favourite Eva Cassidy song "Songbird", flowers and helium balloons that read "Kirsten Jane Murphy, will you marry me?" and was each attached to a photograph of a special memory from the last ten months, Ian got down on one knee and asked Kirsten to be his wife! In the midst of her tears , she said YES!!!!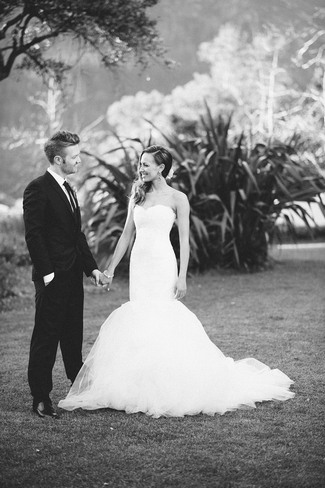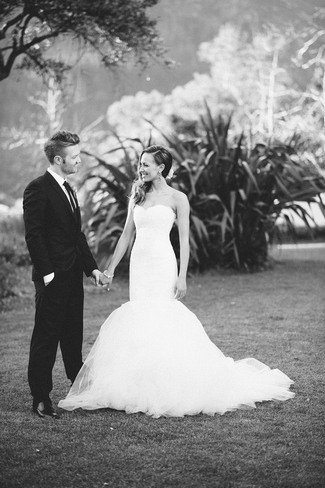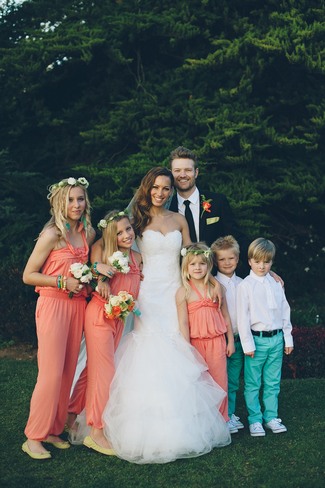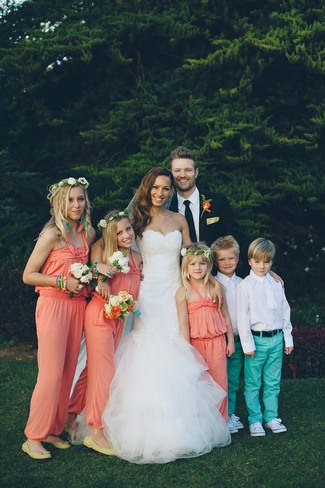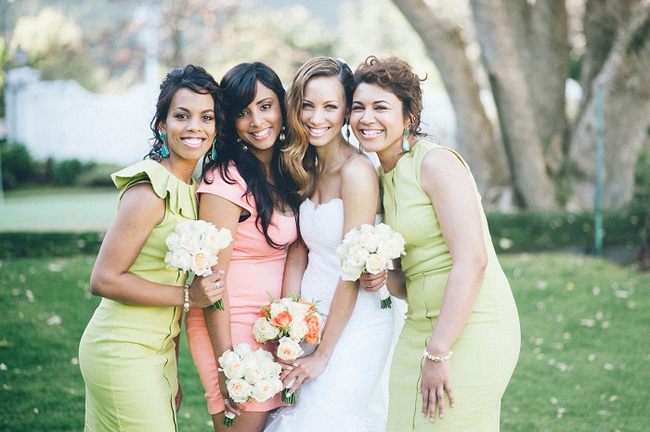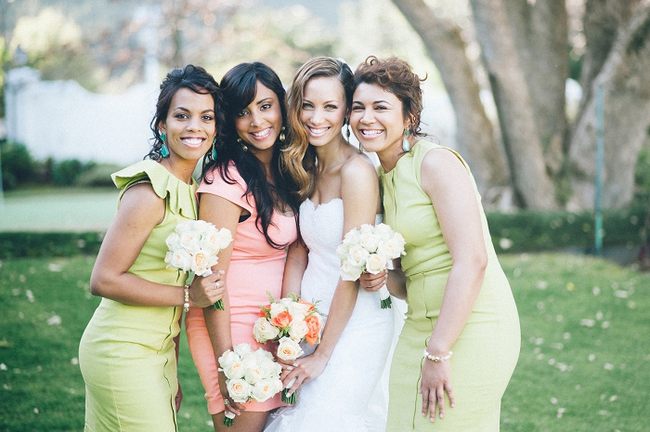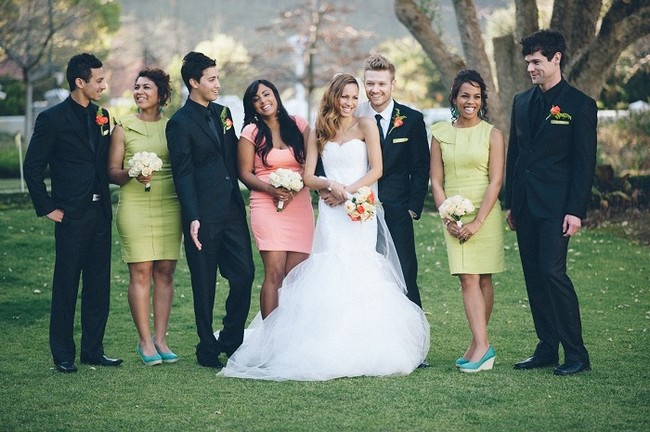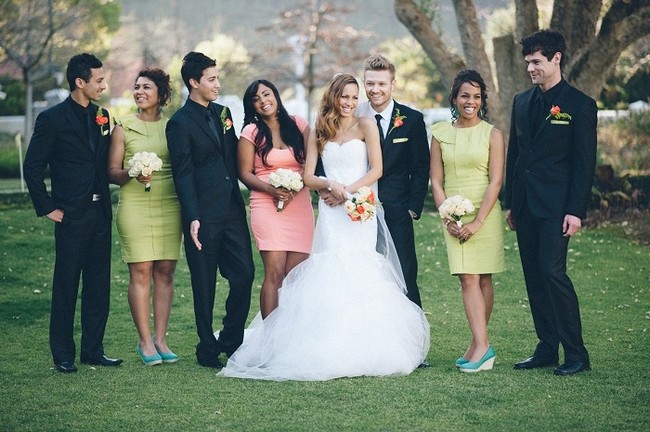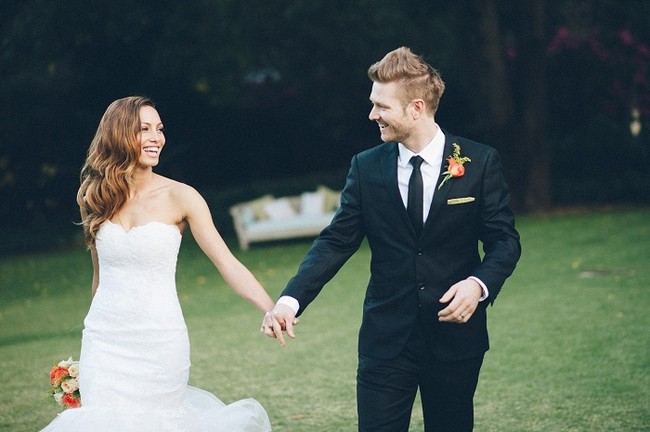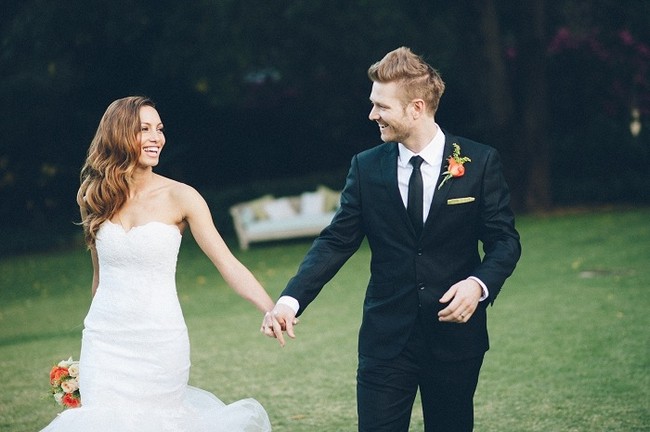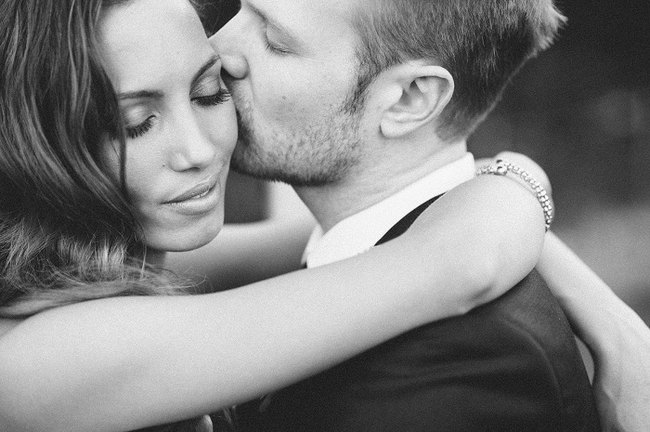 Peach and Turquoise Wedding Reception
The reception was held in the garden of Ian's family home in leafy Cape Town suburb of Constantia, which set the backdrop for their Marquee. The bright and colourful décor truly lit up the evening of wedding celebrations. After their guests were welcomed to the reception by a three piece jazz band, Kirsten reveals that she surprised her husband by serenading him with the song, I'll Cover You from the soundtrack of Rent, which they had listened to over and over when she had first introduced Ian to musicals.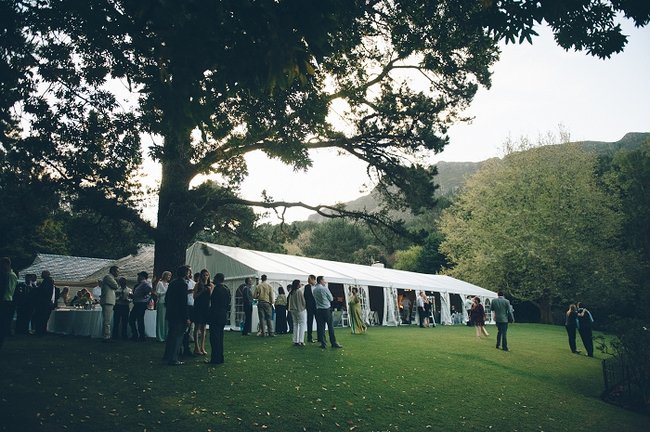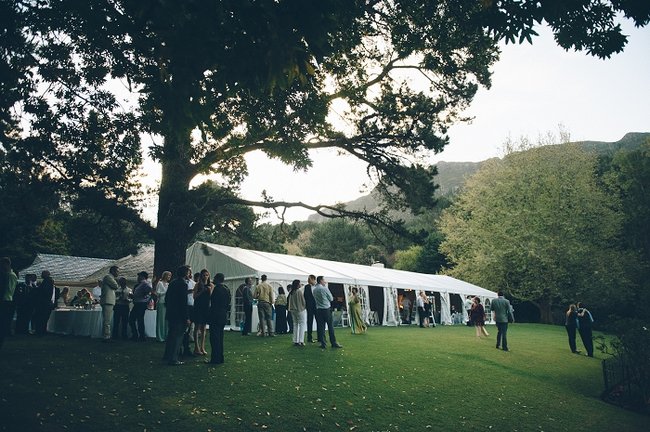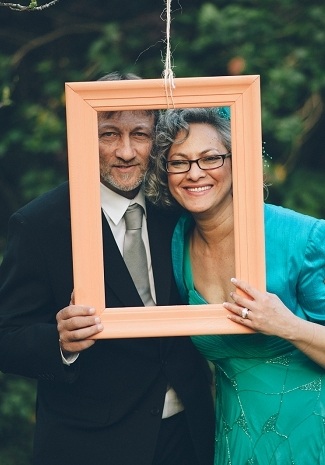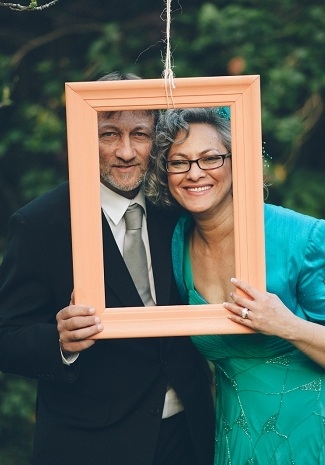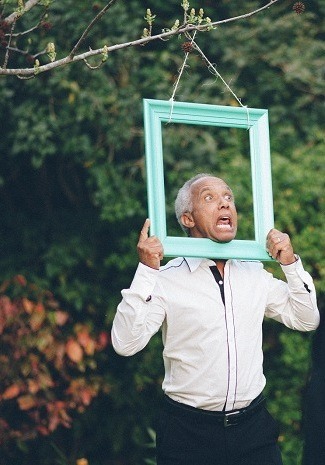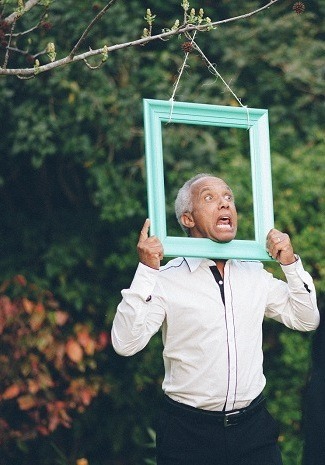 (Above) Ian made picture frames from wooden skirting boards, which Kirsten then painted. Once they were ready, the pretty frames were hung in a tree at the bottom of the garden, which made for fun photos!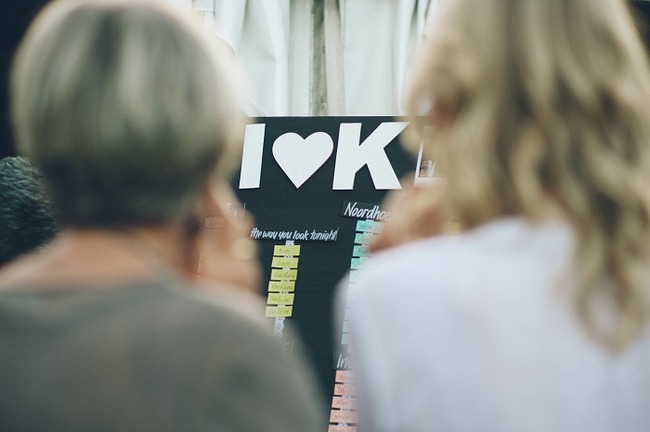 (Above) DIY Table Seating Board: The wonderful table seating board was made using a wooden sheet, chalkboard paint, colourful paper and lace.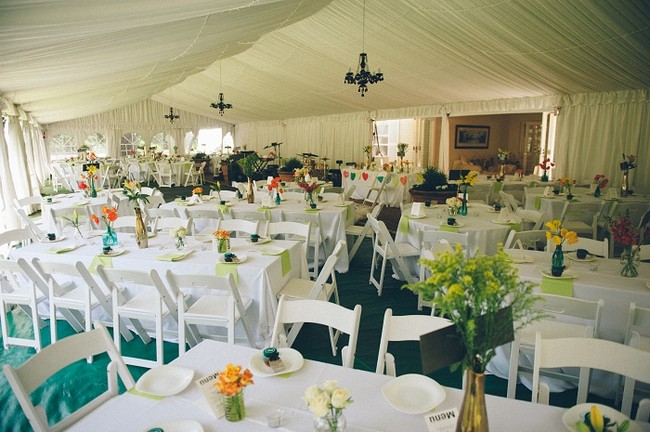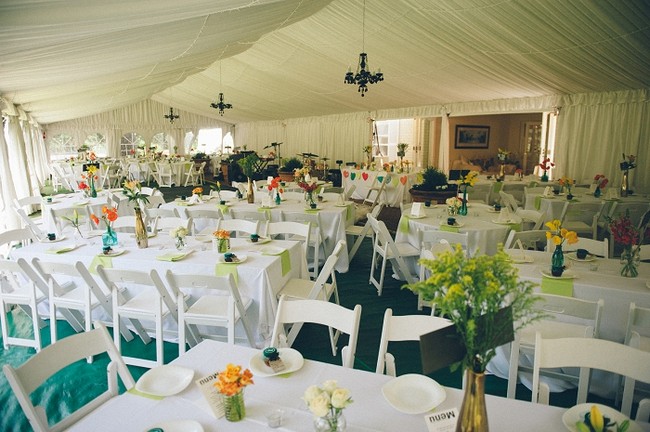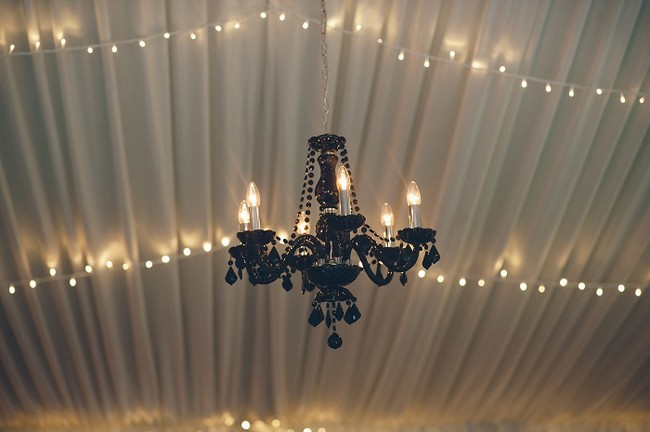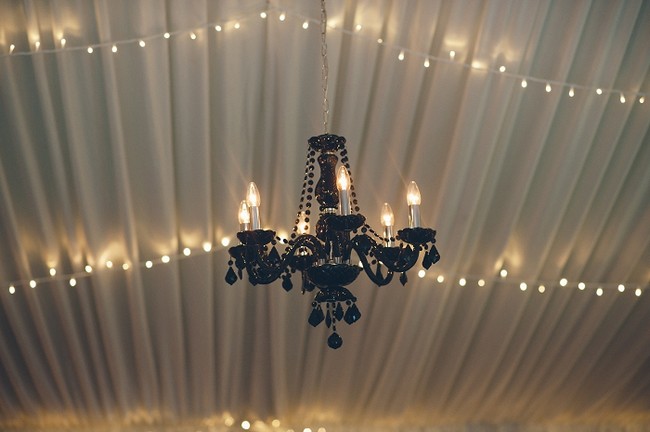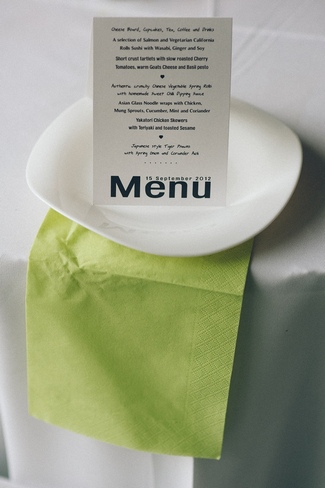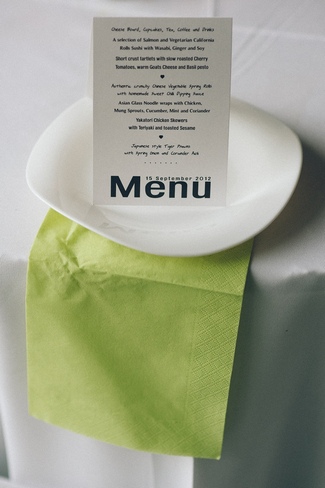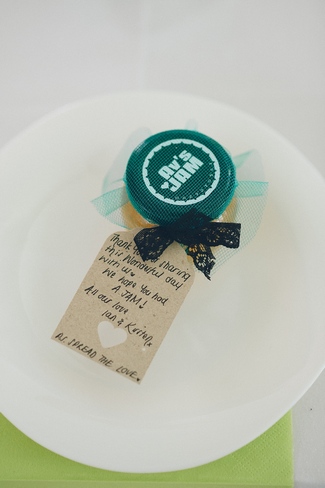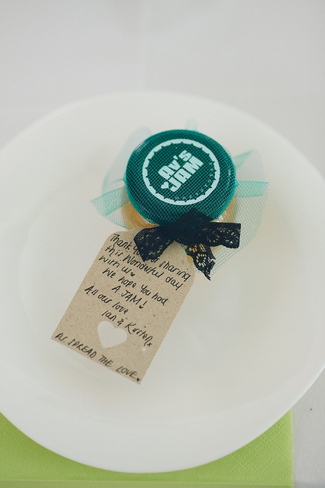 (Above Left) DIY Wedding Menu: The couple designed, sourced the paper and printed their own wedding invites, menus and order of service. | (Above Right) Kisten's mum made their homemade strawberry, kiwi, mango and granadilla jam wedding favours.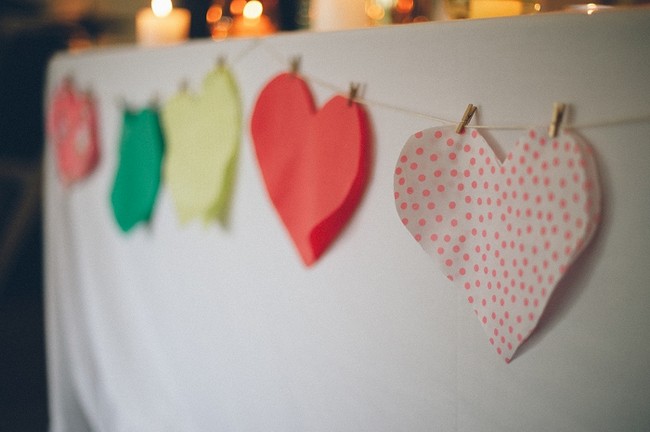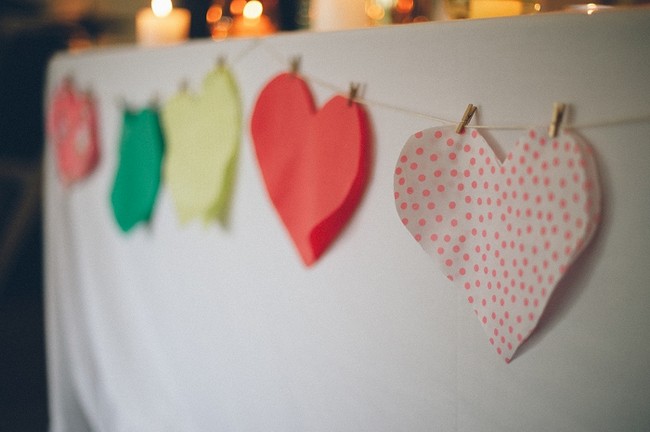 (Above) Kirsten made cute heart-shaped bunting to adorn the main table.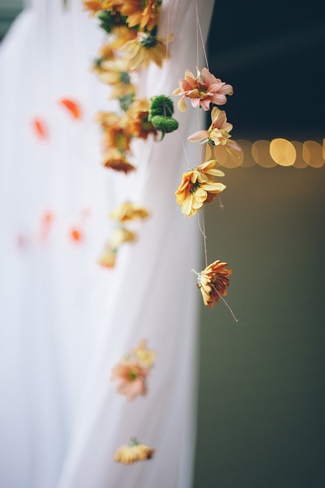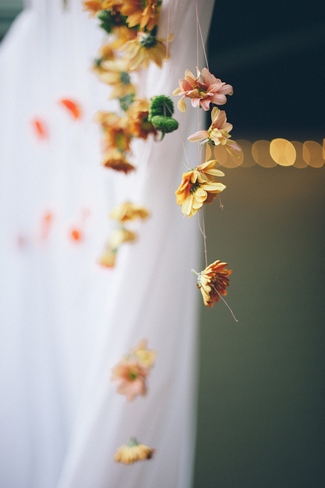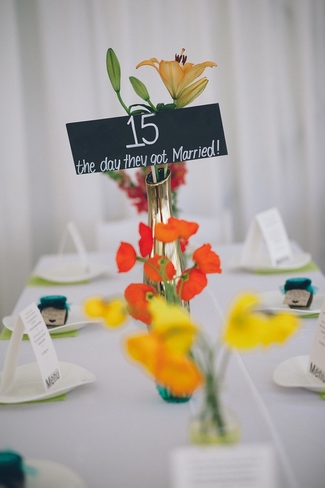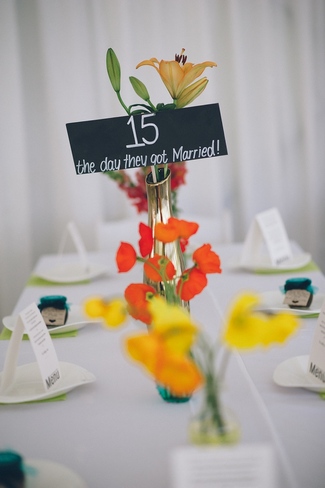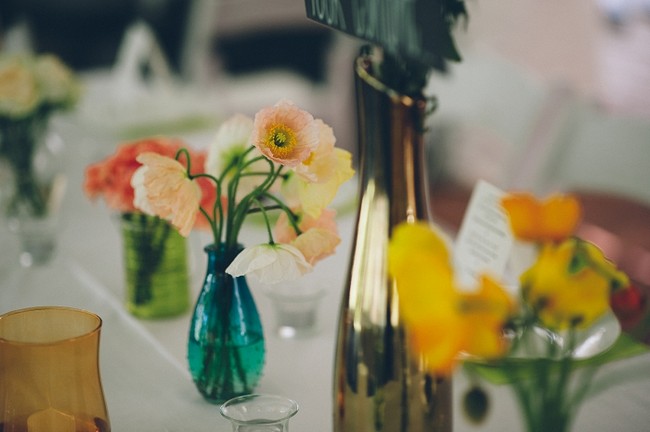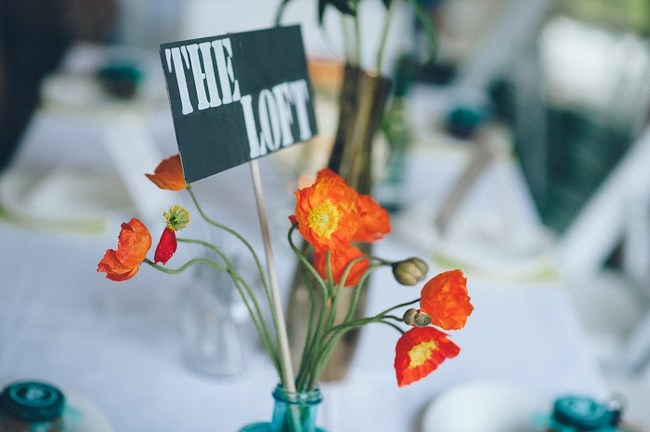 (Above) DIY Table Names: They made their own table names using cardboard, black chalkboard paint and a white marker. Each name was a special memory, favourite place or song.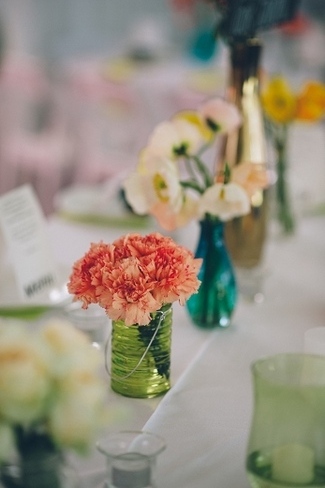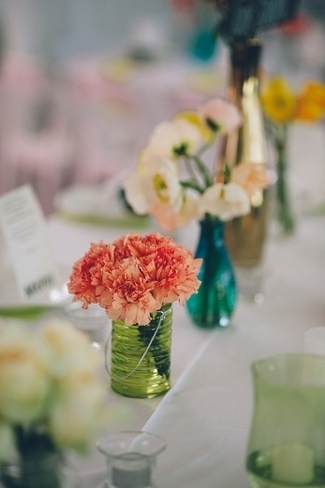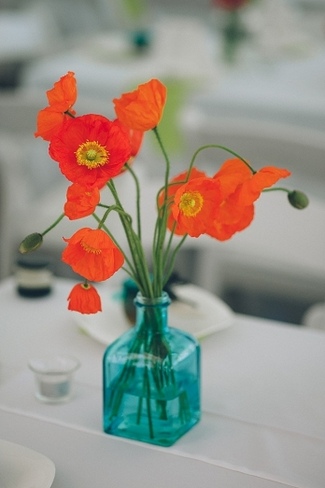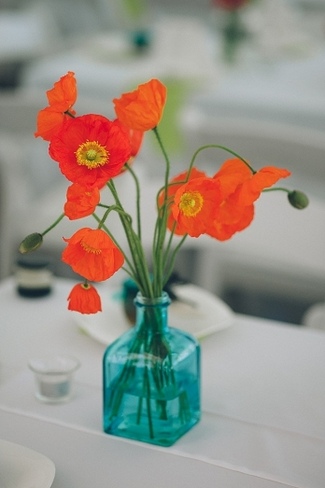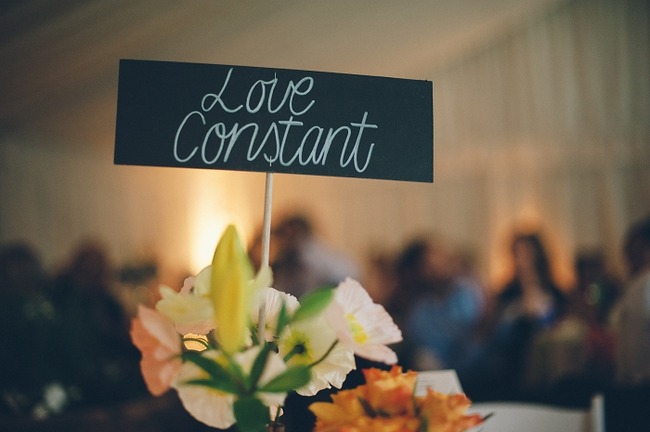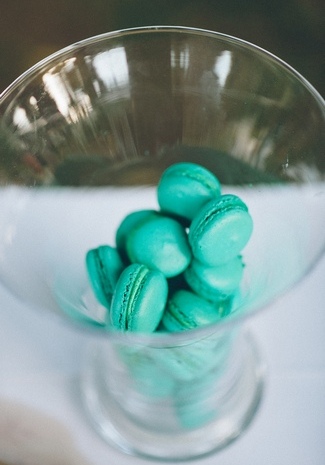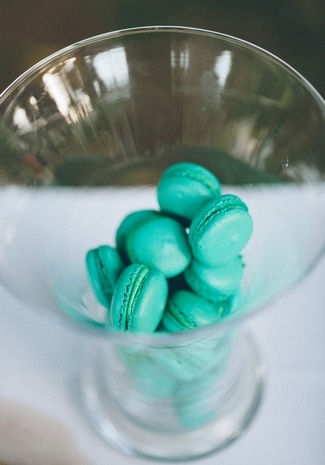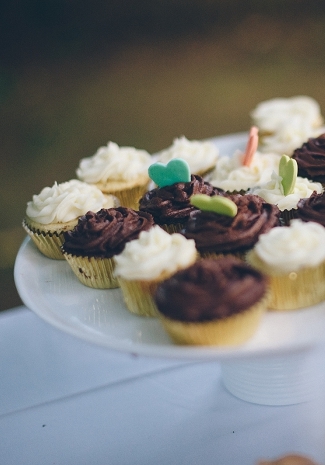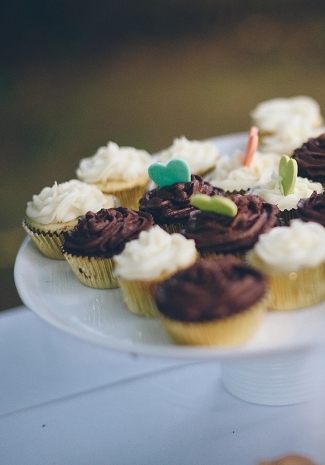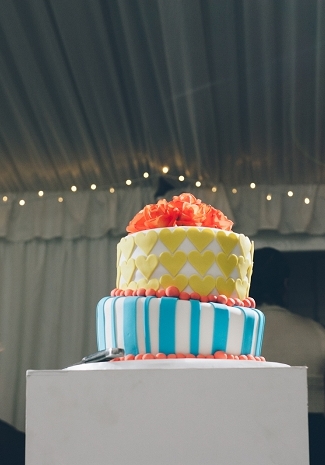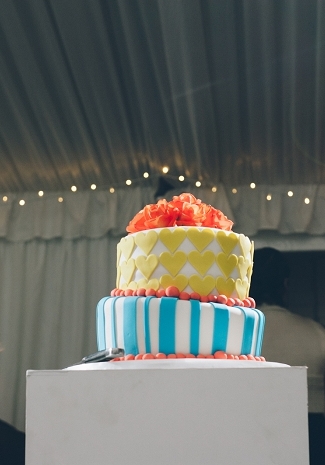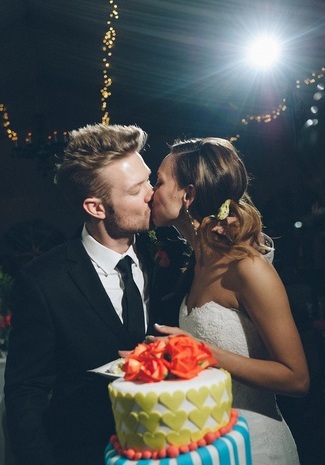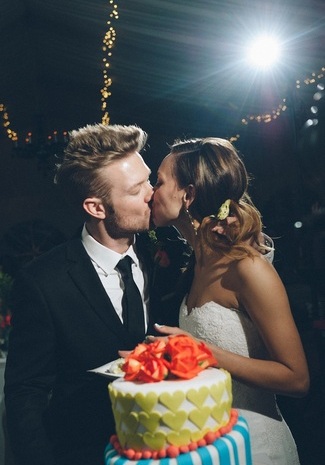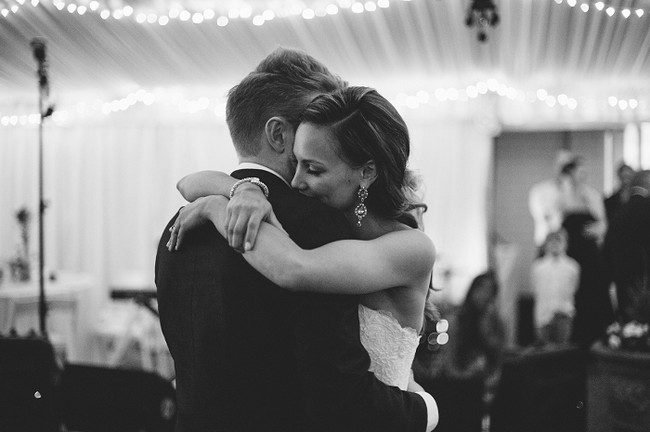 (Above) The newlywed's had a friend choreograph their first dance to another song from a musical, All I Ask of You from Phantom of the Opera, the very first musical they watched together.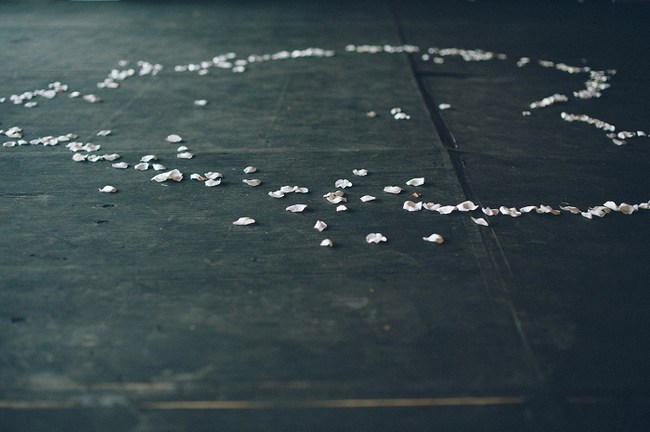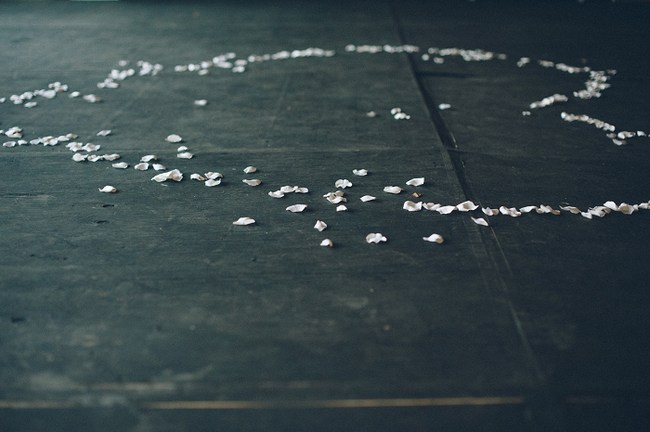 Real Bride, Kirsten's, Tips for Bride's-to-be
Having your wedding reception at your own home is not that easy – "As amazing and special as it can be having your reception at your own home, it's not that easy. There is much that you end up arranging and doing yourself, from the hiring of tables and chairs to sorting out lighting and sound, whereas venues usually provide plenty of the extras and set it up for you," says Kirsten.
Keep your flower arrangements simple – Kirsten suggests that you find someone you know and trust to do your arrangements and bouquets.
Create your own wedding stationary – If you're able, she adds that designing and printing your own wedding invites, menus and order of service will help to keep costs down.
Make your own décor where possible – Another great way to save money, is to create your own décor where possible, says Kirsten.
Refer to wedding blogs, Pinterest and wedding magazines for inspiration, she advises.
Much confetti love to beautiful bride, Kirsten and photographers, Love Made Visible for sharing her big day with us! May happiness and love follow the newlyweds wherever they may go! If you're a fan of the colour peach, find plenty more ideas for your wedding décor, bridal style, cakes and treats from our whimsical Mint Green and Peach Wedding Theme inspiration board.
Vendors
Photographer:
Love Made Visible
|
Venue:
Groom's family home |
Wedding Co-ordinator:
Lindy Strubis,
Event Affairs
(On-the-Day) |
Catering:
Gourmet Chef
|
Wedding Cake:
Cakes by Wade
|
Wedding Decor:
The Couple |
Decor Hire:
Banks
(Marquee, Tables, Chairs, Cutlery & Crockery) |
Sound and Lighting:
Event Affair
s |
Flowers:
inMotion Flowers (Flowers for Africa)
 |
Chapel & Venue Flowers:
Friend of the Couple |
Wedding Favors:
Mother of the Bride |
Wedding Stationary:
Groom |
Bride's Dress:
Kobus Dippenaar
|
Bride's Shoes:
Forever New
|
Brides Hair:
Anna Pepper |
Brides Make-up:
Jane Field
|
Bouquets & Corsages:
Mother of the Bride |
Pastor/Officiator:
Rev. Duncan McLea |
DJ/Music:
Lee Gelderbloem Jazz Band |
Dance Lessons:
Jerome Julies