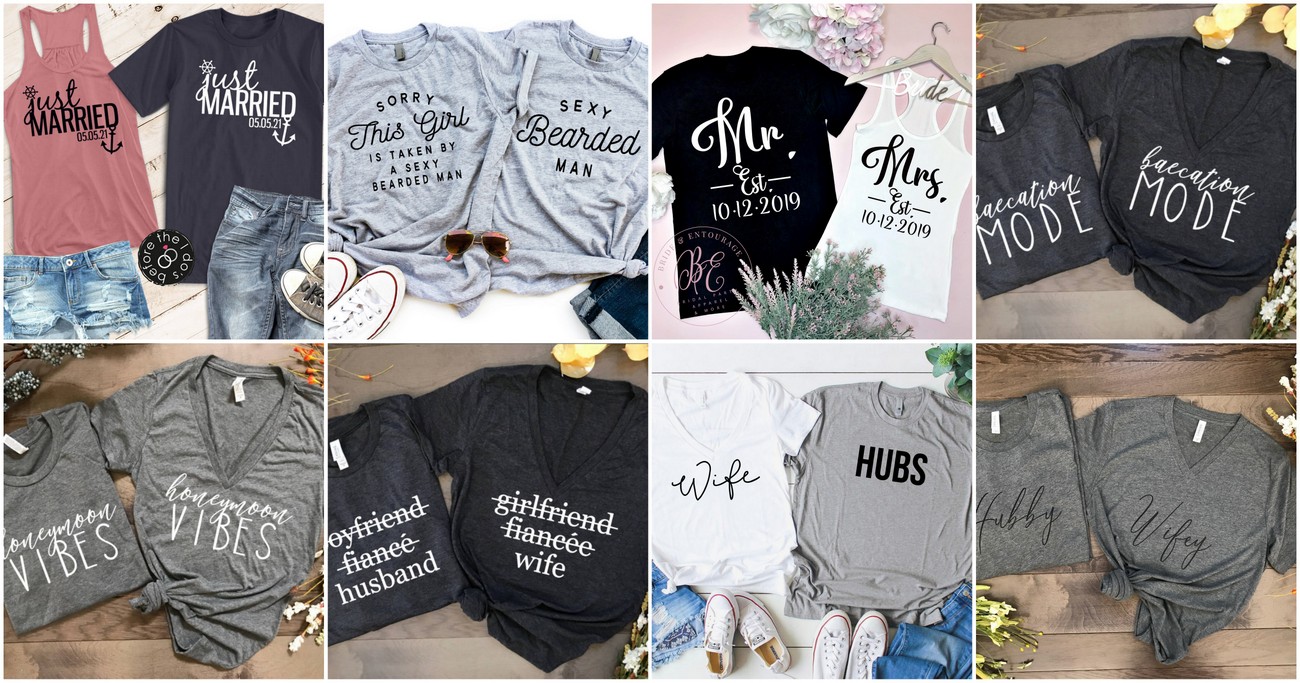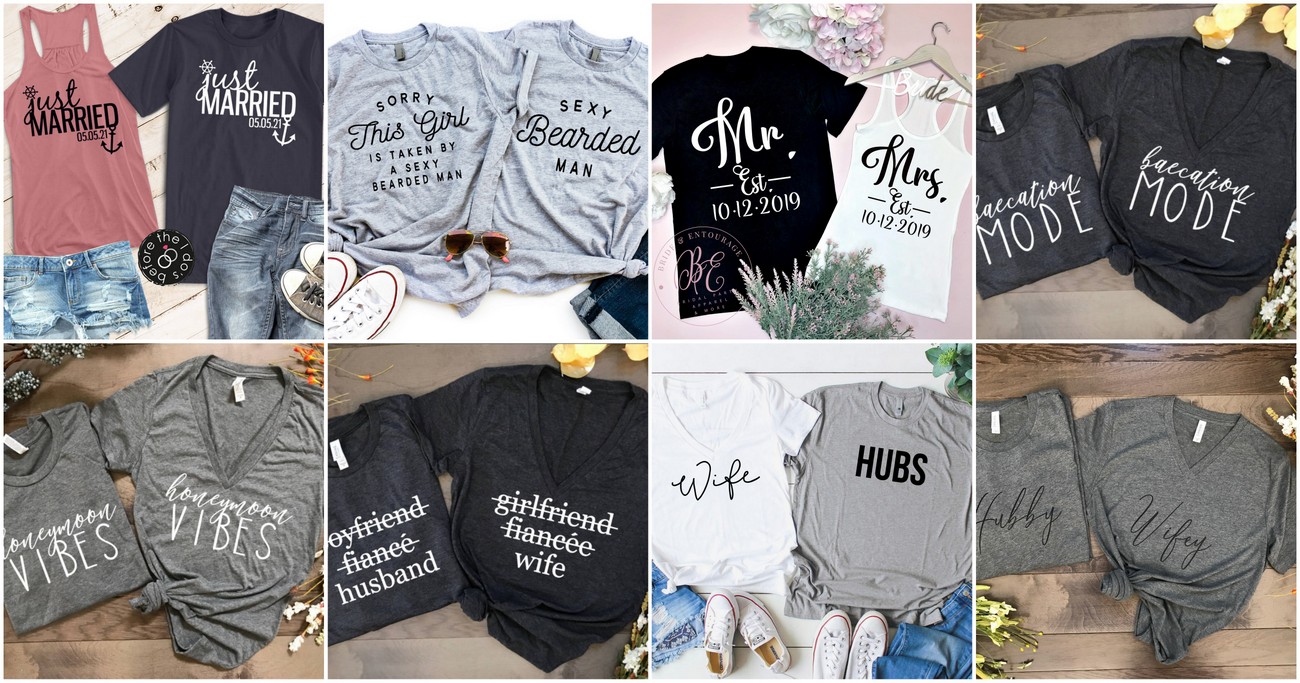 We're obsessed with these newly-wed honeymoon shirts for you and your bae! Seriously, what is more fun than a cute set of Mr and Mrs t-shirts for enjoying some epic honeymoon vibes? Wear your Just Married shirts at breakfast the morning after your nuptials, or board the plane to destination sunshine in your honeymoon shirts!
Pack another pair (or two) into your luggage and show off your newly married status all honeymoon long! Choose from a range of comfy tanks and tee designs, and they're bound to be a staple in your wardrobe. We just love these for date nights, or even to relive the fun on your wedding anniversary. Plus, they make awesome newly-wed gifts, so make sure your order a set of newly-wed honeymoon shirts for for the soon-to-be married couple in your life, too!
Newly-Wed Honeymoon Shirts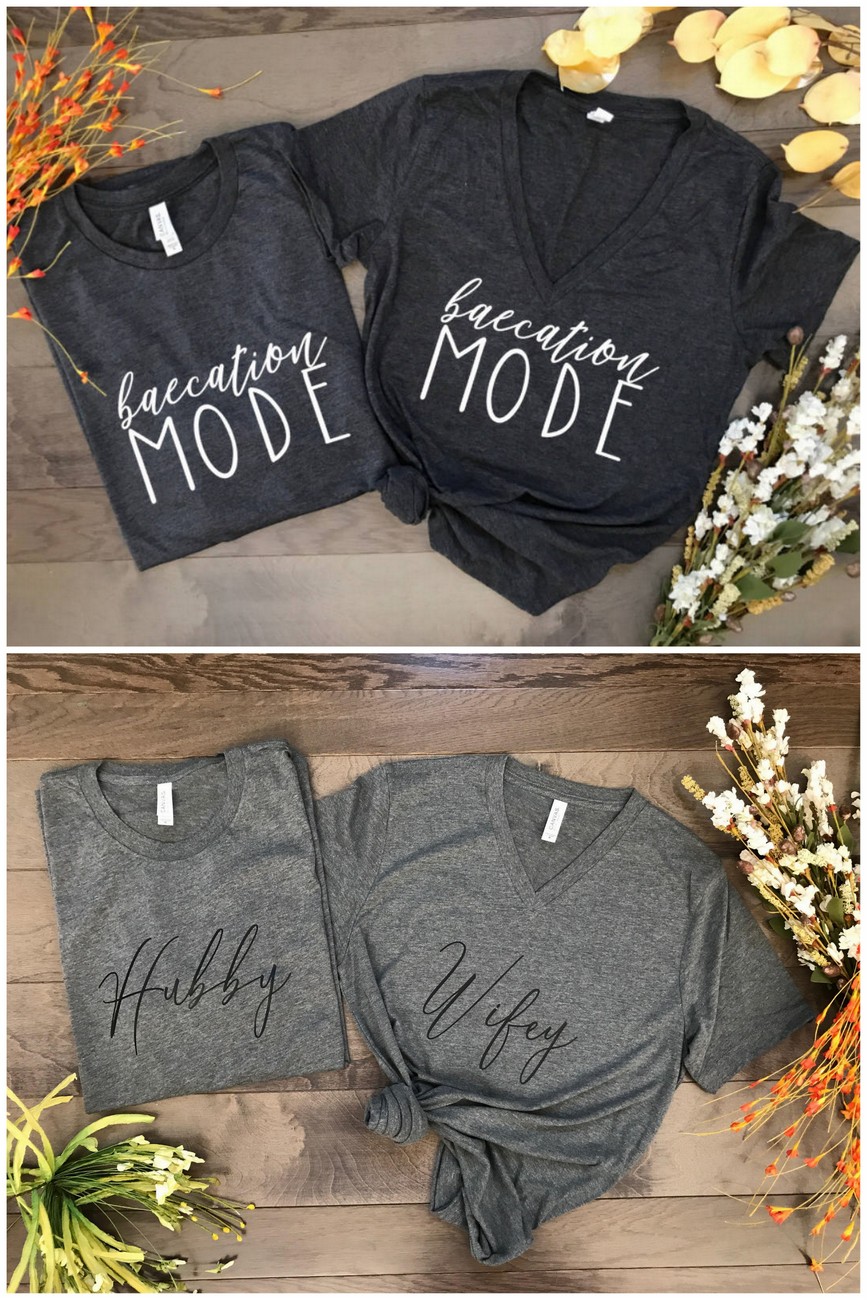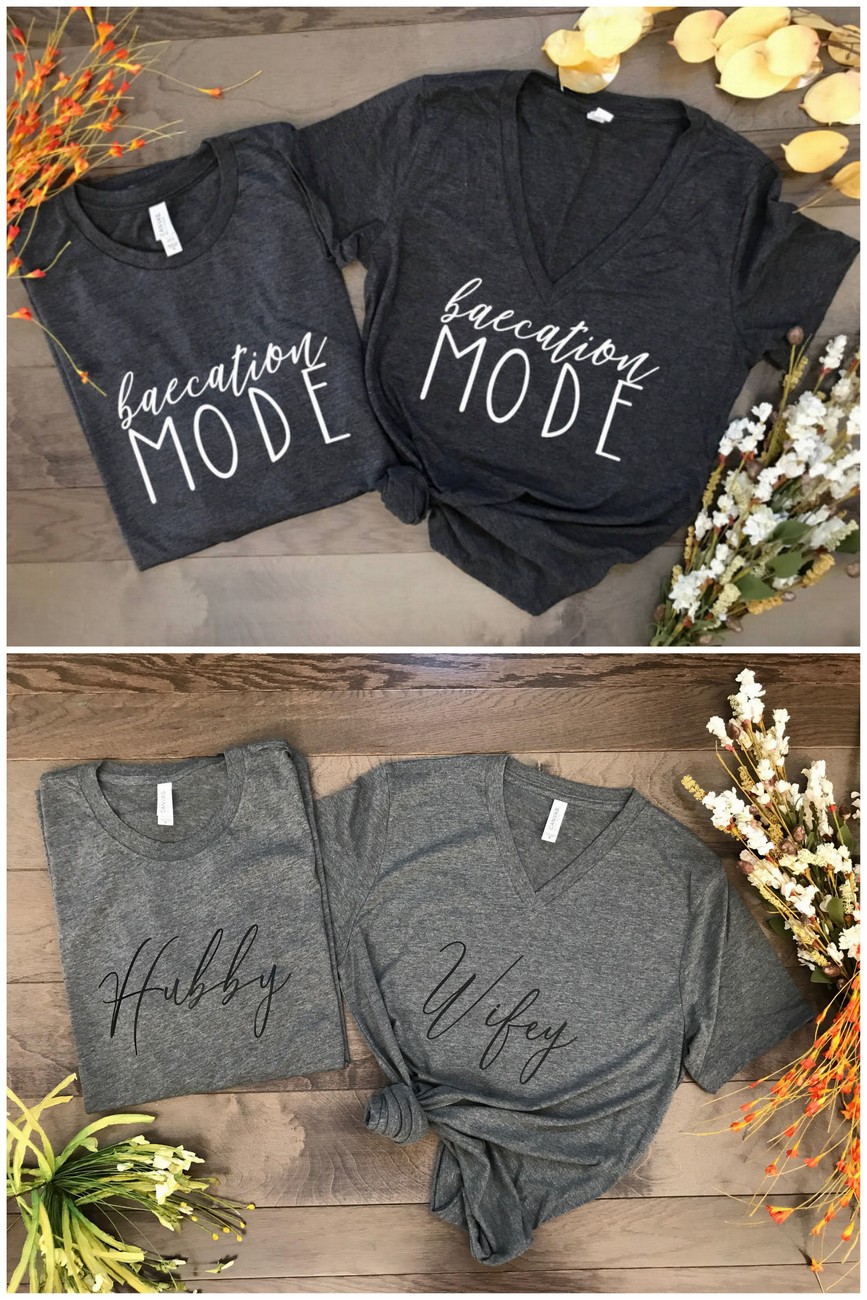 ♥If you love fall in love with a cute shirt or two from this hand-picked selection of designs and decide to make a purchase, we'll receive a small referral fee for curating and sharing them with you. Thank you so, so much for supporting our content! ♥
(Above, Top Row) Baecation Mode ON! These matching newly-wed honeymoon shirts are perfect for your loved-up vacation with Bae – grab them in grey, black or white, here.  // (Above, Bottom Row) Hubby and Wifey honeymoon shirts. We love the whimsical script font which makes these newly-wed shirts perfect for wearing after your wedding, on your honeymoon, or on your anniversary. Order yours here.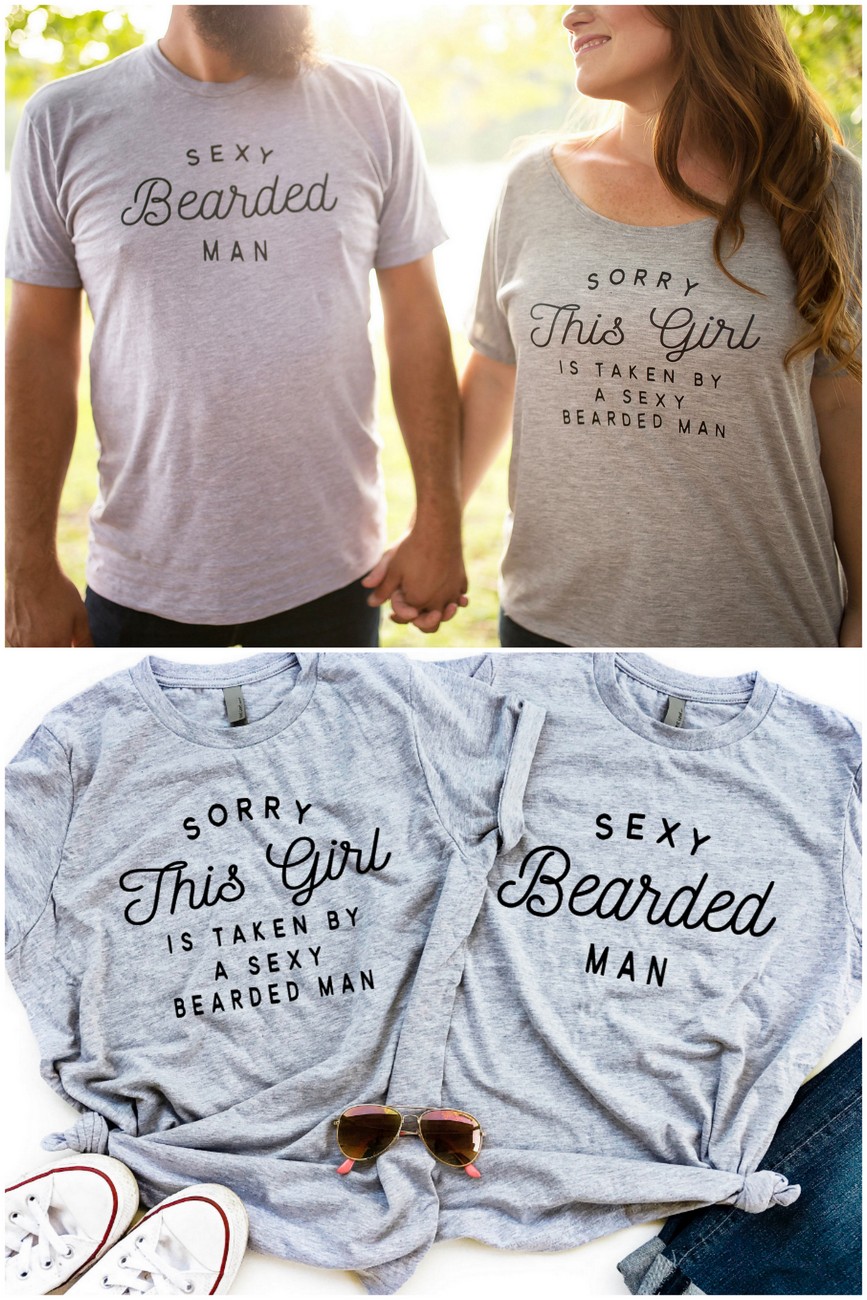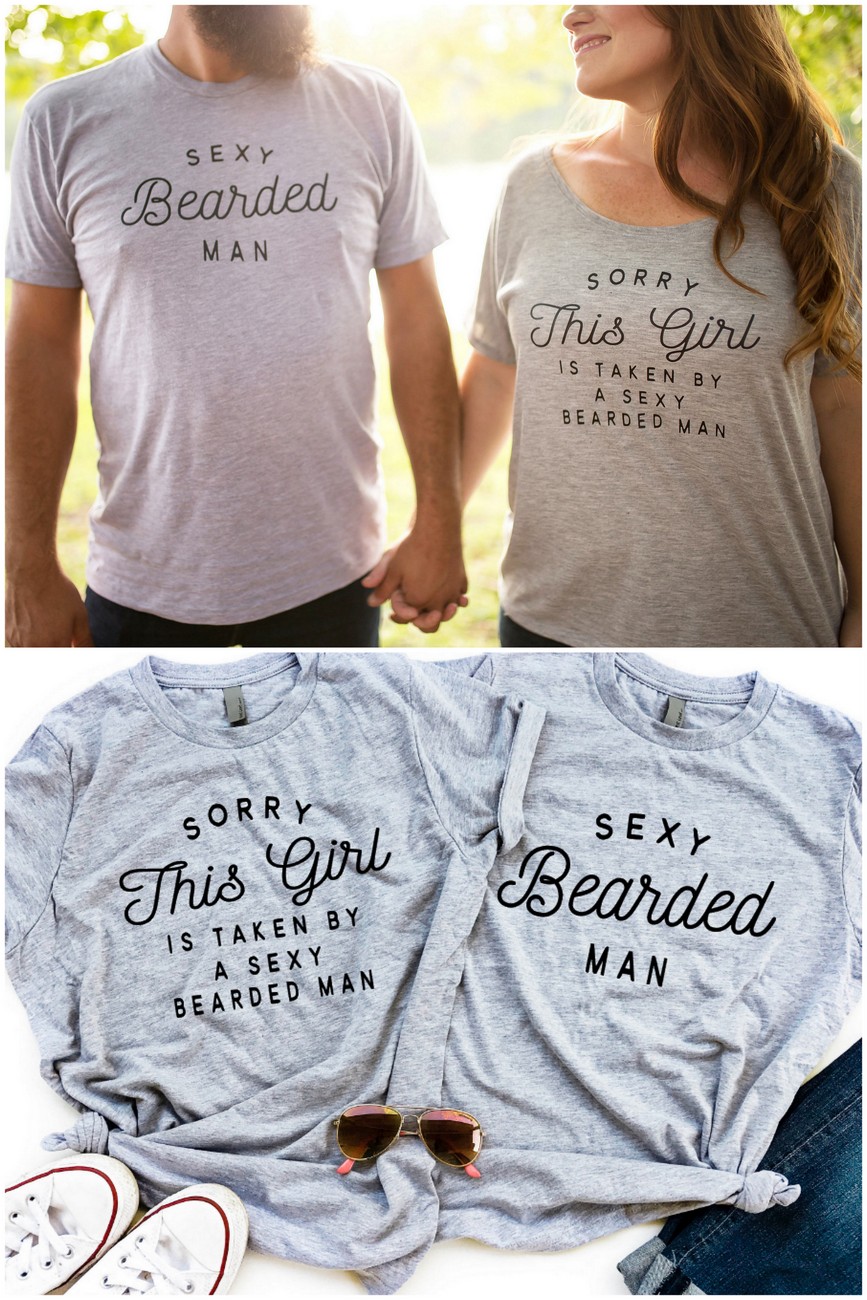 (Above) Sexy Bearded Man Newly-Wed Shirts. Okay, we kinda adore this for the bearded man in your life! Hers reads: "Sorry, This Girl is taken by a sexy bearded man." His reads: "Sexy Bearded Man." LOVE!! Check them out here.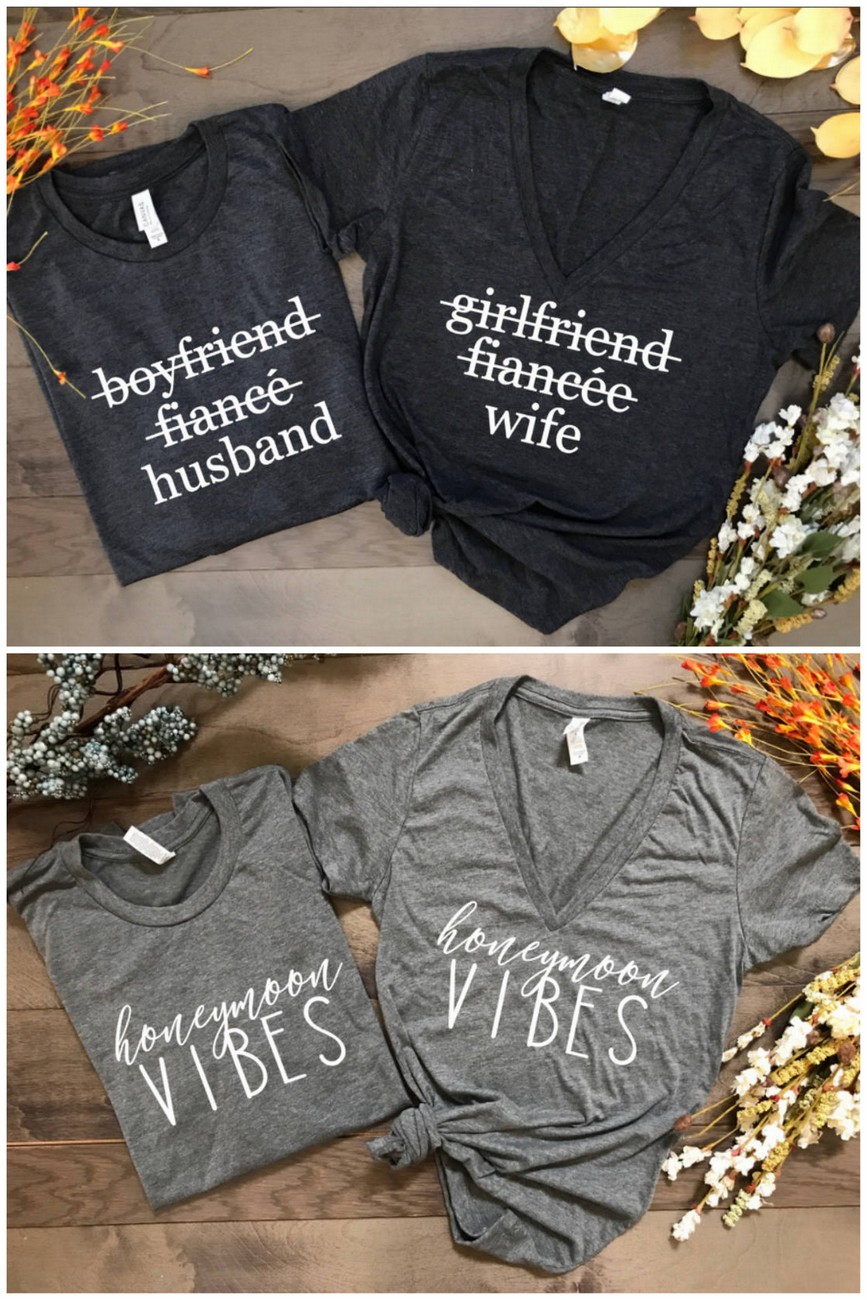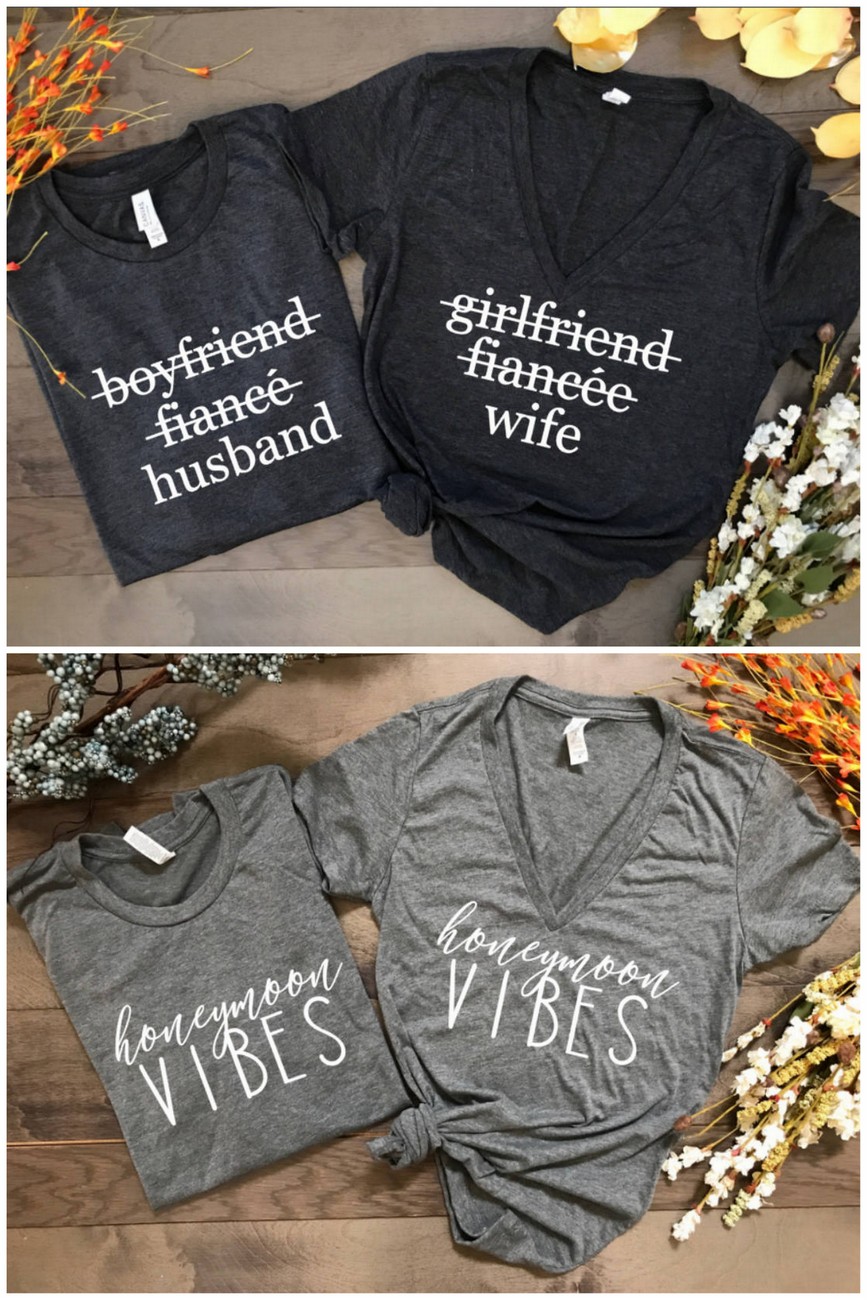 (Above, top row) Girlfriend Fiancee Wife // Boyfriend Fiancee Husband. These fun, newly-wed honeymoon shirts are just perfect for your post-nuptial celebrations. Available in a variety of colors, here. // (Above, bottom row) Honeymoon Vibes Couple's Shirts. You've graduated to the ranks of the just-married crew, you've planned, you've prepped, you've celebrated with loved ones. Now it's time to bring on the honeymoon vibes! Shirts available here.
(Above Left) Nautical Just Married Honeymoon Couple's Shirts. This set comes with racerback tank for her and a T-Shirt style for him. The design includes a cute nautical details and is customized with your wedding date next to the anchor. Available for you newly-weds here. // (Above Right) Hubs and Wife Newlywed Couple Shirts for your honeymoon. Mix and match your colors when selecting this hubs and wife set. Hers is a deep V-neck shirt with the word Wife written in a relaxed, script-style font, while his crew neck features the word 'HUBS' written is bold capitals. Order yours here.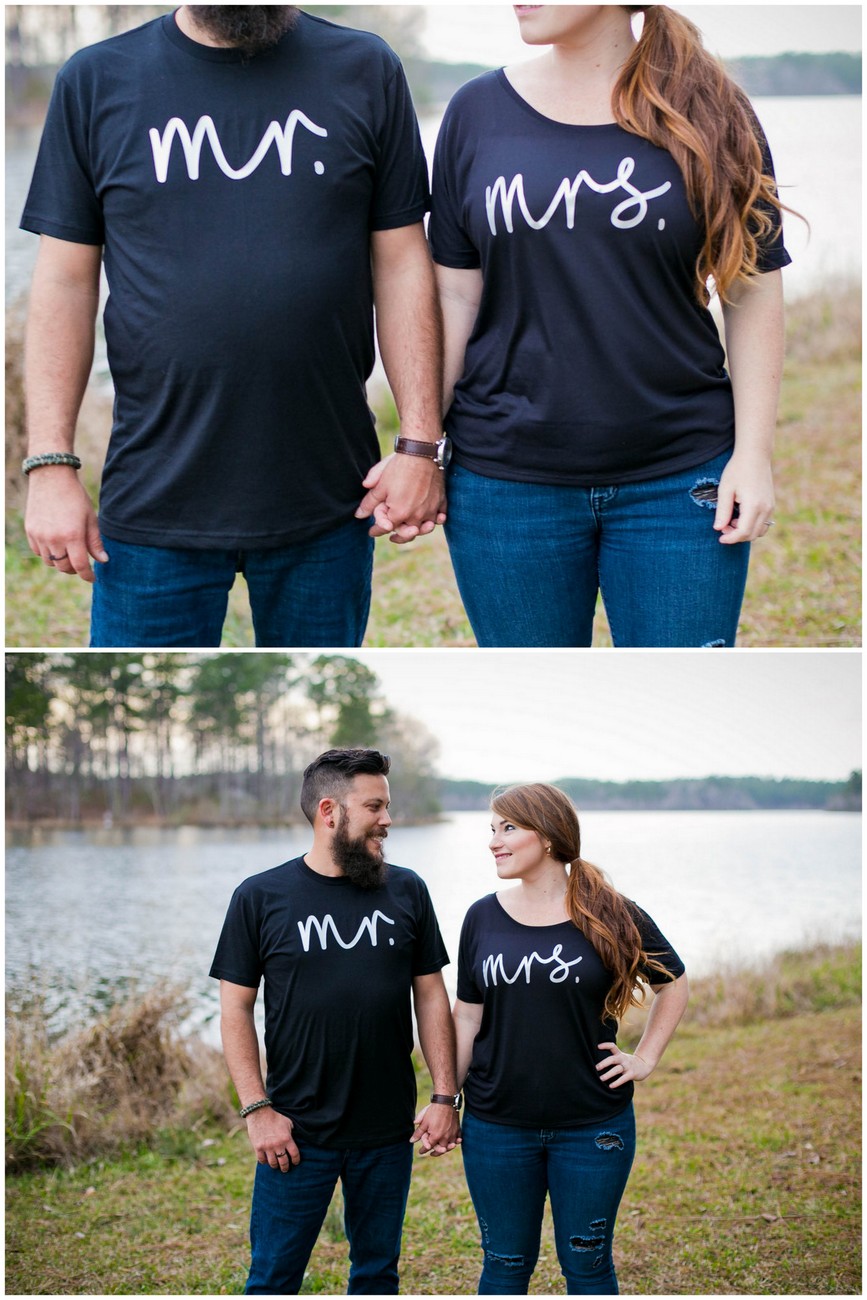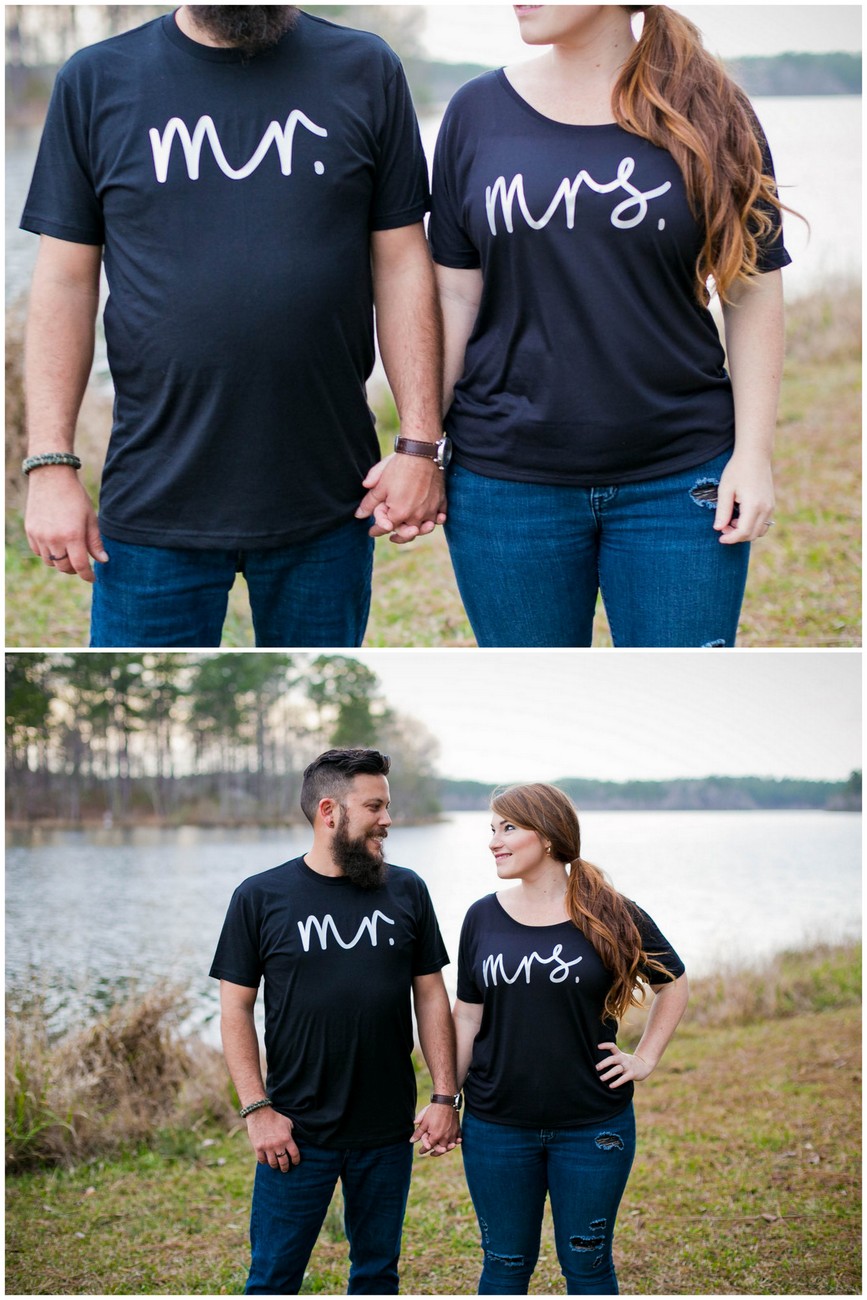 (Above) These matching Mr and Mrs Husband and Wife Shirts in black with white text are sweet and simple, using the same relaxed handwriting-style font to declare that you're Mr. and Mrs. Check them out here.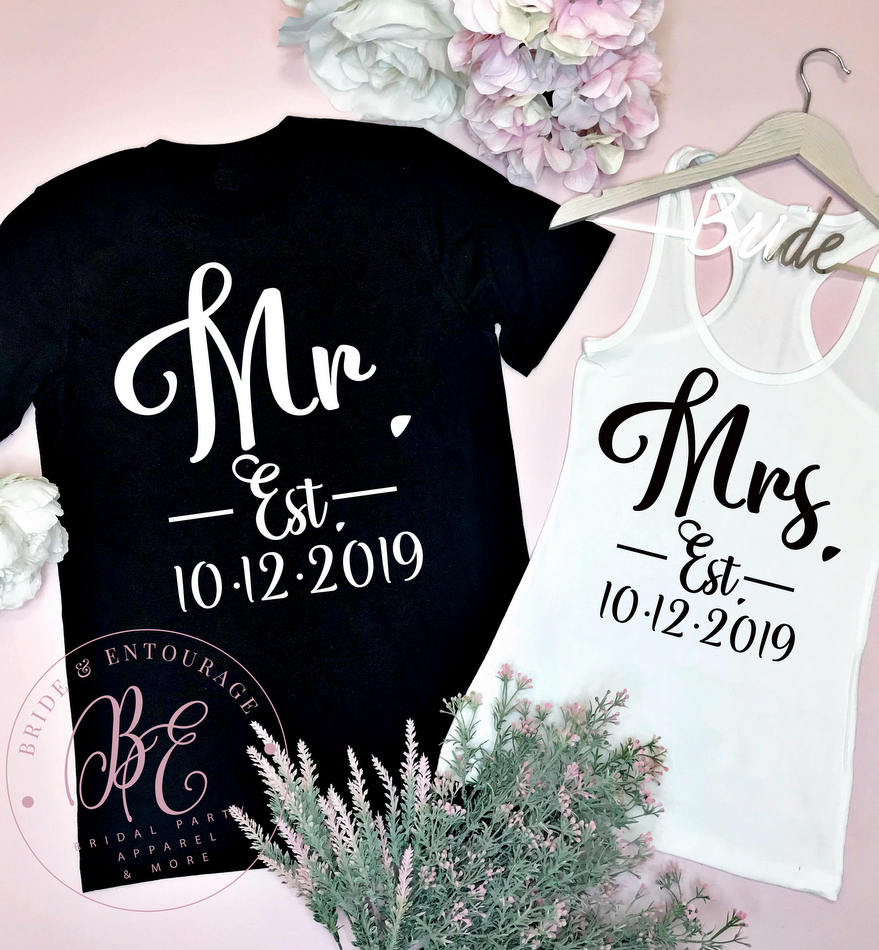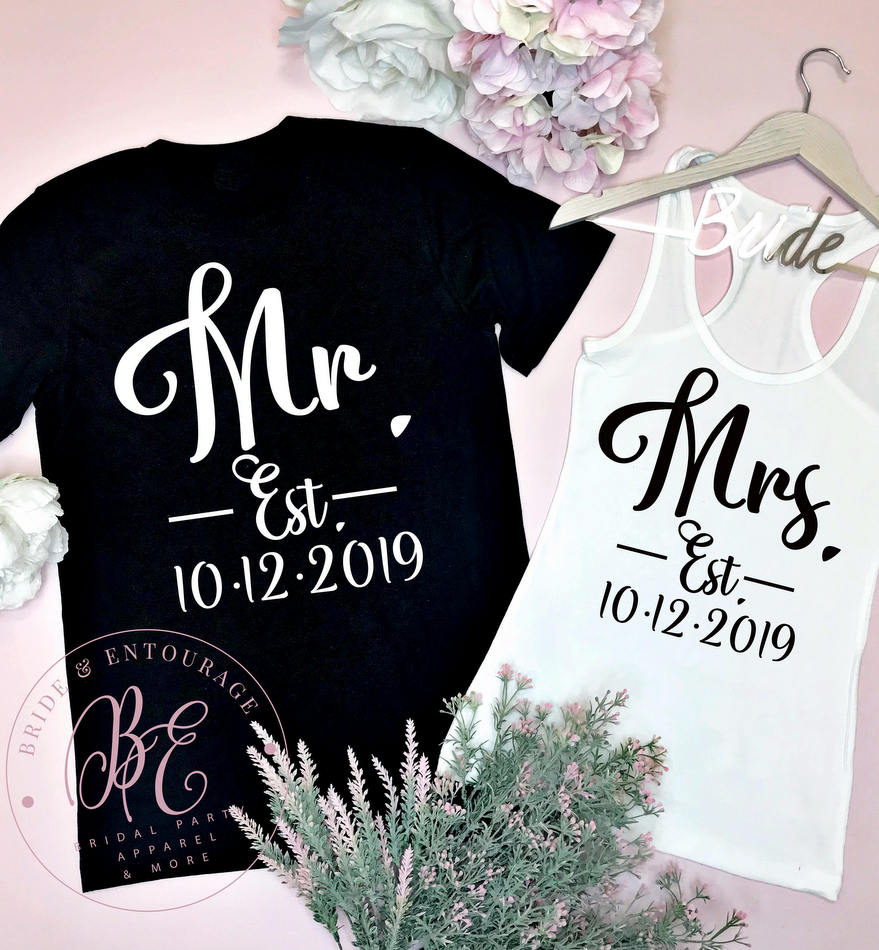 (Above) Mr and Mrs Shirts with Established Date. This set of honeymoon shirts for newly-wed couples is customized with your actual wedding date. Select your shirt colors and add some glittering text, if you like! This design totally works for date nights, too! Available here.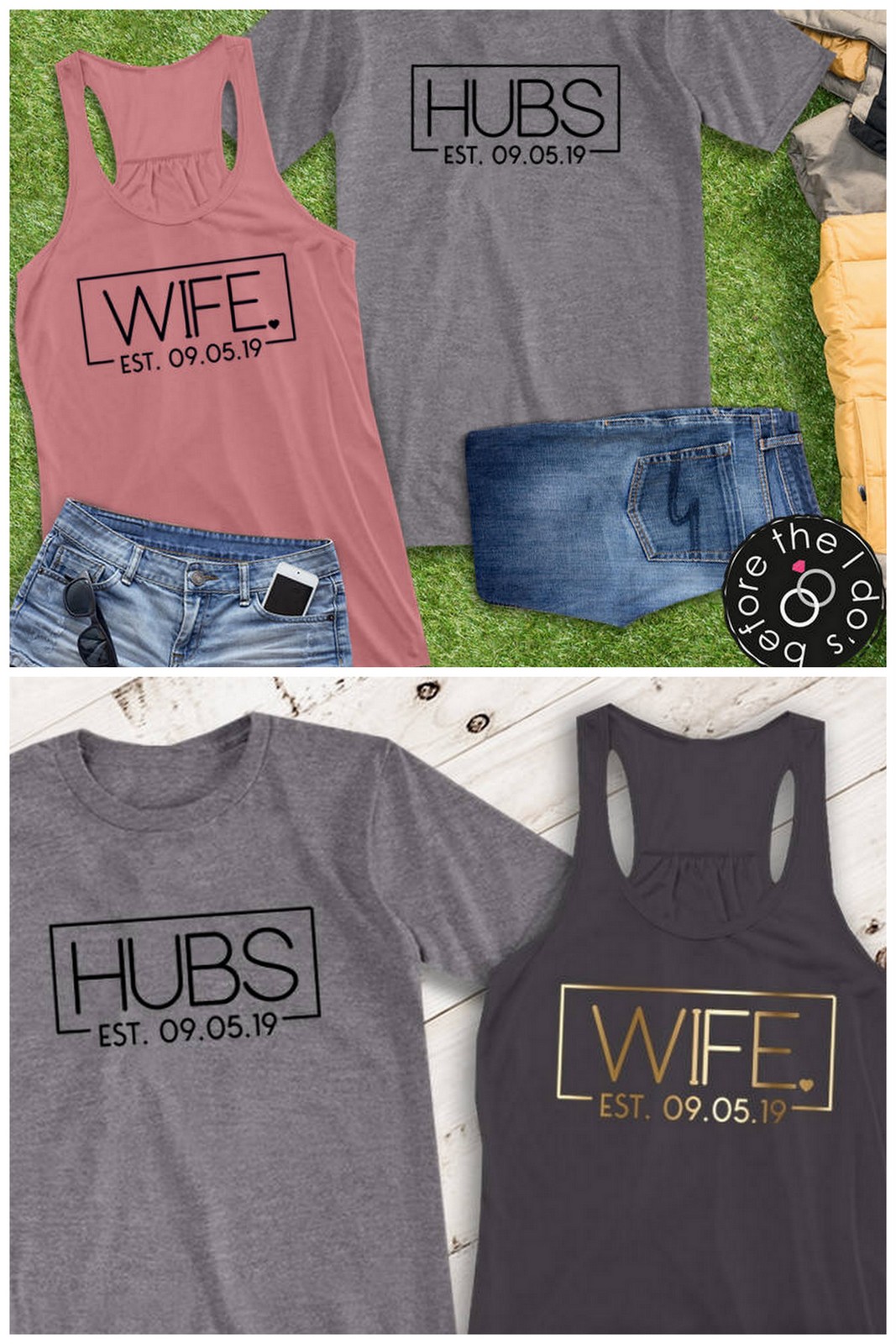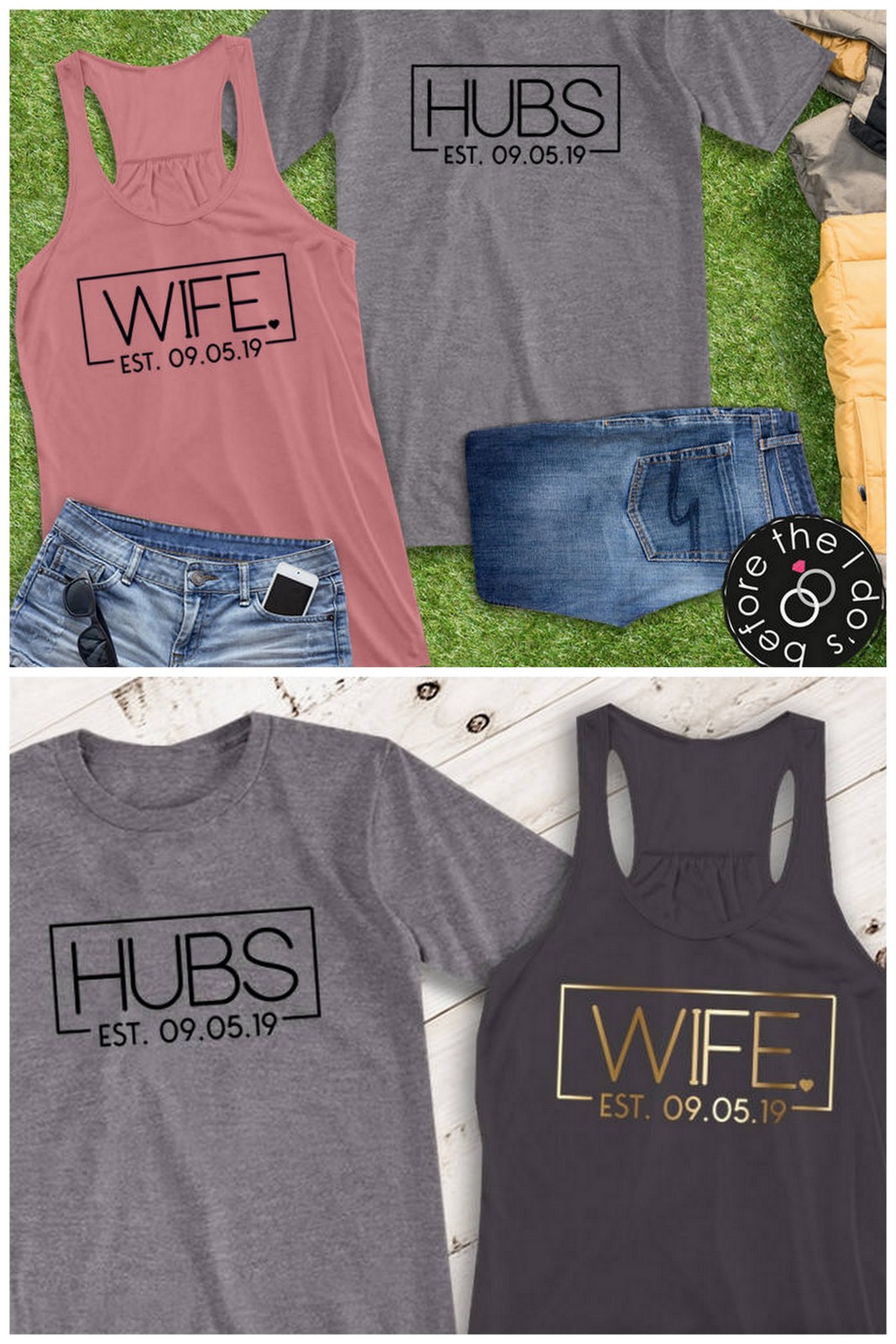 (Above) Wife and Hubs with Established Date shirts. This set includes a flowy racerback tank for her, with a t-shirt for him. These newly-wed honeymoon shirts are also super cute to keep and wear again on your anniversaries! Get yours now.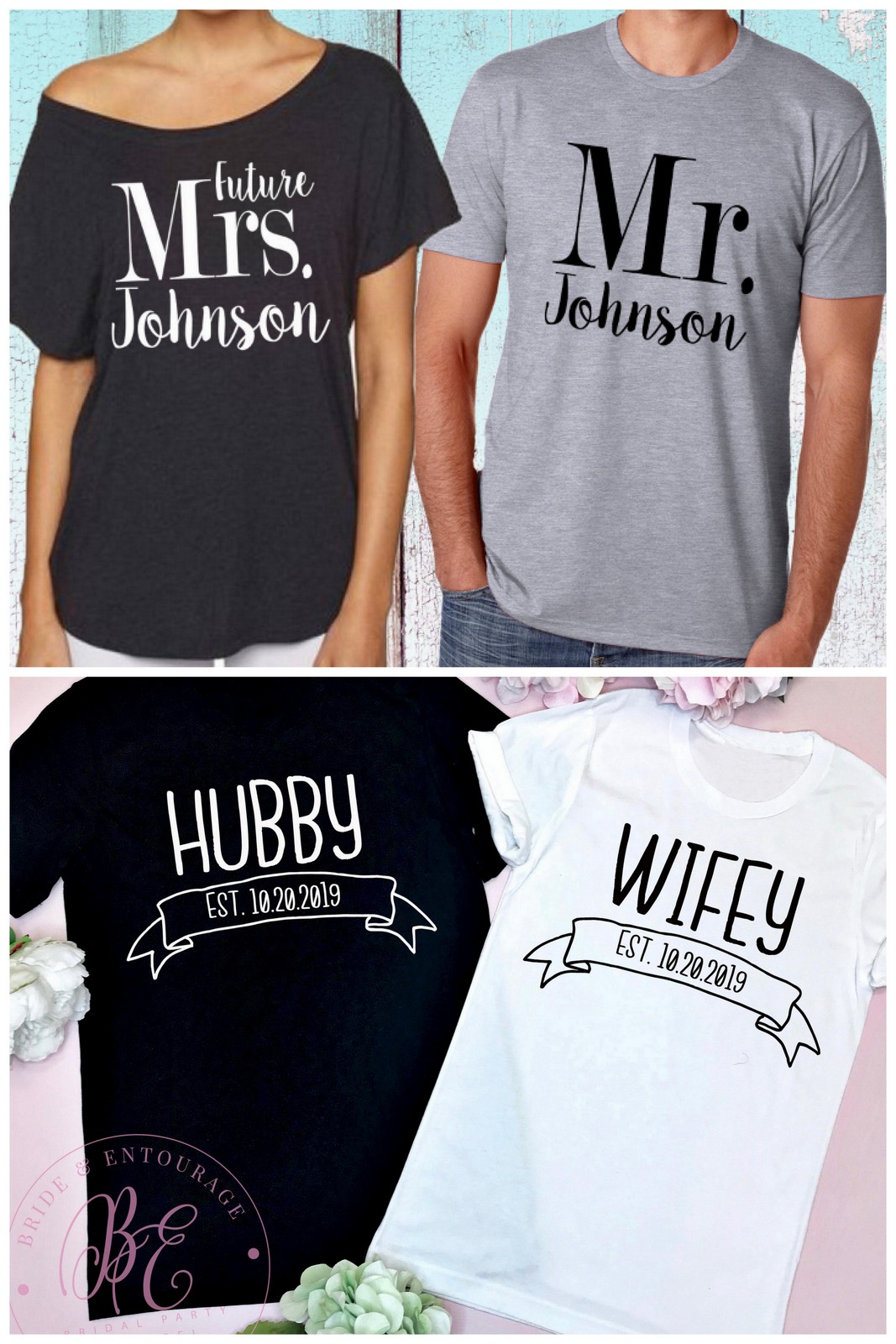 (Above, First Row) Customized newly-wed shirts with your married name. Add your name to these Mr and Mrs shirts for honeymoon fun! You can decide if you'd like the tank to state "Future Mrs", to wear during your engagement, or have it removed and wear it after you've exchanged vows. Grab your set. // (Above, Second Row) Hubby and Wifey Honeymoon Shirts. This set of newly-wed couple shirts is customized with your wedding date, displayed in a whimsical banner. Each time you wear them, you'll be reminded of the day you had your first married smooch! Order yours here.
READ: 18 Top Tips for Planning the Best Honeymoon Ever!
Above: Download this cute + super-detailed honeymoon packing checklist to pack like a pro, here!