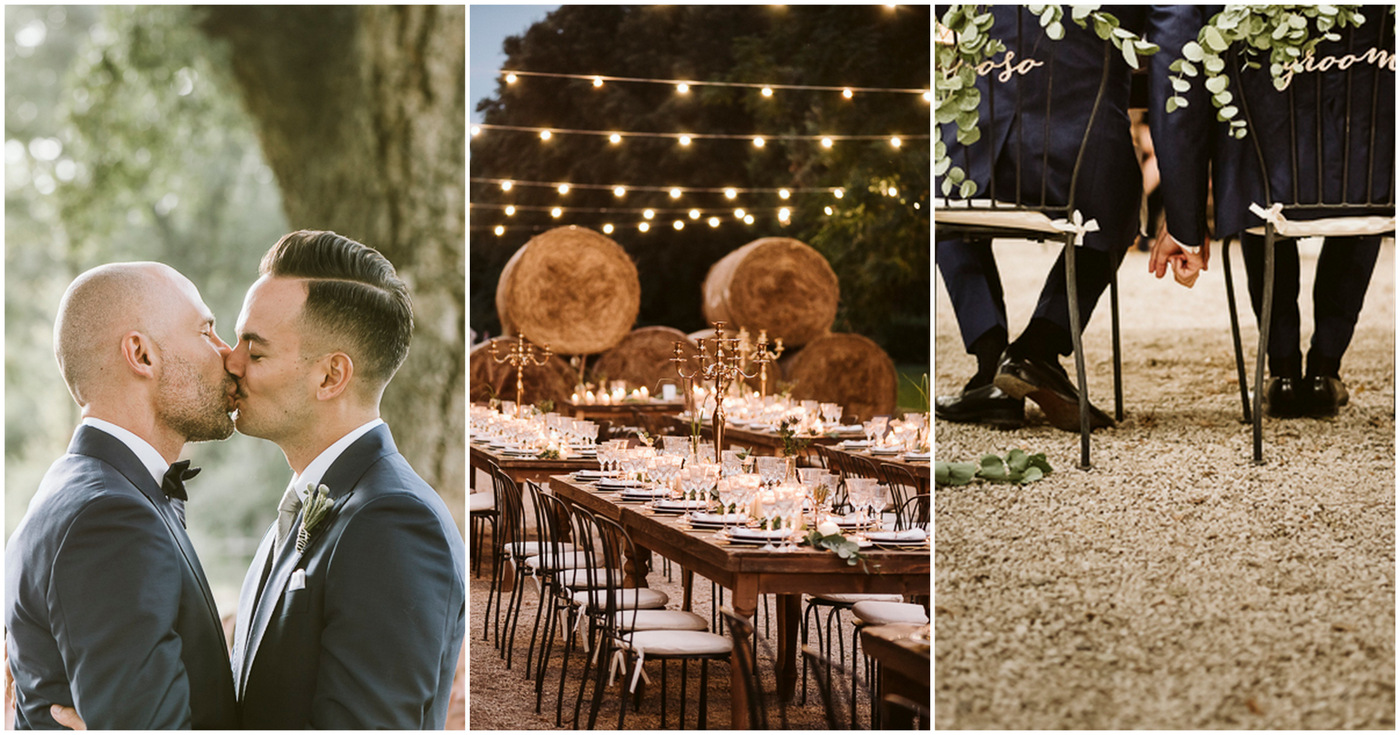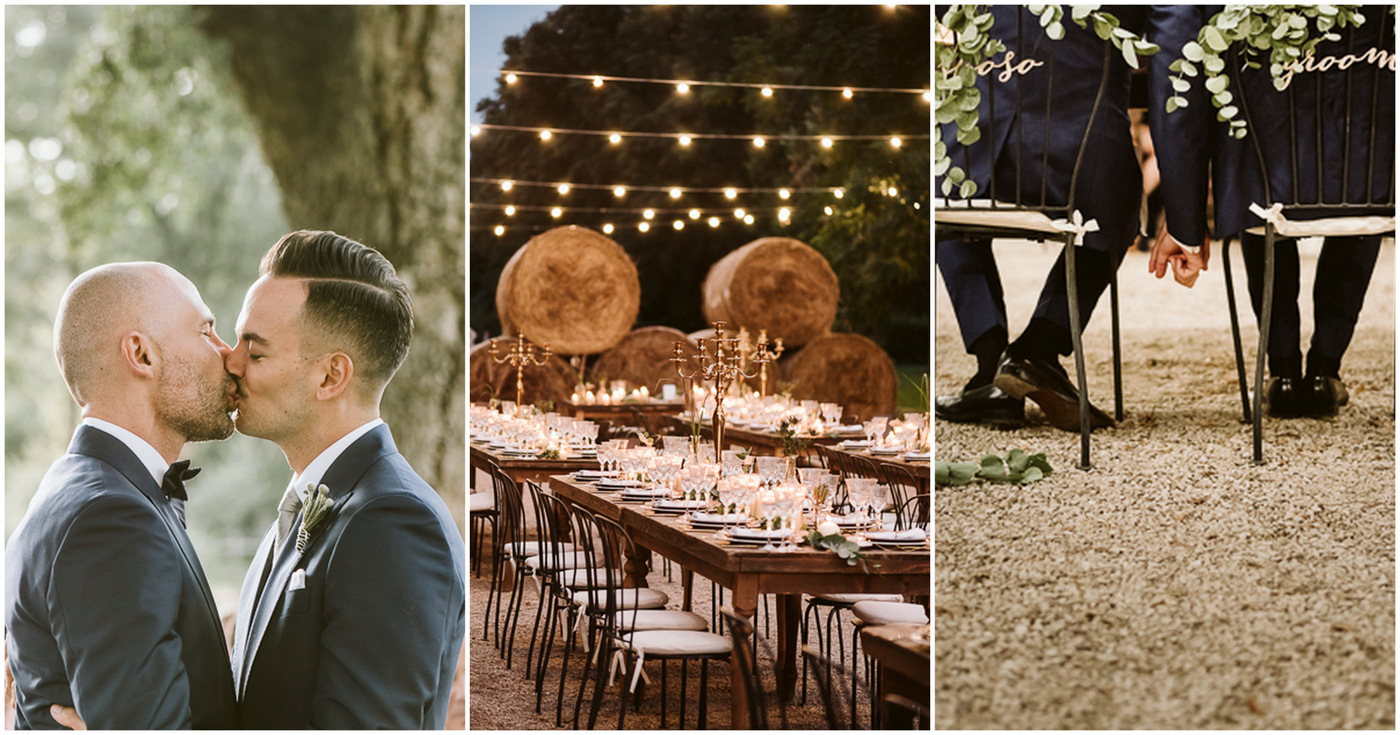 I'm a sucker for Italian weddings, so of course, I just cannot wait to share Cristiano and Jim's magical outdoor wedding at Tenuta Pantano Borghese in Rome with you. It was all about celebrating love with friends and family under the open skies – what more could you ask for, really?
Jim, originally from Massachusetts USA, moved to Rome in 2010. Because he and Cristiano knew a lot of guests would be travelling to Italy from abroad, they chose a venue that was as authentically Roman and Italian as possible. Photographer Marcella Cistola encouraged them to visit Pantano Borghese, and once they settled on it the theme came to life.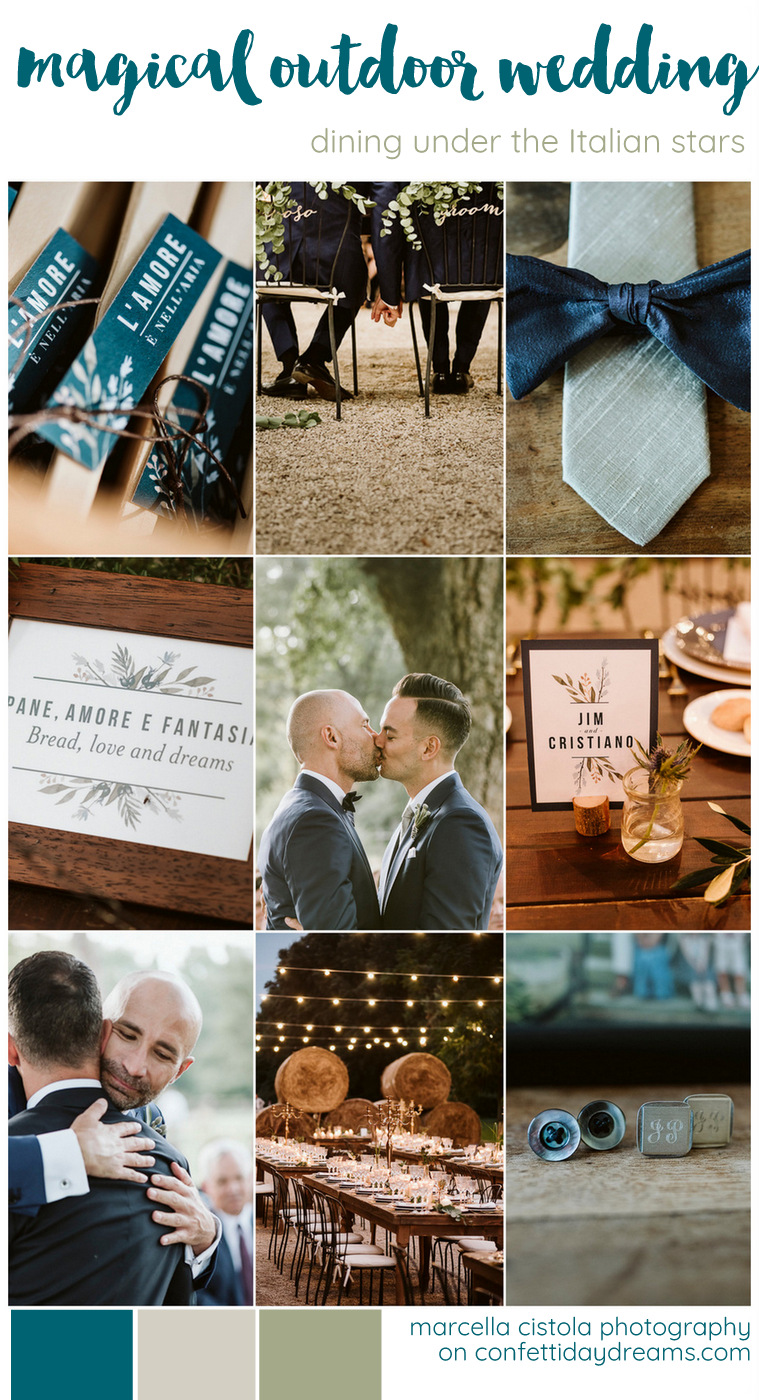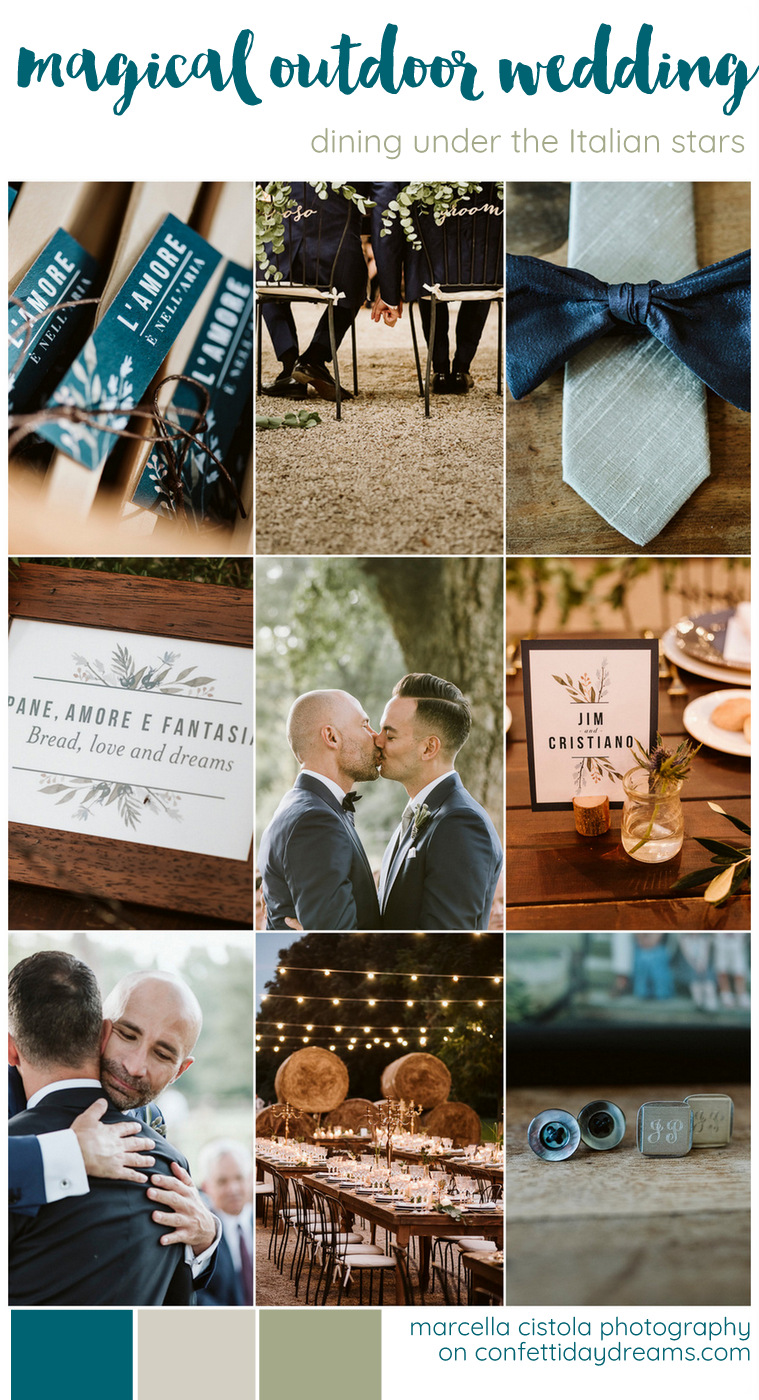 The couple wanted to recreate the feel of a 'festa di paese', the typical community parties that are hosted in towns around Italy all summer long – lots of color, traditional products, live music. "That said, we knew we wanted an elegant dinner," shares Jim. "Together with Martina Bizzarri creative wedding, and Cristina Moccia at Magnolia Eventi, we created an evening that incorporated everything."
For their outdoor wedding in rome they began with a simple ceremony and some typically "American" details. These included a formal entrance for their wedding party, extra readings and music. After, they celebrated with a bright and colorful "Made in Italy" cocktail hour, featuring local products and fantastic live music. Their outdoor reception dinner was held outside the farmhouse under the Italian stars – a reception truly beautiful enough to take everyone's breath away.
"For the foreign guests, mostly from the U.S., everything felt authentically Italian. For the Italians, the formal ceremony and attention to detail felt typically American," shares jim. " Without intending to do so, we created a night that was uniquely our own, a blend of cultures and traditions and a party we'll never forget."
Outdoor Wedding at Pantano Borghese, Rome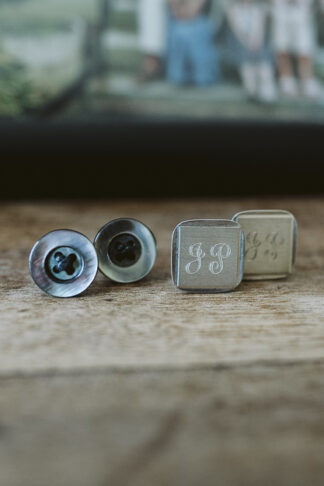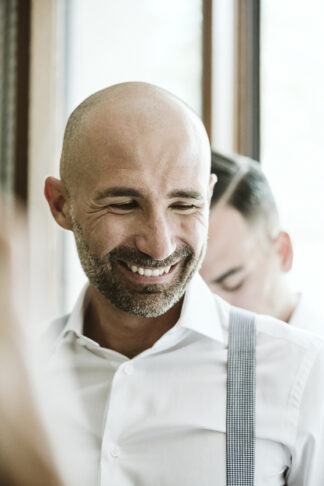 Love Story: In the summer of 2011, a mutual friend hosted a small party on his rooftop that he called a "singles party," part joke and part attempt to mix up his different social groups. Wine in hand, Jim asked Cristiano for a bottle opener and they started chatting.
Later in the night, desperate to stick to his party theme, the host set-up speed dating with two lines of guys making fast introductions. We stood side-by-side and spent more time chatting with each other than with the "dates" rotating in front of us. The rest is history!
We stayed in touch throughout our respective summer vacations and were dating by the fall. Italy legalized same-sex civil unions in 2016 and in September 2017, we decided to make it official. Jim brought up the idea and the conversation stayed open for a few days, and within a few weeks we were looking at venues. "Just a party," we told ourselves. The best laid plans…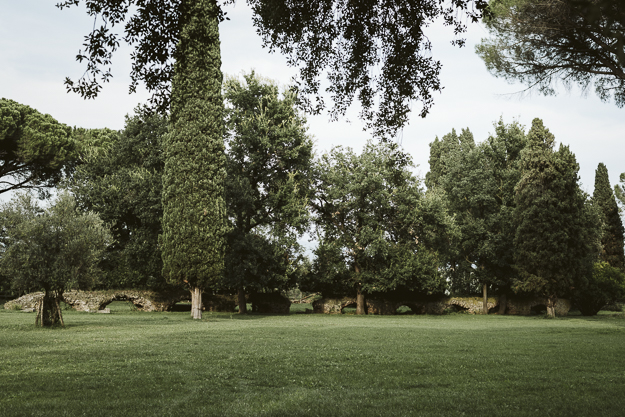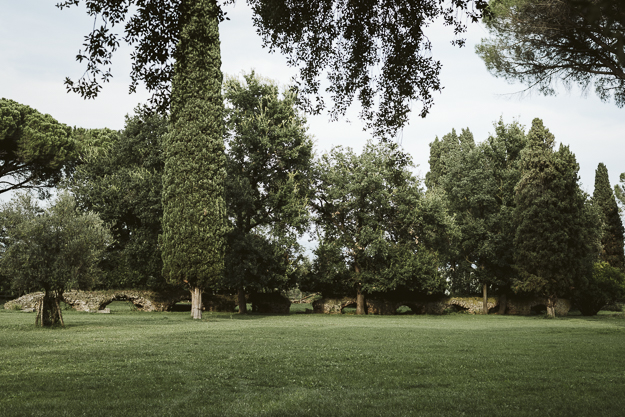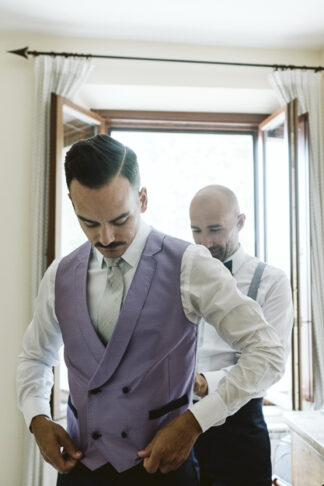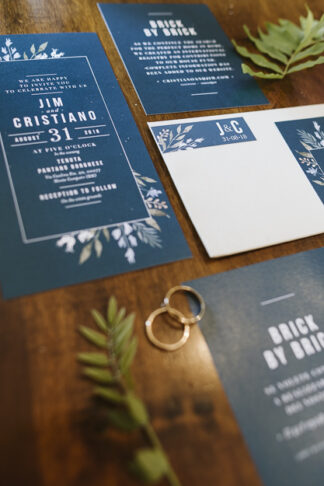 We knew that we wanted custom suits and decided pretty early on that they'd be the same color and style. It was a bit of an odyssey to find the tailor that worked for our vision and budget, but luckily Rome is filled with talented tailors and we were really happy with the final product.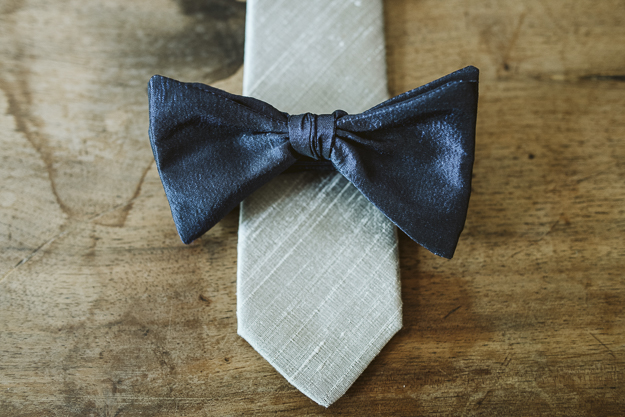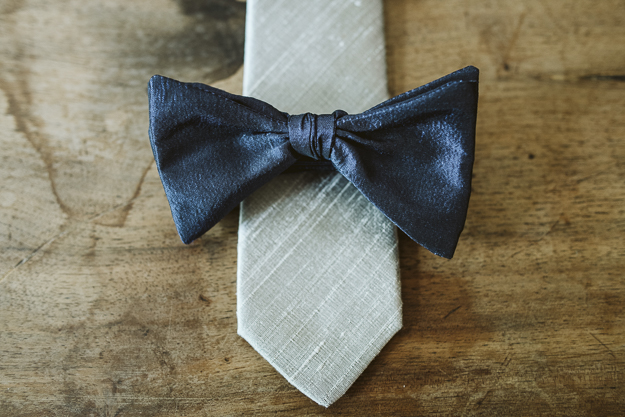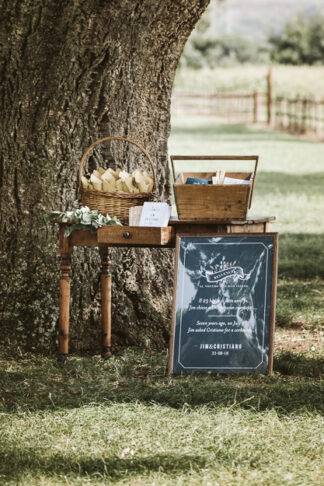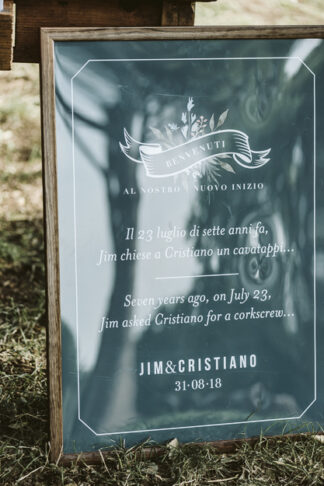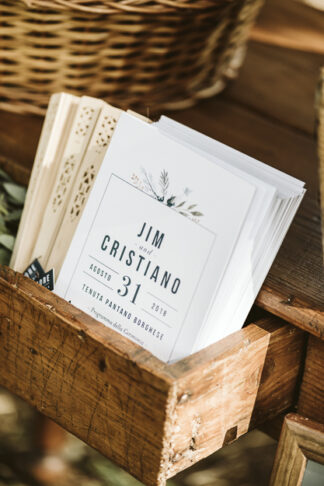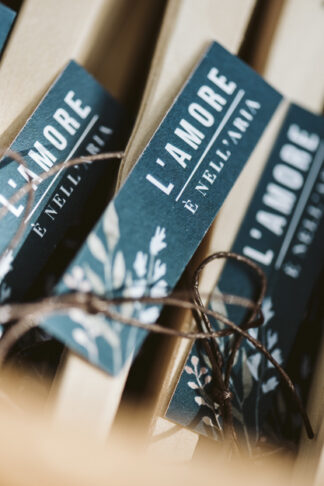 We spent lots of time picking out readings and songs that reflected our relationship and our outlook. Some of our best friends read and others made short speeches during the ceremony.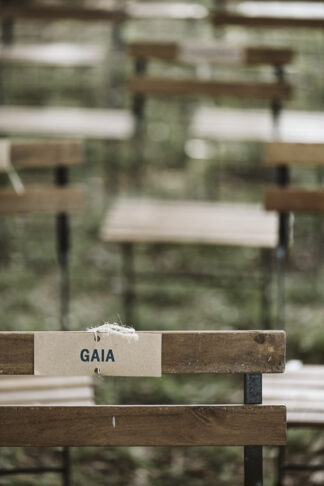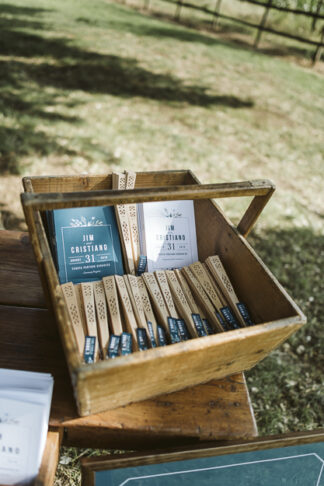 There were two programs, one in English and the other in Italian, so that everyone could follow along in the bilingual ceremony. Each reading was read in only one language, except for our vows which we repeated in both. It was very personal and there were lots of tears.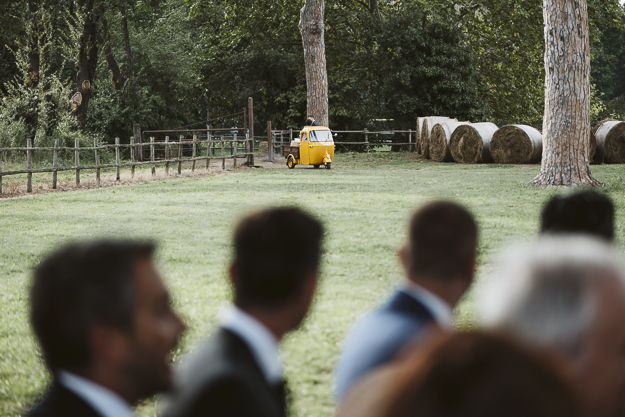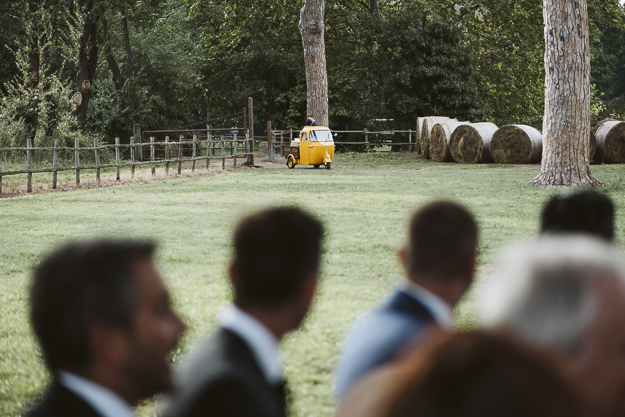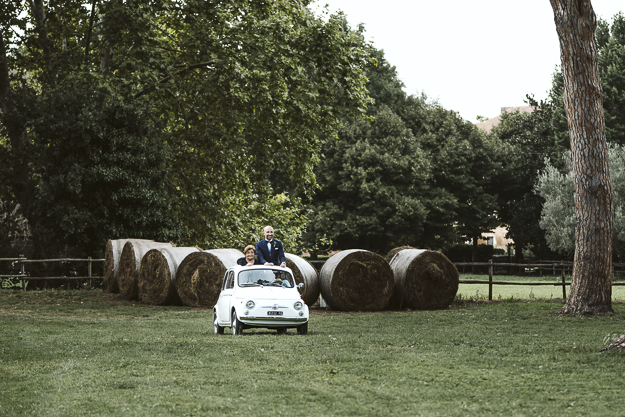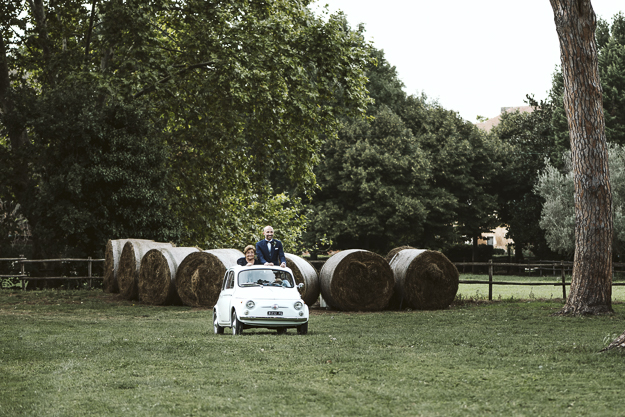 We both drove into the venue on vintage cars with our mothers, accompanying them to the start of the aisle where they continued on together.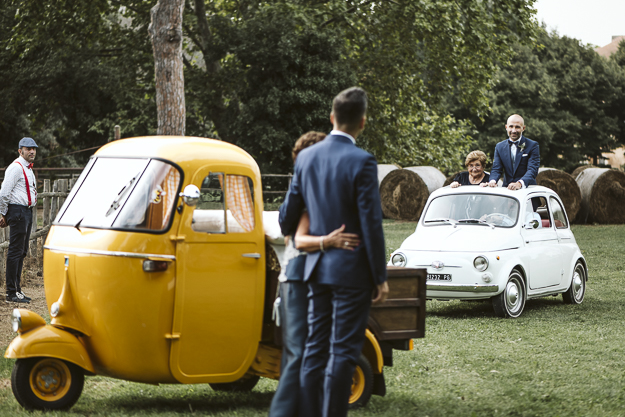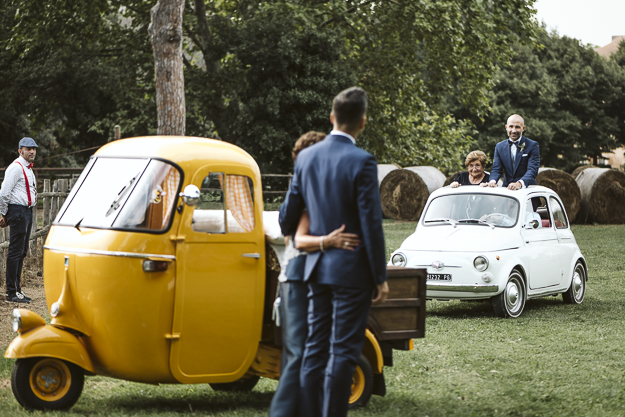 We walked down the aisle together to 'When we're old' by Ieva Zasimauskaitė, a Lithuanian singer and the country's representative for Eurovision 2018. Eurovision is like a national holiday for us and when we heard Ieva's song for the first time during the semifinals, at home alone on the couch, we looked at each other and knew it was the one. We'd been talking about entrance songs for a few weeks, but the search was over.
Wedding processional songs:
Non detto – Malika Ayane
Sea of love – Cat Power
Here comes the sun – Imaginary Future, Beatles cover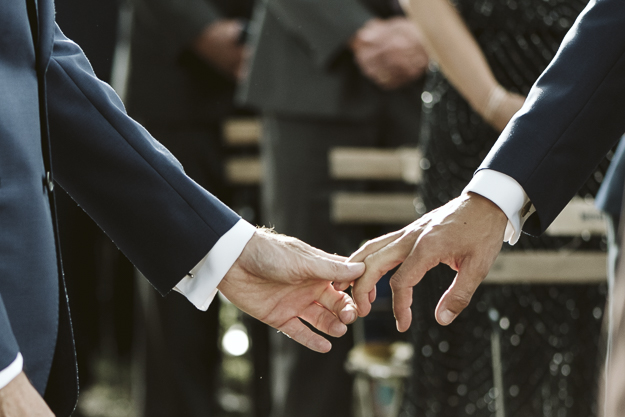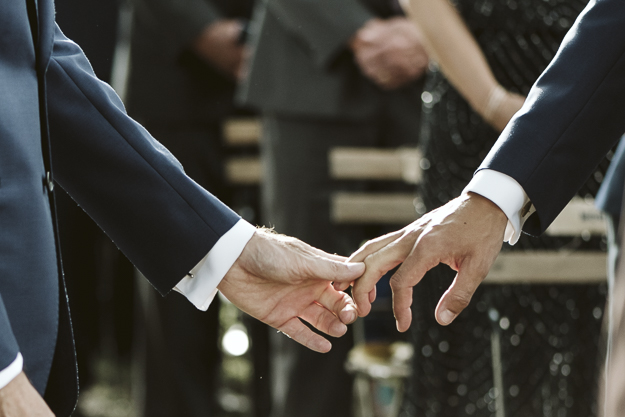 Looking back today, the wedding ceremony was our favorite part of the day and our wedding guests say the same thing. Especially considering how many people traveled a great distance to join us, it was unbelievable to have everyone in one place and be surrounded by so much love.
Wedding ceremony playlist:
I'll be your mirror – The Velvet Underground
Your song – Lady Gaga, Elton John cover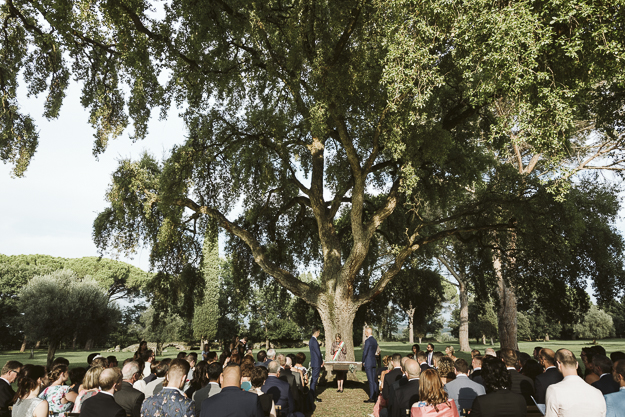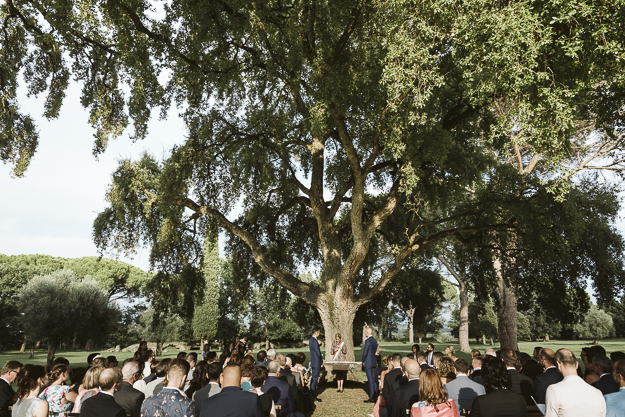 We exchanged our fathers' rings. Cristiano's father passed away in 2006 and Jim's dad upgraded his wedding ring years ago.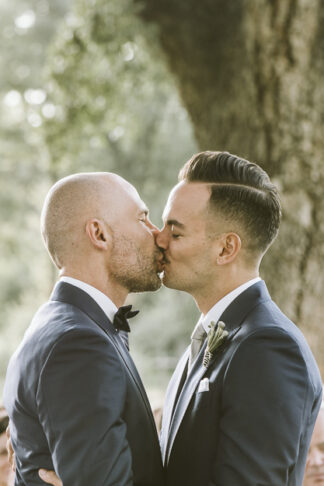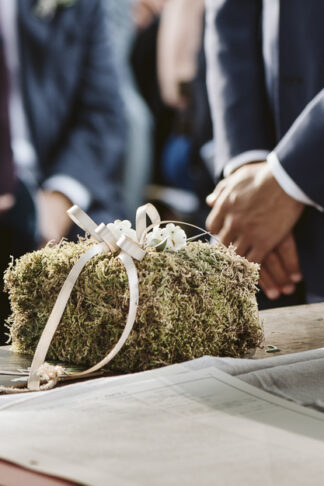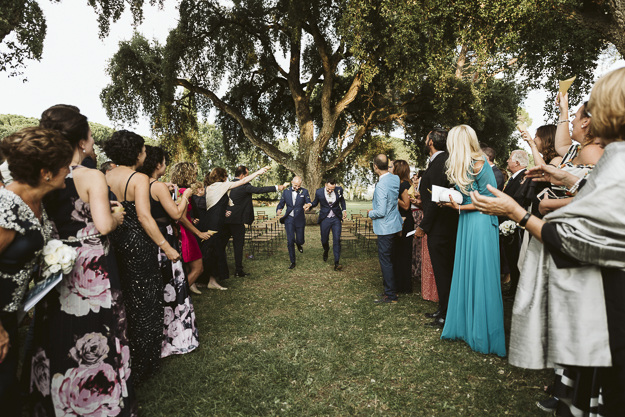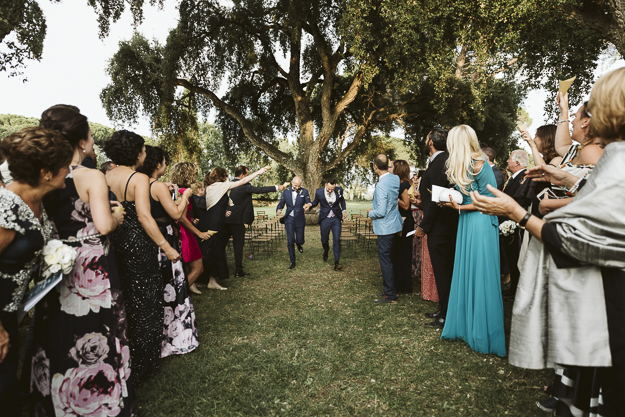 It's typical in Italy to personally greet each of your guests after the ceremony in a sea of hugs and kisses. No receiving line here! These recessional songs made it a party:
I'm coming out – Diana Ross
Incanto – Tiziano Ferro
This will be (an everlasting love) – Natalie Cole
Talk about you – Mika
I love you always forever – Betty Who, Donna Lewis cover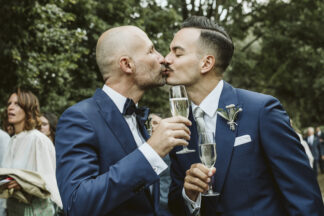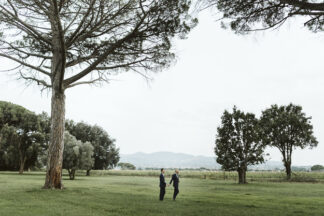 After the ceremony under the cork trees, the band led us in a parade back to the cocktail hour. Instead of staying in one place, we decided to make the evening itinerant.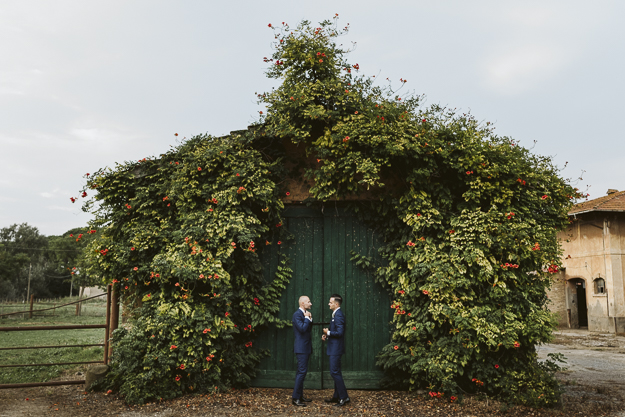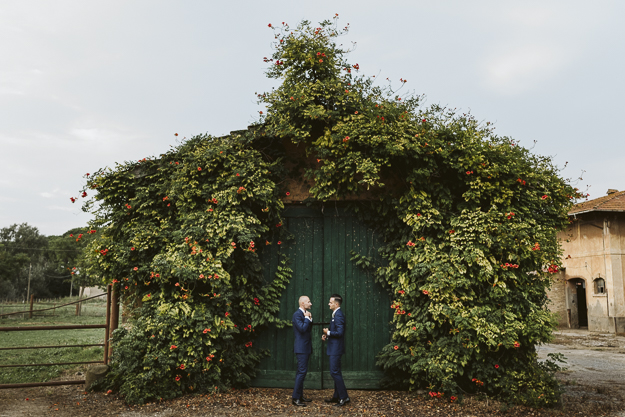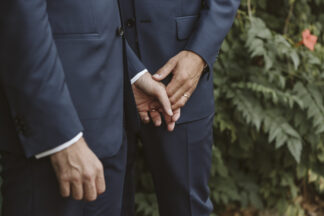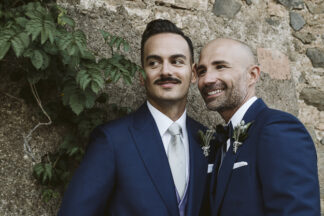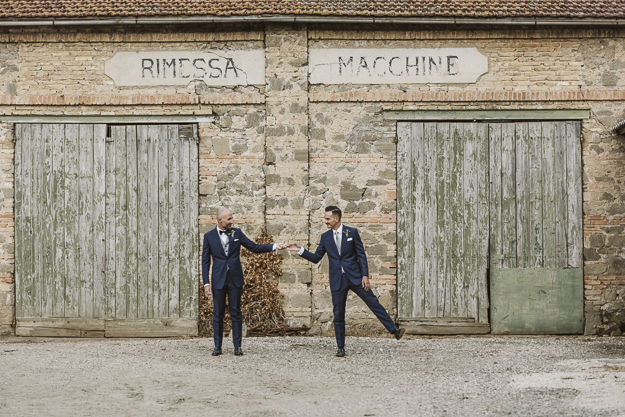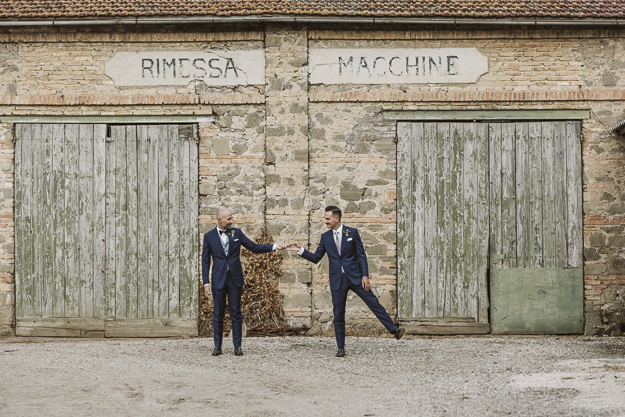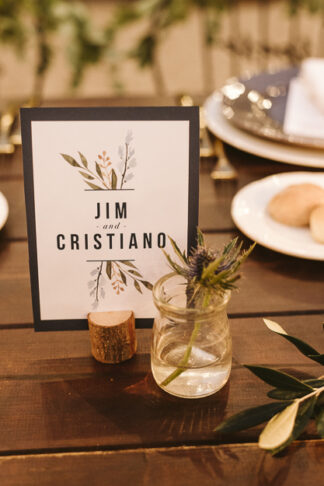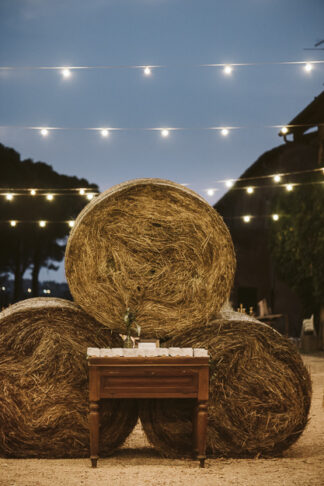 Our wedding reception dinner was further along the grounds, in front of the farmhouse, and we used the grain silo to dance. The size of the venue and its many unique spaces allowed us to continually surprise the guests and make subtle changes to each area of the venue. It almost felt like four events in one.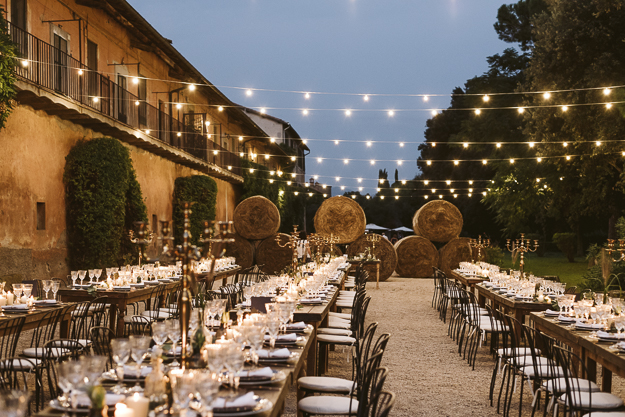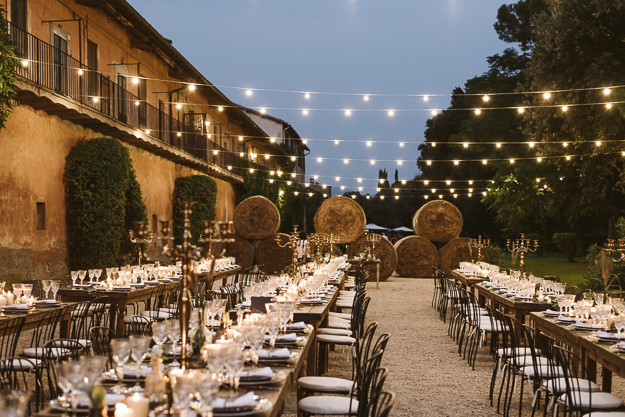 We knew we didn't want traditional centerpieces and flowers used throughout the venue, but didn't know exactly what alternative would be best. We talked a lot with Martina about flowers, or rather, non-flowers. We all shared lots of inspiration images and Martina worked with her regular florist to design all of the botanicals used throughout the venue.
(Check out this Olive + Herb Themed, Organic Wedding Ideas Inspired by Tuscany)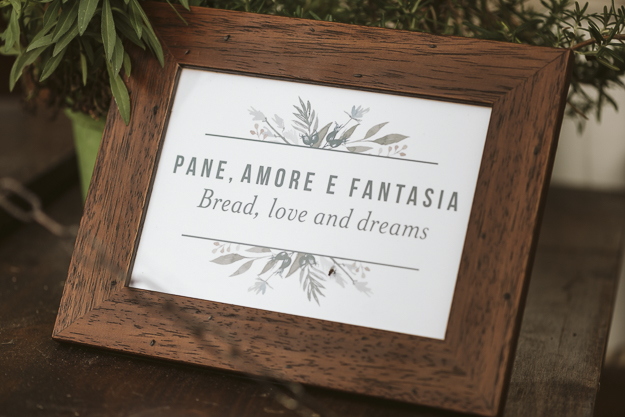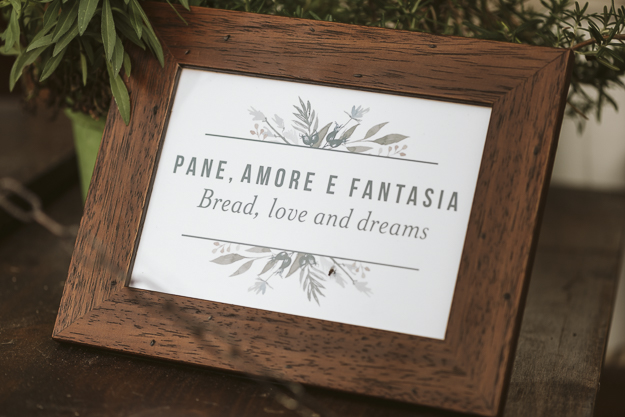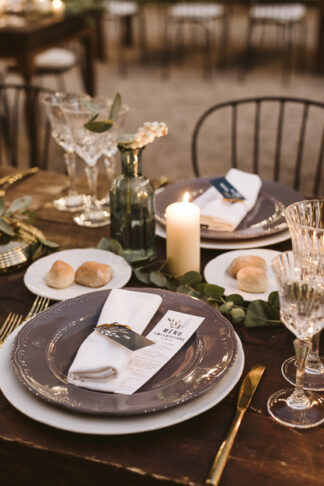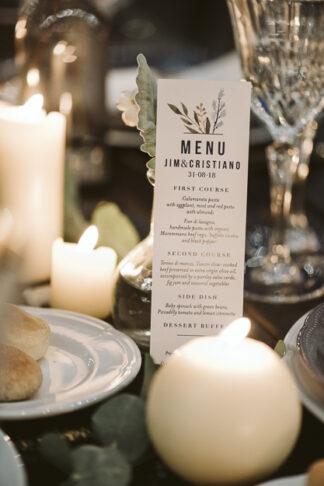 We had decided to create a runner with white candles, ornate jars and vases, and a mix of olive leaves and other botanicals. Martina was able to find a beautiful mix of greenery, subtle flowers and cuttings that worked perfectly together. The botanicals used throughout the day were just perfect, but the dinner really blew us away.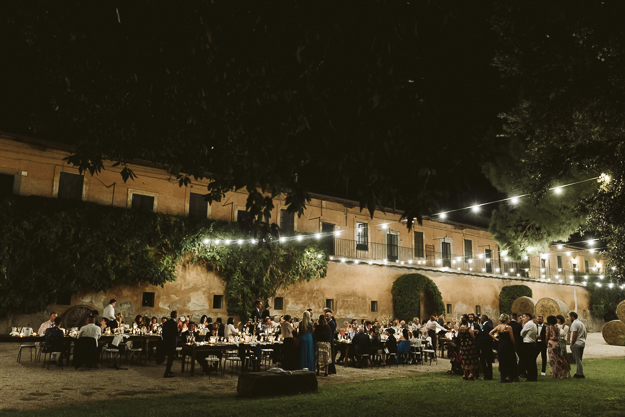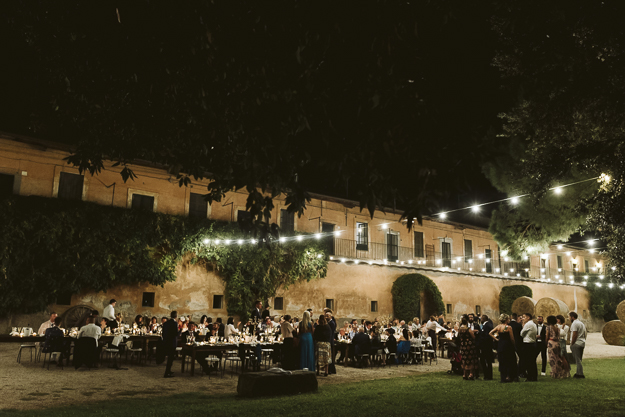 As favors, we chose three of our favorite local products: a wine from our favorite vineyard in Umbria, balsamic vinegar we had tasted on a weekend trip to Emilia-Romagna and one of Rome's oldest brands of cookies.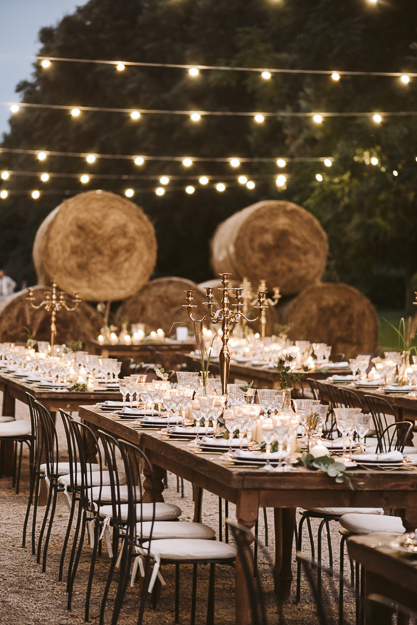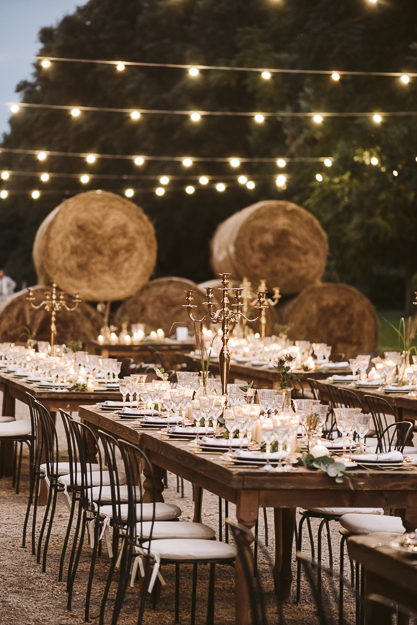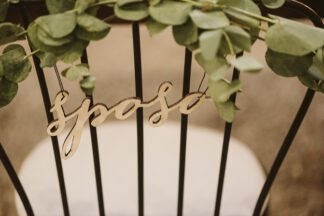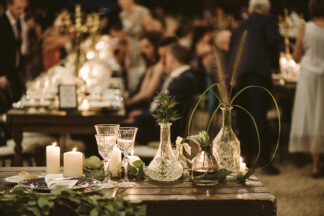 We attached a note to our favors with a description and links to learn more about LGBT homelessness in both Italy and the U.S..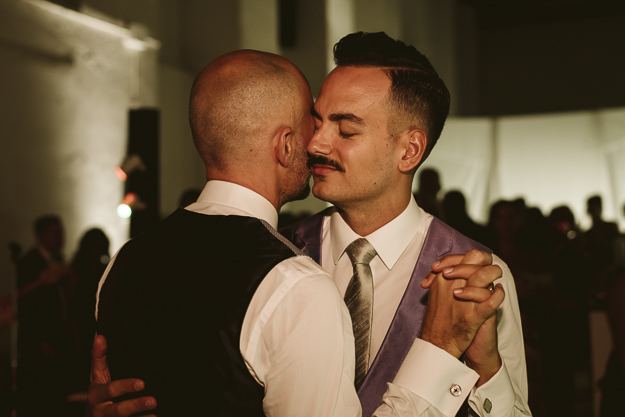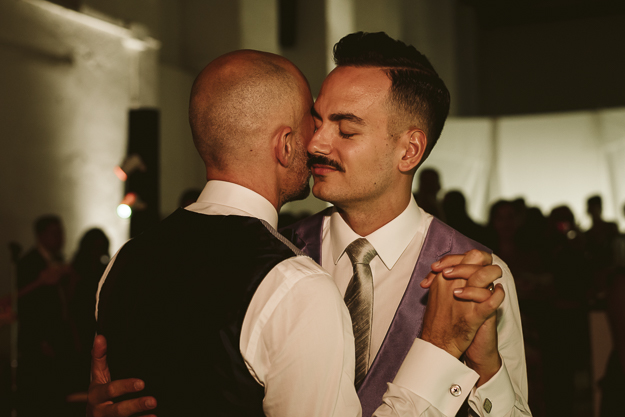 Rome Wedding Vendors: 
READ NEXT: