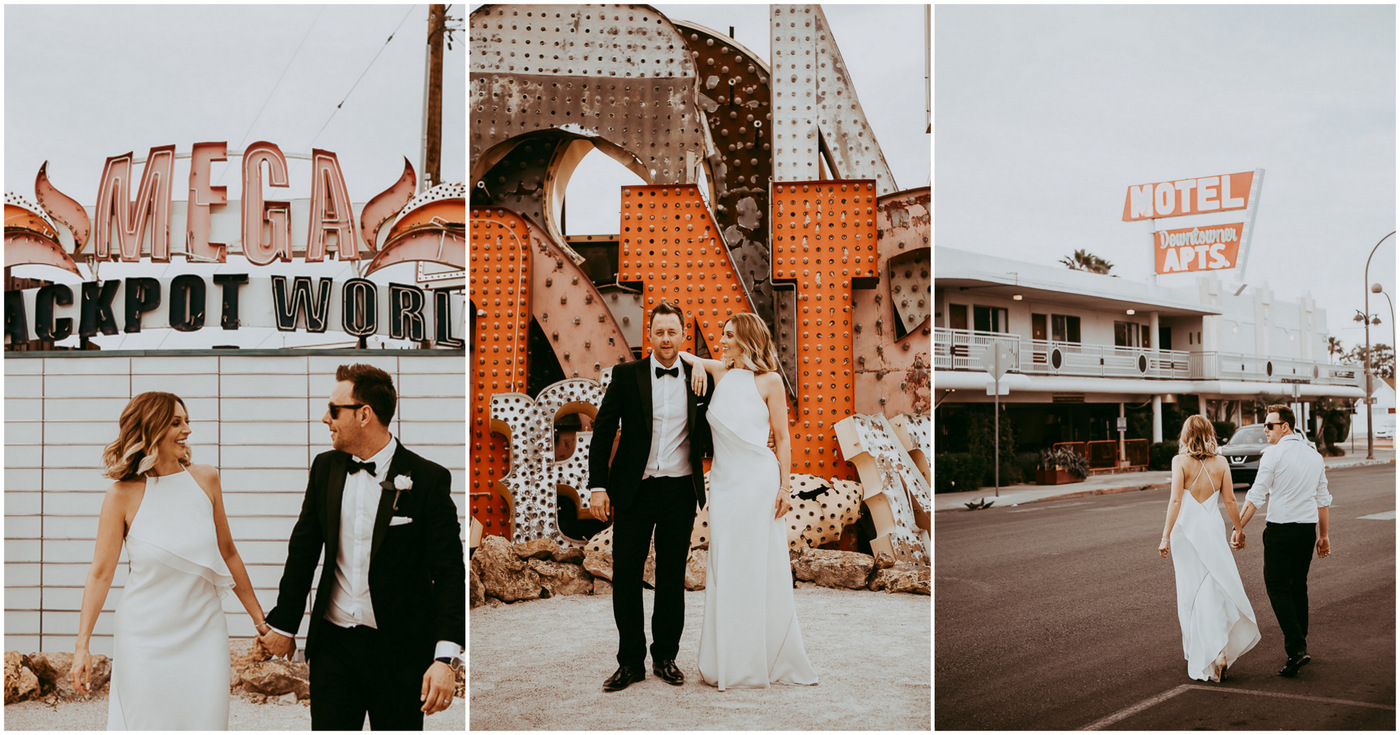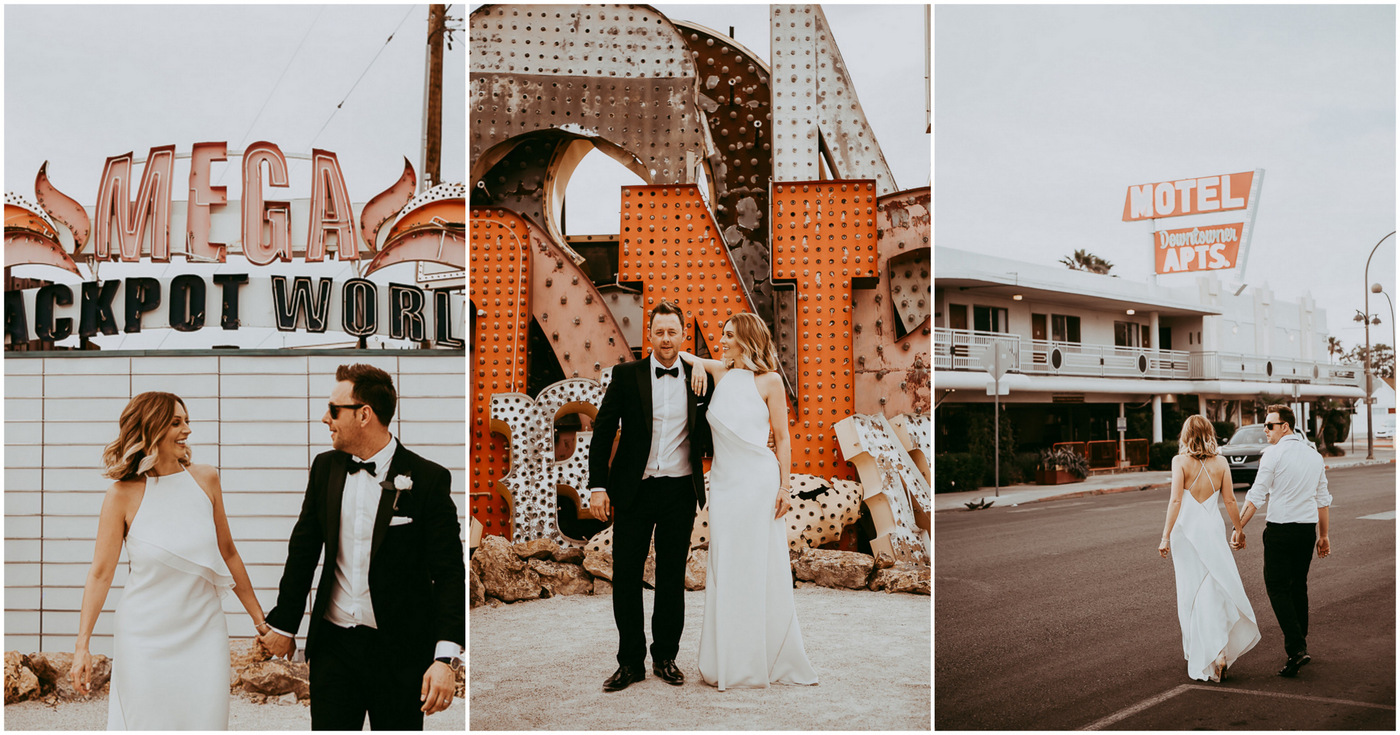 Sarah and Adam, who eloped to Vegas all the way from the UK, were married in the Chapel of the Flowers. Their intimate Vegas elopement, which included four of their loved ones, gave the couple the chance to celebrate after with a honeymoon around the West Coast. Sarah had visited Vegas before and knew that the relaxed and fun feel was exactly what the couple wanted.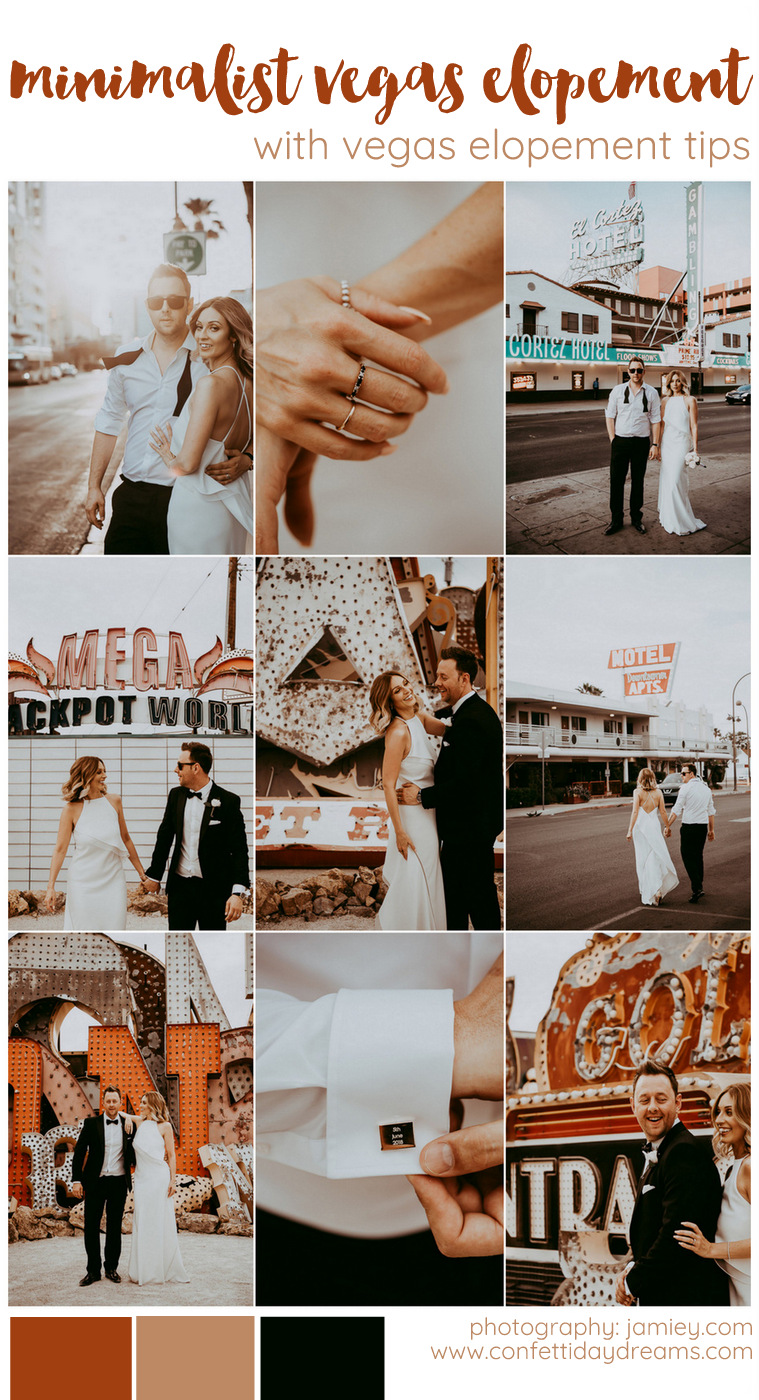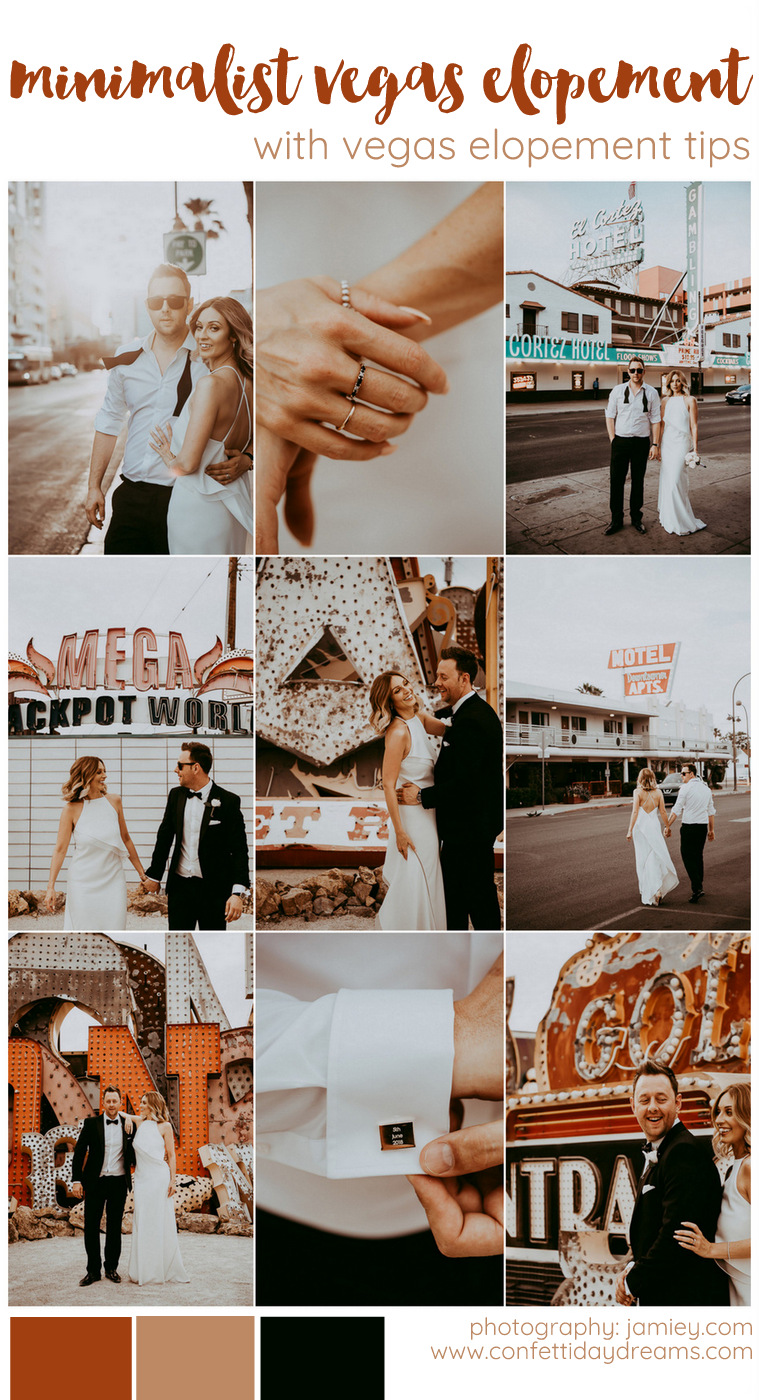 The morning of their Vegas elopement was super relaxed, with the men playing golf before hand. After their intimate Vegas wedding ceremony at Little Chapel,  Jamie Y took the couple to downtown Vegas and the Neon Museum to take these awesome images. They really capture the Las Vegas feel and we just love them.
Check out their fun Vegas elopement pics and keep reading for tips on how to plan your own elopement in Las Vegas!
Minimalist Elopement In Vegas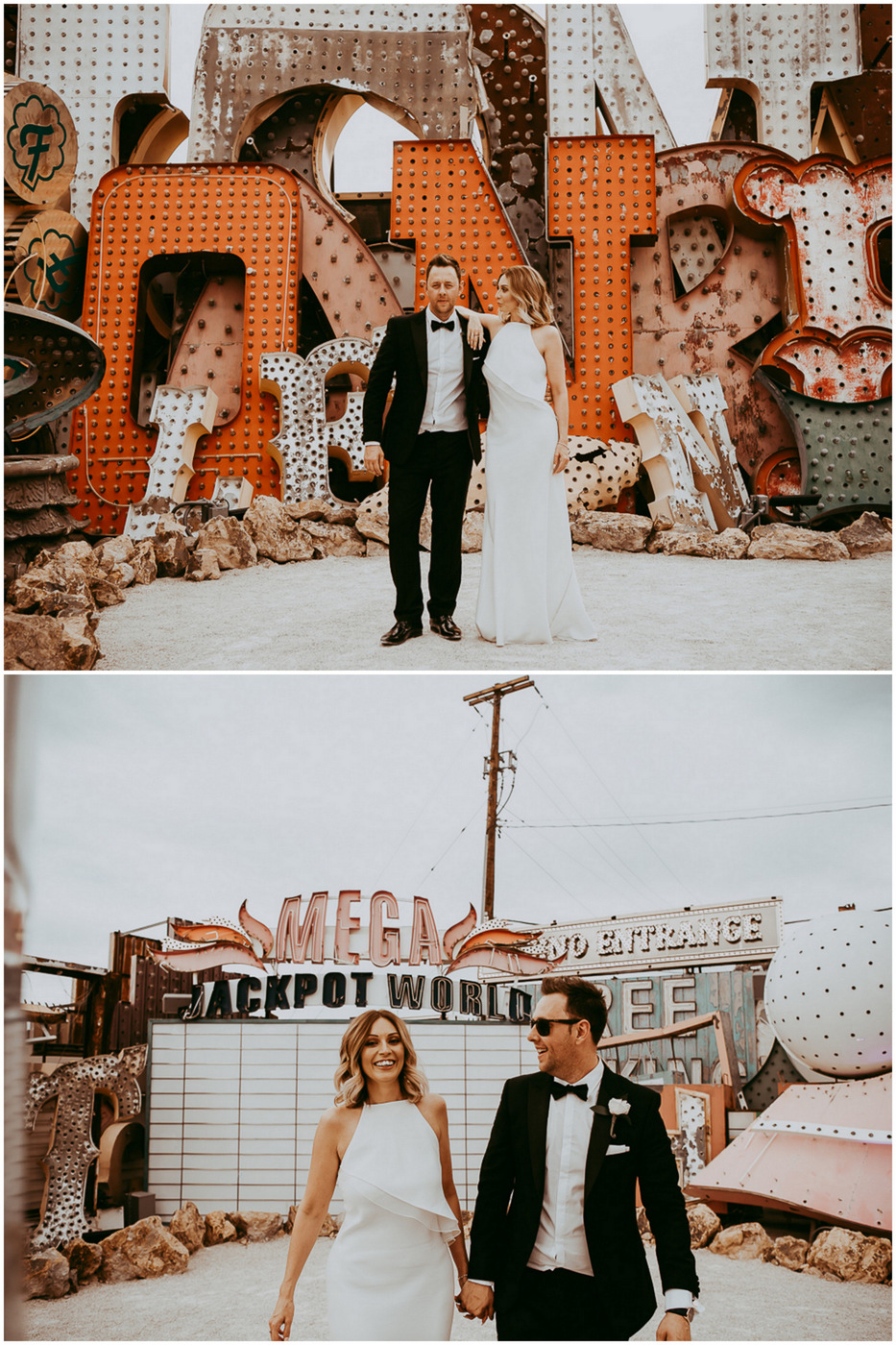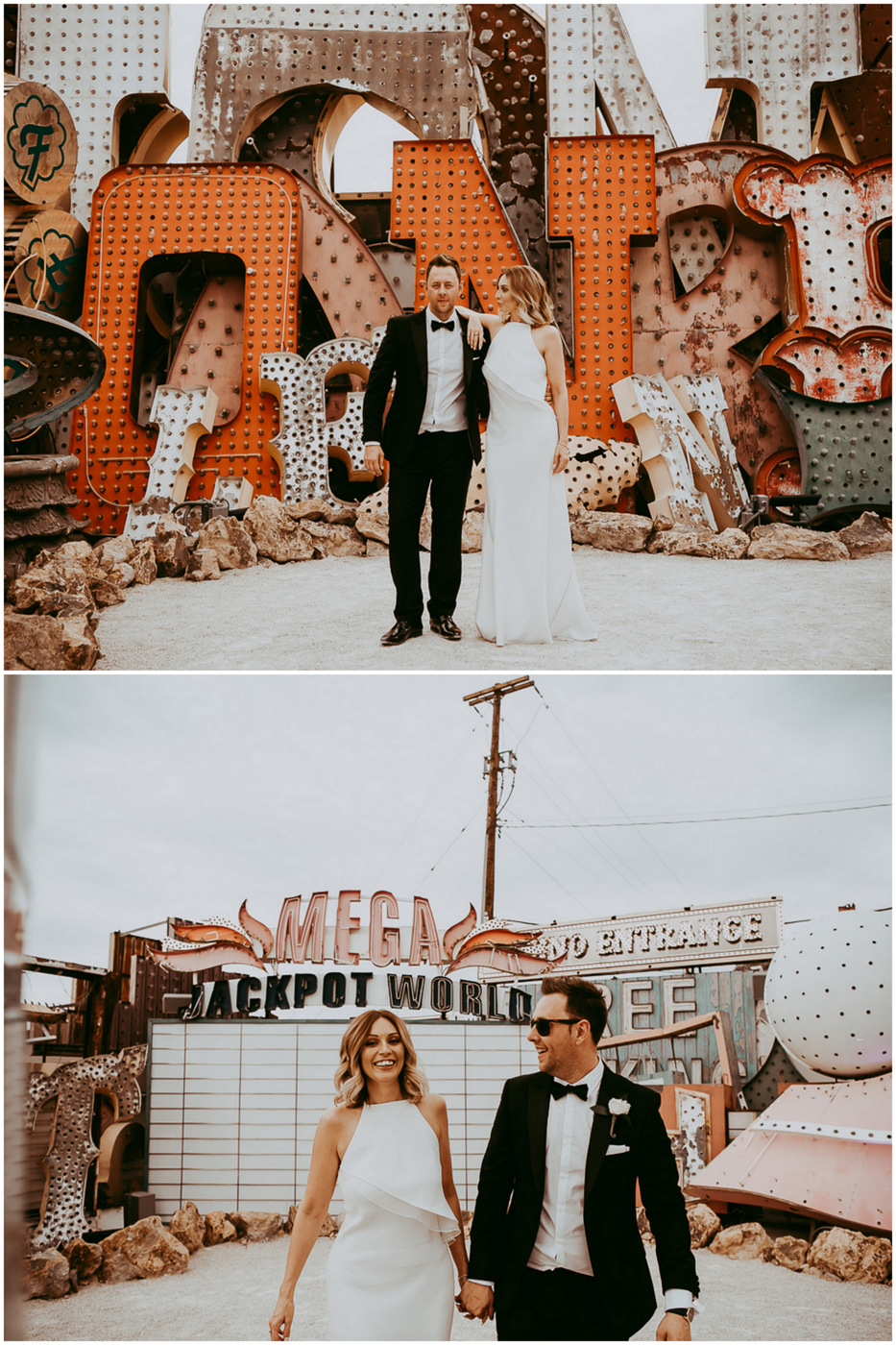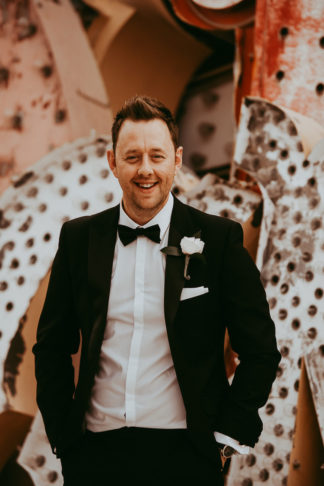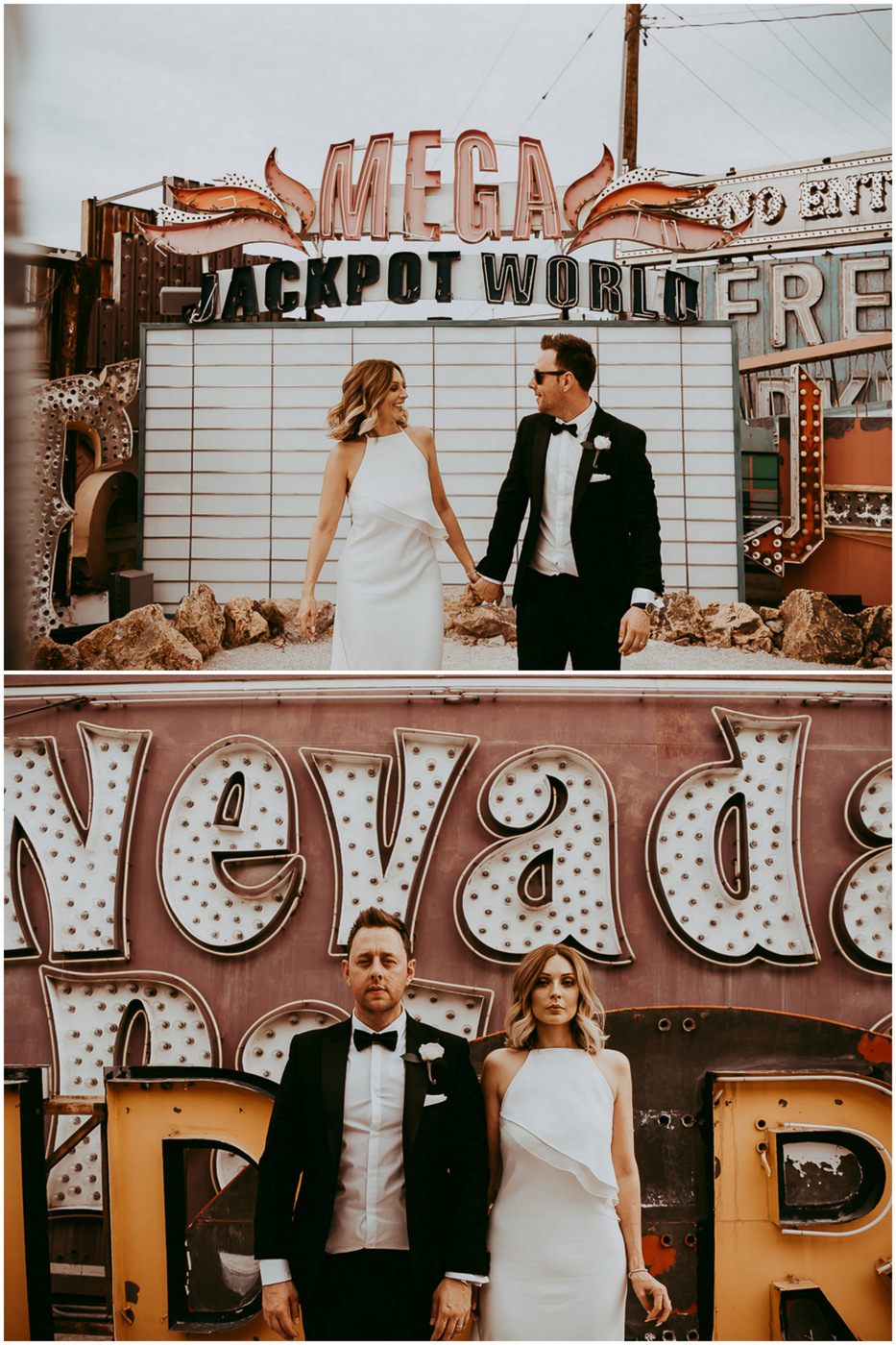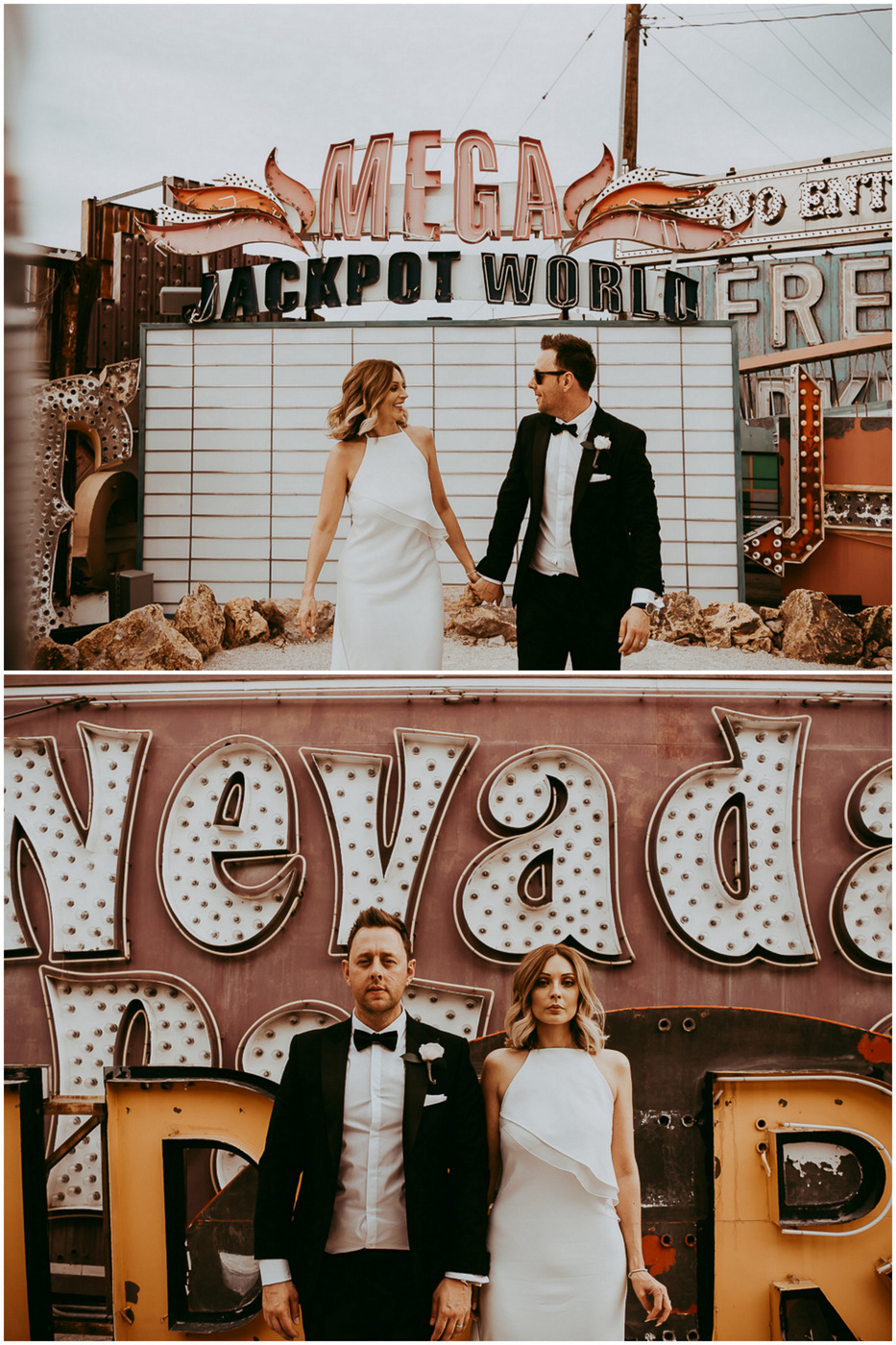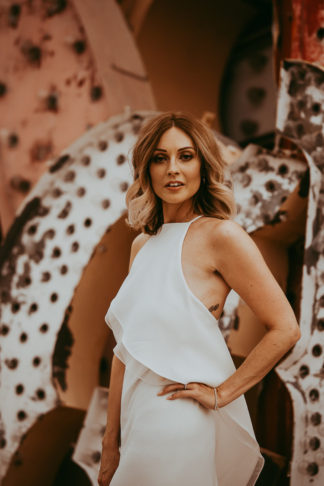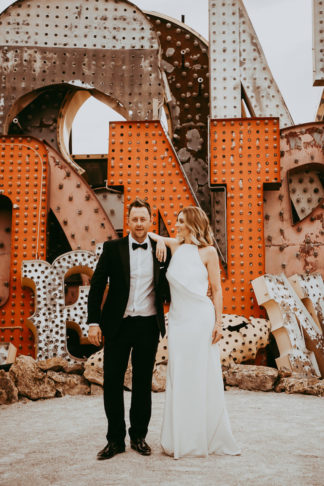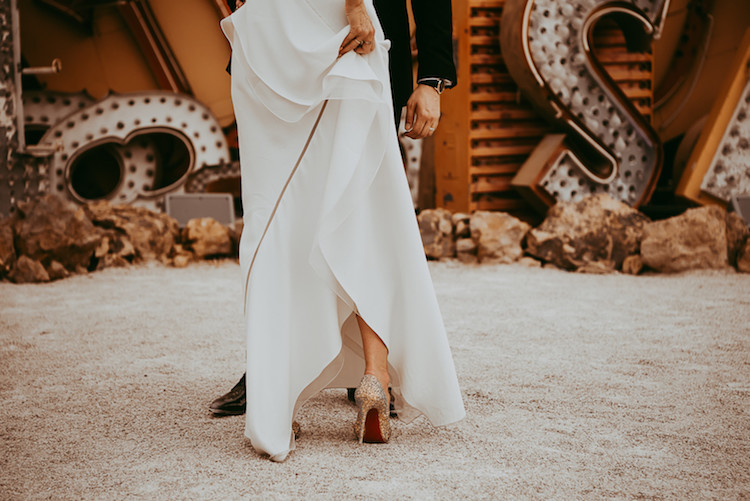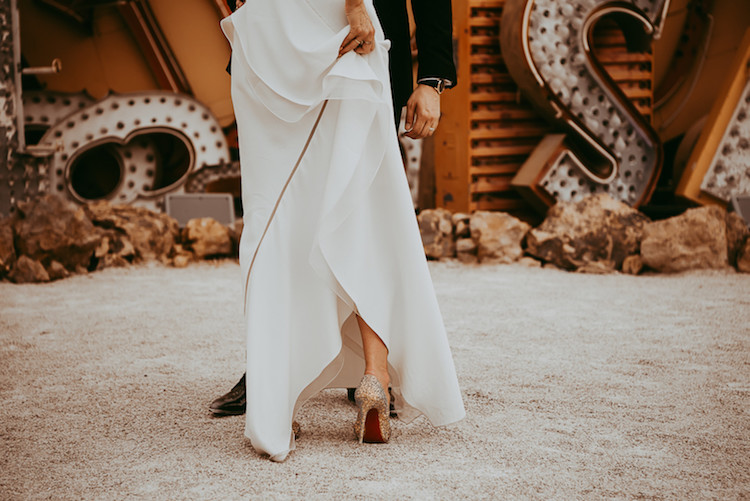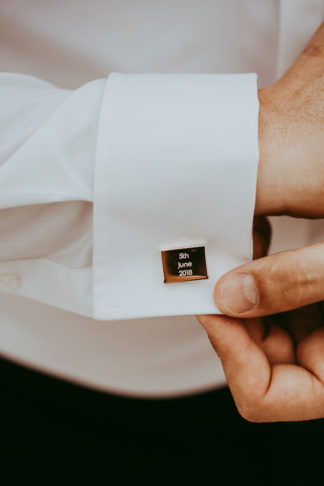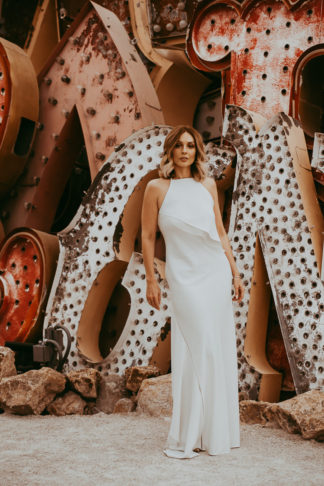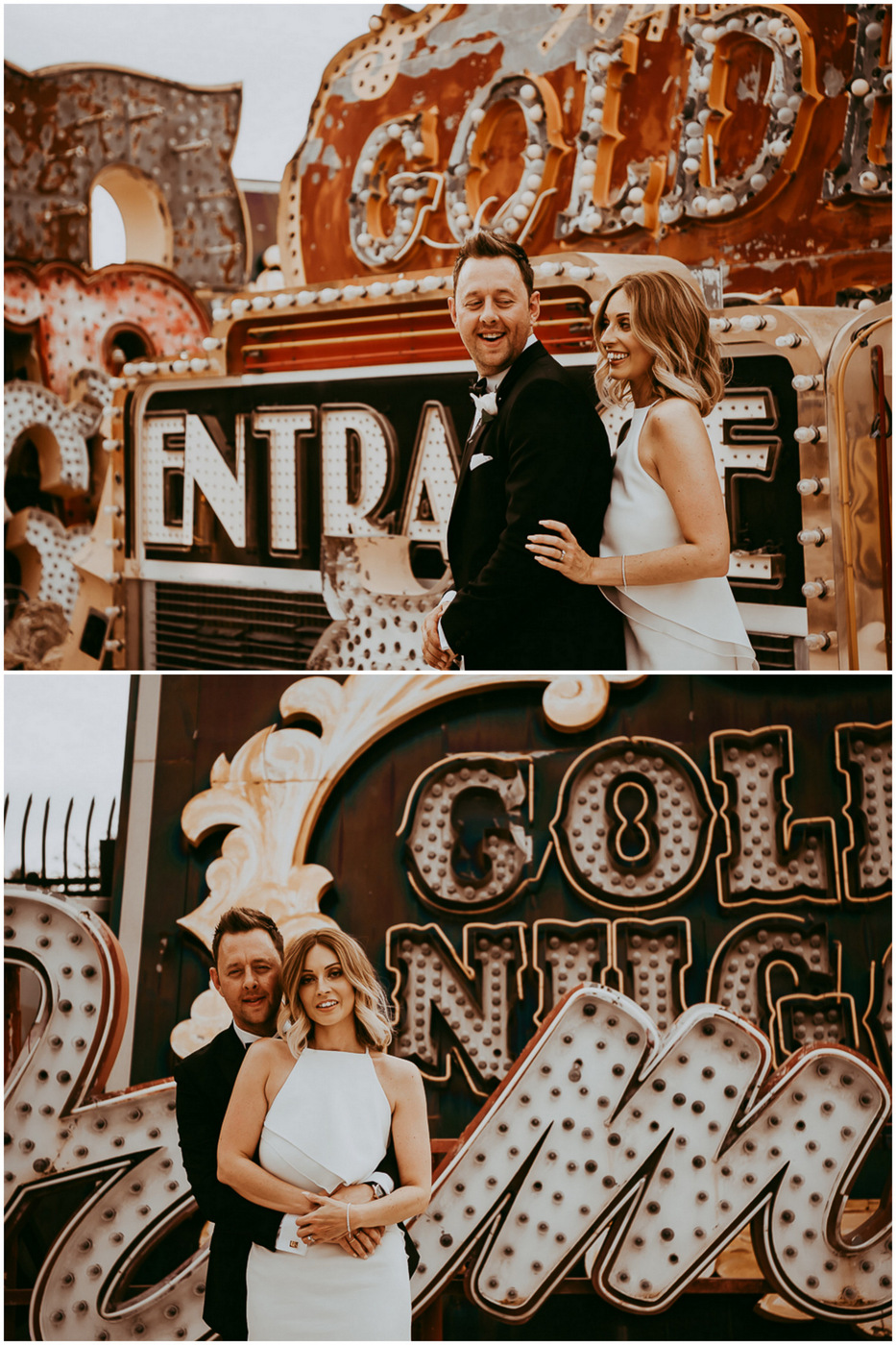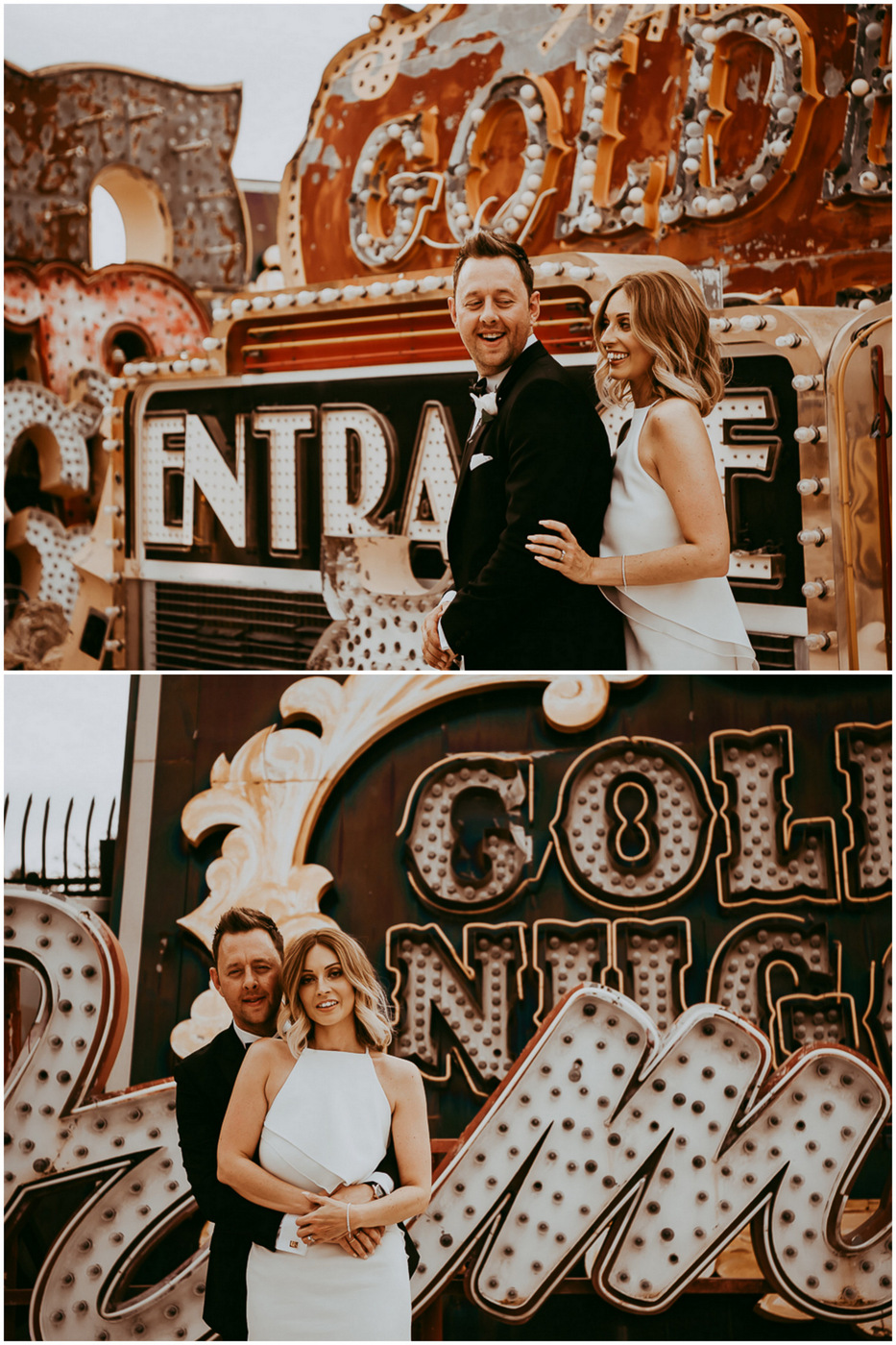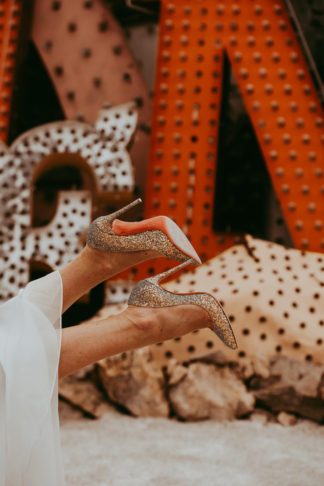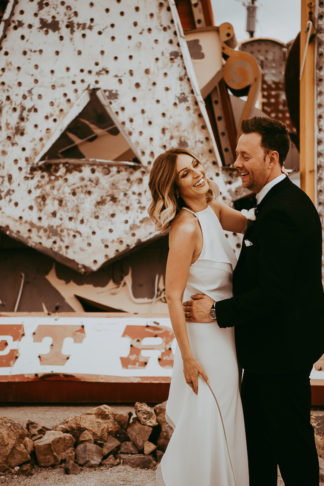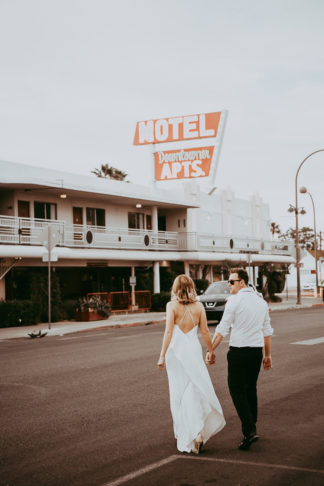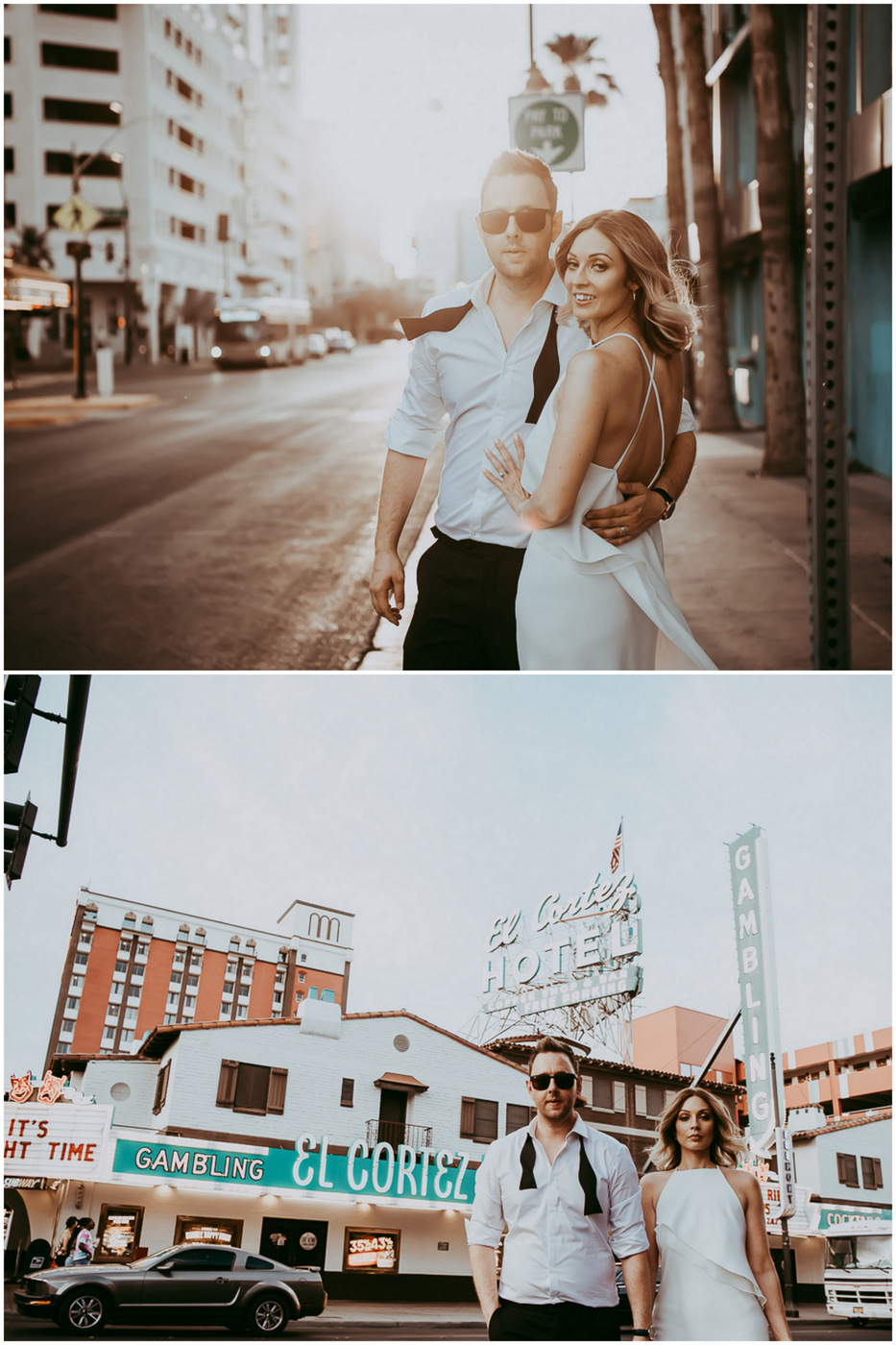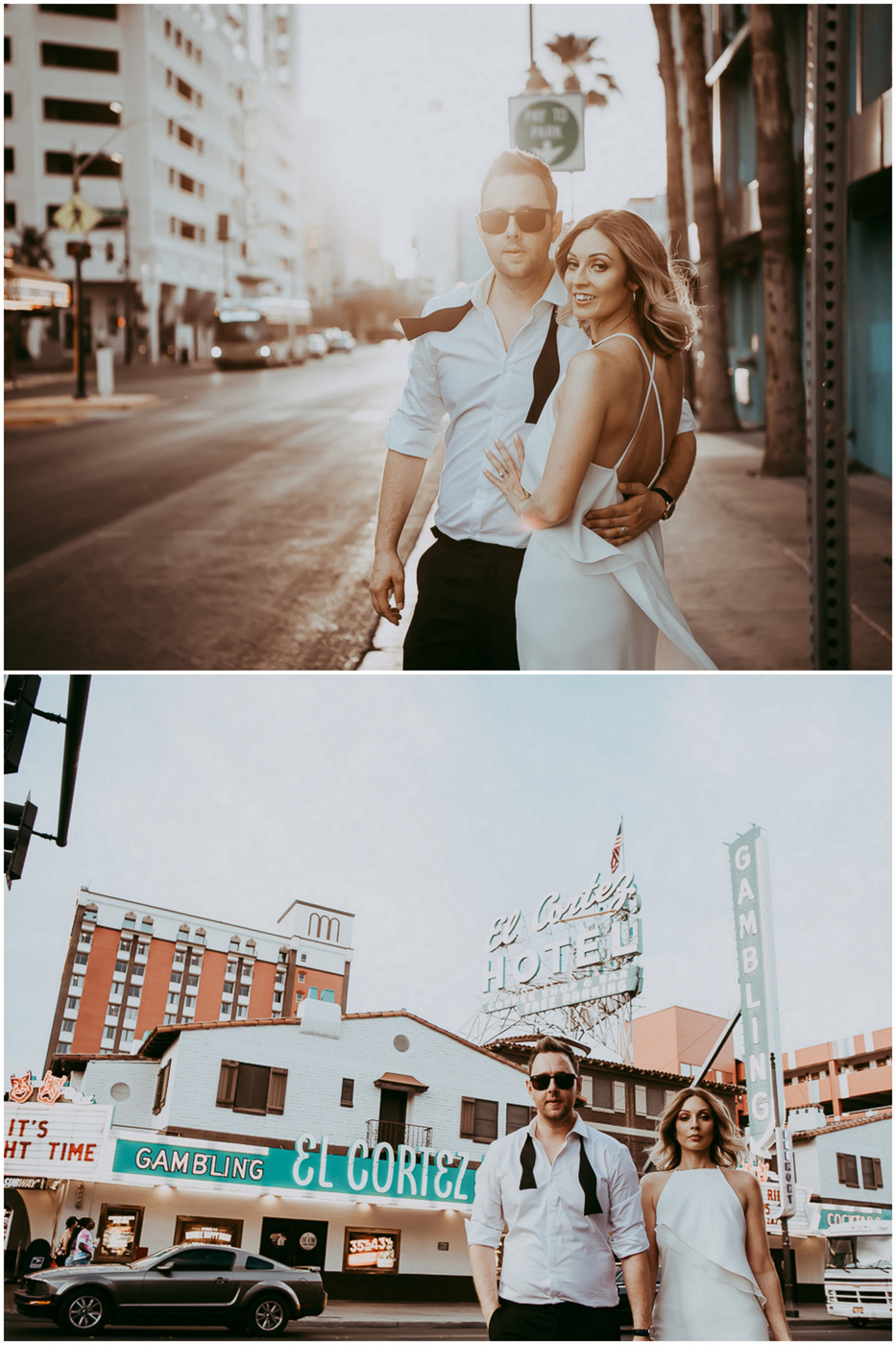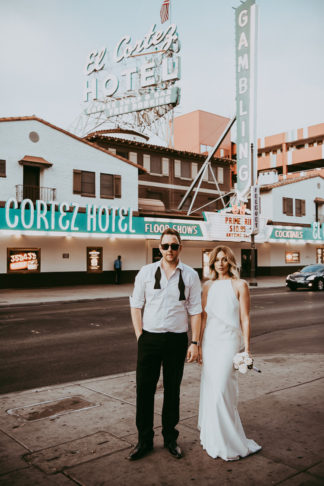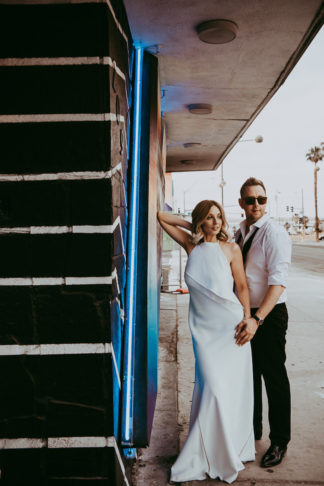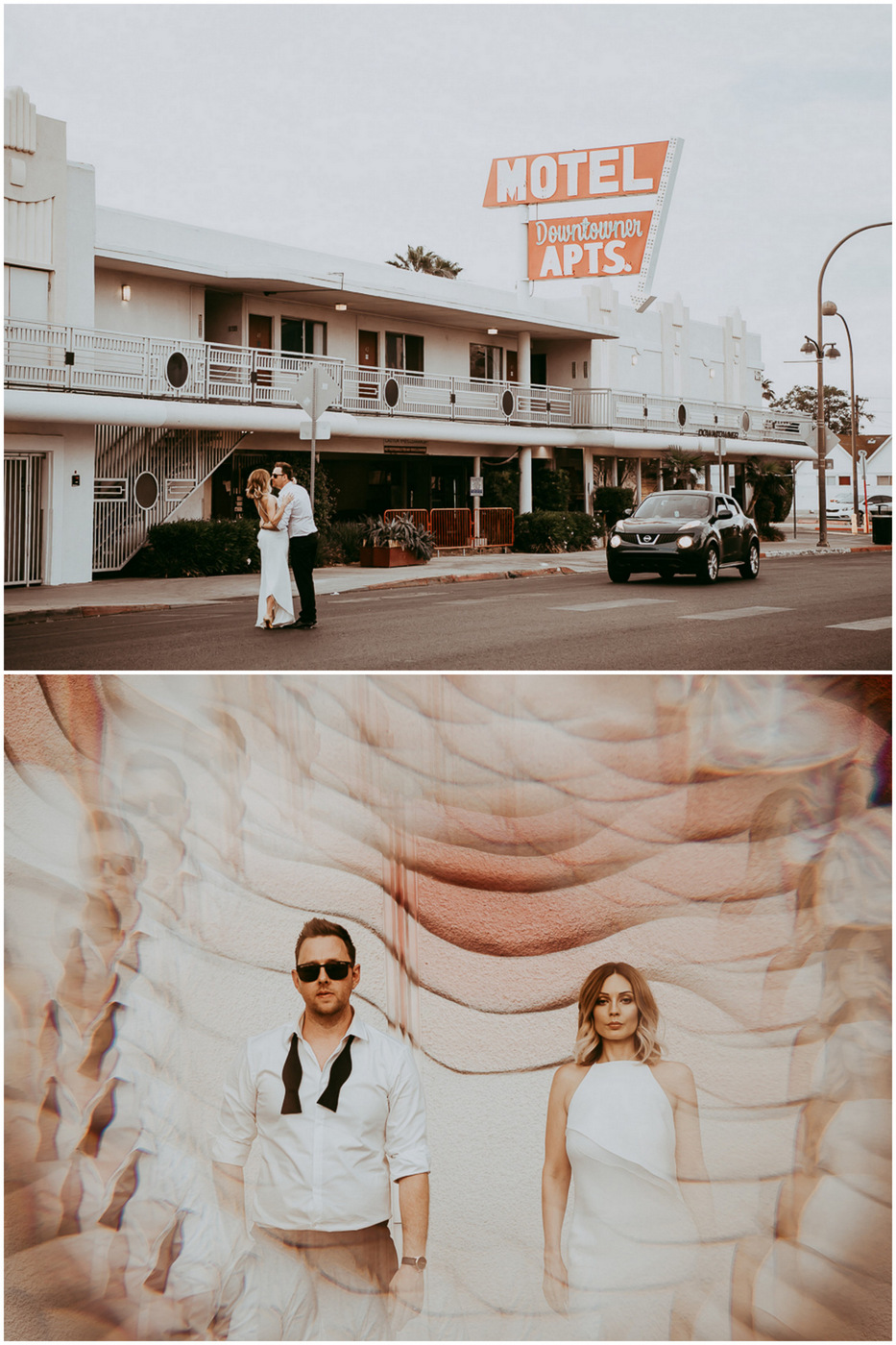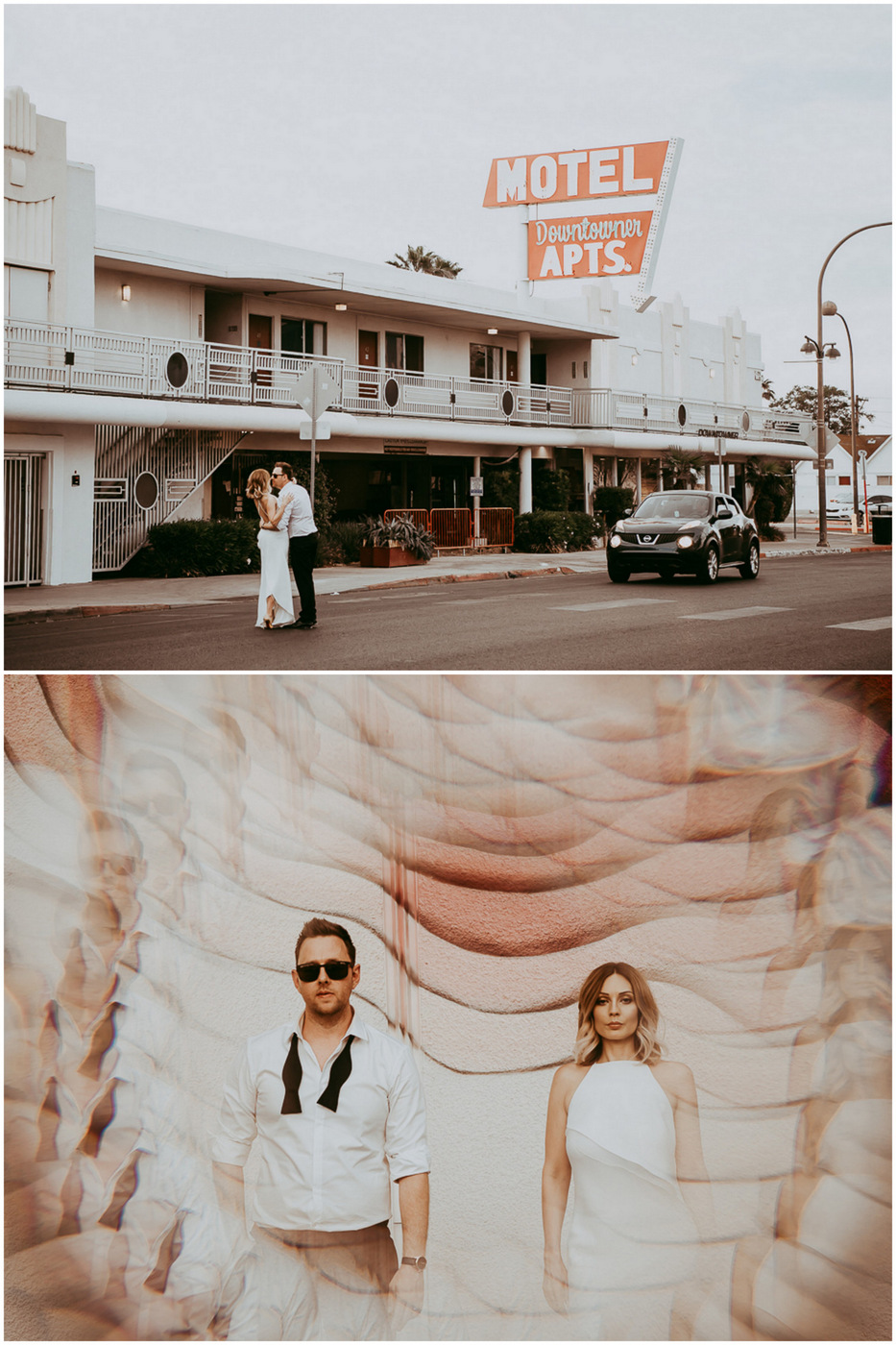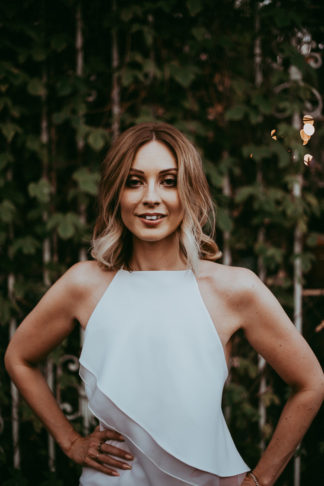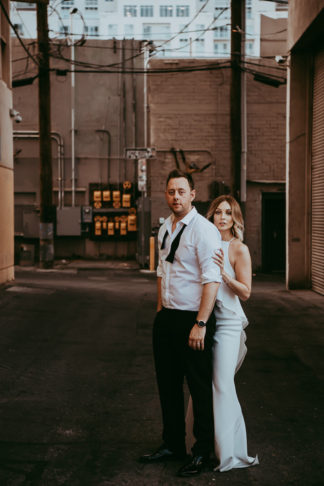 9 Tips for Getting Married In Las Vegas
Time of year is very important for your Vegas Elopement. "Our summers are extremely hot and can easily get up to 115 degrees F," explains photographer Jamie Y. "Even if you are used to the heat, it is uncomfortable to be in the sun in the summer. Do yourself and all of your guests a favor and choose a comfortable time of year. Spring and Fall are great."
Plan lots of time indoors if you're getting married during summer. "We got married in Las Vegas in June – it is hot!" says newlywed Sarah. "I recommend making sure as much as of your planned activities as possible are indoors."
Big events push prices up and make accommodation scarce. Las Vegas is host to some huge events during the year like Electric Daisy Carnival, Nascar, The Rodeo and Big Conventions like CES,explains Jamie Y. "Hotel rooms get booked very far in advance and prices get extremely high. If you plan on having guests come to town, make sure you are either booking far enough in advance or that there are no big events going on."
Make sure you have a Nevada marriage license. "We collected our marriage licenses the day before to ensure no rush on the day," says Sarah.
Las Vegas Wedding chapels based in Casinos typically do not allow outside photographers. Jamie Y explains that while some chapels will allow an external photographer for an additional fee, most do not allow them at all. "If you want control of your photographer choice and want consistency with your images for the whole day, check on your venue restrictions before booking."
In Vegas, deals can be found for almost everything. Flights and hotel rooms often have great deals and discounts, says Jamie Y. "There are websites devoted to deals on shows, eating, and everything in between. If your looking to save a little on your trip, all it takes is a little time and research and you can save a lot."
Make time to enjoy the natural beauty that Vegas has to offer. Vegas isn't just all casinos and hotels. "We are surrounded by some natural beauty at Red Rock Canyon and Valley of Fire and more," says Jamie Y. "You can have your wedding ceremony at one of these amazing places or just schedule a visit while you are in town."
Think outside the chapel! Las Vegas has a huge range of options for your ceremony and/or reception, explains Jamie Y. "Besides the typical hotel and chapel weddings, we have a wide array of other options. They include: golf courses, restaurants, all in one wedding venues, and plenty of unique locations that can be transformed into the wedding of your dreams."
Seek out local Las Vegas wedding vendors. Vegas has many highly sought after and talented wedding vendors, says Jamie Y. "If you are traveling from out of town for your wedding, don't feel like you have to hire all your wedding vendors from back home. There are so many great vendors to choose from that live and work right in Las Vegas."
Las Vegas Elopement Vendor Details:
Check out the rest of our elopement guide: