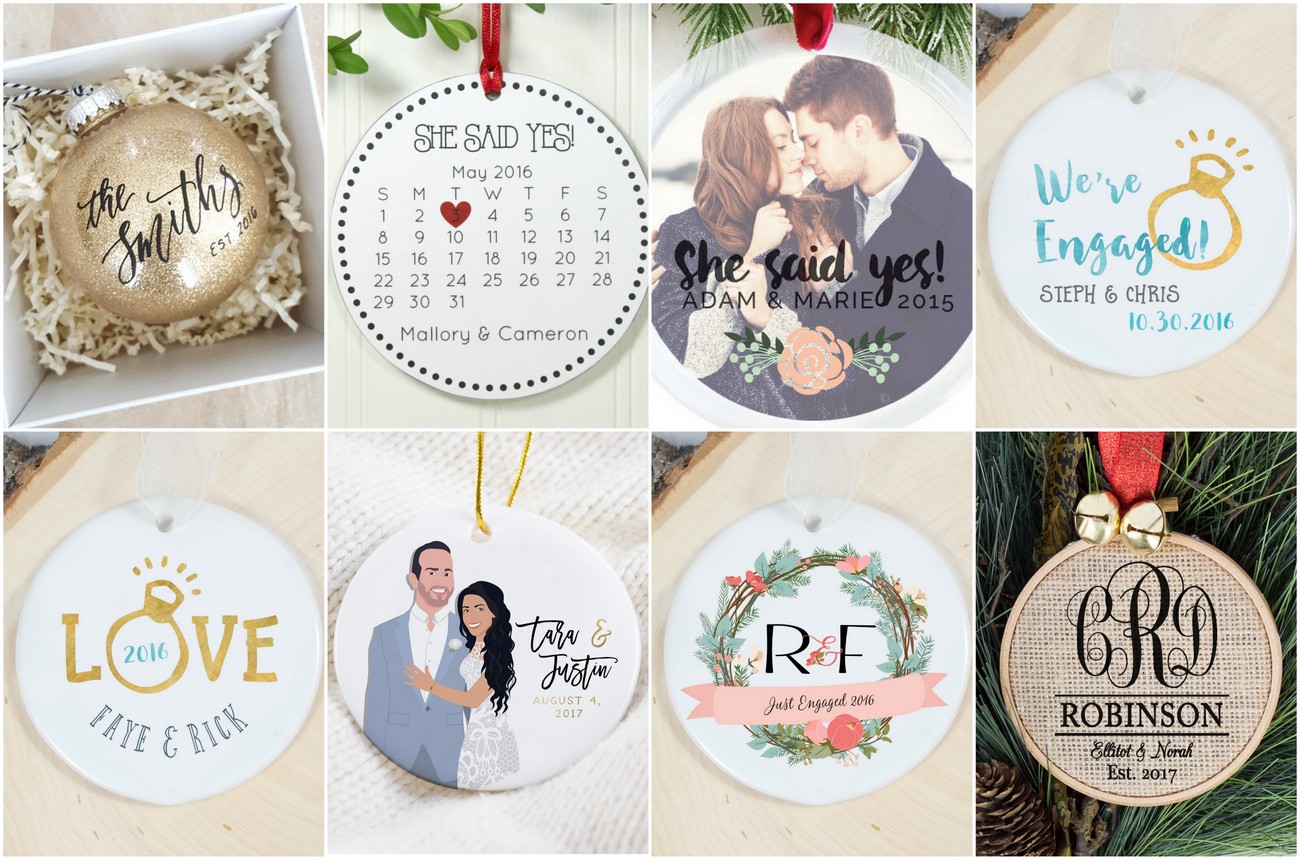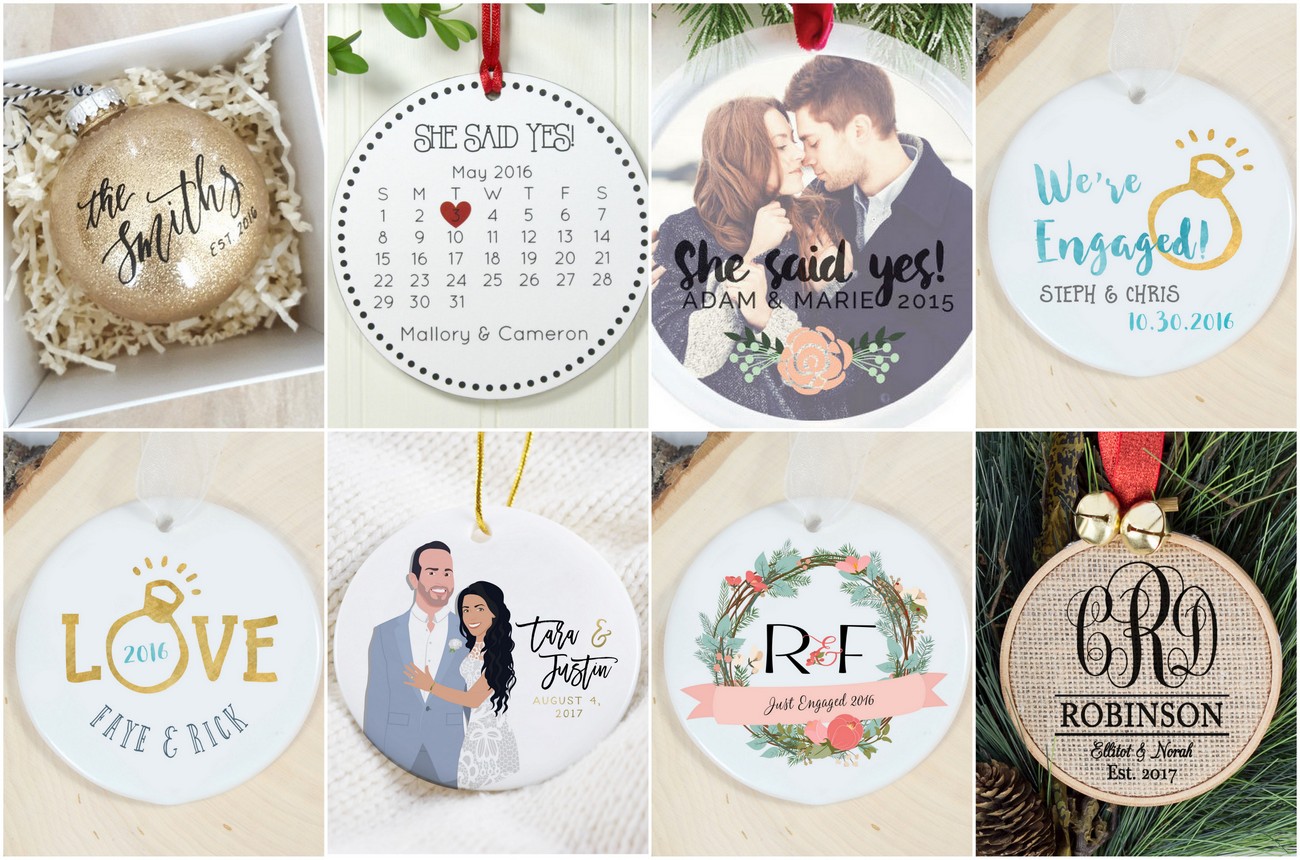 You said yes! These engaged ornaments keepsake treasures will forever memorialize the fiance phase of your relationship! Adding a custom Christmas engagement ornament to your tree means always honoring this special time in your lives, and who doesn't just love that! They also make thoughtful Christmas gifts for newly-engaged couples that would be treasured for years to come.
Engaged ornaments
This special selection of christmas ornaments for engaged couples includes custom engagement ornaments which can be personalized with your engagement date, your names and even your photo or custom illustration! Of course, if you're planning a Christmas proposal, an engagement ring ornament personalized with your details is probably the most perfect way to cherish this moment forever.
ENGAGED ORNAMENT ORDERING TIP: Before placing your order, check the delivery timelines to make sure that your ornament will arrive in good time. It's better to order sooner than later so that you can get your beautiful Christmas engagement ornaments onto your tree and enjoy every minute of your engaged Christmas together, STAT!
♥ If you love this curated selection of designs as much as we do and make a purchase through one of these links, we'll receive a commission for sharing some of them with you. Thank you so, so much for supporting our content! ♥
Christmas engagement ornaments
(Above Left) Personalized Engaged Ornament in gold glitter with calligraphy. The sparkly 12″ custom engagement globe is hand-lettered in black to include your last name and established date. Grab it from The Lettering Studio here. // (Above Right) Porcelain Engaged ornament with pastel festive wreath illustration in a white glossy finish. Personalize this cute 'Just Engaged ornament' with your initials and year of engagement to display on your tree. Available from Mrs My Laurie
Engagement Ring Ornament – Personalized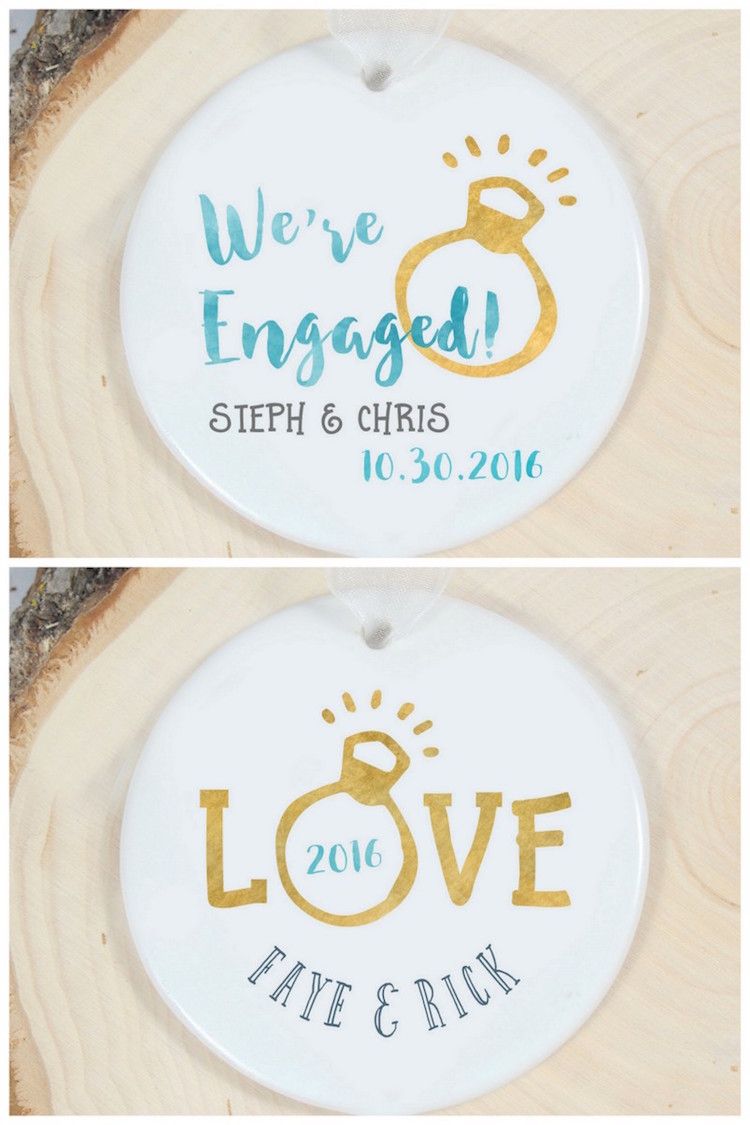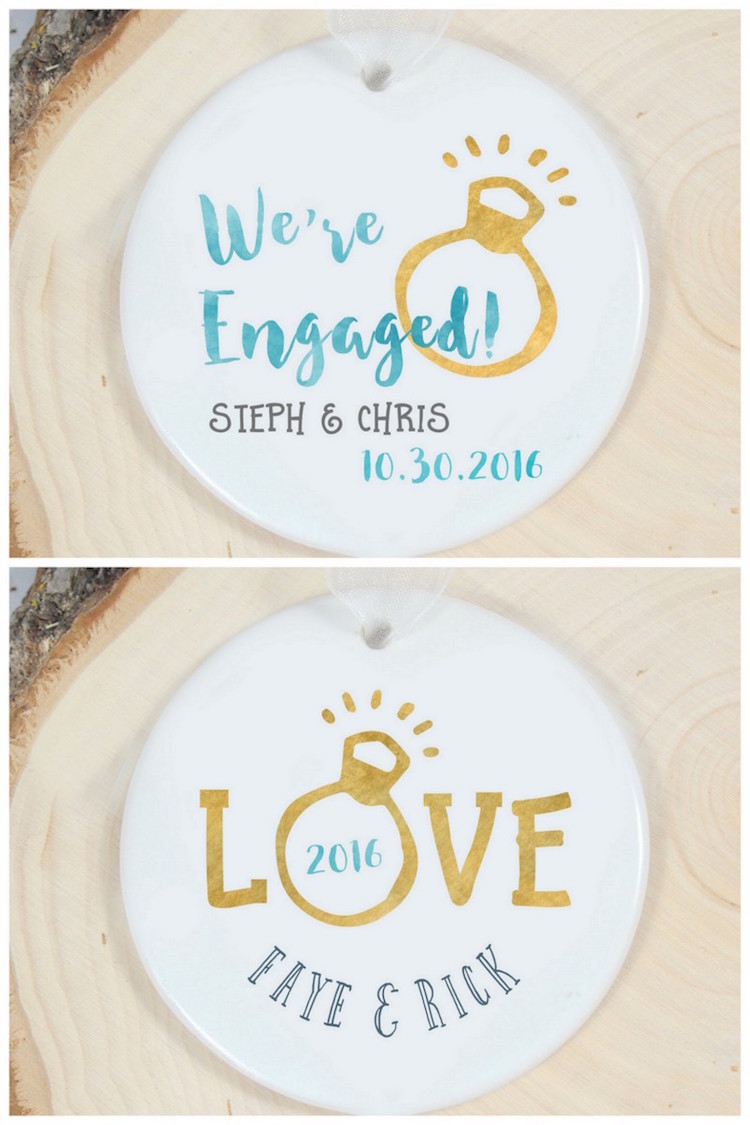 (Above 1st row) Personalized Engagement ring ornament. 'We're Engaged!' exclaims this porcelain ornament for your engagement, with a painted illustration of gold engagement ring. Order yours here. // (Above 2nd row) LOVE  Personalized Engagement ring ornament.  Add your names and engagement year to the front of the cute ornament when you order it from My Mrs Laurie here. YASS!!!!
Christmas Ornaments for Engaged Couples
(Above Left) Custom Monogram Christmas Ornament. This burlap tree ornament for engaged couples also makes an awesome gift for the newly-engaged couple in your life. Grab this "Burlap & Embroidery Hoop" holiday ornament from Knot and Nest here.  // (Above Right) Custom photo engagement ornament. She said yes! Now take a picture and adorn your tree with it! Get this double-sided newly engaged ornament here, available from PaperRamma.
Custom-Illustrated Christmas Ornaments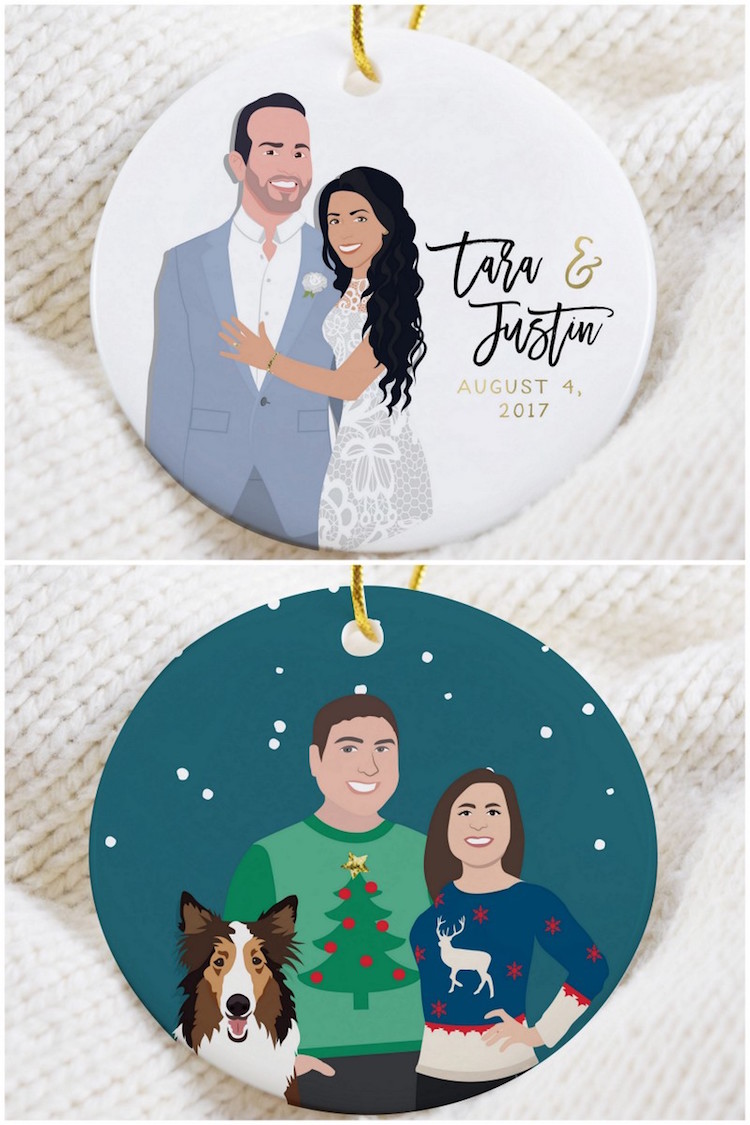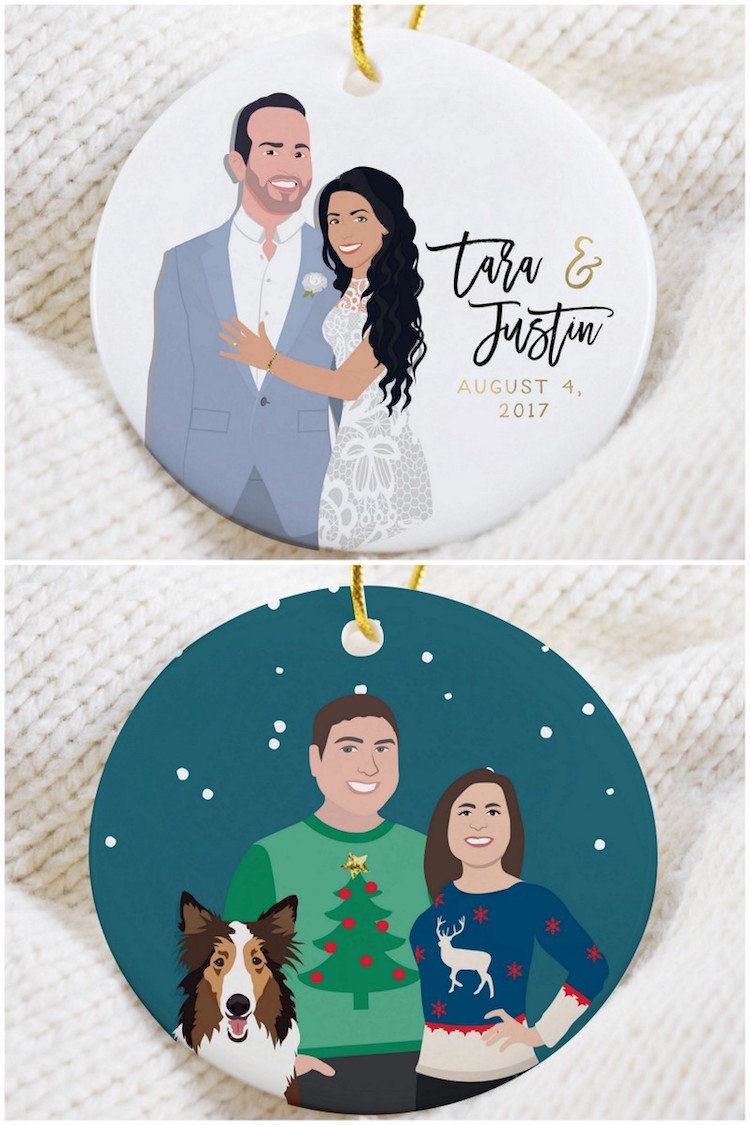 (Above 1st row) Custom Illustrated Christmas Ornaments for Couples. This beautifully illustrated ornament is likely to be the prettiest piece of art on your newly-engaged or newly-wed tree! Order it from MissDesignBerry here.// (Above 2nd row) Ugly Christmas Sweater Ornament with Couple Portrait. Add custom text such as your names and engagement date to the back of this fun holiday portrait illustration. We love that fur babies can be included! Grab it for yourselves or as a wedding gift for a special couple, here.
First Engaged Christmas
(Above Left) Just Engaged Christmas Ornament. Awesome for a Christmas or holiday proposal, this ceramic engagement ring ornament is personalized with your engagement date and is oh-so-cute! Get it here. (Image:Laurel Belle Photography ) // (Above Right) Rustic First Engaged Christmas Ornament. Celebrate your first festive season as a newly-engaged pair with this woodsy-style ornament featuring pretty floral wreaths. Purchase it here.
Ornaments for engagement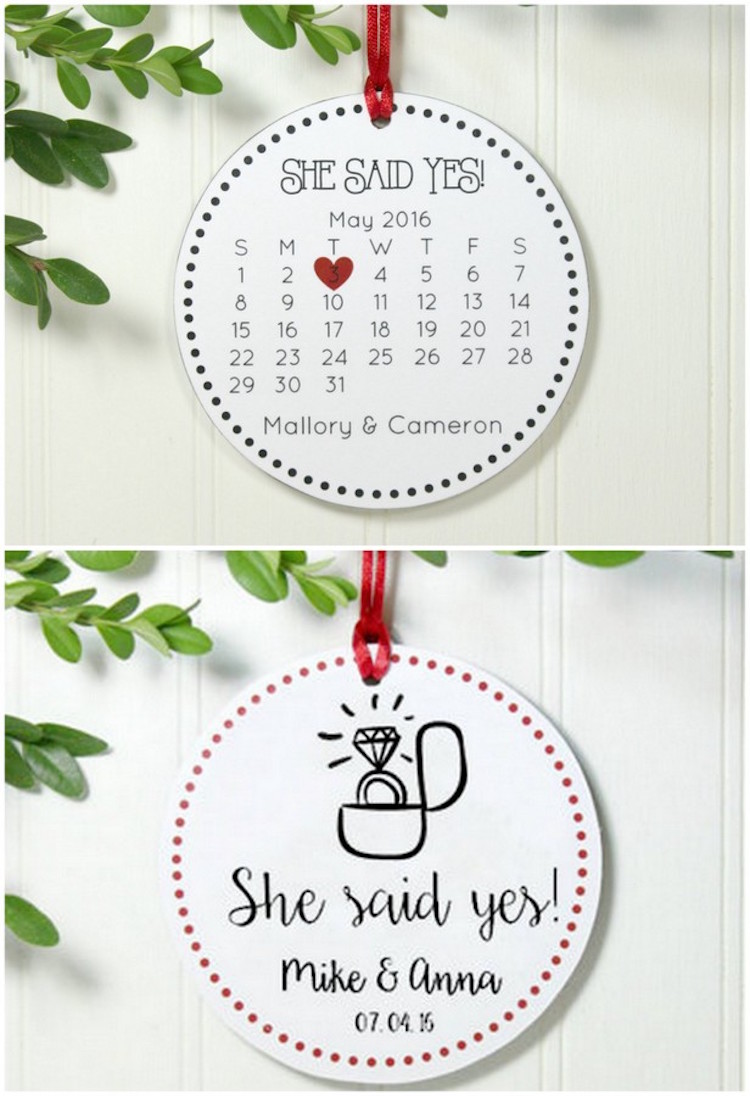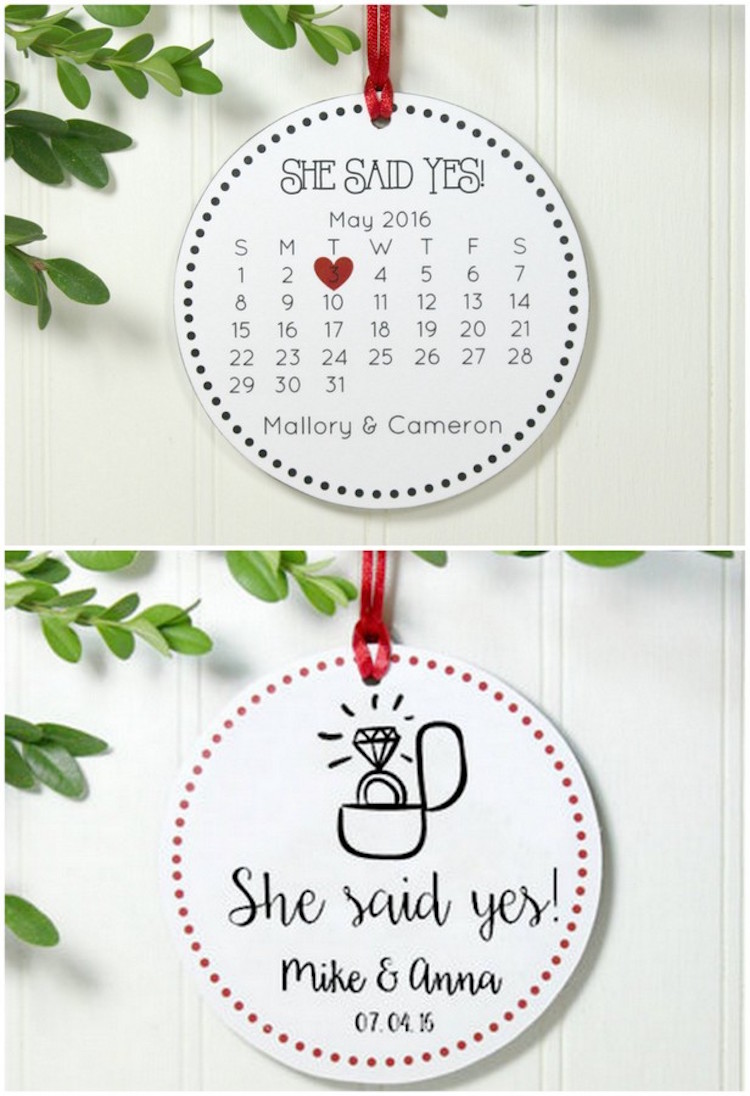 (Above 1st Row) "She Said Yes!" Engagement Calendar Ornament. A sweet heart highlights the day you officially became engaged on this custom engagement calendar ornament, in perfectly festive colours! Check it out here.   // (Above 2nd Row) Engagement Ring Ornament: Add your names and the date of your proposal in black text to this white ornament, plus choose an accent color to match your tree decor! Grab this custom tree ornament here.
 Christmas Engagement Ornaments
(Above Left) Princess Castle Engagement Ornament. This Disney-themed Christmas tree ornament reminds you that a dream is a wish your heart makes. Customize it with your engaged date when you order it from Get Hung Up, here and let the fairy tale continue! // (Above Right) Ceramic Engagement Ornament Christmas Gift. #Treatyoselves with this engaged ornament or get some as thoughtful Christmas ornaments for engaged couples you love. Add the couples' names, their date of engagement, and display with joy! Get it here.
Christmas engagement ornaments
(Above Left) Personalized 'Engaged Ornament'. This diamond design is glittery and great. Commemorate your fiance status by adding your names in a cute script font along with your proposal year. Purchase this engagement ring ornament here. // (Above Right) Floral Heart Custom Engagement Ornament. So pretty and pastel, this flower-filled tree ornament design from PiperLily Studios Design is printed on BOTH sides and comes with a keepsake box for gifting!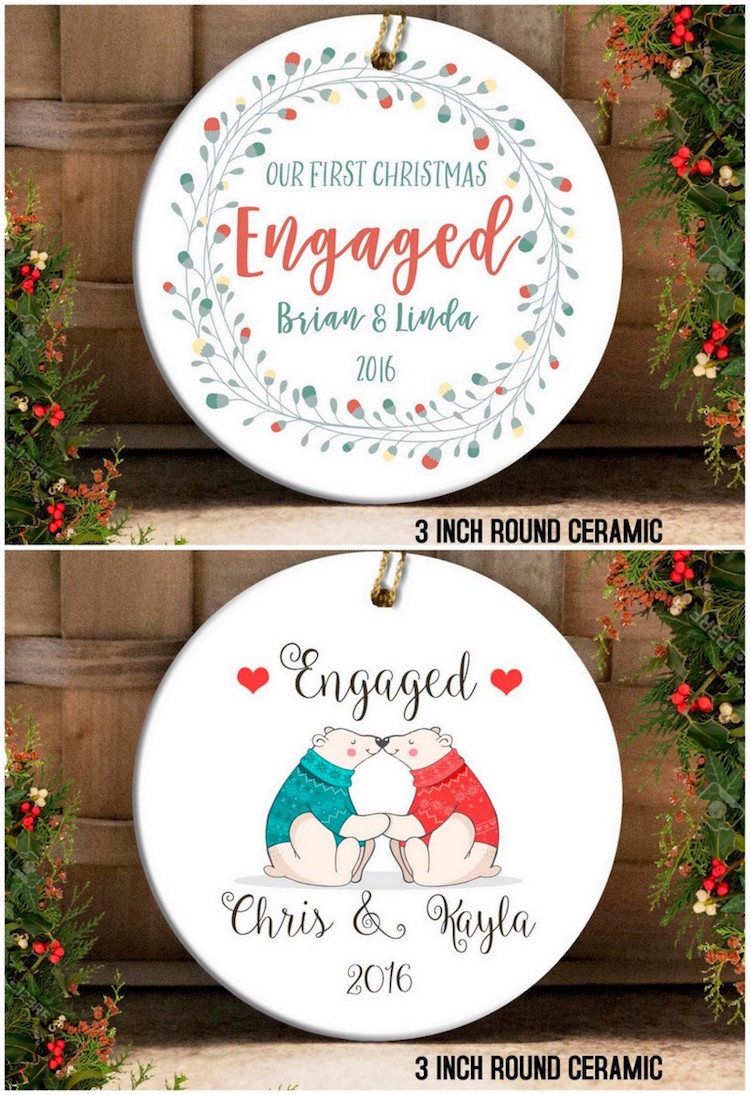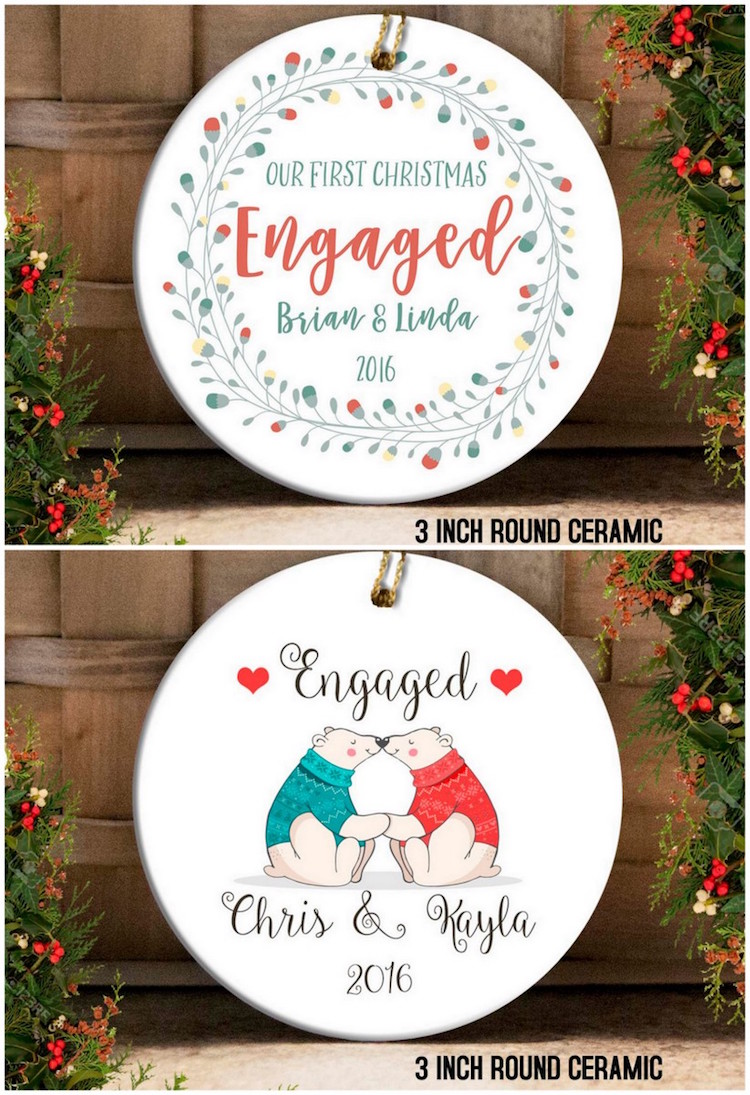 (Above 1st Row) Our First Engagement Christmas Ornament. If you're just recently engaged and celebrating your first Christmas together, you might just love this ceramic tree ornament from  DesignsbyLindaNeeToo.  // (Above 2nd Row)  Engagement Christmas Ornament. How adorbs are these two bears? I bet that they love to snuggle just like that two of you do. <3 Order it for your fiance from DesignsbyLindaNeeToo here.
Here are more sweet, romantic gift ideas for celebrating Christmas together: