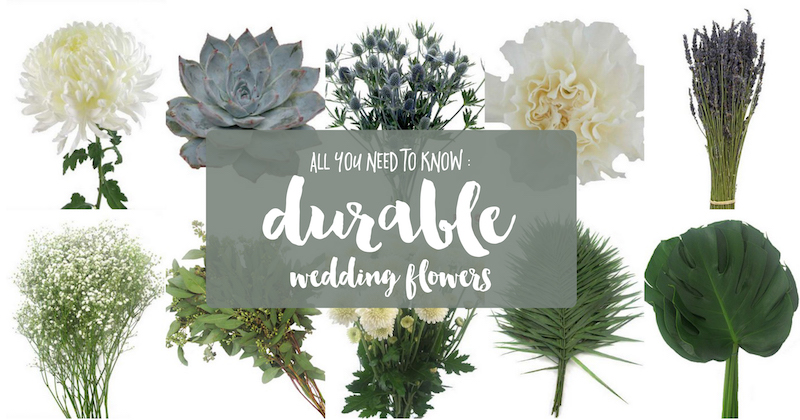 Today we're looking at the most hardy and durable wedding flowers . While all flowers are natural, living things that require the right attention and care, there are some flowers that are easier to work with than most. If you're working with flowers for the first time, traveling with flowers, or plan on having an outdoor event, it helps to work with the most durable wedding flowers possible.
It can be intimidating or impractical to use flowers that require specific temperatures or might bloom too quickly. We reached out to our friend, sponsor and bulk online wedding flower provider Blooms by the Box to find out what the most fuss-free durable wedding flowers are, to make creating your arrangements a little easier!
15 Most Durable Flowers For Your Wedding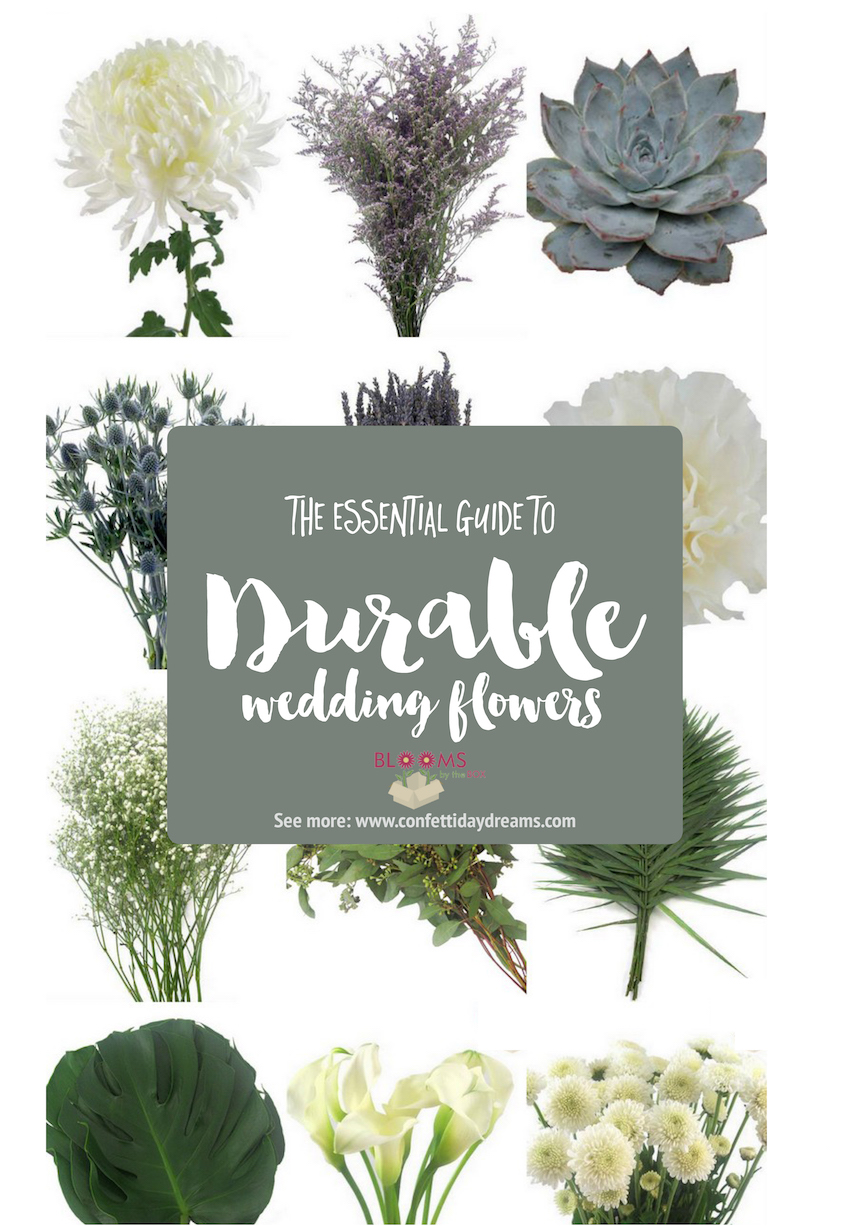 Durable Wedding Flowers:
Succulents – These desert plants can hold moisture in their petals for long periods of time, they require so little water and attention, they're almost impossible to mess up!
Chrysanthemums – Nature perfected the chrysanthemum petal structure to be strong, making it a great choice for floral novices.
Eucalyptus – These lush greens have strong, woody stems that keep the leaves supported. Keep them in shallow water or mist them with a spray bottle so they stay fresh.
Lavender – Whether you buy fresh or dried, lavender looks great in any state because of its tiny buds and lovely scent.
Protea – Protea naturally grows in arid locations and is tolerant of harsh conditions, so it's fuss free and perfect for your outdoor wedding.
Baby's Breath – Because of its small blooms and rough texture, Baby's Breath is very low maintenance, just give it a little water and it's ready to go!
Calla Lily – With their waxy texture and lack of actual petals, Calla Lilies are pretty durable and do very well in high temperatures!
Carnations – If you refresh the water regularly and keep them in the proper environment, Carnations can last up to 3 weeks. Cut the stems above their nodes, this will make it easier for water to travel up the stem.
Fillers – Filler flowers are a great way to add body and texture to an arrangement, and they're very hardy. Wax Flower, Limonium and Statice all have small buds that are easy to work with. Certain fillers like Craspedia and Scabiosa Pods actually dry nicely, extending their vase life by months.
Alstroemeria – Also known as a Peruvian Lily, Alstroemeria is very hardy and comes in an array of bright colors with multiple blooms per stem!
Hypericum Berries – Since there is no actual flower on Hypericum, first timers will have nothing to worry about! These berries are an easy way to add color and texture to any arrangement.
Sunflowers – As long as you support the stems, Sunflowers are easy to care for and add instant cheer to any centerpiece or bouquet!
Thistle – This trendy filler actually dries nicely and its color doesn't fade for weeks, just place it where you want texture in your arrangement!
Roses – While standard roses aren't the strongest flower on this list, they can have a pretty long vase life with the right care and conditions. Not to mention they're timeless, come in a ton of colors, and pair perfectly with any flower.
Tropical flowers – Because of their natural tolerance for extreme heat, tropical flowers are a great option if your worried about your flowers surviving an outdoor wedding. Consider blooms like Anthurium or Birds of Paradise, paired with greens like Palmetto, Sword Fern and Tepee.
Remember, you can purchase all these durable wedding flowers from bulk online floral and sponsor, Blooms By The Box here.
Check out our other wedding flower guides for the names of wedding flowers in your color palette and more cute tutorials below.
Wedding flower tips:
Wedding Flower Dictionary:
Wedding Flower DIY:
Easy Fall Burgundy, Cream + Peach DIY Wedding Boutonniere Tutorial