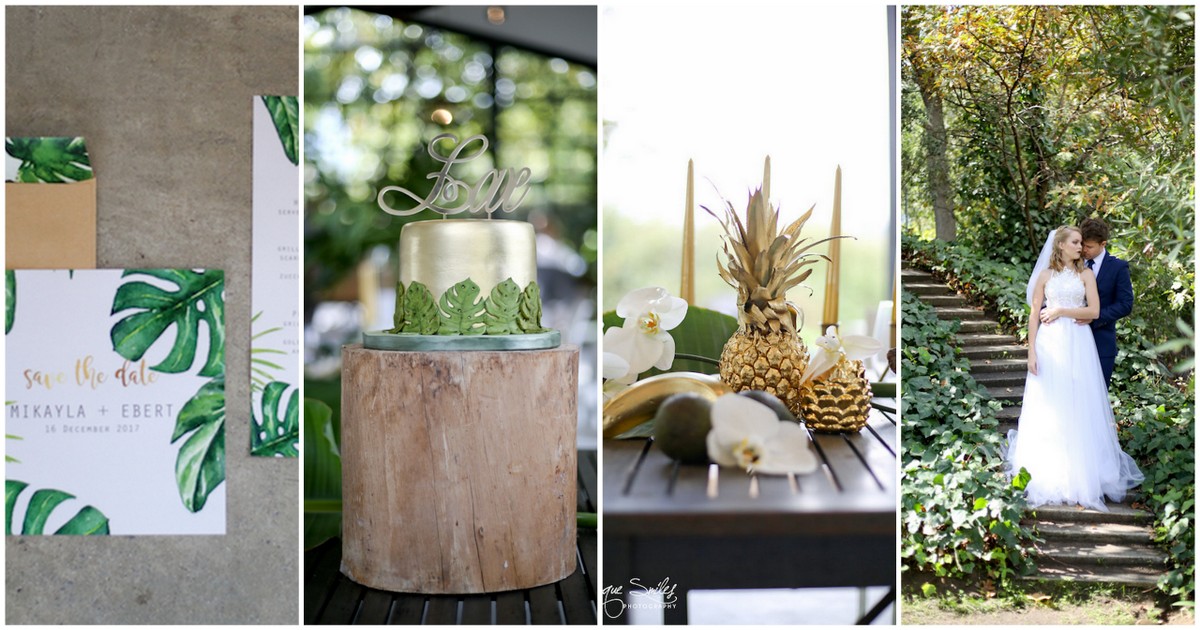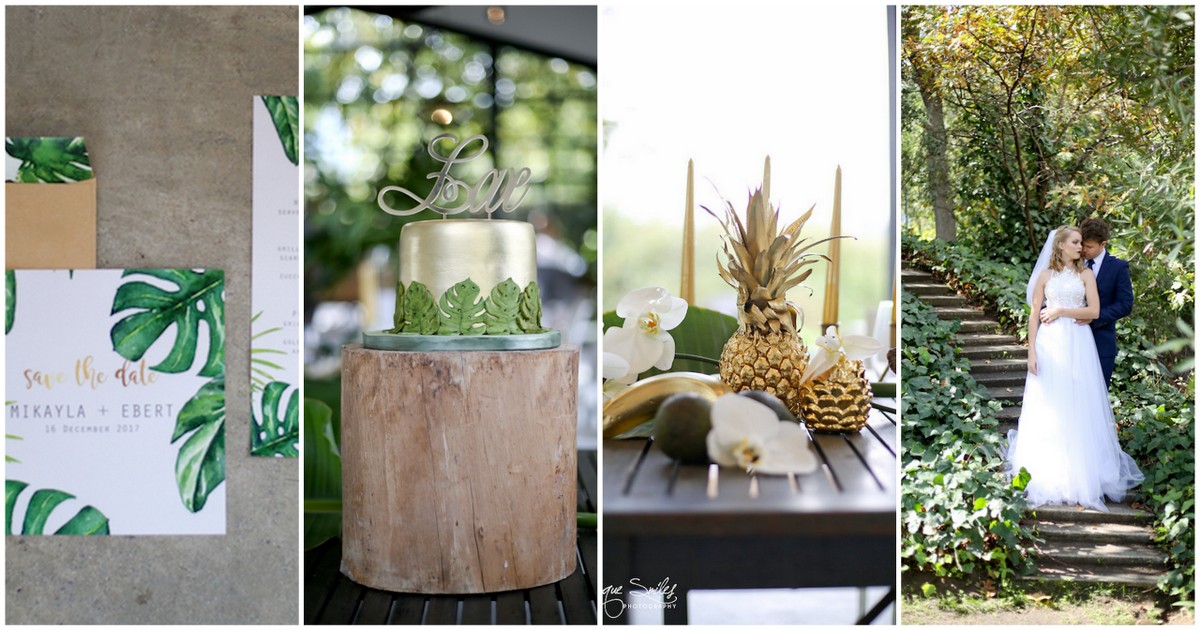 This modern, crisp greenery and gold botanical wedding inspiration by Amo Creative and Monique Smiles Photography is filled with unique and interesting ways to bring the outdoors indoors. A chic, indoor celebration can be just as gorgeously botanical as an outdoor wedding when the venue and details are right. 
Create a clean, minimalistic take on the popular tropical botanical wedding theme with bold color choices and a reception venue filled with light such as The Conservatory in Franschhoek, South Africa.  Build your theme around tropical leaves, working this detail into cake, to stationery and place settings, then finish the theme off with strong metallic highlights of silver or gold.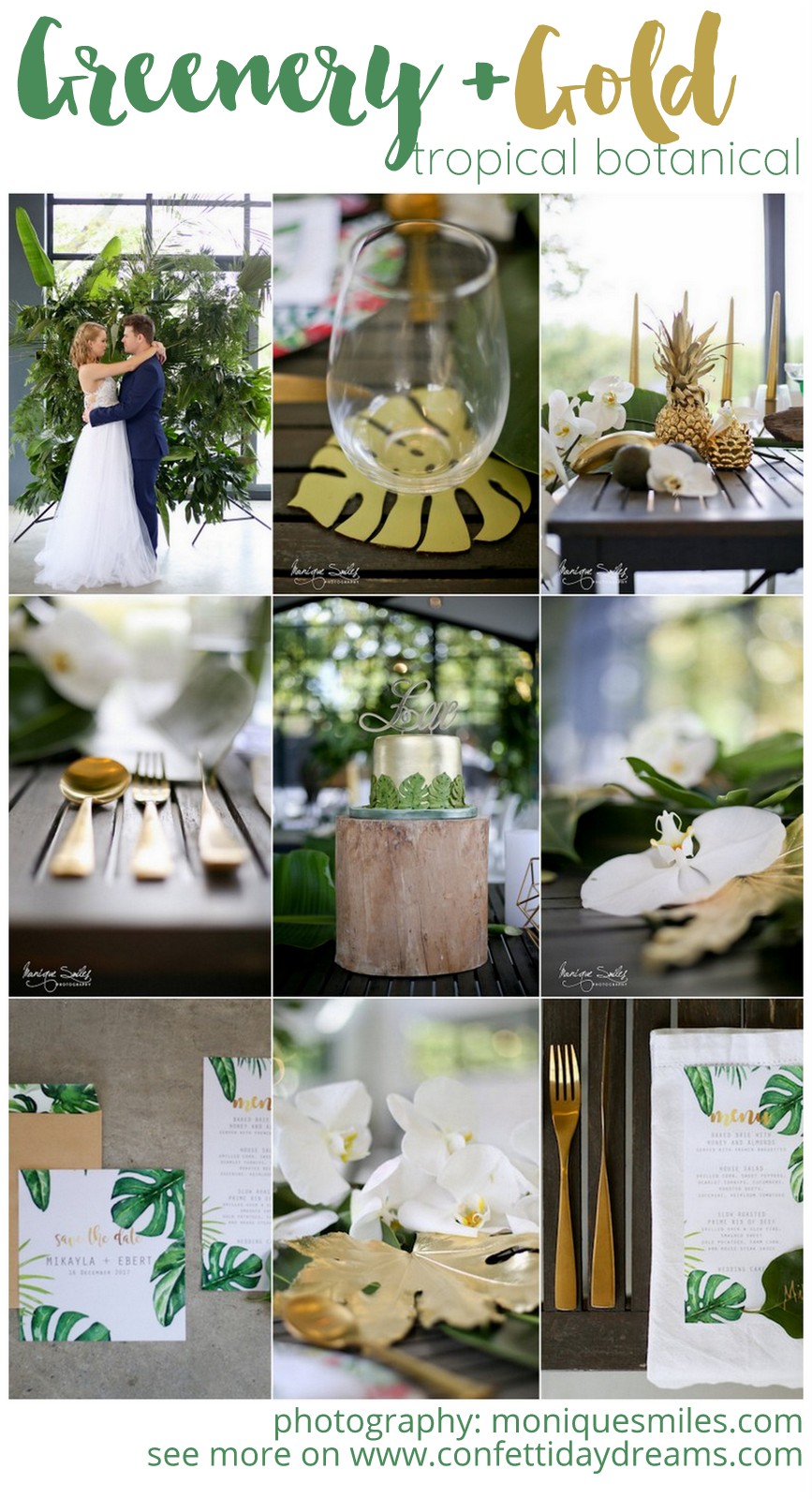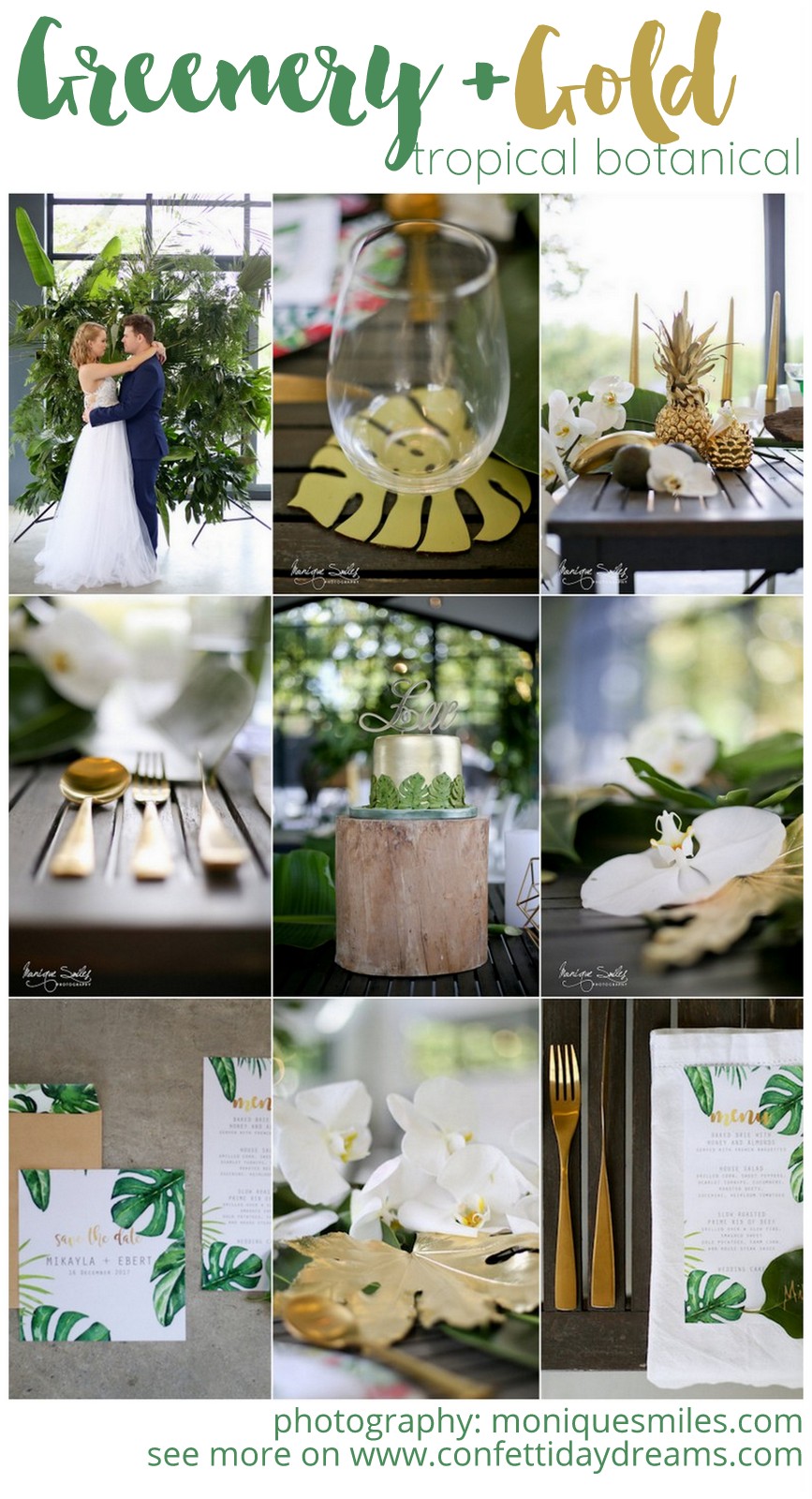 Greenery and Gold Botanical Wedding
Dreaming of recreating a similar indoor wedding paradise for your celebration? Here are stylists advice and tips on how to successfully pull off a greenery and gold botanical wedding theme:
Work with tropical green leaves such as delicious monsters and banana leaves. Juxtapose this against delicate petals such as orchids.
Base your theme around a specific tropical leaf or fruit. Use both its shape and presence throughout your decor choices.
Opt for a statement cake with a leafy motif in your chosen shades of green and gold.
Include your focal leaf in the wedding invitation design, as well as in your menus and place settings. This is an excellent opportunity to use greenery elements to tie in to the theme and color by using gold lettering.
Get creative with tropical fruits and spray paint – think pineapples and bananas sprayed gold alongside delicate fresh florals!
Place leafy greenery like delicious monsters in big clear vases to create height. Decorate the rest of the table with greenery, gold spray painted fruits and golden candles.
A creative greenery backdrop is perfect for taking interesting couple and group photos. This can be achieved by using a stand with wire netting to attach greenery to.
Accessorize with greenery! Think tropical ties, green shoes and colourful green pocket squares!
Greenery and Gold Botanical Wedding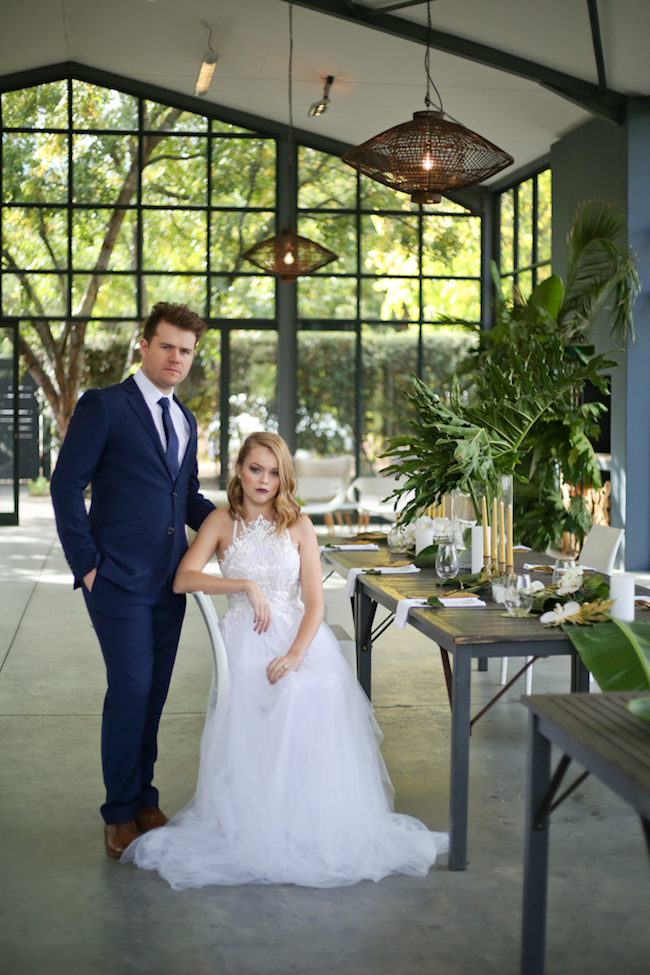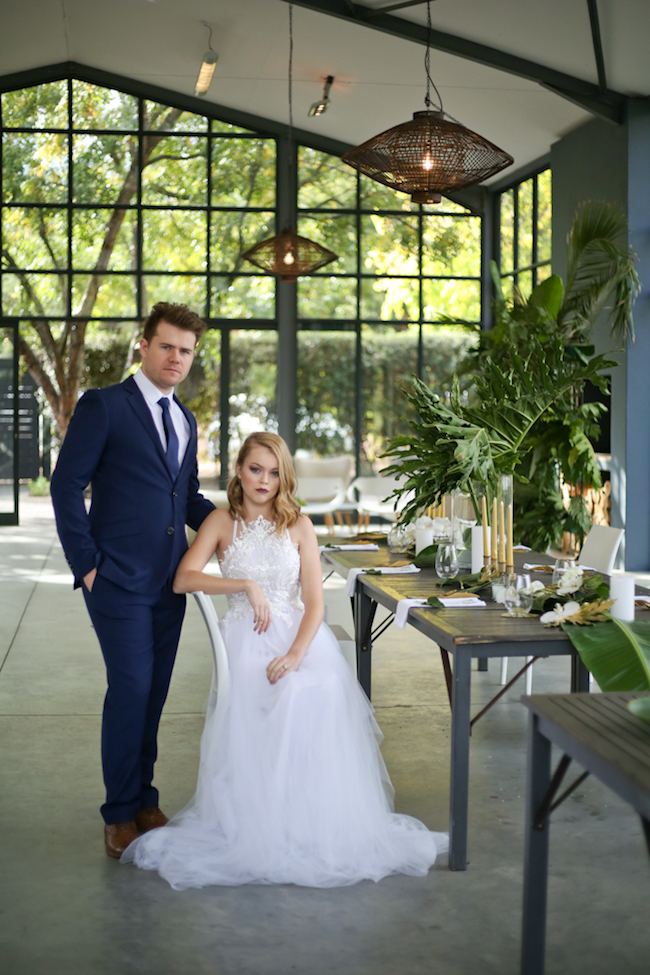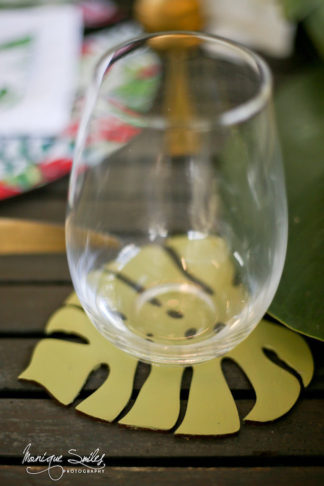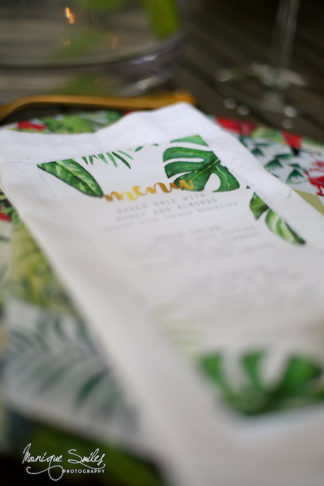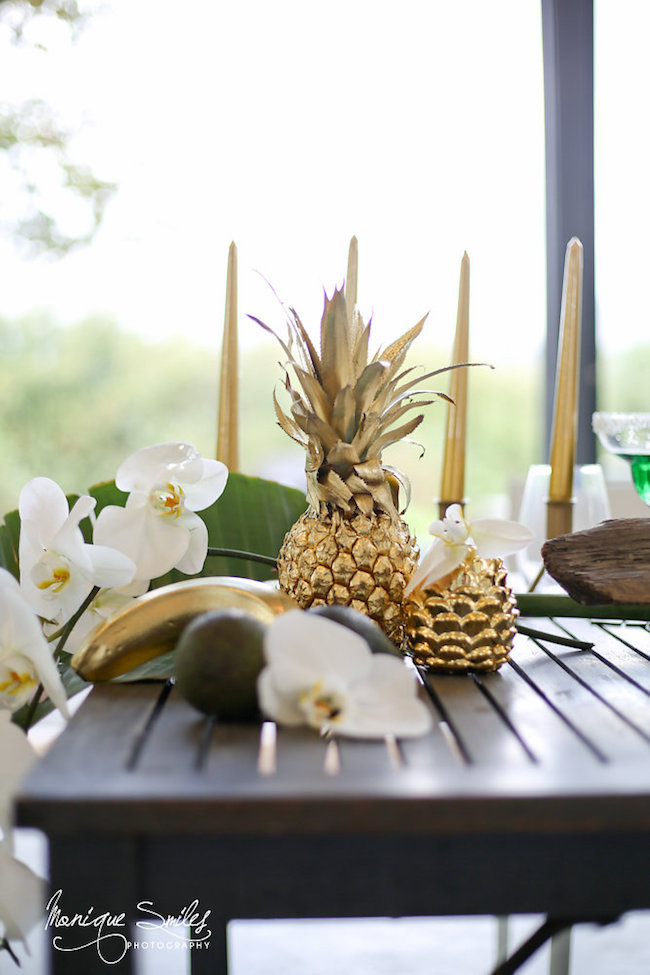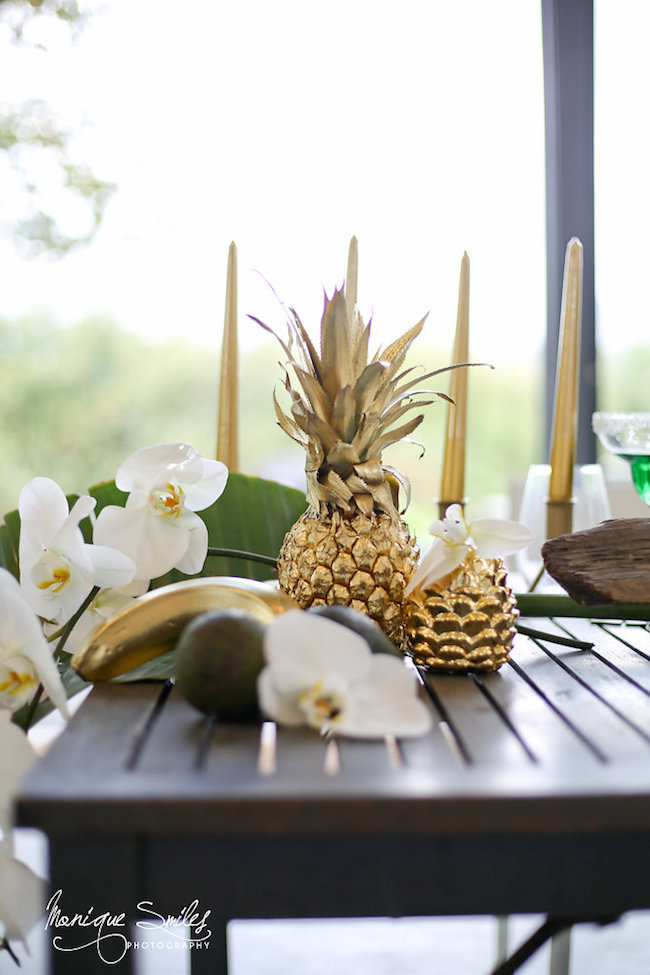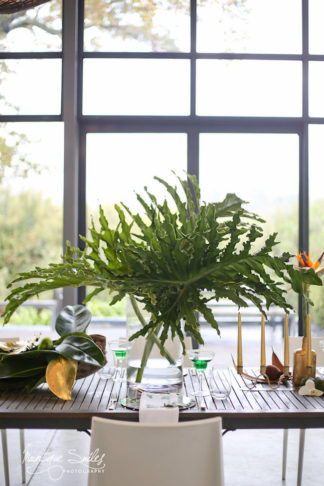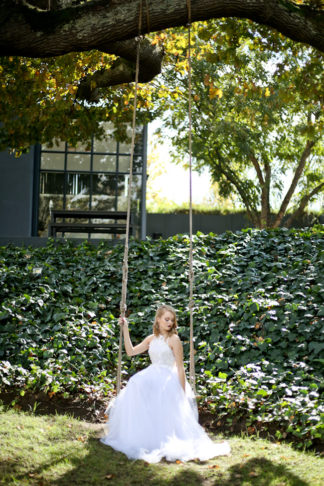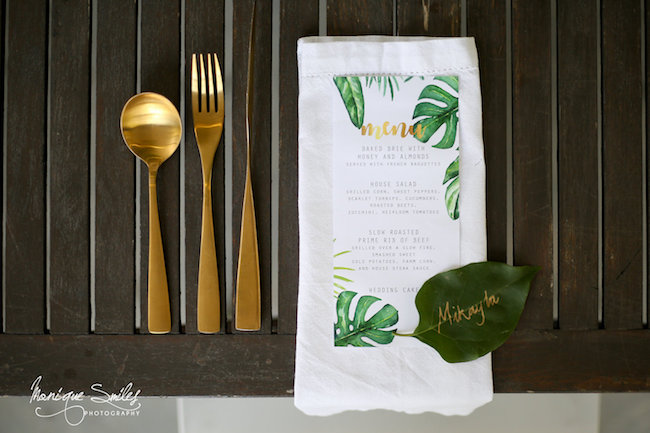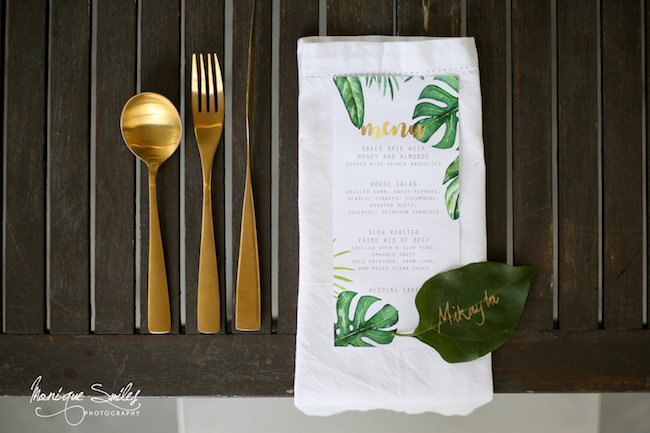 Botanical leaves with gold lettering serve as name cards at place settings featuring gold cutlery alongside menus with botanical detailing and gold text.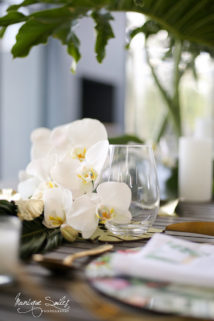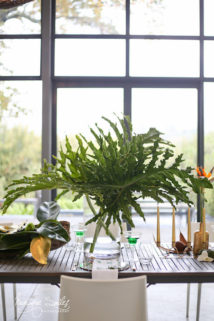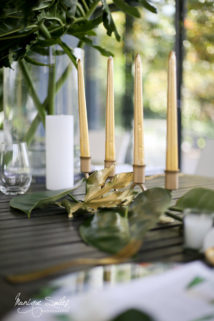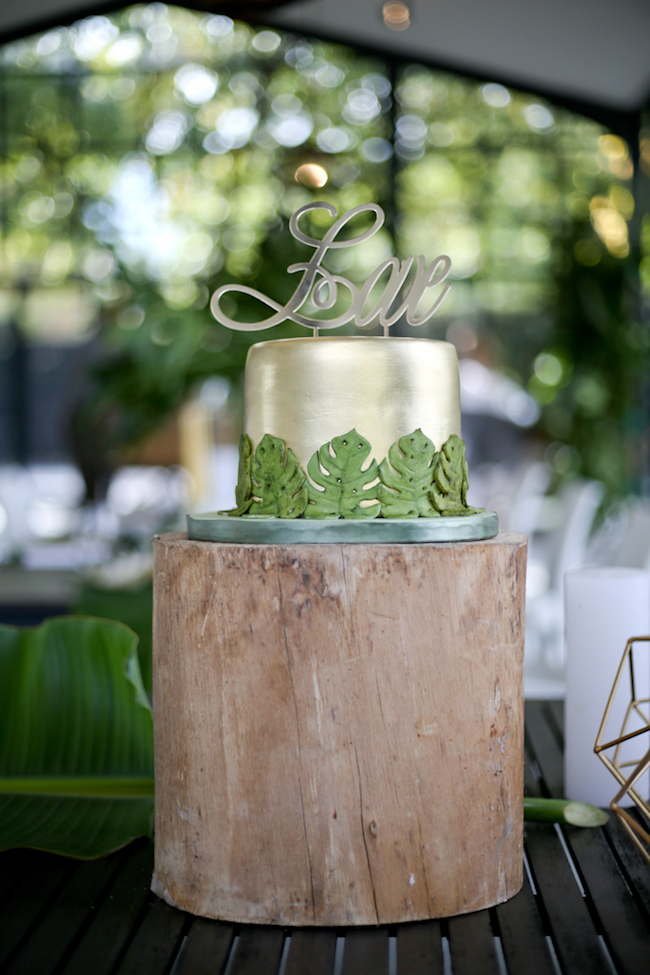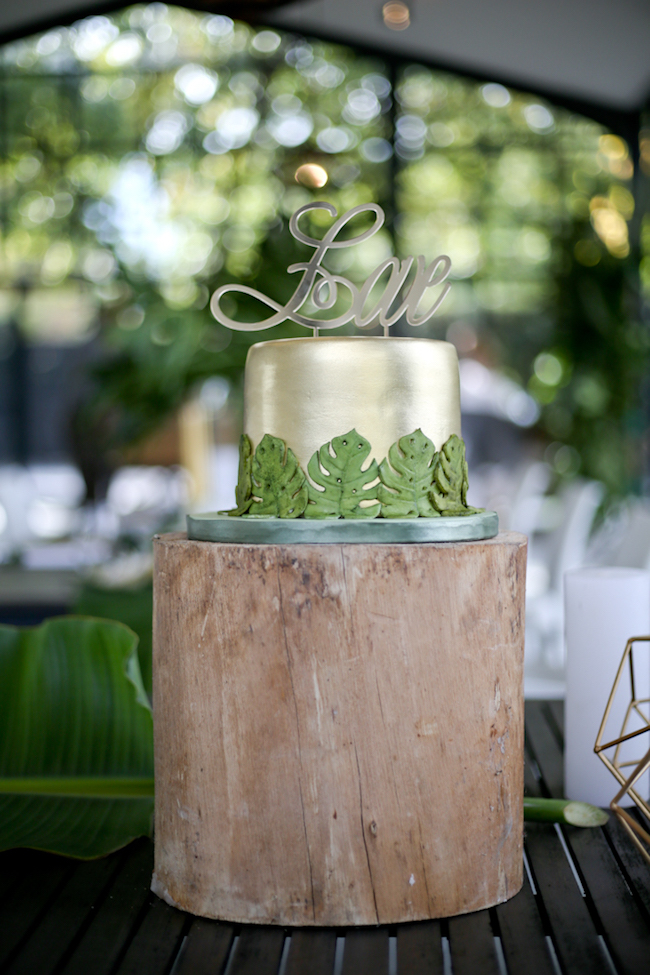 This cake was inspired by the monstera leaf. LiMi Patisserie worked with gold and greenery, creating small monstera leaves at the bottom of its base.
"When you choose a wedding cake, be sure to make sure the inside tastes as beautiful as the outside looks and that you find a cake decorator that has a passion for creating your vision." – LiMi Patisserie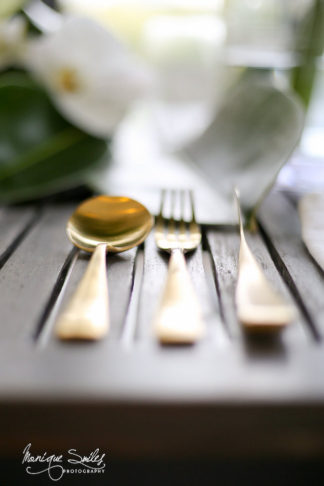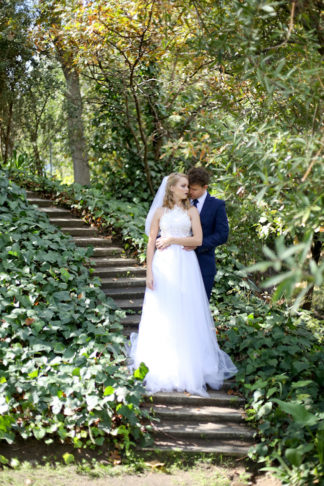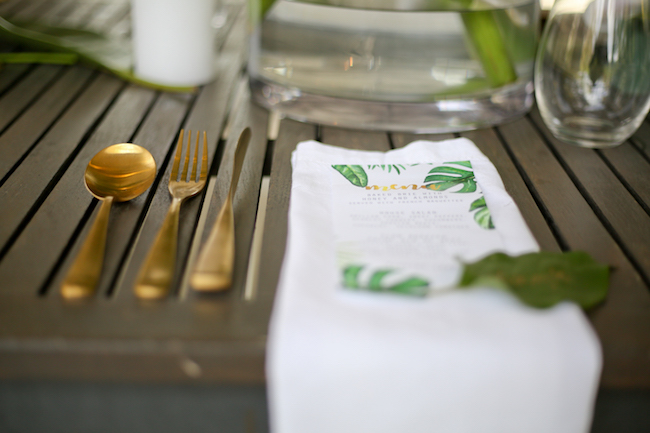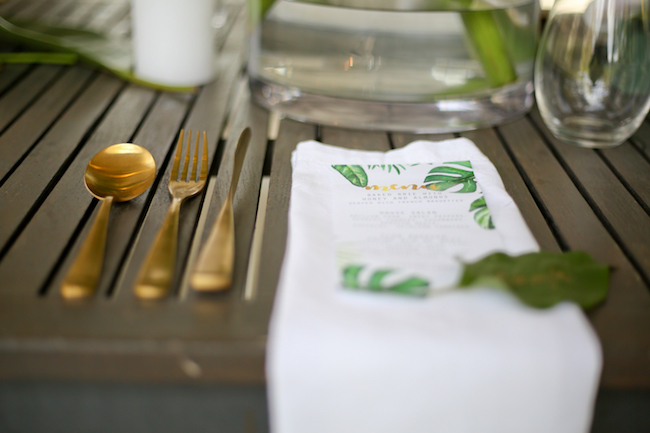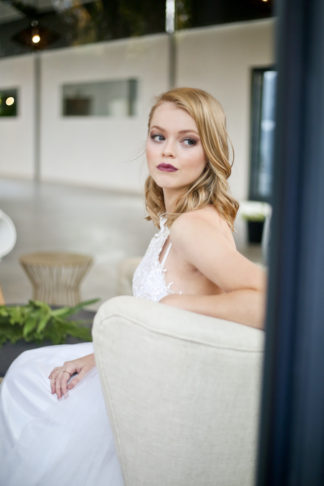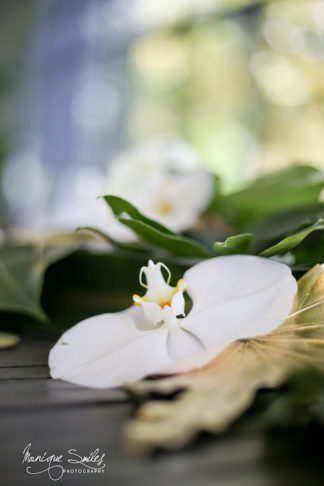 Click here for gorgeous tropical wedding ideas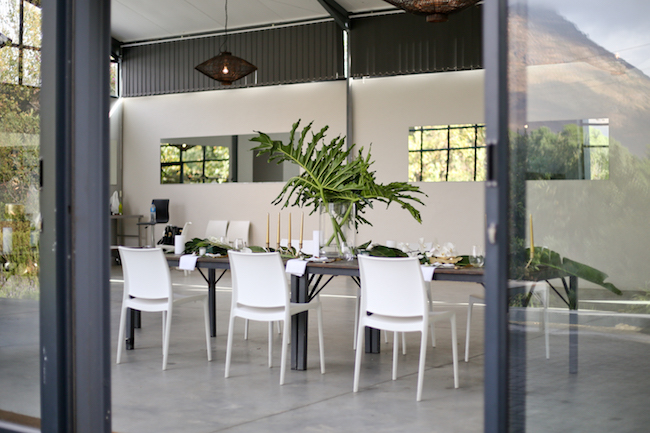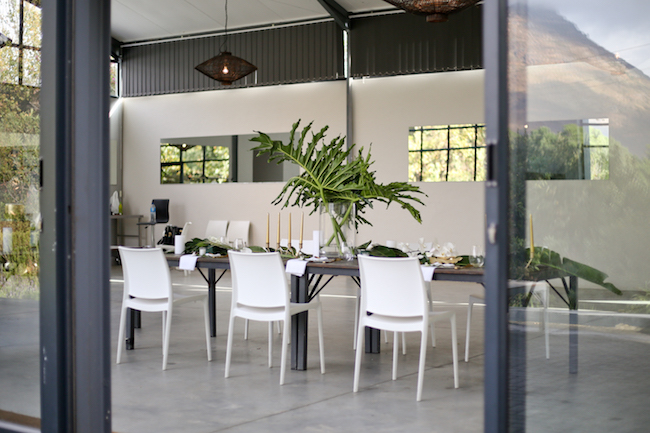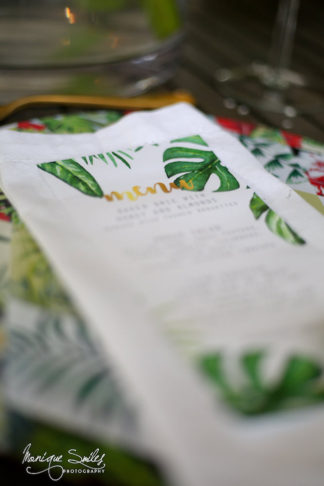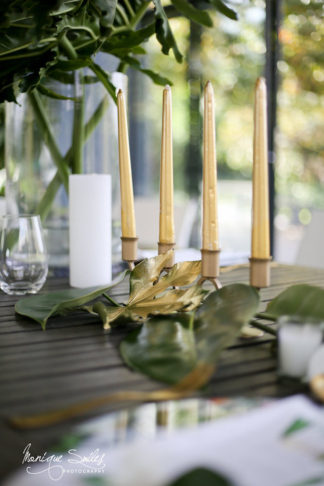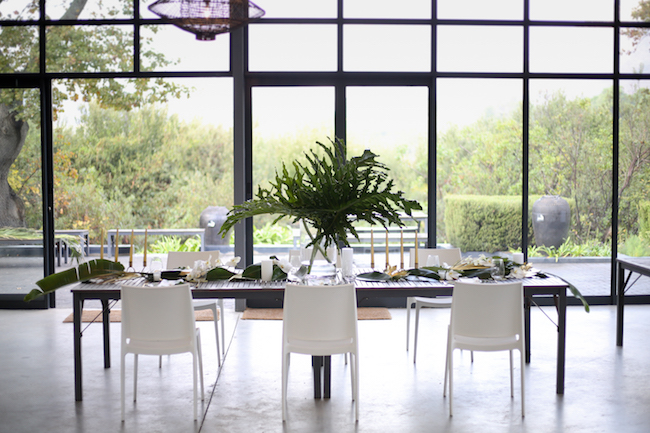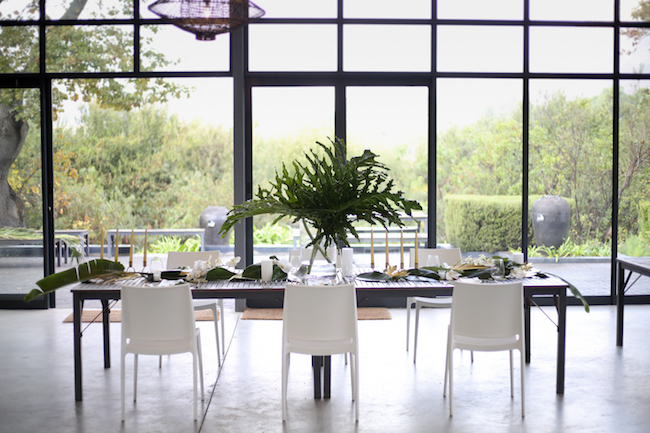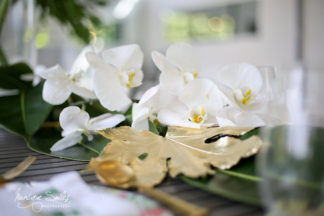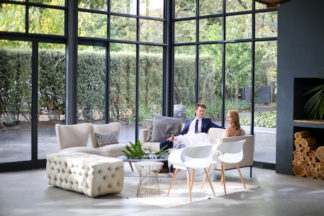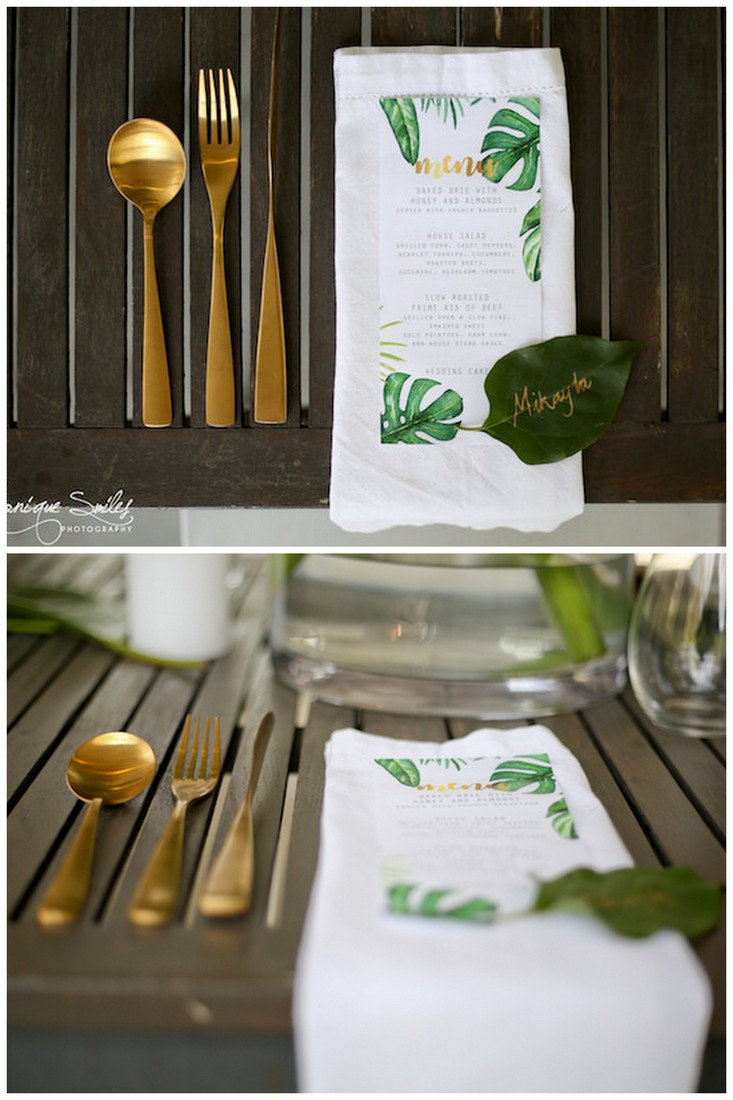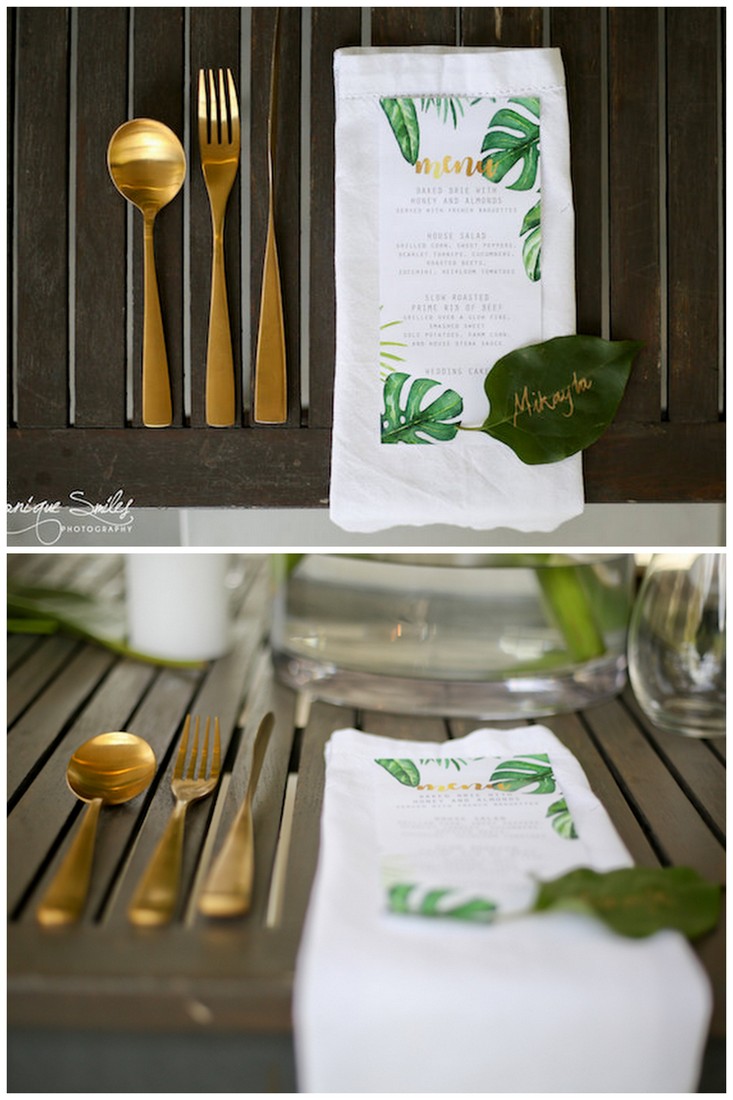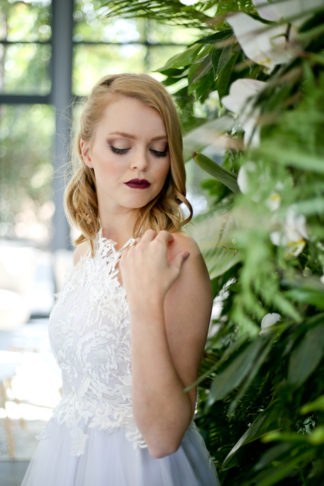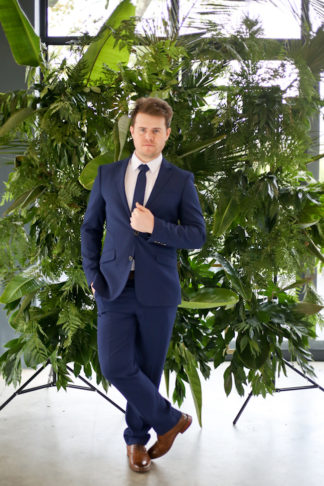 Prentjie Mooi Grimering worked with a mature burgundy lip color to enhance the model's lips. She complemented the models delicate completion with soft, peach cheeks. Her eyes were accented with dark brown shadow and a touch silvery gold. Soft natural wavy curls finished off the look.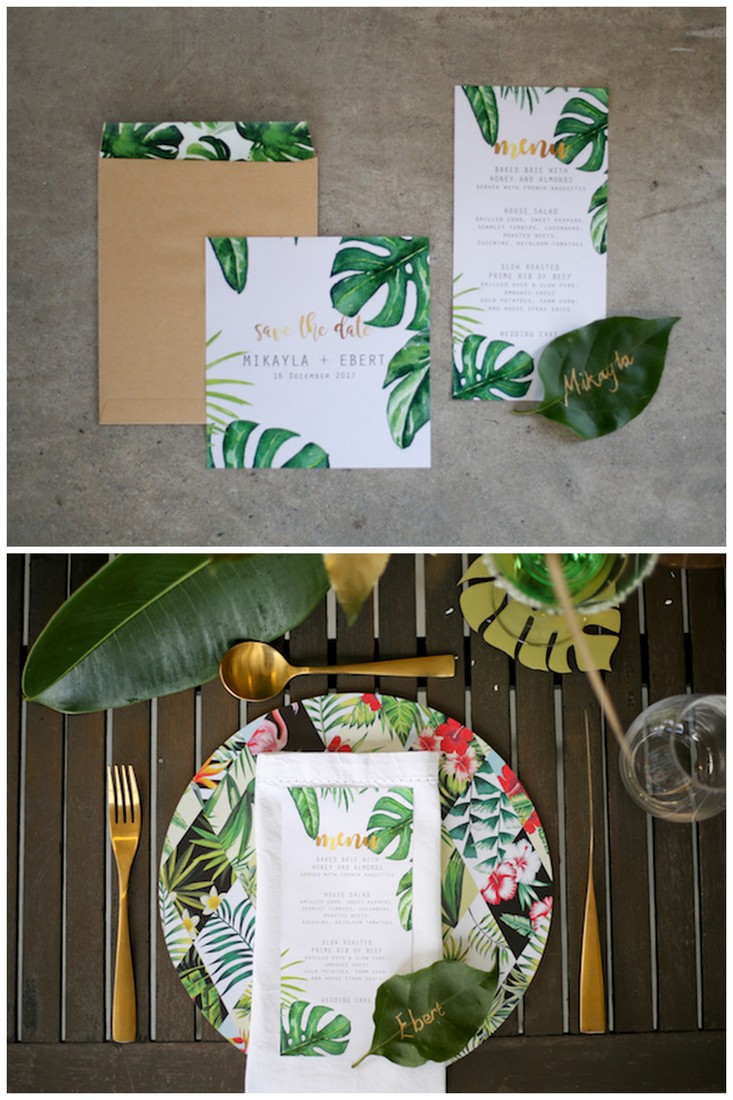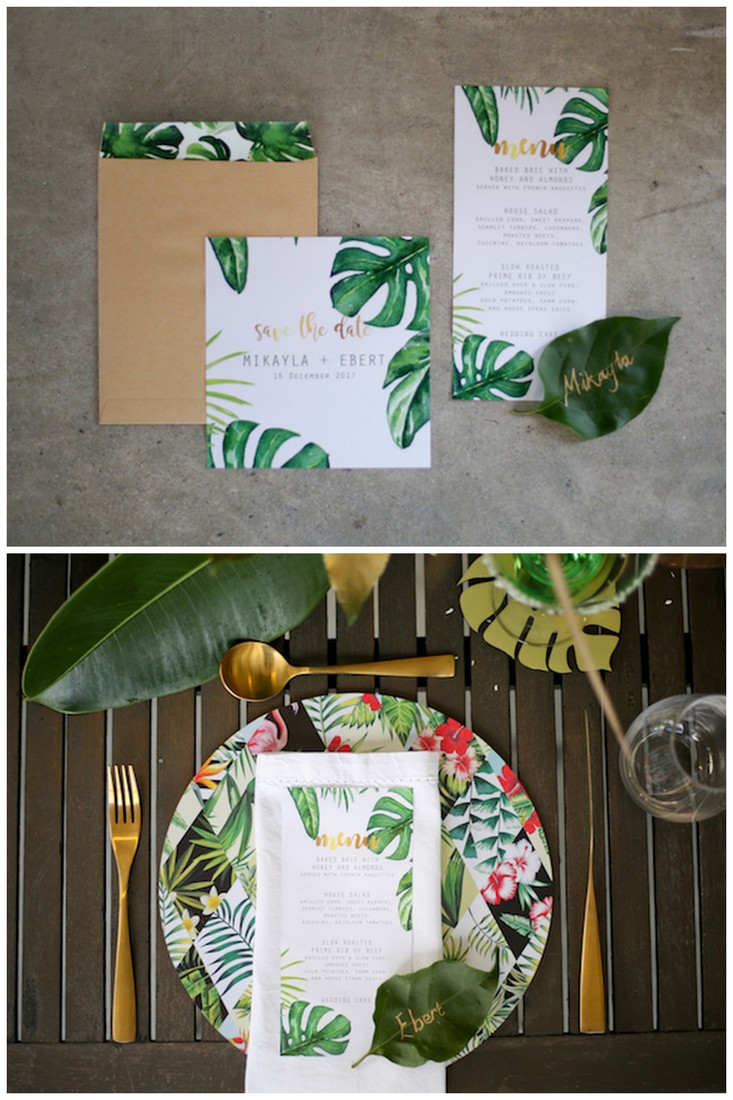 The gown used comes from Zanne Couture's Botanical Collection; its name is Iris. The Iris is modern and clean cut with pure white lace and tulle. A halter top with an interesting embossed lace that criss cross on the back with stretch velvet.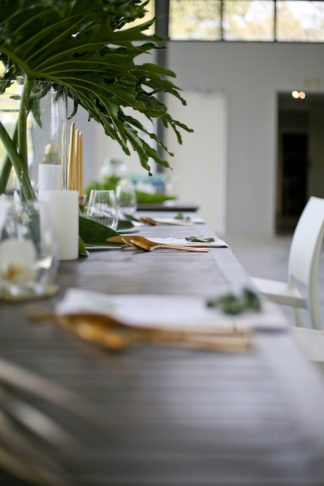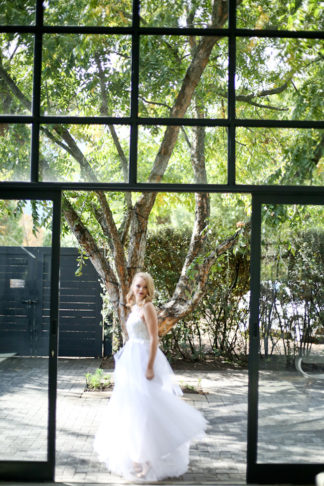 See more tropical and greenery wedding ideas:
Greenery and Gold Botanical Wedding Vendor Contacts: Photography and Stationery: Monique Smiles Photography // Design and Planning Amo Creative // Hair and Make Up: Prentjie Mooi Grimering // Flowers and Greenery Yes Exclusive Flowers // Gowns Zanne Couture // Cake LiMi Patisserie // Coaster and Placemat Design Heidi J Design // Venue The Conservatory // Hiring + Furniture The Lounging Co // Grooms Attire Suit Hire Stellenbosch // Cutlery Rentals Grand Room Design // Models Mikayla Ellam + Ebert Steyn