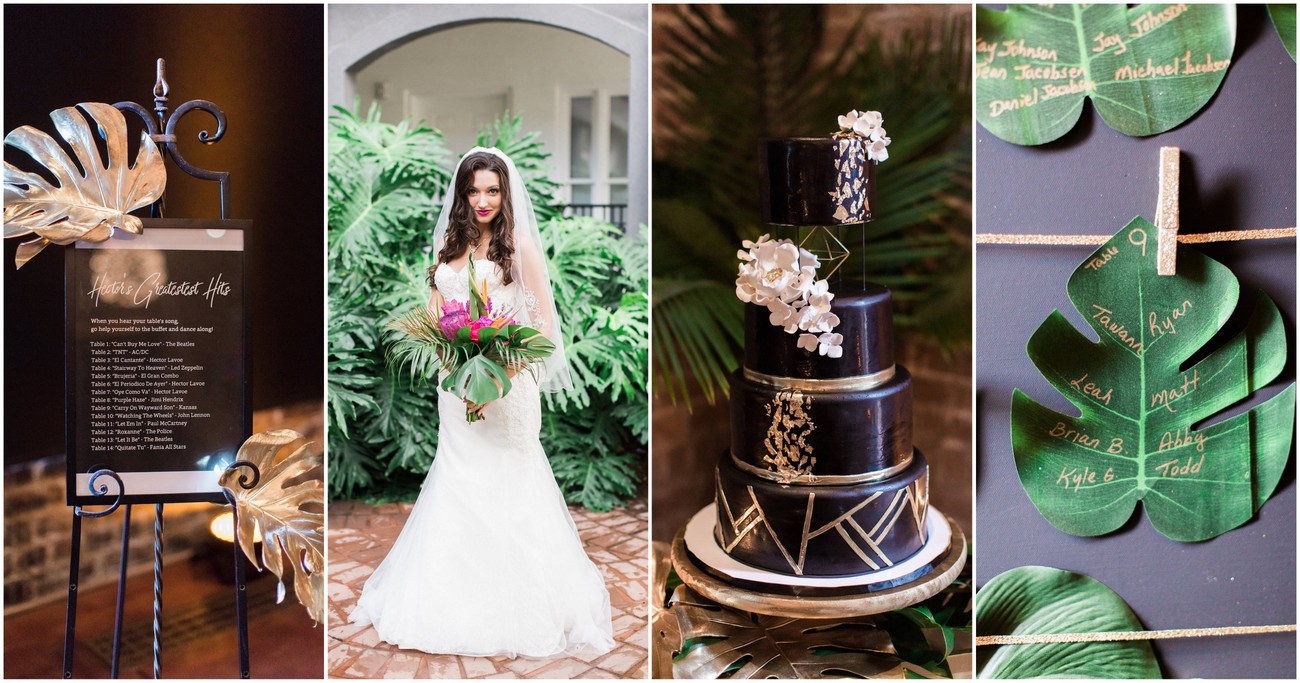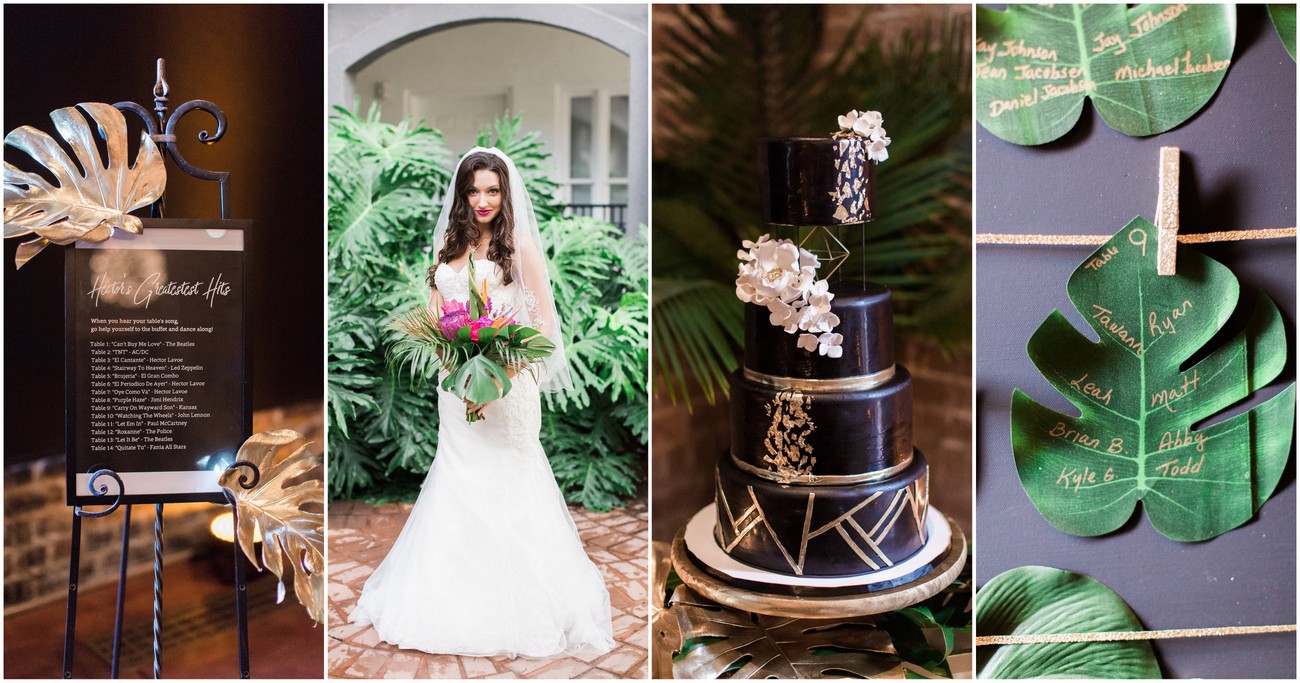 Elisse and Devin's glam gold and black tropical wedding was filled with exotic elegance. Their summer wedding was the perfect opportunity to bring the couple's vision of tropical of paradise to life. Palm trees, exotic flowers and breath taking beaches were their inspiration. Their striking color palette used black, white and gold with pops of teal and fuchsia. Apt. B Photography captured these beautiful images for the couple.
"The day of our wedding was one of the most happy and emotional times of my life simply because I was marrying the man I prayed hard for," says Elisse. "Having our families come from Puerto Rico, Texas, Arizona, the DC area, Virginia, and Tennessee to be there together meant everything to us, but there was one person I wanted to be there more than anything and he couldn't be."
Elisse's papa passed away a few years ago, and it was important that they honored him at their wedding day. "Music was always a big part our lives with him – a way we bonded, connected and created memories together. Every part of our wedding had a musical element that brought honor to my papa and as much as I wanted my papa to be there, it was nice to personalize our wedding in a way that represented him and his life."
Glam Gold + Black Tropical Wedding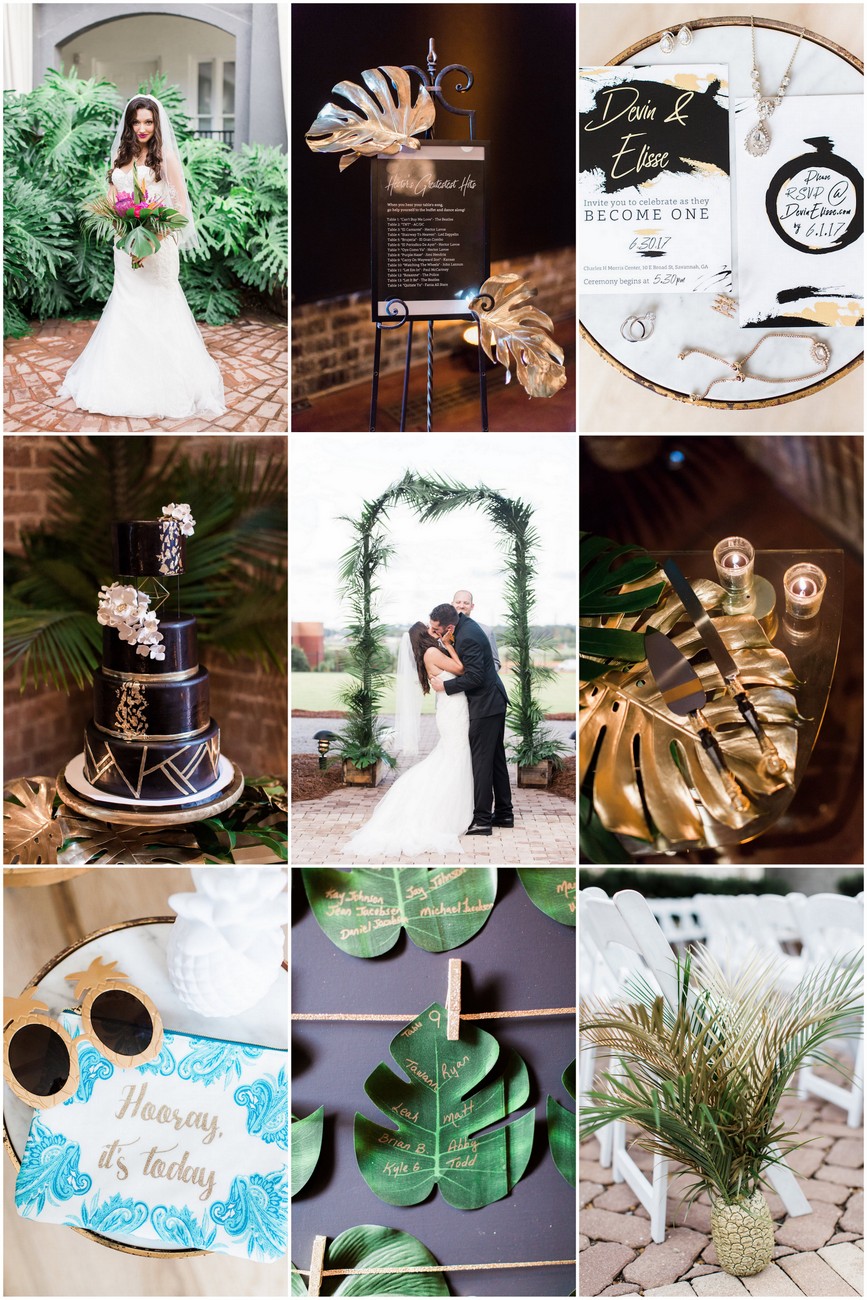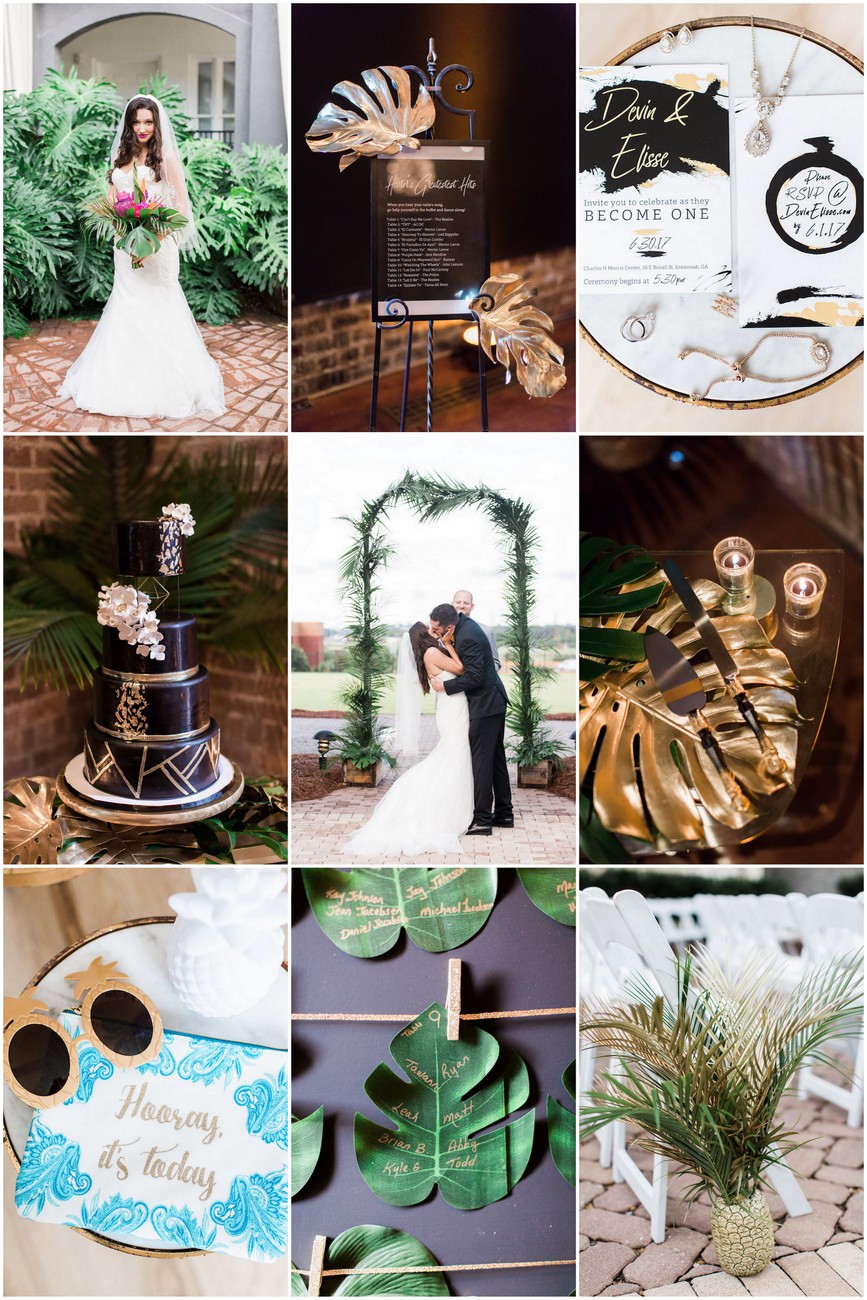 Gold + Black Tropical Wedding
Love Story: Devin and I met at a Thursday-night Young Adults group at our church in downtown Savannah. We became good friends right away and over the course of a few months that relationship grew deeper. Within one year of dating, he asked me to be his forever and he's been my best friend and partner in crime ever since.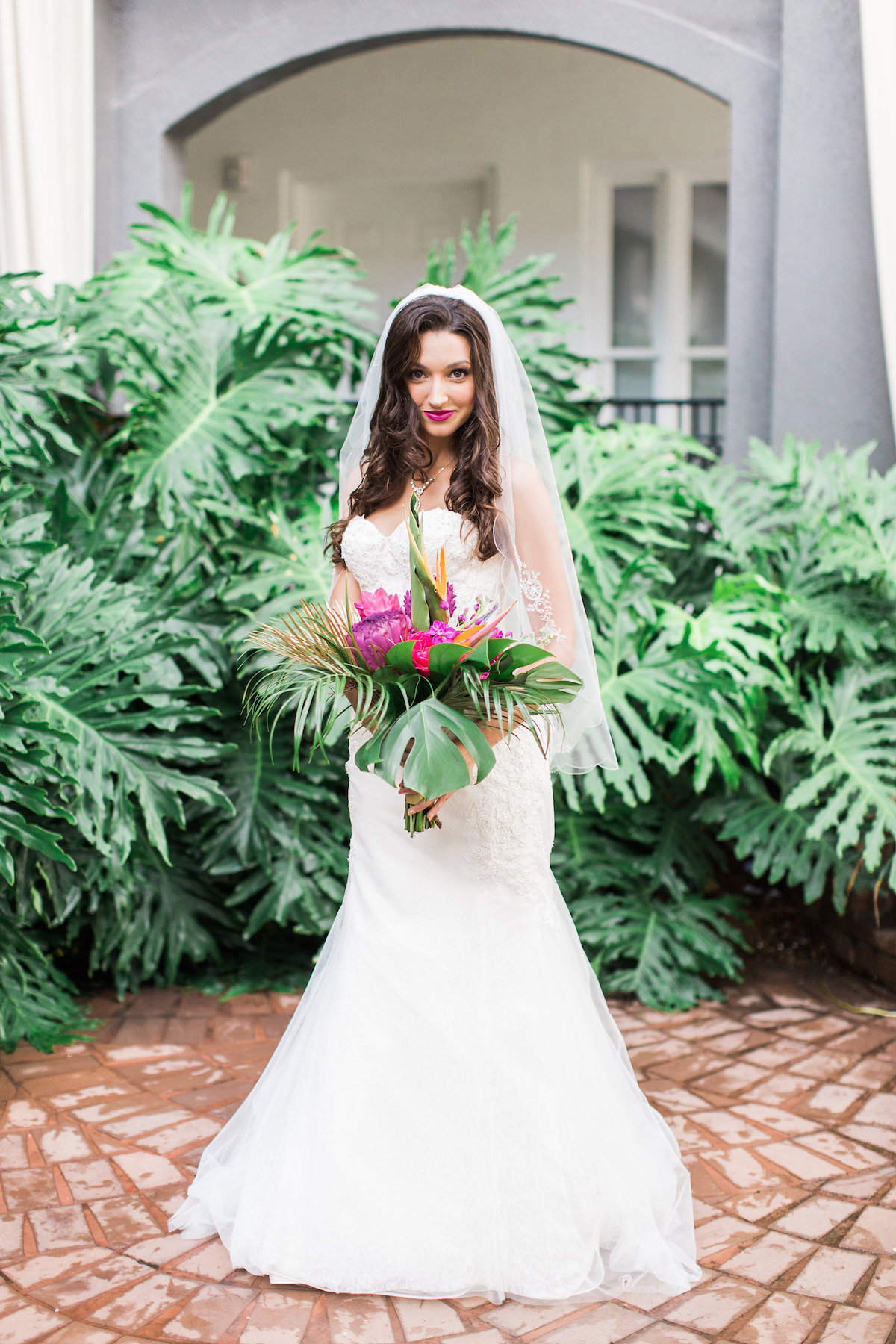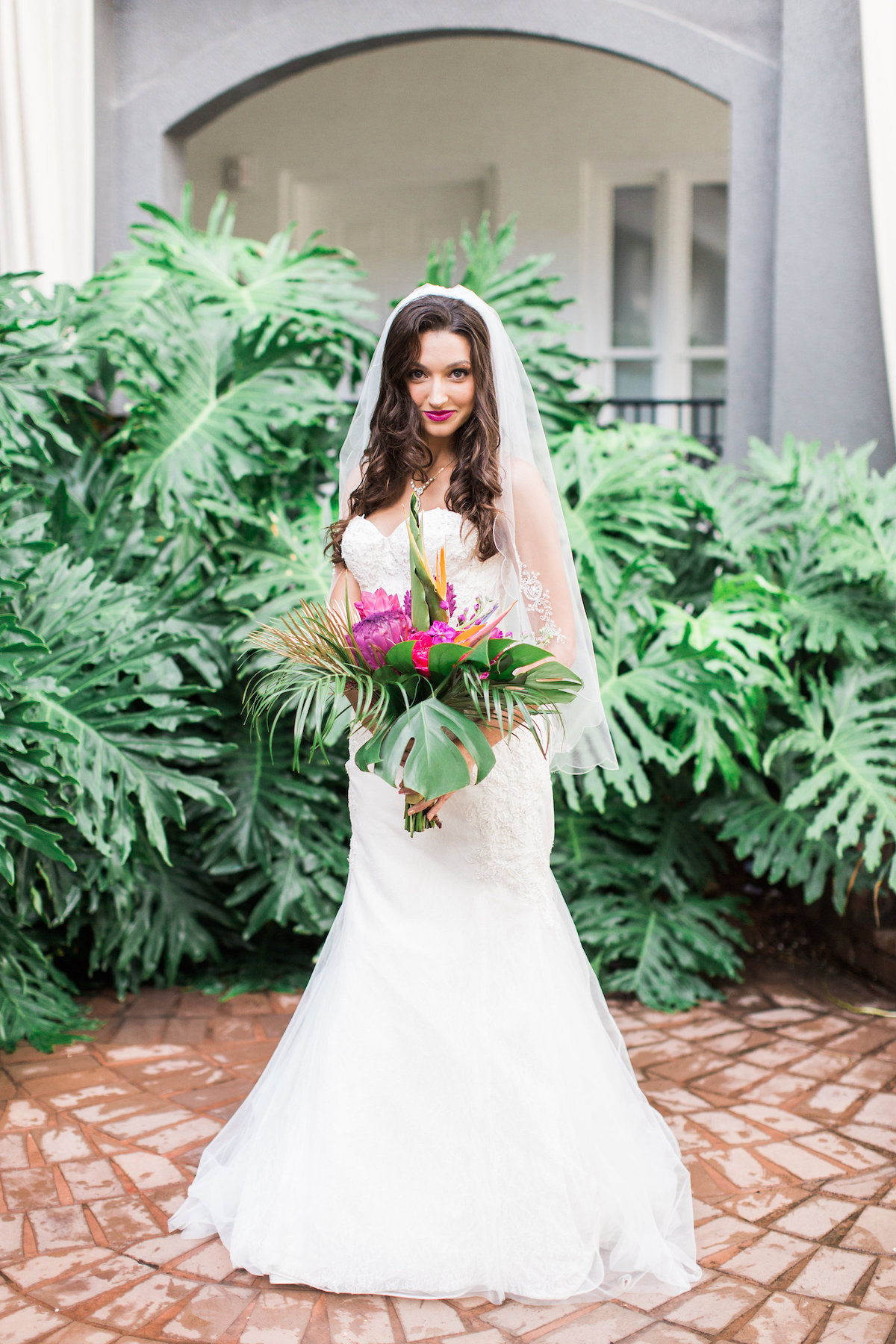 My hair and makeup was done by the incredible Heather Ferguson of Beyond Beautiful. I wore a bright fuchsia lip to compliment the flowers in my bouquet, and my hair down with curls. I wore a trumpet-style Galina Signature gown with a sweet heart neckline.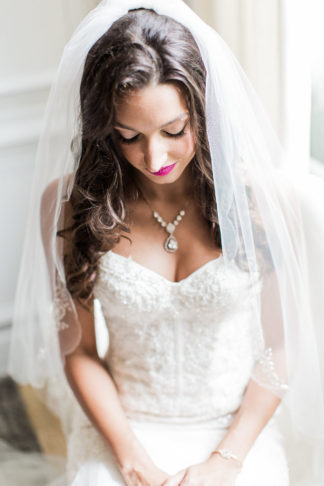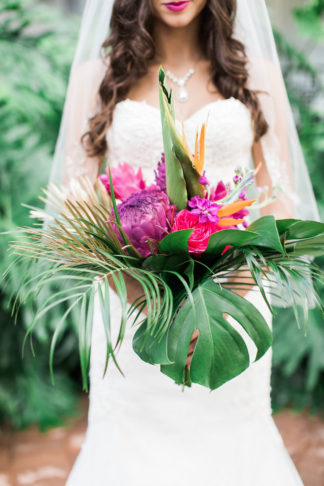 For a tropical wedding I felt it was very important to have exotic flowers and tropical foliage to bring that paradise feel to life. Fuchsia flowers gave a gorgeous pop of color and look stunning up against my ladies teal dresses. Fuchsia gingers, huge proteas, and needle point proteas formed the focal point of the tropical wedding bouquet. We then added cabbage roses, peonies, birds of paradise, regular palm leaves, palm leaves painted in gold, as well as other greenery.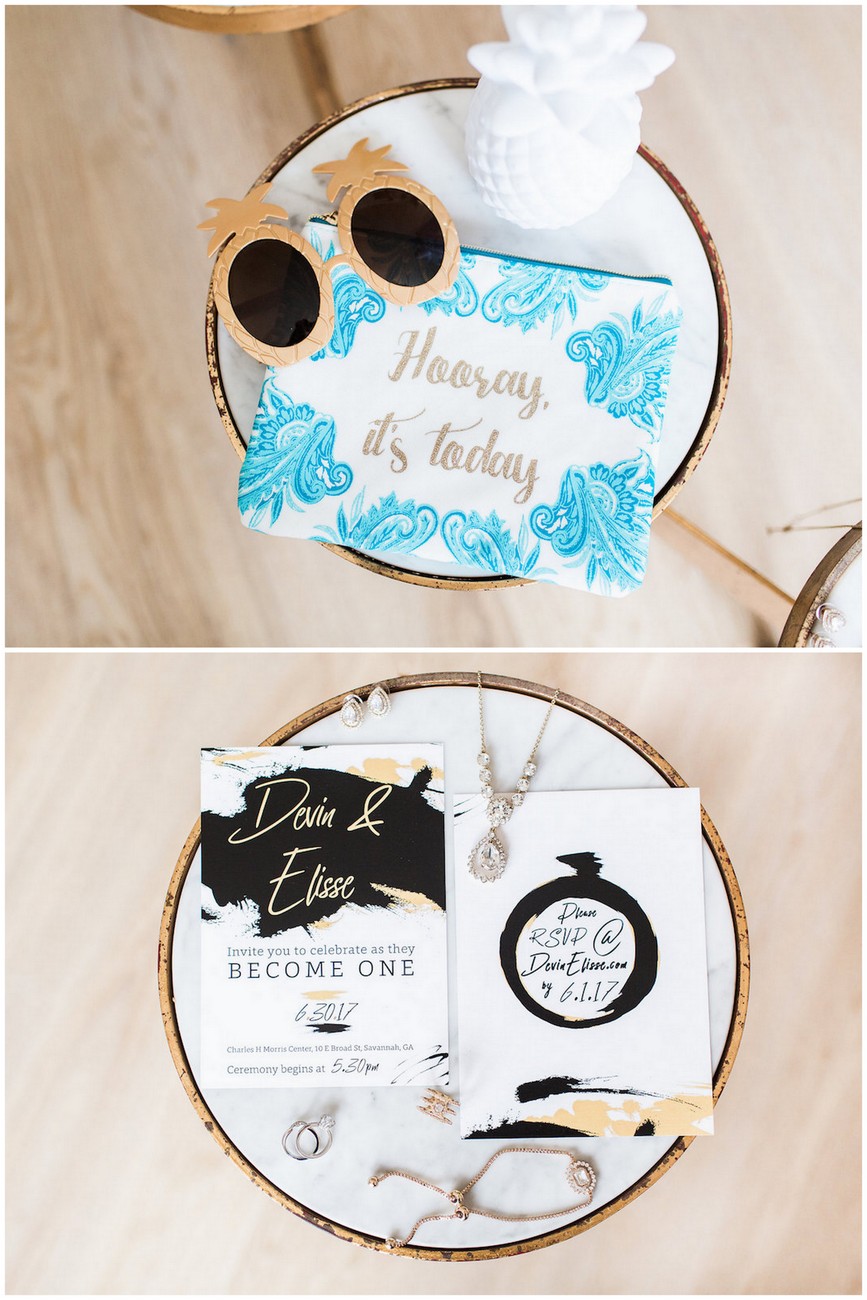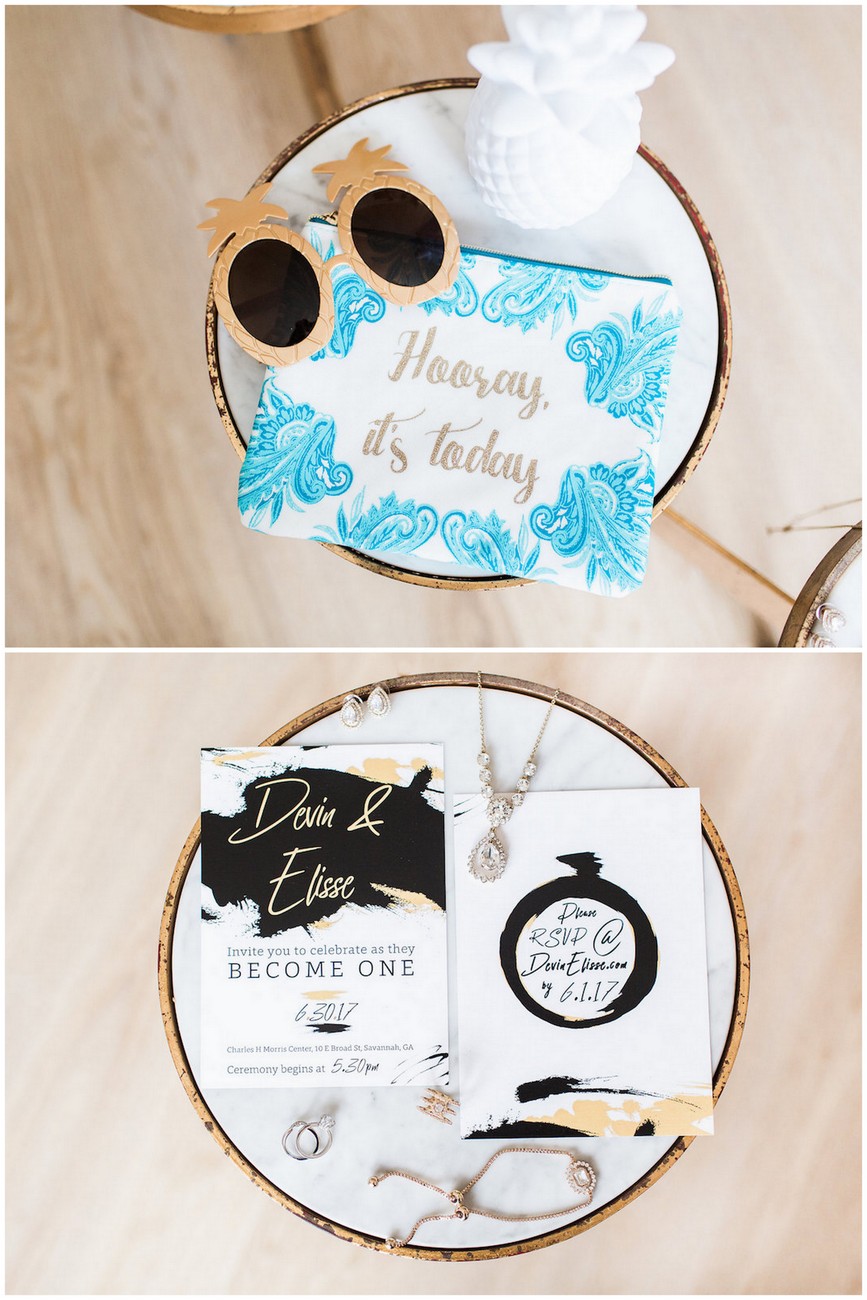 My husband designed a wedding insignia brand for our big day which we used for all our printed items and video. Our guest book had the insignia on a poster that our guests signed with gold pens.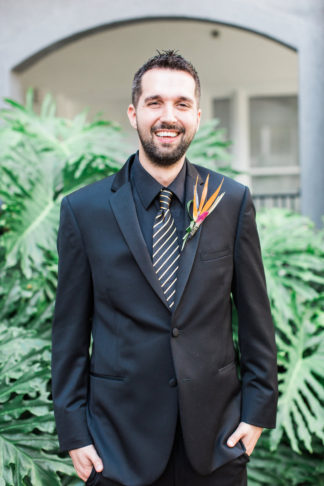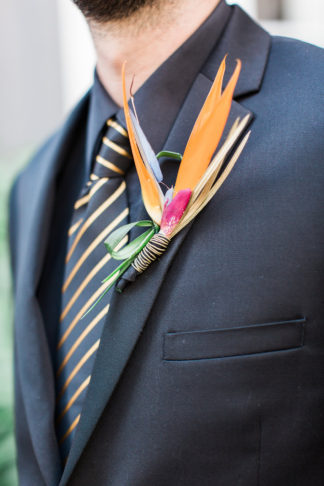 Devin dressed Johny Cash-style in all black. He wore all black so that he would stand out as the groom against his guys. He wore a black undershirt, with a black tux and a gold and black striped tie. A birds of paradise boutonniere wrapped in gold wire added the perfect finishing touch and pop of color.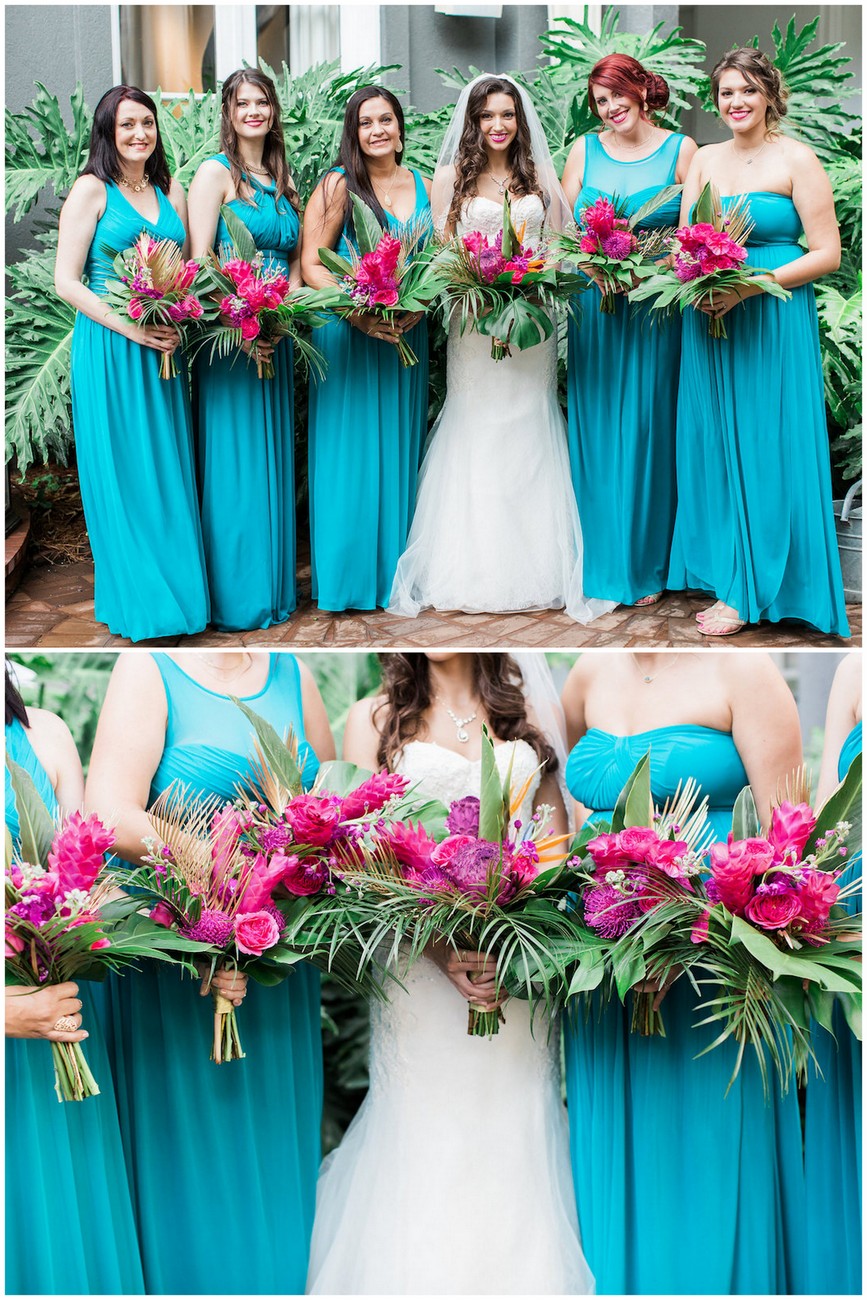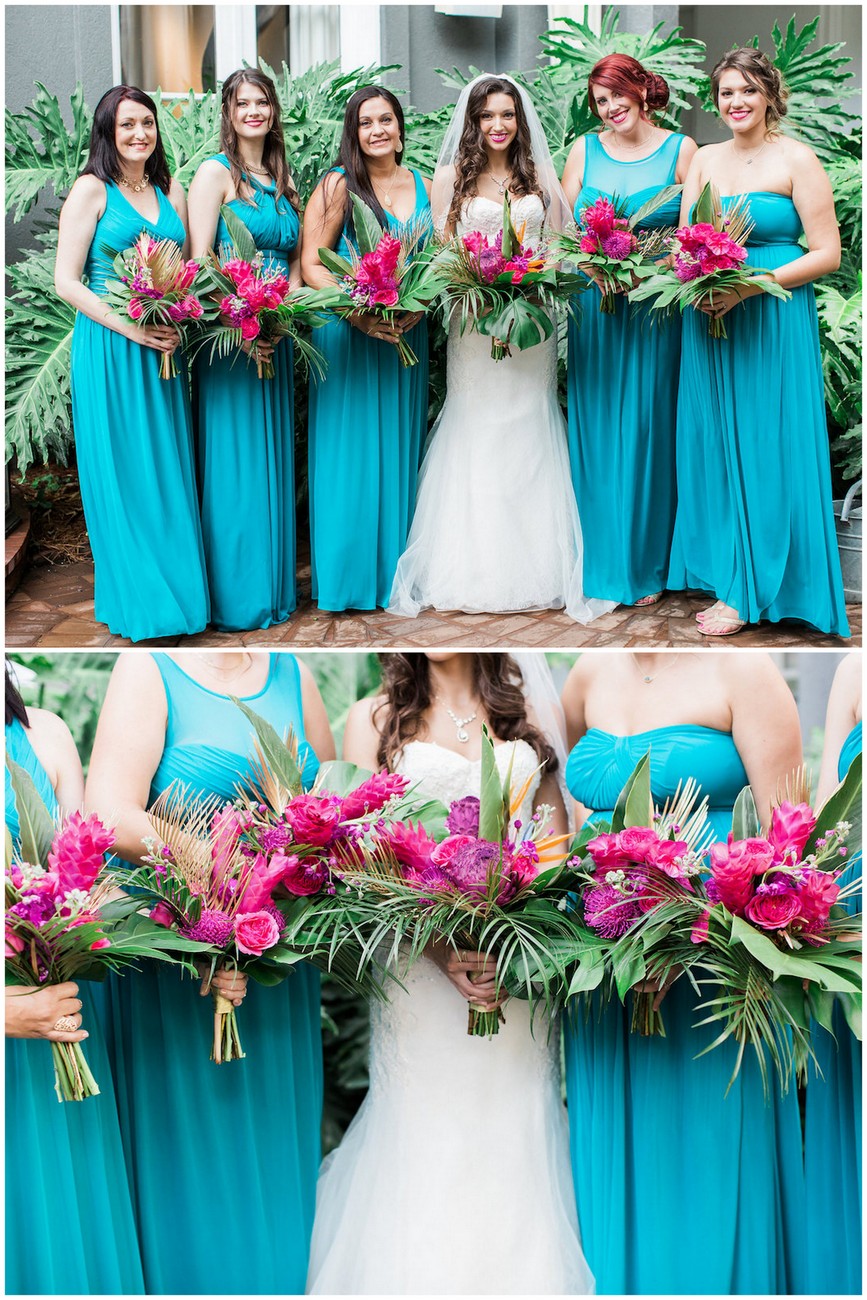 My ladies wore oasis, chiffon convertible dresses from David's Bridal with gold heels and gold jewelry of their choice to compliment the look. My bridesman wore a black and white tux, with a teal tie to match my ladies dresses. My flower girl wore a mid length gold sequin, ivory dress. The groomsmen wore classic black and white tuxedos with black ties.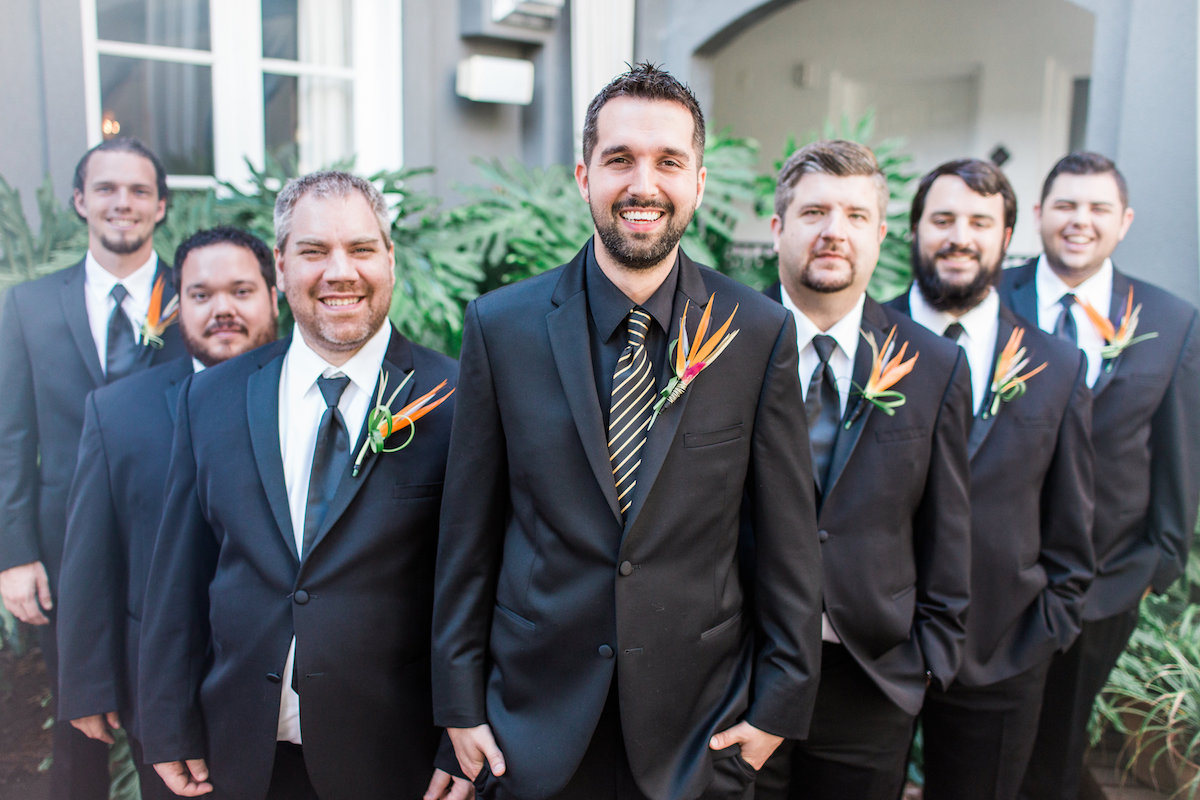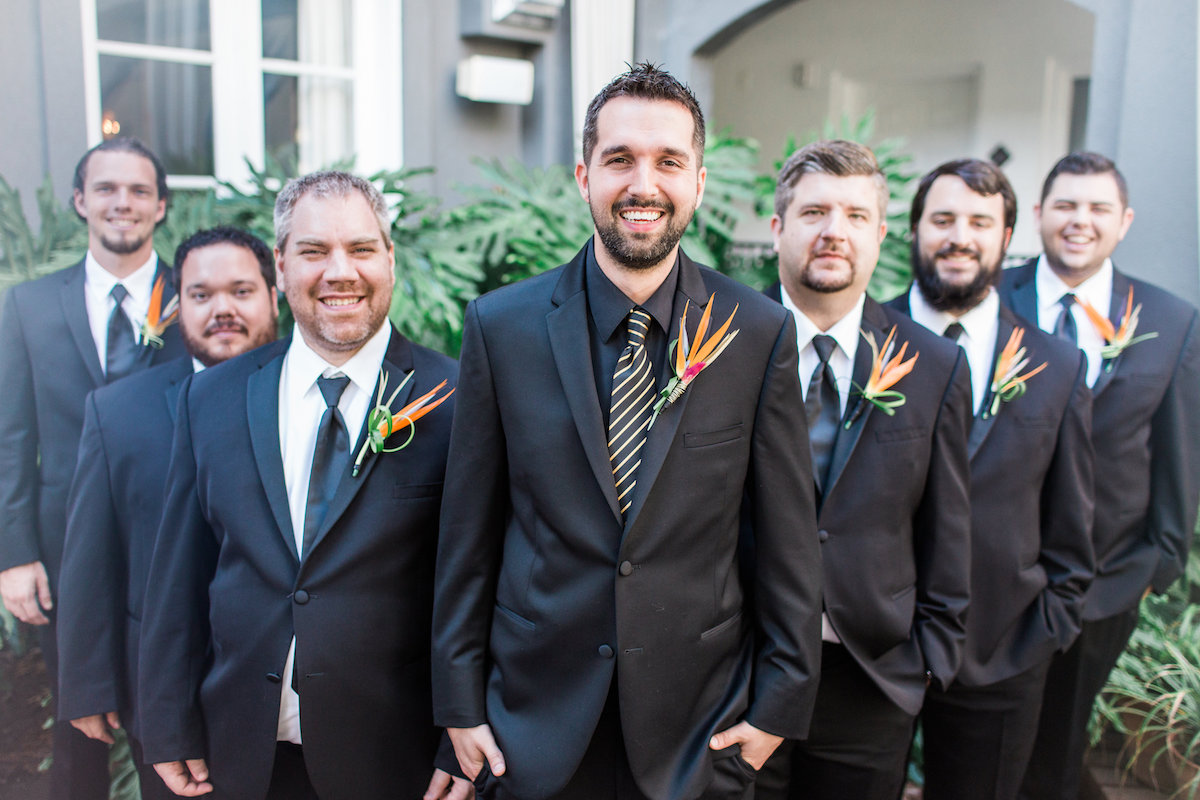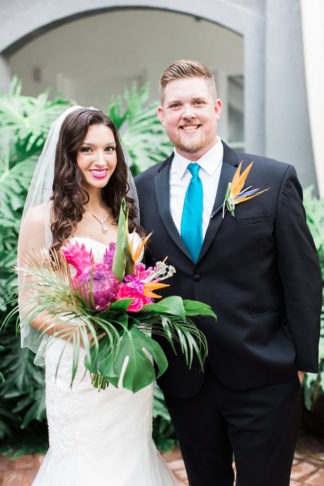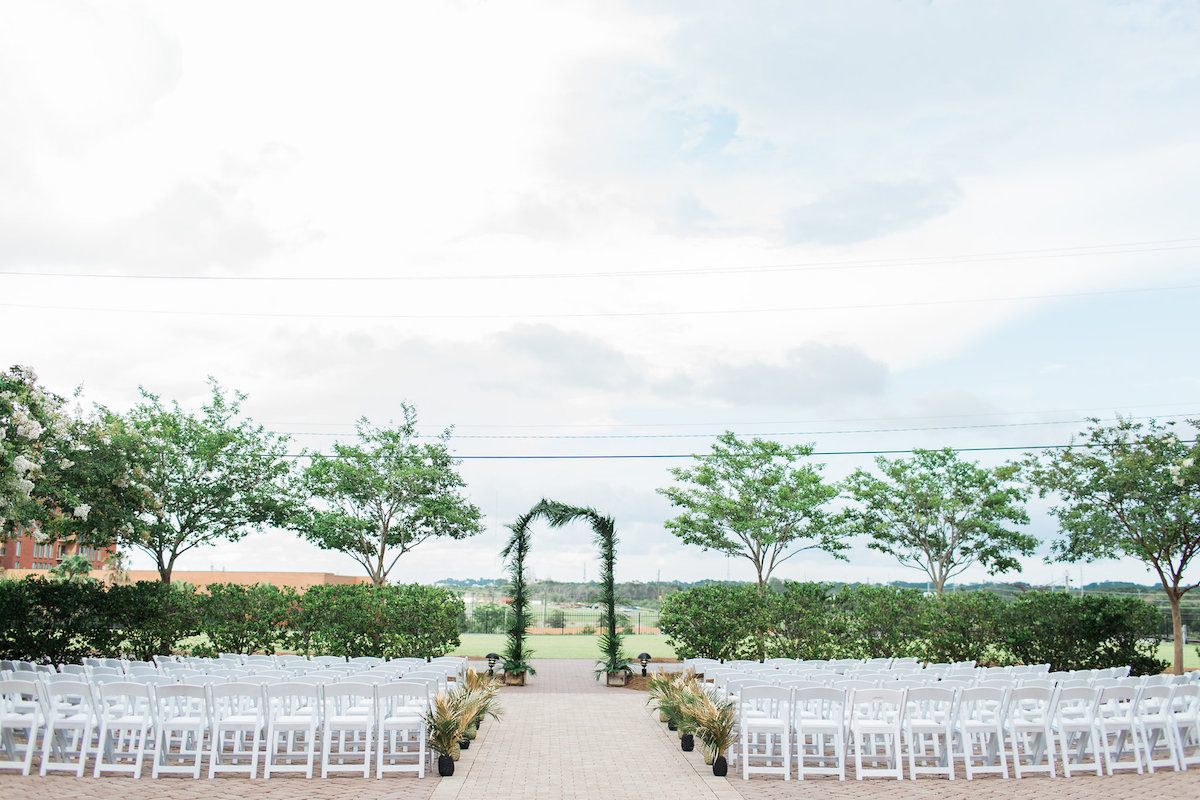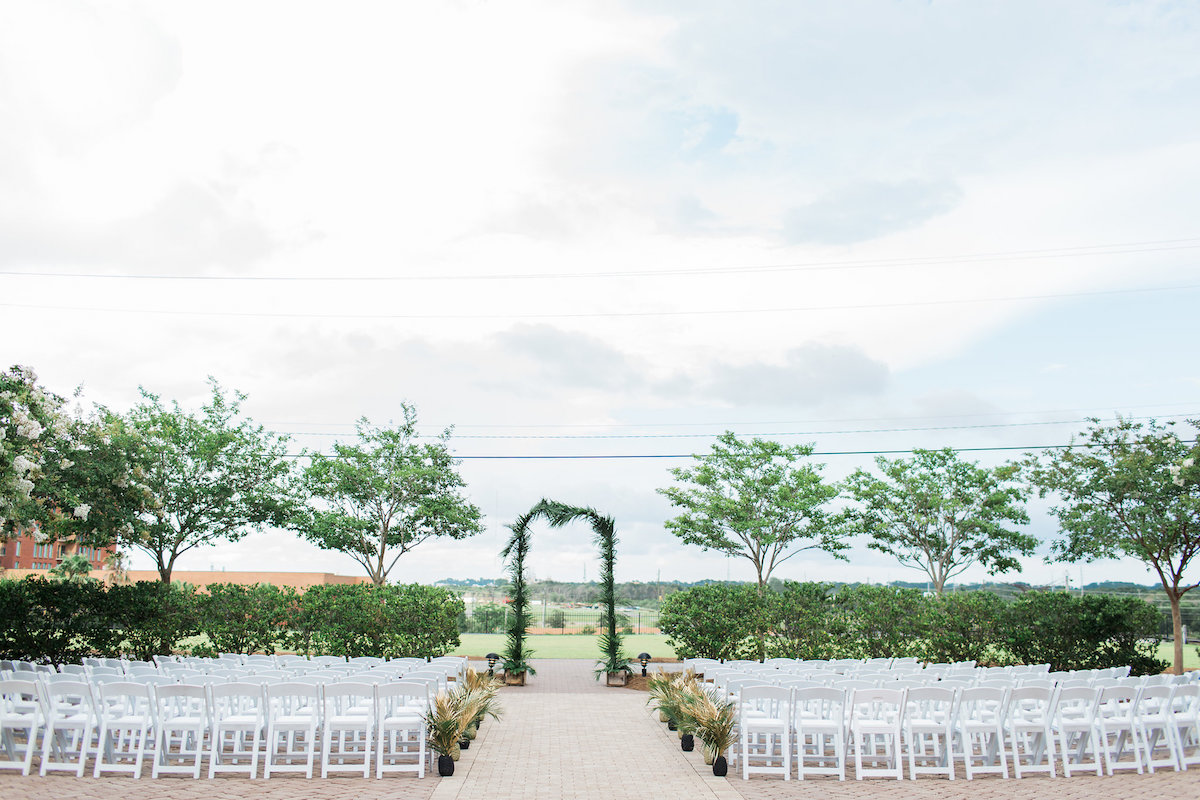 Our ceremony was held outside of the Charles Morris Center.  The ceremonial decor was simple and perfect. A repetition of gold and black pineapples were placed down the aisle that led you to a beautiful arch, adorned with tropical green foliage. White lawn chairs were set out for seating, and a specially designed program was placed on each chair.
Our acrylic welcome signage was from Little Brown Suitcase – it read "Come Together," another nod to the Beatles.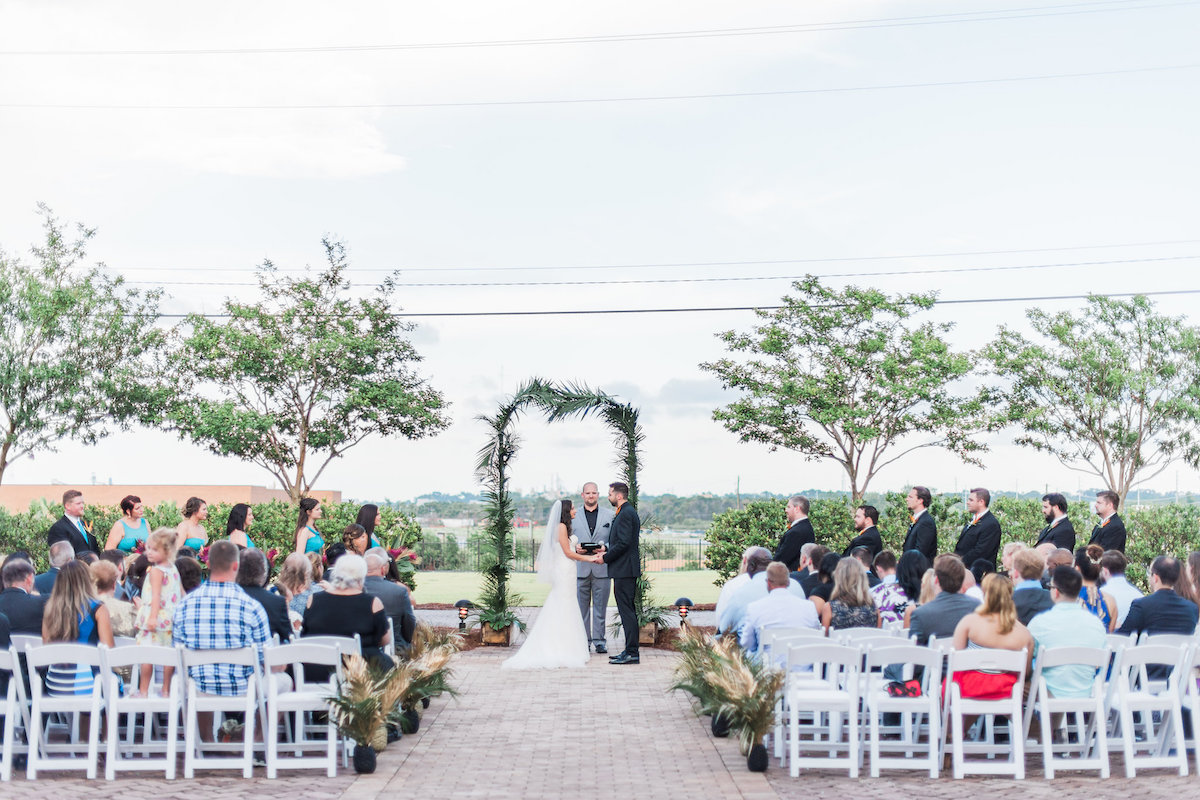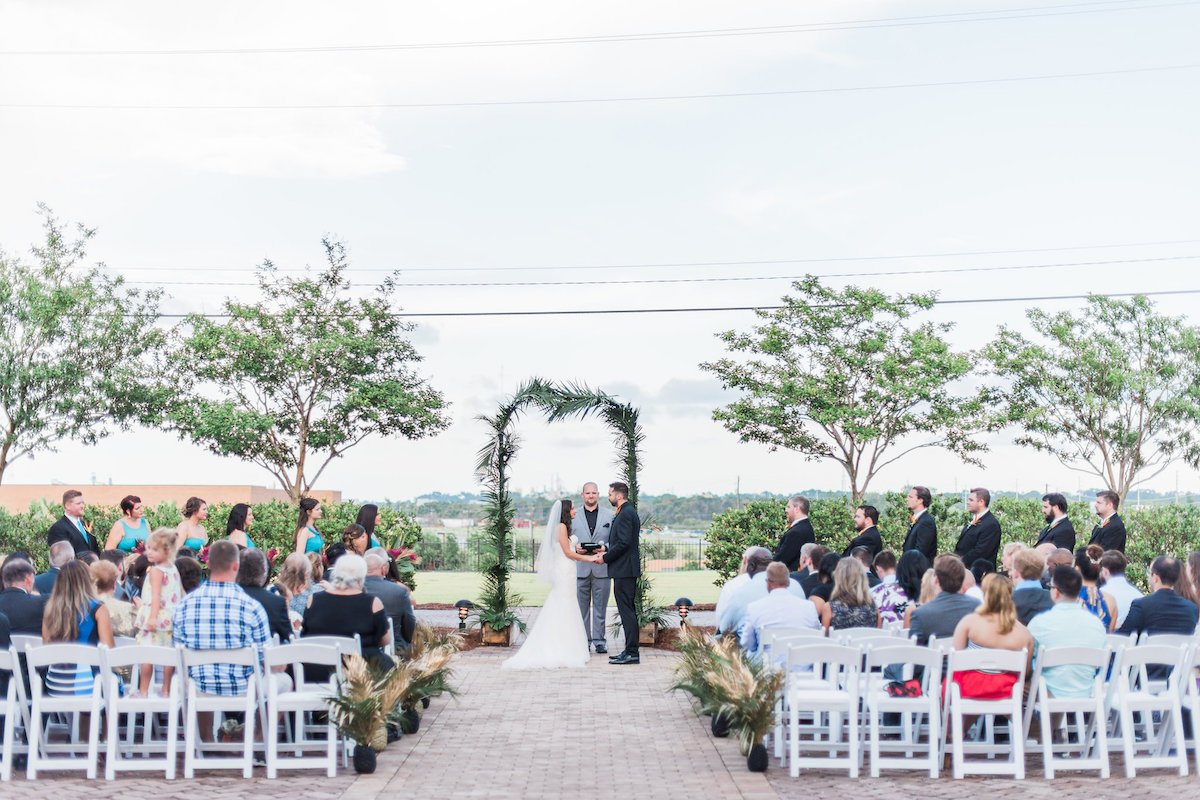 My whole life I always planned on having my dad and papa walk me down the aisle and give me away because they both have played important roles in my life. My papa and grandmother raised me since I was a baby, so it meant everything to me that they would be the ones to hand me over to my husband. My dad escorted me down the aisle that day to my papa's favorite song, In My Life by the Beatles. I know he was proud of his son, daughter/granddaughter, and wife and we were proud to honor him.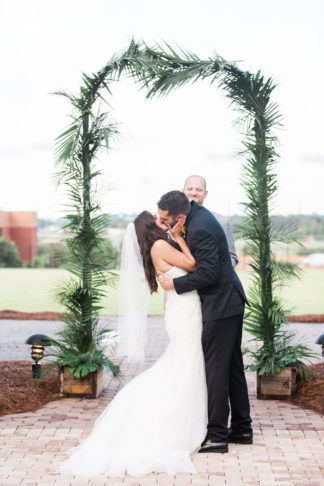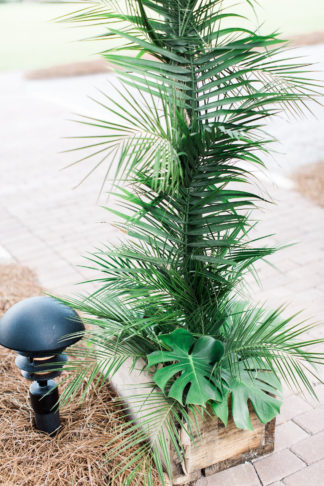 Devin and I wrote our own vows to one another, and our pastor officiated the wedding.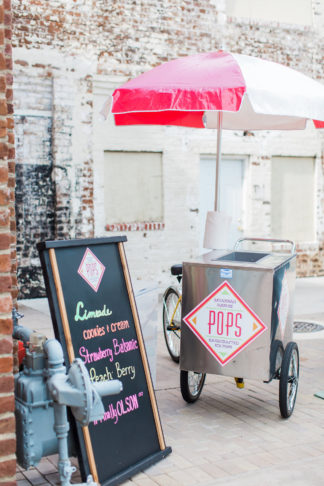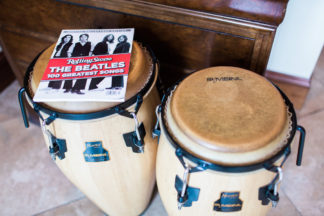 Once the ceremony was over, cocktail hour began and gourmet pops by Savannah Square Pops were provided for our guests. At the entrance of the reception building, we had my papa's conga drums and a Beatles magazine on top.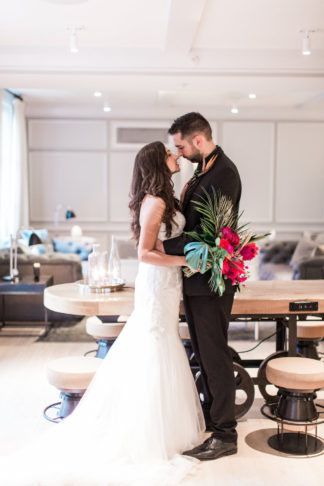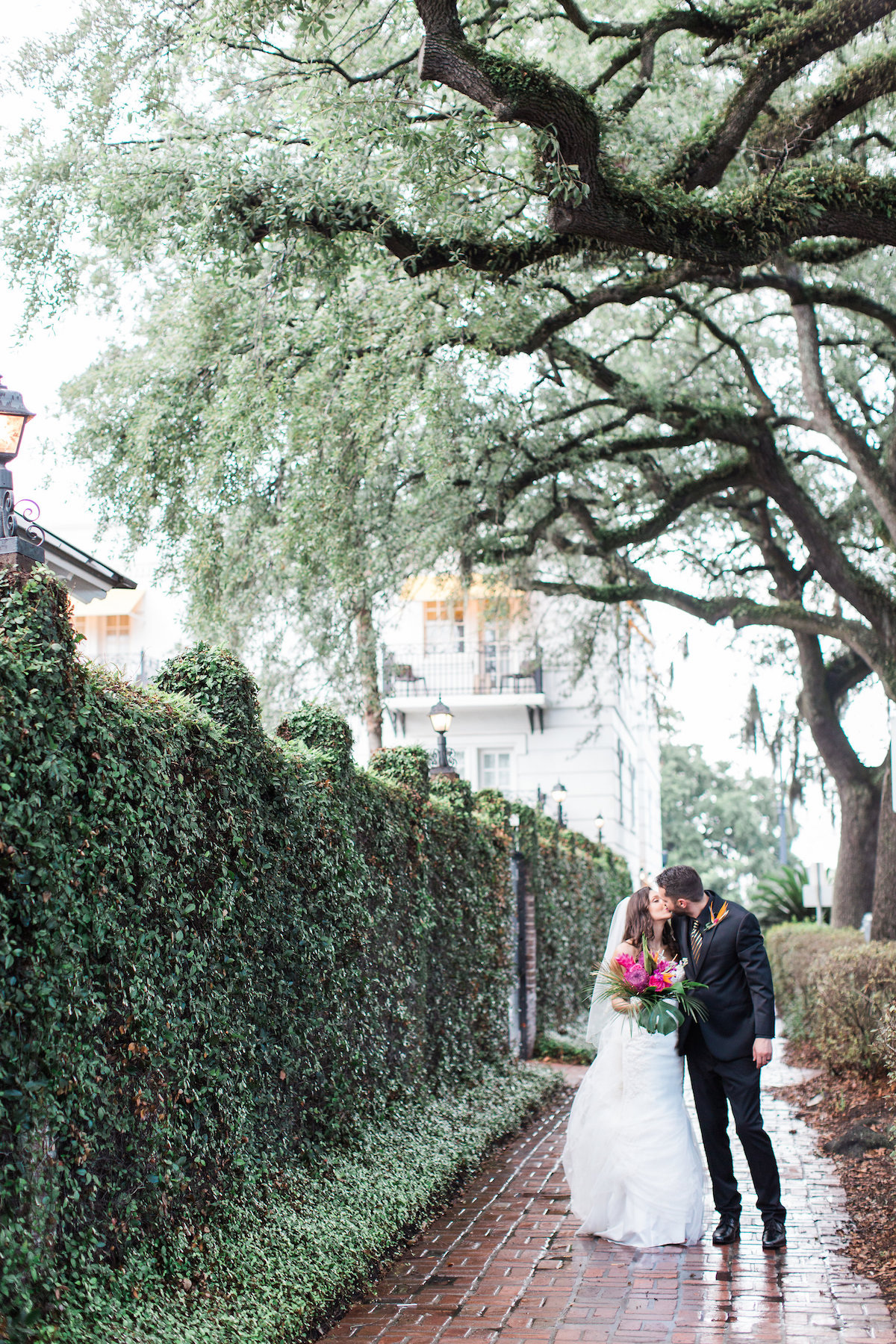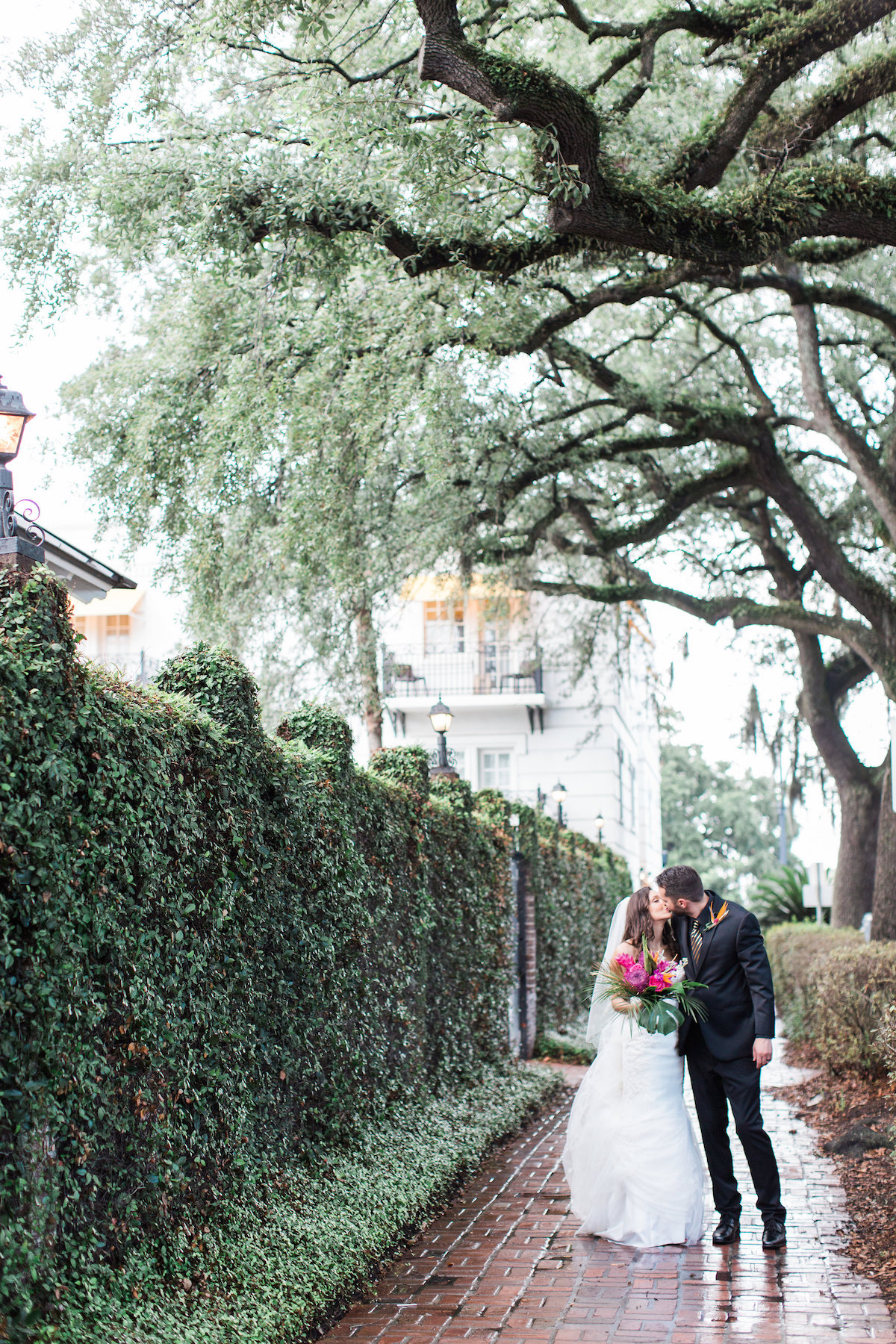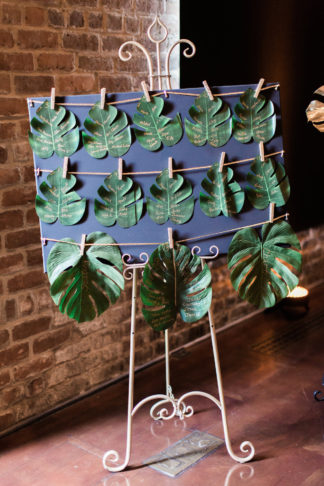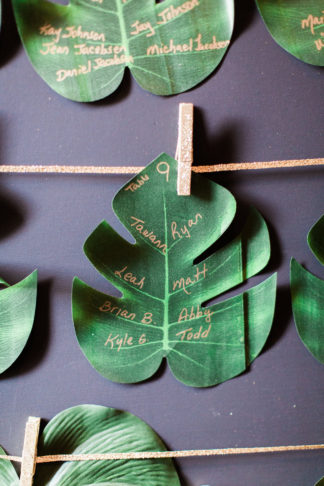 Our tropical wedding seating chart was hand crafted by my mom, myself, and a good friend of mine. We wrote our guests names and seating number in gold on tropical foliage and hung them on a black board with gold ribbon.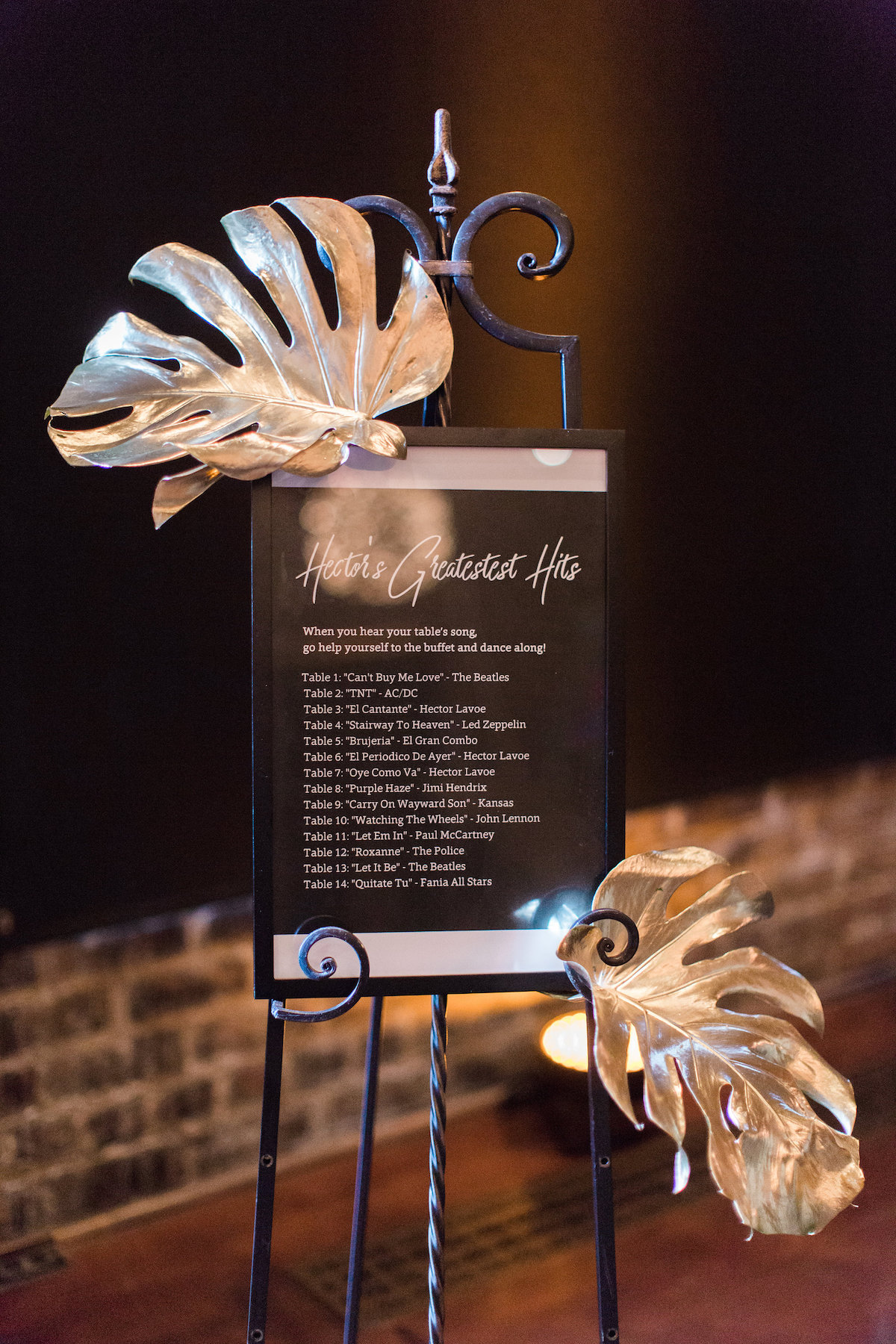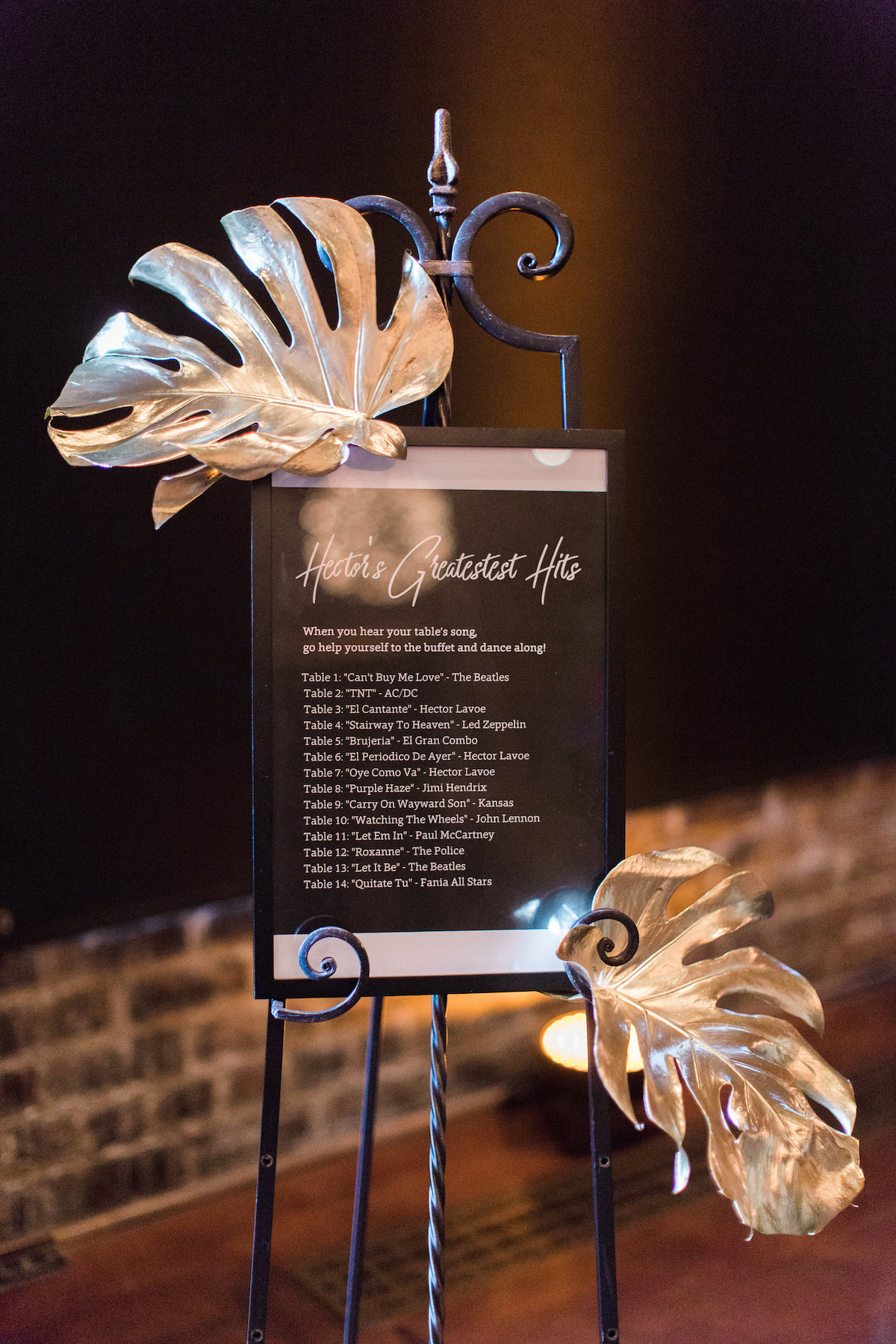 To my show my papa's love for music, and incorporate his favorite songs, my family and I compiled a list of classic rock and Latin songs that were his favorite. We named the list "Hector's Greatest Hits." These songs that we chose were songs that we saw him sing to, ones that we sang with him, and danced to together. We framed the list and had it correlate with the seating chart. Each table number was assigned a song to cue our family and friends when it was their tables turn to eat. Everyone absolutely loved it, because it took them back to the times we spent together with my papa.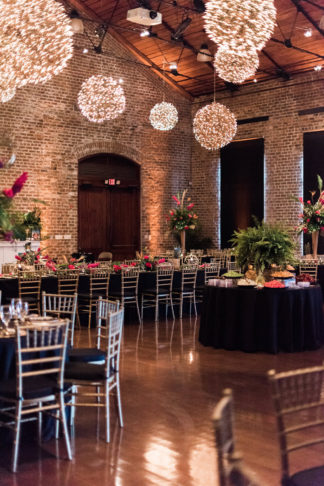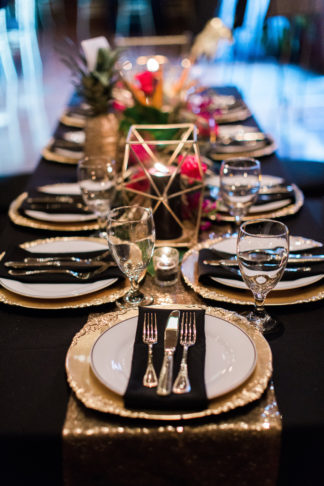 Tall gold vases with a magnificent arrangement of palm leaves and a few gold palm leaves were sporadically set with exotic fuschia flowers as the centerpieces.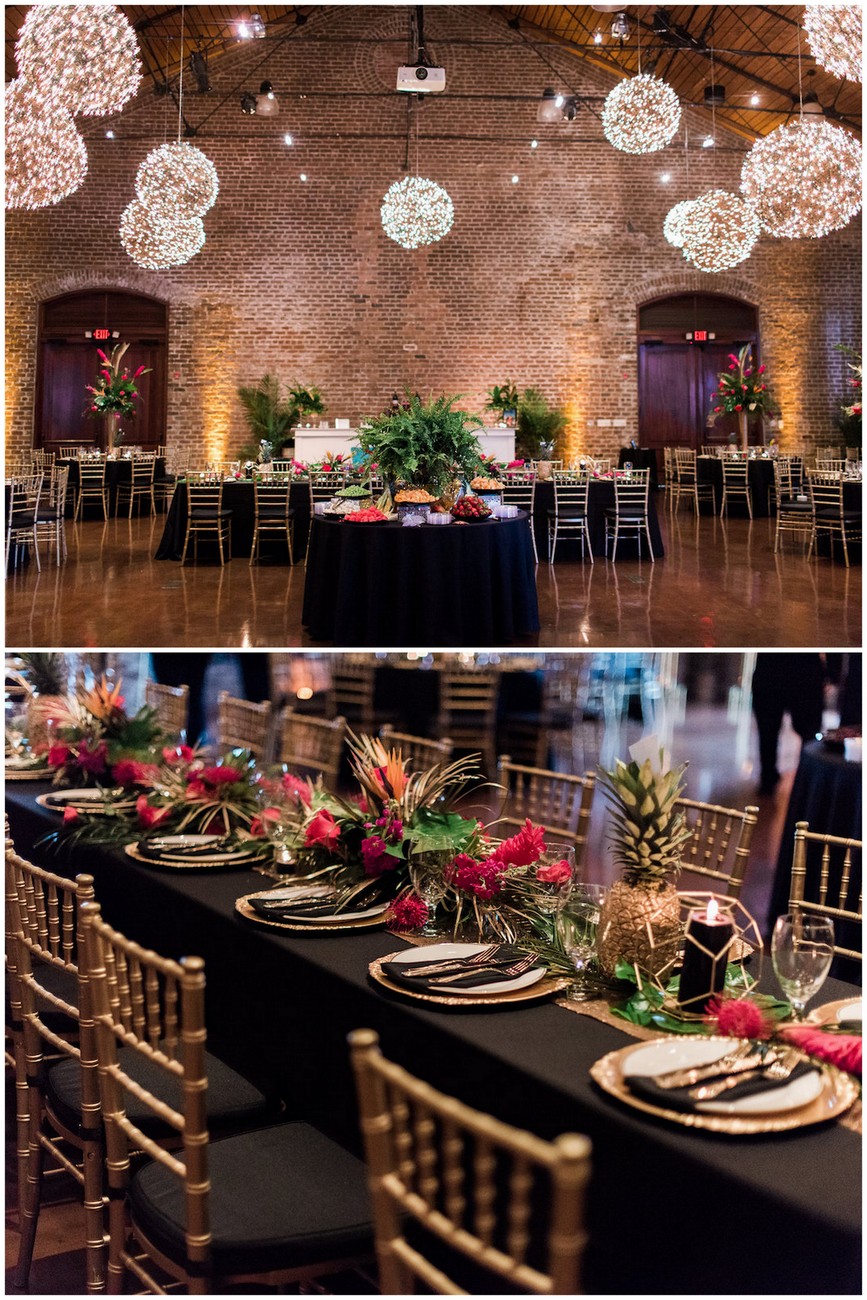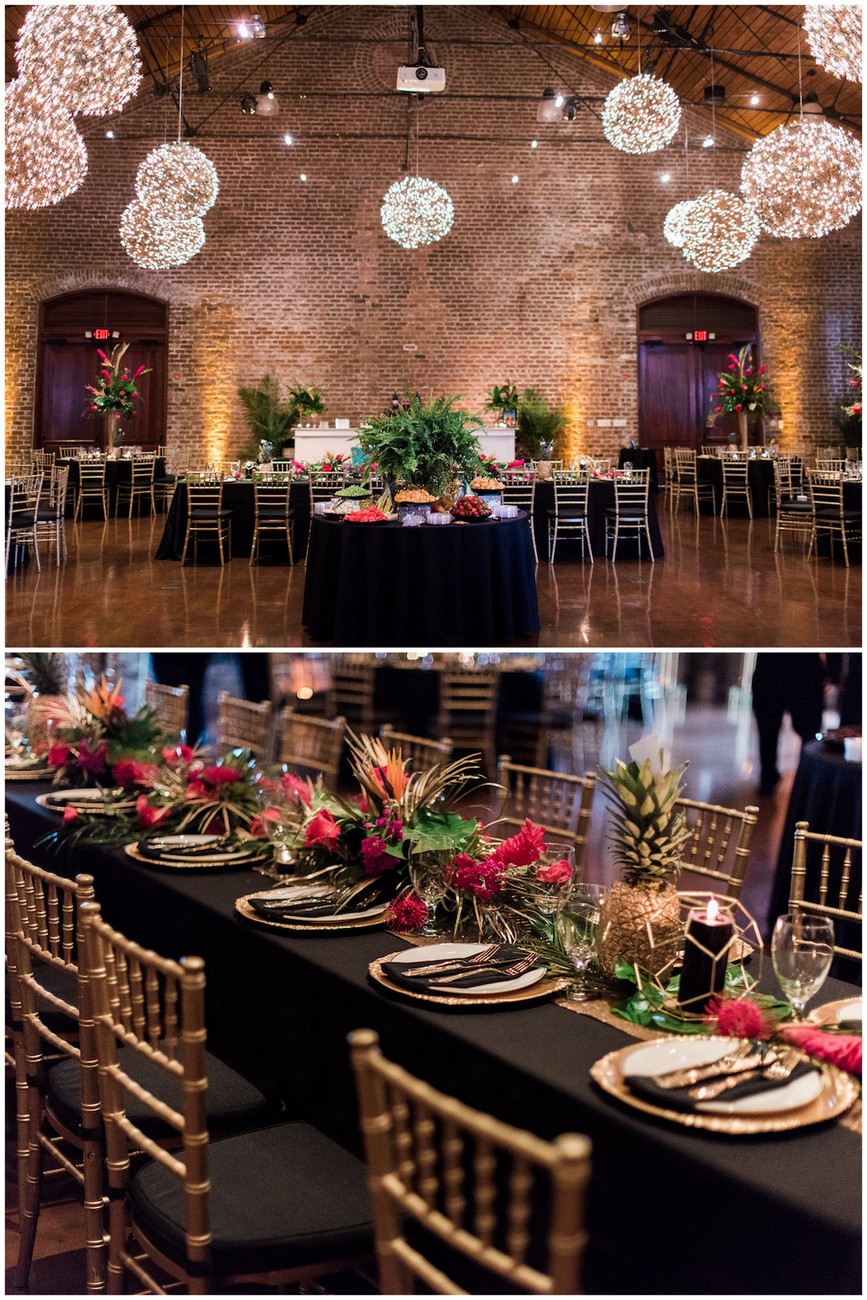 Gold pineapples were set on every table, and the fronds on them were used as a holder for the table numbers. Clear votives with black tea light candles were around every vase. The bridal parties table had a gold sequin runner, and a gorgeous garland that mimicked the centerpieces. Black pillar candles were set in gold geometric holders on the table.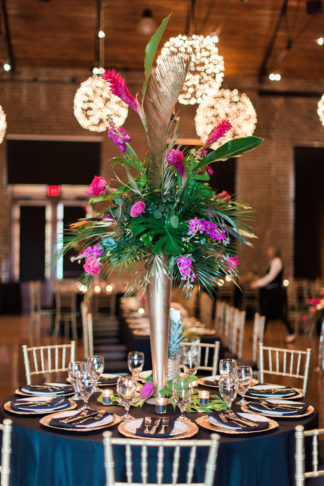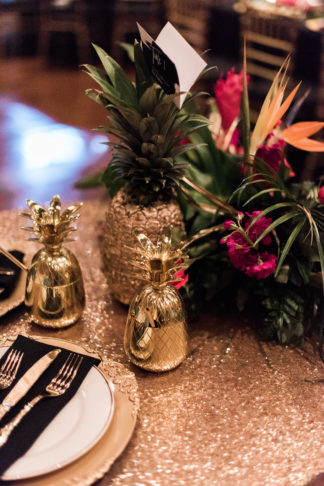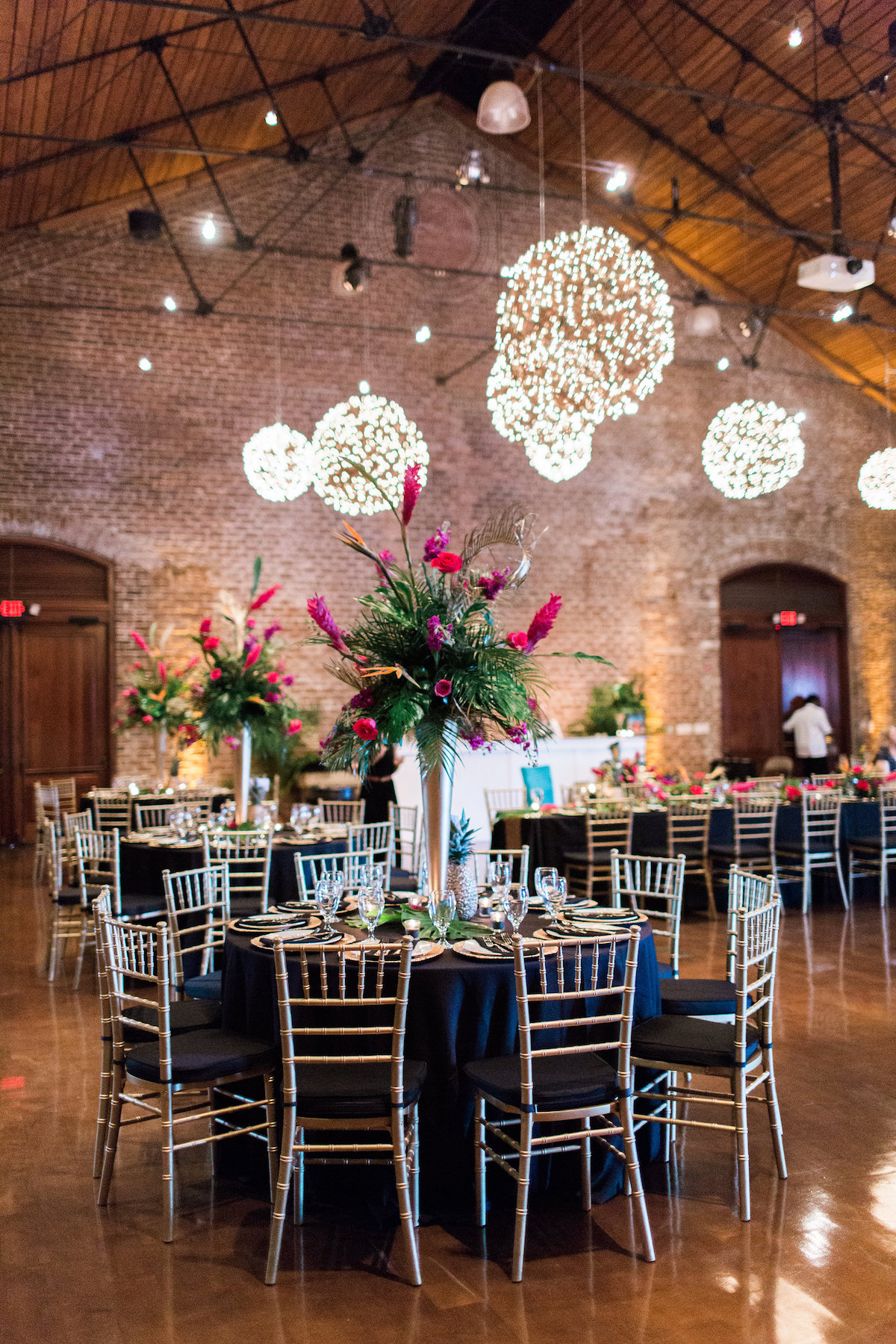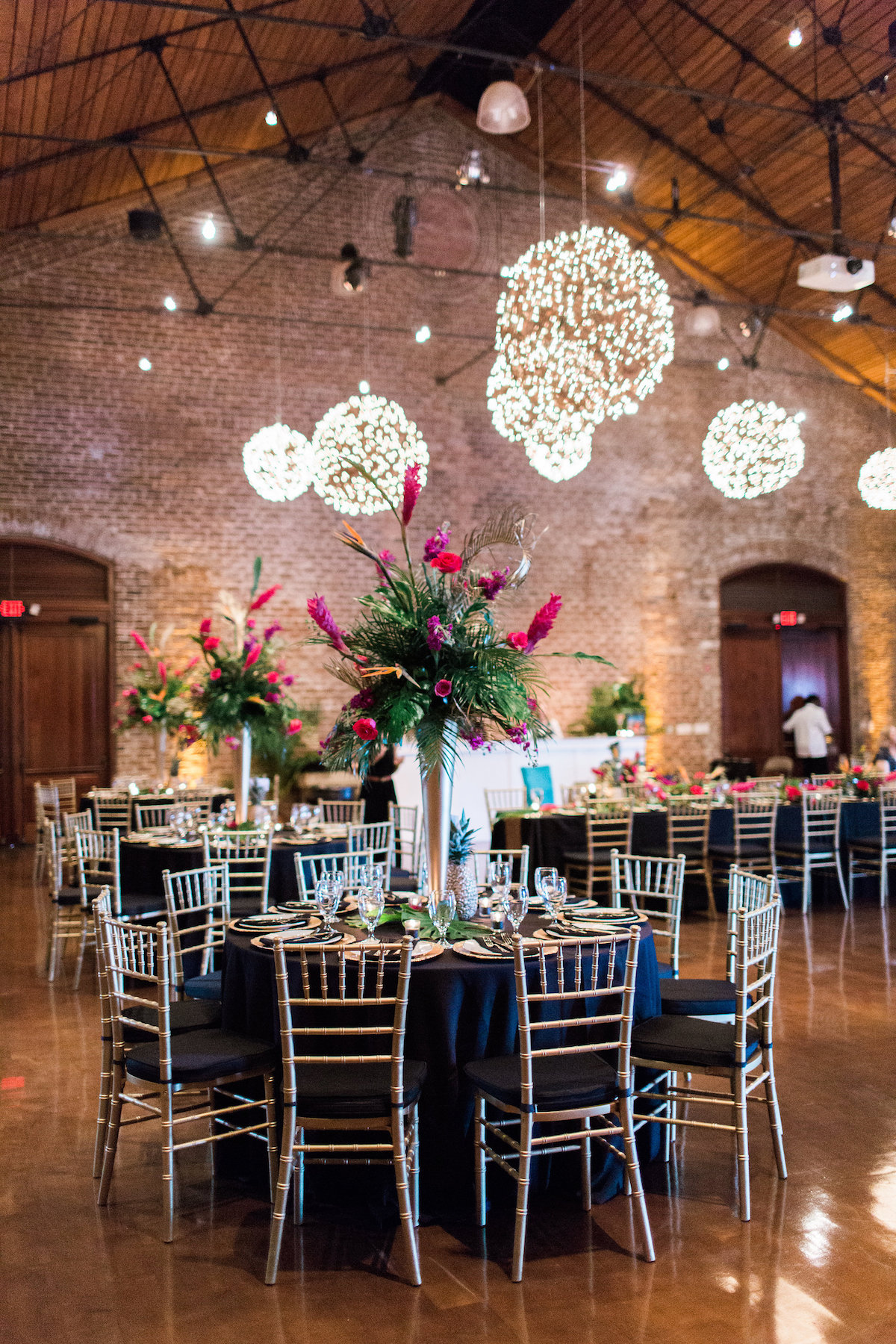 I have always adored palm trees and exotic-looking flowers and tropical plants. You can't have a tropical wedding without the art of it being exotic and feeling like you're in paradise!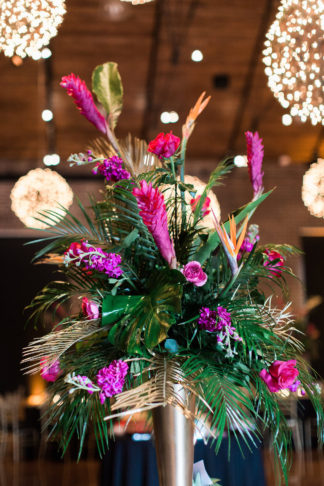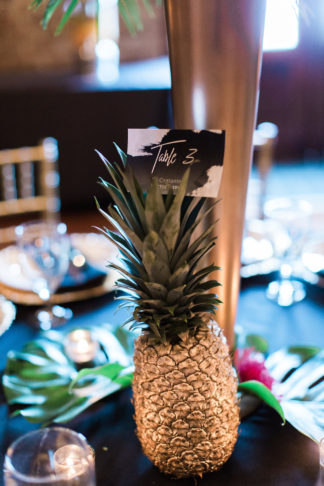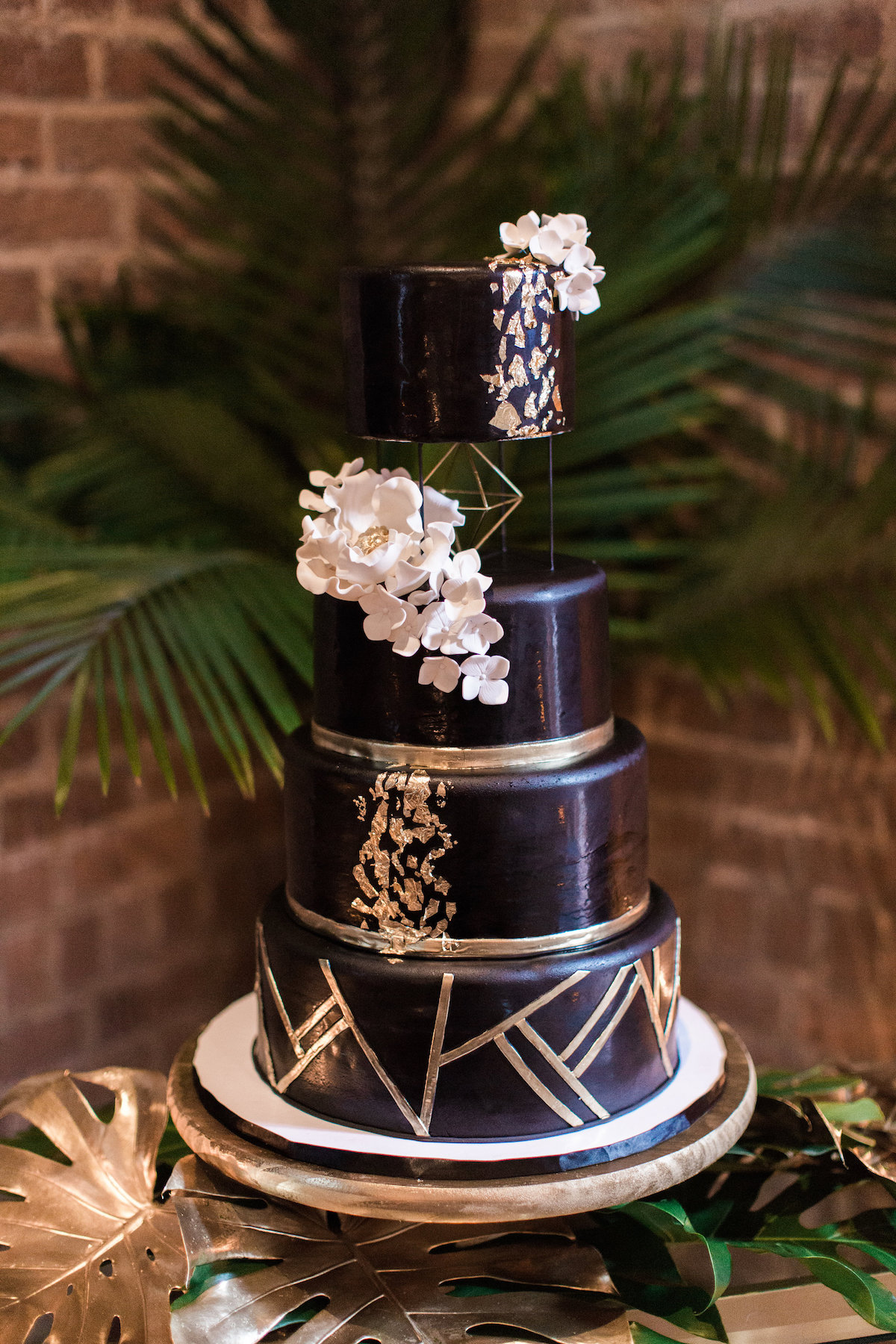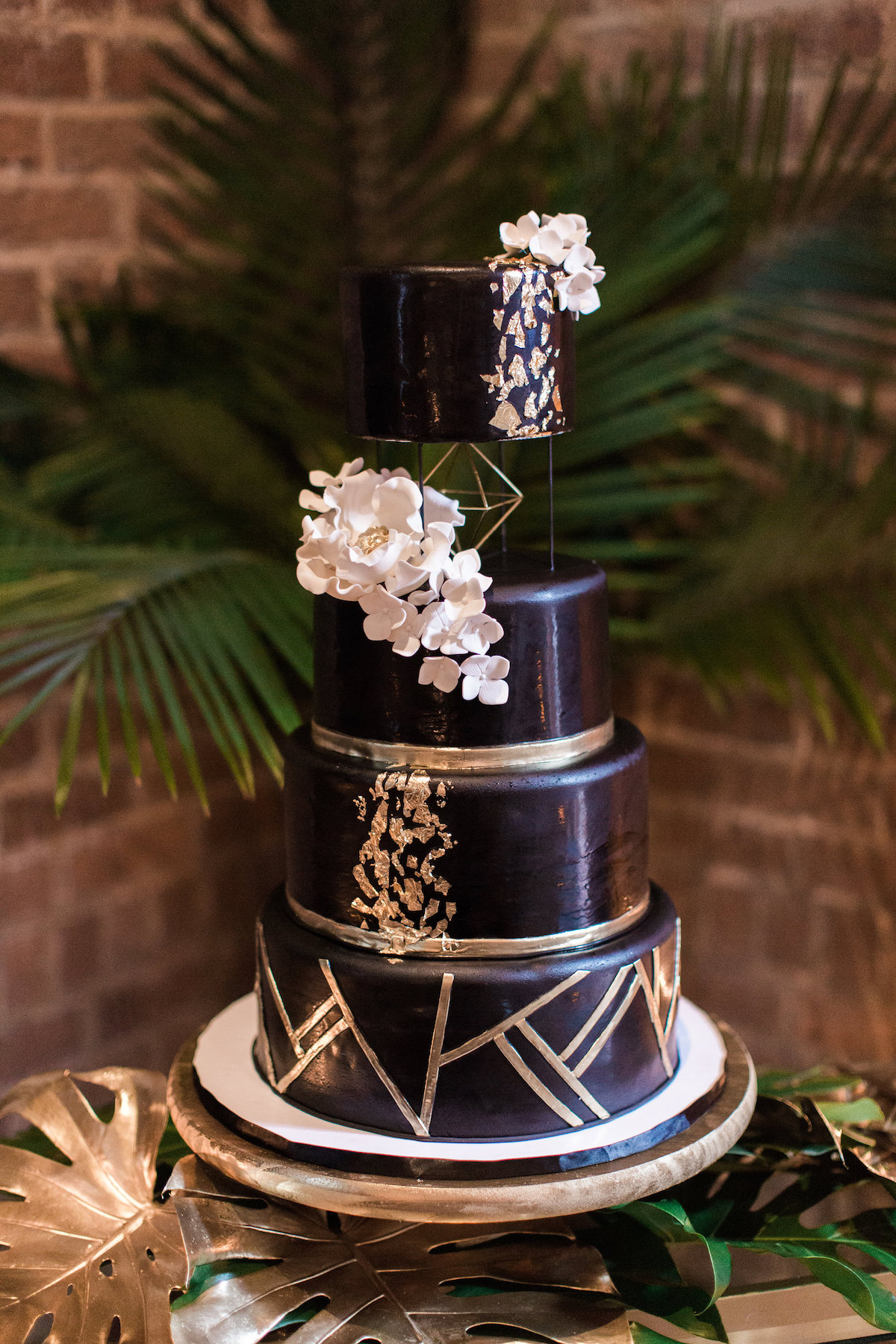 Our black wedding cake with gold trimming, and gold design created a beautiful focal point in a corner of the room. It had a geometric spacer between the top layer, and bottom layers of the cake that gave it a unique, and modern touch.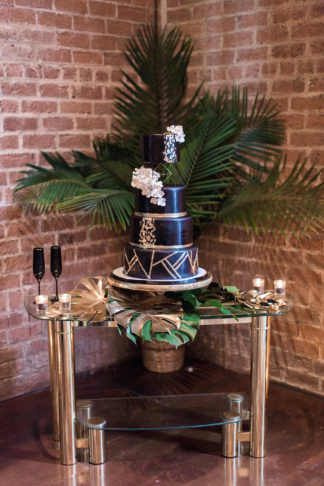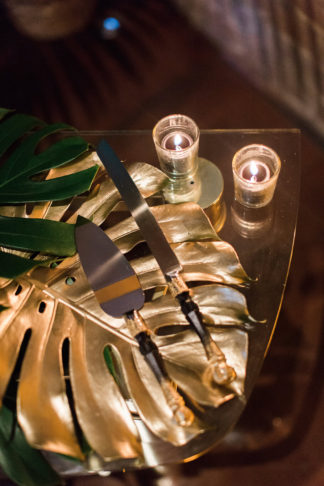 Months prior to our wedding, I was in the process of writing a song for Devin. I not only wanted to gift him with something tangible for his wedding present, but to give him an experience and dedication to show how much he's impacted my life. I was so incredibly nervous to sing because I didn't get a chance to do a sound check that morning. The music was accompanied by Chris Dooley, Kyle Garrison, and Jacob Brown. Devin was never aware that I had planned to surprise him with the song at our reception. My mom sat him down in a chair, and asked if he was ready for his surprise, and the look on his face was priceless. He was so clueless as to what was going on. I sang to the love of my life, and before I could say anything he grabbed me and kissed me. It was a beautiful moment.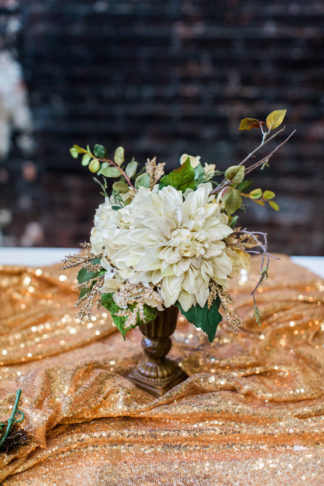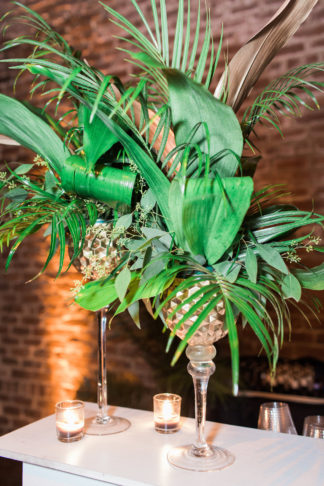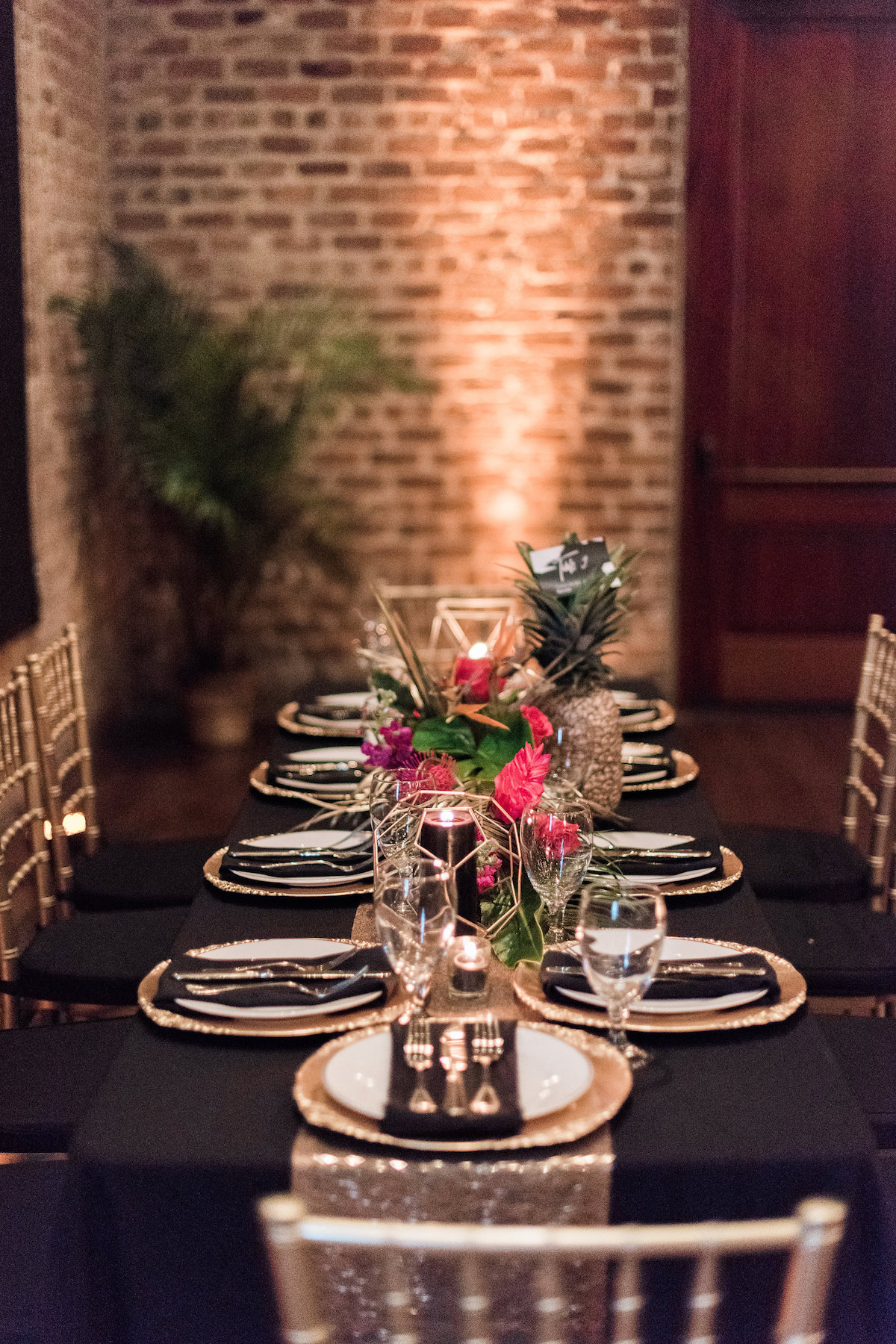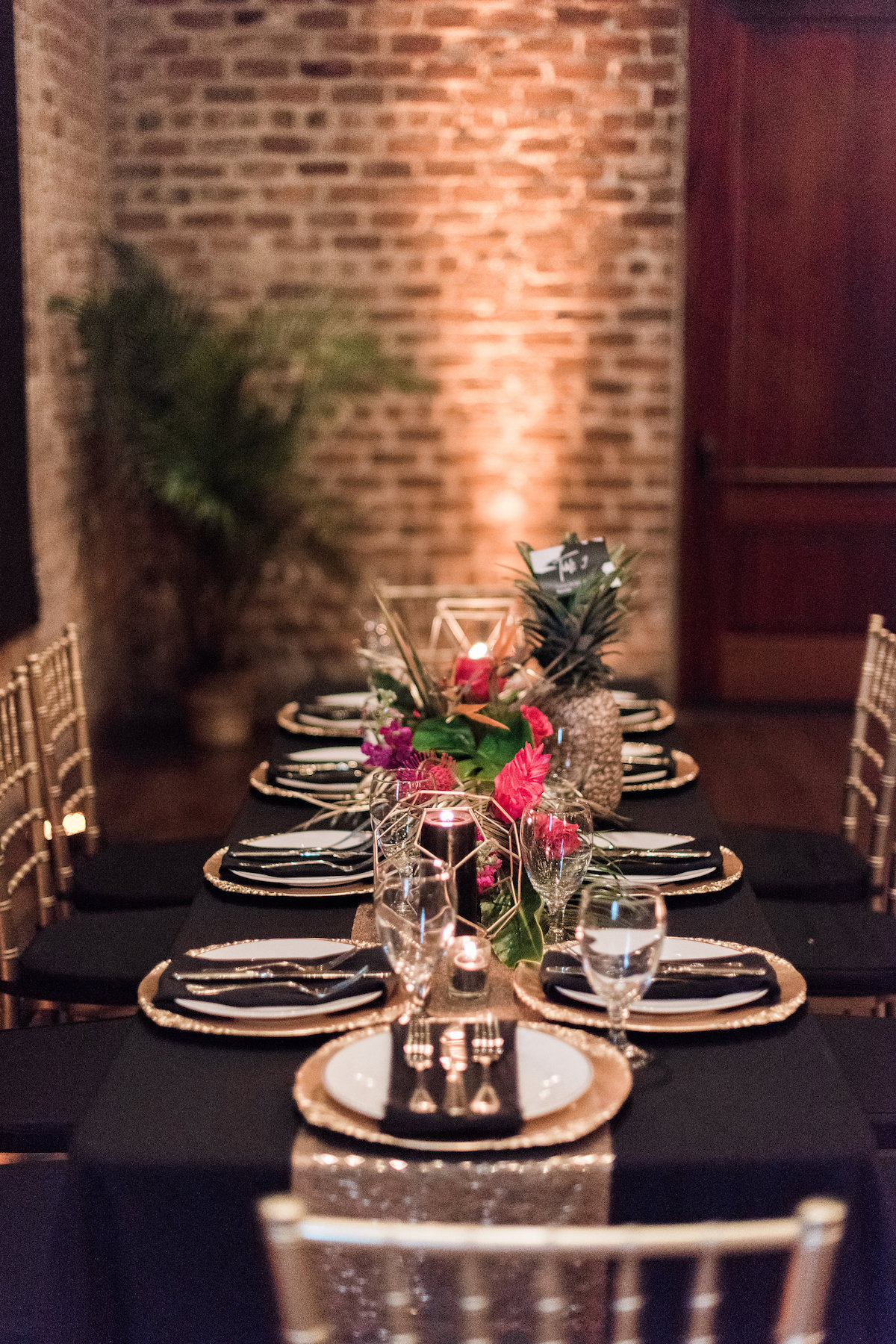 Wedding Vendors: Photographer Apt. B Photography // Venue Charles Morris Center // Wedding Planner + Decor Carlson's Premiere Events // Stationery Creative Approach // Bride + Bridesmaid Dresses David's Bridal // Videographer Devin Olson Media // Brides Hair + Make Up Heather Ferguson // Flowers Joanns Florist // Cake Wicked Cakes // Music Conrad Gonzalez // Chris Dooley // Savannah Square Pops