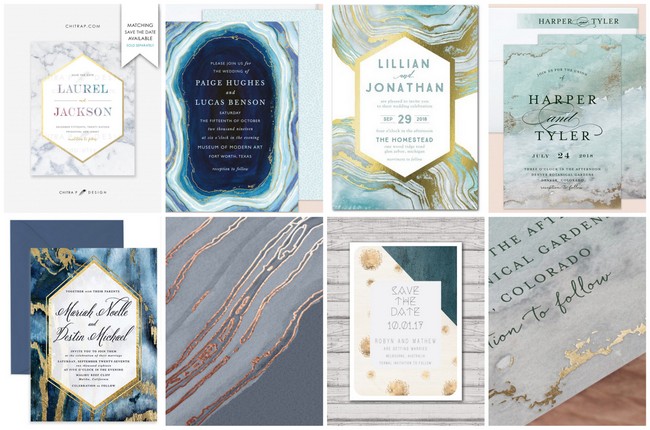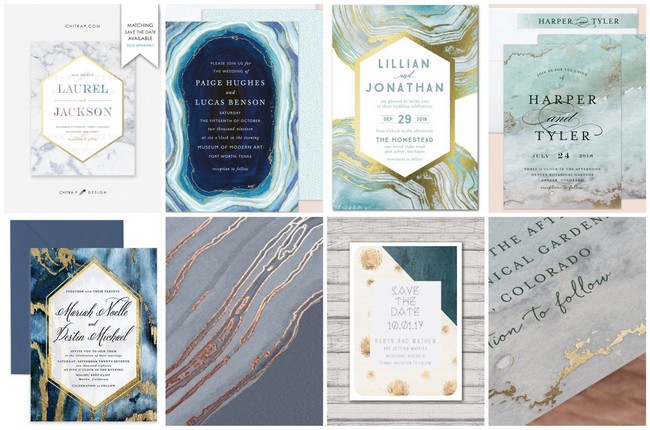 Mother nature takes center stage, showing off her beautiful lines and crystalline curves in this stunning selection of geode agate and crystal wedding invitations. Seriously, we think they might just 'rock' (hehehehe) your world! 😉 Eclectic, earthy and beautifully bohemian, these geode agate and crystal wedding invitations are modern and maybe even a little magical.
Combining a number of gorgeous design elements including water-colours, gold foil and geometric details, these wedding invitations are very likely to hit the spot! 
Geode Agate and Crystal Wedding Invitations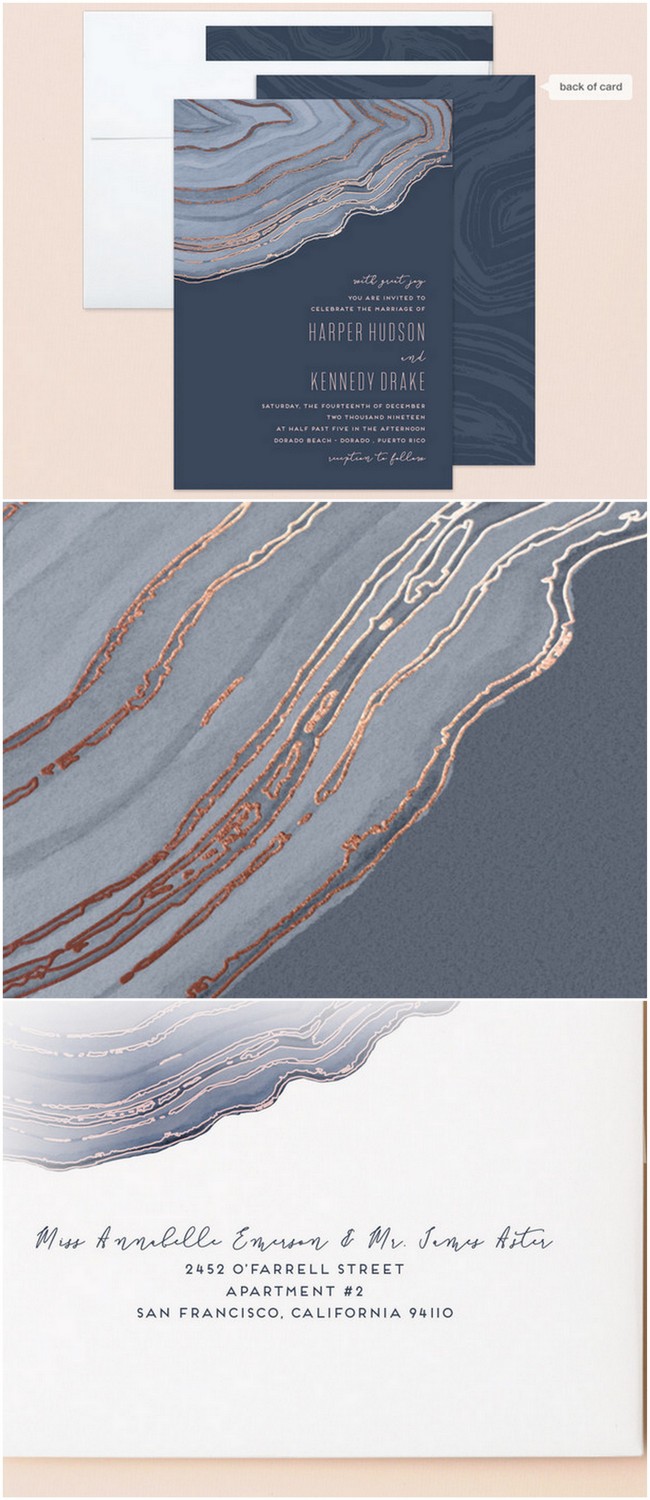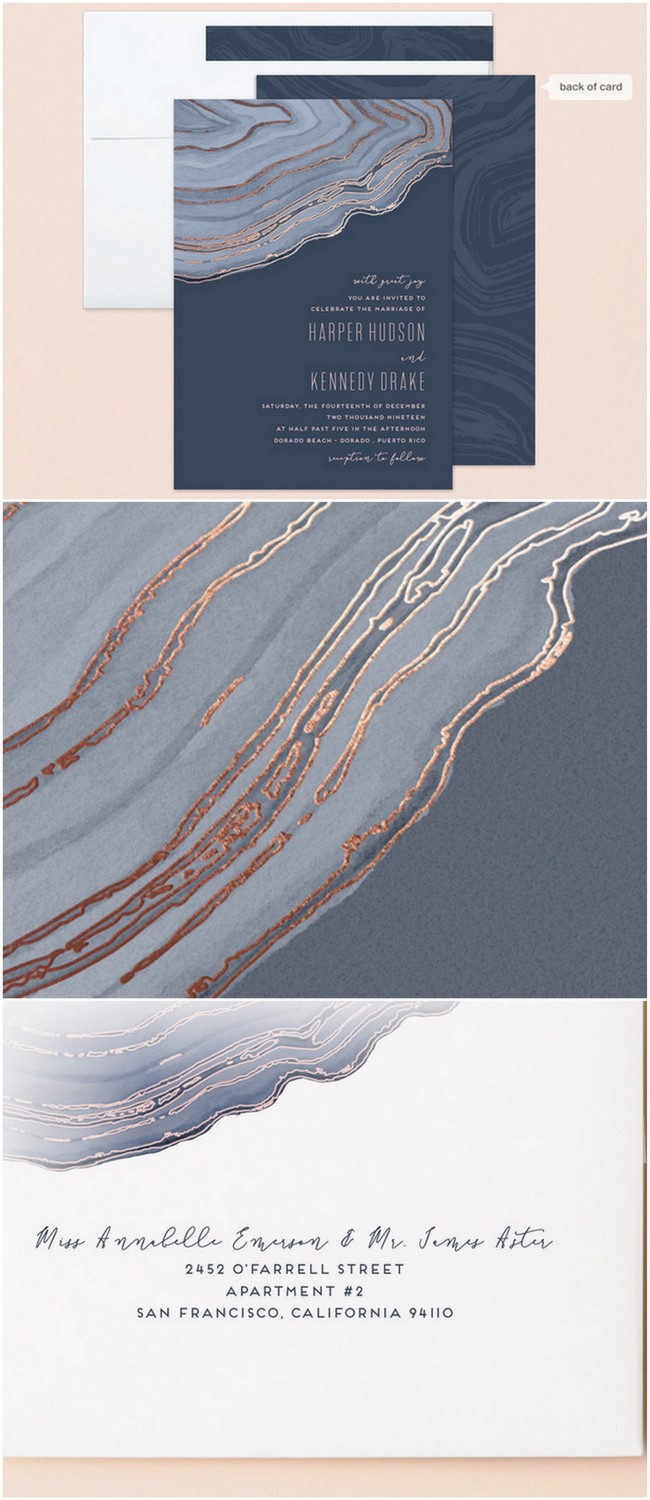 ♥If you love fall in love with a pretty piece from this hand-picked selection of designs and decide to make a purchase, we'll receive a small referral fee for curating and sharing them with you. Thank you so, so much for supporting our content! ♥
1. (Above) Modern agate wedding invitations. These luxe navy and rose gold agate invites are foil pressed, with real rose gold foil for a gorgeous metallic shimmer.  Modern sans serif fonts are combined with a bouncy calligraphy style script, creating a fresh, modern look. These invitations are also available in combinations of ocean turquoise and gold foil, blush pink and silver foil, burgundy red with gold foil and more. Check these the entire agate wedding invitation suit out here.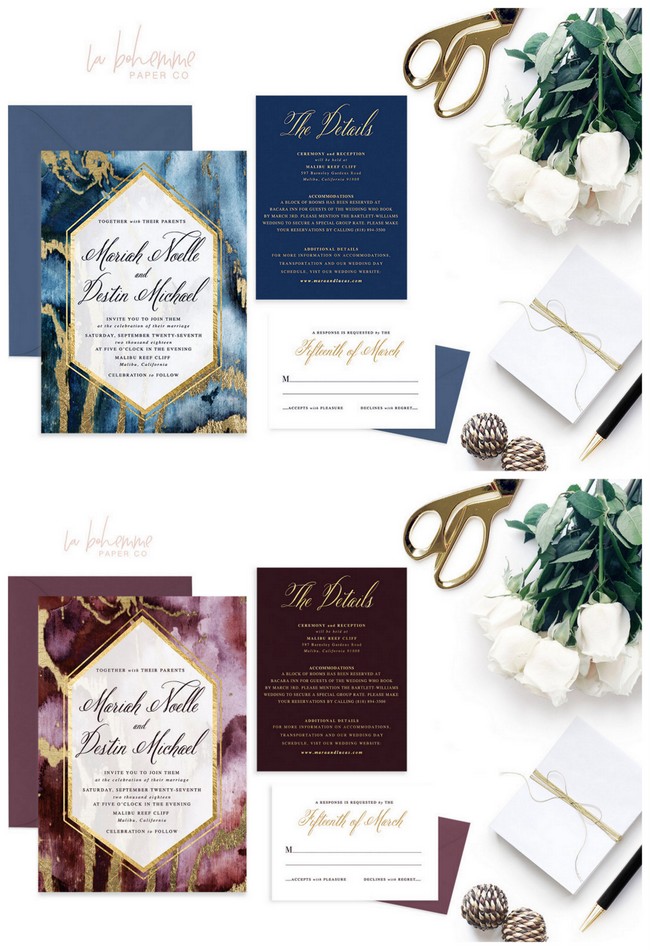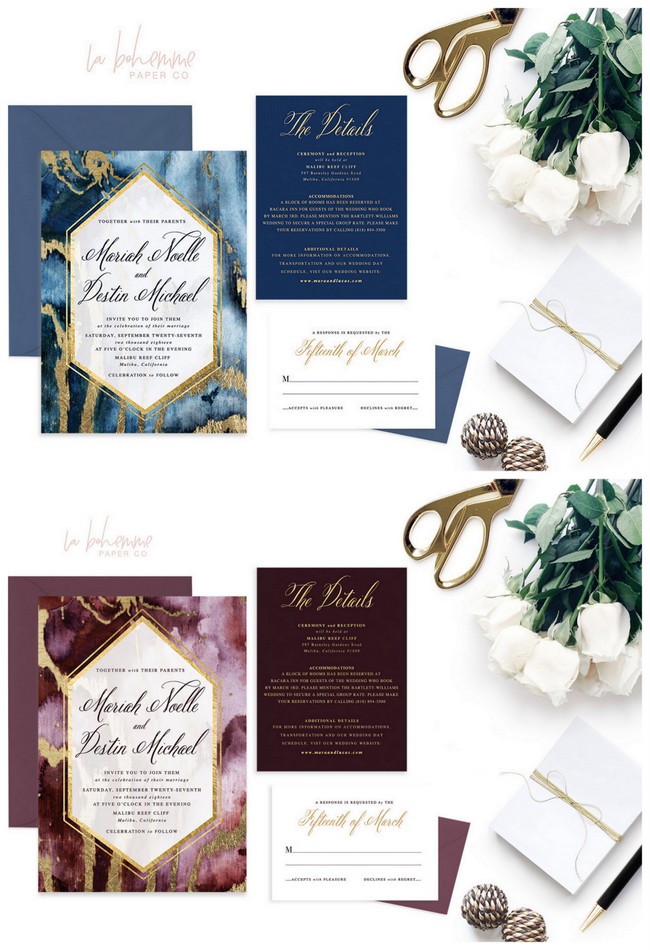 2. (Above) Printable Agate Wedding Invitation Suite. Shades of blue, navy and azure collide in this agate inspired wedding invitation suite from LaBohemmePaperCo. The invite suite is a printable which allows you to print at home while still giving the illusion of gold edgings. A number of colors and calligraphy fonts mean that the invitation text and backgrounds can be customized! The Mariah Agate Suite is available for purchase in digital or print format here. // 3. (Above) The Mariah Noelle Agate Wedding Invitation Suite with geometric lines set against a palette of plum, purple, burgundy and purple can also be ordered in print or as a digital download. Simply choose your desired format, font, colour and, if printed, paper! Order online here.
SEE 15 GEOMETRIC WEDDING IDEAS HERE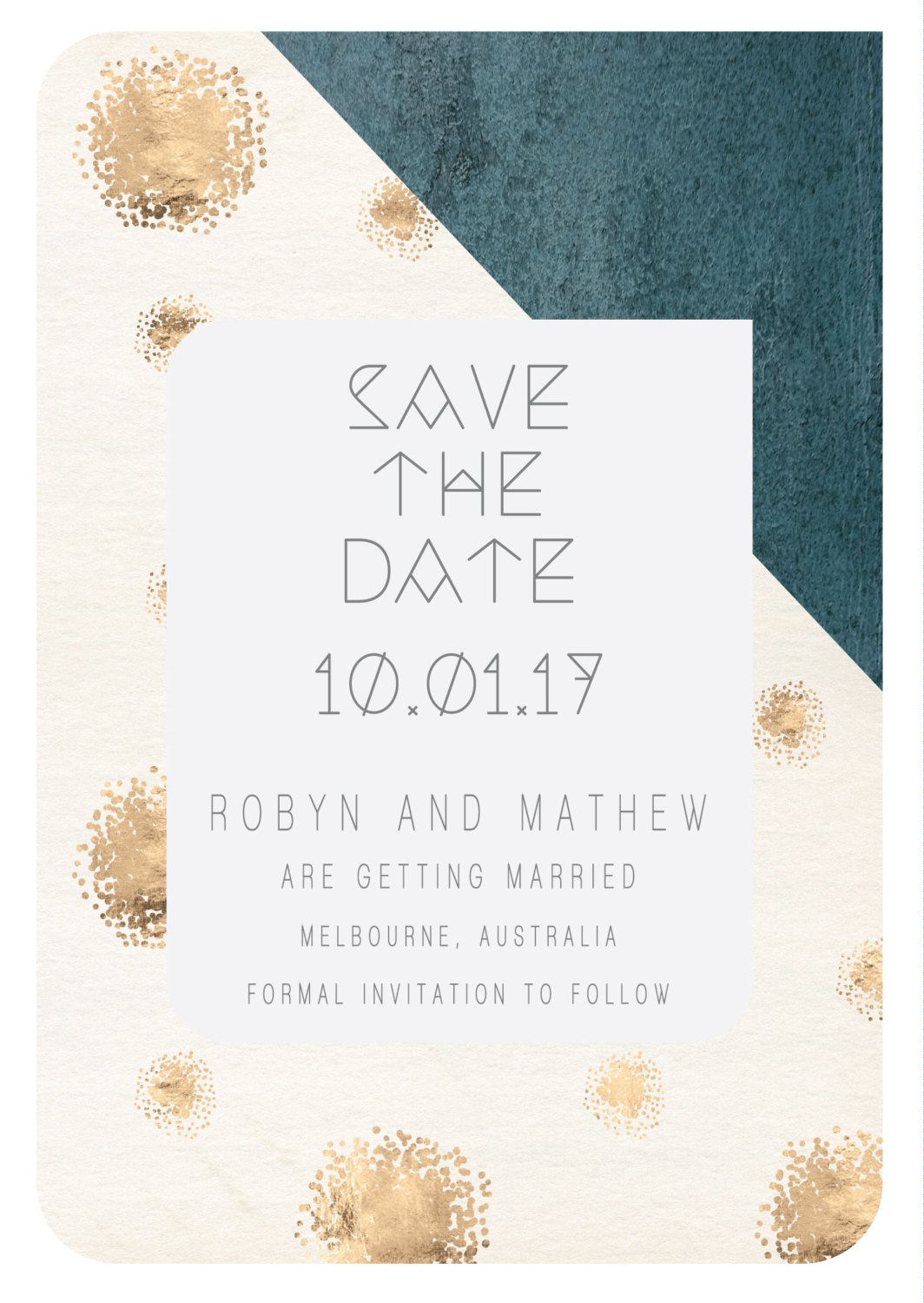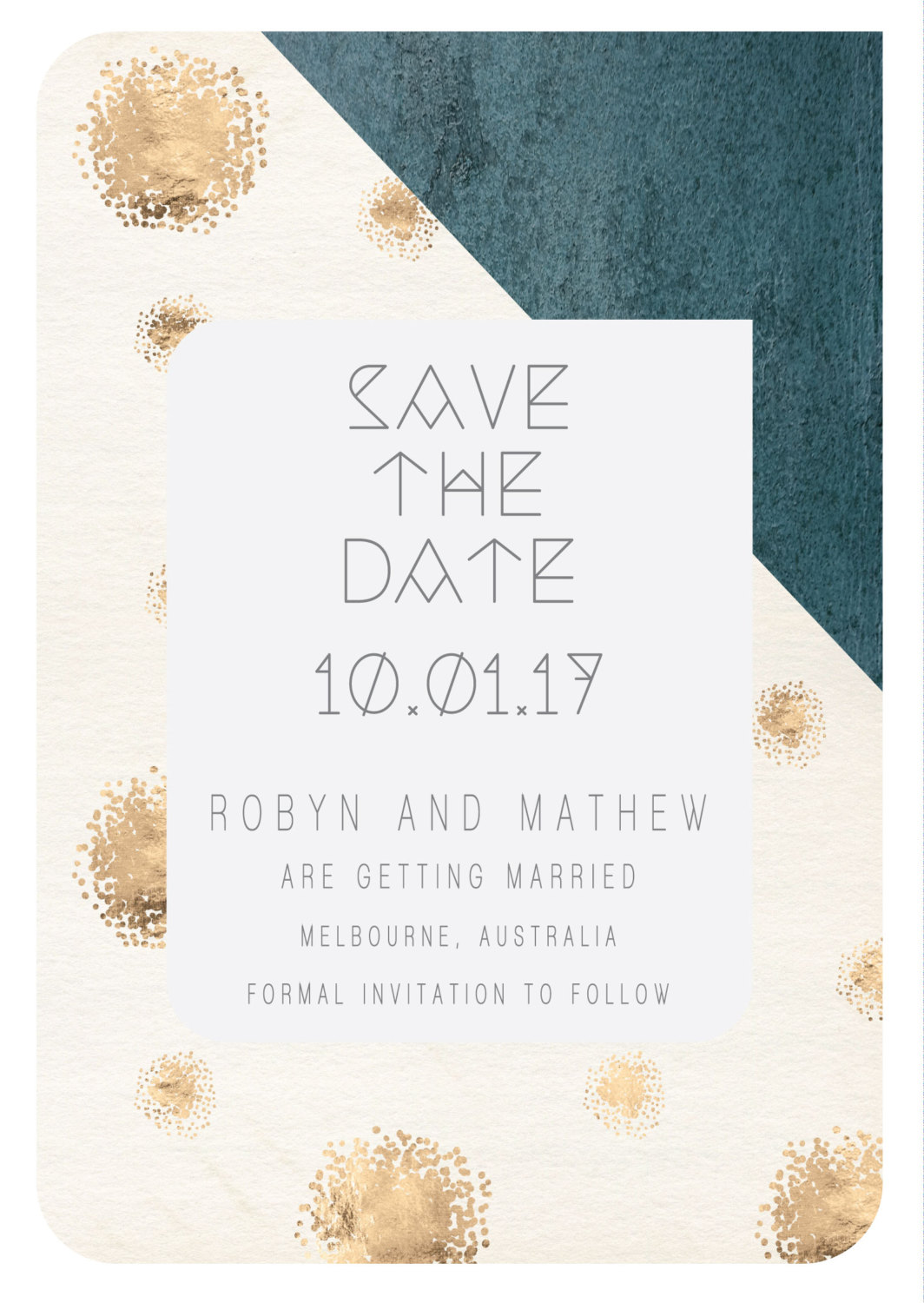 4. (Above) Geo Luxe Save the Date Postcard (digital download and printed options). This Save The Date is ultra modern and so freaking cute! The faux gold orb splatters give us that ethereal, earthy feel. The geometric design paired with an almost retro style font make this one of our fresh faves. The back of the save the date is a postcard, which means no envelopes are needed! Available as a DIY printable file for or as a fully printed Save the Date from PaperCrushAus here.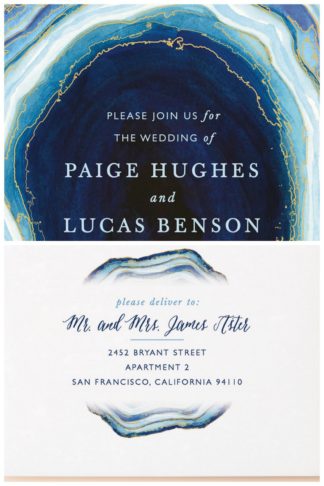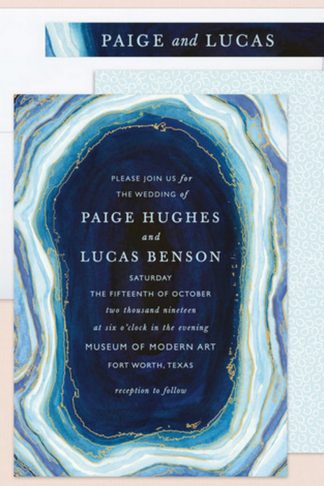 5. (Above) Gilt Agate Wedding Invites. A slice of agate gorgeousness! This beautiful suite can also be ordered with matching wedding day stationery such as menus, place cards and more. If this striking cobalt, navy and sky blue color combination is not your style, check out the pink, green or neutral shades available here too.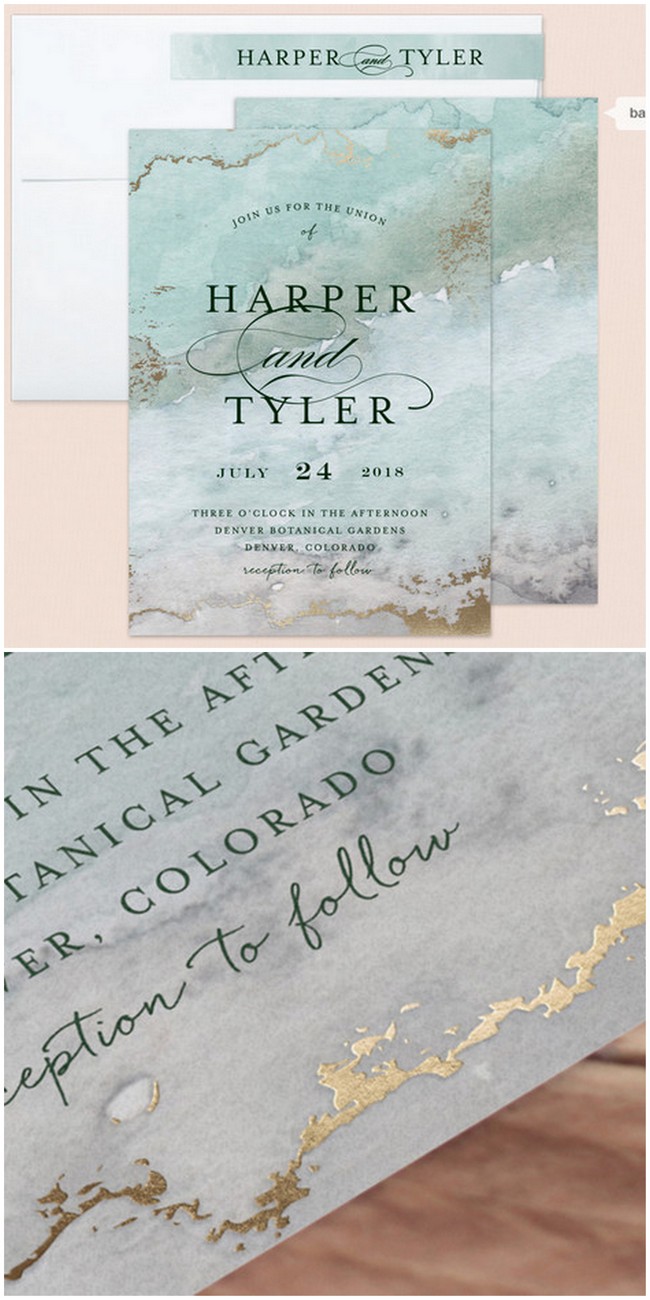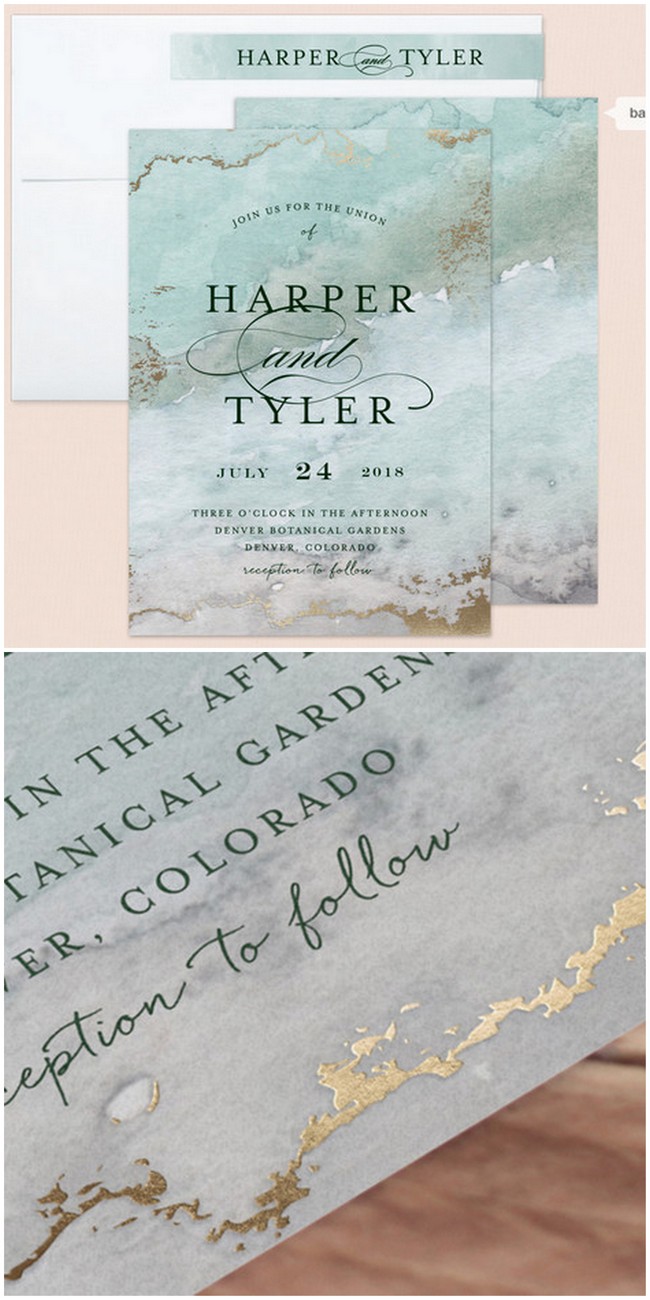 6. (Above) Watercolor Foil Pressed Wedding Invitations. These stunning invitations are made with real foil, adding a dimension of glittering sparkle to your geode wedding! The watercolours meld together beneath the gold detailing to create a striking effect. Available in a number of colors from Minted, here.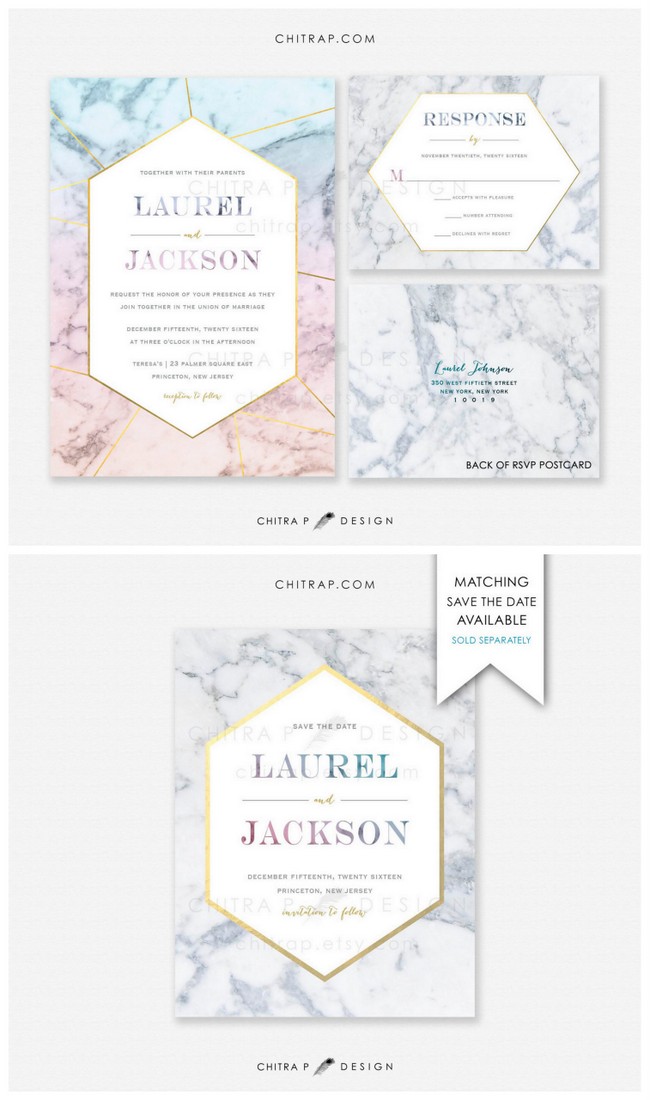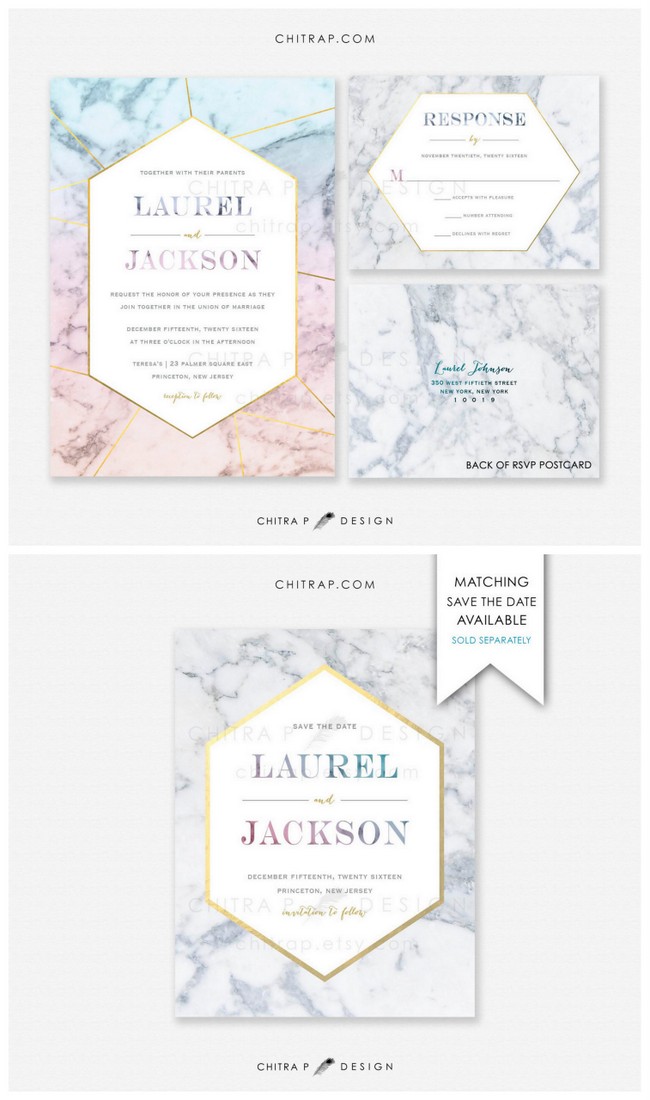 7. (Above) Marble Agate Wedding Invitations & RSVP Cards. Touching on the crystal geometric trend, with watercolored feature fonts set against a marbled background, these precious stone wedding invitations from chitrap can also be ordered with a matching Marble Agate Save the Date! Get it online here.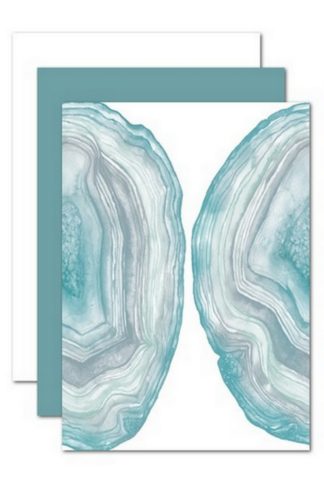 8. (Above) Foil Stamped Agate Crystal Wedding Invitations. This gold, foil-stamped geometric design is overlaid against a backdrop of geode formation style bands of rock. The invitations can be printed in the colour of your choosing, with foils available in gold, silver, rose gold and copper! Order them here.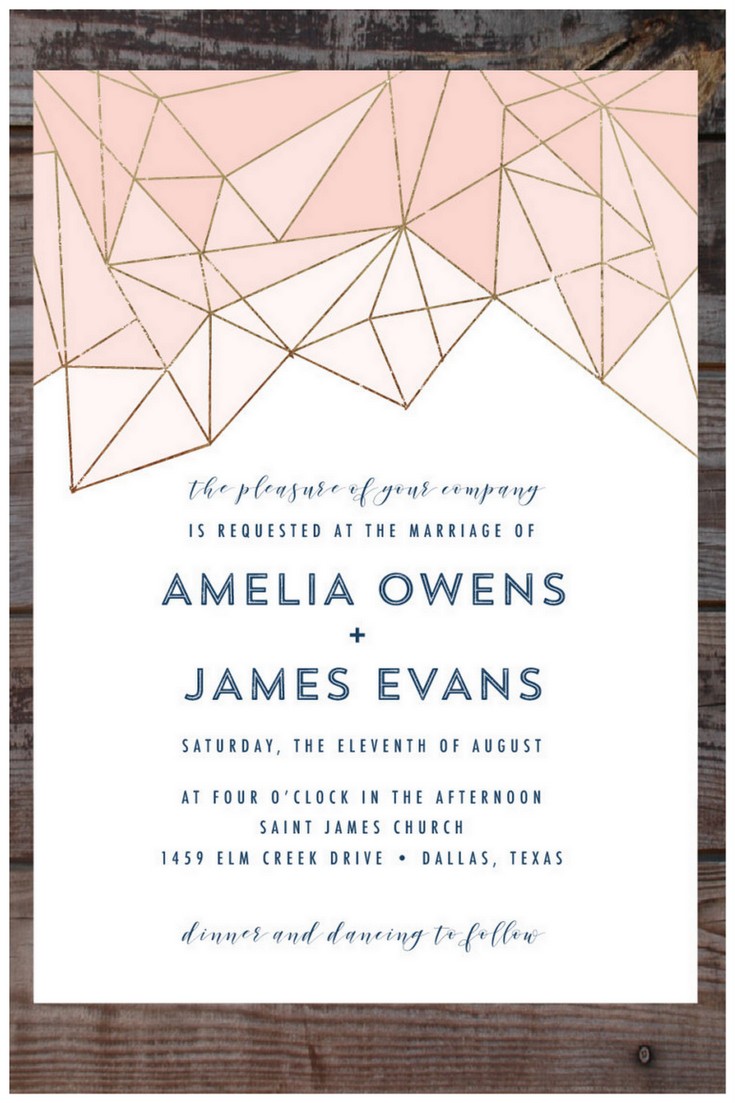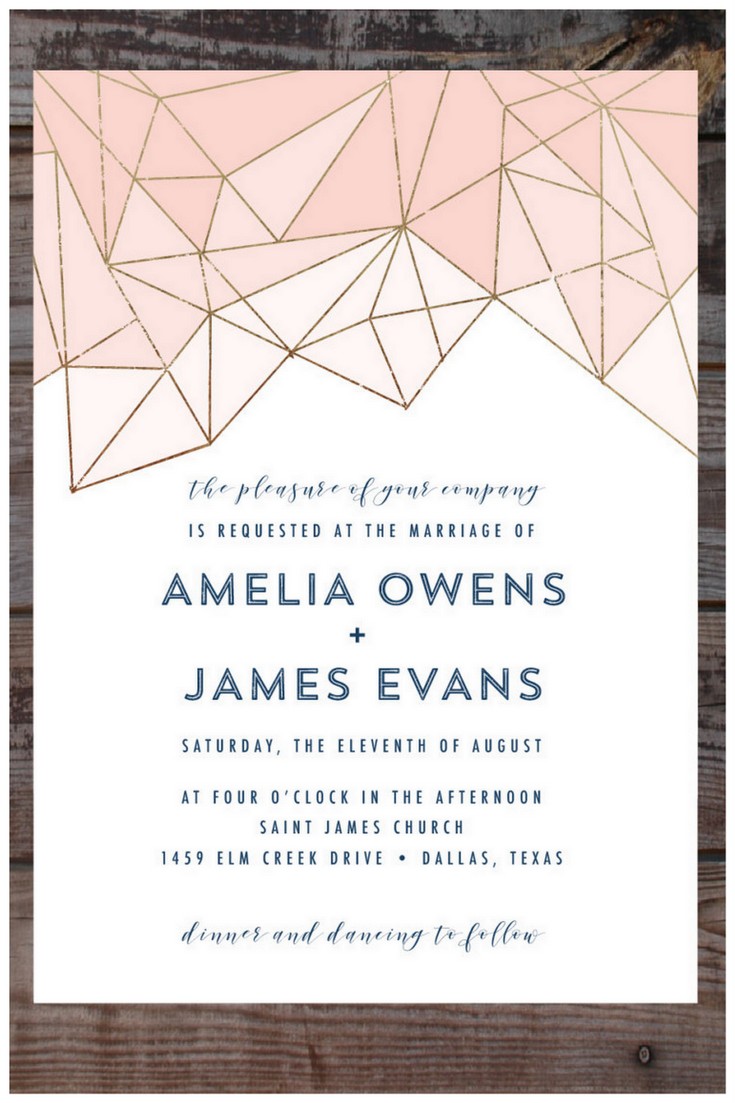 9. (Above) Prism Wedding Invitations. (Printed or digital download) Set against a blush ombre background, with strong geometric prism shapes in gold, these pretty printable invites by Annamalie can be ordered in your choice of color. They are available as printables or can be delivered fully printed. Check them out here.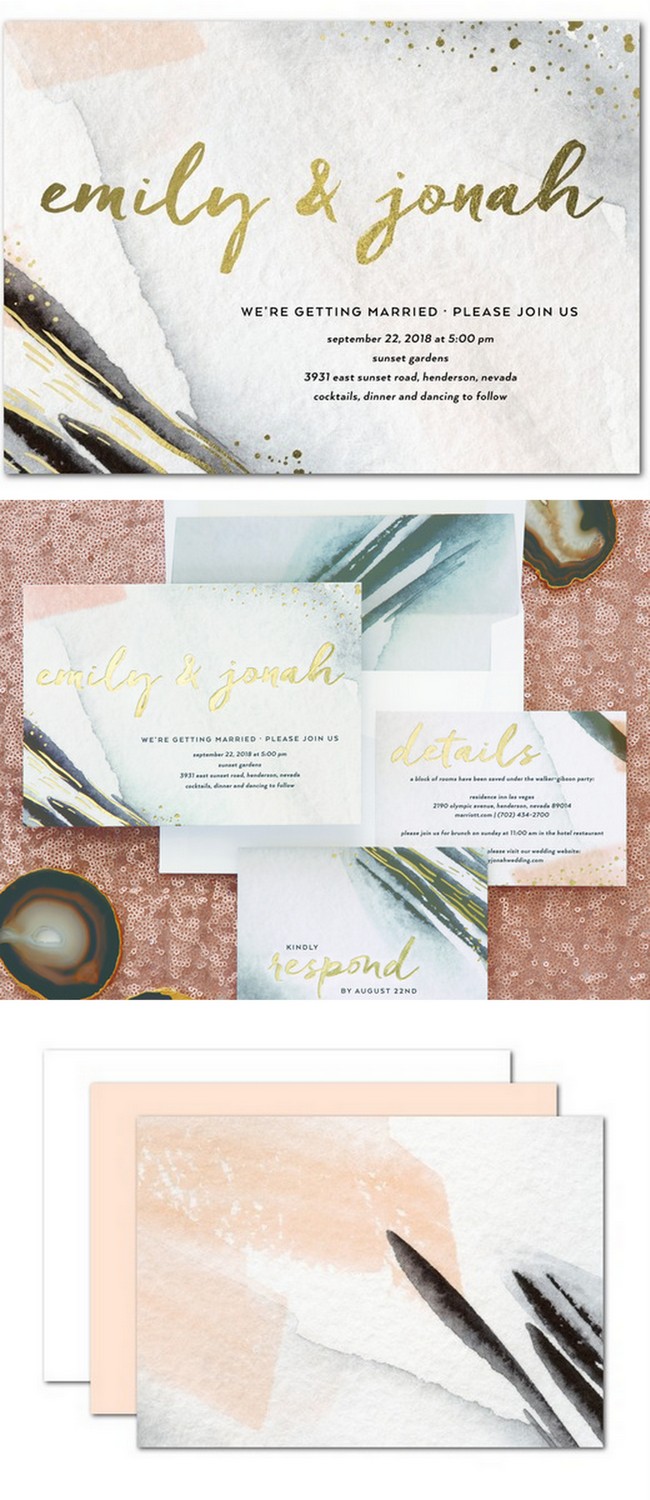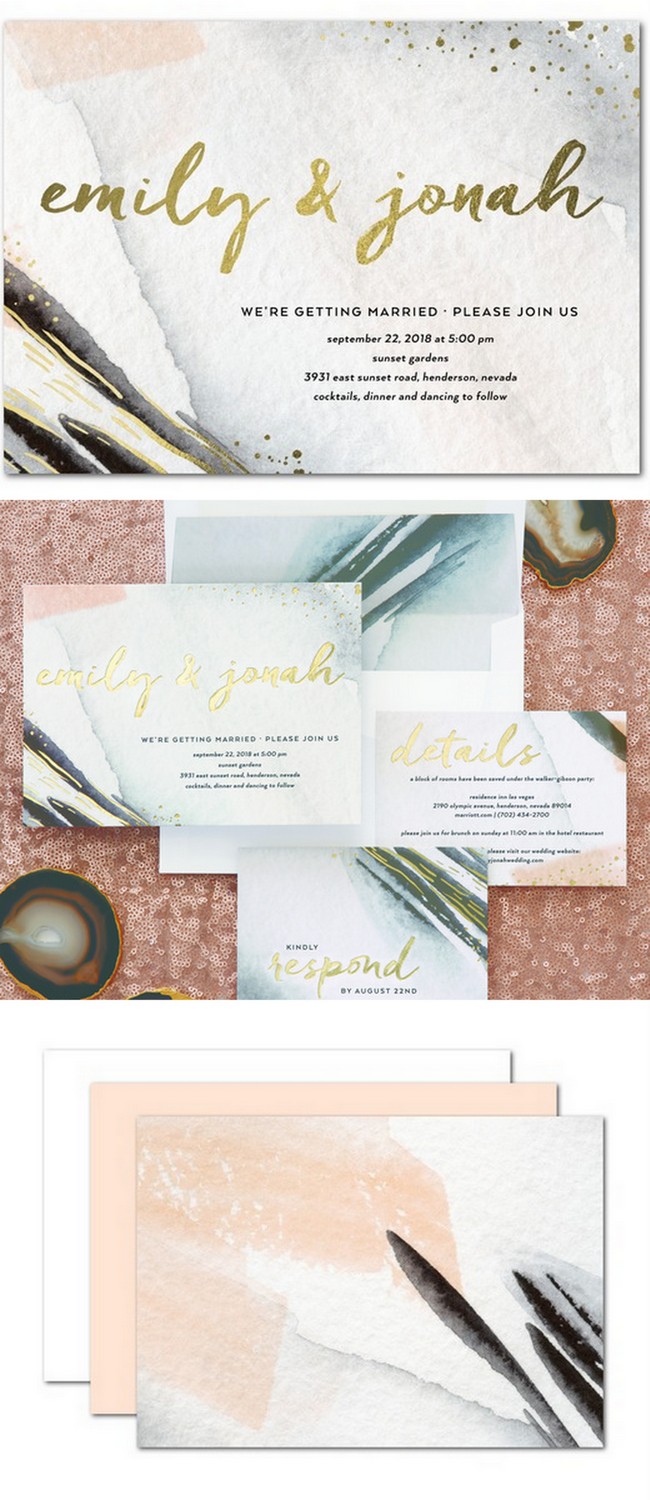 10. (Above) Watercolor Brushstroke Inspired Wedding Invitation. We love the way that watercolor flows naturally, organically. Combined with a gold foil font and a few flecks of precious gold foil, we think that this watercolor invitation suite works beautifully with a gemstone and crystal wedding. Available for order here.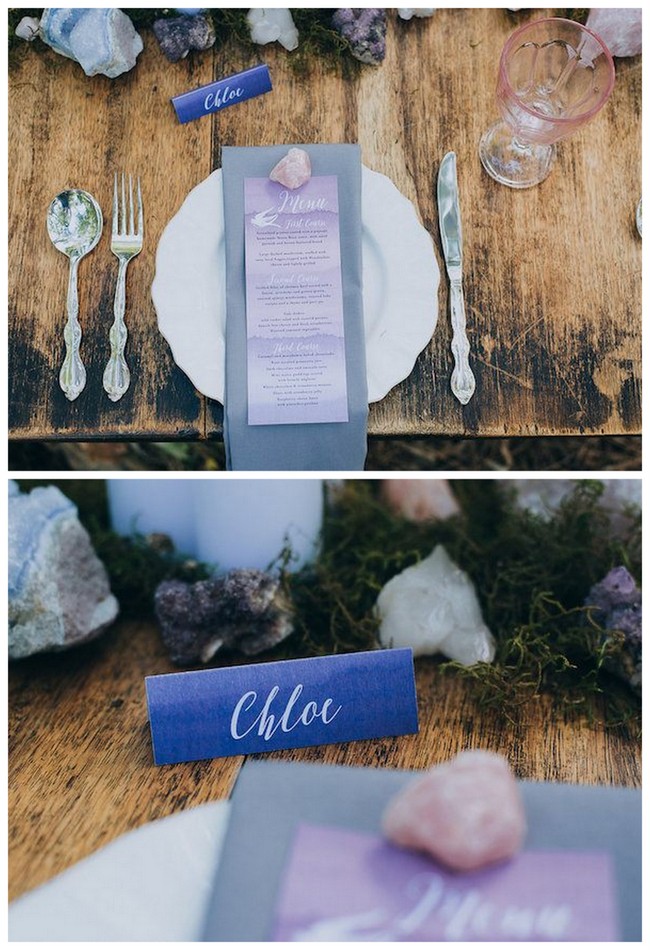 11. (Above) Gemstone coloured watercolour wedding invitation suite. These purple and lilac invitations made the perfect accompaniment to a totally earthy, geode and crystal wedding. Click to check out all the boho earthy decor details including an amazing geode wedding cake! (Stationery Oh Yay, South Africa // Photography Lauren Pretorius // Styling HAPPINEST  )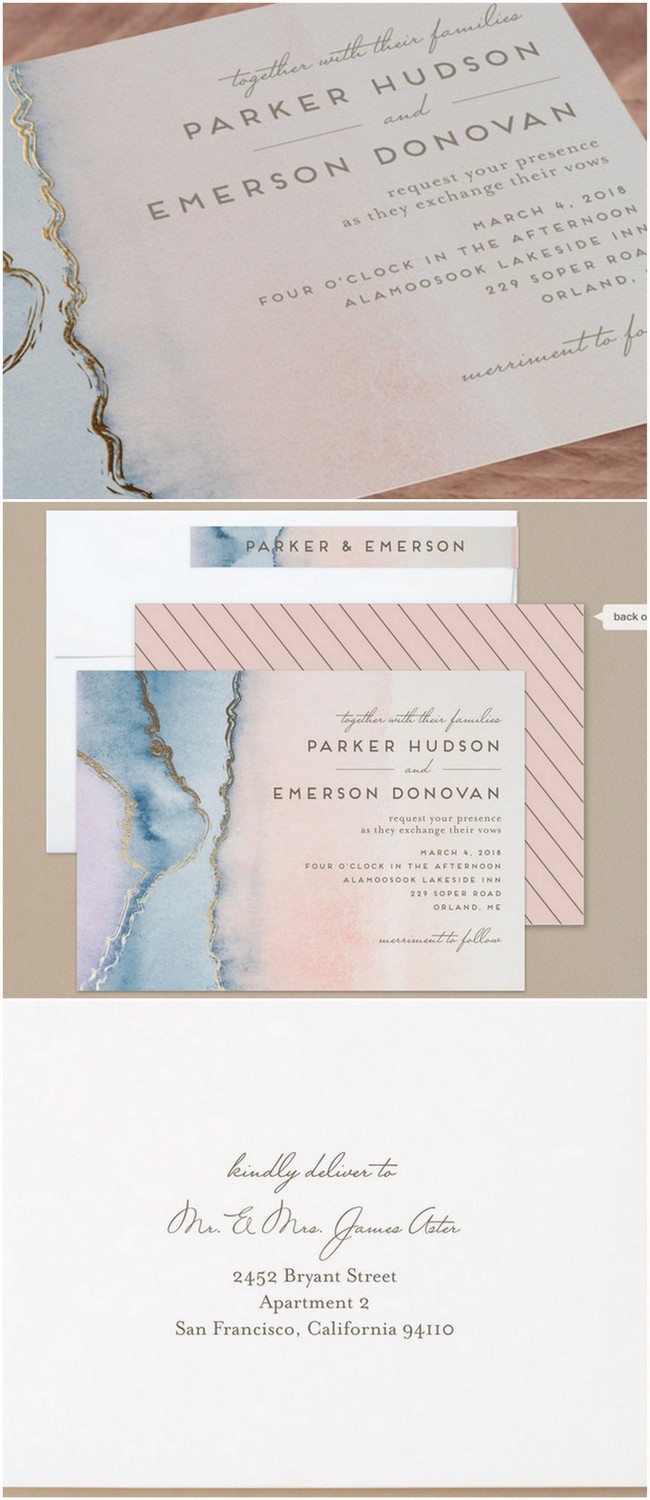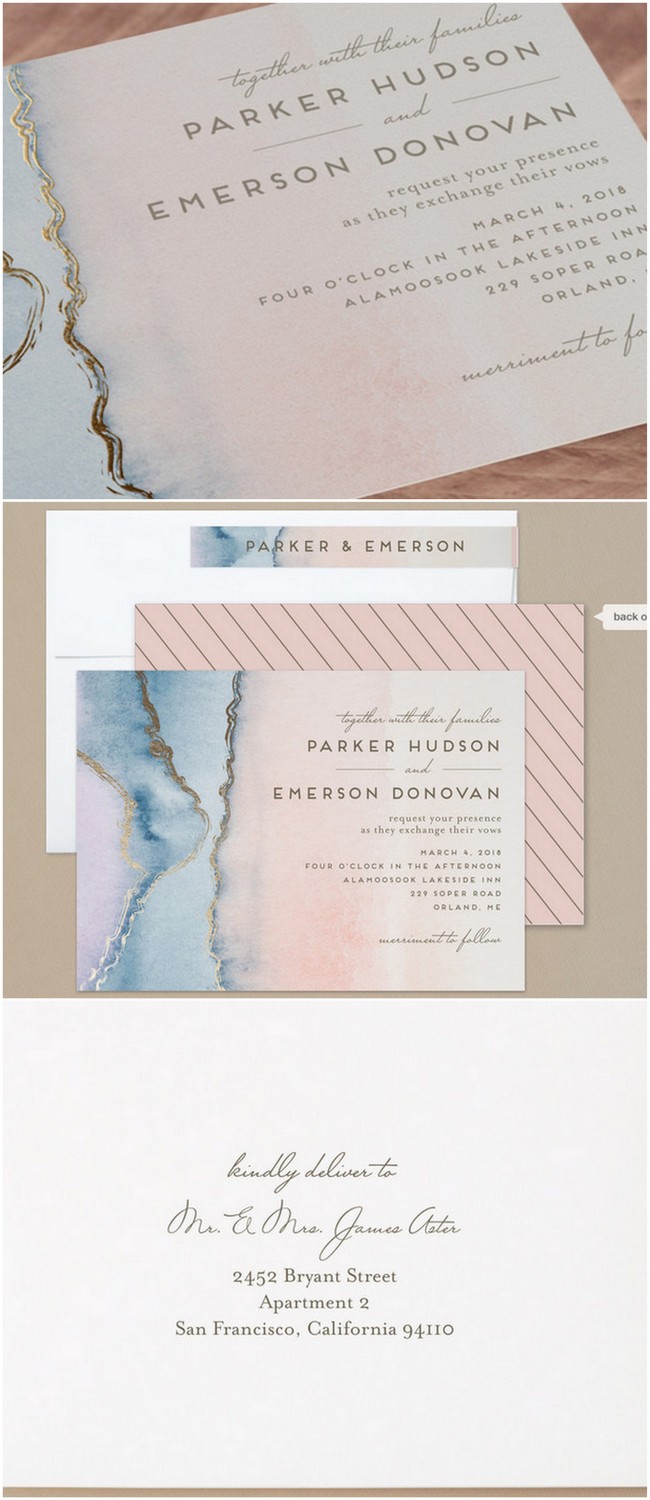 12. (Above) Simply, chic, boho and dreamy! These fabulous foil pressed agate wedding invitations are foil pressed in either rose gold or silver. We love the dreamy, cloud like ombre blend of pinks to blue to purple! Love them too? Order them online here.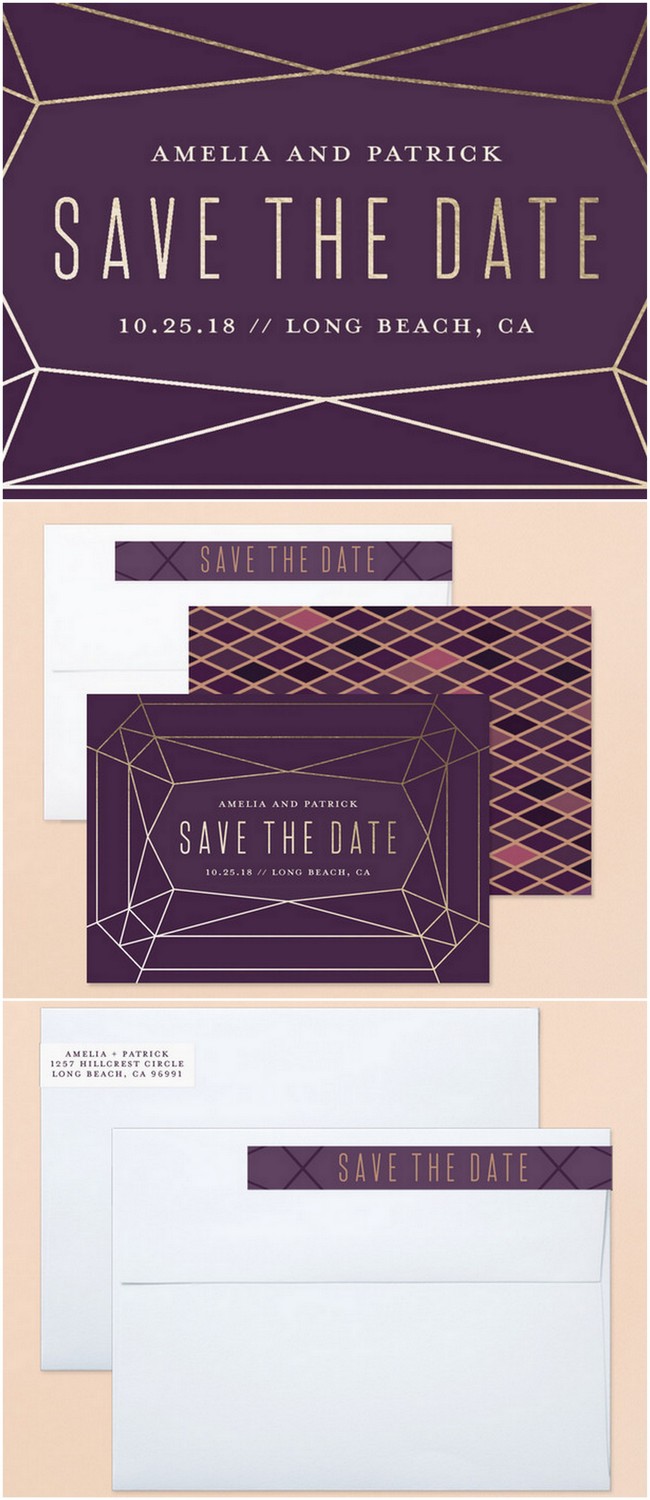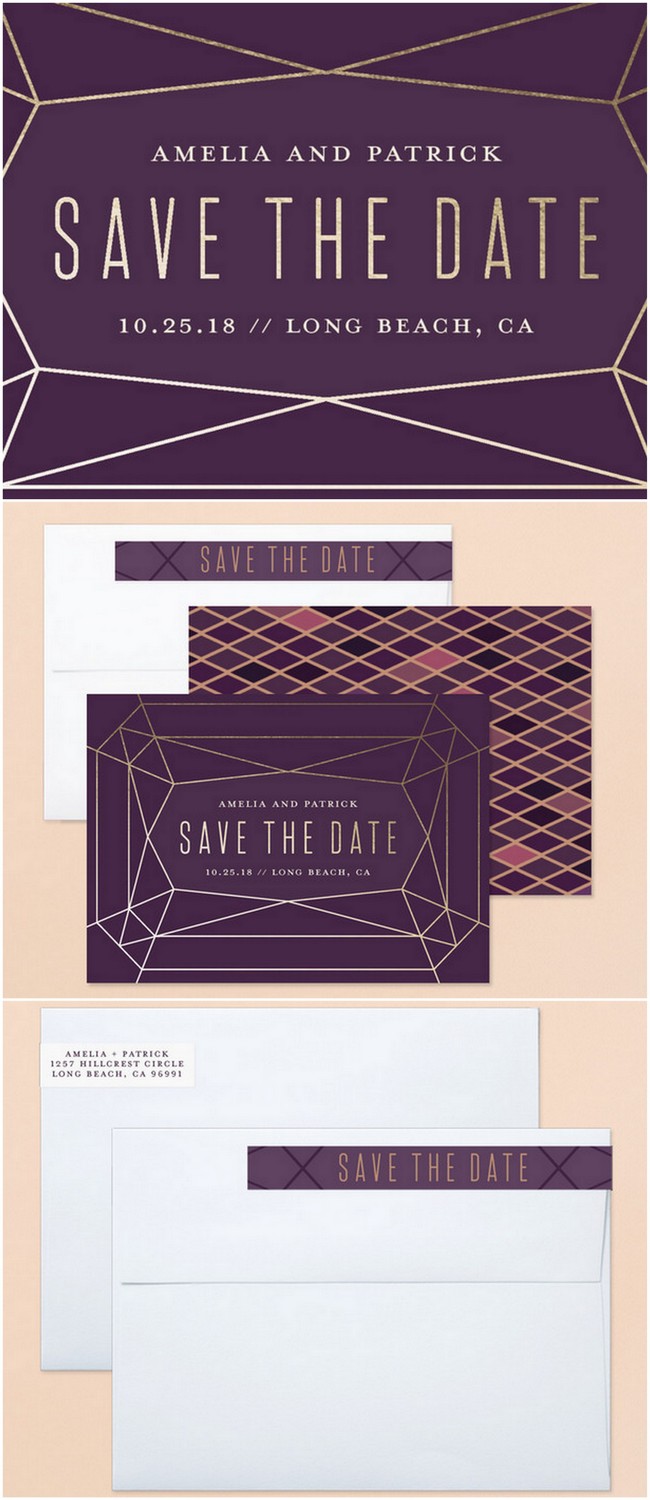 14. Geometric Geode Save the Date. This retro feel design, with geometric crystal like outlines brings to mind a sort of gatsby-esque soiree in the age of aquarius! Available to order in four different color palettes here.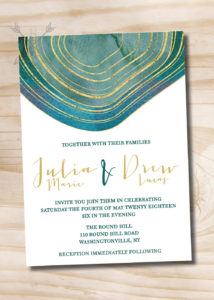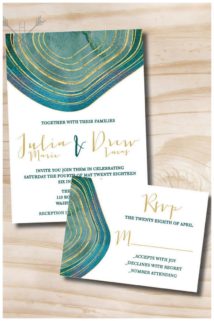 15. (Above) Geode Slice Wedding Invitation. Available with matching RSVP card, this gemstone inspired wedding invitation in turquoise and gold can be ordered as a digital download for home printing, or can be ordered printed on paper of your choosing. The stone can also be chosen in a selection of alternative colours. Order it online from Paper Heart Company here.