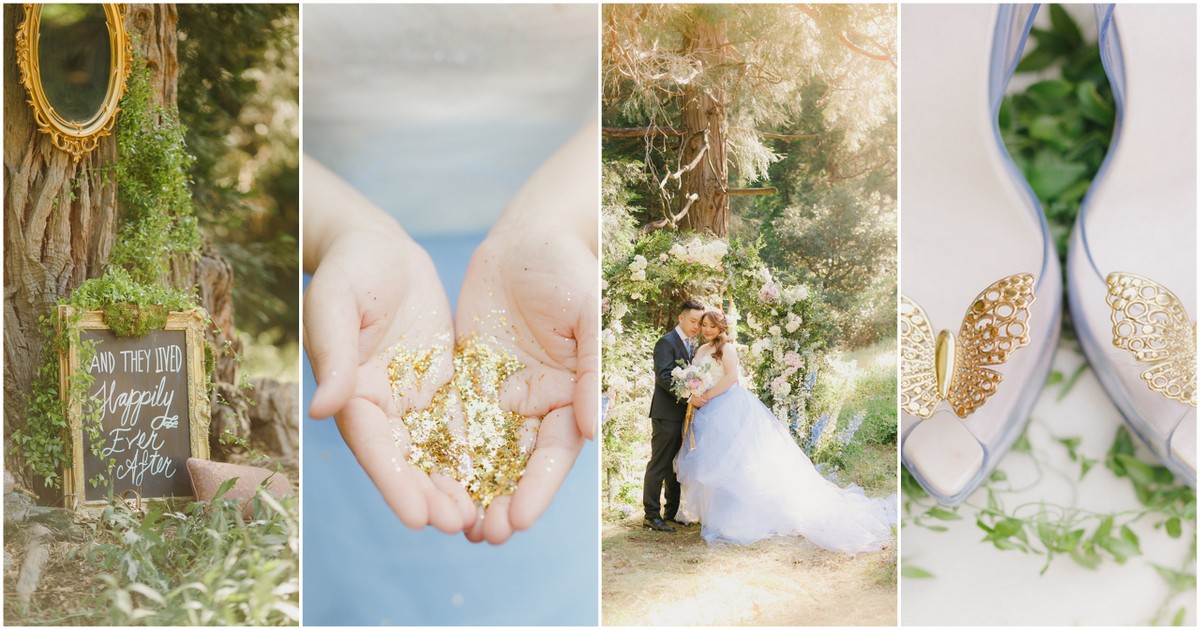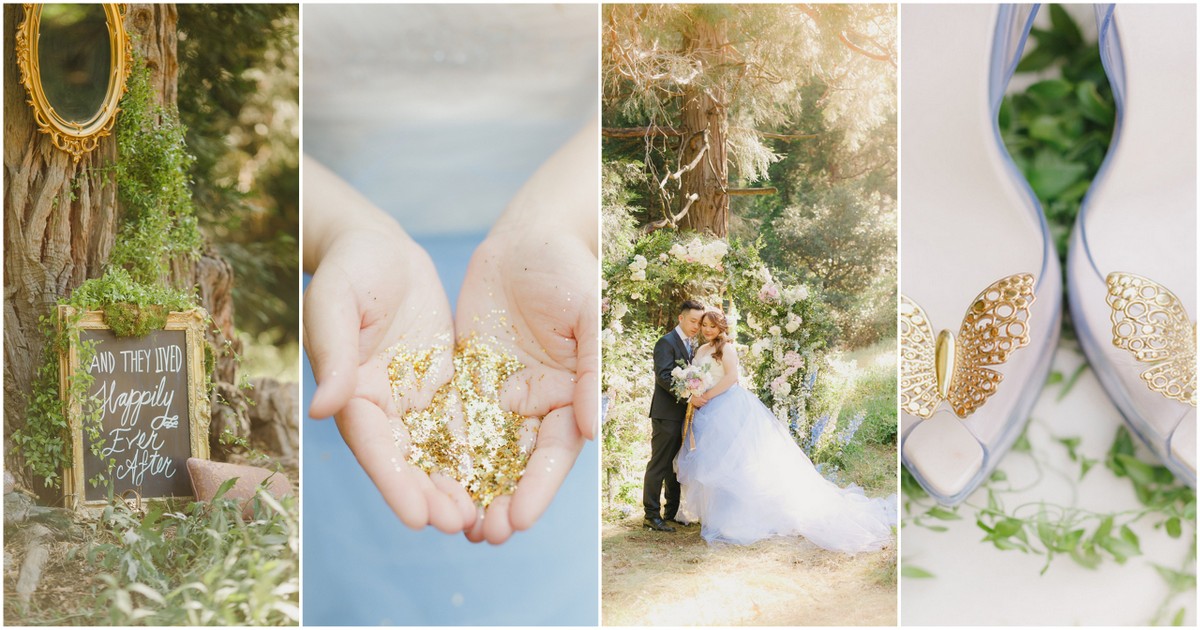 This real-life fairytale wedding is a whimsical Cinderella which took place in the 'Valley of Enchantment' forest! Following a literal Cinderella fairy-tale proposal at Disney including a carriage, Sylvia and Brian eloped to create a magical story all of their own.
They worked with stylist, photographer and fairytale specialist, Kristen Booth  , as well as Brier Rose Design, who trekked into the woods assembling a fantasy-worthy floral arch.  Golden antique chairs, gilded mirror trays and a Florentine "Cinderella blue" plate for the delicious naked cake by cakes by Grammy Terry were were hauled in from Etablir's shop. Kristen being a collector of all things fairytale added sweet touches with her carriage ring box and antique keys.
Sylvia wore a beautiful gown which had the perfect blend of her favorite Cinderella princess and her own sweet soft princess style. Her beautiful Cinderella wedding dress is truly worthy of a disney wedding dress dream ending with 'Happily ever after'! Sylvia's hair was done in a beautiful side sweep cascade of curls with her impeccable makeup by Brittany Heim.
Their forest-wedding location was nestled in the Crestline area, of California, a part of the woods literally called the "Valley of Enchantment"; full of magnificent pine trees, moss covered rocks and the sound of soft rolling creek in the background. Officiant Chad Hobart arrived turning this fairytale Cinderella and her prince this into a real life married couple.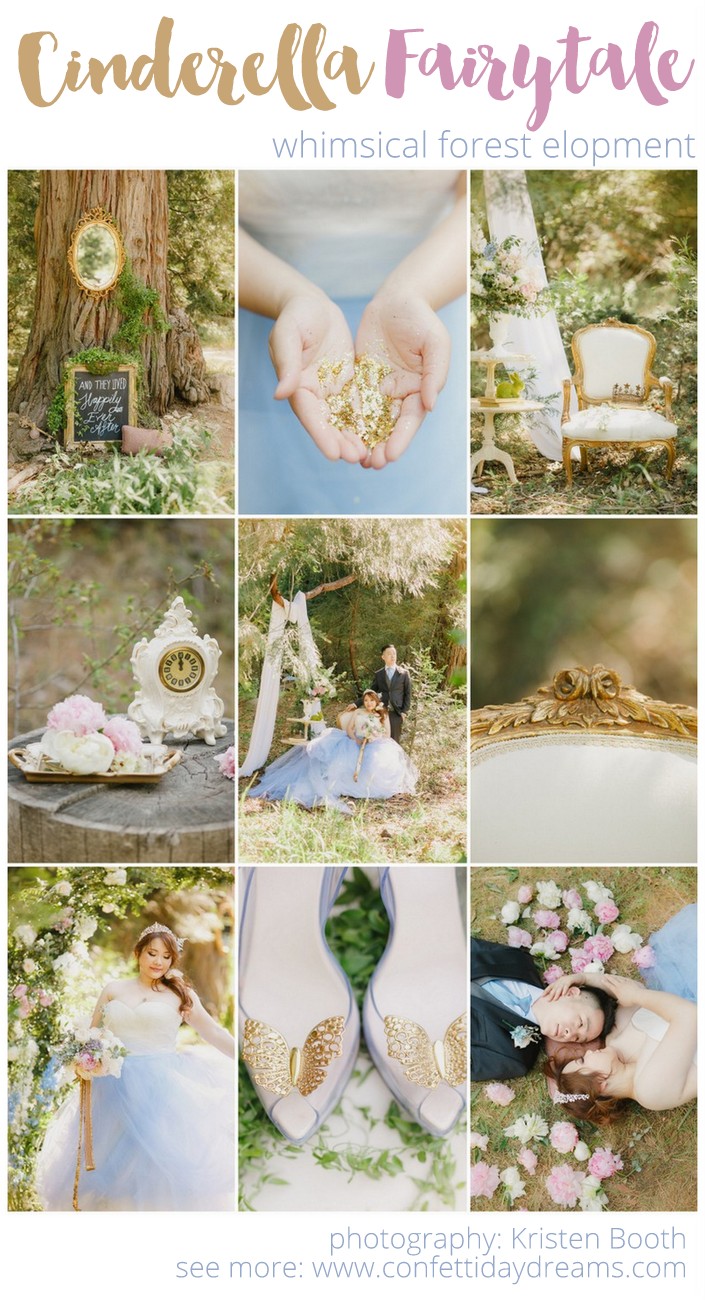 "Ever since I was a little girl, I imagined being whisked away by a prince in my very own fairytale," shares Sylvia. Because Brian, her prince, had proposed to her with a Disney carriage, she knew she had to be Cinderella. "Brian and I are first generations here in Portland Oregon but our family traces all the way back to both china and Vietnam." The couple decided to elope and seeing as it was just the two of them, the pair were able to exchange vows in a magical, woodsy, secluded setting that conveyed the type of enchanted forest so many of us fawn over in the movies. "The elopement was simple and clean, everything I wanted without the stressing hassle of a traditional wedding arrangement. To us, the beginning of our lives started with this simple act to elope. "
Sylvia made sure there were pops of pastel pink and blue as a nod to Sleeping Beauty, while framing the whole setup in gold. Just like Sylvia, we fell head over heals with the results! Photographer and stylist Kristen Booth teamed up with Collette of Brier Rose Design, to create a visually stunning fairy tale world. "With all the floral surroundings and scrumptious desserts, my prince and I couldn't have been more satisfied leaving California with our fairytale elopement. Not only will this moment be engrained in our memories but were beautifully captured by my oh so talented fairy god-photographer to be looked back on and shared for years to come!"
Fairytale Cinderella Wedding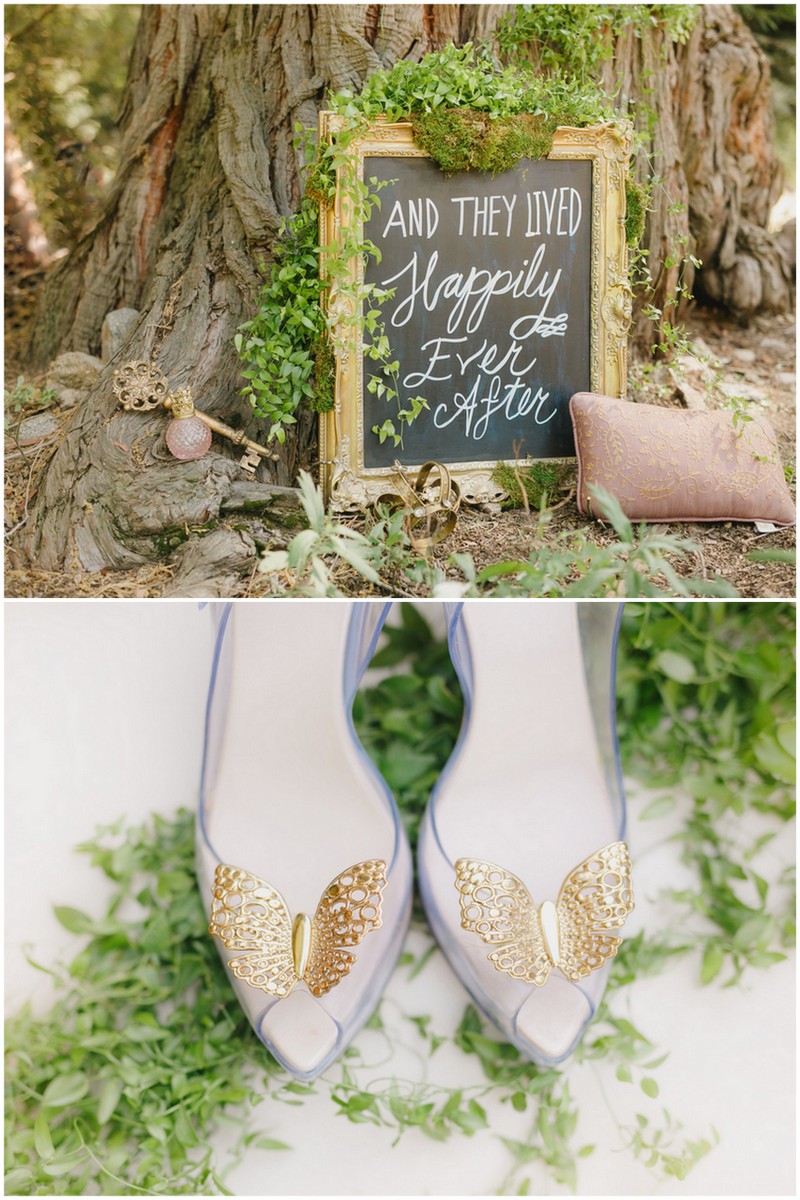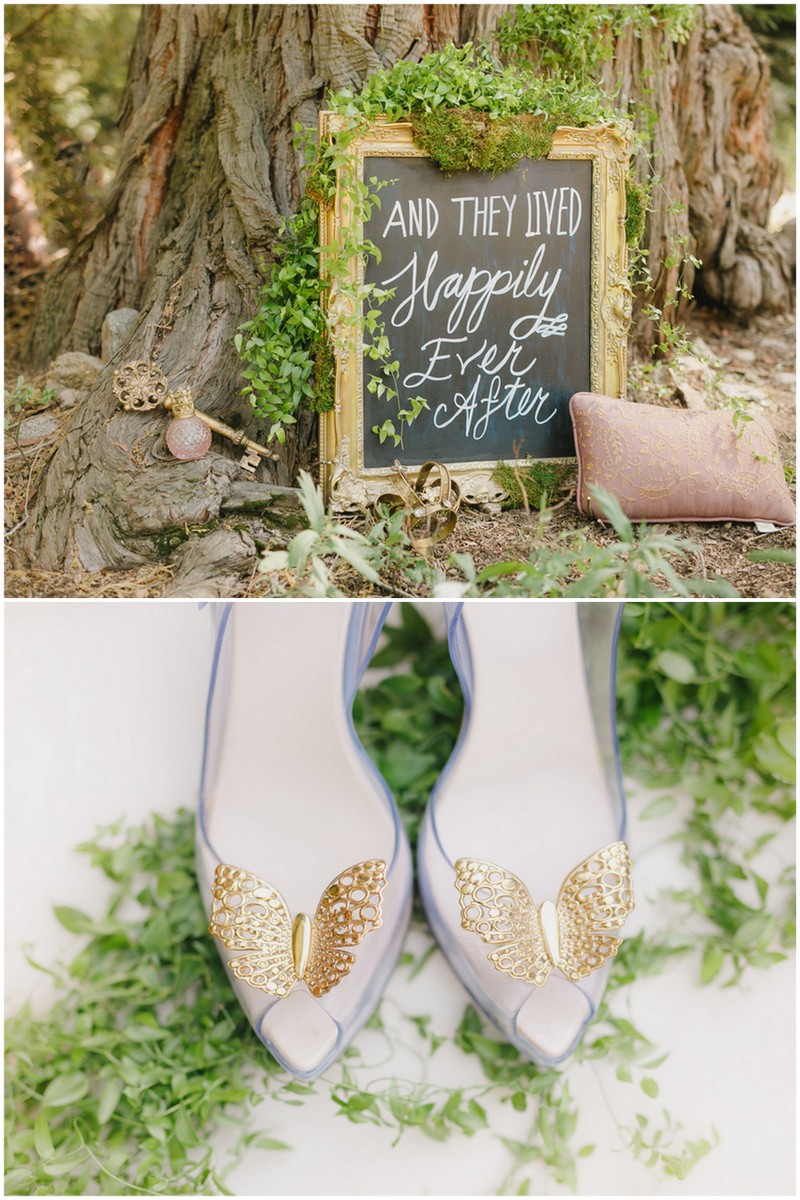 Love story: I like to say that Brian and I were were just meant to be. At one point in our lives, we crossed and never parted. We became close after friends first, as I supported Brian who was coming out of a difficult time. The days and moments I spent with him became something I looked forward to, something that became a priority to me.
That's when it hit me, I was falling for my best friend in the whole entire world, and that scared me. All these thoughts came racing through my head but the worst was the possibility that he didn't feel the same way for me. I hated hiding my feelings so I put everything on the table and spurted the three words everyone's scared of. "I love you." The darting butterflies in my stomach were soon settled and filled with pure happiness when I saw the smile on his face. The feelings were reciprocated!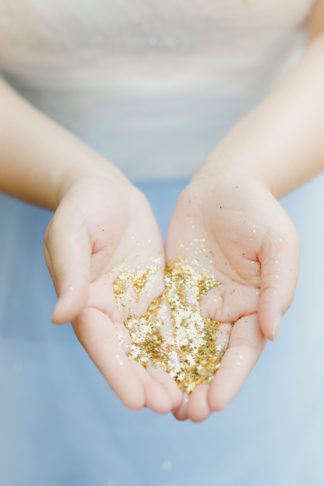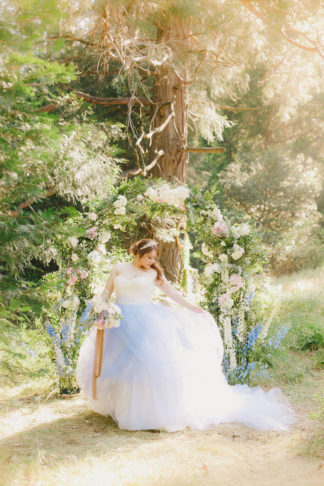 I wore my own tiara, glass heels, and white dress with layers of blue that convinced me into thinking I was a princess, more specifically, Cinderella. My hair was braided to incorporate Rapunzel's long golden locks and the bunny, as well as the mirror, was to tie it all in with Snow Whites precious touch.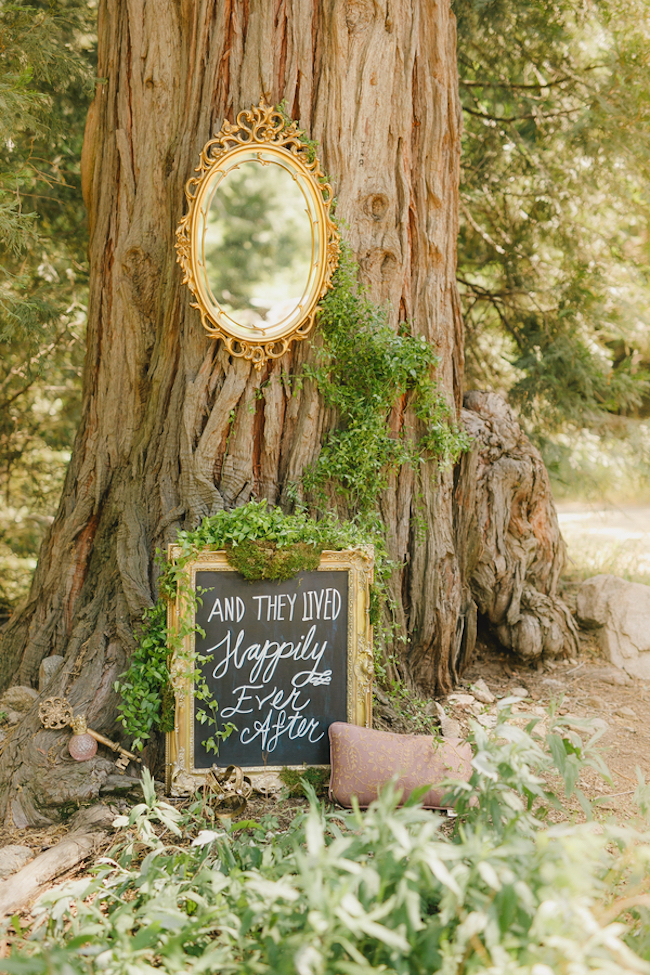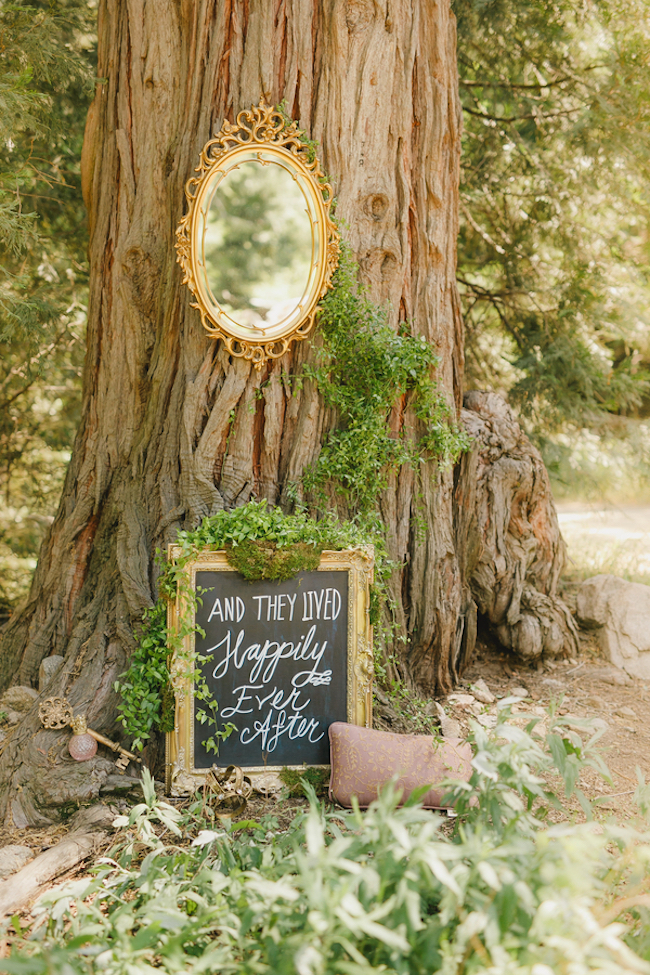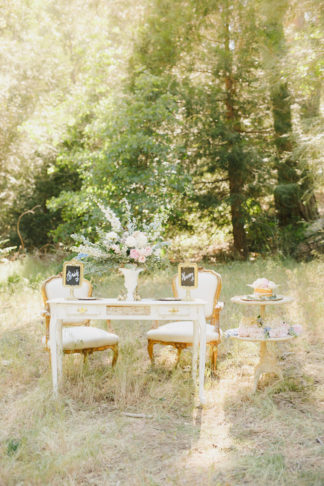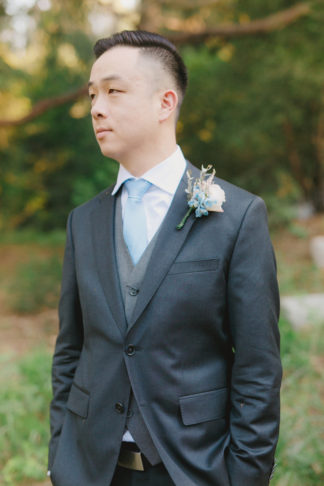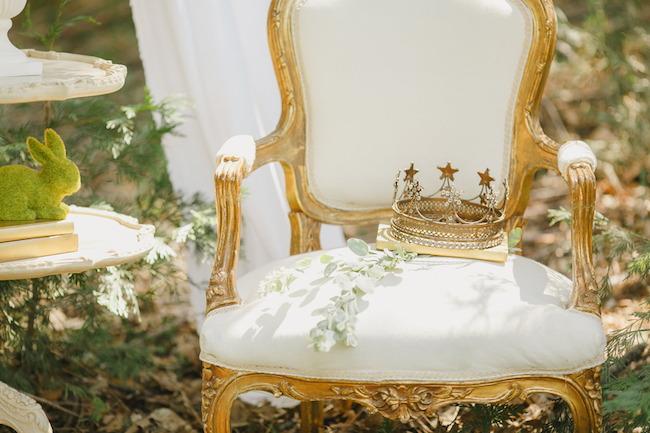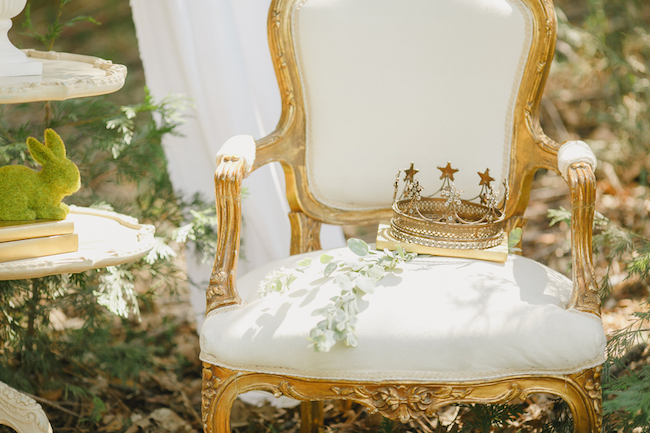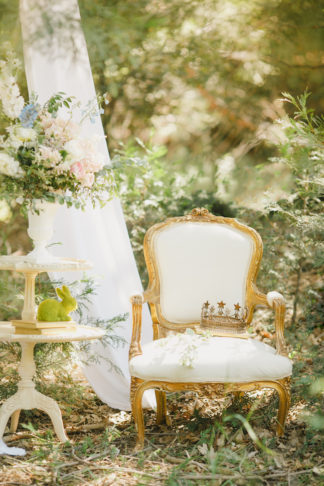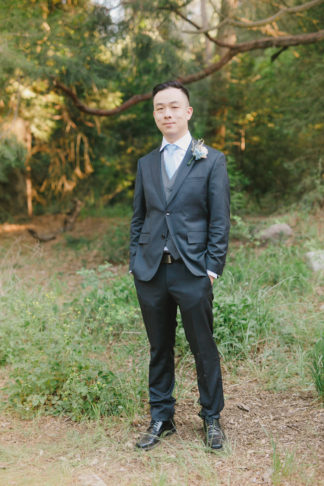 Fairytale Disney World Proposal: We went to the most magical destination: Disney World, Florida! We were children again. Flying through the parks, eating whatever we fancied, and best of all, sleeping in each other's arms to the sound of fireworks and laughter.
On our final night he took me for an unforgettable late-night dinner at romantically light, upscale restaurant, I was on top of the world! As we left I was greeted at the door with a sight to behold: a glistening fairy-tale style carriage which sparkled like an endless sea of diamonds! I broke out in tears, unable to control myself, while he got down on one knee! He revealed the treasure hidden in the Tiffany box and gave me a million reasons to give him the one-worded response he was waiting for: Yes. Yes to him; yes to us. Yes to waking up to him everyday, yes to late night talks and dreams of a full lifetime in his arms.
And just like that, we were engaged. As we rode off into the night on the magical carriage ride, I didn't think of anything else other than the fact that I was the luckiest girl in the world!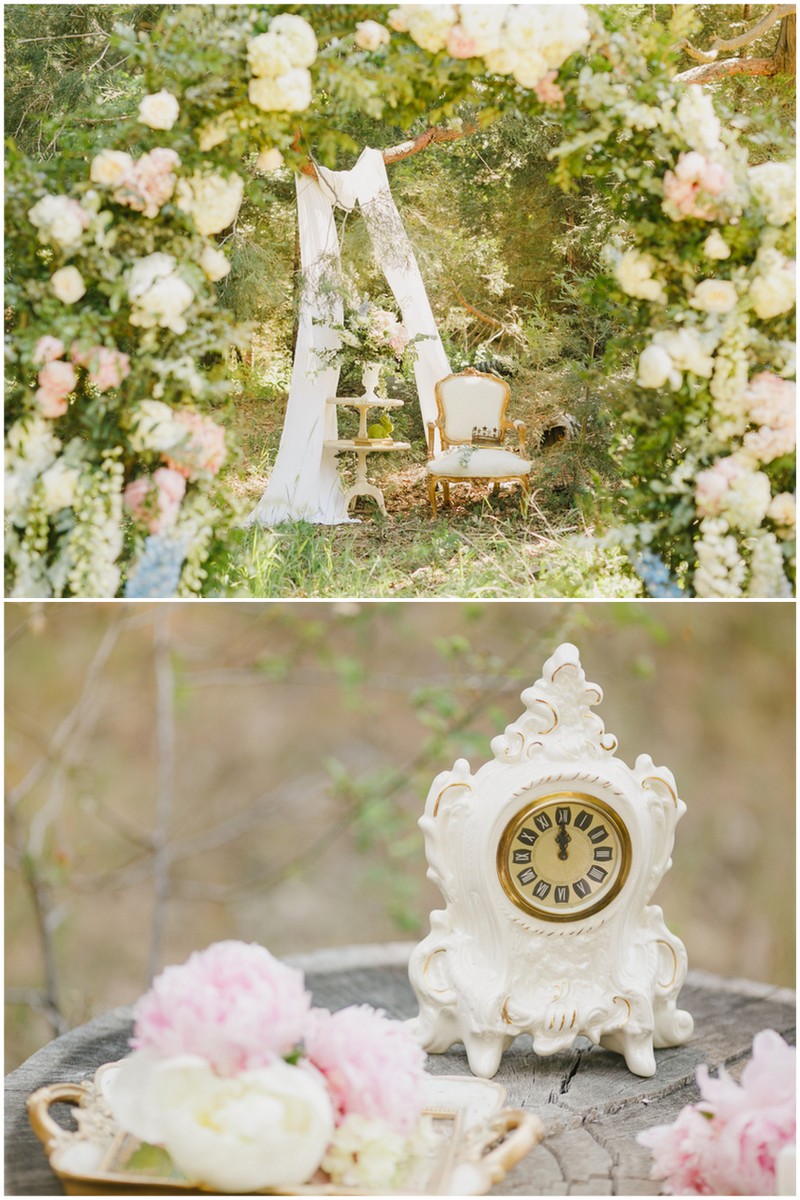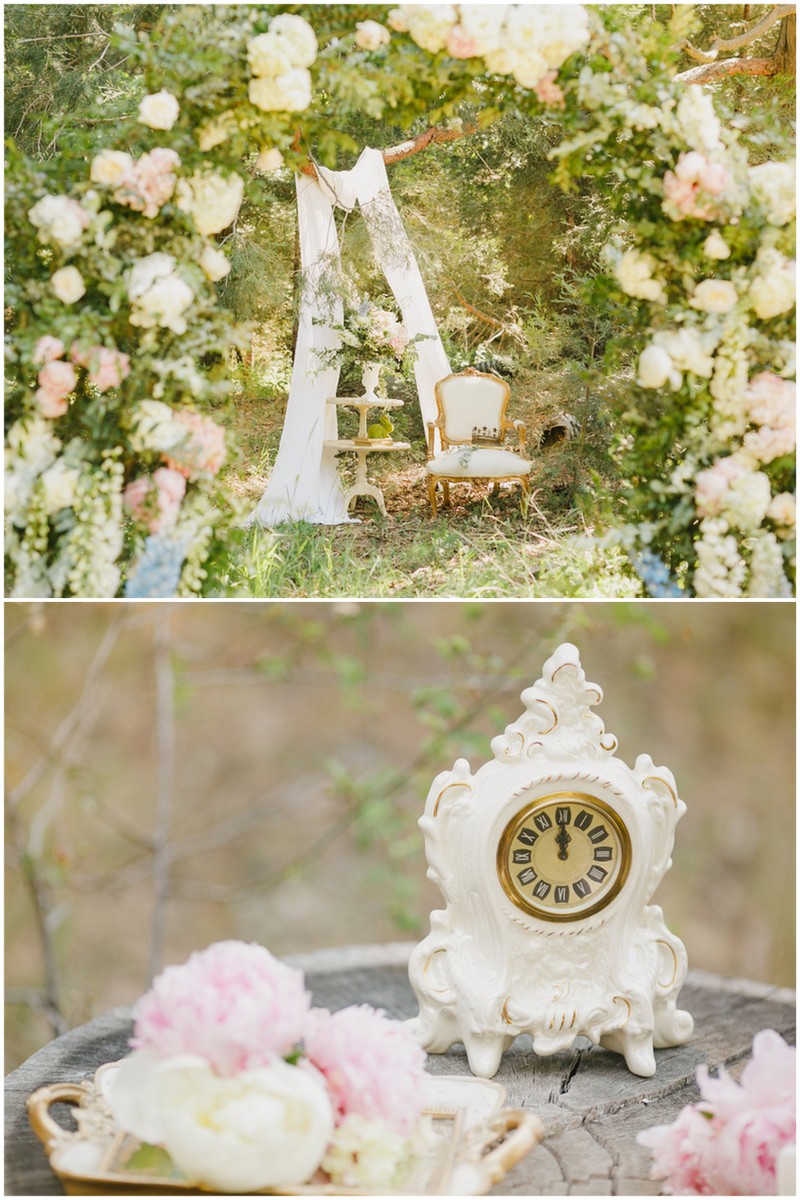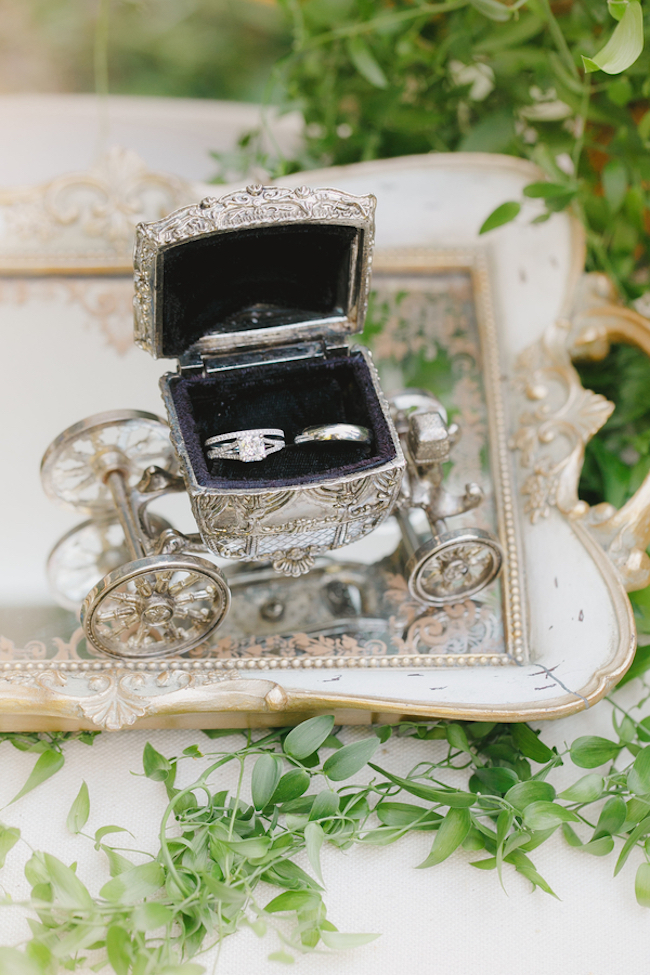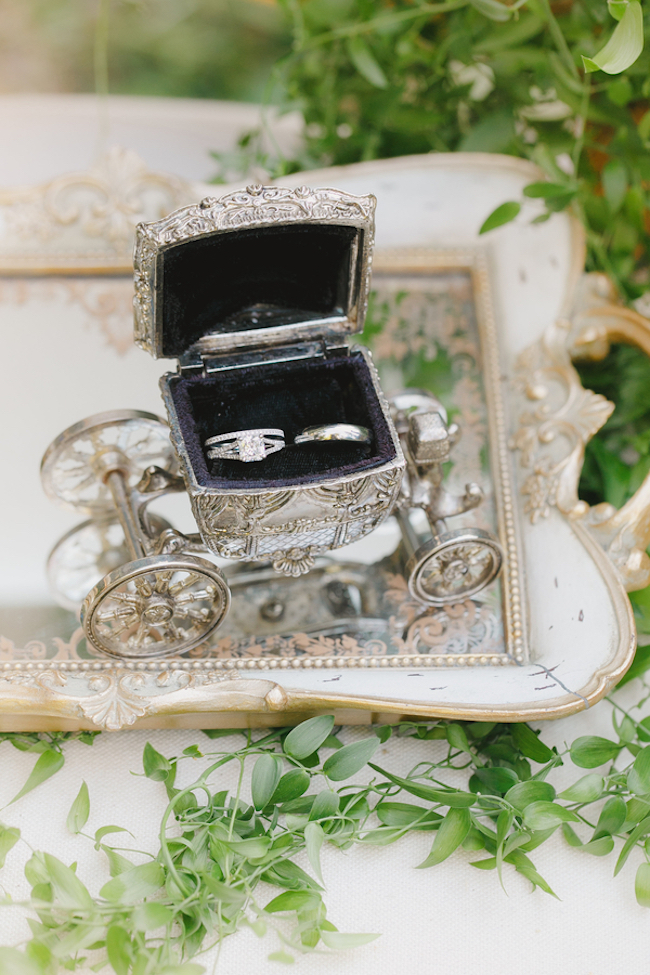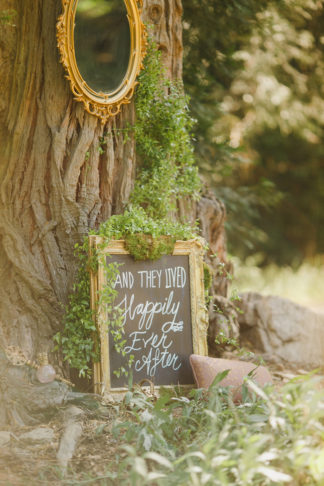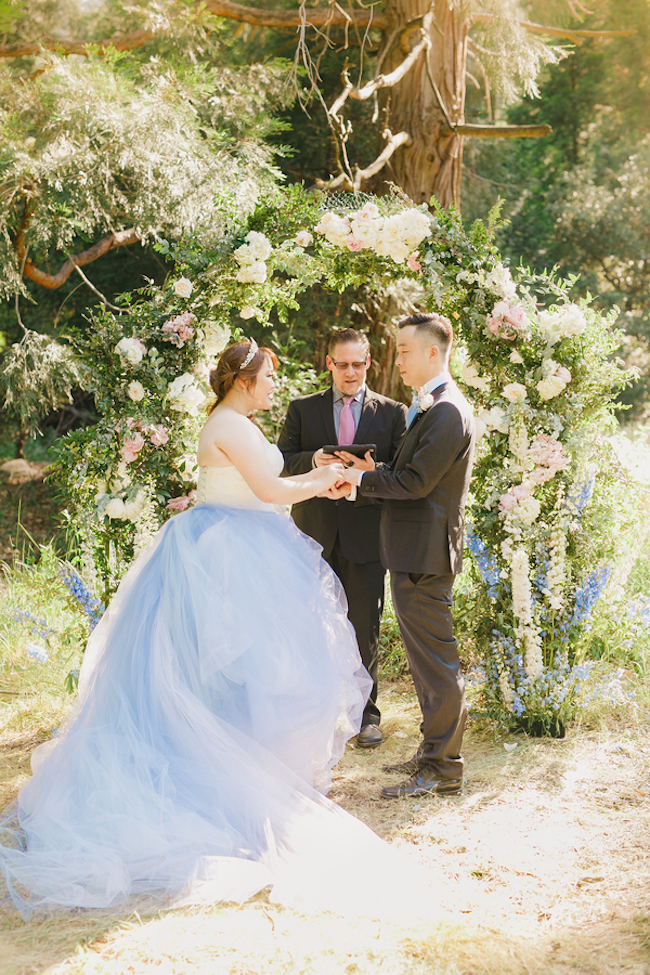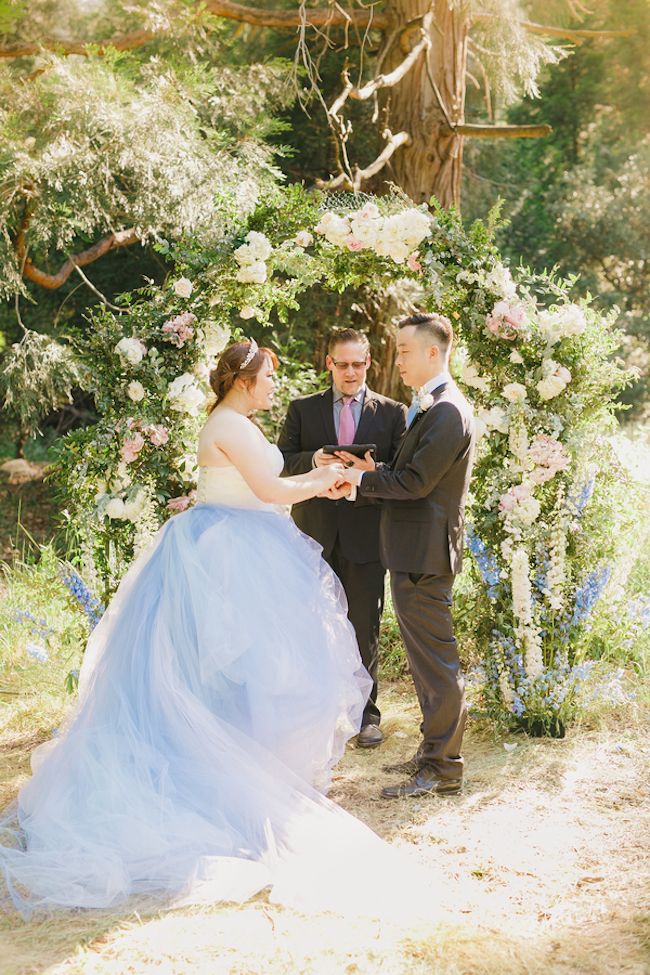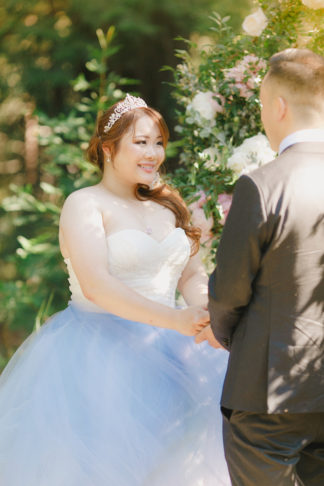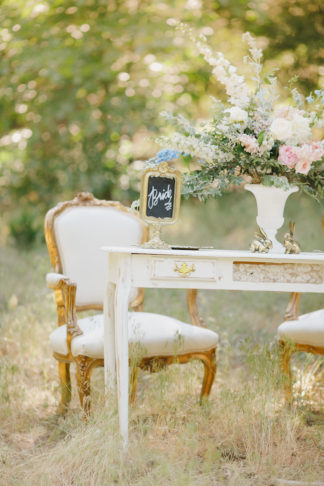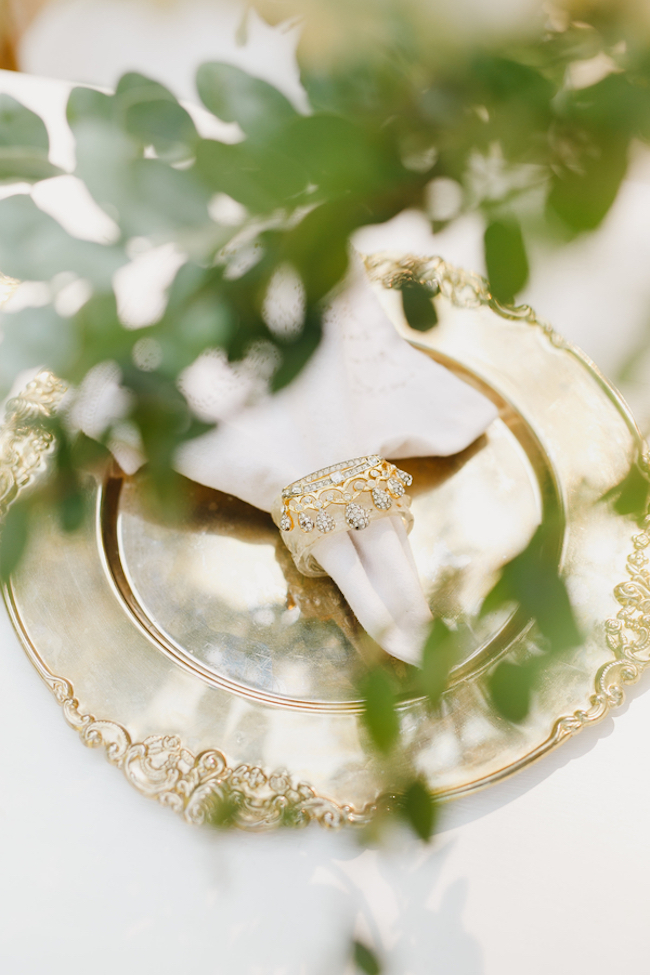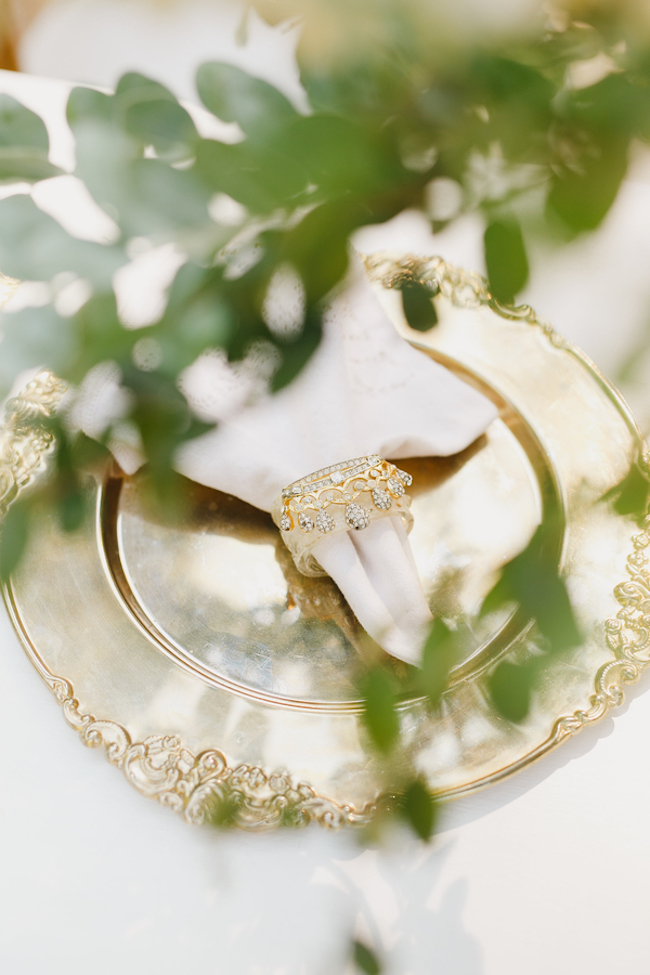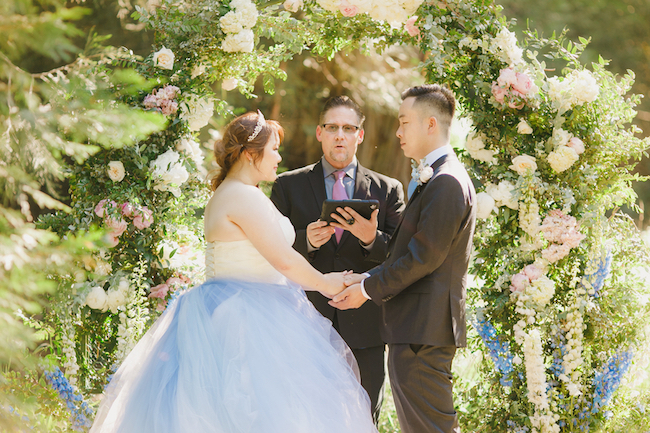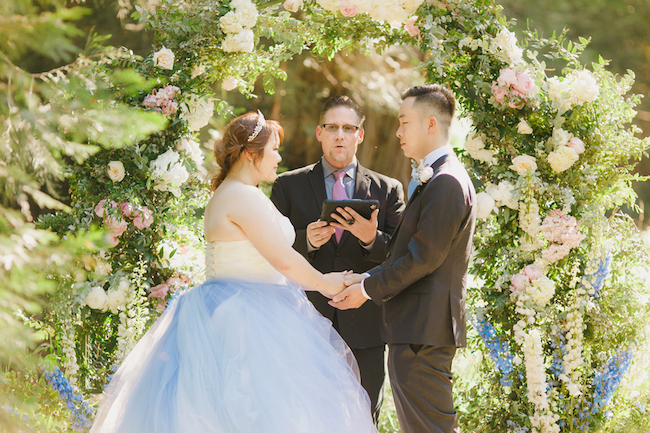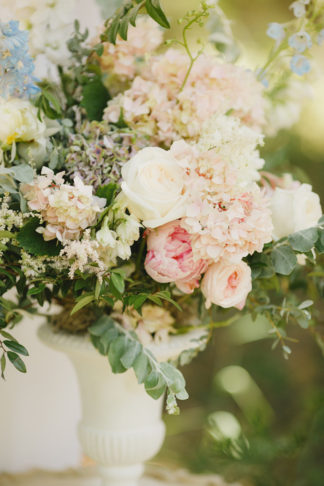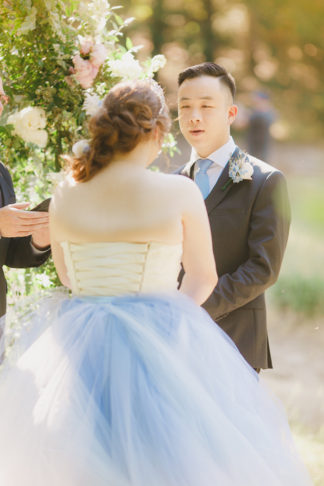 After we said our "I do's" we became partners for life. I don't think there's a thing in the world that can tear us apart because we were meant to be.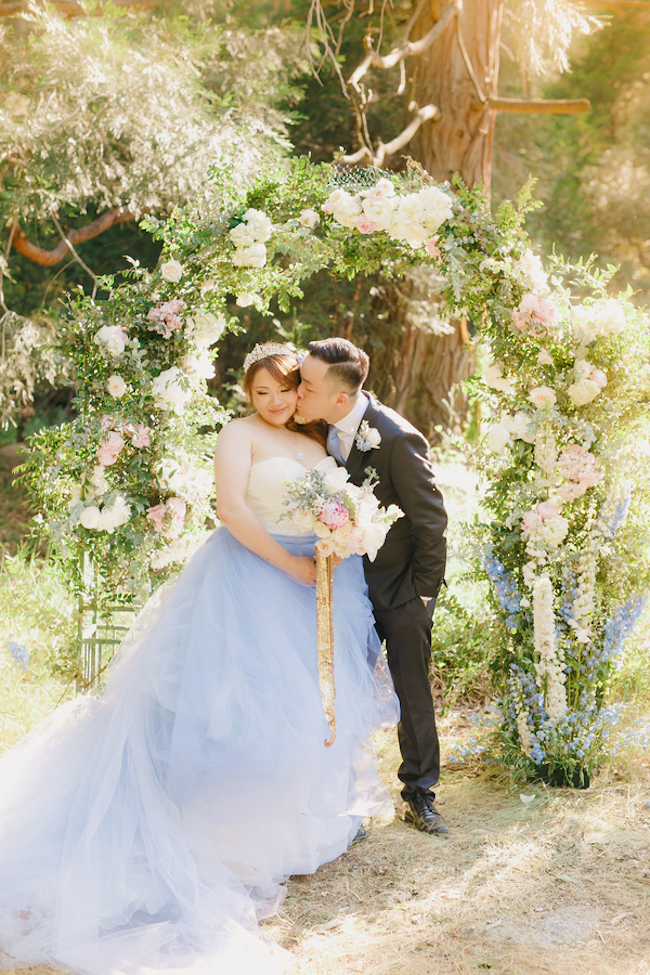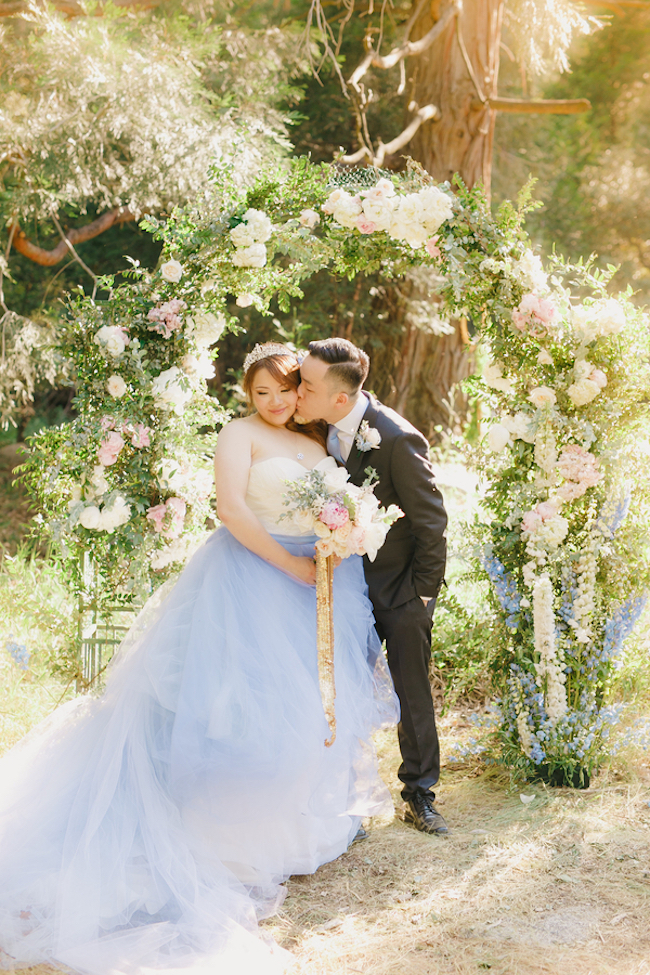 The floral arch installation by Brier Rose Design was bursting with soft muted pastels, cream peonies and soft blue hybrid delphinium and larkspur intertwined with huckleberry leaves and acacia all amidst a pine ridden forest.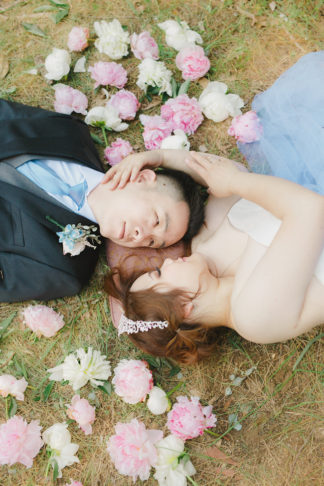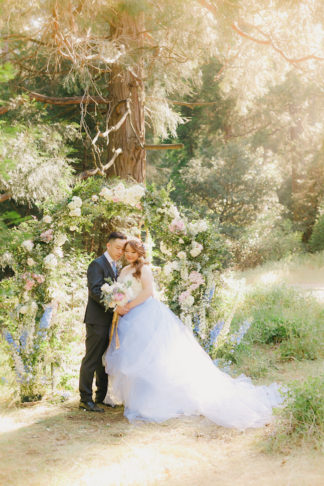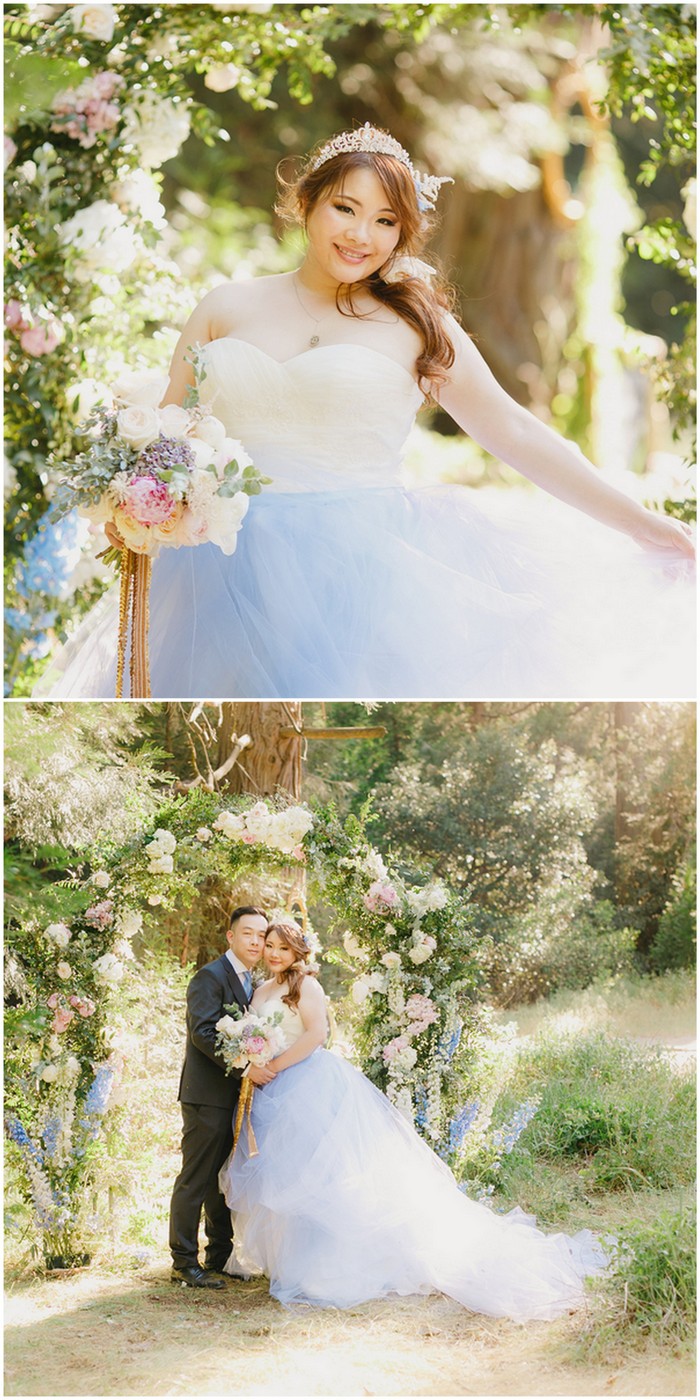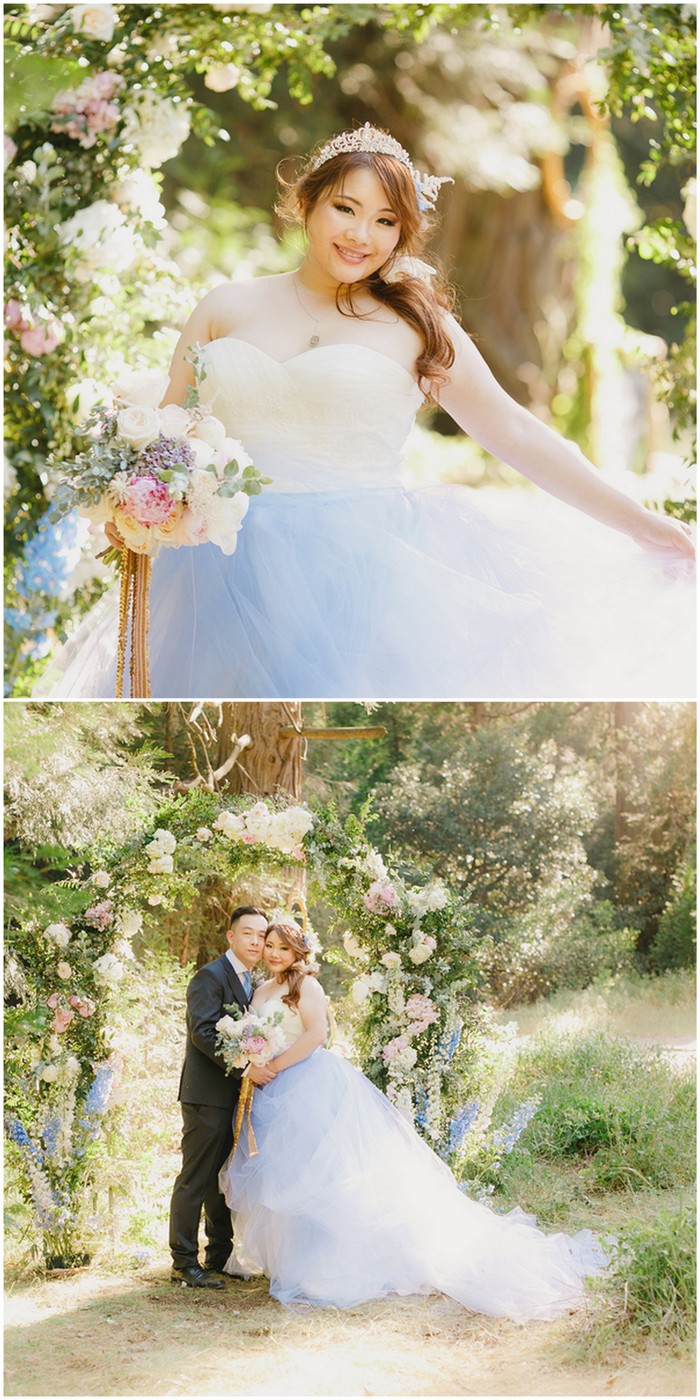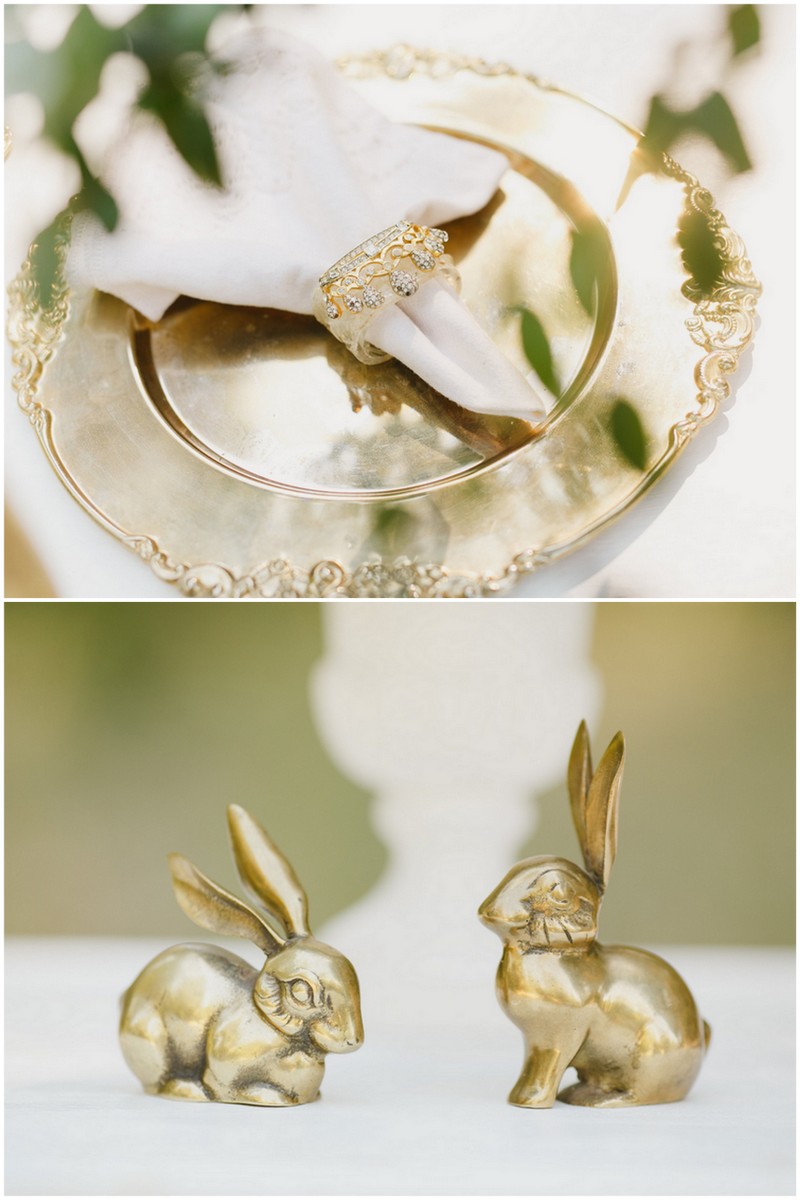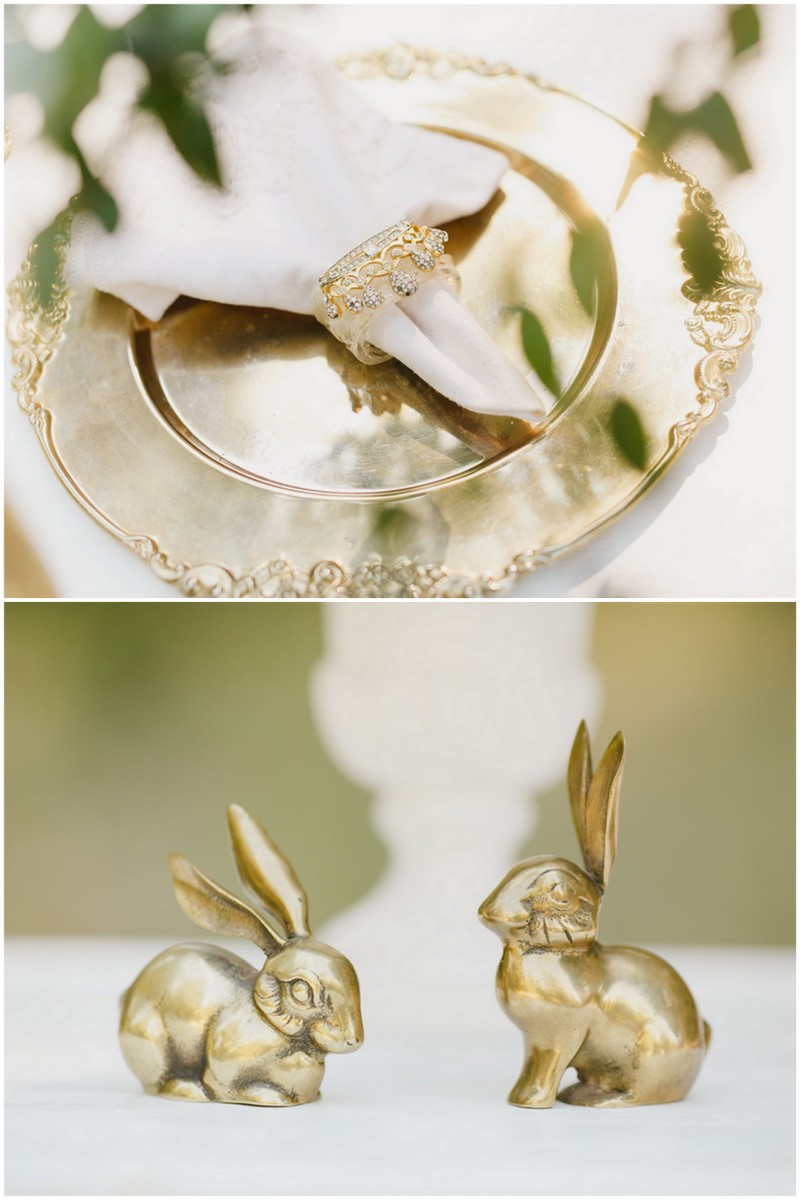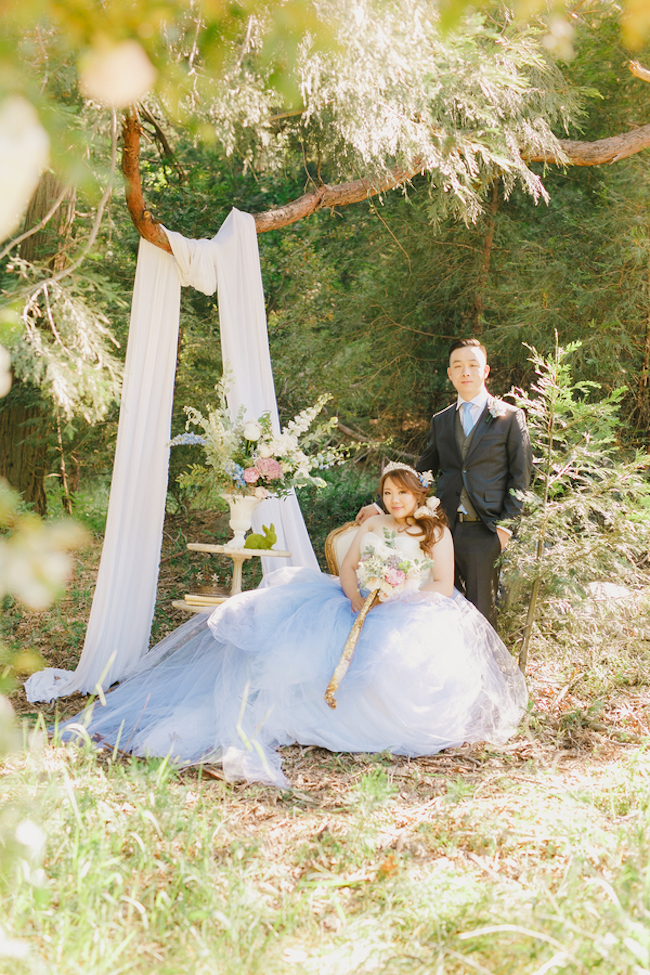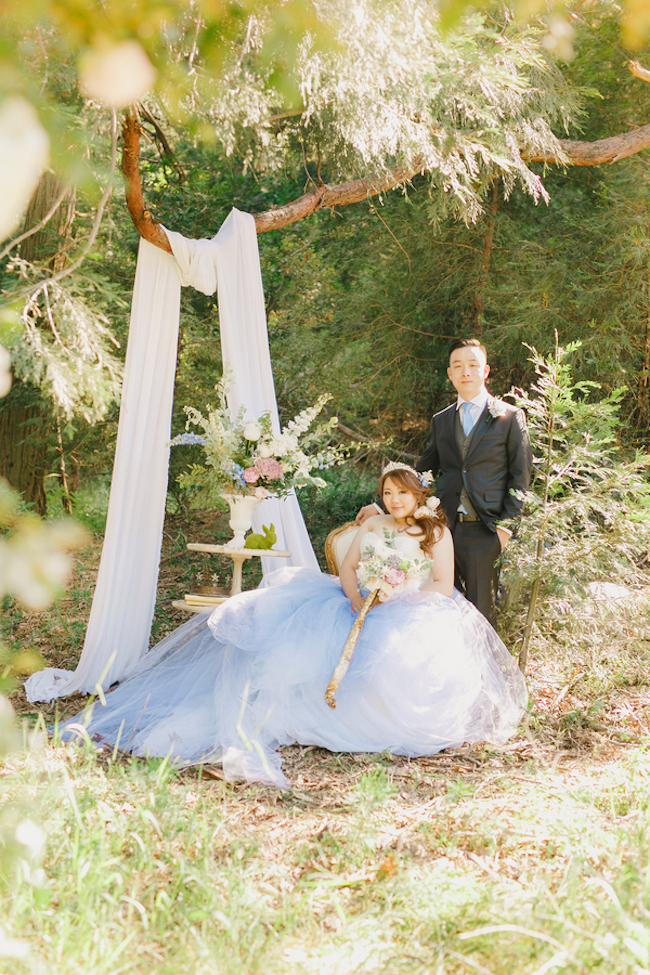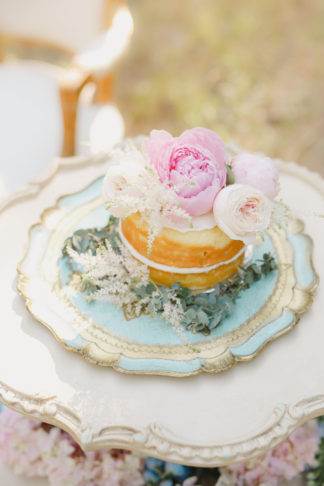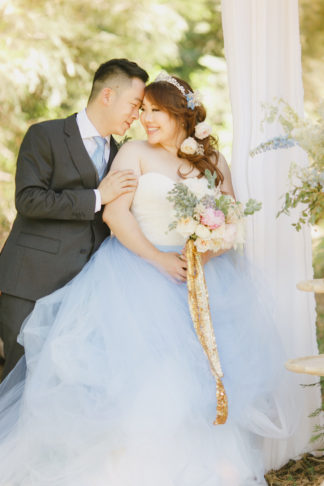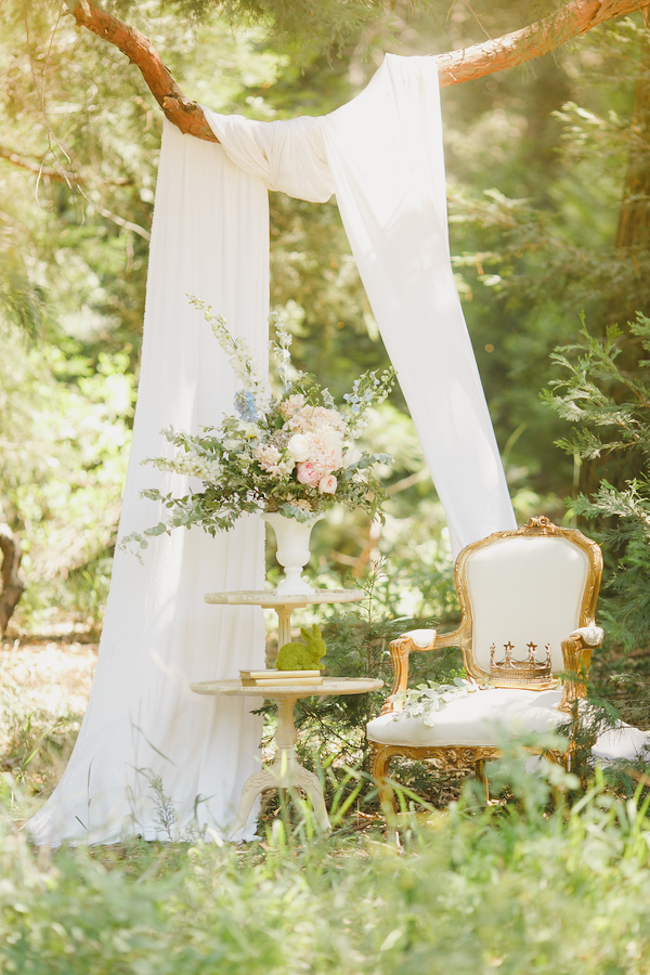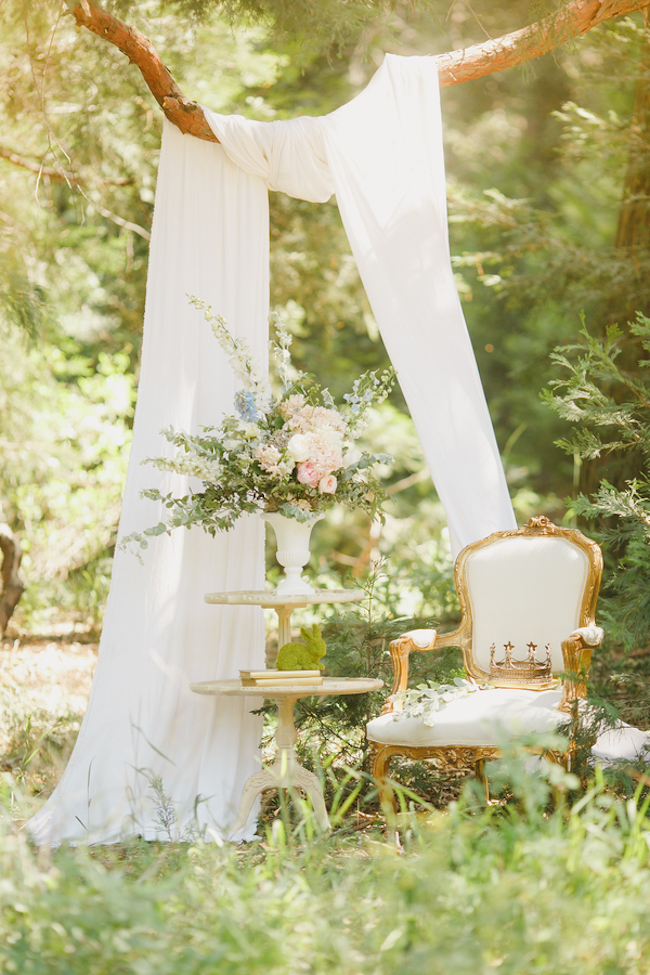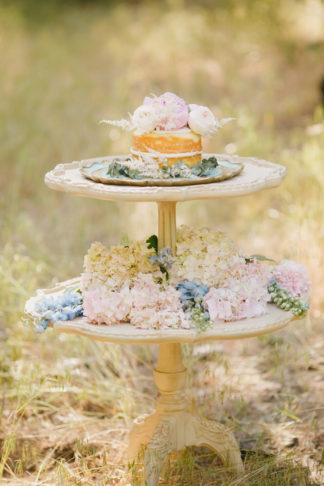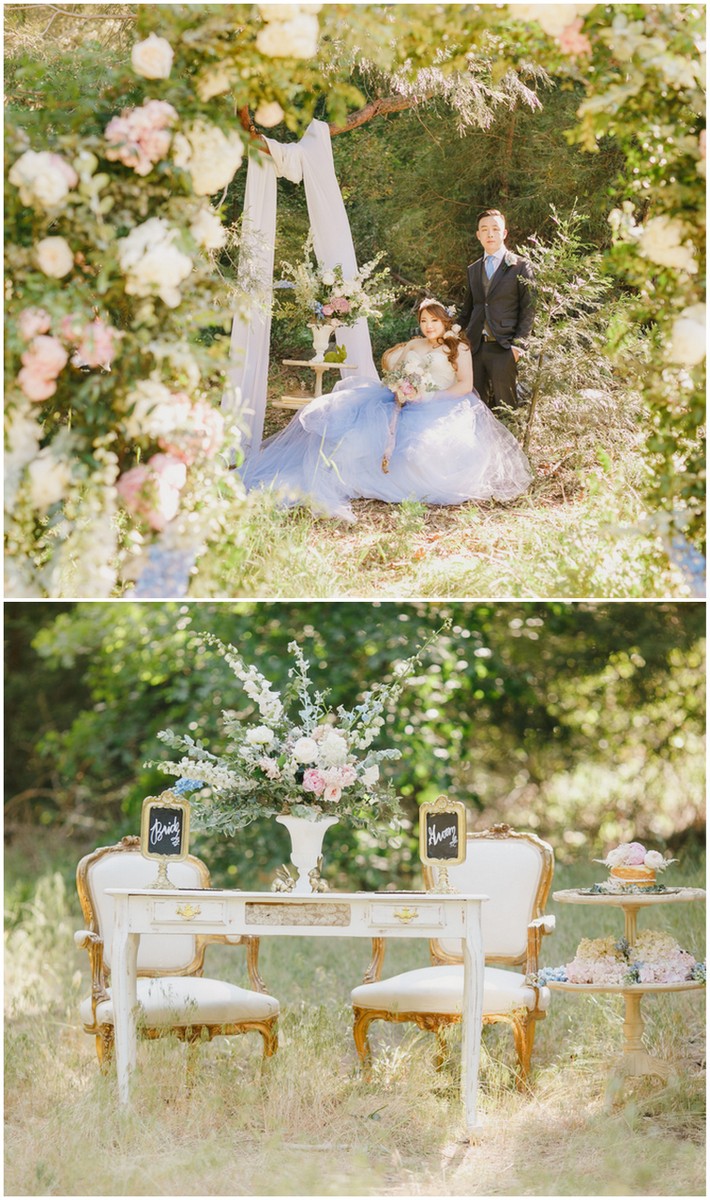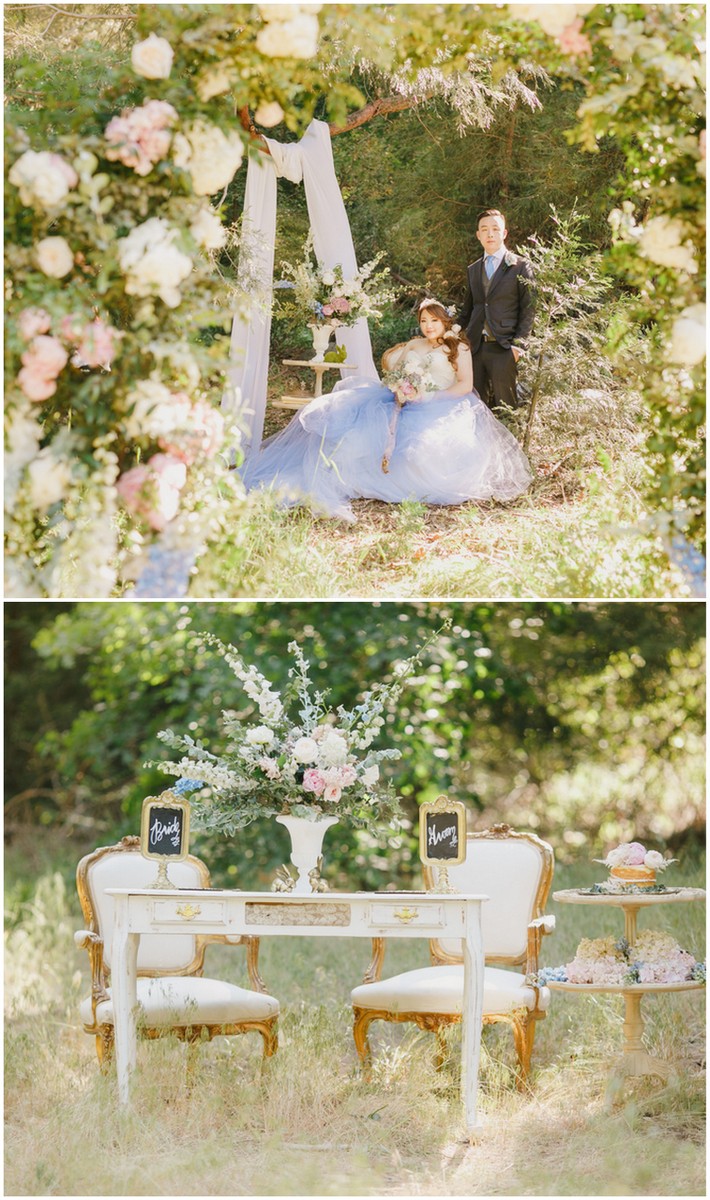 Planning Tips: 4 lessons learned planning our elopement
Sylvia shares a few tips and lessons learned while planning their fairytale Cinderella elopement:
Listen to your head, but have the courage to follow your heart. It doesn't matter what anybody thinks, if this is something you and your other half want to pursue then do it! "Don't get me wrong, I respect the opinions of my loving family but it was also important for me to celebrate this ceremony without any eyes on us, just his and mine locked in a world of our own." Once you've committed, go through with it full heartedly, says Sylvia. "Live your elopement like you should your life, to the fullest without any regrets. This process should be fun, simple, and clean or messy if that's how you like it! Enjoy the process for what it is…one step towards an officially stated and documented act of love."
Be as creative as your heart desires. "Take your ideas and let them fly free," says Sylvia. "You're not going to be happy if you fell pressured to mould your wedding into what others want it to be. You already are going with a non traditional route so ride that highway with pride. Find a special place, pick your theme, and choose your photography all to your specific liking."
Do your research. Depending on where the elopement takes place, be aware that there are certain rules that apply to some areas, states, or countries  that don't in others. Make sure you go into this with enough knowledge of what exactly it is you're doing
Be prepared to answer to the handful of people who disagree with the idea of an elopement. If you struggle with the idea of going through with an elopement without the attendance of family and friends then finding a photographer to capture your creative vision and deliver the concept you want is essential. "I'm so lucky to have found a photographer that shared the same passion I had for fairytales. Without Kristen and our vendors, our elopement would have been just like the clock hitting twelve for Cinderella. In other words, it would have felt like a beautiful dream that couldn't have possibly been real. Capture the moment folks, you won't regret it."
DIY FAIRYTALE MOSSY CHALKBOARD FRAME: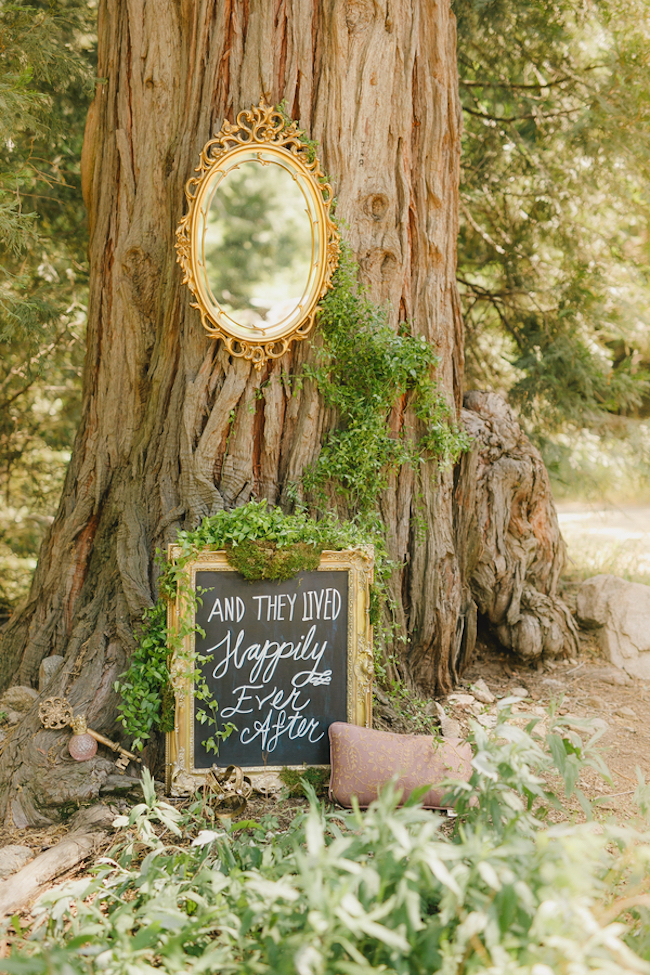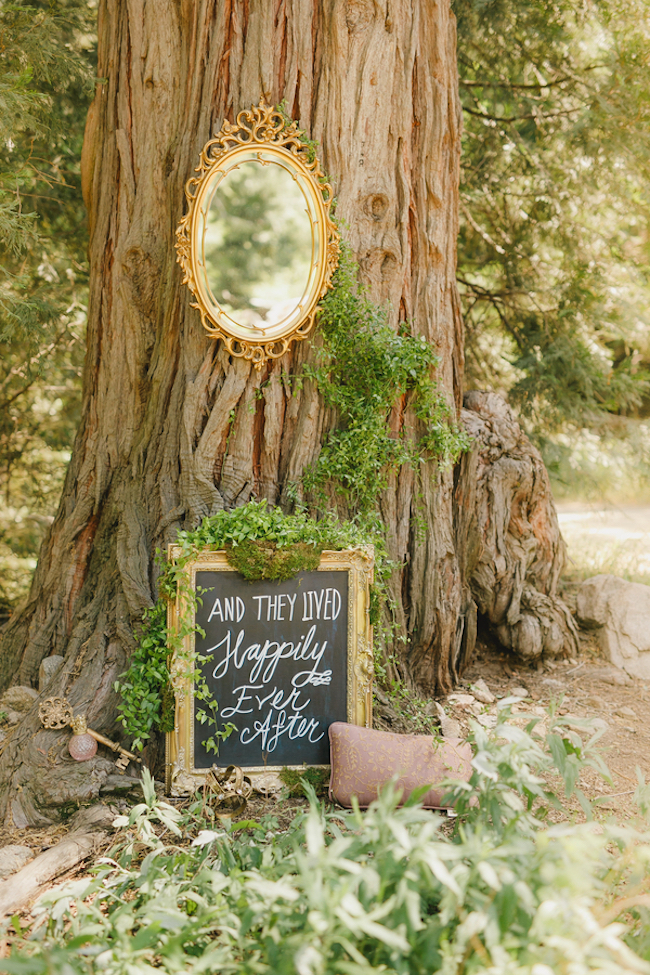 MAKE THIS DIY FAIRYTALE MOSSY CHALKBOARD FRAME:
Brier Rose Design created a moss embedded chalk sign that makes a perfect DIY for the fairytale inspired bride:
Simply find a vintage picture frame from an antique store or yard sale.
Paint a board insert with chalk paint. (Found at your local hardware stores or online.)
Use Krylon gold leafing pens to accent the frame. (Also found at your local hardware stores or online.)
Chip pieces of the frame to add to the antique look. Be careful to protect your hands!
Finally, grab some fresh green moss from hobby lobby or Joann's Craft store and use a hot glue gun to affix the moss to some of the edges. (Always take the necessary safety precautions when working with hot glue! Check your glue gun's manual for more safety instructions.)
Fairytale Cinderella Wedding Service Provider Contacts:  Photographer: Kristen Booth Photography // Florals & Styling by Brier Rose Design //  Vintage Chairs and Rentals by Etablir // Hair and Makeup by Brittany Heim  // Officiant, Chad Hobart 
More fairytale worthy fantasy weddings and ideas:
Inspiration + Details: Ballerina Wedding Ideas {Lilac Photography}
Dramatic Red and Black Forest Wedding {Jana Marnewick Photography}
Outdoor Vows + A Giant Floral Wedding Ceremony Wreath {Nicola Bester Photography}
Alternative Bride in Gold + Purple Wedding Dress Rocking Lilac Hair! {Lauren Pretorius Photography}