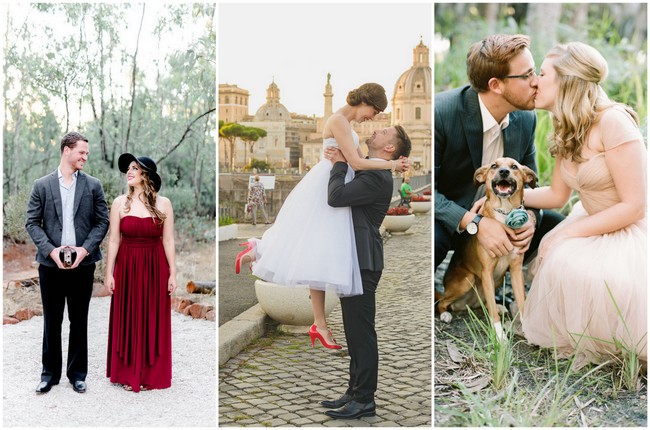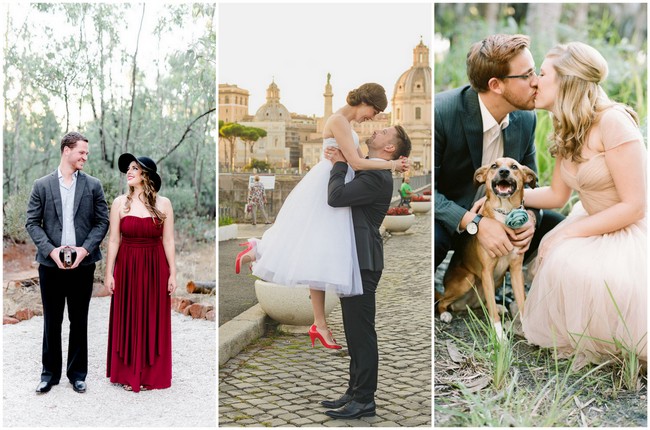 Today photographers from around the world reveal 18 engagement photo tips for amazing engagement pictures!
Your engagement photograph session is usually your first official portrait shoot together, and probably the most beautiful photographs you'll have of yourselves before you officially become a married couple. You'll likely look back on these images in a couple of years remembering this blissful time of excitement, promise, and happiness. These photographs should always be special, and we want to make sure that you are fully prepared for your engagement photoshoot with these engagement photo tips. 
We've enlisted the help of a number of professional wedding and engagement photographers from around the globe who shared their advice and engagement photo tips for stress free, stunning engagement photographs!
Engagement Photo Tips for Couples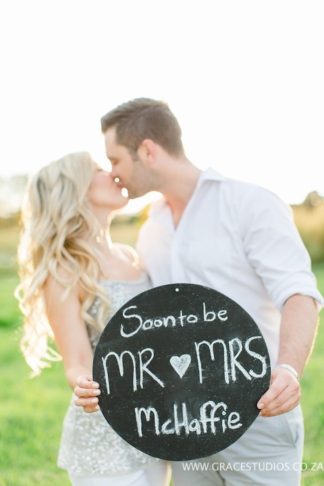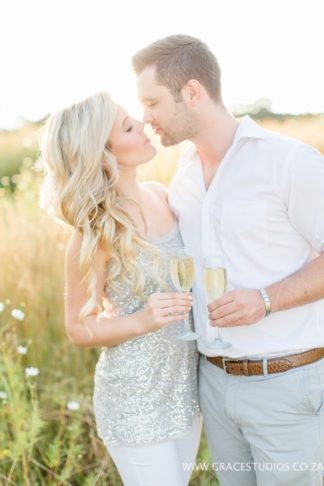 (Above) Have fun with your engagement photographs by included handwritten signage + props! Don't forget to pop the bubbly like these two did in their champagne engagement photographs! (Image: Grace Studios Photography)
15 Engagement Photo Tips
Bring some meaningful items and incorporate them the shoot. Bringing along your ring is a fairly obvious one, but don't stop there. "Bring along presents which you have exchanged or if you have dog, bring him along as well!" says Rochelle Cheever, Italy Wedding Photographer.
Be adventurous! No location is off limits or too far! "You would be surprised at how many of us photographers are excited to travel – and take beautiful photos of you two along the way!" says Emily of The Ganeys Photography. Have a look at this couple that travelled from Asia all the way to the gorgeous Amalfi Coast for their engagement photographs!
 
(Above) Dress in something stylish, comfortable and complementary. Check out these Pretoria engagement photographs for lots of cute outfit inspo and some great prop ideas. (Image: D'Amor Photography)
Make an effort. Buy an outfit. Hire a stylist if you aren't very creative. Don't expect your photos to be world class if you pitch up in a creased shirt, plakkies and jeans advises Grace Studios Photography. "Take this opportunity to get dressed up. Get your nails done," says The Ganeys Photography. If you're trying to stick to a budget, consider renting a gown online, or buying one and reselling it.
Choose clothing that you're both comfortable in. "Wearing something that is comfortable, flattering and well fitted can make you feel amazing – like a million bucks," shares D'amor Photography. "If you feel good about yourselves, your confidence will shine through."
Select clothing which complements the other's look, too. While your outfits don't have to be matchy-matchy, Lucia of D'amor Photography advises that couples should consider what their outfits will look like when standing next to one other: "Make sure that the colours and styles of your outfits complement each other."

(Above) Your clothing should be location appropriate. Don't wear board shorts and beachwear in Rome, or a three piece suit if you're going surfing! Be inspired by this couple's Audrey Hepburn themed Roman Holiday shoot in Italy, here. (Image: Rochelle Cheever)
Make sure that your clothing complements your chosen location. D'Amor photography advises that the colours should blend in with the setting or at least create a harmonious feeling. Rochelle Cheever says that it helps to go over the location and clothing with your photographer to ensure that your look blends with the environment. "You don't want to wear a tuxedo at a beach scene just like you wouldn't want to wear casual shorts in Rome or Paris," says Rochelle.

(Above) Complete your engagement photo look with gorgeous accessories and perfectly styled hair and make up. Check out tips for autumn styling here. (Image: Samantha Clifton)
Always use a professional hair and make up artist.  Almost all the photographers we spoke to agreed that this is one of the most important engagement photo tips! Get professional hair and makeup done. Make sure that you look your best with the help of a seasoned expert – which does not include your aunt or cousin who wears a lot of makeup and who watches a lot of YouTube make up tutorials, points out Samantha Clifton Photography.

(Above) Professional make-up artists know what looks great in real life versus what looks great on camera. Check out more details from this ethereal bride look here. (Image: Jessica Q Wong).
"It's your engagement session! Let someone else pamper you for a change," advises Jessica Q Wong of Jessica Q Photography. "Professional hair and makeup artists know what looks great on camera, and hey, it's one less thing for you to have to do on that day. It's also helpful if you're not the best at putting on false eyelashes," suggests Jessica. If you can, consider doing a hair or makeup trial for your wedding says Emily of The Ganeys Photography.
Ask your photographer for tips and outfit recommendations! A seasoned professional will know what looks great on camera. "I have a 40 page Engagement Session Style Guide that I give to all my couples. It outlines and gives examples of outfit inspirations, hair and makeup tips, picking a location and more," says Jessica Q Photography. "This should feel like an exciting time and your photographer will feel honored that you're asking for their opinion. And you in turn have the confidence of knowing that whatever you two agree on should look spectacular on camera!"

(Above) Get to know your photographer before the shoot so that you're both comfortably relaxed in front of them on the day of your engagement photoshoot. (Image: D'Amor Photography)
Get to know your photographer before the shoot so that you feel comfortable with the her. Most photographers are happy to personally meet in advance of the shoot, and in fact, whenever possible, couples are advised to meet with a photographer before even booking. "If an in-person meeting is not possible I like to Skype with couples," says Rochelle Cheever.
Let the your photographer get to know you and your story. Tell your photographer how you met, your likes and dislikes, things you like to do together and how you got engaged. "The more the photographer knows you, the better she will be able to portray you," says Rochelle.
Have a clear idea of what kind of look and feel you might want for your images while still allowing your photographer to let their own creative style shine through. "You wouldn't have chosen them as your photographer if you didn't already love their work and feel that they could give you the same type of end result," says Samantha Clifton Photography. You've communicated your preferences, settled on a theme and a location together, now relax, trust your photographer and enjoy the experience with your partner!

(Above) Let loose and trust your chosen photographer. Let them capture the emotion, joy and spirit of the photoshoot! (Image: Grace Studios Photography) Click to see these sparkly engagement photographs!
Focus on being present and enjoying each other. This is one of the engagement photo tips which almost all of the wedding photographers mentioned. When the day of the shoot arrives, forget about everything else and just focus on one another. Thats why you're there. "Try to put all pressures and concerns behind you. Just stick to what is real and in front of you – the love which you both have for one another," says Grace Studios Photography. Just be yourselves and have fun! Samantha Clifton Photography tells us that photographers love capturing the natural, endearing little behaviors you exhibit toward each other as a couple: "Even if you're a couple who is not big on PDA's (public displays of affection!) just remember to lighten up, laugh and have fun during the shoot."

(Above) Include hobbies and interests in your engagement photo shoot. You will feel relaxed and enjoy the time more. (Image: D'Amor Photography)
Don't worry about the way you will look in the images – that's your photographer's job! D'amor Photography says that couples who focus on each other, their love and on being themselves get the best results. "Just be in love and just be YOU!"
The Ganeys Photography echoes these engagement photo tips: "You don't have to be a professional model to get amazing images! Your photographer will help you along the way. Enjoy this time, and be ready to flirt throughout your session. Have fun with it!" Jessica Q Photography agrees, reminding us that a good photographer should put you at ease, so go into your session with the intention of having fun! "Although it can be easier said than done, try to relax. Don't worry about knowing poses and being a model," says Jessica. "This moment is all about you two as a couple and the more relaxed you feel, the more genuine the photos will be."

(Below and Above) Just relax and focus on the love you share! Click to see this Gauteng engagement photoshoot. (Image: Grace Studios Photography)

Grace Studios Photography adds another of our most crucial engagement photo tips: "Forget about trying to be perfect or do that cool shot you saw on pinterest, or even trying to pose like some person you saw on a blog." It seems everyone we spoke to seems to agree: Relax, have fun and focus on being with the person you love – the result will have you looking your best!

Don't forget to treat yourselves to dinner after your shoot to celebrate this unique time in your lives says Emily of The Ganeys Photography. This is one of the engagement photo tips that we truly hope you are sure to include in your itinerary!
Engagement Photo Tips for Couples
Working with a trusted professional photographer whose work you admire is the first step when planning your engagement photographs. We'd like to thank the following engagement and wedding photographers for contributing their insights and advice to this engagement photo tip feature:
Lucia of D'amor Photography, Jessica of Jessica Q Photography, Rochelle Cheever of Italy Weddings, Samantha of Samantha Clifton Photography, Emily of The Ganeys Wedding Photography, Abigail of Grace Studios
More to read: