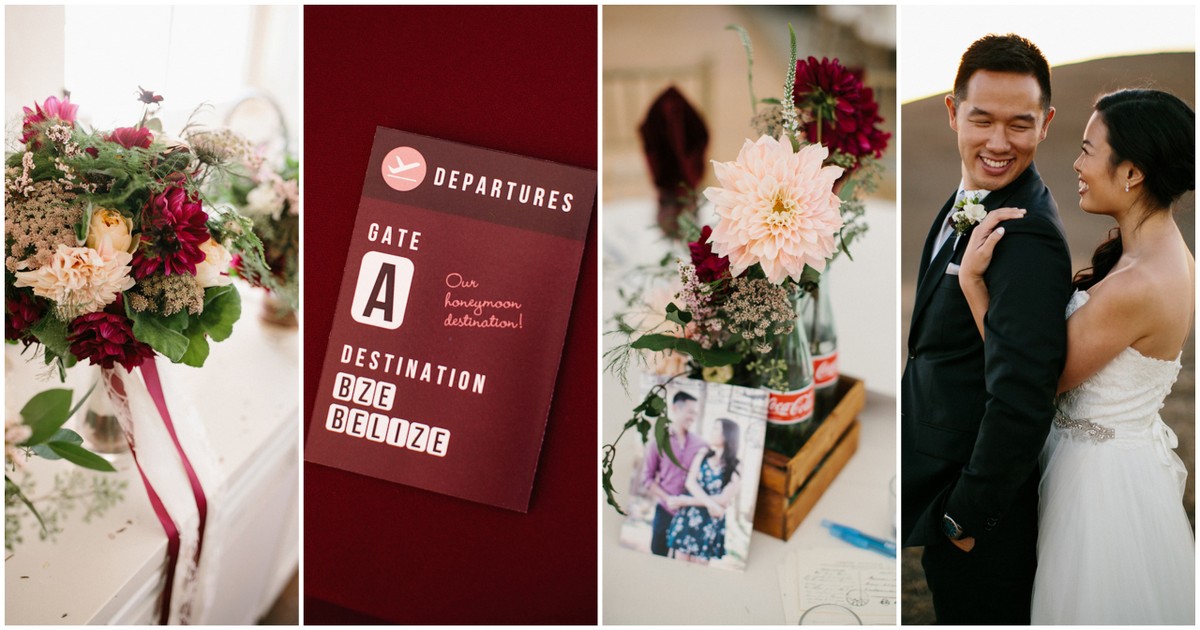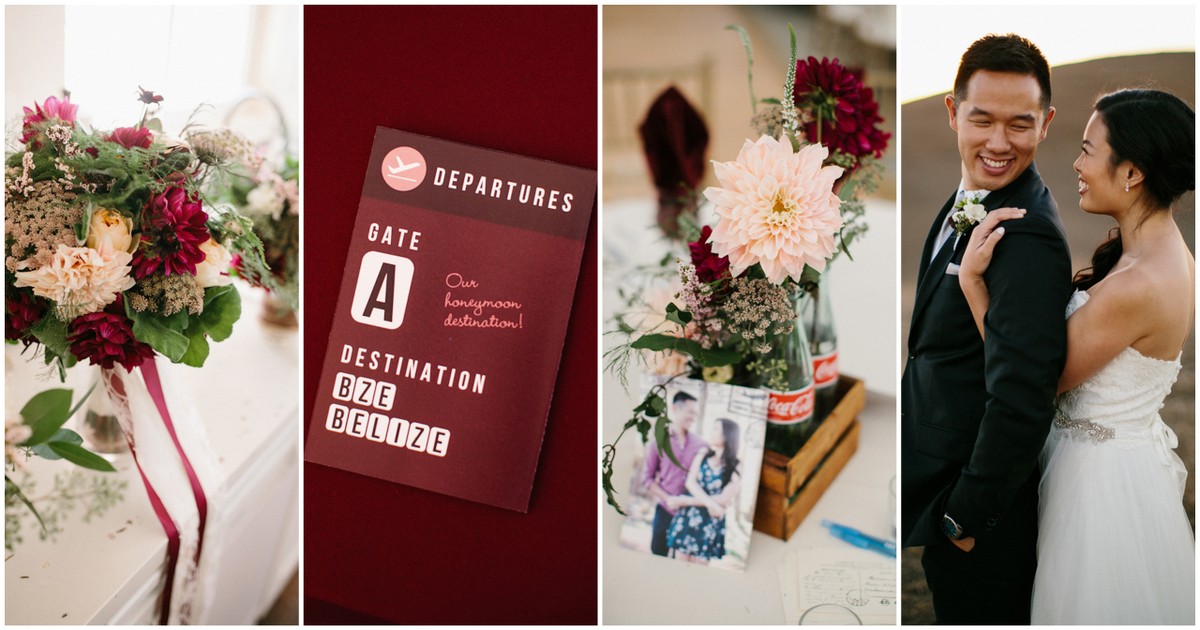 Kristen & Danny met each other while living on opposite sides of the country, so at first their dating relationship was a lot of plane flights, airports and a good sized collection of boarding passes. When it came to the vision for their wedding, they thought a light travel theme would be a fun way to incorporate their love of adventure and that the traveling that was such a big part of their relationship.
The couple worked with burgundy and grey, combined with accents of cream and blush. Kristen wanted to bring out the wine colours of the vineyard and let the neutrals do the rest. Guests signed a map made of music sheets as Danny is a musician by trade. Keeping with the travel wedding theme, friends and family found their seats at the reception via a departures board, and each table was named after an airport they couple had been to. They also took their "passport photo" at the photobooth.
Their vineyard wedding venue, Nella Terra Cellarswas absolutely perfect for their romantic, slightly rustic, classy feel. Their goal was to keep the decor simple, since the venue itself was already adorned with greenery and roses among the vineyard. It was perfectly picturesque as they exchanged vows under a pond-side gazebo, while the sun set among the hills.
"The main goal of our celebration was thanking our friends and family for traveling from all over to celebrate and just have a good time," shares Kristen. "The groomsmen got in-n-out for lunch, we also had coke bottles at every table filled with flowers (first bouquet Danny ever gave me was in a Coke bottle vase)."
Danny's musician friends made up the couple's quartet during the ceremony. A few of Kristen's girlfriends were in charge of the calligraphy and the design of the seating chart/table cards as well as the flowers.  All of the big music pieces meant something to the pair: the bride song was from the first concert of Danny's that Kristen attended, they danced to "La Vie en Rose" because they're giant How I Met Your Mother fans and both the music arrangements and the photo slideshow were made by the couple.
We just love the fun, celebratory vibe of this burgundy and cream travel wedding, so beautifully captured by Love is a Big Deal photography.  ❤
Elegant + Rustic Travel Wedding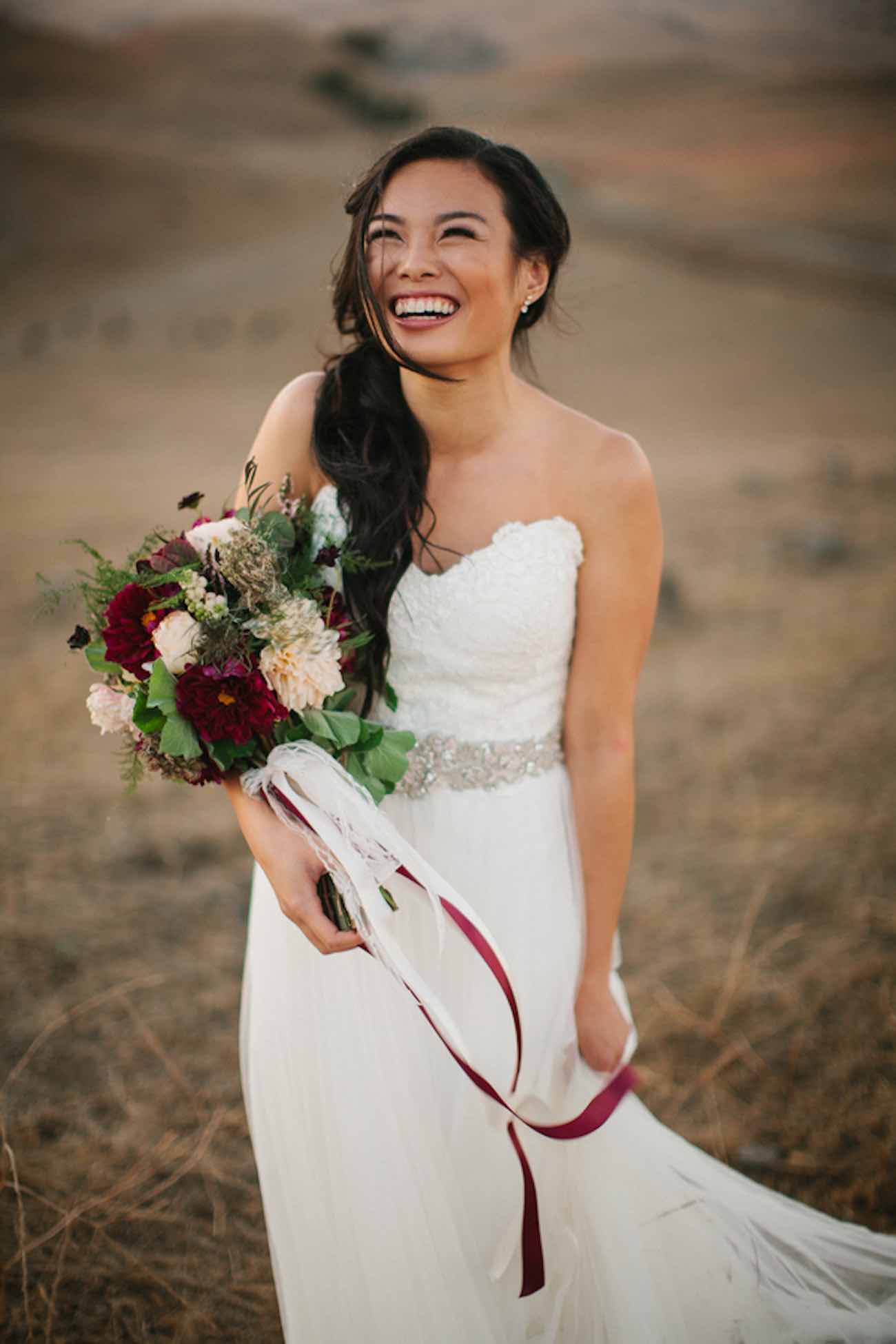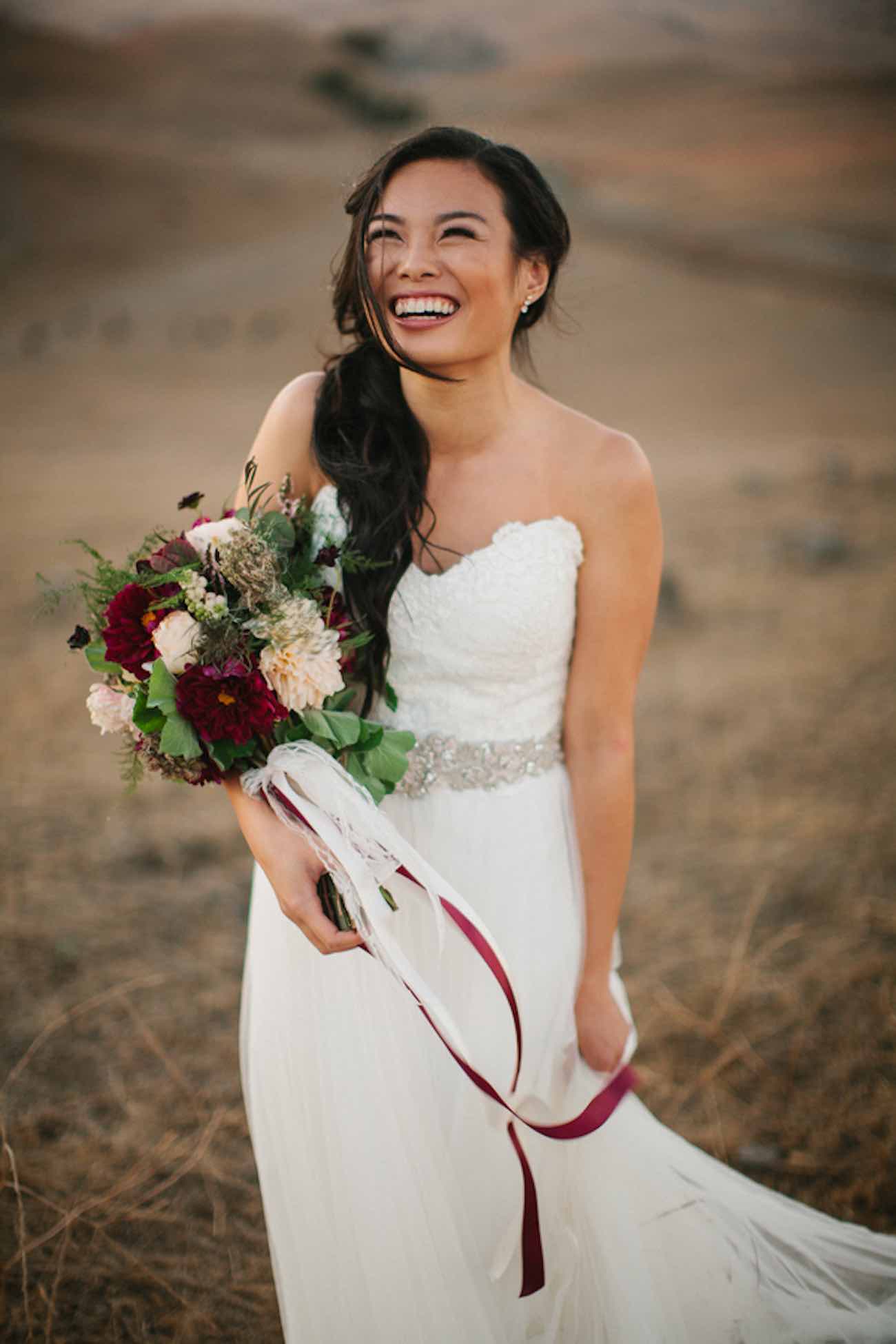 Flowers: Two of my talented friends arranged my flowers – I remember meeting with them over the colour scheme and they were just bursting with ideas. They opened my eyes to ideas like wine barrel arrangements (we had 2 flanking the altar) and the gorgeous bouquets for me and my bridesmaids. I was more concerned about budget when these came around, but I found that going for bigger flowers like dahlias and mums were so much fun compared to the round bouquets I'd been seeing. Each bouquet brought out the different colours of burgundy and reds and I loved the ribbons we added to make them pop.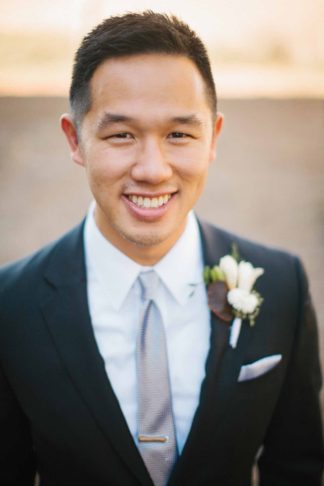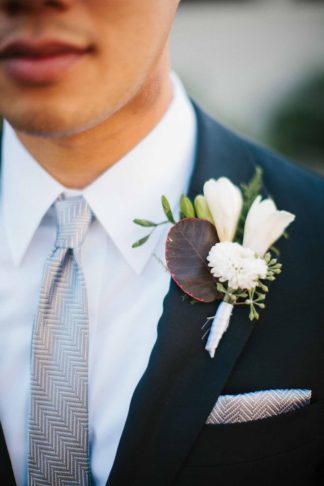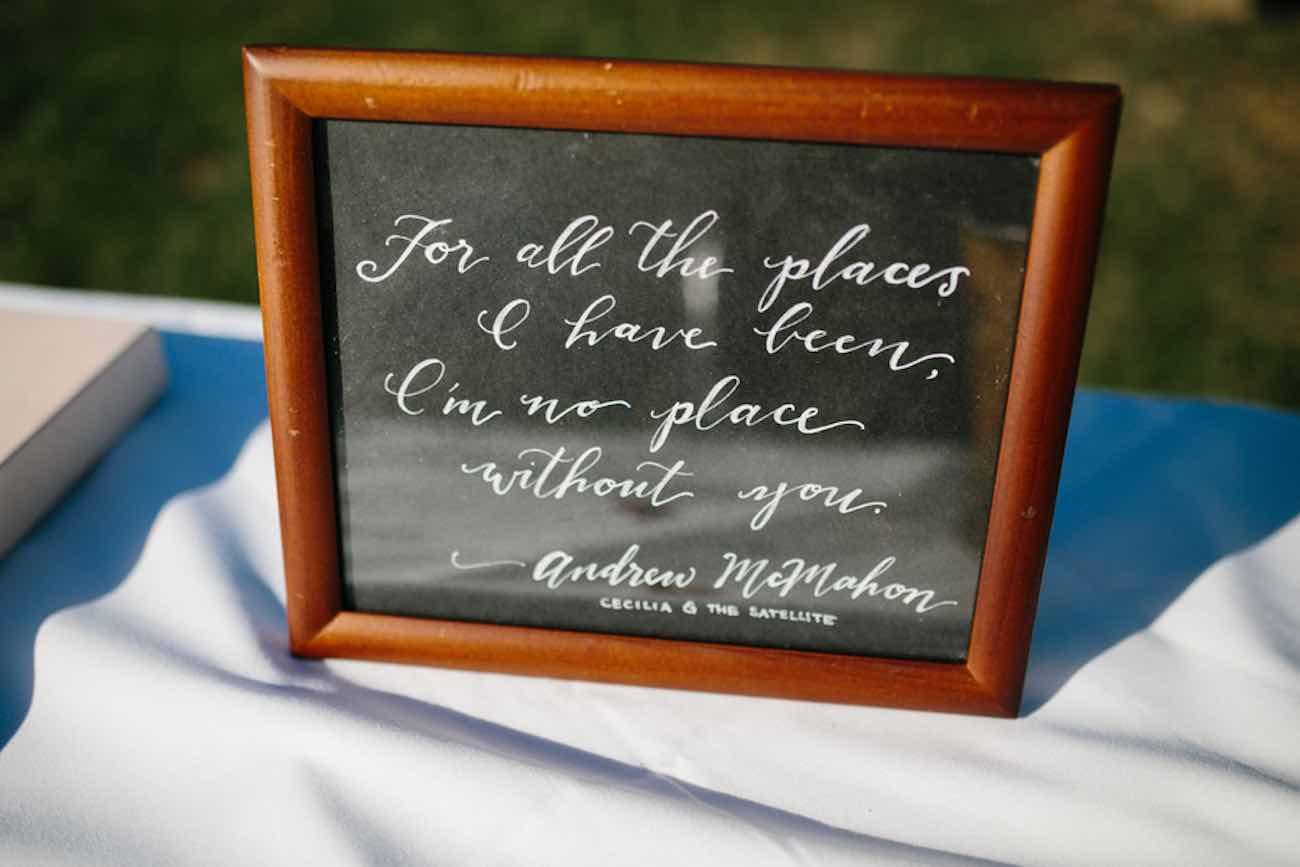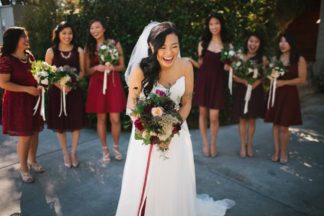 Bridal Party: Each of my girls were so different, I wanted to make sure they liked their dress. I gave each of them 3 paint swatches of burgundy to red and told them to pick a dress. In a few days, we had a group pinterest board going and it made the whole process like a virtual girls shopping trip. The dresses came together so nicely day of with different shades of red complementing the medium grey suits of the boys.The groomsmen were also told to pick a medium grey suit and Danny picked his favourite navy suit. He bought the boys wooden cufflinks and tie clips as gifts for day of wear.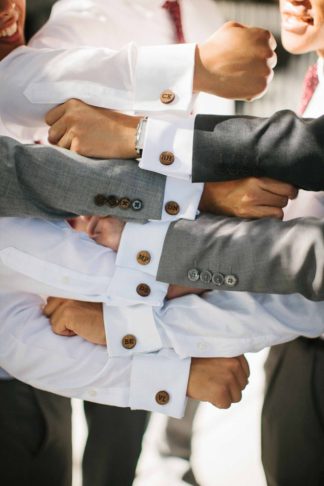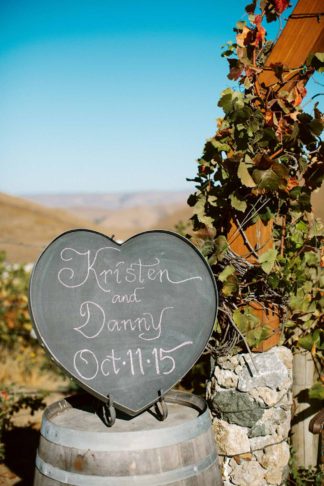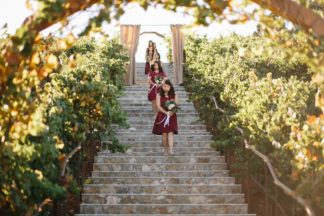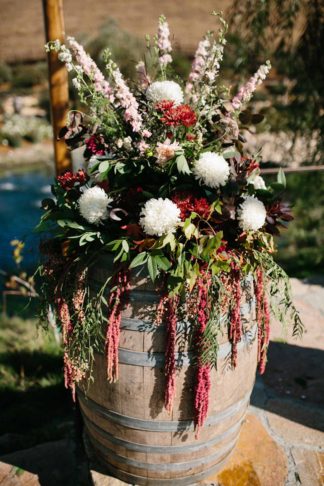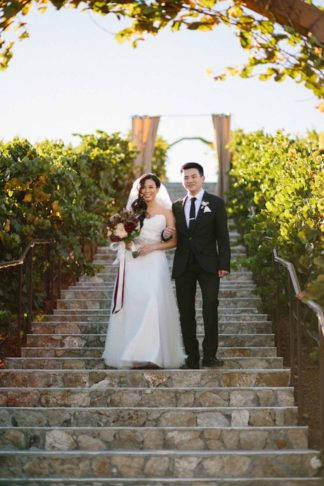 I walked down the aisle to Mahler 5 Symphony Adagietto Movement. It's this gorgeous piece that one of Danny's groups (One Found Sound in SF) had played near Valentine's Day one year. It's also the song he said he always imagined playing during his future wedding. He arranged the music for the song, as well as all of the other songs in the ceremony, including "Do you want to build a snowman" for our nieces/nephew to walk down.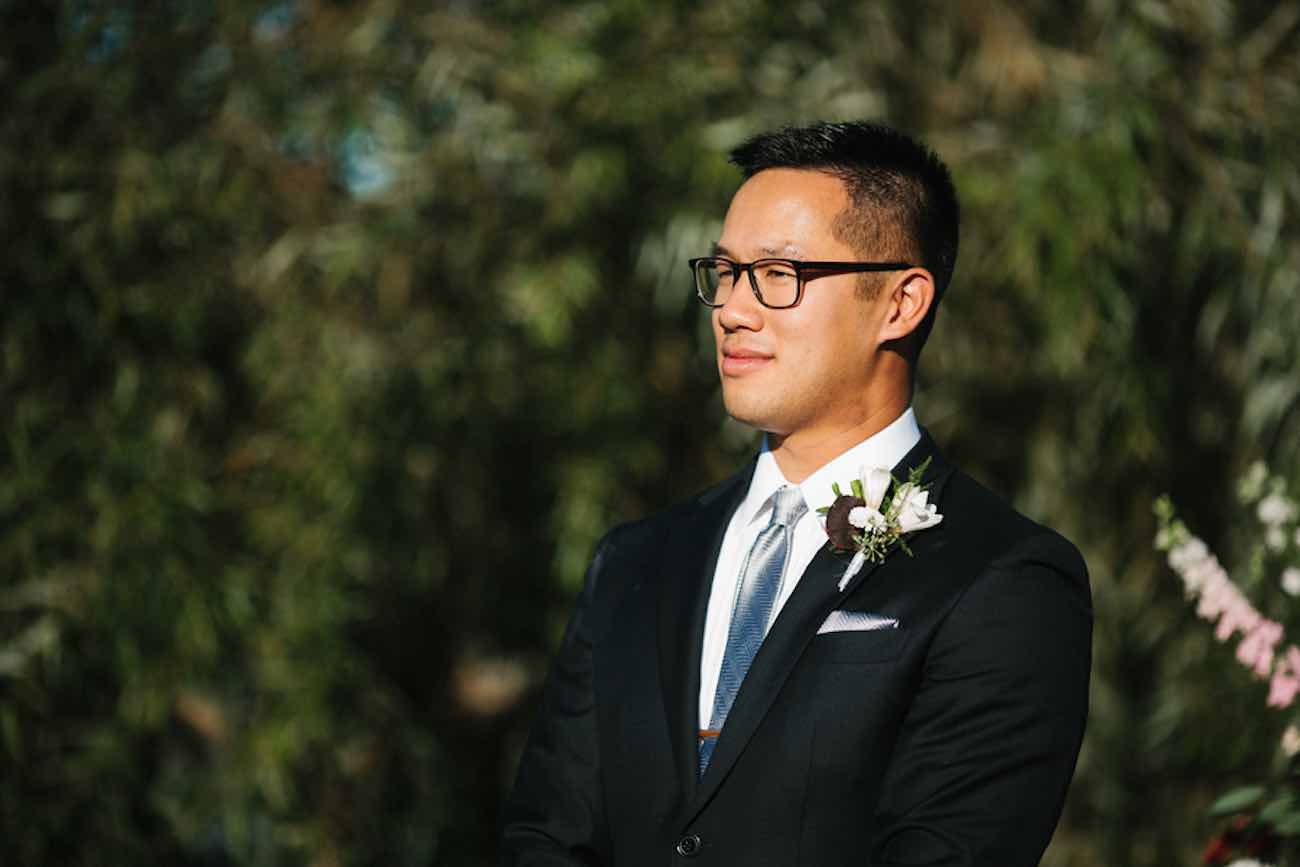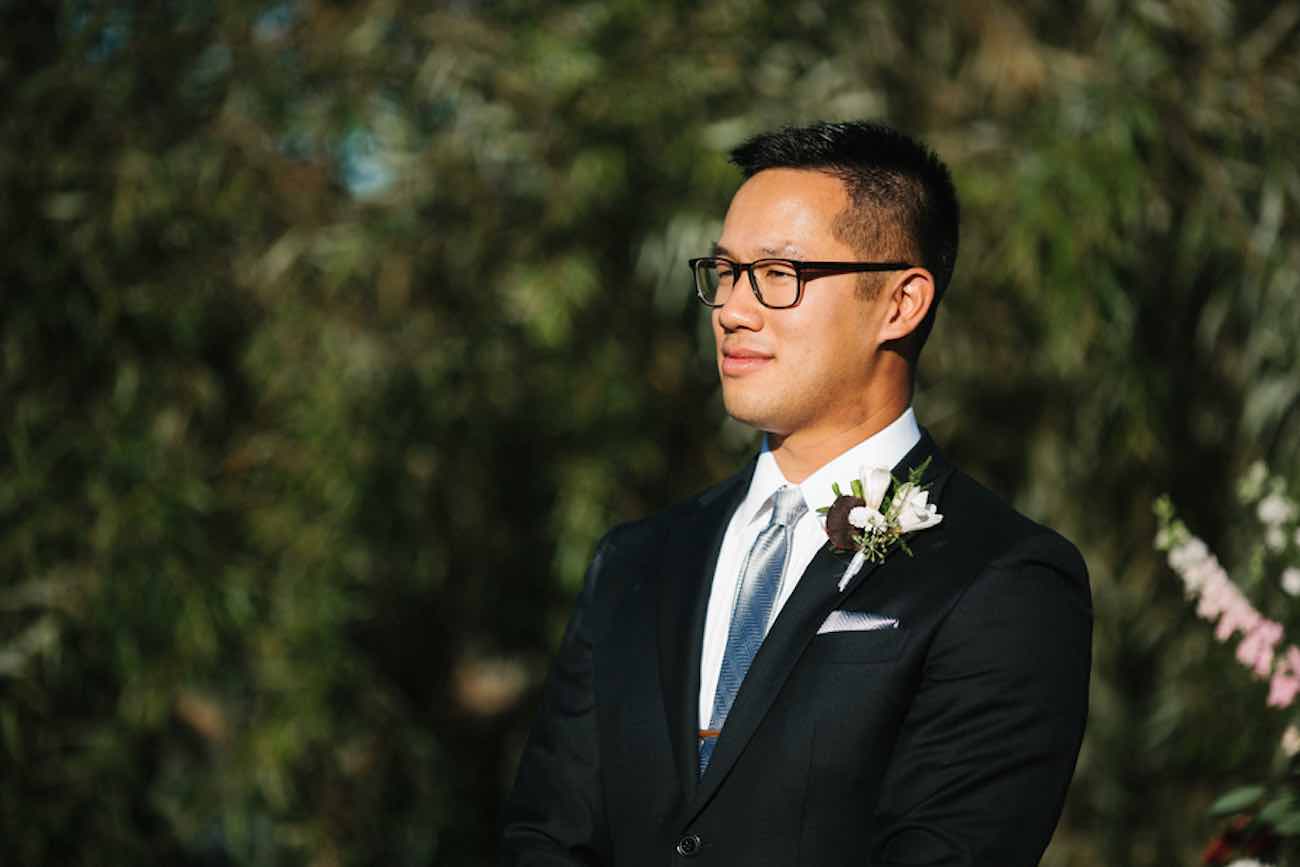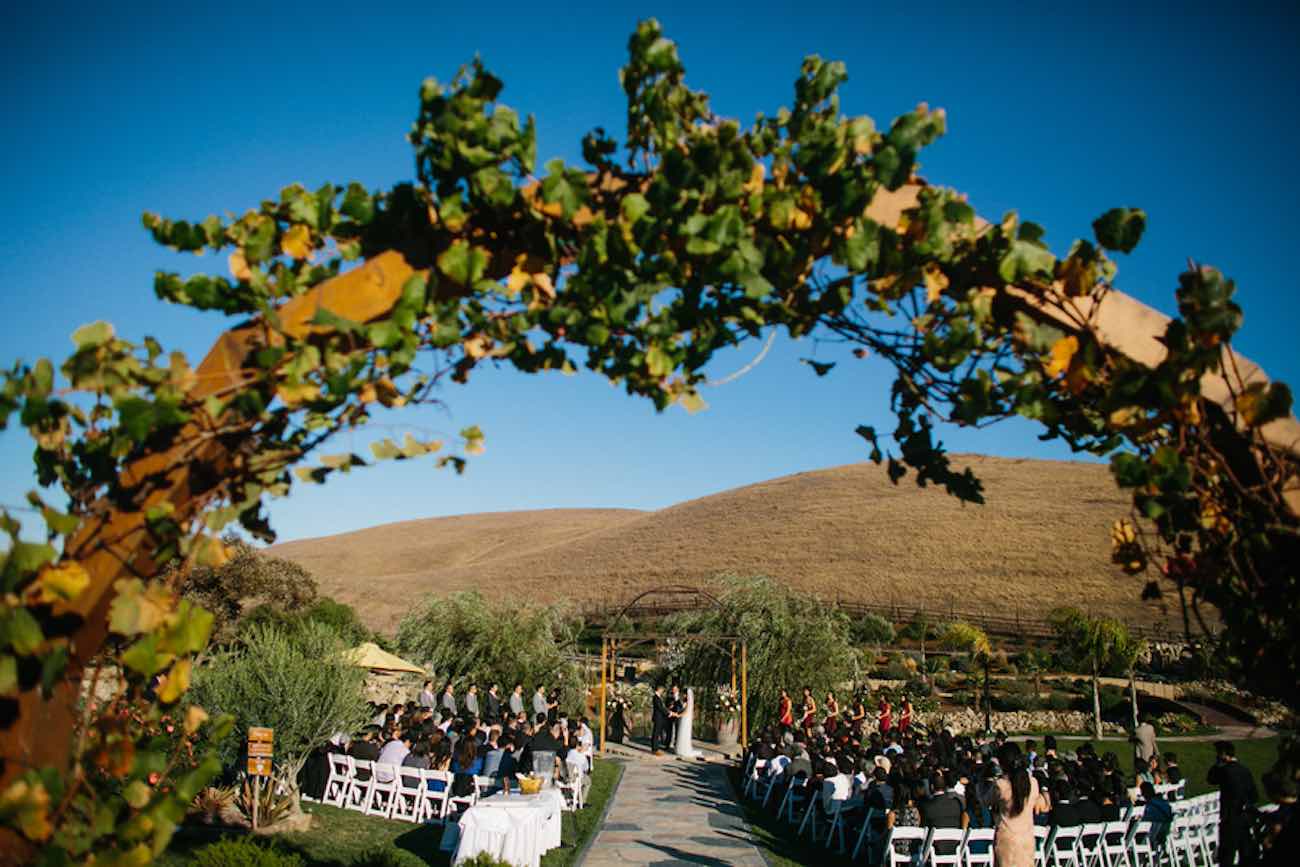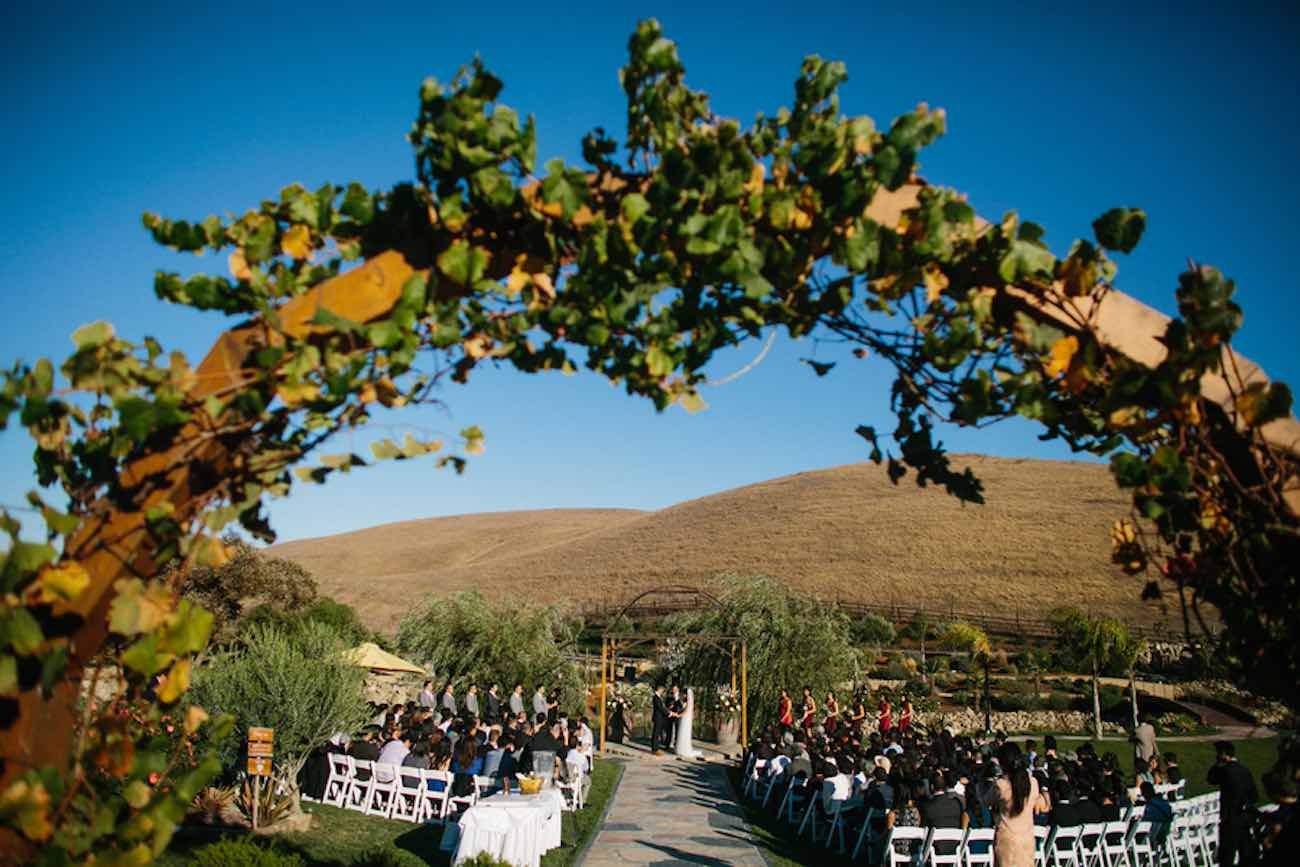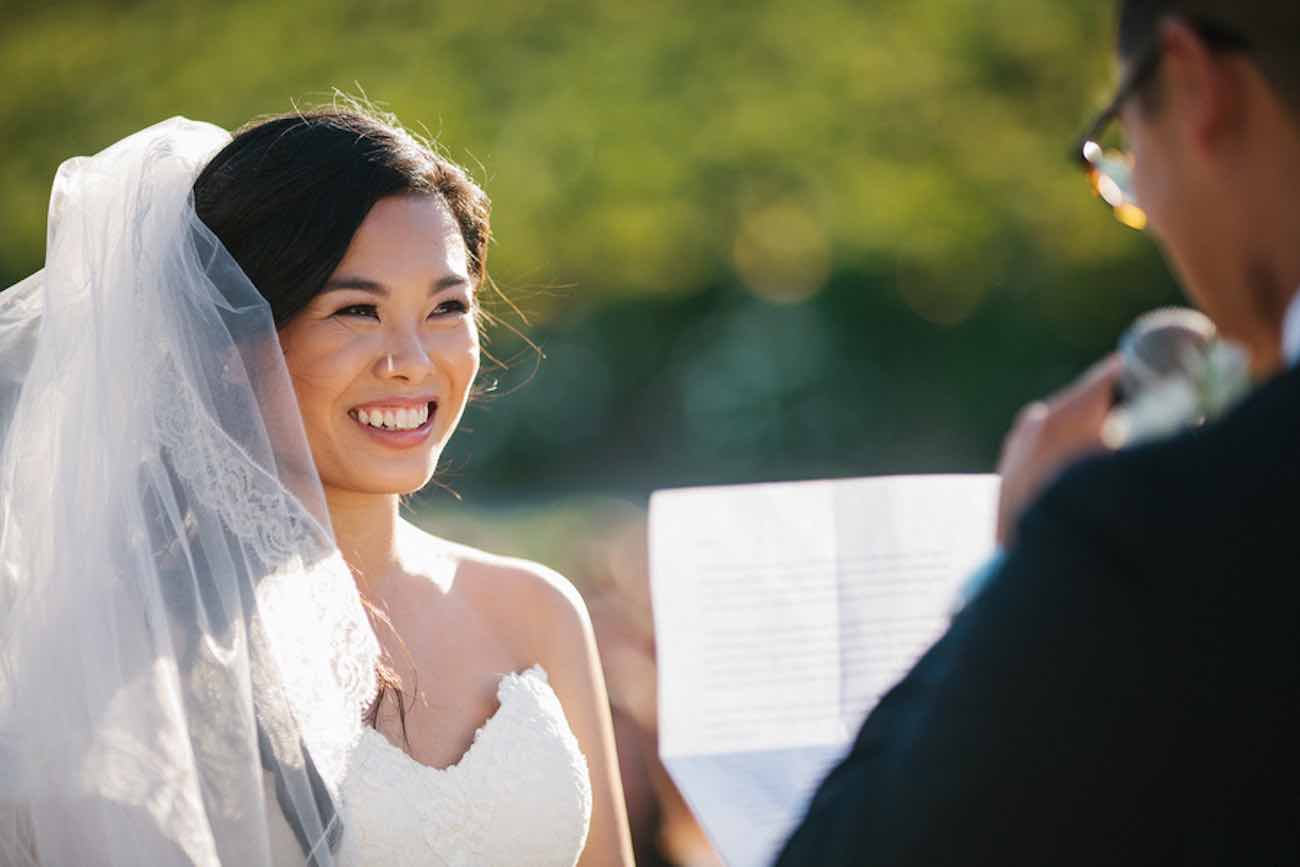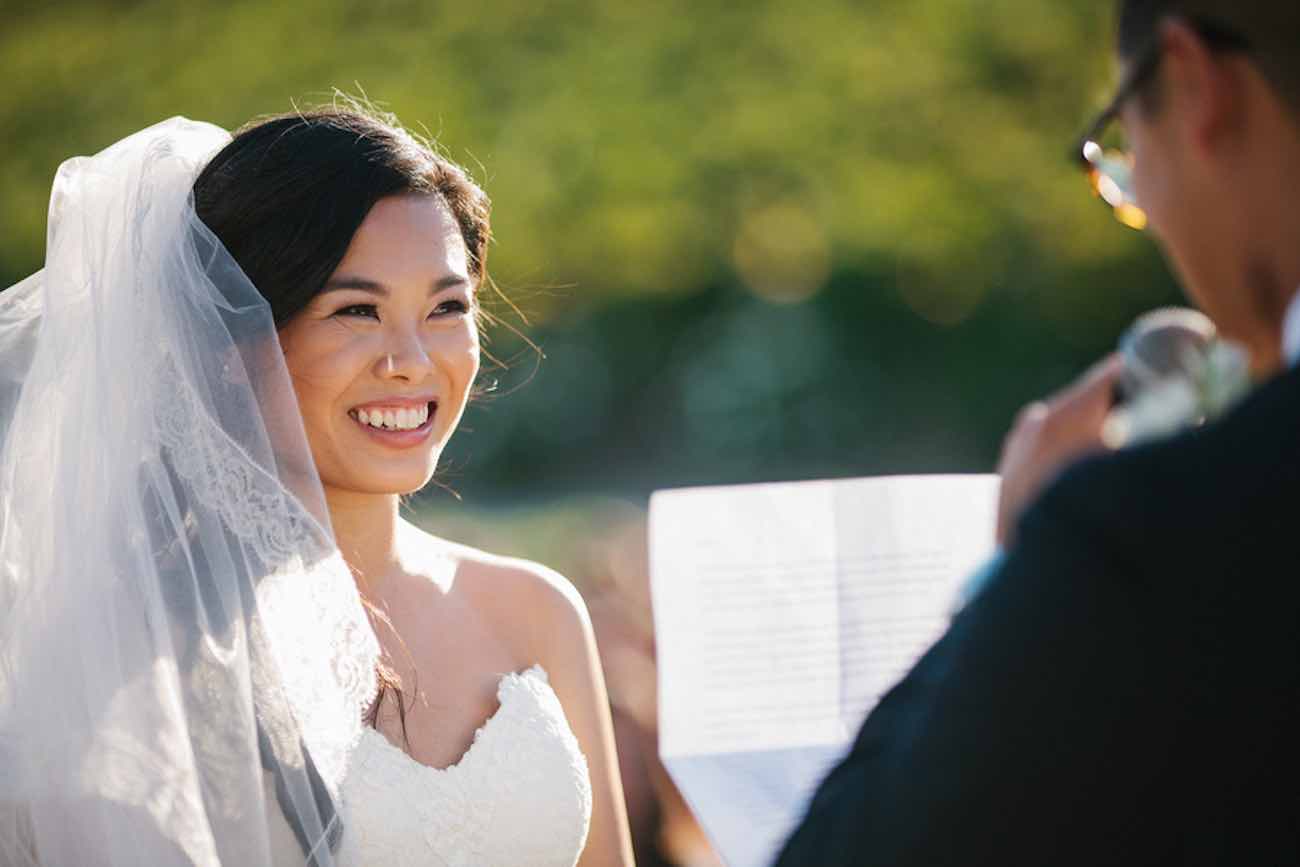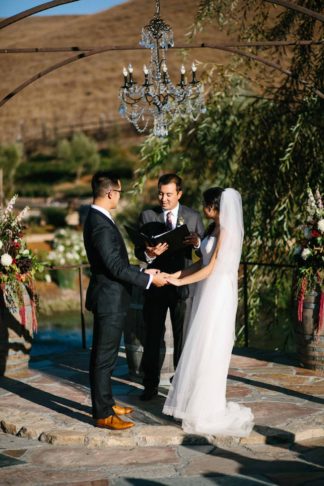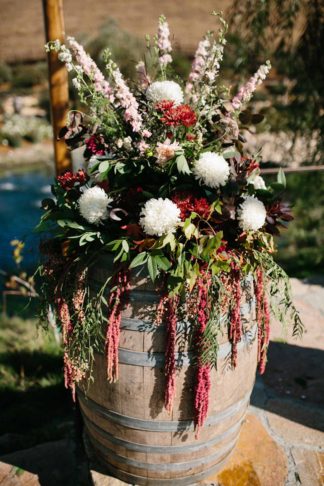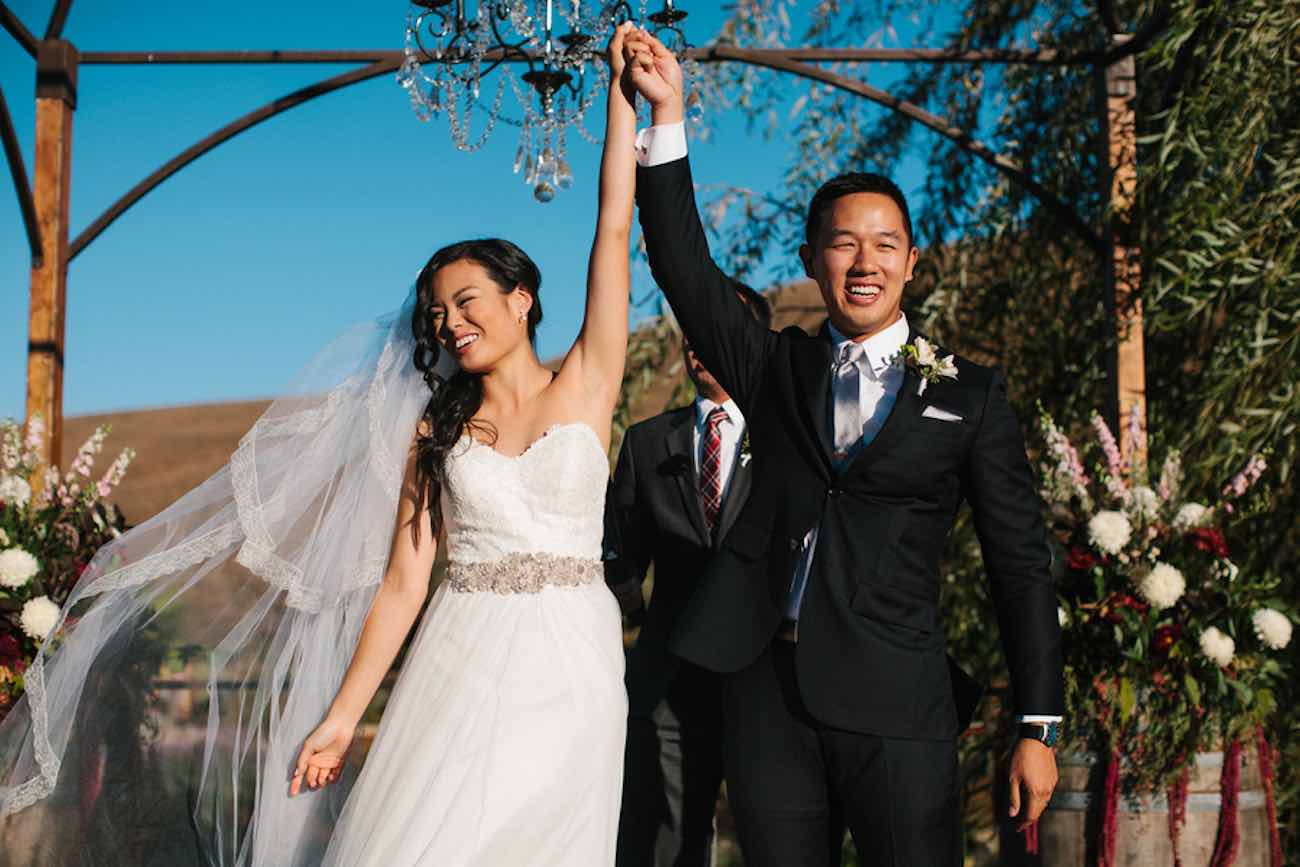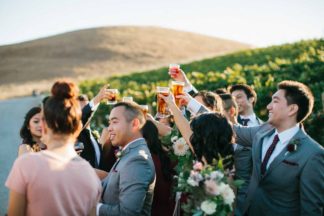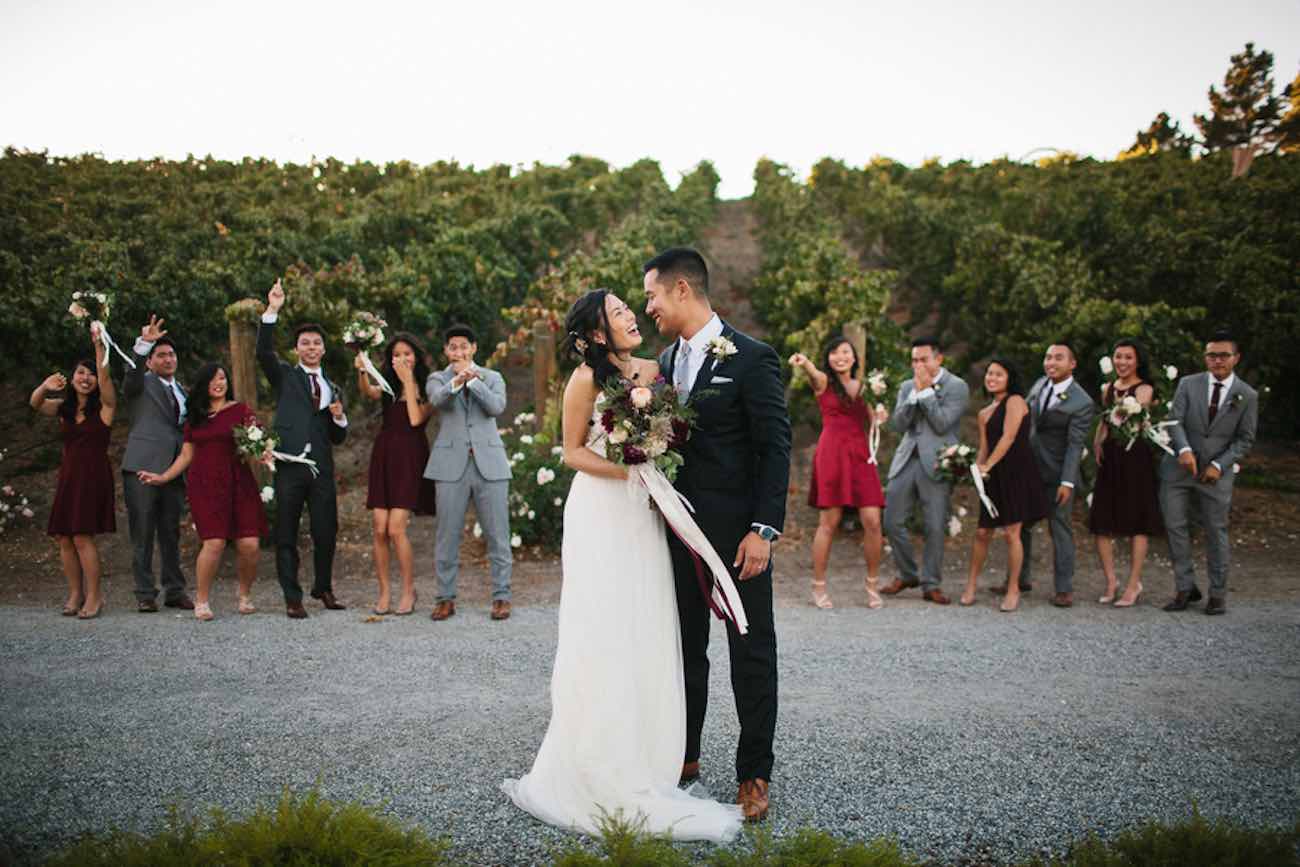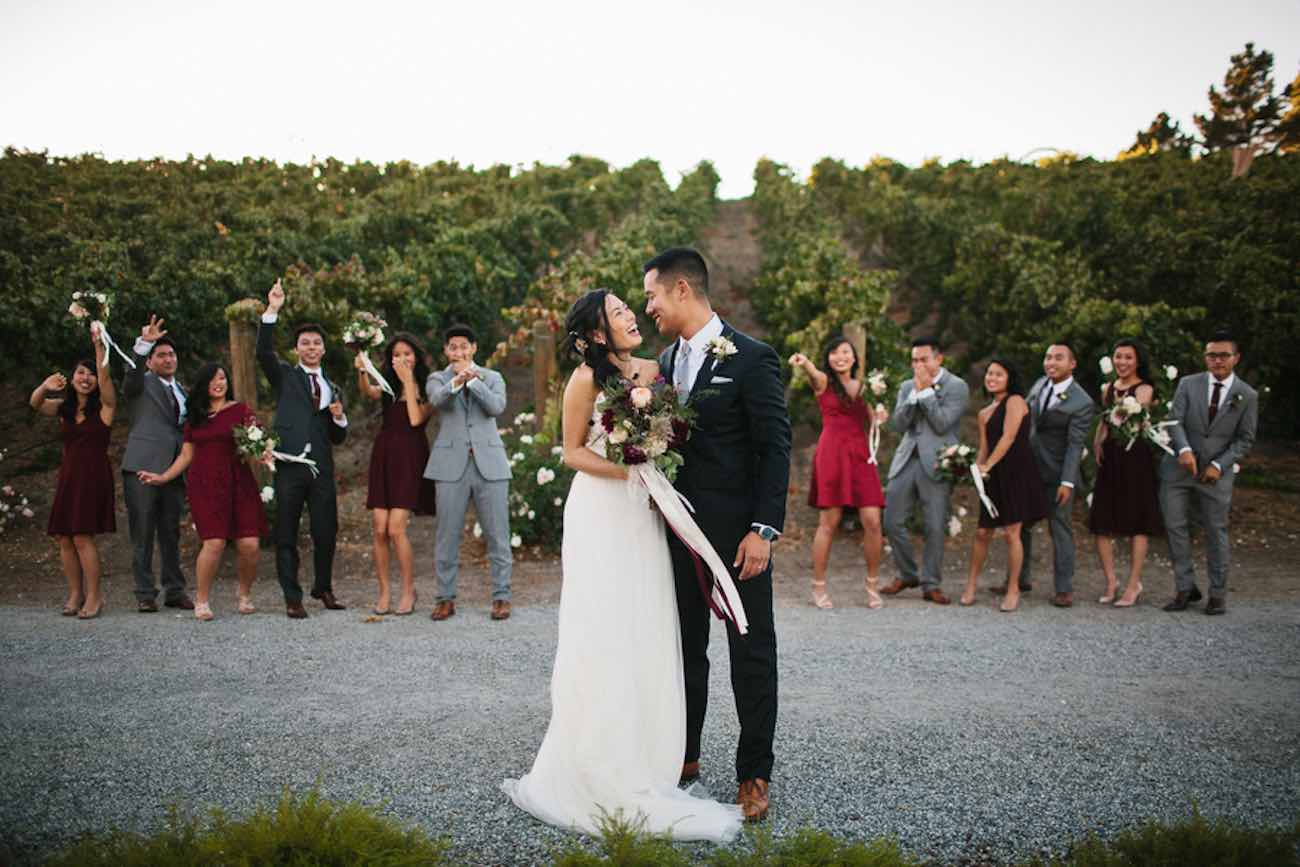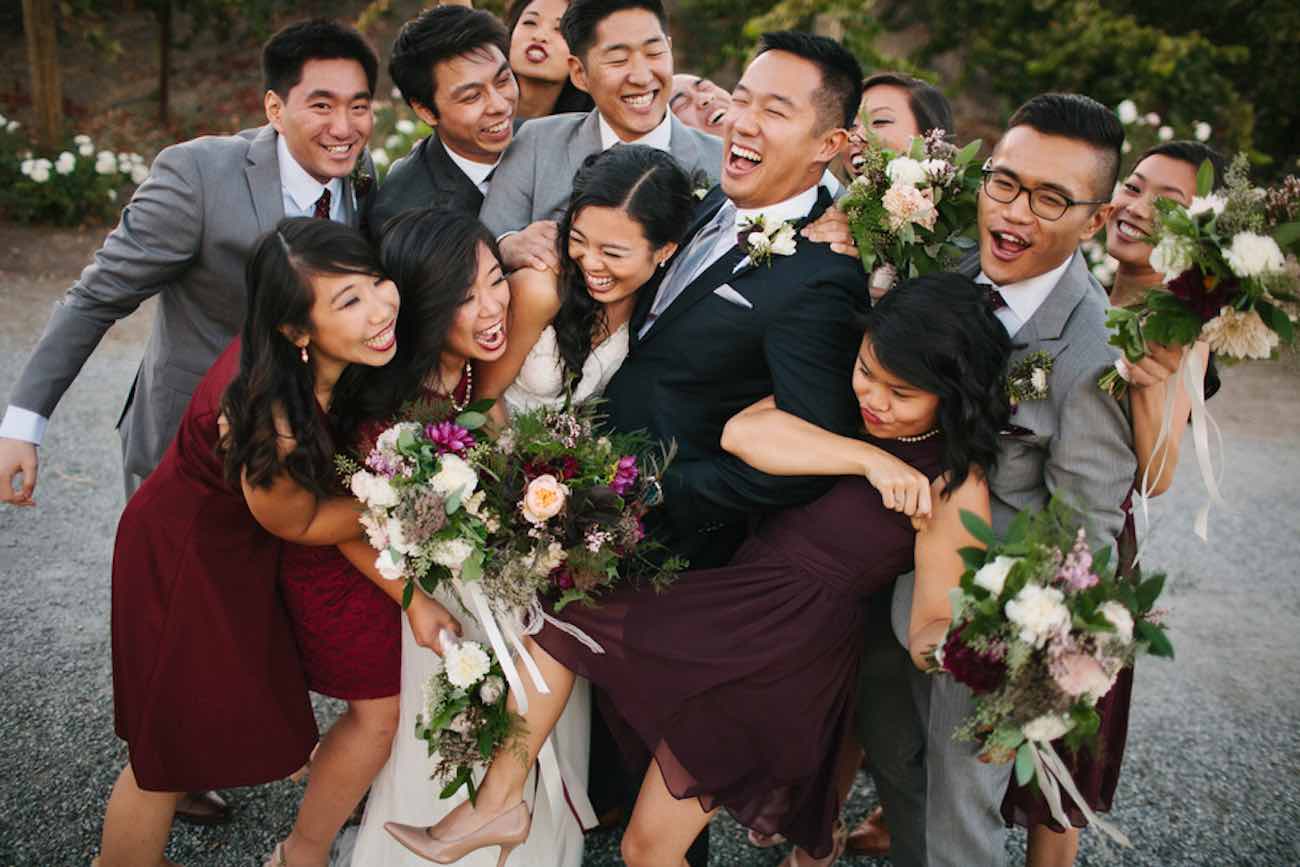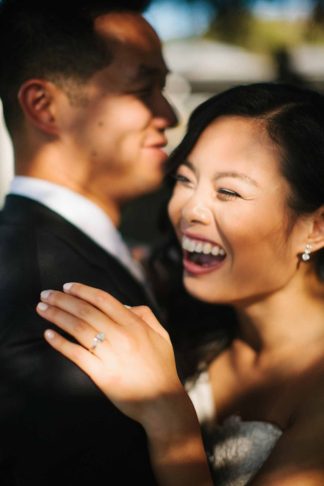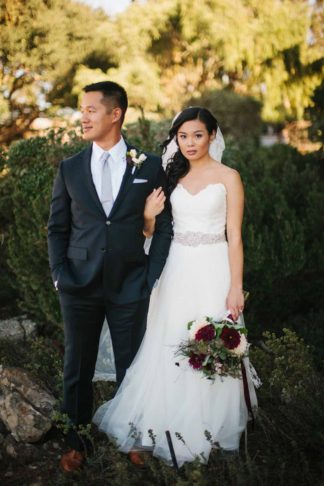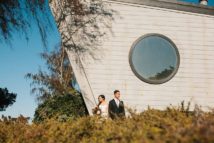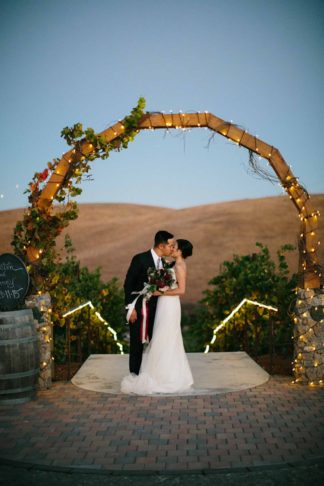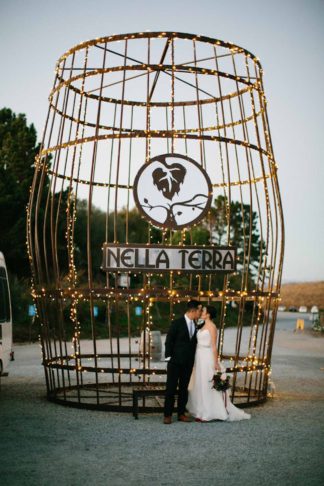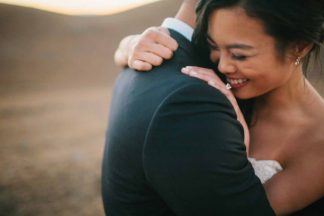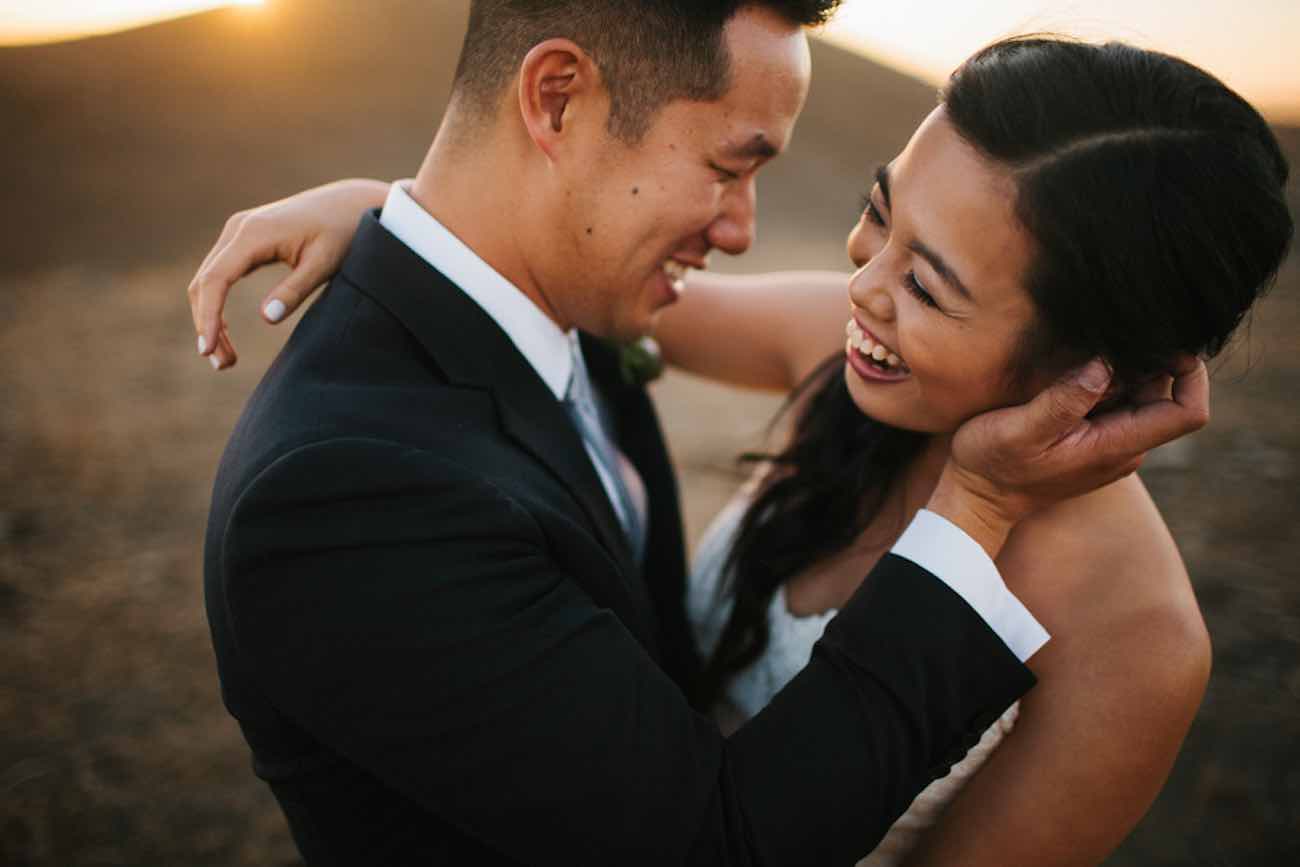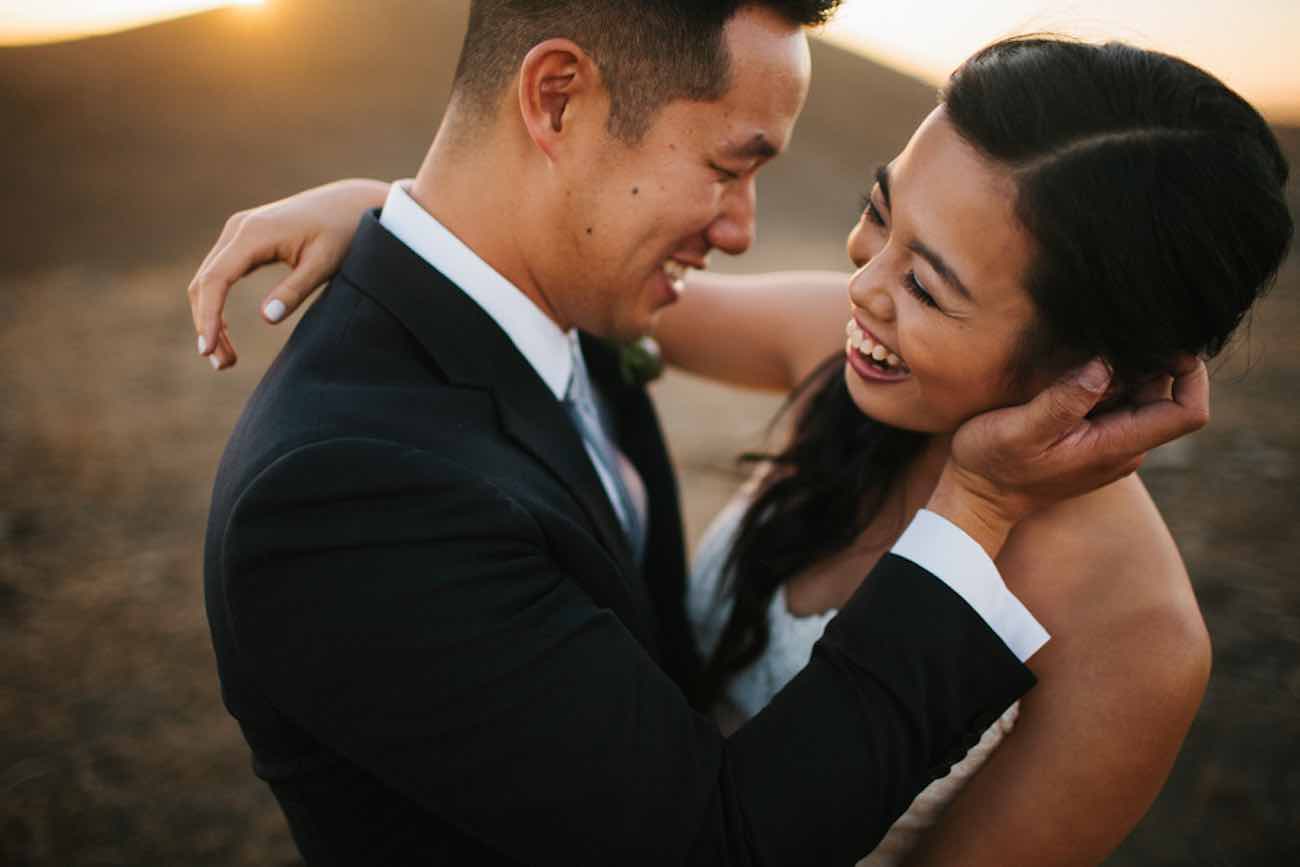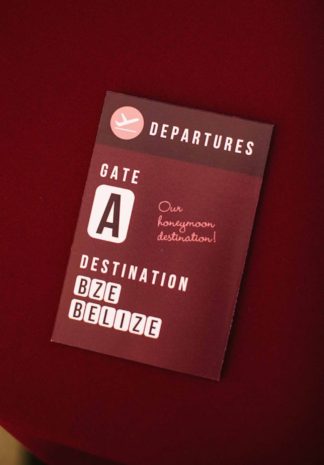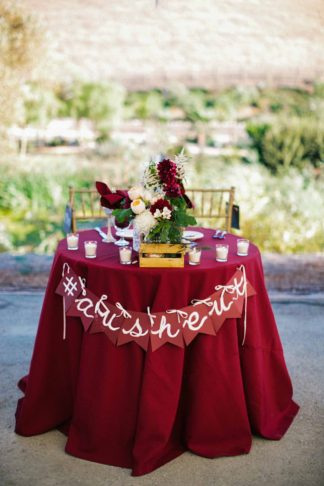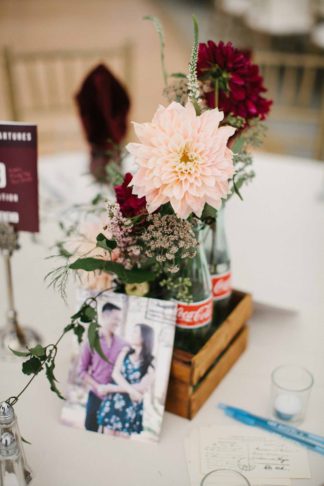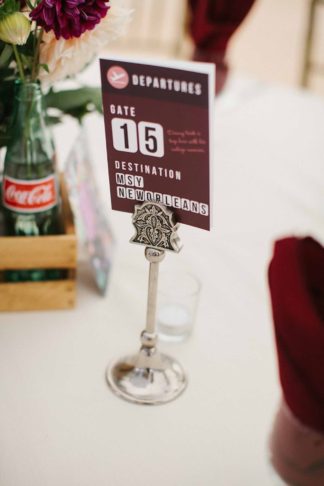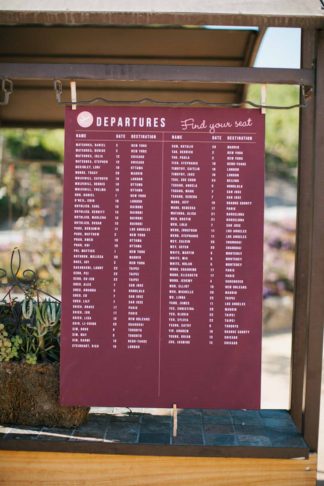 The seating chart was designed by another friend fashioned after a departures board at an airport, which is where Danny technically asked me out.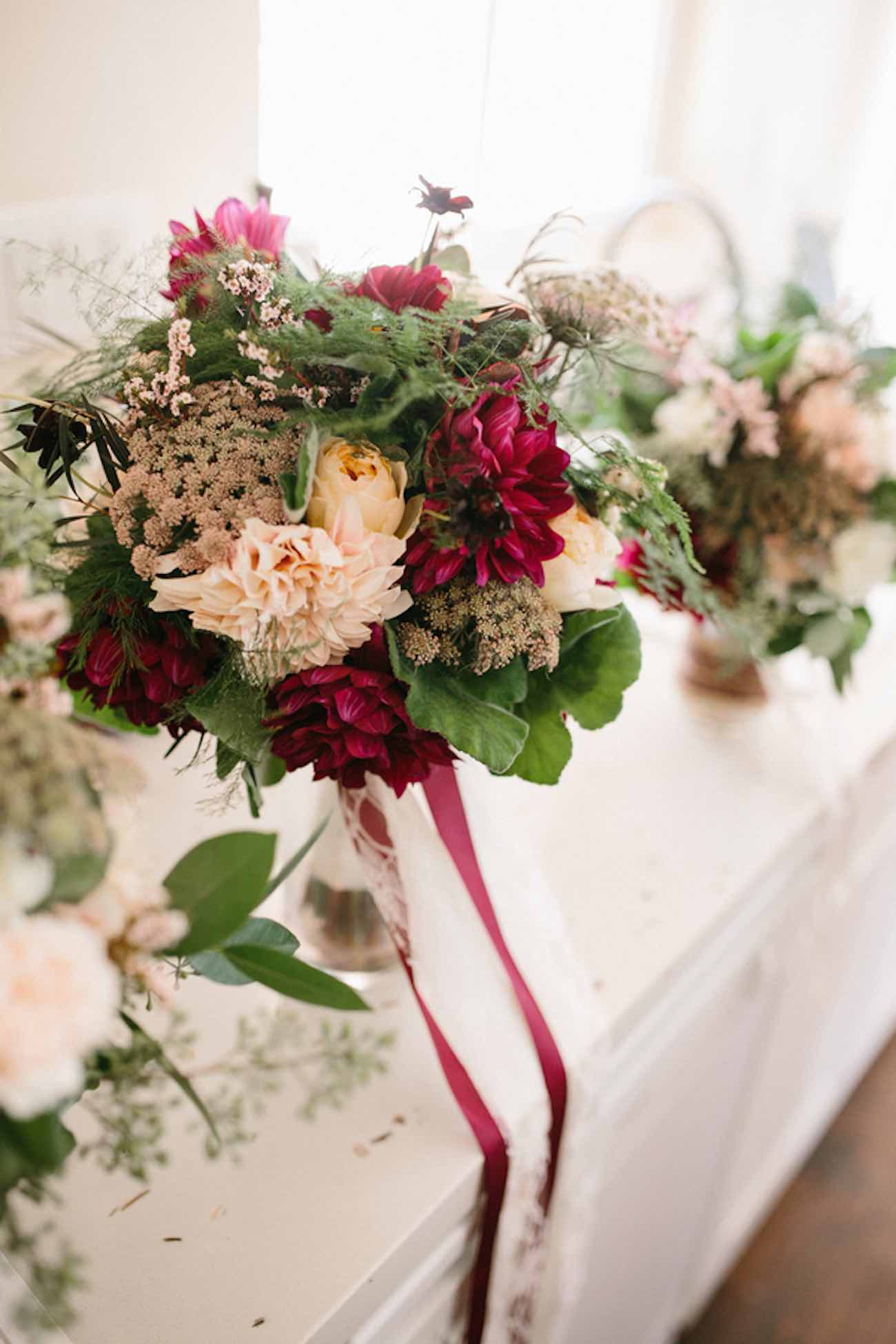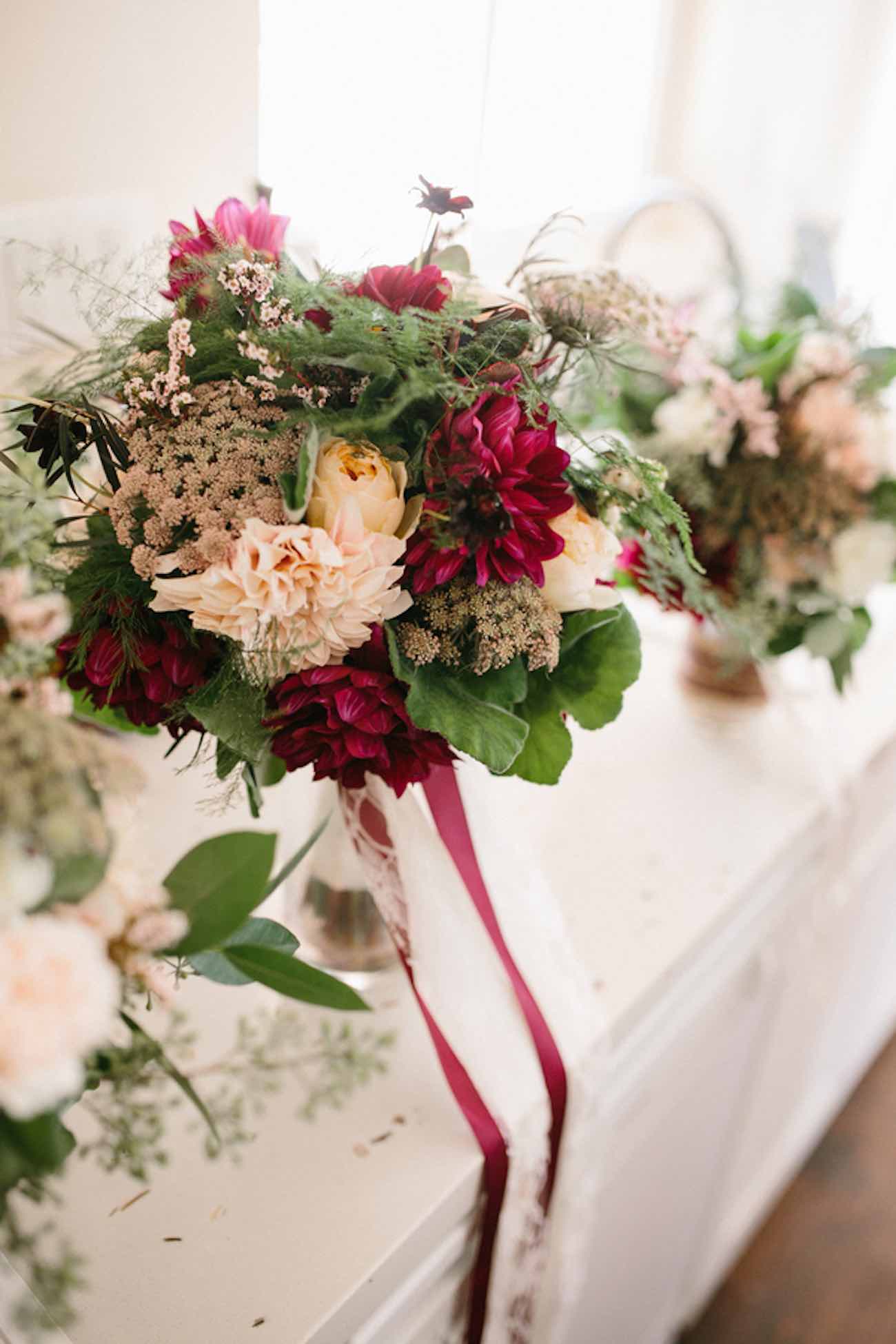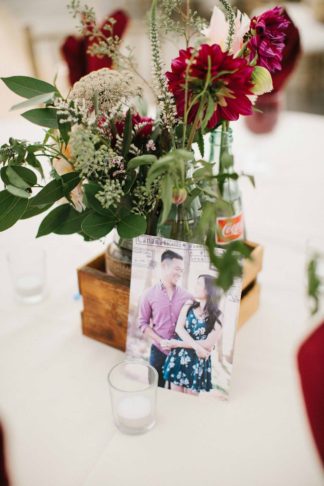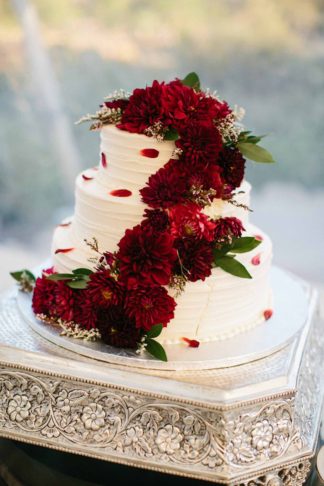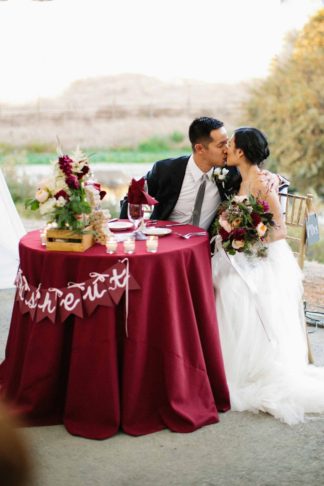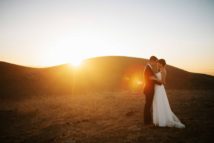 Elegant + Rustic Travel Wedding
Love Story: Danny was the New Yorker in grad school returning to the Bay area from Christmas Break, and I had just started hanging out with his friend circle after moving up from southern california after university. We met for a few days and then I left for Toronto, where I'm originally from, to visit my family. When I returned, he was the one to greet me at the airport and asked me out for New Years. We dated long distance for a while and then after he graduated, he moved back to the bay area. We got engaged on a weekend trip to Sausalito, ironically exactly one year before the wedding.
Wedding Dress: My dress felt like a cloud, which made it so much easier to get around in than I ever thought it would be. At shorter than 5'2″, I was worried that the dress I wanted (A-line type) would make me look like a cupcake, and everything seemed a bit too frilly for my taste. I was able to find this elegant "modified A-line" that gave me a little bit of a lace detail but the chiffon/tulle look in the skirt I was going for. Although the dress seemed super simple, adding a BHLDN sash made it perfect.
Hair and Make Up:  What's funny is that my hair & make up stylist and I decided to try something completely new morning of. I'd been obsessed with the idea of an elegant bridal ponytail: out of your face, shows off curls I don't normally have and a great excuse to grow my hair super long. During my trial, we had put the ponytail in the back and we left happy with it. Morning of, we were playing with the hairpiece again and I asked, what if it went to the side instead? Tay worked her magic and the result was absolutely perfect.
Groom' Attire: He had this Indochino suit custom made already (he has to wear suits for a lot of his orchestral concerts) and I knew I wanted him in a darker suit than the rest of the guys so he stood out nicely.
Guest Book: Our wedding guest map was a map made of music sheets that I found at Target (that place has everything!) and one of my maids of honour customized it with our names.
Make lists, and take things one at a time. It's so so easy to get overwhelmed, especially with pinterest and everyone throwing ideas left and right. Figure out your top 3 things you're willing to splurge/take time on and then move down the list.
It's the first 12 hours of the rest of your lives together, so make sure you enjoy it vs. worrying about the little details!
Sit down together and figure out what you're most willing to spend money on, keeping in mind honeymoon is part of it. Then that should be majority of the budget. The rest is give-and-take: do you really need fancy chairs or fancy paper?
Get your friends involved and be realistic about how much time you have for DIY (time is an expense too!)
Wedding Vendors
Our vendors were all so amazing and such a pleasure to work with! Nella Terra Cellars staff was absolutely perfect – they managed a lot of the behind of the scenes stuff, kept everything running while we were off taken pictures and even saved me dessert in case I didn't get a chance to get to the macaroons (which I totally didn't)! 
And of course our photographers! Love is a Big Deal was top of my list for photo choices and I'm so glad I went with them. They did such a good job at keeping us relaxed and genuinely laughing as we caught the sunset.