Magic Wedding Elegance
Black & White
♥  ♥  ♥
Hosted at the Allée Bleue wedding venue in the Franschoek wine valley, Lara and Roché's elegant wedding was an all-white affair with a touch of black. Drawn toward elegance and simplicity and with a love for all kinds of music, especially classics, their wedding day sounded as elegant and romantic as it looked.
Glassware littered the tables beautifully by reflecting light in a magical way. And the stunning pure white florals were inspired by Lara's favourite flowers – Orchids and Casablanca Lilies. Take a look – photographer, Just Judy was there to capture their ultra special day.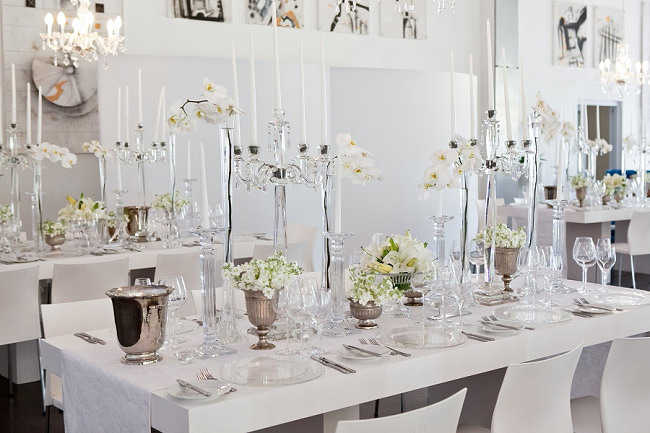 Elegant Black & White Wedding Look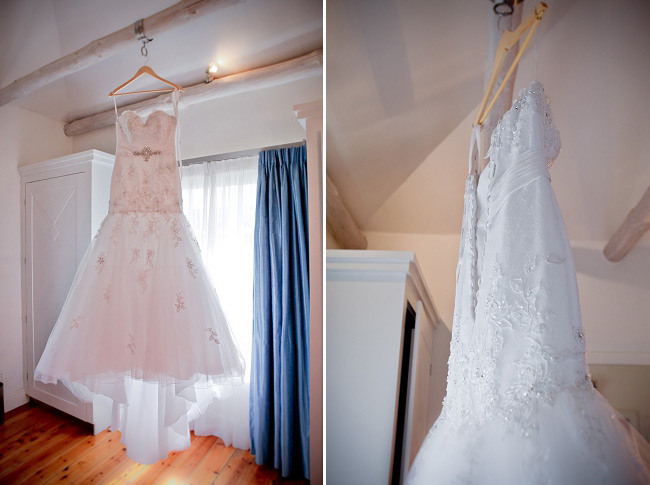 Elegant White Bridal Look: Lara wore an elegant and glamorous wedding gown. She had the words "Faith, Hope, Love" and their names and wedding date embroidered in blue on the inside of her wedding dress.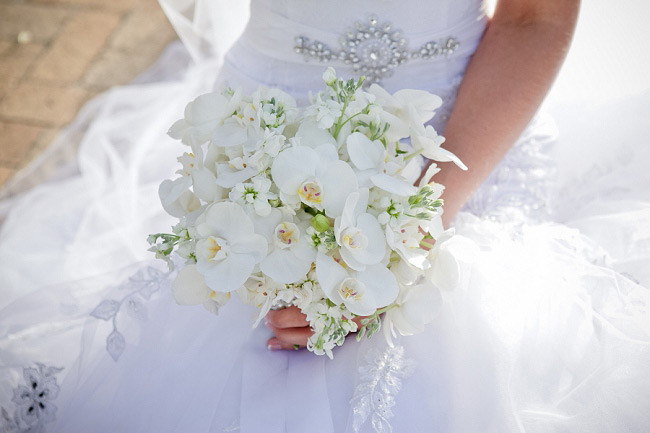 Elegant White Bridal Bouquets and Corsages: Lara's bouquet was an elegant and classic arrangement of orchids. The bridesmaids wore a single orchid as their corsages.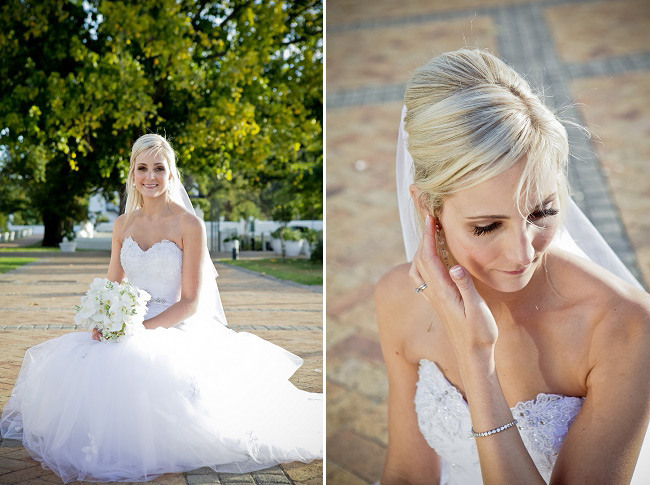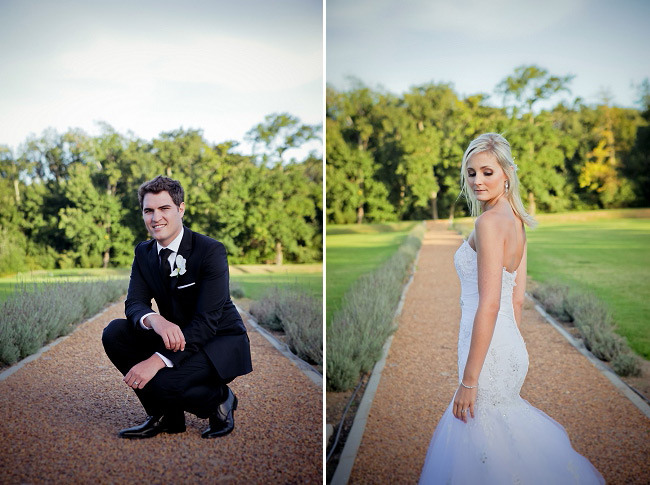 Elegant Black & White Allée Bleue Wedding Ceremony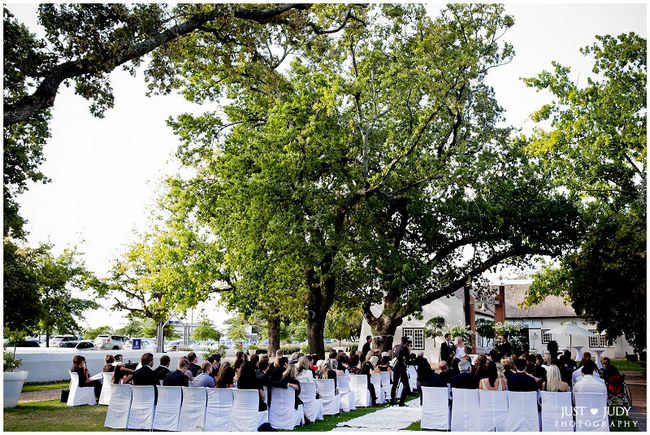 Roche and Lara's Love Story
Sharing the story of how they met, Lara says, "Roché and I met randomly one weekend back in 2006. I was away on a 'girls weekend' with school friends and he was in the same town for a short break. Our relationship started out as nothing serious, but our infatuation with each other got the better of us and Roché proposed 6 years later".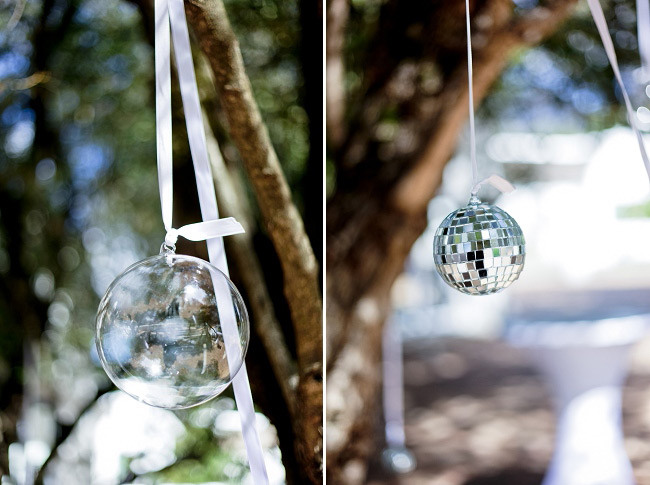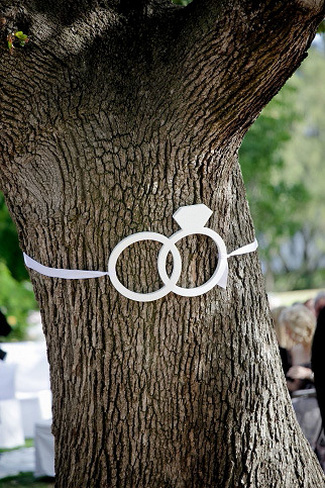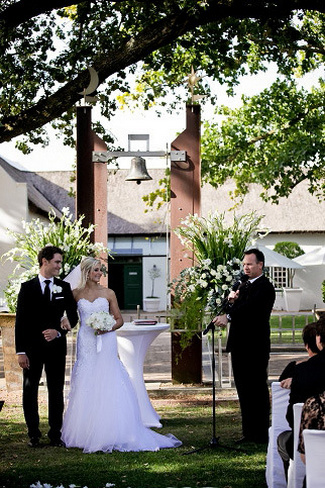 (Above Left) DIY Elegant White Decor: They created polystyrene cut-outs in the shape of wedding rings and displayed it around the trunk of a tree at their wedding ceremony.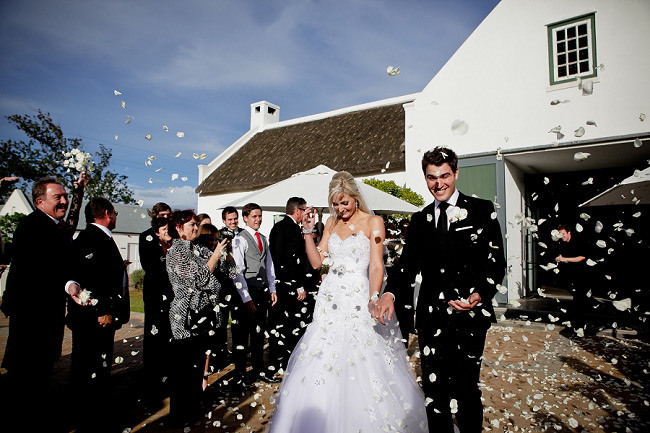 The Tale Of Their Proposal
Lara reveals the romantic tale of Roché's proposal in the "The City of Love"
We planned a holiday to London and Paris in December 2011. The first four days were spent in London and then we were off to Paris. On the first day that we arrived in Paris, it was an absolutely beautiful sunny Winter's day. After checking into our hotel, we were off to the Eiffel Tower. After a very long wait, we eventually made our way up the tower. The view was absolutely stunning! We decided to have a picnic under the glow of the tower that evening. After finding 'the perfect spot we sat down for our picnic. I was so oblivious and didn't expect a proposal on this trip at all! Roché completely surprised me by kneeling on one knee, holding a black box with a beautiful ring and proposing. I felt like the luckiest girl in the world to be proposed to in "The City of Love!"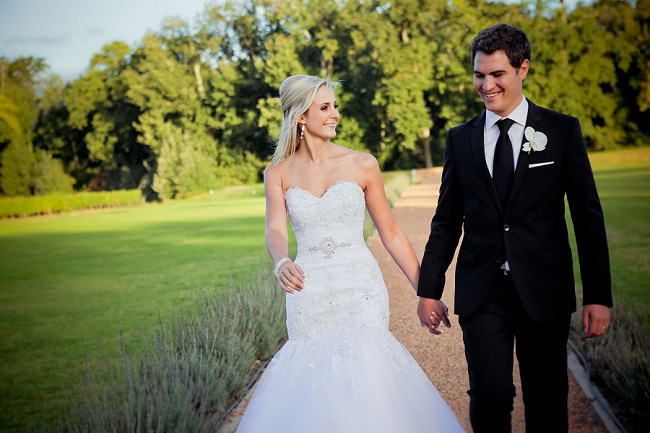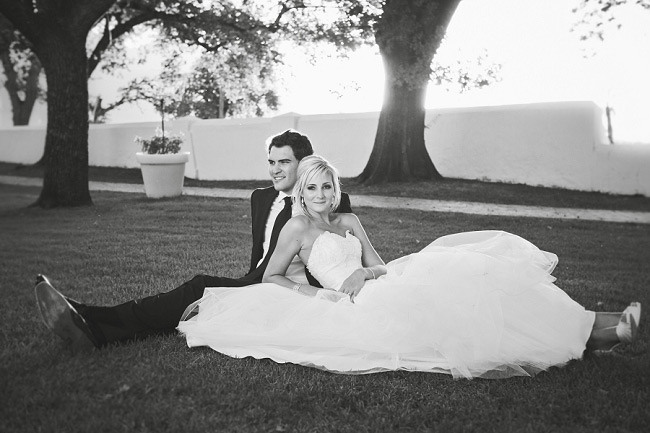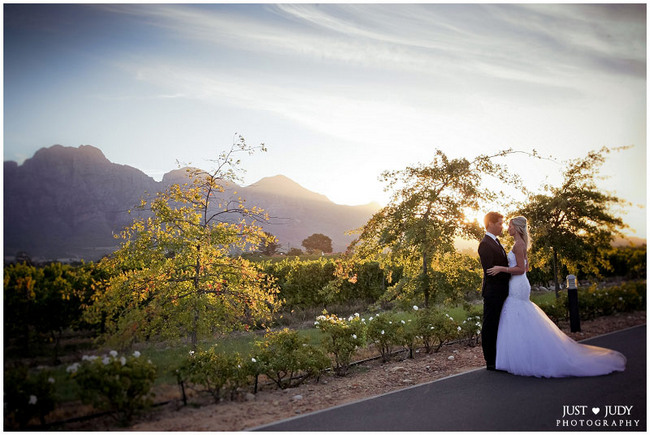 Elegant Black & White Allée Bleue Wedding Reception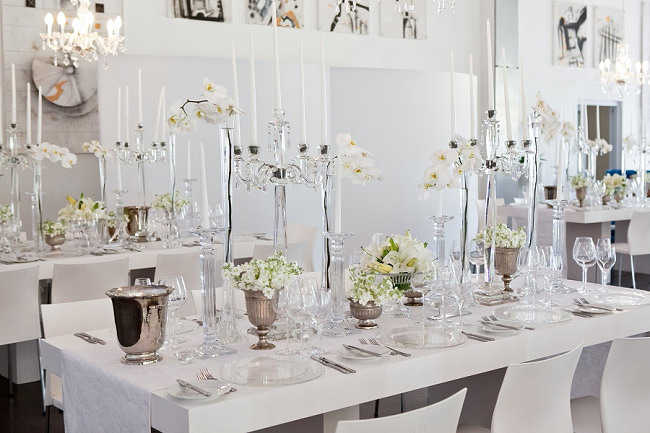 Elegant Black & White Wedding Décor: Their wedding décor was all white. Simplicity, elegance and class was achieved by using lots of crystals and glassware, which allowed for the reflection of light. Crystal chandeliers hanging from the ceiling above the tables added to the creation of a magical evening reception atmosphere.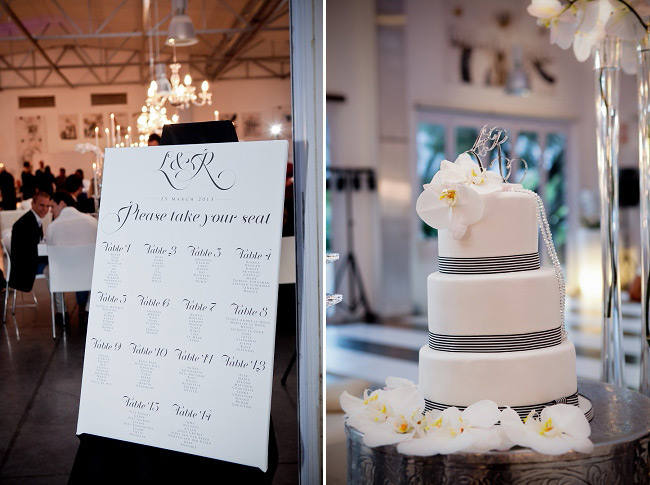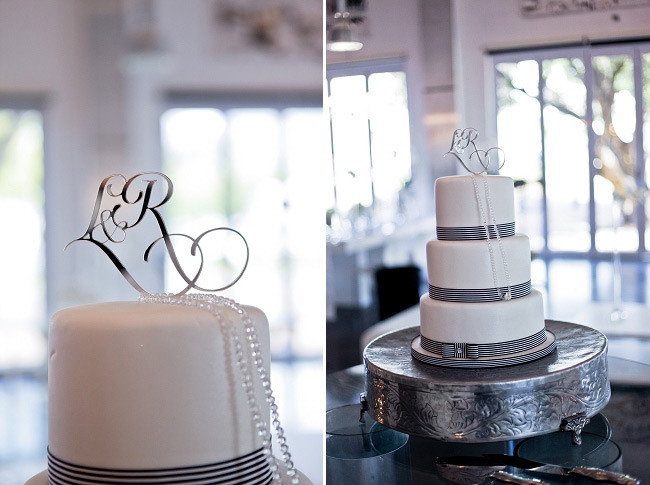 Elegant Black & White Wedding Cake: A three-tiered crisp white wedding cake with black and white striped ribbon detail was displayed upon a metal stand. Mirrored monogram cake toppers and a string of clear beads added the finishing touches.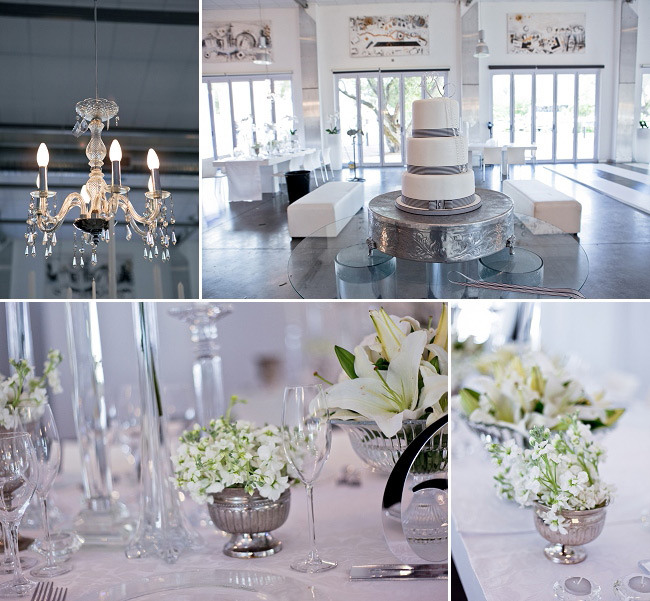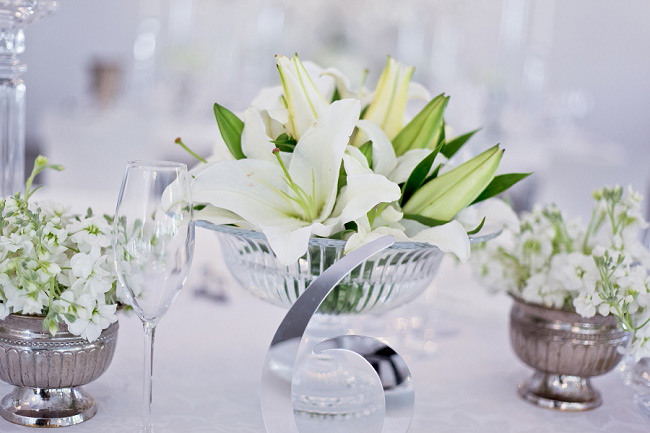 Elegant Black & White Wedding Flowers: White orchids, white Casablanca Lilies and white roses adorned the tables for an ethereal look.
Elegant Black & White Wedding Stationary: Together with their stationery supplier, the couple were fully involved in the design process of their wedding stationery. Elegant white invitations with a black and crystal theme was carried throughout their wedding stationery from their menus to their seating chart, which was presented on a large white canvas on an easel.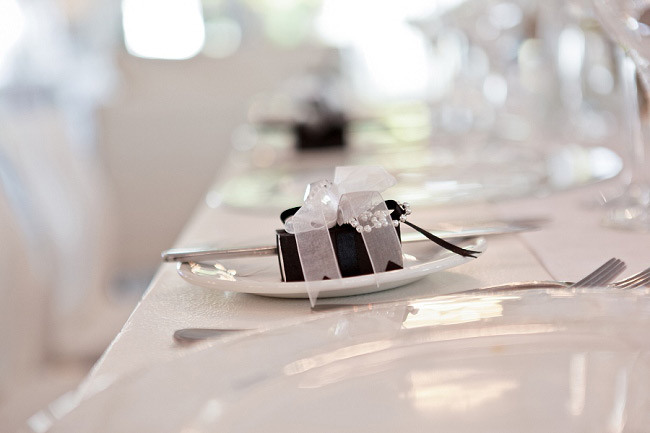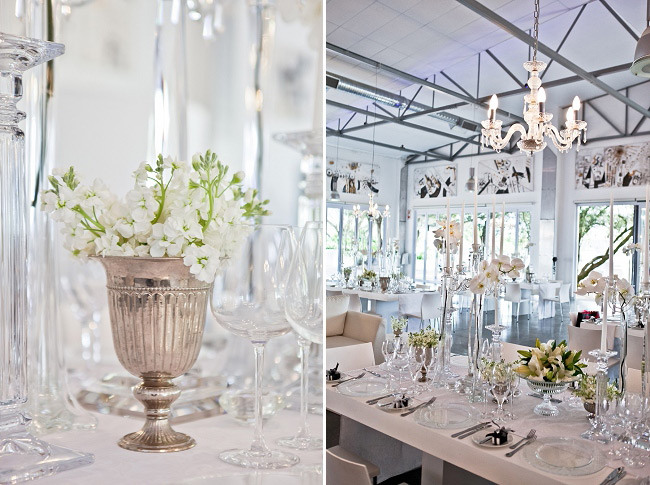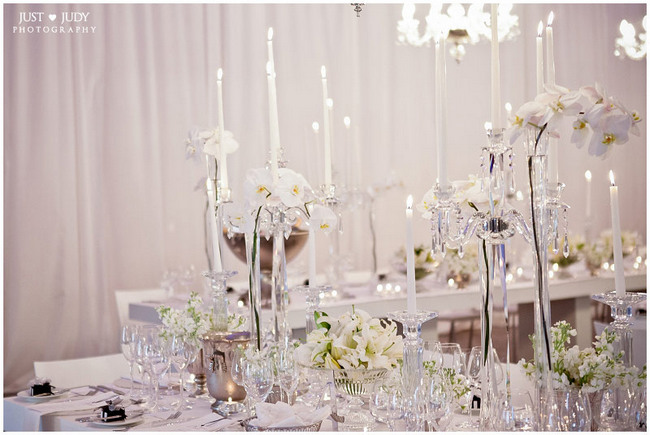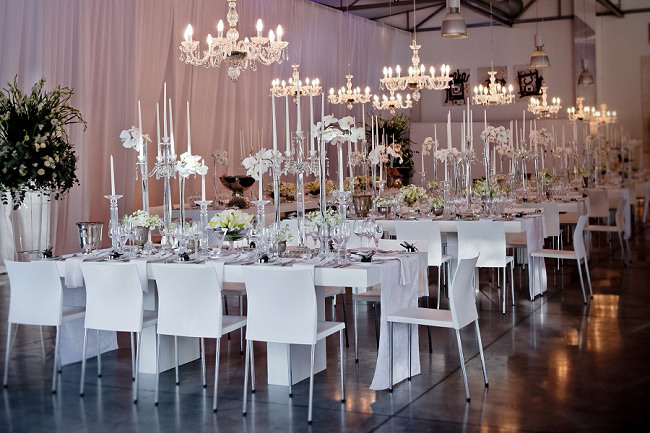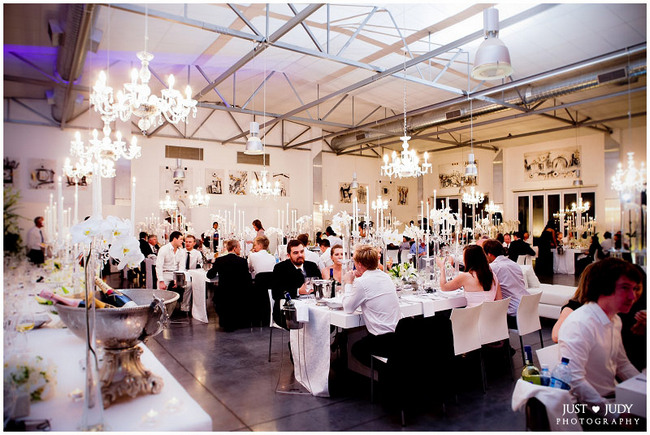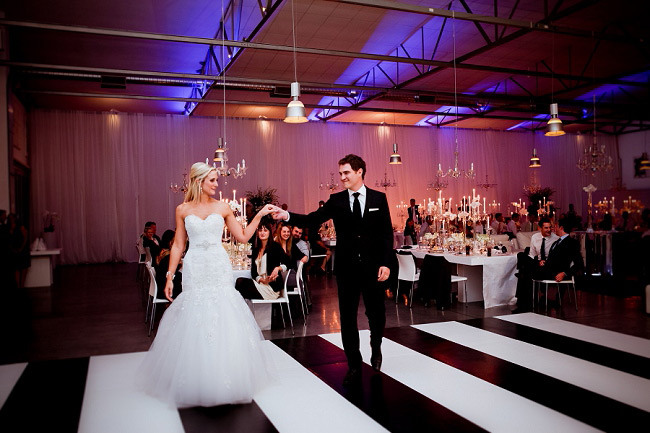 Real Bride, Lara's, Tips For Bride's-To-Be
Relax and you'll enjoy your wedding day more – From her own experience, Lara says, "I was a very calm and relaxed bride (for some strange reason, haha!), which really helped me to enjoy every moment even more".
Skip wedding favours to save costs – Wedding favours for guests are a requirement anymore. "We didn't have any wedding favours for our guests, but had a photo booth where our guests could have fun and take pics, which they could take home as a keepsake," says Lara.
Interested in elegant weddings with a touch of class and a heavy dose of sophistication? Check out this Elegant White Hotel Wedding in Georgetown, packed with glittering white elegance.