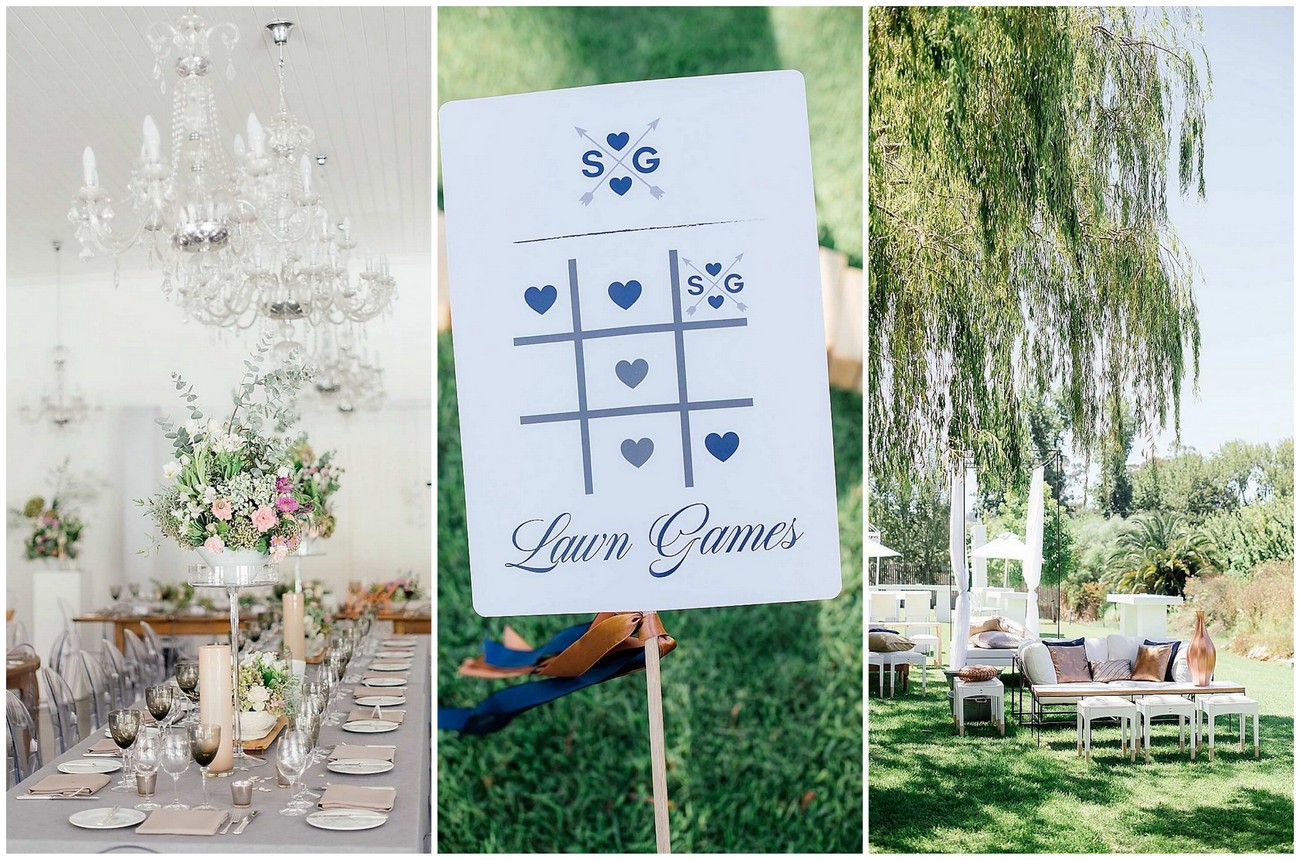 Seugnet and George from Hermanus, Western Cape, wanted to create an elegant and sophisticated, yet informal look for their Cape Town wedding. They wanted their down-to-earth personalities to reflect in every detail of the wedding, with a somewhat 'quirky' feel. They decided have an informal cocktail hour with lawn games, entertainment, a wine bar, sketch artist and eats, followed by a gorgeous reception with a more sophisticated touch. The result? An elegant, atmospheric wedding filled with Entertainment! Plus, they chose the talented Debbie Lourens  as their photographer, and we are so glad that they did! 
"The lawn games in the sunny Stellenbosch were a fun pastime for the guests. The caricature artist, Marthinus van Tee, made the guests cry with laughter while The Bottomless Coffee Band got everyone in a party mood," shares Seugnet.
Their overall colour palette contained soft, natural pastel colours. Elements of pastel green, pink and purple were used along with shades of grey and rose gold: "Our wedding planner, Karla made the whole planning of the wedding so easy. Our photographer and videographer were amazing – they corresponded before the wedding day and knew exactly what the other one had in mind. It helps to have friendly and helpful vendors – they make the whole process so much easier!"
Elegant, Atmospheric Wedding Filled with Entertainment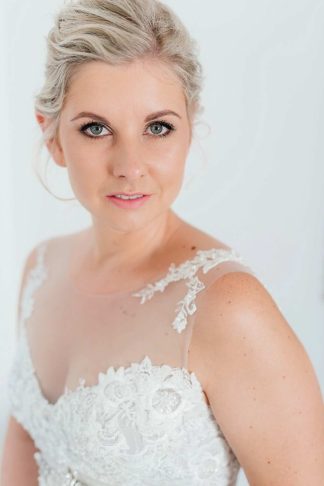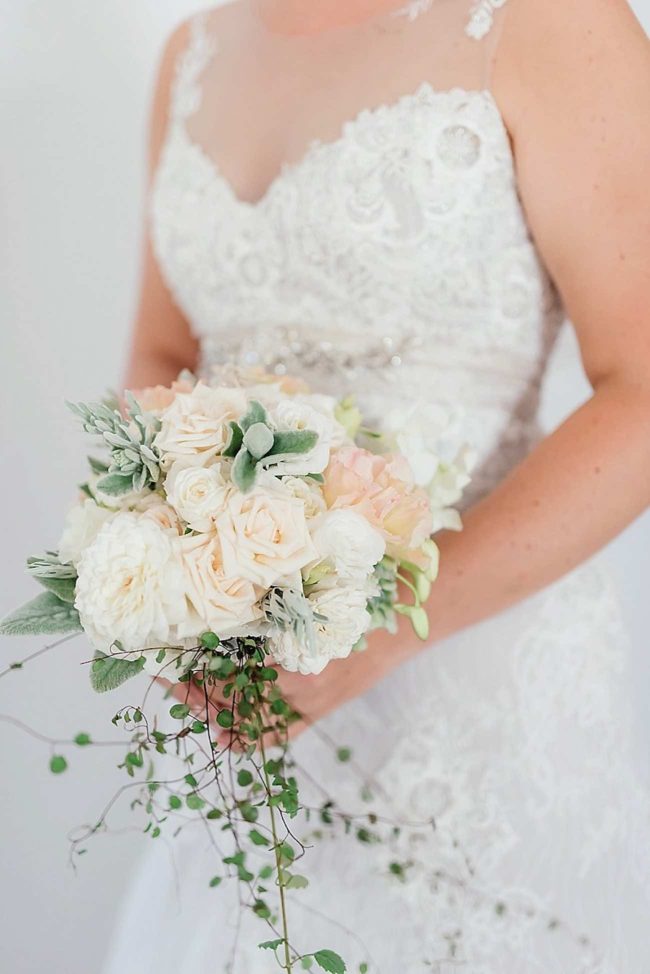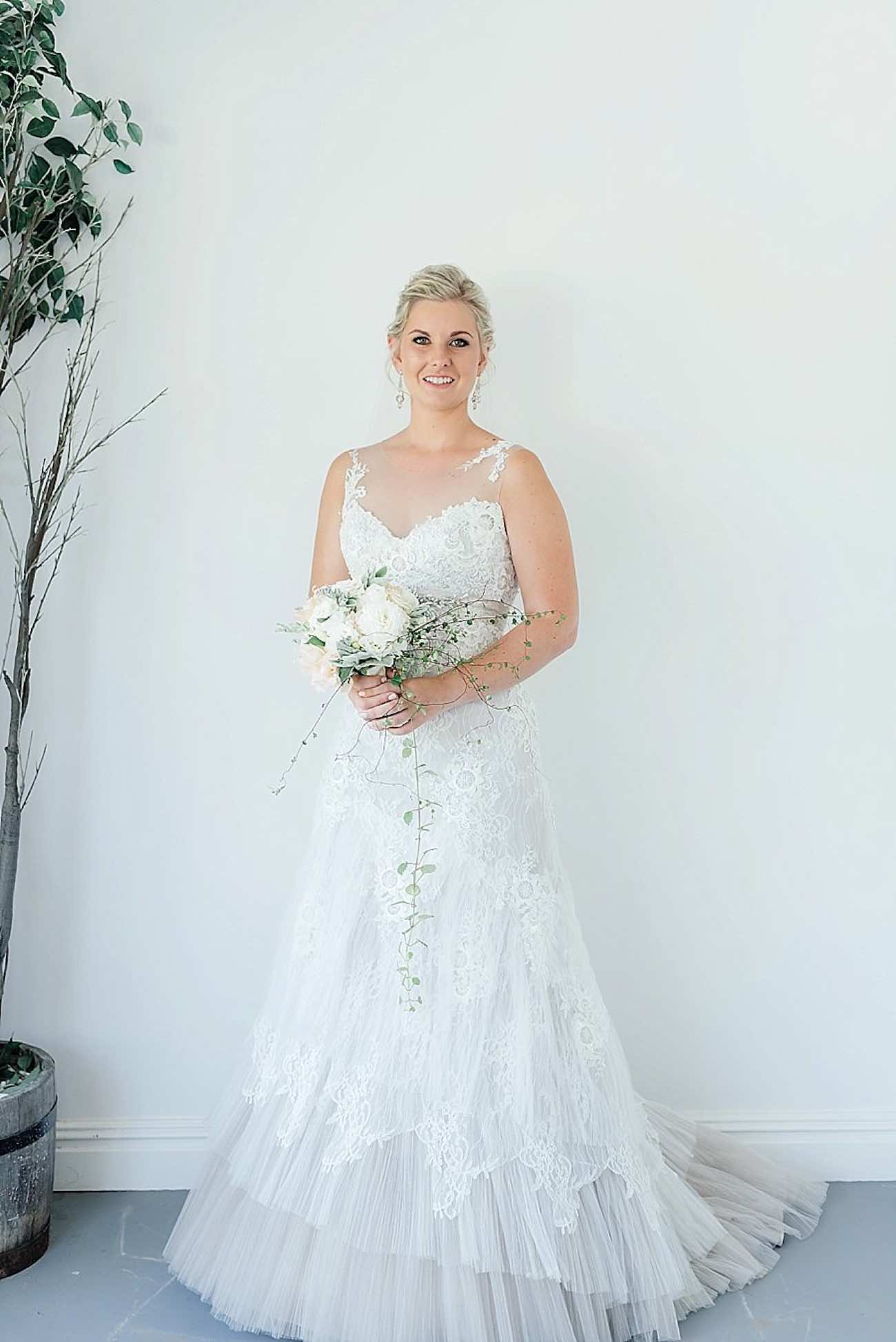 I wanted an elegant vintage gown and after seeing a dress from Elizabeth Stockenstrom's catalogue I knew that her style was perfect for me. When I met Elizabeth for the first time I tried on a few dresses but she knew exactly what I had in mind. Comfort was a top priority. We did not work with a specific design or sketch. With every fitting she added another layer of fabric and eventually I had the perfect dress that felt like a second skin. I gave Lisa Brown free reigns for on hair and make-up, aiming for a natural look and it was perfect.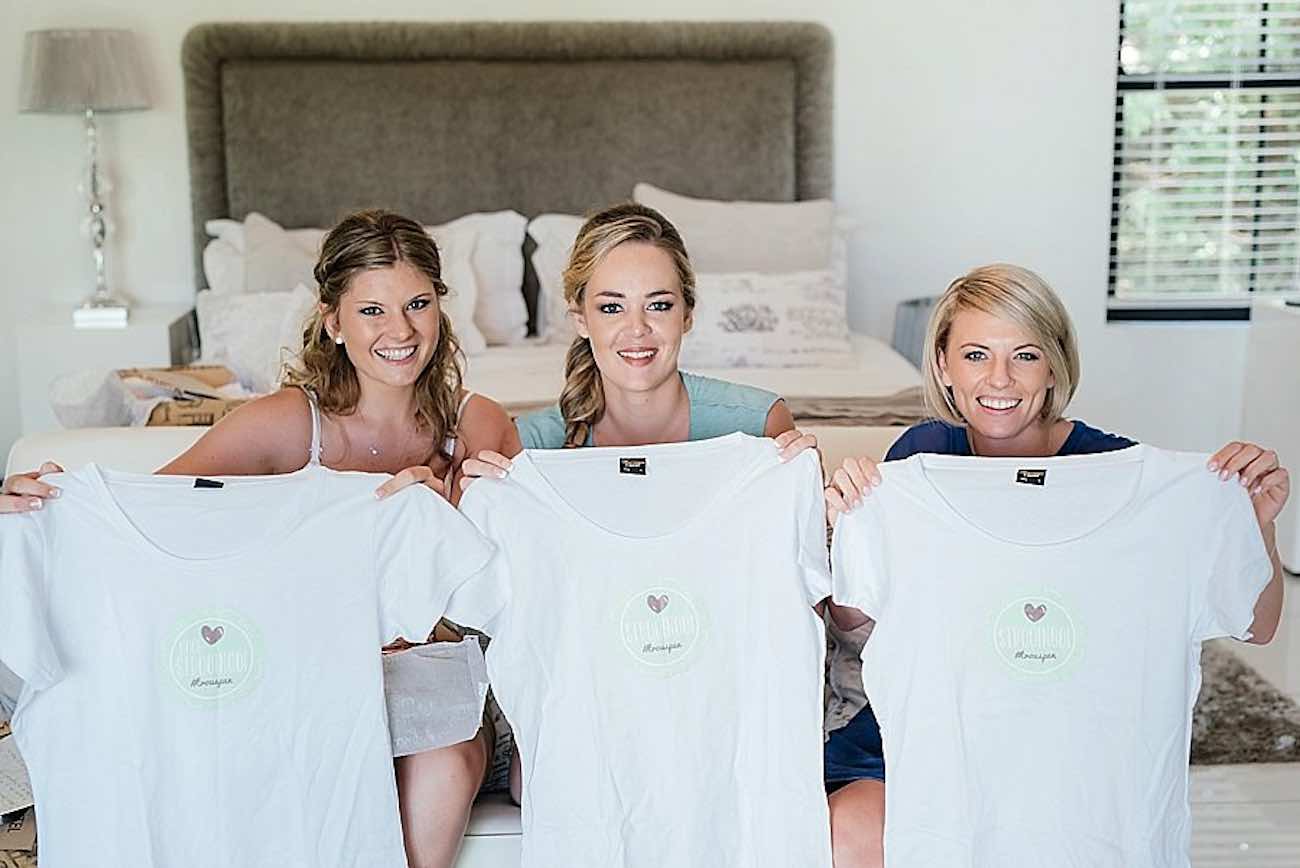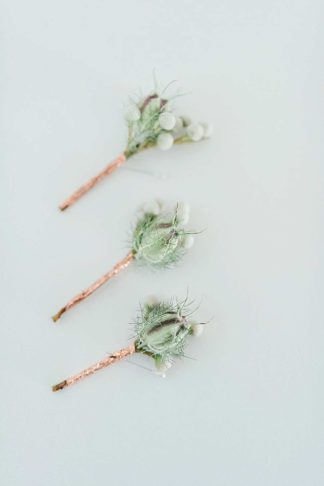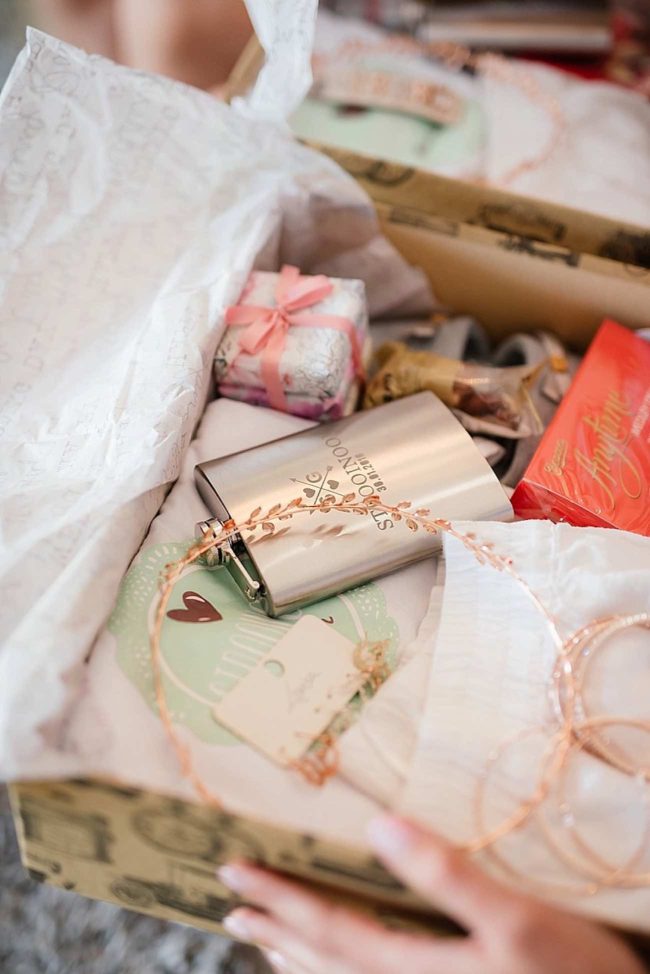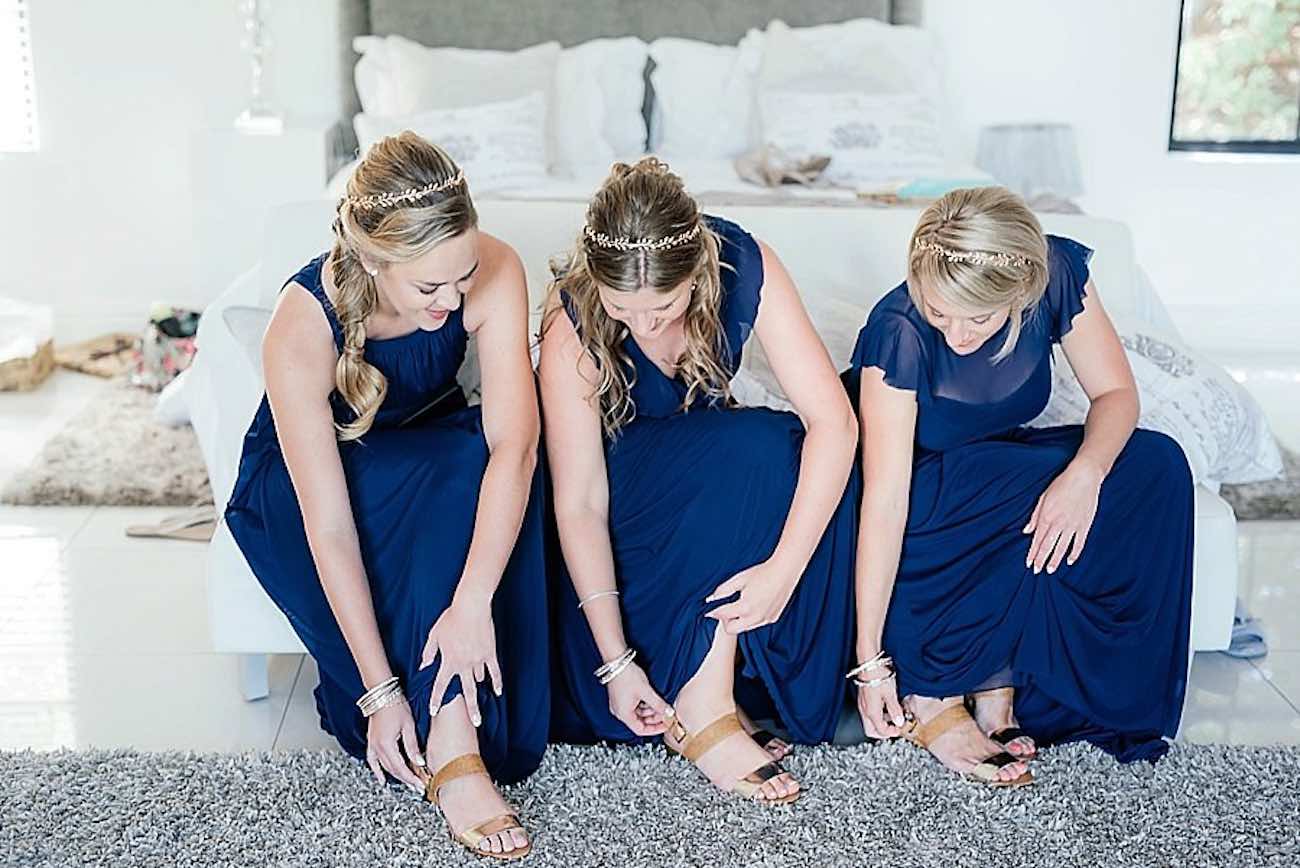 I wanted my bridesmaids to be very comfortable in their dresses and wanted to give them a dress that they could use again in future. The three bridesmaids individual styles are very different and I didn't want them to wear anything they didn't like. I chose Jacoba Clothing as she gives one the option to choose their own design and then make it in the specific colour. Their bouquets were very simple and weren't too heavy to carry around.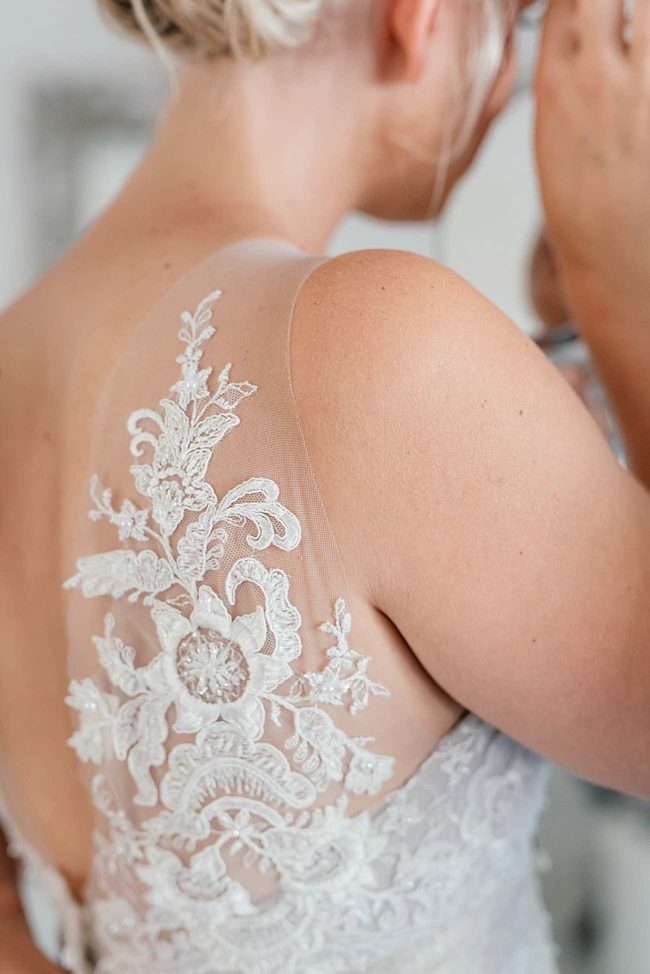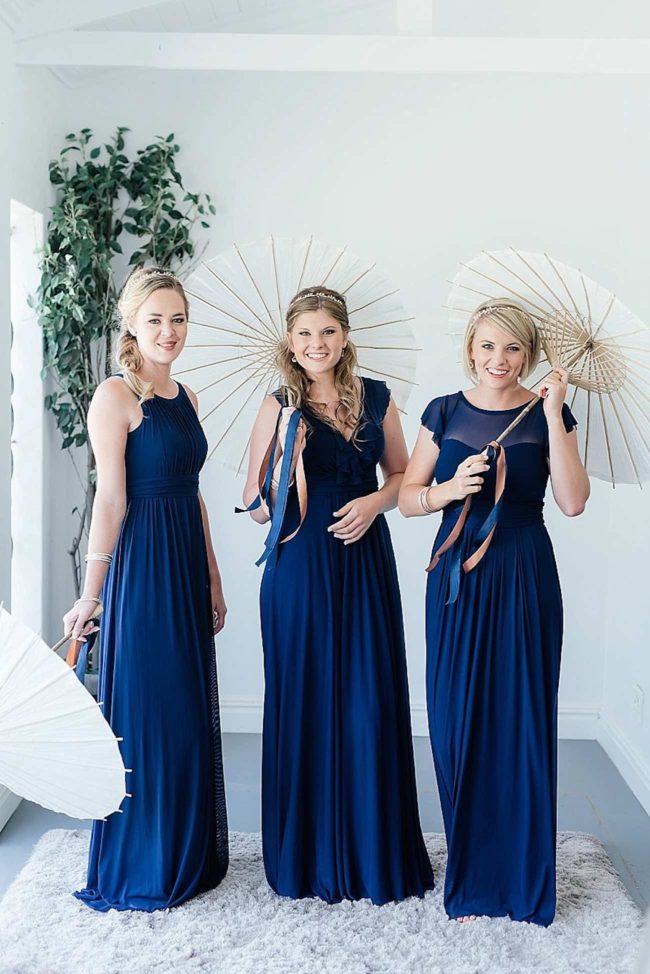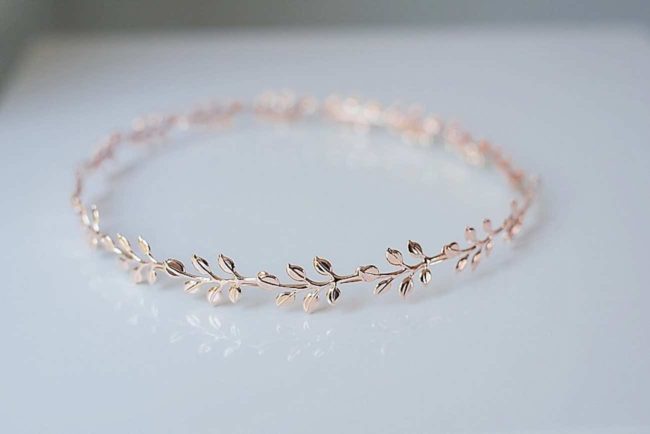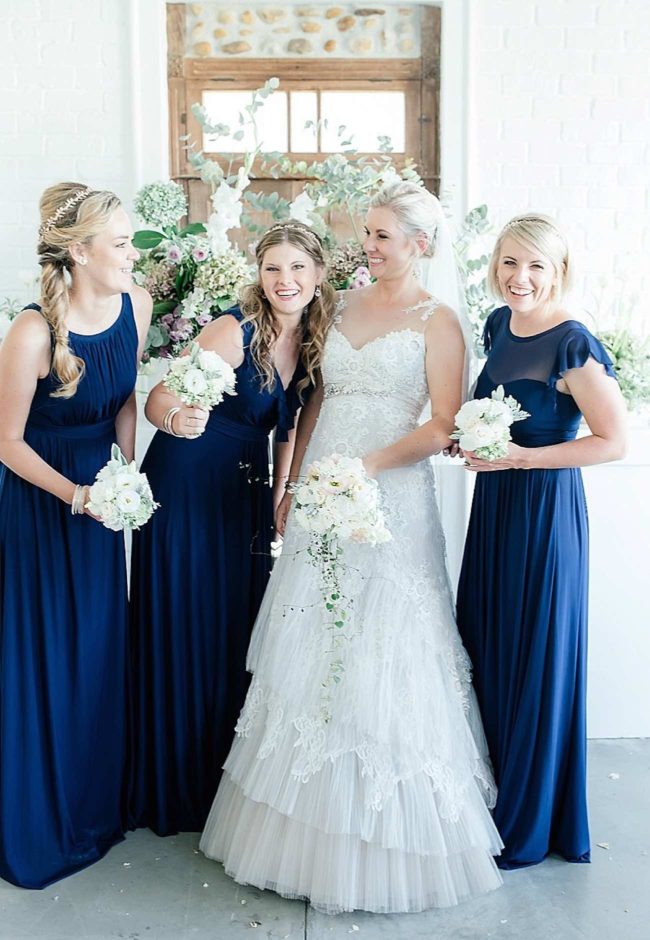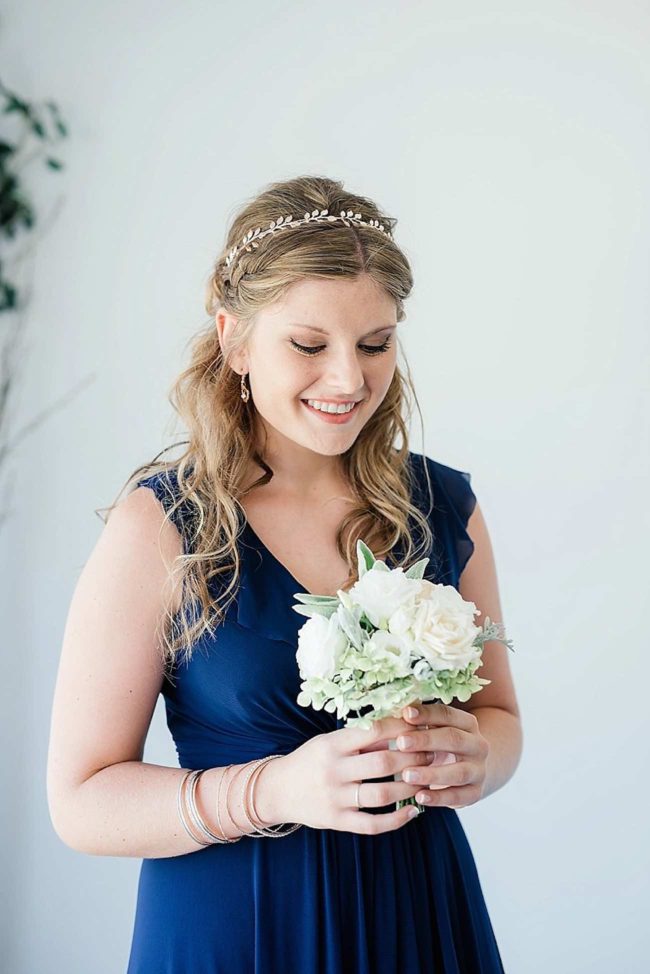 After my first meeting with Lisa from Okasie they made a mock up of the tables with flowers and décor and it received my approval immediately. My bouquet complimented the wedding style and colours – informal and neutral.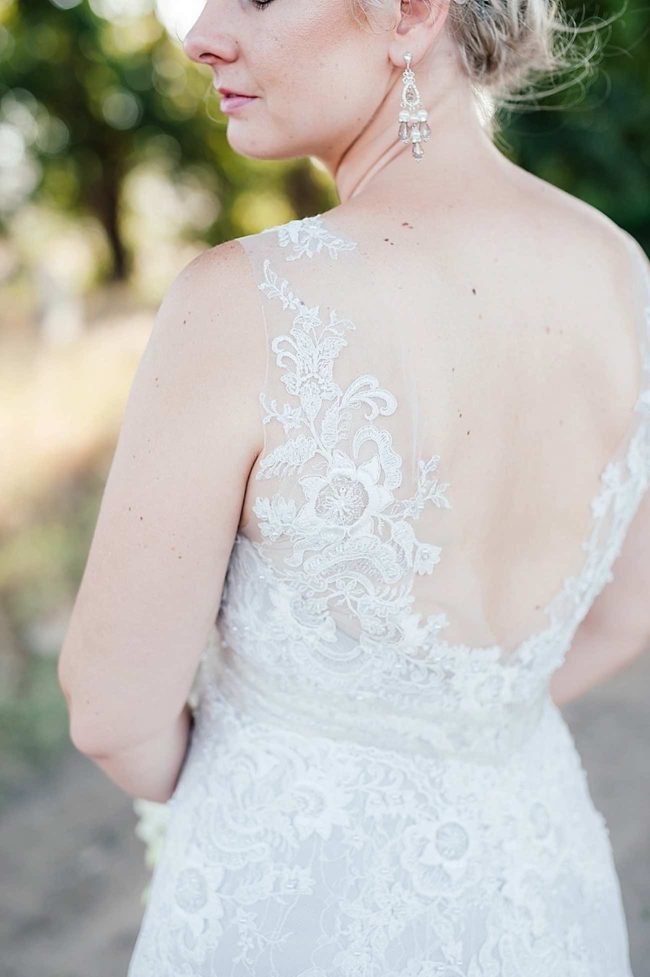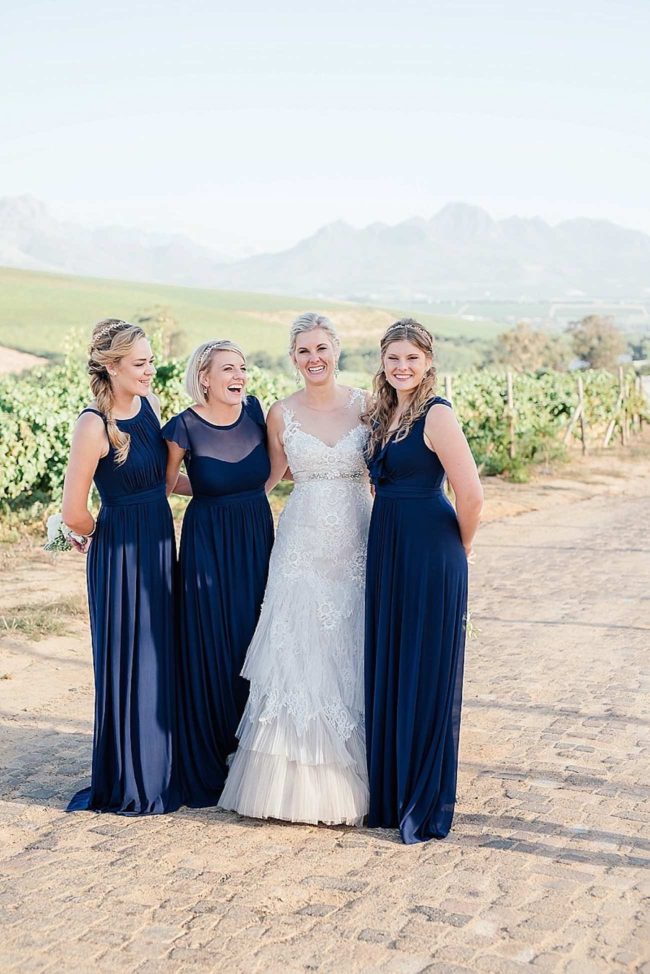 For his suit, George selected a similar colour to the groomsmen for the suit, but with a different tie and shoes. This created a look of unity but he definitely stood out…probably also the big smile!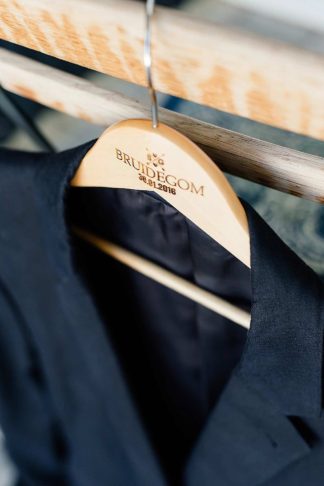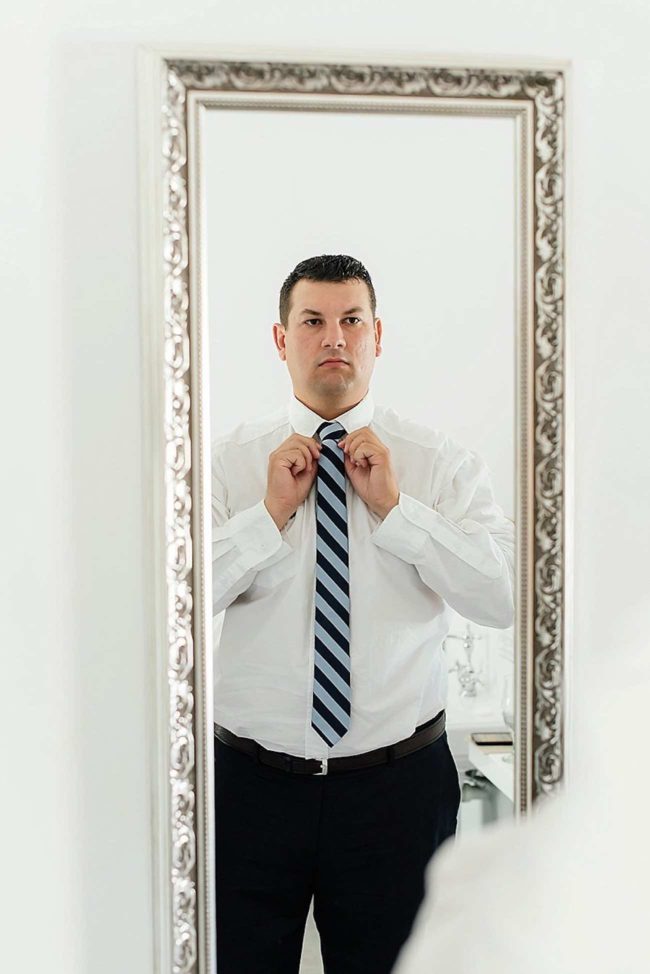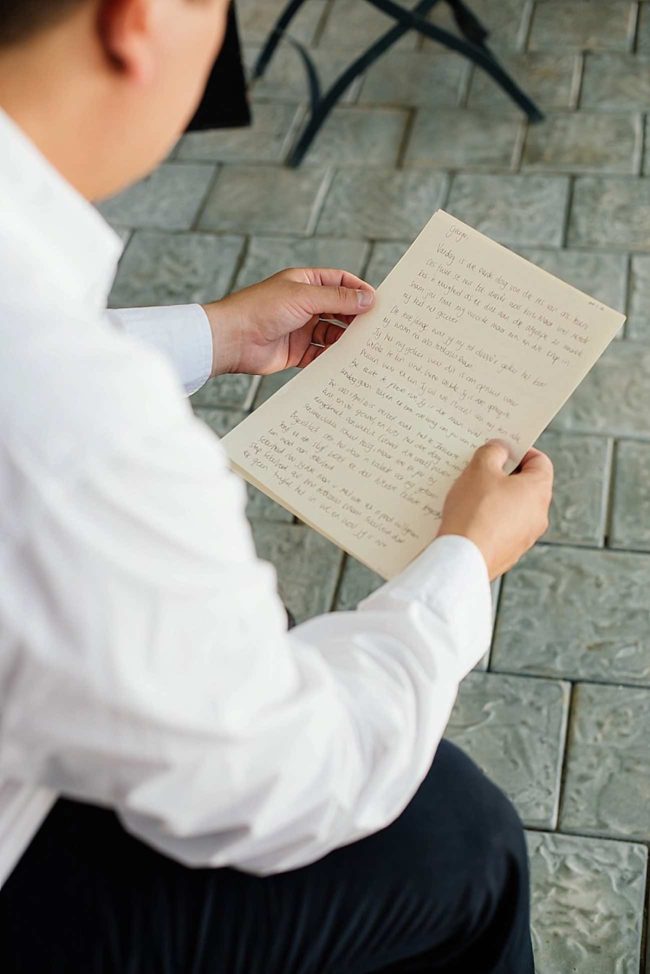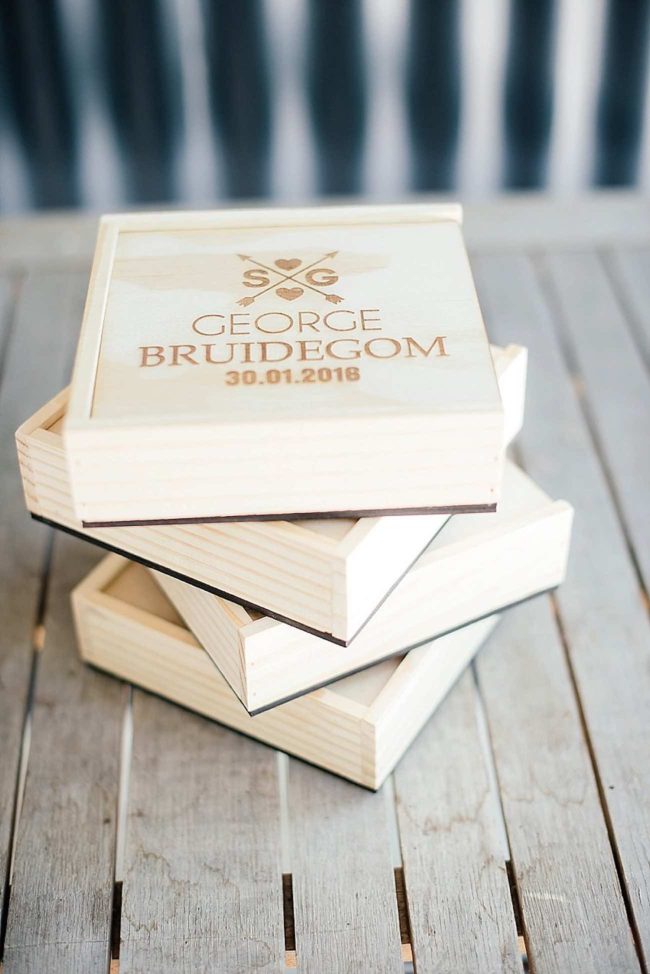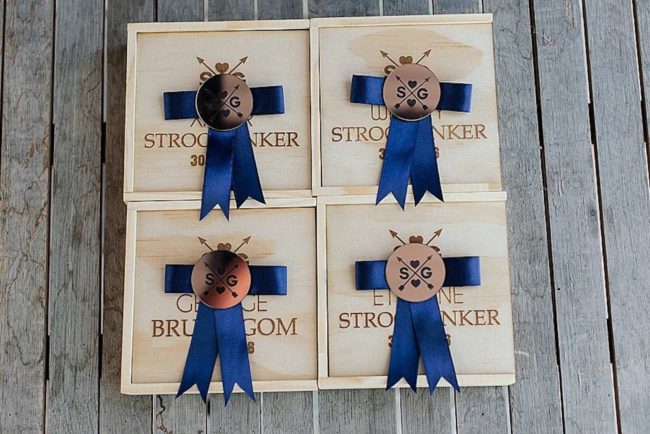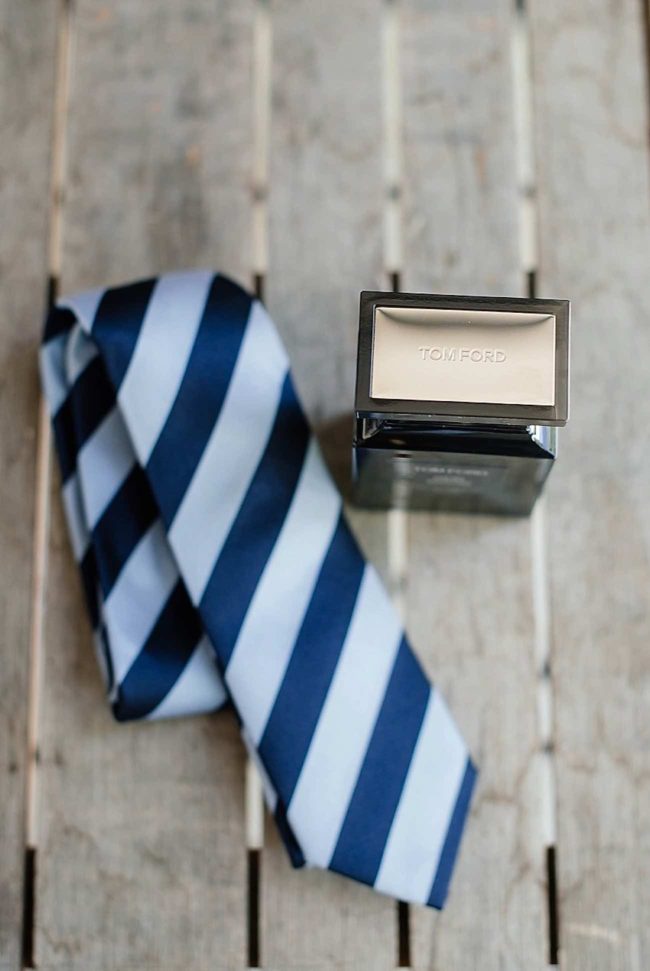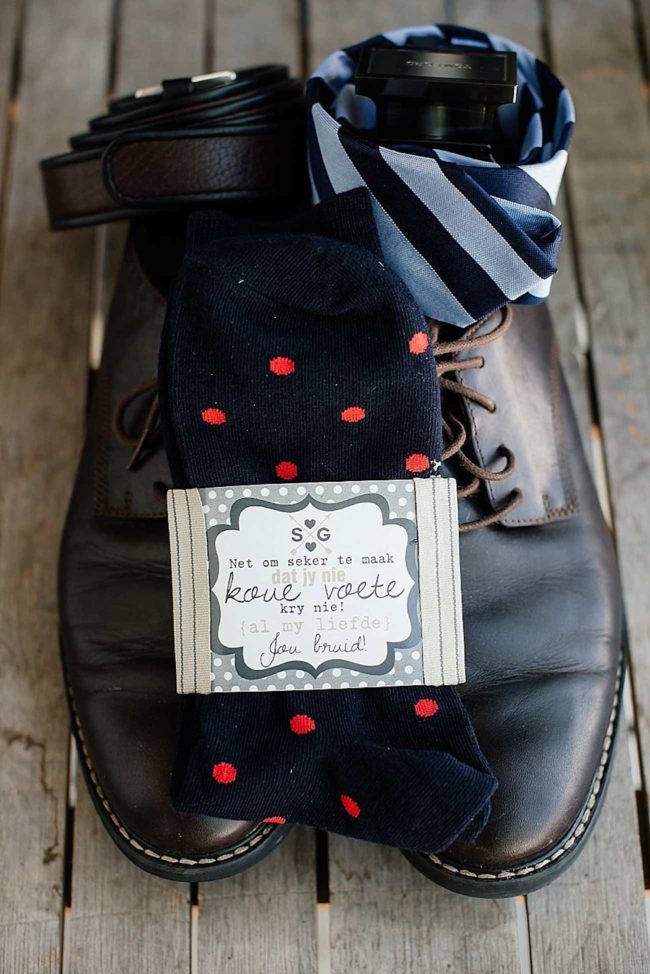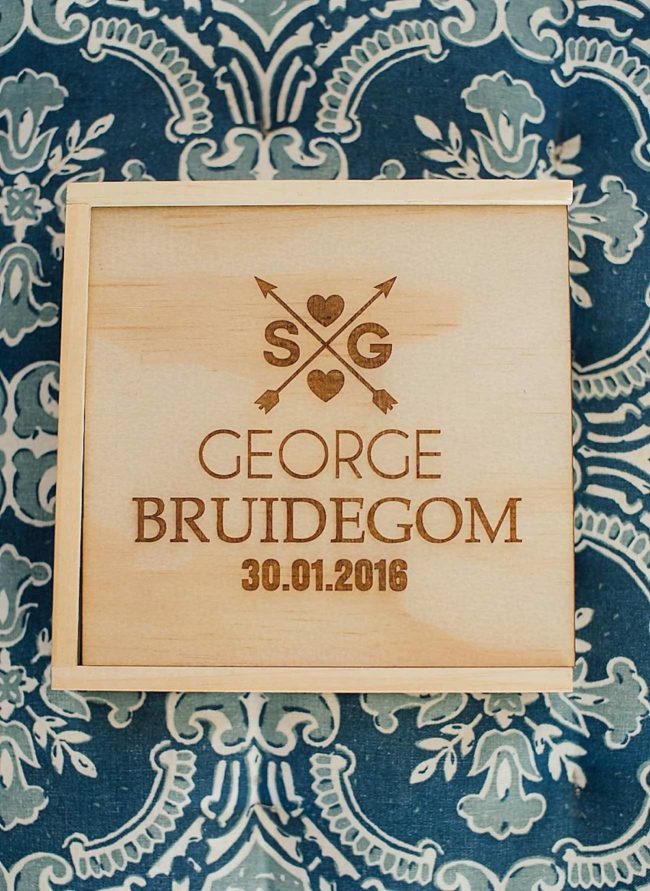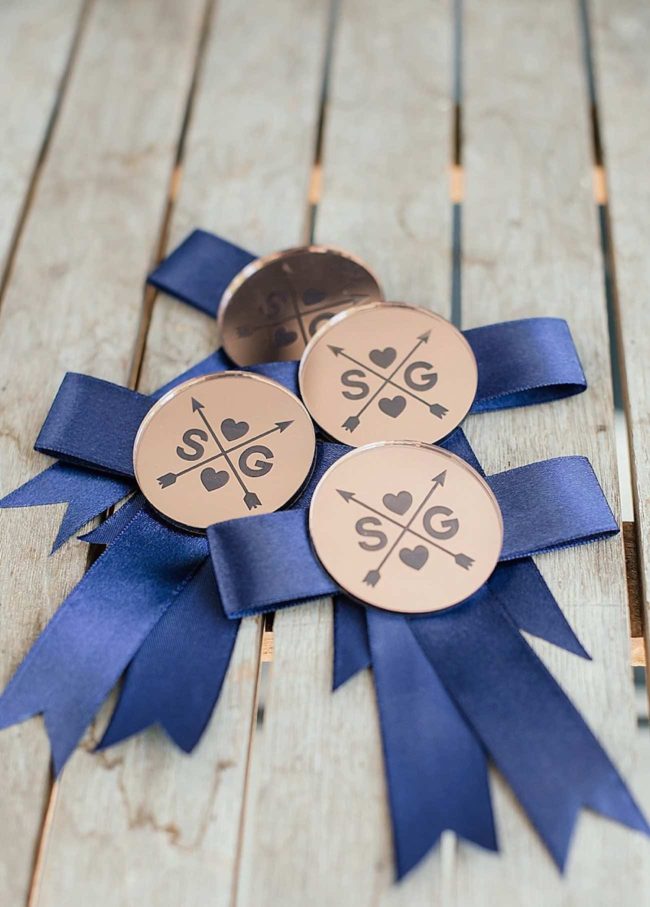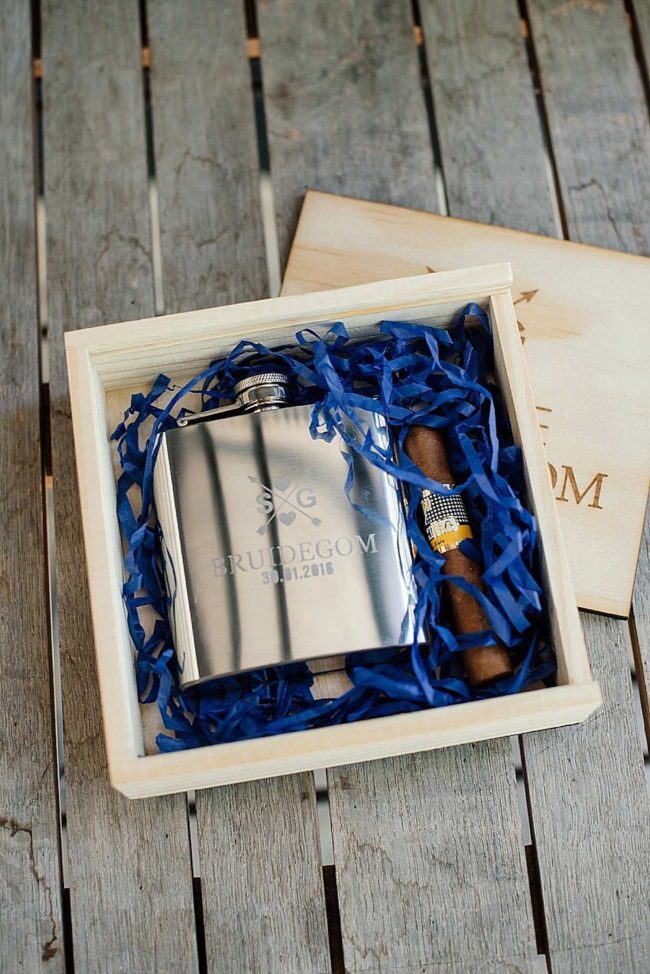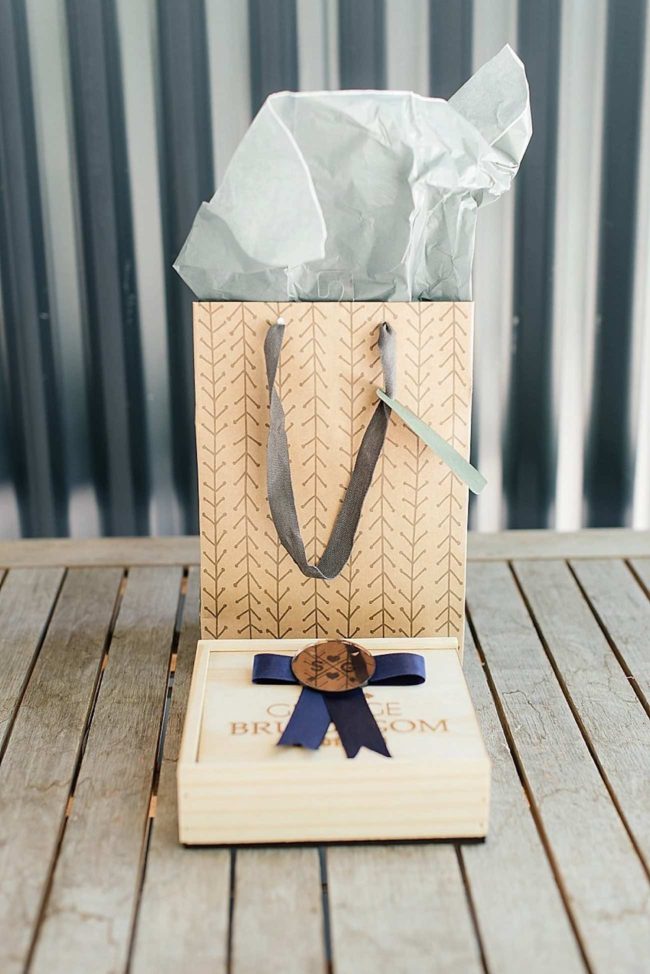 The groomsmen live far from us so to make it easy they sent their different sizes to us and George bought their items. He wanted a very elegant look for them and with them all looking the same – from the boxers to the shoes – it created this exact look.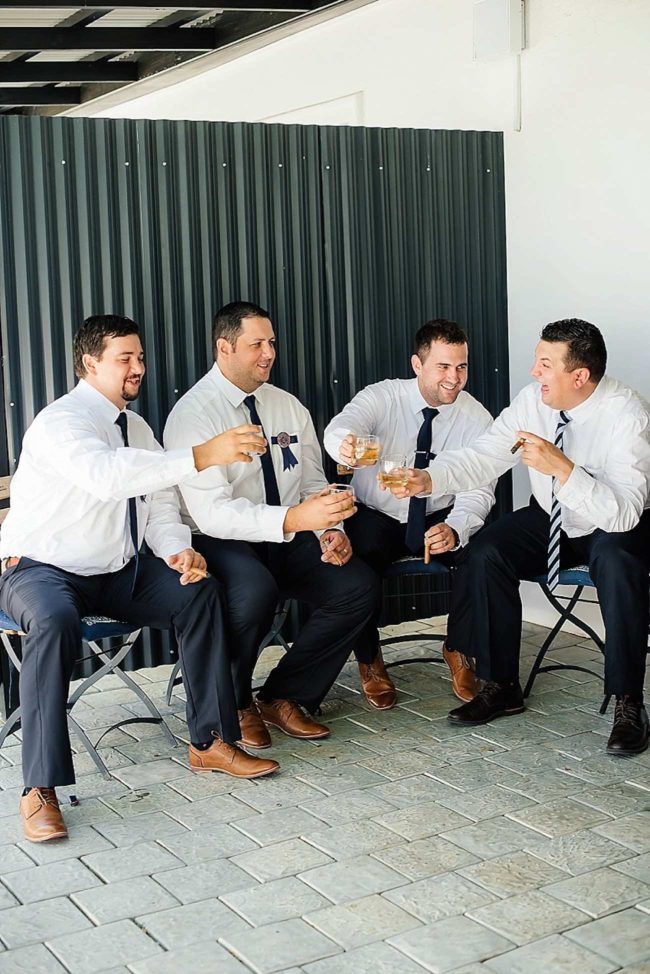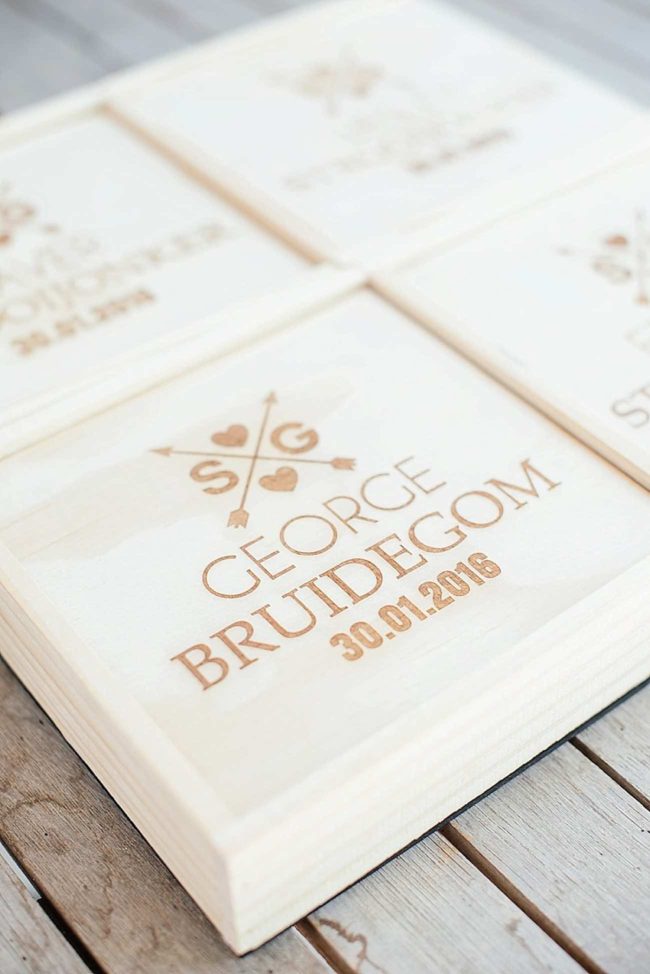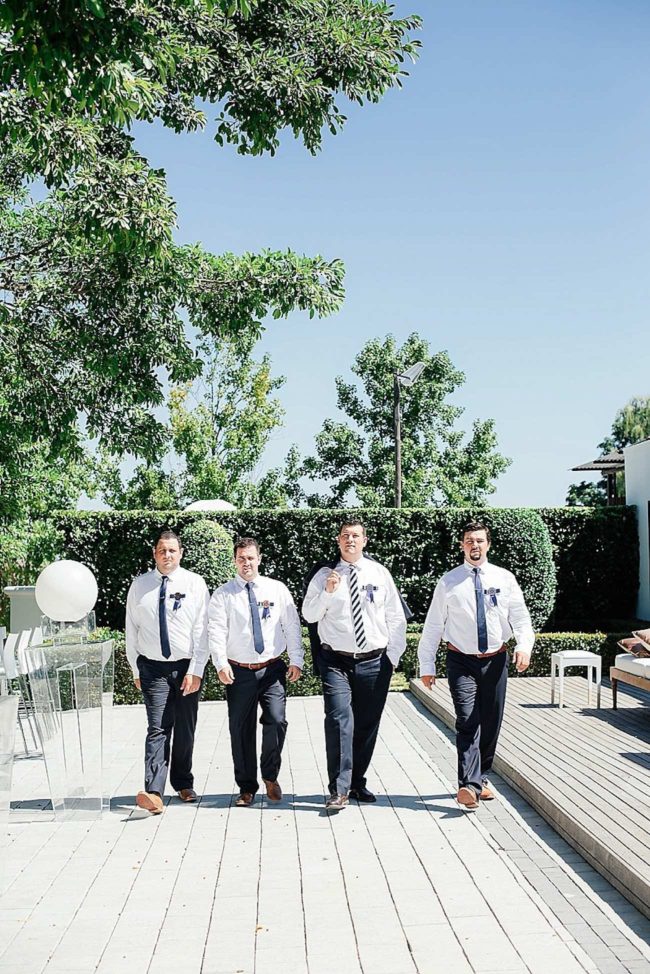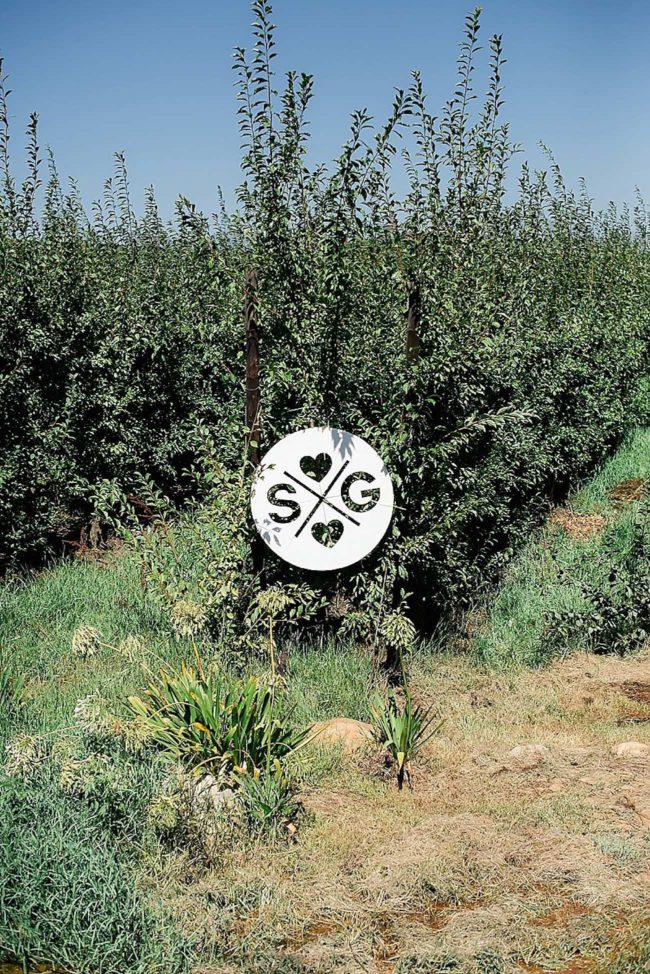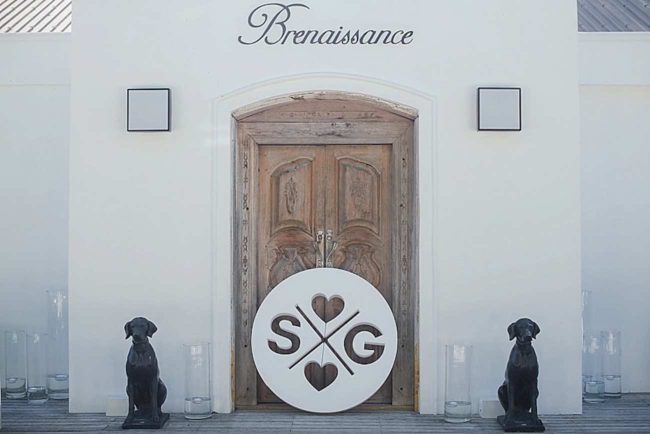 We didn't want our guests to feel bored at any stage. We knew a variety of additional entertainment would hit the mark! The food and drinks also had a fun element to them as the guests could help themselves to either a wine and cheese or champagne and Turkish delight pairing.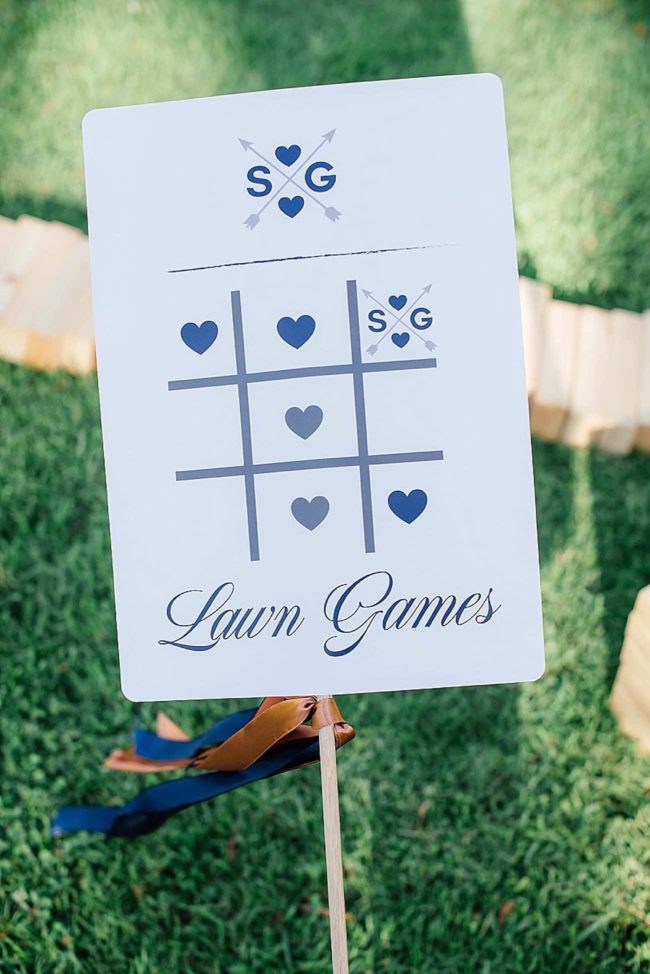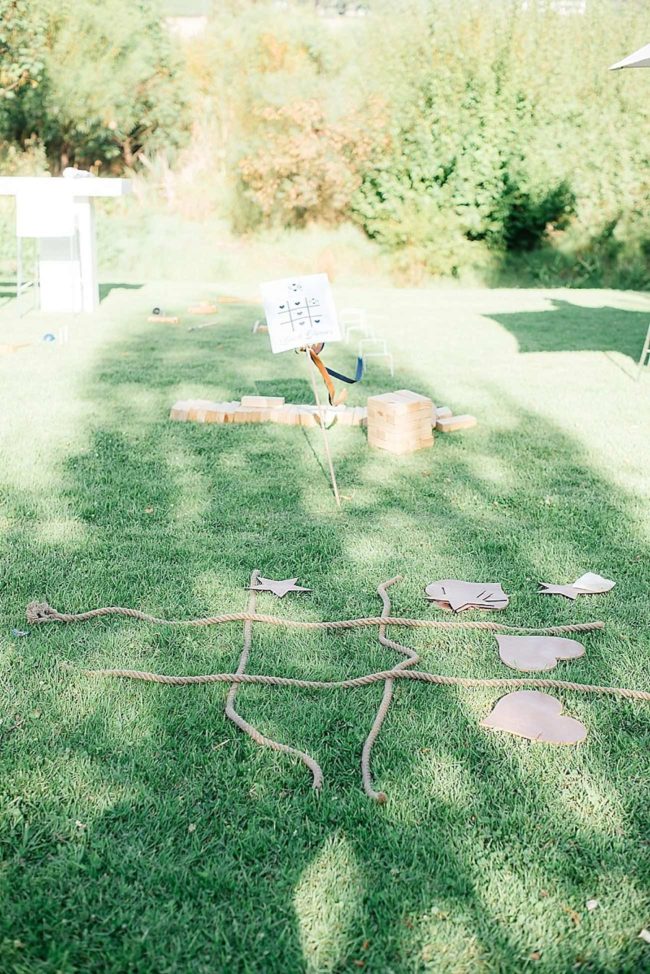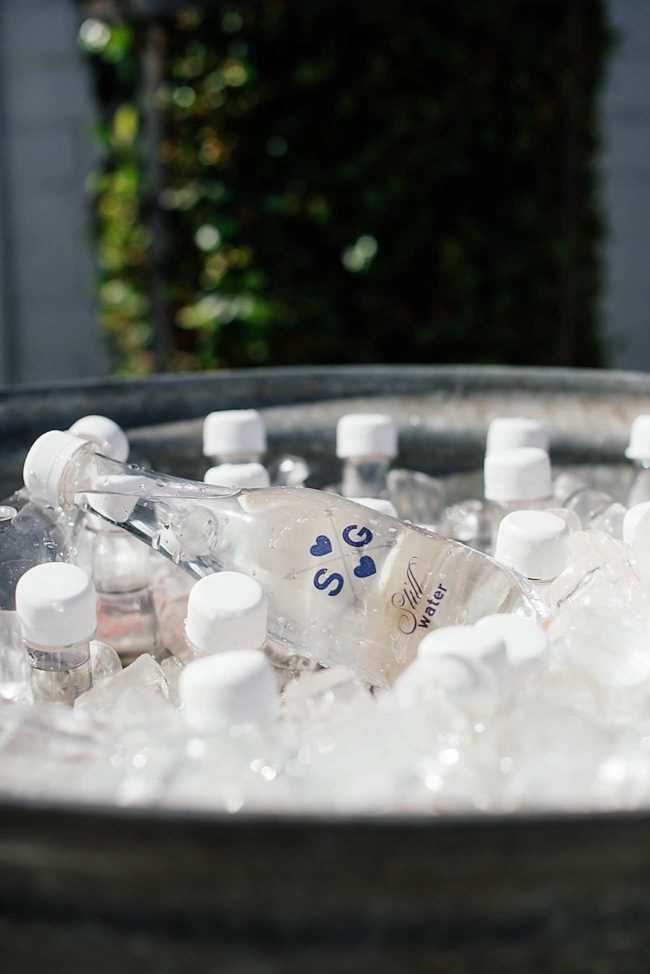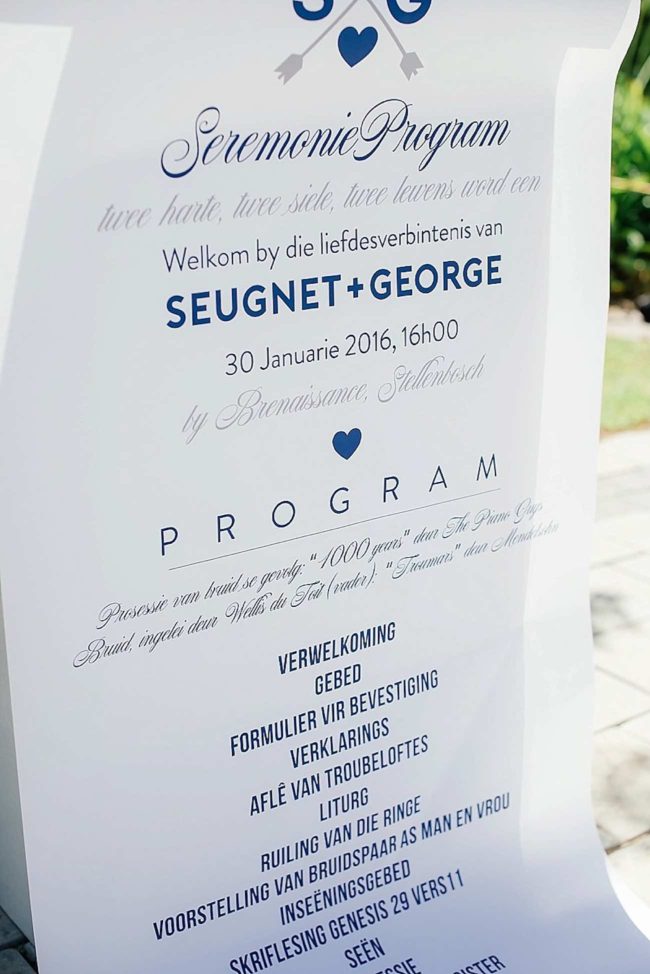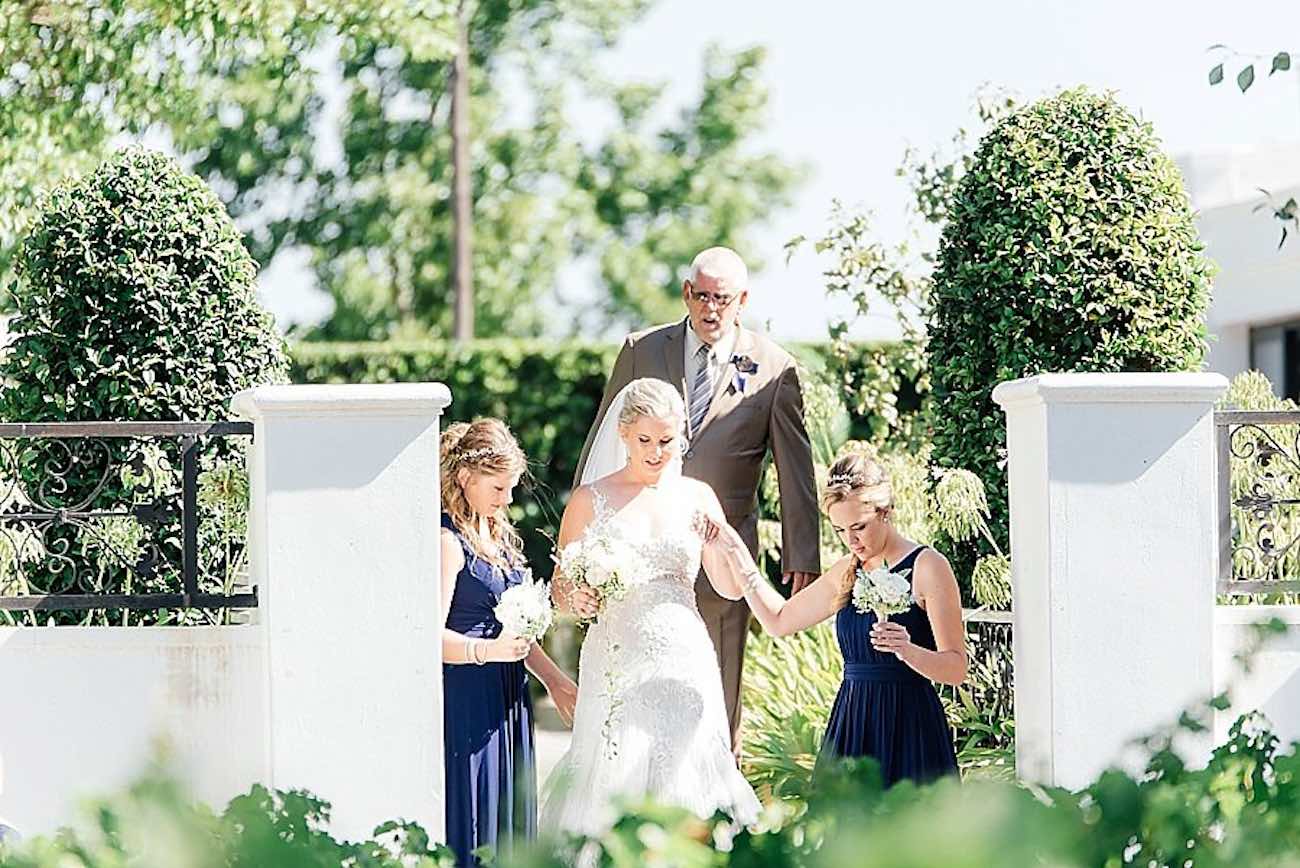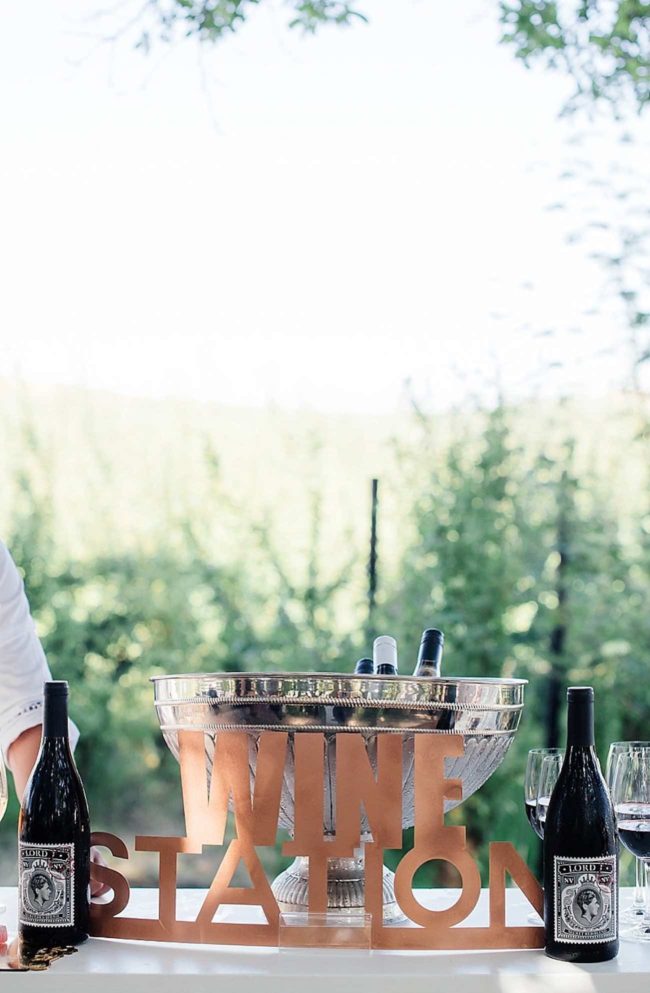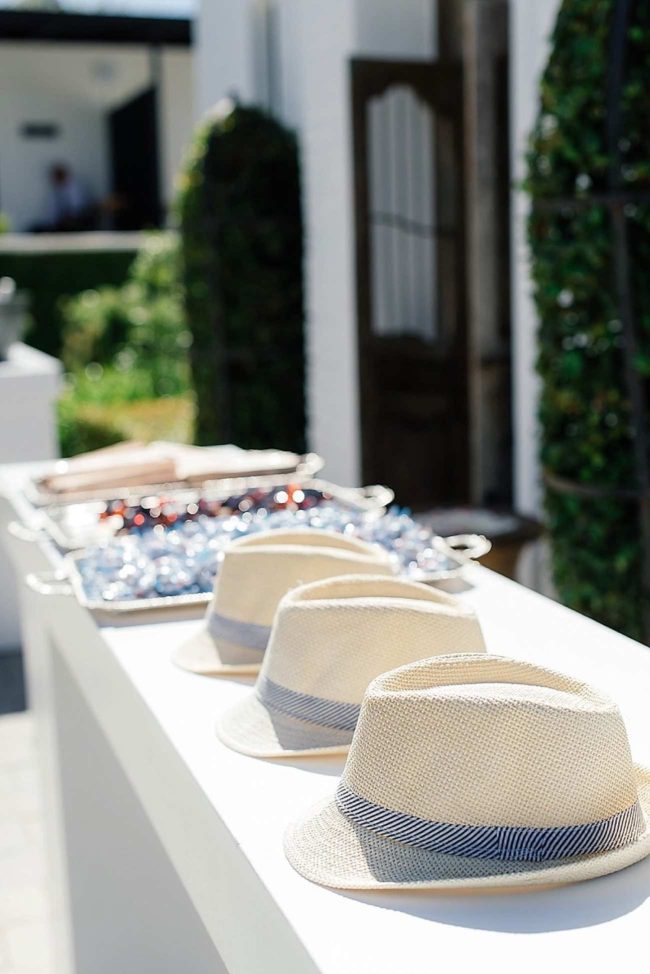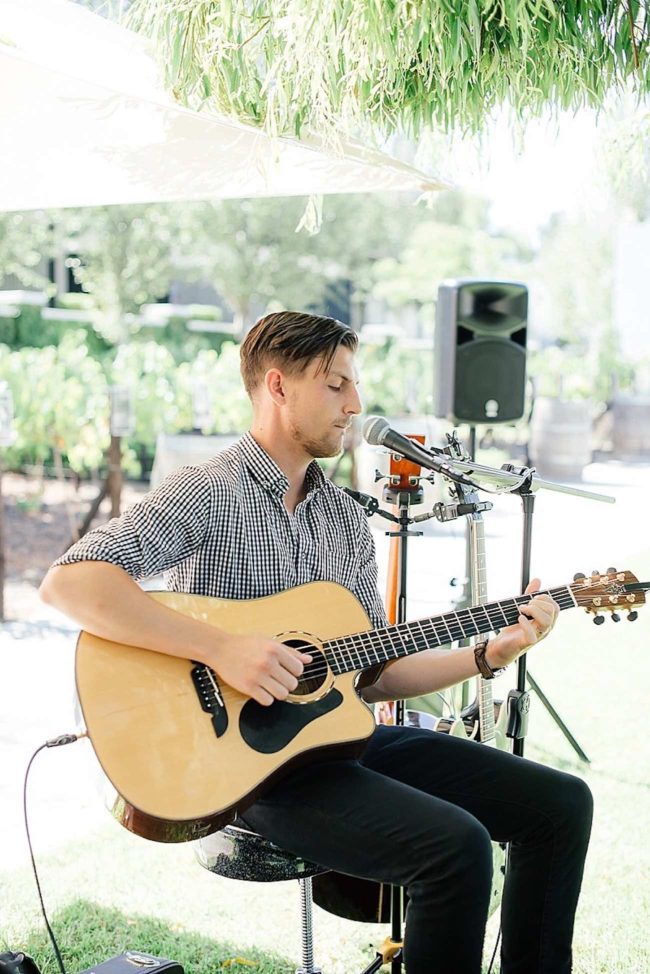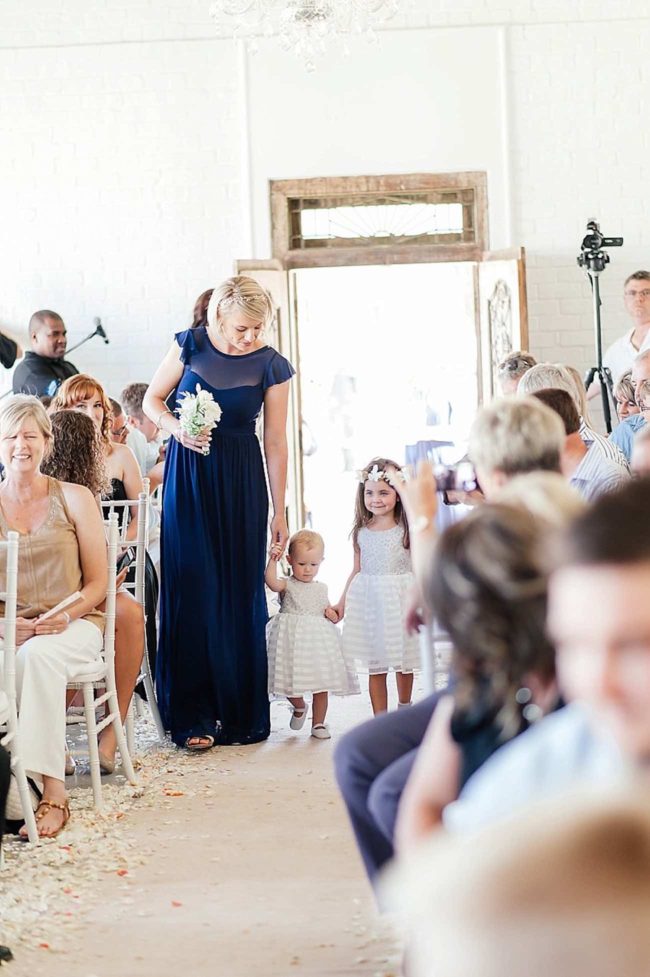 We are not the typical traditional type. The ceremony weren't dragged out but still very meaningful to us. The wedding march played while I walked down the isle as I wanted to keep at least one small tradition. We wanted to create a 'holy' feeling with minimal distractions in the chapel. We had two big flower arrangements in the front and flower petals scattered on the runner in the aisle. The chapel has got big windows which allows a stunning view over the mountains and natural light in the room.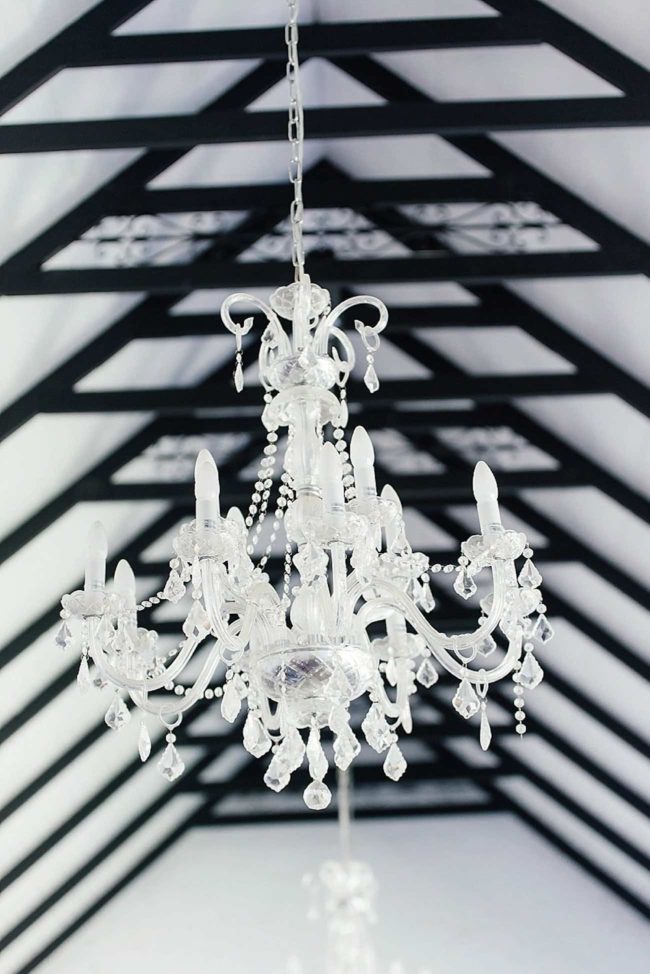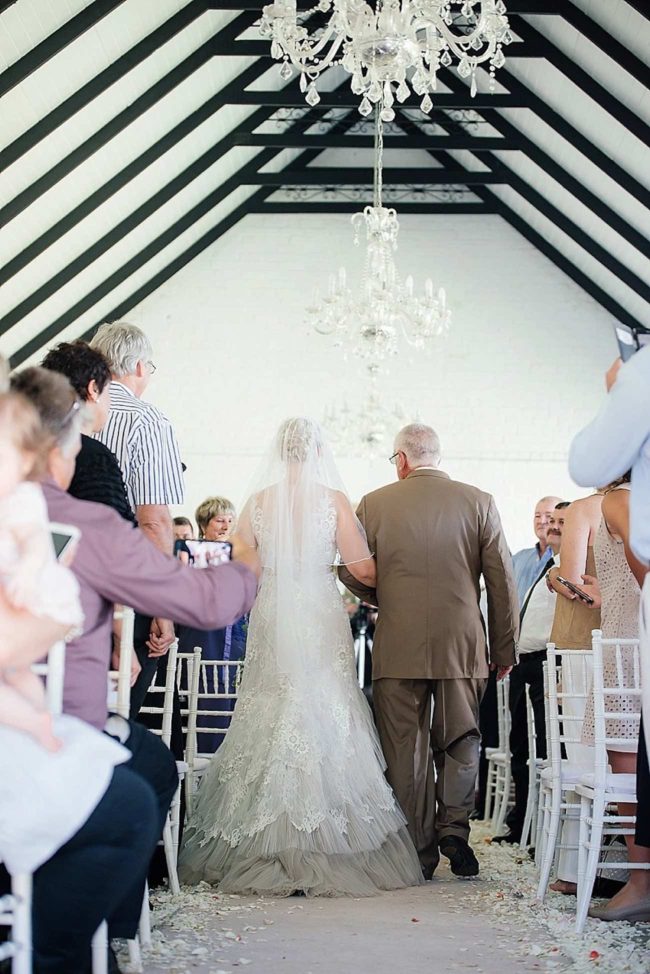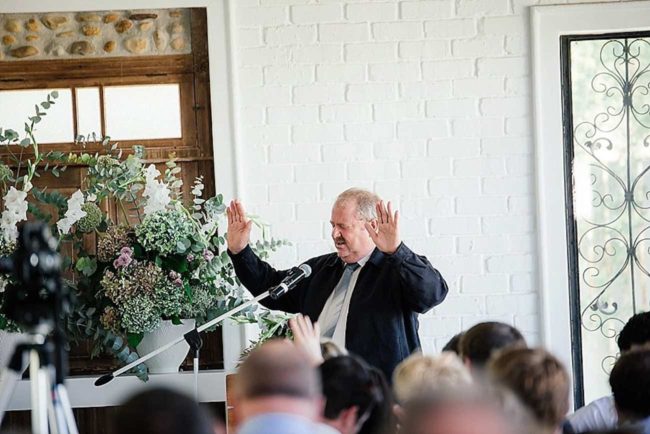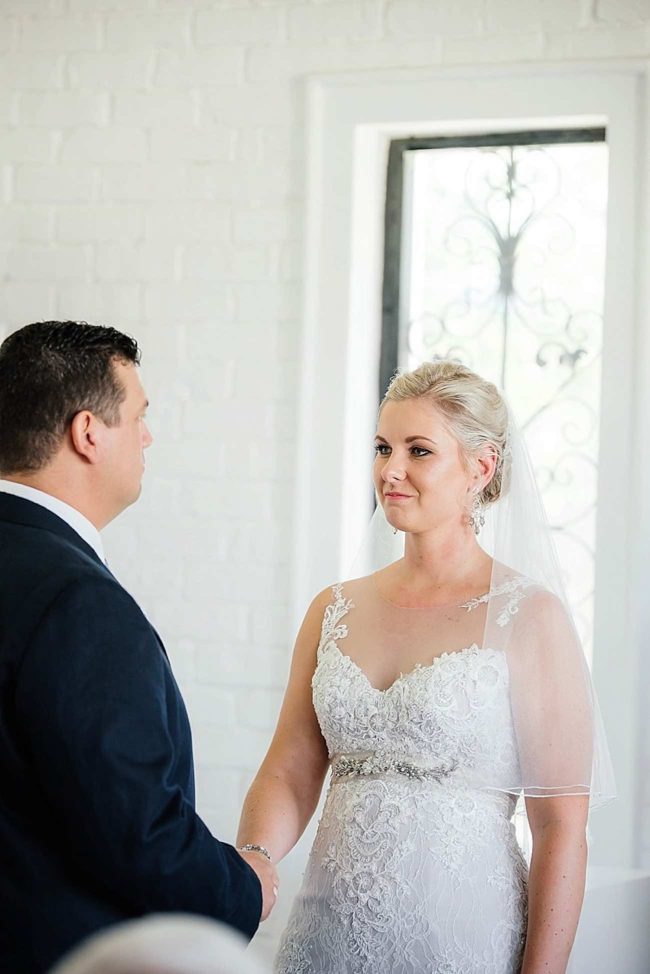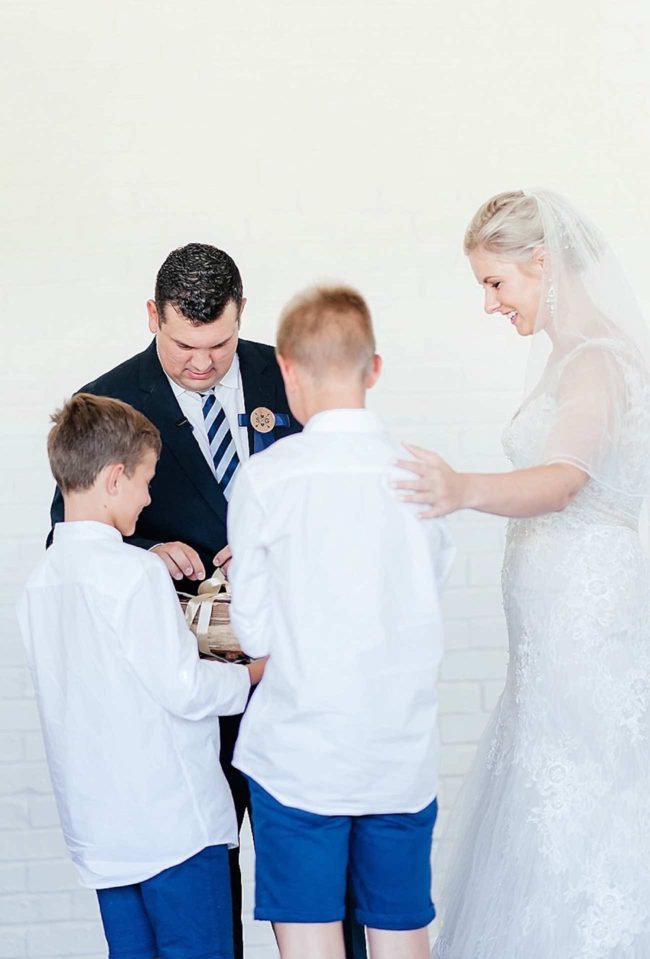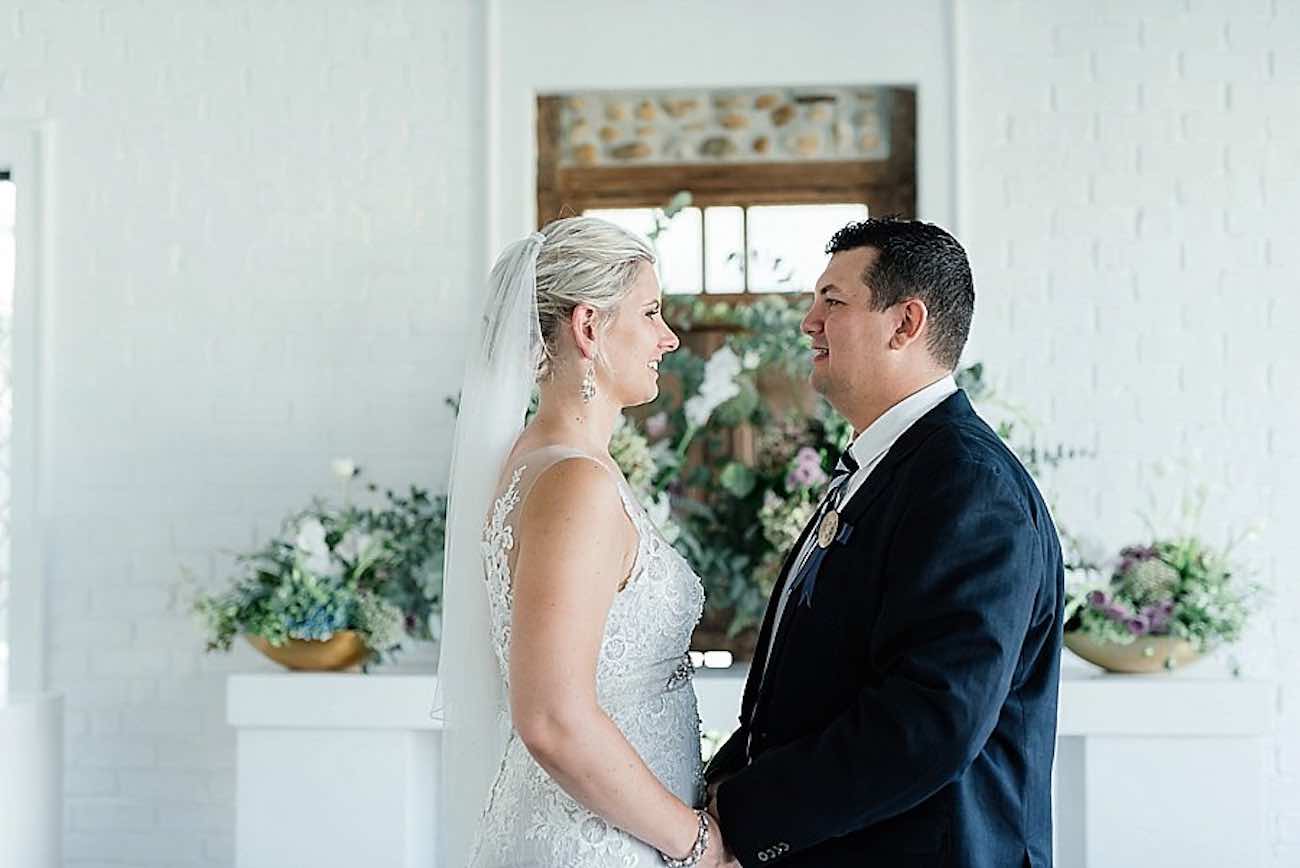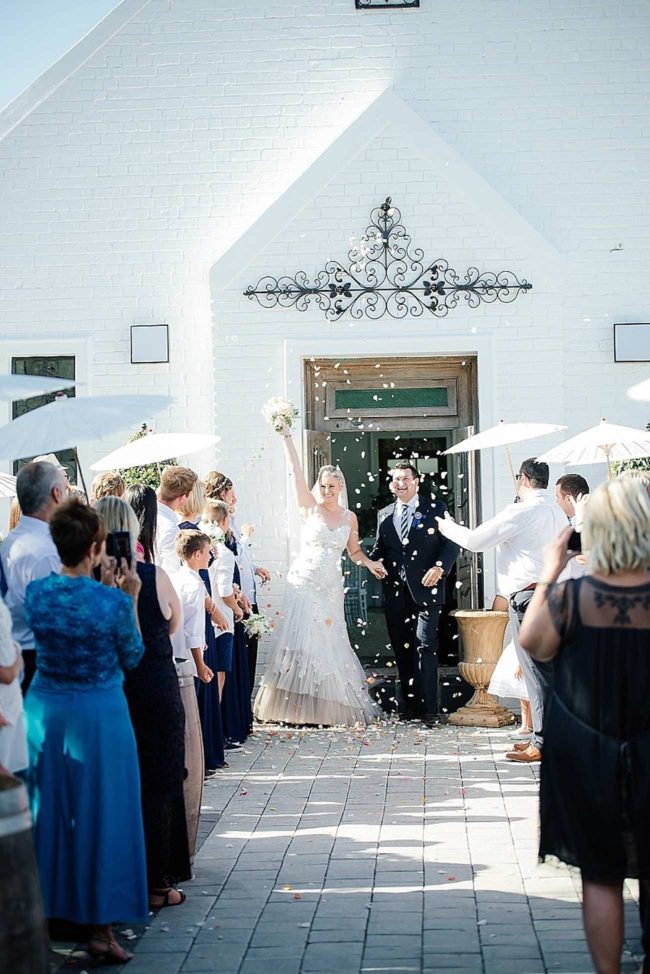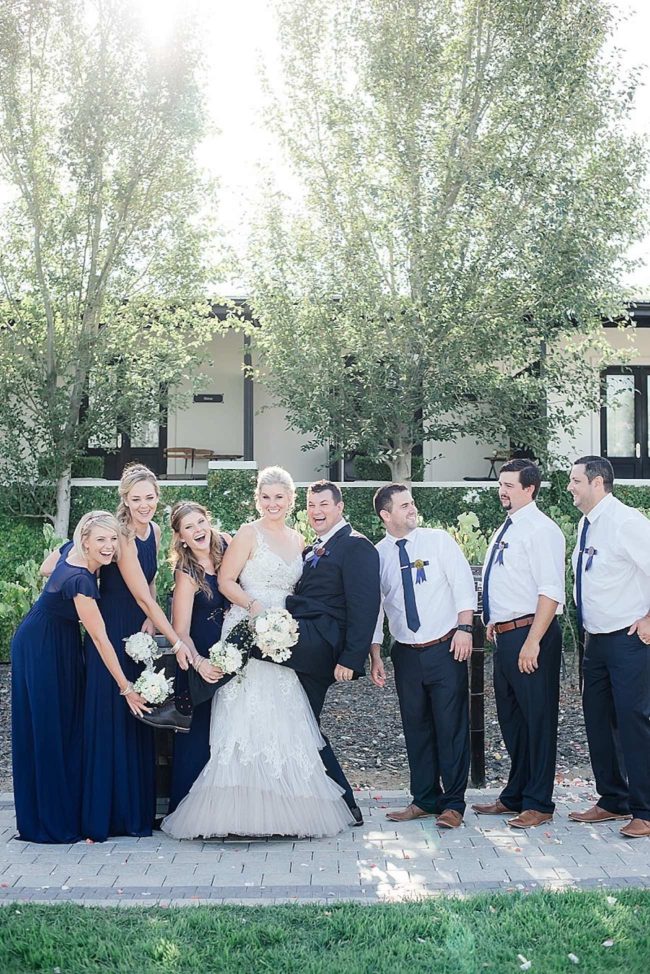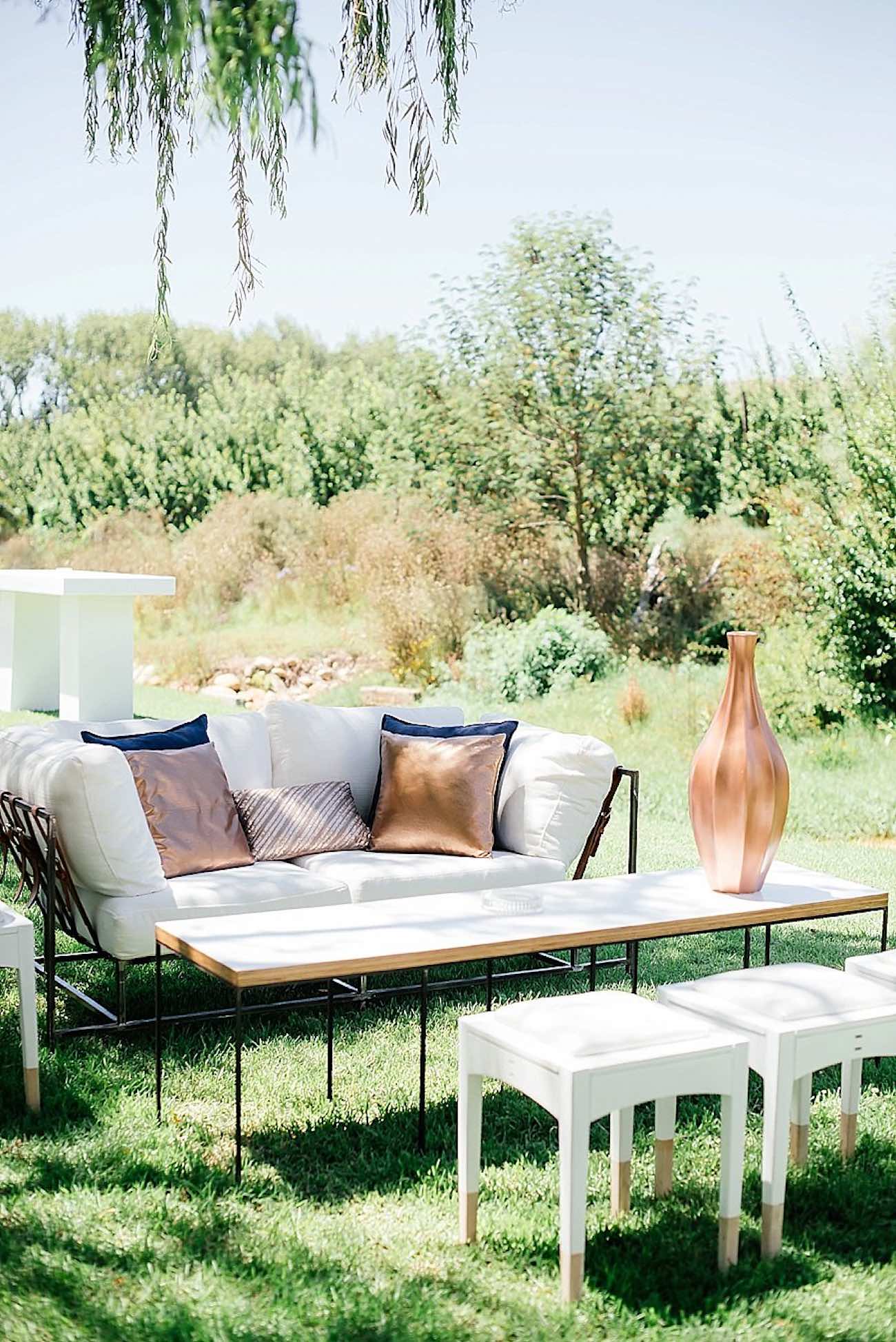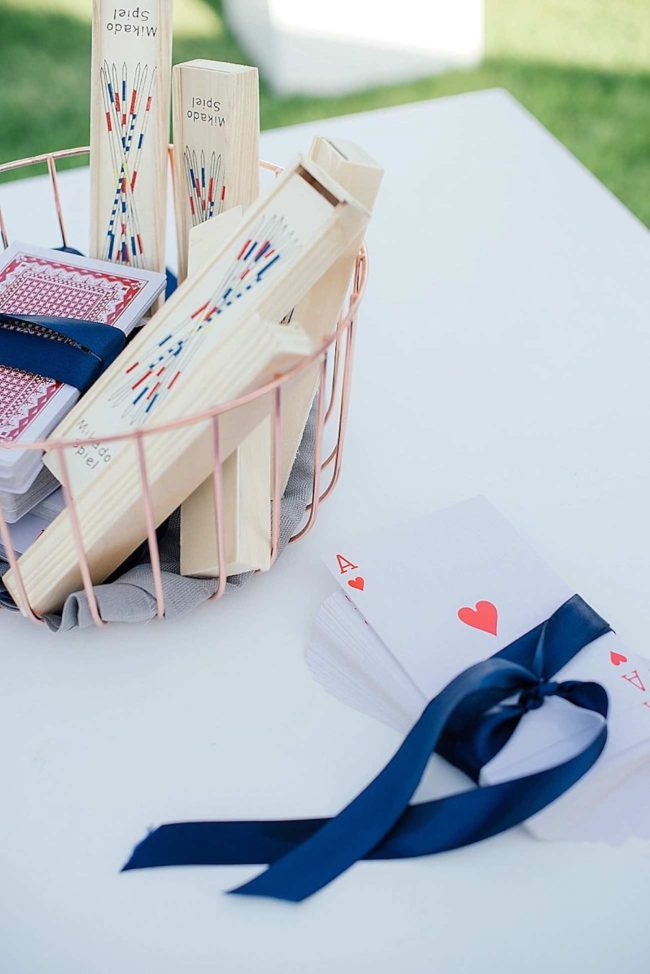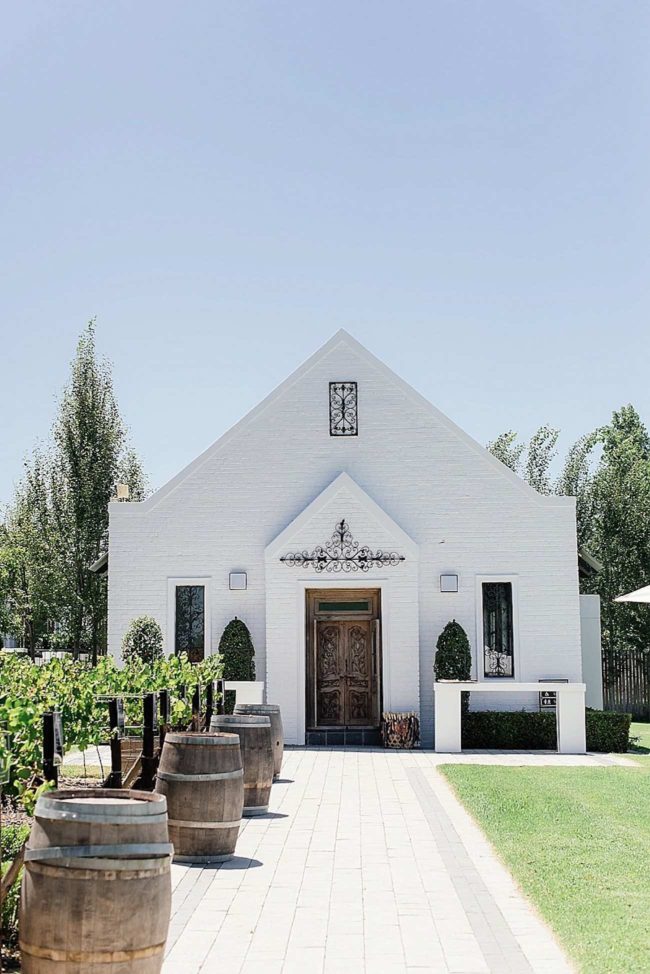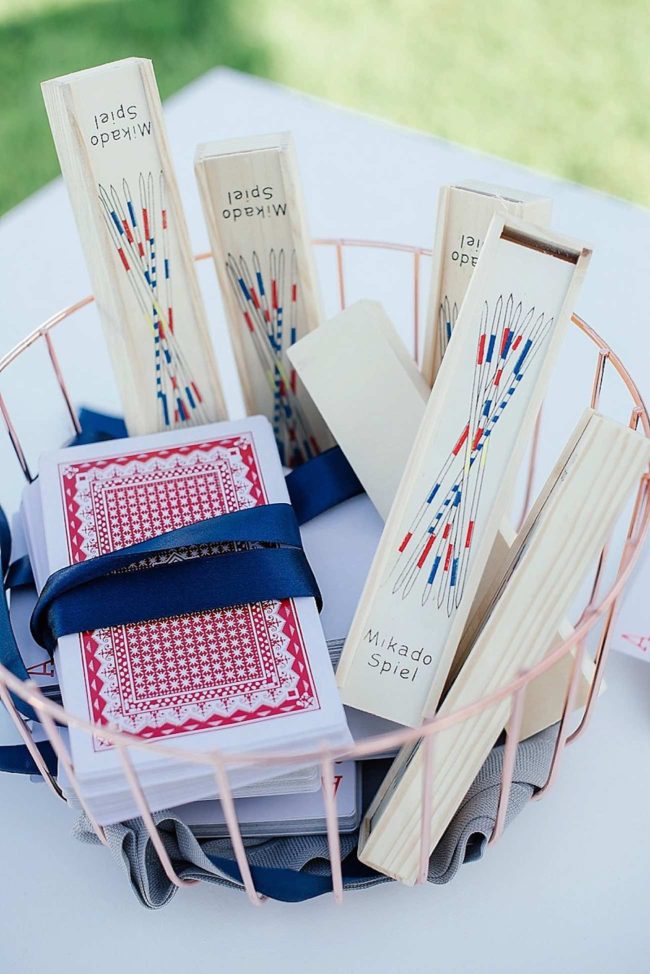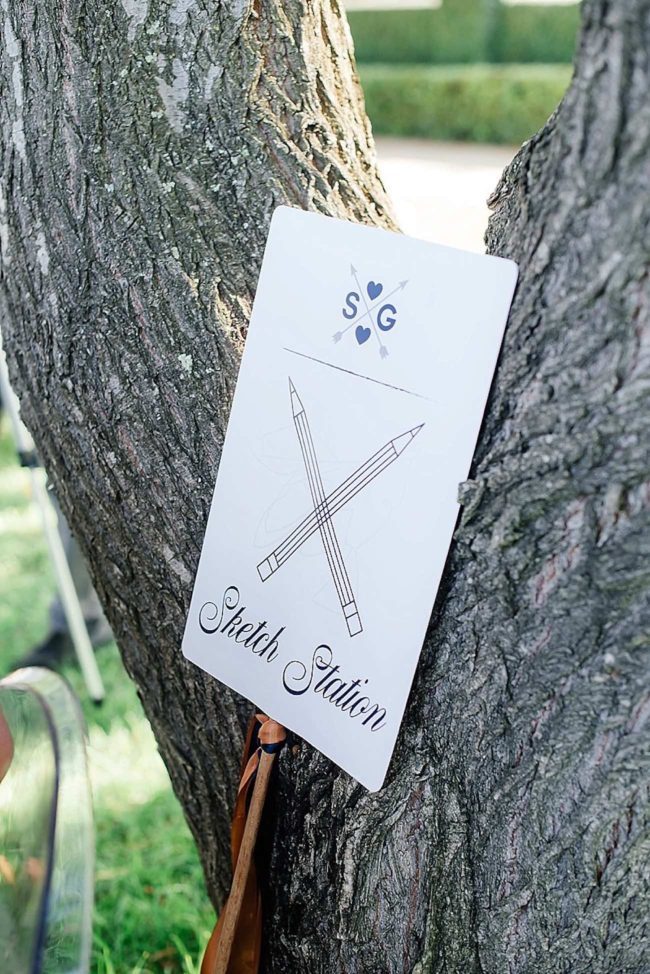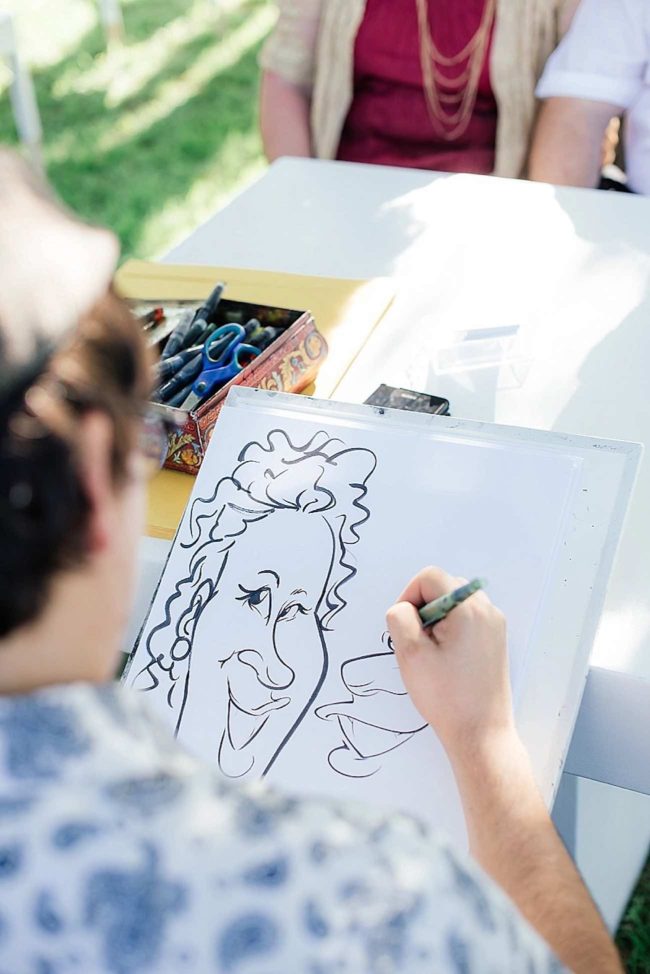 We had a sketch station with a caricature artist and every couple kept their caricature sketch which served as the 'thank you' gift.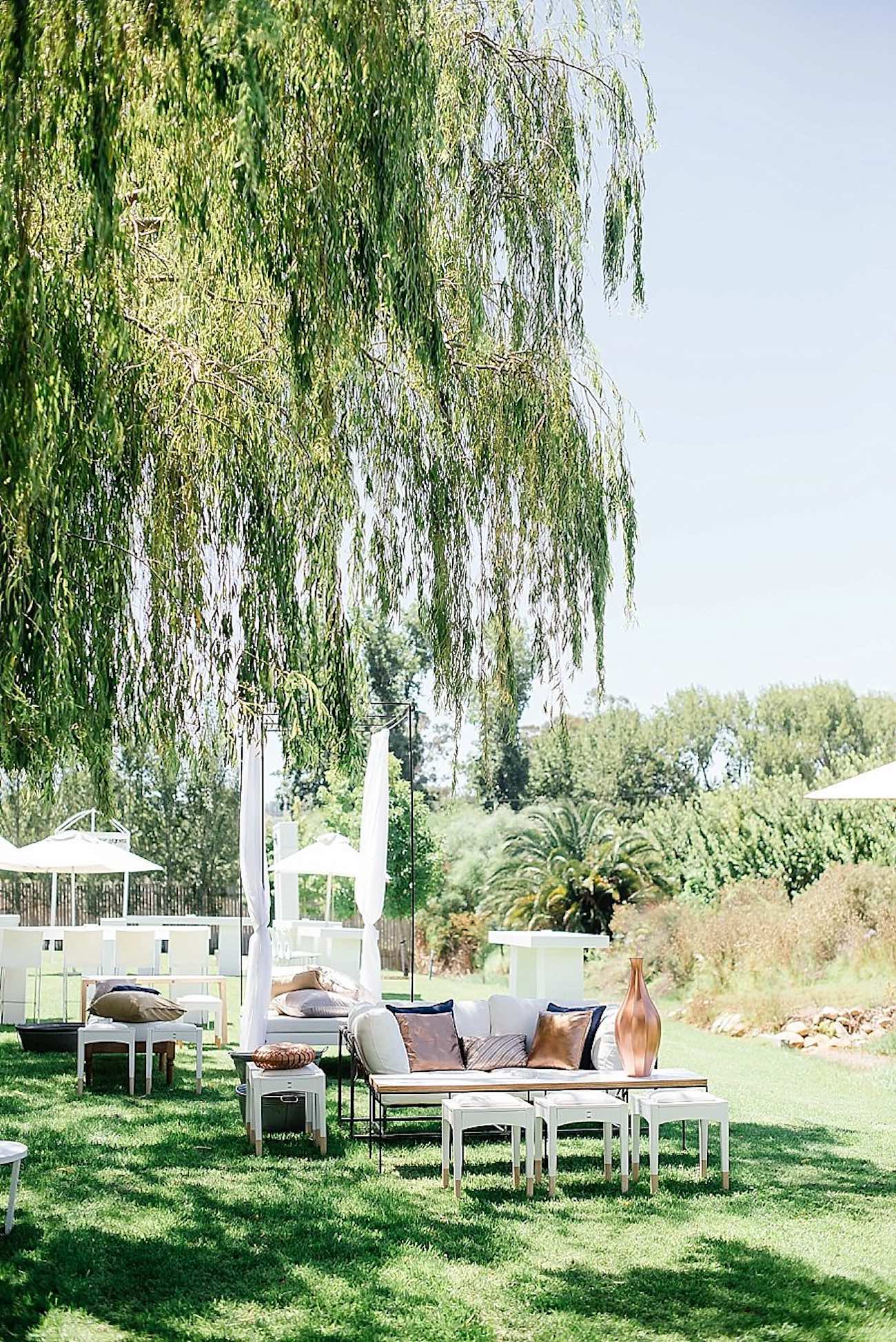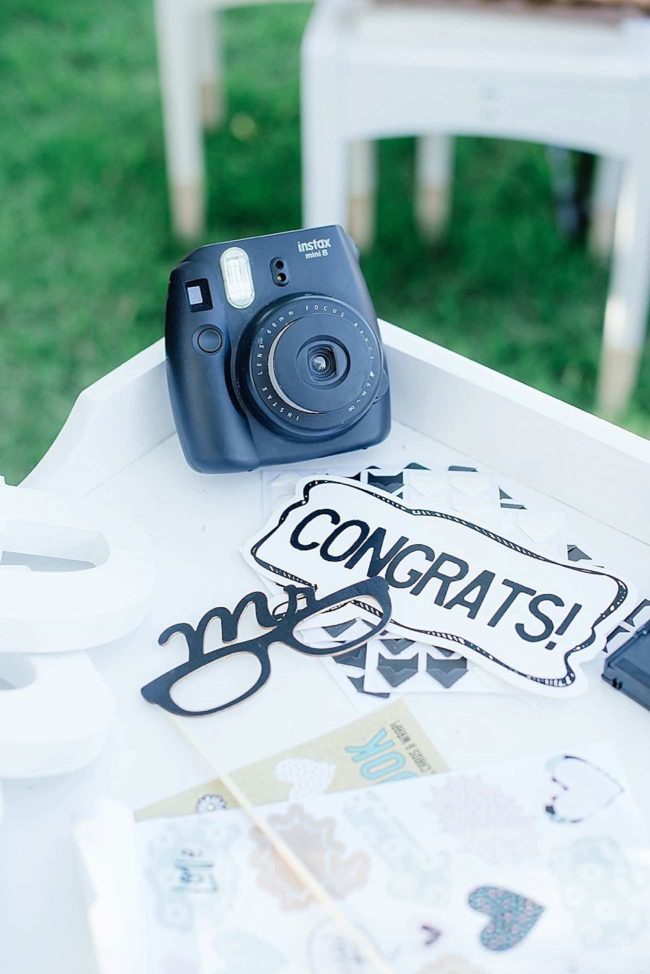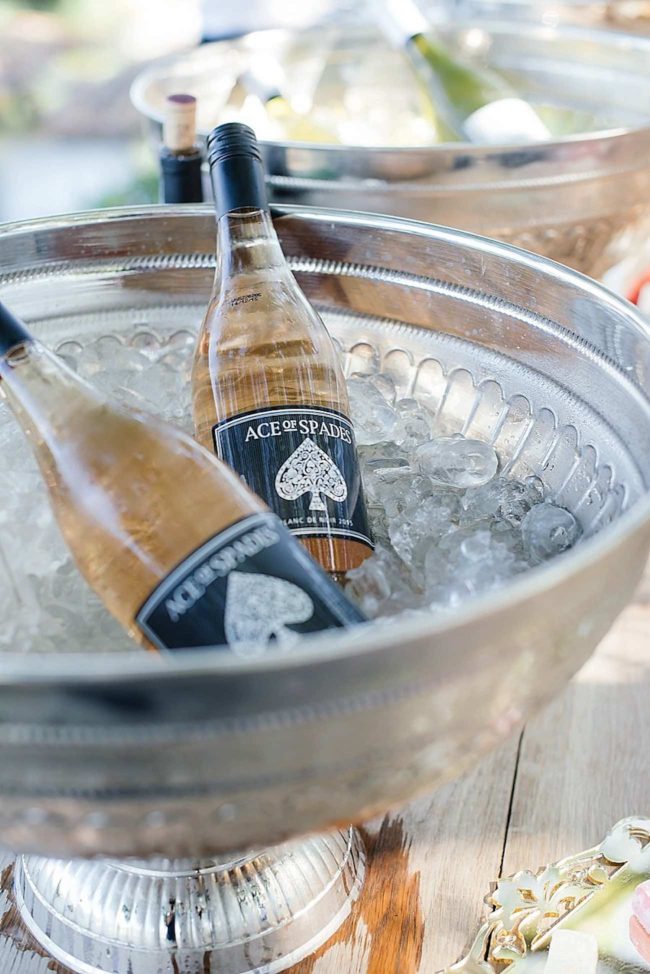 Two Chefs made sure that food was in abundance, over and above the wide variety of alcoholic and non-alcoholic drinks!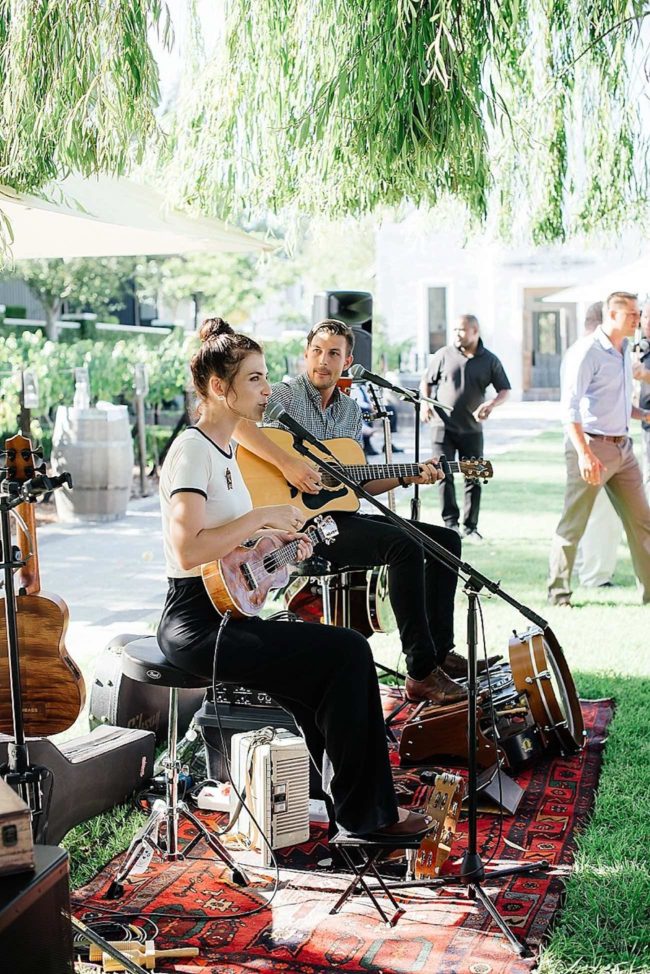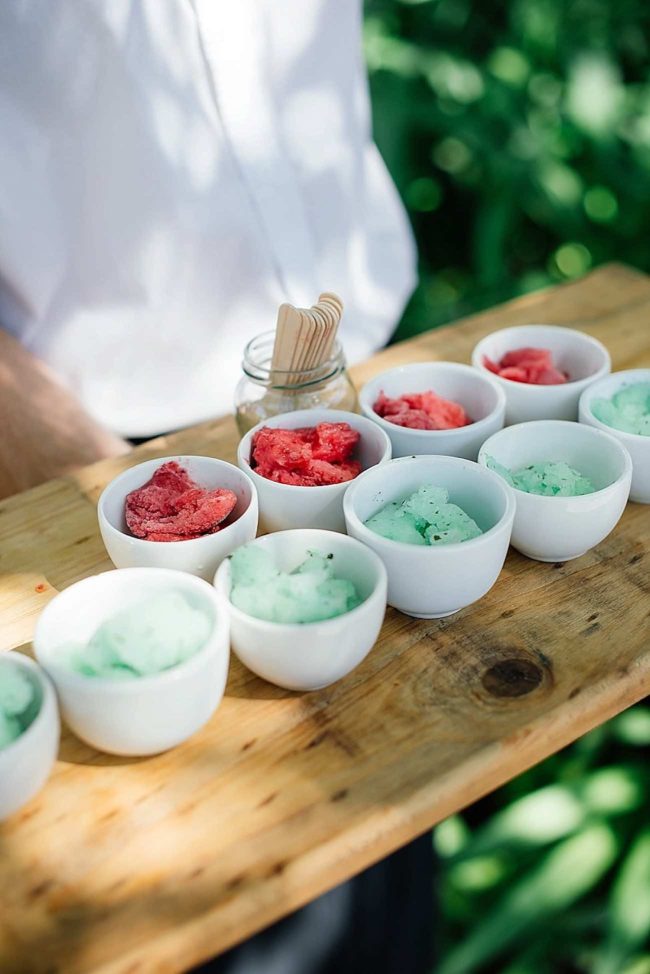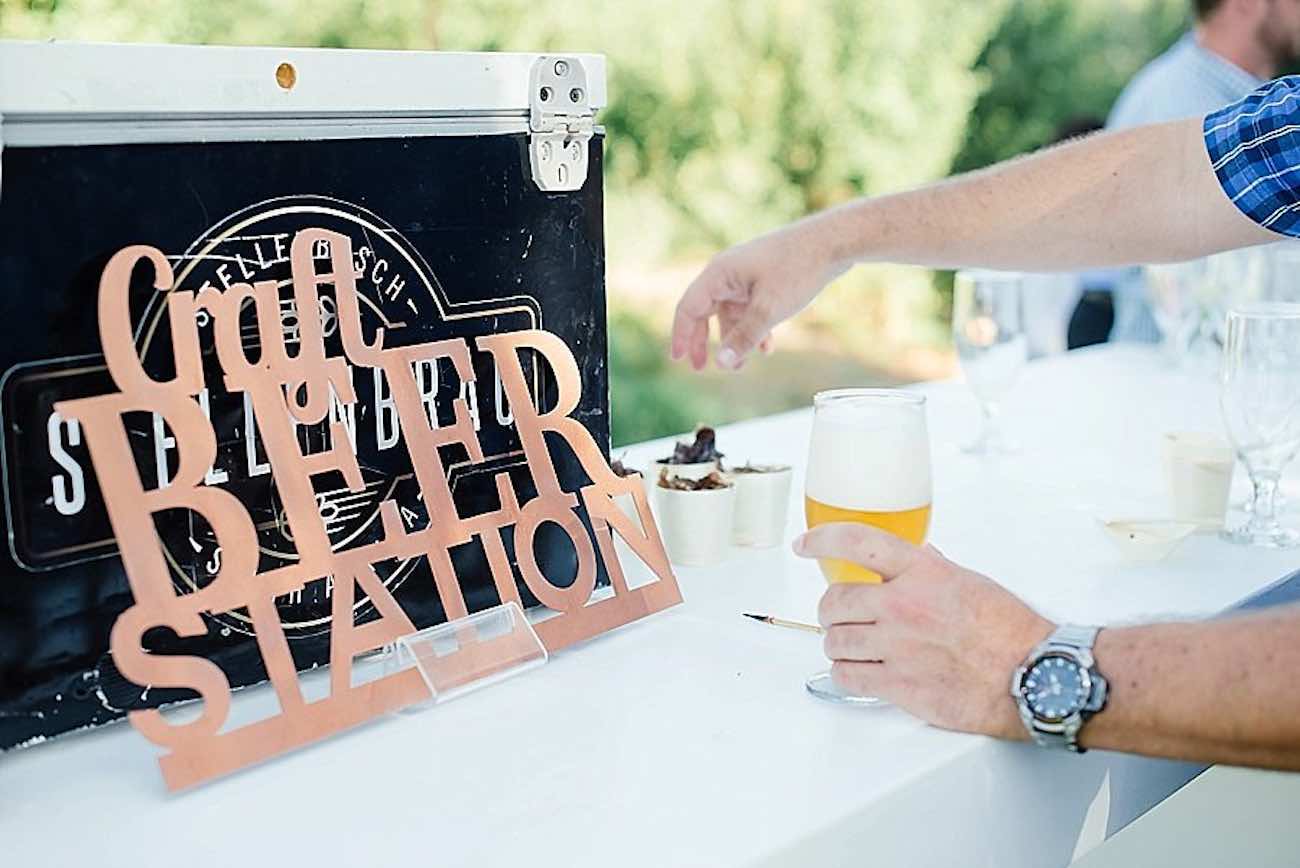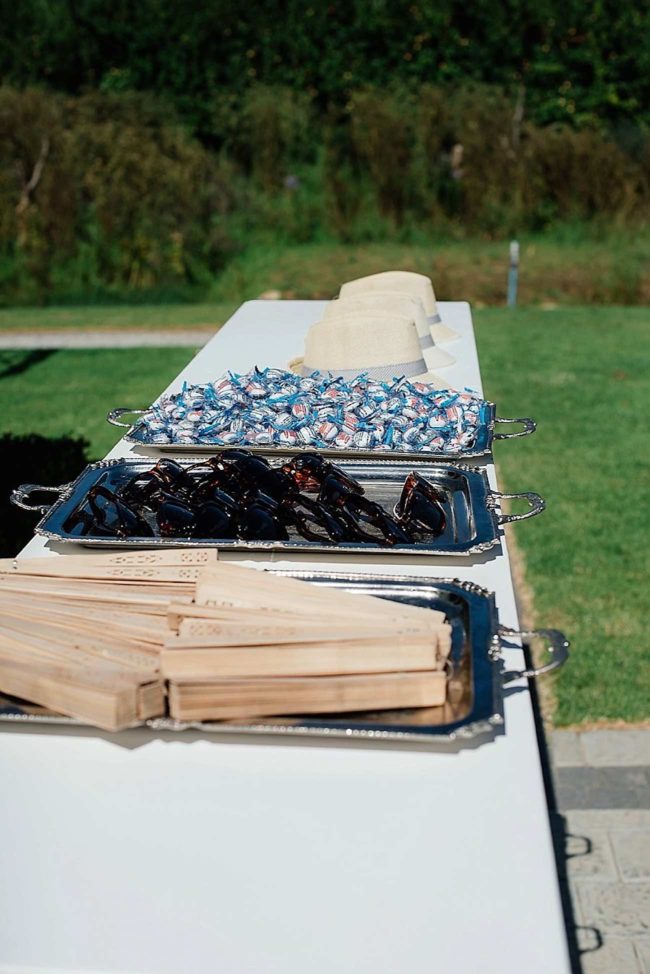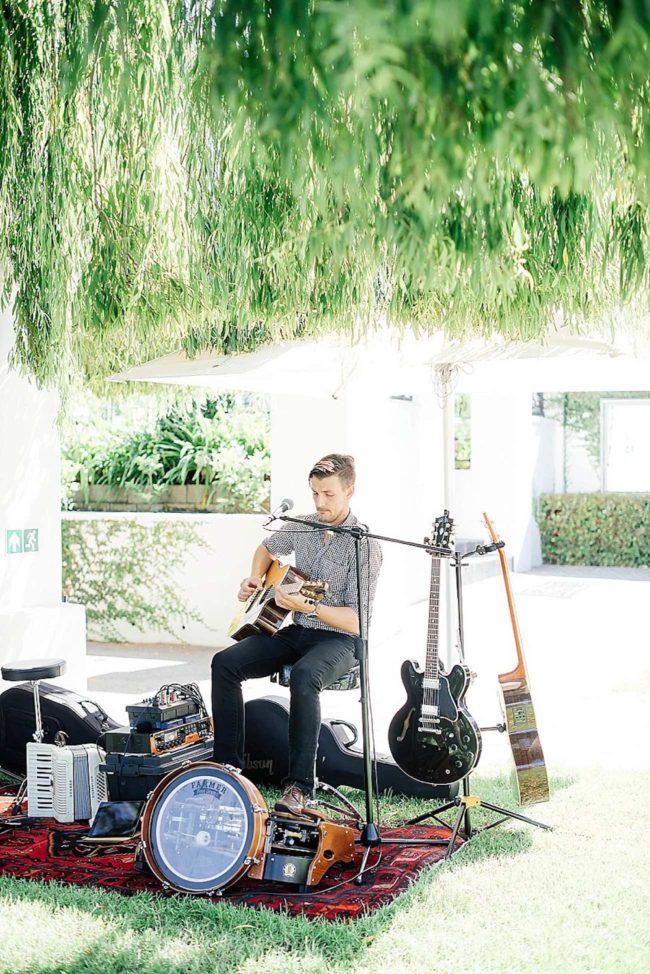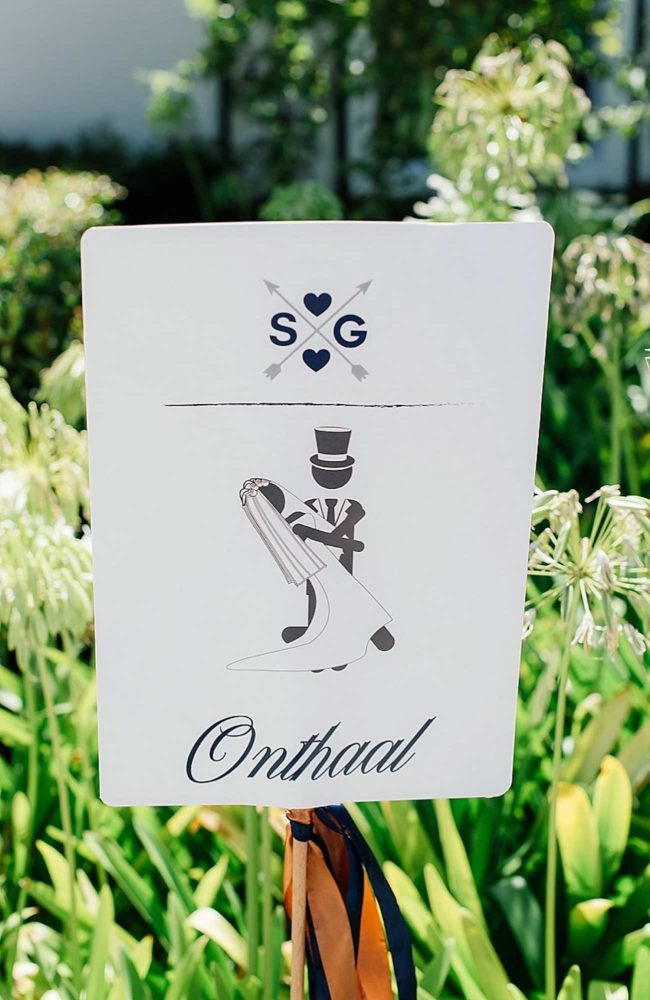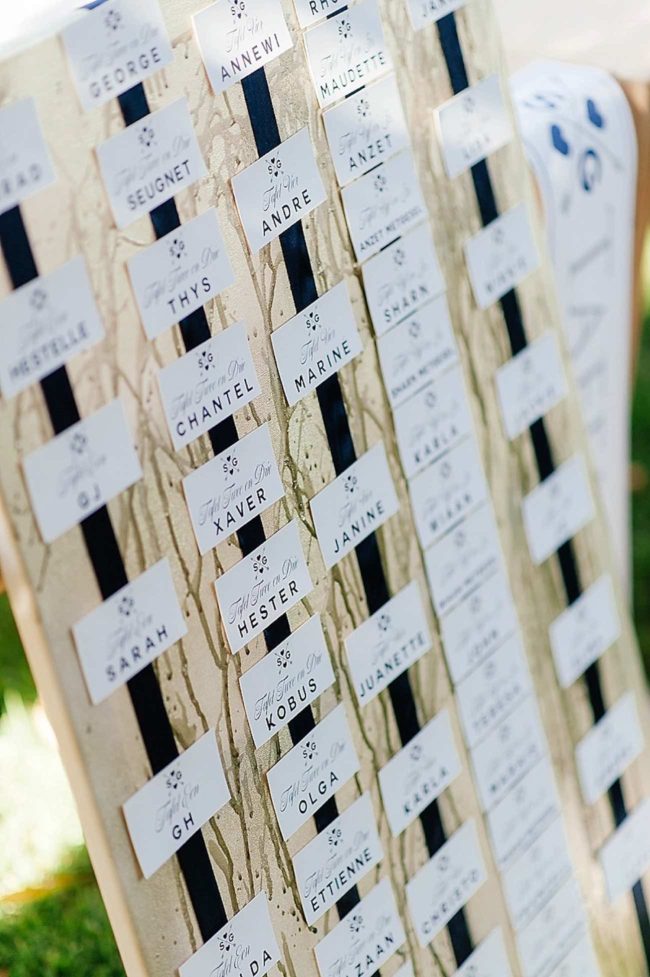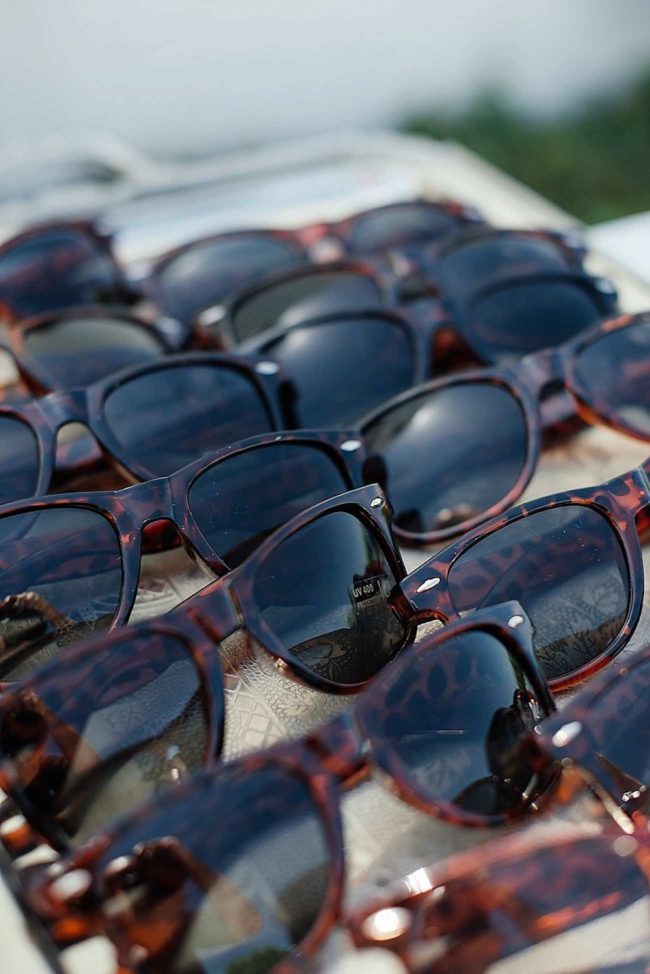 Karla and Secret Diaries surprised me with the seating chart.  I gave them free reign. They used a name card for every guest and attached it to a ribbon fixed to a wooden frame. It looked very informal yet sophisticated. To keep the quirky feel we had a polaroid camera station where guest could take a polaroid. They stuck the image in a book and wrote a message to us. We still have great fun looking through the book.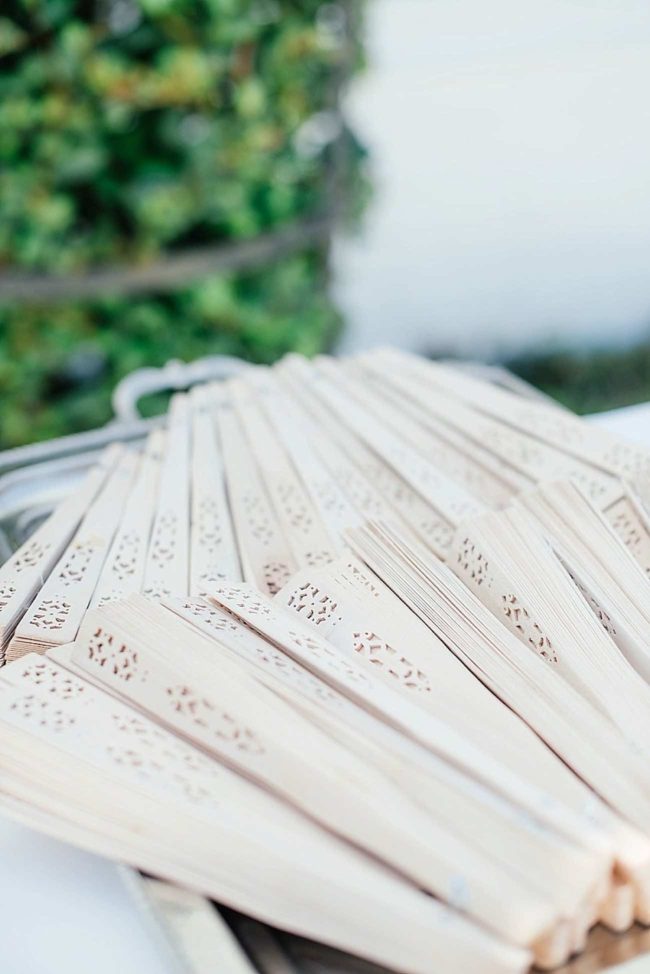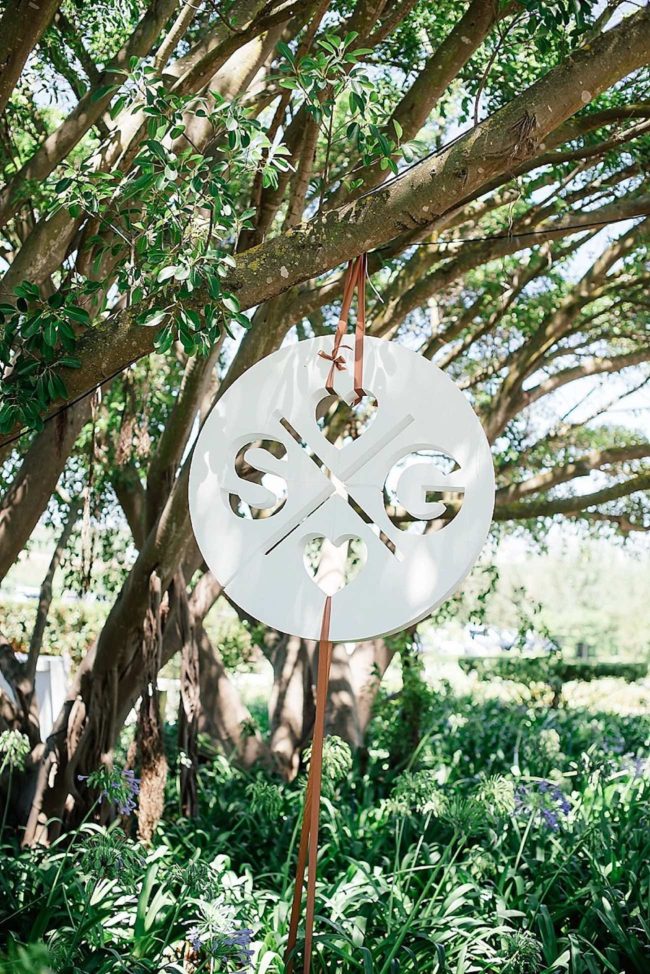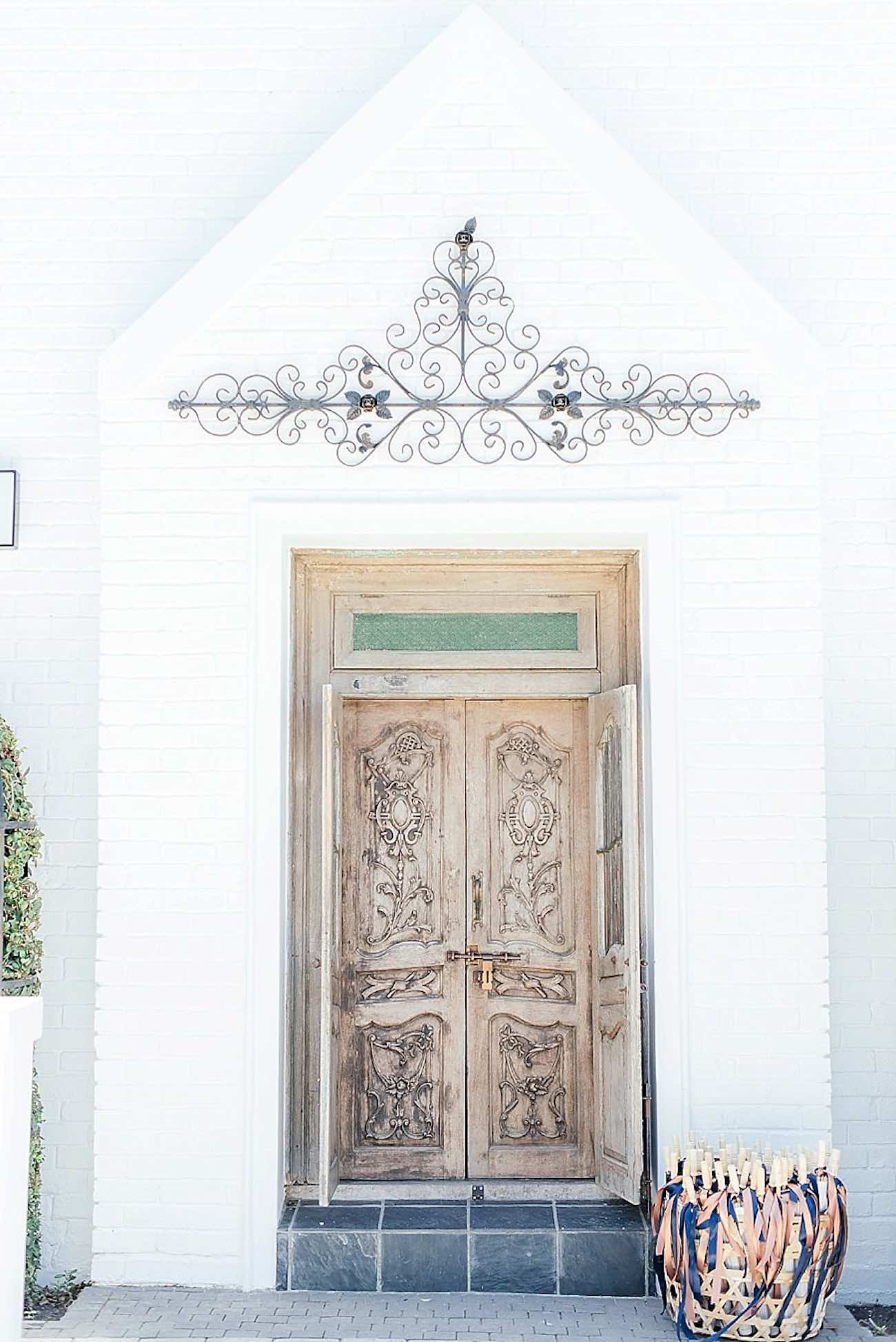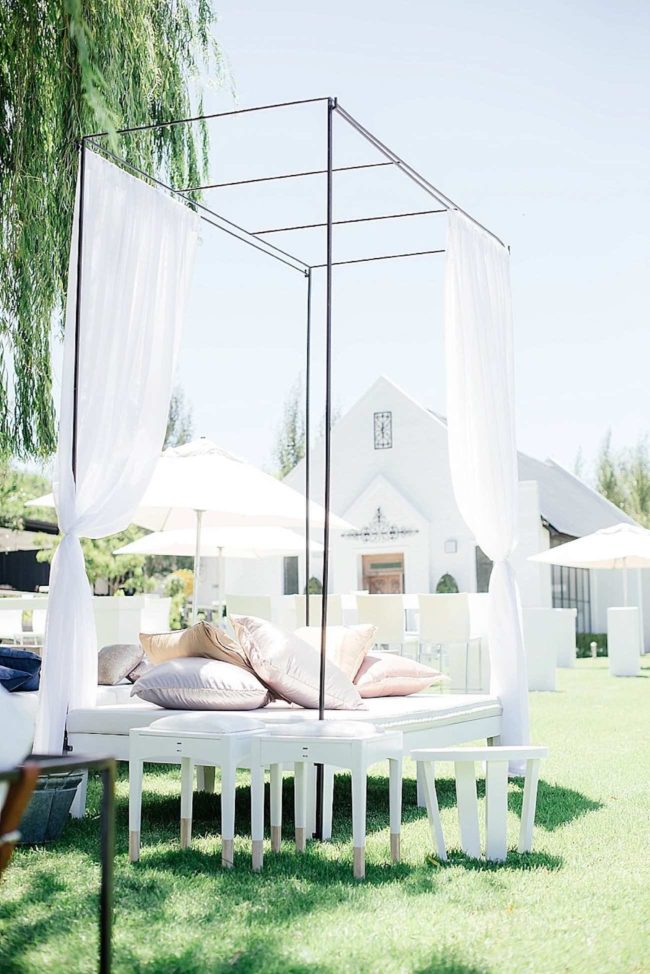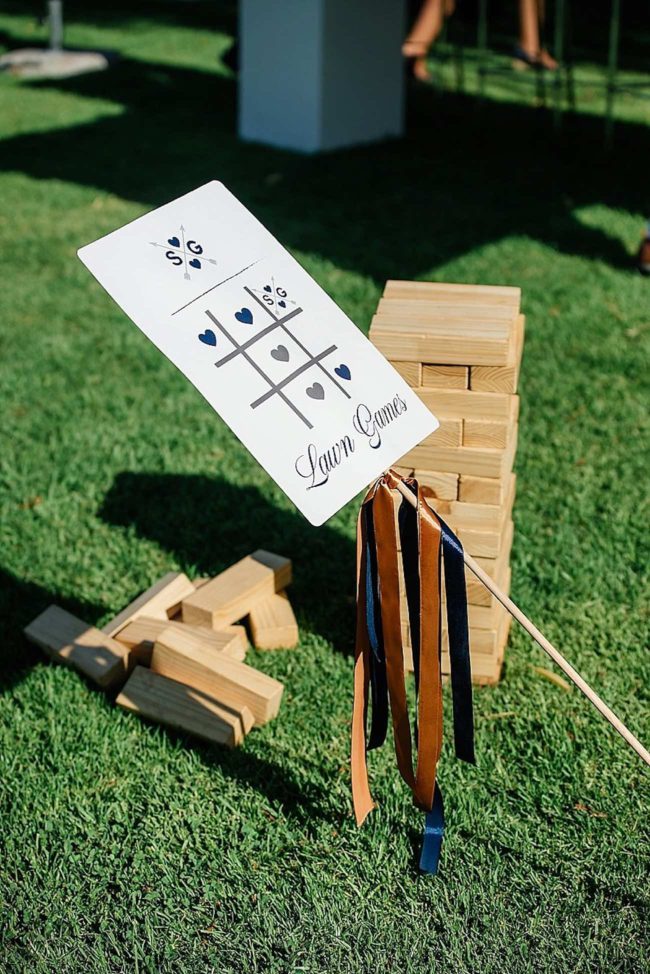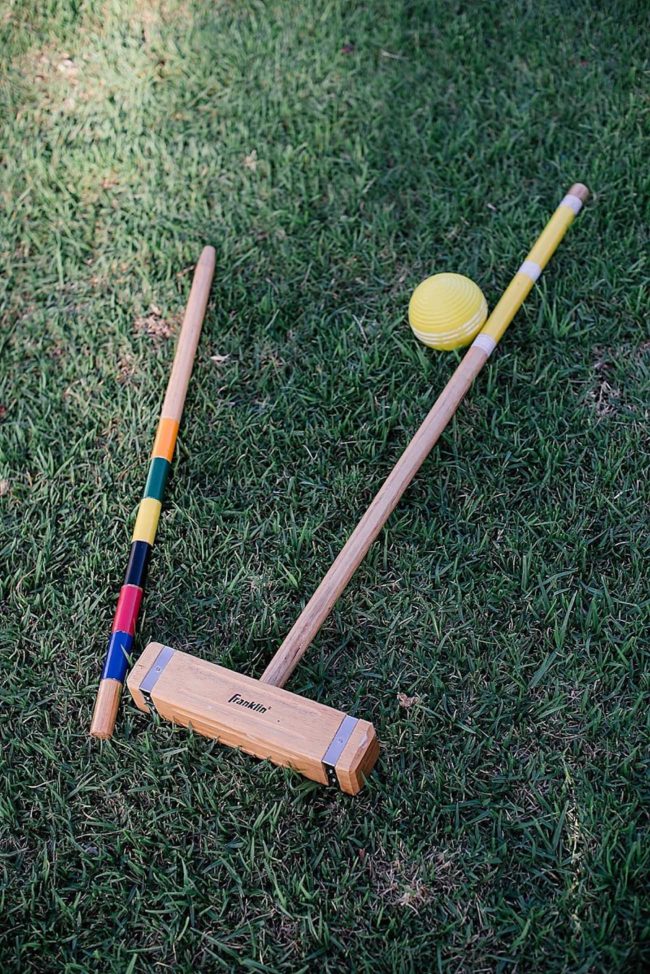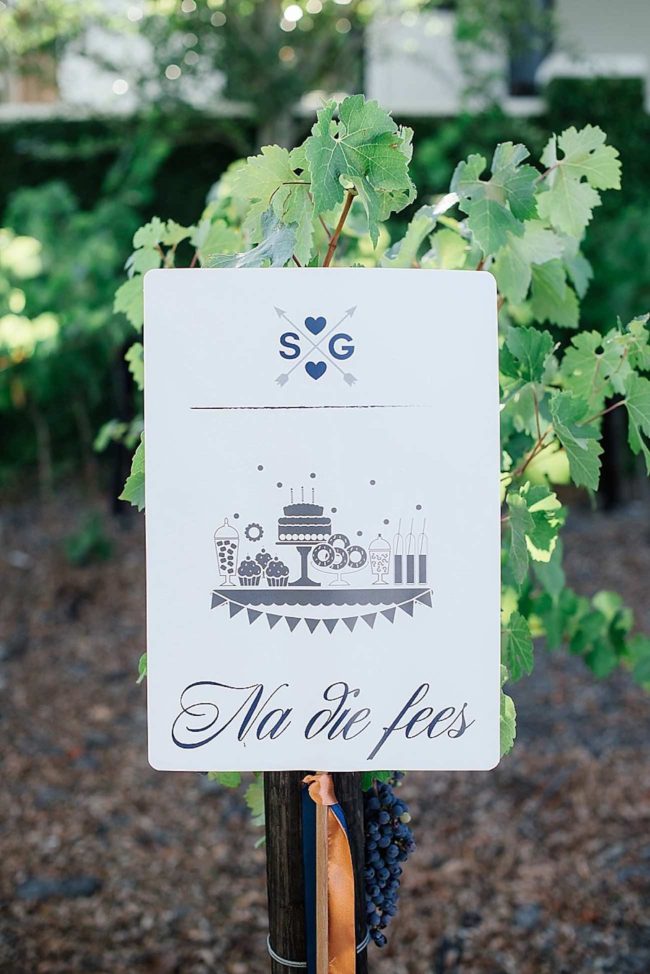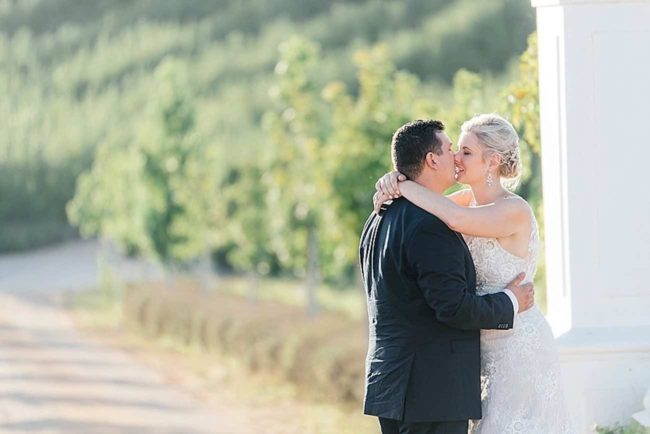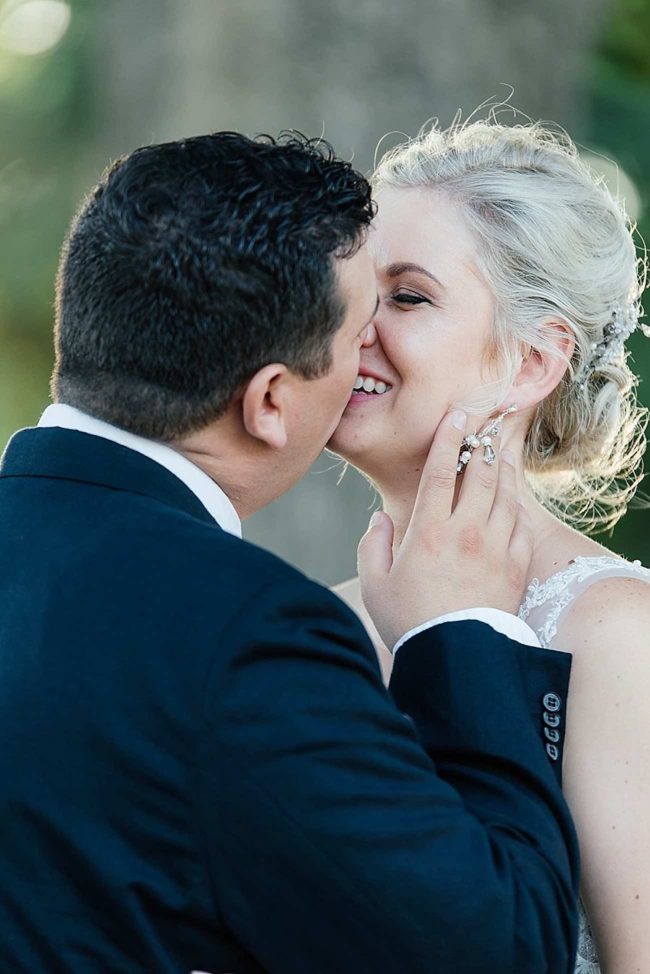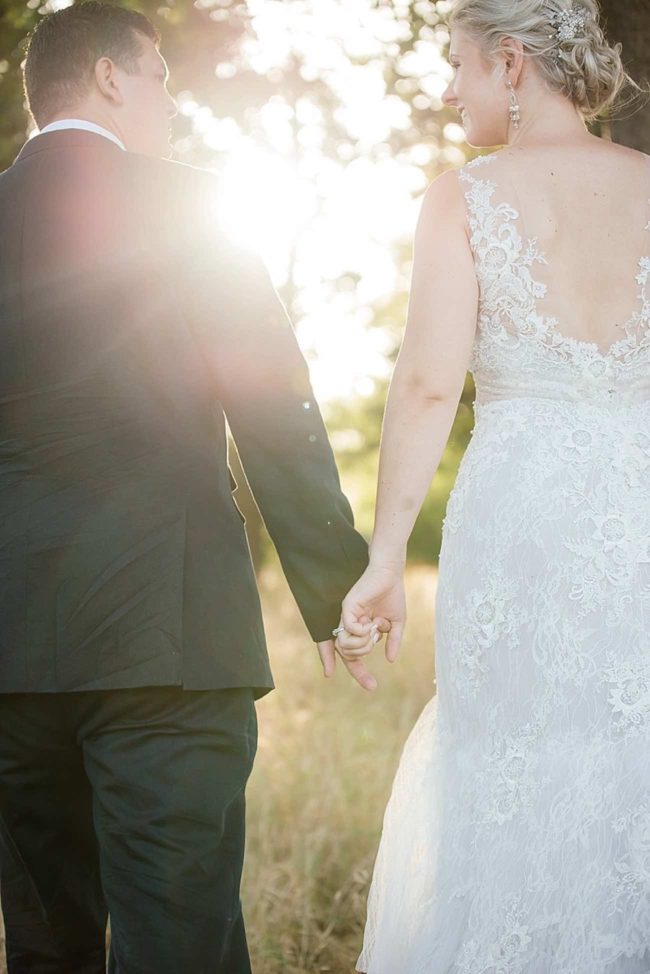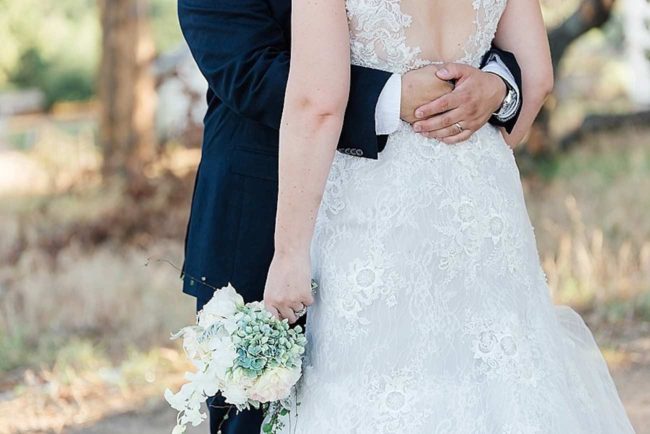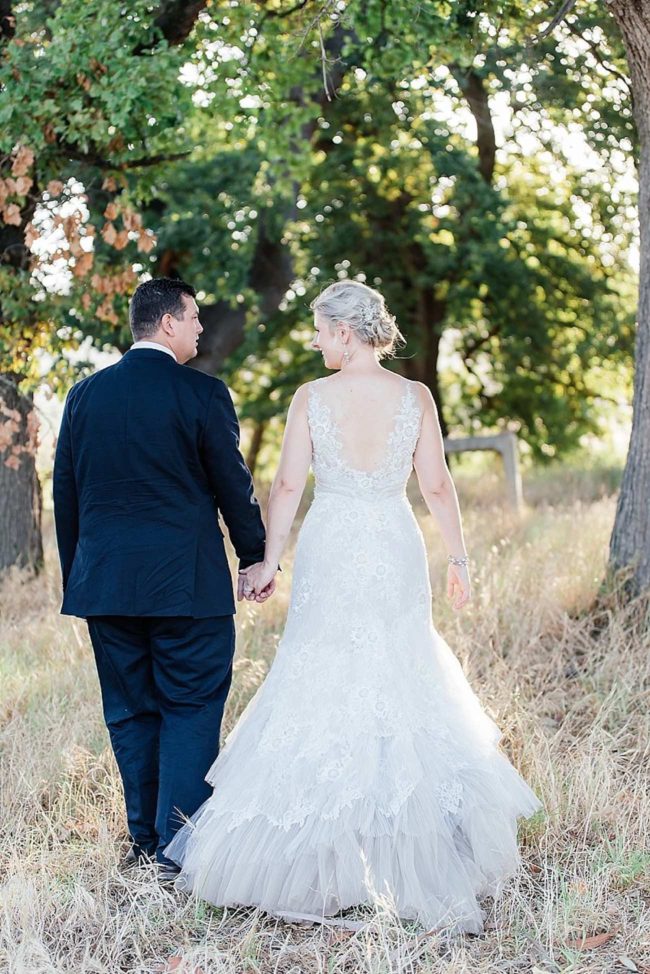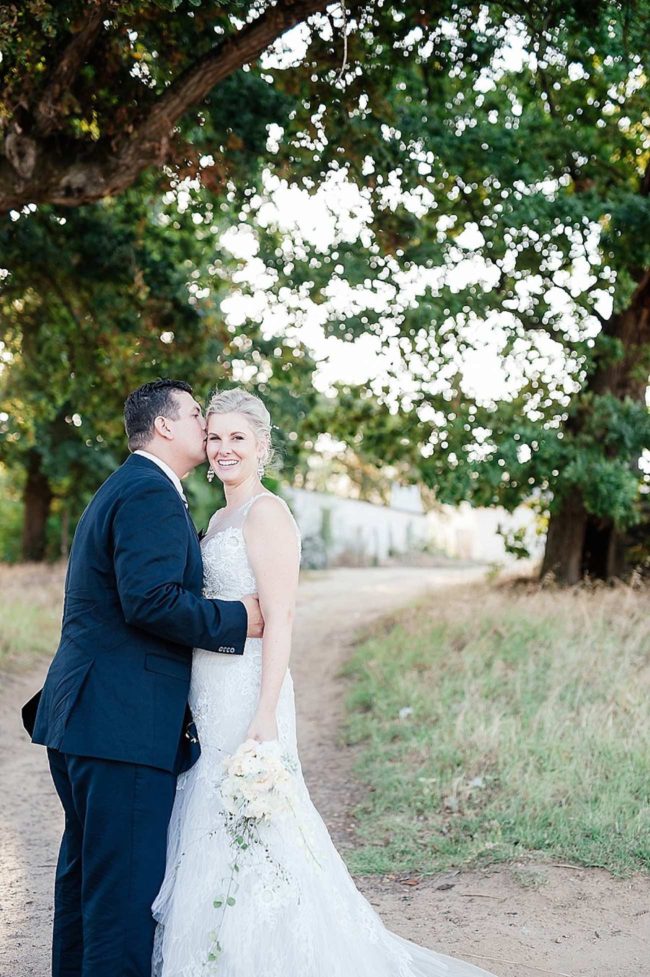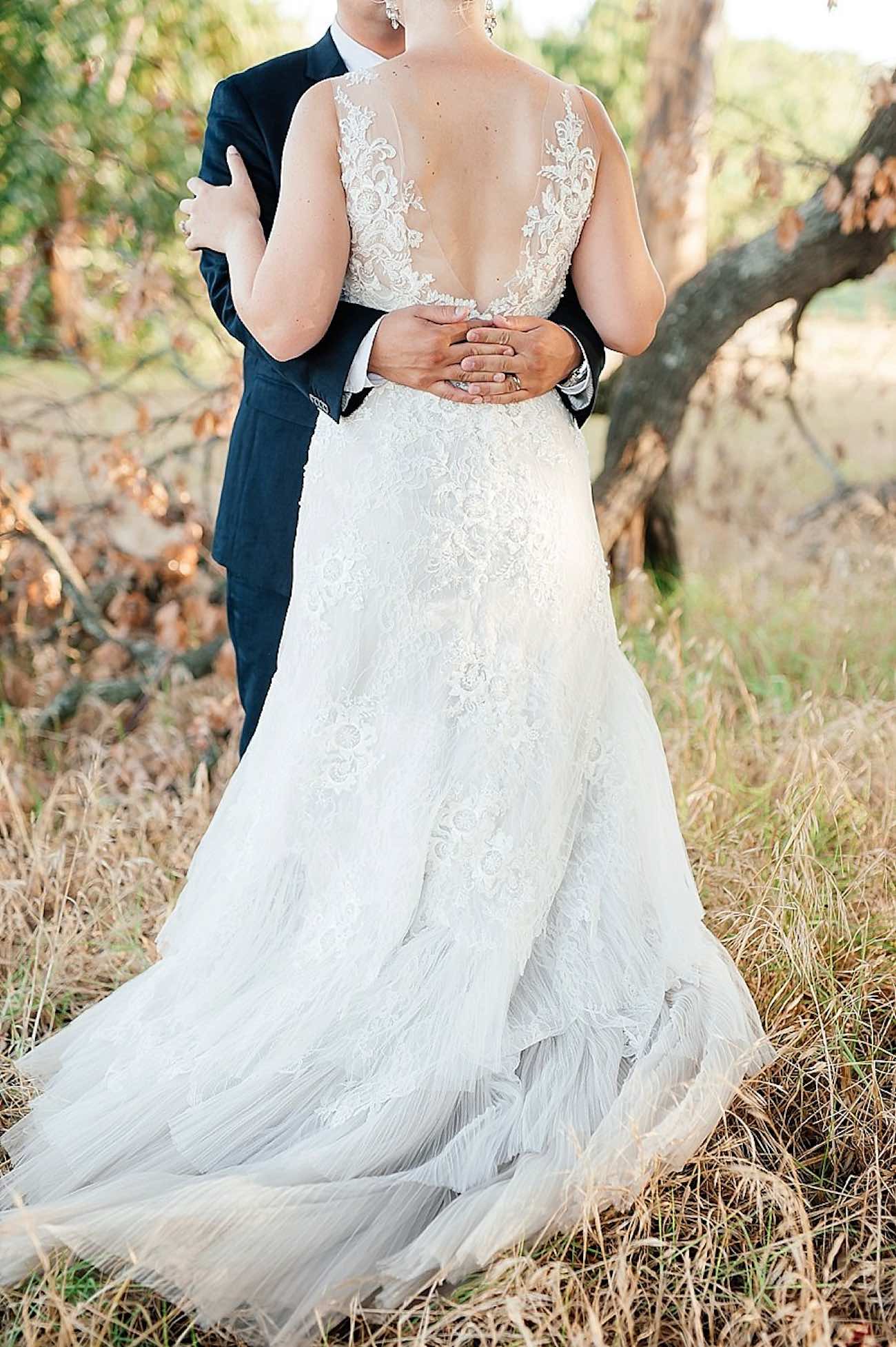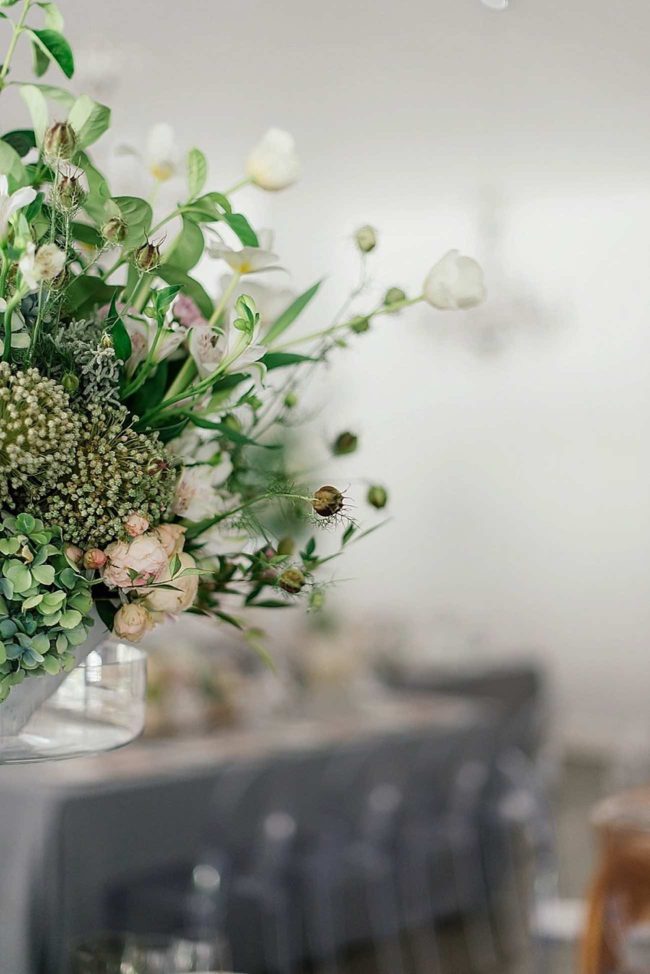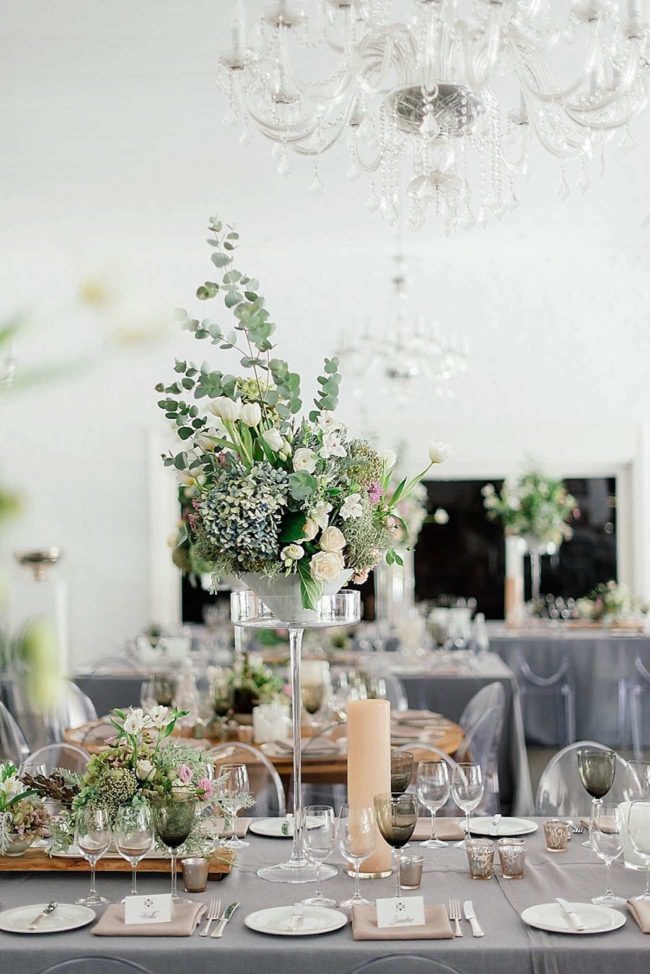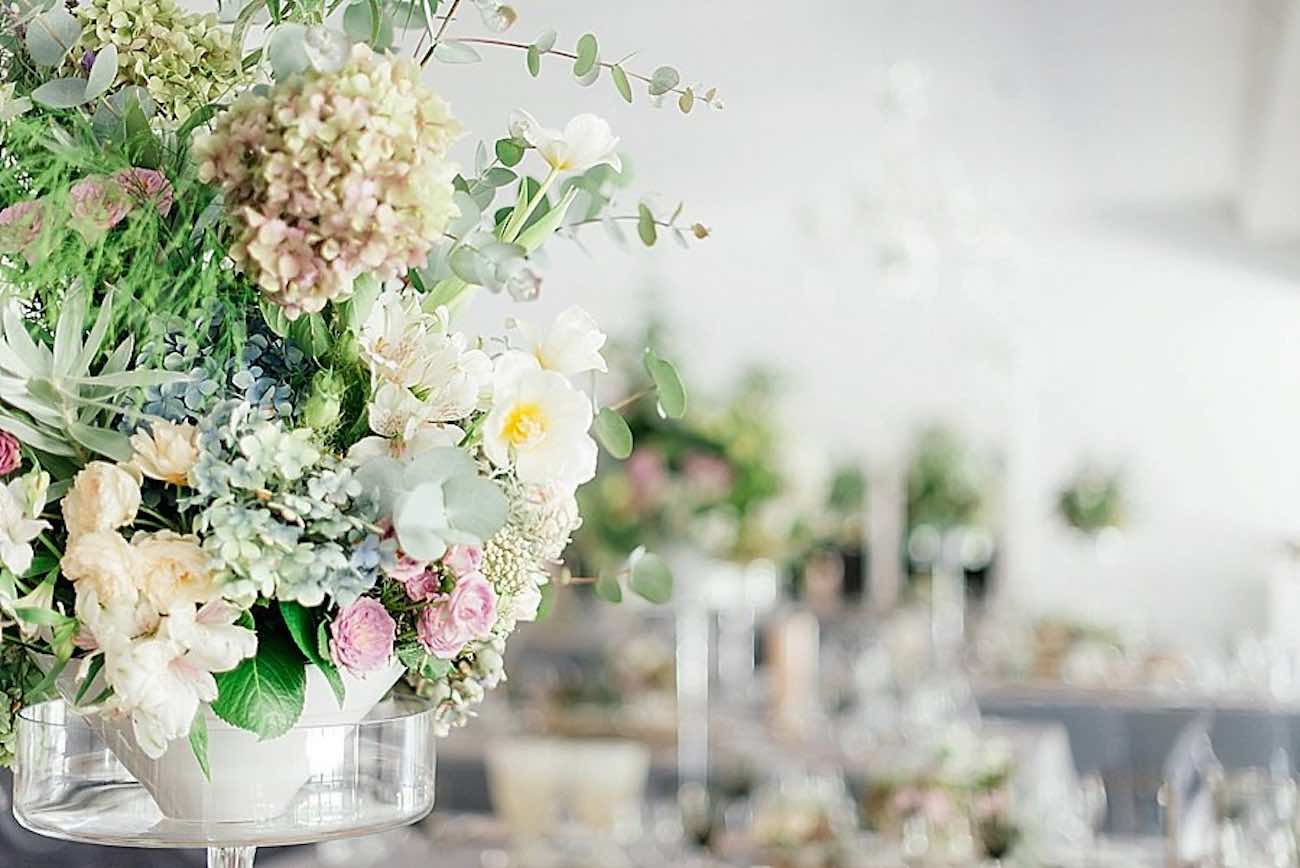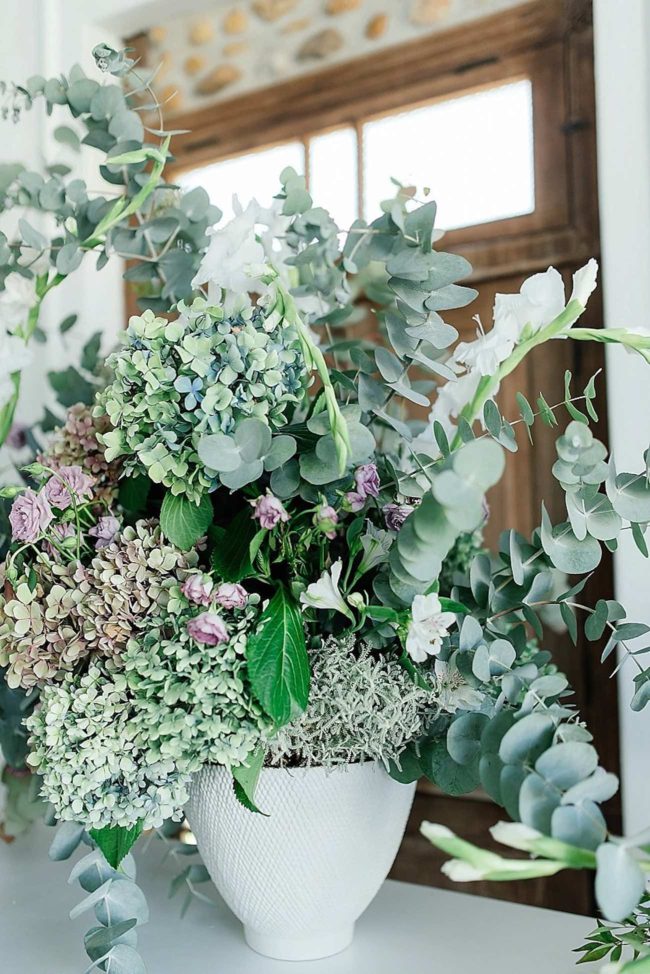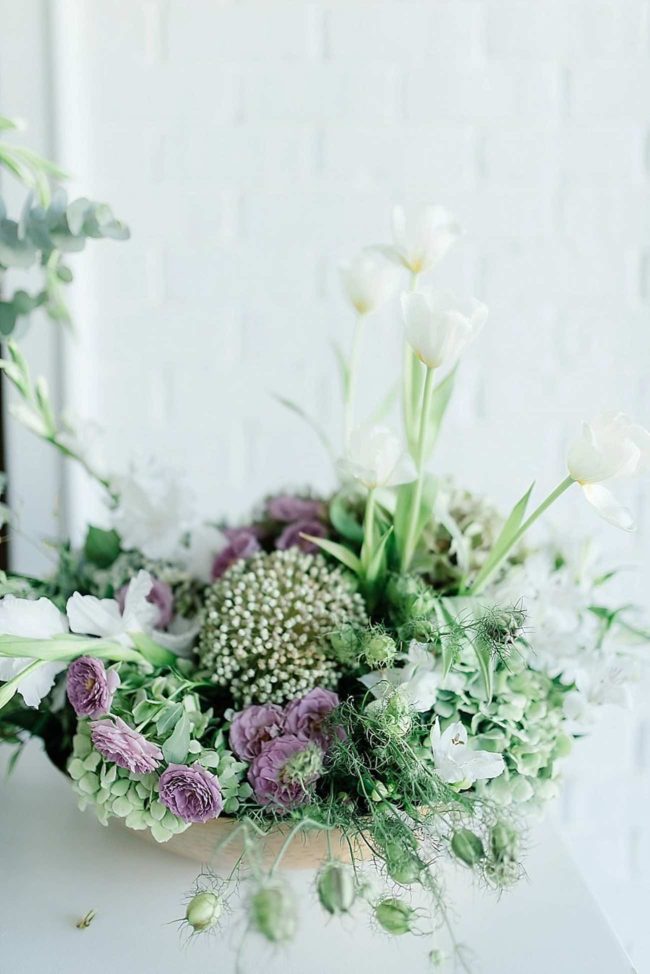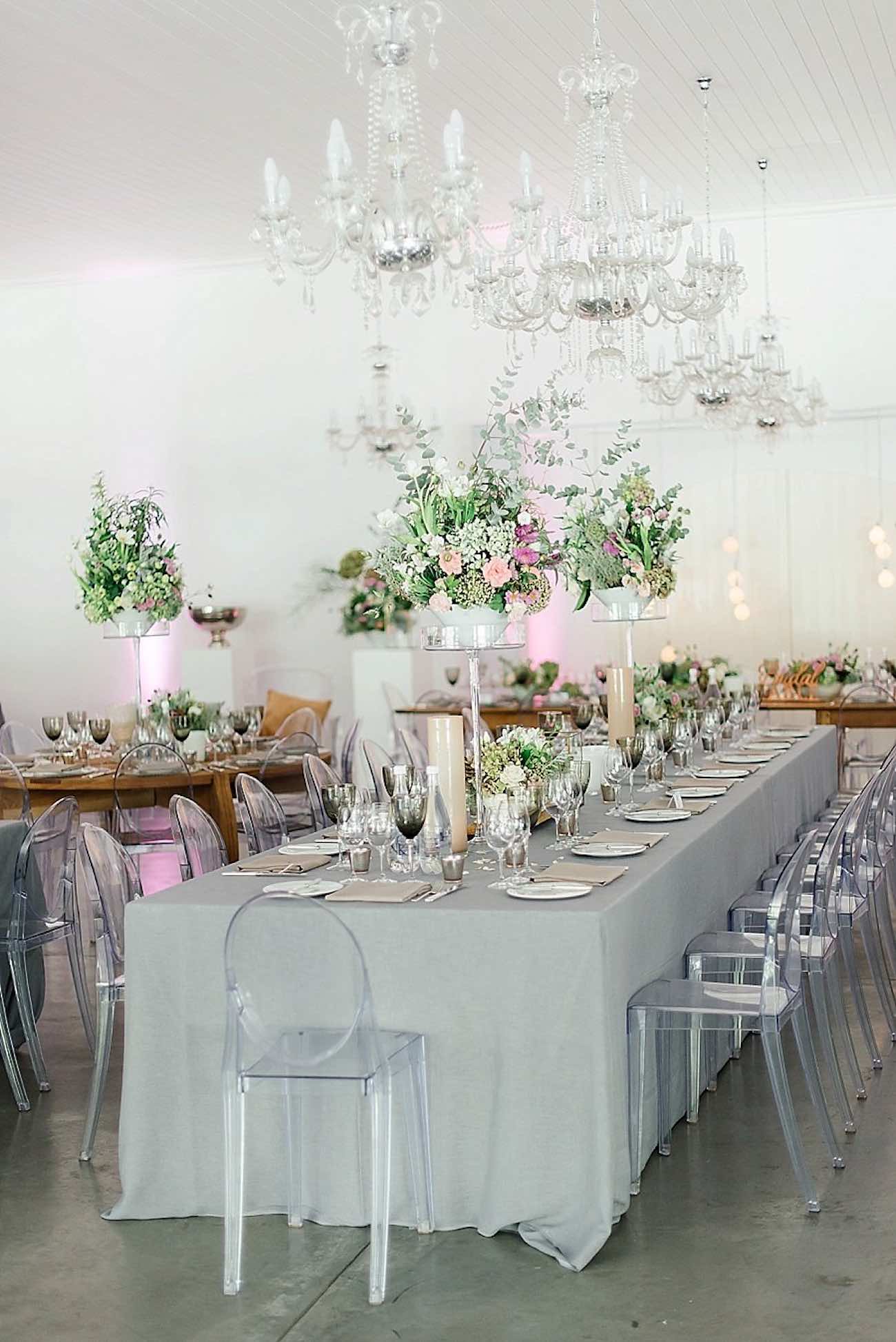 The wedding reception was the elegance personified! The table décor was minimalistic but very elegant.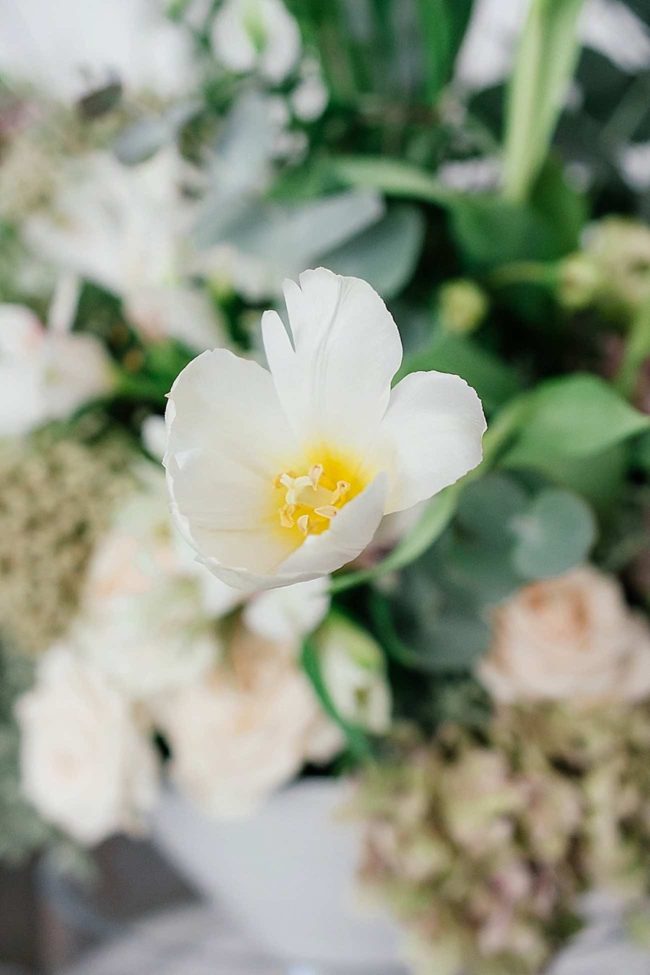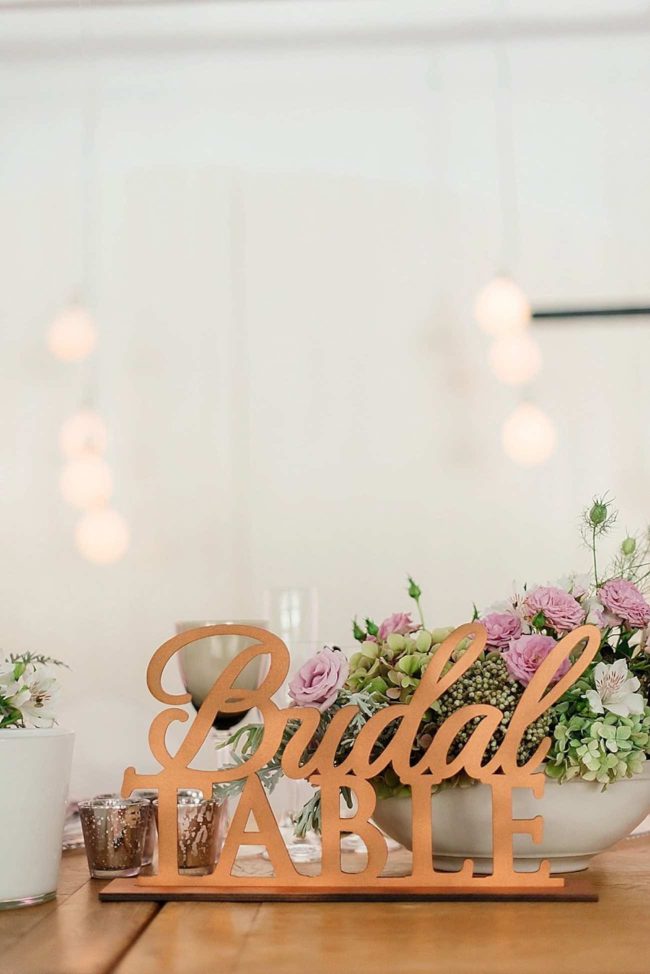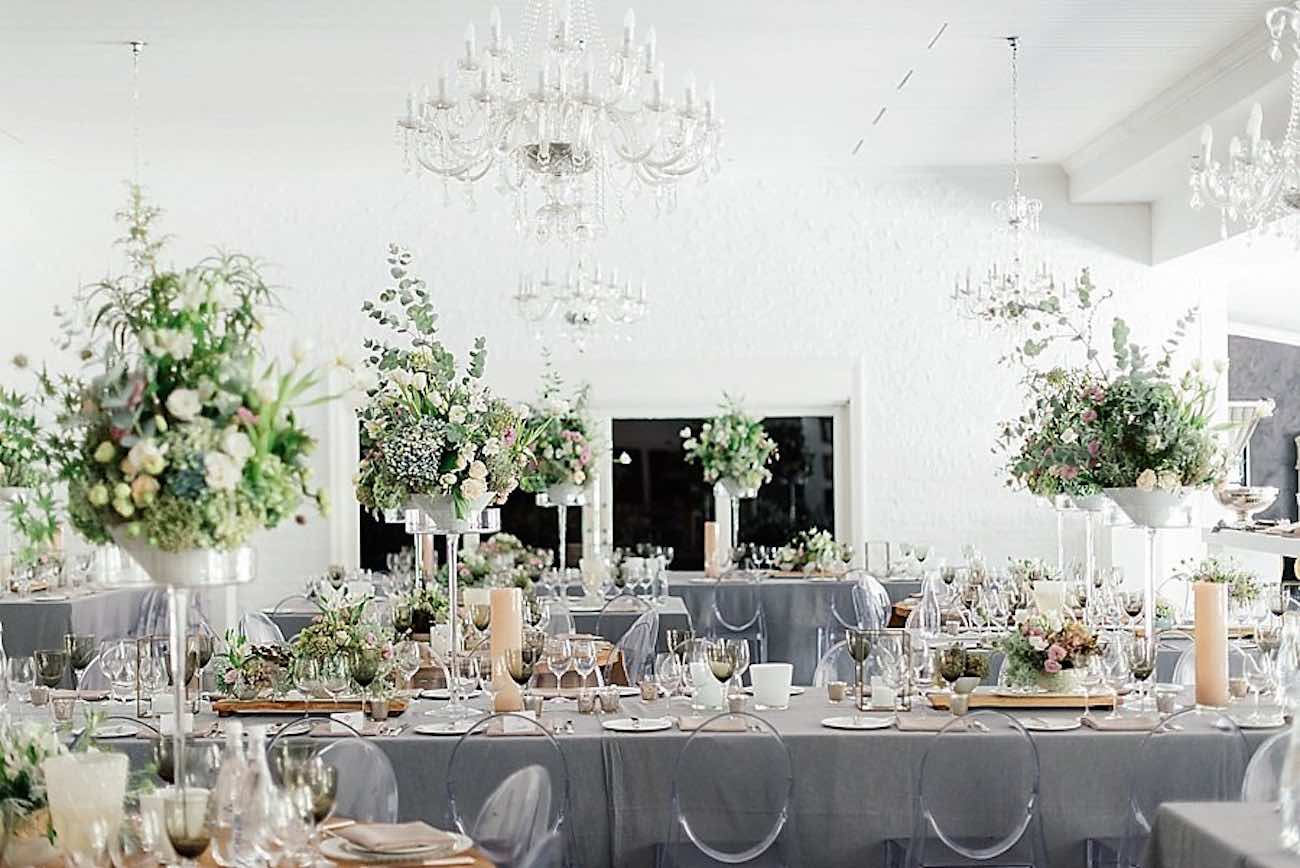 Big flower arrangements in ceramic pots were used. Rose gold décor and loads of candles created the ambience. Rectangular and round oak tables were used to bring in a natural touch.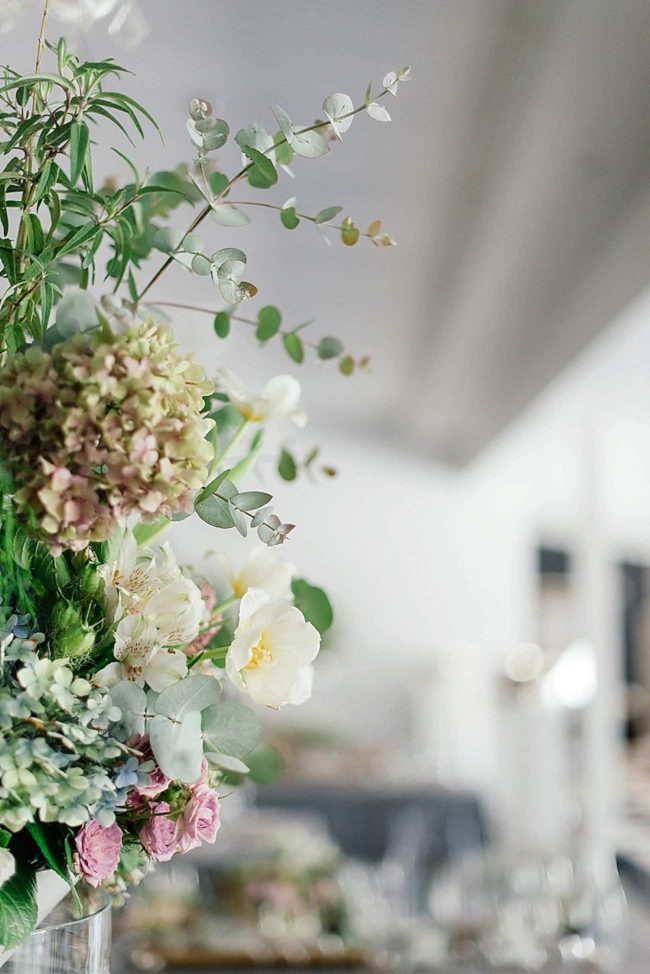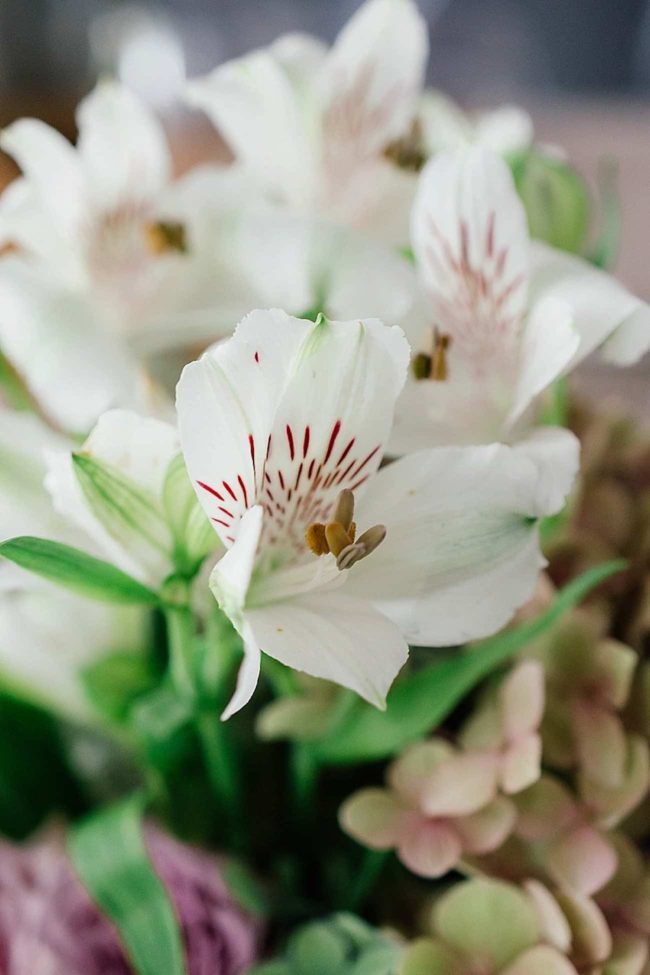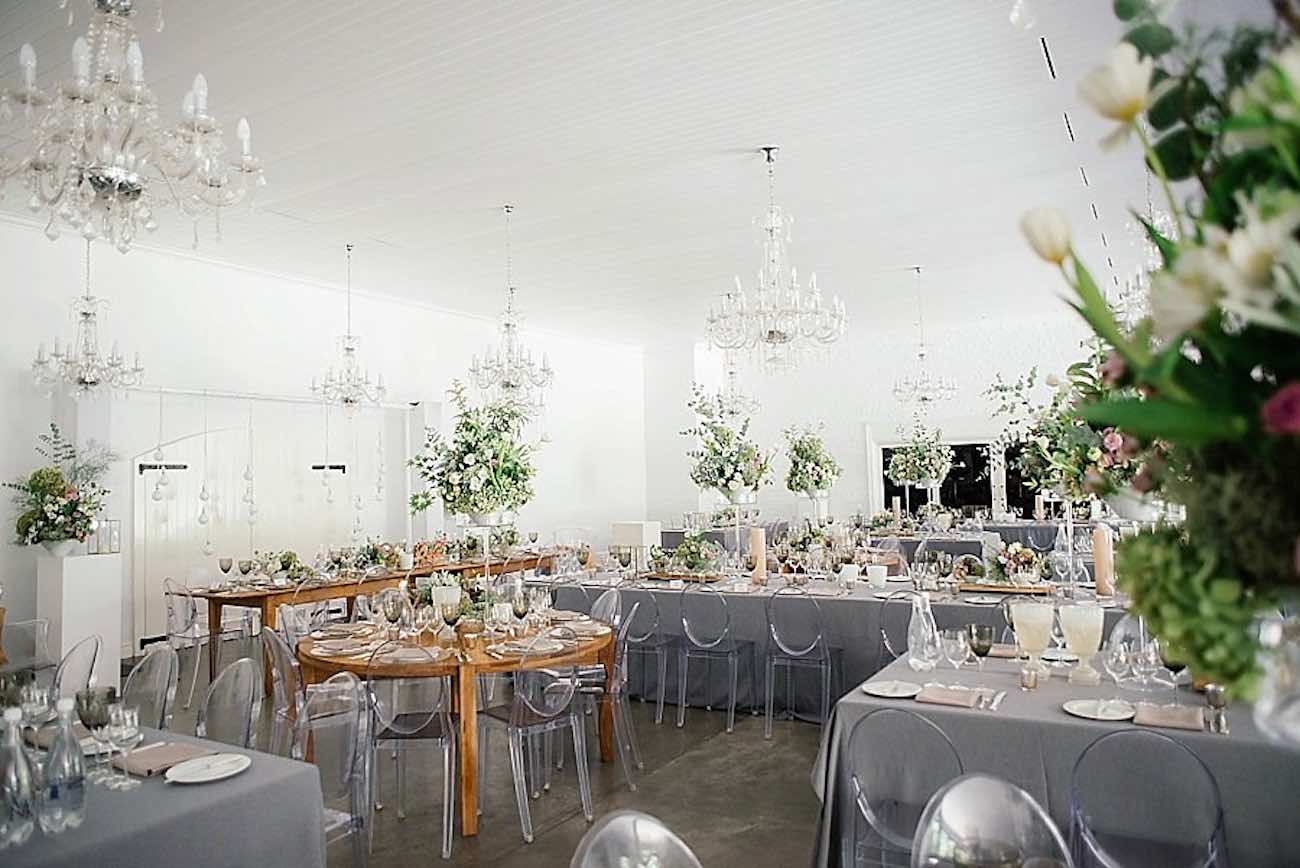 Ghost chairs complimented the glass vases. To keep a bit of a quirky feel we printed the menu on the water bottles that were placed on the tables. The bridal party sat with us at the bridal table which made it a bit more relaxing for the two of us.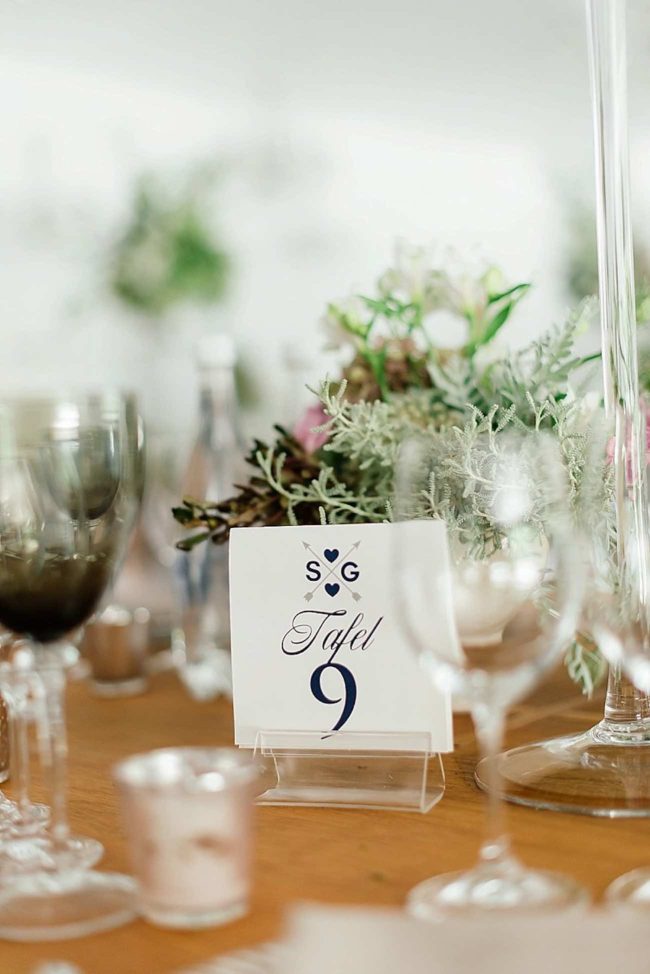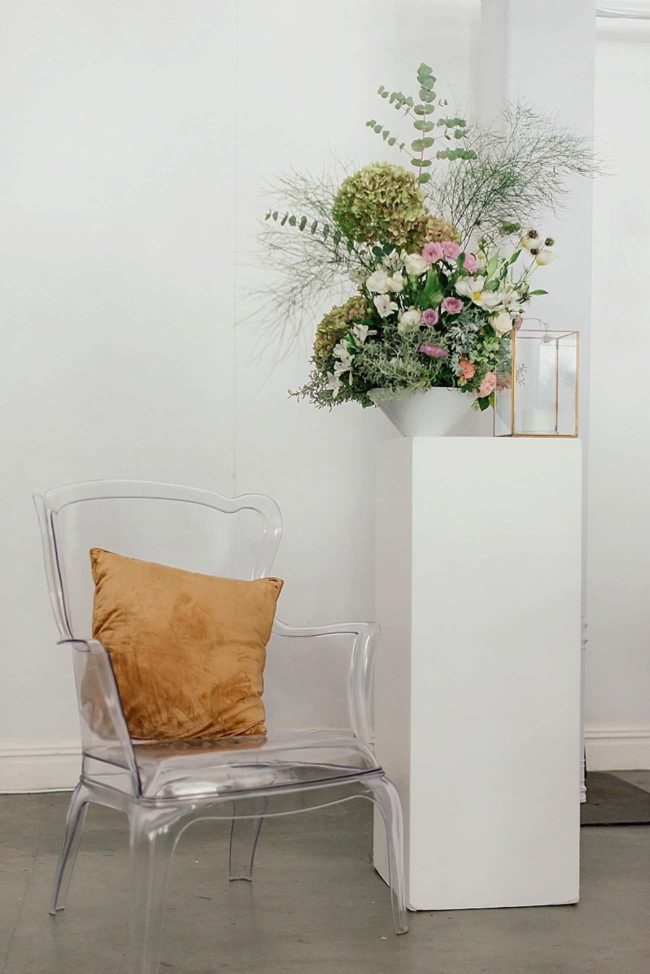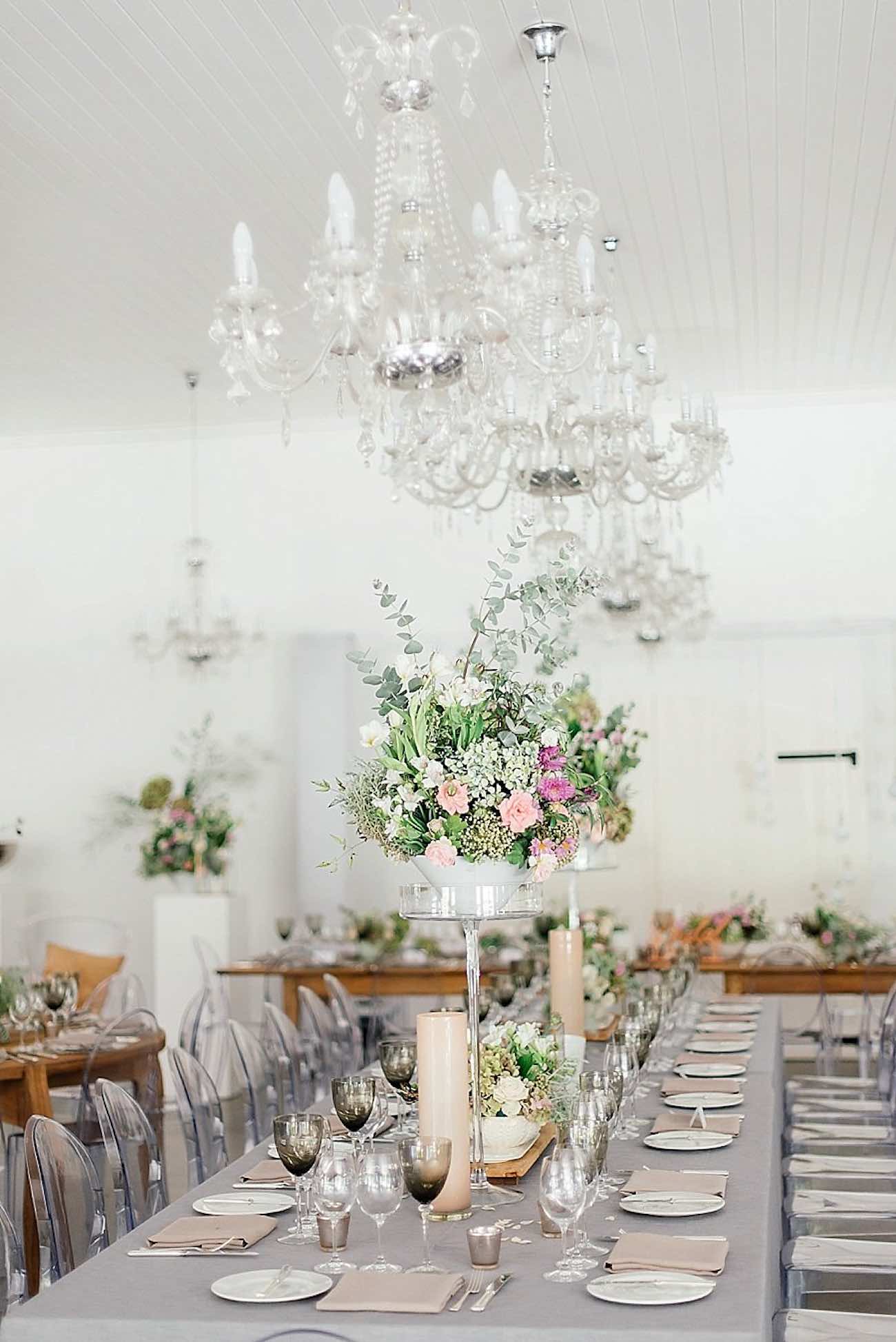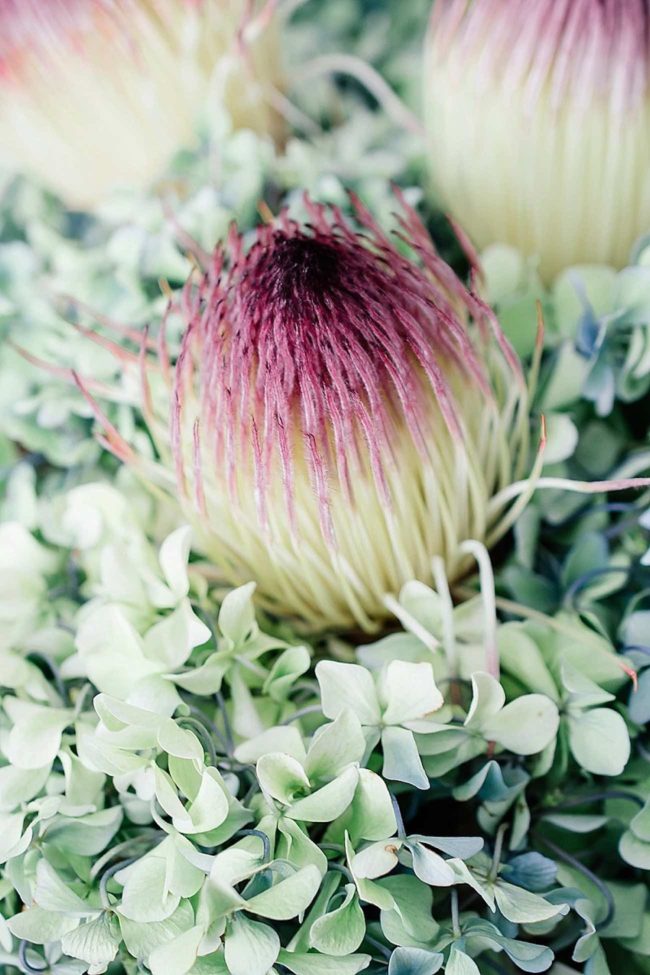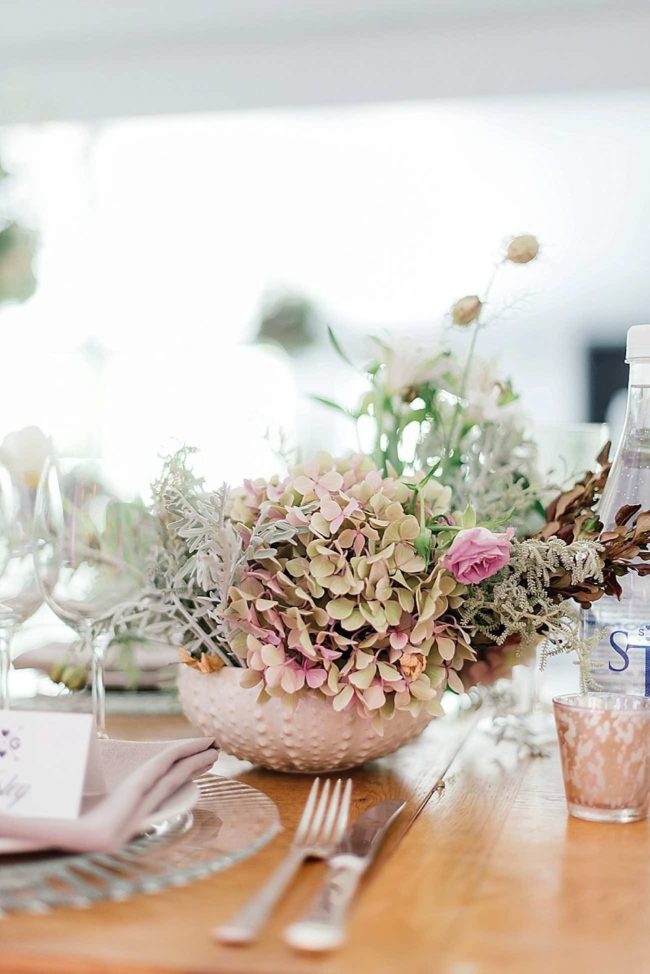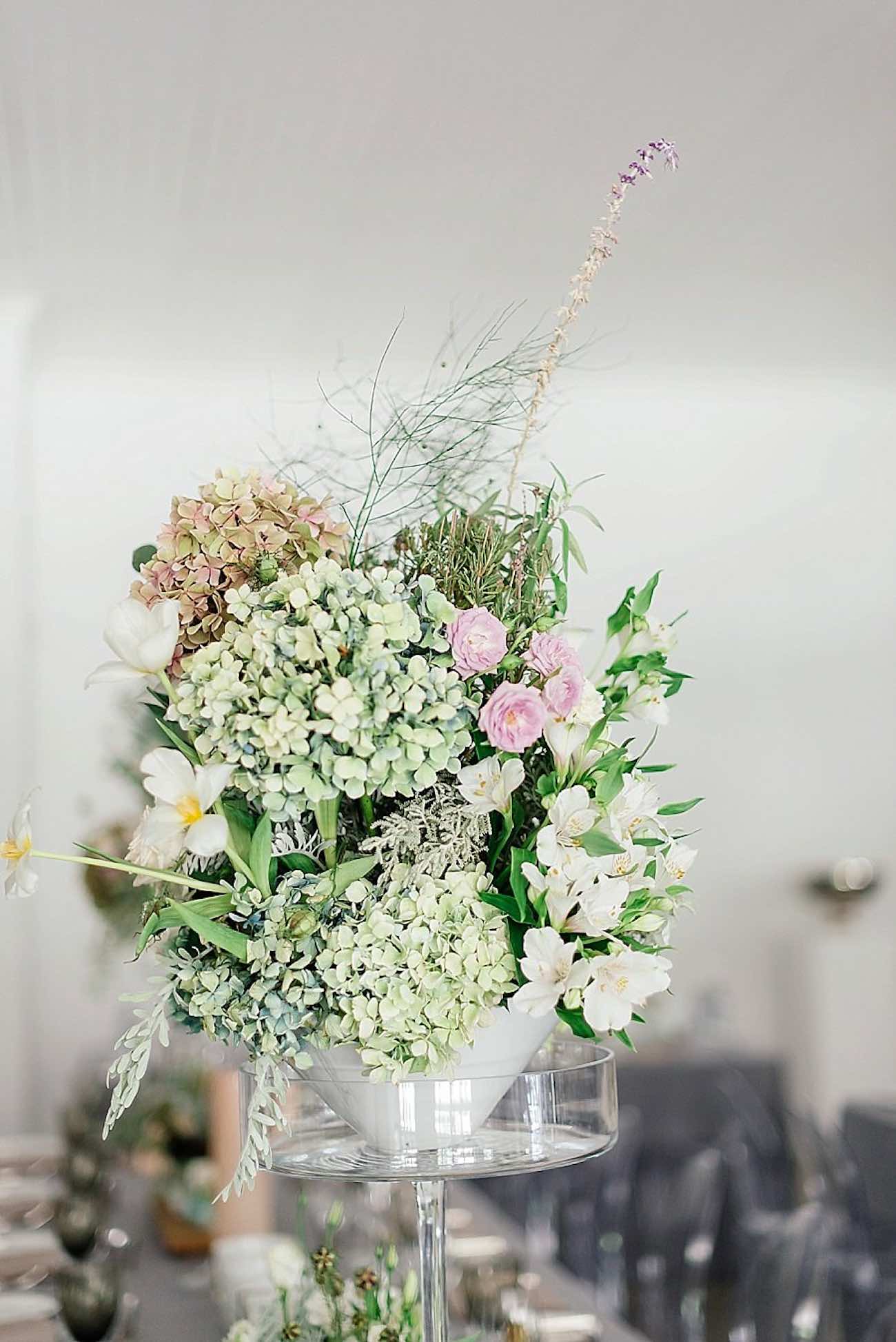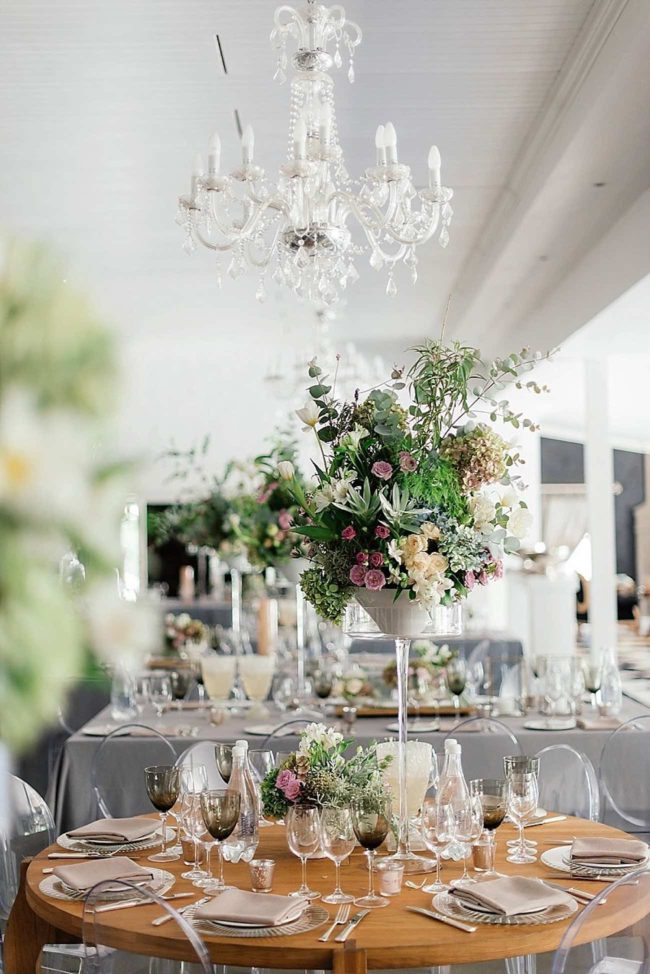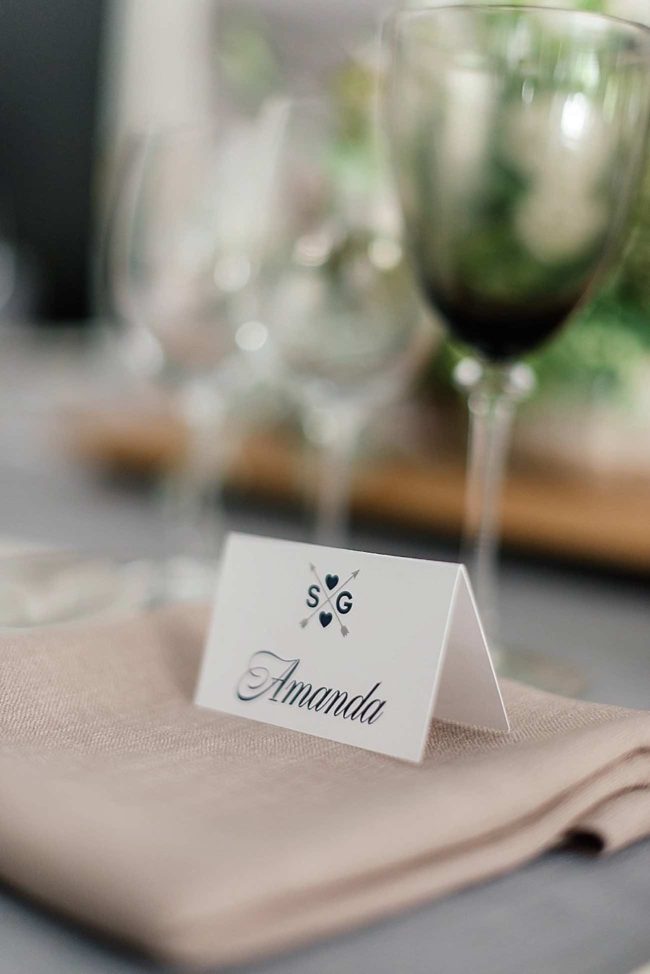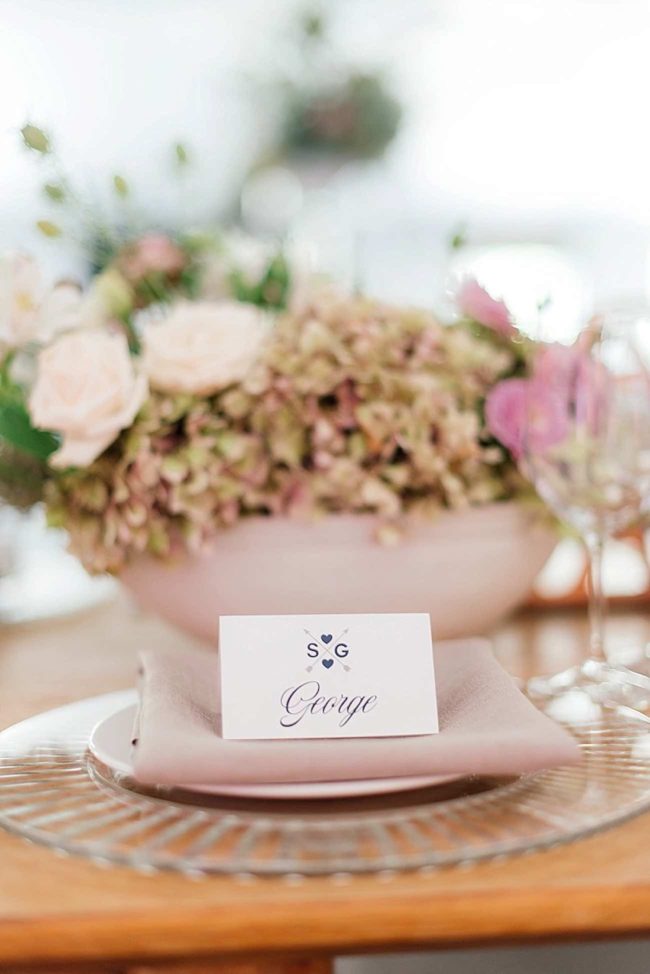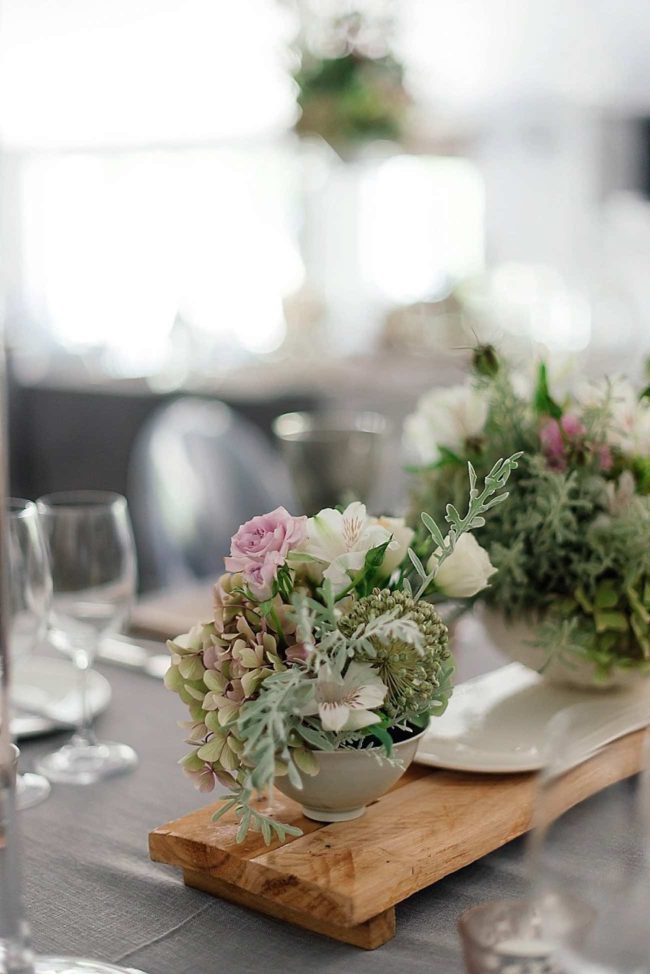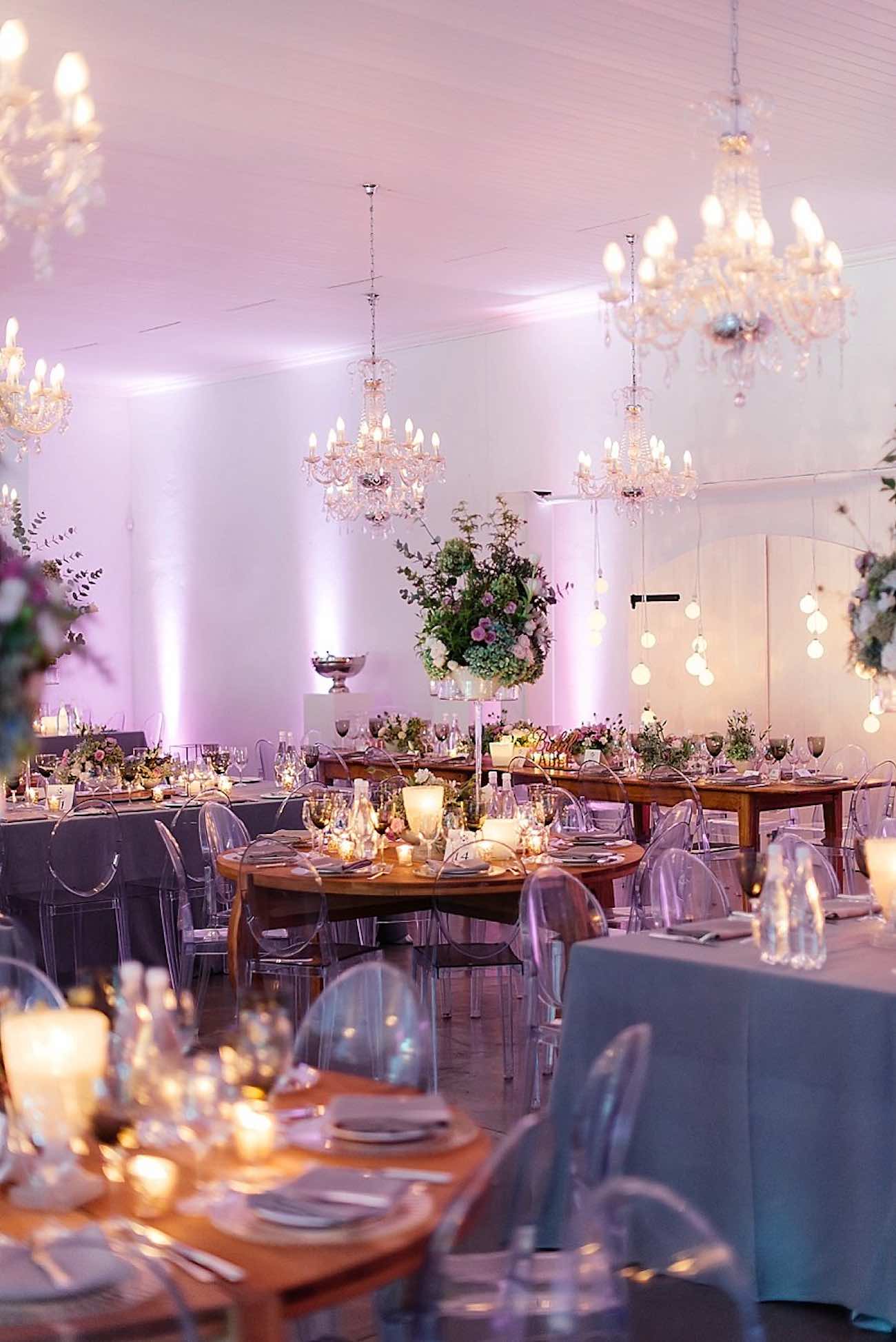 There were big chandeliers hanging over the tables and the dance floor was lit with different naked bulbs. Additional lighting was used to create the romantic look and feel.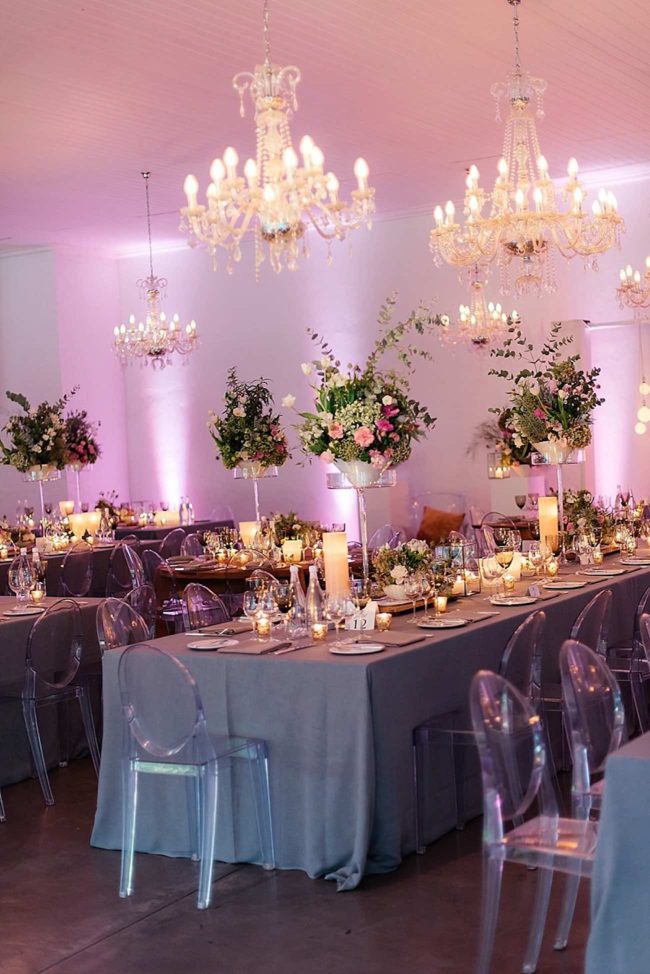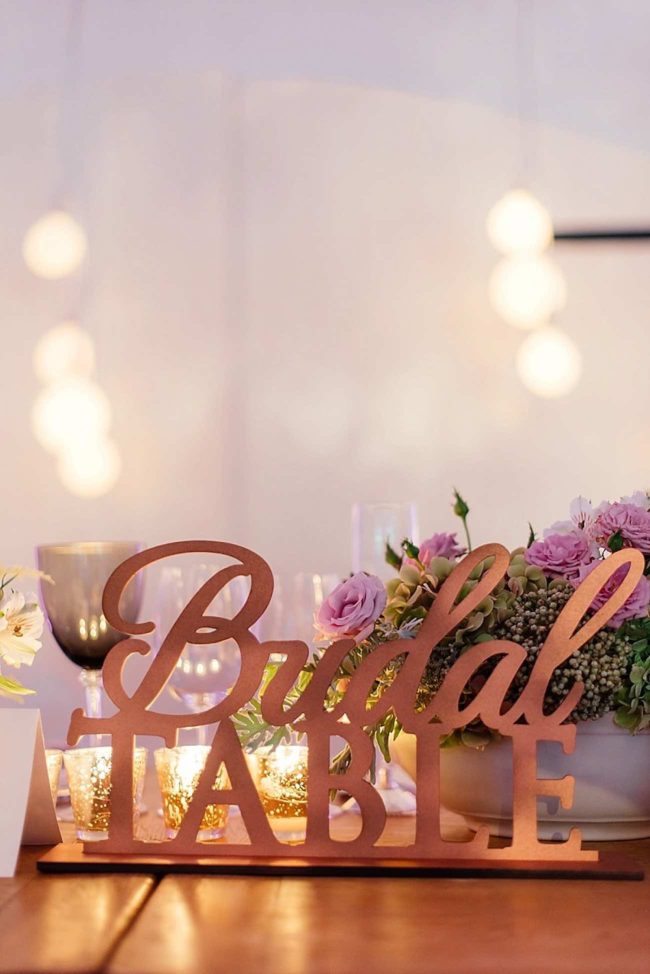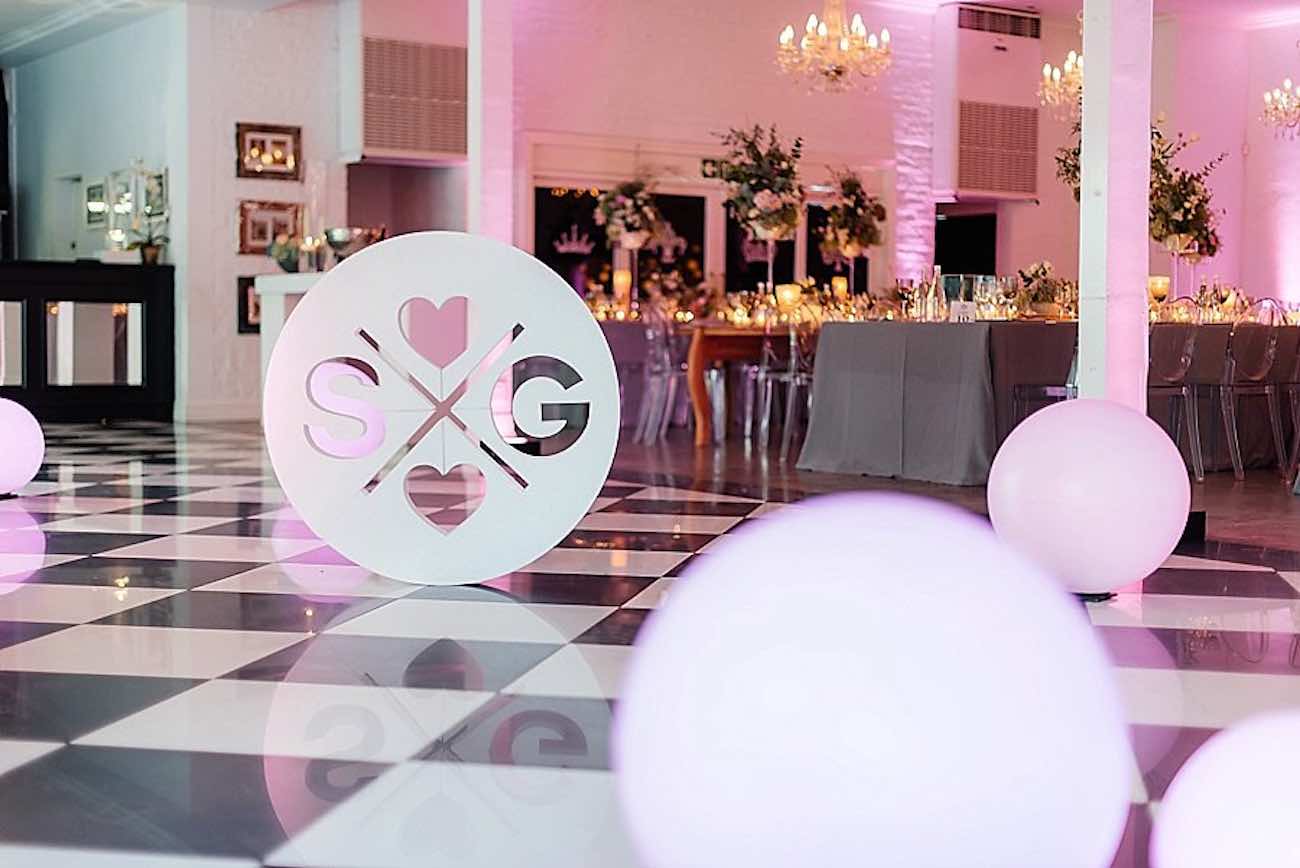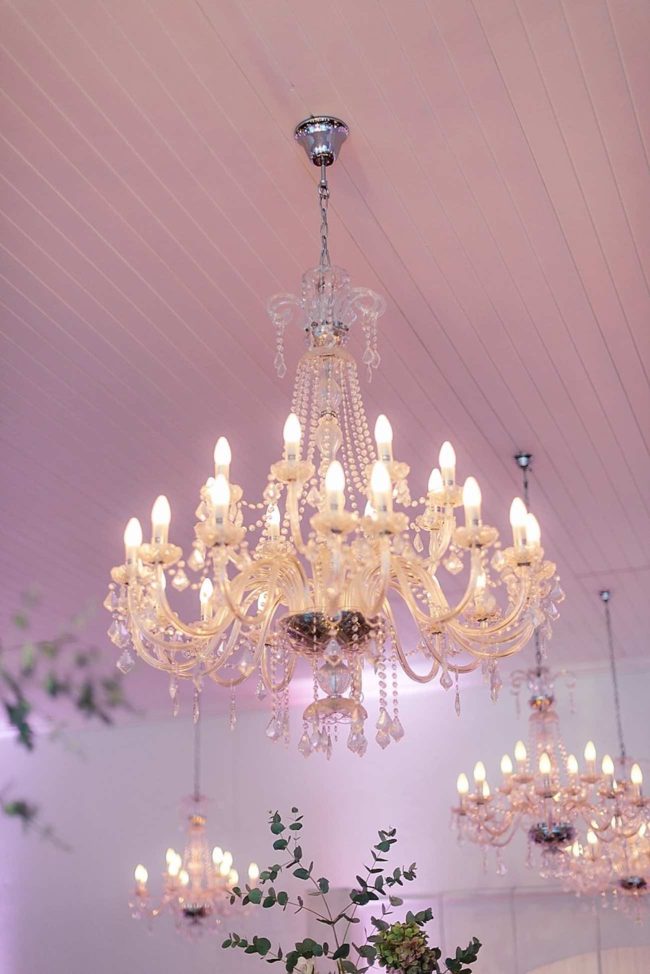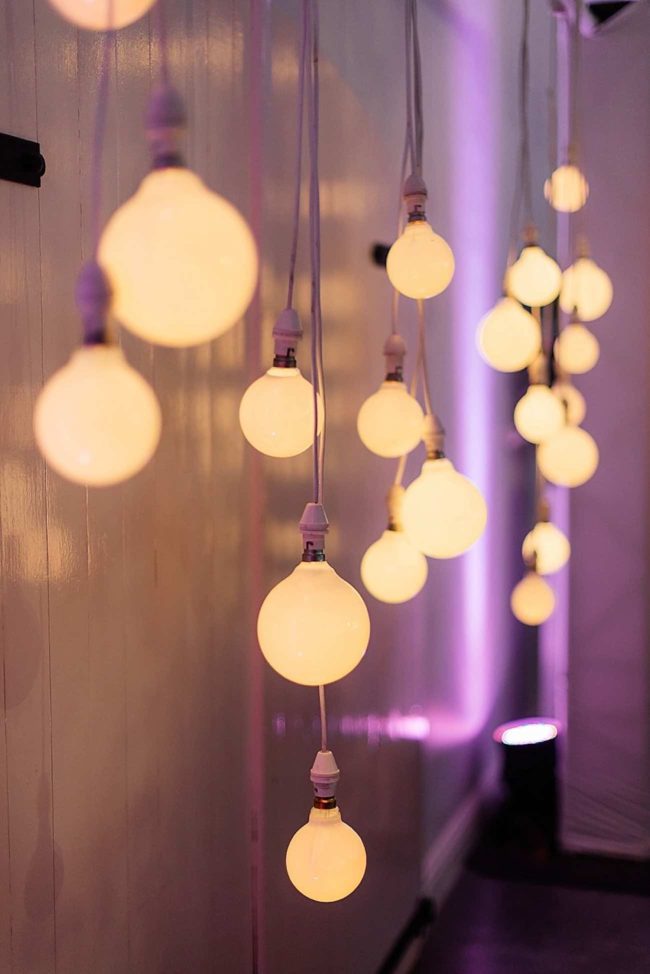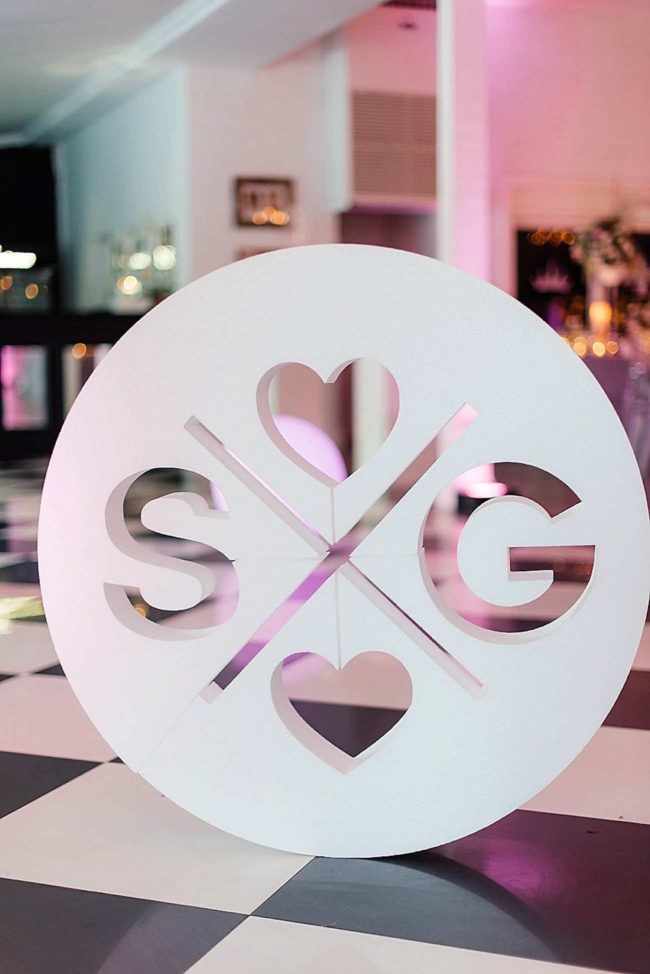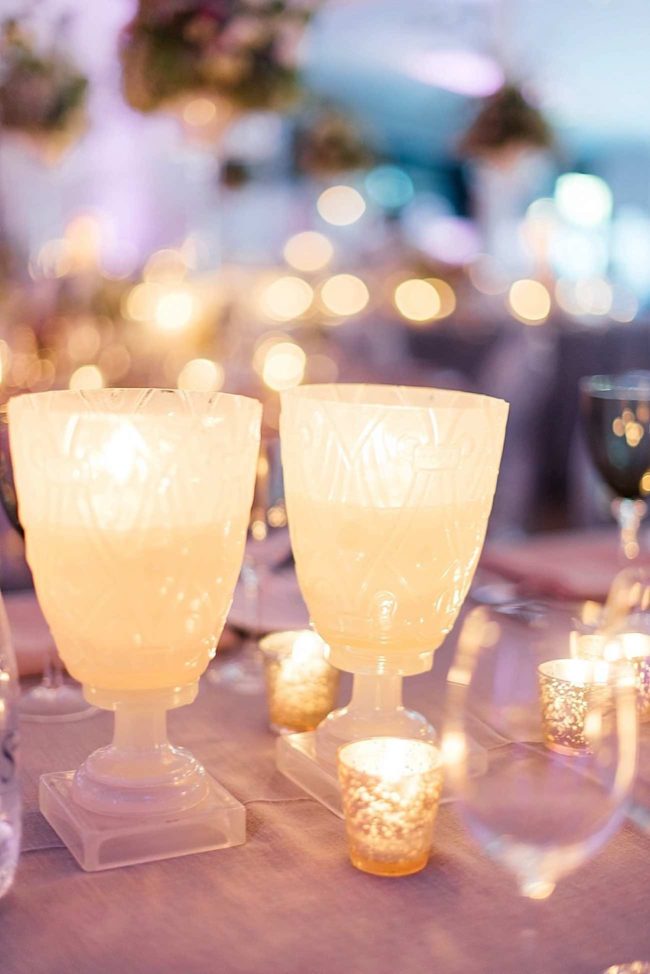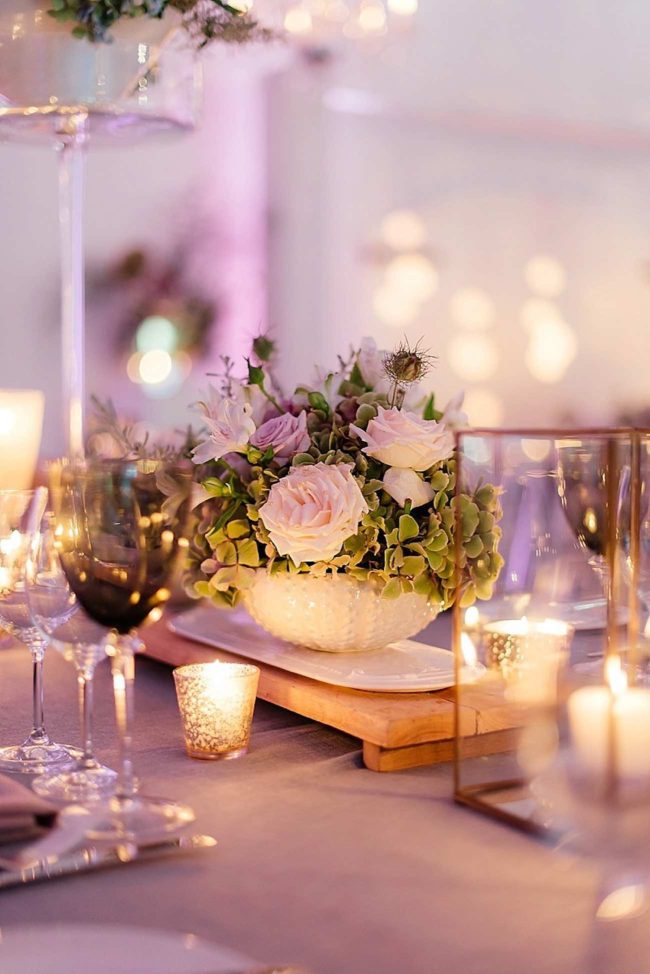 Elegant, Atmospheric Wedding Filled with Entertainment
Love Story: I studied with George's sister, who introduced us.  George and I are 'no nonsense' people and knew that our engagement would follow soon after our first meeting. And so it was. We wer engaged on our farm and 8 months later we said "I do!".
Planning Advice:
Be patient with one another and listen to each other's opinion.
Make sure you plan everything in advance. You don't want to wake op on your wedding day stressing about unfinished elements!
Wedding Service Providers: