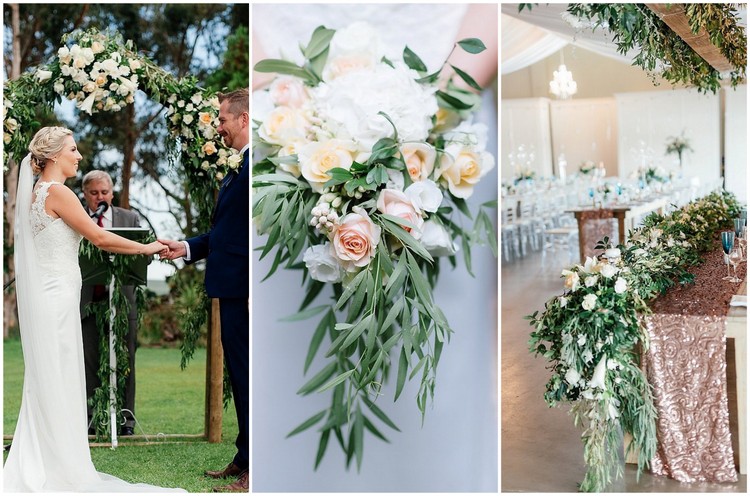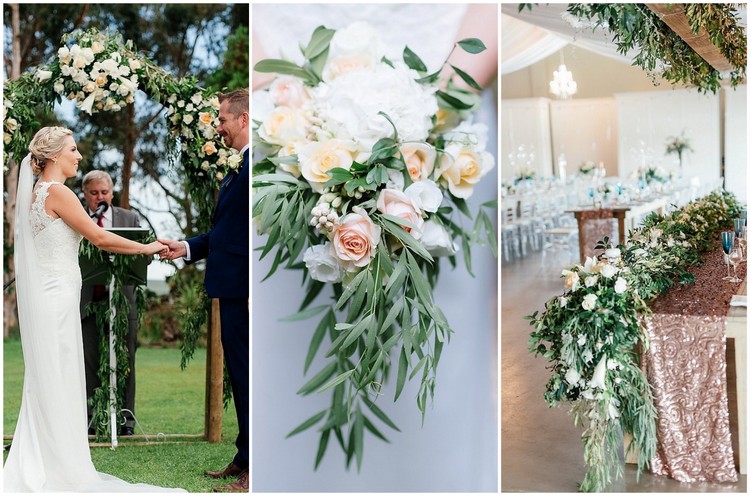 Wilhana and Christo exchanged vows against a beautiful outdoor wedding backdrop of an eucalyptus and floral draped arch on the farm where Wilhana grew up. Bridesmaids in navy blue gowns held floral wreaths made of vineyard branches, roses and eucalyptus in lieu of bouquets. Photographer Debbie Lourens was there to once again steal our hearts with her beautiful images.
The gorgeous couple's romantic copper and peach Eensgezind Durbanville wedding reception which followed was a very personal experience, as Wilhana has been a wedding planner at Eensgezind for six years! Copper coloured sequin overlays, beneath fresh floral runners of roses and eucalyptus, were set on wooden tables by Kadou with clear perspex chairs."I wanted the day to feel comfortable and close to home as possible," shares Wilhana. "The rustic, relaxed details combined with elements of elegance reflected our tastes and personalities perfectly."
The couple had a lovely pre-drink area with an assortment of drinks and cocktails and a "pimp your cupcake" station. "It was such a wonderful feeling knowing that almost all of the important people in our lives were there sharing this moment with us at our Eensgezind Durbanville Wedding!"
Peach + Copper Romance: Eensgezind Durbanville Wedding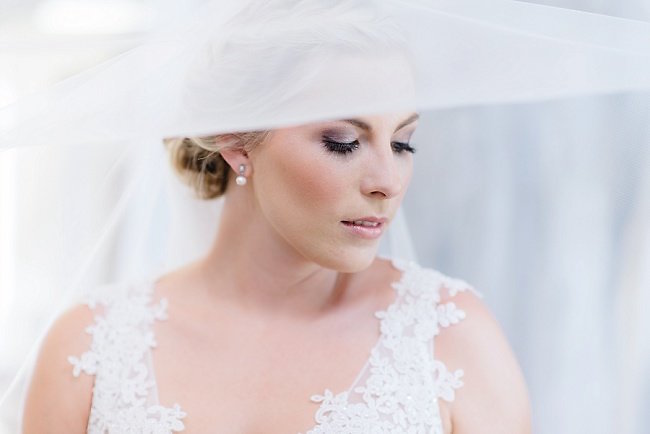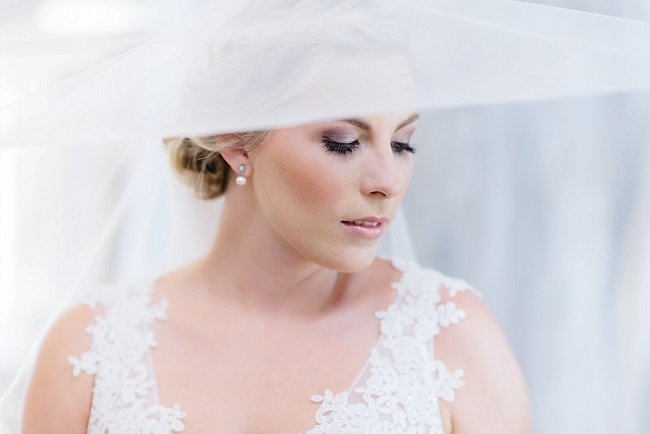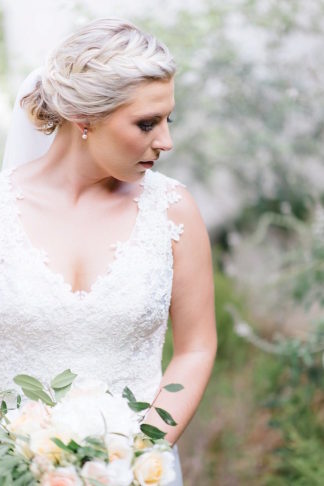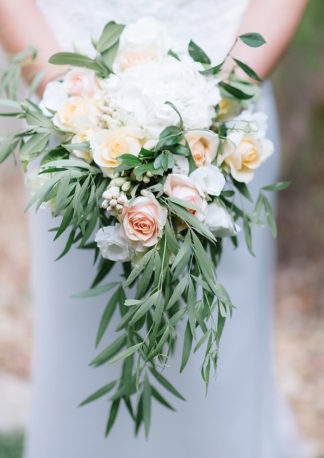 My bouquet was green and loose, with a few elegant peach roses and white hydrangea. My Eensgezind family knew exactly what I liked.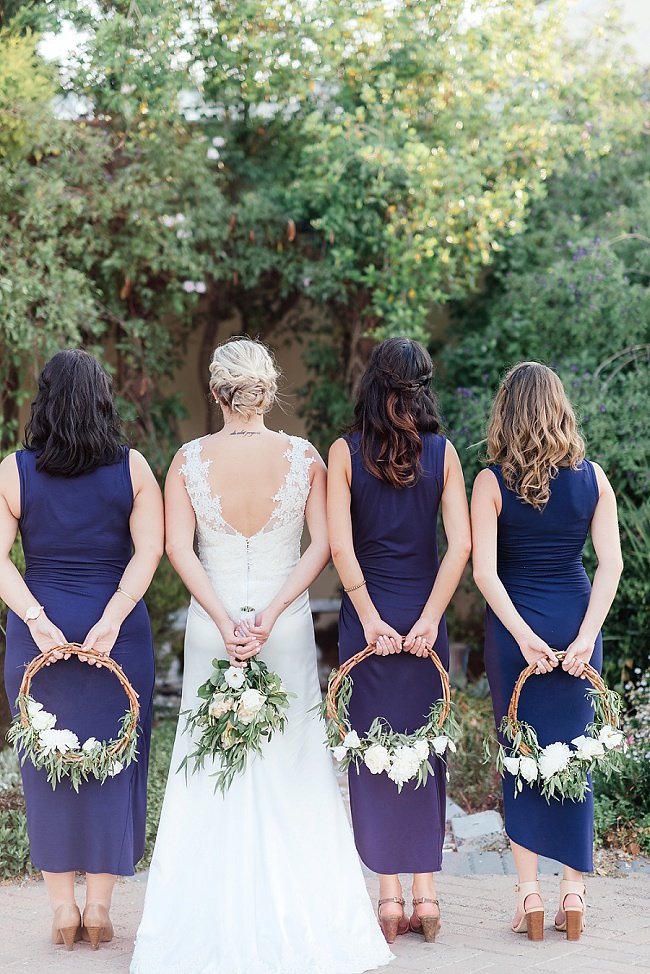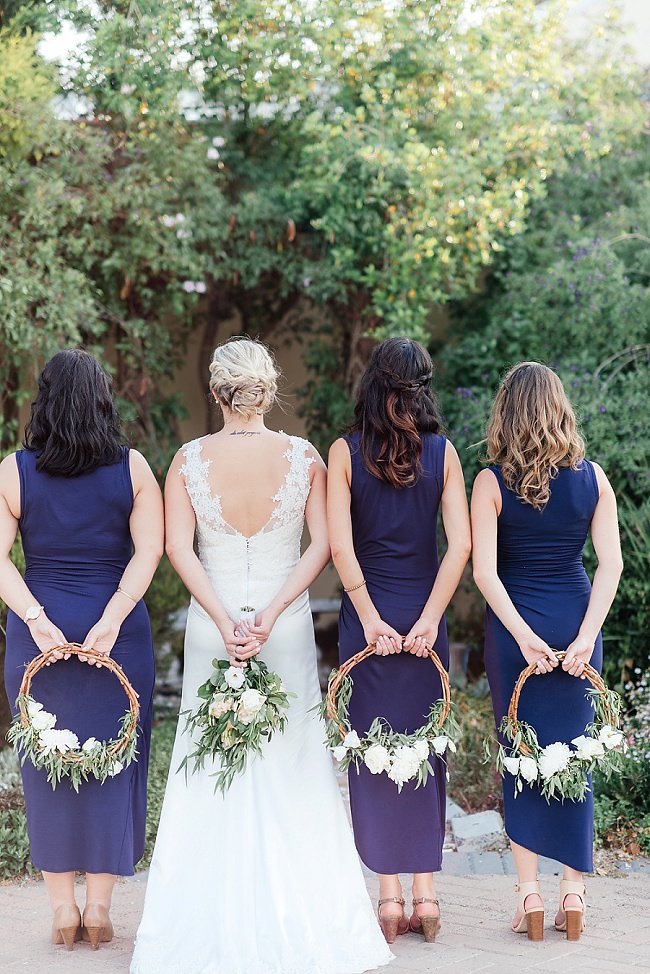 My gown was designed by  Rene H Couture. I wanted my dress to be comfortable but still stylish and elegant. Not being one for wearing sequins, trimmings and shiny things, I wanted my gown to be as plain as possible. The top part of my dress had detail, but from my waist down it was only plain. It came out beautifully and I was very comfortable!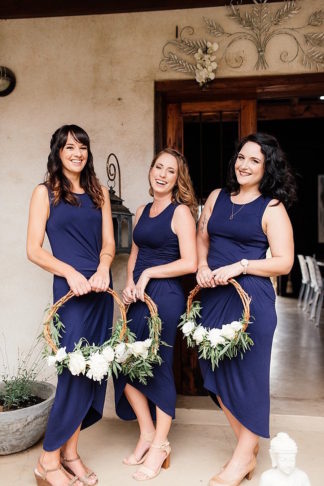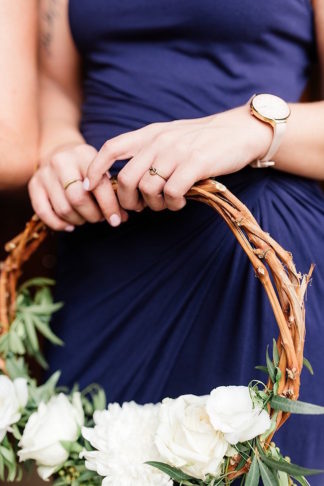 Living on a farm, my mom always made wreaths with the vineyard branches. I asked her to make a few for the bridesmaids in place of bouquets, covered in greenery.
Click To Tweet
The bridal party wore navy gowns of their own choosing. The groomsmen wore camel chinos and white shirts with navy. Christo wore a gorgeous a navy suit.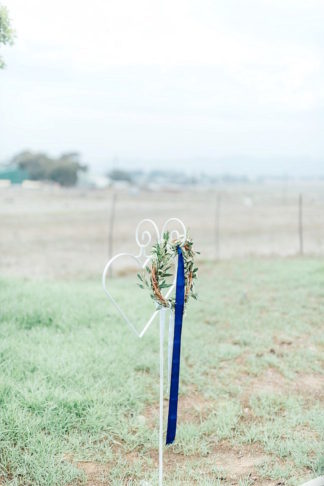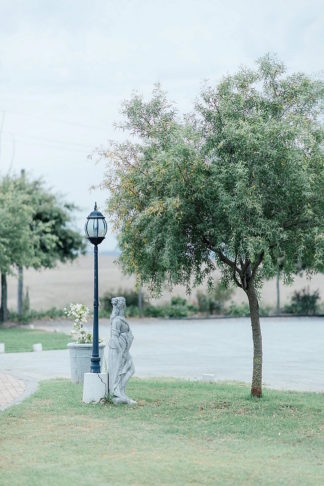 Christo and I were introduced by family members. We went on a "let's meet date" and immediately clicked. A year later we got engaged and the rest was history!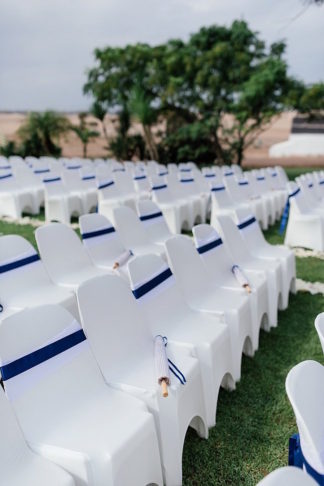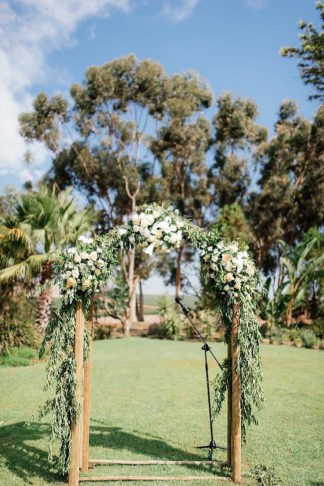 The ceremony was one of the most special moments of our wedding, not only because we actually got married, but because it was held on the lawn in front of my parents home. It was exactly what I always dreamed of.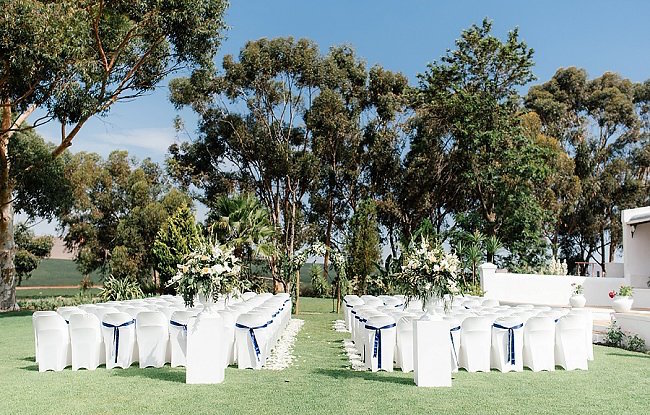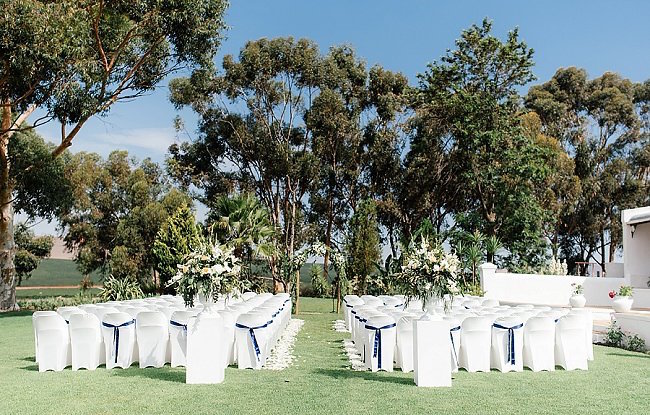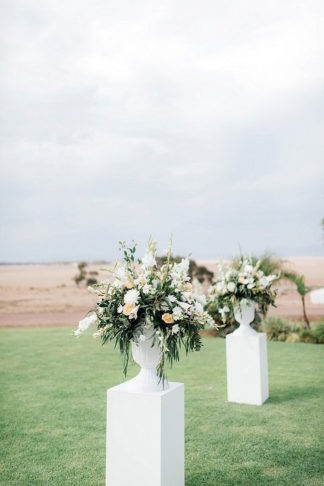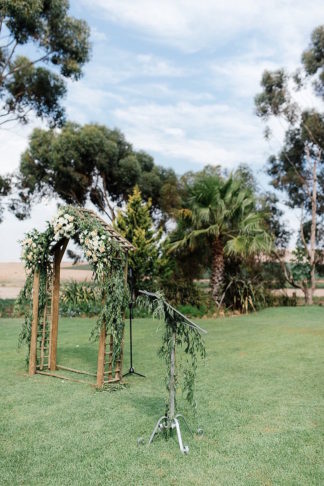 We had a beautiful arch and two beautiful and big flower arrangements on white pews that were on the start of the aisle.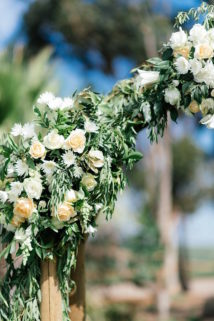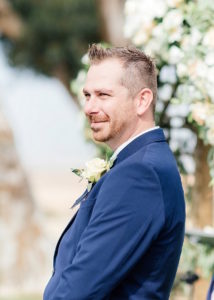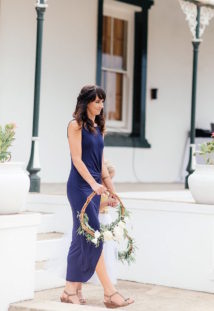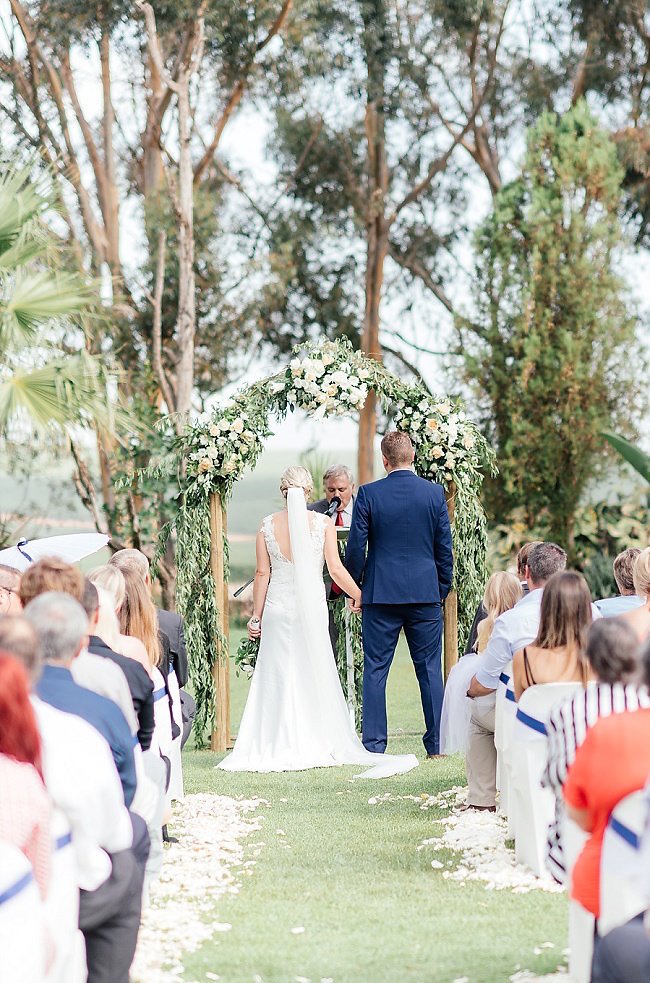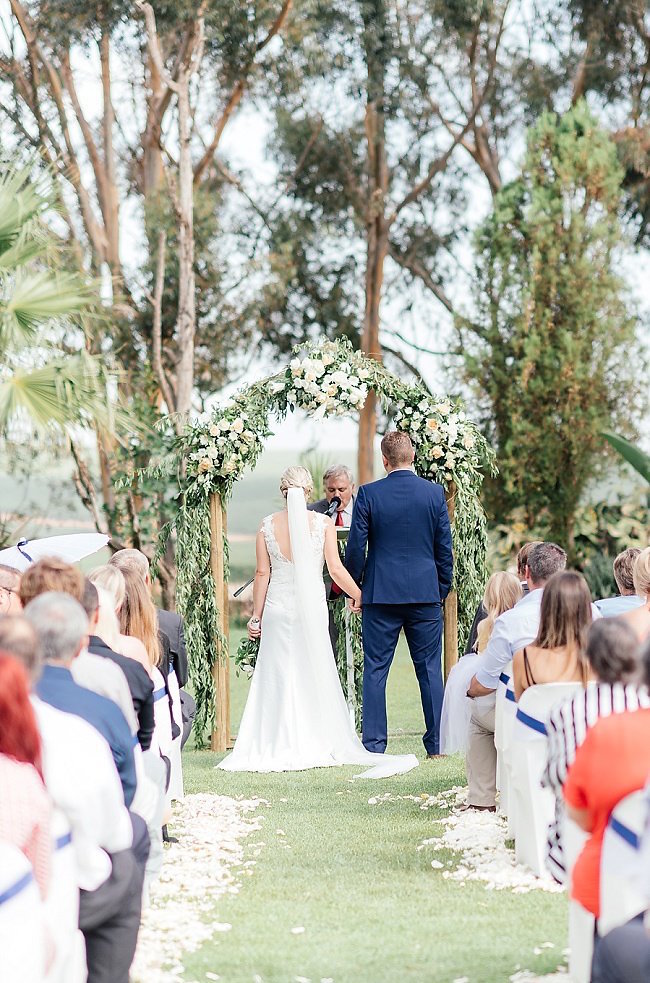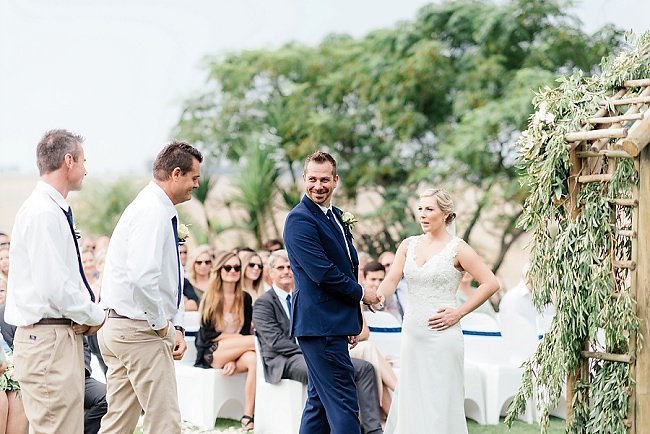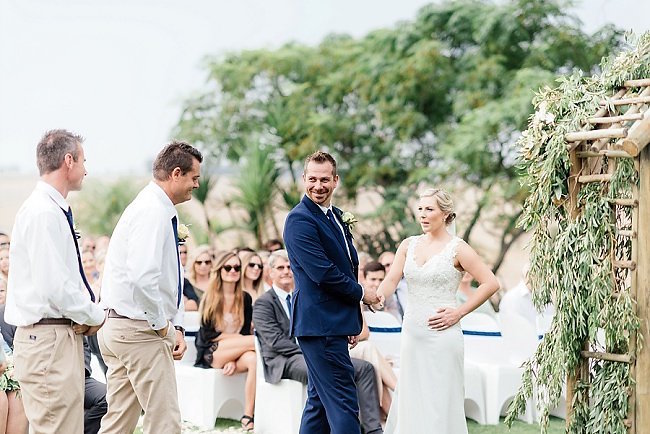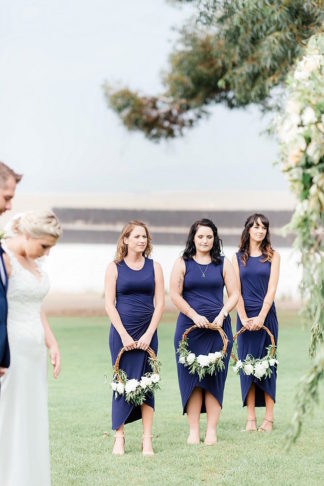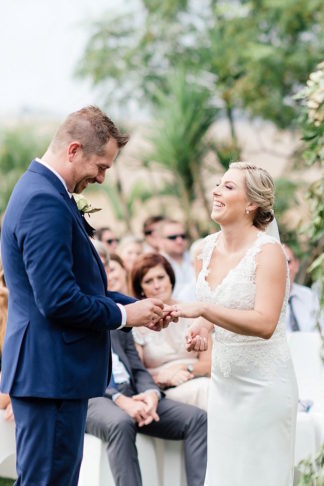 I walked down the aile to Better Place by Rachel Platten. It is such a stunning song, I can't believe that I don't hear it more often at weddings!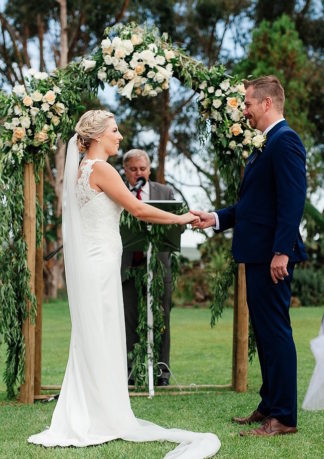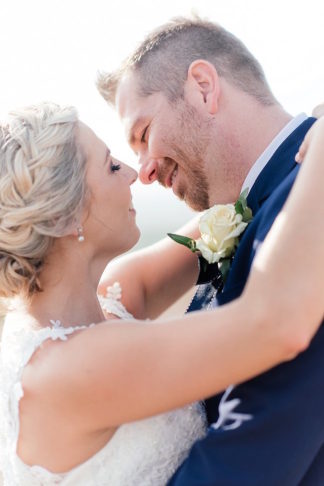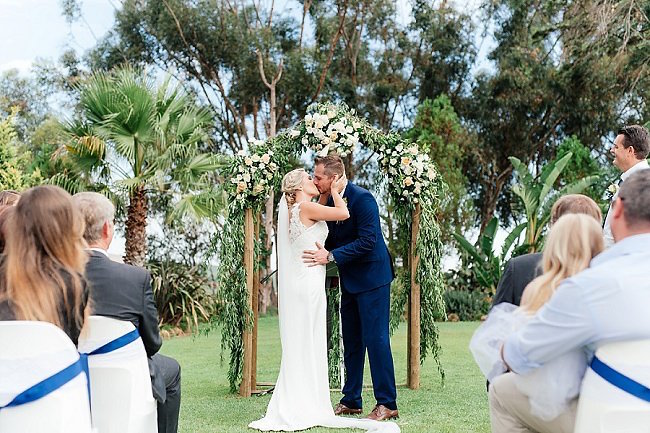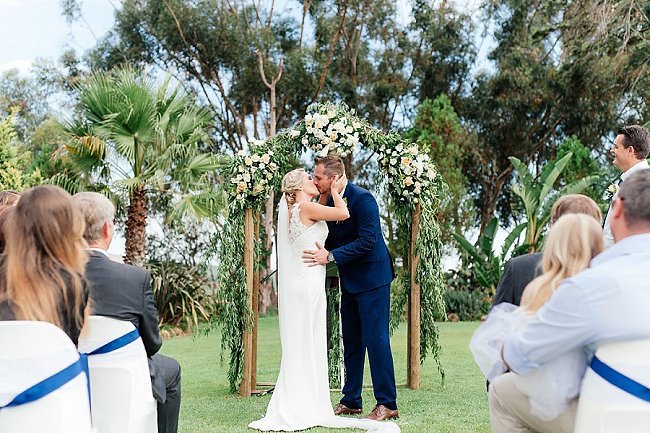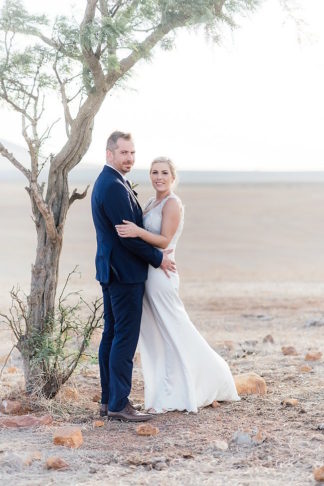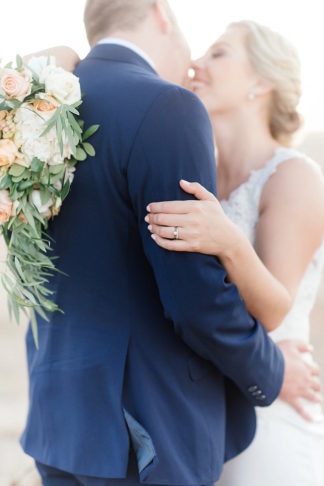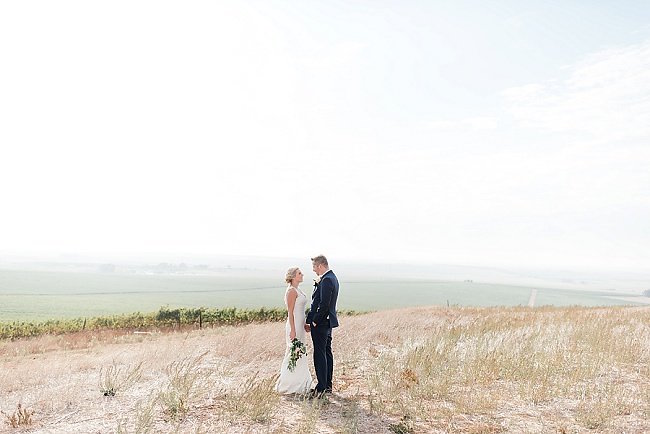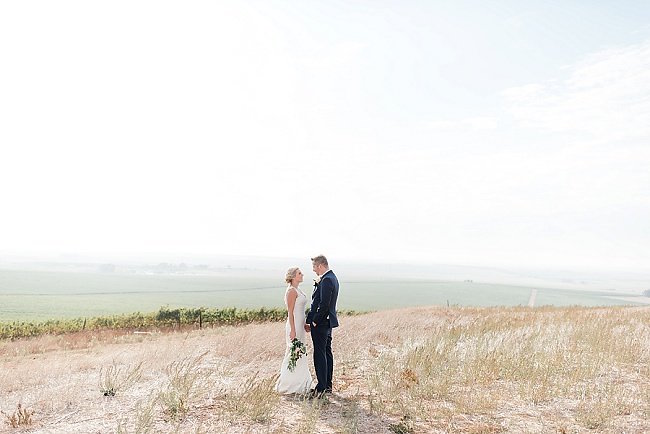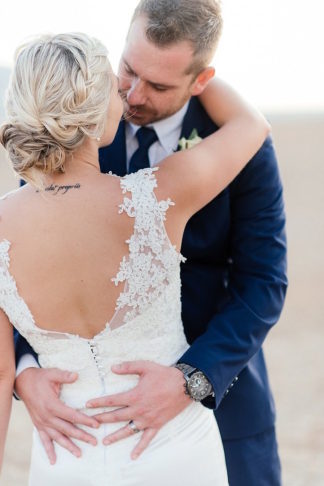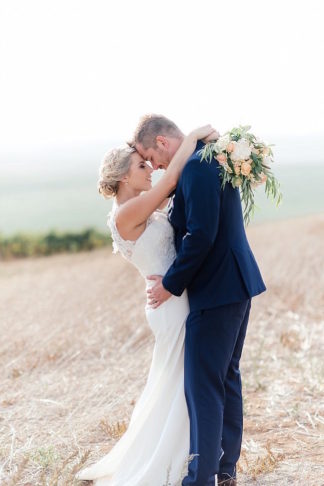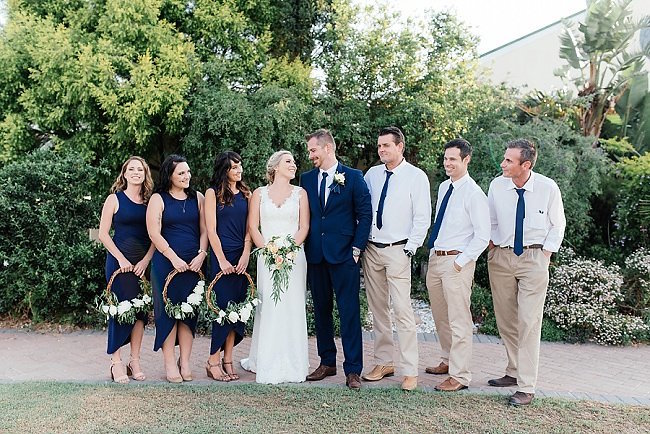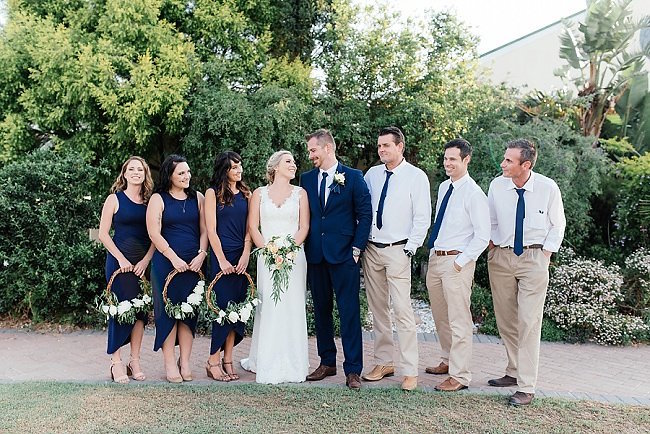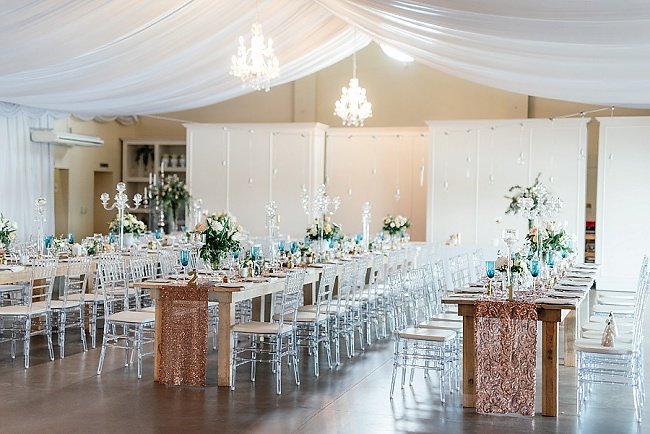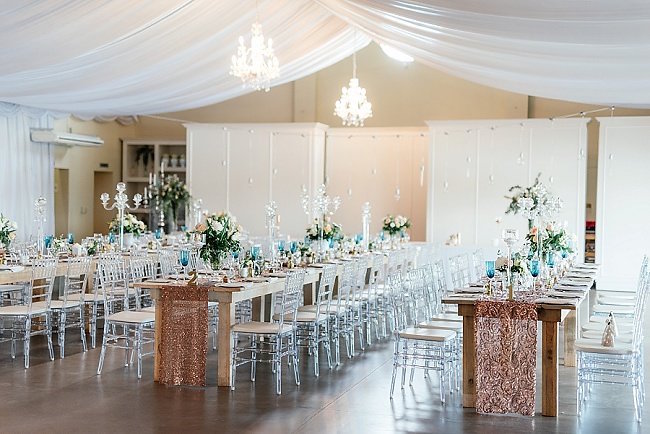 I wanted lots and lots of flowers at our Eensgezind Durbanville wedding. The arch above the bridal table and the floral runners were my original idea, and I loved the different white and glass vases on the guest table that gave the same effect with less.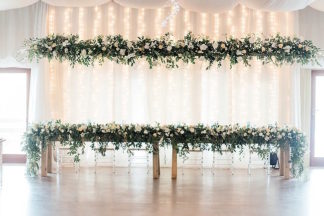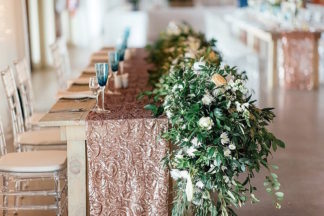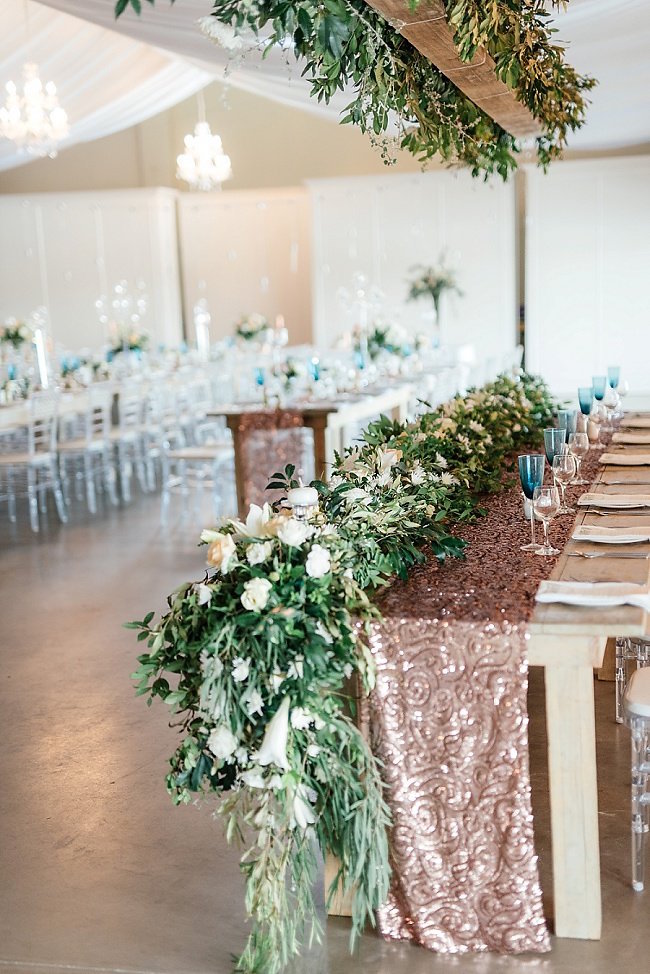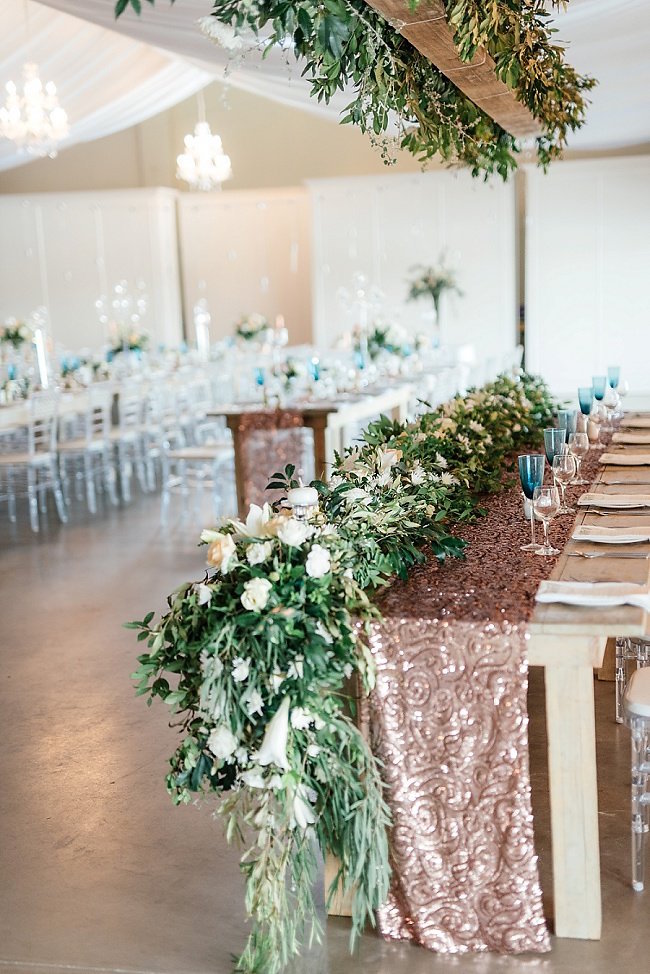 The wooden tables, perspex chairs, bronze sequin runners and peach flowers at our Eensgezind Durbanville wedding reception all came together perfectly!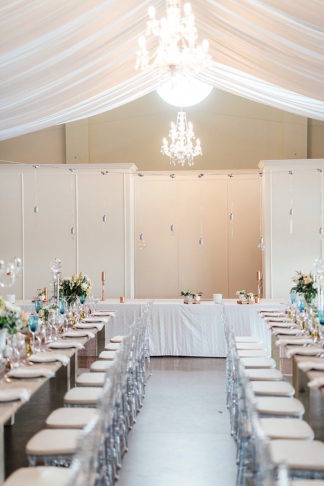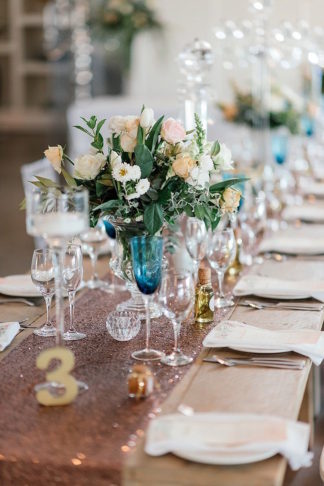 I knew that my colleagues at Eensgezind were going to go the extra mile, because I am part of the family, but they went the extra 100 miles. All of them worked so hard to make all my wishes come true, from the kitchen with my personalized menu to the flowers. They were the reason that I was not stressed at all and it was such an amazing feeling knowing that they did this all because they loved me and wanted the day to be extra special.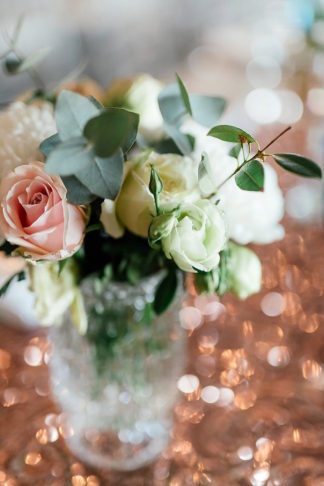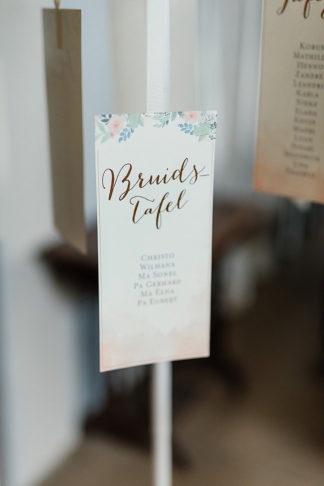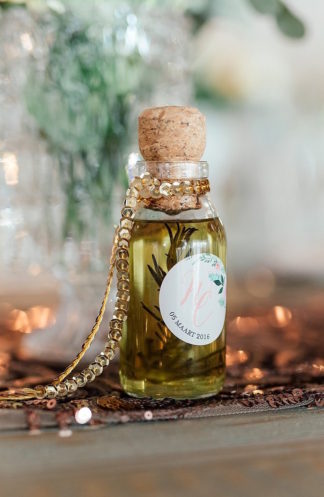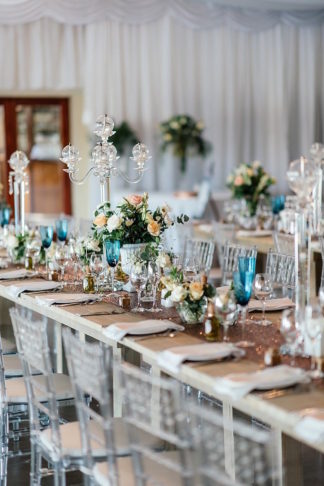 PLANNING TIP: No one except you knows what things are supposed to look like on the day. So if there is something out of place or not exactly like you wanted, don't even worry about it! 🙂 Just relax, enjoy and take everything in as it goes by so quickly.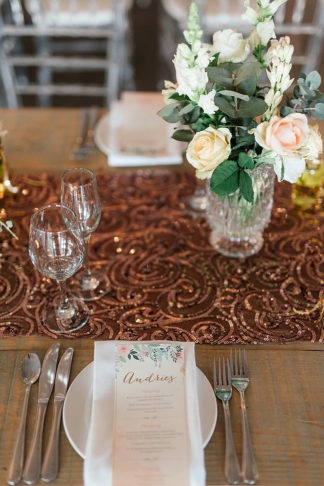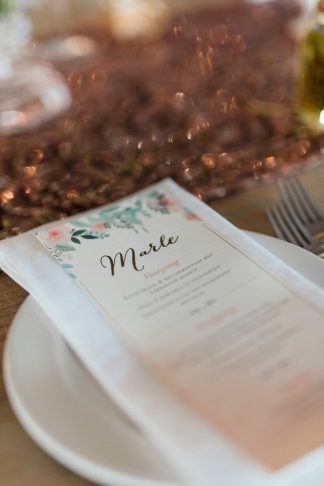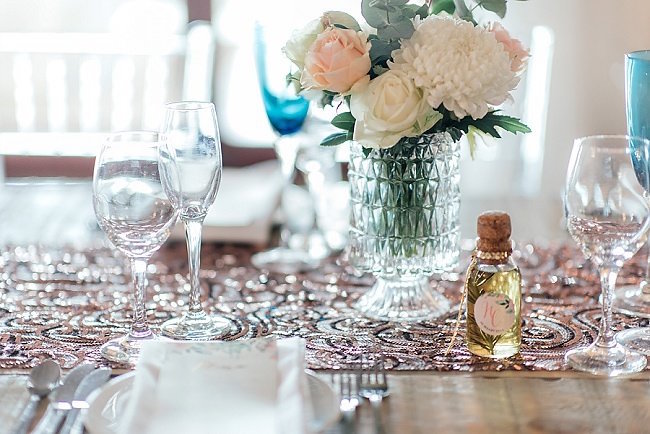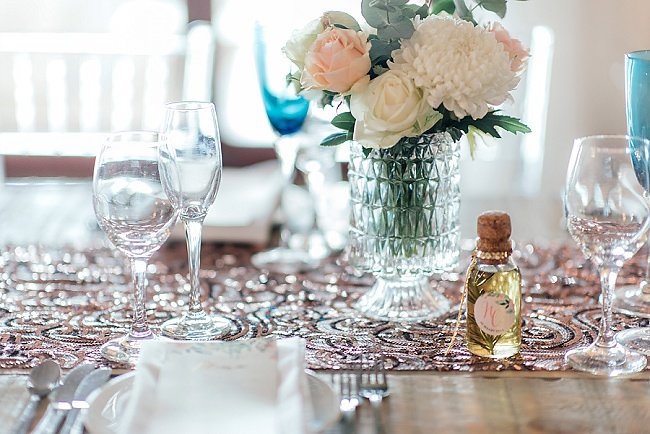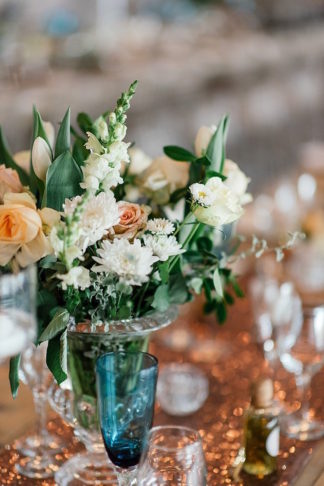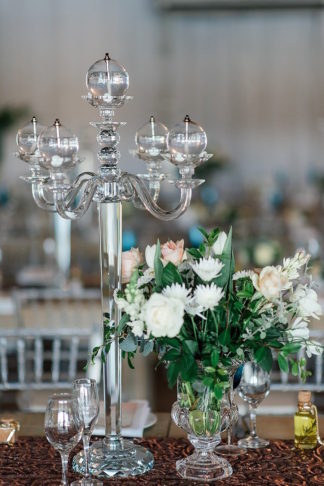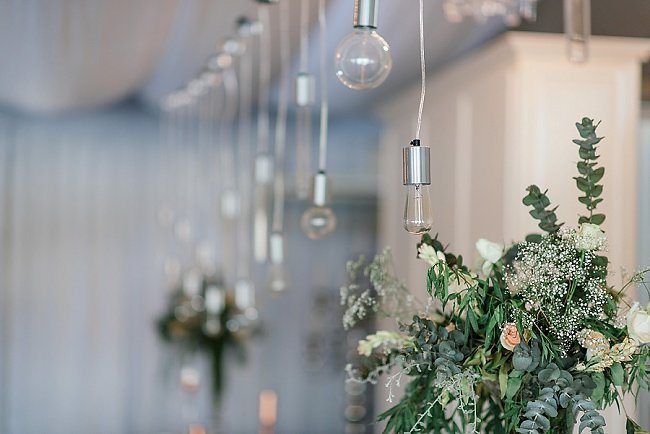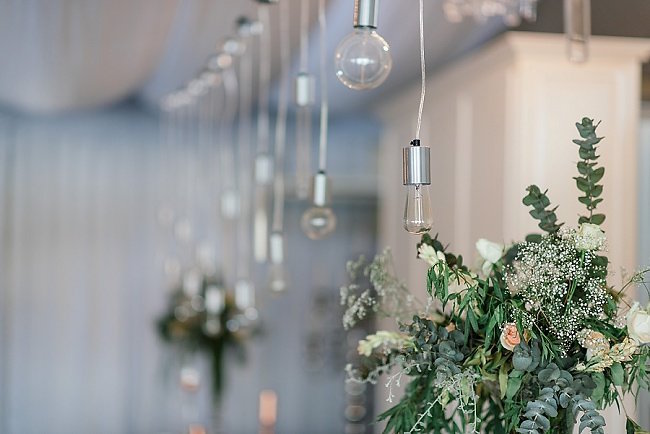 Our seating arrangements were hung from a greenery covered white ring.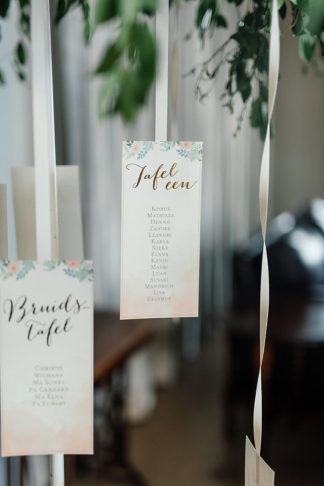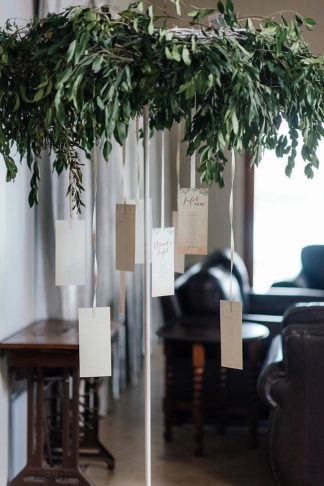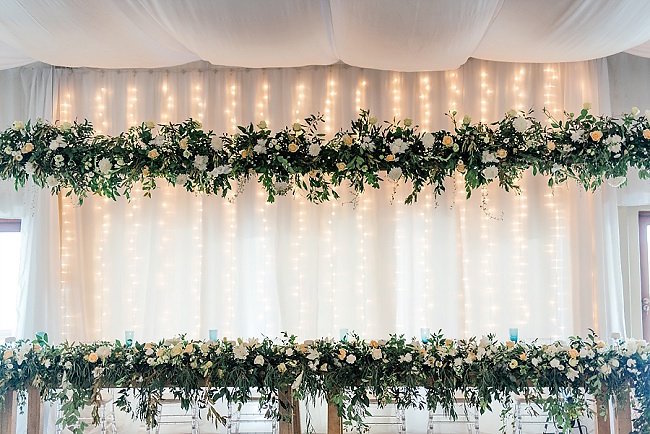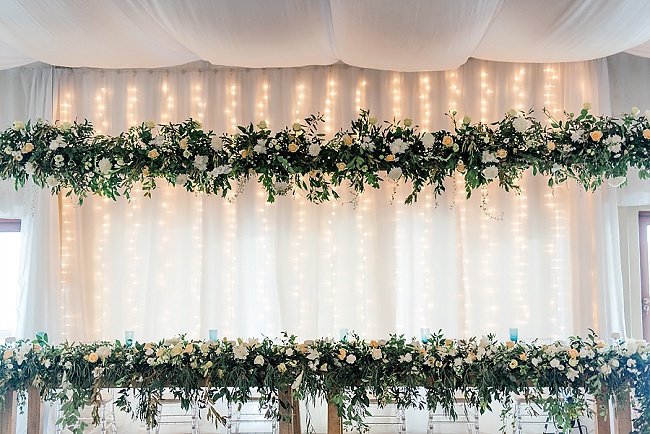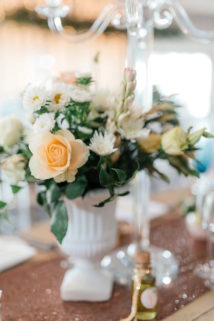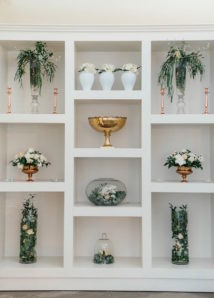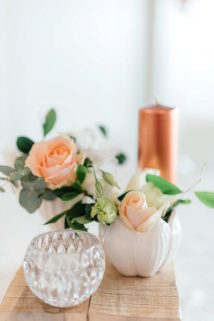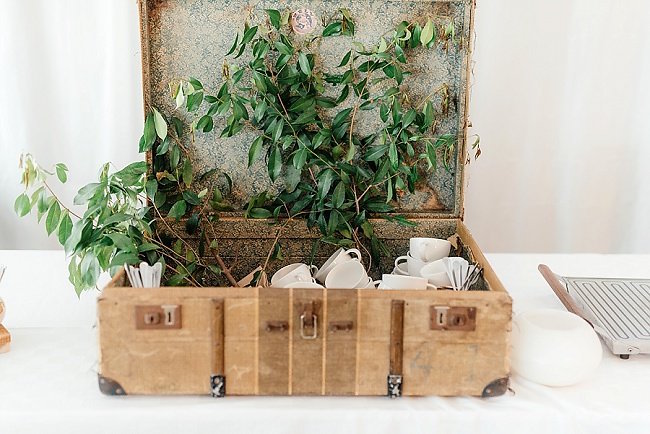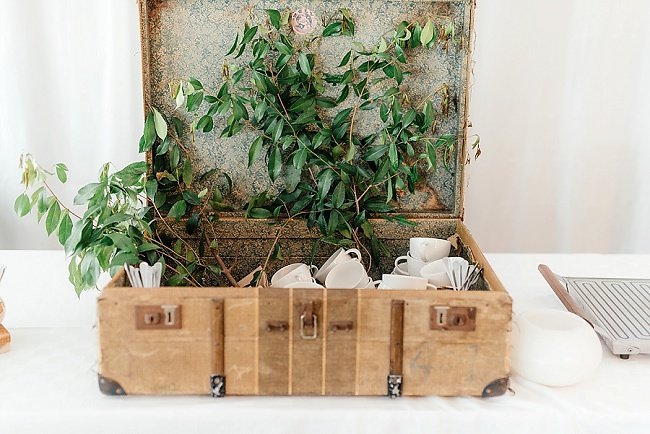 Eensgezind Durbanville Wedding Service Providers:
Venue, decor, flowers and cake: Eensgezind Function Venue
Photographer Debbie Lourens
Tables – Kadou
Dress Rene H Couture
Brides Hair + Make up Lisa Louw
Bridesmaid Dresses Woolworths
DJ / Music Mr.Music
Favors + planning: Wilhana, bride
Stationery Lezanne's Designs
Shoes Forever New
Suits Mr.Suit Hire