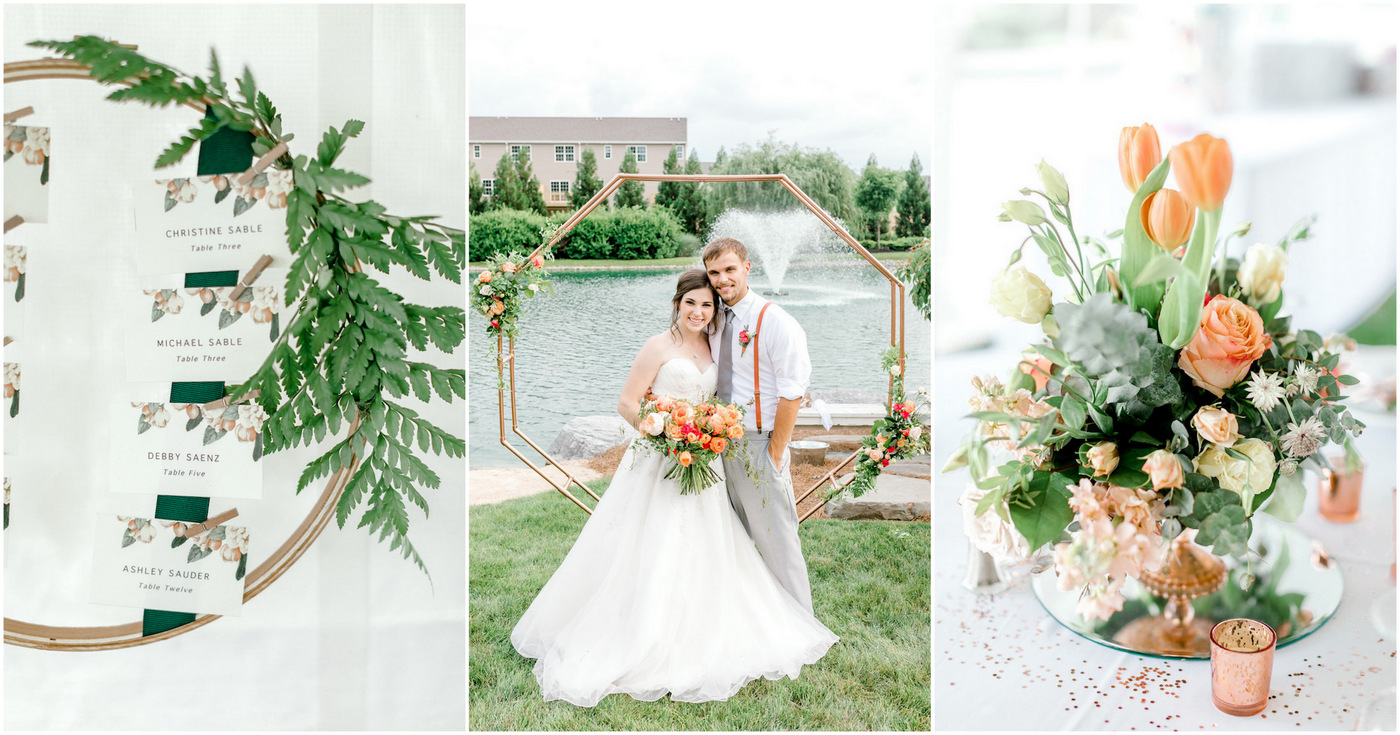 Michelle and Jon's coral, mint and rose gold wedding was a vibrant and colorful backyard garden celebration. Their day was filled with rose gold geometric wedding table decor, a rose gold octagon ceremony arch and greenery hoop seating charts. And love. Lots of love!
Plus it didn't hurt that Michelle is a wedding florist herself, so the absolutely gorgeous florals made this wedding even more of a dream! Photographer Caitlin Gilbert Photography spent the day with the couple, capturing these wedding beautiful pics.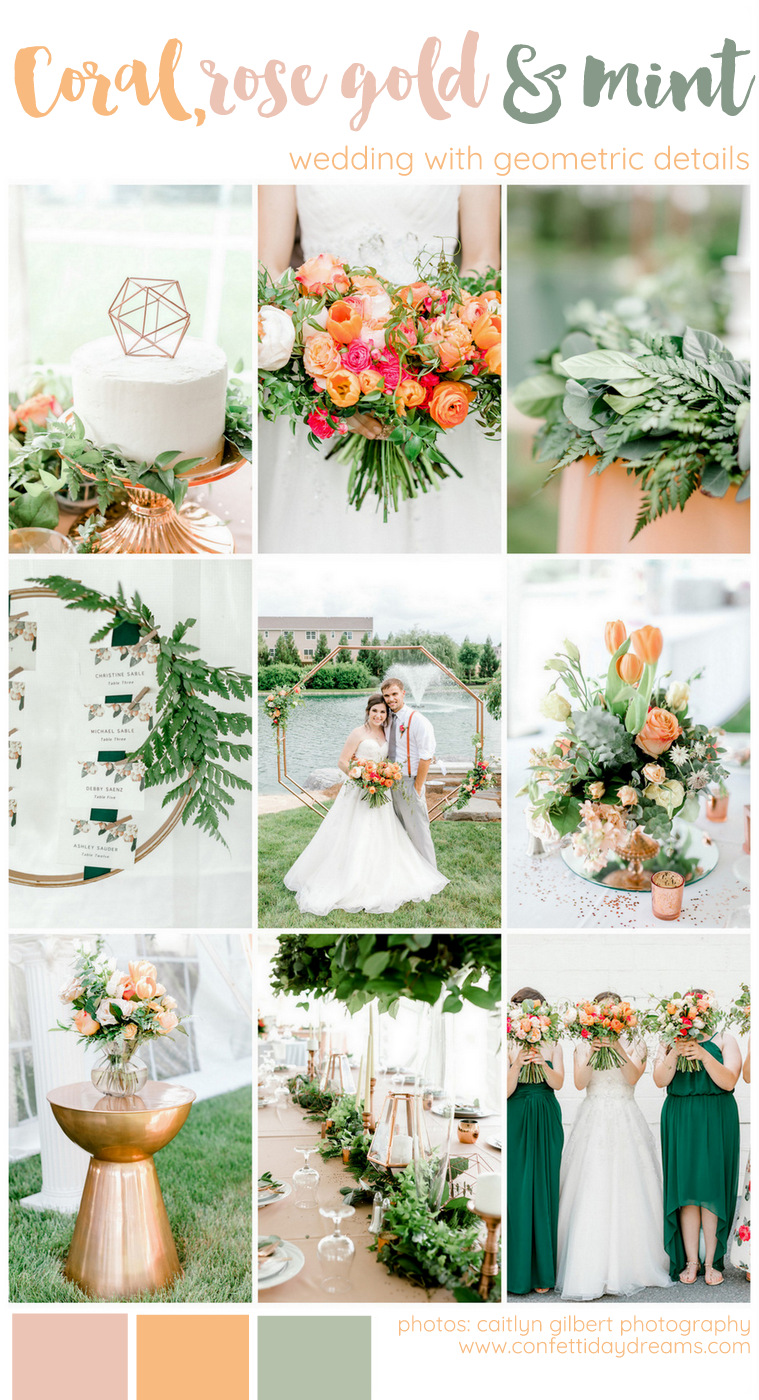 Coral, mint and rose gold wedding
"We wanted our wedding to encompass the feeling and tones of summer – vibrant and light hearted, while still maintaining a level of formality," shares Michelle. "Our core color palette was green, white, and rose gold. However, we chose the colors of the florals to match the bridesmaid's dresses which added orange and coral to the mix. We DIY'ed a lot of things such as the geometric backdrop, the programs, the table numbers, the favors, and the seating chart."
Love story: We met freshman year of High School through a mutual friend but eventually lost touch with each other. However, 6 years later we ended up meeting again through a different mutual friend and that's when it all started! We dated for 5 months before we got engaged at a lantern festival, and 9 months later, we got married!
Coral, mint and rose gold wedding theme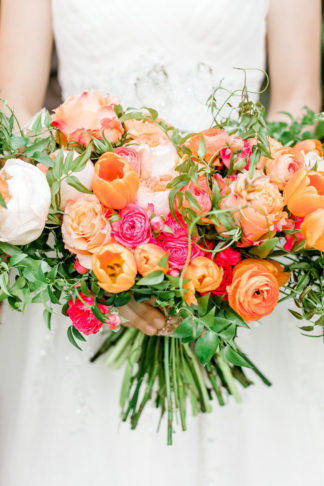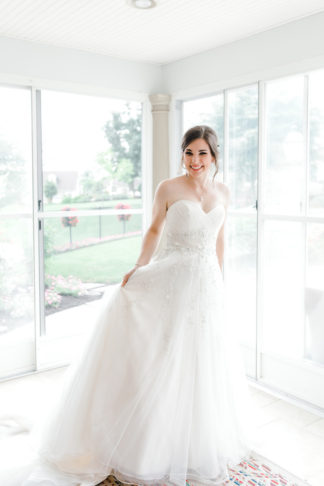 I am a wedding florist and own my own business, so the flowers were a HUGE part of bringing my vision to life. My color inspiration was the bridesmaid's floral dresses. I wanted a summery vibe with lots of greenery and warm tones. I used Garden Roses, Tulips, and Ranunculus to name a few, along with a variety of greens. With help from some friends and family, we designed all the florals for the day ourselves. This included the bouquets all the way down to the loose greenery at the place settings at our coral, mint and rose gold wedding.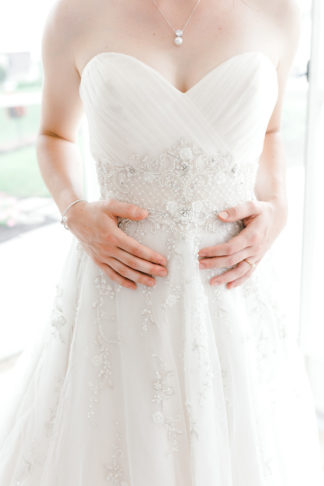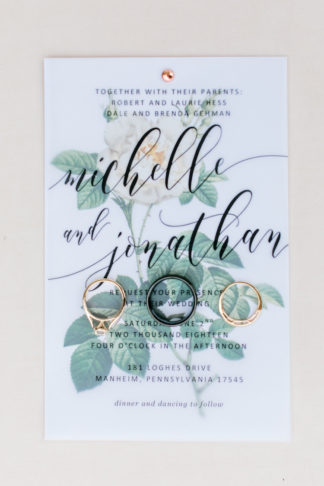 My wedding dress was an A-line dress with a sweetheart neckline and a small amount of detailing at the waist while my hair was styled in a low, messy bun. Even though we had an outdoor wedding, we didn't want to lose the formality that a wedding normally attains. I wanted to maintain a simple, classic look when it came to my make up, hair, and dress.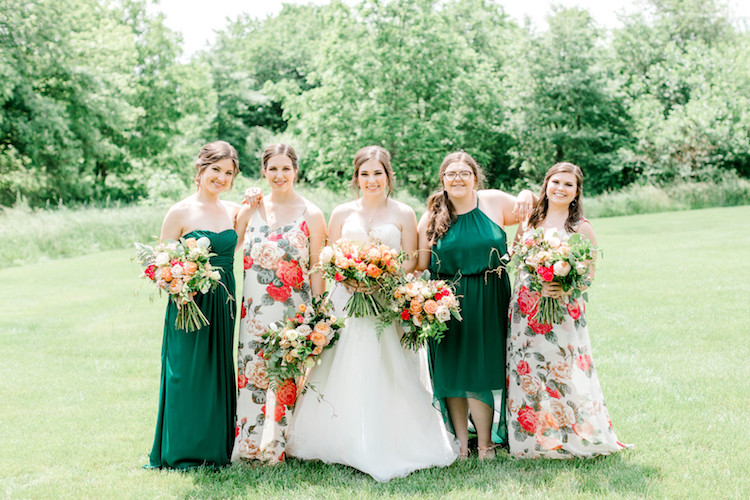 My bridesmaids gowns were cohesively mismatched. We ended up going with two girls in dark green chiffon dresses and the other two in a chiffon floral print dress. All of the dresses had different cuts so each bridesmaid felt comfortable throughout the day and was able to pick one that they liked personally.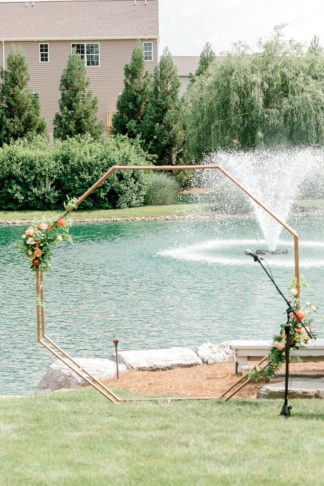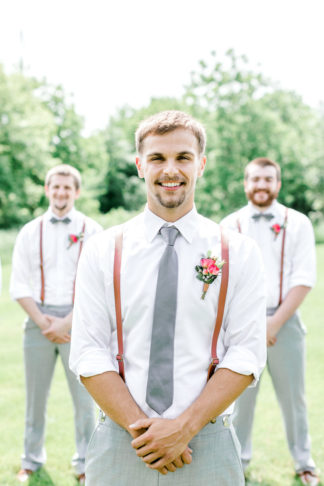 Jon wore light gray pants, a white shirt with a gray tie, brown suspenders, and brown shoes. The groomsman wore the same, except for gray bowties.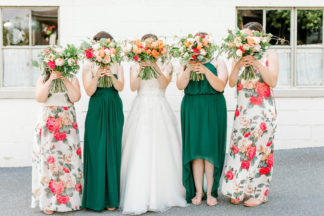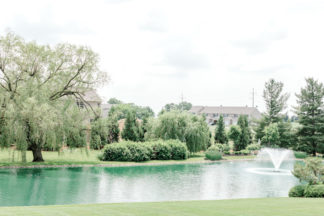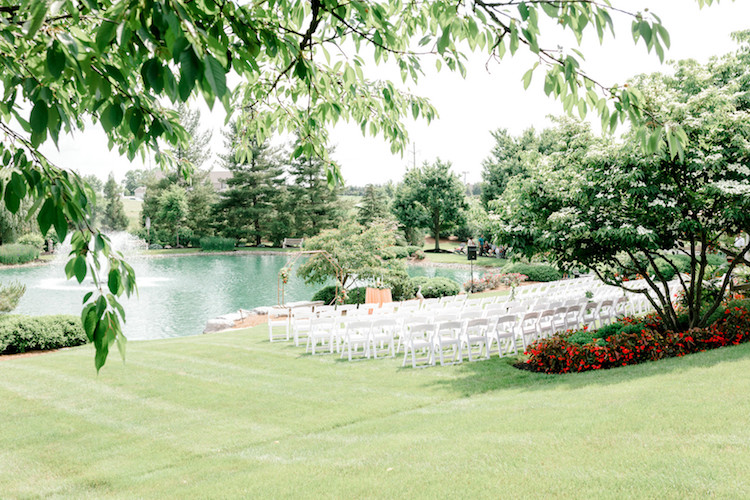 We wanted to keep the decor for our wedding ceremony simple since the area was already so beautiful.  We added some florals to the entrance of the aisle and greenery attached to the rows of chairs, and the Unity Candle table.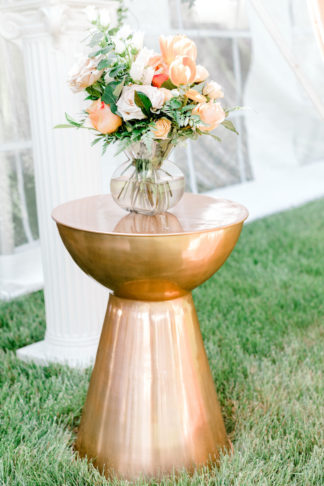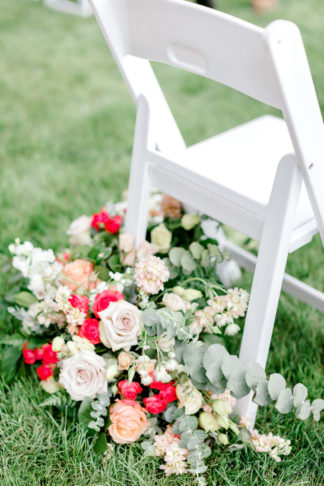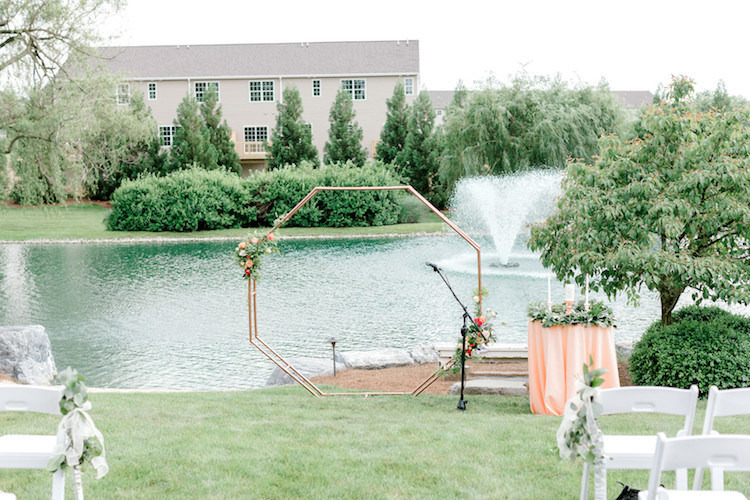 Jon made the rose gold geometric ceremony backdrop for our coral, mint and rose gold wedding theme and kept it simple enough so the guests could still see the fountain the the background!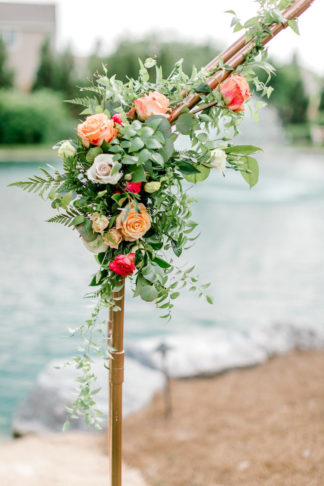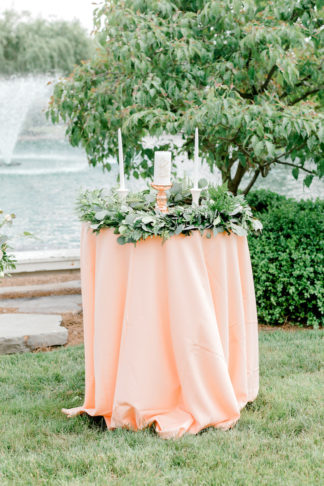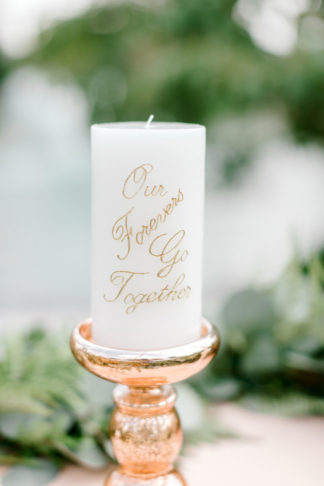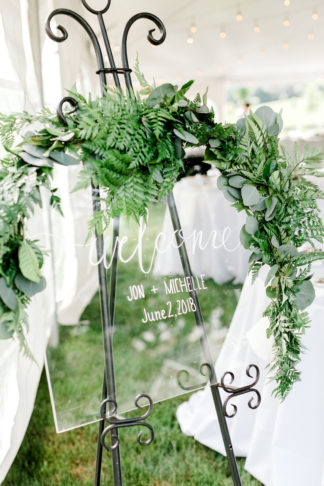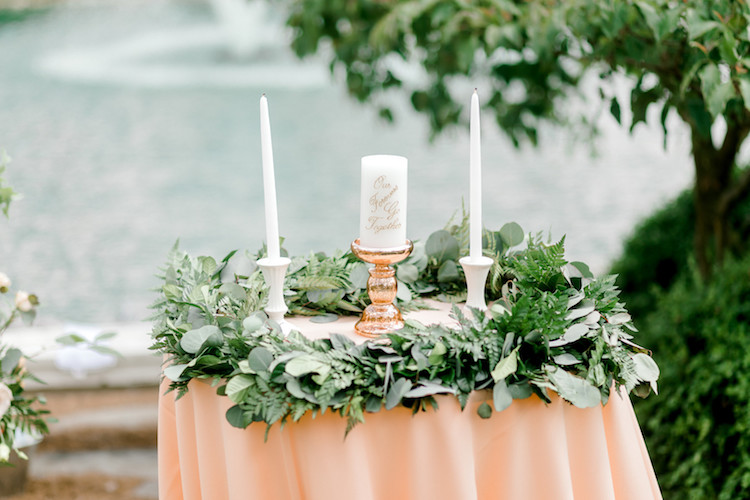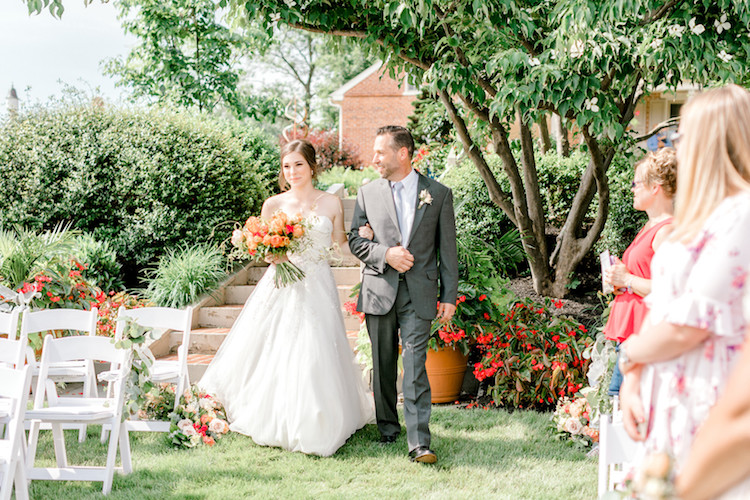 We didn't do a first look so the first time we saw each other that day was when I was walking down the aisle. Jon's face was so sweet and the photos of that moment always melt my heart!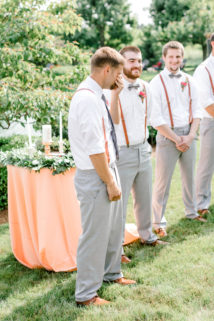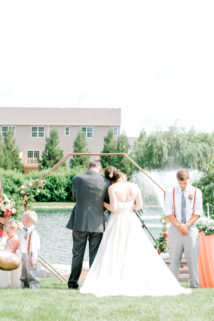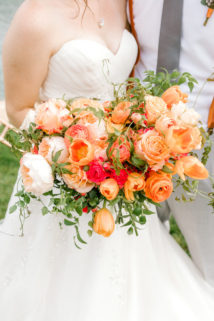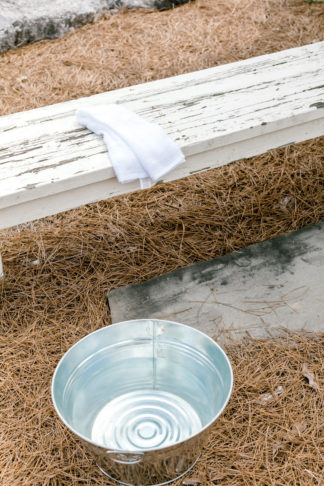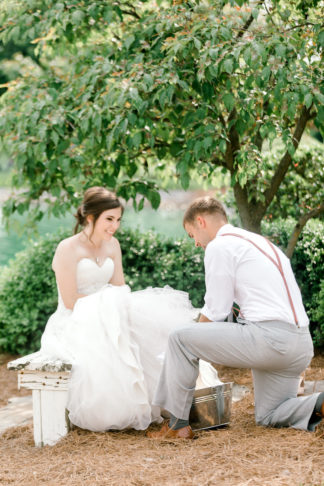 We wanted to keep the ceremony short and sweet and focusing on the topic of service to one another. We said traditional vows, lit a unity candle, and washed each other's feet as a sign of service.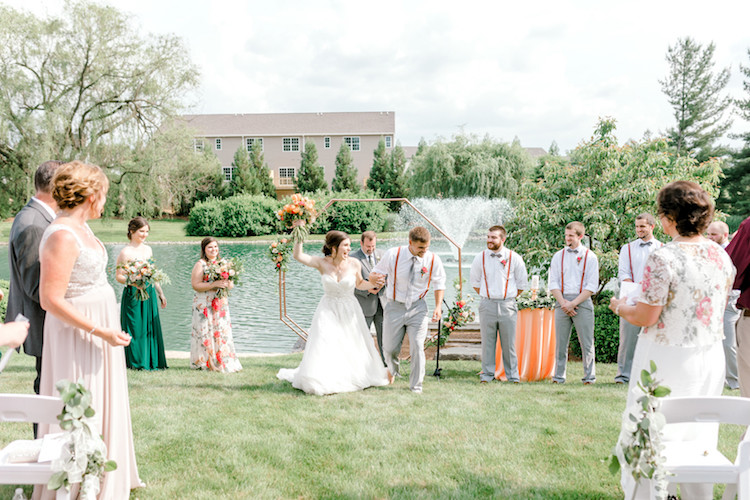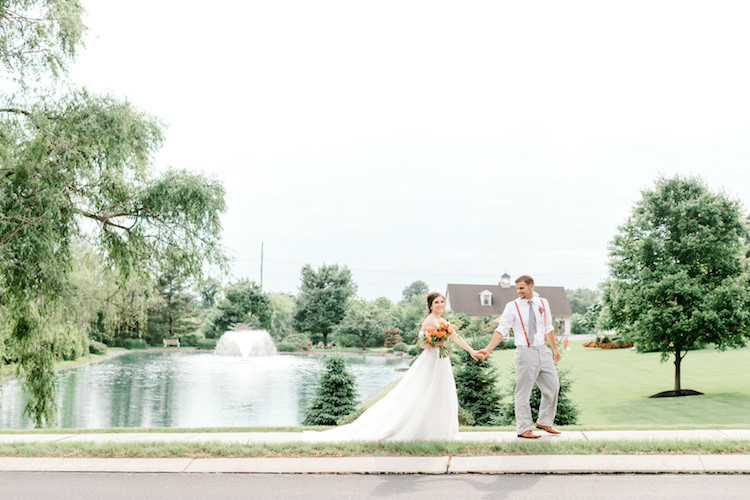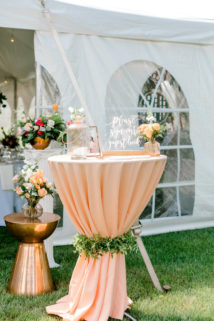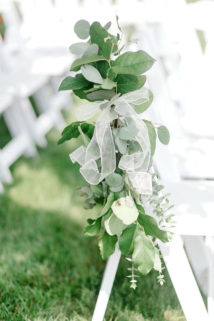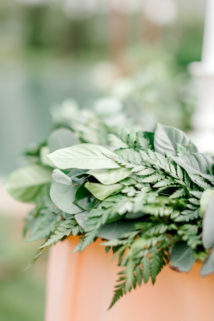 After the wedding ceremony, we created a space for the guests up at pool to have cocktail hour. Our coral, mint and rose gold wedding reception took place under a tent on the other side of the property.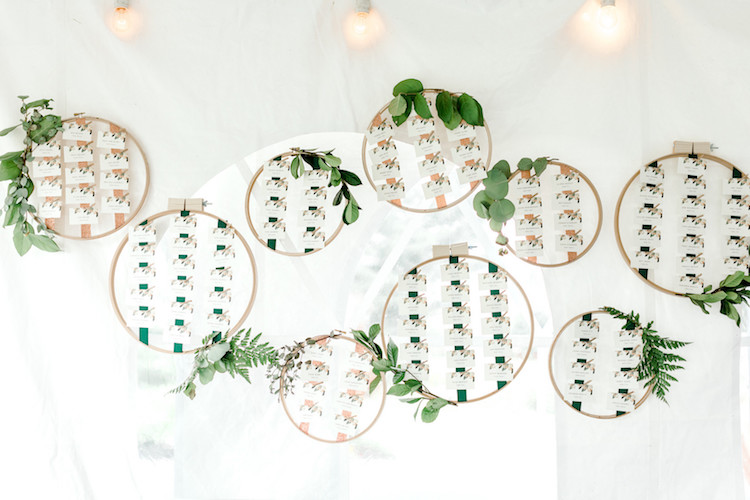 We made our seating chart out of embroidery hoops using ribbon, greenery and rose gold hoops.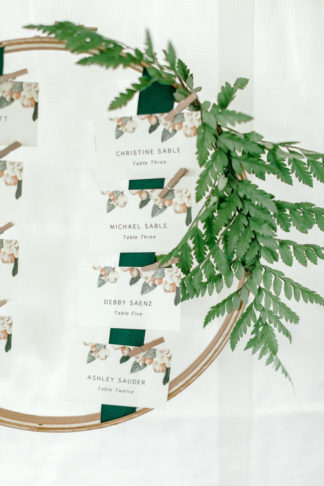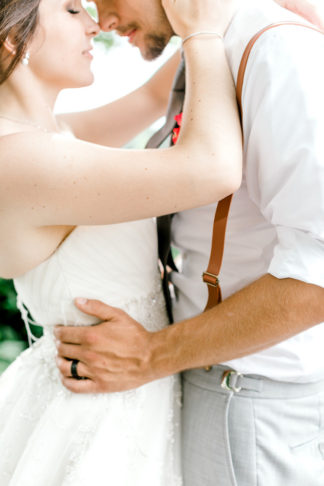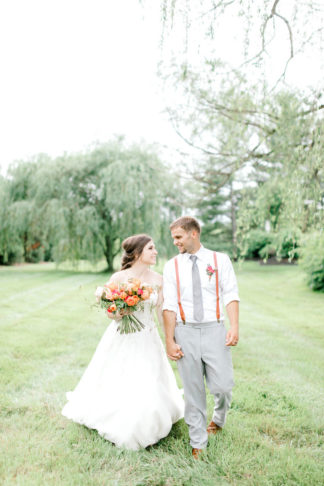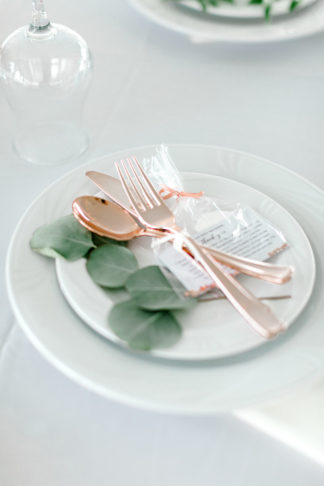 Our wedding centerpieces including tall greenery centerpieces, low floral centerpieces, and candle centerpieces. Each one had rose gold glitter around it along with rose gold votives.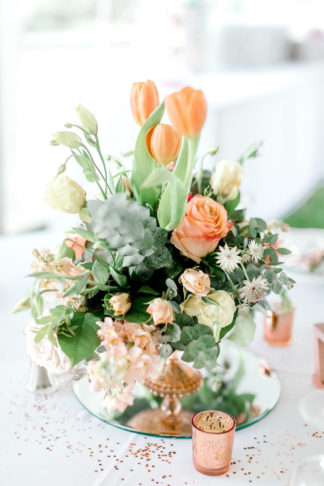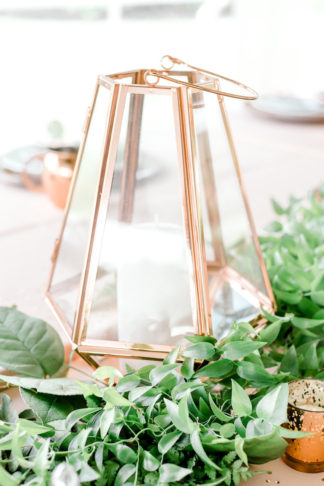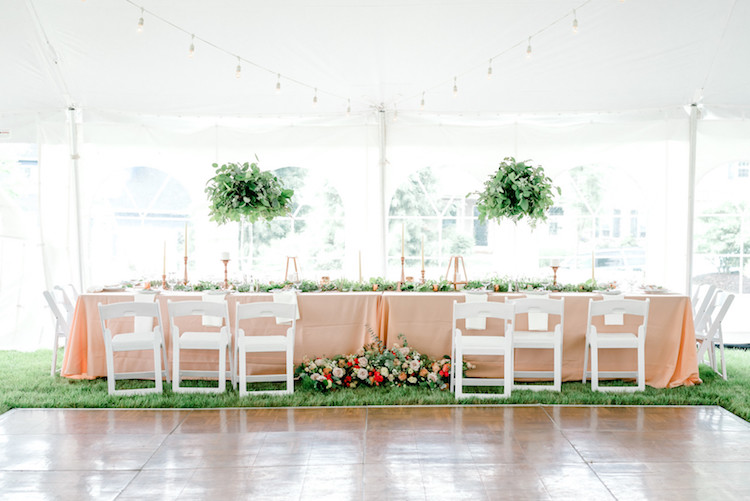 Our bridal party sat at a King Arthur Table so all of the bridesmaids/groomsmen's dates could sit with them. It was complete with a greenery garland down the center, along with rose gold decor and candles.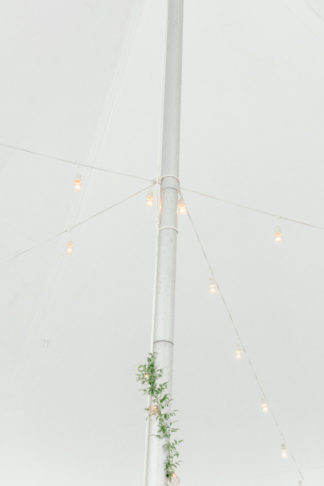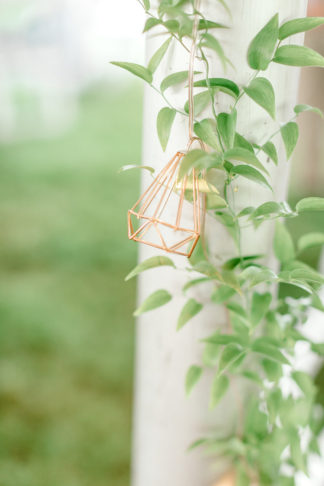 We arranged Smilax vines climbing up the tent poles along with small geometric lights.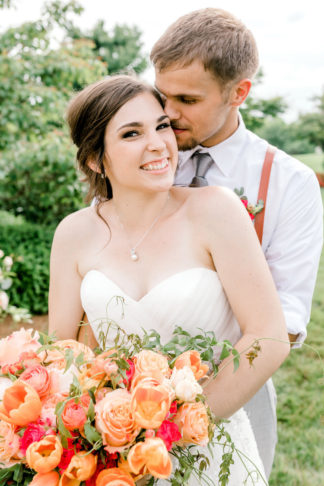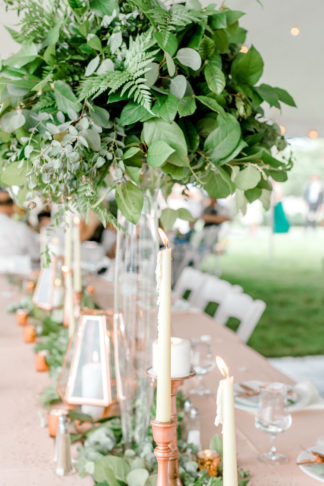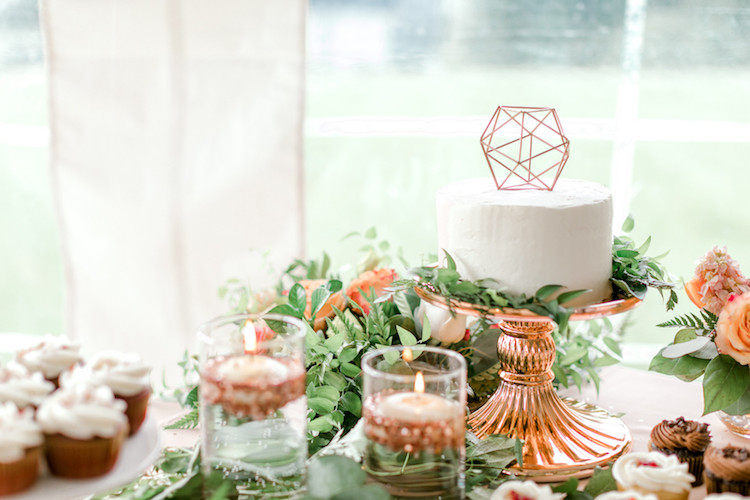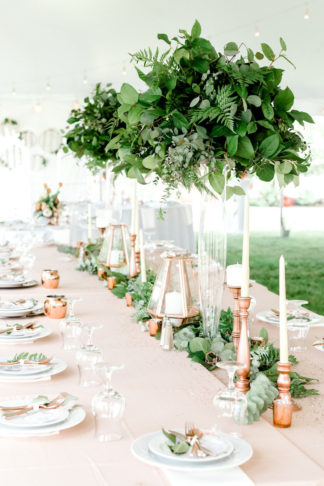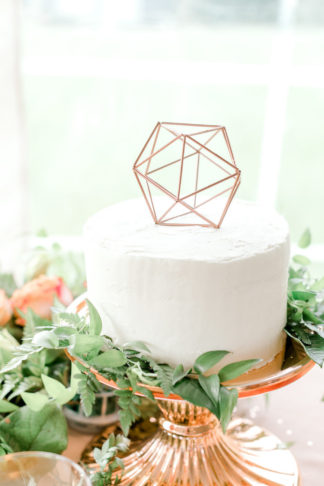 Jon and I shared a small cake just for the two of us, while the guests ate cupcakes for dessert. We bought huge rose gold letter balloons that spelled out LOVE and set them behind the dessert table. At around 7:00 that evening it starting pouring rain! But we were all dry under the tent dancing our hearts out. After a couple hours of partying – we left with a sparkler exit!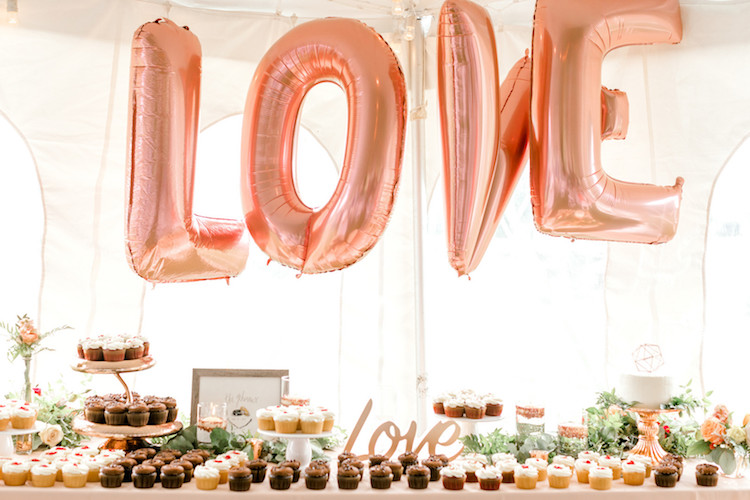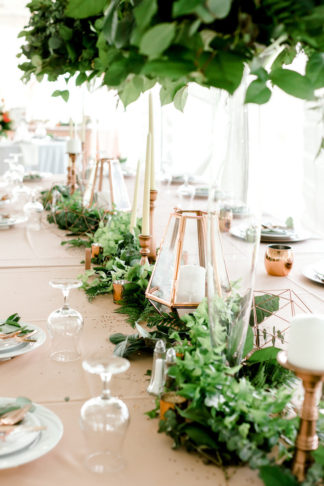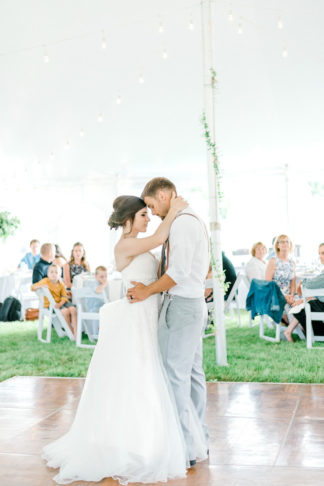 Wedding Planning advice:
If you have the time, DIY! I put our invites together along with a lot of other things. Yes, it took time but it does save money.
What are you going to look back on 20 years from now and be glad that you spent the money on? Decide what's important to you.
Wedding Service Providers: Photographer Caitlin Gilbert Photography // Bridesmaid Dresses David's Bridal + Show me your Mumu // Dress Country Threads by Gail  // Brides Hair Tousled Beauty @tousledbeauty // Brides Make-up Amanda Blaney  // Flowers Lips "Tu"lips Flowers // Cake Rachel Horst @rach.cakes.2016 // Decor AcMoore Accent Decor + Hobby Lobby  // Favors Etsy // Stationery Pipkin Paper Co. // Suits Men's Wearhouse