Colorful Rustic Outdoor Wedding
Vermont Wedding
♥  ♥  ♥
Patrick and Charlene's outdoor rustic wedding affair was held in Grand Isle, Vermont, USA. Similar to this Green and Yellow Rustic Garden Wedding, their wedding was bags of fun, with the wedding couple serving up locally-made ice cream cones for their guests to enjoy!
As many of their guests were from out-of-town and had never been to Vermont before, the lovebirds wanted to highlight what Vermont had to offer. Inspired by the stunning lakeside Vermont surrounding, their rustic wedding theme was an elegant occasion that had local foods and beers, apple cider donuts and maple syrup for wedding favors. Not to mention, the locally grown flowers, which were just too colorful for words, you've got to see them for yourself! Artsinfotos Photography were there to snap away at their wonderful wedding day!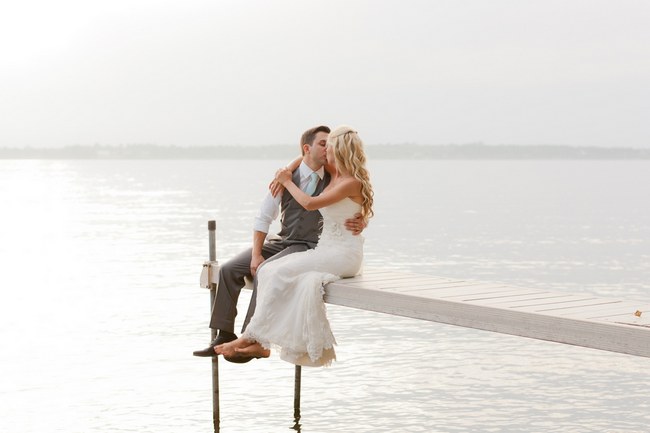 Colorful Rustic Wedding Look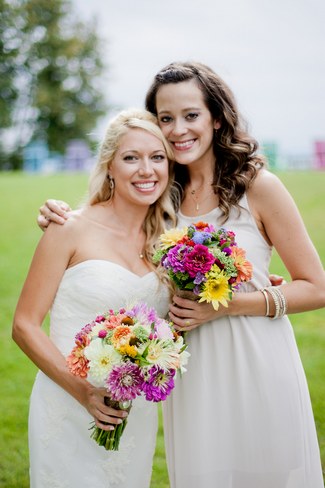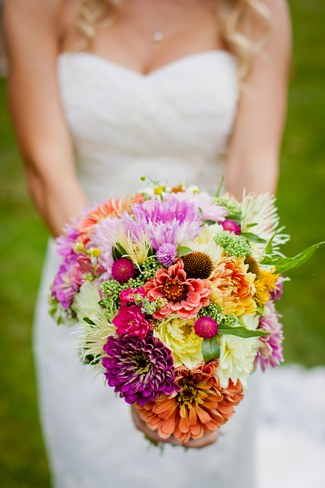 (Above) Colorful Rustic Bridal Bouquets: The bridal bouquets were colorful arrangements of freshly picked blooms bursting with colour!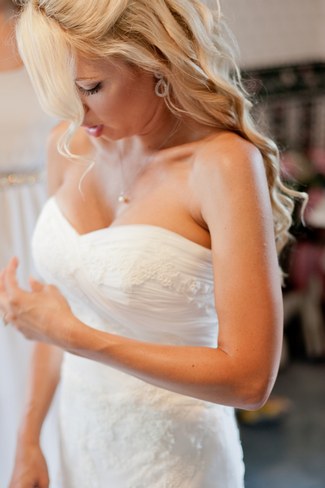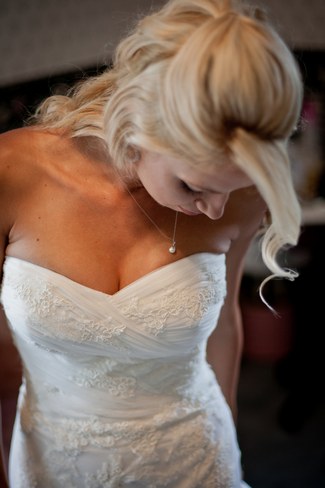 (Above) Bridal Look: Charlene looked exquisite wearing a sleeveless sweetheart neckline wedding gown with intricate lace and flower details.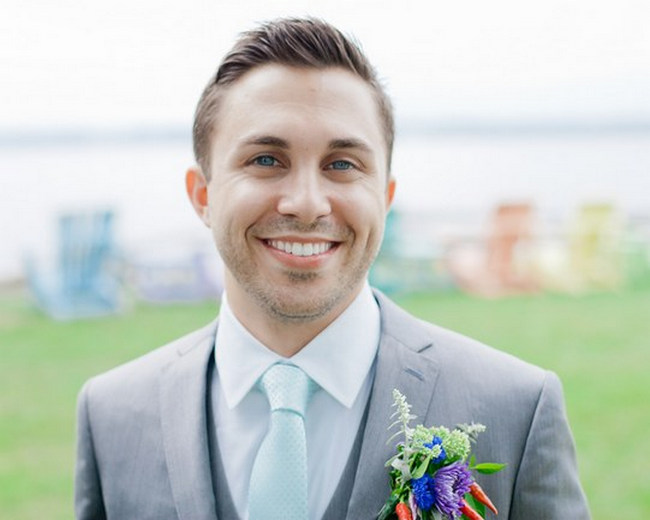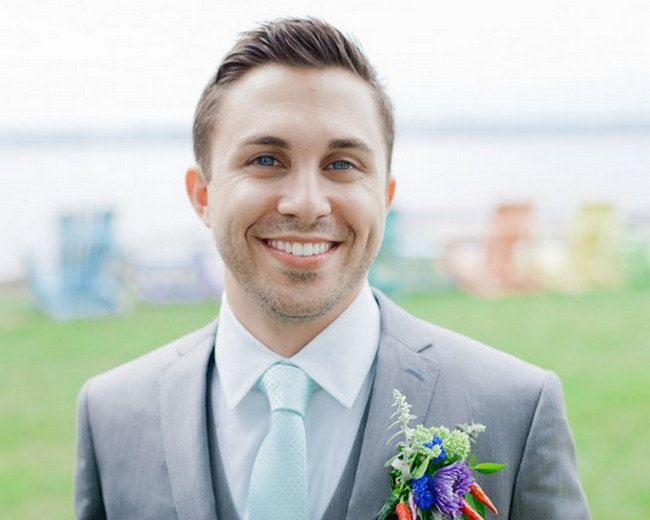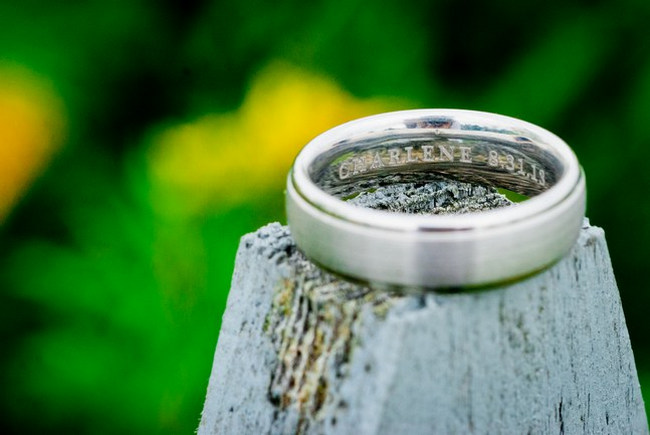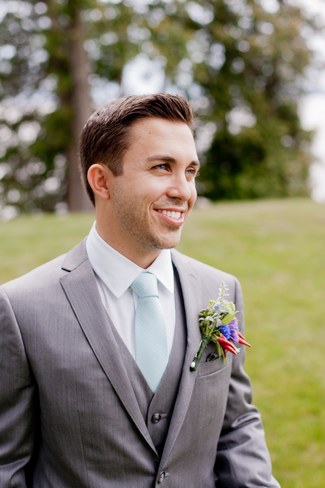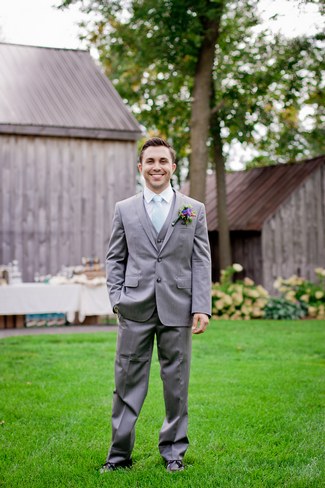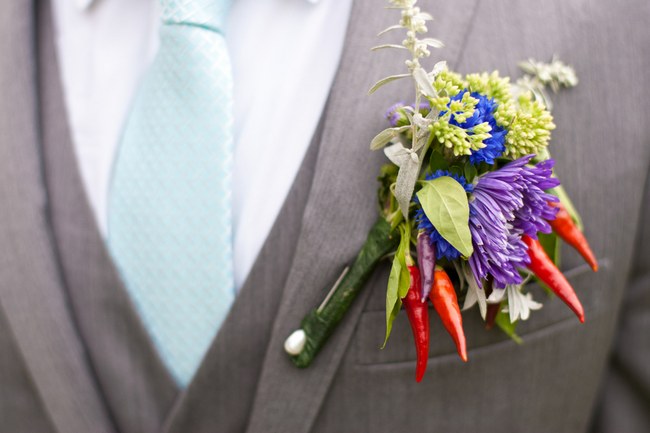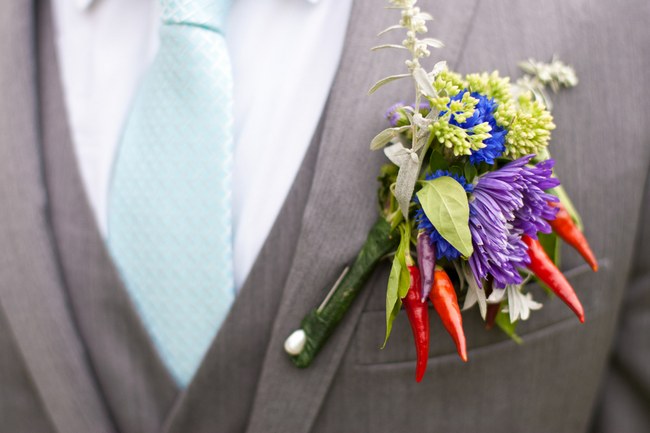 (Above) Colorful Rustic Boutonniere: A colorful boutonniere was pinned to the lapel of Patrick's suit. A mix of blue and purple flowers, greenery as well as blood-red chillies added a colorful touch to his grey suit blazer.
Colorful Rustic Outdoor Wedding Ceremony
Their outdoor wedding ceremony was held on perfectly manicured green lawns boasting beautiful views of the nearby Vermont lake in Grand Isle.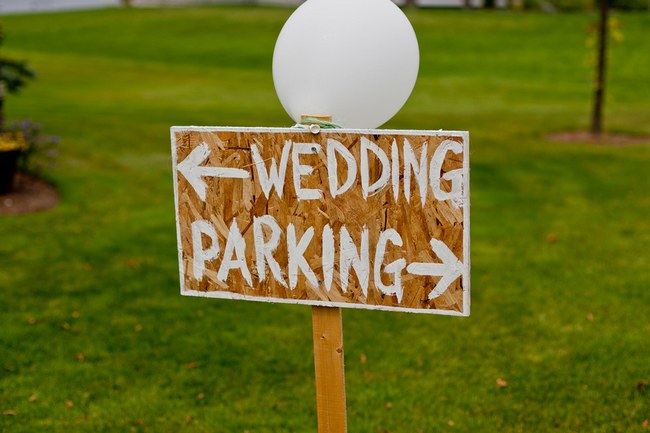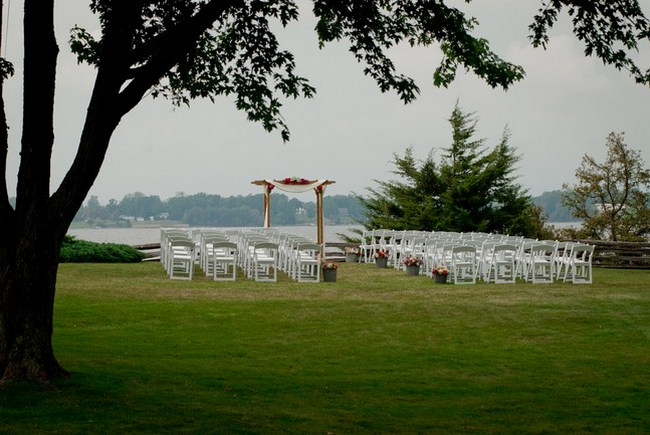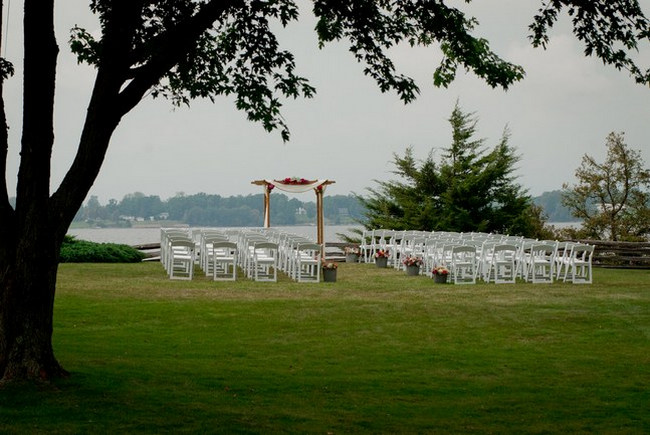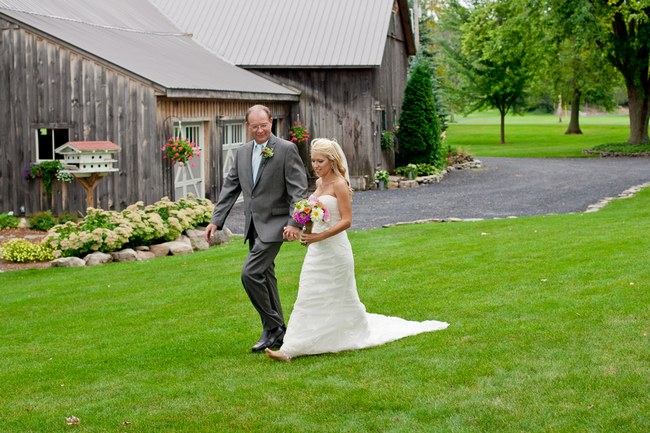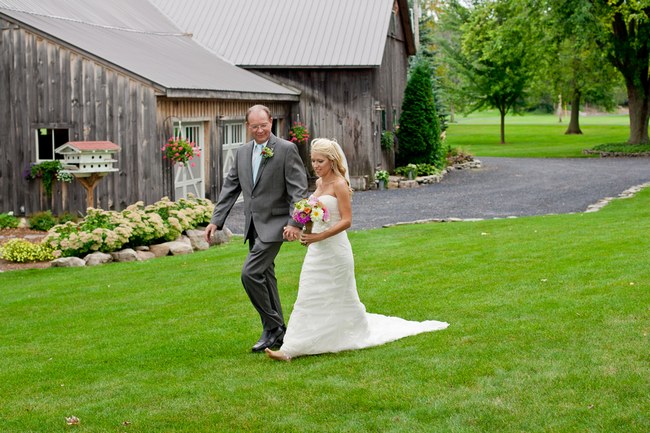 Patrick and Charlene's Love Story
Charlene shares their whirlwind love story, from friendship to newlyweds: We were introduced by a mutual friend. At first, we became best friends and were inseparable. It wasn't long before we fell in love, started dating and eventually got married.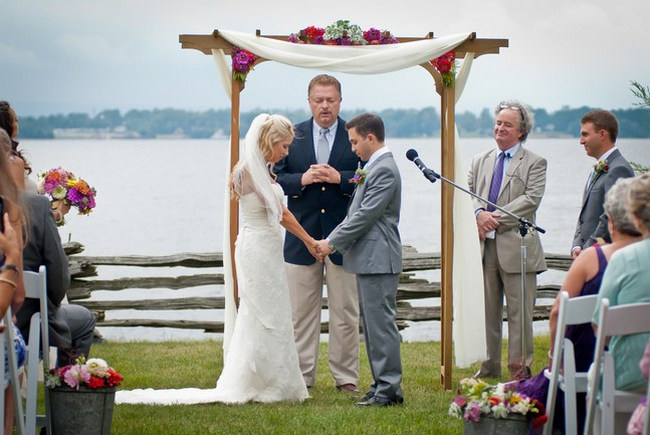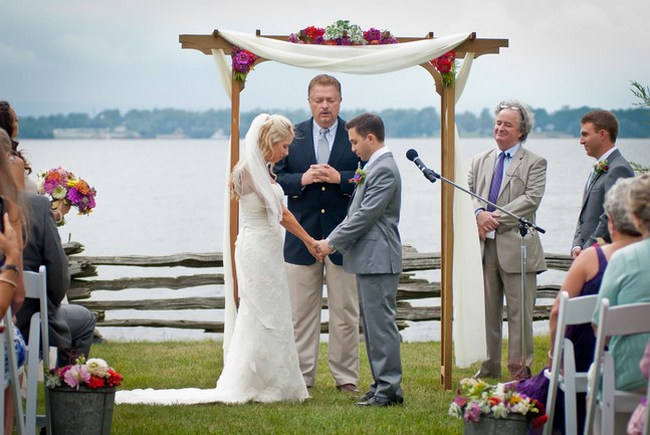 (Above) Colorful Rustic Wedding Arch: While exchanging their wedding vows, the couple stood beneath an elegant wooden arch adorned with a flowing white draping and a pretty arrangement of colorful florals.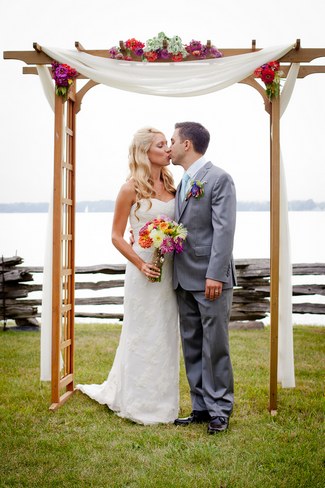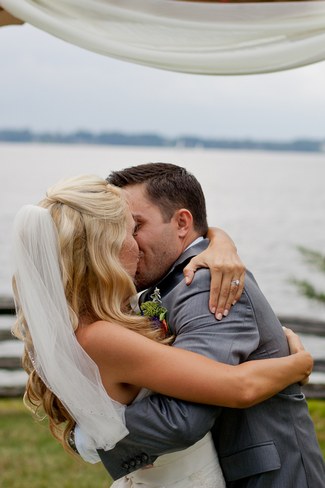 The Tale Of Their Proposal
Charlene reveals Patrick's surprise birthday proposal: Patrick made the proposal a day to never forget. He surprised me with a trip to San Francisco for my birthday and took me to the beautiful Palace Of Fine Art, which looked too good to be true. While there, Patrick gave me a birthday gift, a photo book he made titled, "Happiness Is…". Each page read "Happiness is… ", followed by something special. Example: "Happiness is…Our first trip together to Hawaii". The photos on each page corresponded with the theme of the happiness. The last page read: "Happiness is… Spending the rest of my life with you." As I read this last page, he got down on one knee and proposed. As if that weren't amazing enough, he had my cousins hiding to take pictures of the whole proposal so we can cherish the moment forever.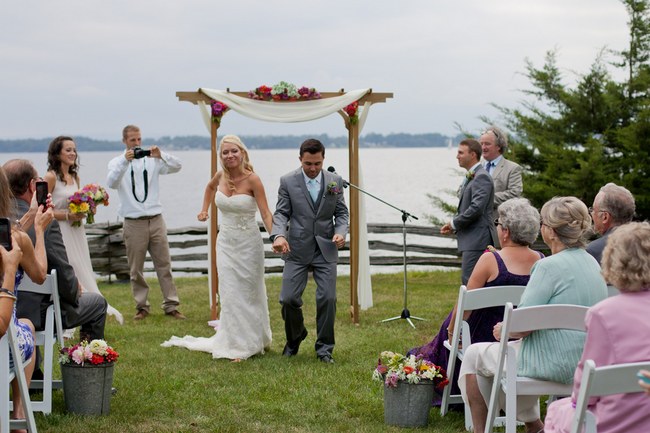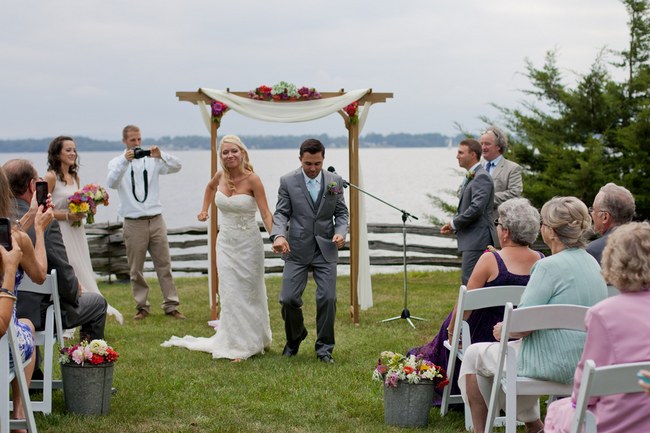 (Above) Colorful Rustic Wedding Ceremony Aisle Decor: Metal buckets filled with colorful flowers lined the ceremony aisle.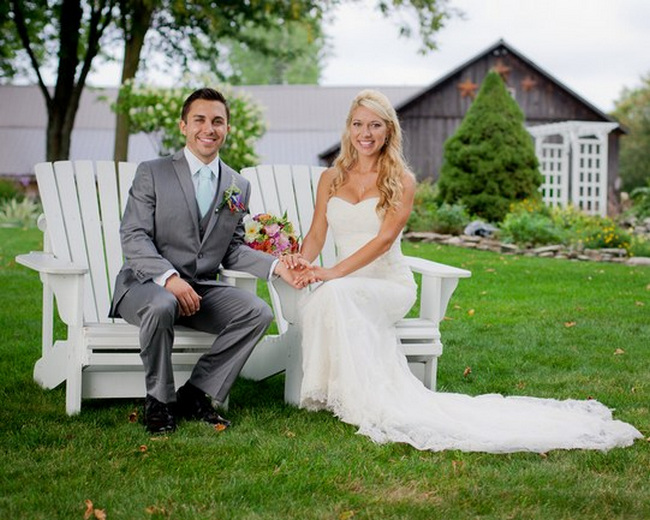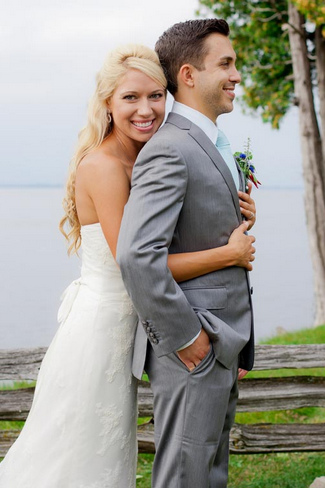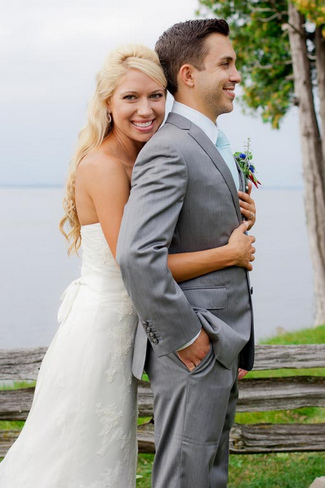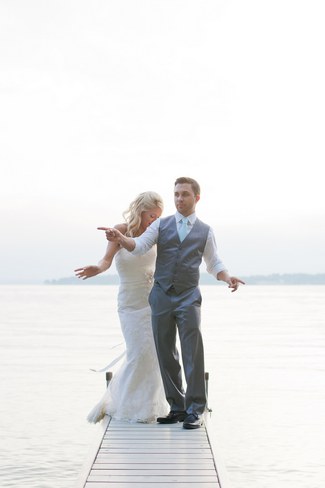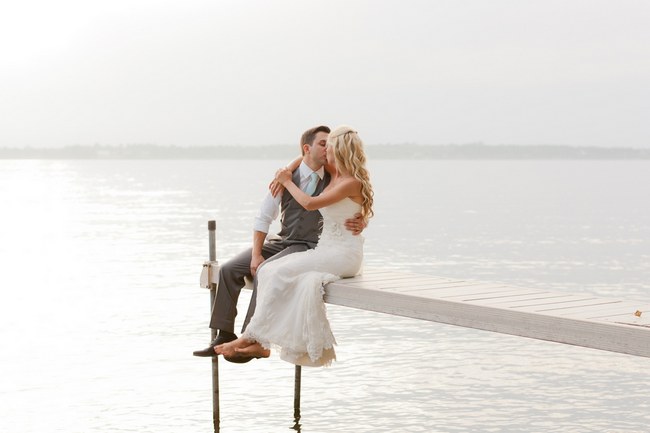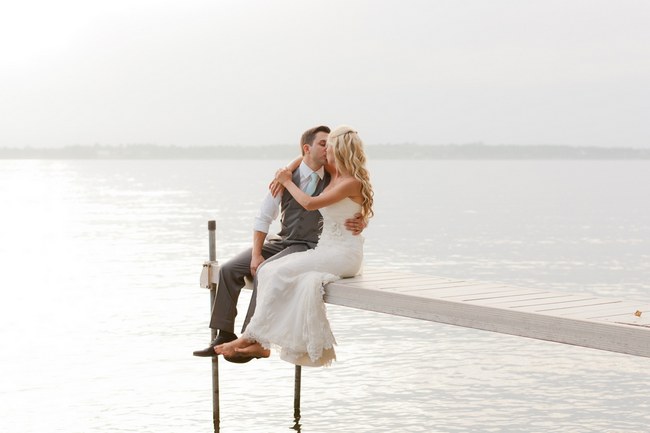 Colorful Rustic Outdoor Wedding Reception
Much loved as a venue for serene lakeside wedding celebrations, the  historical Ferry Watch Inn farmhouse Bed & Breakfast in Vermont created the ideal setting for a rustic outdoor wedding reception.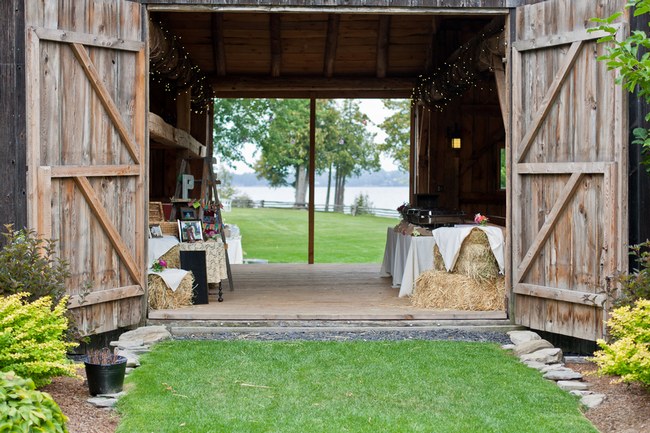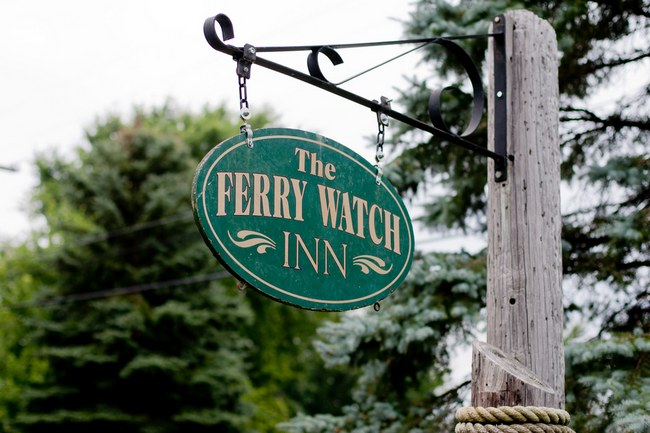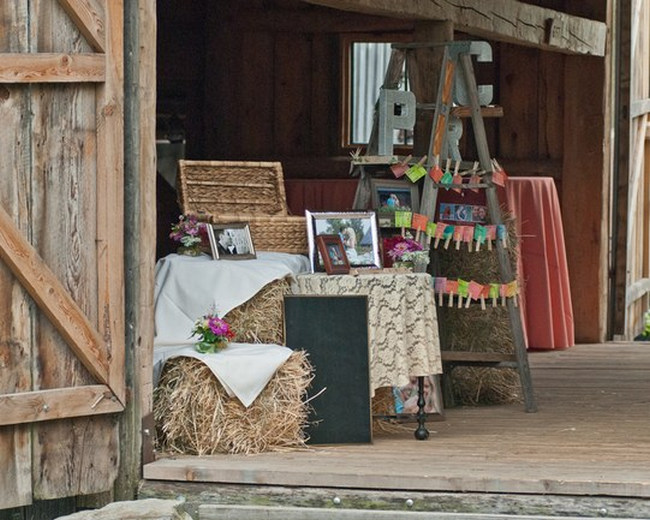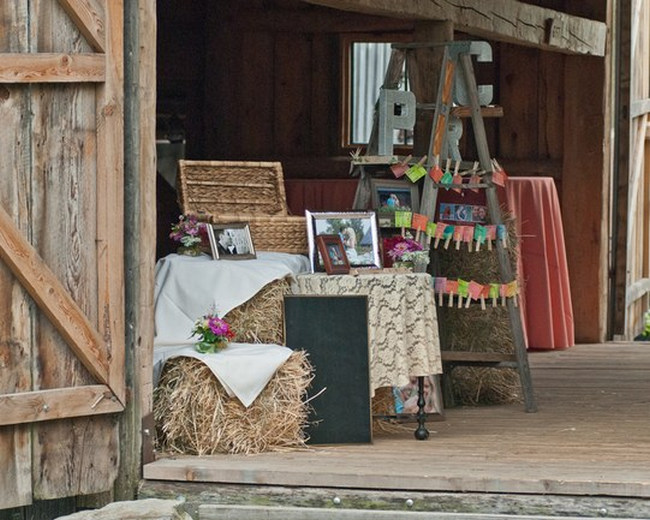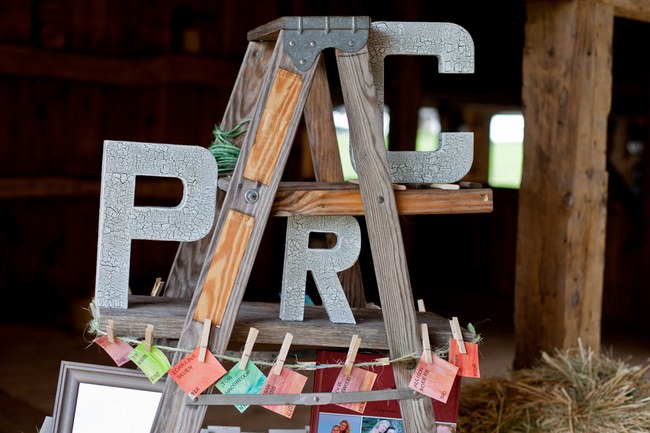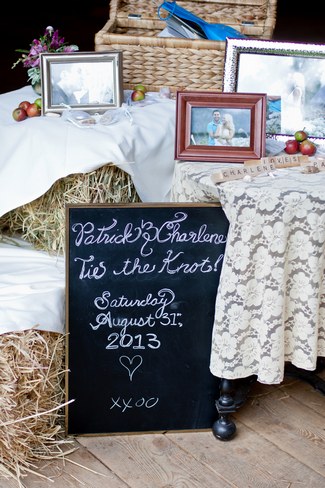 (Above) Colorful Rustic Wedding Seating Cards: Colorful paper cards were created with each guest's name and table number printed on it. The seating cards were pegged to an old wooden stepladder that was used to display several photos of the newlyweds.
♥
(Left) Colorful Rustic Wedding Welcome Table: Framed couple photo's, lace table cloths, hearty hay bales, a charming chalkboard wedding sign and scrabble letters were used to create a rustic welcome table.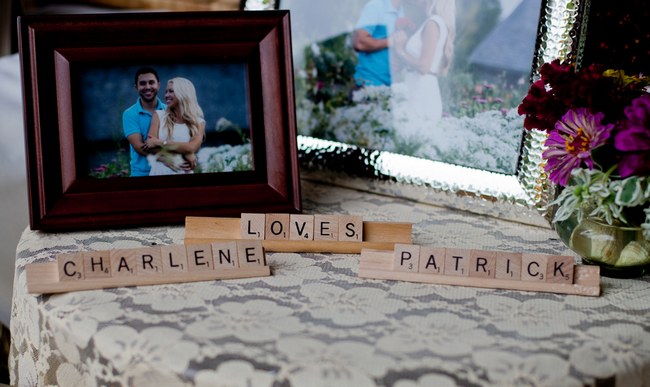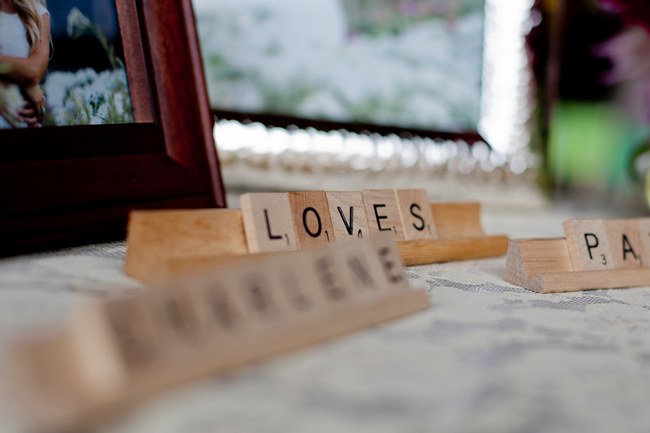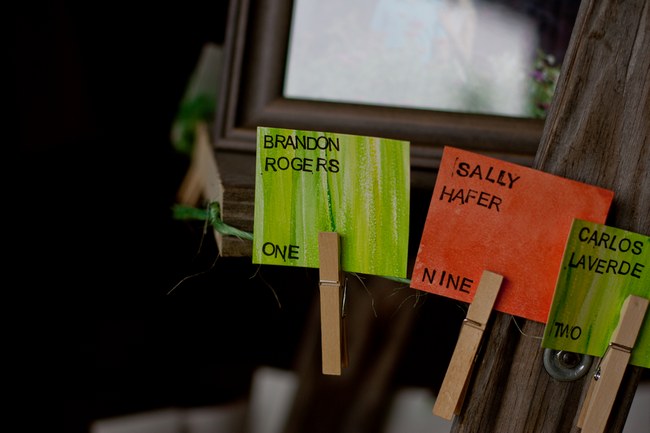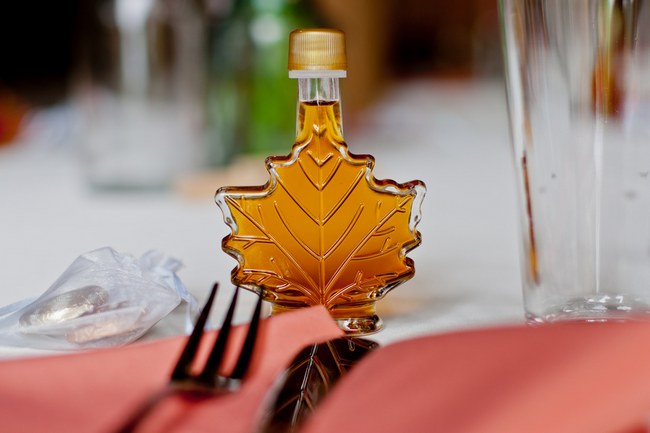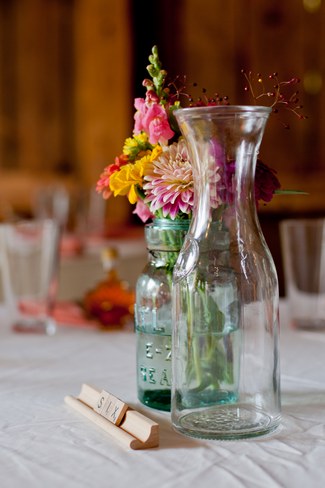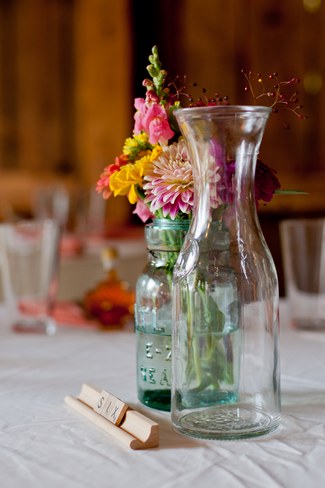 (Above) Rustic Wedding Favors: Cute bottles of maple syrup were given to each guest as a wedding favor.
♥
(Left and Below) Rustic Scrabble Wedding Table Numbers: Wooden scrabble tiles and holders were used to number the tables at their wedding reception.
Find more fab ideas for creating DIY wedding table numbers from this collection of 20 DIY Wedding Table Number Ideas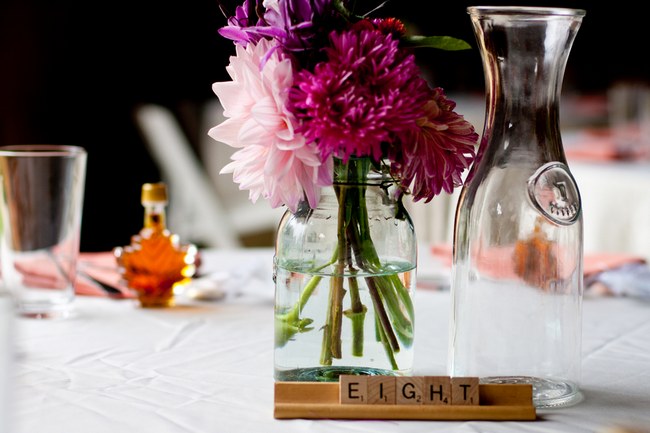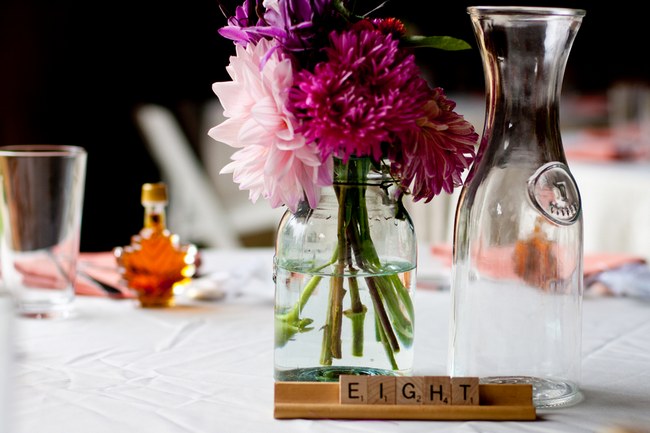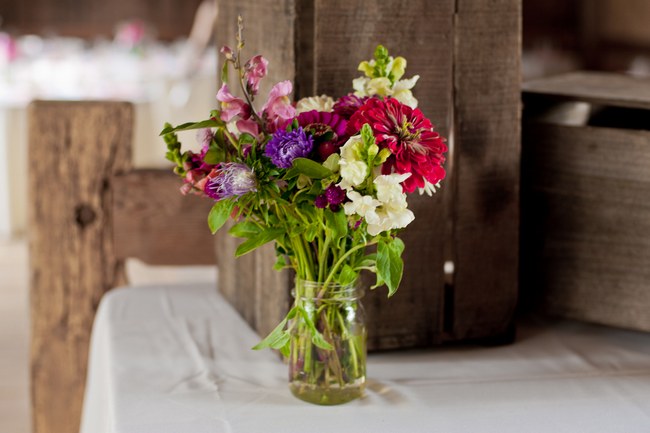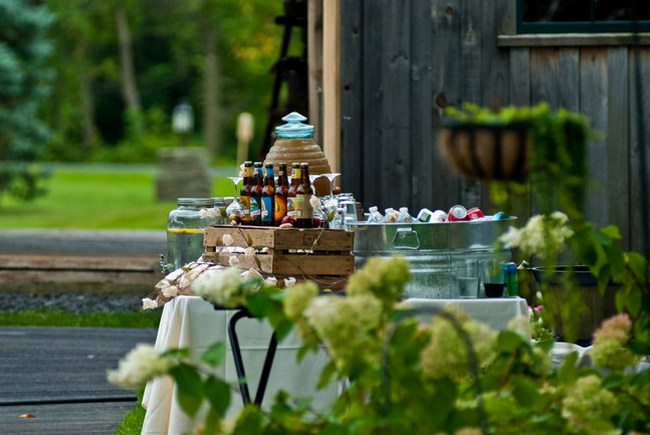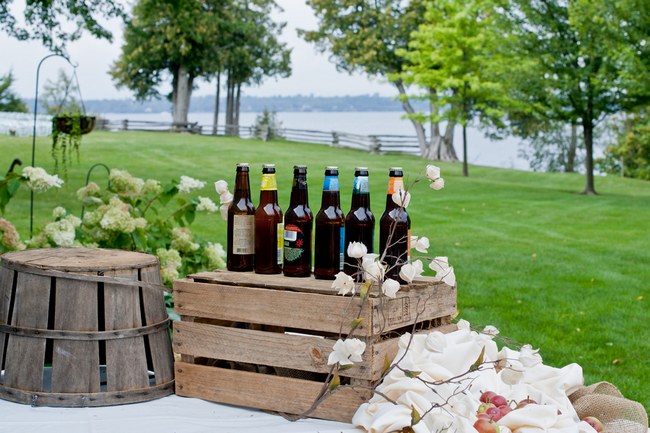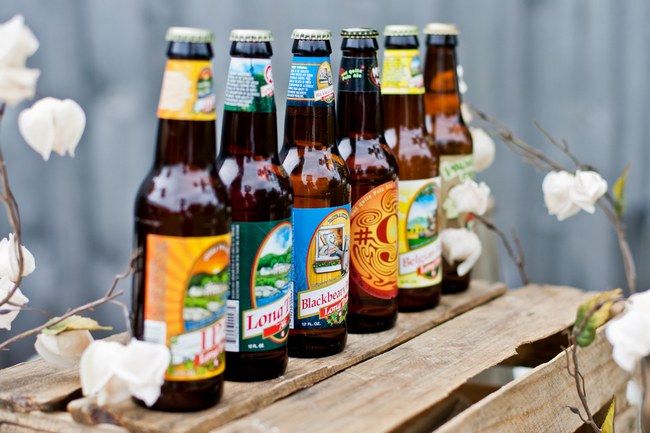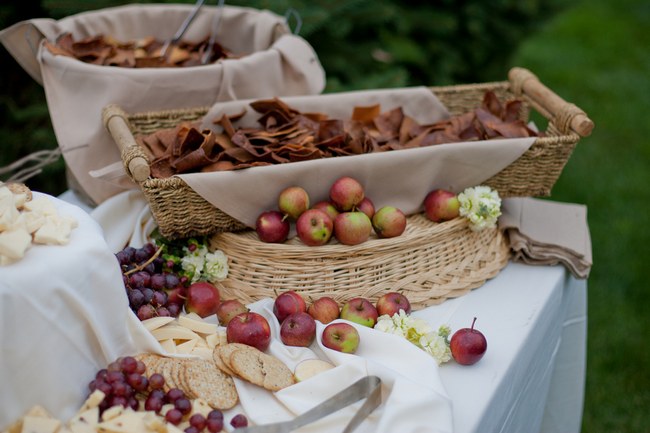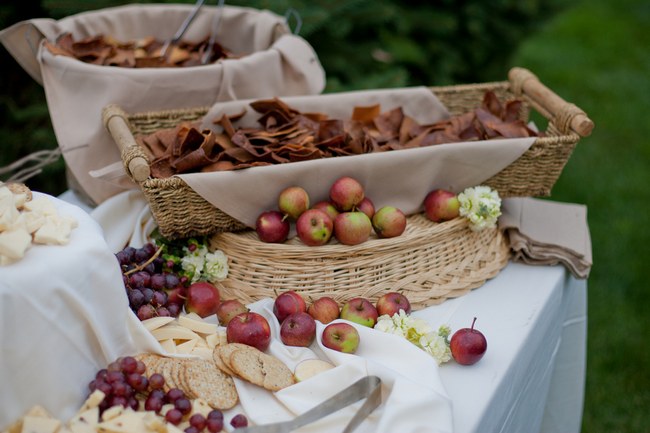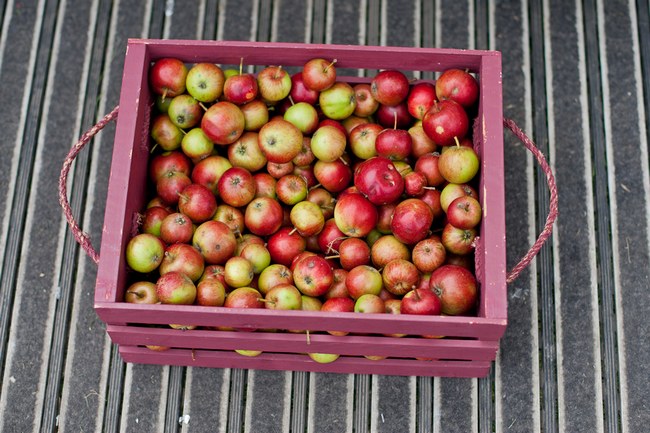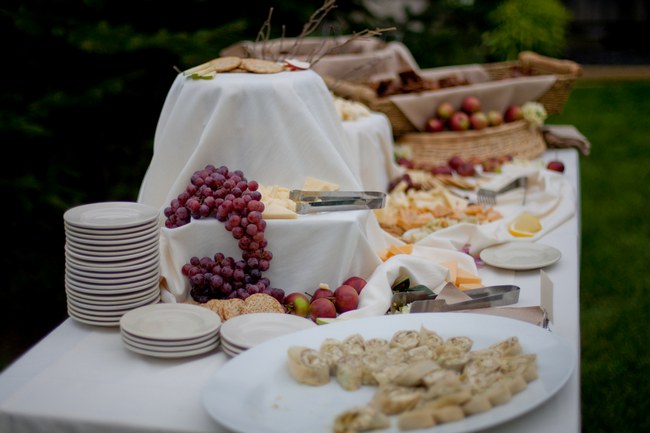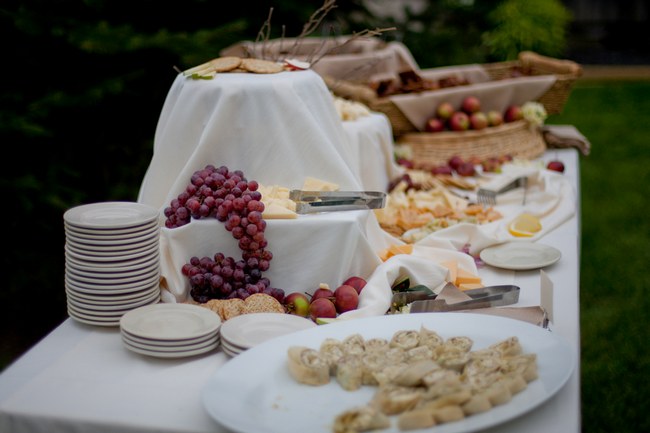 (Above) Rustic Wedding Catering: Their caterer, The Skinny Pancake from Burlington, VT, provided an amazement of locally sourced food, which everyone loved! "Every guest commented that it was the BEST wedding food they had ever had," says Charlene.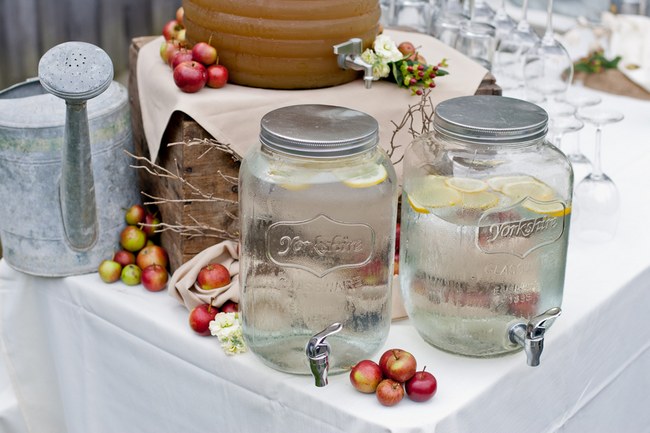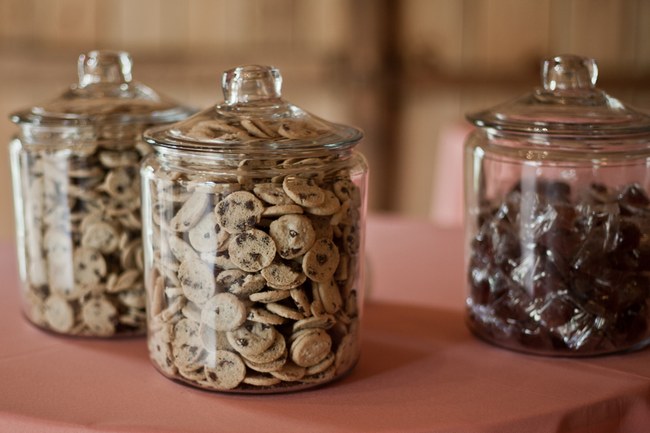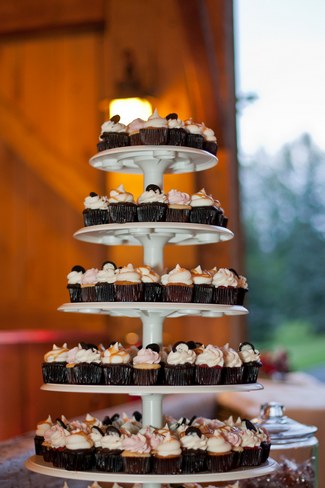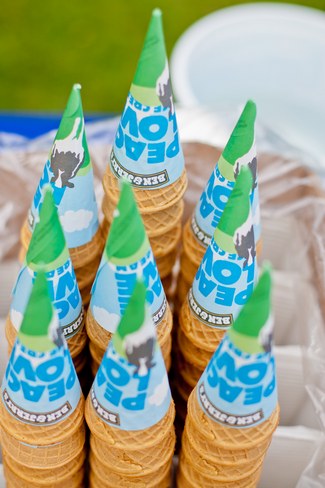 Real Bride, Charlene's, Tips For Brides-To-Be
Do your research and use local goods to keep costs down. I found table cloths on Craigslist for $5 per table-cloth which saved about $30 per table.
Get help from your loved ones. Have friends and family help with decorating and planning to cut the cost of a wedding planner out.
Just have fun! The whole time planning, many people kept asking why I am not stressed out, my response, "why should I be?" Keep in mind why you are getting married and who it's really for. The answer, you are getting married because you are in love and the wedding is for you and your husband.
Don't stress over little details that no one will really remember. Your loved ones will be there for you no matter what and love everything the wedding has to offer. When planning my wedding, I thought about what I wanted the wedding day to feel like and went from there. I wanted the day to be fun, bright, full of love, relaxed and a mini vacation for my guests. 
Loving the rustic wedding theme? Find plenty more rustic outdoor wedding inspiration by checking out this Blush and Green Rustic Outdoor Farm Wedding.