Funny Christmas Cards for Hubby or Fiance ♥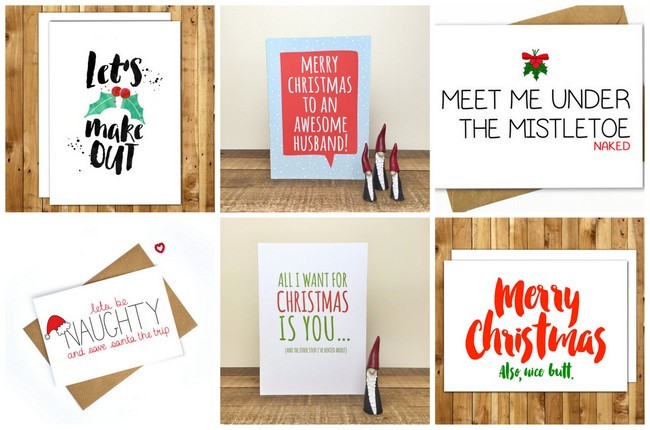 It's the most wonderful time of the year (other than your wedding, of course!) and in the spirit of celebration we've scoured some of our fave artisan's stores to bring you this selection of naughty but nice Christmas cards for him. (Or her, in most cases.)
From the sweet and silly to the downright raunchy, today's feature will no doubt have you under the mistletoe and getting lucky in no time. We hope they'll get you both into the Christmas spirit – you know, giving and receiving and … celebrating!
Naughty But Nice Christmas Cards for Him
(Above) Meet Me Under the Mistleto. NAKED. This naughty but nice Christmas card from Hella Fresh Designs is fun and oh-so-festive, set to get you into the frisky festive spirit in a jiffy!
If you adore and decide to purchase one of these naughty but nice through our links we'll get a small percentage of the sale for sharing them with you. Thank you so much for supporting our content! ♥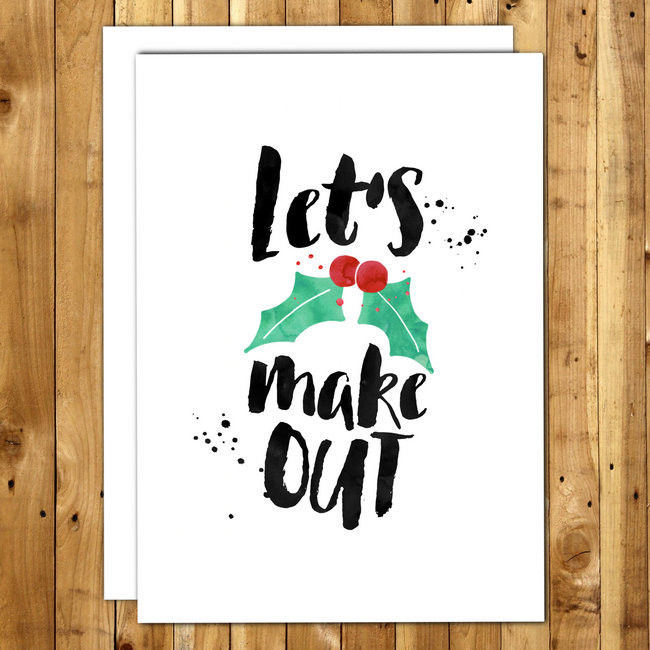 (Above) Let's Make Out Christmas Card for him (or her!) Celebrate your merry crimbo with a much making out when you get your hands on this fun, brush lettered little Christmas card from In A Nutshell here.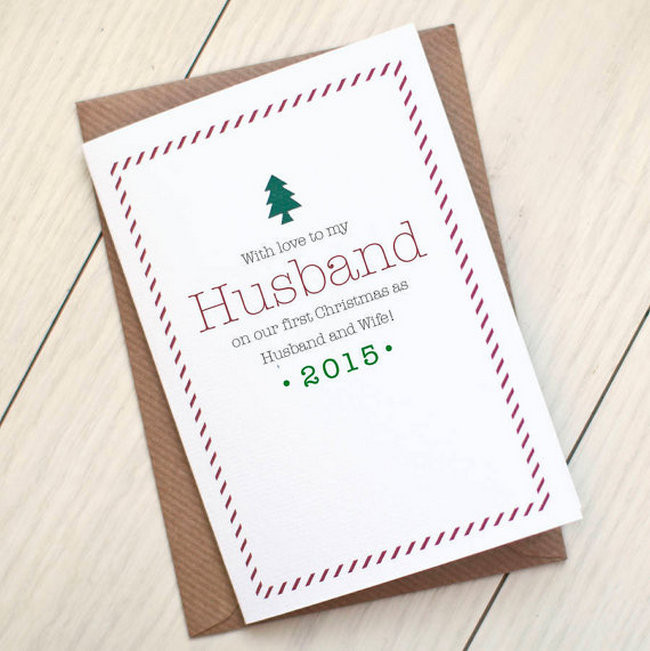 (Above) With Love To My Husband on Our First Christmas as Husband and Wife. Celebrate your first Christmas as a Mr and Mrs with this cute card that can also be customized to be same-sex marriage friendly. Available from Asterandbeau here.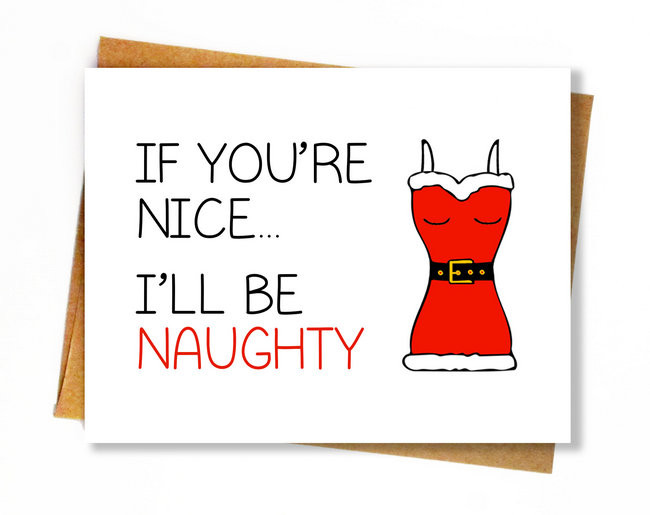 (Above) If you're nice, I'll be naughty. This card for hubby (or wifey) is a little bit saucy and we like! Grab this Christmas card for him from Hella Fresh Designs.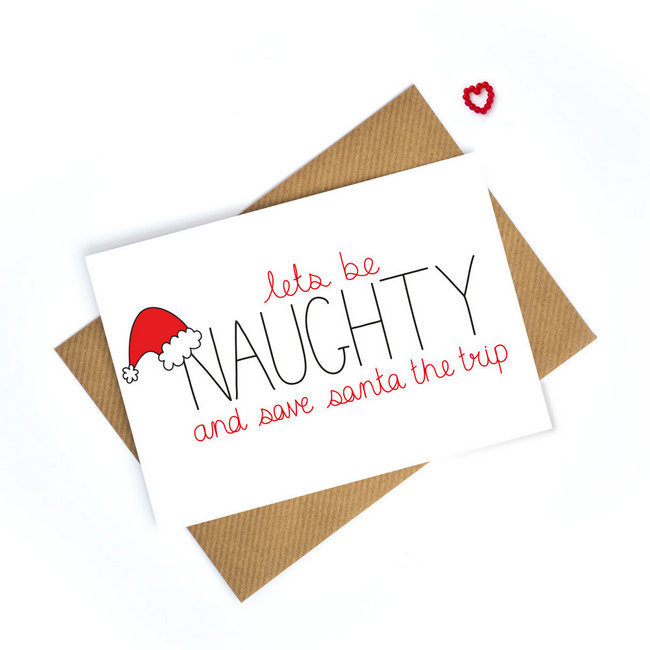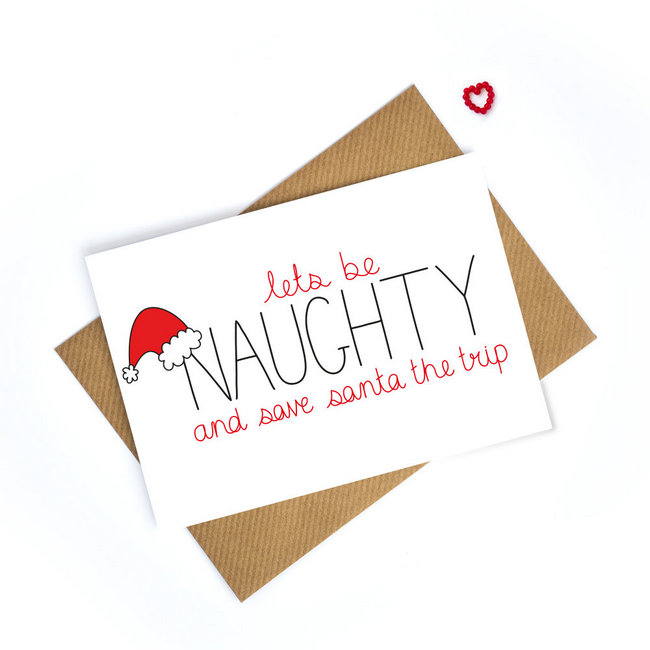 (Above ) Let's be naughty and save Santa the trip. Oooh la la – this saucy little Christmas card for him gets right down to business – or at least suggests it, doesn't it? 😉  Available from Sioux Alice here.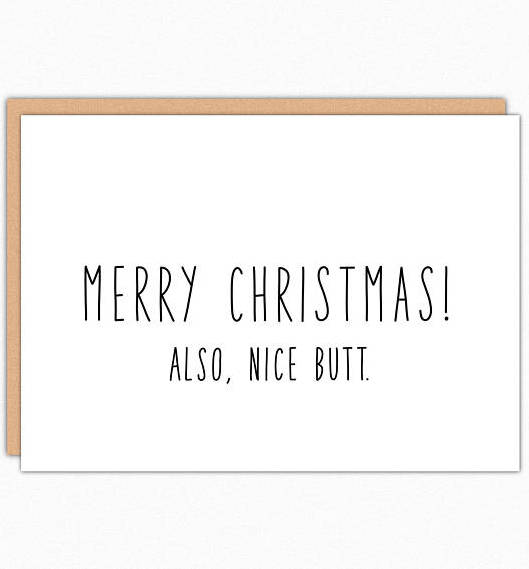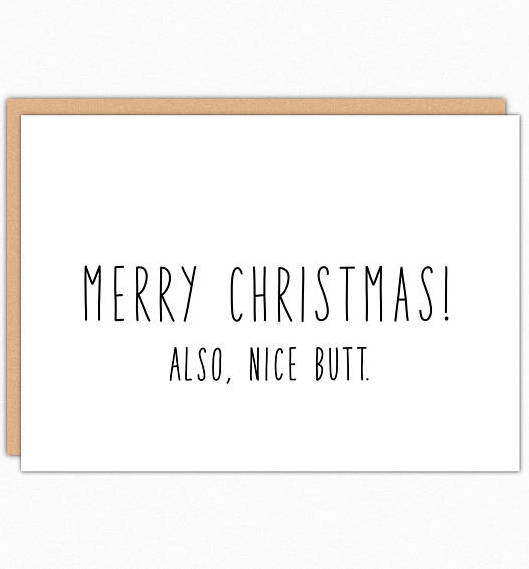 (Above) Merry Christmas! Also, nice butt. This cheeky (ha ha) Christmas card is the very definition of naughty butt (sorry, couldn't resist) nice! Get it from In A Nutshell studio, here.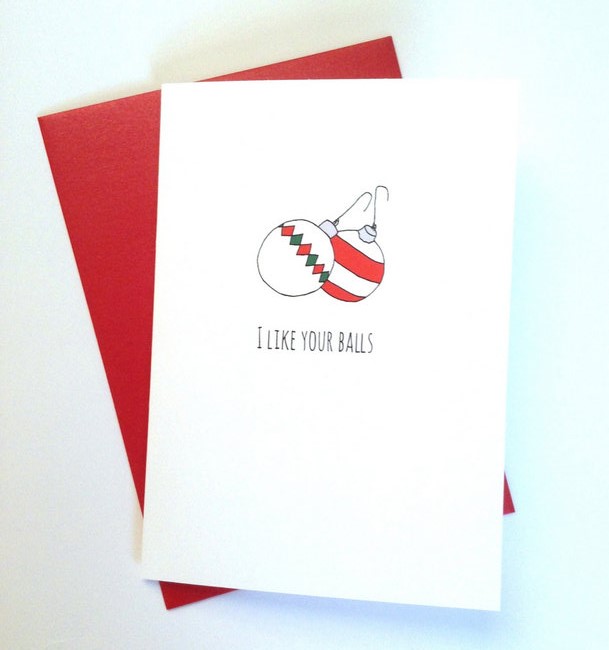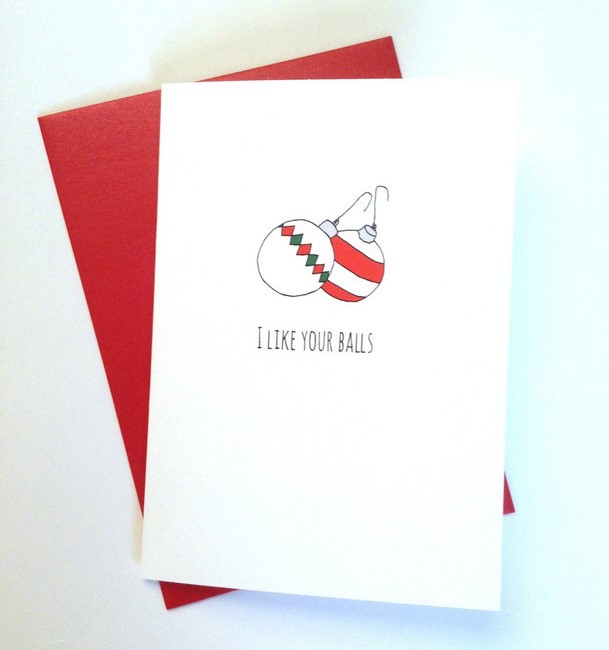 //  // (Above ) I Like Your Balls. This sexy and, ballsy, Christmas card for your boyfriend or husband starts the day off with a bit of tongue in cheek fun. Get it from Spelling Bee Cards.
SOLD OUT DESIGNS: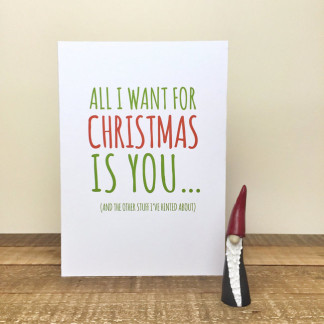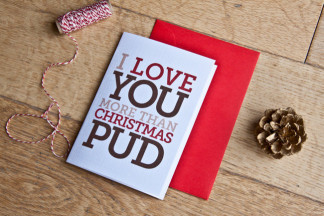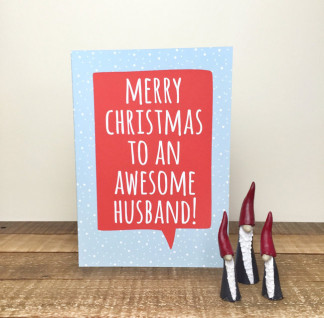 (Above 1) All I Want For Christmas Is You – and all the other stuff I've hinted about… This funny Christmas card jokes that love is all you need – love and a little shopping spree. 🙂  From Snappy Crocodile – Sold Out.  // (Above 2) I Love You More Than Christmas Pud. This silly, sweet card, from AsterandBeau proclaims a very serious love – one that's greater than sweets! SOLD OUT // (Above 3) Merry Christmas To An Awesome Husband. While this card is certainly more nice than naughty, we know your hubby is awesome and that makes this cute Christmas card pretty perfect! SOLD OUT
Check out more unique and meaningful ideas in our holiday gift guide:
This hand-selected round up of cute Christmas cards contains affiliate links which means that if you love any of these cards as much as we do, and make a purchase, in some cases we'll get a small percentage of the sale for sharing them with you. Thank you for supporting our content, you naughty lil' elf.