Rustic Outdoor Farm Wedding
Blush and Green
♥  ♥  ♥
Netherlands native and now Pretoria local, Bozenia, tied the knot with Nic in the beautiful bush surroundings of Limpopo! Dreaming of a fun, happy and relaxed wedding, the couple chose to have their wedding out of town at the Kuthaba Bush Lodge, a magical place that they instantly fell in love with! Their South African wedding boasted an earthy look and feel with blush pinks, avocado greens and hints of natural browns found in every personalised touch. Their wedding was kept under wraps from their loved ones so it could be a surprise, which photographer, Izelle Labuschagne, reveals in these gorgeous pics!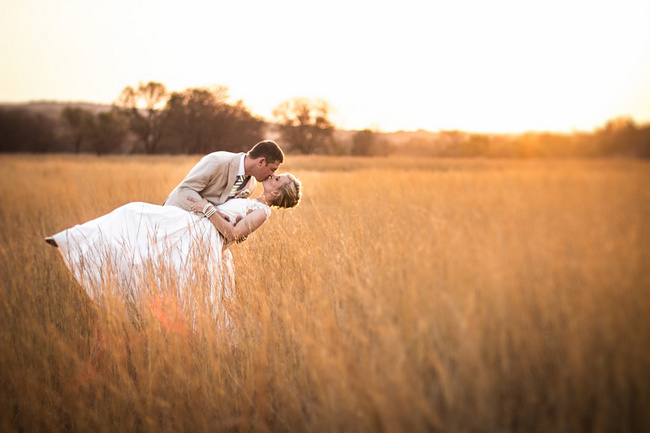 Blush & Green Rustic Wedding Look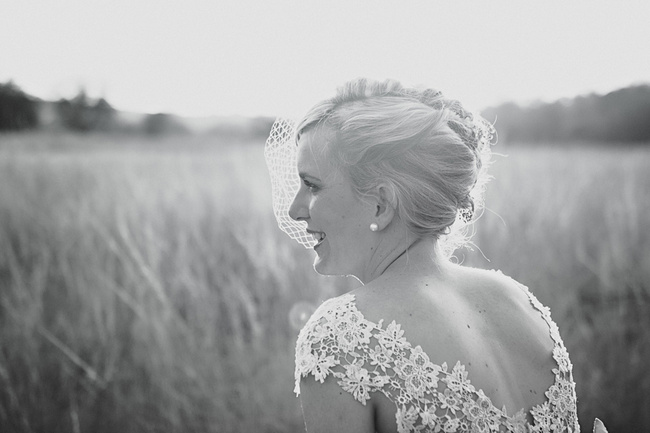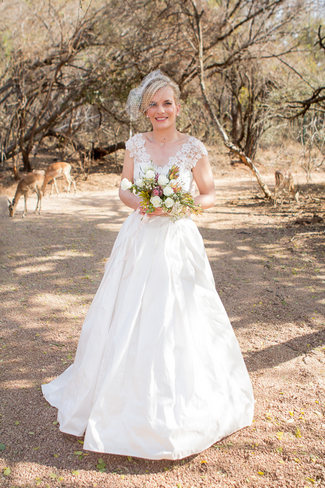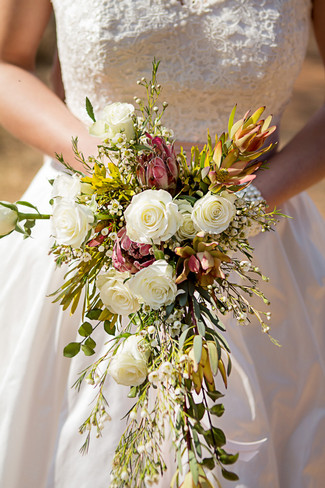 (Above Left) Rustic White and Blush Wedding Dress: Bozenia looked stunning wearing a white lace and silk wedding gown with a blush silk sash knotted into a divine bow! | (Above Right) Rustic Bridal Bouquet: The bride's father created her bouquet just before the wedding. "I had no idea how it would look like, but it came out perfect," says Bozenia.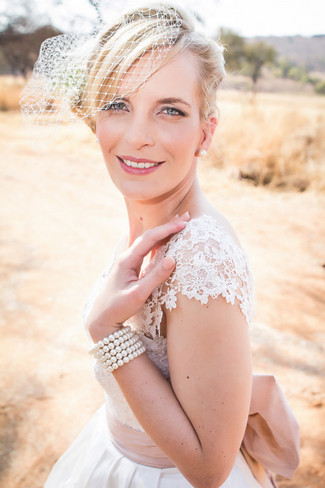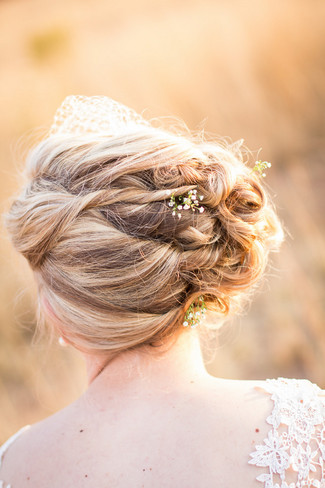 (Above Right) Rustic Bridal Upstyle: Bozenia's golder hair was styled into a fabulous upstyle adorned with sprigs of Baby's Breath and a birdcage veil.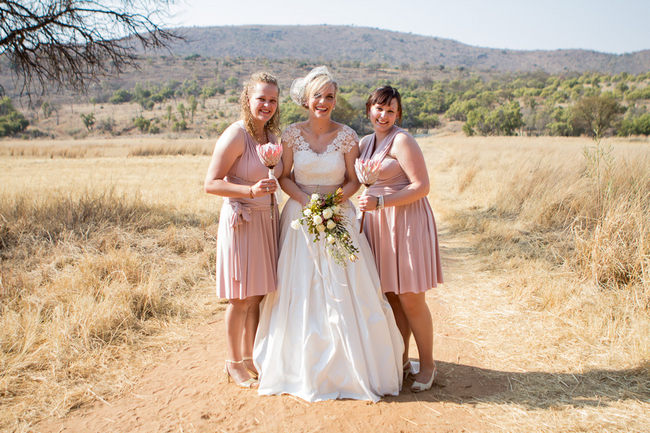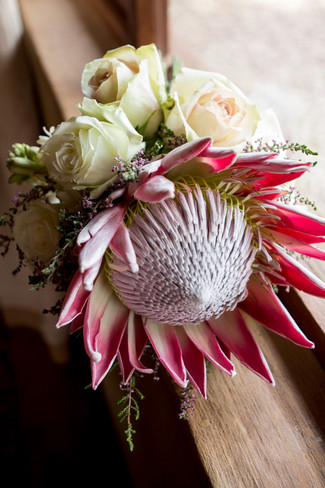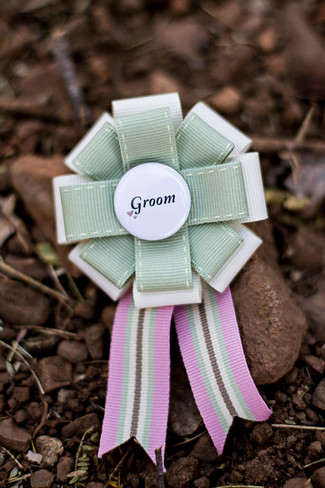 (Above Left) Bridesmaid Bouquets: The bridesmaids carried a plain and simple Protea and rose bouquet. | (Above Right) Pink and Green Rustic Medallion Boutonniere: The groom and groomsmen wore medallion shaped boutonnieres with a 'Groom' or 'Best Man' badge.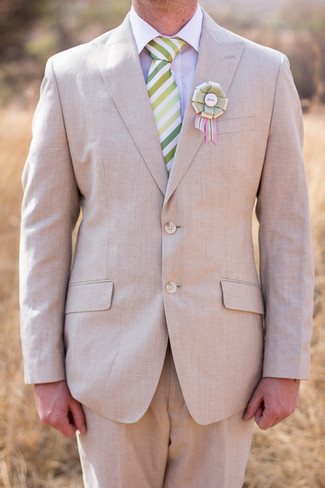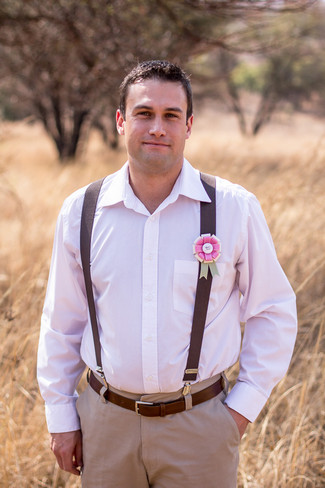 Blush & Green Rustic Outdoor Farm Wedding Ceremony
Their wedding ceremony was held outdoors beneath a wooden canopy at the edge of a cliff boasting beautiful views. Nic's uncle who came all the way from Germany was the couple's priest, which made their ceremony extra special.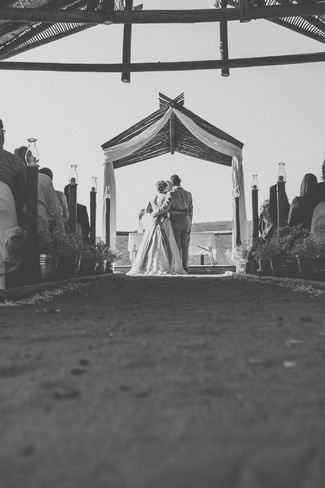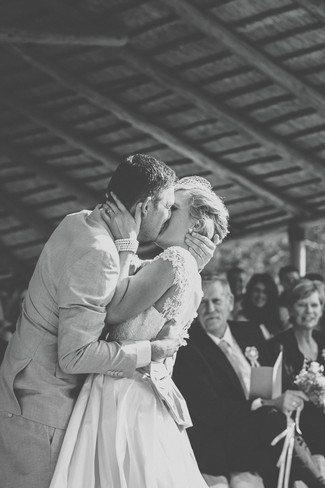 Nic and Bozenia's Love Story
Bozenia shares the tale of how they met and fell head over heels in love: Back in 2005, I started with my studies at the University of Pretoria, and decided to take "German for Beginners" classes as I needed to take an extra module. Since the first day of my class, there he was, Nic Smit, he made me smile, actually he made me laugh out loud in every class. We became friends and got along very well, I fell in love! Towards the end of the year the friendship became more than a friendship and so our journey started together.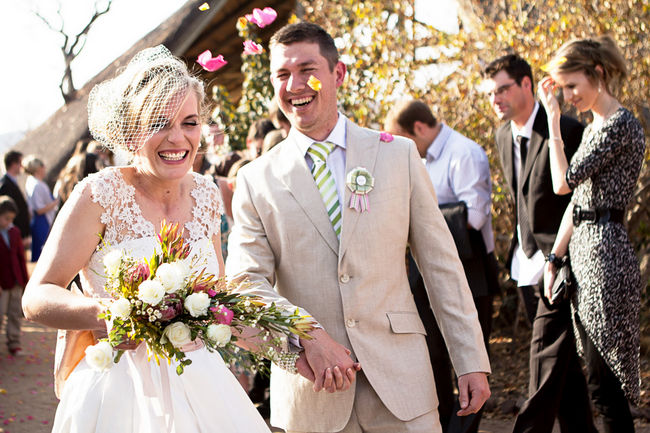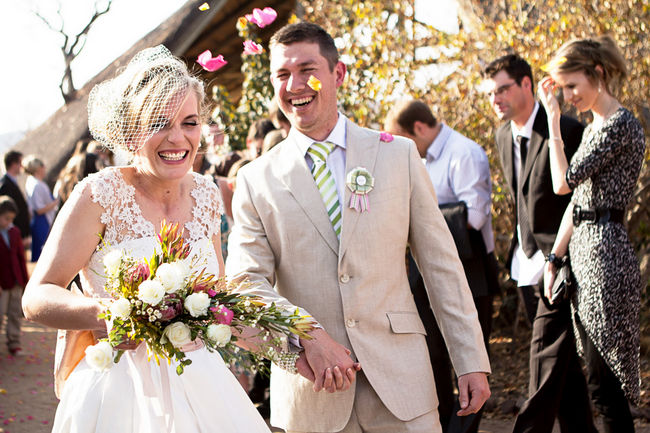 The Tale Of Their Proposal
Bozenia tells us how Nic popped the question atop a Namibian dune: In 2012 we decided to go and explore Namibia together. I did not have any idea, expectations or clue of what he was planning! At the start of our adventure we were in Swakopmund, which is my favourite town in Namibia. It was a cold cloudy day, and Nic wanted to go and climb on a dune. He also chose the highest one…I was struggling so much to get on top while Nic was like a crab…I could not believe how quick he was. Eventually when I got on the top and got back my breath again, I realized that he had tears in his eyes. I asked him if he was emotional about climbing a dune or the view…but then he said "dit is sulke tyd" (it is time) and went down on his knee and asked me to marry him! Making it the best romantic proposal ever.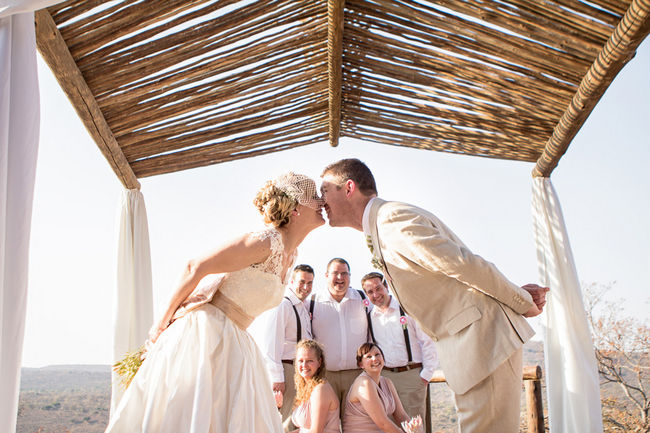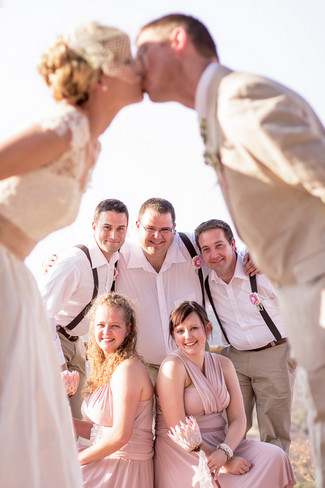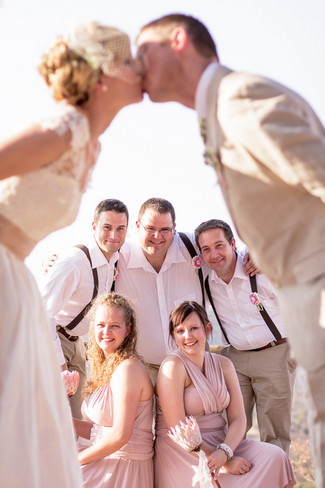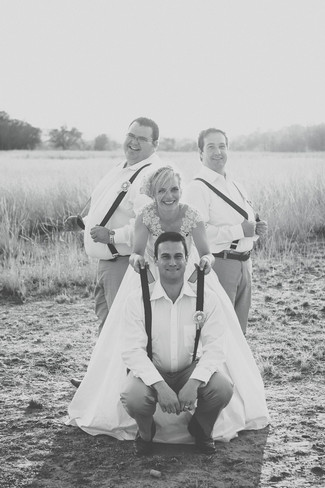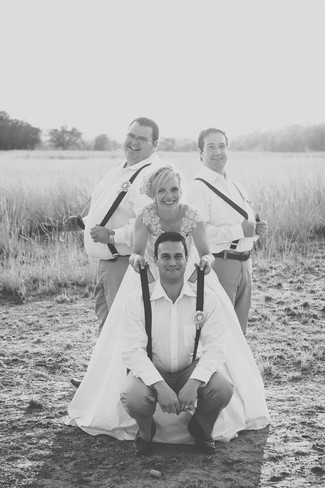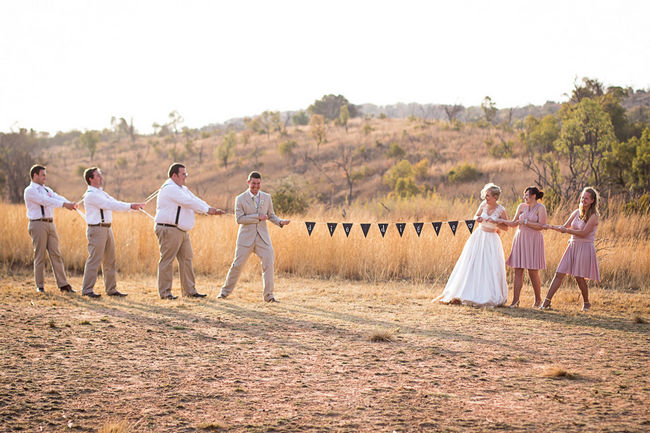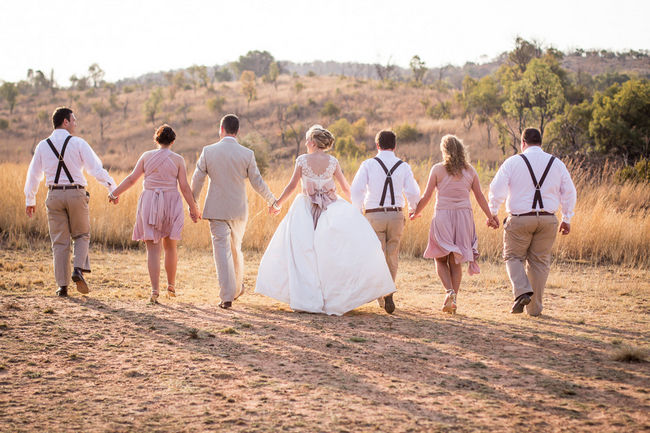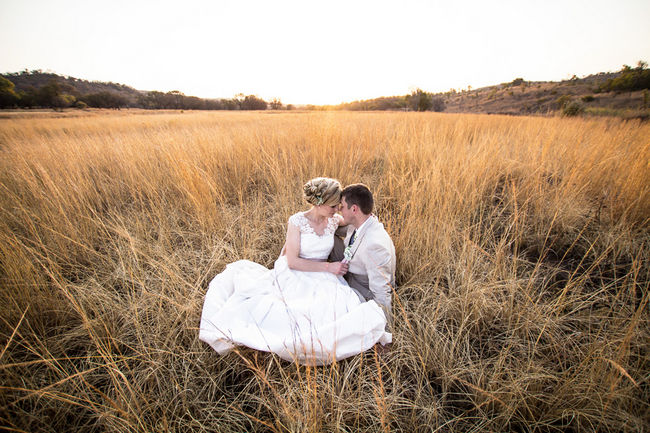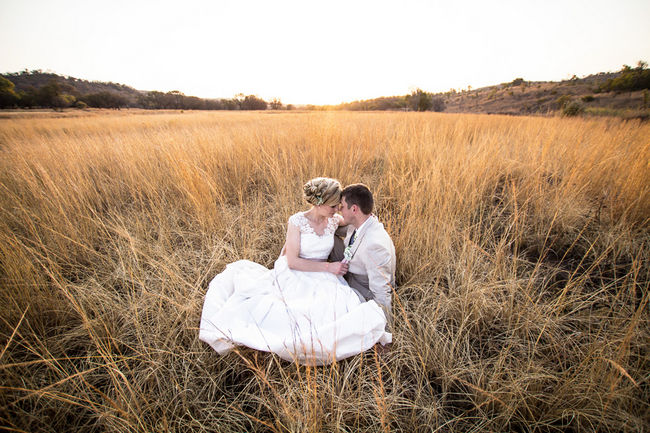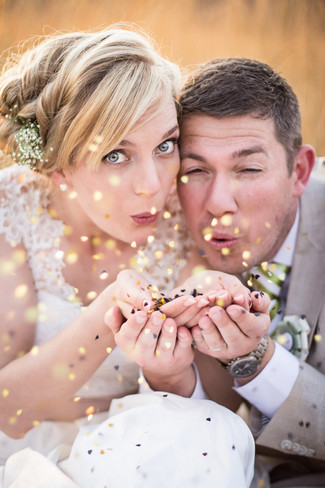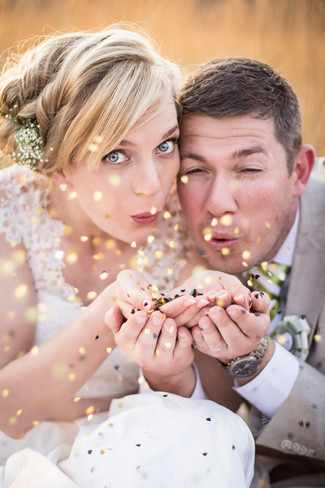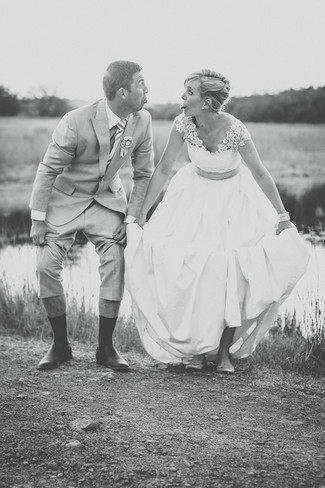 Blush & Green Rustic Outdoor Farm Wedding Reception
Their wedding reception was hosted on a riversand floor beneath the shade of a traditional African Boma.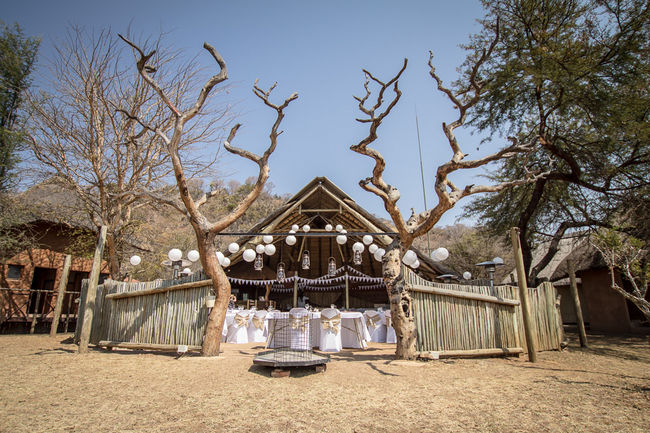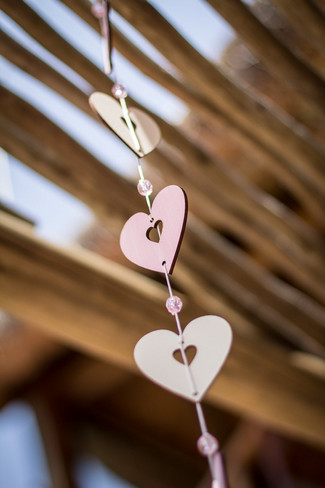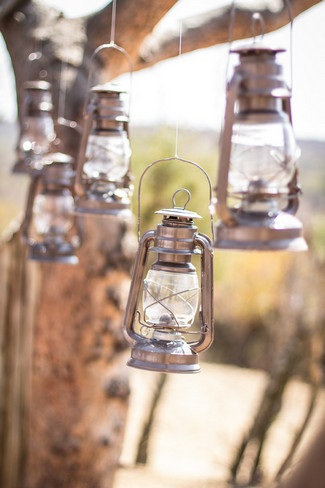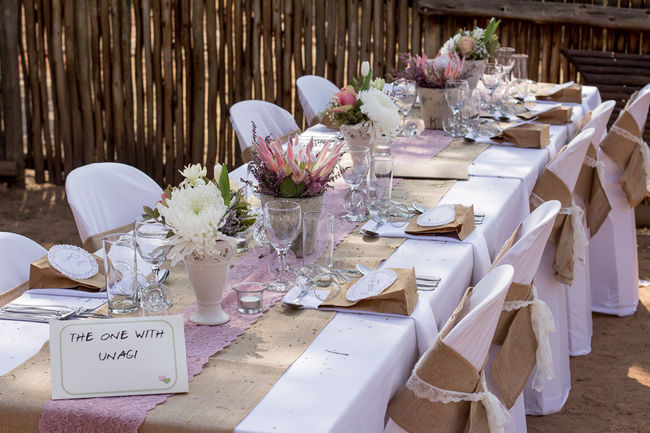 (Above) Rustic Blush and Burlap Wedding Tablescape: Blush pink lace table runners and burlap table runners and chair covers were used to dress up the wedding tables.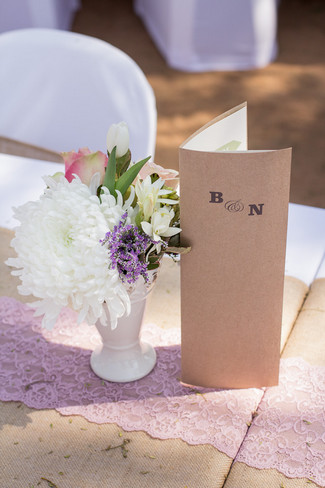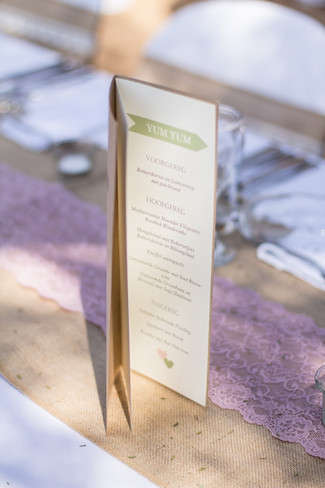 (Above) Rustic Wedding Menu: Plain brown paper card wedding menus booklet-style blended in on the rustic-inspired tables.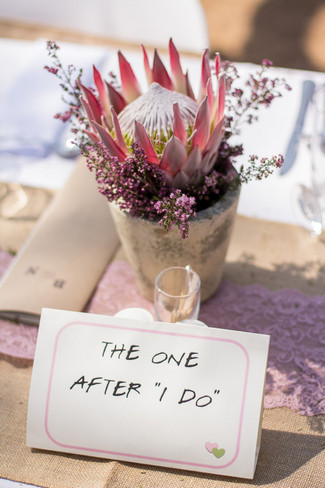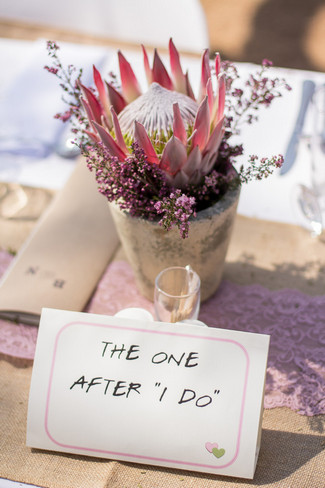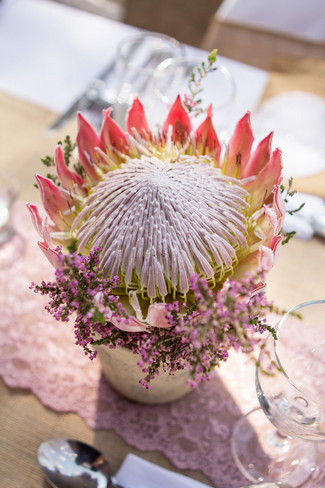 (Above) Rustic Wedding Table Names: The table names were hint phrases to keep their guests guessing!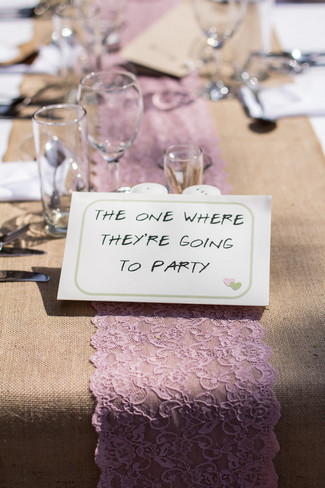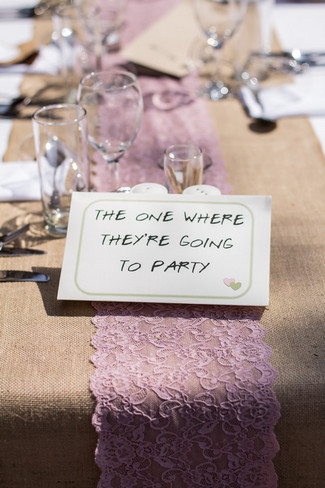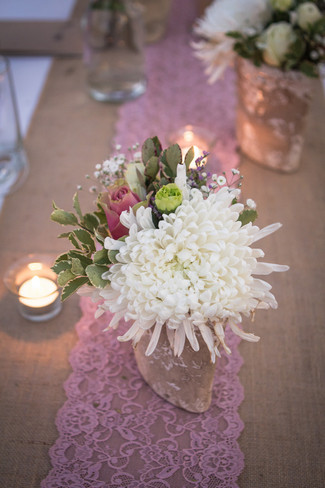 Rustic Wedding Décor and Flowers: All of the decor was hired from Vintage Rose. Family and friends helped to decorate the tables with natural floral arrangements and rustic decor.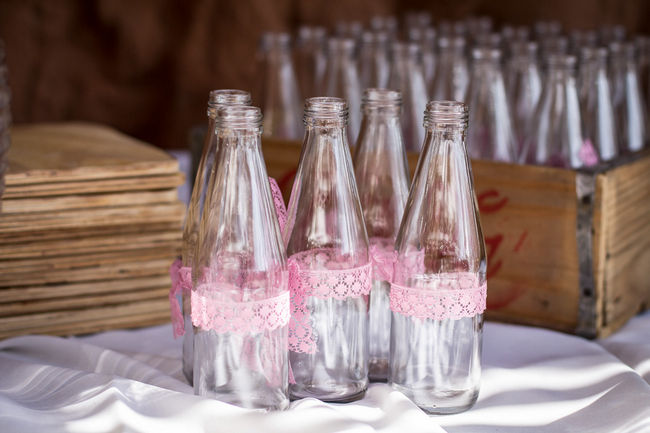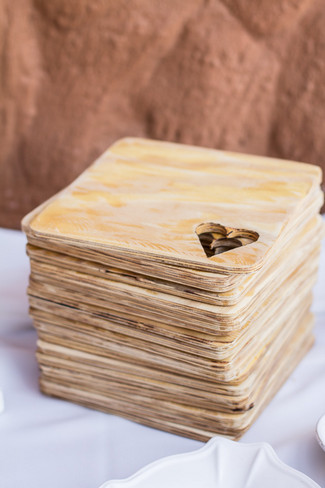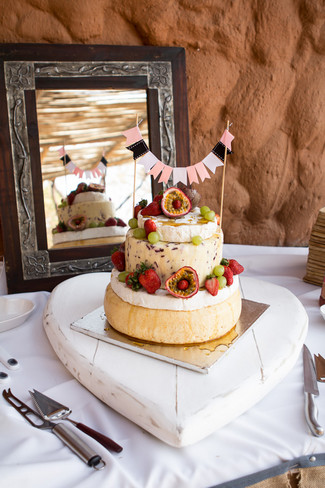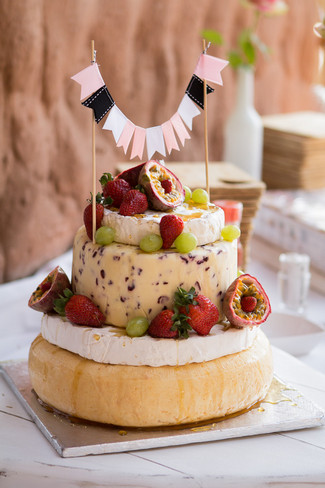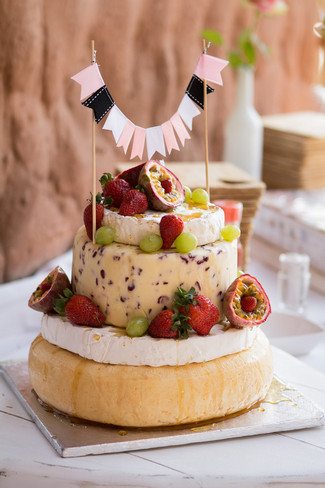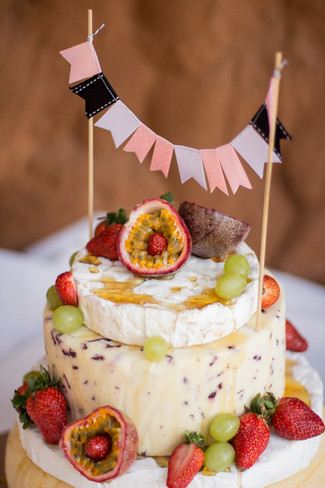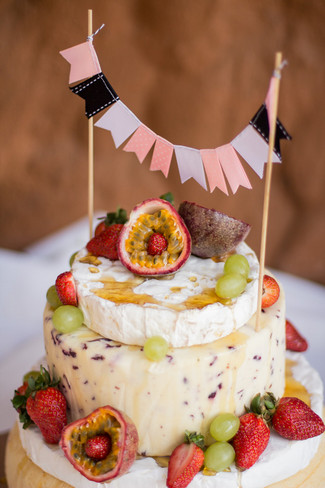 (Above) Cheese and Fruit Wedding Cake: A delicious wedding cake created from layers of cheese was decorated with colourful fruits and dripped with the juice of fresh Passion Fruits.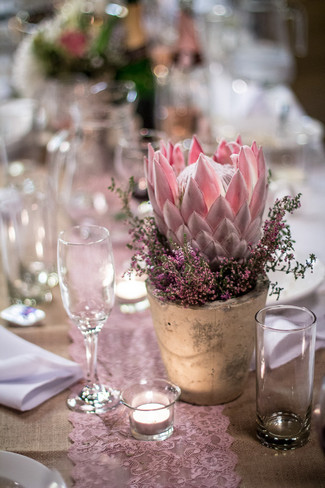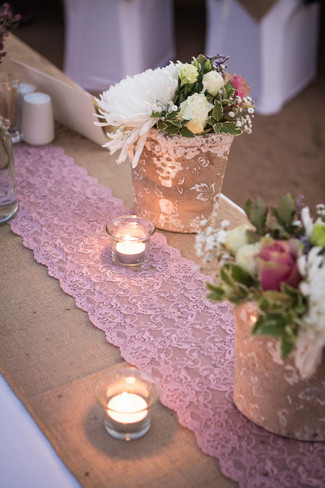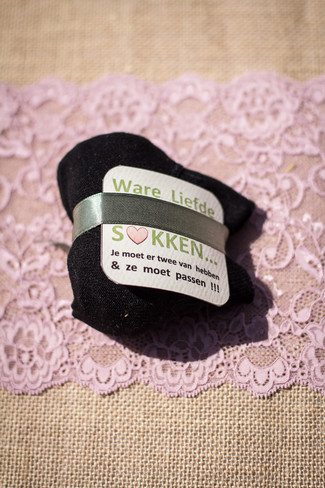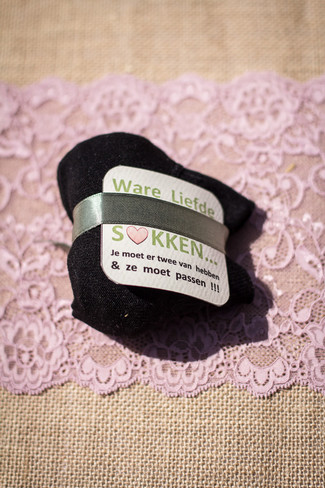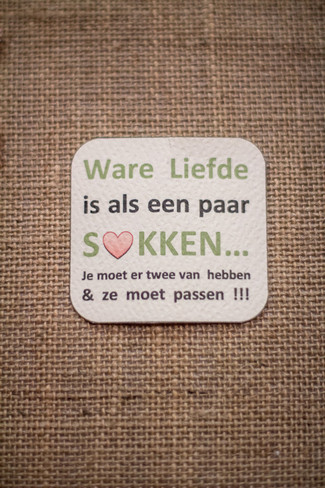 (Above) Rustic Wedding Favours: The fun couple chose to treat their guests with something different, yet practical. "It sounds strange, and it is, but we decided to give each guest a pair of socks," says Bozenia. They wrapped each pair of store-bought socks with a thank you card and ribbon, which took more time than they thought!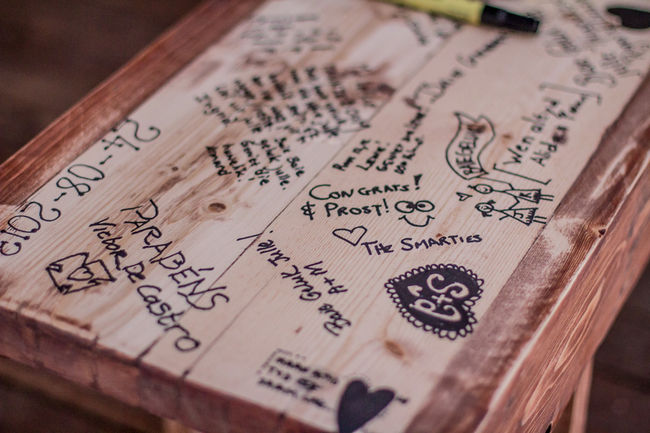 (Above) Rustic Wedding  Guest Book Keepsake: For their 'guest book',  Nic and Bozenia bought a wooden bench at an antique shop and some permanent markers, which their guests used to write on the wooden bench. After their wedding, they varnished the wooden bench and now it is standing at the front door of their home!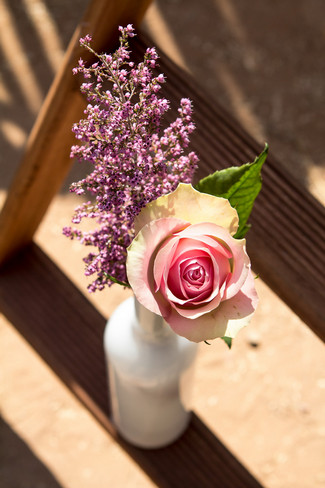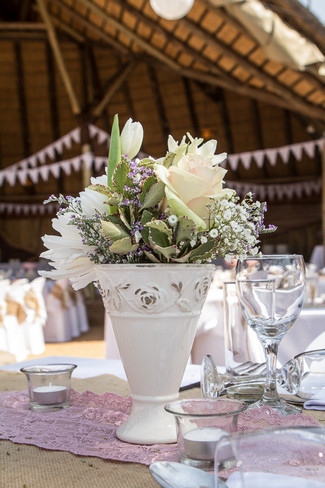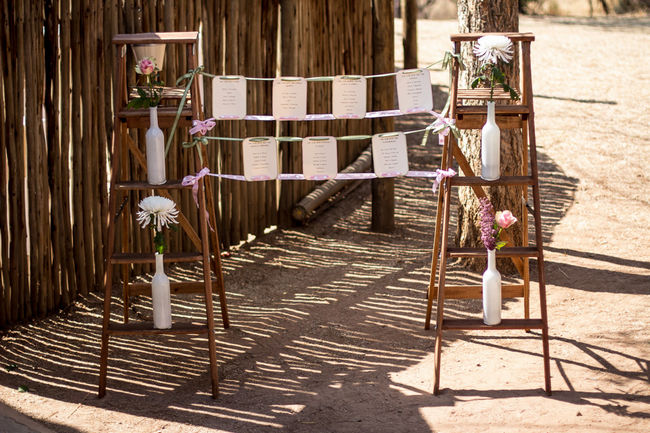 (Above) Rustic Wedding Seating Plan: Nic created the seating plan using two wooden stepladders, which held the ribbon strung seating plan cards in place.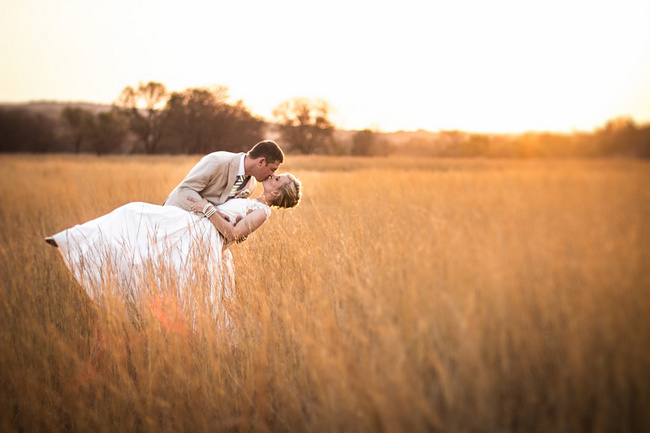 Real Bride, Bozenia's, Tips For Brides-To-Be
Planning your wedding is not something that needs to get you stressed out. Rather enjoy every moment and play around with ideas, be creative!
Don't worry too much about the little details. No-one is going to remember it in any case!
Yayness! This bush farm wedding warms our hearts with its trendy mix of blush and green tones in rustic style and a few larger than life Proteas thrown in for good measure! Ready for your next real wedding fix? Check out this Protea and Rustic Fynbos Inspired Wedding, Langverwagt, a stunning farm wedding with a rustic South African touch.
Vendors
Photographer:
Izelle Labuschagne Photography
 | 
Venue:
Kuthaba Bush Lodge
, Modimolle, Limpopo | 
Decor:
Vintage Rose
, Waterkloof Ridge, Pretoria | 
Bouquet & Flowers:
 Vintage Rose | 
Caterer:
 Kuthaba Bush Lodge | 
Cake:
Fairview
 Cheese Wheels | 
Stationery:
 Hessie,
Secret Wish
 | 
Favours:
 Socks from 
Woolworths
 | 
Wedding Dress:
 Gerdi, 
Chamber of Couture
, Faerie Glen, Pretoria | 
Bridesmaid Dresses:
Gelique
 | 
Jewellery: | Shoes:
Aldo
 | 
Hair &
Make-up: 
Roxanne
and Milindie
| 
Men's Attire:
Banana Republic
, 
Stuttafords
 & 
Your Pal
, Brooklyn, Pretoria | 
Music:
Flauto Concorda
 and DJ Shawn, 
Wedding Crashers
 | 
Pastor/ Officiator:
Groom's Uncle