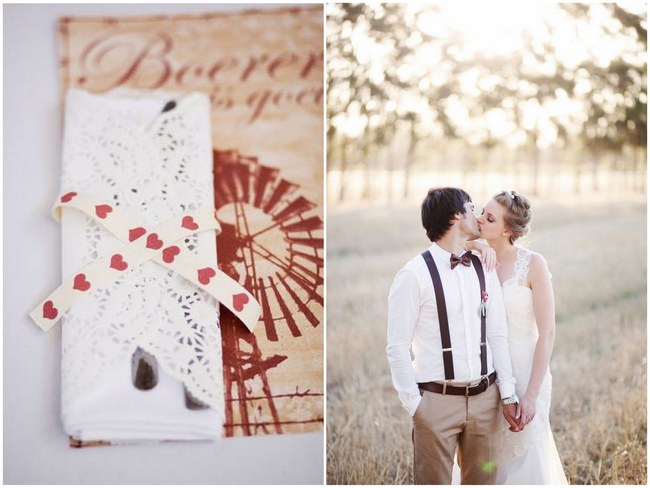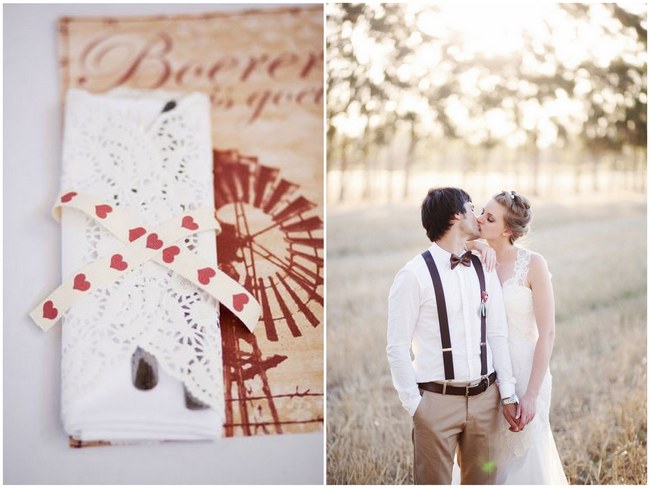 CUTE AND CHIC COUNTRY LOVE
Newlyweds Chris and Christel are a sentimental pair, and their wedding day reflected this. The endearing couple was married by the groom's 87 year-old grandfather in a rustic ceremony, followed by a farm-style celebration just brimming with handmade details. Christel wore a gorgeous lace gown, with hair in a braided updo complete with touches of baby's breath while groom, Chris, looked stylish sporting a brown bow-tie with suspenders. Photographer, Moira West, was there to capture each and every loving detail and a few juicy smooches too!
 ♥  ♥  ♥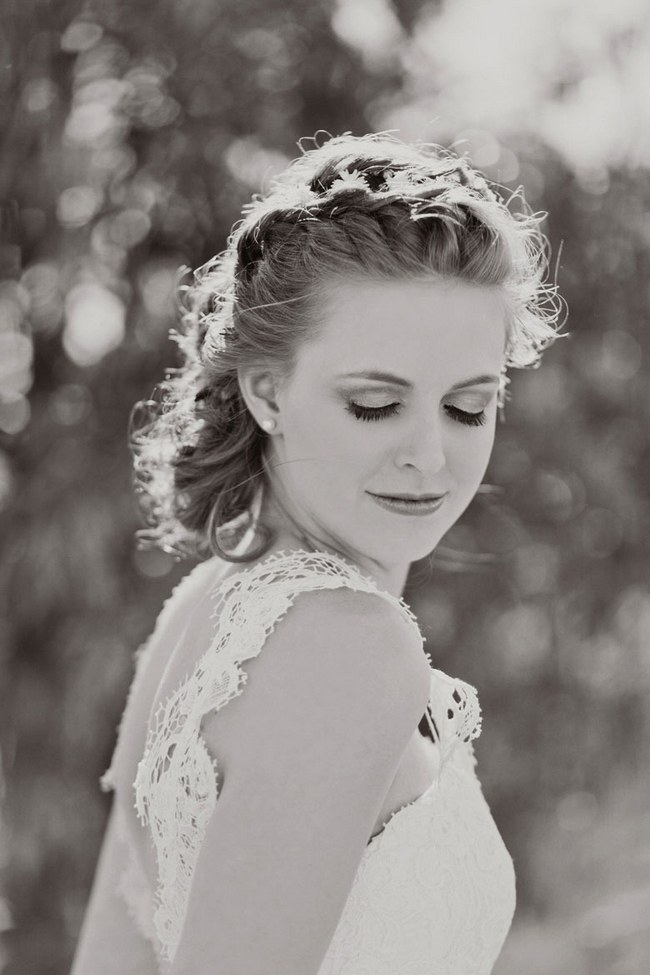 Their Love Story:
We met at a friend's birthday party during my husband's final weeks of studies at the University of Stellenbosch, South Africa. The moment I saw my husband, Chris, I knew he was the one! But I was playing hard to get and did not give him my number that evening. To my surprise he stood waiting outside my residence the following evening with two cups of hot chocolate, (my favourite!) in his hands! This won me over immediately! I mean, a guy that can locate a girl he likes between thousands of students and buy her her favorite drink, definitely deserves some points! We started to see each other regularly and went on a road trip together for three weeks, touring the southern parts of South Africa. By this time we were smitten and completely in love with each other! After the road trip he started to work in Namibia and we continued the long distance relationship for nearly two years! This brought us very close together and our love was tested through and through. 🙂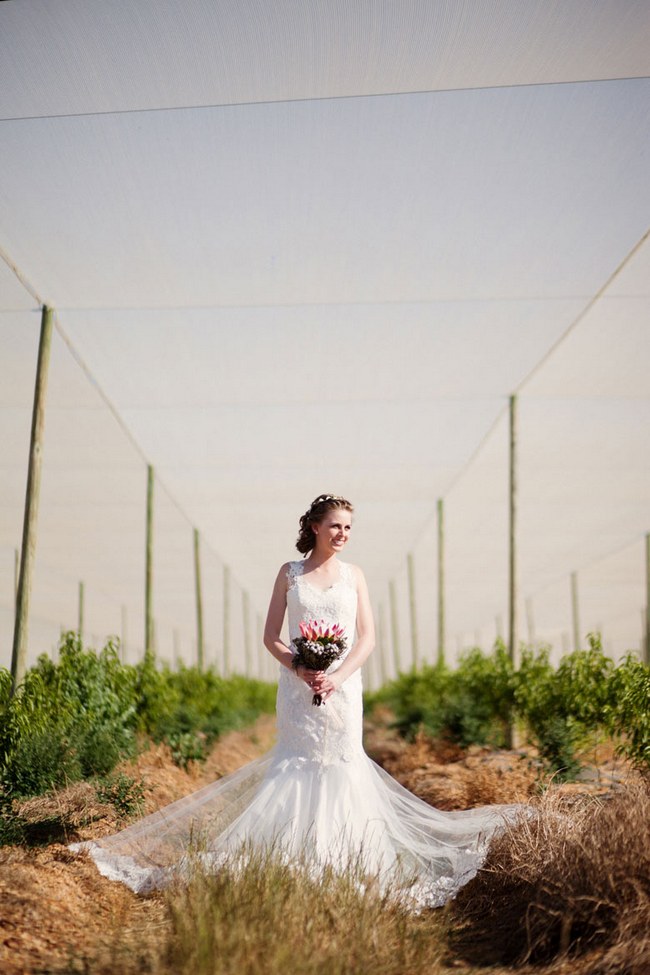 Their Proposal:
It was the last week before I started to work in South Africa and we decided to go to Chris' farm in Namibia to have a peaceful weekend in nature. In summer time it can get extremely hot in Namibia and I was relaxing in the shade with a good book when I saw that Chris was leaving the house to go for a drive. When he came back he asked whether I would like to come with him to see the sunset and to have a sundowner. We drove a while through the veld and came to a very high rock that had a breathtaking view over the whole farm. He helped me up and we drank a glass of sparkling wine as the sun was setting beautifully over the mountains in front of us. Everything had turned yellow, orange and red, as far as the eye could see. Chris then asked me to come with him as he had a little surprise for me. At the bottom of the rock there was a beautiful  picnic set out with all my favourite nibbles and a lot of candles! It was so romantic and amazing at the same time! We ate a bit and I could see that he was on his nerves. He couldn't contain it any longer and asked me to please stand up. Then I realize that something big was about to happen. He went on his knees and gave the best speech a girl could ask for and asked me if I will marry him! And I gave him the answer that it would make me the happiest woman in the world!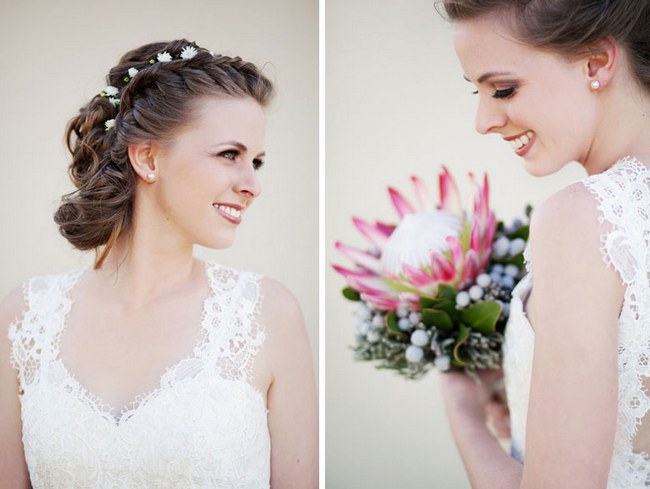 Hair and Make Up:
I wanted a natural look for my hair and make-up and flowers were also a must in my hair. People that know me will confirm that I wear my hair in different types of braids most of the time, so the stylist used this little piece of info to create my hair do.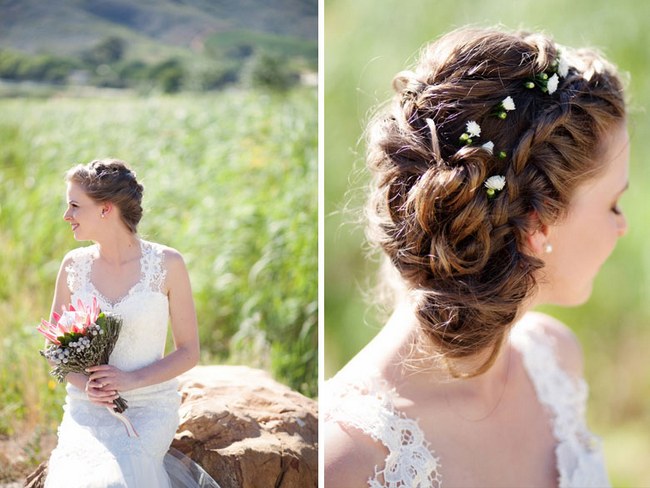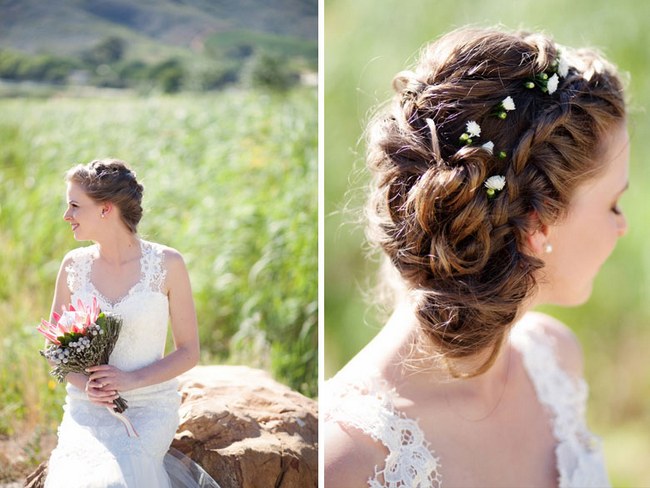 Wedding Dress:
For my dress I chose a classical look to keep the wedding stylish. I went for a sweetheart neckline and a mermaid style dress to fit my figure and style. The dress was made by a seamstress in Johannesburg. I chose French bridal satin for the first layer and a floral motive lace worked onto vale mesh for the overlay. Each piece of lace was cut out and stitched on the veil material in a random pattern. The V-back was rounded off with a satin bow. I have to say, this was the most amazing dress I have ever worn in my life! To keep to the farm-style, I wore cowboy boots in an ivory colour.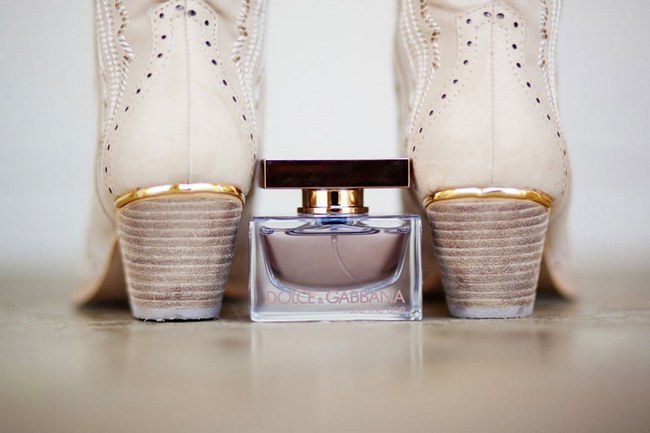 Wedding Bouquet:
My sister and I decided together on the flowers to be used at the wedding. I love Proteas and to go with the colour scheme, we decided on white proteas, also known as the "Ice Queen" and the red King Proteas as the focus flowers.  For my bouquet I used a red King Protea with white Brunias forming a ring around the protea. We also did all the flower arrangements ourselves. (Well, mostly my sisters and bridesmaids did all the work! 🙂 )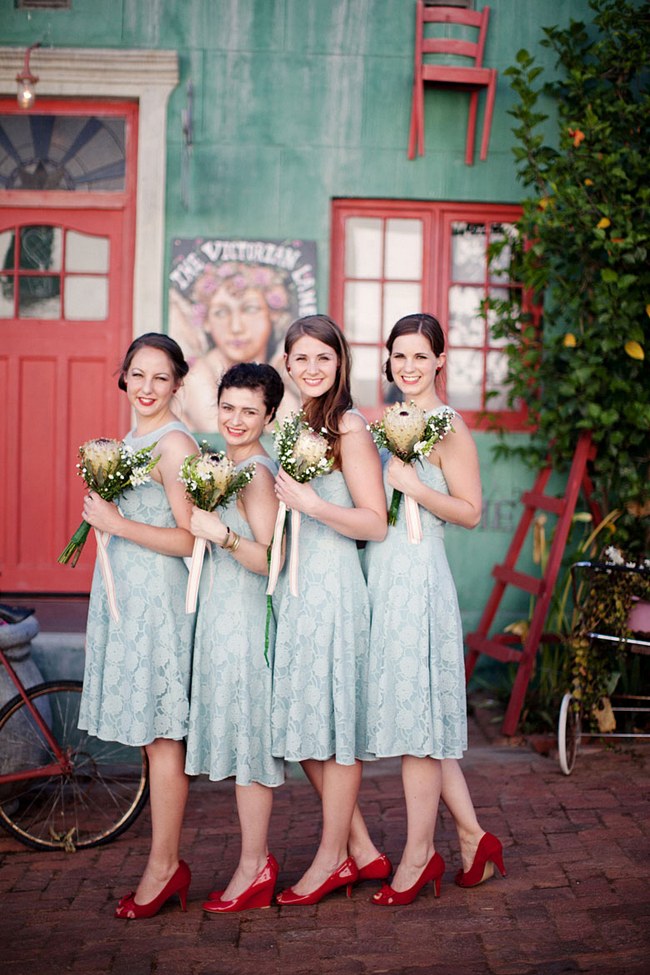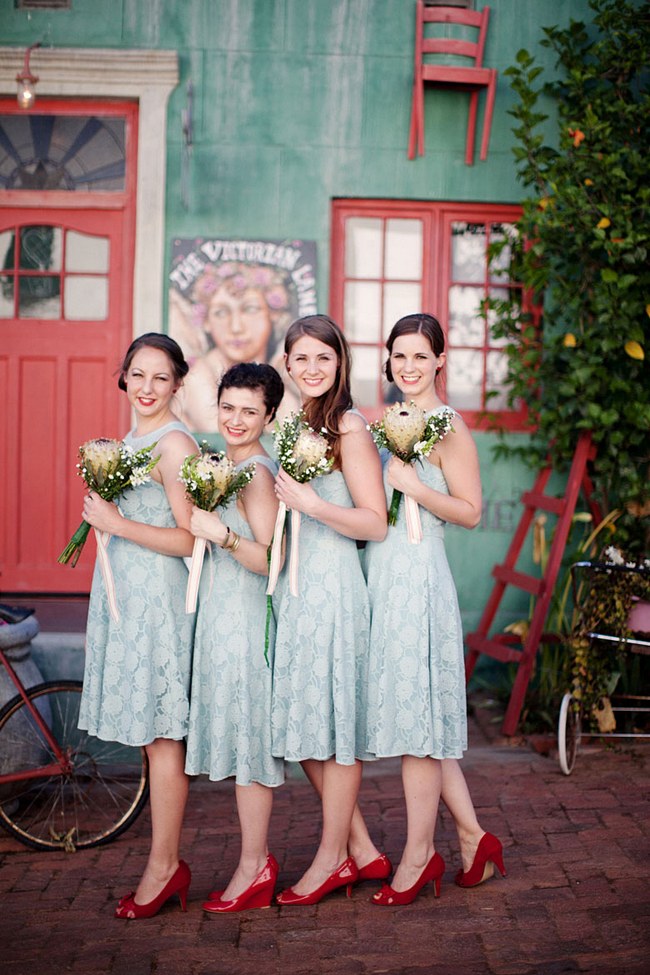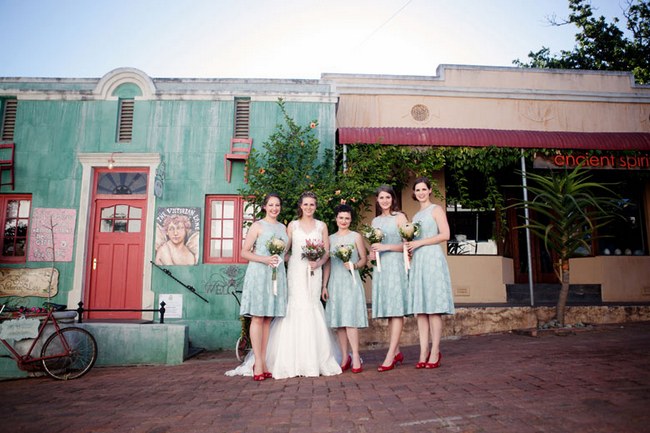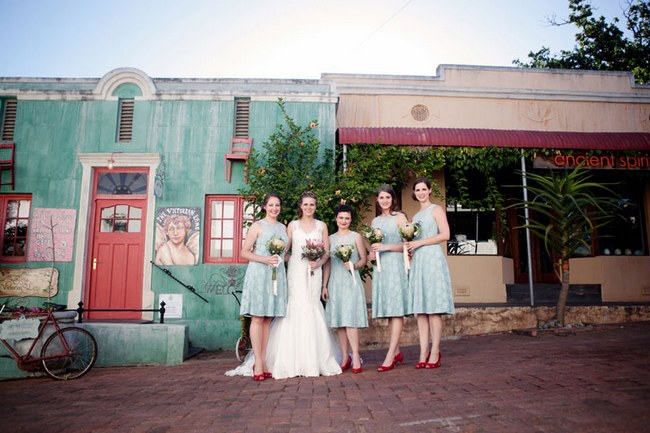 Special Touches:
Every piece of detail for the big day was very important to me. I am very sentimental and it was incorporated greatly in our wedding. Chris' grandfather, who is 87 years old, was our pastor at the wedding. They share the same birth names and this was extremely special to us. Then I used old window frames to put in photos of our family weddings. Our wedding car was a Jaguar owned by the residence Chris was in during his time at University. As confetti we used red and white duck feathers to create the feeling of freedom as we walked as newly weds from the church building 🙂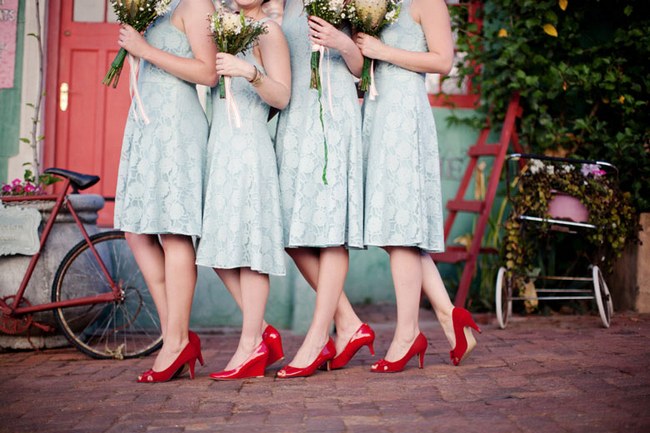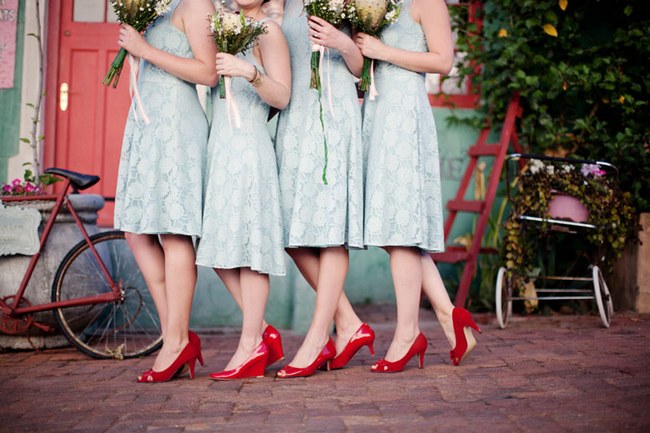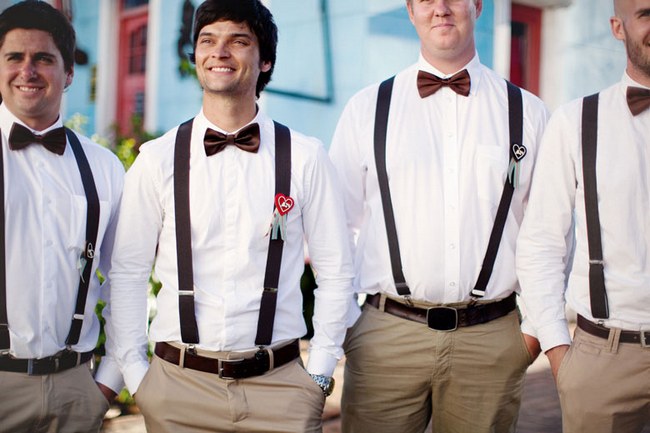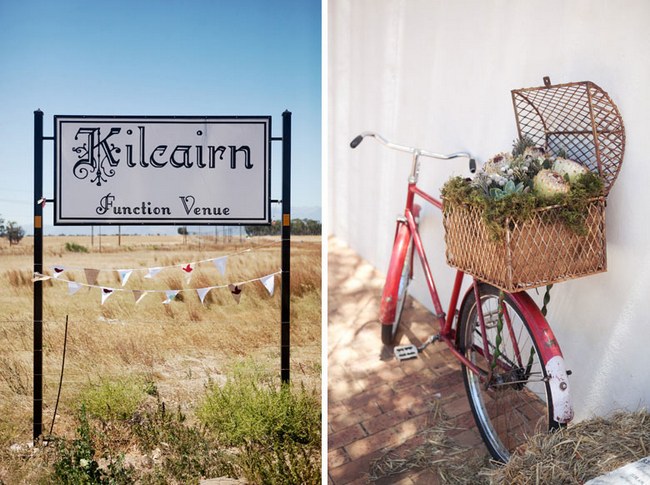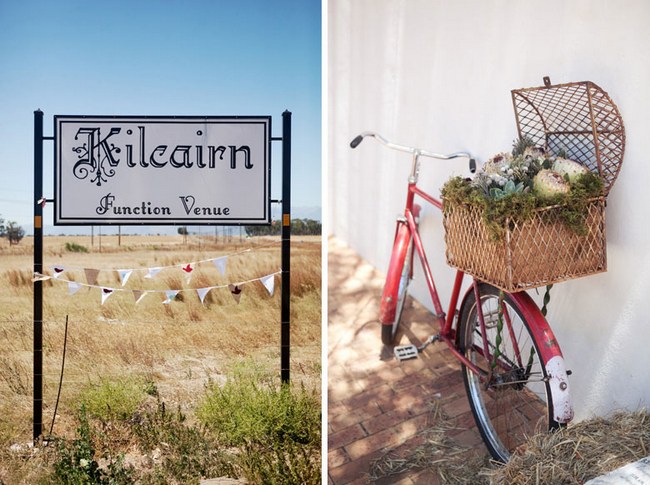 Choosing a Wedding Theme:
Both Chris and I grew up on a farm and this was our inspiration for our wedding theme. I wanted to have the feeling of freedom and closeness to nature you experience when you are on a South African farm, yet it should be chic and stylish. My colour palette for the wedding was ivory, aqua, rustic brown and pops of red!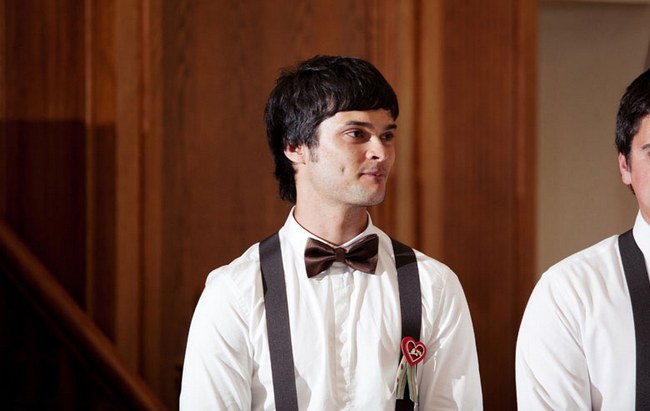 Wedding Playlist:
I walked down the aisle on a cover of the Christina Perry song: "A thousand years", done by The Piano Guys. The words is extremely descriptive of my love for my husband and exactly how long I will love him 😉 When we walked into the reception, "Gone, Gone, Gone" by Philip Phillips played. We had our first dance to the song: "End of the road" by Shaun Jacobs.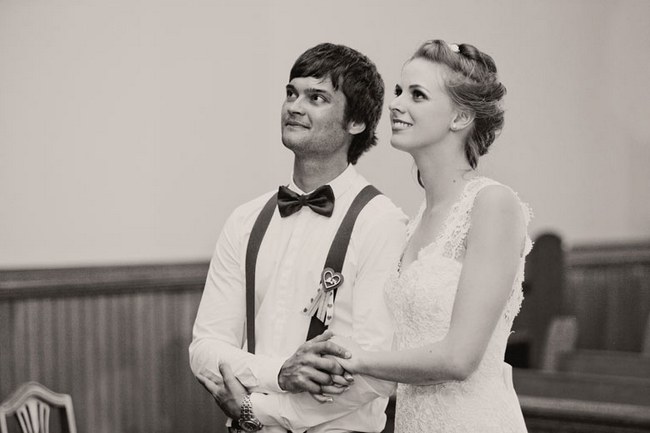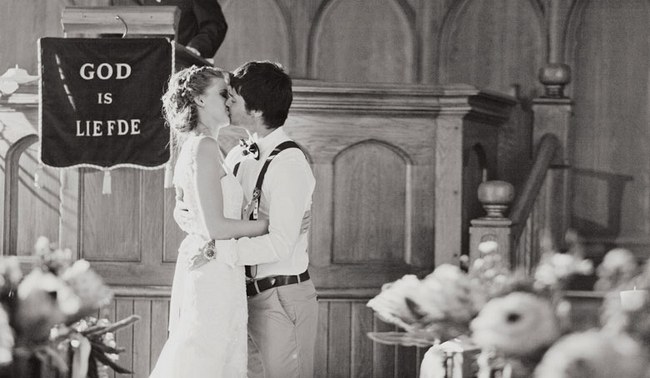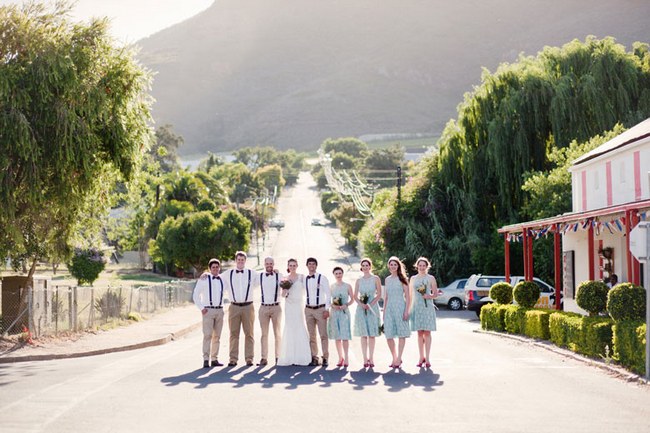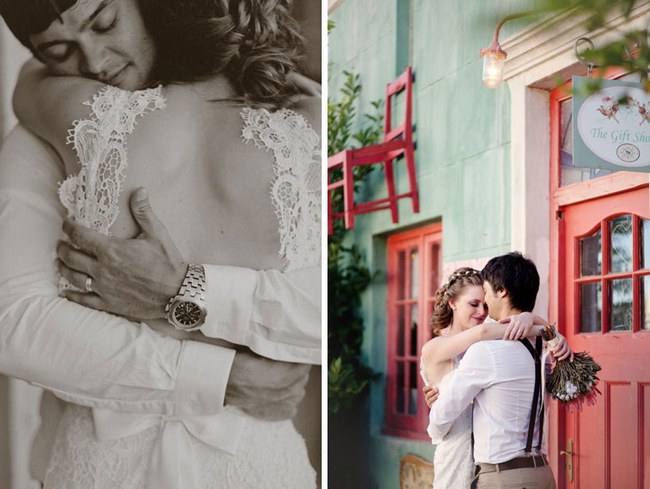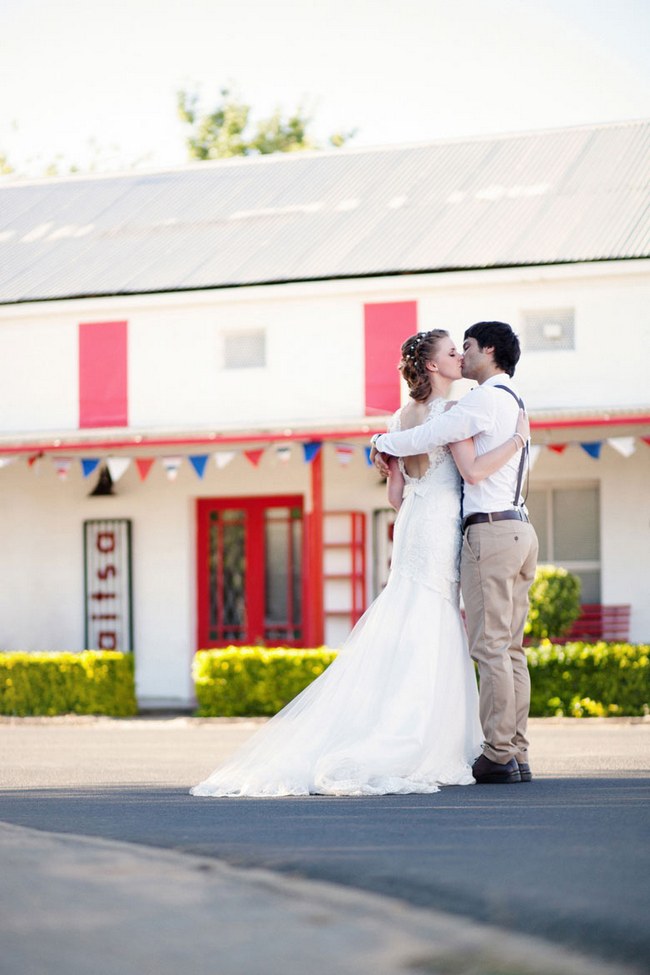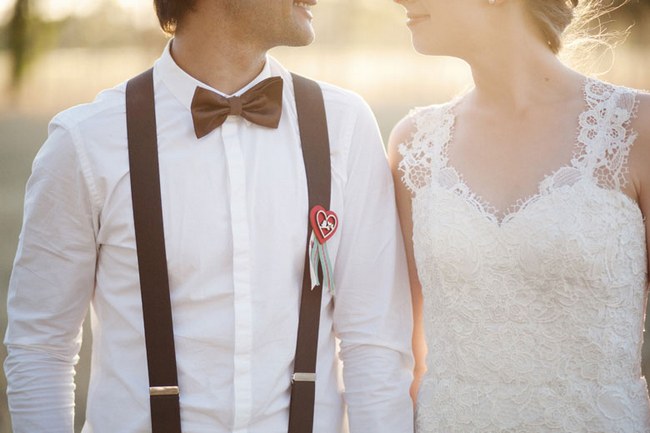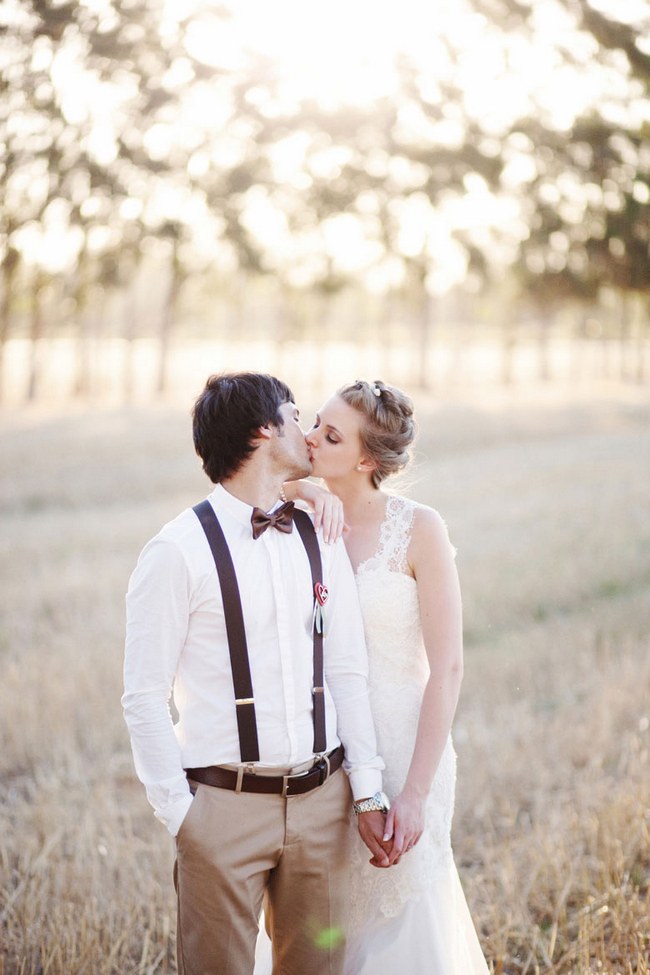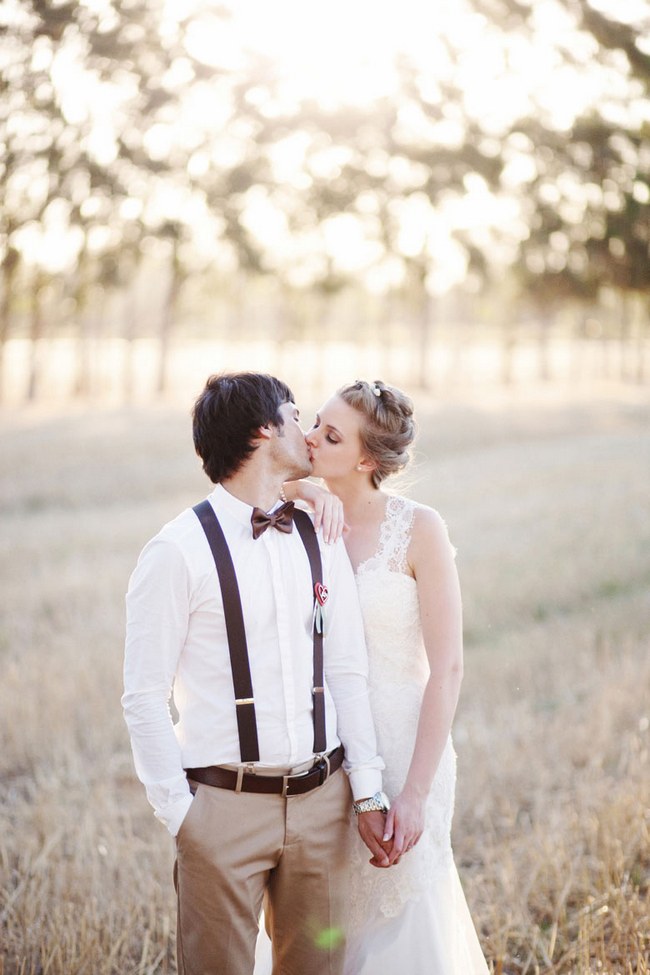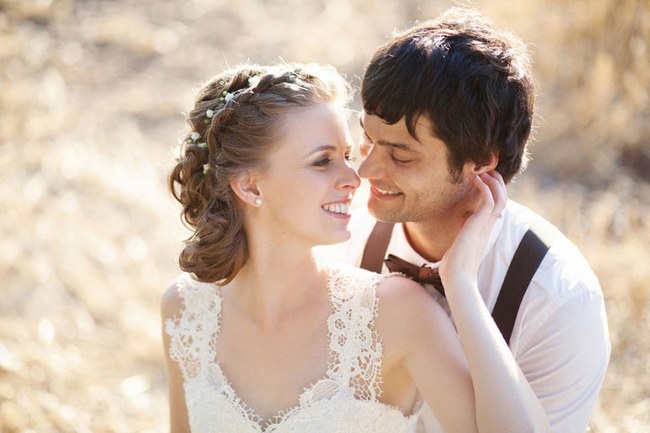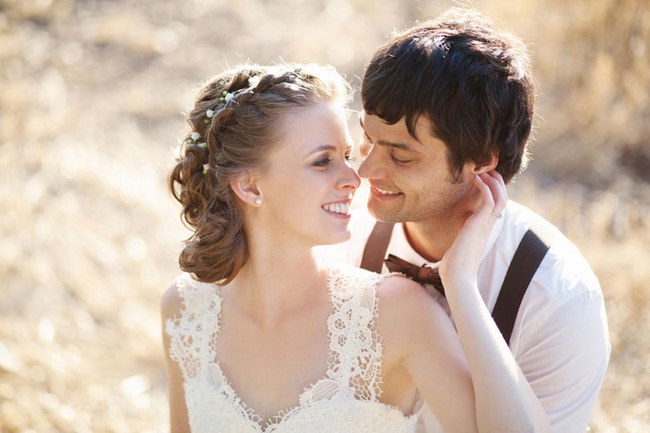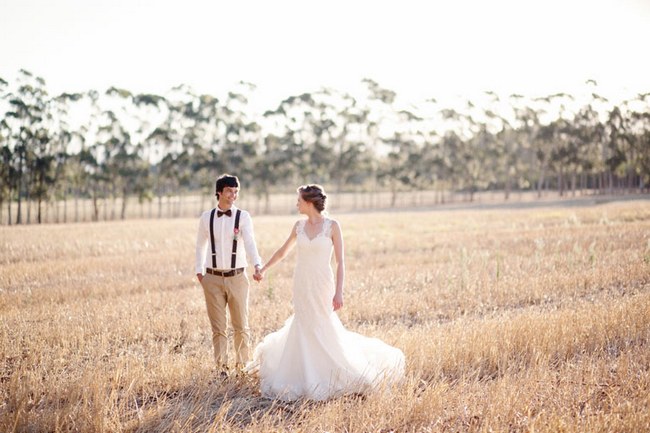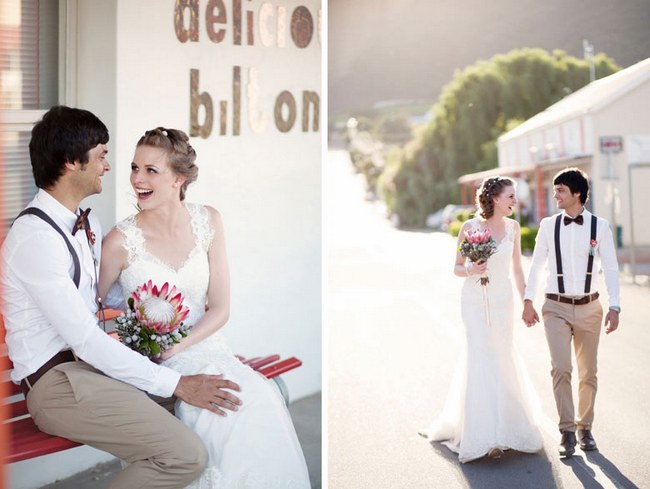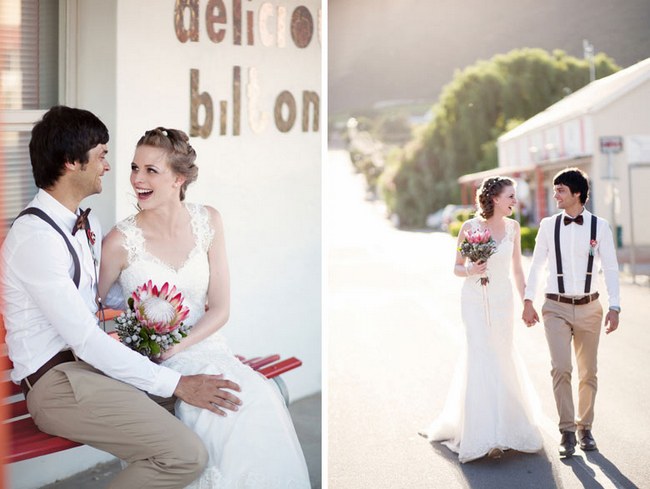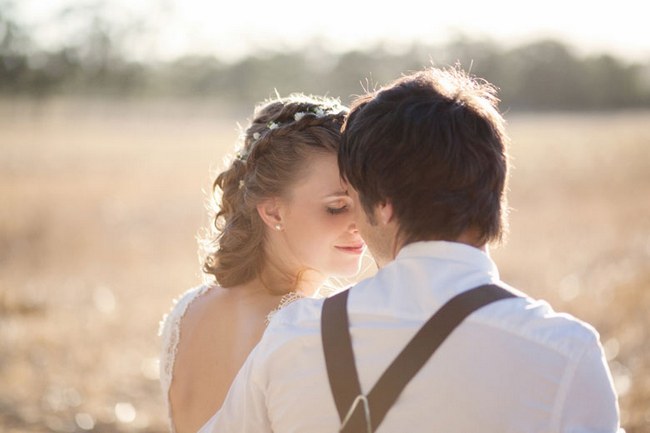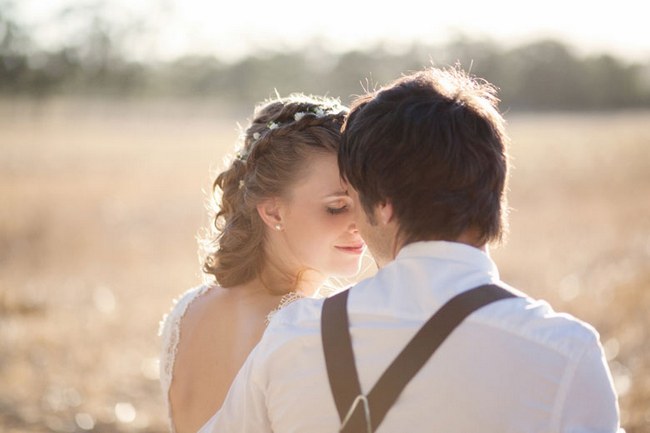 Photography: Special thanks go out to our photographer Moira West. She is absolutely the best! She just knows how to capture every special moment!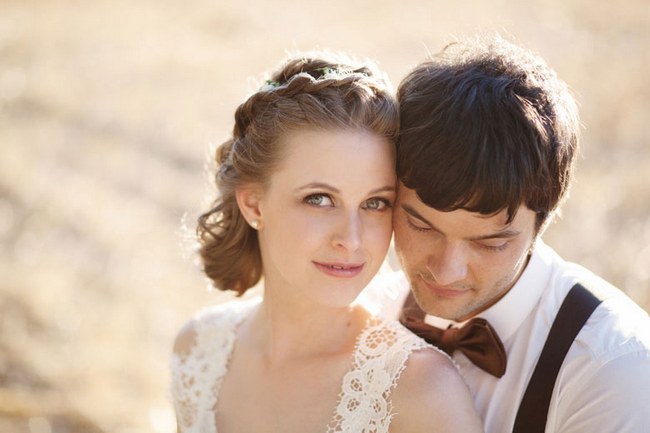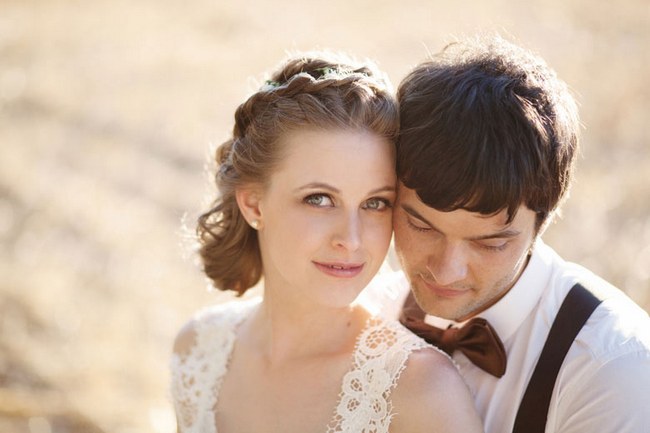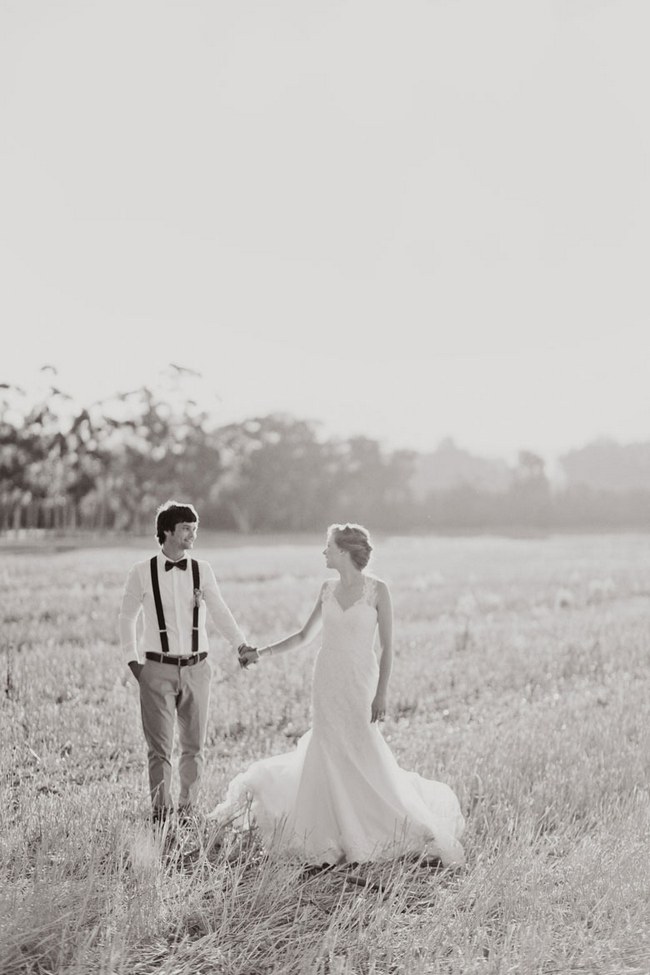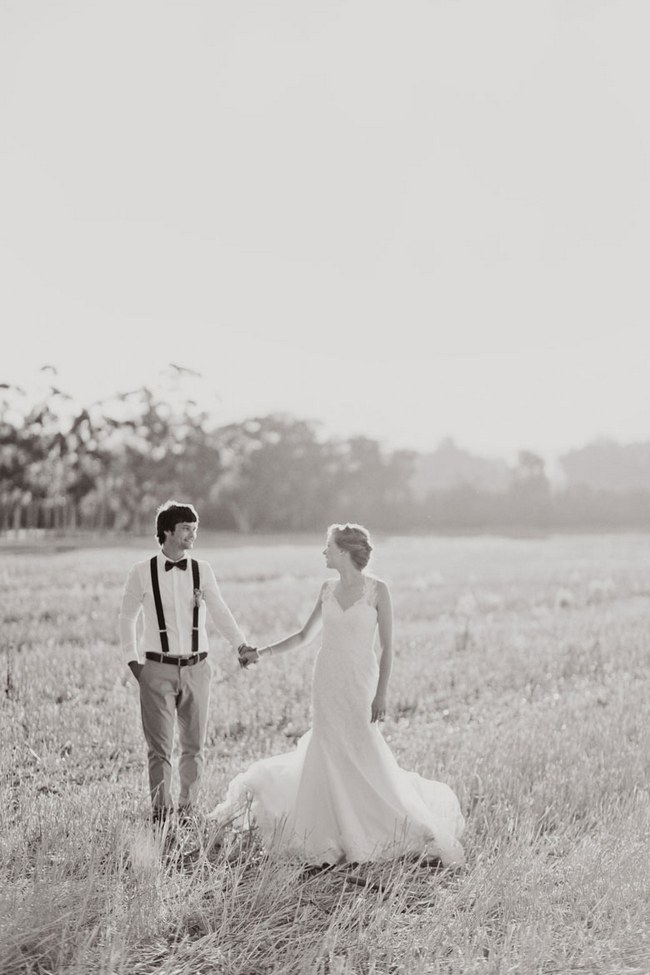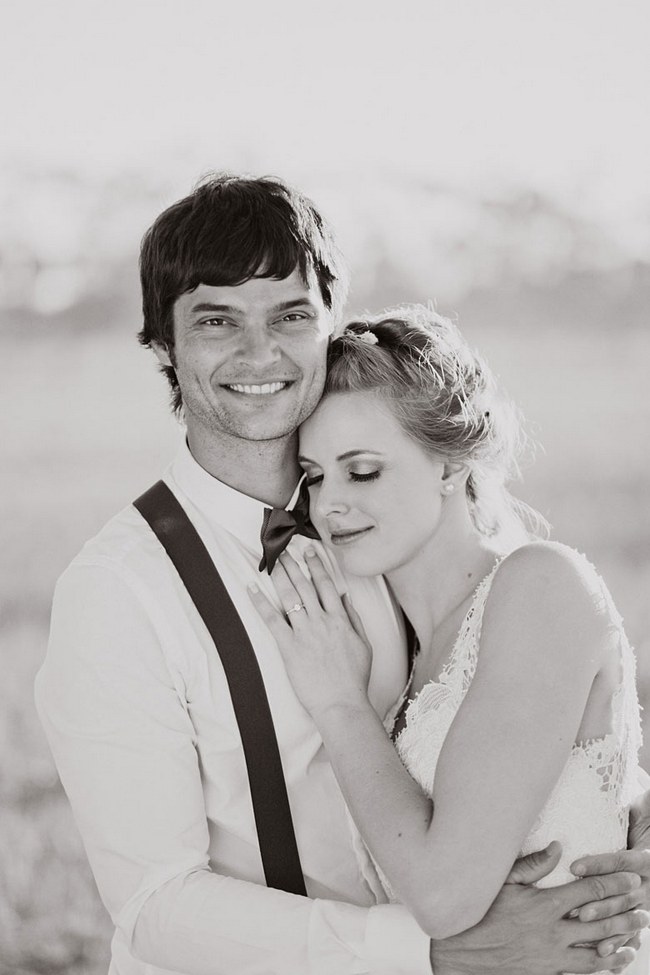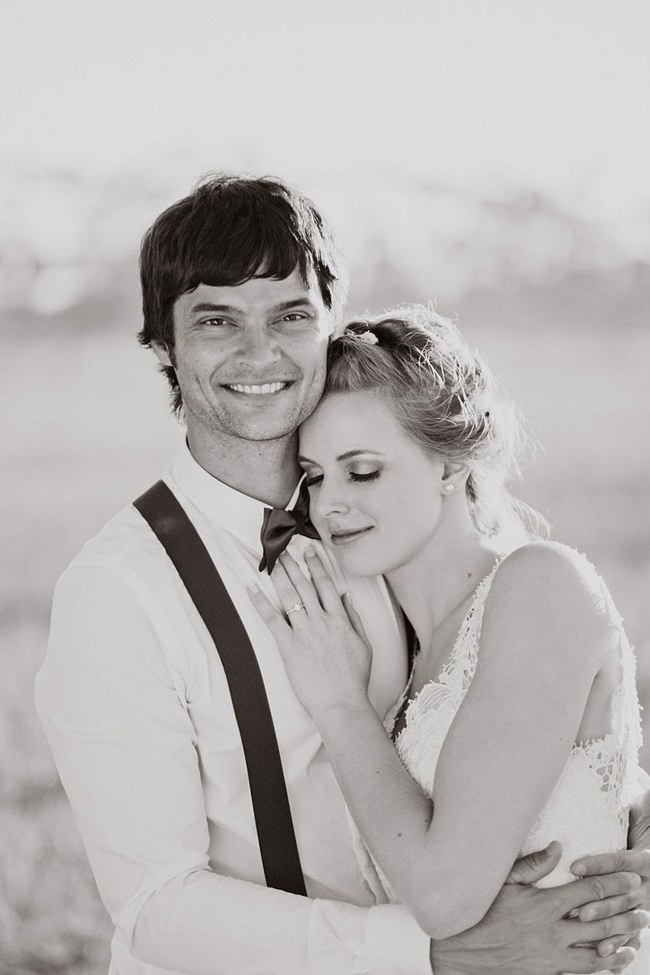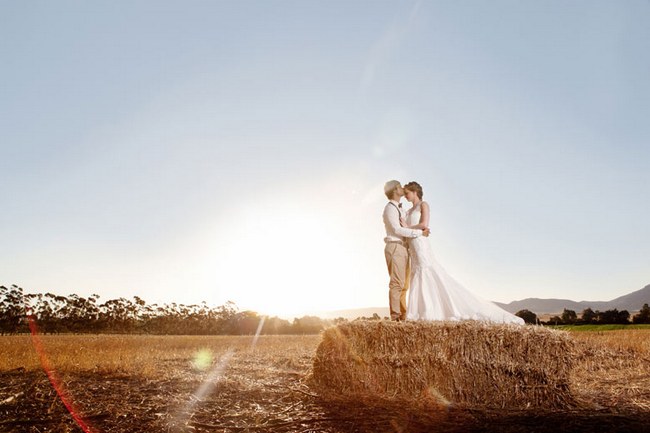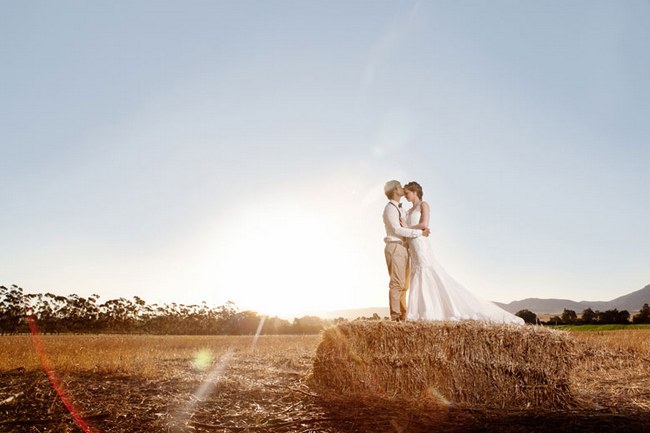 Most of my decor was DIY! My father and I made the bunting hanging from the roof. It took hours of cutting out white linen and burlap triangles and then we stitched on blue hearts and red velt birds.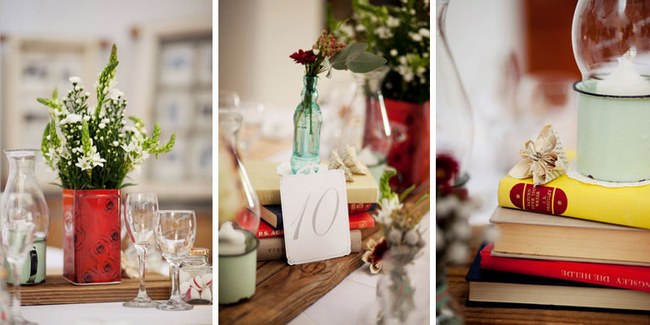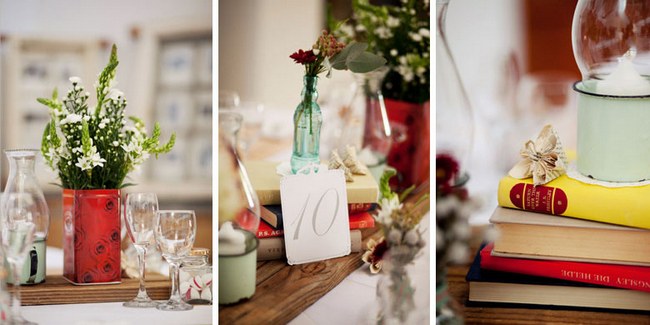 Wedding Flower Choices:
The flower arrangements on the the tables were simple, we arranged on or two small flower bunches in different sized vases. This went very well with the natural, minimalistic feeling. We used flowers such as White Mickey Daisies, Chinks and Brunias.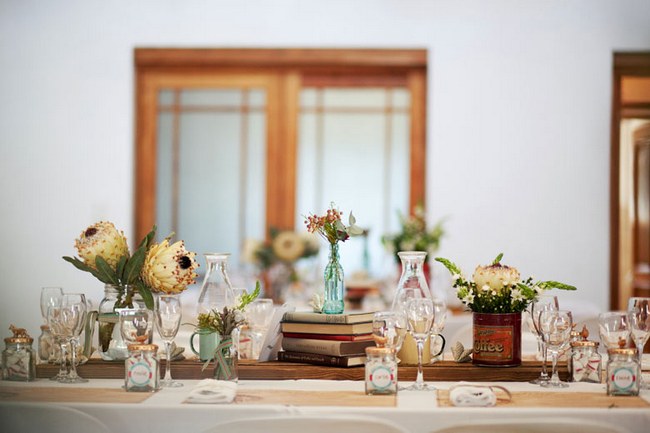 Wedding Decor:
All the decor for the wedding day was carefully selected. I borrowed many items from my parents on the farm to create the vintage farm feeling, which included an old red bicycle, old wooden frames, old milk cans and lanterns.
The tables had a simple layout of white linen tablecloths with a wooden sleeper in the centre of the table. On the sleeper we put three vases with flowers. These had different heights to balance out nicely. Some of the vases were tin, others were glass and there were even some popcorn holders.
Aqua, ivory and red ribbons were tied around the glass jars. Also on the wooden sleeper were books piled up to contribute to the vintage feeling. as lighting we used candles put in old tin mugs, covered with a lantern glass. This created a very romantic atmosphere.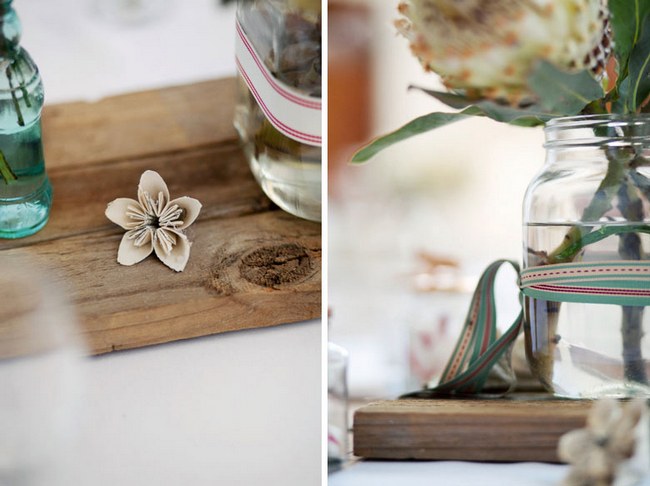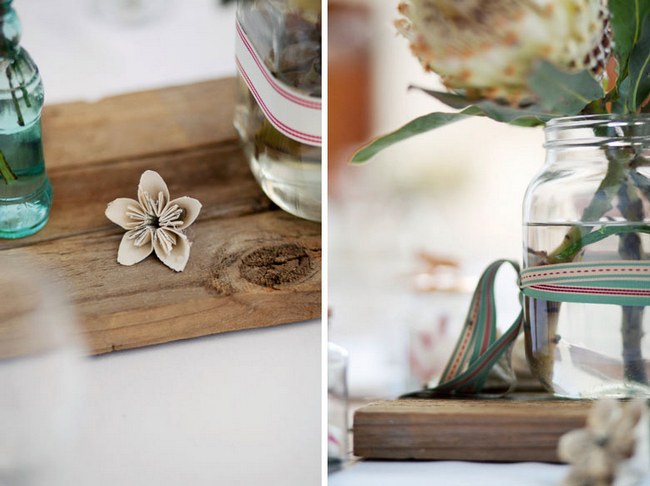 My maid of honour folded hundreds of paper origami flowers that were strewn on the tables and some were also put onto sticks and arranged with the flowers.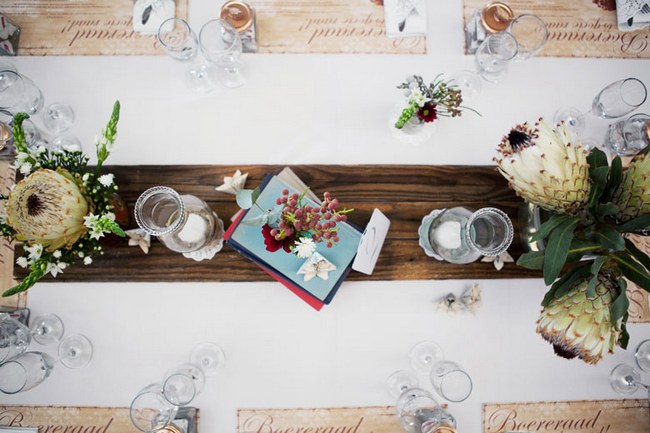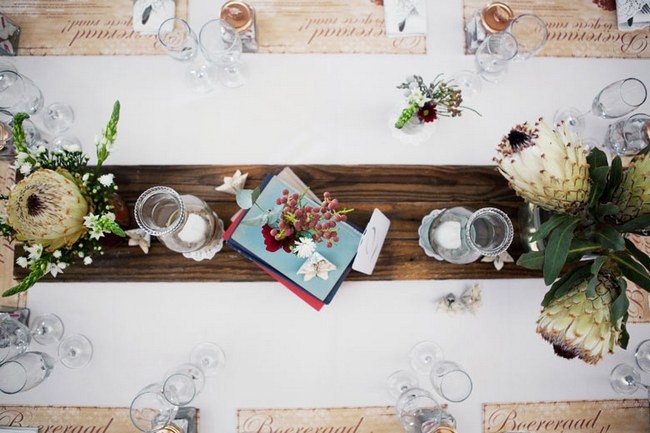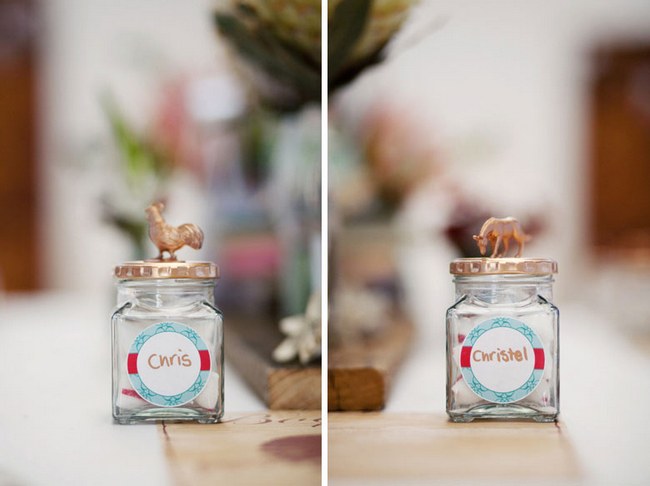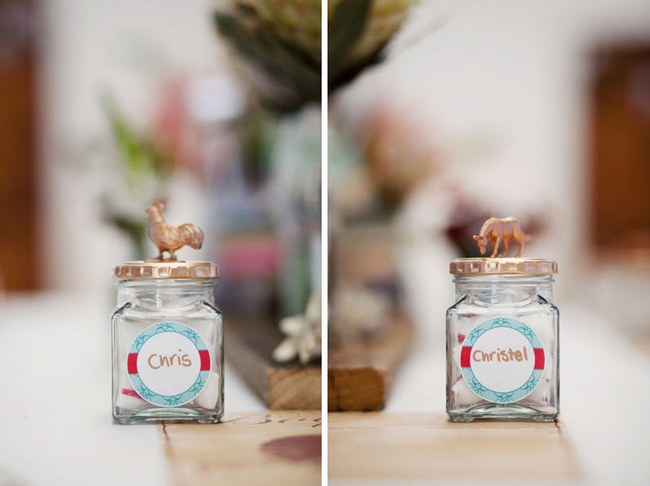 The wedding favours were small glass jars filled with mint bon-bons. We spray-painted the lid and small plastic farm animals with bronze spray paint and glued the animal onto the lid. We printed round labels and wrote the name of each guest on the label.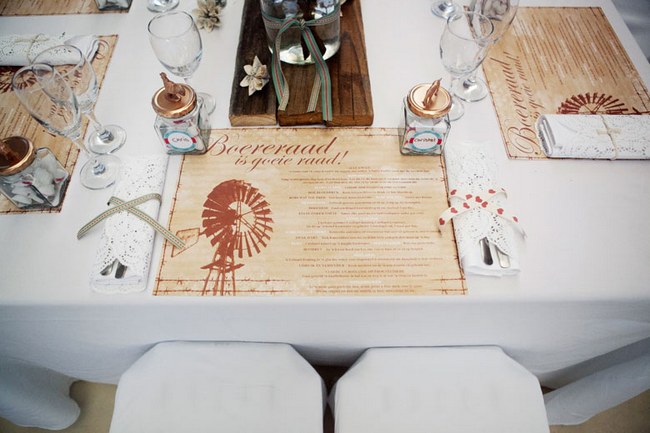 As place mats we used printed papers with old farm sayings printed on them. This created a lot of conversation for the people around the table! The silver cutlery and serviettes were wrapped in a paper doily and tied with a small ribbon.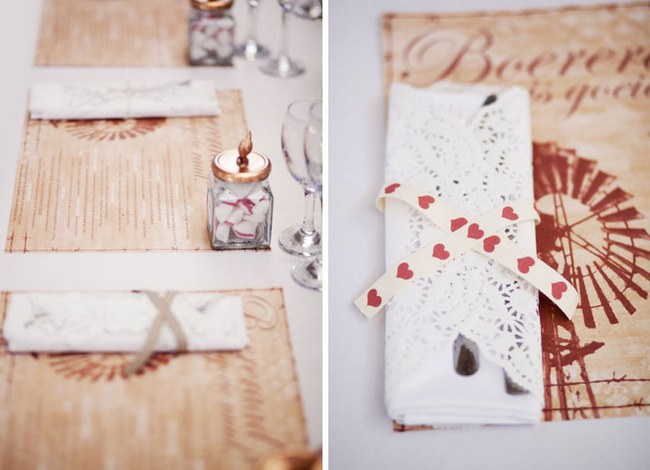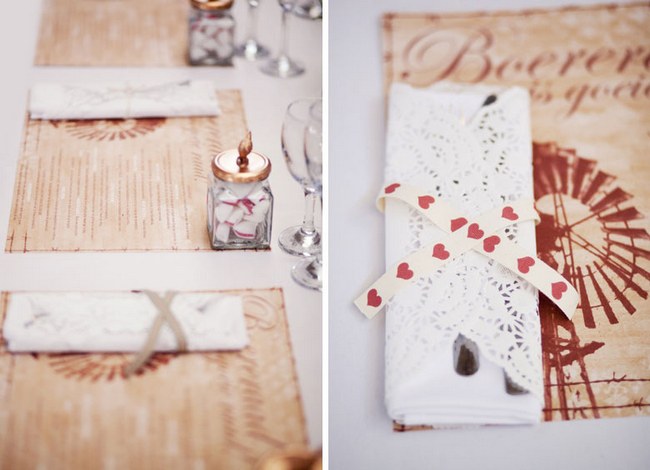 The very beautiful wooden roof of the venue did not need much decoration and we only used a few strings of DIY bunting to hang from the roof. The venue also had a very nice farming atmosphere and we arranged covered straw bales on the outside. Chinese lanterns provided lighting and small wooden birds hang from the trees to add to the feeling of nature.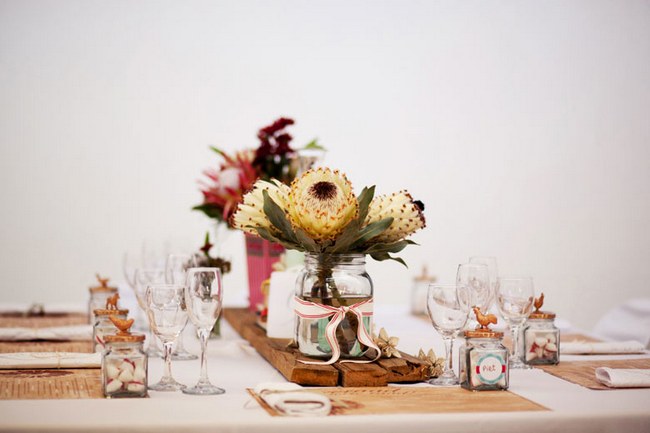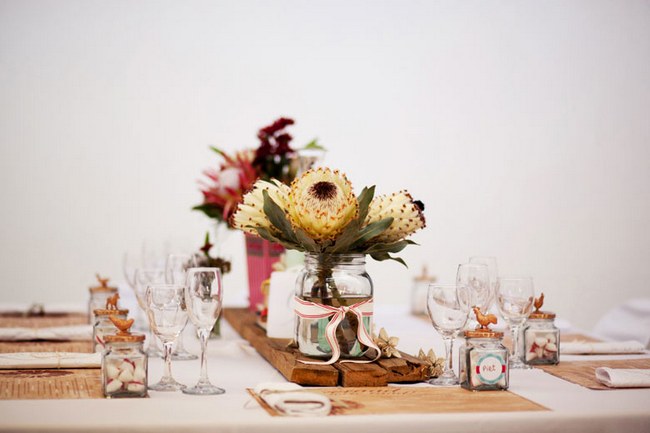 Real Bride Christel's Advice For Brides-To-Be
Planning, planning, planning! I don't think I can stress it more. Proper planning will take away a lot of stress on the big day, so that you can concentrate on one thing only: to look gorgeous on your special day!
We saved a lot of money by sourcing our own decor. This takes more planning, but if you do it properly you can save thousands.
We had electronic "Save the Date's" as well as invites. We created a website that served as the invite and contained all the necessary information. This also prevented admin issues as people could RSVP directly from the site.
♥  ♥  ♥    CREDITS   ♥  ♥  ♥

Photographer Moira West Photography  | Venue Kilcairn Function Venue, Riebeeck Valley | Shoes Volatile Women's Cowboy boots | Stationery: (Digital) – Used Purple Trail and Wix | Decor : Alanie van Heerden | DJ / Music Johan Wiid – Blacksheep Media | Cake & Catering: Two Food Fundies | Pastor/Officiator PC van Rooyen (Chris' Grandad)  | Venue Flowers Alanie van Heerden – Supplier: Bunches for Africa | Chapel Flowers Annalie van Rooyen (Mother in Law) | Bouquets & Corsages Alanie van Heerden, Mariska le Grange and Antoinette Erasmus | Brides Make-up Alanie van Heerden and Mariska le Grange (my sisters) | Brides Hair Liesl Kleinschmidt | Dress Jeannette Markgraaff || Bar Kilcairn Function Venue