To Top it All Off
♥ ♥ ♥ 
Placed atop your wedding cake, these mostly handmade wedding cake topper creations are each unique and inspired by the couple that they are made for. Perfect to adorn your wedding cake, inspiration that you can grab from our 25 Ombre & Ruffle Wedding Cake Wonders, be further inspired by our collection of cake toppers to top them all! If this feature inspires you to purchase one of these beautiful items we'll get a small percentage of the sale for sharing them with you. Thank you so much for supporting our content!
1. From Indigo Twin Weddings, this handpainted Aqua Kissing Fish Wedding Cake Topper with two little kissing fish ready for the wedding chapel is perfect for a beach wedding! Attached to a pair of wooden skewers, their lips meet in a kiss and have bubbles and a glittered heart floating into the air.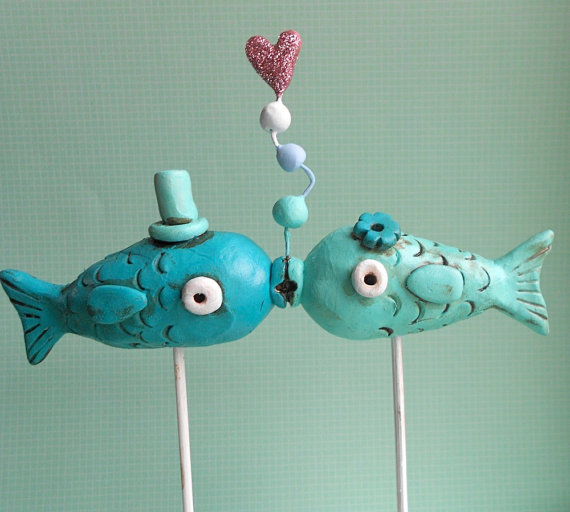 2. (Below Left) Shown below is My Elegant Robot Wedding Cake Topper, a science fiction fantasy-inspired wooden art sculpture from Builders Studio consisting of a robot bride and groom in elegant evening wear. 3. (Below Right) Add sparkly bling to your wedding cake with this custom designed traditional monogram crystal topper from Crystal Toppers. Made with only the finest materials to ensure everlasting perfection, they are sure to add a special touch your wedding cake.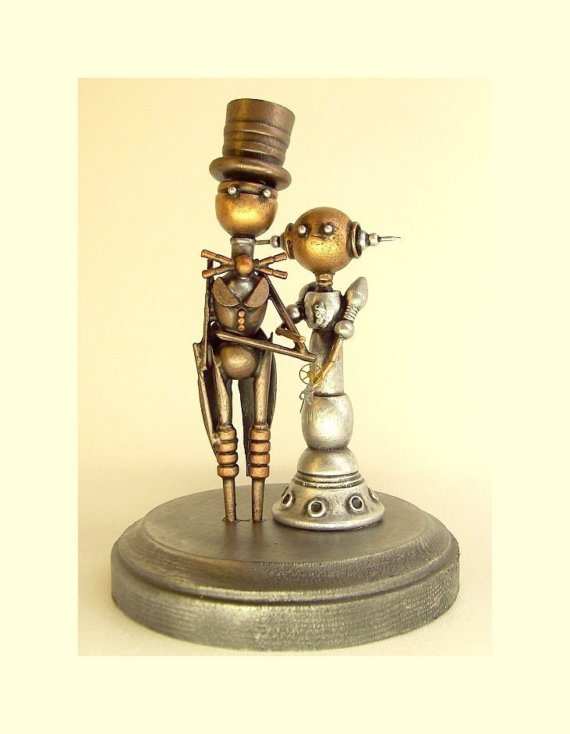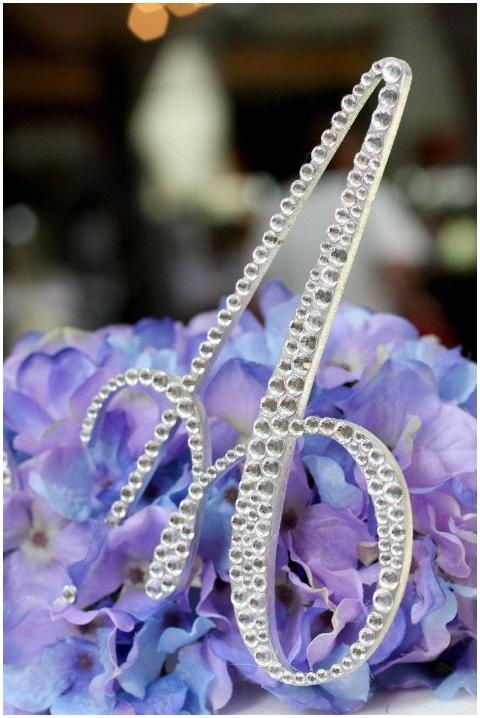 4. These Koala Love Wedding Cake Toppers from Bobo Babe are handmade and filled with memories and love.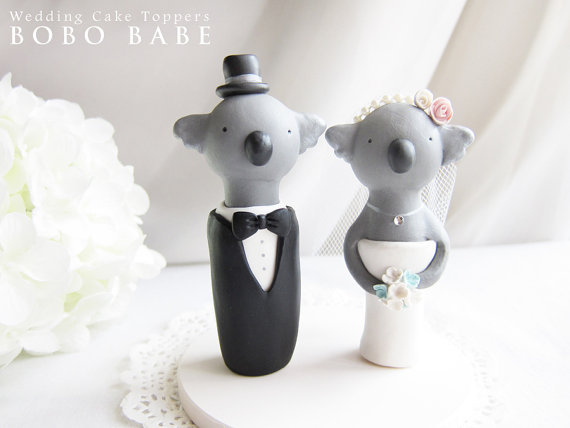 5. Display on its own or with your wedding cake toppers, Proverbial Daisies have created this adorable handstamped "Mr & Mrs" white linen bunting  and colorful triangle bunting to add to your wedding cake. Match it to your wedding theme or customise it to include your names, monograms or your wedding date.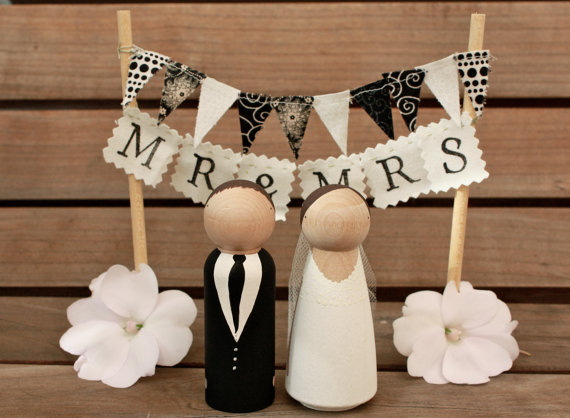 6. Dress your wedding cake up with these cute hearts, each hand engraved with the words "better" and "together" or it can be customised to any sayings or names of your liking! Also great as photo props, these wooden heart cake toppers from Prince Whitaker are great for a Rustic Chic-themed wedding celebration.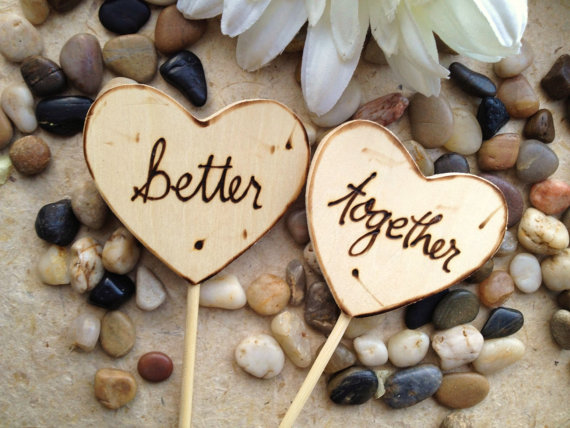 7. Created by the ultra-talented Alaina Urquhart, this personalized wedding cake topper is  unique to every couple and best of all – it can be treasured as a keepsake of your wedding day.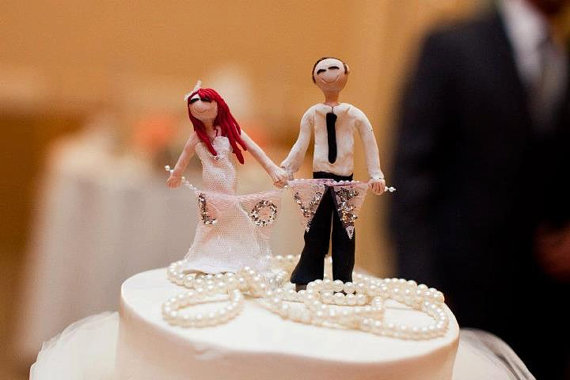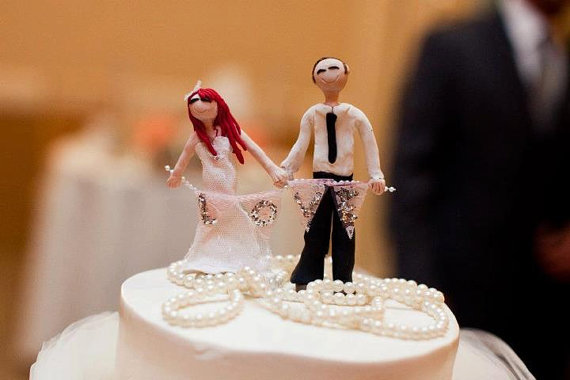 8. The Air Castle has created the cutest custom hand-sculpted darling ewe and ram set, called the I Love Ewe Custom Keepsake Wedding Cake Topper, which can also be customised and kept once your cake has been eaten.
9. From April Hiler Designs, this cake topper with vine letters is crafted from natural grapevine and can be embellished with optional bits of preserved sheet moss.  Attached to wooden dowels, it makes striking rustic wedding cake toppers, especially for outdoor weddings.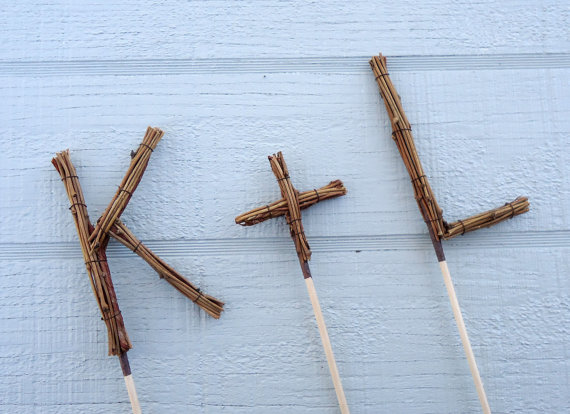 10. (Below Left) Nerd Alert! And we're loving this Custom Book Lovers Topper from MudCards, which you can have customised completely right down to your expression, hair, skin color, clothing and more! 11. (Below Right) If you're a fan of the infamous Twilight movie trilogy and just couldn't get over Bella & Edward's wedding,  then this wedding cake topper made by Clayphory, is for you! Made as a commemorative cake topper for those couples who love the movie's wedding style.
12. Without breaking the bank, get this funky, word-centric 'You & Me, Always & Forever' Cake Topper, created by Miss Cake. Something similar can also be custom-made for you in nearly any saying that you'd like!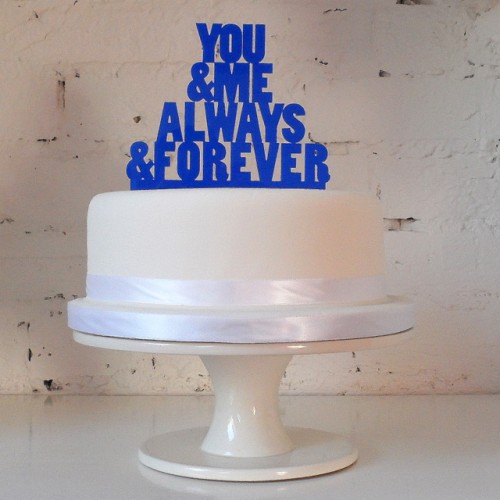 13. Add style and beauty to your wedding cake with these Lettered Swarovski Crystal Cake Toppers from Belle Styles. These jeweled cake toppers are crafted of sterling silver-plated metal and accented with genuine Swarovski crystals.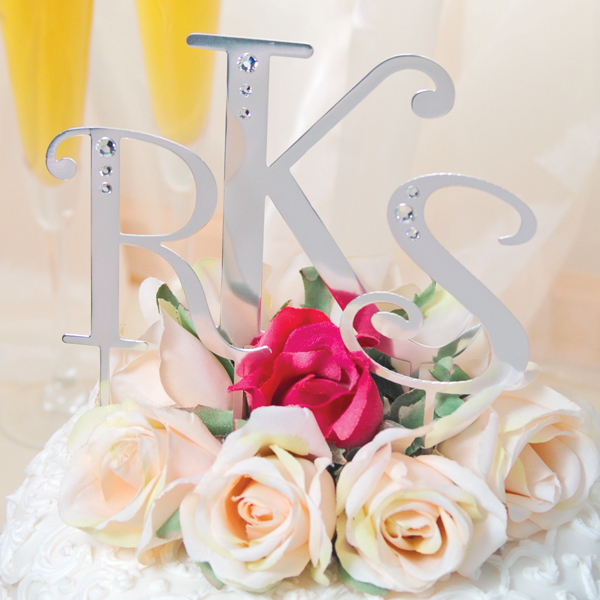 14. Oh, these wooden Silhouette Cake Toppers by Figs+Ginger , as seen on Emmeline Bride are so cool! Making a great keepsake, they can be reused after the wedding day on your anniversary cakes or used as wall art, a decor piece or to decorate album covers or scrapbooks.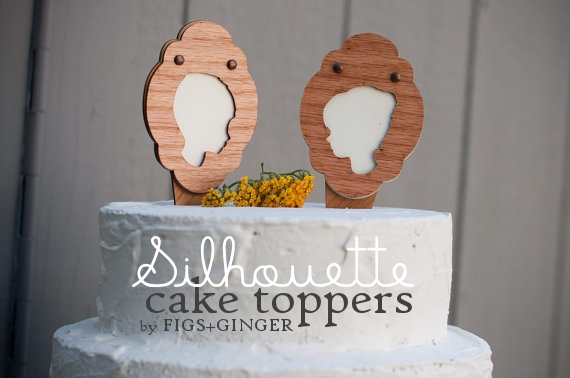 15. (Below Left) As seen on Style Me Pretty, captured by Samm Blake , this pair of elegant birdy cake toppers is lovingly made by Ann Wood Handmade, the creator of several exquisite cake toppers.  16. (Below Right) Here we have more sweet bird cake toppers, as seen on Style Me Pretty, captured by Lisa Franchot.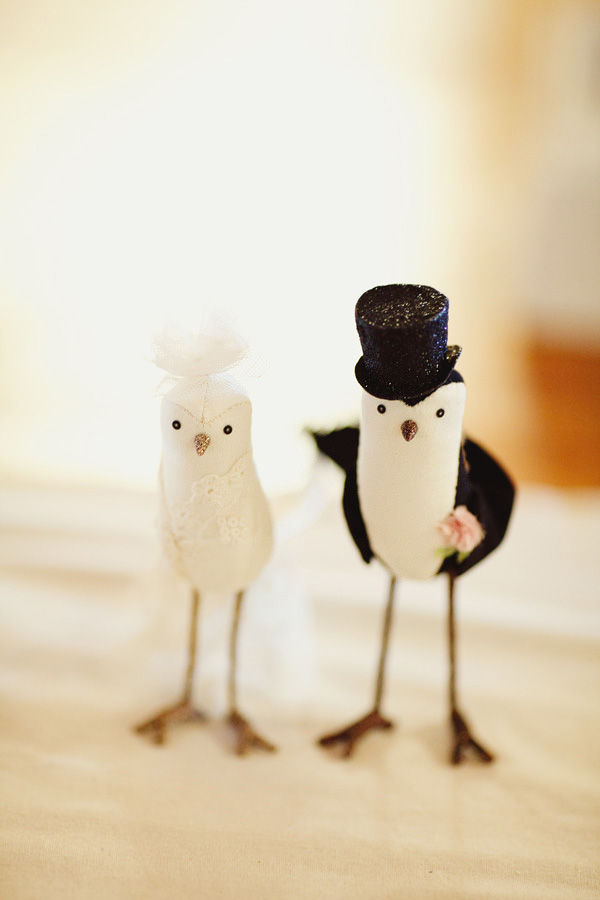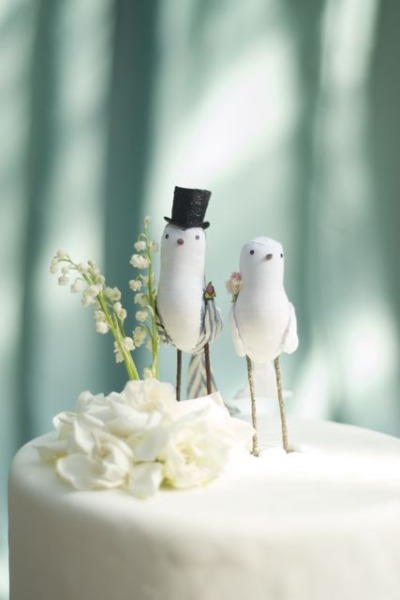 17. A whimsical wedding cake topper, this "Mr and Mrs" cake topper in black and light pink from Better Off Wed is both chic and modern, which is certain to add a touch of bespoke elegance to your cake. After your big day, transform this topper into an heirloom treasure by placing it alongside your wedding photo, frame it in a shadow box or display it as a hanging ornament on your Christmas tree.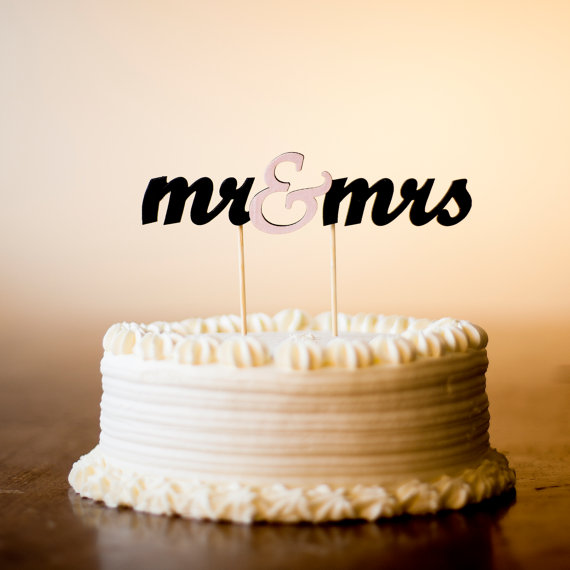 18. From the Republic of Cute, these doggy cake toppers are quirky and worth a few laughs! Aww!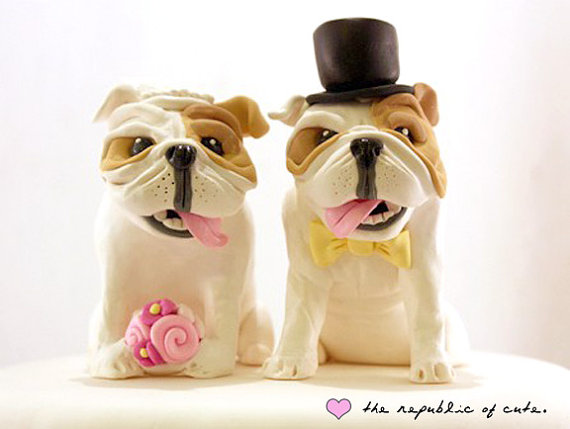 20. These cute couple cake toppers were captured by Pure Photography by Lindsey Tropf.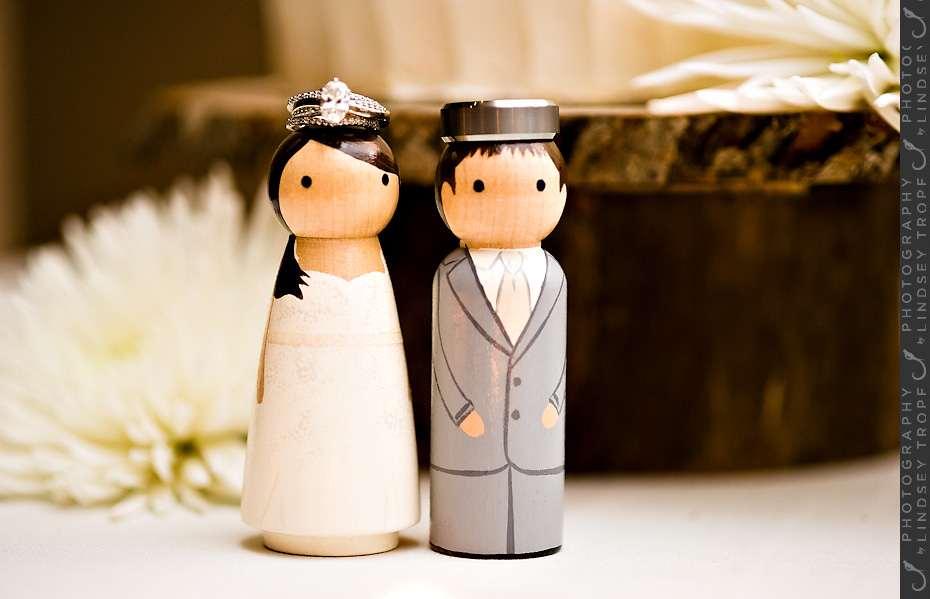 21. A nice alternative to the traditional bride and groom figurines are these great typography cake toppers. Miss Cake swears that it is also the perfect way to get out of decorating a cake! With little birds flying around your name, it can also be kept as a lovely memento of your special day.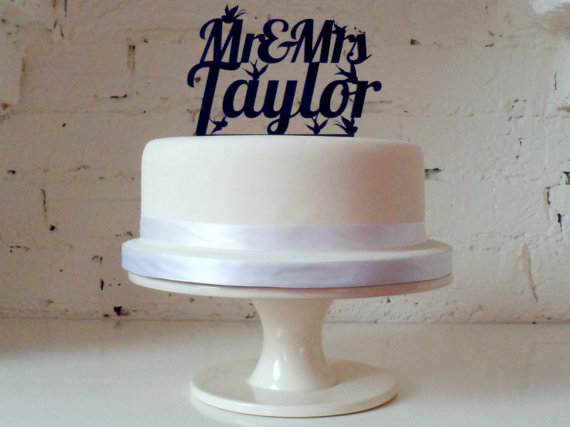 22. We love this handmade cute and oh-so-lovely Panda wedding cake topper from Kikuike, which can be customised.  A very detailed cake topper with eyes made using Swarovski crystals!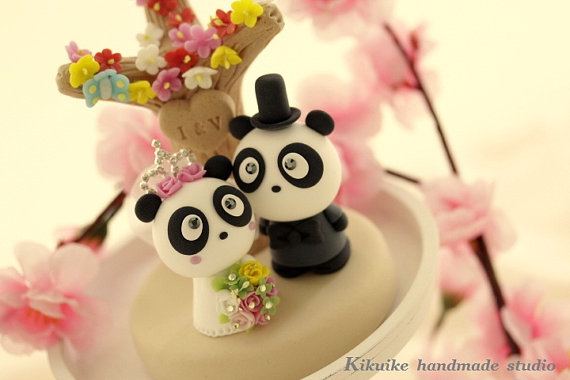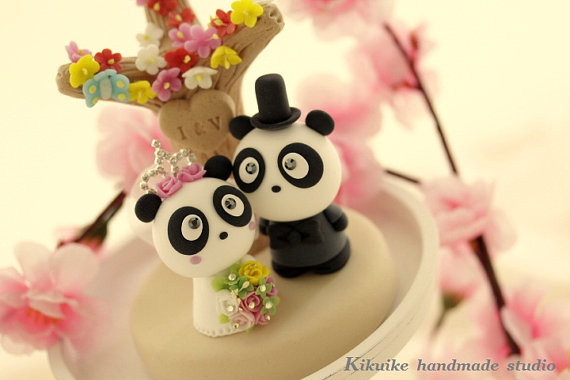 23. (Below Left) These Japanese-inspired cake toppers used for a Rustic and DIY wedding garden party, as seen on Studio DIY, captured by Cfuertez Photography, makes an unusual wedding cake topper topping! 24. (Below right) Ooh! A fun cake topper that says it all! Choose a cake topper that reflects who you are as a couple or perhaps, something that you both enjoy doing together – such as playing basketball. From Wedding Star, it shows a fun couple ready to hit the basketball court of love!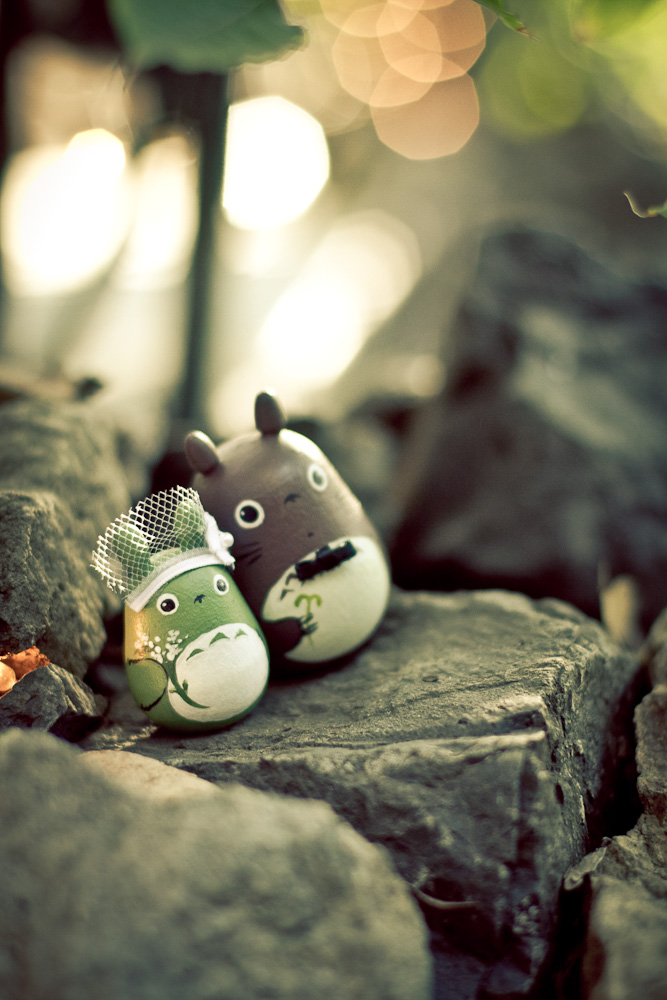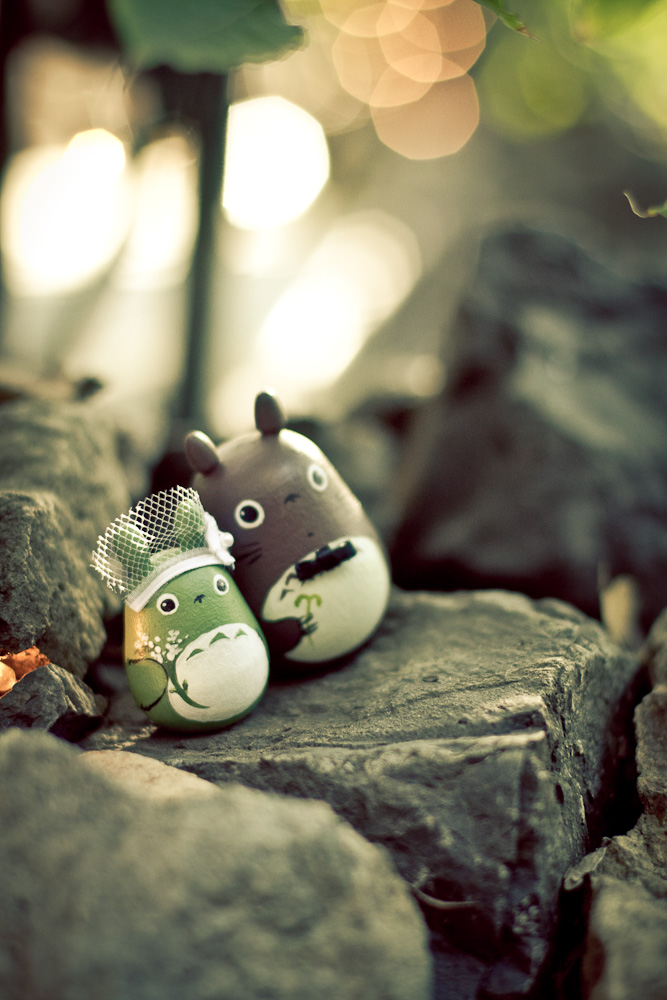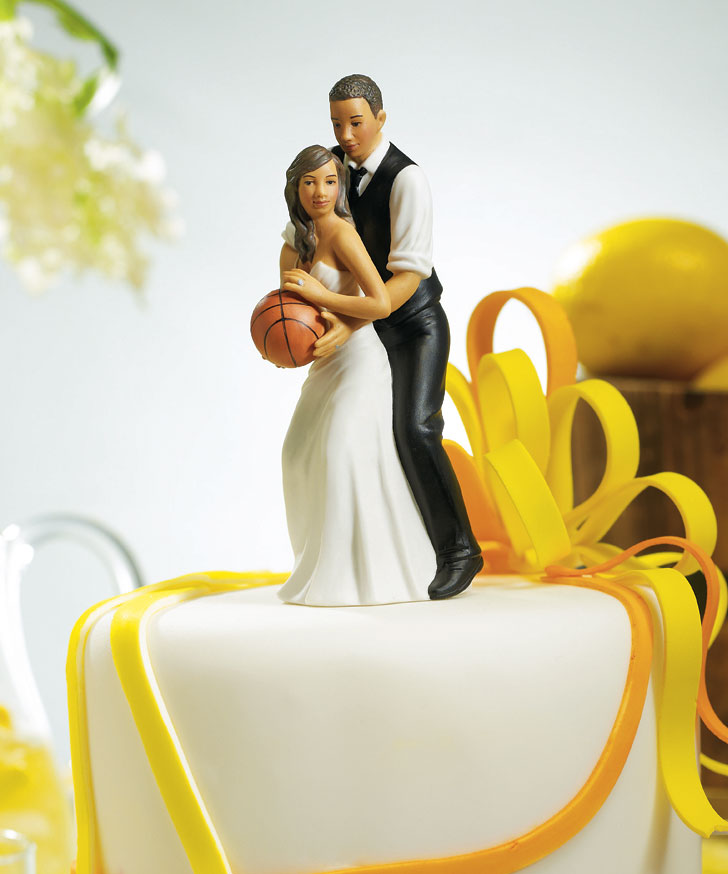 25. Featuring a pair of sheep with hand painted canvas faces, Wedding Collectibles offers this "Be my Baahby Forever" Wedding Cake Topper, which is ideal for a barnyard or rustic-styled wedding.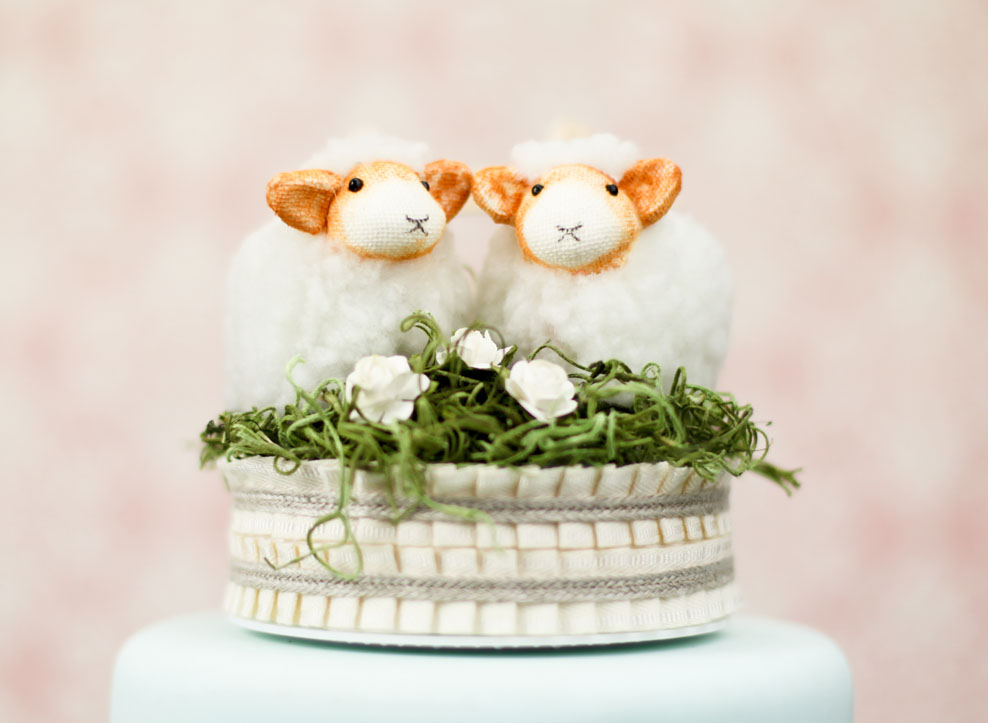 26. From Creative Butterfly XOX, this custom-made wedding cake topper is of a Zombie Kokeshi Japanese-style Anime wood peg doll. These hand painted wooden Zombie kokeshi dolls are wonderful for all those Zombie movie fans who can place them on their mantel place as a cool reminder of their wedding day.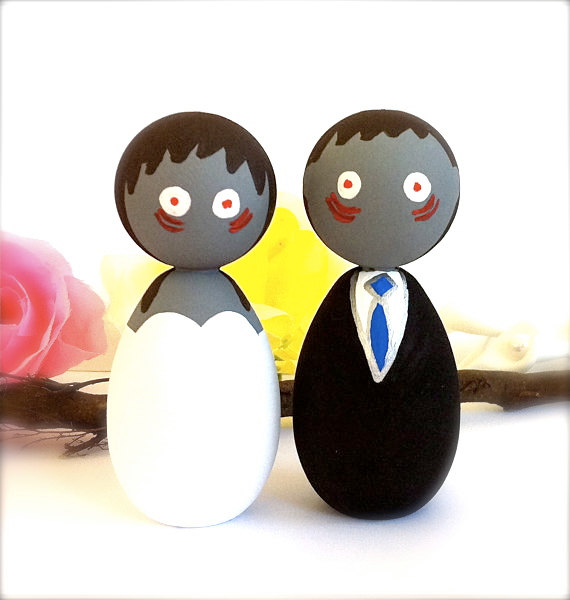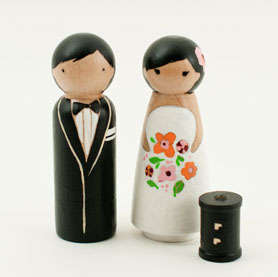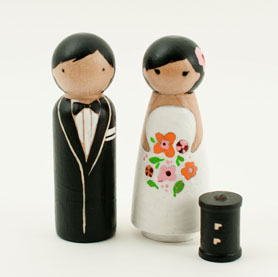 27. (Left) Lil Cake Toppers makes adorable customised works of art like this and more. Made to resemble the actual couple, they make great wedding gifts that can be used as the wedding cake topper.
 28. (Below) Created by Silhouette Weddings, this silhouette wedding cake topper is class defined with a dose of vintage charm!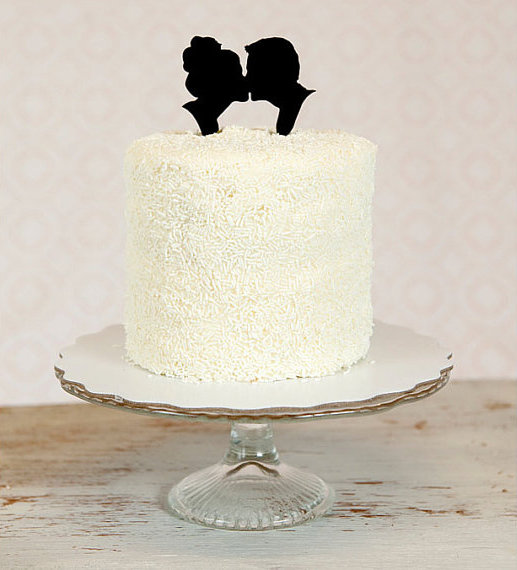 29. This Glitter Heart Cake Topper is great for a celebration like your wedding day. With DIY step-by-step instructions provided by The Paper Pony, you can make your own.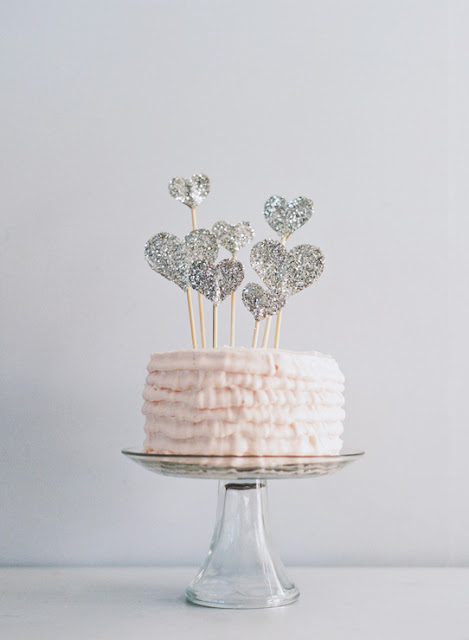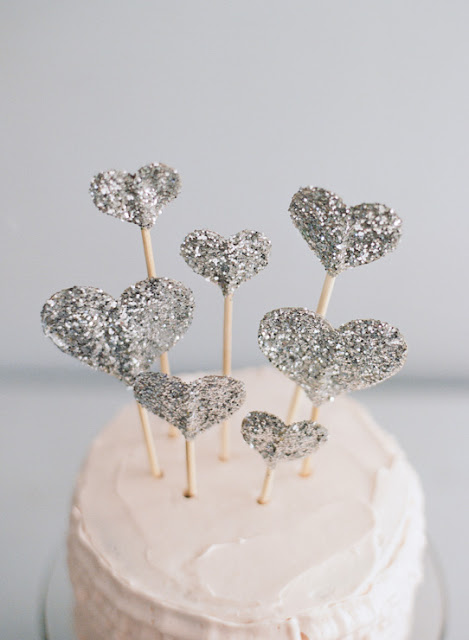 30. Laugh away with these customised Bride and Groom couple laying down with champagne bottles from Cherry Red Toppers. Treasure it for years after and be sure to enjoy a few laughs whenever you whip them out!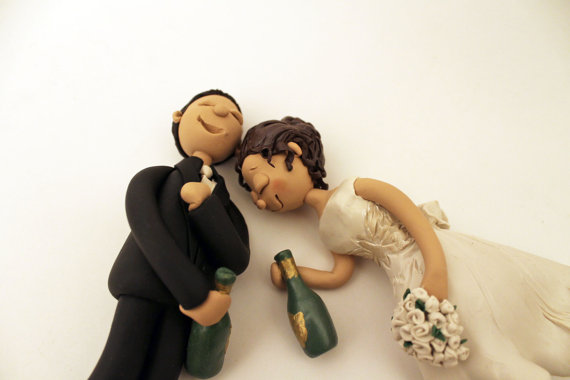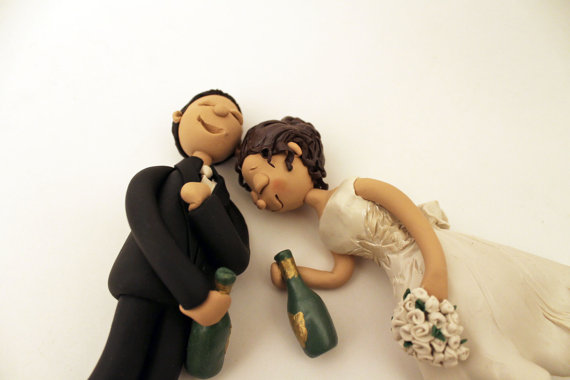 Yippee!!
Happy, pretty, crazy and tipsy cake toppers all ready to adorn your wedding cake!


♥ ♥ ♥