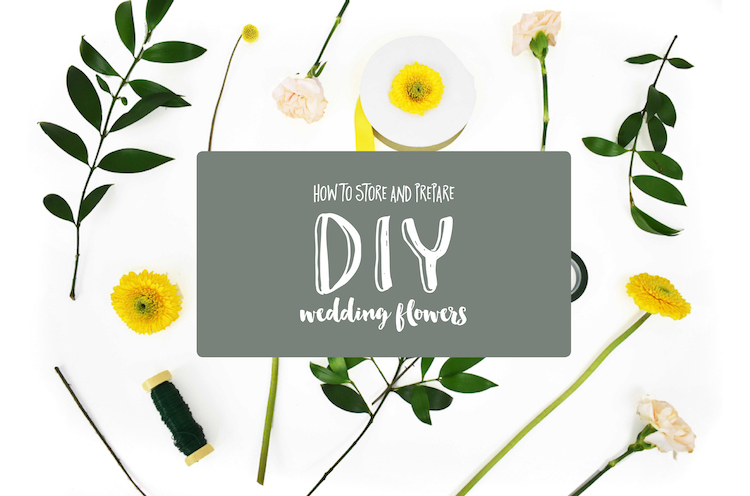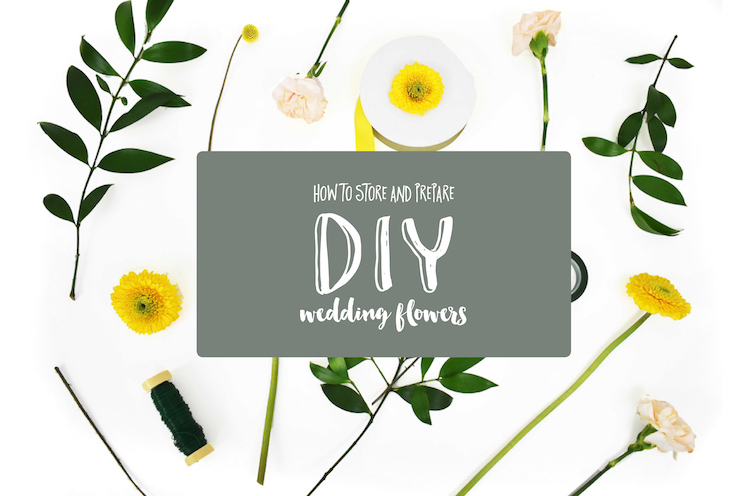 If you plan on doing your own wedding flowers, proper flower prep is essential! Caring for your flowers correctly from the beginning will extend their vase life and keep them looking great for your wedding.  We've put together the essential steps to follow when prepping your flowers, courtesy of sponsor and bulk online floral supplier, Blooms by the Box. 
How to Prepare DIY Wedding Flowers
.
Guide to Storing & Preparing DIY Wedding Flowers
You should have your flowers delivered 2 days prior to your event to ensure that everything has time to rehydrate and will be bloomed for the event date. If you have a Saturday event, it would be best to have the flowers delivered on Thursday, let them rehydrate overnight and then arrange them on Friday
Make sure you have all the required

 

tools + supplies ready by the time your flowers arrive. You'll need the right tools to cut all of the stems and remove the thorns, as well as buckets filled with fresh water and a cool place to store them. Here is a breakdown of the tools needed for DIY wedding flowers, and how to use them.
Have a plan for delegating or sharing the workload. Invite your bridal party, family and friends to help prep and arrange your flowers before the wedding. It can be easy to get overwhelmed with all of the DIY projects you have planned.

Put your flowers in buckets of clean water as quickly as possible and allow them to drink for at least 6 hours before you start arranging. This gives them the strength to undergo the arranging process.When your DIY flowers first arrive, they'll appear a little droopy and sleepy, don't panic! They're just dehydrated from all of the traveling, kind of like jet lag! After rehydrating they will perk back up.
Cut the stems on a 45-degree angle right away. Use a sharp knife or scissors to ensure the bloom has a clear straw to pull water from. Use thick gloves and be careful not to cut yourself – safety first!
Remove any low hanging leaves that fall below the water line. These leaves can carry bacteria that can infect the flowers and shorten their vase life.
Keep the original packaging around flowers for the first 2 hours of hydration. This will support the stems, ensure they stay straight up and make it easier for them to pull water up to the top. Remove the packaging after a few hours to allow any petals to open up and bloom.
Keep them in a cool place away from direct sunlight or any heating vents; a basement, garage or room with air conditioning is ideal.
Change the water daily. Lukewarm water is ideal at the beginning to help flowers bloom, but keep the water on the cooler side once they've been arranged to slow the blooming process.
Do not put your flowers in a regular fridge where you store food. Flowers can get sick if they're exposed to food bacteria. Certain citrus foods in particular give off a gas that is very harmful to flowers, so keep them away from your flowers prior to arranging.
After your flowers have been arranged continue to keep them in a cool place and refresh the water often. You can even spray them with Crown and Glory to lock in the moisture and give them a nice sheen.

If your venue has a walk-in cooler case ask if you can store your flowers in there prior to the event!
You can purchase flowers for your wedding online from Blooms by the Box here. They deliver!
Check out our other wedding flower guides for the names of wedding flowers in your color palette and more cute tutorials below.
Wedding flower tips:
Wedding Flower Dictionary:
Wedding Flower DIY: