Yellow & Grey Wedding Ideas
Mood Board
♥ ♥ ♥
The traditional white wedding  combined with a pop of colour is the latest wedding trend, says wedding industry expert, Izandi from I DO Weddings & Events. In order to provide the ideal example of a classic wedding with a striking colour palette, she has shared this cheerful Yellow and Grey Wedding with touches of pure white. As the lightest hue of the colour spectrum, yellow is considered to be uplifting and illuminating, offering hope, happiness, and most importantly fun!
Photographed with crisp perfection by Nikki Meyer Photography, delve in each wedding mood board created to display the outstanding ideas for your wedding look, décor, flowers, stationary and treats.
Yellow, Grey & White Wedding Look
Bridal Wear
What an important part of a wedding or the one factor where you actually feel that you are getting married!!! Fitting nicely into the wedding theme, the bride chose a classical white dress with a lot of lace detail and wore yellow wedding shoes to bring in some playful elements. The bridesmaid's wore empire-waist long yellow dresses.
Bridal Hair & Make-Up
Initially, the bride wore a loose look for the wedding ceremony and then the wonderful and talented Alicia Buckle gave her a new look by pulling her hair into an updo. Both hairstyles suited the bride and the theme of the wedding perfectly! The bride's make-up was light and natural as she is, but still great for the photographer to take some amazing shots!
 Yellow, Grey & White Decor & Stationary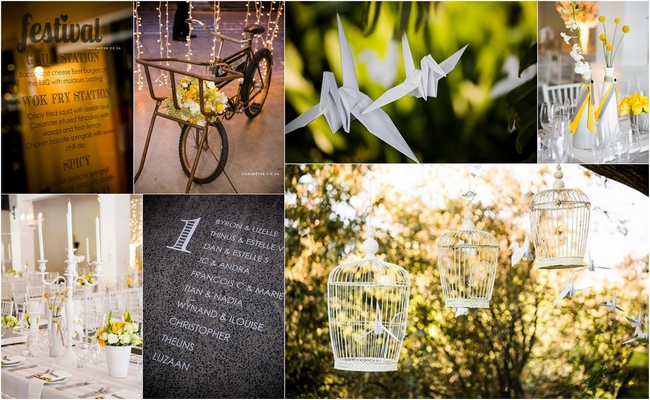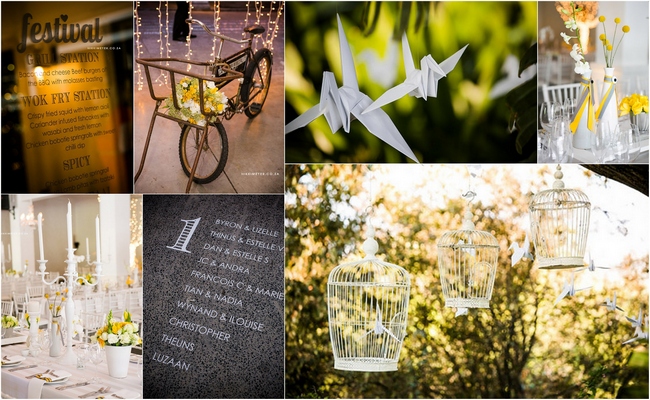 Wedding Stationary
"The wedding stationary can really form part of your element décor," says Izandi from I DO Weddings & Events . For every couple there is something truly special at their wedding that they want to focus on more, in this case it was the stationary, from the save the date, invite and on the day stationary!
The seating plan was really unique. Each table represented a different line from the couple's wedding vow, for example, one table was called I would love you forever. I Do Wedding & Events created a massive personalised vinyl sticker for the dancefloor and their menu was also done on vinyl on one of the big windows. "Vinyl is a wonderful tool to use for weddings as you can personalise a lot of things without breaking the bank," says Izandi.
Tip: From your save the date to the last bit of stationary on the day, Izandi reveals that you should ensure that all the elements are the same and give  your guests a taste of what is to come.
Wedding Décor & Flowers
For the ceremony origami birds were made to hang from the trees, with little bird cages & signs to welcome guests, says Izandi. Classical white was combined with playful and quirky ribbons and bright yellow flowers. For the flowers, an arrangement with different types of flowers was created to give it a bit more texture. Lighting also featured as a big element with loads of fairy lights suspended above the tables.
Yellow, Grey & White Wedding Eats & Drinks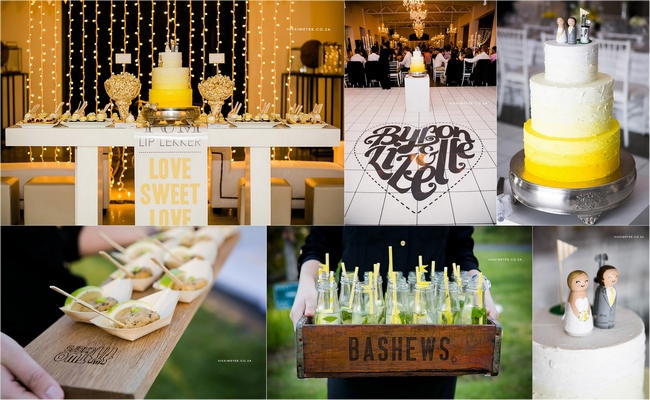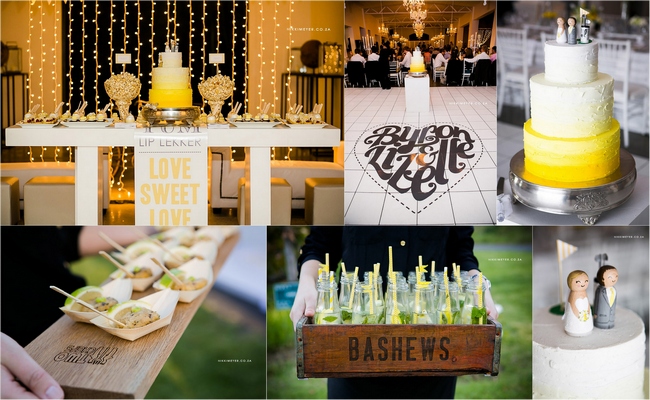 Wedding Drinks
You can make any part your wedding day part of the décor, especially the food and drinks. What looks more indulging then a welcoming Mojito with a funky yellow striped straw and little yellow flag packaged in a cool way? I Do set up different stations for drinks and placed them in stunning coolers. Each drinks table had a laser-cut sign so guests could know what was placed where and could help themselves.
Wedding Food
"Food is such a vital and important role at a wedding," explains Izandi. A street festival or market-feel was achieved by having stalls for the canapés, which allowed guests to walk around and help themselves. However, waiters were also on hand to serve some of the canapés. One of the stalls were called The Braai Station, where an open fire was burning so guests could smell the amazing food being made. The canapés were dressed up in stylish  packaging and presented on a board.
Wedding Cake & Desserts
The dessert table was a massive hit! The guests were in awe of the heavenly lounge, dessert and coffee bar station. Instead of having a sweet station, more focus was placed on little desserts such as lemon meringues, cupcakes and mini cheesecakes. The  wedding cake was the focal point and as such, was displayed in the centre of the dessert station.
What a lovely fill of wedding and bridal inspiration for both a stylish and joyful wedding! Gather more bright colour scheme inspiration from this unusual Teal, Turquoise & Gold Wedding Theme inspiration board.
 Vendors
Wedding Photographer:
Nikki Meyer Photography
|
Wedding Venue:
Molenvliet
|
Wedding Planner:
I DO
|
Stationary:
Chrizanne,
Sugarbird Creative
|
Flowers & Décor:
Nconcepts & Designs
|
Hair & Make-up:
Alicia Buckle
|
Wedding Cake & Dessert Table:
Birdcage
|
Catering:
Two Chefs
|
Staffing:
Absolute Staffing
  |
Videographer:
Storyboard Productions
|
DJ:
Werner Denner