Have your Wedding Cake & Eat it too!
Vintage Wedding Cake Tips
♥  ♥  ♥
Lovingly created and then cut in celebration of your wedding day, the wedding cake is the number one item on the wedding menu. With the latest trend of cake finishes, lace embellishments and oodles of sweet ideas to fill your vintage-inspired sweet tables with; the choice of wedding cakes and treats are both pretty and delicious!  Chatting with some of our fave cake enthusiasts from around the globe, we reveal their top tips for creating the perfect wedding cakes and sweet treats for a vintage-inspired occasion. Go ahead and learn how to add that special vintage touch to your wedding!
Nice and Neutral or Bright and Beautiful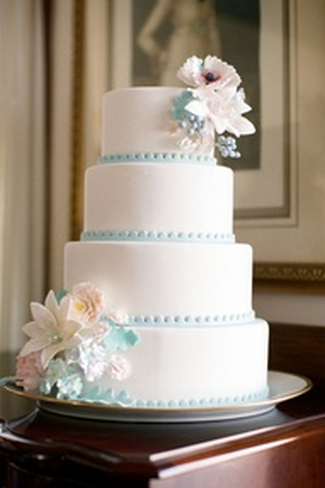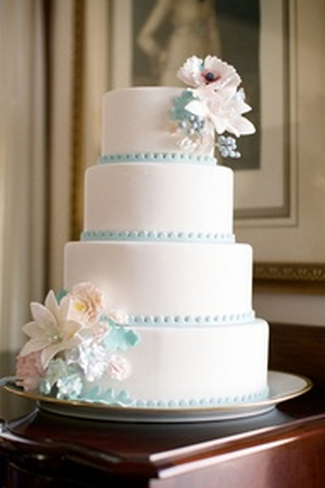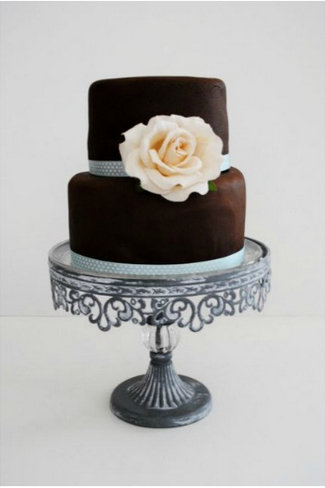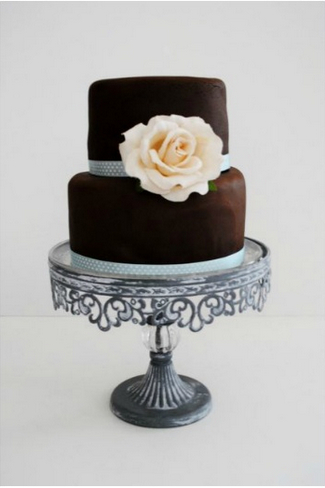 (Left) A Great Gatsby Wedding Cake by
KC Classic Cakes
| Shot by:
Alea Lovely
| (Right) Vintage Chocolate Dream Wedding Cake by
Le Petit Four
This season the use of colour has become more prominent than ever, with vintage-inspired wedding cakes inspired by a great variety of ideas and colour palettes.
Neutrals work wonders – For an elegant effect, Angie Boyd, owner of Vanilla House, based in Cape Town, South Africa, told us that neutrals work wonders in this regard. "Ivory and 'stone' seem to be very popular colours currently", says Angie. "Ivory with a hint of black or grey also works well", she adds. In agreement, Sharon Wee, of Sharon Wee Creations, in Sydney, Australia explains that neutral palettes such as ivories, champagne and caramels for the base of the cake are a huge hit, with colours added through the use of flowers, ribbon or figurines.
Pastel colours are the vintage way to go – For the more daring bride looking to add a pop of pastel colour to her vintage masterpiece, colours such as soft blues, pinks, greens and mochas are the way to go, advises Sarah of Barney's Bakery. Already on the rise, the colour mint will be the trend colour for 2013, predicts pastry-chef, Andrea Adams Britt of KC Classic Cakes in the Mid-West, USA.
Buttercream, Fondant and Lace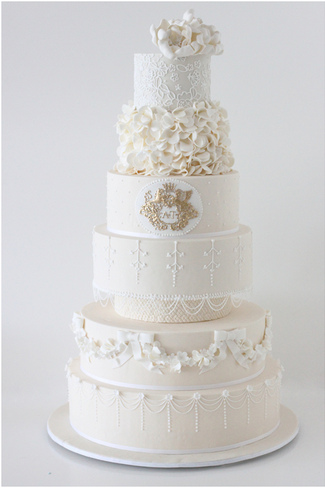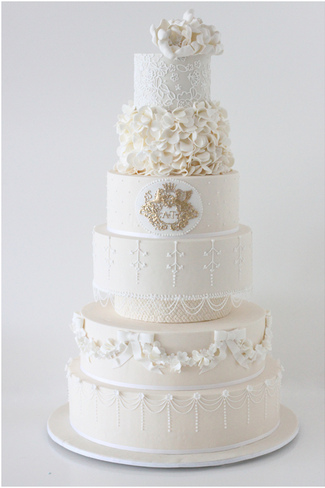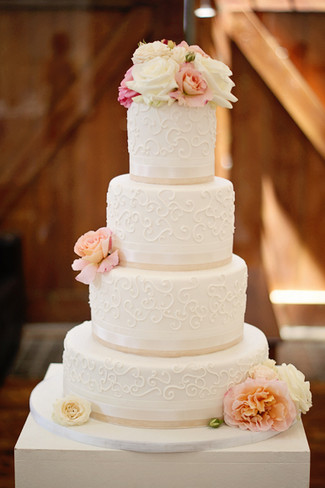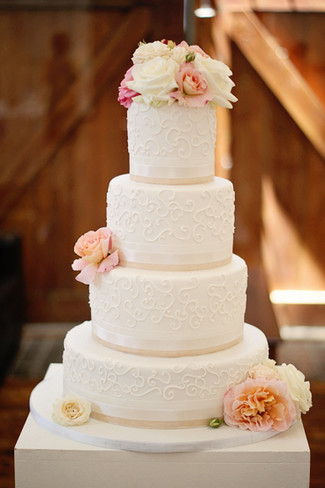 (Left) A Royal Vintage Wedding Cake by
Sharon Wee Creations
| (Right) Tasty Lacy Wedding Cake by
Vanilla House
"Vintage-inspired cake trends at present are a tasty mix of old and new," says Sarah.  According to Lezanne Winshaw of Lepetit Four, South Africa, "There are endless ways in which lace can be used to add a vintage-feel to your wedding cake". Here are a few ways using buttercream, fondant and lovely lace:
Fondant  is perfect for  colours, designs and textures – Angie of Vanilla House says that fondant-finished cakes have made a huge come-back. "Fondant is the best medium in which to really use the perfect colours, designs and of course pretty things such as hearts, pearls, lace, brooches, fabric draping and sugar flowers."
White chocolate and buttercream, y'um! – Offering marvelous finishes for vintage-inspired cakes, white chocolate and buttercream-iced cakes allow for plenty of detailed and elegant textures and patterns through the use of stenciling and piping, explains Andrea of KC Classic Cakes and Sharon of Sharon Wee Creations.
Lace, lace and more lace – A huge trend that has been hard to miss this year is lace, lace and more lace! Cape Town-based wedding cake specialist Lezanne Winshaw of Lepetit Four, South Africa, tells us that there are endless ways in which lace can be used to add an elegant and vintage-feel to any wedding cake. In agreement, Sarah says that lace borders, lace appliqué and royal icing techniques such as brush embroidery are perfect for achieving that vintage-feel. When creating her vintage-inspired treats, Sarah adores using "sugarveil", a confectionery icing, which perfects the lace look.
Vintage Sweet Tables and Edible Favours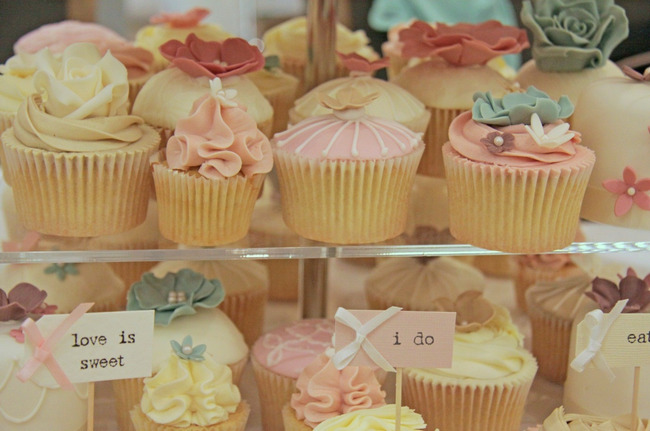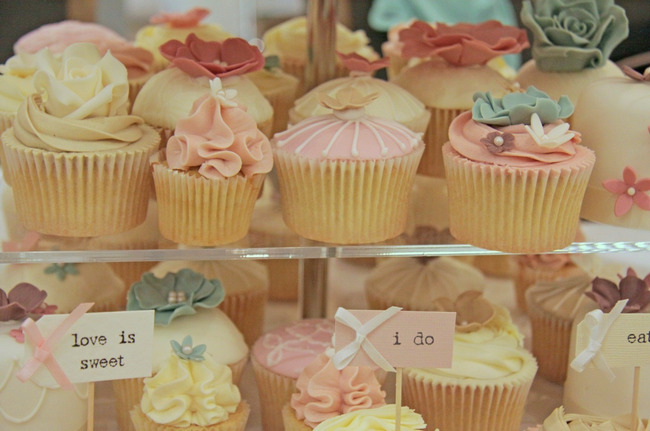 (Above) Rustic Vintage Cupcake and Mini-Cake Tower by
Barney's Bakery
Vintage sweet tables – An undeniably popular choice for wedding receptions, vintage sweet tables not only look amazing, but are also a great way to feed guests. Sarah of Barney's Bakery says that the set-up of the sweet table is the key element for it achieving the "wow factor". Her top tip for a gorgeous sweetie station? She recommends that you ensure that the design elements and colours of the different sweet treats work together harmoniously with your vintage wedding theme. "Picture a table covered with a beautiful lace or damask table cloth and set with a variety of vintage cake stands and platters laden with gorgeous treats", says Sarah. Another lovely idea is to "arrange your dessert ensemble on an antique armoire or cupboard", adds Lezanne of Lepetit Four.
Mini wedding cakes, cake pops and more – Sarah also suggests incorporating a smaller wedding cake as the centre piece, with additional treats such as cake pops, mini cupcakes, mini cakes, cookies, sweets and chocolates. Angie tells us that personalised heart-shaped biscuits, cake-bites, tissue-wrapped mini-cakes, truffles, macaroons and meringues that are all colour-schemed to suit, are the way to go.
Edible guest favours – According to Lezanne, "Edible favours are definitely very en vogue this season". Both Lezanne and Angie suggest that you double up your dessert table as gifts for your guests by creating lovely packets or boxes that can be used as wedding favours, which your guests can fill with their favourite sweet treats and take home with them. Lezanne explains that there are many treats that one can use to fill your sweet table – from a simple packet of rusks or biscotti as a favour, to Granny's home-made fudge, romantic Parisian macaroons or even "Old School" marshmallow fishies will do the trick. Brides can also fill a beautiful jar with the bridal couple's favourite sweets, which she suggests dressing up with a lovely ribbon and a thank-you card or sticker designed by your wedding stationer.
Well, there you have it! With the current abundance of wedding cake finishes and sweet lacy adornments, coupled with the latest trend of deliciously laden vintage-inspired sweet tables, there is sure to be a treat to soothe every bride's sweetest vintage craving this season!
Hungry for more Vintage? 
Take a look at these 8 DIY Vintage Cake Accessory Ideas to spice up your wedding cake and treats!