Vintage-Inspired Wedding Gown Fantasies
♥ ♥ ♥
Ever fantasized of your dream wedding gown, but have yet to come across the wedding dress of  your dreams? Allow us to introduce you to the vintage artists of wedding gown fantasy and imagination – Immagika Creative Designs.
Sharing their latest vintage-inspired collection of wedding gowns, take a look at their unique craftsmanship and inspirational passion for their art below.
Credit for these fantastic images is due to the amazingly creative, Natalie from 
Field Photography
. To view her work as a wedding photographer, visit 
Field Photography Weddings
.
Proudly hand-crafted in Pretoria, South Africa, Immagika are passionate about their brides, their craft and the precious fabrics that they bring together in creating a bridal costume. Immagika owner and designer, Marlize, describes Immagika wedding gowns as "inspired by the opulence of a bygone era and the romance of a beautiful dream, perfectly reflecting each bride's true nature in her wedding gown".
Immagika's 3 Tips to Choose or Create the Perfect Wedding Gown
Be imaginative in how you envision your dream wedding day look. Marlize advises brides to begin with a fantasy image of themselves and not the limitations, as your wedding gown should be as original and individual as you are.
Incorporate family trinkets and treasures from your grandmother or mothers of the bride or groom. This is a sentimental way to preserve a family keepsake and it also intimates the relationship with your family.
Trust what you want and take risks in pursuing the wedding dress of your dreams.
Immagika's Vintage Wedding Dress Collection
In their bespoke designs, Immagika incorporates vintage or antique lace, silks, glass and Swarovski crystals as they have been made by the same lace-broderies and weavers for the last 300 years, which they collect from their travels all over the world.
"The Immagika bride is someone who embraces a timeless romance and appreciates handcrafting and exceptional fabrics." – Marlize, owner & designer of Immagika
Here are a few exquisite designs from Immagika's vintage-inspired wedding gown collection:
(Below) Blue Rose and Truffle Skirt: Rococo revisited in beaded Brussels lace over Swiss loomed silk and full skirt of tufted English tulle.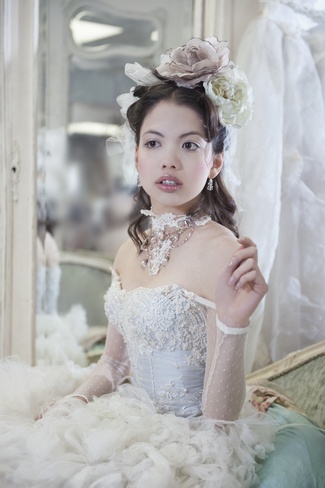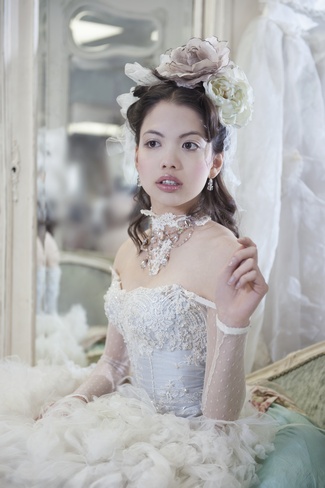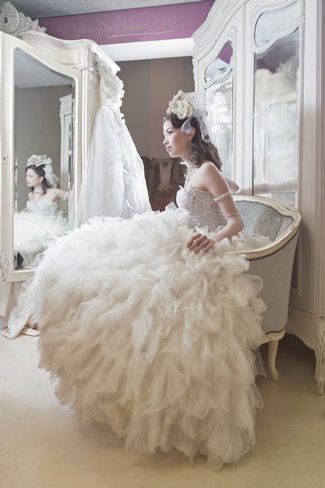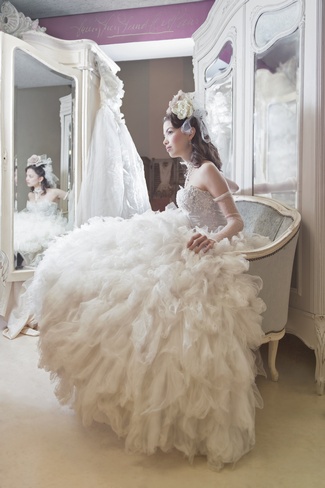 (Left) Petit Fours: As sweet and as pretty as the French delicious confectionery, Petit Fours!
This dramatic gown is created with a rouged bust detail and a bold and romantic bustle of roses. Using ivory and magenta Dupion silk and French taffeta, it is further adorned with a decorative lace collage and Swarovski crystals.
(Below) Mirror Mirror: A nostalgic gown inspired by trinket boxes and their contents, hand mirror and brush set with petit point and detail that all are inspired by Marlize's grandmother's dressing table.
Made from hand-woven silk, English tulle and Chantilly lace, all hand-dyed for an aged effect, and decorated with organza ribbon, found trinkets, objects and Swarovski crystals.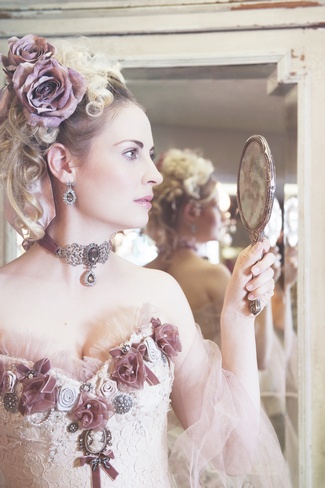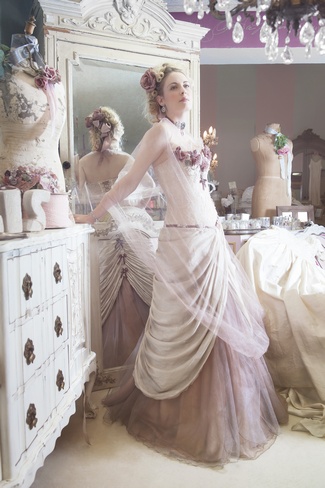 (Below) Tuberose: A monotone frock with a true Victorian heart. With a full romantic soft ruffle-skirt and cheeky bustle-train, this whimsical gown is created with a structured silk corset and the finest, most delicate and fragile Chantilly silk-lace on the shoulders.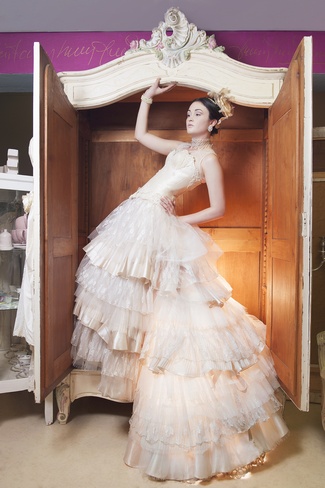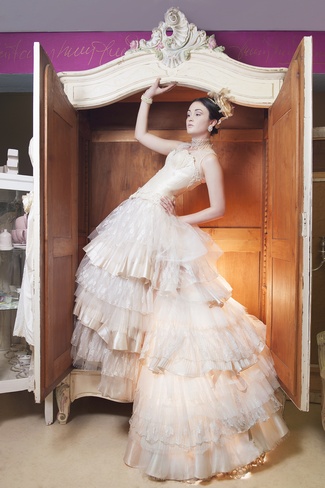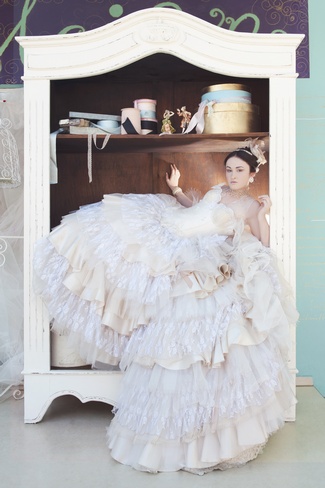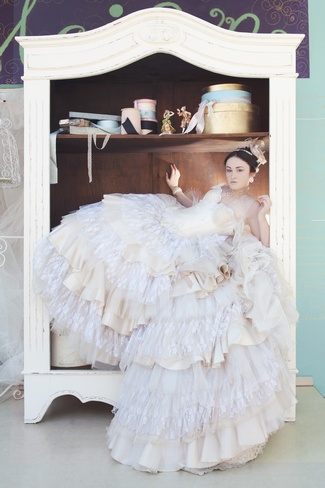 (Below) La Belle: A multi-layered silk and lace Victorian femme fatale gown with a bustle-train and typical frou-frou. This gown includes frills, draping, hand painted ribbon-roses, cameo brooch and Swarovski crystals that reflect La Belle Epoque, "The beautiful time" around 1900.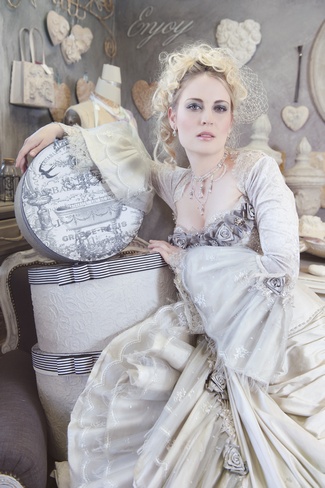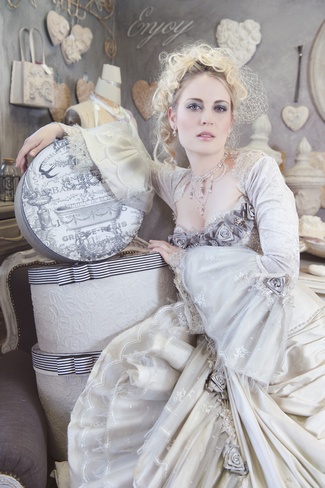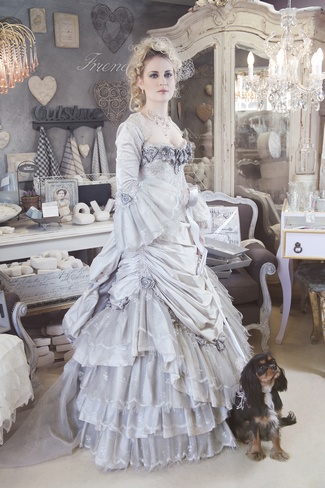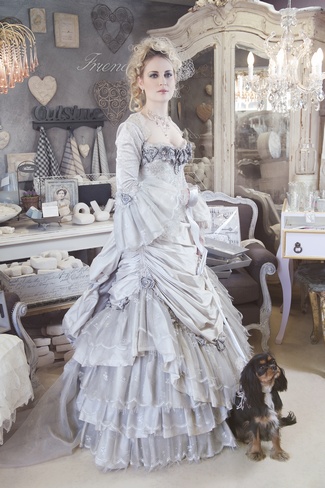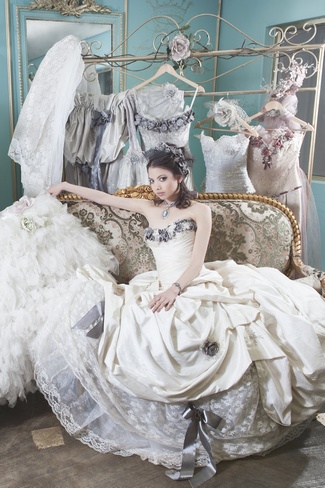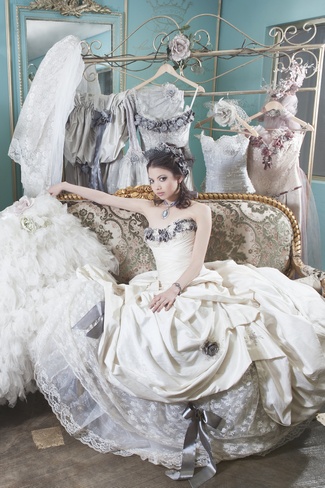 (Left) Pride and Prejudice: A witty and romantic balconette gown that is inspired by the 1811 novel of Jane Austen. Created using hand-woven Dupion silk with English lace, it incorporates beautiful beaded Brussels lace with satin ribbon detail and Swarovski crystals.
To complement gorgeous dresses such as these created by Immagika, it is essential that one selects the perfect hairstyle. Take a look at our feature on Another 25 Bridal Hairstyles & Wedding Updos to get some fab ideas!
 (Below) Aquarelle: Inspired by the translucent water-colours and pastels of the Impressionist artists of 19th century Paris. Combining hand-woven Dupion silk and beaded Brussels lace in perfect harmony, this hand-dyed wedding gown is enhanced with a stunning satin sash and sparkling glass and Swarovski crystals.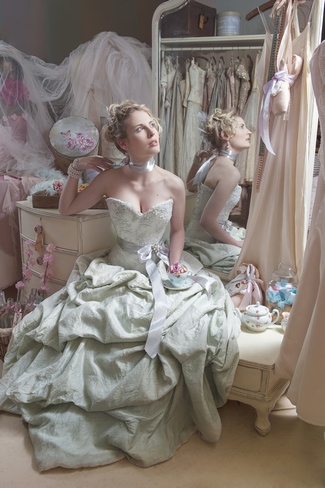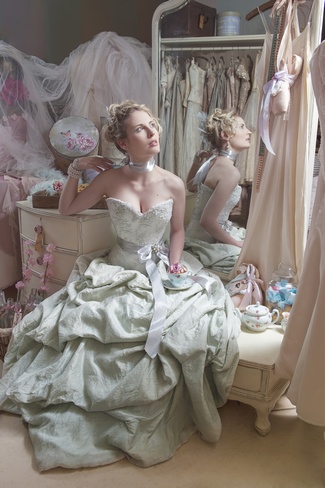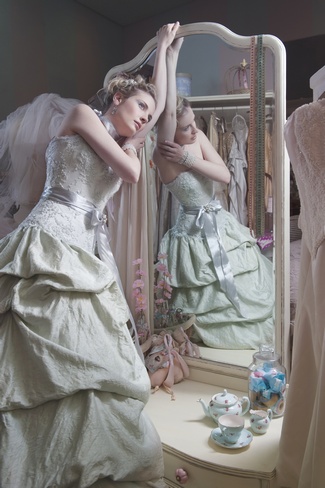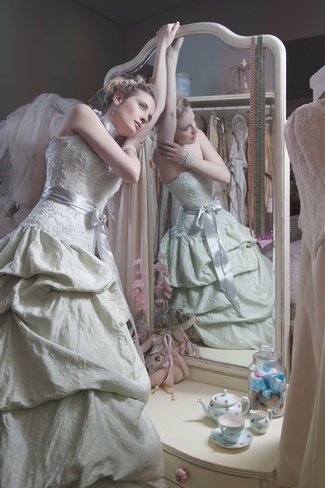 To view more of their lovely and imaginative designs,  visit Immagika's website, facebook page or contact them here. For an extra dose of wedding dress inspiration, take a look at our 15 Racy Lace Back Wedding Dresses, which will blow you away! Yay!