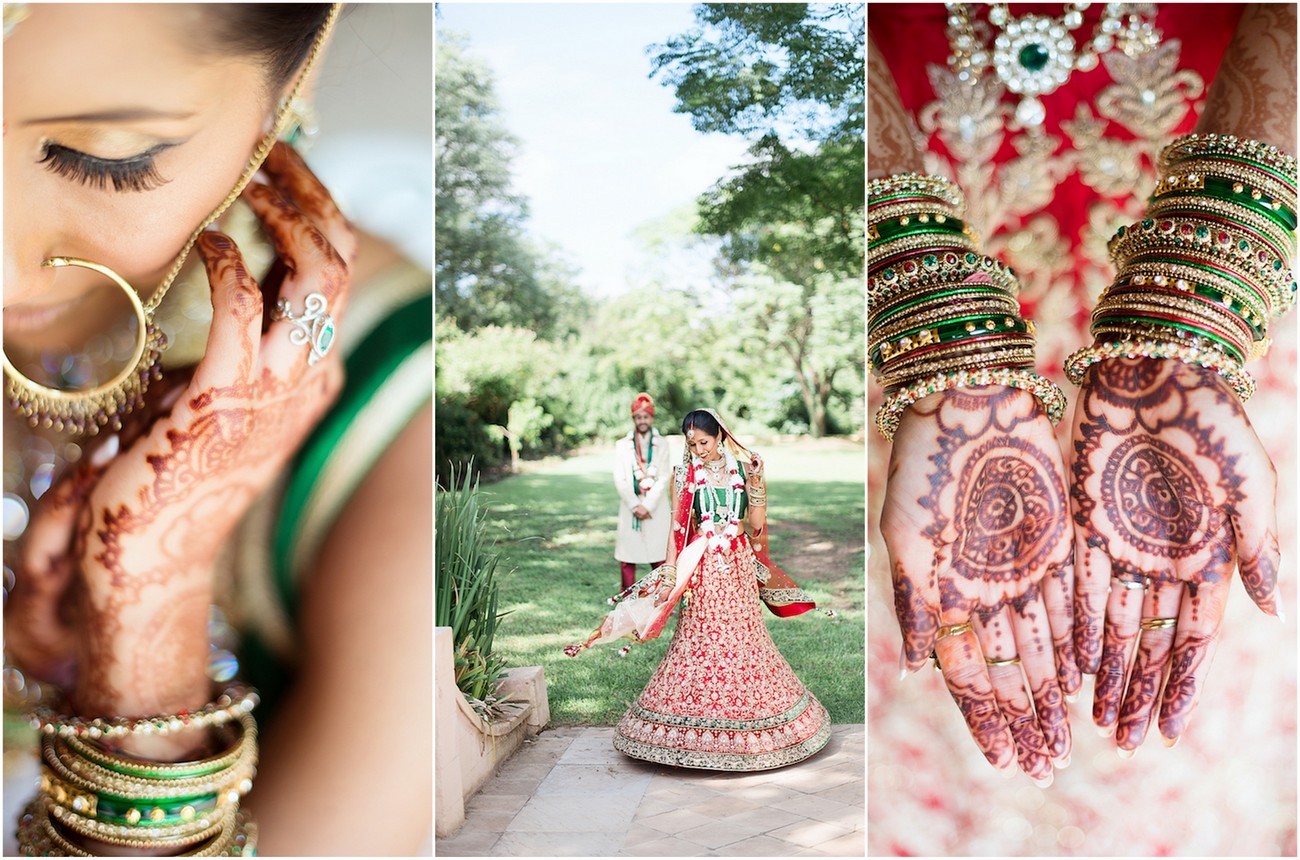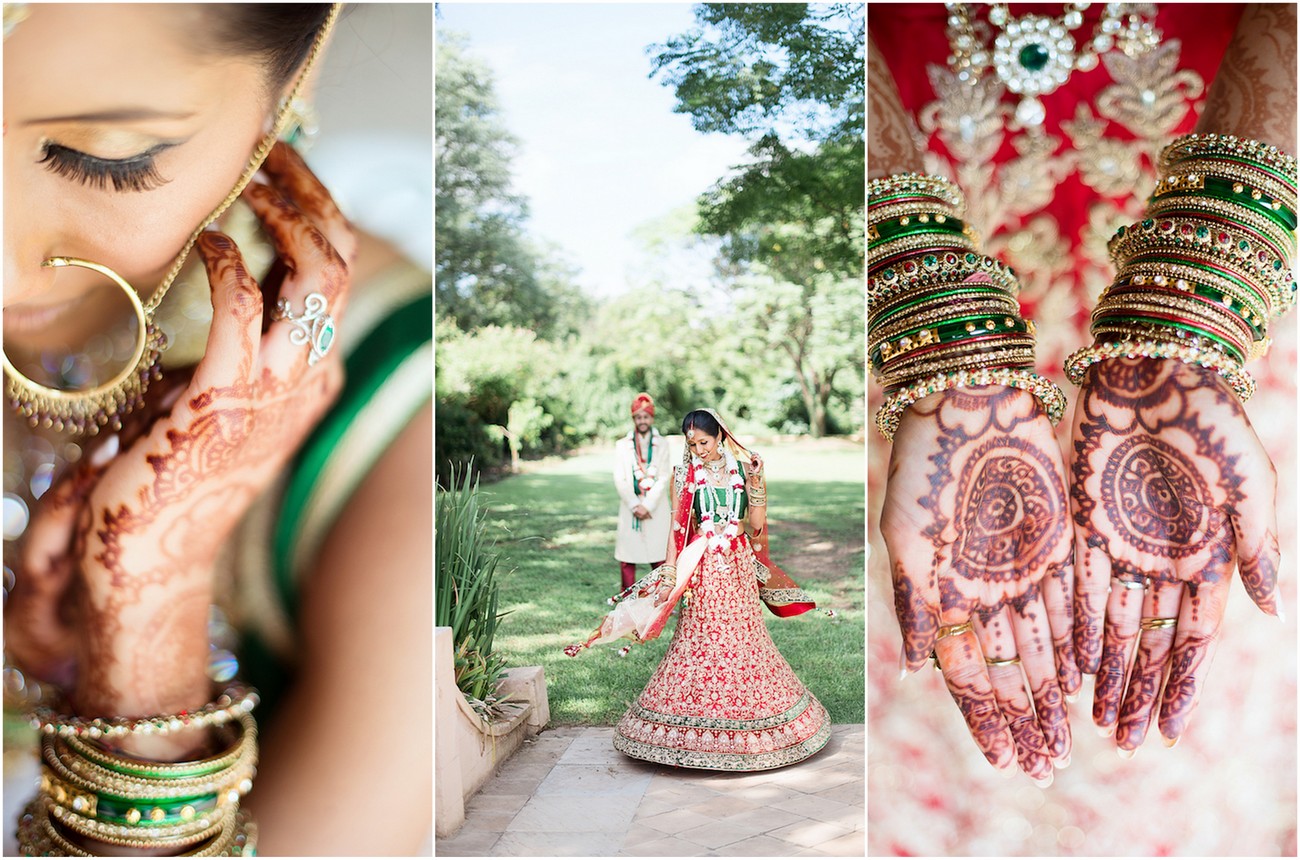 Heemal and Deeshana's exquisite traditional Hindu wedding ceremony was filled with all the dazzling, resplendent beauty that comes to mind when envisioning nuptials inspired by classic, regal India. They chose rich emerald greens and tomato reds for their wedding,  based on traditional colours for Hindu wedding attire during the period of monarchs and dynasties. The result was a traditional Hindu wedding ceremony reminiscent of opulent vintage India. We love that there are so many beautifully meaningful, ancient traditions practiced during a traditional Hindu wedding ceremony.
Both of the couple were dressed in authentic spectacularly detailed Hindu wedding attire purchased in Mumbai, India. Deeshana wore a Chaniya Choli which comprises of a wide skirt, blouse and head scarf, adorned with Zardozi work. Heemal wore a traditional men's suit called a Kurta."Heemal and I love our history and heritage, as well as the ornamentation and majesty of classic India," says Deeshana. "This inspired our look and feel whilst lending to our desire to have a very elegant and timeless wedding. We were also inspired to choose very regal and historical outfits versus modern bridal attire which might date."
Deeshana is a huge planner, and planned as much in advance as possible. Being an art director/graphic designer, Deeshana designed all the stationery and decor elements herself. In a slight twist to the traditional Hindu wedding, the couple chose a hip hop song for their first dance: "It was really awesome as we danced about in our traditional garments. My husband is a music producer and hip hop artist so the choice of song was very appropriate for us as a couple!" The couple also opted for a fusion menu, bringing in french/western and indian/eastern cuisine. "Both Heemal and I are huge foodies so it was an important element in the blueprint of the day."
We're so pleased that Christopher Smith Photography was there to capture this gorgeous couple's traditional Hindu wedding ceremony, because now we get to obsess over all of their enchanting details!
Traditional Hindu Wedding Ceremony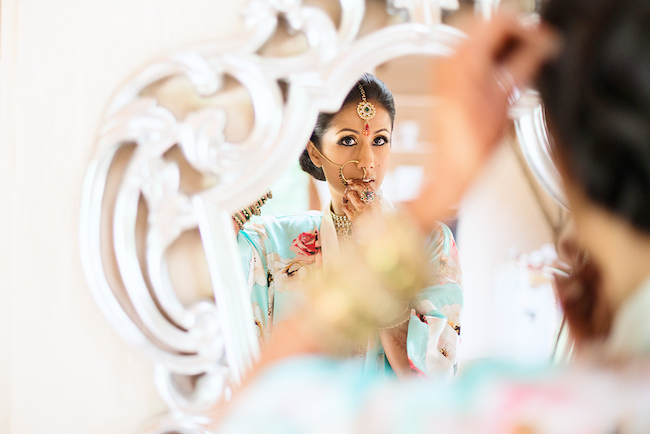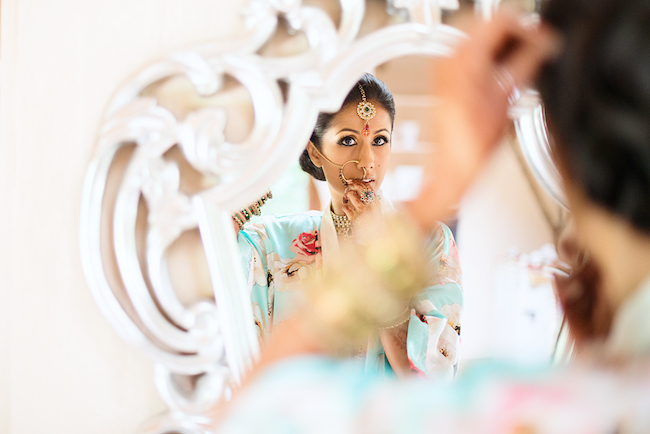 Heemal and I have known each other for over 10 years! It all started with my eldest sister, who introduced us. Being nine years older than me, she has been babysitting and looking after all of my friends for years. When she first met Heemal he was a first-year varsity student miles away from his hometown and mum's indian food. My sister automatically took him under her wing with my other friends, providing them with home cooked meals after college.
They became very good friends and she would find every opportunity to tell me (and him) that we are exactly alike and would be perfect for one another. When we finally met we really did hit it off! We became friends and three years later were dating. The rest is history 🙂
Since then we have always a part of one another's family, and truly great friends. We just seemed to fit like opposite sides of the same coin. Our proposal was surrounded loved ones as we set out on a cruise with our mutual family. Heemal proposed on an island in true picture perfect style.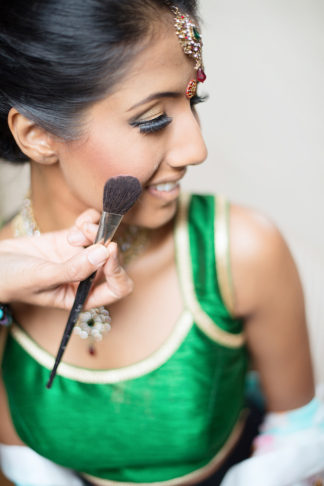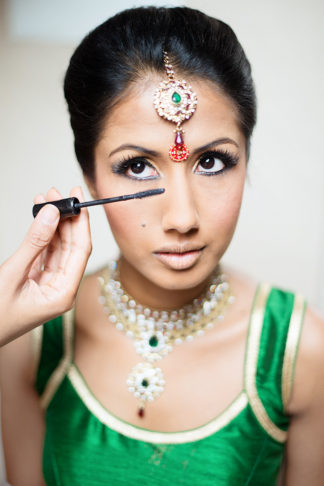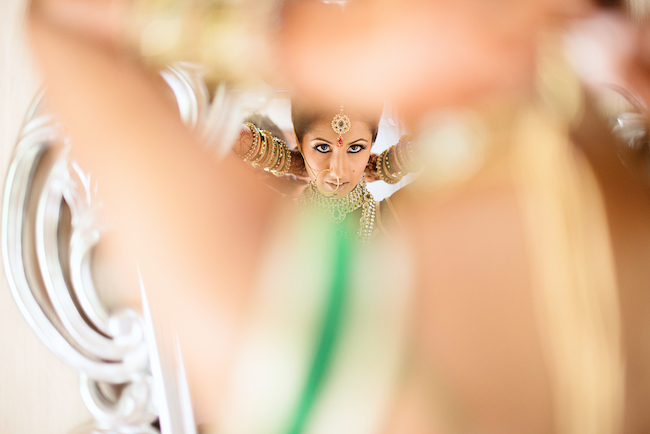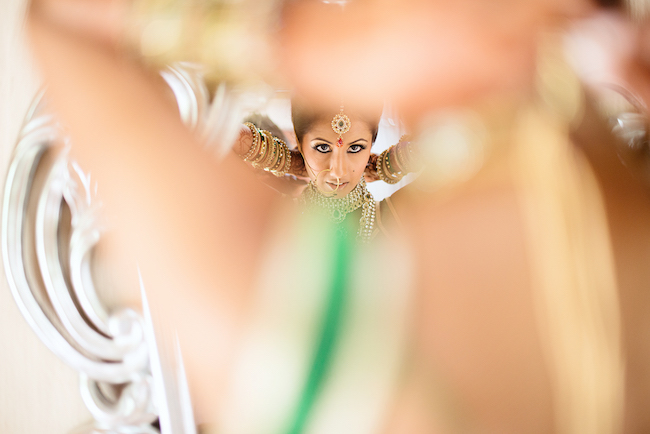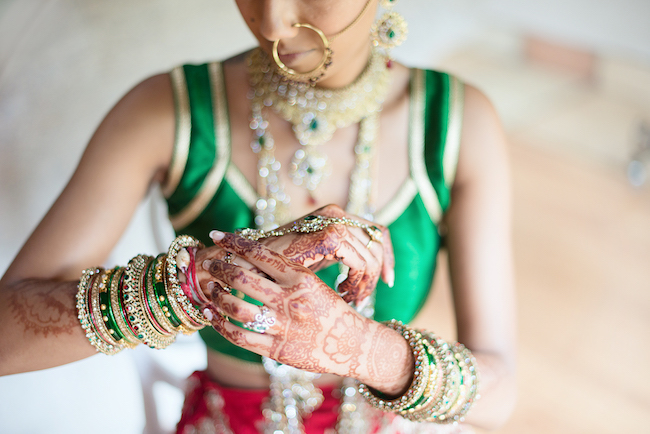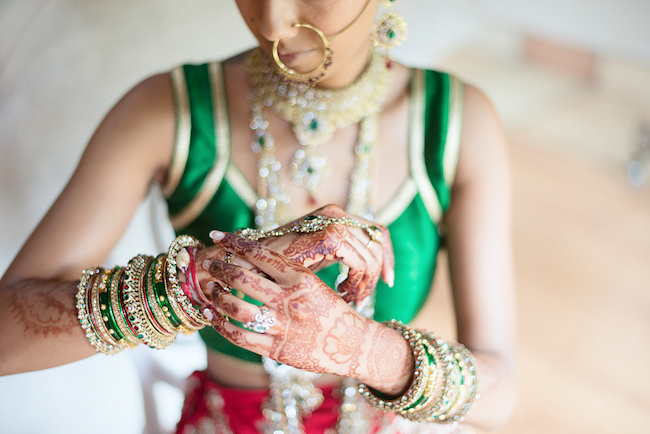 My make up featured a bold tomato-red lip to pick up the tones in my dress. I opted for traditional Kajal eyes (Indian eyeliner) with a dramatic wing. My hair was simple and understated – a loose bun with volume above. In a traditional Hindu wedding ceremony a bride wears a scarf over her head with a lot of jewelry. Simple hair was the best choice.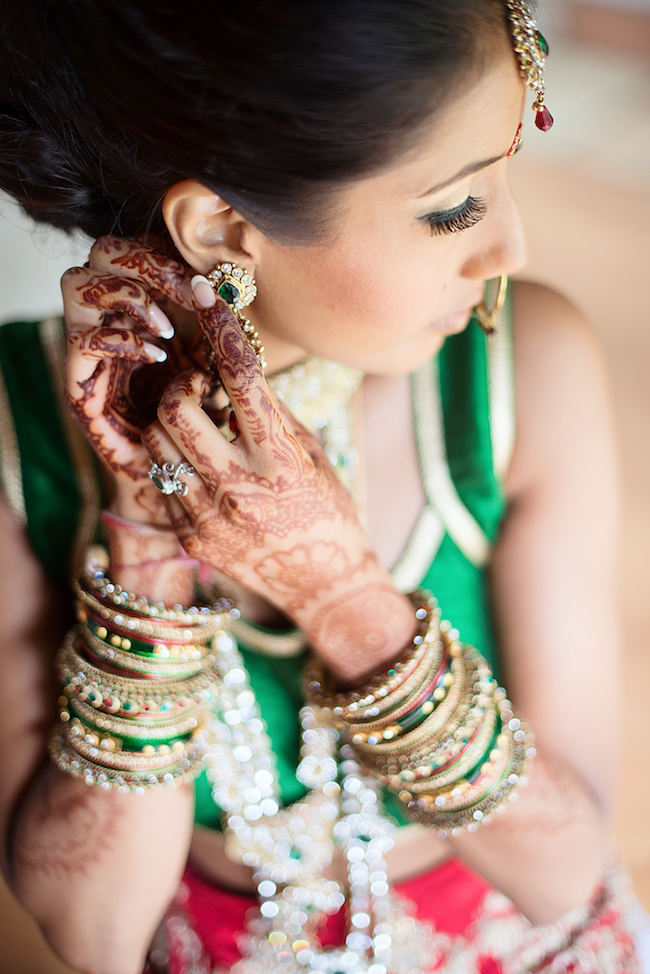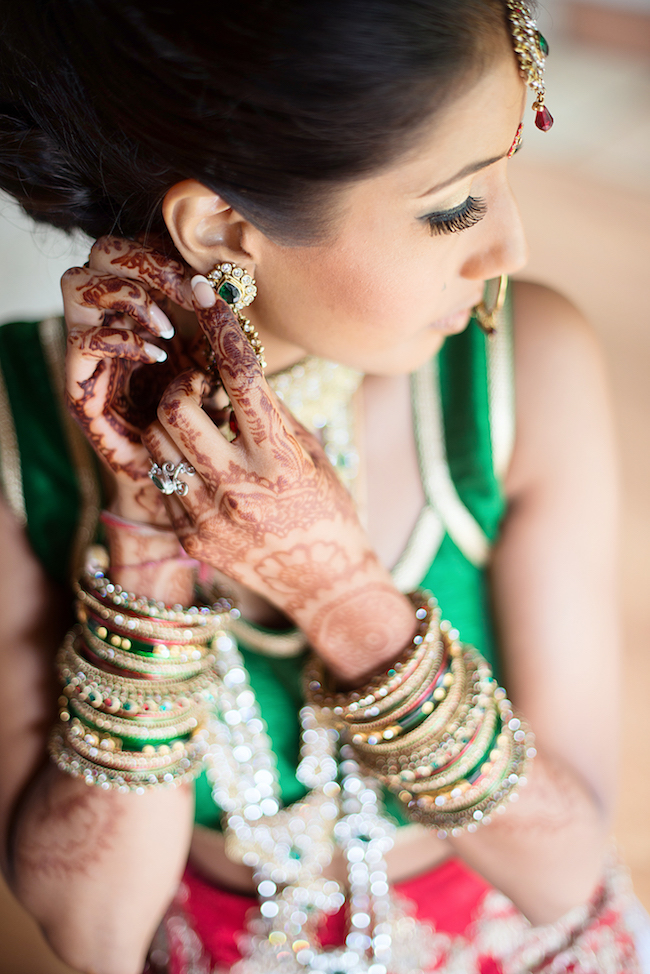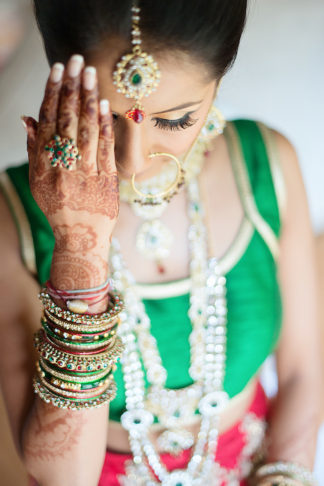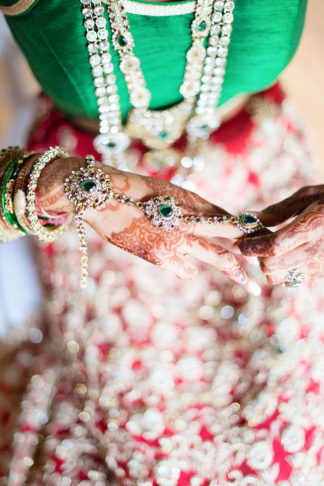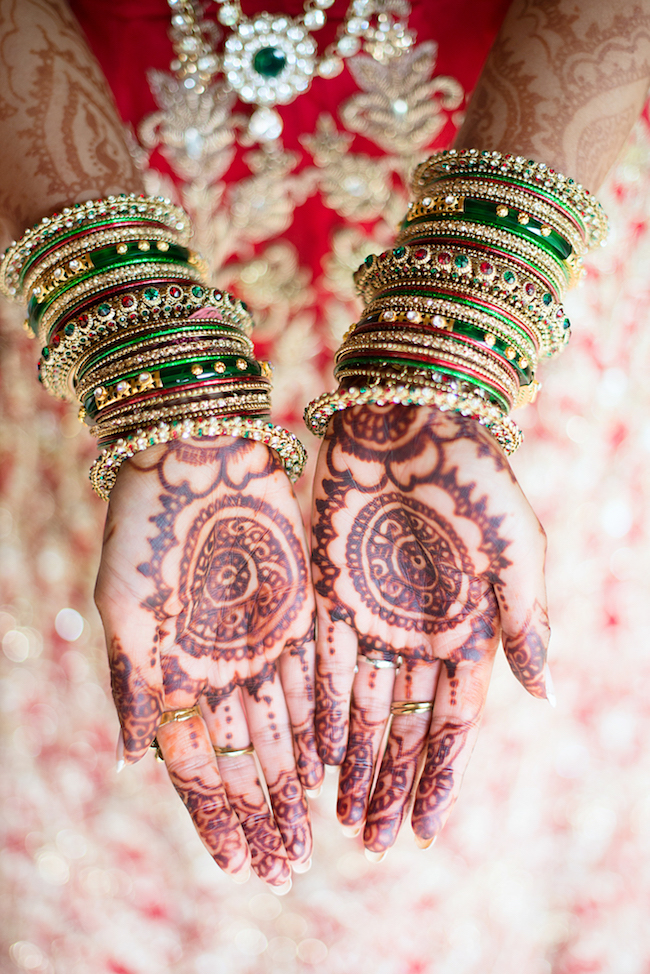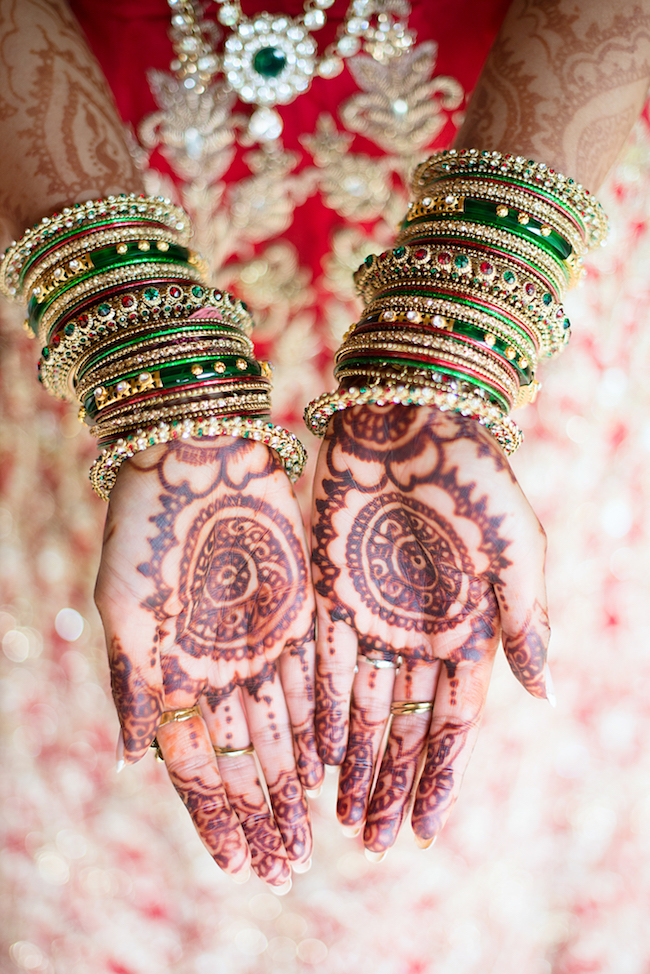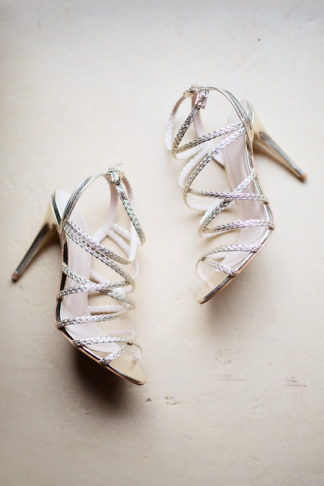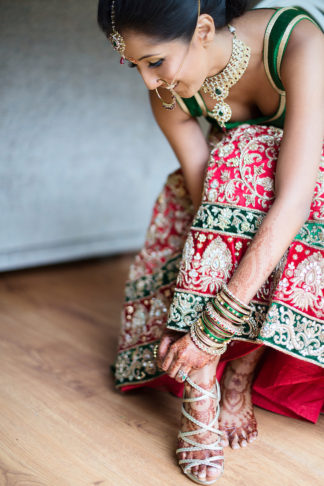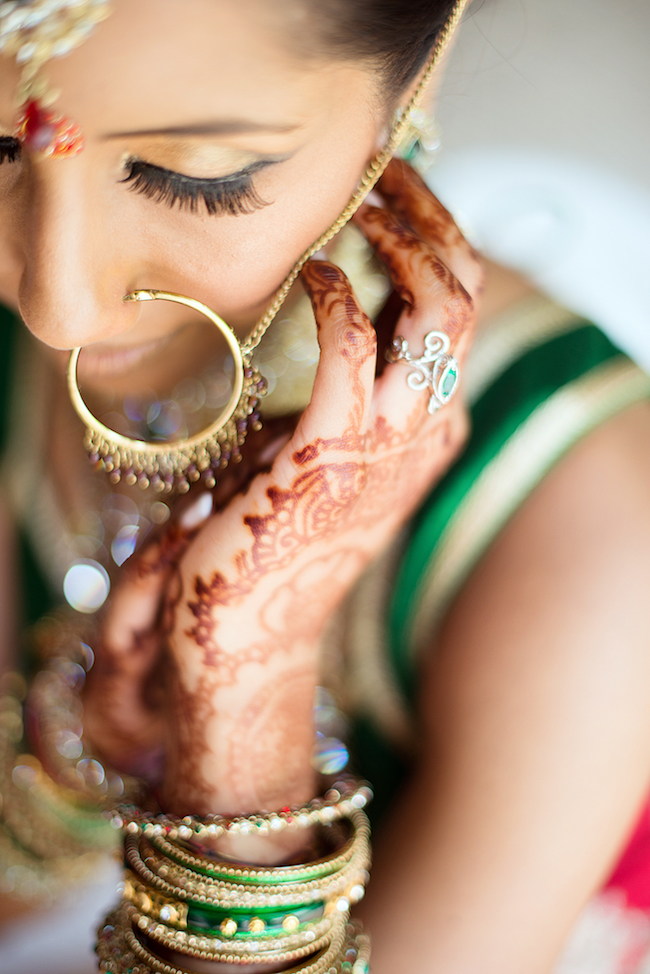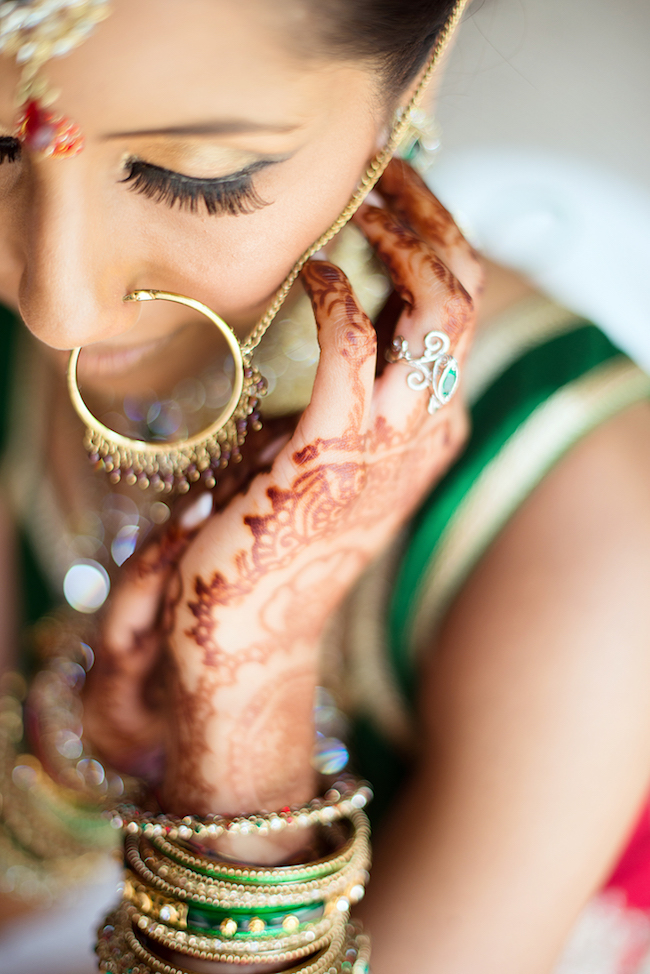 We went wedding shopping in India where you receive your dress semi-stitched. It was a great opportunity to custom fit it. I took style inspiration from my favourite eastern designer Sabyasachi with my own twist on the colour choices. 
I wore a traditional indian dress called a Chaniya Choli which comprises of a wide skirt, blouse and head scarf.
Click To Tweet
Sticking to the regal, vintage India styling, I chose an outfit that was adorned with Zardozi work. This is a very historical style of hand-stitched embroidery using polished wire, broken up with gems stones and beads. This added the sparkle and glitz always associated with Indian outfits but it had a more subdued, elegant look versus a lot of applique or diamante.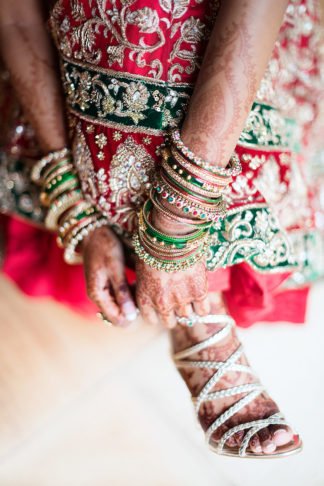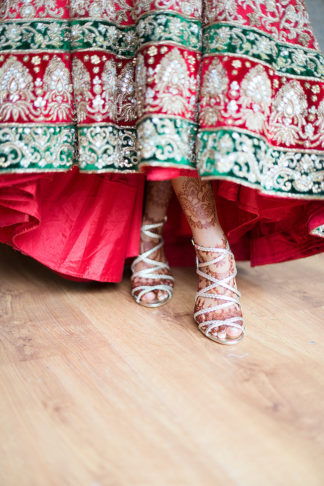 The minute I saw it, felt it and tried it on I fell in love!  It was everything I had hoped for for our traditional Hindu wedding ceremony- impactful, dramatic, bold, rich and classic. 
I went for a mermaid tail with a wide flare, I also designed 3 different contrasting blouses for it so I had every variety – this was the best option for my fussy nature. It gave me the opportunity to explore styles and trends and is much easier to accomplish in India where your budget can stretch further. When I finally wore it on the day I knew it was the best thing I had ever bought, and it made me look amazing.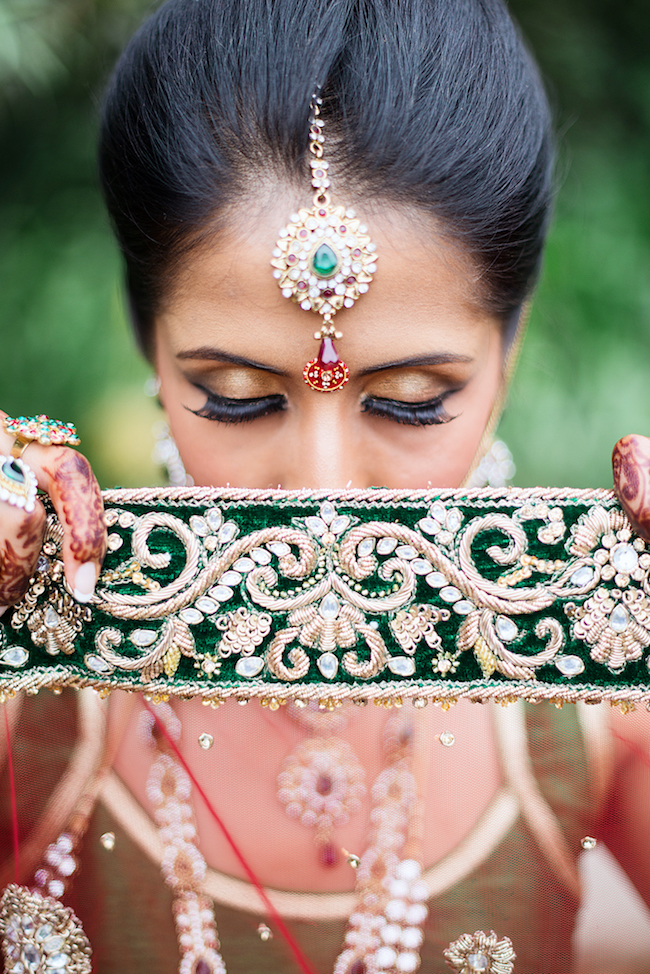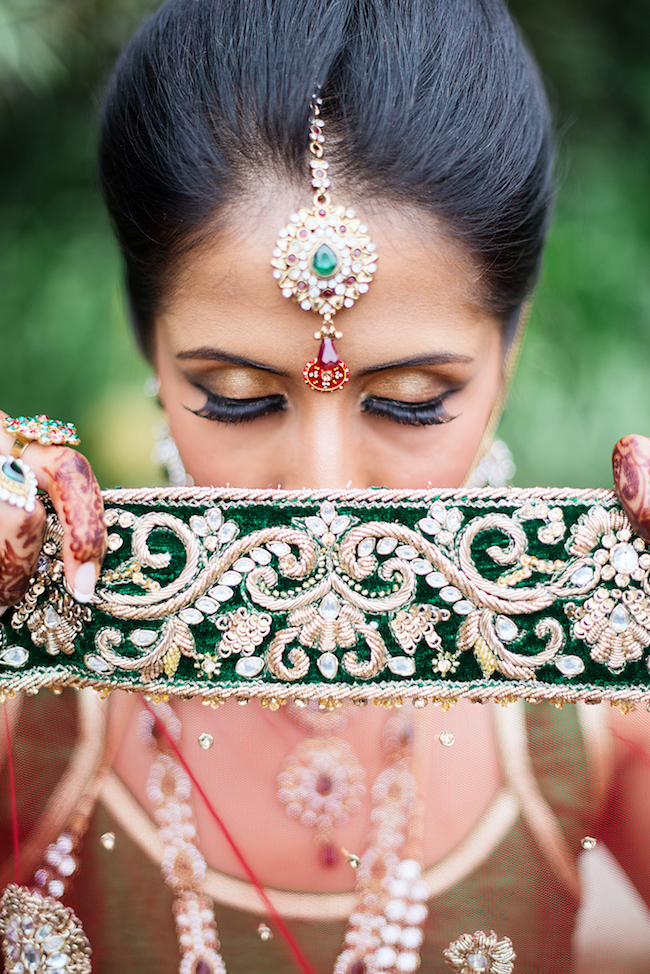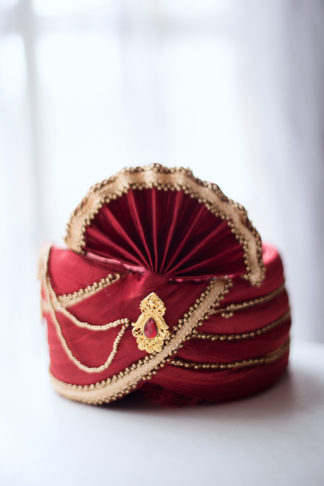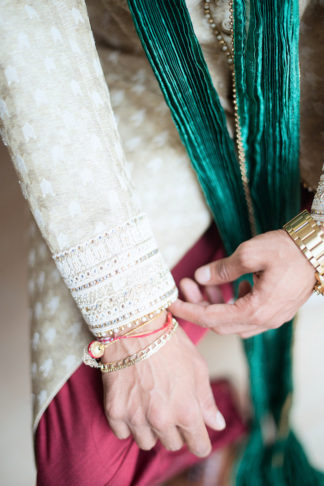 Heemal looked fantastic and wore a traditional men's suit called a Kurta! He too opted for classical work on his outfit and it had fine detail work all over it. He chose to wear more champagne and white and bring in strong hints of red and green through his turban and scarf. This also made me stand out more in my full red and green Chaniya Choli.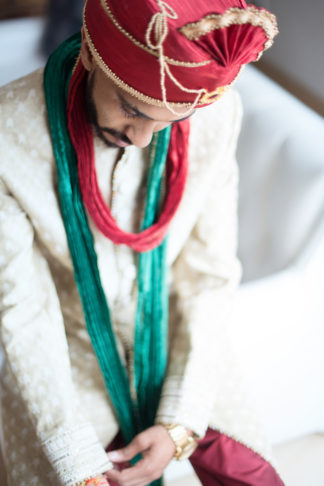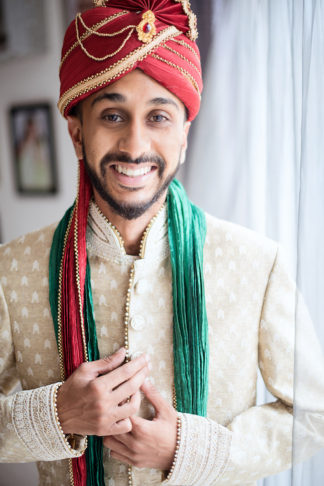 Heemal wore a double layered scarf around his neck and over one arm which added to the majesty of his outfit.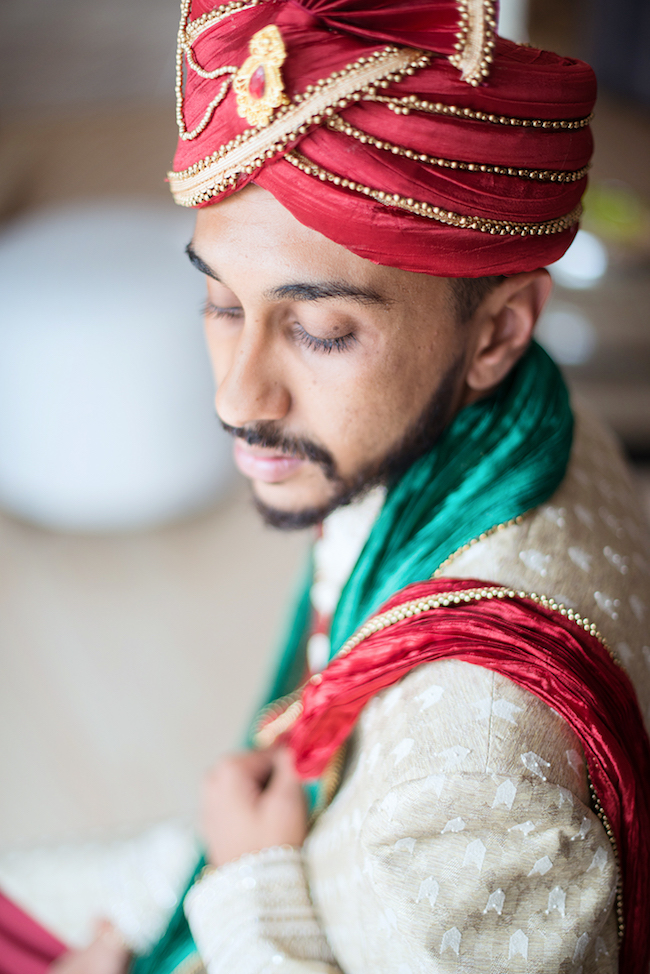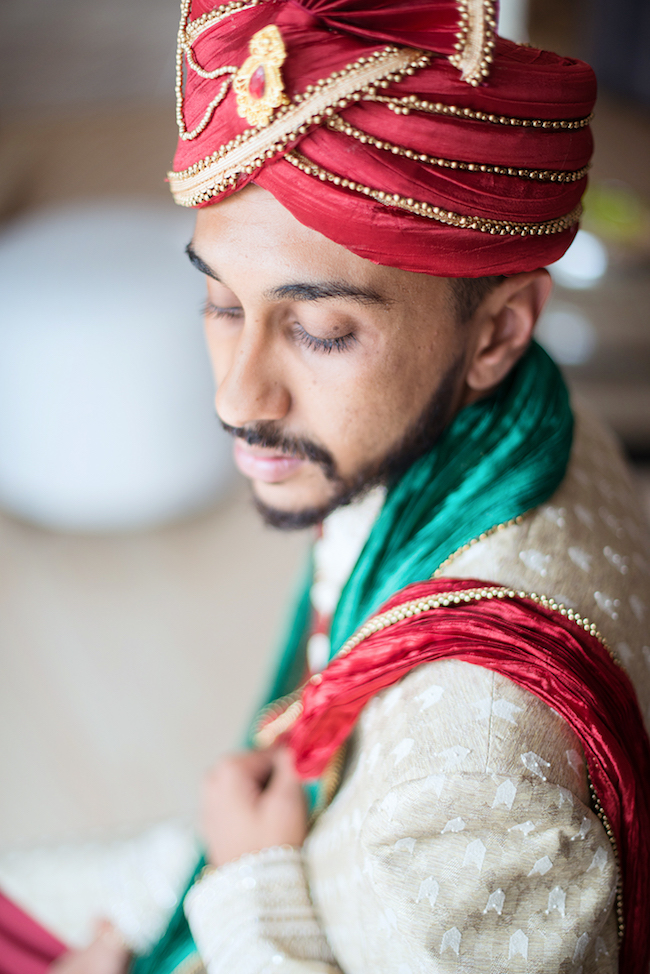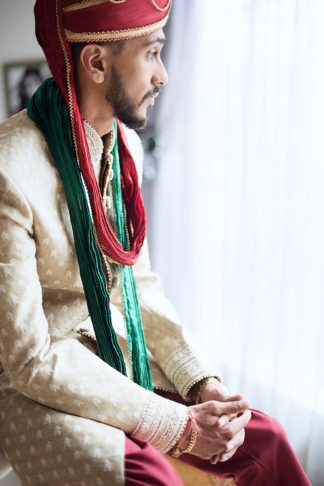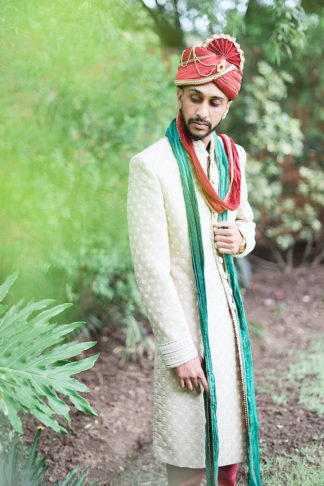 Traditional Hindu Wedding Ceremony
Our ceremony area was decorated with traditional hanging mirrors. The ceiling of the conservatory had white drapes intermittently to avoid blocking the natural view and grand crystal chandeliers hung down the middle. The overall feel was kept somewhat minimalistic.

My sister made giant free standing flower arrangements in the shape of paisleys with crystals to match the chandeliers. These greeted guests at the entrance of our traditional Hindu wedding ceremony.
 

Heemal and I spent a lot of time choosing the perfect entrance song. Because he is a musician it meant it held a lot of importance. We decided on two traditional Hindi songs whereby the words spoke to each of us.
Heemal's song was sung by a male artist and the words were dedicated to me. Since it was in Hindi and some of the wedding party do not understand the language it was almost like a secret message to one another. His song was fun, light-hearted and sweet and mine was dramatic with deep romantic emotions.
 
When he walked in (and I waited in the bridal suite), it made me cry because I heard the song and knew what it meant.
Click To Tweet
 
Everything went off without a glitch! Everyone said I raced down the aisle and had the biggest smile on my face. To me it seemed like it took forever to get to the altar, but I was so excited I couldn't hold back.
 
Traditional Hindu wedding ceremonies comprise of many traditions and symbolic gestures, but most important is the exchange of garlands. When we enter the venue, we are each wearing a flower garland around our neck.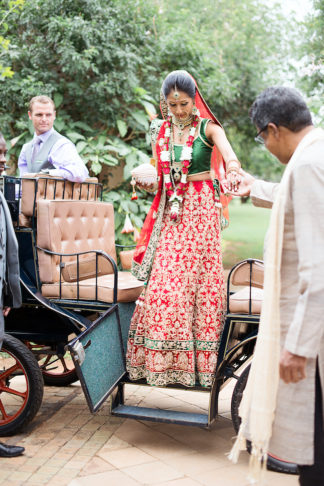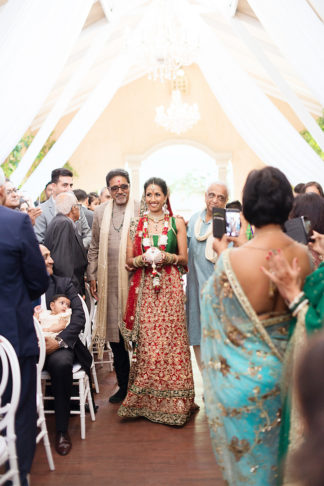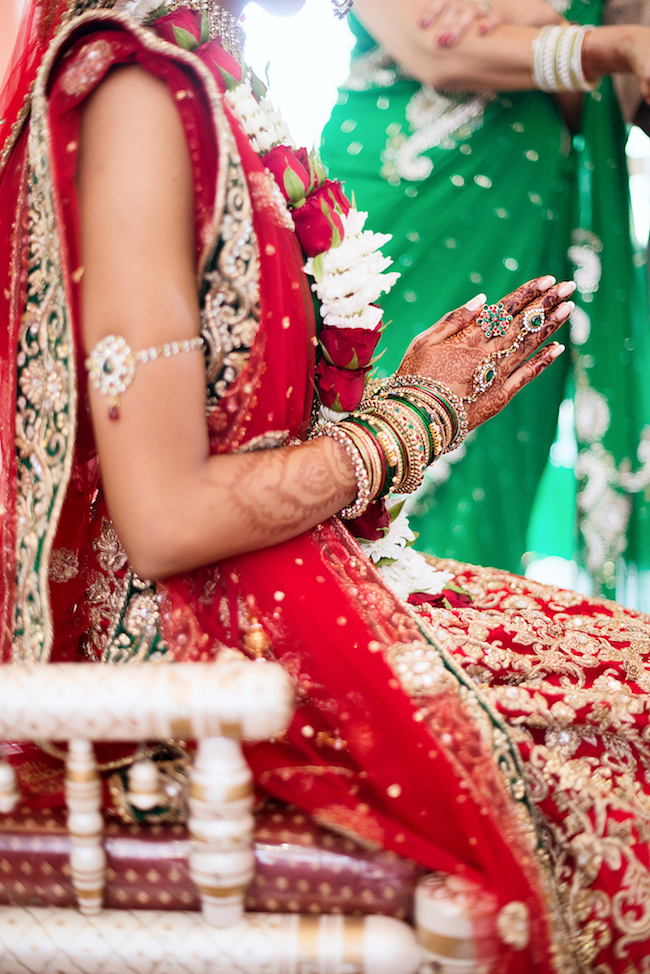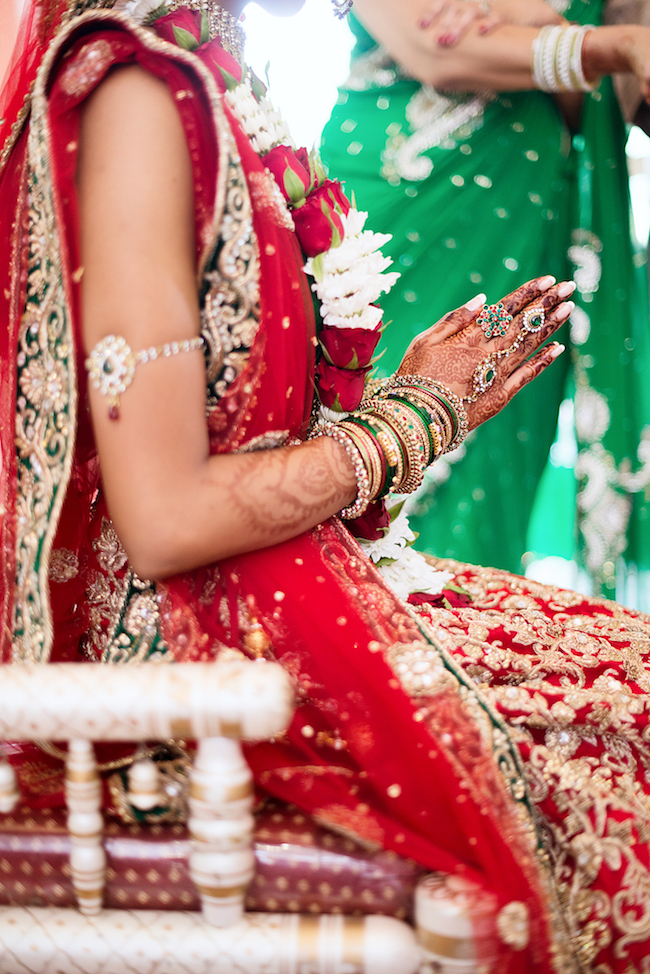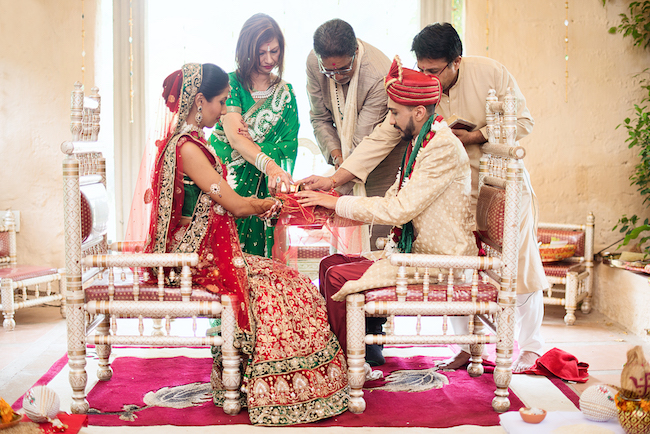 At the pinnacle of the traditional Hindu wedding ceremony the bride and groom swop garlands –  I take my groom's and he takes mine.

The swapping of our garlands represents that we now share everything, that I am his and he is mine.
Click To Tweet
We are then tied together by the ends of our scarfs, which represents that metaphysically we will always be tied together.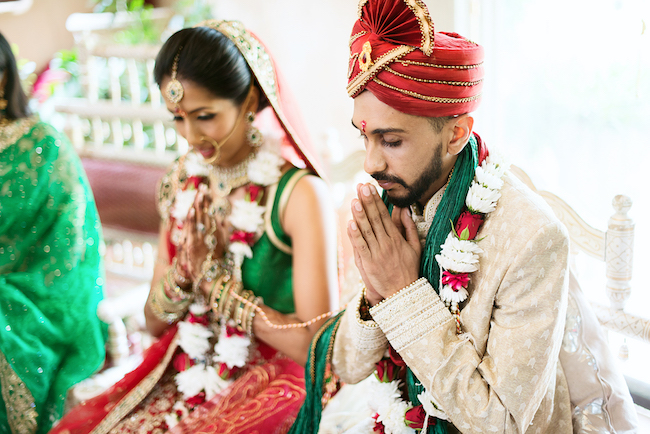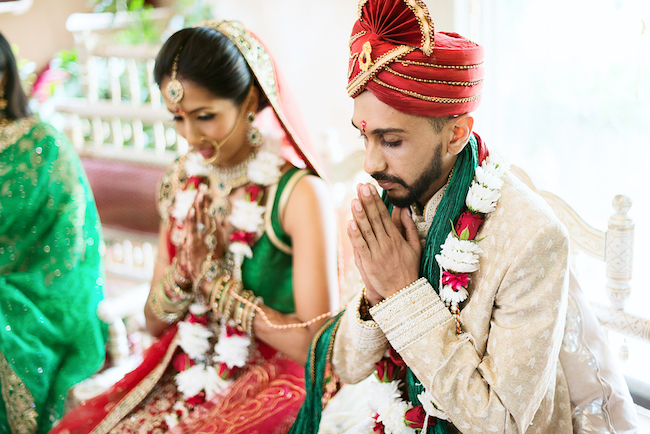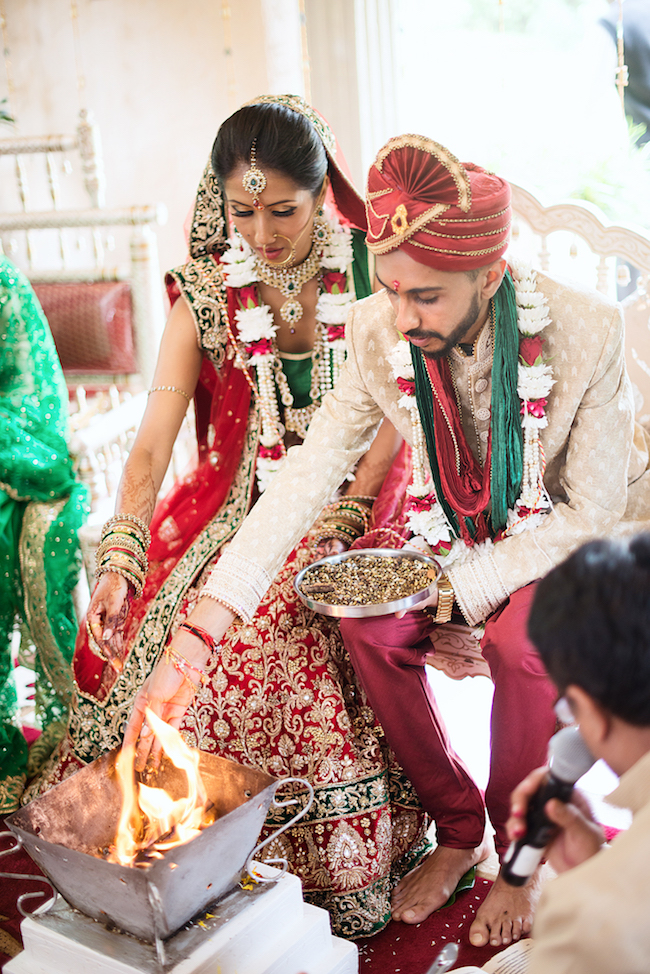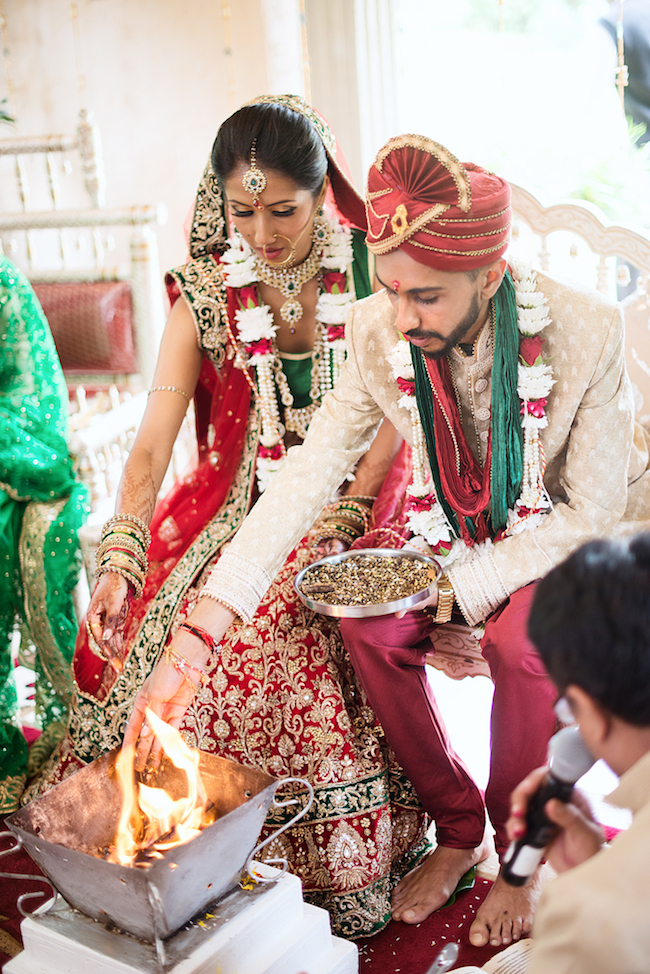 Lastly, throughout the wedding ceremony we have a small fire burning called a Havan. As we pray we offer sandalwood, grains, coconut and ceremonial powders into it.
The fire is the witness to our marriage. It takes in and consumes our vows, solidifying it in its flame. Click To Tweet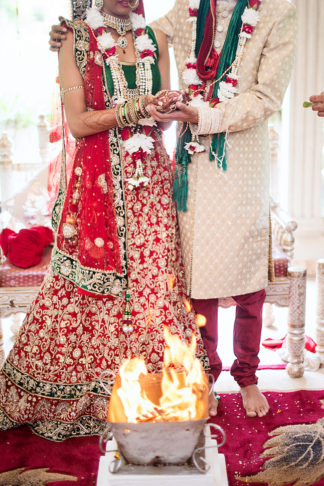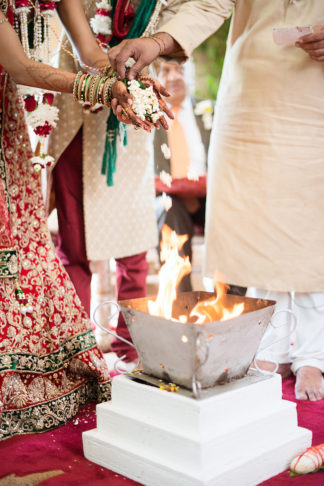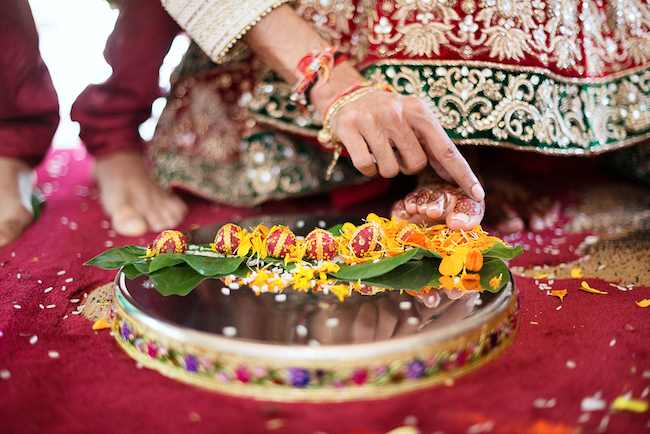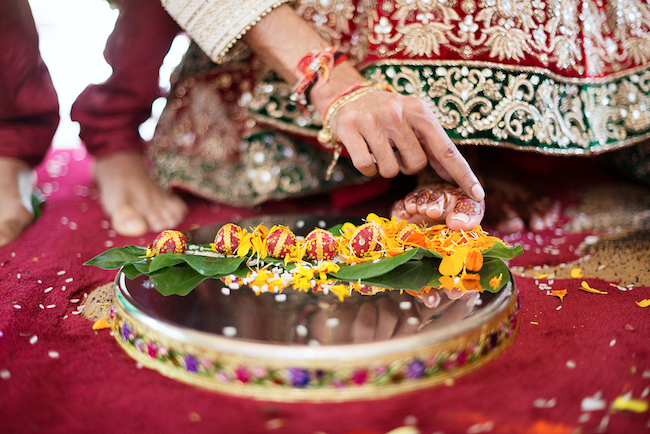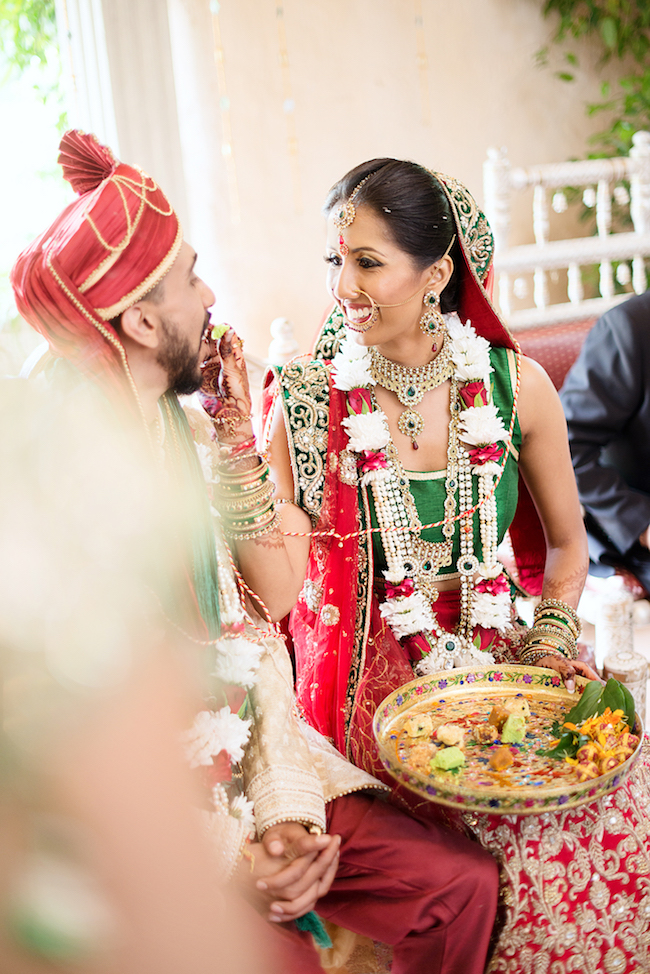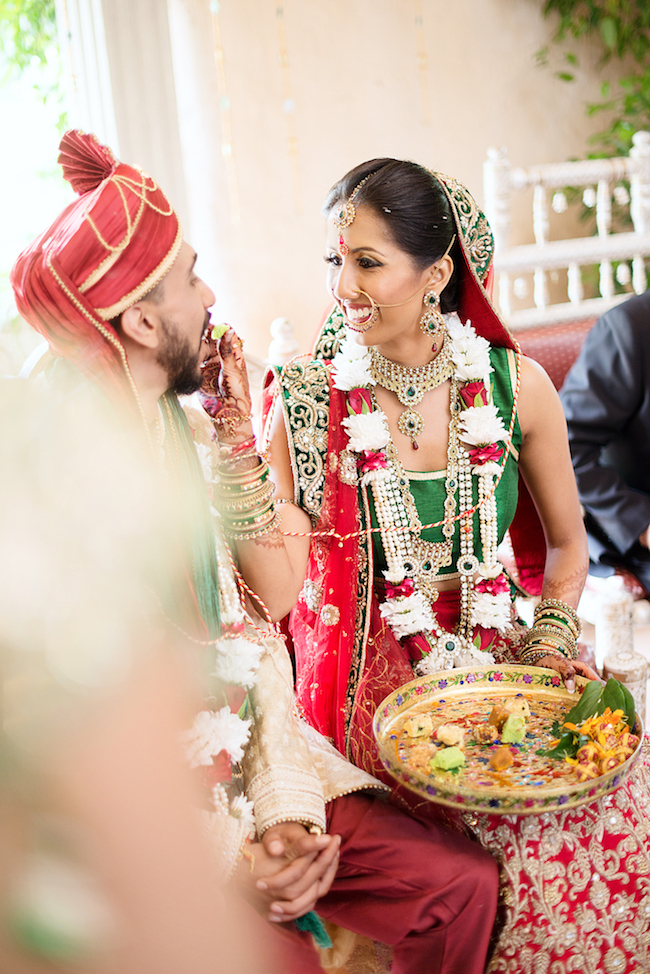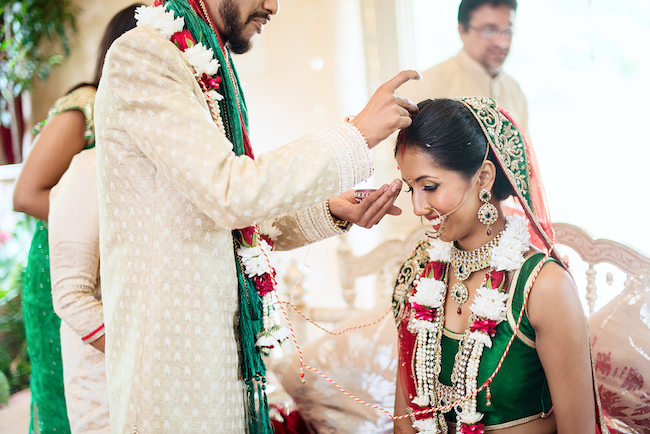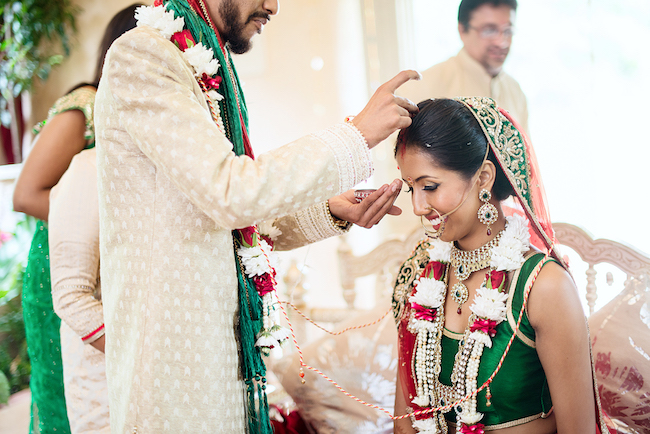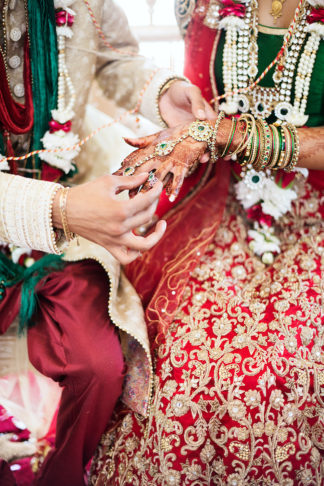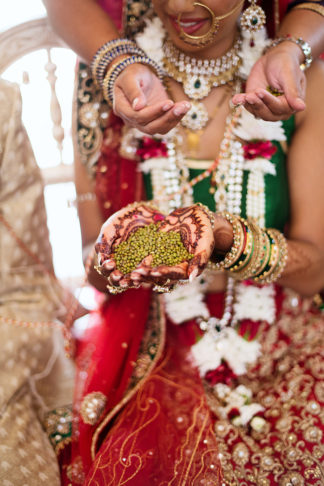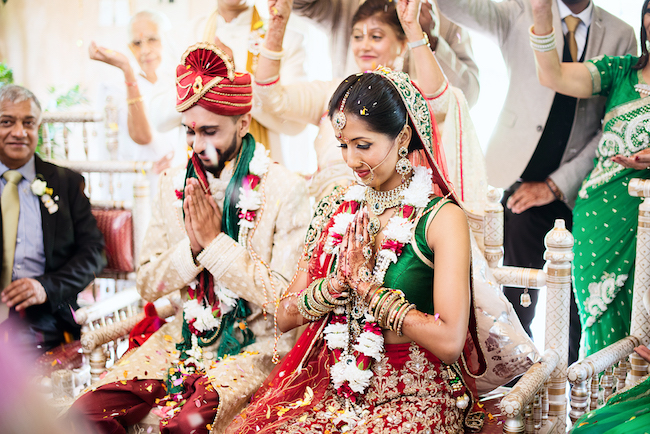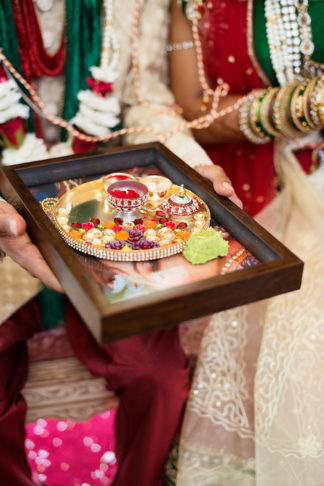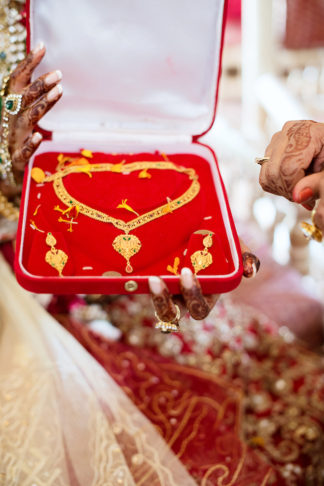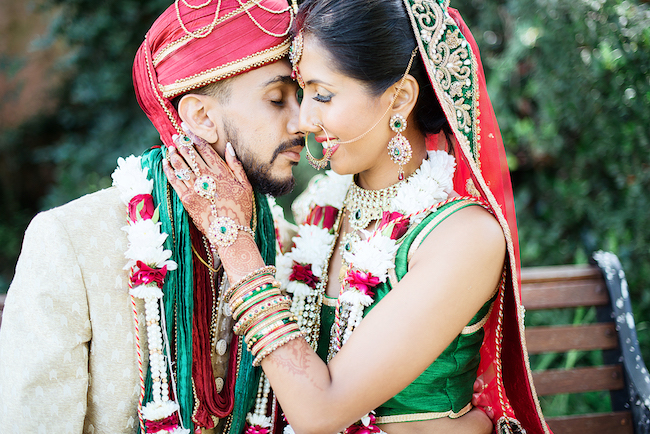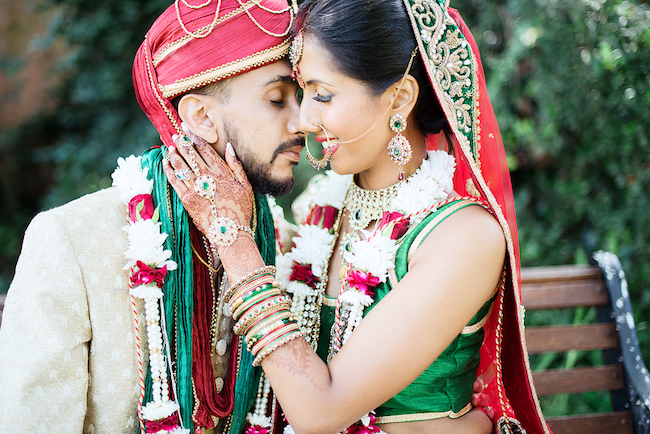 The best part of the day was the fact that the main emotion between us was child-like, pure, uninhibited excitement as my husband and I had been waiting for this day for so long.
Click To Tweet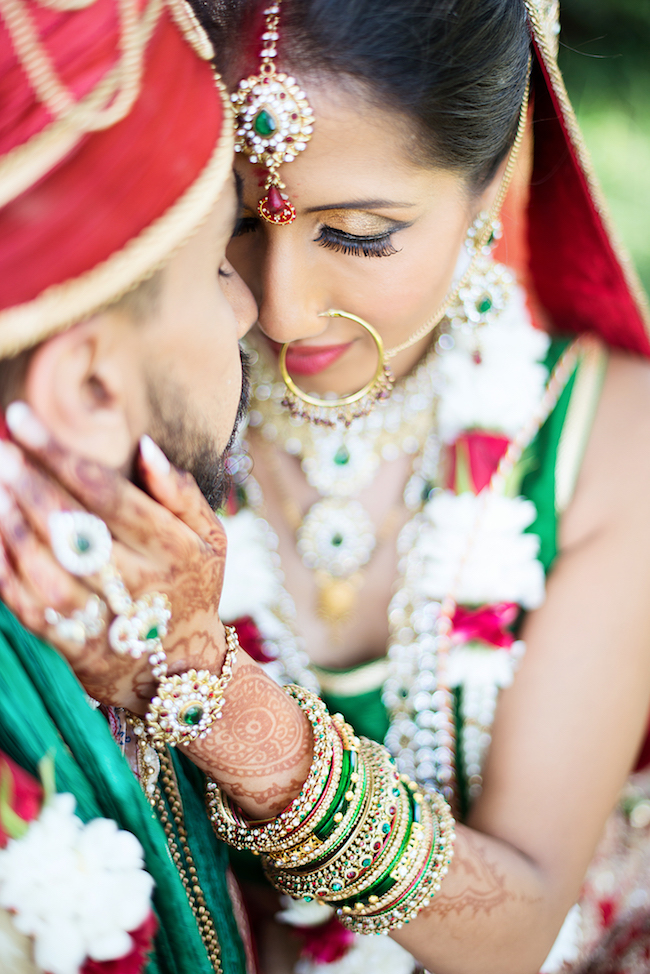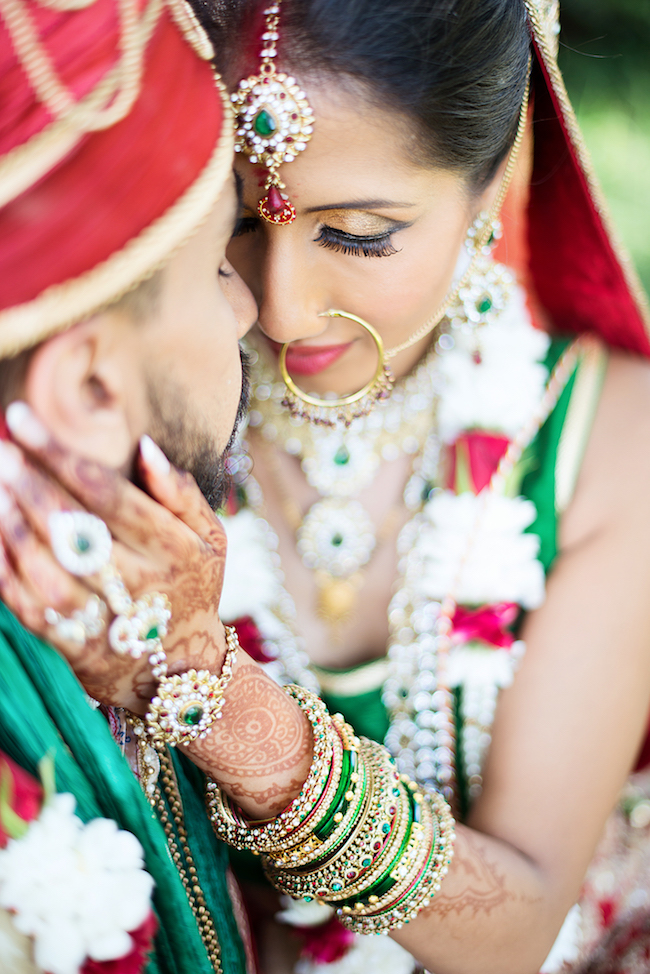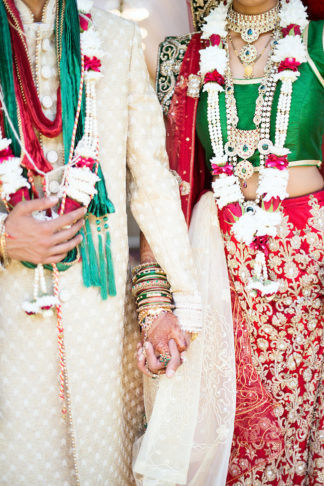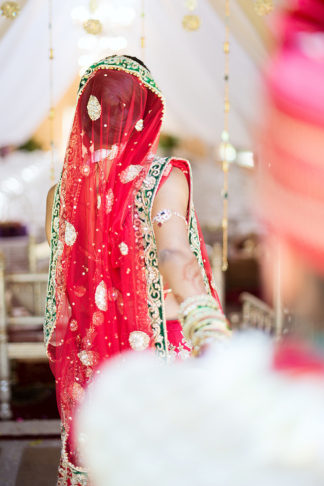 On our wedding day the weather was sunny and calm, but not too hot. The sun was shining and our conservatory/green house wedding venue gave a splendid view of the surrounding greenery and flowers. We wanted a relaxed, open environment to add to the atmosphere and got just that!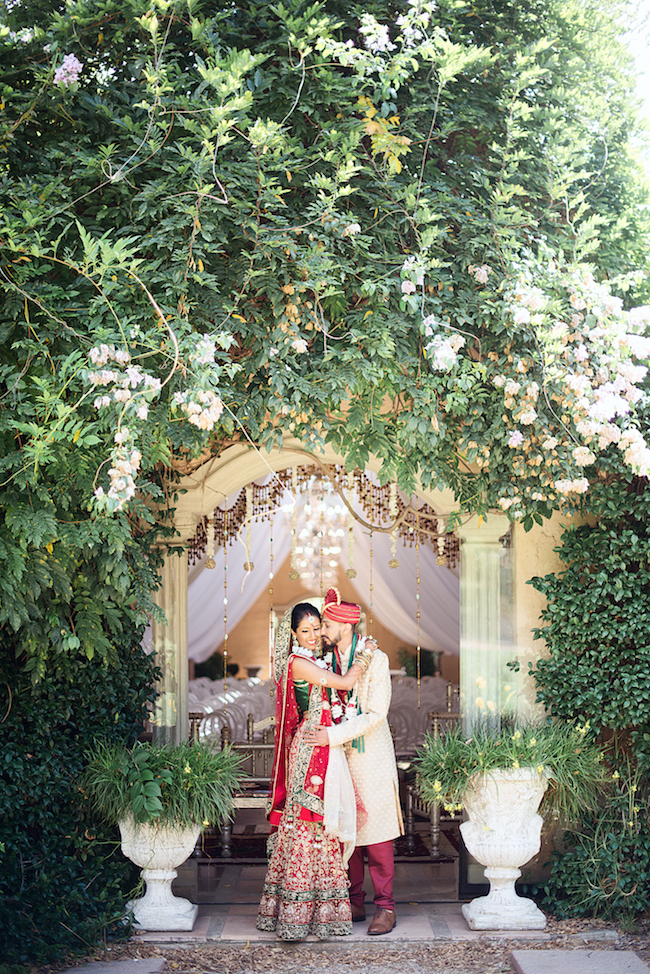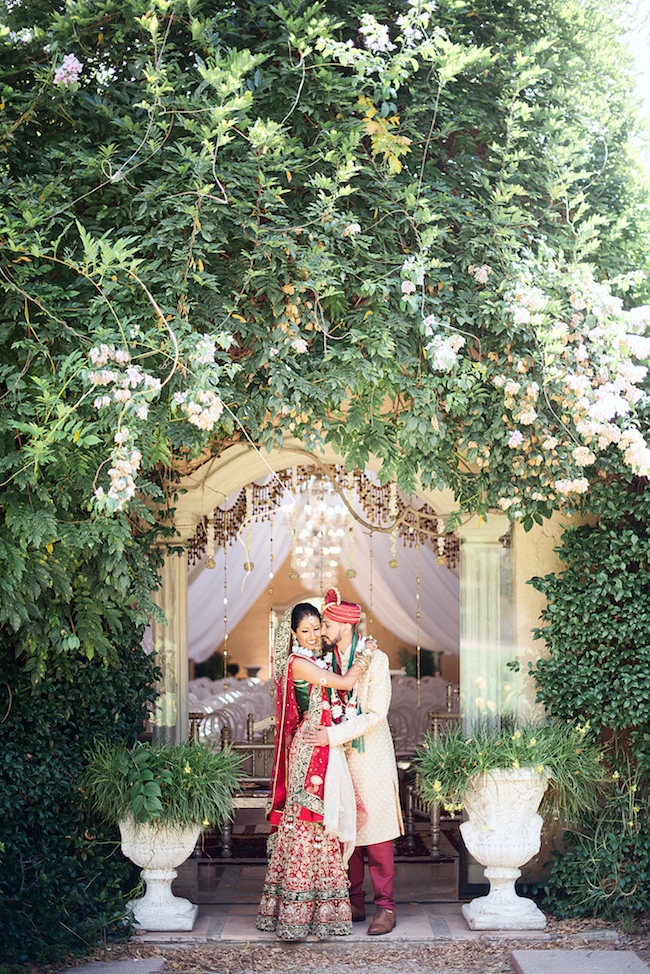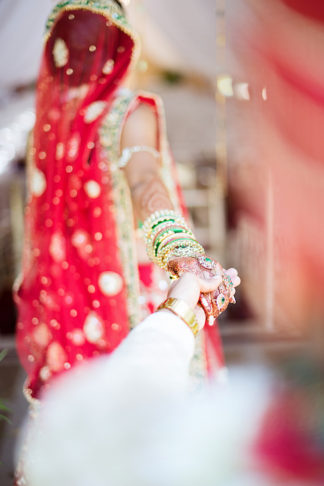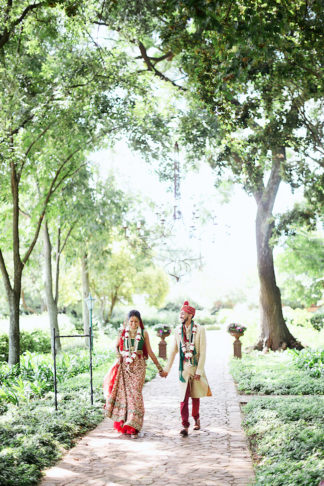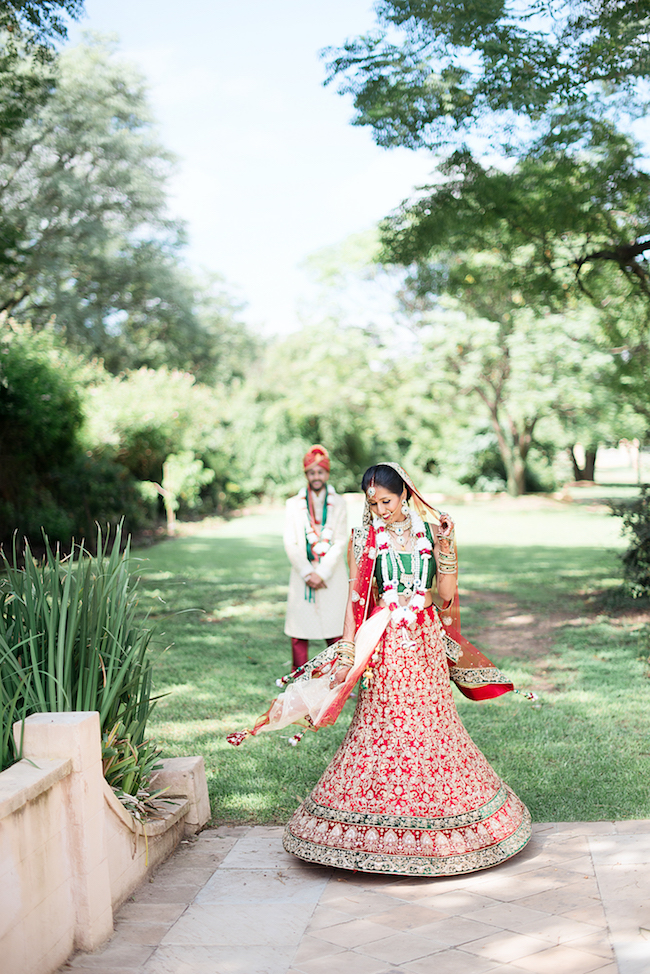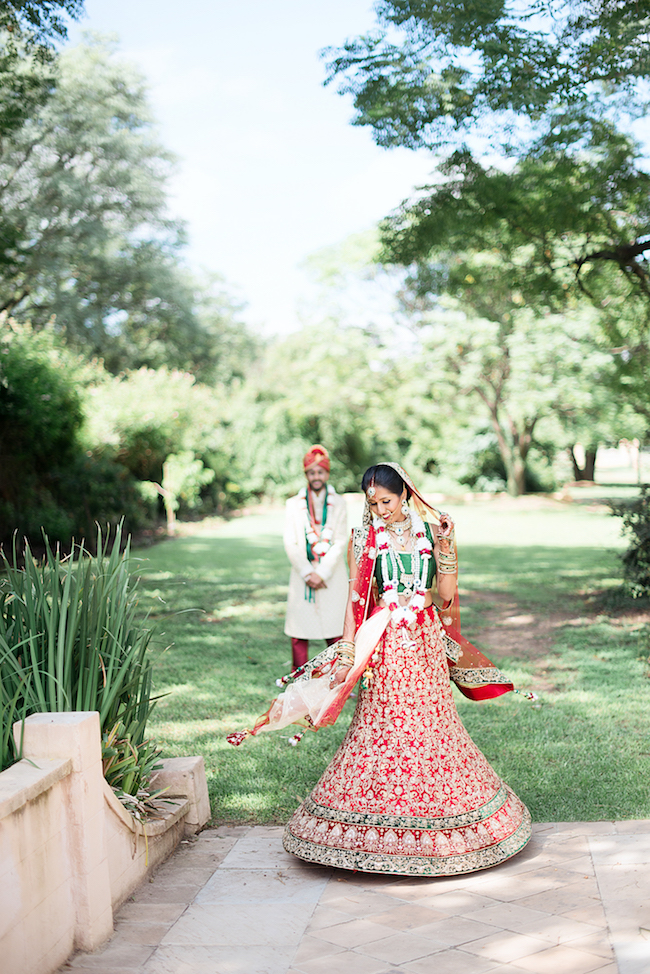 We had our wedding reception at a different part of the venue to that where our traditional Hindu Wedding ceremony had been held. This was so that the whole day didn't seem stagnant, and to create a bigger environment for people to mingle and dance.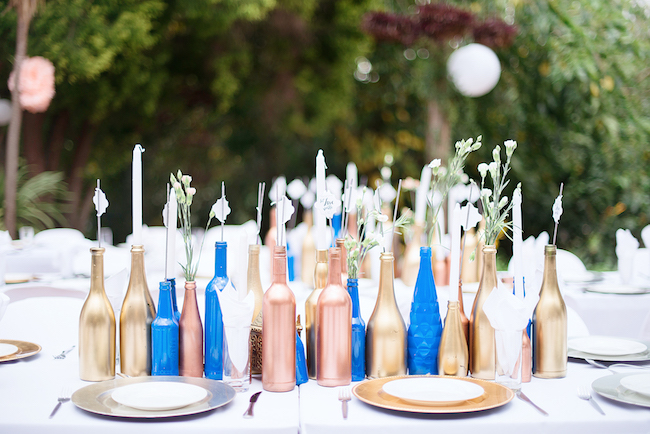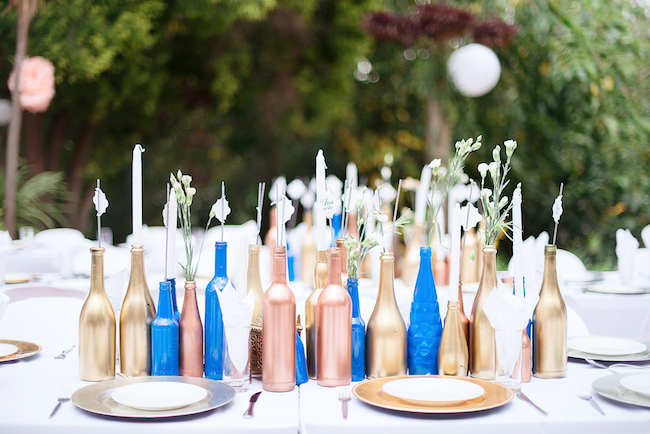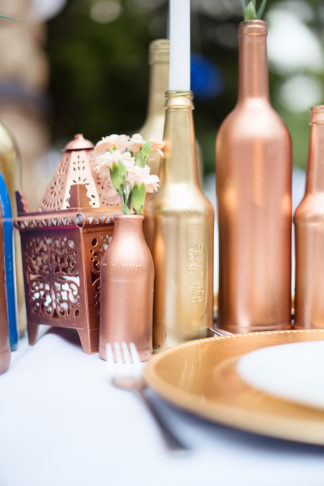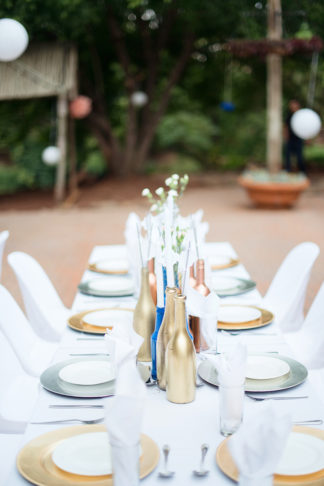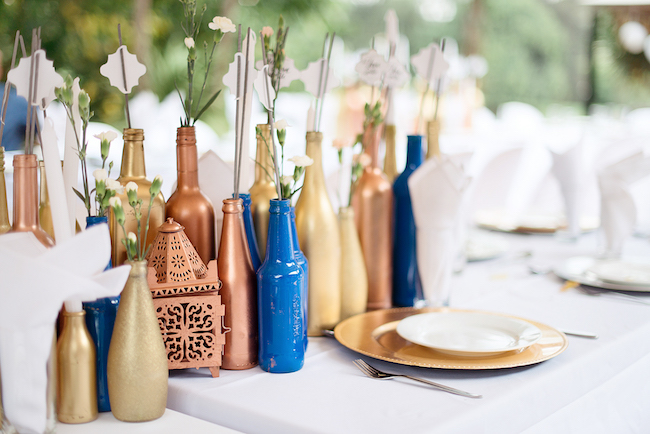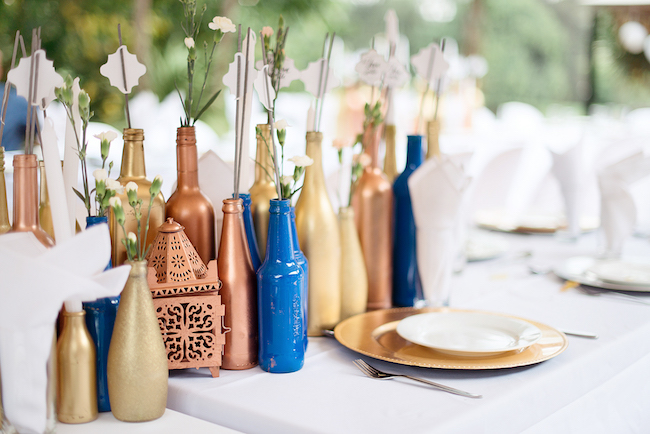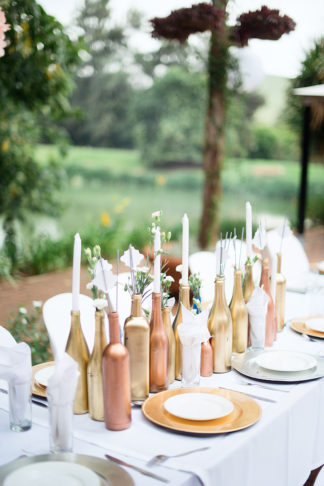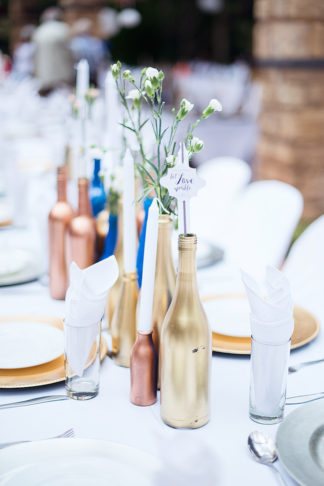 For our wedding reception we went with the same white foundation for the colour palette, and brought in the red and green with varied floral arrangements on each table. To complement the garden and rustic nature of the venue I created laser cut wooden menus (which matched my actual invitations) and table numbers. This was also a huge hit and a lot of people kept them as mementos.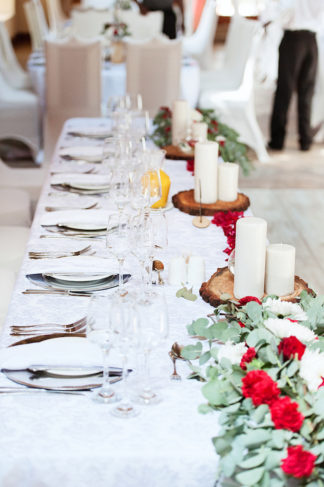 We used varied sized wooden trunk slices under our floral arrangements, which tied everything together beautifully. We brought in some subtle sparkle with silver candelabras, crystal details and crystal chandeliers.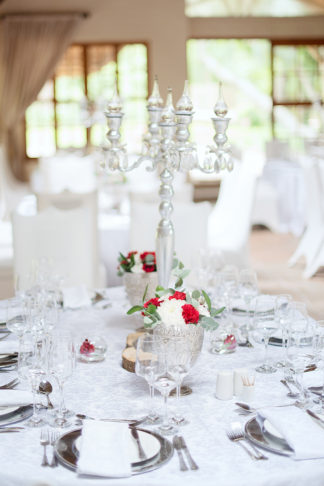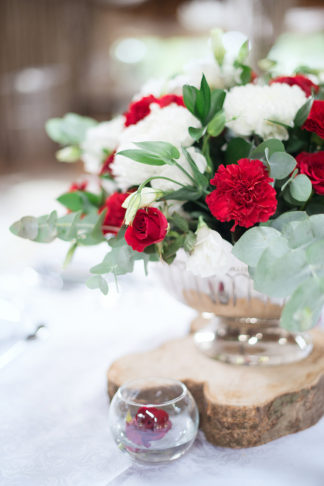 Because our decor was completely white, our florals played an important role. We tied our colour scheme in using hints of white with tomatoe red flowers and emerald greenery inbetween.
I opted for loose arrangements using soft flowers as opposed to stiff flowers such as roses. My arrangements flowed over the vases and draped down the sides of pillars. This enhanced the open, flowing environment of the venue and natural plant growth.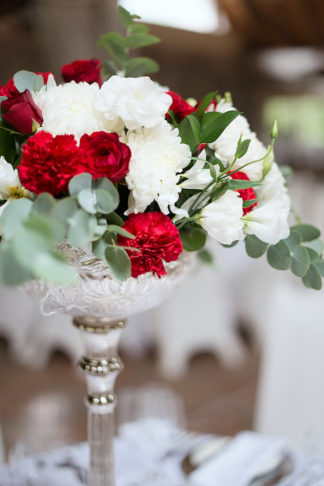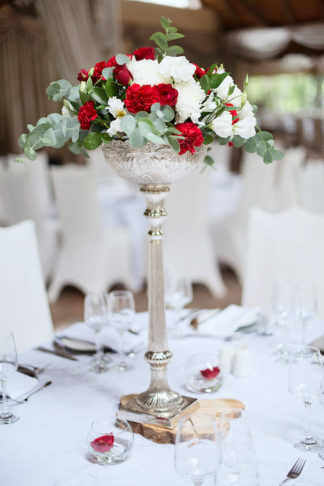 Dahlia's, Carnations, Ranunculus, Lisianthus, Hydrangea and Magnolias were used to create the soft look of the arrangements. Eucalyptus added to the draped form whilst adding the rich green colour needed. For our main table we had a flower runner which ran the length of the table, spilling over the sides. This added to the loose, relaxed silhouette we wanted to achieve.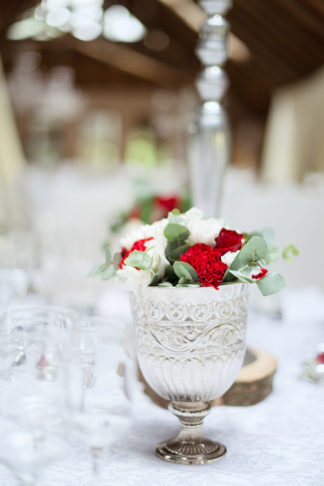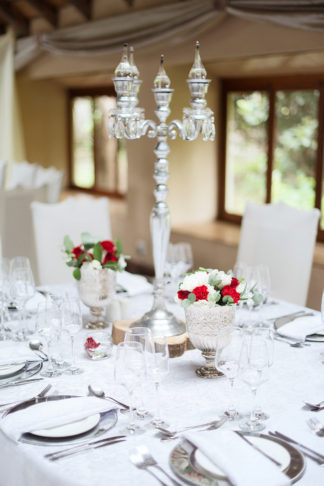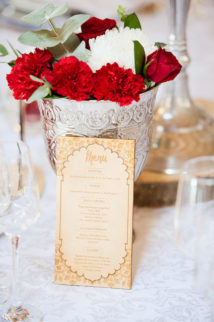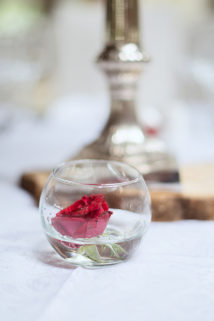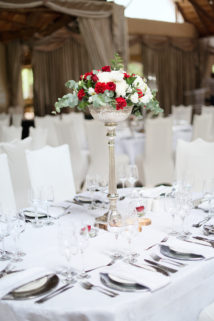 Wedding Planning Advice:
Do what is true to yourself and follow your gut, as much as you need to respect your family and friends and take their concerns into consideration at the end of the day it's your wedding, do what you dreamed of and what is best and most convenient for you. Once you try and make too many people happy you water down what you truly want – especially if you are paying for it yourself.
Invest in a great, amazing videograper and photographer, save/cut-down on all other aspects. Because at the end of the day all of the things you put so much money, time and effort into are shown/preserved through these portals. And you want the best representation of it.
Enjoy the day, it only happens once and focus on the love!
Research and use spread sheets! For every vendor (e.g. cater, photographer, florist) list down their names, websites, price/quote and what you get for that price (e.g. wedding package 2: 8 hours of photography, 1 photographer, excluding wedding album).
This helps with the decision making process as you can easily compare each service provider and what you are getting for the amount you are spending. Then highlight the 3 best (in terms of quality) and you can then see who is the most affordable. It is an easy and systematic way of keeping track, it also adds order to the research/quote process which can be quite daunting.
Wedding Suppliers:
Johannesburg Wedding at Shepstone Gardens {Christopher Smith Photography}
Elegant New Years Wedding Ideas {Casey Hendrickson Photography}
Marsala & Gold Romance: Winter Wedding {Red Boat Photography}
Delicious Gold & Maroon Autumn Barn Wedding Inspiration {Photography by Seneca}