Choosing your Wedding Music
♥  ♥  ♥
Oh yes! In this week's Wedding Planning Series, wedding planner, Nicci of Nicolette Weddings returns to provide a few perfect pointers to use when choosing your wedding music, which is most groom's fave topic to discuss during the wedding planning journey. It's a well-known fact that the music you choose can either make or break your Big Day and can be the difference between an early, civilised evening affair and a raging ground-stomping party, says Nicci. 
Whichever you prefer, the musical and entertainment arrangements require some thought to create the right atmosphere for your wedding!
Wedding Band or DJ?
The two main choices couples face when making their wedding day music arrangements is booking either a DJ or a band, or sometimes both.  Each choice has their unique pros and cons.
A Wedding Band and Live Musicians
A wedding band and other live musicians includes anything from a solo accordion or solo acoustic guitar player, to a string quartet, jazz, swing or cover band, or even a marimba band.
Pro's: Having a band at your wedding is a fantastic way to create the desired atmosphere you're looking for. String quartets create a romantic ambiance, while a marimba band sets the tone for a joyous and jovial event, and a swing band will have your guests putting on their dancing shoes in no time at all.
Con's: Live musicians can be expensive, and with most bands you'll be limited to the style of music they'll be able to play throughout the day and evening, as most bands can't play just any song as a DJ would be able to.
A Wedding DJ
DJs usually consist of one person who operates the music on your big day, usually through hi-tech sound equipment and speakers, which they should be able to supply.
Pro's: Your wedding DJ should have access to any song that you request for any part of your wedding and his or her price should also include all necessary sound and PA equipment, including speakers and a microphone for the minister to use during the ceremony as well as for guests to use during speeches.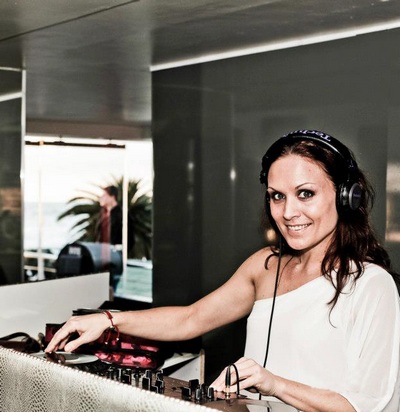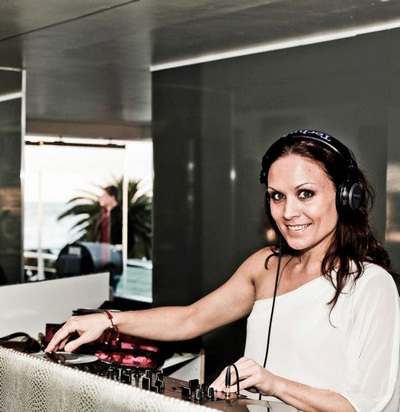 It's also useful that your DJ will be able to read the crowd and learn quickly what kind of music they enjoy and will get them dancing, and should be able to play appropriate music for the different aspects of your wedding such as for your ceremony, your first dance, and your bouquet and garter toss, for example.
Con's: Having the same type of music being played throughout your wedding can be a little boring so it does add a touch of fun and interest to have a live musician playing during a part of your big day.
Have the Best of Both!
Budget permitting, we suggest you get the best of both worlds and use a DJ for your ceremony and reception, but a live band or musician for your guests to enjoy during cocktail hour.
This way you will have all the necessary sound equipment needed for your ceremony (even if you would like your live musicians to play your favourite piece of classical music to walk down the aisle), and you'll have an entertaining and engaging live performance to distract your guests while you're busy with your "just married" photo shoot. After that, when it's time to sit down at your reception, your DJ will be able to play any song you desire, or any song that your guests request during the evening, and he or she will also have a diverse enough range of music to play dinner music during starters, and warm up to more lively party music later on in the evening.
How To Choose Your Wedding Music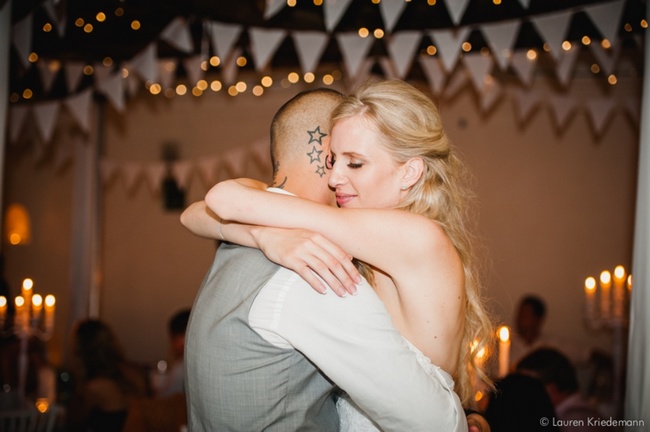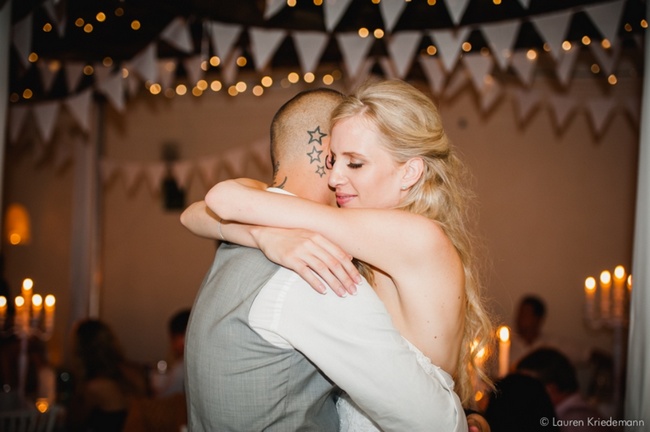 (Above) Shot by:
Lauren Kriedemann
6 Tips for Choosing Your Wedding Music
It's always a good idea to clarify with your DJ or band, exactly what is and isn't included in their price, and how many hours they will be present for. Take a moment to check what their over-hours rates are too, as this will be useful to know on the night, if you'd like them to stay longer than you anticipated.
Regardless of whether you are booking a DJ or a band, be very sure to communicate exactly what style of music you would like played at your wedding. Both DJs and bands always appreciate specific song requests before your big day, so that they can get an idea of what you love, and what you don't.
DJs and bands also appreciate it when couples give them a "no play" list. These are the one or two songs that the couple really don't like and don't want played at their wedding, even if they are requested by guests. Some examples of these songs could be Kung Fu Fighting, and Gold Digger.
A list of songs that you might want to consider for your big day include songs for Walking down the aisle, Walking back up the aisle or music for the throwing of confetti, Your grand entrance at your reception, Your first dance, Your second dance (usually bride and father), The cutting of the cake, The throwing of the garter and bouquet.
If you're stuck on making decisions for any of the above, your band and DJ who would have plenty of wedding music experience, should be able to help you and advise you on your selections.
Lastly, be aware of the limitations on both a band and a DJ. A band most probably won't be able to play every single song known to man, and a DJ won't be able to be setup in more than two places at once, so it might not be feasible to have him or her setup speakers and a sound system in the 2 minutes it takes you to sign the register in a different venue to where your ceremony was, meaning your poor DJ won't have the music ready for when you walk out for confetti.
Once you've decided on whether you're having a wedding band, DJ or both, be inspired this groovy playlist of songs to play during each part of your wedding day, from the processional and recessional of the ceremony to your Grand Entrance, First Dance and the fun Garter-Throw and Bouquet-Toss of the reception: {Wedding Music Playlist} DJ Shylo's Top 30