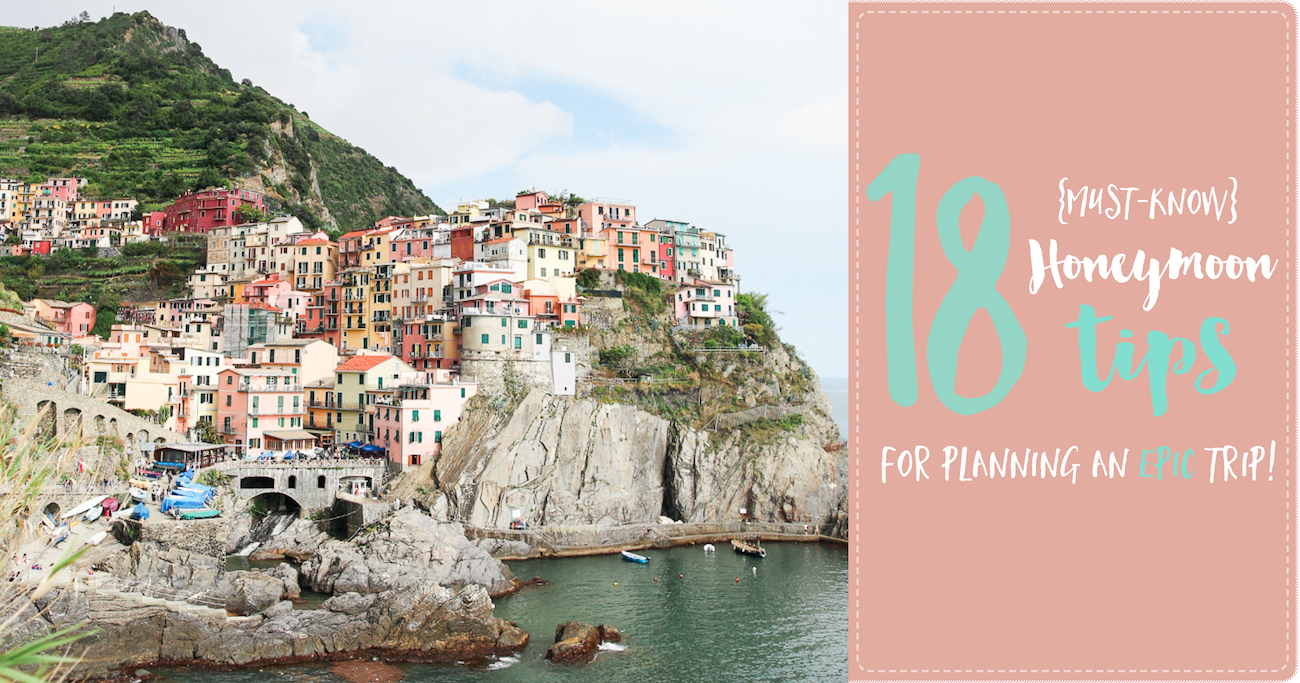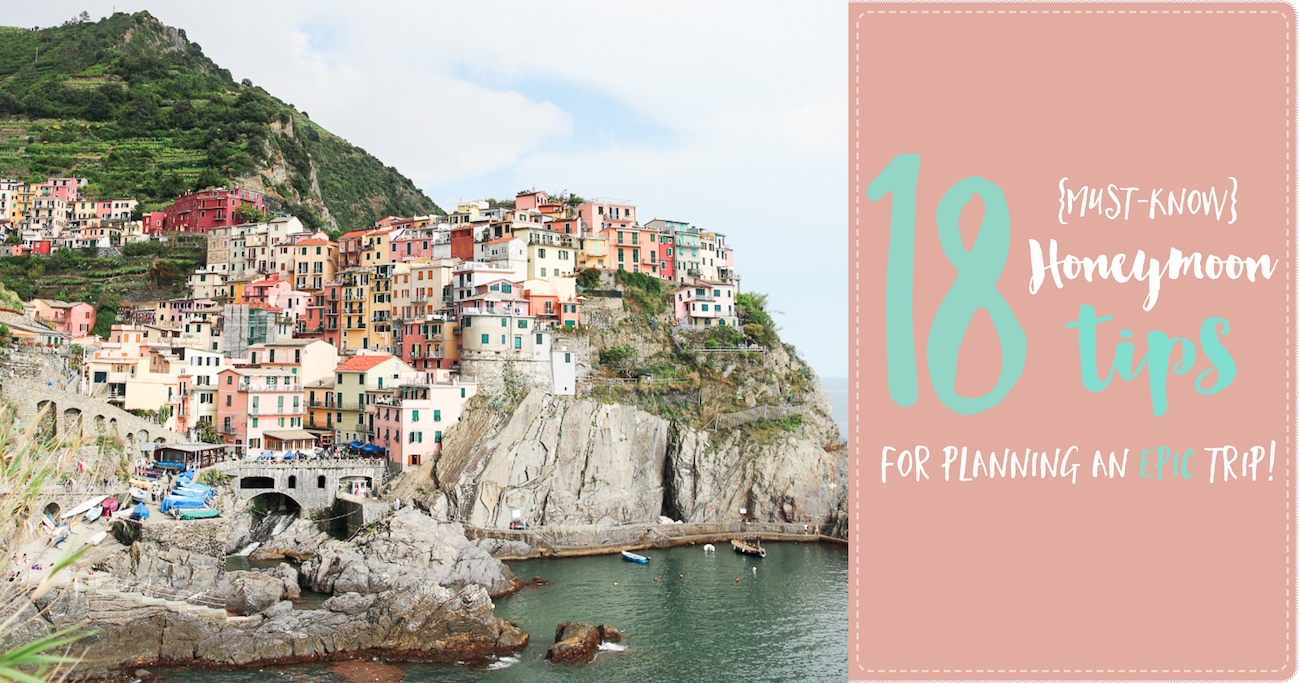 Looking for advice on planning a honeymoon that you'll never forget?  We've rounded up expert advice to help you plan your honeymoon like a pro – from cost saving ideas to travelling advice and tips on when the best time to head out is. With these 18 top tips for planning the best honeymoon ever, it's our feeling that you'll be well on your way to a trip of epic proportions!
Done right, the honeymoon is the perfect opportunity to catch your breath after the whirlwind of a wedding and bring the focus back to one another, says Irina Vishnevskaya of allé travel, who works with couples of all kinds to plan their dream honeymoons. Irina has picked up a number of honeymoon tricks along the way, which we're sharing with you today.
Top tips for planning the best honeymoon ever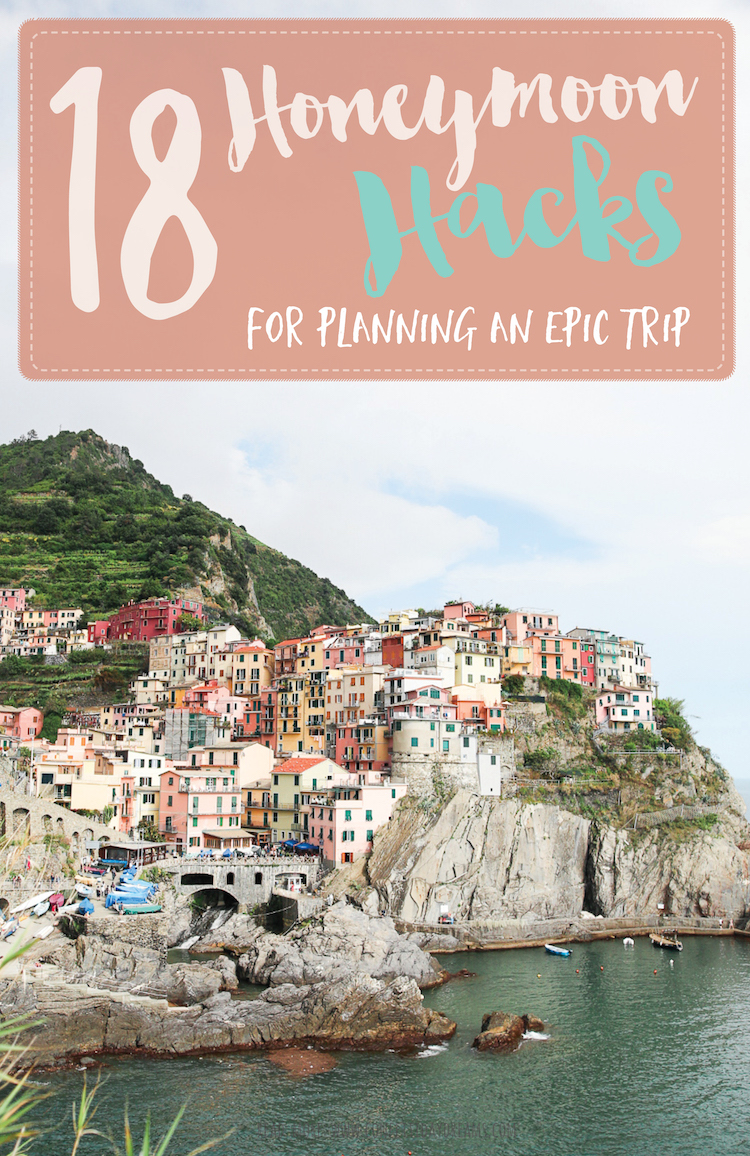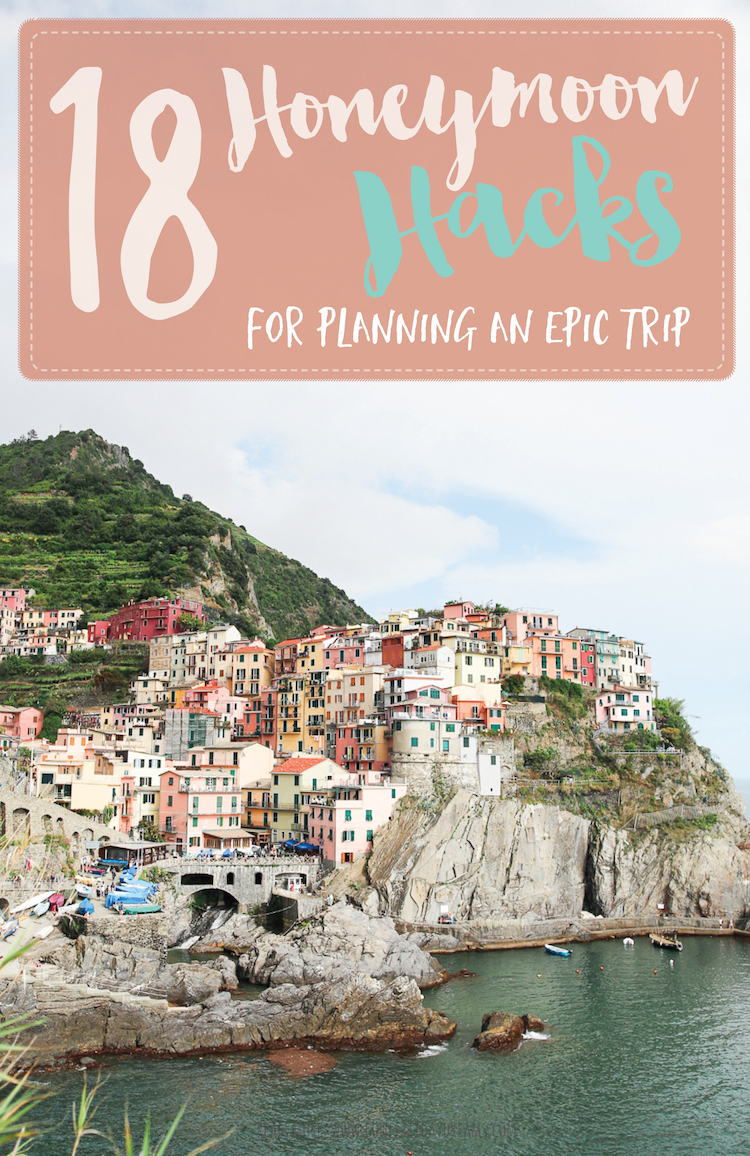 Planning A Honeymoon Tips + Advice:
Register portions of your honeymoon. Unless you're really dying for a new set of silverware or towels, forget the usual registry stuff and instead, register portions of your honeymoon to up your funds for your trip, suggests Irina. What's great is there are many, many options:

Honeyfund

,

Wanderable

,

Traveler's Joy

, and

Zola

are some of her favorites.
Try not to travel more than 13 hours for a 7 day honeymoon. Keep in mind the proportion of time you spend on the road and in the air vs. time actually enjoying your honeymoon: "I know it's your honeymoon and an opportunity to go on a trip that you wouldn't otherwise, but it's always a good idea to be realistic with traveling too far in too short period." For some people, taking a week off of work is the most they can muster: "In this case, don't choose to honeymoon somewhere that is a 32 hour flight + 3 hour ferry ride away." Sure, that destination could be magical, but keep in mind that no matter what kind of a paradise you're in, it won't be worth it if you're exhausted and tired: "My rule of thumb for planning a honeymoon is that if you have 7 days or less, don't even think about traveling further than 13 hours for a honeymoon."
Travel during your destination's shoulder season to beat the crowds. Pro honeymoon planning tip: arriving when it's not quite packed peak season, and not yet off season (with bad weather), makes shoulder season the perfect in-between. "For example, say you want to go to Croatia, don't go in August. Instead, go in September or early October, you'll still have great weather AND the crowds will be gone," says Irina.
Many destinations around the world require that your passport be valid for 6 months AFTER your travel date. Because passports are valid for so long as adults, many of people forget to check the expiration date on their passport until it's too late. "This can lead to the airline refusing to board you and you needing to rush to get an emergency passport." Instead, a few months before your honeymoon, take a few moments to open your passport and check in with the expiration date, just to be sure.
Avoid travelling on the day directly after your wedding. "If you chose to go on honeymoon right after your wedding, please don't think about traveling the day immediately after the festivities, says Irina. "Give yourself at least one post-wedding day before you get on a plane."
Start watching flights in advance. Expensive flights are the fastest way to blow through a honeymoon budget – money that could be better spent on really nice accommodations, for example. "Start watching flights well in advance of your travel dates with tools like

Hopper

and book when the flight is cheapest. Even if your budget is huge and you're flying first class, it can make a big difference to shave off parts of your flight expenses," says Irina. 
If you're delaying your honeymoon for a few months, consider taking a short 3-day mini-moon right after your wedding. Trying to enjoy some blissful down-time before returning to everyday life is essential honeymoon advice from Irina.
Keep the weather in mind when you choose your destination. "Don't forget that even if you're headed to a tropical location, it might not be a good destination for travel all year round. Always check what the rainy season, typhoon season and hurricane seasons are!" 
Book activities and special sight-seeing tours before you head off to honeymoon.

"

Your honeymoon is a different kind of trip by default," says Irina. "You're going to be coming off of a peak life event, and adrenaline, as well as exhaustion, is going to be at an all time high. Don't risk it and don't leave it to chance; think and plan ahead so that when you're there, enjoying your precious time together, you can really focus on soaking in every moment; instead of stressing over whether or not the cooking class you have your heart set on has last minute availability for you."
Live like locals and forget hotels or resorts, at least a little bit. "Yes, of course, staying at a beautiful, very Instagramable boutique resort in Italy is, well, the stuff dream honeymoons are made of. But there are even more enticing options out there. Try Onefinestay, Sweet Inn or Oasis Collection for beautiful homes all over the world (think airbnb, just on another level, with concierge service). I recommend Unique Home Stays and Boutique Homes for all your luxury home dreams, and Glamping Hub for the most romantic treehouses and yurts you've ever set your eyes on (like this Spa Treehouse in France)."
Include time for both relaxation and adventure. No matter who you are- foodie, hiker, luxury hotel aficionado or camping pro, the best kind of a honeymoon is the kind the combines adventure (whatever that may mean to you) with relaxation."For most couples, this also means balancing one person's interests with the other person's interests. Laying on the beach is fun, but not if you do it for 10 days straight. Hiking is fun, but not if you don't have a moment to catch your breath," advises Irina.
Buy a local piece of art or decor for your new home. Instead of souvenirs from souvenir shops, bring home a really special memento. "Maybe a painting by a local artist, a piece of pottery or even a handmade rug. Something unique to your honeymoon destination that can be a part of your home together, that'll serve as a gentle reminder of the incredible adventure you shared as newlyweds."

Get creative with meals – arrange to share a meal in a local chef's home! Restaurants are great, and a fancy, romantic meal is in many ways a must for most honeymooners, but what about making food an experience in and of itself? "Beyond the typical dinner reservations, it can be a lot more fun to cook your own meal with a group as a part of a cooking class," says Irina. "Maybe even share a meal in a local chef's home with a few other travelers and locals (our favorite option for this is

EatWith

, available in most big cities)."
When checking reviews try to keep the reviewer's personal tastes in mind. Reading reviews is important when it comes to picking your travel planner or your accommodations, says Irina, but also keep in mind that no two honeymooners are alike, and one man's trash is another man's treasure (kind of). "Remember to take reviews with a grain of salt and look for patterns – if one random reviewer complains about staff but everyone else says the resort has amazing staff, then it was probably a one-off. But if it's a pattern, keep looking."
Don't feel pressured to do things that don't vibe with your couple-style. Adventure, much like romance, means a whole lot of different things to different people. "But you know what's great? It's YOUR honeymoon, so you don't need to adjust to anyone, not even your new mother-in-law," says Irina. "What would make for an amazing story once you're back home? What will you remember for the rest of your life? Chase those adventures, experiences and moments on your honeymoon."
Tell them it's your honeymoon. Most places routinely treat their honeymooners to a bottle of wine or champagne on arrival. Irina has worked with airbnb hosts in the past who have gone out of their way to buy fresh roses and wine for honeymooners- all they did was mention that it's their honeymoon. This is sage honeymoon planning advice!
Surprise each other. Irina says allé travel has seen a huge uptick in

groom-planned honeymoons

, but if you don't want to go that far (or relinquish that much control) she suggests surprising each other with small gestures like breakfast in bed, private or special dinners, romantic sunset cruises or surprise hot air balloon rides.
Be sure to arrive at home at least one full day before having to go back to work. This is true for all trips, but especially honeymoons: give yourself a full day to recover at home before you go back to work: "Remember, your fridge will be empty, your suitcases will be full of dirty clothes that need laundering, and you'll have a lot of life to catch up on." Instead of hitting the ground running,  Irina suggests easing back into everyday life instead.
Check out these 19 ethical travel tips for an awesome honeymoon!
Download this cute and epic honeymoon packing checklist now.
Now that you're filled up on honeymoon tips, make sure you read this wedding day timeline advice and check out these 21 wedding planning tips to avoid some of the most common mistakes couples make.
Oh, and if you're in the mood for some more travel inspo and honeymoon planning advice, go and have a look at allé travel's instagram and their Facebook right now!
MORE WEDDING PLANNING INSPIRATION: