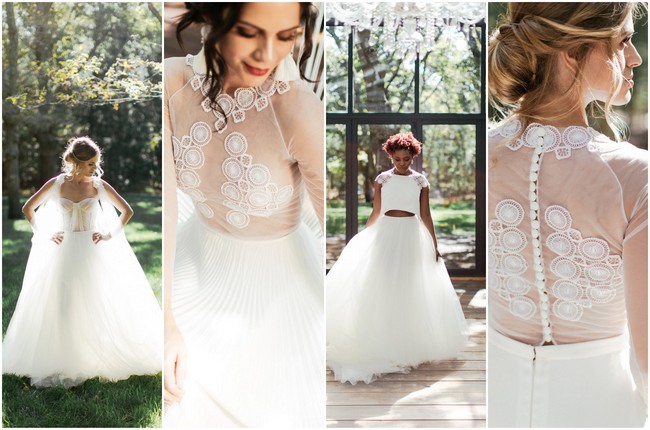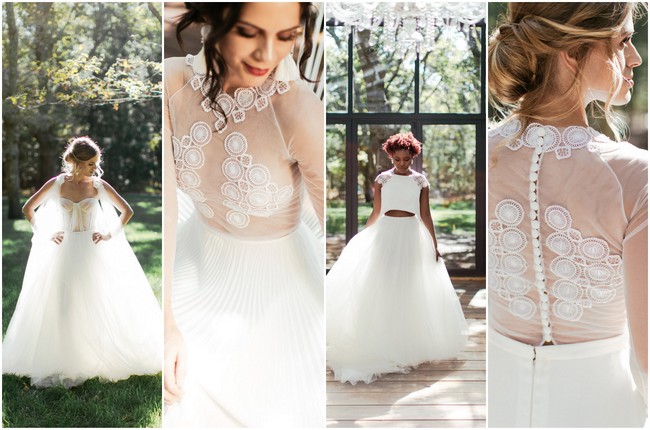 Ladies!! We are SO excited to introduce the 2017 Janita Toerien Wedding Dresses: Leilah James – launching TODAY! The brand new ready-to-wear range by South African wedding dress designer Janita Toerien is a spectacular collection full of gorgeous interchangeable separates. It's the perfect answer for brides who are OBSESSED with the quality and aesthetic of Janita's exquisite work but do not have the time available for the creation of a bespoke, couture dress. 
The beauty of interchangeable separates are that they give you the opportunity to create your own look by combining the pieces in any way you like. Dreaming of a trendy crepe crop top with a pleated georgette circle skirt? Done! Perhaps you prefer your circle skirt with a sheer, long sleeved body suit of Italian tulle? You got it! It's easier than ever to create your dream silhouette with these ready made pieces. You can see your wedding ensemble, ready made, in a number of combinations of before you decide on your fave. 
INTRODUCING LEILAH JAMES BY JANITA TOERIEN
The debut collection of ready to wear Janita Toerien wedding dresses consists of 5 bottoms, 6 tops and 3 capes (yes, that's right – CAPES!!). The collection includes some of Janita Toerien's most sought after styles, including her popular bustier style bodices – which, ladies, let me tell you, are amazing on the structural side. I've worn one myself and it provided so much support that everything looked and stayed in perfect position – without straps! (Check out the Ami and Ava pieces below if this is your thing.)
The collection also introduces new, stretchy (and super comfortable) fabrics like scuba crepe that can be found in the Mona skirt or Adele top. In fact, this fabric is Janita's current favourite: "It is stretchy and naturally comfortable. It is thick so it doesn't cling in an unflattering way, and it is matte which is just perfect!"
"I really wanted this range to have a certain ease about it," adds Janita. "In addition to the ease of movement provided by stretch fabrics, we added pocket details for that laid-back feeling."
THE COLLECTION:
We love how fresh and modern this collection is. A number of pieces are a strong nod to the clean and visually minimalist design trend that is so popular. These pieces are perfect pairings pieces for others in the collection which work with intricate patterns, making use of strong lines and interesting shapes. The Ava bodice features strong, curved lines designed to look amazing on the body. The Ami bodice's diagonal pleating and beaded seams, which accentuate angles, bring to mind the sought after geometric wedding trend.
The collection pushes forward by moving away from traditional lace, instead focussing on geometric shapes on canvases of sheer Italian tulle.
Of course you'll find sleeved tops in the collection, too, alongside delicate camisoles. "The Anais' plunging V-neckline is super modern and that ease that it has is just so laid-back chic I think!" says Janita. "That top is probably one of my favourite pieces!"
We asked Janita to share five things she wished all brides knew, and we just love her down-to-earth response:
WHAT I WISH ALL BRIDES KNEW:
This is not your mother's wedding dress, she is not the bride.
Stop pinning once you've decided on a dress/design. There will always be newer, better versions of something, stop thinking you'll miss out if you don't have it.
Think of the shoes you're going to wear. You are going to be standing still in one spot for at least 20 minutes during the ceremony, you need to be able to cope and be comfortable whether the shoes are flat or 12cm heels.
Everyone has those pieces of skin between the arm and chest. It is like elbow skin, it's there so you can move your arm up and down. Stop worrying about it.
Stop losing the weight. You do not need to alter yourself to fit someone's version of the perfect bride. Get over it and start loving yourself.
FOLLOW THE LAUNCH OF THE NEW COLLECTION LATER TODAY ON INSTAGRAM + FACEBOOK! #JANITATOERIEN2017
Read on for an exclusive interview with Janita, and make sure you click here for her advice on making the most of your gorgeous assets.
Ready to Wear Janita Toerien Wedding Dresses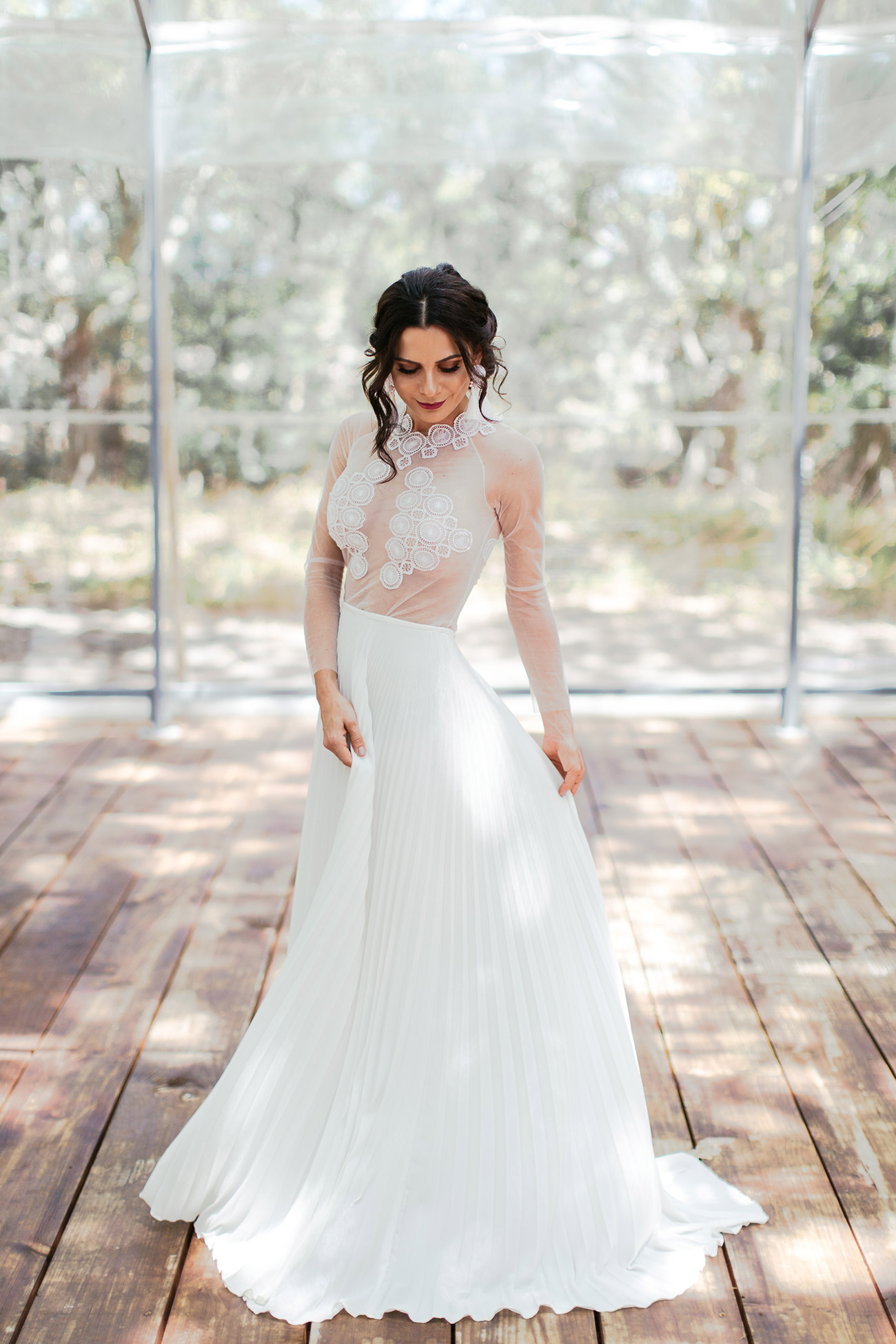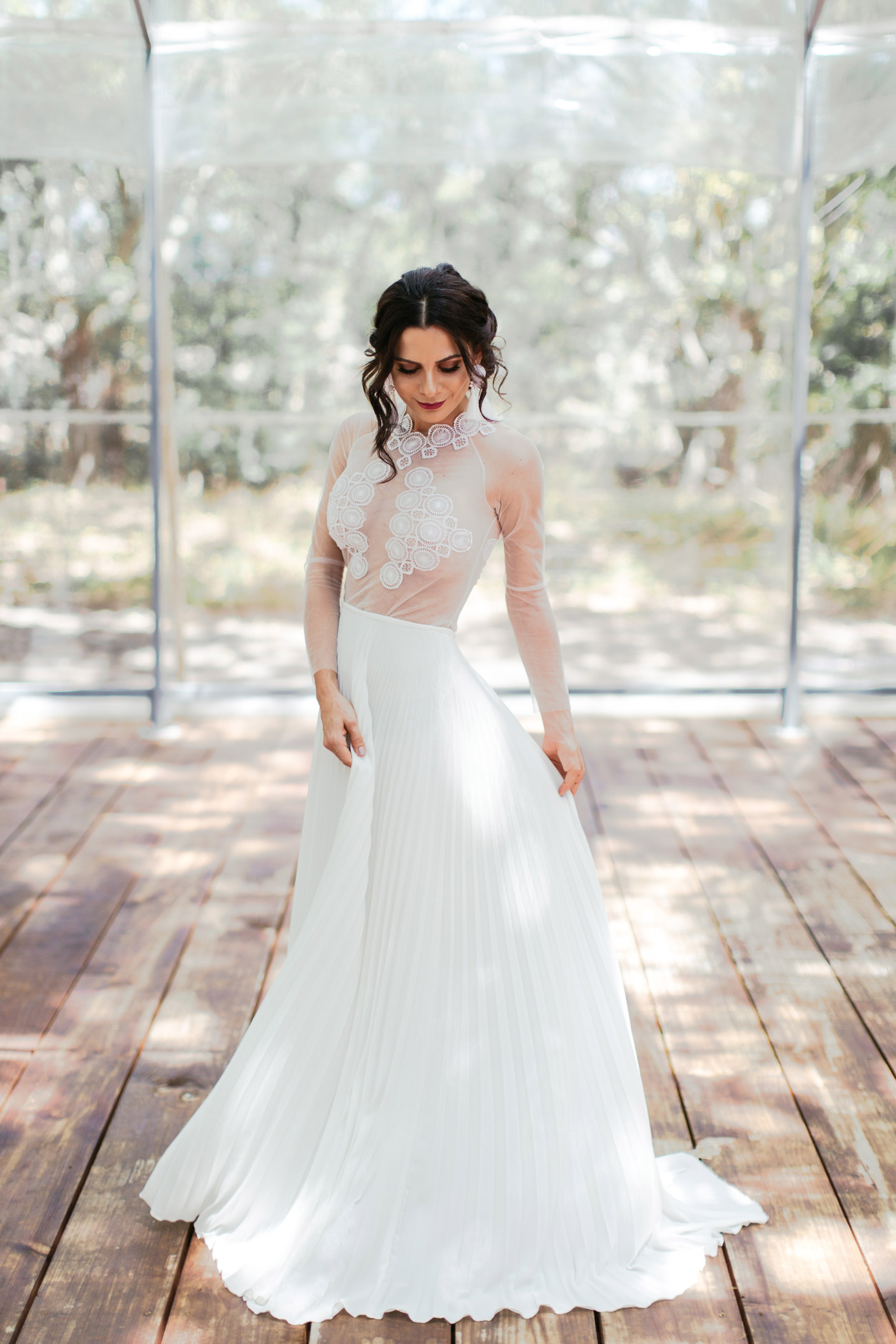 (Above) Margot is a full circle sunray pleated georgette skirt. The skirt is cut in a full flare while still falling close to the legs giving you range of movement without massive amounts of volume.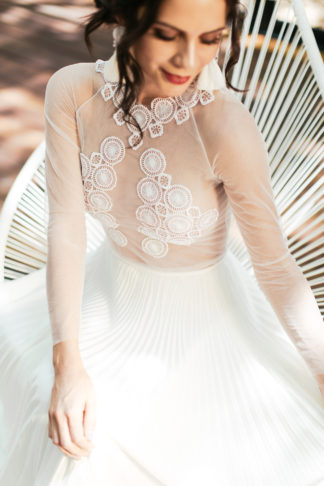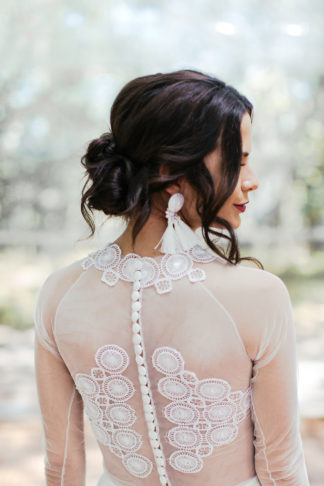 (Above) Ally is a high, round neckline bodysuit that is made with raglan style sleeves in a soft, sheer Italian tulle. Ally was inspired by the lines and embellishments of Hannah, the once off couture gown seen here.. The back is completely closed and has buttons from the nape running all the way down. This top has the option of being lined in the front for more coverage. The team named the lace "dream catcher" lace because of the shape. We love how geometric and bold it is!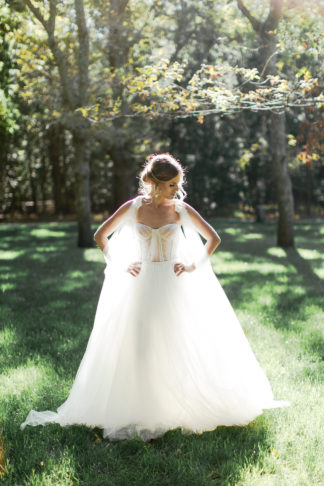 (Above) Zara is a long cape made from soft veiling that is gathered in the centre front and centre back. It features a white sequin pattern on the collar. The cape can be worn as a vest with sleeve openings, or as a cape with the arms not going through the side draped openings.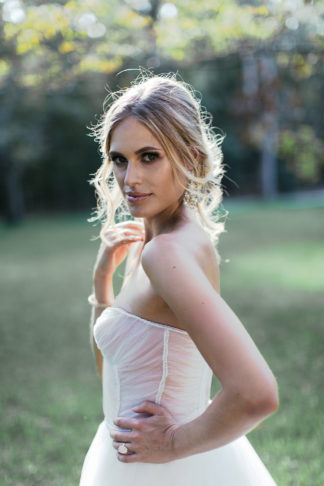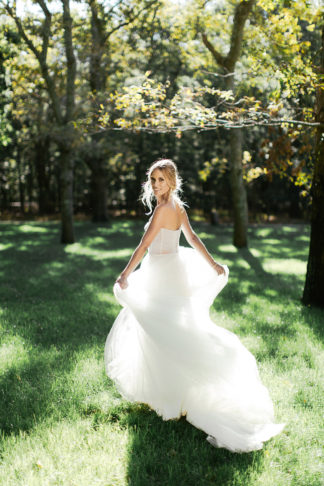 (Above) Ami is a bustier style bodice with built in corseted support. The bodice features diagonal pleating with glass beaded roping on the seams and neckline. "We've had such incredible success with our bustier style bodices and wanted to give them fresh take," says Janita. The diagonal pleated lines soften the nude undertones and create beautiful shapes around the body, while the beads add a soft and delicate detail.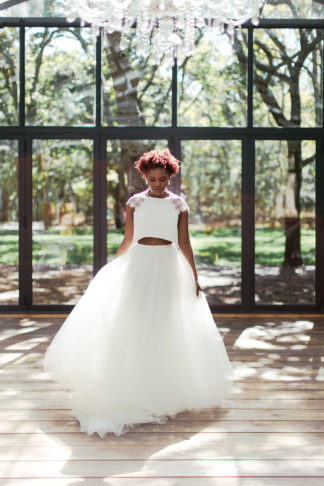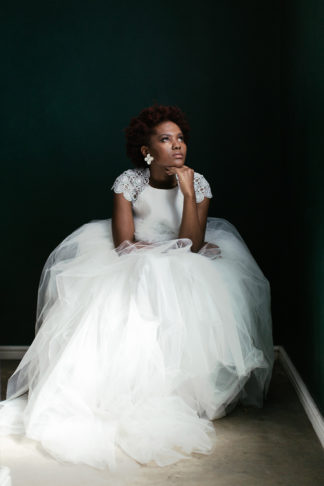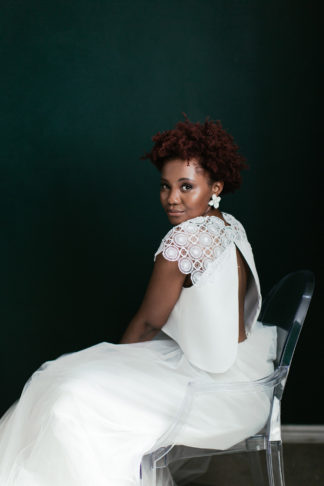 (Above) Ariana is a tailored, crepe top with raglan style sleeves in circular lace. The back has a closure in the nape which allows the skin to peek through when moving. "This is such a fun top," shares Janita. "I love shoulder details and the dream catcher lace adds detail without being overpowering."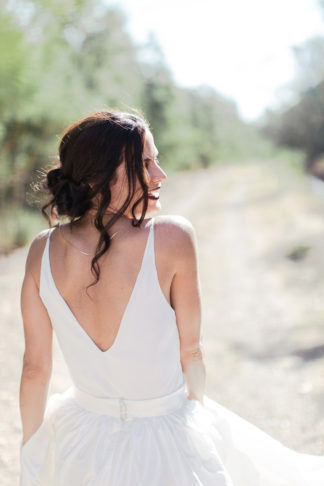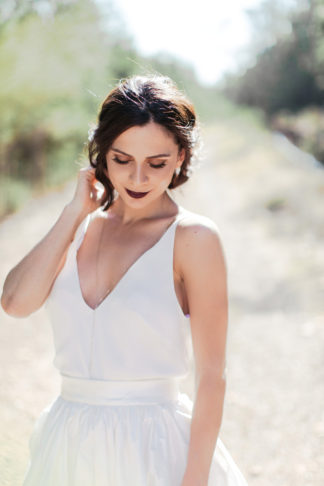 (Above) Anais is a bias cut V-neckline camisole with a beautiful base and georgette overlay. "This top is incredible and a personal favourite," says Janita. "It is so easy to wear. It has an absolute cool factor that when paired with a more formal skirt is just phenomenal!"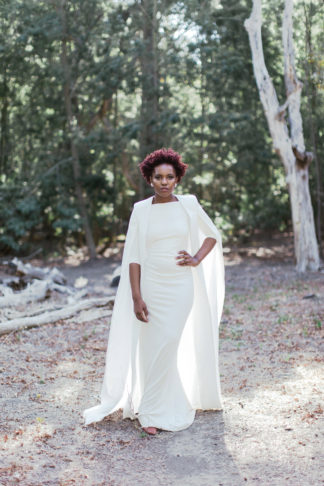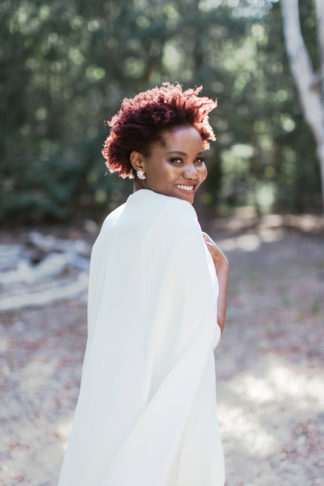 (Above) Zoey is a floor length tailored crepe cape. The arm openings are slits and the arms therefore will have full range of movement.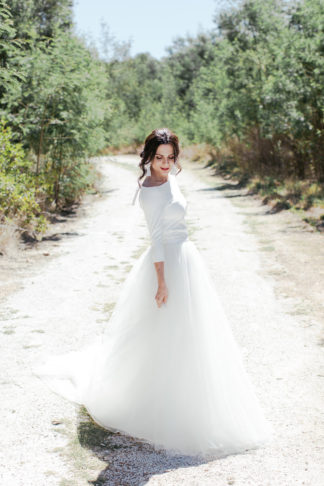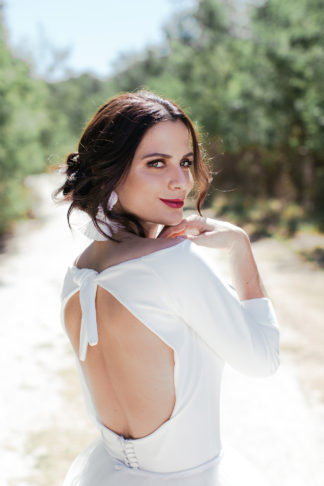 (Above) Melody is a classic, full tulle ball gown with a beautiful long train.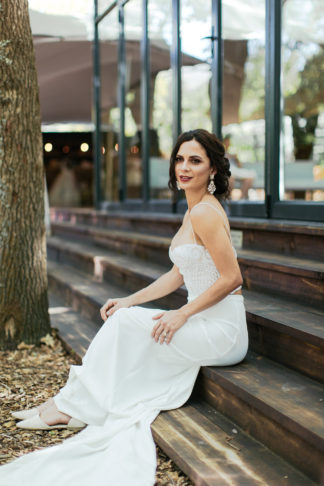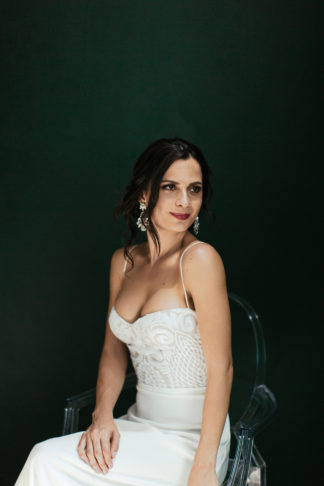 (Above) Ava is a stretch bustier bodysuit with in a blush pink lining and a white sequins pattern overlay with light support. The bodice also features a button up closure in the back and thin spaghetti straps. "This bodice is more glamorous and really accentuates the figure, focussing attention on the breasts and waist," says Janita.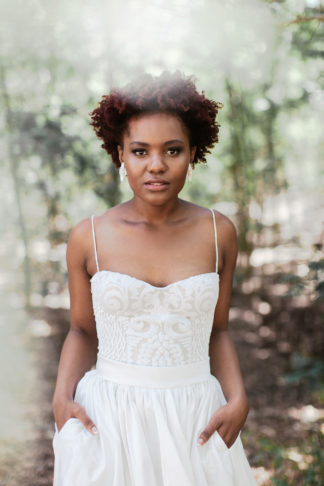 (Above + Beneath) Megan is a full circle skirt that is gathered in the waistline, featuring a long train and in-seam side pockets. This dress is both luxurious, because of the fabric, and comfortable, because of the cut! It has a wide waistband to balance out the overall volume of the bottom.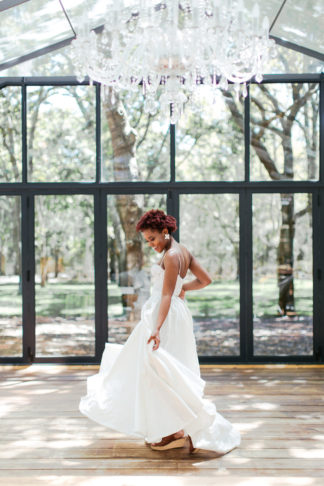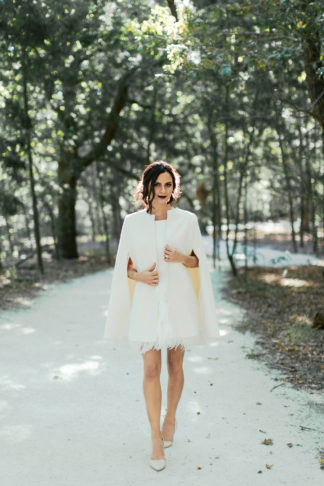 (Above Right) Zuri is a cream coloured melton cape. "The slit openings allow easy movement and the melton is a really snug fabric that will be ideal for use in winter weddings," explains Janita.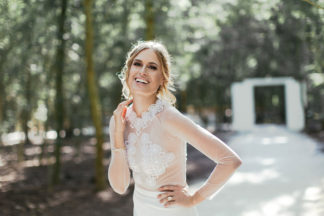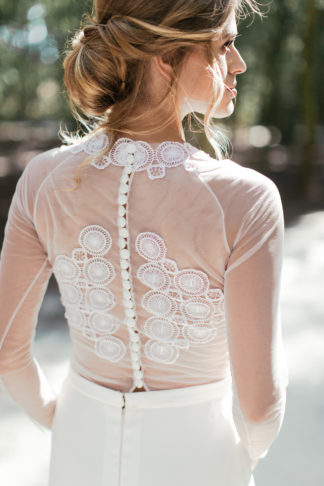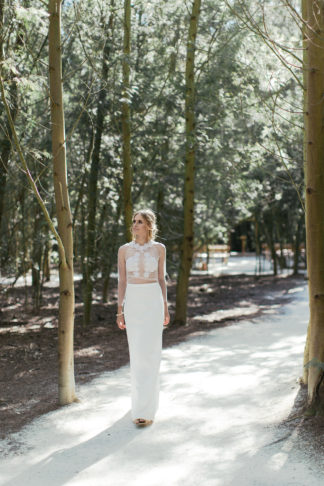 (Above) Mona is a double layer, scuba crepe skirt. Because of the stretch of the fabric it is easy to make Mona as fitted as possible. It hugs the figure without taking the ease and comfort away.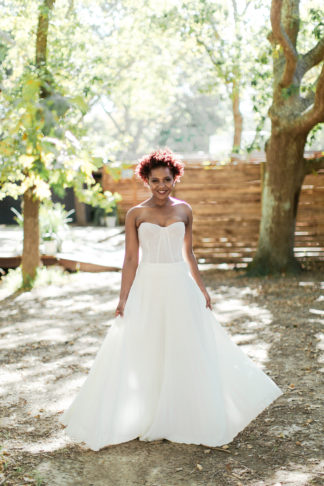 (Above) Ami and Margot pairing, just one of the countless combinations that these ready to wear Janita Toerien wedding dresses offer!
Janita Toerien: Meet the Woman Behind the Designs
We had a few minutes to catch up with Janita as she prepared for the launch of her ready-to-wear collection, official out today!
Two things are important to Janita; one is the fit of the dress and the second is that Janita herself needs to want to wear it. "The signature dresses that have become our most popular dresses are the ones I personally want to wear. They have some kind of edge, some kind of cool and also, something imperfect. The imperfect flaws give character and I absolutely love it!"
When asked who the typical Janita Toerien bride is, Janita explained that her brides include sweet and Disney-like young women to edgy and rebellious women. "I must say that the brides who have stood out the most and who have helped us build our brand are above all confident and fearless. They have been the women who have challenged the norm and the expected and did what THEY knew was right for them. They are who they are without a moment's hesitation."
Who is your style icon?
In terms of wedding dress style, my icon would definitely be Vera Wang. My personal style icon is Victoria Beckham – I LOVE her style! However, I have to say my newest style inspiration comes from @iconaccidental on Instagram. If I could have that style at that age I'd be pretty stoked! And then of course, Marchesa and Elie Saab. They don't stick to what's popular and trending, they just do them and they just do pretty!
Share something about yourself that our readers wouldn't have guessed.
I am deathly afraid of moths. Even little ones, I will remove myself from a room with a moth in. I almost unfriended my sister for sending me a video of a guy playing with a giant moth! Also, if I didn't go into designing I would've loved to study meteorology. Yup, I like figuring out weather patterns hahaha!!
What combination is your personal favourite from the new collection and why?
Haha! That's like asking a parent to choose a favourite child! From the couture range it'll have to be Antoinette, I literally spent my last money on that bodice's fabric so it is incredibly sentimental to me. I think two of my favourites from Leilah James are the Anais + Megan combo and the Adele + Melody combo. I love their minimalism and just their whole vibe! I want to be that girl and wear those outfits.
A big thanks goes to Janita and her team for these gorgeous images, and her awesome insights!
See more designs from Janita Toerien on Confetti Daydreams here
Read Janita's advice on accentuating your body
View the collection and contact Janita here
Collection Credits: Gowns Janita Toerien // Photography Jenni Elizabeth // Hair and Make Up Marnel Toerien