Delicious Jane Rose Giveaway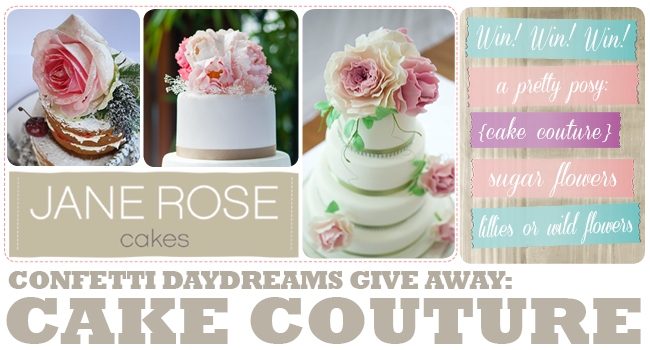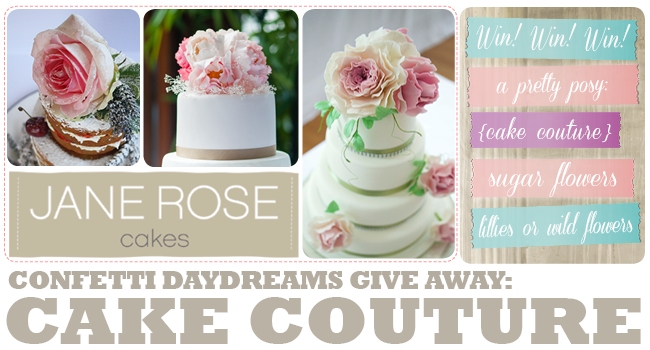 To spoil our most loyal UK brides, we are offering our biggest fan a chance to win, win, win!!
Jane Rose Cakes

The delicious floral cake creations hand-made by Jane Rose Cake Couture is designed to adorn your wedding cake, mini cakes, cupcakes and more.
Jane Rose has earned a reputation as a specialist maker of occasion cakes that tastes as good as they look. Made using only the purest and freshest ingredients, the design for her cakes are inspired by the stunning scenery of her surroundings in North Wales.
Although only our UK brides are eligible to win this super fab prize giveaway from Jane Rose Cake Couture, her range of sugary cake creations for any special occasions are also available across Europe.

The Prize Give-Away
The winning fan will receive the following prize:
A posy of wired sugar flowers, which is custom-made to fit  either a 4" or 6" wedding cake. Jane Rose is offering the winner a choice of either a bunch of lilies set amongst foliage or bunch of wild flowers including rose, freesia, sea holly, daffodils, anemone, sweet pea and a statement lily, set amongst trailing foliage. Both of these bunches of sugar flowers are of a similar size.
The colours of the sugar flowers are warm and autumnal, perfect for a rustic themed wedding.
The prize will be carefully wrapped and posted to the winner.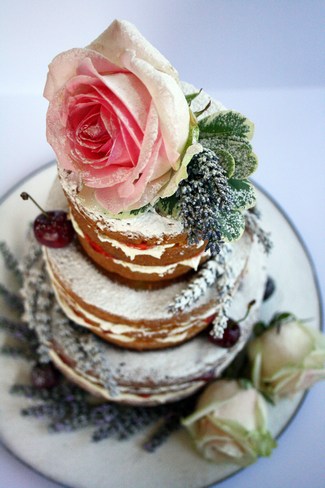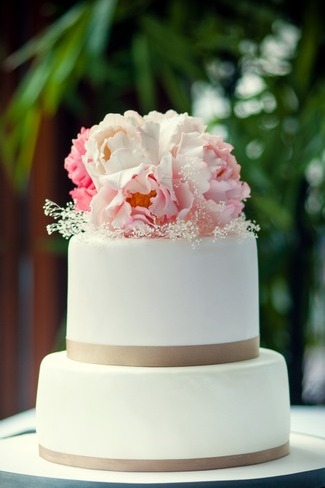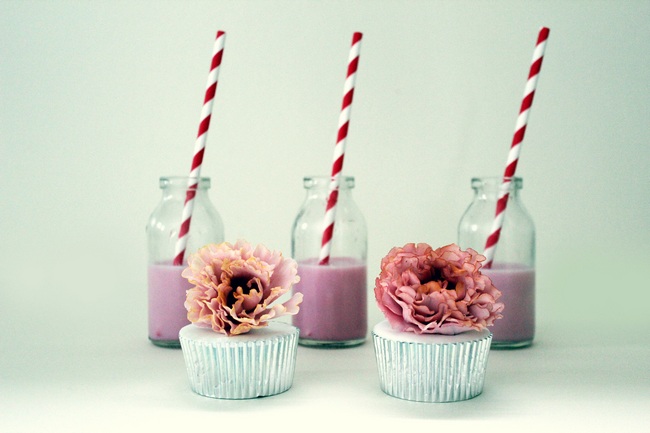 How To Win
The first step in standing a chance to win this delightful prize, is to be a Confetti DayDreams fan based in the United Kingdom. The prize will be awarded to our biggest UK fan who stands out by actively following, liking, commenting, sharing, pinning, and tweeting our stream of wedding inspiration. Keep reading to find out how you can beat the odds and be our next winning fan!
Leave a comment at the bottom of this post telling us what flavour wedding cake you're having and how you chose it.
Gain extra entries by tweeting your entry and the link to this competition "https://confettidaydreams.com/win-with-jane-rose-cake-couture-uk-give-away" to "@ConfettiDdreams" and "@JaneRoseCakes".
♥ ♥ ♥ TERMS ♥ ♥ ♥
Yay! The winner of this Jane Rose prize gievaway will be chosen and announced on this page within one week of our 5000th Facebook FANiversary! Follow us on Twitter and Facebook for regular updates.
This competition is open to our UK brides only. Brides from the USA and AUS, we hope to spoil you one day soon!
Prizes are not transferable for cash.
Exact stock depends on availability at time of competition closing.
No correspondence will be entered into, the judges decision is final.
ConfettiDayDreams.com retains the right to cancel the promotion at any time and will not be held liable for any damages. Events may occur that render the competition itself or the awarding of the prize impossible due to reasons beyond the control of ConfettiDayDreams.com, and accordingly ConfettiDayDreams.com may at its absolute discretion vary or amend the competition and the entrant agrees that no liability shall attach to ConfettiDayDreams.com as a result thereof.
Happy Posting and Tweeting!
Hip Hooray! May the Best Fan Win! 
♥ ♥ ♥ GIVE-AWAY CLOSED: WE HAVE CHOSEN A WINNER ♥ ♥ ♥
Abbi J, Yahay! To sort out the delivery details of your cake topper creation prize from Jane Rose Cake Couture, please get in touch with us by sending an email to [email protected].